Note: Updated for 2019!
I sense you are in the market for a new board. I also sense you might make a bad decision if you don't take a few moments to read over our 2019 best inflatable paddle board list. Not because you have bad judgment, but because the internet can be a wonderful source of false information.
Take a moment before you go making a purchase just off any person's word. Just because it's cheap and they say it's "A great board for everyone!" doesn't mean it's true. We have spent the time testing, reviewing and comparing 30+ inflatable SUP boards.
Don't be that person I said "told you so!" to when they are swimming back to shore dragging their deflating board behind them, paddle sunk to the bottom of the lake. Be the person that I'm all like "Heeeeey, nice SUP!" and we go off enjoying the sunset together.
The Best Blow Up/Stand Up Paddle Boards of 2019 by Category
Board
iRocker All Around
ERS Skylake
Blackfin Model X
Red Paddle Co Sport
Thurso Surf Tranquility
Gili Air



Full Review




Full Review




Full Review




Full Review




Full Review




Full Review

Who is it for?
All Around for Value
All Around for Performance
Family Board
Best Touring
Best Yoga
Best Budget
Pricing
$549-$649 at iRocker
$929 at PumpedUpSUP
Save 5% with the coupon SUPBOARDGUIDE
$799 at iRocker
$1,449 at PumpedUpSUP
$649.00 at Amazon
from $465.00 at Amazon
Rating out of 10
8/10
9/10
8.5/10
9.5/10
7/10
6/10
🙂
Accessories included, High-quality pump, good value, durable
Durable, high-quality materials, lightweight, good value, removable fins and US fin box system (inter-changeable)
Very stable, durable quad layer PVC, rigid, lots of storage space, handles for kids to hang onto, all accessories included, high max capacity
High-quality materials and manufacturing, RSS stiffening system for rigidity, amazing tracking, best pump on the market
Super stable, nice board design, thick long oversized deck pad, good paddle, all accessories included plus bonus extras
Cheap, stable, oversized deck pad, all accessories included
🙁
Heavy, only one fin removable
Pump could be improved, more storage area on the nose would be good
Heavy, little slow and tricky to maneuver
Minimal storage area, no paddle included (also a pro)
Slow, bulky to move, pump and bag are average
Low-quality paddle and pump, will flex with bigger users (single layer PVC only)
Specs
iRocker
ERS
Blackfin
Red Paddle Co
Thurso Surf
Gili
Length
10'
10'7"
10'6"
11'
10'8"
10'6"
Width
32"
32"
35"
30"
34"
31"
Thickness
6"
5"
6"
5"
6"
6"
Weight
22 lbs
22 lbs
29 lbs
25 lbs
29 lbs
19 lbs
Capacity
350 lbs
240 lbs
450 lbs
220 lbs
480 lbs
300 lbs
Note: 
It's important to reiterate that Supboardguide judges boards based on their value. When we say value, we are talking about what you get in comparison to cost. Two boards in totally different price ranges with very different qualities can have a similar rating. Just keep that in mind 🙂
Best All-Around Inflatable Board For Value
2019 10' & 11' iRocker All-Around Full Review

It was as tricky as walking on water to pick our favorite All-Around iSUP. So we chose to split our choice between value and performance.
Don't make the mistake that this means the iRocker All-Around won't perform well.
iRockers All-Around is their most popular item. And rightly so! It's a jack-of-all-trades, and so it's extremely versatile for all riders. Beginners particularly love the board as it's easy to use but not so easy you'll get over paddling it after the first few times. It can't maneuver as well as the ERS, but for leisurely cruises, it's one of the best blow up boards you can buy in the mid-range price bracket.
When you buy an All-Around Stand Up Paddle Board, you are also getting a high-quality dual chamber pump, a fiberglass paddle, ankle leash, supportive and comfortable bag and a guarantee of a long-lasting product.
Our Video Review: 
Best All-Around Inflatable SUP For Performance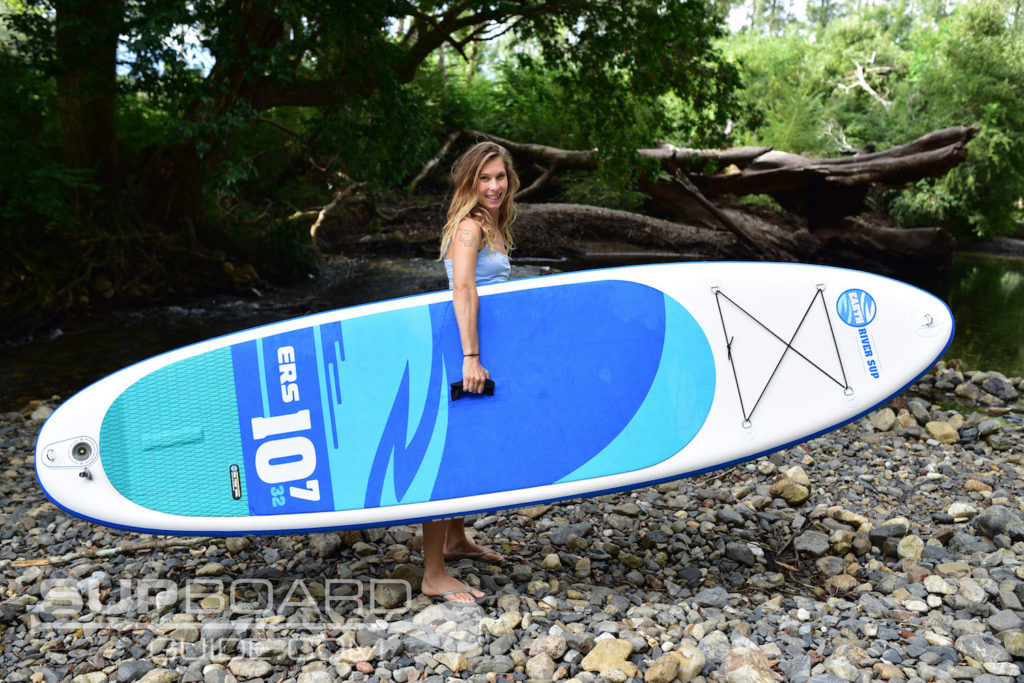 It's the lightweight nature of the ERS that makes the performance a little better. Lightweight because they use fusion technology for their layers. That saves extra layers of PVC, keeping it lightweight. This lightweight frame makes you agile on the water which results in fantastic turning and speed.
Look at the fins on the ERS Skylake 2018, they are interchangeable! Which we love. They even have small river fins for when you are in shallow water or reedy banks. Not only does that increase the value of this iSUP, but it also improves performance. Then for those who are starting out you can choose a large center tracking fin to help stabilize you into sticking straight.
The appearance of the ERS I love too, it's simple and gender neutral. Combine aesthetics, materials, and performance, and you've got my vote! We did look at using the Red Paddle Co Ride as the top pick under this title too. Both ERS and RPC use high-quality materials but why we swung to the ERS is that it's a little more versatile with the fin setup. While intermediates will definitely get more performance out of the Ride, as does it handle just that touch better, we believe that beginners will appreciate being able to start off with a large center tracking fin. Like you can on the ERS.
If the Skylake is for you don't forget to claim your free paddle and use the coupon SUPBOARDGUIDE for an additional 5% off!
Our Video Review:
Top Pick Family Paddle Board

All aboard! Family day out on the water. Let's make it happen!
Rolling out this year was iRockers Blackfin models. They are a little heavier than other models this size but damn can they hold some weight. You can literally load a family onto them, and you'll be still floating. I paddled 2 (questionable) adults, a child, and a dog,
What's so impressive is despite the extra weight in materials, there's still performance. The shape is thought out in accordance to its width, thickness, and weight. We found it on par with the Cruiser. Which is only just beaten in speed and glide by the All-Around.
Of course, to take this weight, you need a good deck area. It's a huge deck at 35" wide, but the nose and tail tapered in for the pre-mentioned performance. The extra features are what make this board step into the family board spotlight though.
Handles everywhere, including on the bungee cord, purposefully added for your kids to hold onto. Also, the carbon rails mean that even after you load the whole family on, you keep that rigid feeling through the whole board, nose to tail.
Our Video Review:
Best Touring iSUP Board For 2019
Red Paddle Co Sport 11' Full Review

Sporty spice is fast and nice.
With Red Paddle Co producing some of the best stand up paddle boards on the market, of course, one needs to make its way in here! Recently we reviewed the 11' Sport and boy does it handle!
So speedy half the photos turned out blurred. Okay, so maybe that was also the camera. But it truly does fly. Not only does it fly, but it also holds you well. The squared off tail gives you loads of stability where the single fin keeps you tracking on point to your destination.
Other features to note that highlight this board as the best touring board are the strong materials, rigid wall design with rail bands, literally the best pump on the market and superb cushioned deck pad.
It's a shame there isn't more storage space on the nose, with a couple more D-rings, but this is a small downfall up against the long list of positives.
Best Yoga Board

Yogi's rejoice! You'll be keeping your yogi toes dry on this buoyant and stable yoga platform.
A huge deck area at 34″ wide and its round shape makes this a perfect board for doing yoga on. Not only is it stable, but it's also comfortable. The deck pad is super cushioned and extends over most of the board. You'll also notice both the handles can be undone to lay flat on the board to keep the deck area unobstructed.
Then there's the beautiful lotus design on the nose to set the tranquil mood you're after. Before receiving the board and only seeing pictures on the internet, I did wonder if it would just look tacky, but I really like it!
The big reason it's the best in our opinion though is that paddling the Thurso Surf Tranquility Yoga SUP is fun too. Many other yoga boards are just big rectangles that wouldn't be much good for a casual paddle. I enjoy doing some stretches but still being able to go for a cruise too. I found the Tranquility to be a pleasure to ride and even handled pretty well for such a big board!
Best Budget/Cheap Inflatable SUP Board

We know the reality that not everyone is lucky enough to be able to afford top of the range SUPs. But, that doesn't mean people should miss out. Which is why we went on the hunt for some of the best budget board this year, where you can read the full review here.
Funnily enough, after we finished that comparison up popped the Gili Air and popped out way on top of the list, we had mustered.
The 10'7 Gili Air is not going to be your fastest inflatable board, nor will it be the most durable or high performing but it will at least track well and has an above average pump and bag. Its profile is basic but those paddling for the first time will still get a kick out of riding this blue beauty.
Much like most of the budget blow up SUPs it's a single layer PVC. However, it's put together nicely with hardly any bubbles or separation around seams. Again, these were features we saw happening lots on the budget list.
With everything included in the package to start you on your SUP ventures, decent manufacturing and a price tag that low, it's amazing value.
Overall Comparison Of The Best Inflatable Boards
Here is where we compare the best inflatable SUPs. Bit by bit. In-depth but straight to the point. This is broken down into performance, stability, overall value, accessory value, and durability.
Performance (For the intended area of use)

These inflatables in our opinion perform the best compared to other iSUPs we've ridden in their intended area of use. A lot of work, time and testing have gone into this review of the best inflatable SUPs for 2019.
The highest performing board in its field definitely is the Red Paddle Co Sport, which comes as no surprise. It outdoes its competition by far. While the All-Around series was definitely the hardest field to judge. There are so many All-Arounds on the market that are only a margin better than the next. Which is why we broke it down into performance and value.
The ERS outperforms the iRocker due to its optional fin setup and also slightly higher quality manufacturing. The better materials used as well as the way it's all fused together not glued together results in a lower weight, therefore, making the board easier to maneuver as well as transport.  You can see in the photos it's a bit more streamlined and also because of the rigid materials, it only needs to be 5" thick which gave it the extra speed and maneuverability on the iRocker All-Around. Last of all, the Gili. It's a budget SUP. It's not going to have the moves like mick jagger. Though if you compare it to some of the other cheap boards we reviewed, it is worthy of celebrity status.
Even though the Blackfin Model X is huge, and I mean, huge! It actually could turn reasonably well and excelled at tracking. In the full review of this small boat, we mentioned it was on par with iRocker Cruiser. They've designed the shape for the Blackfins really well. It compliments it's weight and size and delivers a board that isn't short of performance. It's another one of those, "for what it is, it goes well" statements. It's not going to be comparable to the RPC Sport, but it's not designed for speed and long-distance tracking. For a big board that's designed to load up your family and all the pets, we applaud its performance.

Now we can't really fairly compare a Yoga iSUP for performance against these others. Obviously, it's made for the utmost stability and not for hours of cruising. It, however, does provide more than enough performance for a leisurely paddle around before or after a Yoga practice. I found turning to be easy because of the stability in the tail, though this is backfoot turning which for a complete beginner is a bit tricky. Just using your paddle to turn, it's still a bit slow and chunky. There are some other Yoga stand up paddle boards out there like the Advanced Elements Lotus YSUP, that are literally a big floating rectangle. You would much prefer the Thurso Surf Yoga for a casual ride than the Lotus!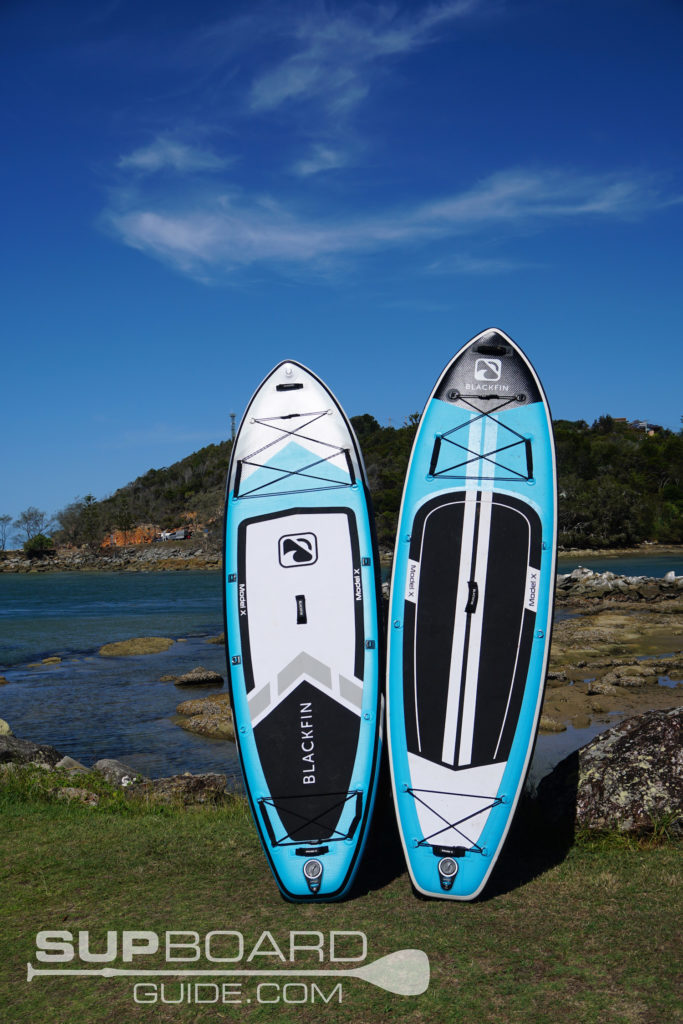 Stability
Obviously, the most stable board here is the Blackfin Model X family board or the Thurso Surf Tranquility. However, they are also the least maneuverable on the list. So, you want to weigh up how much you need your stability over being able to turn quickly or tightly. Closely behind those two is the Gili Air. It's a brilliantly stable board for a beginner but definitely the worst for performance. Because of the single layer PVC, we suspect the board would be prone to flexing so we can't say it would be as stable for a bigger rider.
When I've been out on the Red Paddle Co Sport, I've been amazed at its stability even as a single fin. You can see the tail though is very squared off which is where that added stability comes. It's only a small notch under the All-Arounds for stability. The RSS stiffening system through the rails also means you get a board that's rigid the whole way throughout. I don't mind it being that little less stable because it more than makes up for it in its performance, tracking, and speed. With more volume, these qualities would be lessened.
The ERS Skylake and iRocker All-Around are both great platforms with lots of give to get your feet right. iRocker does have a tiny bit more of stability than the ERS, mainly due to its shape being more rounded but also the 6" thickness creates more volume. Again, the downside in that is it loses out a touch of maneuverability.

Value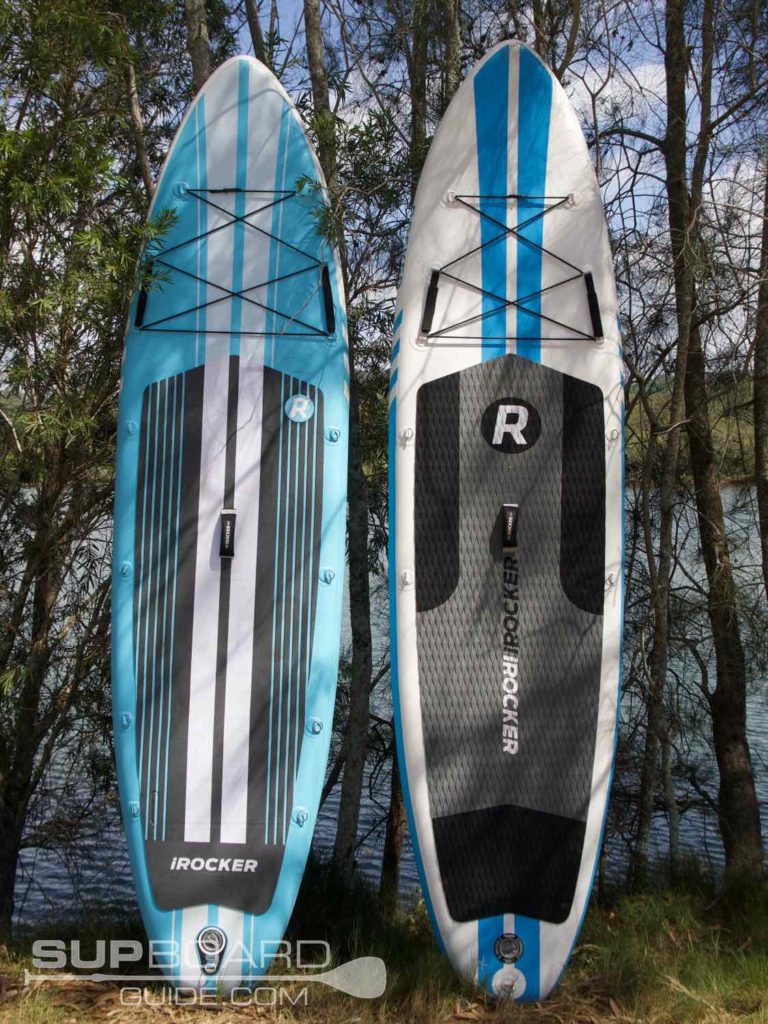 IMPORTANT – When we talk about value, we are talking about the ratio of cost vs. what you get. It's a hard system to articulate. If we rate something that is worth $500 a 9/10 for value but then give something worth $15000 the same rating, we are talking about the value given what price range it sits in. We want to help you decide if you're getting a great deal for the price you're paying. That's why we look at the complete package and decide where you get the most bang for your buck.
The best value would have to be a tie between the iRocker All-Around and the Gili Air. Both packages come with all the accessories you need to get started and are affordable. The Gili Air is our budget board on the list at from $465.00. The iRocker All-Around is also really affordable at $599-$679 (depending on the size). While the accessories on both could be improved, many other SUPs in their price range don't even come with things like a paddle and leash.
The standout for the Gili Air in its price range was the pump, which is a vital part of the package! Many other inflatable SUPs in the under $500 selection have single action pumps, that feel flimsy and take forever to inflate your board with. You only need to put the Gili Air up against one like the Aqua Marina Fusion, and you'll see it's the easily the best for value budget board out there. The accessories you receive with the iRocker are way better than the Gili, but again, it's in a different price range. iRocker introduced their new pump this year, which is a double chamber high-pressure wonderous piece of equipment. It's by far the best pump you can find in this price range even though it doesn't quite reach the level of Red's Titan pump.

Once you start creeping up the ladder towards the other boards like ERS Skylake and then Red's Sport, you can expect to see more emphasis on the board's materials and design. This makes sense because if you are going to be spending lots of money on a board, you're probably also someone who is looking for performance and durability.
So while they are great value for how long they'll last and the fun they will provide, this kind of value is only applicable to a those who don't want to sacrifice on quality and performance to save some pennies.
The Red and ERS don't include a paddle because again if you are spending this much money on a board, you probably want your own paddle that suits you entirely. You don't want a generic one that may bring down your performance. However, if you buy your  Red or ERS at PumpedUpSUP.comyou get a really nice ERS fiberglass paddle worth $159 for free. You also get an additional 5% off using the code SUPBOARDGUIDE.

At the end of the day, they all offer great value for what they cost and what they give. The boards on this list are our favorites for a reason, and all of them are great at what they intend to do. However, they obviously suit different groups of people. If you have a $500 budget, the Gili Air is as good as it gets. For those looking to buy a better board, the iRocker All-Around is a great versatile option, and the Blackfin is a perfect family board with high-end accessories. We found the Thurso Tranquility to be the best option for anyone mainly focused on Yoga. At the top of the range, we've got the ERS Skylakeand the Red Sport. If you have the budget and only want the best of the best go for it! The ERS is an incredible all-around board, and the Red is a super fast touring SUP. All of them are standout boards in their respective price-range, and you're guaranteed to get the best bang for your buck.
Accessories (Inflation, Transportation, Performance)
Inflation

You just can't beat the Titan. Red Paddle Co's Titan pump is so easy to use and that quick at inflating that we (Okay I, Sarah, not the rest of the team) almost cried the first time I used it. I mean, it's easier than blowing up kids balloons at a party. By the time you have hooked up an electric pump and fiddled with the nose), you could have hand pumped a Red quicker.


Closely followed by iRocker's new pump which is also a double chamber and high-pressure inflation. Then, of course, the Blackfin. The only reason these came in behind is that they are a bit more chunky and also we believe a wee bit slower to inflate, for reasons we probably can't tell unless we pull them apart. And we aren't SUP savages!
When pumping up the Skylake, Gili, and Thurso we found them to take about the same time. Skylake perhaps a little less given it's only 5" thick. The boards are all roughly the same size, and the pumps we think are the same but with just small feature tweaks. Such as, the Skylake pump is probably the best of them all as far as usability goes. Its handles have a bit of grip and also feature more of an ergonomic design.
Transportation
So what's wheely important? Your bag! Now the Red, Blackfin and ERS bags can all be wheeled. This is a HUGE plus on the transportation front.
Getting into the nitty gritty of each of those three bags, we'll look at wheel placement and quality. The Blackfin bags were ingeniously designed with their wheels on the front so straps can't get caught in the wheels. They also feature some serious all-terrain wheels.

Now while Red's bag has the wheels on the back, the backpack straps have their own snug little home at the back to keep them completely out of the way. Their wheels are also made to go over more than a shiny, smooth airport floor.
Then finally the ERS bag! Its wheels are what we would also rate as good quality and also have a snug spot to be tucked into, to save them getting caught in the wheels. There's plenty of handles to move the bag around and lots of support if you choose to carry your bag.

All 3 bags are similar is size and space, as well as insulation and material strength. The Blackfin we think is the most well padded while the Red Paddle Co is the best insulated. As far as aesthetics go, we like the Blackfin the most. Each bag also features multiple pockets and secured compartments for all your extras like fins and leg rope.

Next in line for transportation would be the iRocker bag. Then the Thurso and then the Gili. iRocker's bag doesn't wheel, but it's made from strong materials with a huge amount of support throughout the whole bag. It's got multiple handles for easy lifting and handling into your car. The Thurso Surf bag also has multiple handles on it and loads of room inside. Both iRocker's and  Thurso Surf's bags have cinching straps inside too, to help secure your gear. The Gili backpack, we love the look of, and it's made from quality materials. It just is a bit small and doesn't have any cinching straps inside. However, compared to other boards in the Gili price range, it's by far the best we've seen!
Paddle Performance

The only boards in this article that include a paddle are the iRocker All-Around, the Blackfin Model X, Gili and Thurso Surf Tranquility. Though this is also because, in higher quality boards, the general consensus is that if you are buying a board that has had lots of thought go into it, you should match it with a paddle that compliments you. Boards can be sorted into general categories but your paddle can be way more personalized, so including a generic paddle would actually negatively affect these higher quality boards.
Note: PumpedUpSUP.com are currently doing a deal where if you purchase one their boards through pumped up SUP you can get a free fiberglass paddle worth $159! You get a free paddle with both the ERS Skylake and the Red Sport. You also get 5% off the ERS using SUPBOARDGUIDE at checkout.

Red Paddle Co also has a selection of paddles on their site you can choose from, and they are beautiful pieces of work. Careful though because once you have used a nice one, you'll have raised your bar and only ever have eyes for that kind of quality. A good paddle makes a huge difference!
Comparing the included paddles, the Blackfin paddle definitely comes out on top as far as performance goes. It's got a beautiful matte finished carbon shaft and fiberglass blade. Breaking down the paddle is easy and when put together feels secure. Another big plus is the carbon shaft makes it incredibly light. Though sometimes light can mean non-durable, that's not the case with this paddle. The blade has a rubber coating and makes it highly resistant to wear and tear from pushing off objects.
Comparing the Blackfin to the iRocker All-Around paddle, the only difference is the shaft on the All-Around one is made from fiberglass. Otherwise, they share the same blade materials as well as shape and locking mechanism on the height adjustments. Talking of the height adjustments they were extended in 2018 to accommodate some of their taller riders. So now the max height you can extend to is 86". Unfortunately, the Blackfin print on the paddle blades isn't applied very well, and most of my paint has already come off after only a few uses, but really, that's just an aesthetic thing, it paddles great.
The Thurso Surf Yoga paddle also has a carbon shaft paddle but doesn't feel as strong or secure as the Blackfin. It seems to slightly flex under pressure of heavy paddling.  Though as far mid-range accessories go, a carbon shaft paddle is a standout, and it's definitely way more than acceptable for yoga board. It's got a well-designed dihedral blade that helps speed you along the water gracefully and reduces flutter.

And finally the Gili! It's not the best. But the whole package is the cheap option to get on the water. It's heavy, made of aluminum and feels clunky. The shaft seemed to move around a bit in the locking mechanism, making me nervous to lose half my paddle! Though again compared to the paddles we've seen in the <$500 mark, it comes out on top. More than okay for a newbie or as acting as an emergency spare.
Extras
A few of these boards come with some included extras! Such as the Blackfin, iRocker, Gili and Thurso Surf all include an ankle leash.
Nothing too noticeable different about the leashes minus small features. The Blackfin and iRocker both are branded and have key stash spots on the ankle. A coiled leash is featured, and the attachment joints feel strong and stable.

The Gili is a bit lighter which suggests it's made of not as strong materials. It also doesn't feature the ankle stash spot for the keys.
All companies have plenty of cool extras as optional purchases on the side too. A range of things like board straps, cooler bags (Thurso Surf actually includes one in every purchase as well as a waterproof bag for your phone) and kayak seats.
On the mention of kayak seats, I'll point out the Blackfin Model X, iRocker All-Around and Thurso Surf Tranquility are the only boards listed here that have the extra D-rings for the seat.
Durability (Materials & Construction)
Here is where we see an array of differences. The one consistent thing in all blow up paddle boards is a drop stitch core. Don't know what that is? Check out this definition. We could spend a few more paragraphs going into drop stitching, but for many of you, I'm sure you don't want me to. So just check that article out, it's super informative and easily explained.
Sometimes there is a difference in the quality of drop stitching, but this is one of those things you can only tell by feel or cutting your board up into pieces. It's something you wouldn't notice unless you've tested loads of boards out either. Luckily we have!
Let's break this down point by point, starting with who has manufactured their boards the best.

Red Paddle Co Sport – It's impossible to argue there are better-built stand up paddle boards on the market. Some come in very close though (The ERS Skylake). They use their patented MSL Fusion Technology to ensure their boards are the stiffest and most durable boards while also keeping the weight low. For an in-depth explanation, they have made a fantastic video at Red  HQ. Why it rates in just above the ERS is because of the RSS stiffening system in the rails that are inserted prior to inflation. These rails ensure that the whole body stays rigid even for the biggest of riders. I don't notice too much difference because I'm only small, but when putting another person on board with me, I did notice I stayed drier on the Sport than the Skylake.
ERS Skylake – Also using a fusion process, their boards closely resemble Reds in weight and aesthetic appearance. Using fusion to combine the layers of PVC means you'll be hard-pressed to find a bubble between layers or any dodgy seams. Other things to note is their deck pads are 40% thicker than the standard deck pad but don't add any extra weight to the board thanks to some tricky engineering.

Blackfin Model X – Next in line is the Blackfin Model X. Both their Model X and XL are made in the same way with the same materials. They are now triple layered, shedding 20% of their weight from last year. The carbon rails then also makes them indestructible. You are practically able to have a tea party with your precious china set and feel safe on these boards.

iRocker All-Around (2019 Model) – 2018 saw an added layer of PVC to all of iRockers range. So now, all boards are made with bulletproof quad layered PVC. It makes these boards ridiculously stiff but also durable, being able to take a real beating. The extra PVC layer does increase the weight a little compared to last year's model. However, I am a 55kg woman and can still carry the board without any problems.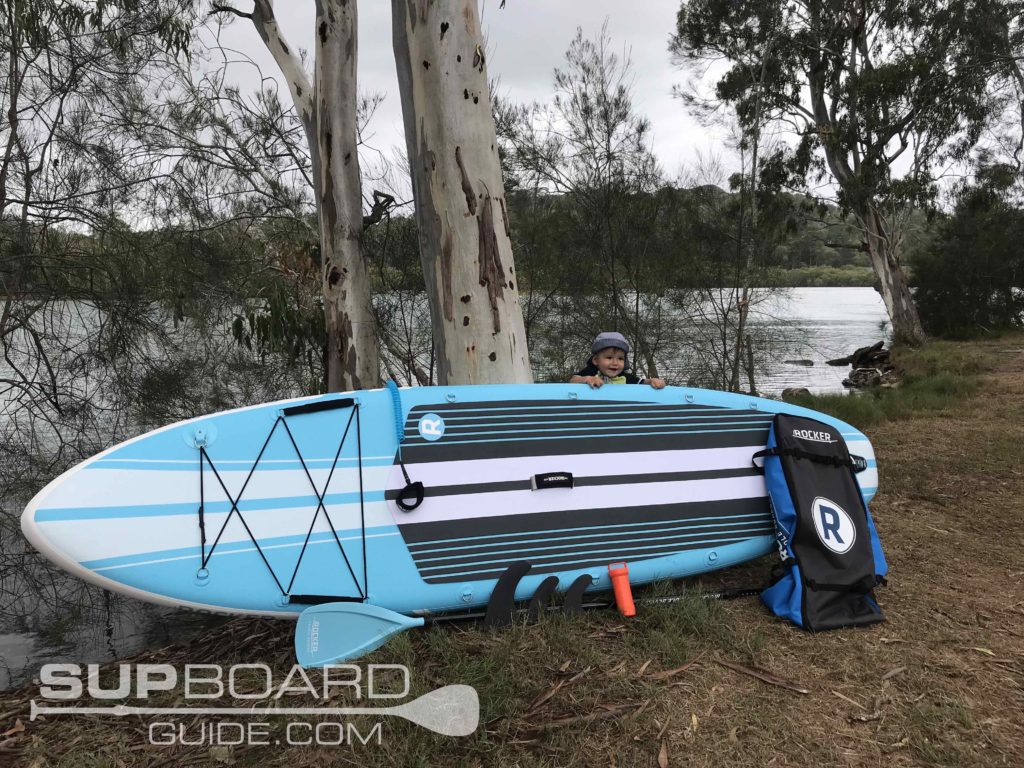 Thurso Surf Tranquility – Thurso Surf like most mid-range boards, use a triple layering of PVC to encapsulate their drop stitch core. Their boards are from what we can tell, immediately durable. However, it will be interesting to compare this inflatable SUP to ones above here in a years time.

Gili Sports Air – Being a budget board it's not surprised Gili Air is a single layer board. It does make it lightweight but also makes it susceptible to damage. Not only do you run a higher risk of getting a piercing, but you also don't get the same rigidity in your materials. Heavier riders will feel flex on the Air.

Conclusion
Now we're done analyzing, it's your time to shine.
What will it be? This is the exciting part where you get to decide who's going to be arriving on your doorstep soon. If you are in need of some more reassurance, refer to our graph again. Or even better, leave us a comment below.
Like we mentioned, this is our list. It's what we think is best. We might share different preferences than you, but we spend hours every week testing different boards and get our friends to come along, so we don't get too bias. We've paddled in rivers, seas, rapids, and lakes. Sometimes not all that successfully, but we try!
Choosing from this list, you can be assured that it's really been put to the test. The only reason why we would suggest overlooking this list is if you are in the market for particularly niche boards. Racing or surfing hardboards for instance. Otherwise, there is something here for absolutely everyone. It doesn't matter your experience, budget or preference, our best inflatable SUPs for 2019 is an all-inclusive list!
Till next time! Keep on enjoying the beautiful sport that SUPing is!

Note: We constantly update our content to make it as up to date and relevant as possible. That's why you will see some comments about boards no longer listed in this review. Boards we previously recommended include the iRocker Cruiser, Starboard Atlas, and Red Paddle Co Ride. They are all great but boards but just didn't make it on the list this year.
The following two tabs change content below.

Sacky
Heyo! I'm Sarah or as many call me, Sacky! I'm an Australian lover of the outdoors. From losing teeth to rock faces and surfing with dolphins - it's all my second home. I do the online thing to fund my obsessions and keep me seeing this wonderful world. Hope you've enjoyed my content 🙂

Last update on 2019-04-24 / Affiliate links / Images from Amazon Product Advertising API