BLACKFIN Model XL iSUP Review
Pros
Well built, stable, multi function board - great for everything from paddling in open ocean waters to fishing in the local lake.
High weight capacity great for larger paddlers and taking gear/kids, but still paddles well as a solo board
Durable. iRocker slowed down production and improved the construction, and it has shown through in our crazy testing of this board (yes, we went wayyyy too far testing this boards durability, but it still held up)
Heavy duty construction (triple layer PVC, carbon fiber rails) + 3 Year warranty on seams, 2 years on other board elements
Great speed on the water for such a large inflatable SUP.
Plethora of D-rings, action mounts, straps, and accessory mounts
We like the new designs and 6 different color options
New board building tool allows you to customize your kit (so no need to purchase a manual pump if you already have 1 or 2)
Cons
Rear action mounts could be integrated into the side handles
We like the dual chamber pump, but would like to have a deflate valve to help packing up the board.
Improved construction lead to more rigidity and better paddling performance on the updated 2023 Blackfin Model XL
The Blackfin XL has long been one of my personal favorite iSUPs, and has consistently ranked at the top of our best inflatable paddle board lists. With the boards being recalled last year along with several other brands' boards, we wanted to make 100% sure that we felt good about recommending the Blackfins again.
And we do – 100%. In fact, we've been so impressed with the improvements of the 2023 Blackfin lineup, that we are awarding the board as one of the best overall inflatable SUPs for 2023.
Bottom line: the 2023 Blackfin Model X is new, improved, and ready to make yet another splash in the SUP industry. It's back as one of my personal go-to boards when I need a larger, more stable iSUP that I can load up with gear and/or paddle around the lake with my family, or even take out fishing.
This is a great board for:
Beginner and/or bigger paddlers (height above 6' and over 200lbs) looking for a seriously stable board that also allows them to bring a lot of gear
More experienced paddlers who want one board that does most everything really well, including going on long SUP adventures where you need to carry a lot of gear
Families who want to easily take a child or pet (or both) as well as a days supplies for a nice day on the water
SUP fishing enthusiasts who want to be able to carry all their tackle with them to their favorite fish holes
Anyone wanting to paddle in a variety of waters, from flat water lakes to rivers and open oceans.
Blackfin Model XL: Spec Sheet
Main Category: Large All-Around
Nose Shape: Wide, but slightly pointed (good combo for stability without killing speed)
Tail Shape: Square (also helps with speed)
Board Dimensions: 11'6" x 34" x 6"
Listed Board Weight: 29 lbs
Listed Max Capacity: 485 lbs
Recommended PSI: 14-16 psi
Fins: Nylon, triple flip lock, removable
Materials: Triple layer composite PVC, carbon-fiber reinforced rails, knitted linear drop-stitch inner core
Paddle (OPTIONAL): Full carbon shaft + Nylon blade
Price Range: Medium to High
Warranty: 3 yrs (seam leaks) + 2 yrs for board defects
Performance Review of the Blackfin Model XL Stand Up Paddle Board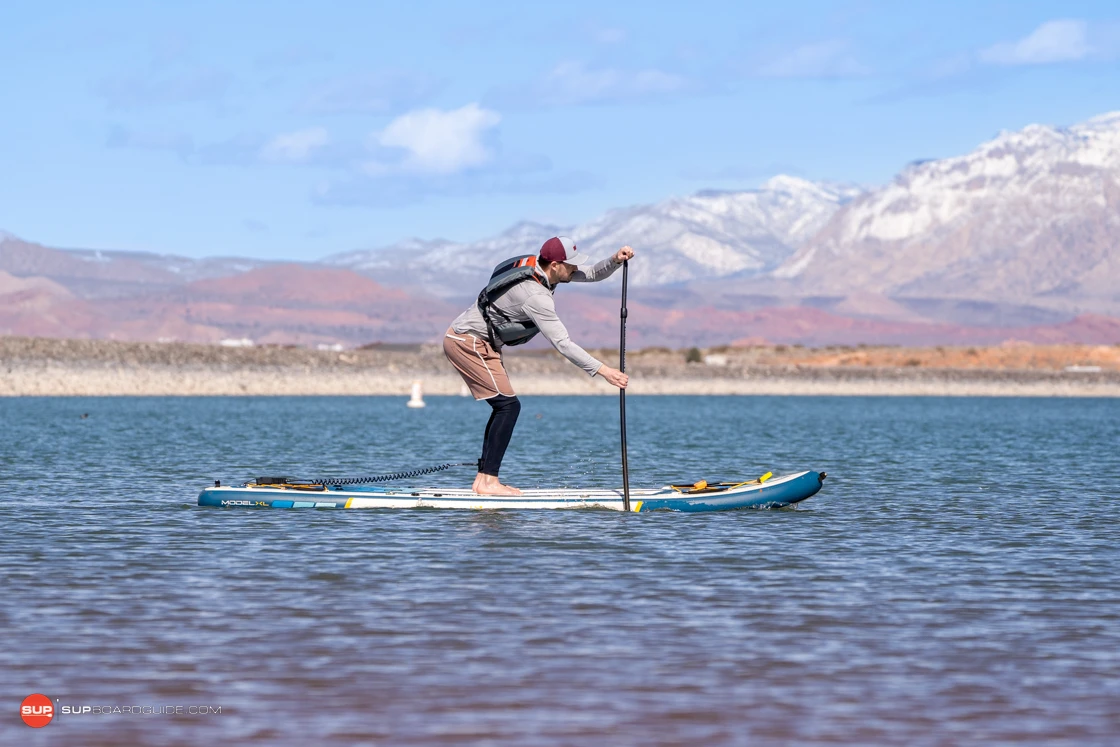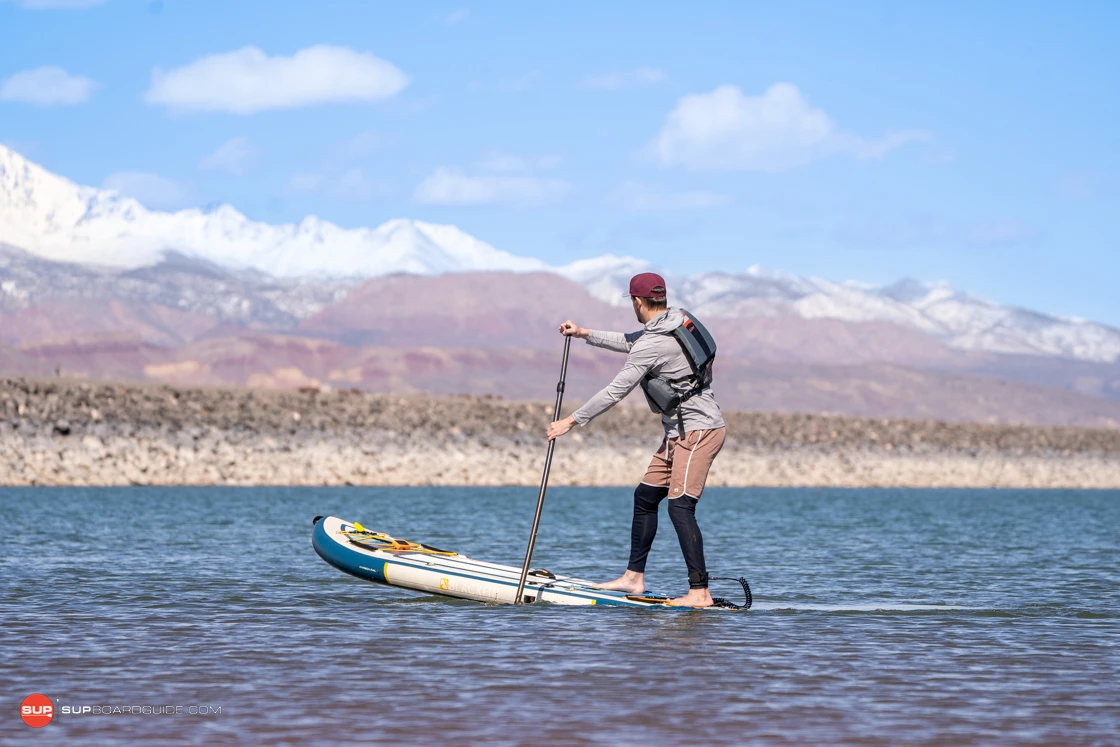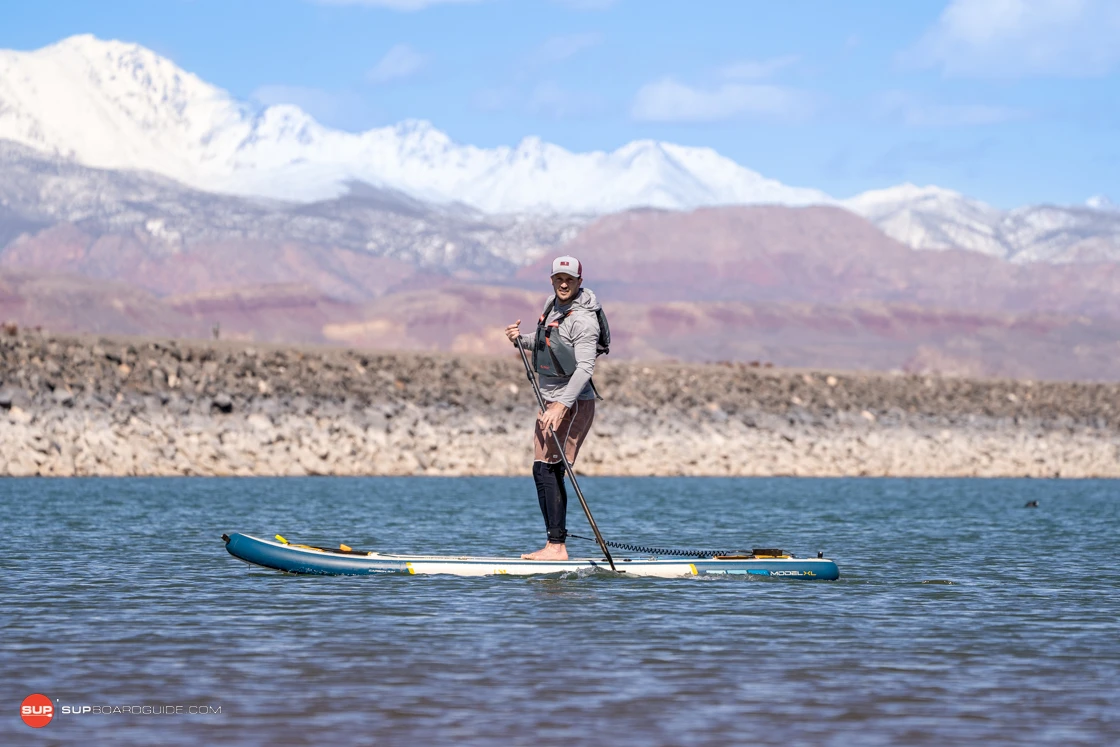 Overall Score: 9.8/10
Stability: 9.8/10
Speed: 8.9/10
Tracking: 8.9/10
Maneuverability: 8.8/10
Construction Quality: 9.4/10
Features/Accessories: 9.8/10
Stability Rating: 9.8/10
At 11' x 34" x 6", this is a high volume, very stable inflatable SUP – one of the most stable on the market.
A few years ago, the Blackfin lineup stood almost alone in the space of large, all-around inflatable SUPs. And while there are several other 'big board' options now, the Blackfin XL still is one of my favorites. If you're comparing, you'll notice that the Blackfin is ever so slightly less stable than the Isle Switch and Hydrus Joyride XL. However, we are talking very slightly and marginally – to the point that you have to really focus to be able to tell the difference.
If you look at the overall board shape of the XL Blackfin, you'll notice that it's a fairly wide board throughout, from the nose to the tail. However, it does pull some elements from more classic touring SUPs: it tapers slightly in the nose, and is squared off in the tail, and that does improve its speed performance a bit (see below).
However, that doesn't negatively impact the stability. If you are a larger paddler (above 250, and over 6'5) then you are still going to be fine on this board. We've tested it with our staff, and we have 3 paddlers who are all above 6'2 and 225 lbs. All of them absolutely love paddling the Blackfin XL and it's one of the boards they consistently take out because of how stable it is for them.
For 2023, iRocker also improved the construction (see below as well), making the XL even more rigid than last year. This increased rigidity helps maintain the board shape under load, and is one of the factors that give the XL its high weight capacity. For me, when I paddled the XL with my young teenager, that put us to 250 lbs. Yes, the board was slower with Max on the board, but we were completely fine stability-wise.
Speed Test: 8.9/10
| | |
| --- | --- |
| Board | |
| Top Sprint Speed: | 5.2 MPH |
| Average Cruising Speed: | 3.6 MPH |
*Notes on our speed test:
Once again, the Blackfin Model XL surprised us in our speed tests. I actually was able to reach 5.2 MPH at top speed in my sprint test and 3.6 MPH in our cruising speed test.
Put simply: the XL is a fun SUP to paddle, which we can't say about too many other 11'6 x 34" wide iSUPs.
For top speed, I was able to hold that 5.2 MPH for a good 5-7 seconds, which is .2 – .3 MPH faster than expected of an inflatable SUP of this size. We attribute this speed as a result of iRocker tapering the Blackfin XL in the nose and then tapering and squaring off the tail.
If you're looking for a board to go out and tour/fitness paddle 2-3 miles, a few times a week then the Blackfin XL is not going to be your first pick. However, if your looking for an inflatable SUP that provides a ton of weight capacity and is still fairly fast, then the XL is going to be towards the top of your list.
Tracking: 8.9/10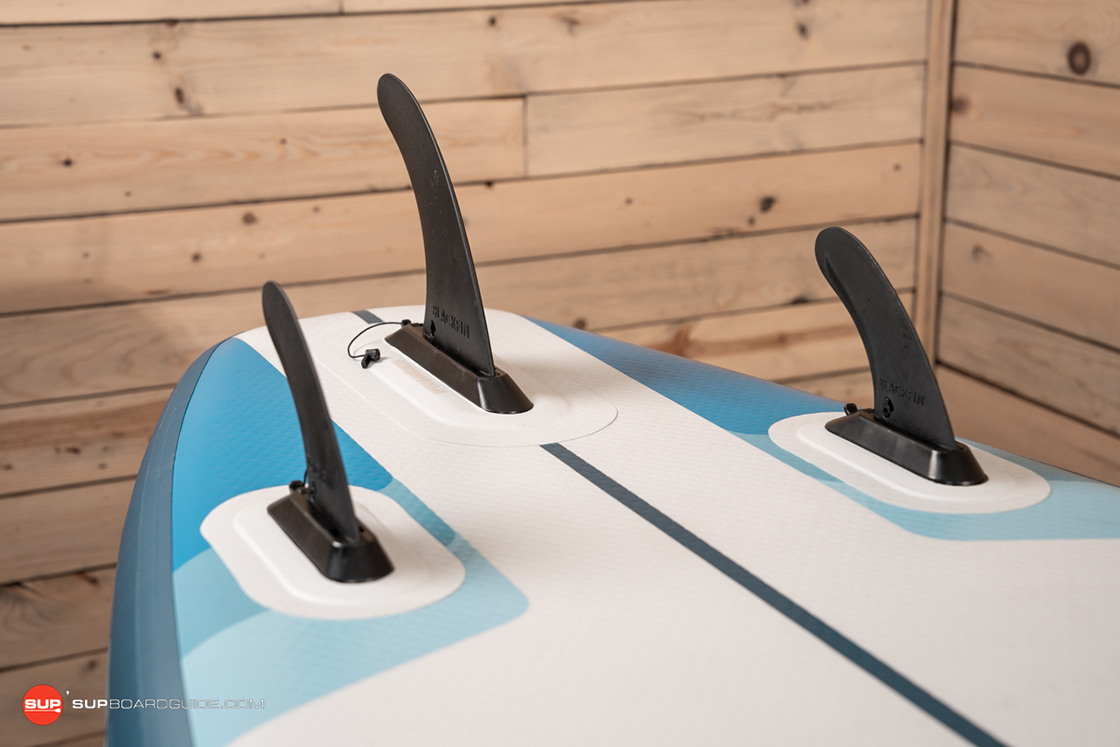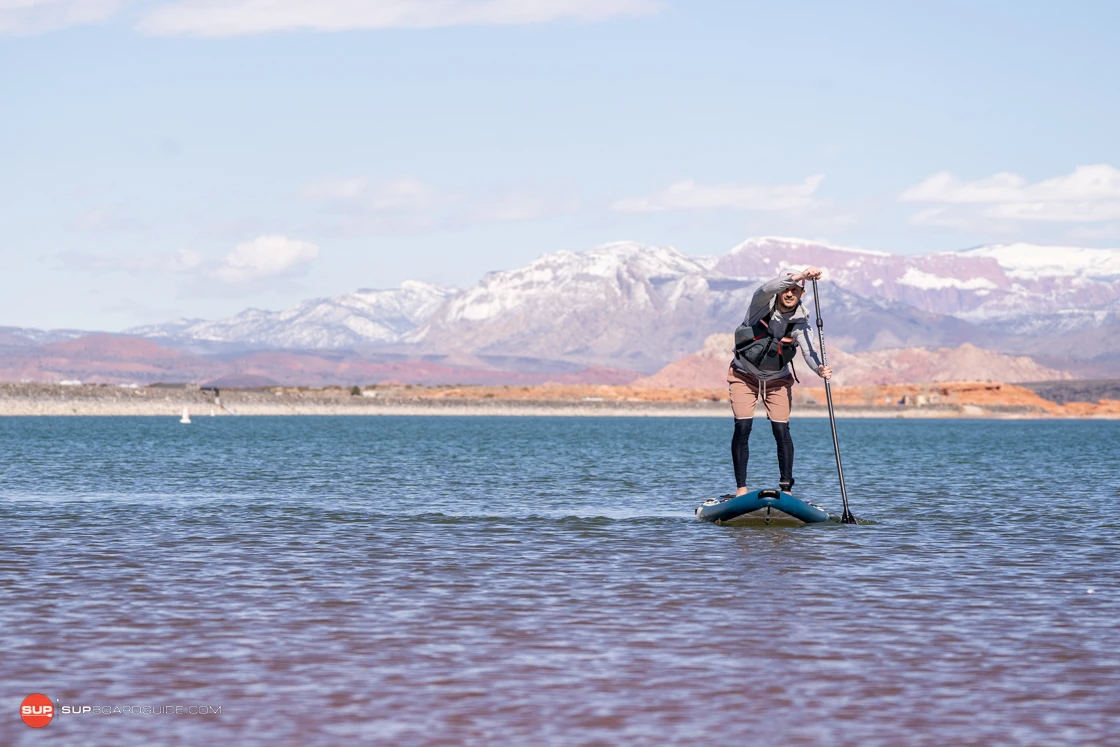 Tracking on a 34" wide board is going to come down mostly to the paddlers experience. If you are a skilled paddler, then you won't have any problem keeping the Blackfin XL straight. I was able to paddle 6-7 times on each side before I needed to switch sides (5-6 if I'm trying to be super straight).
I'm actually always surprised at how it's fairly easy for me to keep the Blackfin straight, and when I'm taking this out for fun I almost never have to think about the tracking.
For beginners, the tri-fin setup + 11'6 length also helps you keep the board straight as you build up your paddling skills. This is not a board where you're going to need to worry about tracking.
Maneuverability: 8.7/10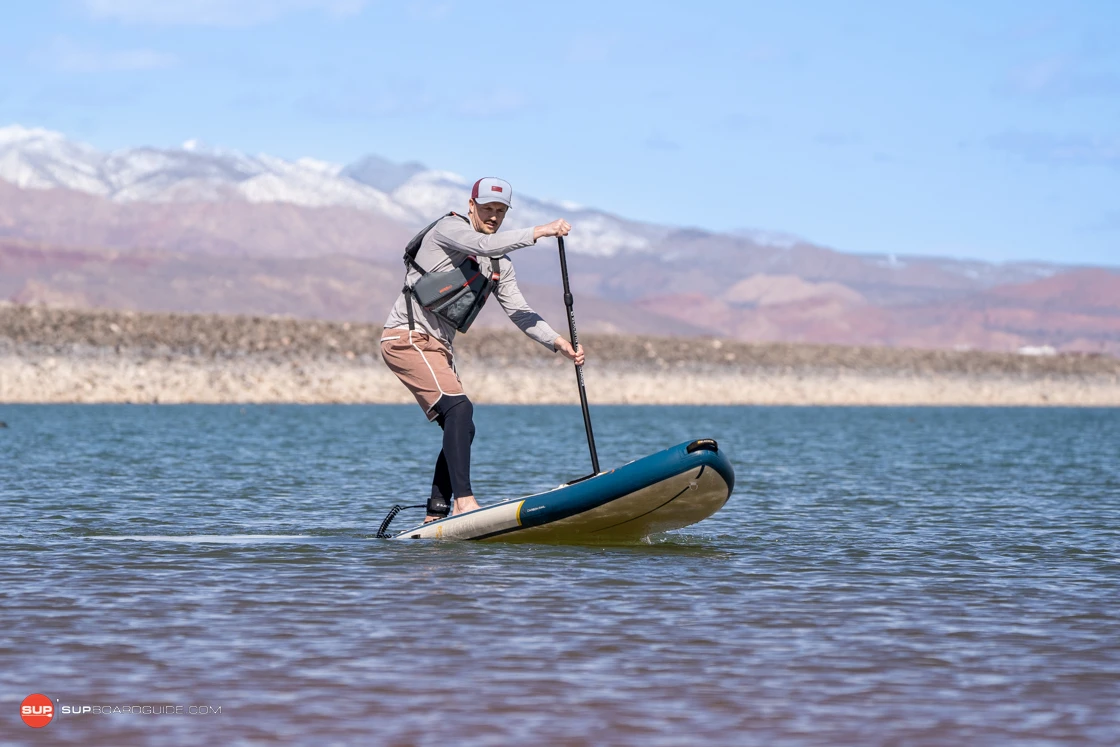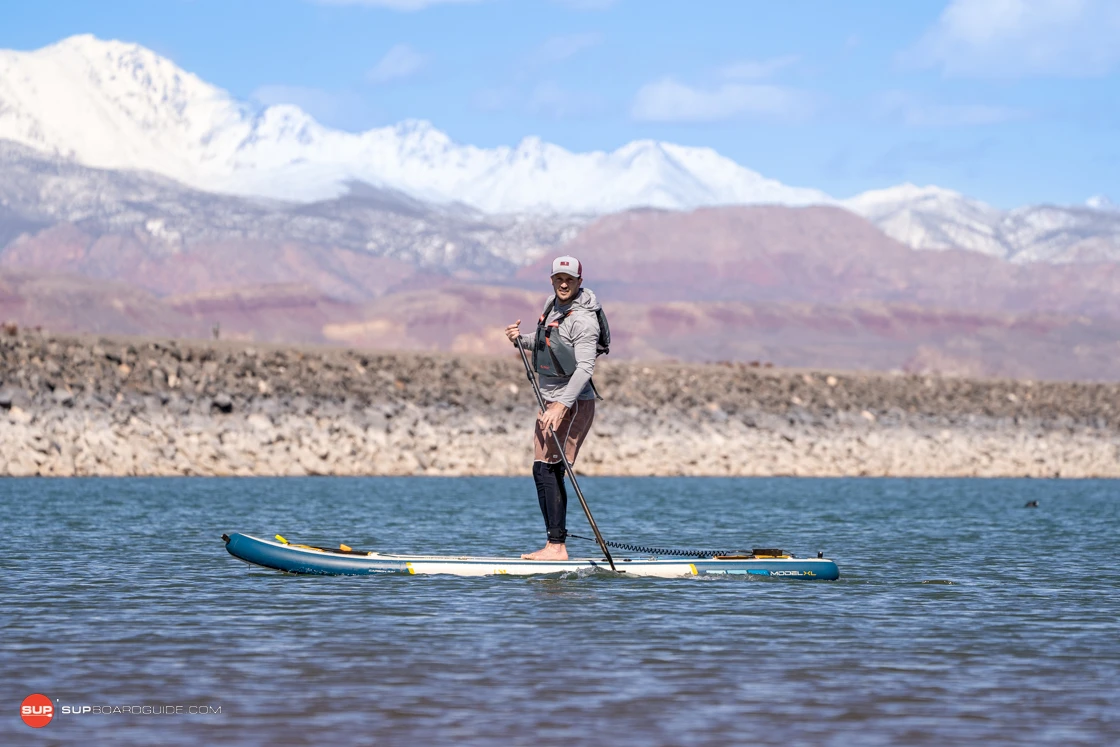 You shouldn't expect an iSUP that is 11'6 x 34" to be incredibly maneuverable, as that's not it's purpose and you don't want to take away from the tracking capabilities.
However, you do want a SUP that isn't overly hard to turn using either forward or back sweep strokes. The Blackfin Model XL did pretty good there, taking just 4.5-5 back sweep strokes to turn around fully.
In addition, I like to test out how easy it is for someone to do a step back turn (see the first photo above). In the step back turn, I want to be able to easily and comfortably plan my rear foot directly over the fins, pushing them down and lifting the nose out of the water. This should make it so I can basically spin in circles.
I found the XL to be on the easy side of things when it comes to step back turns, and would be a great board for beginners to learn on. However, I would note that there are a few of the accessories that can get in the way (scotty mounts, bungee cords), and there is not a raised kick pad to plant your foot on. That is something I'd love to see improved on the next Blackfin models, as raised kick pads make step back turns much more comfortable.
Construction Quality: 9.8/10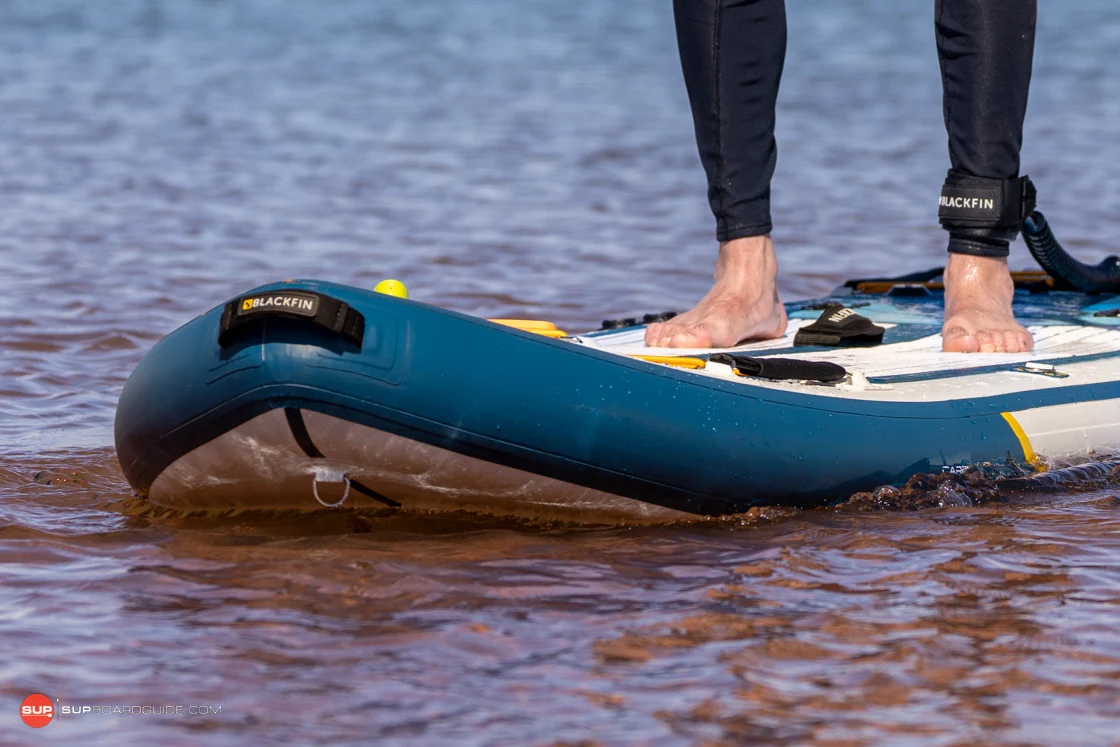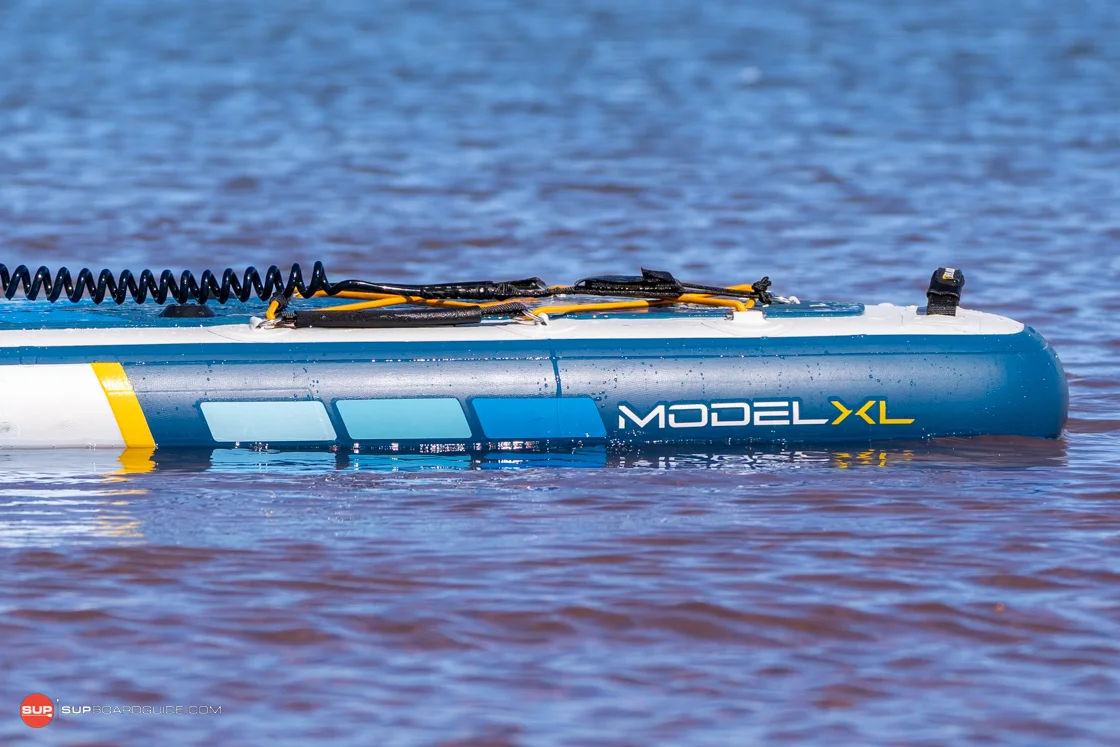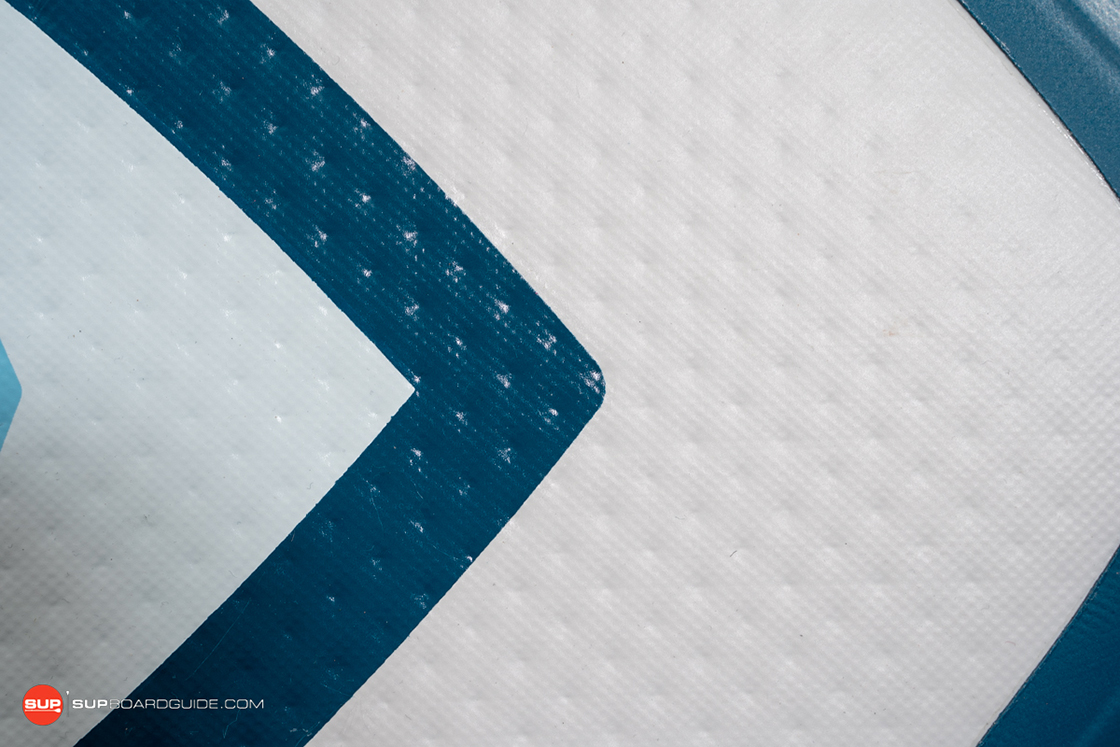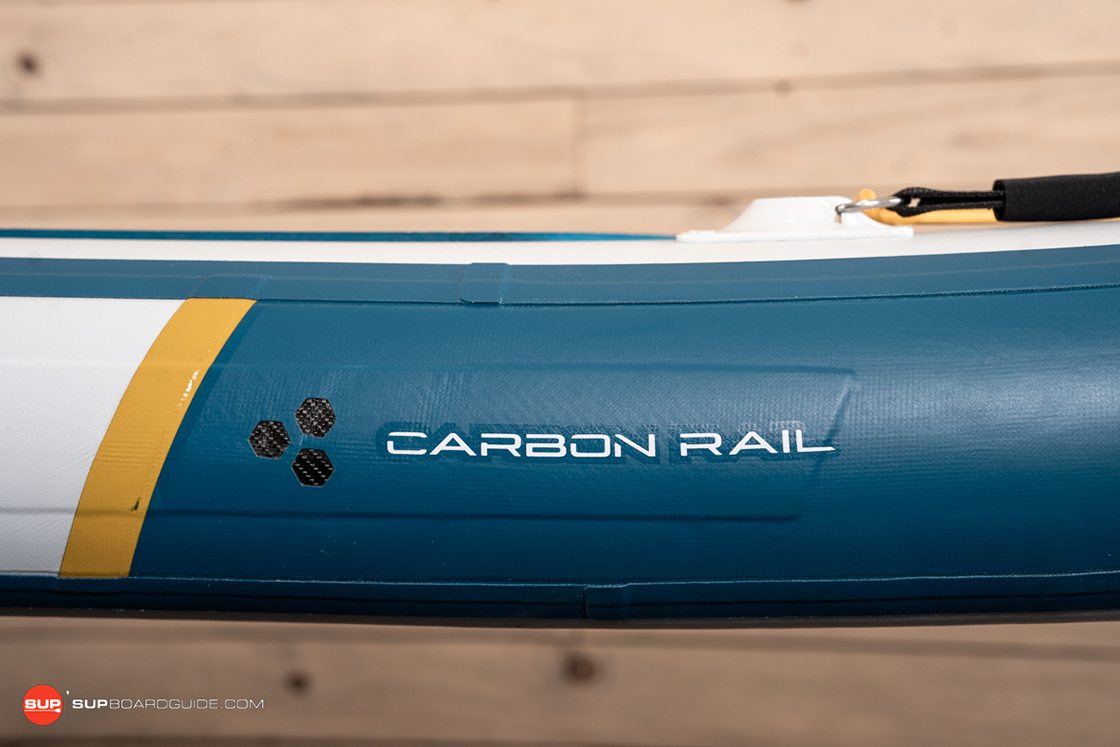 The Model XL follows the same construction as the Blackfin Model X and Model V: what iRocker terms "Triple Layer Composite PVC, carbon fiber rails, and reinforced seams". What this actually means is the Model XL has the following construction:
Drop Stitch Inner Core:
Knitted Base Layer. This fabric layer that the nylon threads, or 'space yarns', attach to and forms the base shape of the board.
Linear nylon threads.
We see that in the dimple pattern on the board.
PVC Layers:
Dual layer PVC, glued to the base layer
Rails:
Two layers of PVC, glued
Carbon Fiber Stringer running from about 2 feet from front and rear of the board)
Reinforced seam PVC tape
We are seeing a few brands move to a combination of welded seams, fusion construction, and woven cross drop stitch inner cores. iRocker, however, decided to stick with the same construction process they have had the past few years with two big exceptions:
1. They slowed down the construction process. Yes, this is something they claim and that can be hard for us to verify. However, what I can tell you is that the rails on this board are straighter and more crisp than past boards and everything looks and feels much more precise. This is a very clean, well-made board.
2. The decreased the amount of space between the top and bottom layers of PVC on the rails of the board. This improvement is VERY important, and one that we pushed iRocker on pretty hard last year. We were stoked when they listened and decided to make this improvement.
Here at SupBoardGuide, we are still testing which construction methods we prefer, specifically between glued and welded seams. However, what we can say is that the Blackfin XL performed exceptionally well in our bend test, which is one of the biggest indicators of quality construction for a board and leads to great performance on the water.
Board Stiffness: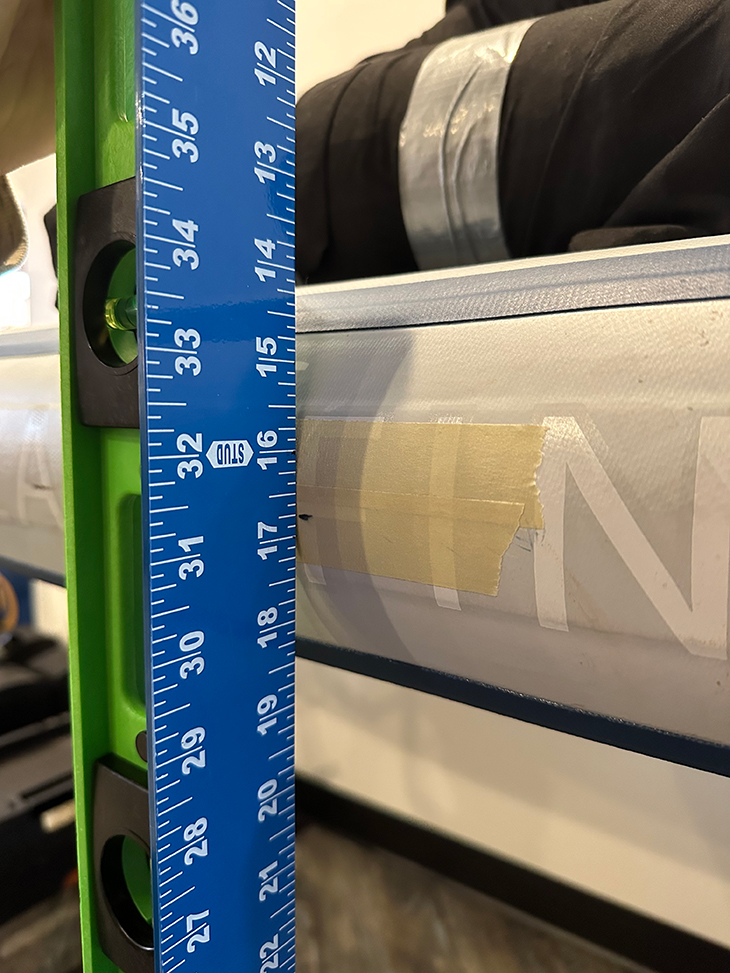 Stiffness Test: .75" Bend
By reducing the rail gap and slowing down construction, iRocker was able to improve the rigidity of the Blackfin Model XL by 20% vs last year. I was able to feel this rigidity on the water, and love how we are seeing such a focus by brands on improving the construction of their boards.
We think iRocker did a fantastic job with the 2023 Blackfin Model XL, and think consumers are going to be very happy with not only the improved performance vs past models, but also with the improved durability.
One final note: iRocker lightened the rails, and no longer are offering black rails on the Blackfin lineup. While we have seen some people not love this from a design perspective we want to make sure we point out the reason iRocker did this: to reduce heat on the rails and improve durability. You will be surprised at how hot inflatable SUPs can get, especially when they are not in the water. We test boards routinely in 110 degree heat (we are located in southern Utah about 2 hrs away from Las Vegas, Nevada). Boards with black rails can literally burn you, and we have encouraged all brands to move away from black rails to lighter greys.
Features/Accessory Review: 9.8/10
Features:


As always, the Blackfin XL comes loaded with both features and accessories. This really is a board that you can do everything on. Included on the board are the following features (yes, this list gets a little bit long)
Front and rear launch handles
Front and rear, removable bungees (we love how they made these easily removable)
Front and rear safety handles (also removable, but I always leave them on since my kids love them)
17 total d-rings
Kayak dedicated D-ring mounts (note: iRocker removed one set of kayak D-ring mounts, so the connection is a little bit different than last year. We found the location a little better for single kayak paddlers, but a little more complicated for those who want to mount 2 kayak seats, although it's still doable).
2 Scotty mounts + 2 sand spear mounts for the avid fisher peoples.
Center handle for carrying the board (the board center handle was done well and leaves the board very balanced when carrying, which isn't something we find with all SUPs)
Tethered fin attachments so you don't lose your fins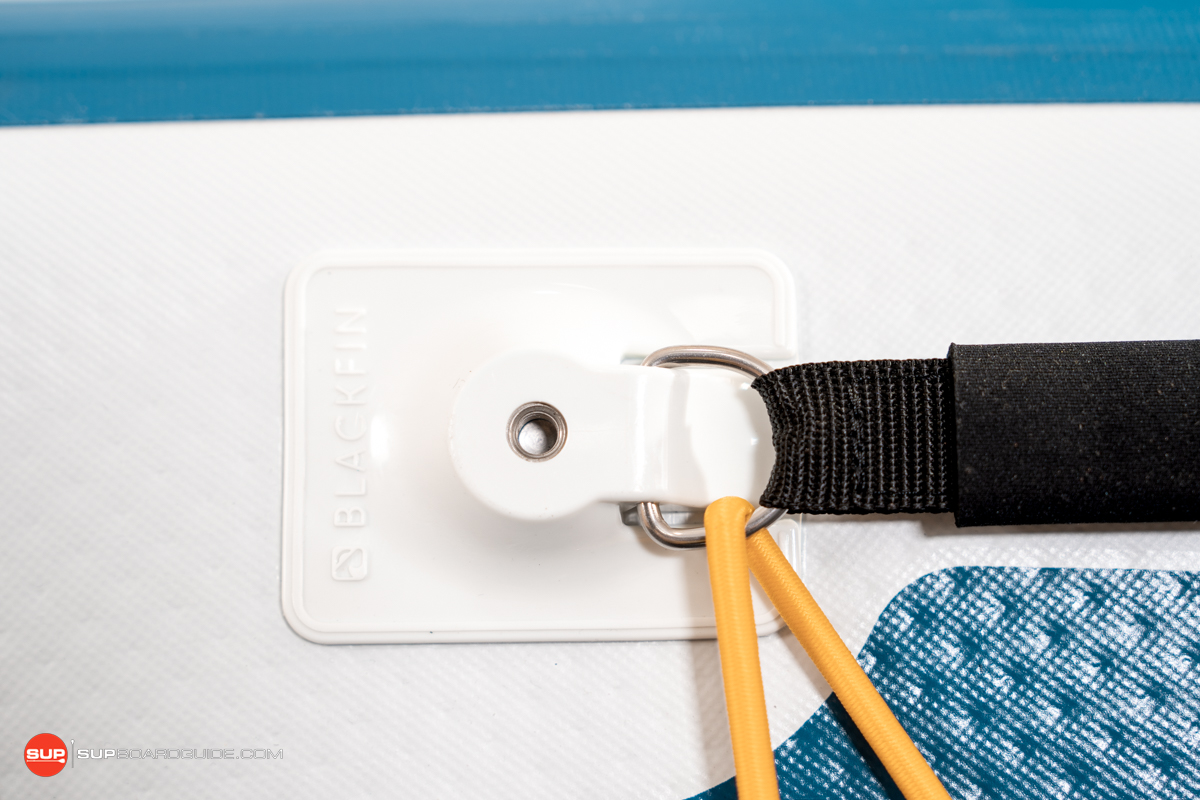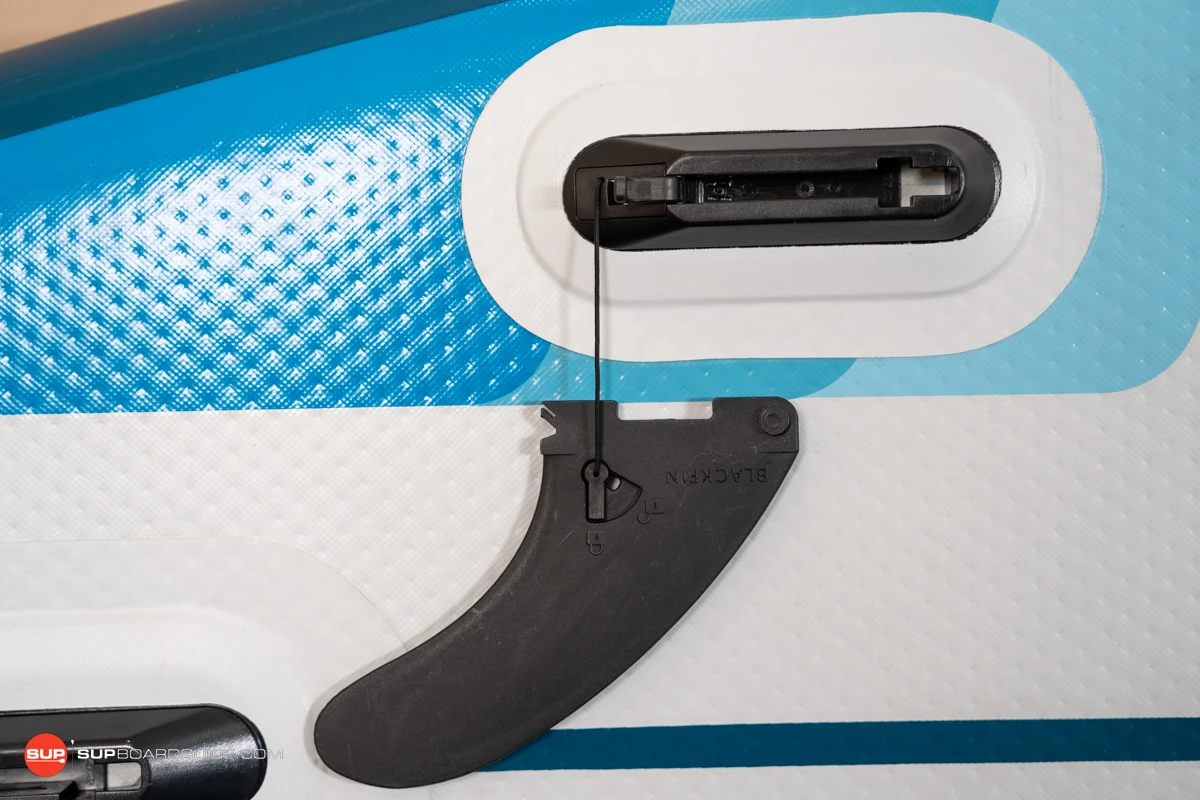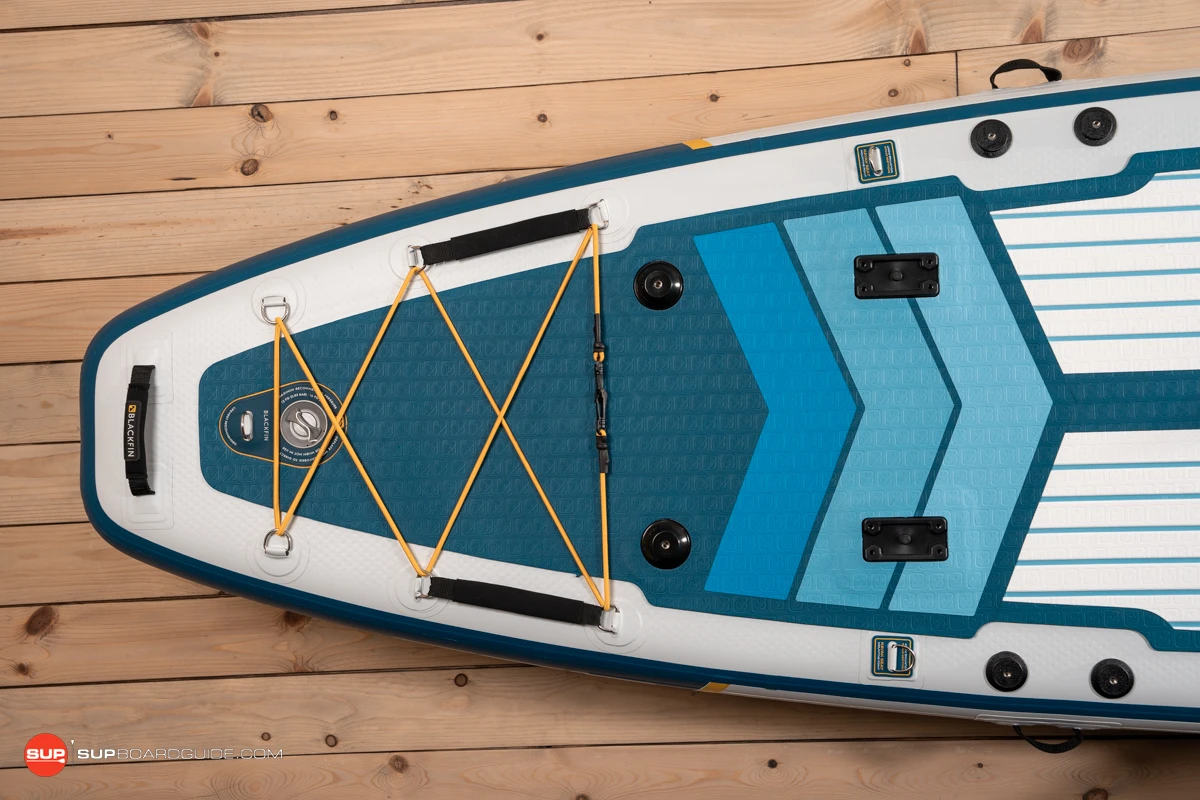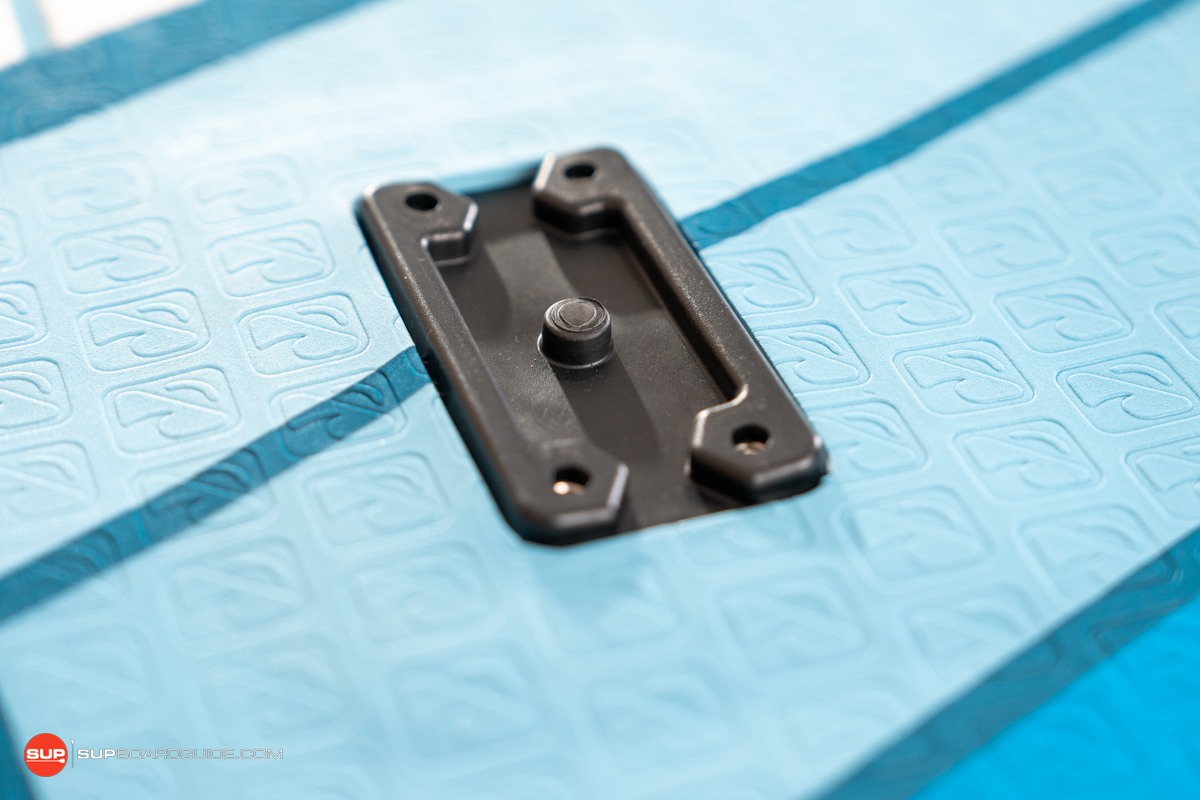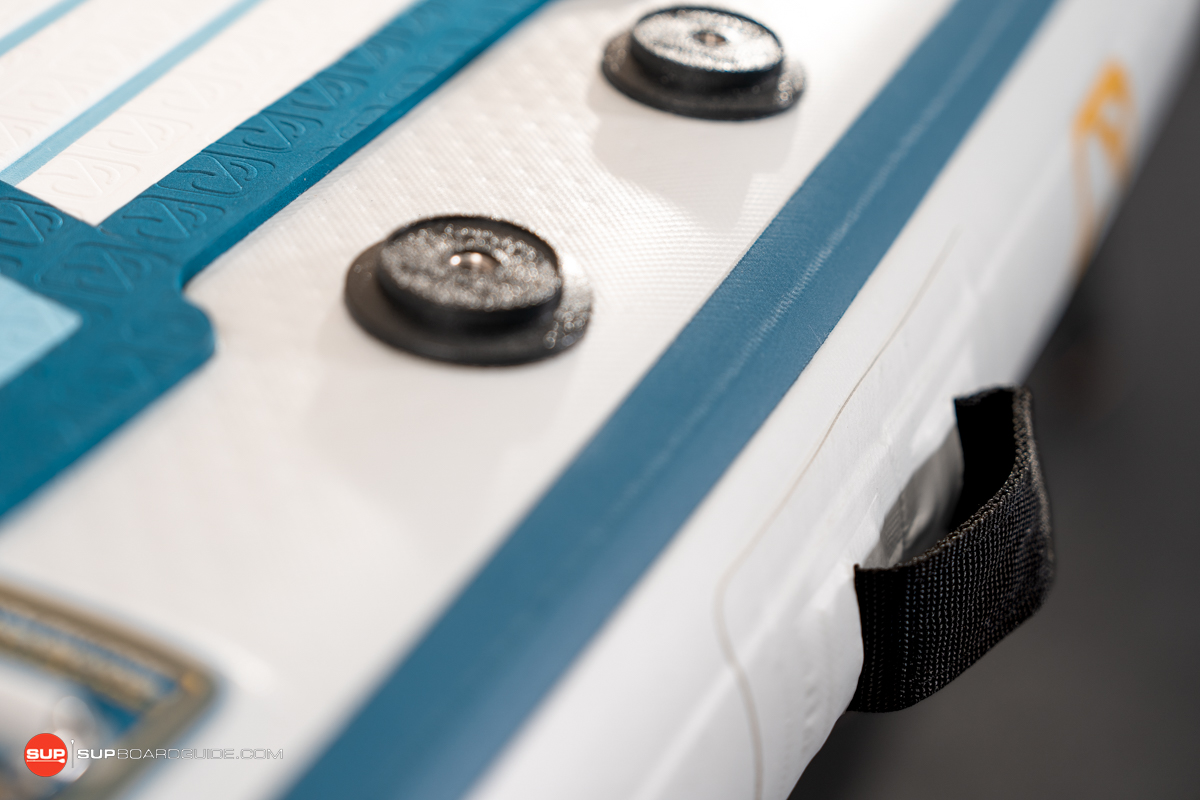 Overall, we love all the features that come included in the Blackfin, and is one area where the XL stands out vs its competition.
Included Accessories:
This year, iRocker has completely changed up the way you purchase the Blackfin XL. Instead of having a default kit that you have to buy, you are able to customize what comes with your board.
Included in the base price are the following:
Blackfin XL inflatable paddle board (kind of goes without saying, but just in case…)
3 removable, flip lock fins (with tether attached to fin boxes)
That's it, the board and fins. From there, you build your kit with the following items that you chose:
Wheeled SUP bag (there will soon be 2 options to choose from and we'll update our review with details when the new premium bag is available)
Paddle (there will also be 2 paddle options to choose from here shortly, and we are excited to test out the new premium paddle to see if it's worth the upgrade)
Manual dual chamber, triple action pump (which we still wish had a deflate valve)
Electric pump
Coiled leash
Note: iRocker requires you to add a leash to the kit. We 100% agree with this and want to make sure all of our readers know to wear a leash when flat water paddling
Overall, we are still unsure of the new checkout process and wish that iRocker had an option to start with the normal base kit that includes a manual pump, leash, paddle, and bag and then let consumers choose what to upgrade or take away from the kit.
Summary Review of the Model XL Blackfin – 2023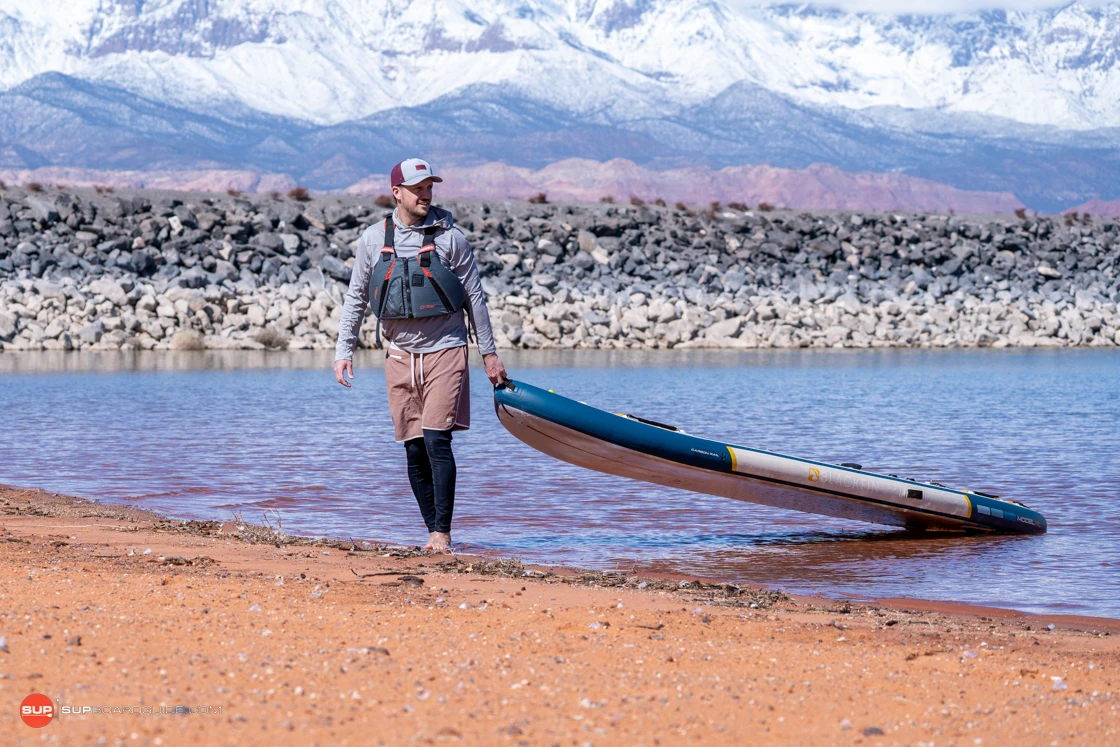 I still love the Blackfin XL, and the more I paddle the more I find that I choose the XL when I'm taking my family paddling. If I'm paddling solo only, then I'll grab the Model V, and if I'm going down a river then I'll grab the Model X. For everything else, I personally have found the XL to be my favorite all arounder of the original Blackfin lineup.
It's super stable, but still fairly fast, and it has a ton of deck space and volume for loading it up with my kids or with adventure gear.
Are there some small tweaks I'd like to see iRocker make? Of course. These include giving me an option to not have the fishing mounts and including a raised tail pad. However, these really are marginal 'wants' and by no means are problems with the board.
Improved quality and better design (in my opinion at least) make the Blackfin Model XL on of our top recommended inflatable SUPs for 2023.
As always, we hope this review of the Blackfin Model XL was helpful. We try to be as in-depth as possible. However, if you still have a question please comment below and we'll do our best to respond.
Happy paddling!
The following two tabs change content below.
Justin - Chief Paddler
Heyo! At SupBoardGuide.com we are a team who love the water, the outdoors, and are more than grateful that our full-time job allows us to review stand up paddle boards. We paddle year round (it helps that we are just about 2 hours outside of Las Vegas), and we bring in a wide range of paddlers with the goal of providing our readers with the best, most in-depth, and accurate stand up paddle board reviews.
Latest posts by Justin - Chief Paddler (see all)