BLACKFIN Model XL iSUP Review
Pros
Well built, stable, multi function board - great for everything from paddling in open ocean waters to fishing in the local lake.
High weight capacity great for larger paddlers and taking gear/kids, but still paddles well as a solo board
Plethora of D-rings, action mounts, straps, and accessory mounts
Heavy duty construction (triple layer PVC, carbon fiber rails) + 2 year warranty
Really nice weight in the water - not too heavy, but also not too light
The board I decide to take if I have to choose just one given it's versatility
Cons
Rear action mounts could be integrated into the side handles
We like the dual chamber pump, but would like to have a deflate valve to help packing up the board.
Note: The Blackfin Model XL is not currently available for sale on iRockerSup.com. As such, the links in this post will take you to the newest Blackfin SUP – the Blackfin CX Ultra (
read our review of the Ultra CX here
)
We are big fans of the Blackfin CX Ultra, and recommend it for anyone looking for a faster, more compact SUP than the Model XL. If you are someone who is wanting a larger, wider board for stability reasons, then we currently recommend that you consider the Isle Switch (read our review of the Switch here).
-SupBoardGuide Team

The more we have tested and reviewed the Blackfin Model XL this year, the more we find ourselves loving this board. Yes, Blackfin has gone through the recall and that is super frustrating for paddlers. However, we are glad that iRocker has been so up front with everyone and that soon everyone will be getting their replacement boards for 2023 paddling season!
The Blackfin Model XL proved itself as a jack of all trades in our review. With its high volume comes the ability to take more gear, people, and pets and adventure about anywhere you would want to go on the water. With triple layer PVC construction, carbon fiber composite rails, and tons of features and accessories this is a great board for fishing, touring, and whatever SUP adventure you may want to do. And with it's high weight capacity, it's a perfect SUP to bring the whole family!
This is a great board for:
Beginners looking for a seriously stable board
More experienced paddlers who want one board that does most everything really well, including going on long touring SUP adventures
Anyone looking for a stable, high quality iSUP
Families who want to easily take a child or pet (or both) as well as a days supplies for a nice day on the water
Bigger paddlers ( height above 6' or over 200lbs) and/or those looking to bring a lot of gear
SUP fishing enthusiasts who want to be able to carry all their tackle with them to their favorite fish holes
We think the Model XL is great for the following water conditions/situations:
Flat water paddling (lakes, bays, marinas, etc.)
River SUPing
SUP Fishing
Ocean paddling
Surfing in small surf (1-3 ft)
Blackfin Model XL Review Overview
The Blackfin Model XL comes with a brand new look as well as a major splash of 6 different color choices. I personally love the look and am a big fan of the several blue options. This board is really packed with all of the available accessory mounts you could ever need. Not to mention it comes with so much great equipment right out of the bag. All in all this board represents a great investment for new paddlers wanting a long lasting iSUP, as well as seasoned paddlers looking to upgrade from a smaller or less equipped board.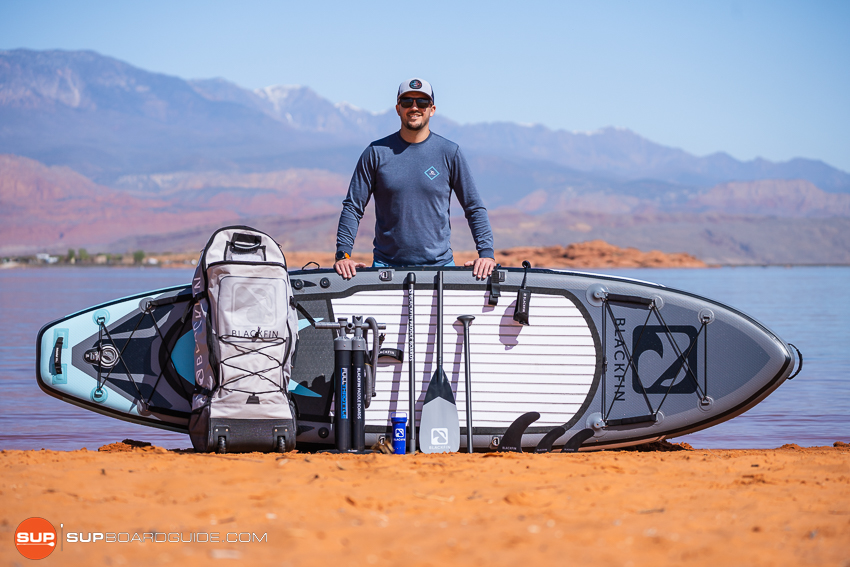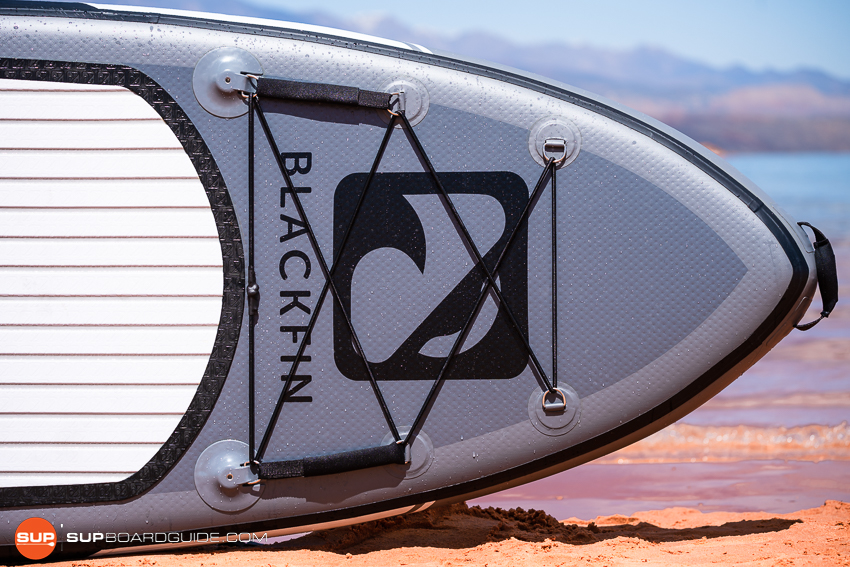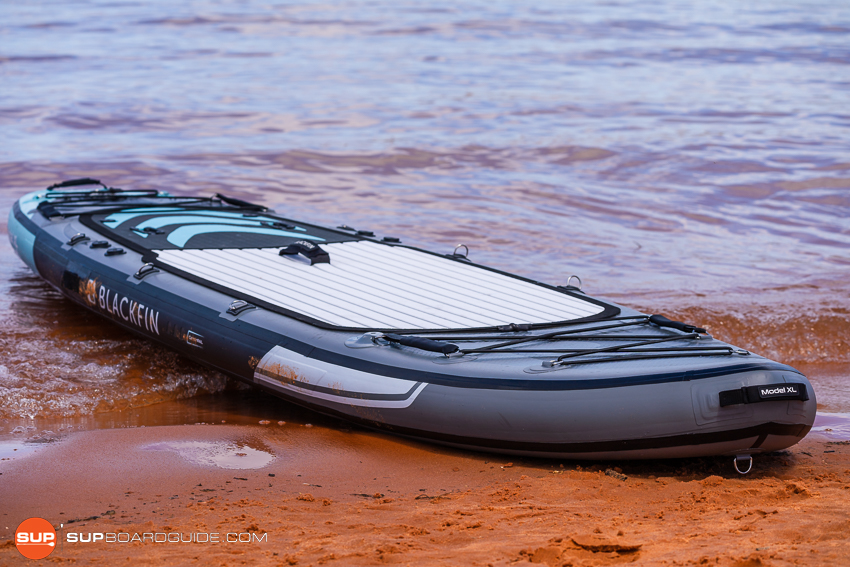 Note: We put in a lot of time riding and evaluating these iSUPs. Short spec reviews are just not our thing. We test the boards in real world conditions and try to get the best feedback for you, the consumer, to make an intelligent buying decision. If you have any questions or comments let us know below.
Blackfin Model XL: Spec Sheet
Main Category: All-Around, Inflatable
Board Shape: All Around / Inflatable
Board Dimensions: 11'6" x 34" x 6"
Listed Board Weight: 29 lbs
Listed Max Capacity: 485 lbs
Recommended PSI: 15-18 psi
Fins: Nylon, triple flip lock, removable
Paddle: Full carbon shaft + Nylon blade
Materials: Triple layer composite PVC, carbon-fiber reinforced rails, high density drop stitch inner core
Price Range: Medium to High (depending on color price varies)
Warranty: 2 yrs + 1 yr for accessories
Official SupBoardGuide.com Test/Review: Blackfin Model XL
The results of our tests for the Blackfin Model XL are listed below. We try to test these boards in a variety of conditions to get the most usable data possible. Our goal is to verify the manufacturer's claims so you can make the best decision possible.
Overall Score: 9.9
As a larger all-around iSUP, the Model XL performs near the top of the list when it comes to stability and versatility, and even did quite well with tracking as speed.
Stability: 9.7/10
Speed: 9.0/10
Tracking: 8.9/10
Maneuverability: 8.8/10
Construction Quality: 9.3/10
Accessory Review: 9.8/10
*Please note that we typically don't award 10's very often (if ever)
Our overall rating of 9.9 on the Blackfin Model XL is us saying this is one of the best, all-around inflatable SUPs.
In-Depth Review of the Blackfin Model XL Inflatable Stand Up Paddle Board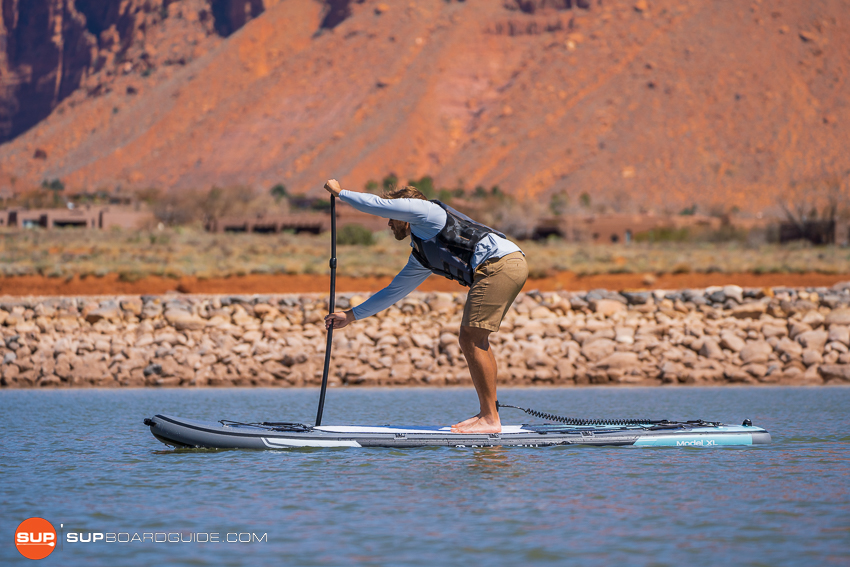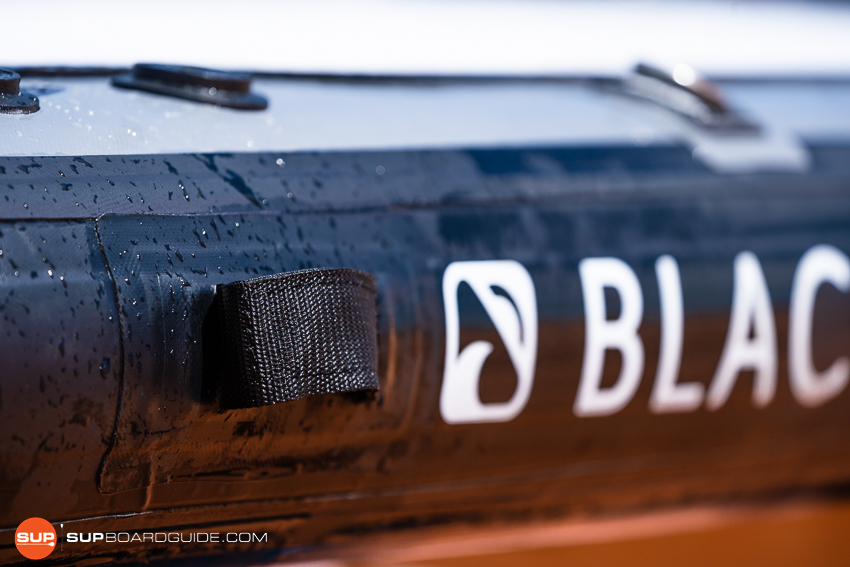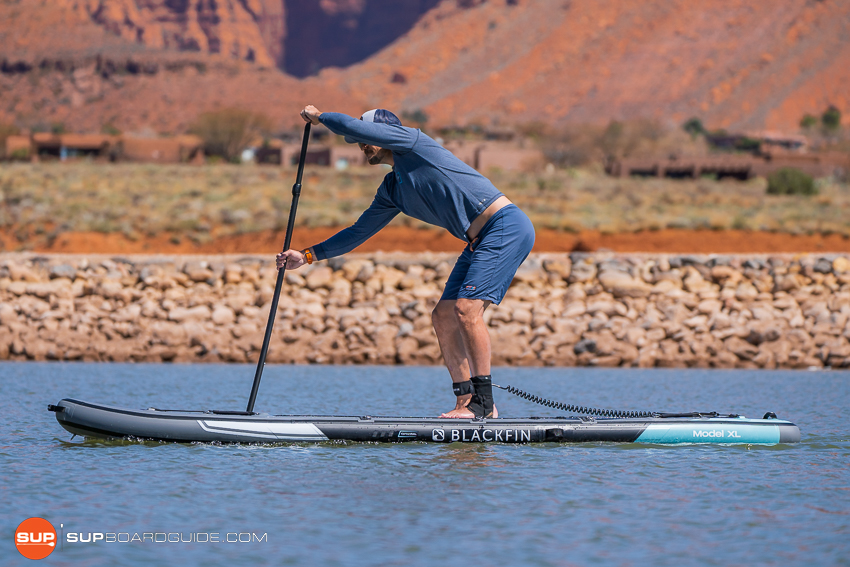 The Blackfin Model XL is just a dream to paddle. As I mentioned above, the more we paddled and tested iSUPs, the more we liked this board. It's a great combination of everything you would want if you have to choose just one board. From paddling solo on long adventures, to carrying gear and kids and just having fun on the lake, this board does everything very well.
Stability Rating: 9.9/10
Stability is where this board really excels. It's very large, well built, and extremely voluminous. This really makes this board a great choice not only for beginners, but those more advanced paddlers who want to bring a lot of stuff on the water with them. This board was not phased when we loaded multiple reviewers on it for a while as well.
We consider stability to be one of the single most important attributes of a stand up paddle board. No matter what other metrics the board may excel at, if it doesn't feel stable underneath your feet you just won't be having a good time.
Board Stiffness:
Stiffness Test: 0.8750" Bend at 18 PSI (board on top of saw horses placed 7' apart, with 150 lbs of weight added right by handle in middle of the board)
There is still ongoing debate in the iSUP world on whether or not carbon fiber rails provide any benefit without being mixed with the resin and ultimately making them impossible to fold up. Based on our testing thus far it seems that the inclusion of these rails at the very least makes for a more durable exterior and is slightly stiffer than those without this type of construction. We are still testing each day to determine what side of the argument we fall on, but so far we do give the Blackfin lineup a thumbs up for including the carbon fiber rails.
The Blackfin Model XL is one of the stiffest boards we have tested thus far. Carbon fiber rails or not, this board just feels solid under our feet thanks to it's triple layer PVC construction.
Weight Capacity:
Listed Weight Capacity: 485 lbs
Tested Capacity: 400+ lbs
This is the mack daddy of the BlackFin line in terms of weight capacity. With a manufacturer listed capacity of 485 lbs, this is one serious paddling platform. Take your friend(s), cooler(s), fishing gear, you name it. Bottom line this board will get you and your stuff wherever you need to go. Understand the performance goes down the more weight you put on the board, but with this board there is ample room for gear before you hit any decreased performance. As a side note, the smaller Model X was successfully used to paddle 3 adults. This has even more buoyancy than that, and would be the iSUP we pick for an overnight SUP camping trip.
Speed Test: 9.0/10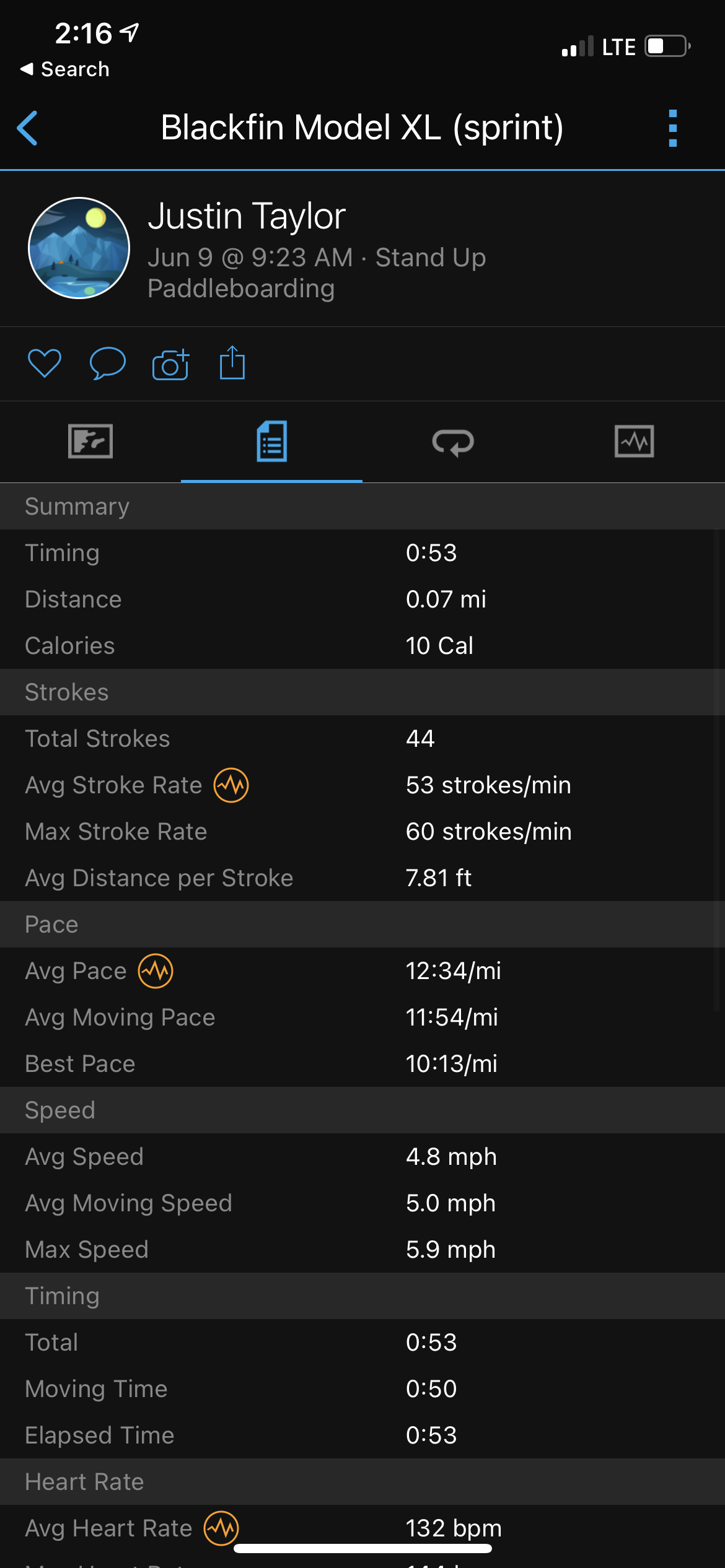 While this board is not meant to be a speed demon or racing SUP, it did surprisingly well in our speed test, coming in just a few seconds behind the Blackfin Model V. At 11'6", it's a faster board than the Model X and is also 1" thinner, which makes it just a little bit easier to maintain a vertical paddle for improved tracking.
Another big advantage of the Model XL vs smaller boards is that the boards stability makes it really easy for even a less experienced paddler to shift their weight to one side, create an 'edge' with the board, and reduce drag while paddling. Creating an edge is a technique used to increase speed, and can be a little more difficult on smaller, more advanced race/tour type SUPs. However, we found this to be pretty easy with the XL and helped us achieve faster speeds than we otherwise would have.
For smaller paddlers, you'll for sure want to practice this technique so you can still maintain a more vertical paddle stroke for improved speed and tracking.
Bottom line – for a board that can carry almost 500 lbs, we were very impressed with the speed.
Tracking: 8.9/10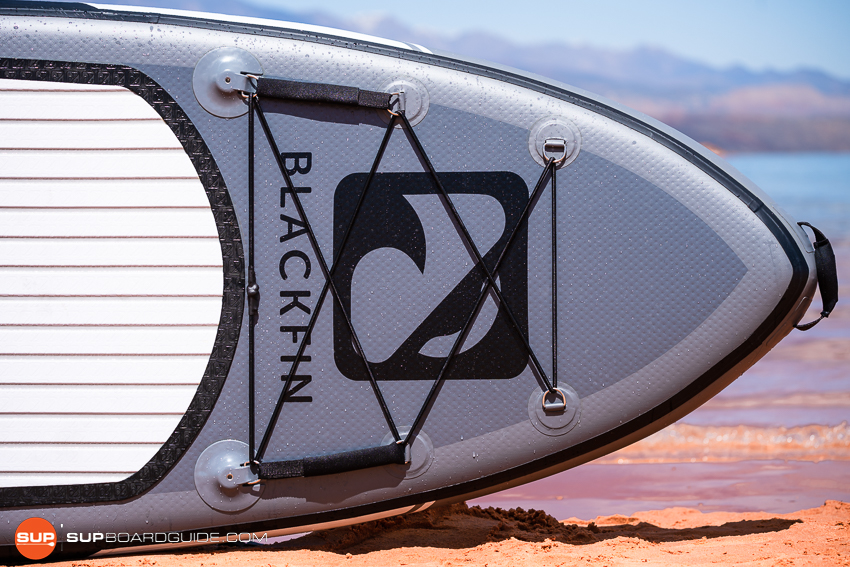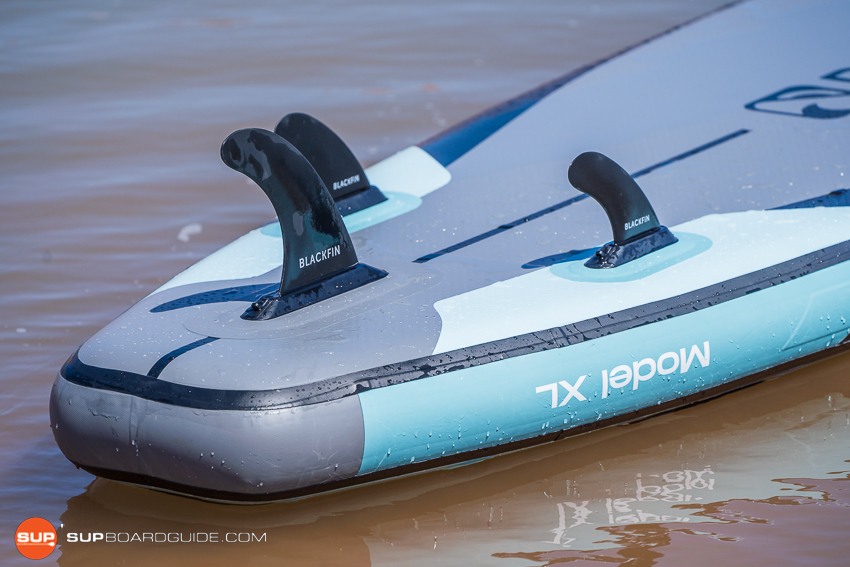 This board tracks very well as an all around iSUP. Better so than the smaller Model X due to the increased length (and thus longer water line) and slightly narrower shape. Again the triple fin setup plays a big part here as well. Shorter paddlers might have a harder time maintaining a perfectly vertical stroke (unless they can perfect stepping to one side and creating an edge with the board). However, this board is perfect for larger, broader paddlers.
Maneuverability: 8.8/10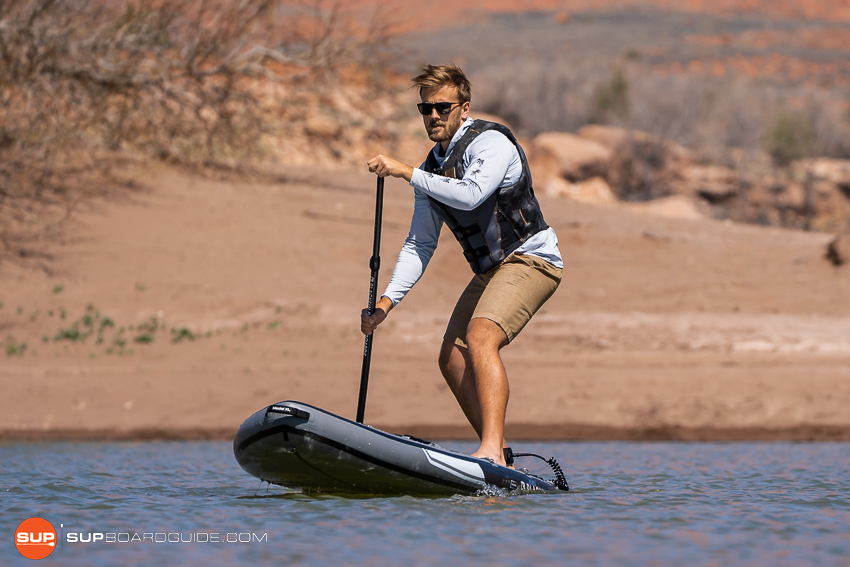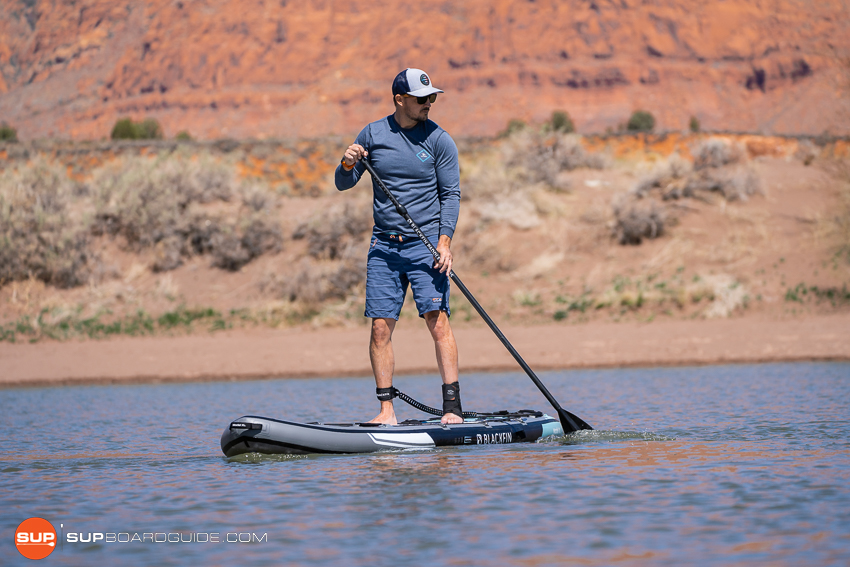 The one area where the Model X beats out the XL is when it comes to maneuverability. The additional foot of length just adds resistance when making basic turns – there is no way around that.
When it comes to performing step-back turns, the XL does a good job, but it's quite as good as the X there as well. Being a larger board just means that you're going to have to put in slightly more effort to make it change directions.
Construction Quality: 9.3/10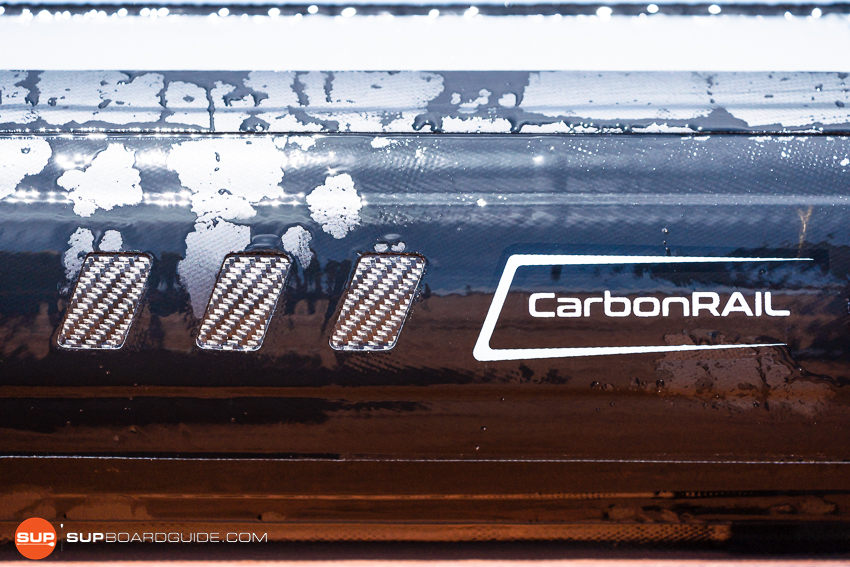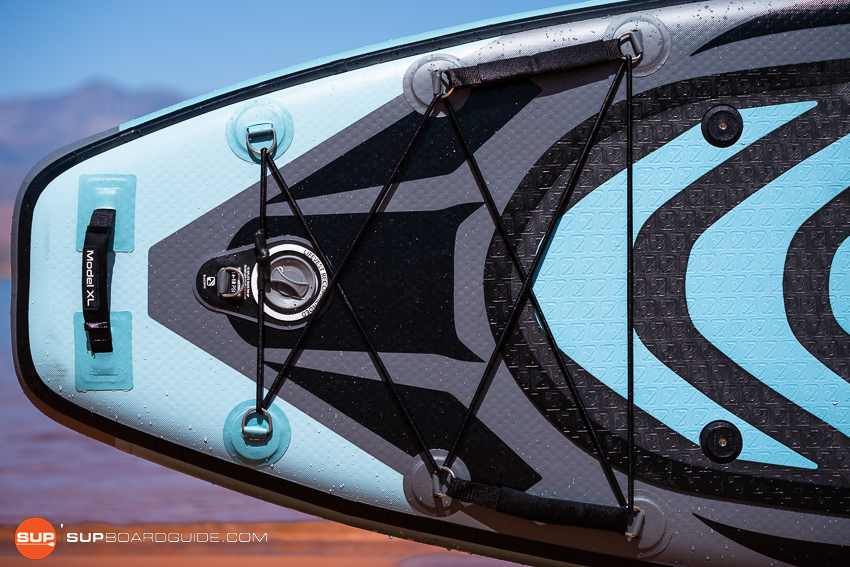 The whole Blackfin lineup shares the same essential construction: 3 layers of high-quality PVC with the carbon fiber reinforced rails all wrapped around the high density, woven drop stitch core. Without tearing the board apart we can't verify any of this but based on our other testing and observations this board does feel like a tank.
The deckpad was very comfortable and the tiny Blackfin logos and nicely spaced lines do a great job of making it very slip resistant even when covered with water. We also like all the colors of the deckpad and how they are incorporated into the design of the board.
We really liked the overall feeling of the Blackfin Model XL and it's easy for us to see why they earn all the awards for construction quality. This is just a well built board and if it's any expectation, we still have the 2019 board they sent out to us and lend it out all the time. It is that well built.
Features and Accessories: 9.8/10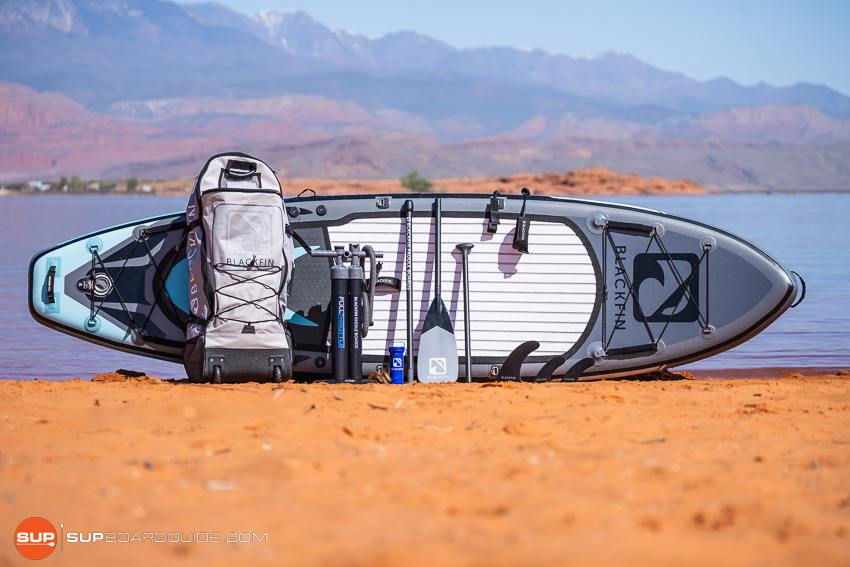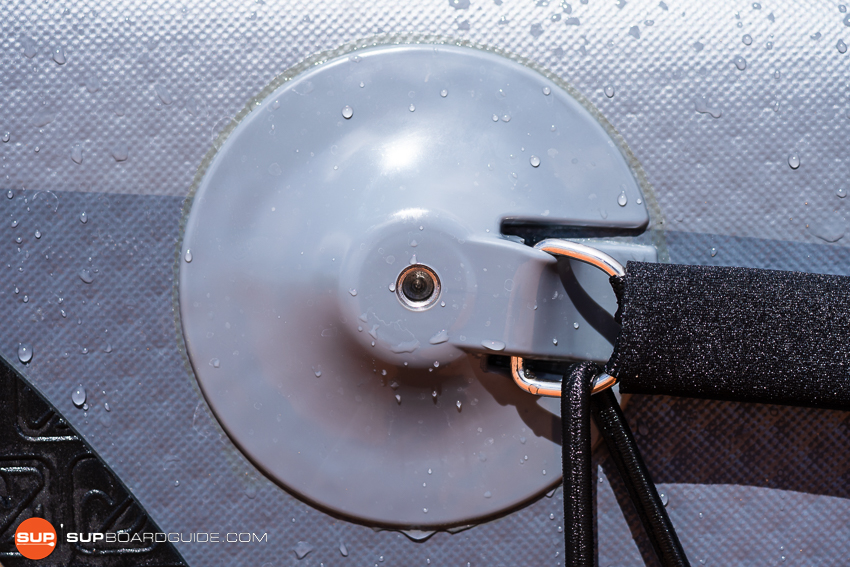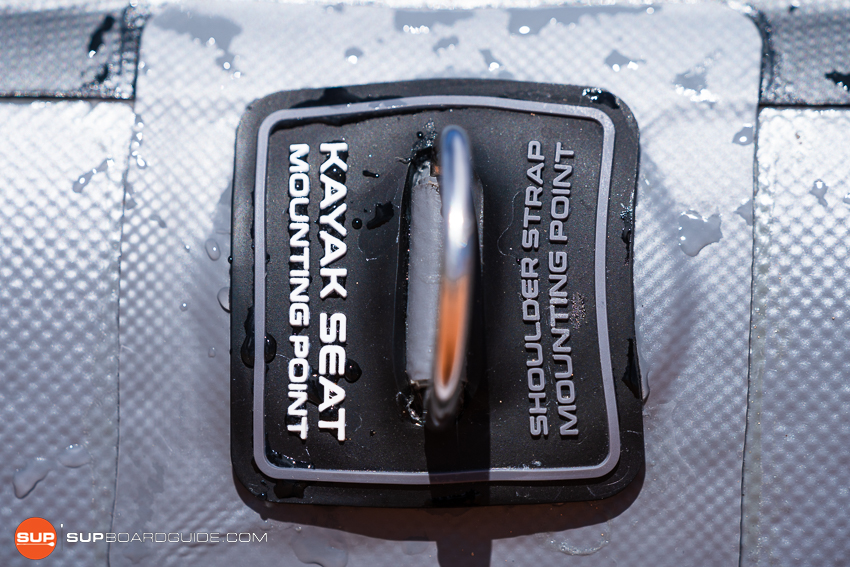 Included features/accessories and attachment points is another area that the Blackfin Model XL really stands out. In the box you get:
3 piece carbon fiber shaft, nylon blade paddle
Dual chamber, triple action pump
10' leash
Wheeled SUP backpack
Standard SUP repair kit
8 multi-use action mounts
20 d-ring attachments
Sand spear and fishing rack mounts (spear and racks sold separately)
We can't think of anything else (except a pfd) that you'll need to get on the water. This kit just gives you so much customizability, you really can take this on just about any adventure you can think of.
Paddle: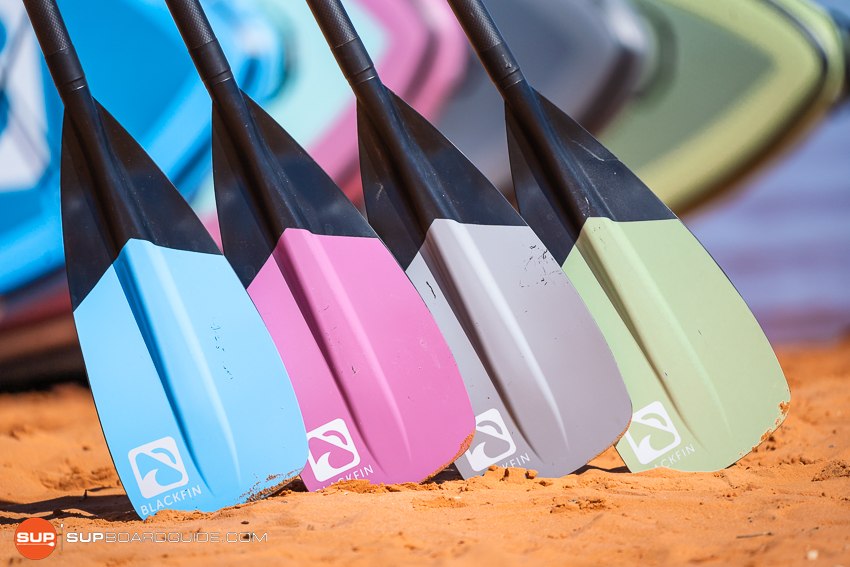 As standard equipment goes you can't really find much to dislike about the included Blackfin paddle. It's a nylon blade, (great for durability) attached to a matte carbon-fiber shaft. It's really a very nice kit paddle.
Always on the hunt for improvements, we recommend that iRocker incorporate a clamp or interior slot to really remove any twisting of the shaft.
Again, this is a great paddle to come in a kit, but if the above issues speak to you then it's probably time to go custom. In fact most high-end boards don't include a paddle because of this reason. We like how the Model XL comes with a paddle though, because even if you decide to upgrade to something custom, you always have this one as a backup and as the paddle your friend can use when they want to try your board.
Pump: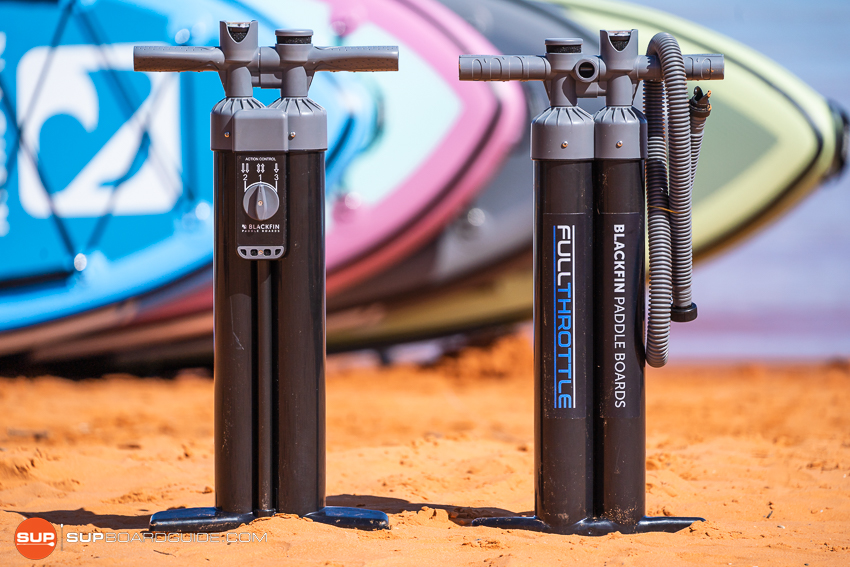 The dual chamber, triple action pump works very well. Compared to other kit pumps it's fairly effective and won't leave you out of breath when you're done pumping up your board. We would like to point out that the second of the three stages is not very helpful and we typically switch directly to the third setting. It makes those higher pressures much easier, especially if you're a smaller person.
The one area we'd like to see improvement here is adding a deflation valve/setting to the pump. Past Blackfin pumps allowed you to both pump up the board and also pump OUT air from the board. This ability makes it easier to roll up the board. We think this is important, as the carbon fiber rails make it a bit harder to roll up nice and tight, so getting out all the air helps.
With that being said, even if they added back a deflation valve, we still would recommend upgrading to the electric pump by iRocker. It is currently our favorite electric pump available for a myriad of reasons. However, for the purposes of this review consider this: you're bringing out this board to hold a lot of gear and equipment. Buy the electric pump and save your energy for loading and unloading all that stuff and keep the manual pump for a backup. You will thank us later, trust us.
Backpack: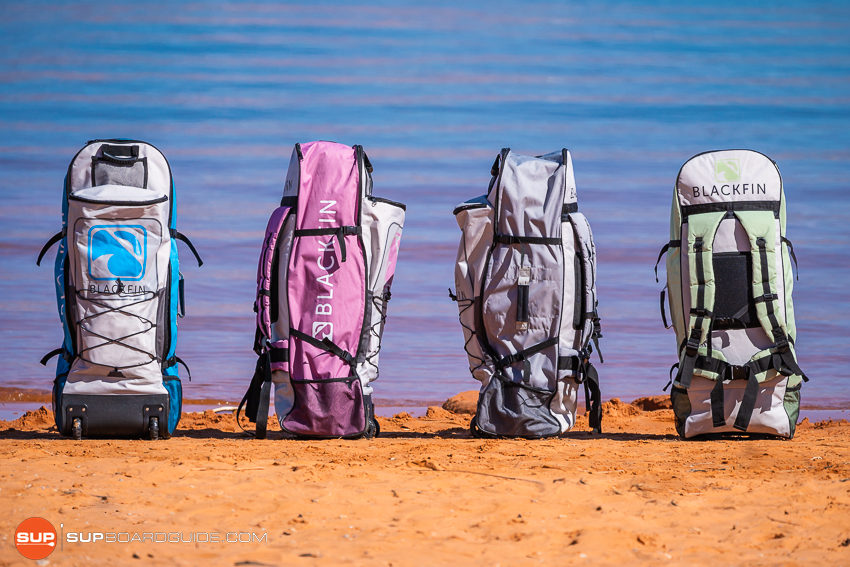 Blackfin really includes a nice bag / backpack with their kit. The padding is nice on the backpack straps and back. There are plenty of pockets, bungees, and straps to keep your gear stored and organized. This bag features:
Wheels on the outside of the bag, make rolling the pack simple and keep the straps out of the way.
Mesh side pockets
Zipper side pockets for small items
Extra large front compartment for the pump
Upper zippered pocket (seemingly perfect for the iRocker electric pump)
Handles on the top and sides
Bungee front straps
Optional Accessories:
Accessories are where the Blackfin line shines. The Model XL is perfect for those looking to adapt their paddling experience for almost any situation. With too many accessories to list, really, go check the website. Here are some of our favorites:
iRocker branded electric pump and battery (seriously this should be in your cart already)
Kayak conversion kit and seat cushion.
Fishing Rack
Hard cooler for supplies or sitting on top of while fishing
Vibe waterproof speaker
Summary Review of the Blackfin Model XL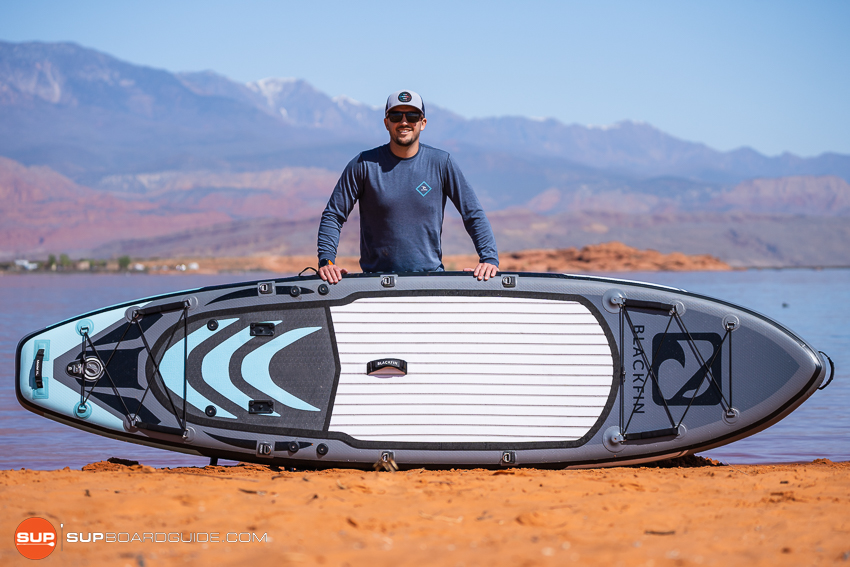 As we've said, this board is our top rated all around iSUP for good reason – it's the one board we grab if we have to only choose one and want to do everything. It has enough attachment points and available accessories to change it's function drastically. It's well built and will last you through years of adventures. And it performs really well on the water.
Whether your goals be fishing, touring, carrying family members, pets, or drinks, this board has got you covered. And with the 2 year warranty, you'll have plenty of worry free time to experience it all.
If you have any questions about this review or think we missed anything please let us know in the comments below. Additionally if you still have any questions on what board is right for you don't hesitate to ask us. Happy paddling and we hope to see you on the water soon!
The following two tabs change content below.
Justin Taylor, Head Paddler
At SupBoardGuide.com we are a team who love the water, the outdoors, and are more than grateful that our full-time job allows us to review stand up paddle boards. We paddle year round (it helps that we are just about 2 hours outside of Las Vegas), and we bring in a wide range of paddlers with the goal of providing our readers with the best, most in-depth, and accurate stand up paddle board reviews.
Latest posts by Justin Taylor, Head Paddler (see all)