Sea Gods Infinite Mantra Inflatable Stand Up Paddle Board
Pros
A dedicated yoga SUP with good performance and stability, which makes it fun for cruising around as well.
Light weight - only 21 lbs! Yet, it is also durable, and able to support up to 350 lbs.
Smooth yet grippy deck pad well suited for stretching and practicing yoga on. Great accessory mounts found around the deck pad.
Love their easy to install Kumano center fin! The Kumano fin provides a tight and secure hold without fiddling with a traditional US screw and plate. However, it's still a US fin box so you can change out the fin if you want.
Great accessories: we really like the lightweight carbon fiber paddle. Unique heavy-duty backpack is also a premium inclusion.
Lifetime warranty coverage outdoes many other paddleboarding companies. Sea Gods wants you to have a board that will last for years.
Cons
We would have liked to see a dual-chamber pump provided by SeaGods, as we personally don't care for single-chamber pumps. However, given the Infinite Mantra's lightweight, the single chamber pump is a perfect compliment for those seeking to hike out to their SUP yoga destination with a lightweight package.
The artwork on the Infinite Mantra, as well as all of Sea God's boards, is absolutely stunning. However, we noticed that the stars didn't quite match the level of sharpness as the rest of the beautiful artwork.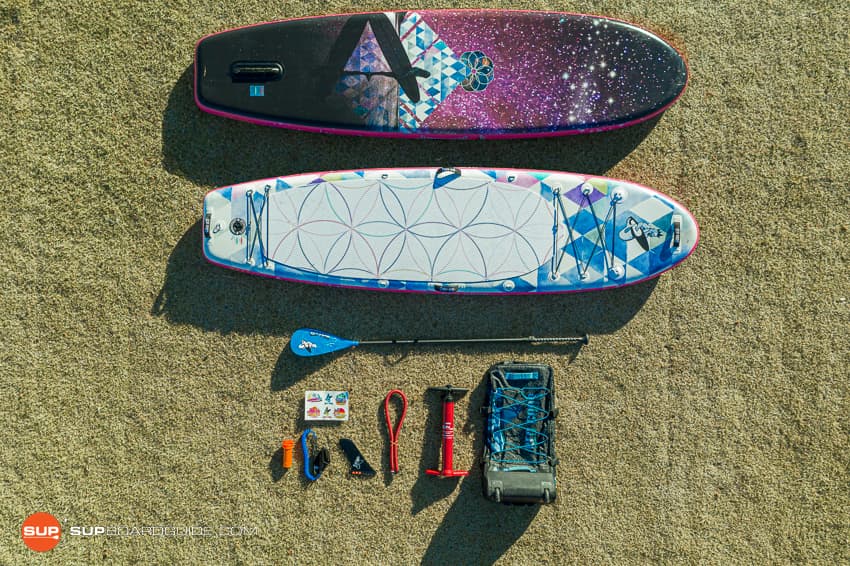 The largest paddleboard made by Sea Gods by volume, the Infinite Mantra 11' is a good yoga board for those who want to meditate on the water, and a good SUP for general paddling as well. The large SUP is stable enough to practice difficult asanas while you're out at the lake, and once you tire of stretching; the tracking and maneuverability will let you explore the water with ease.
The ULF construction makes this one of the lightest yoga SUPs we've had the chance to review, the 21 lbs board able to still support up to 350 lbs despite its lightweight construction. The EVA foam deck pad is just like practicing on a real yoga mat, but with a diamond grooved pattern that provides extra grip so you don't slip off while practicing your asanas.
We enjoyed our time on the Infinite Mantra 11', and think it's a fantastic value due to its premium paddle, backpack, and awesome lifetime warranty coverage. If you've been looking around for a new yoga SUP to add to your collection, read our review to find out why we recommend the 2022 Sea Gods Infinite Mantra 11' inflatable SUP!
SUP Board Specs
Length
11'
Width
34''
Thickness
6''
Weight
21 lbs
Rider Capacity (lbs)
350 lbs
Recommended Inflation
15 – 20 PSI
Fins
Single US/FCS Fin Box
Kumano Click Fin
Paddle Type
Carbon Fiber shaft and Nylon blade
Construction
ULF Fusion Construction
Double Reinforced Military PVC Rails
Who Should Buy This Stand Up Paddle Board:
The Sea Gods Infinite Mantra 11' is true iSUP yoga board, making it great for stretching out and soaking up the sun while staying on top of the water. There are a couple other reasons why you might want the Infinite Mantra even if you aren't a yogi, so buy this paddleboard if you are among the following:
Yoga enthusiasts! This is a paddleboard designed specifically with yoga in mind, providing a large, comfortable deck that you can stretch out on with ease.
Newcomer paddlers who want an extra wide and stable platform to learn with. Due to their large size, yoga boards are a popular option for beginners to learn their balance.
More advanced paddlers who want a yoga board they can hike or travel with. Recommended weight capacity of 350 lbs, but with a 21 lbs SUP weight.
A paddler who wants a SUP that's a little faster and has better tracking than your average yoga board. Single fin setup makes a difference once you install the fin.
If you want a paddleboard that is complemented by premium accessories along with a great paddleboard. The paddle, Kumano center fin, and backpack are all stellar.
Performance
Stability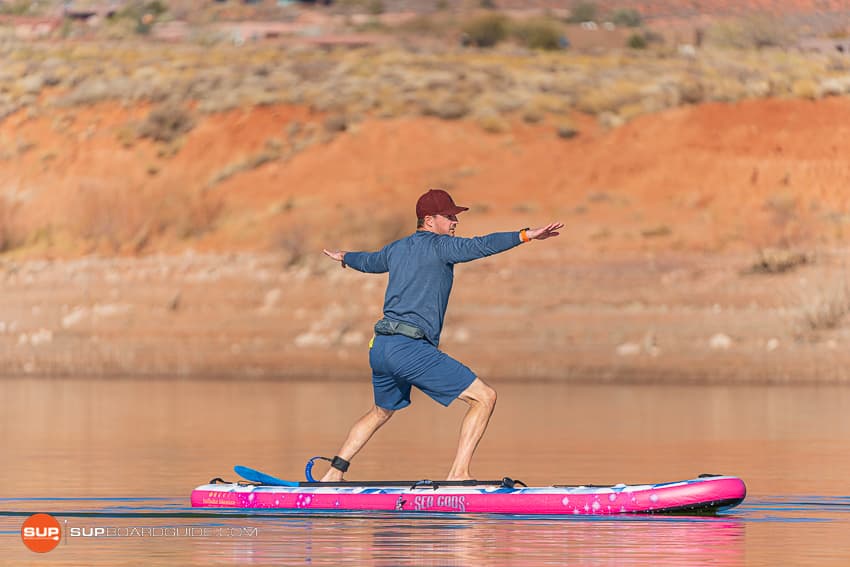 The Infinite Mantra 11' is naturally stable due to its large size, like most yoga boards are. For the most part, it succeeds at the task, and with a 350 lbs weight capacity even our largest reviewers who are somewhat new to the sport had no trouble standing up in the water. The stability of this inflatable paddleboard far exceeded our expectations regarding stability, despite weighing 21lbs. From our lightest to heavier reviewers, the Infinite Mantra felt more than solid to stand up on and our more inexperienced paddlers even managed to work their way up and down the board just fine.
Maneuverability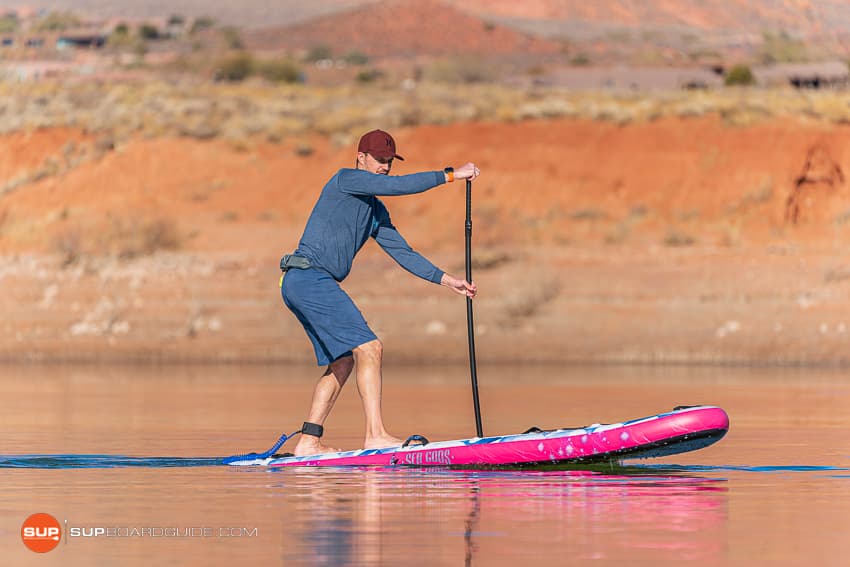 Because of how big they are, yoga paddleboards don't have the best reputation when it comes to overall maneuverability. So, we were pleasantly surprised to see that, while still very slow, it feels very easy to turn the Infinite Mantra 11' inflatable SUP. A few side strokes is all you will need to divert your path away from oncoming boaters, paddlers, and other obstacles you may encounter in the water. When it comes to performing a step-back turn, you do have to push hard to get the nose out, but once it's in the air we were surprised at how well it would pivot on the spot. So, even brand new paddlers should find it easy enough to maneuver with the Infinite Mantra 11'.
Tracking/Glide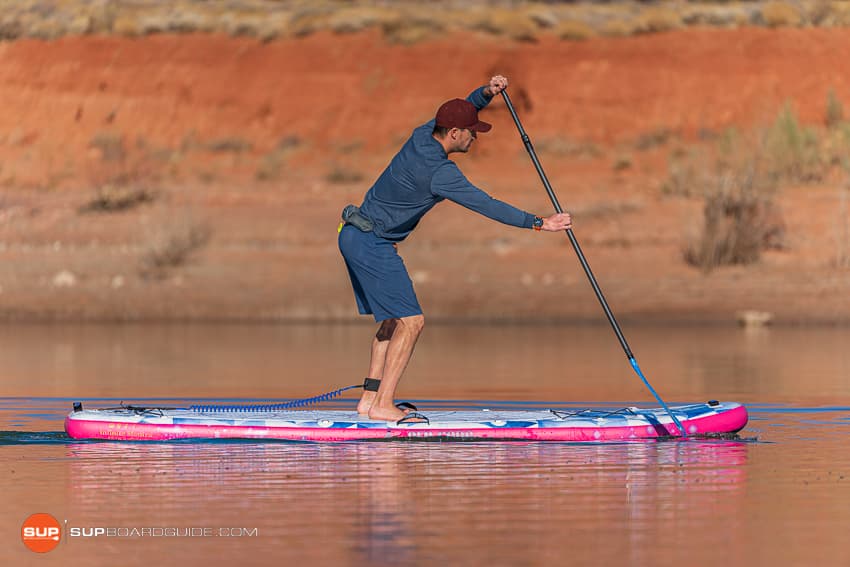 Sea Gods paddleboards do tend to stand out for their tracking, and while you don't buy a yoga board for how well it tracks or its speed, the Infinite Mantra did perform quite well in this category as well. Even with a just okay paddling form, it was very easy to maintain a straight line in the water, and while it won't beat a traditional all-around it did outclass many other iSUP yoga boards we've reviewed when it came to overall speed. Having a single fin box does hurt its overall stability, but it definitely helps when it comes to the overall feeling you have while paddling with the Infinite Mantra 11'. If you are looking for a board that's just enjoyable to cruise around on, the Sea Gods Infinite Mantra 11' is definitely a good fit.
Materials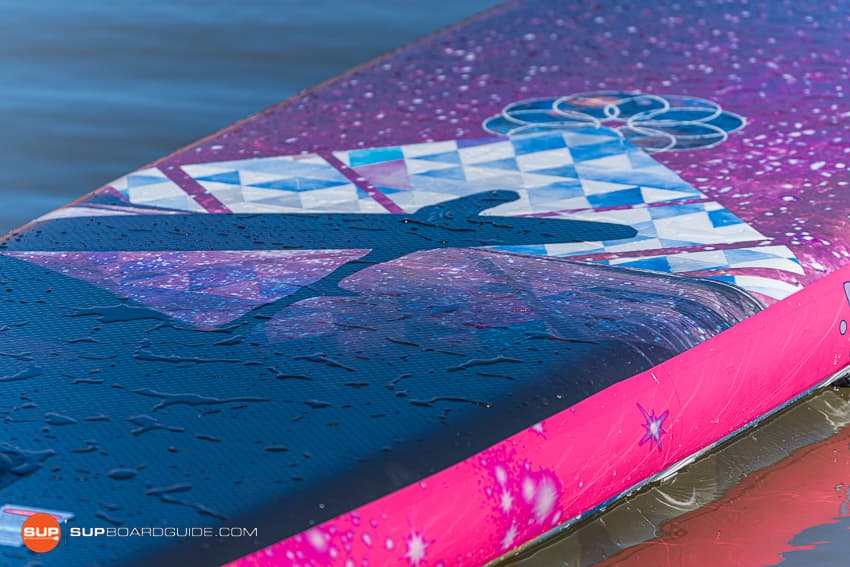 Are you curious as to how the Sea Gods Infinite Mantra 11' can be the largest SUP made by Sea Gods, but only weigh a fraction of what many other paddleboards weigh? We're here to explain the high quality ULF construction, and to do it we want to start with the tight drop-stitch core. Sheets of fabric are bound together with over 12,800 super reinforced strings, which provides the base integrity along with the overall shape for the inflatable SUP. Air is pumped into the core, and as the strings go taut you wind up with a paddleboard that floats like an epoxy SUP even though it's inflatable!
For additional performance enhancements, an outer shell is machine laminated to the drop-stitch core. This outer shell is the central part of the Ultra Lightweight Fusion (ULF) construction, and is made up of sheets of fabric flushed together to a coating of military grade PVC. With the completed board, the Infinite Mantra 11' is more than capable of withstanding the typical accidents that come with paddling, whether it be the occasional crash or dropping it on the ground while you transport it to the water. As a final level of protection, a UV coating is applied along with the artwork to reduce the degradation caused by sun exposure, so by keeping your board clean and showing some proper care you'll have a iSUP that will last for many years to come.
Board Design/Shape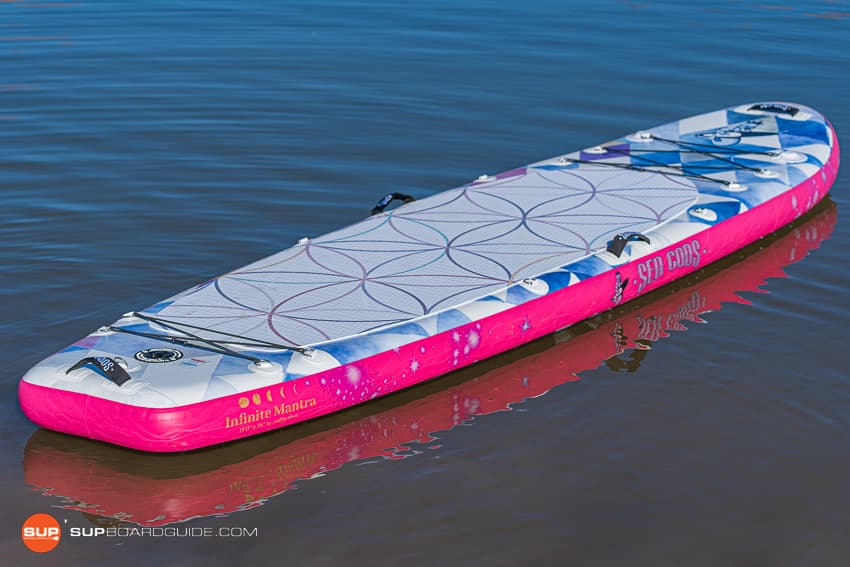 The Sea Gods Infinite Mantra is designed to be a fun, enjoyable yoga board, with a 11' length that is long enough to stretch out and practice on while still being relatively easy to maneuver. The 34'' width gives you further space to practice your asanas and mediate, though at the expense of a less maneuverable and slower SUP compared to an all around or touring SUP. The 6'' thickness is also very typical of your average yoga board, since it doesn't provide as much SUP control as a 5'' board, it does provide more weight capacity. The clean deck pad is fantastic for yogis, but since it is so comfortable it's great for cruising with your kids, pet, or even a second adult if the two of you are on the lighter side of things. Whatever you use it for, you'll just enjoy the feel and always have fun paddling with the 2022 Sea Gods Infinite Mantra 11'!
Board Features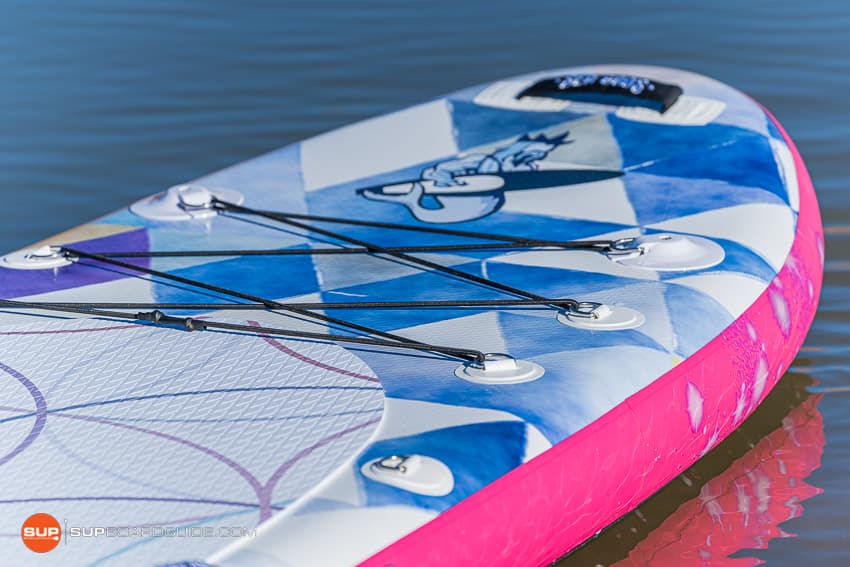 Yoga boards tend to have a cleaner deck in order for paddlers to practice yoga without tripping on anything. While that's mostly true for the Sea Gods Infiniti Mantra 11', there are still a number of key features that can make your next paddling adventure even better. Some of our favorite features include:
ULF fusion layer construction.
15 D-rings + 2 Action Mounts + Dual-Bungee Cargo System.
4 Carry Handles
Diamond grooved, ultra cushy deck pad.
Relaxing Mandala deck pad design.
Fins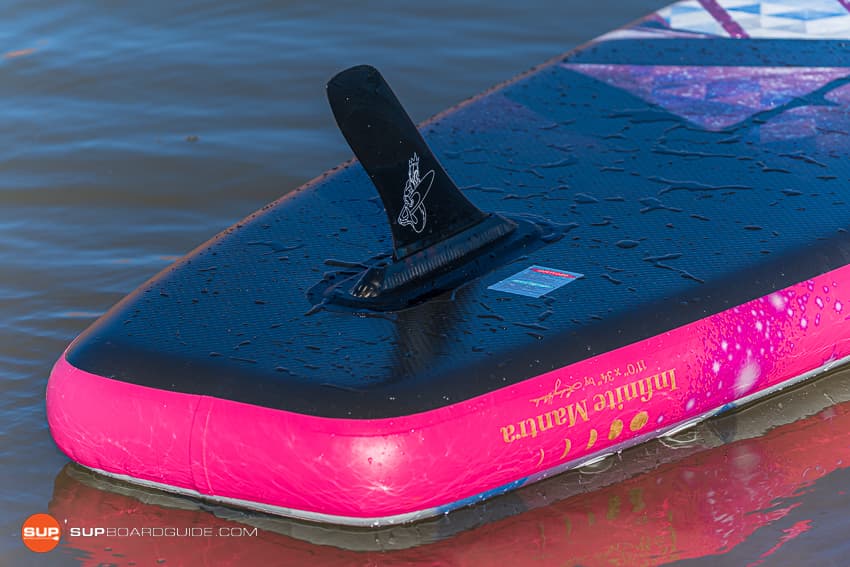 While there are no side fins on the Infinite Mantra, the US center fin box included with the Infinite Mantra 11' does work great. US fin boxes are the most versatile fin boxes on the market, allowing you to go all out in fine tuning your personal performance if you have the right fin for the water. The included center fin will satisfy most paddlers though, especially given how easy it is to install. It is a Kumano plug fin, so just insert up to three plugs before sliding the fin into the rails and pushing on the back end of the tail to lock the fin in. Once you know how to do it, the Kumano fin is even faster than a basic snap-lock fin, while still being compatible with the premium US center fin box.
Traction Deck Pad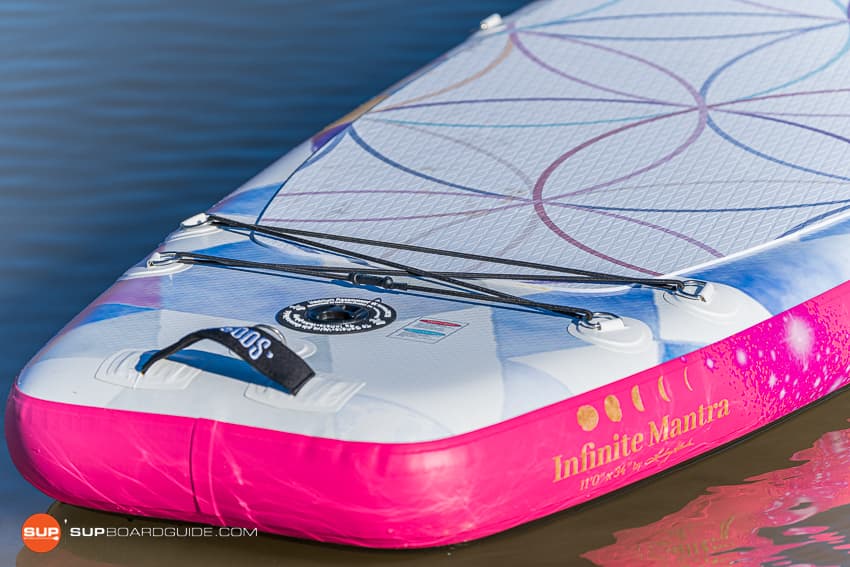 The deck pad is one of the most important features on a yoga SUP, since you need something comfortable to stretch on without irritating your hands or feet. The Sea Gods Infinite Mantra 11' meets the mark, with a very cushy pad that you'll thoroughly enjoy being on. The deck pad is made out of EVA foam, the same material used in many popular yoga mats, but with some added benefits that make it even better suited for practicing asanas on the water. A diamond grooved pattern is also incorporated, which improves overall traction support for superior foot grip without making the deck pad feel any less comfortable. The deck pad drains and dries quickly, so even if you hit the occasional big wave you won't be slipping off the deck pad either. In total, the Infinite Mantra 11' has a fantastic deck pad with a great mandala design.
Handles
Unlike a traditional paddleboard, which usually has a center carry handle, Sea Gods made sure to situate the for carry handles on the nose, tail, and rails of the board. With this handle placement, you can easily carry the Infinite Mantra by yourself or with the help of another person, especially since the yoga board only weighs 21 lbs. The handles are also designed with comfort in mind, utilizing neoprene handles that don't cause chaffing like nylon handles do when gripped with cold or wet hands. A great handle setup, balancing ease of carrying without clogging up deck space meant for practicing yoga on!
D-Rings/Bungees/Cargo Areas
Yoga boards tend to vary when it comes to their accessory assortment, because you will likely want to bring gear with you to enhance your session without compromising deck space. We find that Sea Gods have found a happy medium with the Infinite Mantra 11', with 15 D-rings for dry bags, cell phone cases, and other clips on accessories that don't take up central board space. A couple of action mounts are located on the nose, so if you have a Bluetooth speaker you want to use for a guided yoga session, you will have a place to mount it with the right screw. You can also bring along coolers, lunch boxes, and other small to medium sized containers with the dual bungee cargo cord areas, though all bungee cords are removable for even more deck space. Lastly, since some paddlers do enjoy using their cruiser and yoga style boards for kayaking, there are four center D-rings that work great if you have a kayak conversion kit for your paddleboard.
Accessories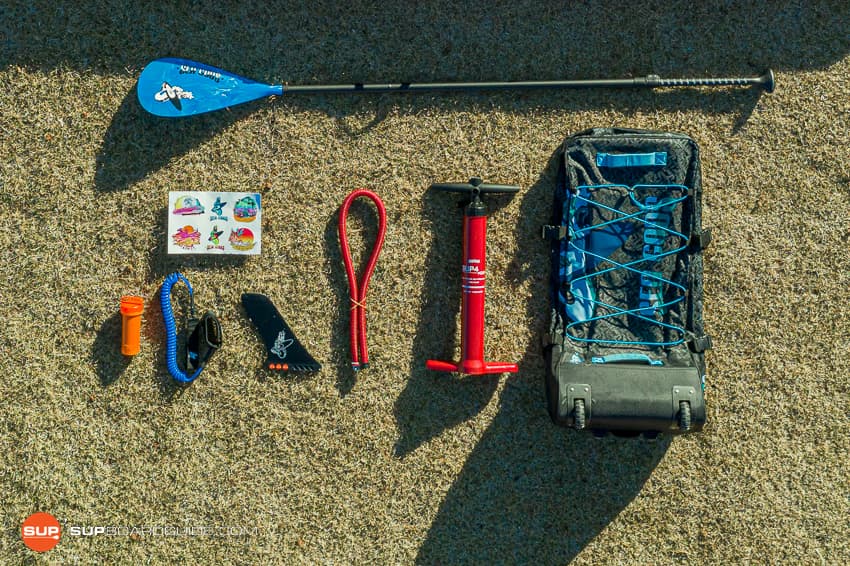 Carbon Fiber Shaft + Nylon Paddle Blade
Another reason to consider the Sea Gods Infinite Mantra is for its great accessory lineup, with inclusions like a premium carbon fiber shaft and nylon blade paddle. Carbon fiber is one of the lightest materials used for paddles while still providing a strong push in the water, but they are often some of the most expensive paddles as well. This particular paddle is among the lightest paddles we've tested out of the box, with comparable paddles often costing over $200 paddles to purchase on their own. While the Infinite Mantra 11' is available for a more mid-tier price point, this is a truly premium paddle to be included with the inflatable paddleboard.
However, there is a small redesign we would like to see from Sea Gods for their future paddle. The handle and shaft connect with a clasp and rail system that works great, but the blade and shaft only have a push button locking system. While the button locking does work well, we noticed that it will shift and turn a little bit while you're paddling through the water. While it doesn't really impact the overall performance by much, if at all, having a clasp where the paddle blade and shaft connect would further improve the paddle and make it among the best paddles on the market.
Pump
The one accessory that is less than what we were expecting is the single chamber, dual-action pump included with the Infinite Mantra. Single chamber pumps cut down on price, and are also easier to pack away when compared to a dual chamber, triple-action pump. However, the Infinite Mantra is the largest board in volume from Sea Gods, making it one of the longest to inflate as well. It took over 15 minutes, and a couple reviewers over 20 minutes, to fully inflate the Infinite Mantra 11' with the included pump. When you want to go out to the water to relax and take in the beauty of nature, working up a sweat and tiring out your lungs with extensive pumping isn't the best way to do it.
That is why we would suggest replacing your pump and upgrading to an electric pump designed for inflatable SUPs. Many electric pumps are faster than a single chamber pump, and beyond saving you time and energy by inflating a SUP for you they often have deflation options as well. Some of the best electric pumps are even more affordable than your average dual chamber pump, which is why we made a list of our favorite electric pumps at this link. If you want to get out on the water faster and in a better mood for meditating and finding your inner peace, you'll do it by going out with an electric pump!
Backpack
The pump may be a bit lackluster, but the backpack certainly isn't. Before we even talk about features, we want to highlight how great looking the Sea Gods paddleboard backpack is, with a unique design that shows Sea Gods took their time designing every aspect of the SUP kit. It feels just as great as it is wonderful to look at, with a padded reinforced backside you'll wear with padded adjustable shoulder and waist straps.If you're traveling over concrete or through an airport, you can also make use of the front facing roller wheels, which are positioned so they don't tangle up with your carry straps or dig into your side while backpacking. The backpack itself is large enough to pack the Infinite Mantra 11' and other SUP gear without having to cram it in like with your typical tent bag. Further, the backpack also has the rare charastieric from opening from the back side, which means you can lay the bag flat on its wheels and still pack your backpack, unlike many other roller backpacks we've reviewed. In total, this is one of our favorite paddleboard backpacks out there, and it will protect your gear while keeping it tidy and organized while you travel.
Leash
The 11' long Infinite Mantra comes with a 11' long coiled leash, helping you stay safe while you paddle. When you fall off while wearing a leash, your paddleboard will stay close to you instead of drifting away, and you can bring it even closer by just tugging on the leash itself. Wearing it is really simple too, since you just need to put the cuff over your ankle or thigh, then attach the main velcro strap to one of your board's D-rings. There is even a D-ring between the inflation valve and rear tail handle that is there specifically for attaching your leash to. Overall, leashes are fantastic, but they won't help you float any better contrary to what some paddlers think. Always paddle with a PFD, even if you're in shallow water, to truly stay safe while paddleboarding!
Repair Kit
The final accessory included with your Infinite Mantra 11' kit is a repair kit. Inside, you will find adhesive patches for sealing up small holes and tears, though they won't apply if the damage is to the seams. Alternatively, you also have a Halkey-Roberts inflation valve wrench, since the inflation valve can come loose and start leaking air with repeated inflation over time. Giving your inflation valve a couple twists every three or four months should be enough to make sure it has a tight lock that will make inflating your SUP even easier.
For more serious paddleboard damage, be sure to reach out to Sea Gods customer support team for assistance.
Company Review – Sea Gods
Unfortunately, accidents happen, but Sea Gods stands out in the paddleboard industry with their great coverage for when things do go wrong. Sea Gods offers a 30 day from delivery guarantee that will allow you to return your SUP for any reason, minus a 10% restocking fee and additional damage fees if the board isn't in like new condition. The reason why Sea Gods impresses us so much though is with their lifetime warranty coverage, with free repair/replacements for all manufacturing defects and discounted repair options if you accidentally damage your paddleboard. The lifetime warranty on its own outdoes the warranty coverage offered by almost every paddleboarding manufacturer out there, and few other companies can match the great personality and support provided by the Sea Gods service team. We were thoroughly impressed to try out the 2022 lineup by Sea Gods and get to know their team better, and can't wait to see what developments they'll add to their iSUPs next!
For our full company review, along with additional warranty and shipping information about Sea Gods paddleboards, please be sure to visit this link.
Conclusion/Bottom line
The Sea Gods Infinite Mantra 11' is just a fun paddleboard that yogis, casual paddlers, and even expert SUPers will all enjoy going out with on the water. The very stable platform is definitely able to support up to 350 lbs, while still having solid tracking and good maneuverability so even a brand new paddler can explore the water without too much effort.
The ULF construction will allow the Infinite Mantra 11' to last for years to come with just some proper care, while staying lightweight for hikers or travellers who want a lighter yoga board. The deck pad is definitely comfortable enough to practice yoga on, with a good mixture of handles and accessory mounts to improve your time on the water. Outside of the pump, which still performed well for a single chamber, each of the accessories included with the Infinite Mantra 11' exceeded our expectations, from the very light carbon fiber paddle to the easy to install Kumano fin and stellar looking roller backpack. So if you want to relax and enjoy the water with a paddleboard that is just as fun for non-yoga related activities, you should definitely consider going out with the 2022 Sea Gods Infinite Mantra 11' inflatable SUP!
Thank you so much for reading our review of the 2022 Sea Gods Infinite Mantra 11' inflatable SUP! While we try to make our reviews as detailed as possible, you are welcome to leave a comment below or send us an email if you have any lingering questions or want to know more about this paddleboard. SUPBoardGuide.com is meant to be the most extensive paddleboarding resource on the internet, so be sure to check out our other paddleboard reviews, instructional guides and beginner trips, ranking lists of the best SUPs of the year, and more! You can also subscribe to our SUPBoardGuide.com Youtube channel, where we discuss some of the best and most popular SUP brands and trends within the paddleboard industry.
Thank you again for reading, and be sure to let us know your thoughts if you've tried out the 2022 Sea Gods Infinite Mantra 11' inflatable SUP!
The following two tabs change content below.
Justin - SupBoardGuide
Heyo! At SupBoardGuide.com we are a team who love the water, the outdoors, and are more than grateful that our full-time job allows us to review stand up paddle boards. We paddle year round (it helps that we are just about 2 hours outside of Las Vegas), and we bring in a wide range of paddlers with the goal of providing our readers with the best, most in-depth, and accurate stand up paddle board reviews.
Latest posts by Justin - SupBoardGuide (see all)