Sea Gods Diatom Ten6
Pros
Super stable at 34" wide
Lightweight, minimal glue construction makes getting up to cruising speed easy
Very maneuverable, despite being a larger board
Versatile iSUP, lots of features without crowding your deck space
Ships in minimalistic, compostable packaging
SeaGods Lifetime Warranty
Cons
Would personally like to see a double chamber pump to make manual inflation to 18 PSI easier.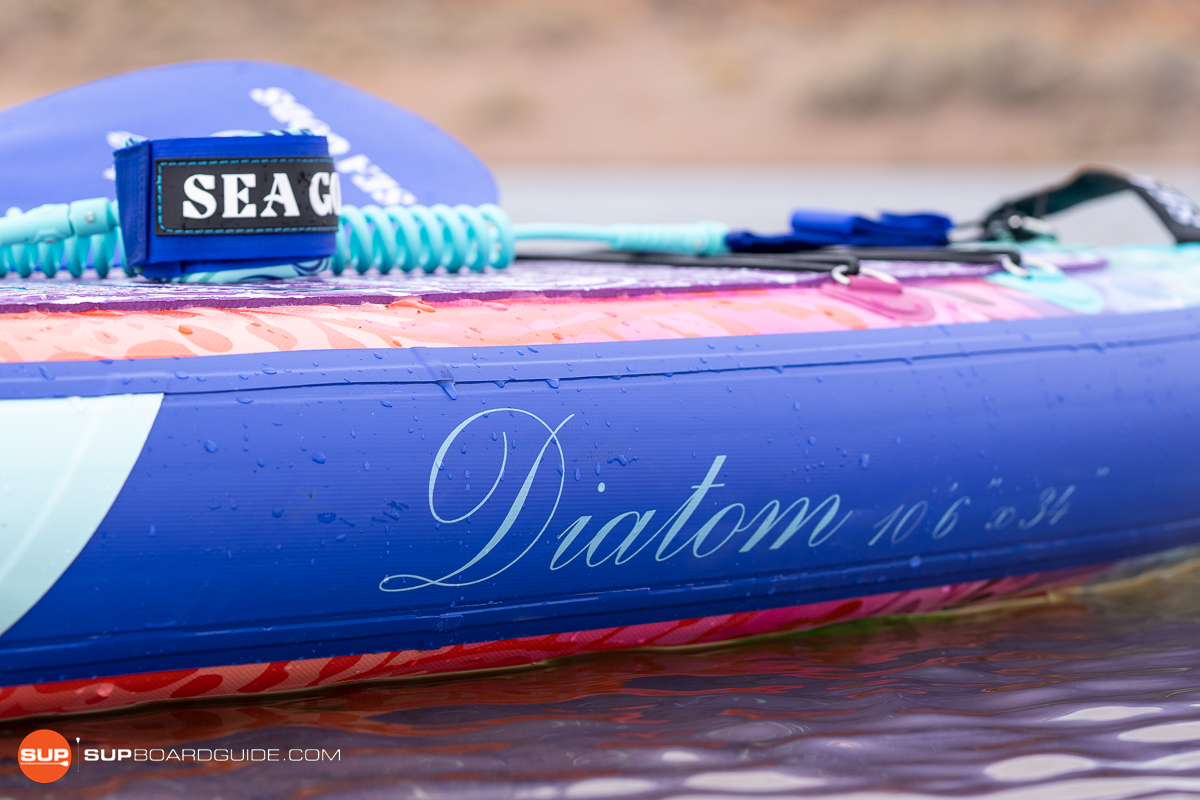 In the launch video for the Sea Gods Diatom Ten6, Mandy (one of their founders) said that the Diatom allows paddlers to 'skip the learning curve'. As someone with a background in SUP guiding and rentals, I was pretty skeptical of that statement. I've seen my fair share of wobbly knees and unintentional swims, even off some of my beefiest hard SUPs, to hold the notion that the SUP learning curve is something that we all go through and just have to (literally and metaphorically) ride out.
You can imagine my surprise when I took a friend with no SUP experience to try out the Diatom Ten6 and watched her pop right to her feet and start paddling. No wobbles, no shakiness, no splash. It was like watching Elle Woods get into Harvard and say 'What, like it's hard?'. It was a very stark contrast to my own SUP beginnings, which involved a lot of knee paddling and foul language, and had me considering how much more enjoyable (and drier) that learning period may have been if I had a SUP like the Diatom Ten6 at my side, not to mention how many compliments I'd have gotten on how sick it looks.
The main reason the Sea Gods Diatom Ten6 shows off an impressive level of stability is because of its dimensions and construction.
This all-around is 10'6 long by 34" wide and 6" thick, giving it lots of volume to bring newbies confidently to their feet or more easily carry heavier paddlers.
The stiff build of the Diatom also provides a higher level of performance on the water than you'd find on a typical all-around for paddlers above 6'0 and within a 200lb range.
For this reason, we think the Diatom Ten6 goes beyond our initial review of it just being a 'beginner-friendly' iSUP. Sure, it will basically eliminate the learning curve for SUP newcomers like my friend, but it will also be a great fit for paddlers above a 200lb range that want the option for a 10'6 all-around, where they otherwise would have had to go for a 11'6 or 12' SUP just for some extra weight support.
We think the SeaGods Diatom Ten6 would be great for paddlers who are:
Within a 120-280lb range (the Diatom Ten6 will do fine with a paddler + evenly dispersed gear up to 370lbs)
Wanting an ultra-stable all-around iSUP that doesn't lack in performance or construction
Like a cleaner, less cluttered deck pad but still want the option to bring a long gear or attach a kayak seat
Need the ability to paddle in a variety of environments from flat water to mild chop or ocean paddling (not surfing, though you could surf the Diatom if you really wanted to)
SeaGods Diatom Ten6 iSUP: Spec Sheet
Main Category: All Around, Inflatable
Board Dimensions: 10'6 X 34" x 6"
Listed Board Weight: 24lbs
Listed Max Capacity: 340lbs
Recommended PSI: 18 PSI
Fins: Single fin, Kumano pressure fit
Paddle: 3-piece carbon fiber
Materials: Ultra-light Fusion with woven-linear drop stitch
Price Range: high
Warranty: Lifetime
Performance Review of the SeaGods Diatom 10'6 Stand Up Paddle Board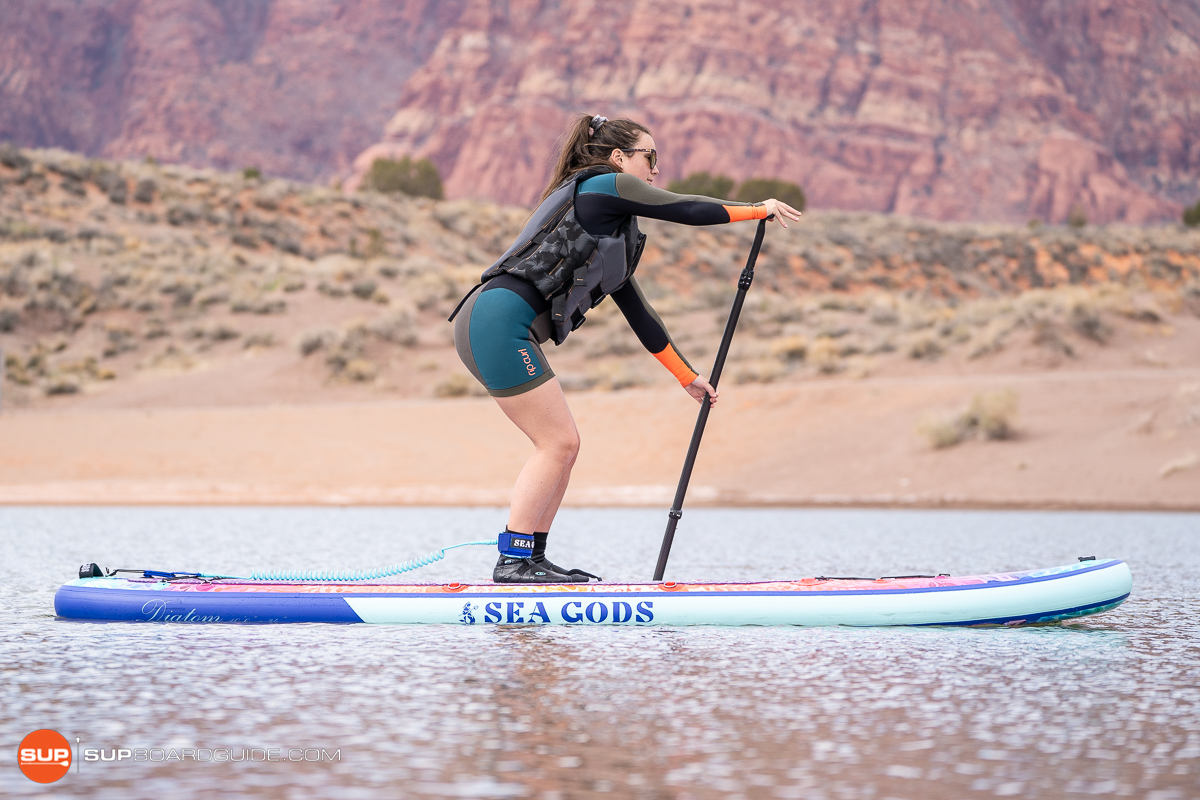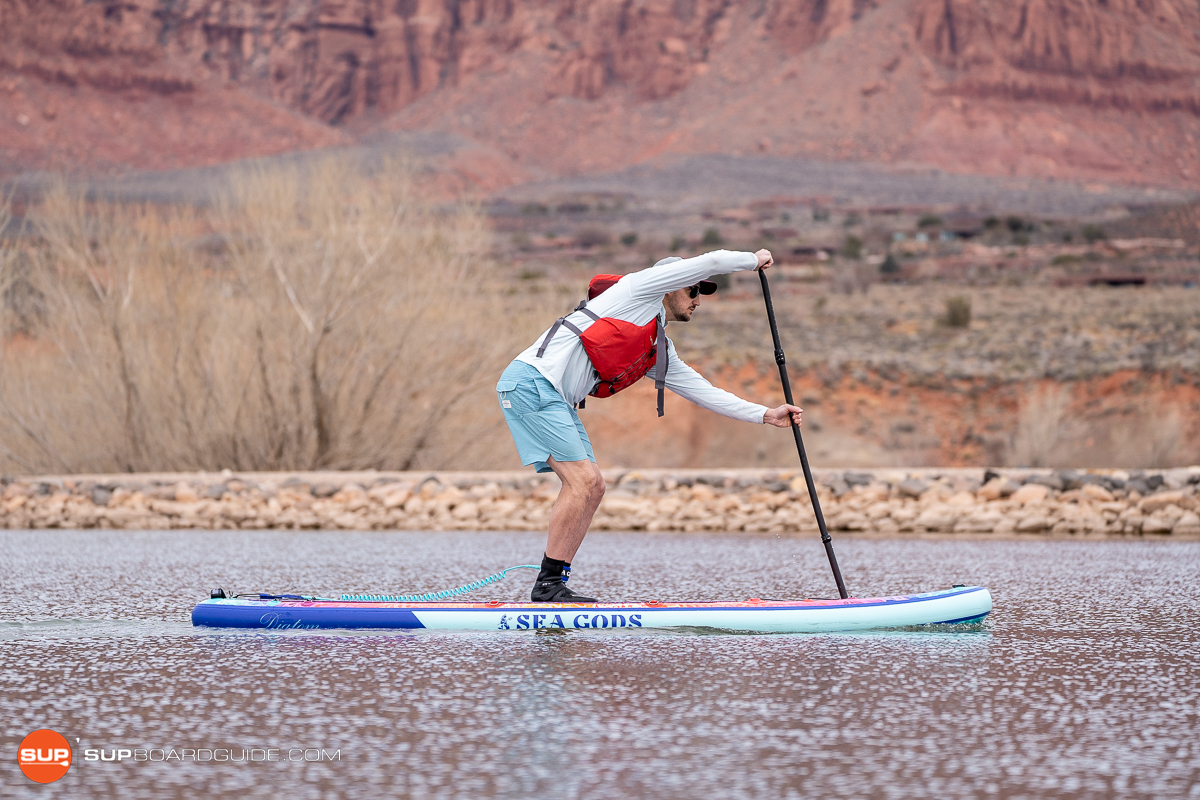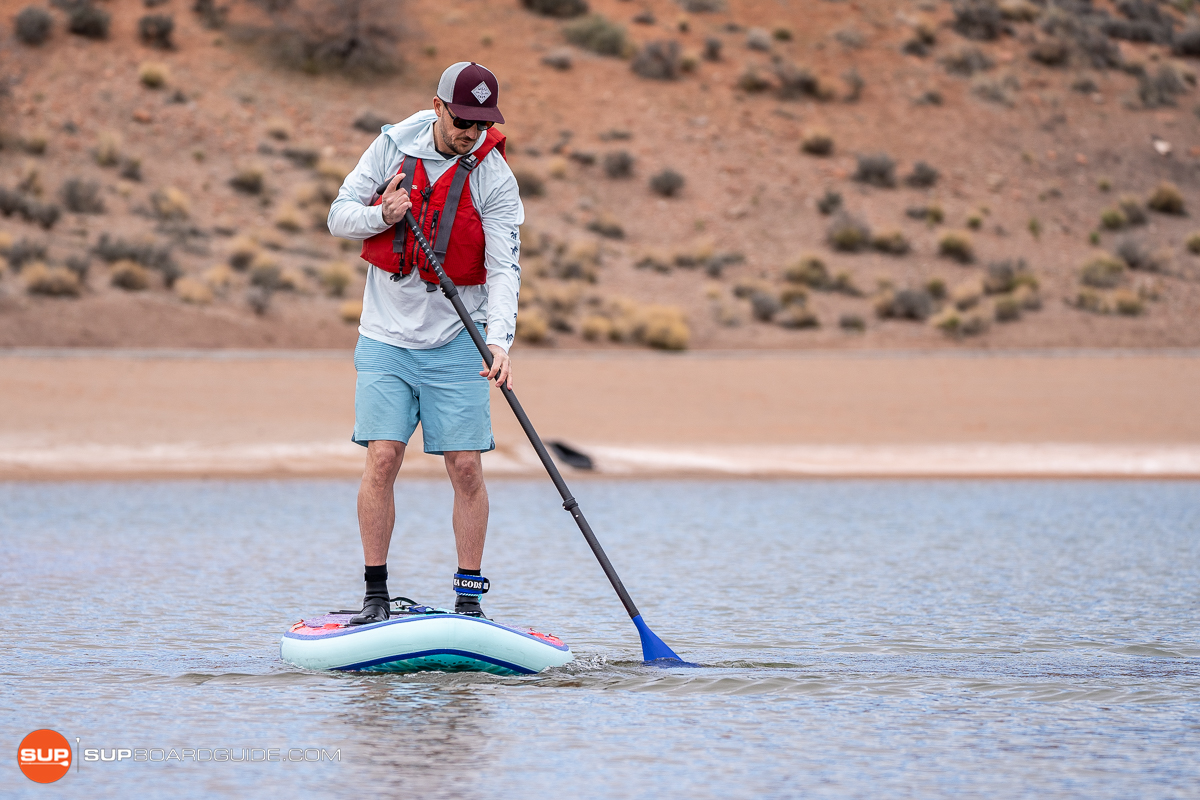 Overall Score: 9.8/10
Stability: 9.7/10
Speed: 8.1/10
Tracking: 8.0/10
Maneuverability: 8.3/10
Construction Quality: 9.7/10
Features/Accessories: 9.4/10
Stability Rating: 9.7/10
Listed weight capacity: 340 lbs
Tested weight capacity: 370 lbs (230 lb paddler + 140 lb passenger)
First and foremost, the Diatom is an ultra-stable, high volume board. This is both due to its 34" width, but also its 6" of thickness. However, we've tested plenty of boards that have those same exact dimensions and similar volumes but simply can't provide the same amount of weight support as the Diatom. We think this really comes down to Sea Gods' impressive construction that results in a rigid SUP that won't 'taco' on you the second you get above 200lbs.
During our testing, all of our paddlers ranging from 140-235lbs found the Diatom to be stiff and fun to paddle with no notable issues in either flex or stability. We also tested it with our 235lb paddler and myself (140lbs) sitting on the front and still only found it to be just a bit slower than usual (which is to be expected as we were over the recommended capacity).
This is the main reason we'd highly recommend the Diatom Ten6 for paddlers in the 180-250+'ish range that want the sportiness of a 10'6 all-around without dealing with performance hindering flex on the water. I'd also reach for the Diatom as a smaller paddler if I was loading up on gear or bringing along my pup.
Speed Test: 8.1/10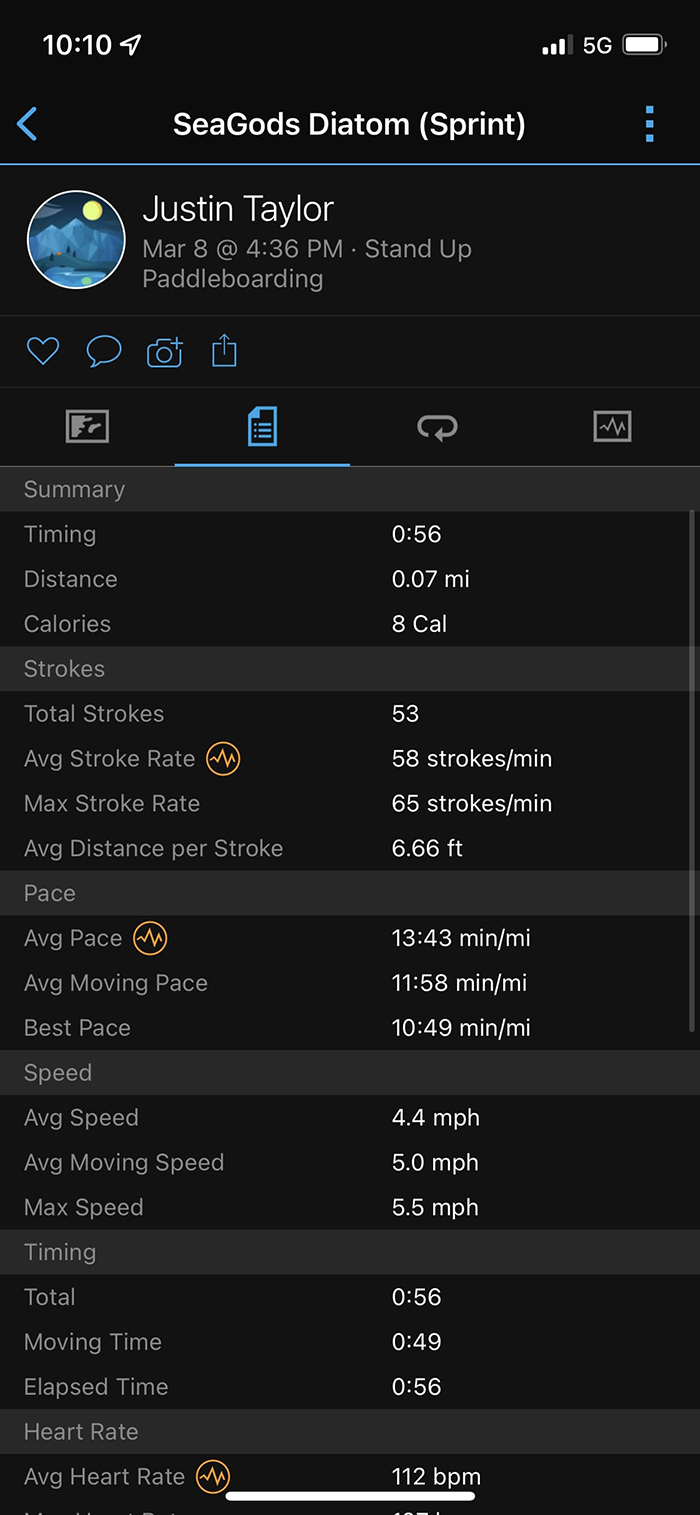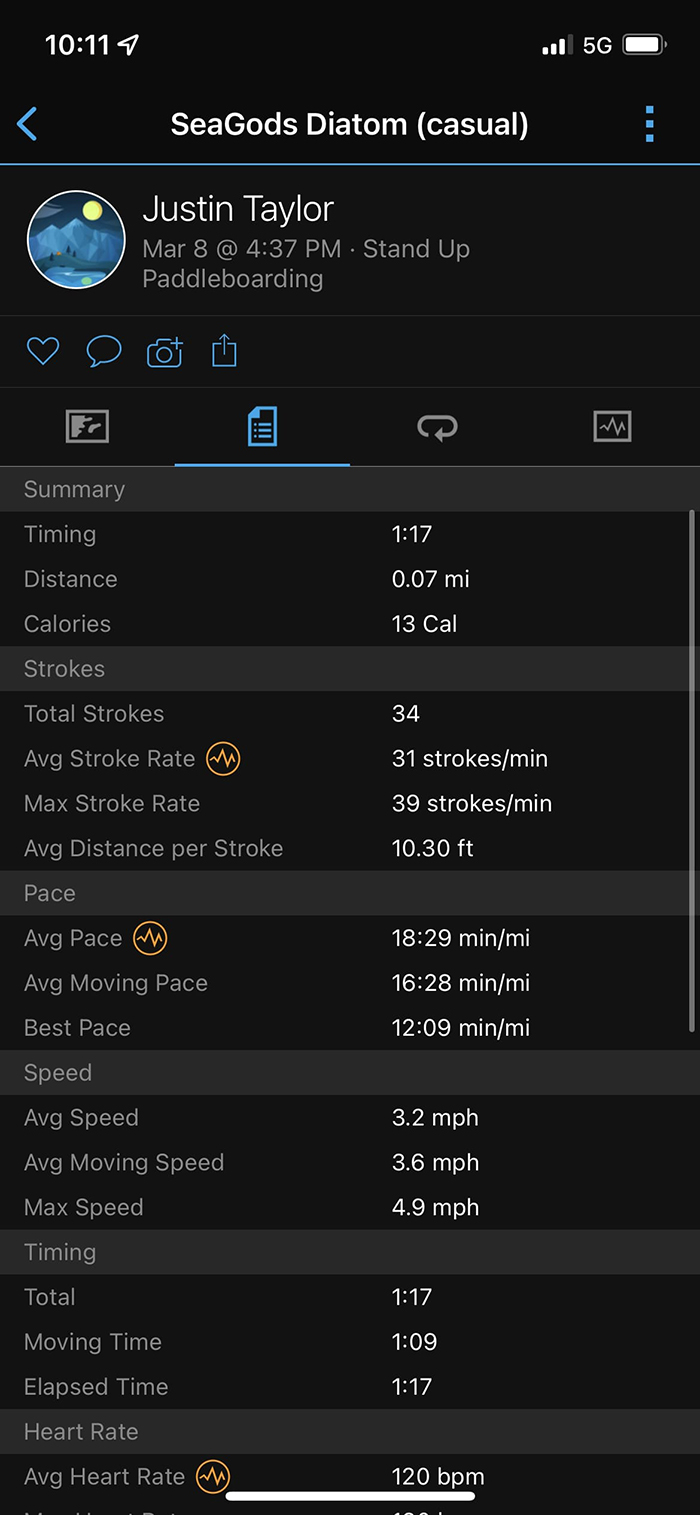 The Diatom Ten6 performed better than we expected in the speed test. Being an all-around SUP and 34" wide, the Diatom is not built for speed (that would be Sea Gods' Ketos), but its lightweight, which makes it easy to get up to a mellow cruising pace fairly quickly without a ton of effort.
In our sprint test the Diatom hit the finish line in just under a minute, which is more than a few seconds faster than most similarly shaped iSUPs we've paddled down the course. We'd mainly attribute its speed to the fact that the Diatom is just 24lbs, making it about 3 lbs lighter than its closest competitor, the BLACKFIN Model X. Though taller/heavier or stronger paddlers might not notice this difference in weight as they pull the Diatom through the water, it's tremendously helpful in getting the Ten6 up and moving for smaller paddlers like myself.
Again, I think the stiffness of the Diatom helps here as well, since there's no excess drag caused by any flex or bending as you paddle. Additionally, the Diatom is a single fin SUP, so theoretically there's no drag from side fins that could slow this board down slightly (though it's hard to say without being able to put side fins on and testing it out).
Tracking: 8.0/10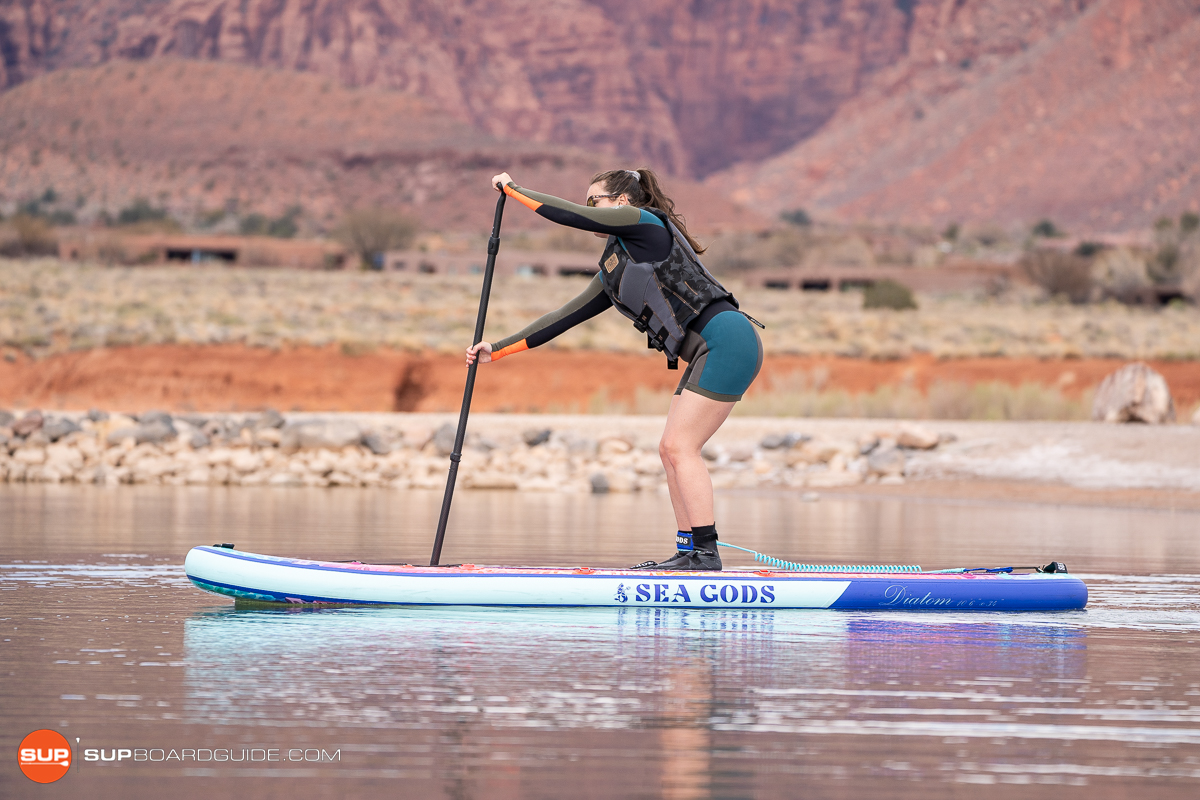 For taller paddlers with more reach, the Diatom tracks pretty well as an all-around SUP. No, it's not going to lock into a line like a dedicated touring SUP, but that'd take away from the fact that the Diatom is meant to be maneuverable.
Shorter or smaller paddlers may find the Diatom to be just a bit too wide to keep 100% perfect form, but it's not at all an issue if you're keeping it mostly casual for a chill day on the water.
We do often find ourselves asking if the Diatom's tracking capability could be improved with the addition of side fins. It'd add some extra surface area in contact with the water and help to decrease side-to-side tail movement as you paddle, without massively hindering the Diatom's maneuverability. At the same time though, the two extra fin boxes would add weight to the SUP and also create some slight drag as you try to get up to speed. Ultimately, it seems that Sea Gods favored their lightweight build style and maintaining the Diatom's smooth gliding feel in the water over the very slight tracking improvement that could be made with side fins.
To be honest, I can't say I disagree with them here either. Had they not settled on a US fin box I might think differently, but this box gives you basically infinite customization ability. If you really wanted your Diatom to track better in the water, it'd be as simple as picking up one of Sea Gods hatchet style Kumano fins (or any FCS hatchet fin) and popping it into place.
Maneuverability: 8.3/10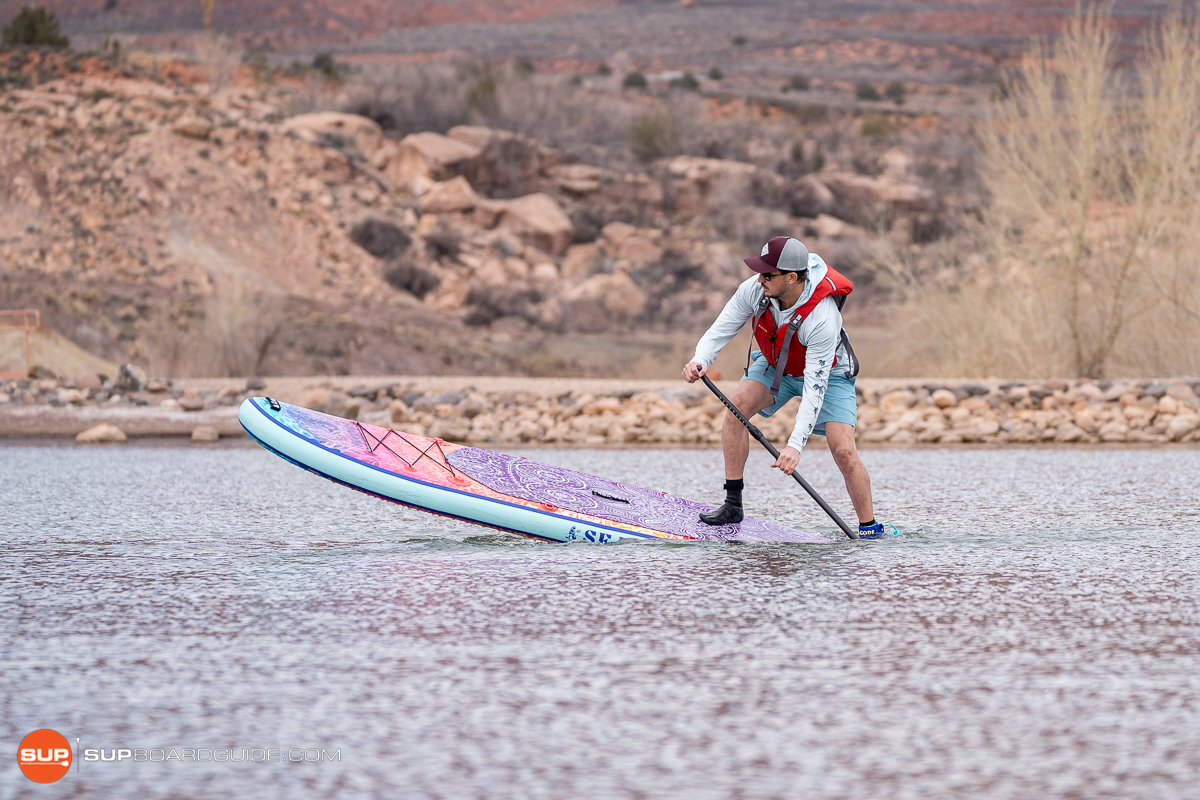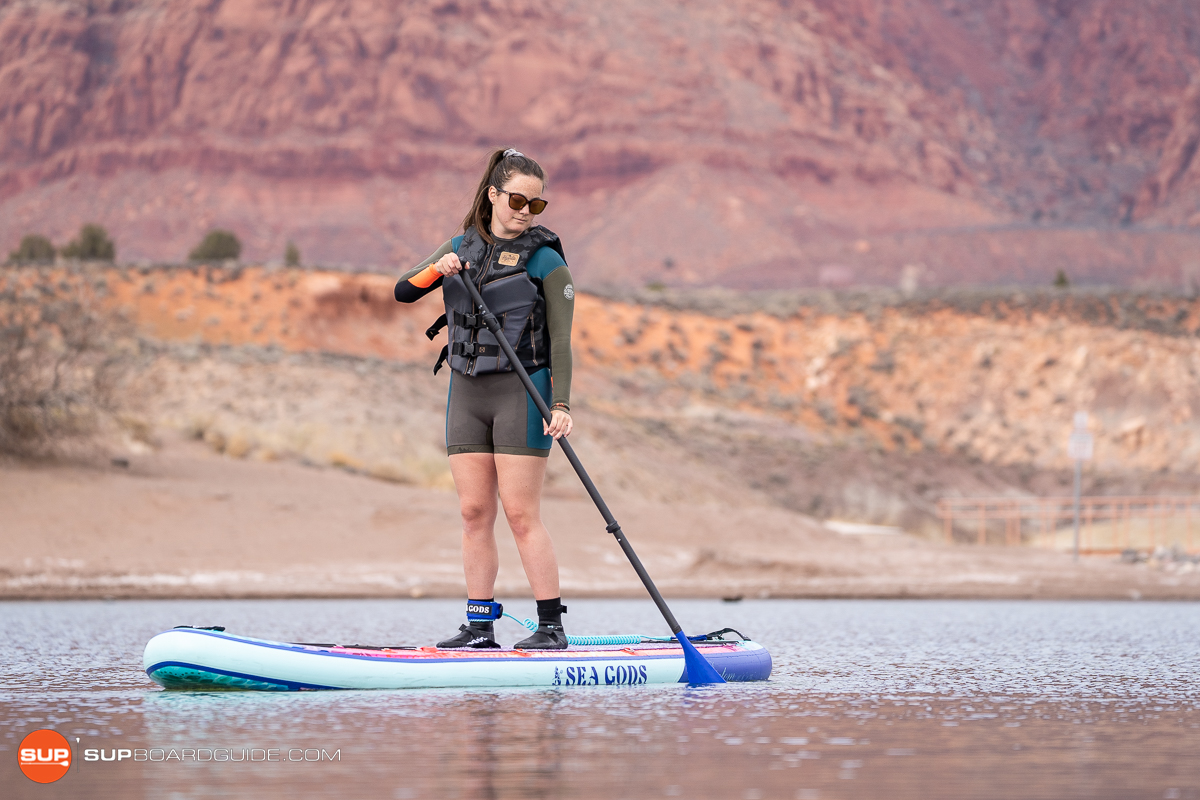 The Diatom does have a surprising amount of maneuverability for being a larger all-around SUP. It's a little more sporty for heavier paddlers, but it's lightweight makes it relatively easy for a smaller paddler to handle this SUP as well.
Our heavier board testers had a much easier time sinking the Diatom's tail for a step-back turn than I (5'2" x 140lbs). This is to be expected given that the Diatom has more volume than I need for my body weight; it's not a fault on the board. However, Being 24lbs, casual turns don't require much effort at all, regardless of the paddler.
I also think it's worth noting that step-back turns aren't really a make or break factor for all-around SUPs. The bottom line is that they're just not performed all that often and they're really just for fun (outside of a race setting, of course). I also want to note that while it was more challenging for me to actually sink the tail of the Diatom, its incredible stability level made it extremely easy for myself and other testers to walk our feet down the SUP to get into position, which is sometimes the hardest part.
Construction Quality: 9.7/10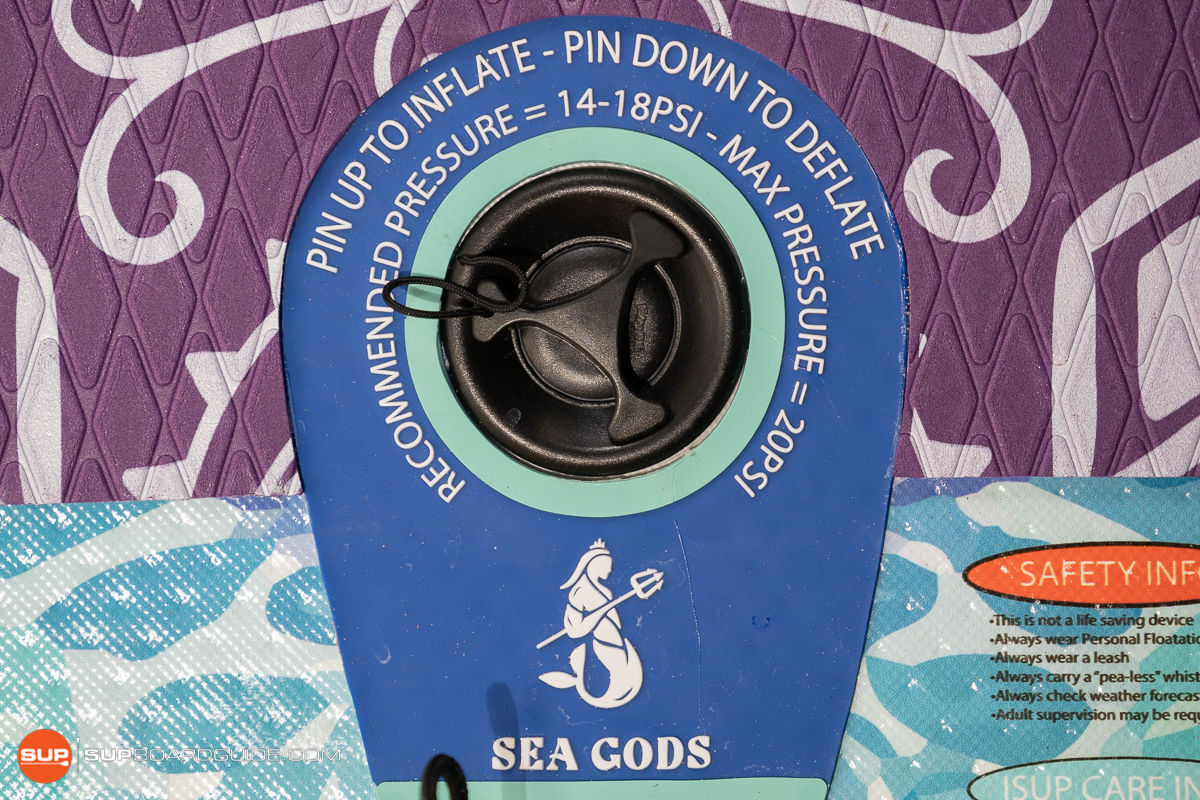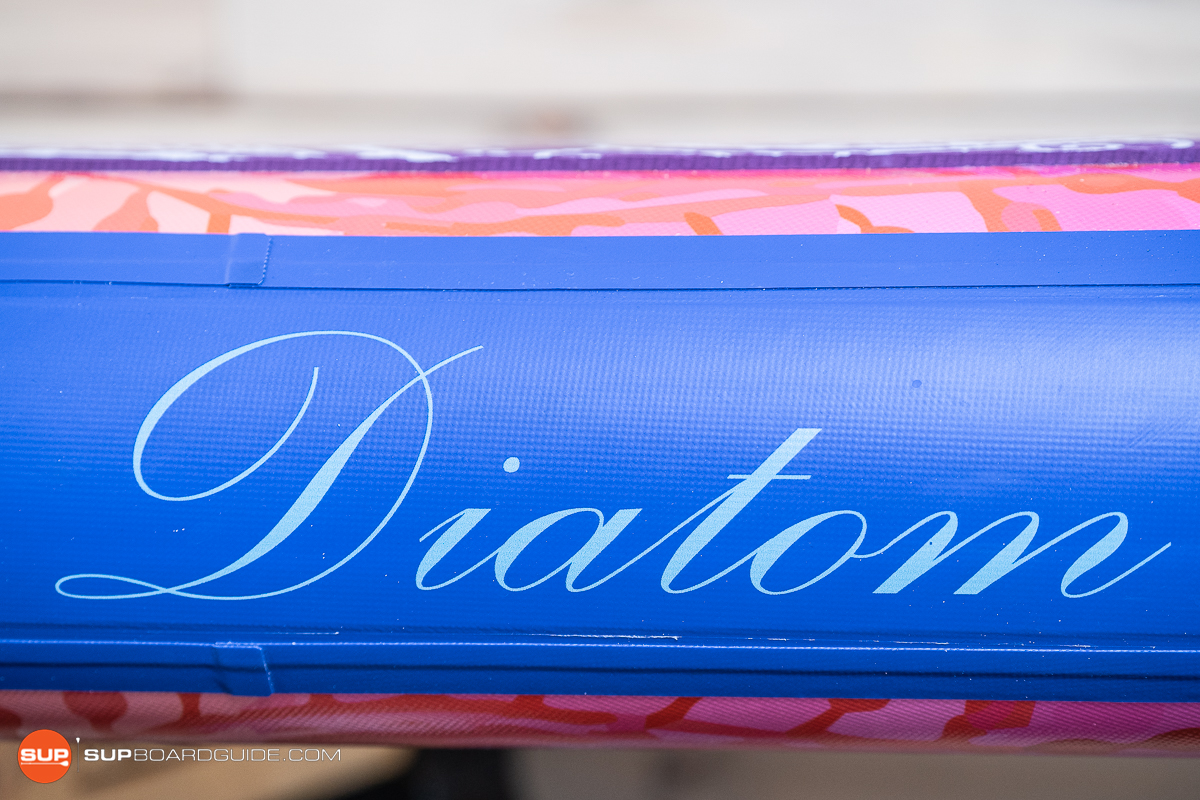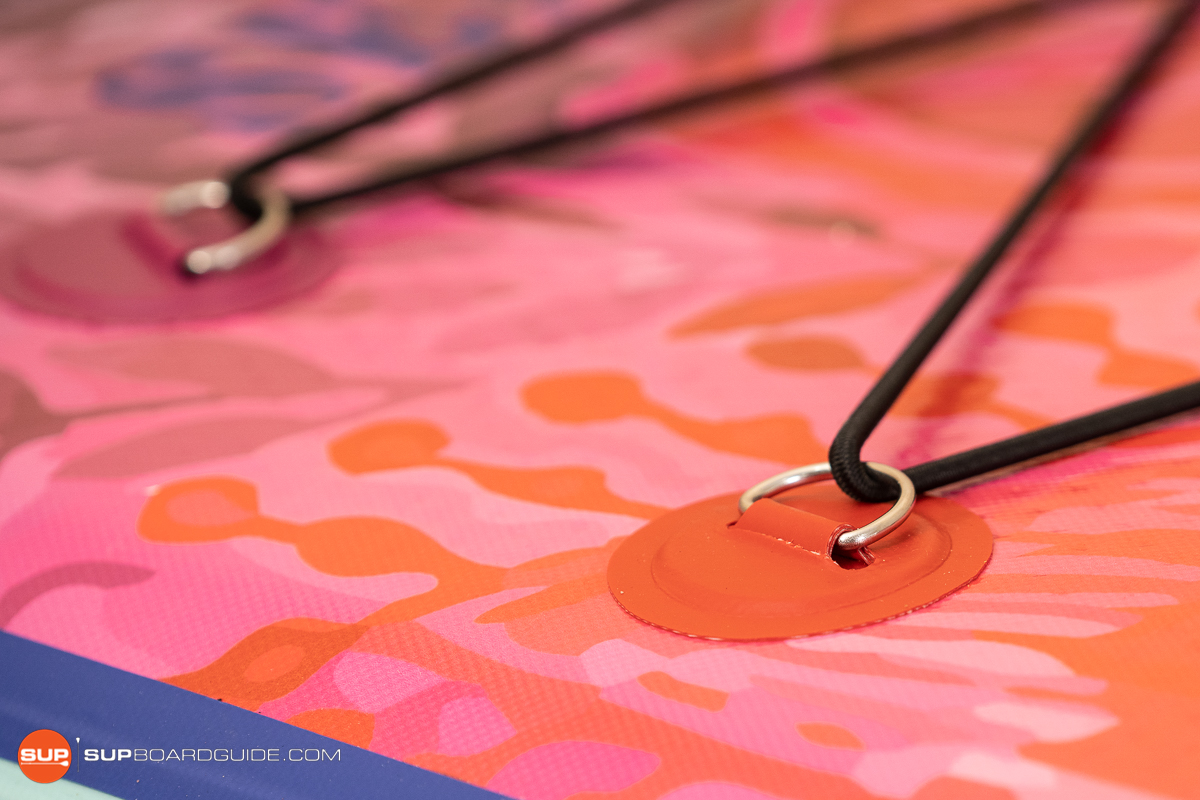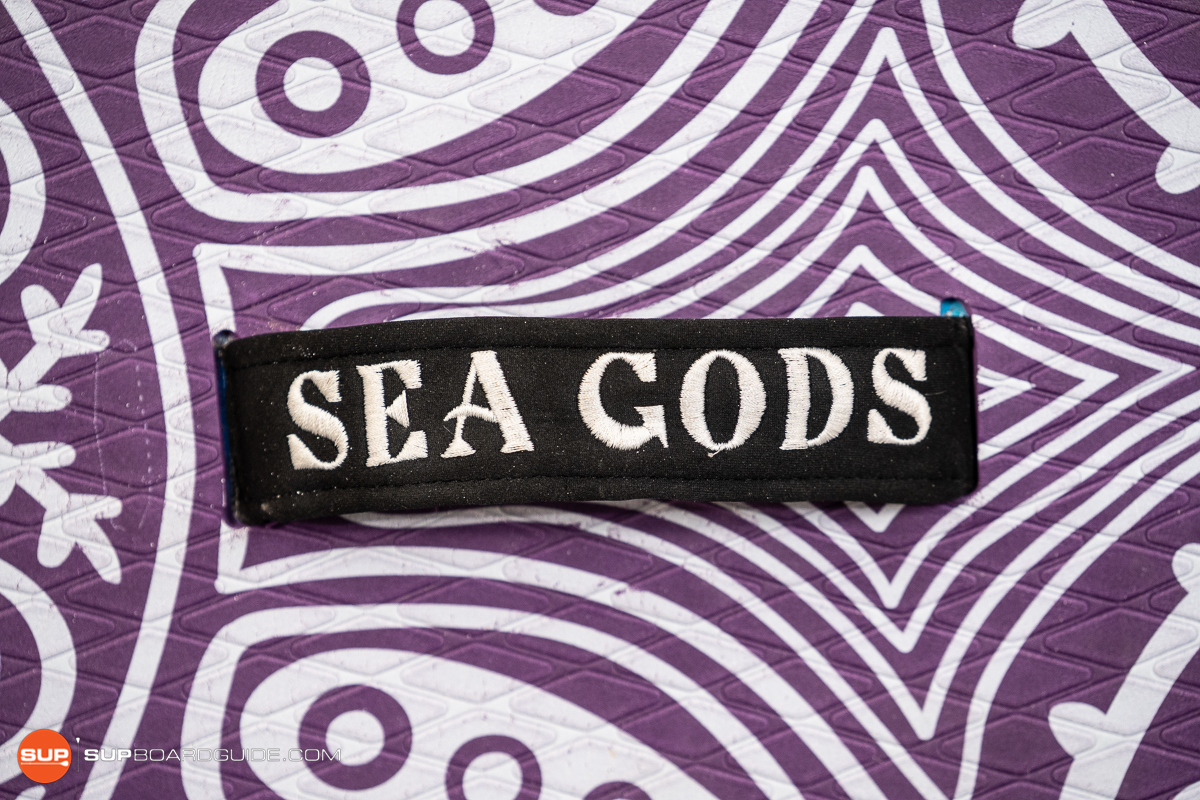 Sea Gods' SUP construction put most of their emphasis on 2 things: lightweight and rigidity. The Diatom Ten6 is no exception to this rule, and this quality-focused level of construction is one of the main reasons we think its higher end price tag is justified.
The Diatom Ten6 is constructed with what Sea Gods calls 'Ultra Light Fusion' (ULF) technology combined with a woven linear dropstitch. What this means is that the inner core of the Diatom consists of a woven fabric layer that is held in 'SUP-shape' with linear or parallel threads. Basically, a cross section of the inside of the SUP would look like this: (IIIIIIIIIIIIII). The PVC layers are then fused to the fabric base with heat instead of glue, thereby avoiding any excess adhesive weight. The rails are applied and heat molded to the top and bottom PVC and finished off with seam tape as a level of reinforcement.
We've talked a lot with Sea Gods about exactly what aspect of this construction process results in boards that are so darn stiff but also lightweight. Usually we see a trade-off with one or the other, but Sea Gods has seemed to nail a really great balance between the two.
They've explained to us that they mostly credit the aforementioned woven fabric layer for the rigidity of their SUPs. It has less micro air gaps than the knitted-fabric alternative offered by board manufacturers, and should provide more structural support for the SUP when under weight on the water; AKA no 'taco' or bend. They also cite the raw PVC material as another source of stiffness, stating that the most recent models were built with a PVC that is supposedly less brittle and creates a more uniform bond with the woven fabric.
Regarding the Diatom and the rest of the line-up's lightweight, Mandy chalked it up to a combination of the fusion tech and their conservative mindset when it comes to accessories and add-ons to the SUP. The Diatom Ten6 is not weighed down by fishing mounts, a plethora of action mounts (though there are 2), and a ton of metal D-rings. She says Sea Gods focuses on a happy medium between versatility and excess weight.
Unfortunately, there's no real way for us to verify brand construction claims for you without simply cutting open the board (and even then it'd be complicated). What we can tell you, regarding these explanations from Sea Gods, is that the Diatom Ten6 does feel great on the water: rigid even above the weight capacity and light enough to easily get up to speed.
As an added perk, Sea Gods is so confident in their construction that they back their SUPs with a lifetime warranty, the longest in the industry.
Board Stiffness: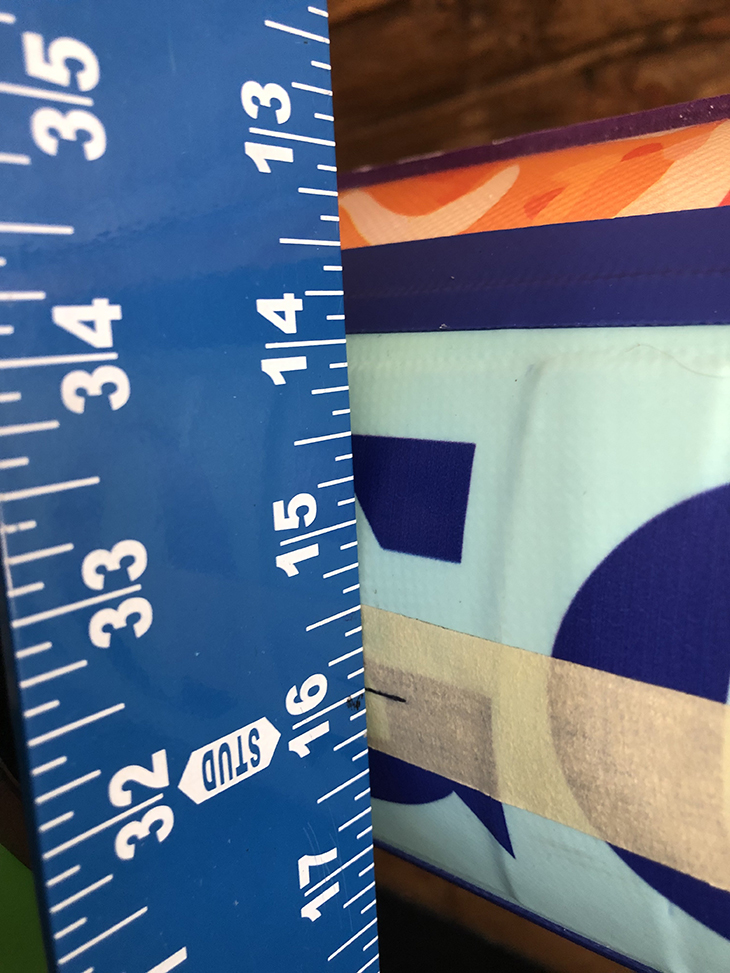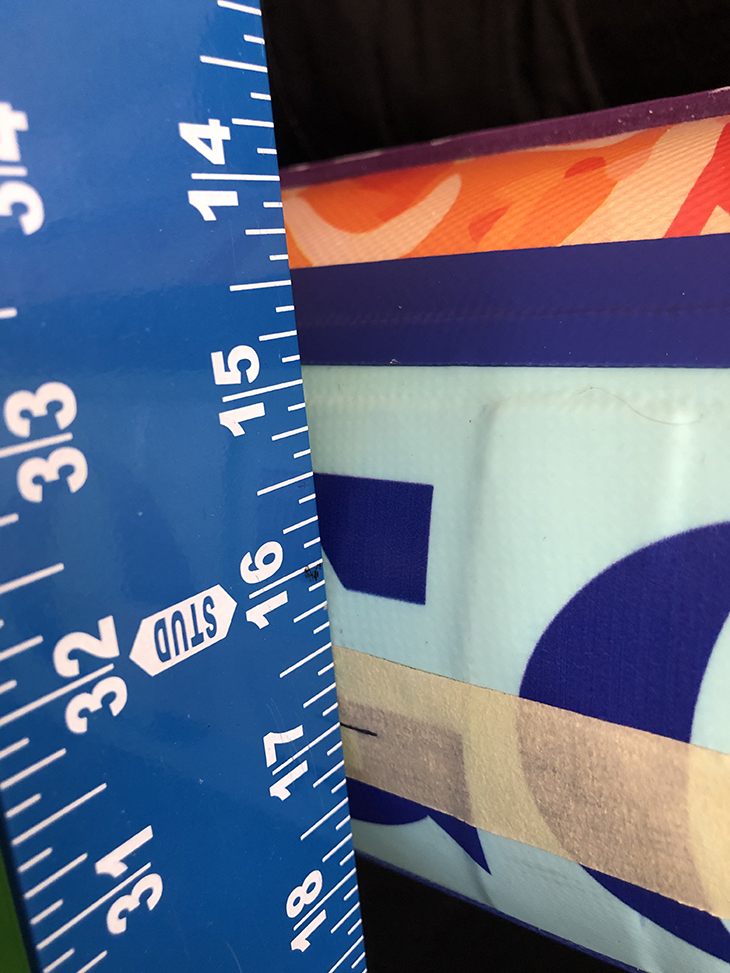 Stiffness Test: 1.0" Bend
Our bend test is completed by placing each SUP on top of sawhorses that are 7' apart. We then place 150lbs at the SUP's midpoint and measure how much it bends under the weight. We want to make clear here that the bend test does not aim to imitate how the SUP behaves in the water, and instead focuses on the SUP's overall construction. We've found that well constructed SUPs typically have less bend (with a few exceptions) and vice versa. We are also compiling this data to search for similarities among certain construction processes.
That being said, it's no surprise to me that the Diatom Ten6 gave way to only 1" of bend. As I've stated in the section above, Sea Gods SUPs are very well made and they are among the best when it comes to lightweight, stiff construction.
However, what is most impressive to me is that the Diatom almost rivals other SUPs in the bend test that are constructed with additional components such as carbon fiber rails and multiple PVC layers. It begs the question of whether it's worth adding those 'stiffening' elements when it comes at the price of a heavier board overall.
Features/Accessory Review: 9.4/10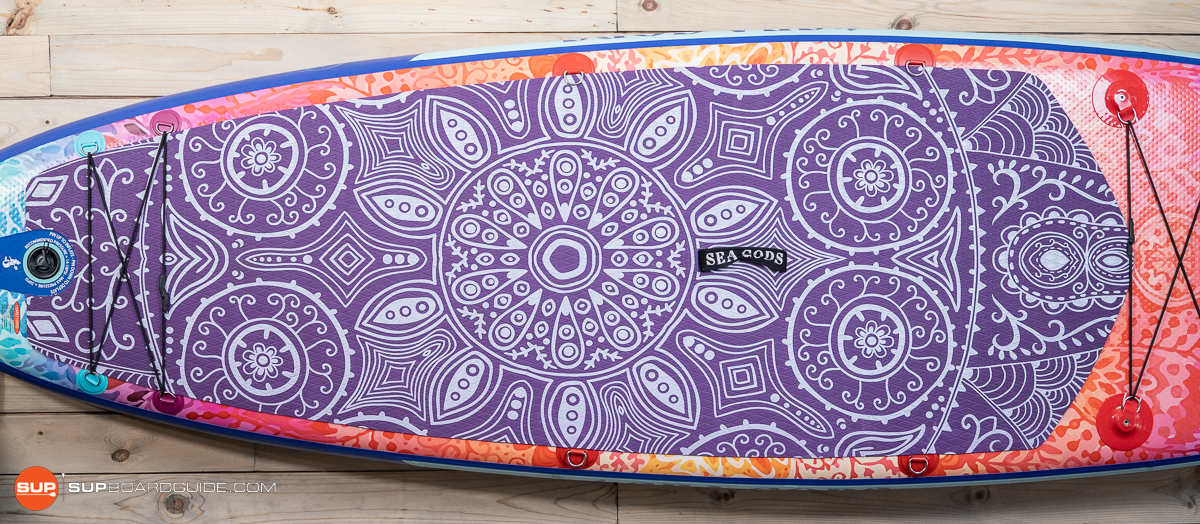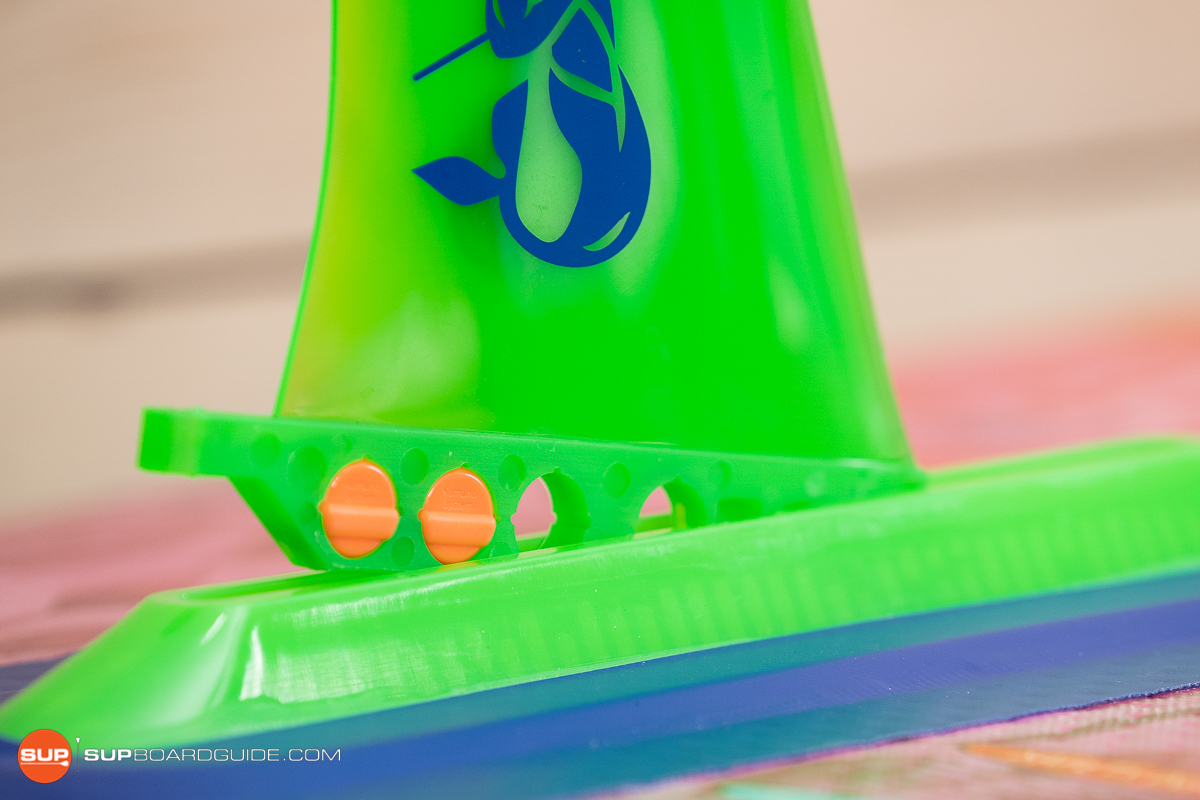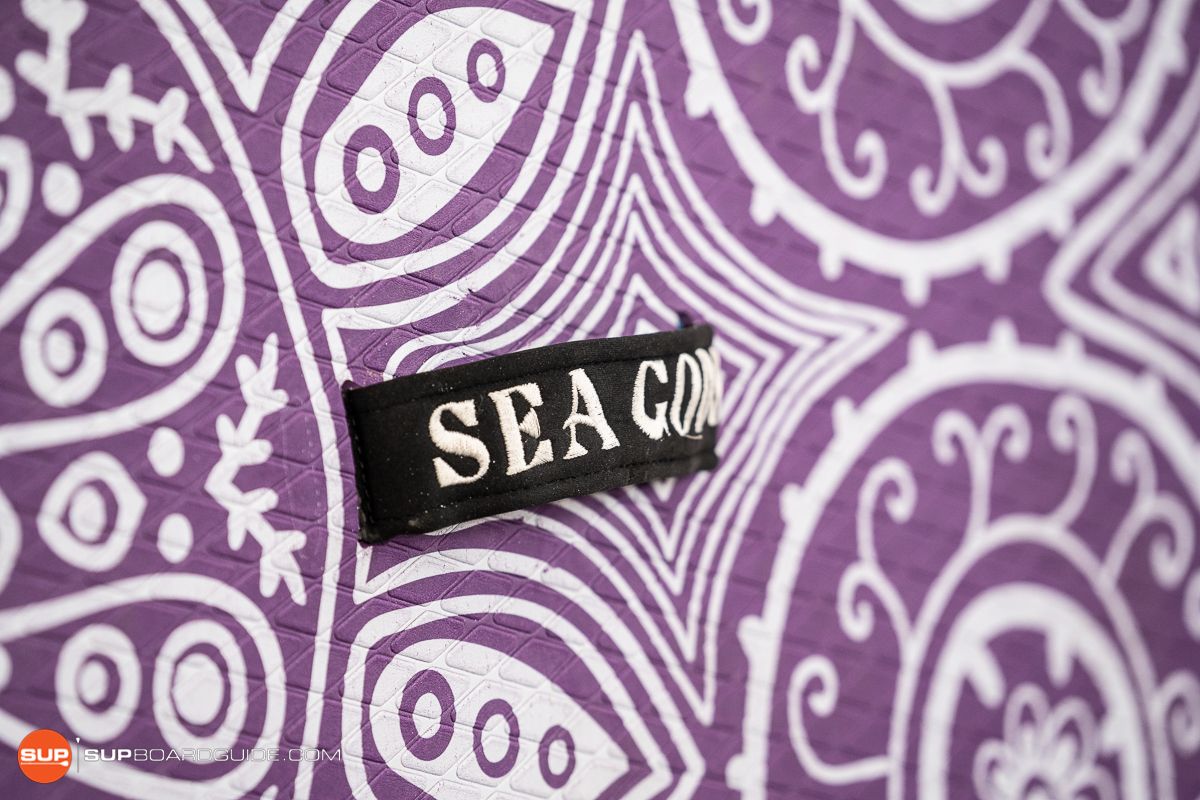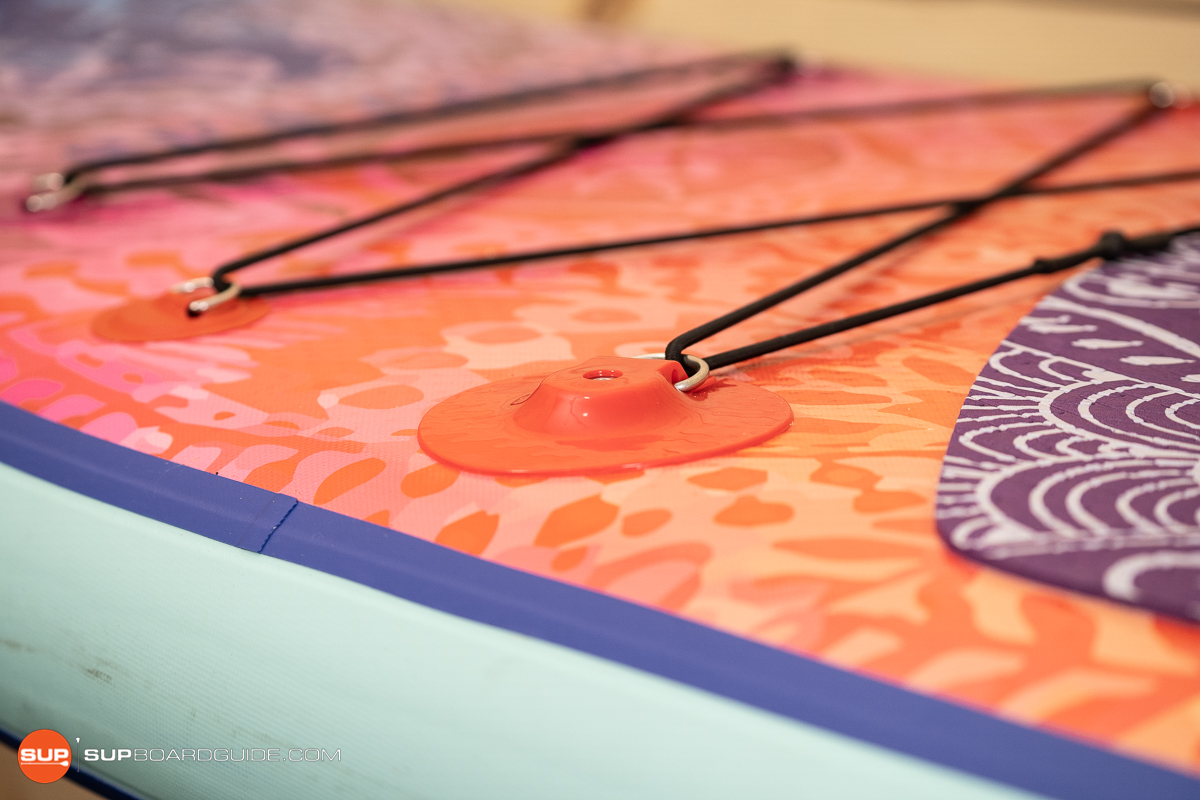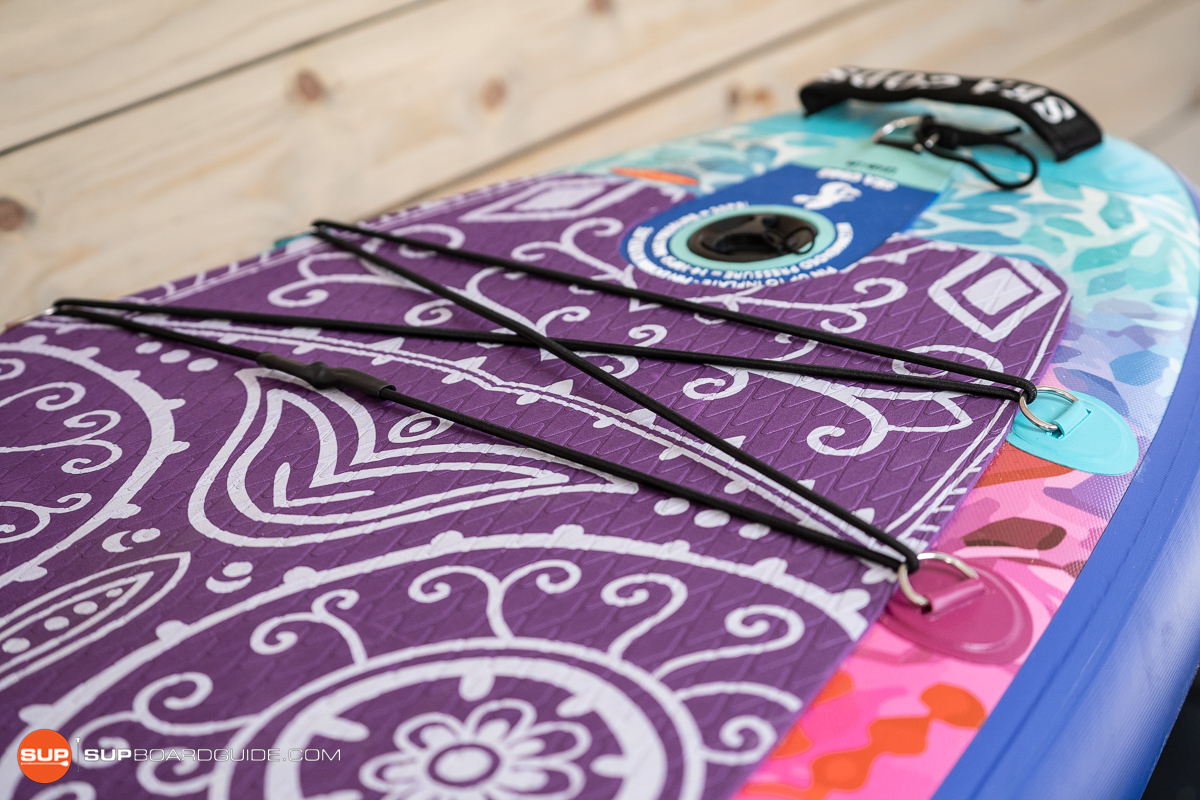 Features:
Sea Gods has made some great improvements to the feature list of the latest Diatom Ten6 Model. To me, they seemed to have found that sweet spot between versatility focused features and an uncluttered deck space.
This year's version of the Diatom Ten6 has 3 carry handles that make launching and getting this SUP to and from the water so much easier. There's also a 6 point bungee cargo area on the nose that has 2 newly added integrated action mounts. At the rear of the deck space there's an additional 4-point cargo area that's a great size to store your shoes or hold your paddle while you go for a swim. As usual, we like the diamond pattern deck pad on the Diatom as well as the kayak seat compatible D-rings at the rails. Last of all, the Kumano pressure fit sin system is my personal favorite as it doesn't require any tools and I like keeping the customization ability that comes with an FCS fin-box.
Included Accessories: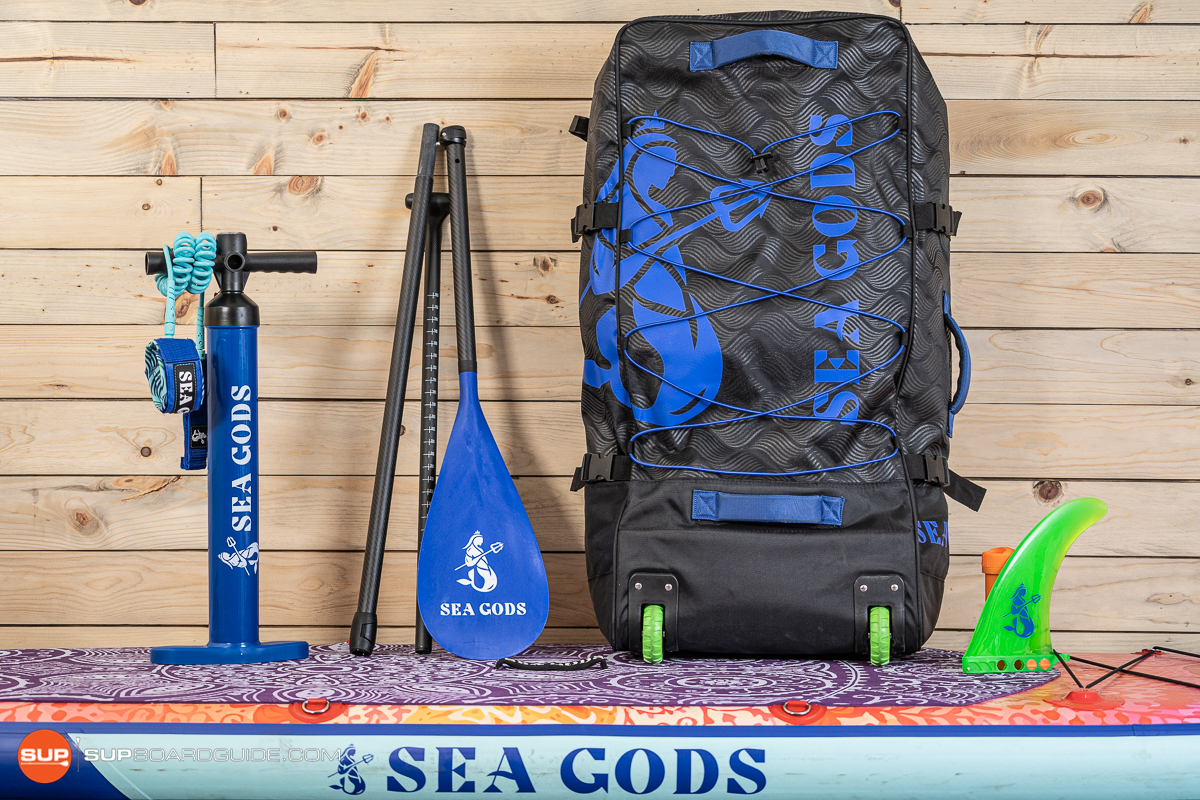 The Diatom Ten6 comes with all of the following accessories that will get you out on the water straight out of the box:
3-piece carbon fiber paddle
Wheeled Backpack (love the handle placement makes it super easy to load in a trunk)
High quality full swivel coiled leash with key pocket
Semi-flexible Kumano pressure fit single fin
Single Chamber hand pump
Repair kit
Overall, I love that Sea Gods includes a carbon fiber paddle in their kit and the newest version of their backpack is my favorite out of all of the SUPs we've tested. It has 2 handles on the front that make it much easier to load into the trunk of a car and the straps and back-pad are well padded and spaced.
My only complaint with this kit is that I'm not ecstatic about a single chamber pump, especially for boards that go up to 18 PSI, but Sea Gods does have an electric pump available for an additional purchase. We can't personally attest to its quality yet (that review is coming soon) but Sea Gods does cover it with a 1 year warranty. For pumps that we have tested and recommend see our list of the Best Electric Pumps.
Summary Review of the SeaGods Diatom Ten6
I said in the beginning that I had my doubts about the Diatom Ten6, and I am thrilled to be proven wrong by this trippy, (not so) little iSUP.
Sea Gods has done a fantastic job of keeping the foundation of the Diatom Ten6 the same, in that it's exceptionally well-built and high enough in volume to support heavier paddlers wanting to enjoy a classic 10'6 SUP. They've also made much appreciated improvements by adding front and rear carry handles, integrated action mounts, and a semi-flexible dolphin style Kumano center fin.
It's also worth noting that the Diatom is undeniably on the expensive end of the spectrum for all-around SUPs. However, I think that price can be justified by Sea Gods' impressive attention to detail on their SUP builds as well as their commitment to using locally sourced artwork and the ability to stand behind their products with a lifetime warranty.
Lastly, Sea Gods is constantly searching for ways to improve their boards whether it be construction, features, accessories, or anything that would make their paddler's experience better. Mandy and Ryan have been super communicative with us and if there are any thoughts that you have on the Diatom Ten6 or other Sea Gods SUPs that you'd like us to share with them, please don't hesitate to reach out.
Stay safe and happy paddling. Summer is right around the corner!
The following two tabs change content below.
Alli Blackmon - SupBoardGuide.com Staff Writer
Latest posts by Alli Blackmon - SupBoardGuide.com Staff Writer (see all)