Sea Gods Diatom Ten6
Pros
One of the most beautiful SUP's we have seen, hands down!
Very stable, high weight capacity, all-around/cruiser style paddleboard that is well suited for beginner to intermediate paddlers.
ULF fusion construction makes the board equal parts durable and lightweight at just 21 lbs.
I love the US fin box system and Kuman fin setup! Kumano plugs let you install your center fin in seconds. US fin box also provides additional compatibility with other fins for superior performance optimization.
Good quality accessories. The included carbon-fiber paddle is very lightweight yet strong. The rolling backpack is one of my favorites.
30 day guarantee and lifetime warranty is truly amazing. Sea Gods stand by their beautifully designed paddleboards.
Cons
We'd love to see a dual chamber pump option. It took us around 15 minutes to pump up the SUP.
I would also like to see a few extra d-rings added so paddlers could attach a kayak seat if they like.
We loved reviewing the Sea Gods Diatom 10'6'' inflatable SUP!
The Diatom is an all-around/cruiser hybrid that will make your friends jealous with its jaw dropping artwork and great, balanced performance. At 34" x 10'6, we found the Diatom to be very stable, track well, and still be fairly quick given its single fin set up. At 21 lbs we also found the board to still be maneuverable. In essence, we'd say the Diatom is a jack of all trades (stability, speed, maneuverability), and is one of the most beautiful SUPs we have ever seen.
With a recommended weight capacity of 340 lbs, the Diatom 10'6'' is able to support lighter and heavier paddlers alike, the ULF construction providing a great mixture of durability while being easy to carry.
Besides just being absolutely gorgeous to look at, the deck pad is also very soft on your feet while featuring a diamond grooved pattern to improve traction support. The board alone is quite impressive, but it's an even better value thanks to the premium Kumano click in fins, lightweight carbon fiber paddle, and rugged canvas backpack.
Bottom line review: If you are interested in a beginner friendly all-around/cruiser hybrid with a look that few paddleboards can match, then you should consider purchasing the Sea Gods Diatom 10'6'' iSUP!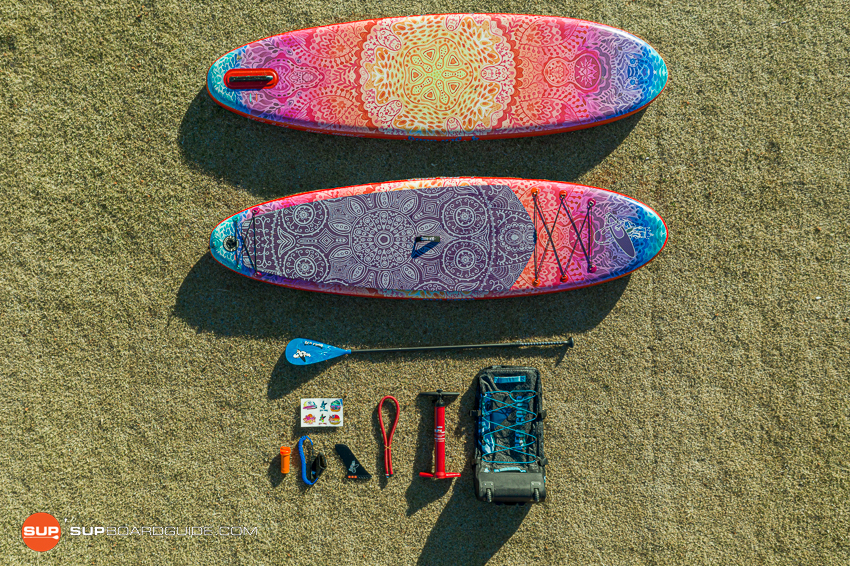 SUP Board Specs
Length
10'6''
Width
34''
Thickness
6''
Weight
21 lbs
Rider Capacity (lbs)
340 lbs
Recommended Inflation
15 – 20 PSI
Fins
Single US/FCS Fin Box
Kumano Click Fin
Paddle Type
Carbon Fiber shaft and Nylon blade
Construction
ULF Fusion Construction
Double Reinforced Military PVC Rails
Who Should Buy This Stand Up Paddle Board
The Diatom 10'6'' inflatable SUP is an all-around/cruiser style iSUP, providing plenty of great stability that makes it well suited for a wide range of SUP activities, from paddling around the lake, to practicing yoga. While almost everyone will have a reason to paddle with the Diatom 10'6'', you will especially enjoy it if you are among the following:
New or beginner level paddlers who want an extra stable SUP to help them learn their balance. A great all-around option for 6' paddlers or those heavier than 200 lbs.
Hikers, or paddlers who are traveling long distance and want a lightweight cruiser SUP. The Diatom 10'6'' offers solid performance while weighing just 21 lbs.
Paddlers who want an all-around style SUP with an extra emphasis on tracking. The Diatom 10'6'' has a single center US fin box that helps it keep a straight line in the water.
Long distance paddlers who want a cushy deck pad that also provides good traction support. EVA foam combined with a diamond groove pattern provide a great deck pad.
Anyone who cares about how their paddleboard looks as much as it performs. The Diatom 10'6'' is one of our favorite paddleboards out there in terms of design.
Performance
Board Design/Shape
The 10'6" x 34" x 6" Sea Gods Diatom is a combination of a traditional all-around and cruiser paddleboard, or an all-around SUP designed with extra stability and weight support. Below you will see how well the Diatom did on our tests as an all-around/cruiser iSUP.
Stability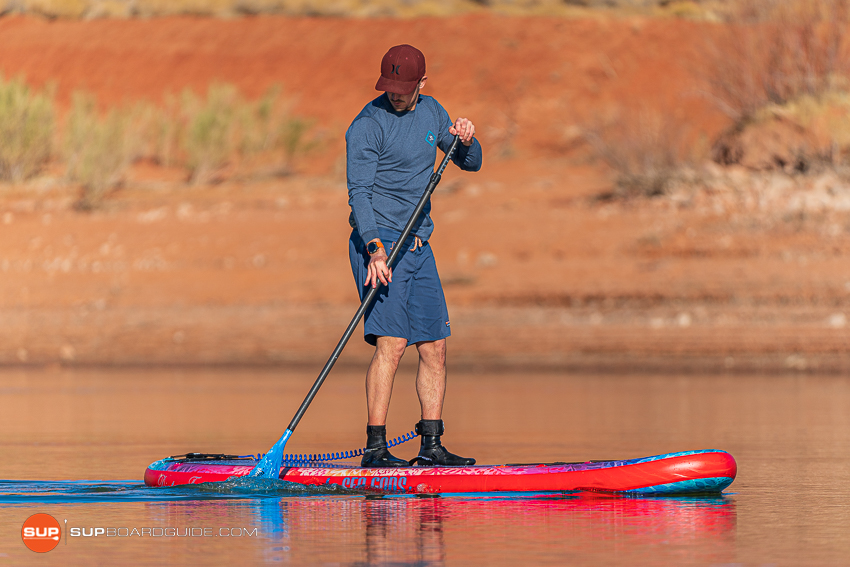 The Sea Gods Diatom 10'6'' is very stable, and even a bit surprisingly so given how light the paddleboard is. The 10'6'' length, combined with the wider 34'' deck does make it a real all-around/cruiser hybrid that will easily support its recommended weight capacity of 340 lbs. Our 6' and taller reviews felt great on the Diatom 10'6'', and while it is a bit wide the shorter paddlers on our team enjoyed it as well and didn't feel overwhelmed either. This is a great solo paddleboard for all types of paddlers, and we do think you can have fun going out with a kid or pet as well if you have some experience paddleboarding. While you could stick two adults on it if they are on the lighter side of things, we would suggest the Sea Gods 11' Mantra instead if you're looking for a stable board for two grownups.
One area we do think the Diatom could possibly improve would be to go from a 6" thick board to a 5" board. This would give the board less weight capacity, but would improve stability as the paddler would be closer to the water – especially in windy and choppy conditions (note – this also would likely increase the price several hundred dollars).
Maneuverability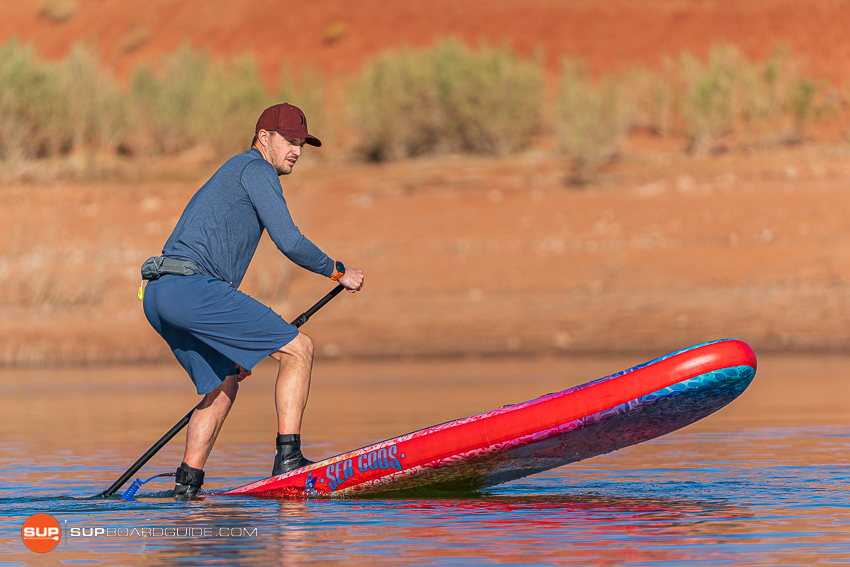 We weren't quite sure what to expect when it came to the maneuverability due to the lightweight board, 34" width, and single fin setup. We found that the board's lighter weight made the board fairly maneuverable even though it's a wider, more stable board. We really like how the board felt when turning.
Step back turns were easier than expected for experienced paddlers, as pushing the nose out of the water was easy on the 21 lb board. For inexperienced paddlers, you might fall in a few times since the lighter weight does make the step back turn a little harder for beginners.
Tracking/Glide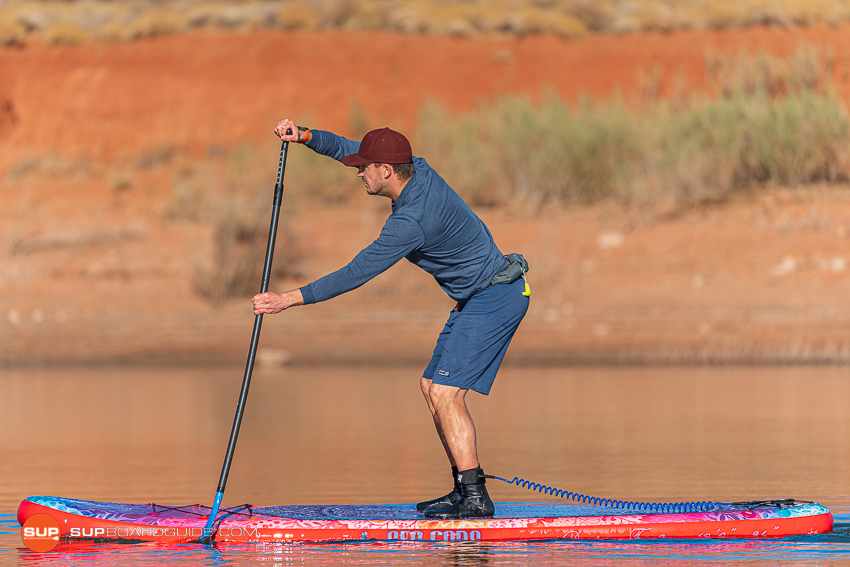 We had a blast paddling with the Diatom 10'6'', and thoroughly enjoyed how it felt in the water. The single fin setup substantially improves the overall tracking, allowing even our newest paddling reviewers to maintain a great, straight line in the water.
The raised rocker and planning style hull allowed it to tackle the occasional chop and light wave with ease, and while it is 34" wide, the lightness of the board and single fin set up made it faster than we expected. The one thing to note though is that, because the paddleboard weighs just 21 lbs, it is not as well suited for moderate chop or windy conditions – that advantage would go towards heavier SUPs (or those that are 5" thick vs 6" thick).
This is a paddleboard you'll want to use primarily in flat water, with some coastline and marina paddling once you've improved your form and know how to handle a paddleboard.
Materials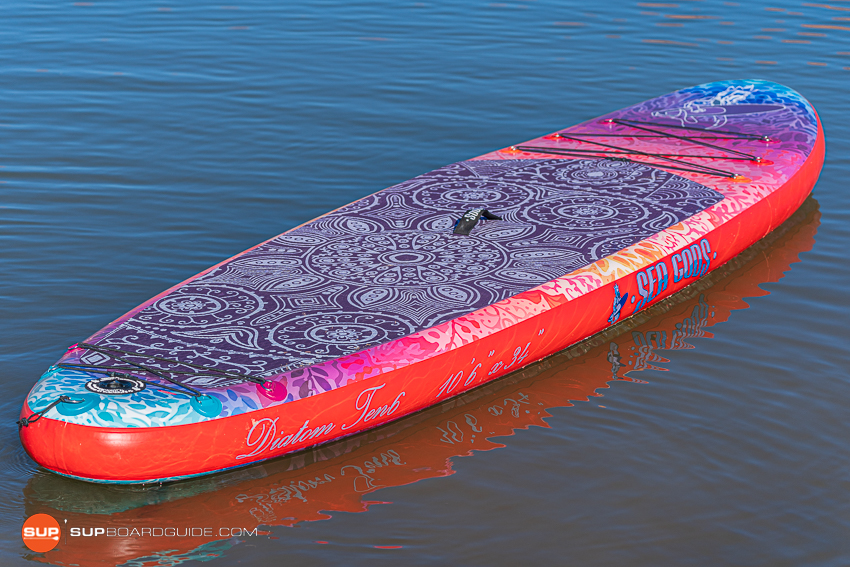 The Diatom 10'6'' has a great balance of being lightweight and easy to carry, but also a durable and rigid SUP that feels great to paddle on. To explain why, we have to start with the tight drop-sitch core. Sheets of fabric are bound together with over 12,800 super reinforced stings, forming the inflatable core that air can be pumped into. As air is pumped into the board, the precisely placed strings will go taut, ensuring that the Diatom 10'6'' has a proper SUP shape instead of something more rounded like a balloon.
The drop stitch core provides great weight support despite being an inflatable, but it's made even better thanks to the outer shell that constitutes the Ultra Lightweight Fusion construction. Additional sheets of fabric are fused to coatings of military grade PVC, forming a shell that is laminated directly to the drop-stitch core. As a result, the Diatom 10'6'' is a tough SUP that can withstand the occasional drop or crash and emerge from it unscathed. The PVC shell also extends the life of the paddleboard, especially in conjunction with the UV protection that will minimize the rate of degradation caused by sun exposure. The Diatom 10'6'' is a tough paddleboard, and a beautiful one too thanks to the beautiful mandala artwork that covers both the deck and bottom of the paddleboard.
Board Features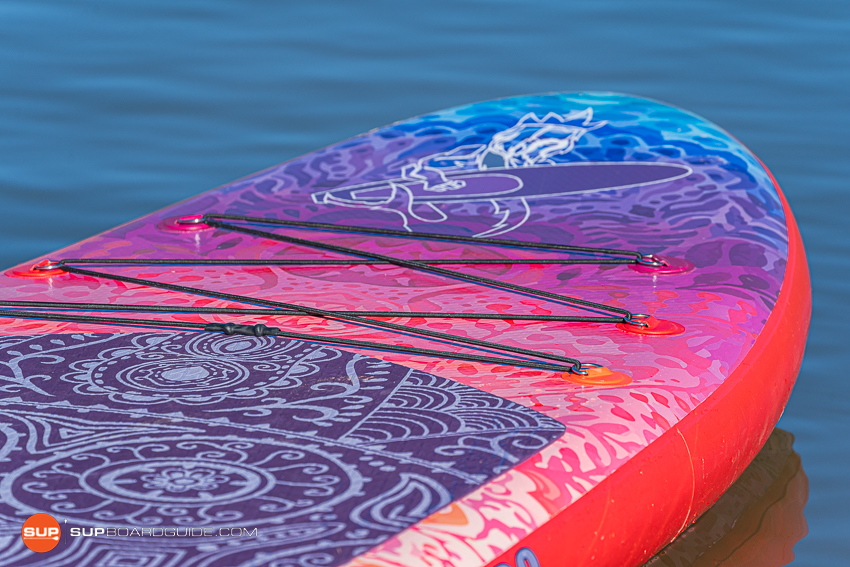 We thoroughly enjoyed paddling on the Diatom 10'6'' inflatable SUP, but it wasn't just because of the performance alien. There are a number of other features that not only contribute to the performance and feel, but just make it a better SUP for everyone. A few of our favorite features include:
ULF fusion layer construction.
9 D-rings + Dual-Bungee Cargo System.
Center carry handle.
Diamond grooved, ultra cushy deck pad.
Unique mandala art design.
Fins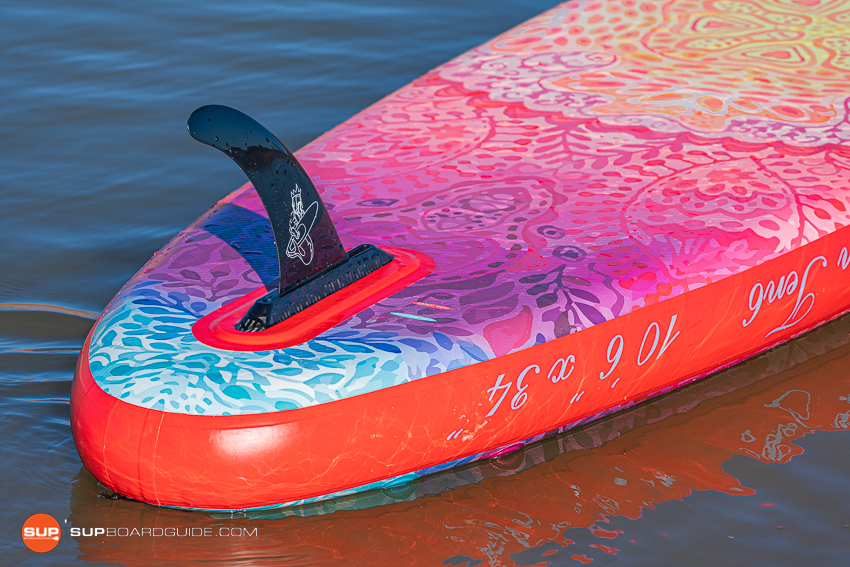 One of the great things about the Diatom 10'6'' kit is how easy it is to install the long 9'' center fin. The fin comes with a traditional plate and screw, but you can also make use of the Kumano plugs for an installation that takes just seconds and is nearly as tight. One plug alone is enough to hold your fin in place, but if you want to make sure it's tight in the fin box you can insert all three plugs and still have a fin that takes only two to three seconds to install. It's a very cool fin, and by featuring a US fin box you can also swap it out for other fin styles and lengths for a personalized paddleboarding performance.
Traction Deck Pad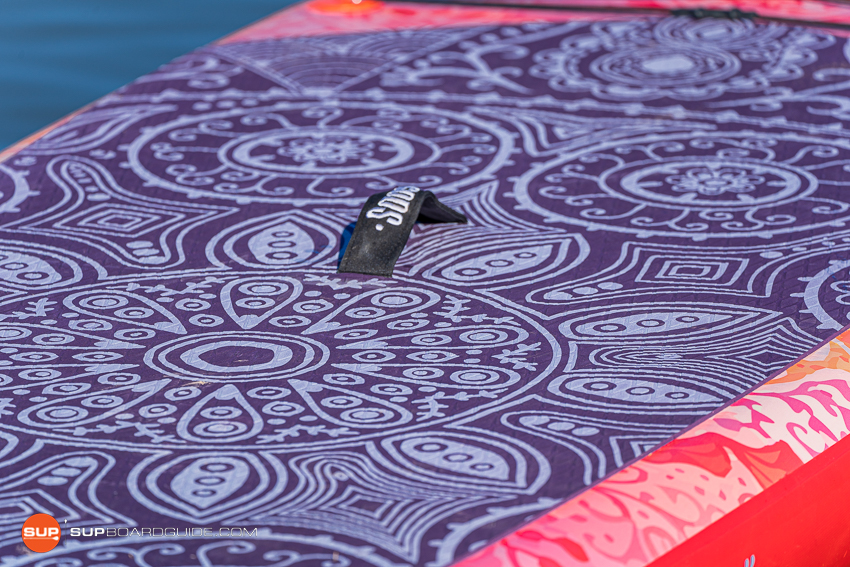 If you had to ask what our favorite feature was on the Diatom 10'6'', it would probably be the absolutely wonderful deck pad. The design is particularly noteworthy, and helps the deck pad blend in well with the board instead of being something that was just pasted on unlike other inflatable SUPs. As for the feel, it is made out of EVA foam, the same cushy material used in popular yoga mats, making this a great paddleboard option if you want to try out yoga on the water. The deck pad is soft and smooth so that you can stretch out, but it also features a small diamond grooved pattern for additional traction support as well. Even when the board gets soaking wet, it's easy to maintain your grip on the deck pad thanks to the anti-slippage design, making every paddleboarding trip with the Diatom 10'6'' a blast.
Handles
The Sea Gods Diatom has a single carry handle, located on the center of the paddleboard. While we typically prefer a triple carry handle setup on SUPs, the Diatom 10'6'' doesn't really need extra handles since it only weighs 21 lbs. As for the handle itself, it does feature a neoprene cover, making it easier and more comfortable in your palm than just a basic nylon handle. Nylon can also cause chafing or other forms of hand irritation when held with soaking wet or freezing cold hands, problems which the neoprene cover is designed to protect against. The handle is a good one, and if you do need assistance carrying the SUP the nose and tail are smooth and easy enough to carry by just gripping the sides.
D-Rings/Bungees/Cargo Areas
Cruisers are designed to help you casually enjoy the water, with enough weight support for those who want to bring out heavy coolers, dry bags, and other containers without cluttering up deck space. Such is the case with the Diatom 10'6'' inflatable SUP, which features 9 D-rings that you can clip gear onto, along with two removable bungee cargo cord areas. The nose bungee cargo area is the larger one, while the tail is smaller and meant more for small pouches you might want quick access to, such as a phone or camera box. We also love how the D-ring mounts are color coded to match the pattern of the SUP, further improving the overall look of the paddleboard.
One thing we are mixed on is the lack of D-rings in the center. Without them, you do have a cleaner deck space, making it easier to practice yoga or stretch out on. However, because you don't have any center D-rings, you can't just throw on one of the many popular SUP kayak conversion kits out there. Because of their stability and width, cruisers are a popular model for kayak conversion kits, so those who are a fan of that will be disappointed that they can't do it with the Diatom 10'6''. A good compromise we would like Sea Gods to consider are some soft D-rings, allowing you to attach a kayak kit without hurting your hands or feet when you do fall on them.
Accessories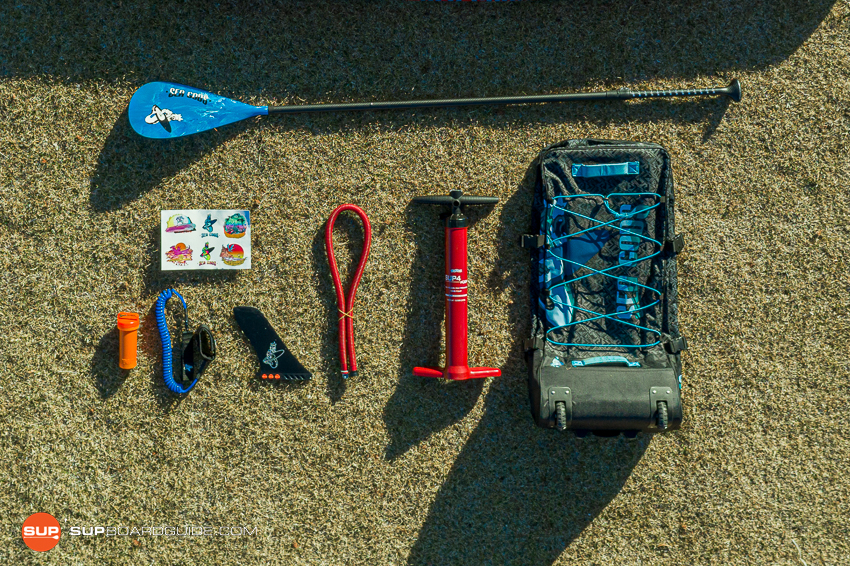 Carbon Fiber Shaft + Nylon Paddle Blade
The paddleboard isn't the only thing we want to gush about, because the three piece carbon fiber shaft/nylon blade paddle is also fantastic. In fact, this is one of the best paddles we've ever tested to be included with a paddleboard out of the box. A good, premium carbon fiber paddle can set you back over $200 dollars, so it adds a ton of value to the overall Diatom 10'6'' kit as a whole.
The one way we would like to see the paddle improved though is to have a second clasp at the button lock where the paddle blade and shaft connect. While the button lock does lock the blade into the paddle shaft, we noticed that the blade will turn slightly as you push the paddle through the water because of how loose the connection is. It's a minor thing, but it would help this great paddle stack up against the true premium paddles out there on the market.
Pump
Something we really want to see improved in a future kit is the included single chamber pump. Single chamber pumps are good for smaller and compact SUPs, and is what we expect for budget priced inflatable paddleboards given how affordable single chamber pumps are. Given the price of the Diatom 10'6'' and how large the board is, it's a bit disappointing that you're meant to inflate it with a single chamber pump. From our personal testing, it took over 15 minutes to inflate the Diatom 10'6'' with the included single chamber pump, which not only wasted our time but also left us rather winded once we finished inflating.
Until Sea Gods upgrades their manual pump, we would suggest replacing it out with a manual pump or, as we prefer, an electric pump that will do the hard work of inflating and deflating for you. We maintain a list of our favorite electric pumps, many of which are even more affordable than having to upgrade to a dual chamber manual pump.
Backpack
Back to the positive side of things, we do adore the backpack included with the Sea Gods Diatom 10'6'' inflatable SUP. From a design perspective, it is one of the most eye catching paddleboard backpacks out there, and like the board itself will have your SUPing friends asking where you got it. It's just as functional as it is nice to look at, the backpack built out of dense canvas for solid protection against water, sand, and wind alike. When you wear the bag, you'll find that the chest strap, hip belt, and backpack straps are all adjustable, with each of the straps having padding to make them more cushy to wear as well. You don't have to wear the Sea Gods backpack all the time though, as the two front roller wheels make it a breeze to travel over concrete or through an airport. By placing the wheels on the front of the backpack, you won't have to worry about your straps getting tangled either,now will the wheels dig into you if you're hiking with the backpack. The final neat detail about the backpack is that the zipper is on the back side of the backpack rather than the front side like many traditional SUP gear bags. By having the zipper on the back, you can lay the backpack down on the ground more evenly, making it much easier to pack your gear. The large Sea Gods backpack has more than enough space to pack all of your equipment into it, helping it stand out as one of our favorite SUP backpacks.
Leash
The Sea Gods Diatom 10'6'' kit does come with a 10' coiled leash. To wear the leash, you just need to slide the cuff over your ankle or thigh, then wrap the velcro strap around one of the D-rings. Leashes are great in that they will keep your paddleboard close to you if you fall into the water, and because it's a coiled leash you can tug on it to bring your SUP close without worrying about whiplash. Leashes will not help you float any better if you fall into the water, so make sure you are wearing a PFD when you go out paddleboarding.
Repair Kit
The final major accessory worth mentioning is the repair kit. The inflation valve can come loose with repeated inflation, so use the Halkey-Roberts inflation valve wrench to tighten it up every couple months. The other triage repair tool that you have are some red adhesive patches, which you can use to patch up small holes and tears on the SUP as long as the damage isn't done to the seams.
For more significant SUP damage, be sure to contact Sea Gods for additional support.
Company Review – Sea Gods
The ULF construction means that it's very difficult to damage the Diatom 10'6'' iSUP, but even the best made paddleboard isn't invincible. Fortunately, Sea Gods has some of the best protection coverage in the industry, consisting of their guarantee and warranty policy. If you aren't happy with the Diatom 10'6'' for any reason, you can return it within 30 days of delivery and receive a refund minus a 10% restocking fee and a damage fee if your board isn't in like new condition. The real stand out protection is the lifetime guarantee that Sea Gods gives you for buying their paddleboards. This lifetime guarantee covers all damage outside of normal wear and tear, and any accidental damage you do suffer will be repaired or replaced at a discounted price. We've had a blast getting to know the team at Sea Gods, and we're very excited to see how they continue to develop their beautiful inflatable SUP lineup.
For our full company review, along with additional warranty and shipping information about Sea Gods paddleboards, please be sure to visit this link.
Bottom line
Every single member of our review team had a great time testing the Sea Gods Diatom 10'6'' inflatable SUP. This was a very beginner friendly SUP thanks to its excellent stability, and with solid maneuverability and great tracking our experienced reviewers were impressed as well. Weighing 21 lbs, the Diatom 10'6'' is one of the lighter all-around/cruiser options we had the chance to try out, making it a fun option for teenage paddlers or those who need a cruiser to hike with as well. The deck pad is extremely gorgeous to look at, and it stays comfortable to stand on even when you've been paddling for several hours. While we would like to see the pump improved, the paddle, kumano center fin, and backpack are all fantastic accessories that make the paddleboard kit an excellent value in board and gear alike. If you want a very stable SUP that will make you the envy of everyone who sees you on the water, you will definitely want to consider the 2022 Sea Gods Diatom 10'6'' inflatable SUP!
Thank you so much for reading our review of the 2022 Sea Gods Diatom 10'6'' inflatable SUP! We've tried to cover the major features and performance aspects of the paddleboard, but if you have any lingering questions feel free to comment below or send us an email with your inquiries. We are working hard to make SUPBoardGuide.com the best paddleboarding resource on the internet, so be sure to check out our other SUP reviews, instructional tips for beginners and experts, and our video reviews discussing the latest most popular SUP brands in the industry. If you have an idea on how we can be even better, or want to see something else from our review team, be sure to let us know.
Otherwise, have fun paddleboarding, and tell us what you think of the 2022 Sea Gods Diatom 10'6'' inflatable paddleboard!
The following two tabs change content below.
Justin - SupBoardGuide
Heyo! At SupBoardGuide.com we are a team who love the water, the outdoors, and are more than grateful that our full-time job allows us to review stand up paddle boards. We paddle year round (it helps that we are just about 2 hours outside of Las Vegas), and we bring in a wide range of paddlers with the goal of providing our readers with the best, most in-depth, and accurate stand up paddle board reviews.
Latest posts by Justin - SupBoardGuide (see all)