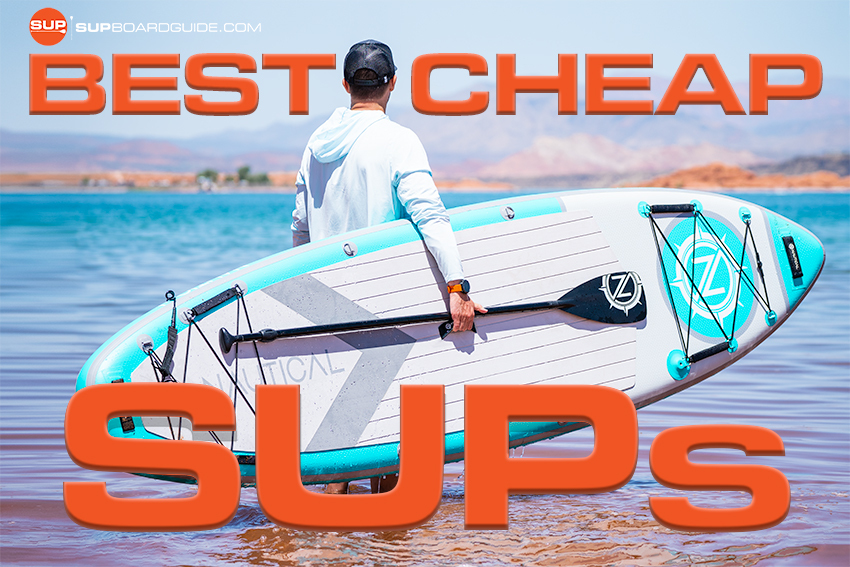 If you're new to stand up paddling, it's common to go through a bit of sticker shock when shopping for your first board. With hard SUPs and even some inflatables costing upwards of $1000, it's no surprise that people start to look specifically for 'cheap' boards, which is likely what led you here. So, take a deep breath, shake some of that sticker shock, and we'll guide you through our list of the Best Cheap Paddle Boards of 2023.
Full transparency, we don't like to use the word cheap to describe any of these boards, because it implies lackluster quality. However, we'll use that language here because 'cheap' is the term that is frequently used when our readers ask us for our suggestions on budget friendly paddle boards. With that said, the SUPs below excelled in all of our tests and we can fully attest to their value.
**iRocker just launched a very big sale – discounting their Ultra line to nearly the same price as their budget line, the Nautical. I believe this is the first time they have given such a great deal on these SUPs, so take advantage!
What Makes The Best Cheap Stand Up Paddle Board (SUP)?
Before we dive head first into our list, I wanted to provide a bit of background about how we decide a 'cheap' SUP belongs on this list. While we are looking to keep the boards on this list below a certain price point, we're also looking beyond that, to recommend to you boards that are durable, fun to paddle on, and backed by solid companies that care about the SUP community and their customers.
The boards below go above and beyond to fit these criteria and we work personally with the founders of each, so we can attest to the fact that they are doing their best to better serve their customers and our readers. What we love most about each of these companies is that they carefully listen to our and our readers' feedback and work that into changes on the next model. With that in mind, if you have questions or suggestions, don't hesitate to send them our way to pass along to these brands. We can all play a part in growing and advancing this sport in a way that is accessible to all.
Having said all of that, below you'll find our list of the Best Cheap/affordable SUPs of 2023!
Best Affordable Inflatable SUPs

As you go through this list, you'll notice that several of these SUPs are still in the mid-range price tier and rarely dip into that sub-$400/$500 iSUP category that you will see on Amazon. This is because the quality of those Amazon boards is simply not up to a standard that we'd feel comfortable recommending to our readers. We would argue that it is better and cheaper to buy a quality SUP once than buying a cheap, crappy board twice. We also want to keep inflatable paddle boards out of our landfills as best as possible and one way to do that is by buying a durable board that will last season after season.
With that said, let's elaborate on our list.
---
Nautical 10'6'/11'6" by iROCKER
(comes in both 10'6′ and 11'6″ versions)
Read our full Nautical 10'6 Review
Read our full Nautical 11'6 Review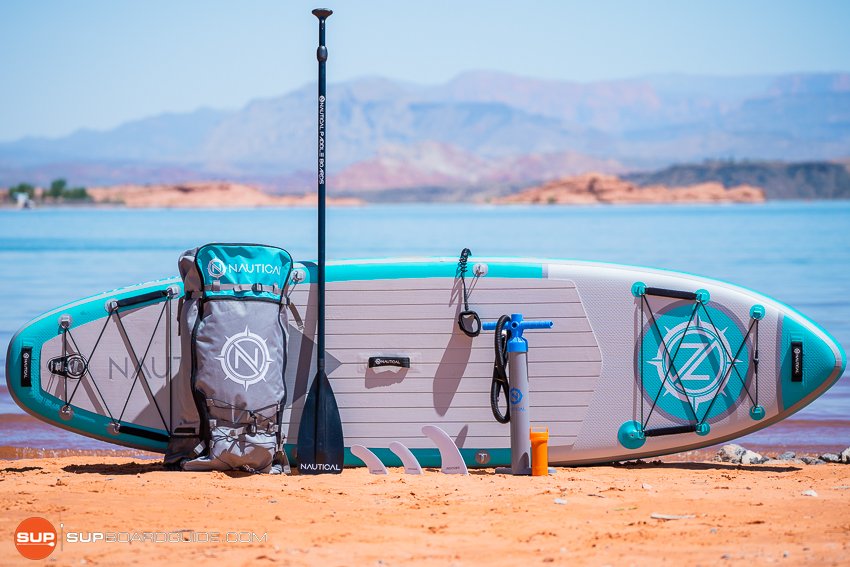 Pros
Durable dual-layer construction at affordable price
Soft, deep grooved deck pad
Light paddle with durable blade
Sturdy snap-lock 2+1 fin setup
Monthly payment option
Cons
Performance is that of an entry level board, though this is a reach given how inexpensive/accessible this board is
The Nautical 10'6 and 11'6 by iROCKER are going to take the top spot on our list. Admittedly, we were pretty torn between the Nautical 10'6 and 11'6 and the Gili Air 10'6 and 11'6. Ultimately, we decided that the Nautical dual layer PVC construction combined with its 32" width made it a more durable and more stable board for entry-level paddlers.
Now to the specs, both the Nautical 10'6 and 11'6 are a stable 32" wide and 6 inches thick. The main difference between the two is that the 10'6 is more of a true all around, and a lower price, but the 11'6 has a slightly higher weight capacity (240lbs for the 10'6 and 265lbs for the 11'6"), meaning the 11'6 will enable you to bring along more gear or an extra person. For this reason, the 11'6 is our personal favorite if you are willing to spend the extra money, but we truly love both of these boards.
We were also impressed with the Nautical line's construction at an affordable price. Both the 10'6 and the 11'6 are built with dual layer PVC, making them able to withstand common drops and dings over time. The 2+1 fin set-up is also built to last, as iROCKER chose to incorporate snap-lock technology on all 3 fins instead of flexi fins, which would get bent out of shape quickly. While durable, these boards are still lightweight and easy to carry with you on any SUP adventure, with the 10'6 weighing in at 20lbs and the 11'6 at just 22lbs.
As far as features go, the Nautical line is fully loaded. The 10'6 and 11'6 have a total of 17 d-rings each to customize your board to accessories such as kayak seats or extra gear storage. There are also 2, 6-point bungee cargo areas at the nose and tail of the board, giving you a plethora of options when it comes to strapping down anything you'd like to bring along for the ride. We also really loved the soft, grooved deck that provides comfort for your feet and keeps water off of your standing area. Although they are lightweight, the Nautical boards still have 3 carry handles, one in the center, one at the nose, and one at the tail, so these boards are easy enough for kids to launch into and out of the water (with supervision and life-jackets of course).
If the boards alone were not impressive enough, iROCKER includes everything you need to get started SUP'ing in this kit, including a single chamber pump (though we recommend iROCKER's electric pump on our list of Best Electric Pumps), a fiberglass paddle, a 10' coiled leash, 3 snap-lock fins, and a SUP bag with the option of purchasing a roller tray for easier transport. This kit is an overall great value, and each of these accessories is high quality and built to last as you progress in the sport.
In short, if you're looking for a sturdy beginner SUP for a great value, the Nautical 10'6 or 11'6 are a great option. They feel great on the water, are built durably, and are backed by a great company. As we've said before, iROCKER makes a genuine effort to better serve their customers, and offer both a 90 day guarantee and a 1 year warranty on the Nautical line, as well as a monthly payment plan if the upfront cost isn't feasible.
---
Isle Pioneer 2.0
(Read our full Review)


Pros
Very stable and supportive for novice paddlers! Even if you have never paddled before, you will find stability within the first session.
Precise construction process that allows this board to be lightweight and have a nice glide on the water.
Comfortable and minimalistic deckpad for people who want to stretch out on board.
Great speed despite having a wider design
Easier to maneuver than we thought!
Cons
We would like to see Isle include a backpack with wheels.
In a close second for best cheap SUP, we have the Isle Pioneer 2.0. Here at Supboardguide, we love what Isle is doing and have a deep appreciation for the products they design. They are a very reputable brand that designs and manufactures SUPs across a wide variety, from high-functioning affordable all-arounds like the Pioneer 2.0, to more advanced and expensive boards. The Isle Pioneer 2.0 has many admirable qualities, has solid performance, and is an absolute steal right now in terms of price.
If you are someone on a budget who also needs a high weight capacity, and high quality SUP, this is the one. In fact, it's currently the only board we have on both our best 'cheap' list and is also one of our top ranked boards on our best inflatable paddle board list.
As for the specs, this board has pretty standard all-around dimensions at 10'6 x 34" x 6". The 34'' width is two inches wider than the Nautical boards that took first place, and we find that this increased width makes it a very stable board for beginners. 34 inches is a great spec for people new to paddling because it allows you to find your balance without much of an adjustment period. Through our testing, we found that this board is capable of being exceptionally stable for a solo paddler, or a good choice if you are looking to do yoga on the water, bring a dog along or a small child, or even for people looking to load up the SUP with gear for adventuring.
In total, this board is 24 lbs and can hold up to 285 lbs. 24 lbs is not super lightweight, but it isn't heavy either, and we find this is an easy SUP to bring to and fro the water. We found that the nearer you get to 285 lbs, the less stable the board becomes. So, when loading up your board, keep in mind that with too much gear you may begin to experience a less stable board. However, the construction process that Isle uses to construct this board is extremely thorough and turns out extremely rigid products that will last season after season. I'll note that this is our most rigid board on the list.
Isle uses 'Air-Tech Fusion' and a cross-woven dropstitch core. 'Air-Tech Fusion' is a high-quality, machine-lamination process that uses a special seal and bonding layer over the dual layer PVC to create strongly adhered bonds that are not achievable through the process of hand-gluing. The rigidity that Isle is able to achieve is the main factor that makes these boards stand out against competitors, and we are stoked to see that this SUP has such high-quality at an affordable price.
---
Gili Air 10'6"/11'6"
(See Full Review)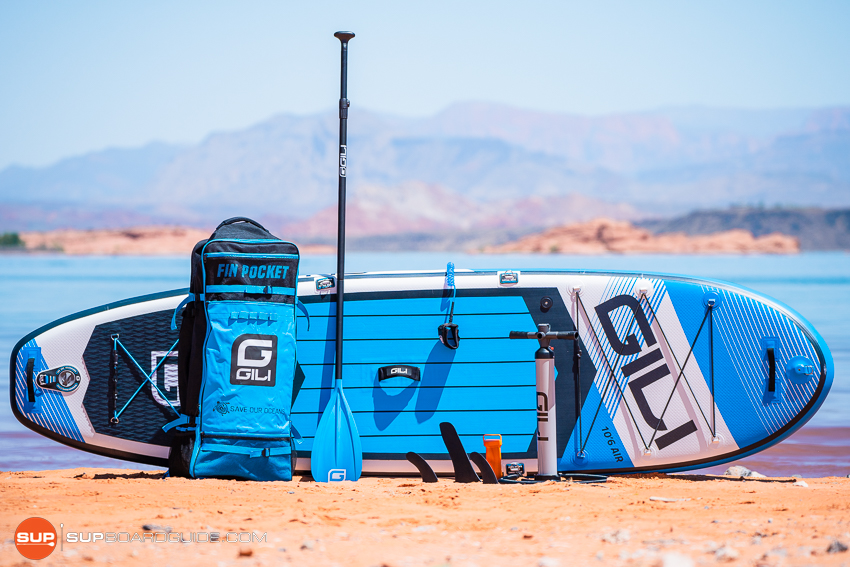 Pros
Lightweight/ easy to carry
Versatile with loads of d-rings and kayak seat attachments
2 year warranty
Donations to Ocean preservation charities
Cons
Single layer construction could lead to performance or durability issues
We don't love aluminum paddles, though they do have the option to upgrade to fiberglass for a small additional cost.
The Gili Air 10'6 and 11'6 are a very close second to the Nautical boards on this list. The main reason we ultimately decided to rank these boards in the number 2 slot is simply because the Nautical is a bit more stable with it's extra inch of width. The Gili Air boards have the classic all-around rounded nose, and are stable at 6" thick and 31" wide for the 10'6 and 32" for the 11'6. Like the Nautical boards, the 11'6 would be more suitable for either a large rider or some extra gear, with its weight capacity of 295lbs, while the 10'6 has a weight capacity of 295lbs.
Gili has been able to keep these boards ultra-light with single layer PVC construction.Though this does detract from the overall durability of the board, this is one the easiest to carry boards on our list with the 10'6 weighing just 19lbs and the 11'6 coming in at 21lbs. Whether you prefer some extra durability over carrying ease just comes down to personal preference, though we've yet to have any issues with the Gili Air's construction. Like Nautical, Gili utilizes snap-lock fins that will hold-up longer over time than flexi fins, allowing for better tracking and maneuverability as you progress.
Both the 10'6 and 11'6 Air have a surplus of features to keep you comfortable on the water. Both have a total of 14 d-rings, including a 6 point bungee cargo area at the nose, a 4 point cargo area at the tail, and kayak seat attachments, along with 3 carry handles, 4 action mounts and a paddle holder. We also enjoyed the soft, deeply grooved deck pad on the Gili Air to provide traction, comfort, and a way for water to drain away from your feet. The diamond pattern deckpad at the tail was a great touch as well, since it helps with some extra grip during a stepback turn.
At an affordable price, Gili also includes a classic starter set of accessories to help you get started. With the purchase of either the 10'6 or 11'6 Air, you will receive a double action single chamber pump, 3 snap lock fins, a 10' coiled leash, an aluminum 3-piece paddle (with the optional to switch to fiberglass for a small additional price), and a great backpack with plenty of cushioning and organizational pockets.
One last thing that we love about the Gili Air 10'6 and 11'6 is that Gili donates to several charities that focus on protecting our ocean habitats and creatures. While a beautiful touch, the turtle logo on the Gili boards and backpacks carries some serious meaning. Gili also aims to provide support for their customers and offers a 60 day money back guarantee and a 2 year warranty, making your board purchase worry-free.
Bottom line If you're looking for a lightweight, quality, affordable board, the Gili Air 10' or 11'6 are your way to go.
---
iRocker All Around 10′ Ultra 2.0
(See Full Review)


Pros
Compact board that folds up and fits into the included compact carry bag
Strong and durable due to a precise construction process and iROCKERS eye for details.
Quick and maneuverable
Great looking board
Comes with an electric pump – which is a great value at this price
One of our personal favorites, especially for small to average sized paddlers
Cons
Has a slightly lower weight capacity than the original iROCKER line, but that's due to this being the compact version
The iROCKER 10' All Around Ultra is a fun board that is well suited for the beginner to advanced paddler who is in the small – average size range. It's stable and sturdy, and is the compact version of the original iROCKER all-around SUPs! It comes in a compact green and blue bag that has a roll top, which we think is cool because it allows you to throw your personal items right on top of the board and get going to the water.
This board rolls up much smaller than the originals and we are thoroughly impressed with how small iROCKER was able to get it. It is able to first fold in half 'hot dog style' which is why it can fit into such a small bag. Everything that comes with it, including the paddle, is made so it can fit right into the bag. So for example, the paddle that comes with this SUP is a 5-piece instead of the more traditional 3-piece paddles. If you are keen on finding a compact SUP at an affordable price, then we can't recommend this board more. The Ultra boards also come with iROCKERs electric pump that of course fits (allow me to repeat myself) right into the bag! We are stoked to see that this pump is included because blowing up a board by hand can take a lot of time. Overall, the kit that comes with this board is high-value but delivered at an affordable price.
It's a 10x32x6, which makes it naturally pretty stable but takes a step up stability wise when you factor in the construction process and the squared-off tail.
The 10' Ultra is about 4 lbs lighter than the original 10' all-around, and has a slightly lower weight capacity. It's 260 lbs, which is a slight understatement in our opinion because it does feel like a very solid and sturdy board on the water.
The deck pad and features are a hair less cluttered than the original line, but it still has a ton of versatility and room for strapping down gear. There's a good amount of bungee cargo space, and a deck-pad that splits so it's easy to roll up! The board itself is green and blue, which gives it a level-up in awesomeness in our book! We really like this board for all that it offers, and we think it's one of the best cheap SUPs on the market.
---
Bluefin Cruise 10'8″
(See Full Review)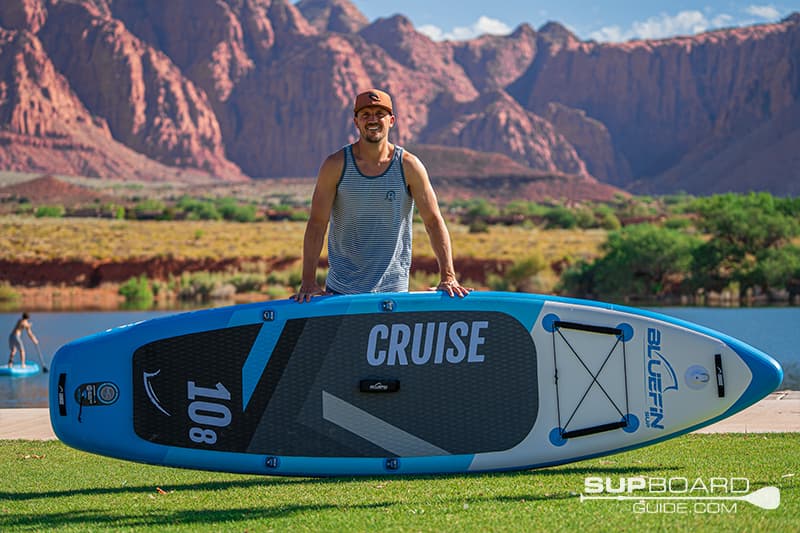 Pros
Triple layers, dual chamber, carbon rail enhanced construction for added stiffness under weight
Great kit value; includes more than enough to get you on the water
High quality backpack with multiple compartments to store all the accessories
Raised kick pad= effortless foot placement for step-back turns
5 year warranty
Cons
Heavier SUP Slightly higher price point, but an overall great value
The Bluefin Cruise Carbon 10'8 will take the number 3 spot on our list because of its high quality construction, comprehensive list of included accessories for a budget friendly price.
Getting into the specs, the Cruise Carbon sits at a sweet spot between an all around board and a touring board at 10'8" long, 32" wide, and 6.3" thick. It has a great balance between stability and speed and gives you the option to bring along extra gear, a passenger, or a pet with a weight capacity of 330lbs, or a recommended rider weight of 187 lbs.
While it is a heavier SUP, the Bluefin Cruise is also the most well constructed. This board uses a triple layer of PVC to cover their dropstitch core, as well as a UV resistant coating on the exterior to minimize any sun-related wear and tear. Bluefi also utilized a dual chamber inflation system and additional carbon fiber rails for added stiffness, which contributes to this boards higher weight capacity compared to even larger boards. We also liked that Bluefin chose to incorporate a snap-lock fin box for their fully removable 2+1 fin set-up, allowing for added durability.
The Bluefin Cruise 10'8 is also feature rich. We loved the diamond grip deckpad and the raised kick-pad that helps tremendously with step-back turns. This board also has a total of 10 d-rings, including a front bungee cargo area and kayak conversion attachments. Bluefin still managed to make this heavier board easy to carry by incorporating neoprene carry handles at the nose, tail, center and side rails of the Cruise Carbon. There is also an action mount on the nose, which gets you a great angle if you're attaching a GoPro or other camera to document your paddling adventures.
Perhaps our favorite aspect of the Bluefin Cruise 10'8 is that it comes with one of the most comprehensive SUP kits we've ever seen. Included with this board, you receive a kayak seat and kayak blade that attaches to your fiberglass paddle shaft, 3 removable snap-lock fins, coiled leash, double chamber pump, and a SUP backpack. Essentially, the Bluefin Cruise Carbon 10'8 is a 2 in 1 SUP and kayak for a great price.
The Bluefin Cruise 10'8" leads the pack in construction, rigidity, and versatility. It's also backed with a 5 year warranty and a 60 day guarantee. This is a great all-around inflatable SUP that will withstand the test of time and use if you are willing to spend a bit more money. You definitely cannot go wrong with this board.
---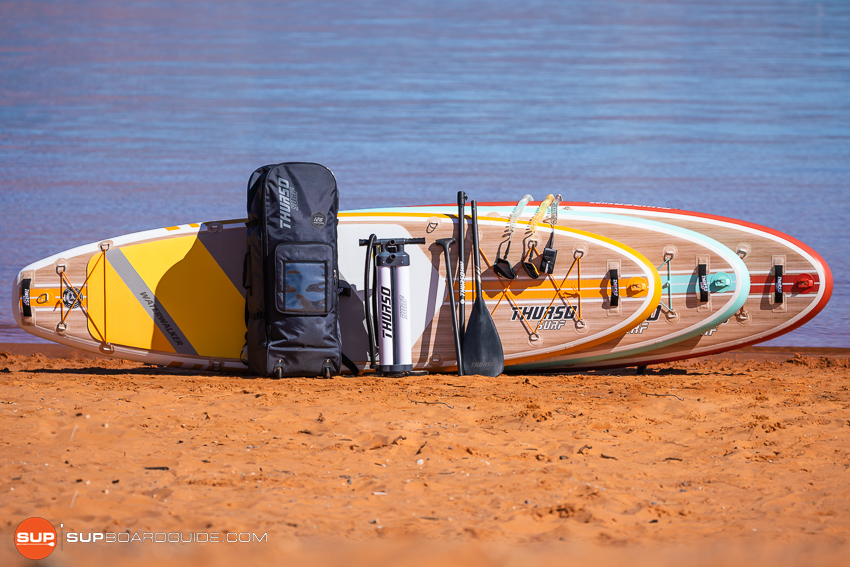 Pros
Nimble and fast board, great for smaller paddlers
So much room for gear storage
Carbon fiber rails and reinforced seams add to rigidity and durability
High quality, lightweight, carbon fiber paddle
Roller bag
2 year Warranty and financing options
Cons
May be too small for larger paddlers, though there are larger options
The Thurso Surf 120 Waterwalker is a one of the pricier boards on this list, and it's admittedly right on the cusp of not being considered a 'cheap' board, but hear us out, because it is truly a great value. At 10' long, 30" wide, and 6" thick, the 120 Waterwalker is a fast and nimble little SUP. However, due to its quality construction the Thurso Surf 120 still has a weight capacity of 260lbs, which is pretty high for a board this size.
Diving deeper into construction, the Thurso Surf 120 Waterwalker is built with durable dual layer construction and additional carbon rails with the goal of increasing rigidity, and consequently the weight capacity. Thurso also states that they use reinforced seams to help their boards over continuous use, though this type of construction adds weight, as the Thurso 120 is 25lbs despite its smaller size. We liked that Thurso opted for a 2+1 fully removable snap-lock fin set up, which we think contributes to the board's exceptional performance.
Thurso Surf included a range of features on the 120 Waterwalker including a front and rear bungee cargo area, as well as 4 additional d-rings for more gear storage or a kayak seat. We loved the addition of a paddle holder as well as the comfy, EVA deck pad that keeps our feet comfortable and stable on the board.
Thurso Surf includes some of the highest quality accessories out of the pack. Included with your 120 Waterwalker, you receive a double chamber, triple action pump, 3 snap-lock fins, a 10' coil leash, a roller SUP bag and a carbon fiber paddle (my personal favorite on this list). As I've said, each of these accessories is high quality, and contributes to the overall great value of this board, given the fact that it is on the pricier side for this list.
The Thurso Surf Waterwalker 120 is a fantastic value package for a small, but mighty, all-around SUP. This board is also covered by a 30 day guarantee and a 2 year warranty. If the 10' option is too small for you, Thurso Surf also offers the Waterwalker line in a 10'6" or 11' option.
---

Next up on our Best Cheap SUPs for 2023 is the BOTE Wulf Aero 10'4. Like many of the other boards on this list, the Wulf Aero is a 10'4x34x6, which is a more standard all-around size. Its shape is egg-like, where it tapers only slightly at the nose and comes together as a square in the tail for increased stability. In sum, this is a great introductory board that is going to impress newer paddlers with its level of stability. You'll be able to stand up and stay balanced without much effort.
When looking at the board, you'll notice that it's aesthetically pleasing and has some color and style to it. We love this, especially because it takes on a more minimalistic approach when it comes to the features; there is bungee cargo space, but not a ton of it, and it's not a board loaded up with attachment points. However, it does have Wulf's unique magnetic cup holder! On their website you can purchase the 'magnepod' that is meant to magnetically attach to the board so you can drink up without adding more liquid to the body of water you're paddling on.
We found this board to perform pretty well in all of its core capabilities, especially in maneuverability. Shorter boards tend to be better in this area, so we aren't surprised at its skill level here. In terms of tracking and speed, it's right in line with where it should be, and we think that anybody who takes this board out with the intention to have fun will find that they thoroughly enjoy what it has to offer.
---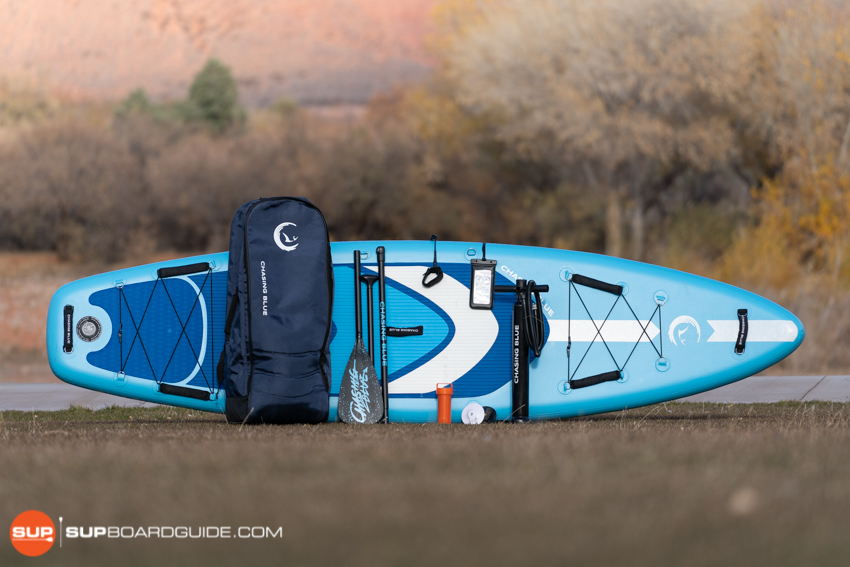 Pros
Great kit value for a low price
Roomy backpack comfortably fits the board and accessories
Board shape makes for some added speed in the water without sacrificing stability
Lots of storage and attachment options
Durable construction
Cons
We'd like to see Outdoor Master switch out the aluminum paddle for a fiberglass one
Would also like an extra zipper pocket on the backpack for organization
Outdoor Master is new to the SUP space, but entered strong with a fleet of affordable iSUPs. One of our favorites is the Ace 11' Sport iSUP. This board is a balance between an all-around and touring SUP at a stable, but quick, 11' long, 32" wide, and 6" thick. At 23lbs this board is both easy to carry and get up to a good speed, but will also support up to a 300lb weight capacity; plenty of wiggle room for some gear or a small passenger.
The Ace 11' is constructed with durable dual PVC layer technology and features a 2+1 fin set-up using a removable slide-lock center-fin and flexi side fins. We would love to see Outdoor Master switch to a fully removable snap-lock set-up, as we've seen flexi-fins get bent out of shape after the board is rolled up and have a similar issue with the slide-lock box bending inwards after the board is stored for an amount of time, making it difficult to insert the fin without the use of a rubber mallet to knock the fin into place.
As far as features go, Outdoor Master placed an impressive 18 d-rings all over this board, including a front and rear bungee cargo area. They also incorporated 3 carry handles at the nose, tail, and center of the board, as well as 2 sets of safety handles at both bungee areas for a child or passenger to hold onto. I also liked the grooved deck-pad that seemed more focused on comfort for longer paddles with the addition of a diamond pattern at the tail for extra grip during turns.
Like most boards on this list, Outdoor Master does a great job at including all the accessories you need to get started. With the Ace 11' Sport, you are given a repair kit, waterproof phone case, optional action mounts, a removable slide-lock center fin, single chamber double action pump, coiled leash, 3-piece aluminum paddle, and a lightly insulated SUP backpack. At sub $600 (at the time I write this), this is a great deal.
Outdoor Master has an excellent reputation of making affordable entry level gear across the outdoor industry. Their SUPs are no different, and the Ace 11' Sport is a great option if you're looking to progress into touring and fitness paddling without breaking the bank.
---
Outdoor Master Voyager 12'6"(See Review)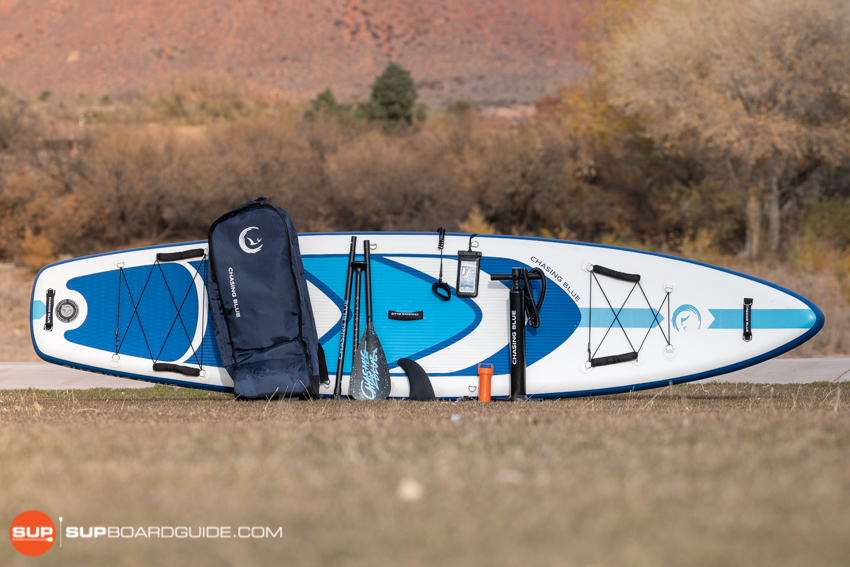 Pros
Durable dual layer construction
Stability with some speed
Added length allows for more gear or en extra person
Loads to features for versatility in gear storage or attachments
Optional action mounts don't clutter the deckpad if you don't want to use them
Cons
Would like a lighter paddle material such as fiberglass or a carbon fiber blend (though we recognize carbon fiber is a bit unrealistic for this great of a price)
Like the Ace 11' Sport, the Outdoor Master Orion- Voyager 12'6" is an all-around board with a bit of a touring element. At 12'6" long, 32" wide, and 6" thick, the Voyager has plenty of stability but a little added speed to keep you going over longer distances. The extra foot and a half in length, compared to the Ace 11' gives you a bit more space and stability to carry along gear or an extra person, but you do lose a bit in maneuverability, a common trade-off with more touring focused boards.
The Outdoor Master Orion-Voyager 12'6" is constructed with durable dual layer PVC construction to withstand most hard knocks. It also utilizes the same 2+1 fin set up as the Ace 11' with one removable center fin and two flexi-side fins. While the flexi fins won't crack under pressure or when bumped and dropped onto hard surfaces, they get bent out of shape over time and hinder your tracking ability. Of course, this is easy enough to fix with heat, but we'd personally rather have 3 snap-lock fins.
Outdoor Master loaded the Voyager up on features as well. It has 3 carry handles at the nose, tail, and center, safety straps on the front and rear bungee cargo areas, a total of 18 d-rings, and a comfortable grooved deck pad with a traction focused diamond pattern at the tail. We would have loved to see Outdoor Master incorporate a paddle holder, as well as inbuilt action mounts, but they did provide optional stick-on mounts.
The kit for the Voyager 12'6" is identical to the Ace 11' kit, but to recap, it includes a repair kit, waterproof phone case, optional action mounts, a slide lock removable center fin, single chamber double action pump, coiled leash, 3-piece aluminum paddle, and a roomy SUP backpack. Again, this is everything you could need to get started, and while we'd love to see a carbon fiber blend or even a fiberglass paddle, this is a great kit for an affordable price.
Like the Ace 11' this is a great option for anyone looking to progress into touring or fitness paddling on a budget. The Voyager 12'6" allows for more room to bring along gear or an extra passenger without losing your stability. Outdoor Master also offers a 1 year warranty on this board to cover any damage or defects outside of normal wear and tear.
---
Other Cheap SUPs to Consider:
---
1. MOAI 10'6"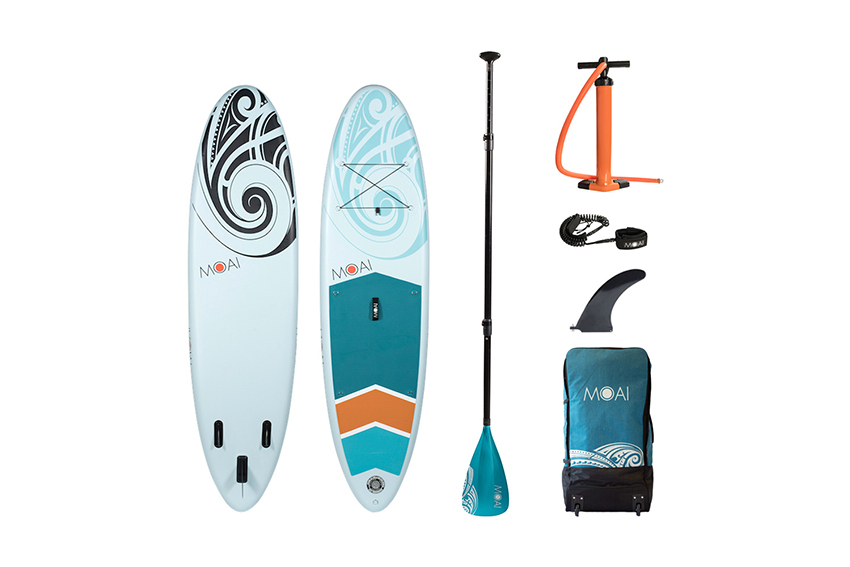 Pros
Stable, lightweight board for beginners
Plenty of standing room with less cluttered deckpad
Roller backpack included with the kit
Cons
Not a lot of options for gear storage
Would like to see all 3 removable fins
The main reason the MOAI 10'6" is not on our main list is because at around $600, it just does not offer as much in features and accessories as some other less expensive boards that we discussed above. With that being said, this is still a great option if you like a cleaner deckpad and a lighter iSUP pack. At 10'6" long, 32" wide, and 6" thick, we had zero stability issues on this board. It's also a light 19lbs despite having a 287 lb weight capacity. Performance wise, the MOAI 10 '6 is easy to balance and get up to speed, while also being agile around turns due to its lightweight.
While we have not been able to 100% verify how MOAI constructs their boards, my best estimate based on the 10'6" weight and performance would be that this is a dual layer fusion technology board. Again, this is just my best guess. However, the bottom line is that this board seems well built and durable to hold up to consistent use. I also love that MOAI chose to incorporate a US fin-box for the removable center-fin while building this board to add a bit of customization ability, but I would have liked to see all 3 fins be removable instead of molded flexi side fins.
As I mentioned earlier, MOAI tends to lean towards the less cluttered side of things when it comes to features. The 10'6 has 9 total d-rings including a 4-point bungee cargo area at the nose of the board and 4 extra d-rings for kayak seat attachments. There is also one carry handle at the center of this board, which I found to be sufficient enough, given that this board is only 19lbs. The deck-pad is a comfortable balance between traction and comfort with its soft diamond grooved pattern. Because there is no rear cargo area, there's plenty of standing room, but I would appreciate it if MOAI extended the deck pad to cover the empty space behind the front cargo area.
MOAI does a great job of including all the basics to get started. Included with the 10 '6 is a removable center for a US fin box, 3-piece fiberglass paddle, coiled leash, single chamber double action hand pump, and a roomy roller iSUP bag. The iSUP bag is my personal favorite aspect of the kit. It's super roomy to easily fit your board and accessories, and I love when companies add wheels to make the walks from the car to the beach or lake a lot more bearable.
Although the MOAI 10'6" is not the best value compared to the boards on the list above, its still a great SUP kit for under $500. MOAI also donates to preservation and research based organizations with each board purchase.
---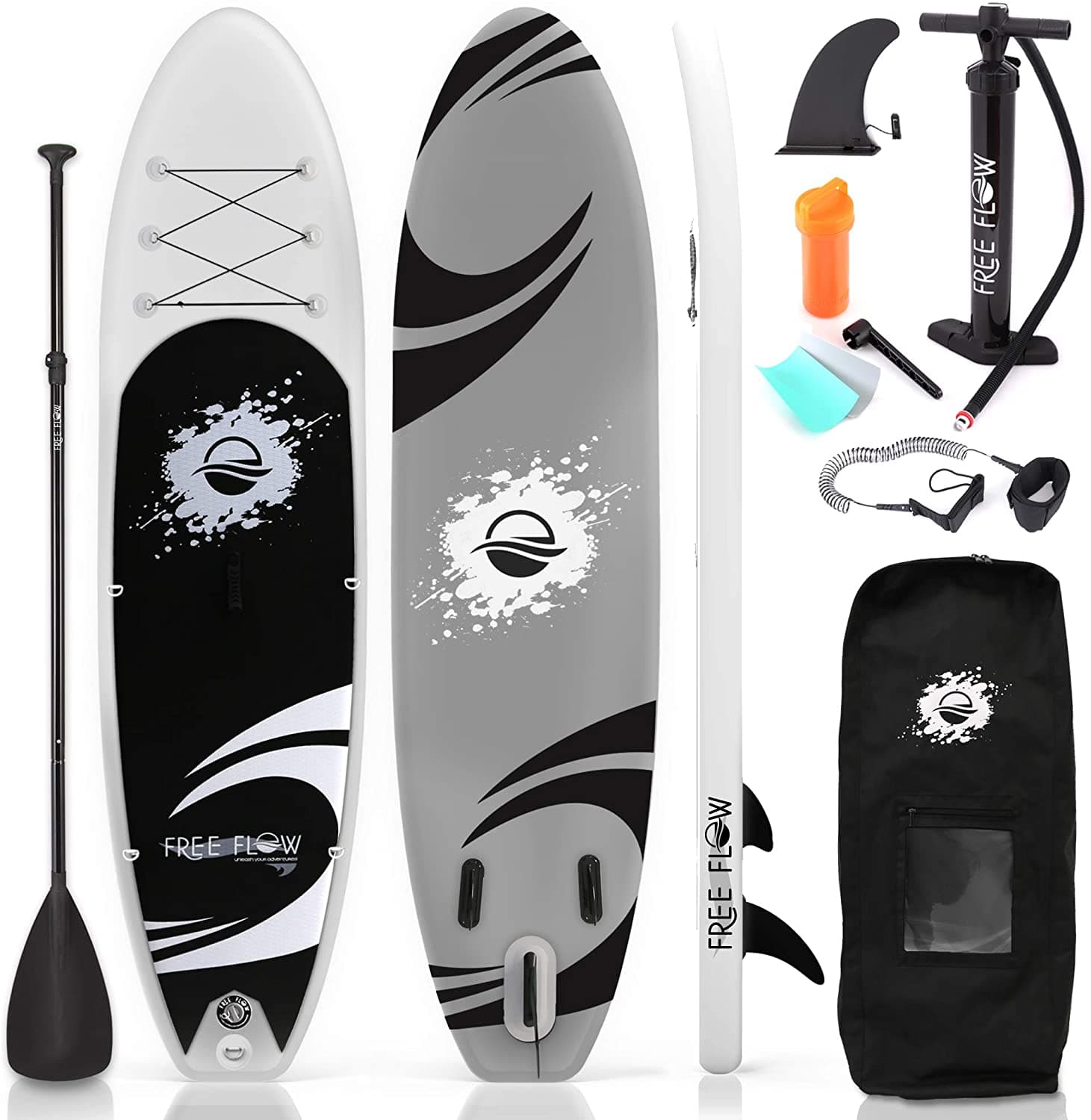 Pros
Affordable price tag
lightweight/easy to move around
Cons
Not the best performing board
Less features than similarly priced boards
The SereneLife iSUP is super popular on Amazon. This is a smaller SUP at 10' long and 30" wide and just 19.6lbs, with a weight capacity of 275 lbs. While we'd recommend any of the above listed boards over this one, it's still not a bad deal in the sub $400 range.
The SereneLife is constructed durably enough to survive most drops and scrapes. It also utilizes a slide-lock removable center-fin, and molded flexi-side fins. Again, I'm not a big fan of molded fins because they tend to get bent out of shape, but given the price of this board, I'm pretty satisfied with the fin set-up.
Like the MOAI 10'6, the SereneLife 10' iSUP is lighter on features than the other boards we've discussed. It features one 4-point bungee cargo area at the front of the board, and 4 extra d-rings to attach a kayak seat, extra gear, or a drybag. There's also one center handle to carry the SereneLife, but it is a lightweight board, so it's easy enough to lug around without nose or tail handles.
Included with the SereneLife kit is a three piece aluminum paddle, a single chamber pump, a 10' coiled leash, and a multi-compartment travel backpack. Given the affordable price of this board. I'm fairly satisfied with the kit, in that it includes the necessities that a beginner would need to get started.
If money is the most important factor for you and you don't mind using beginner-only gear, the Serenelife Inflatable 10' SUP is available now for less than $400 dollars.
---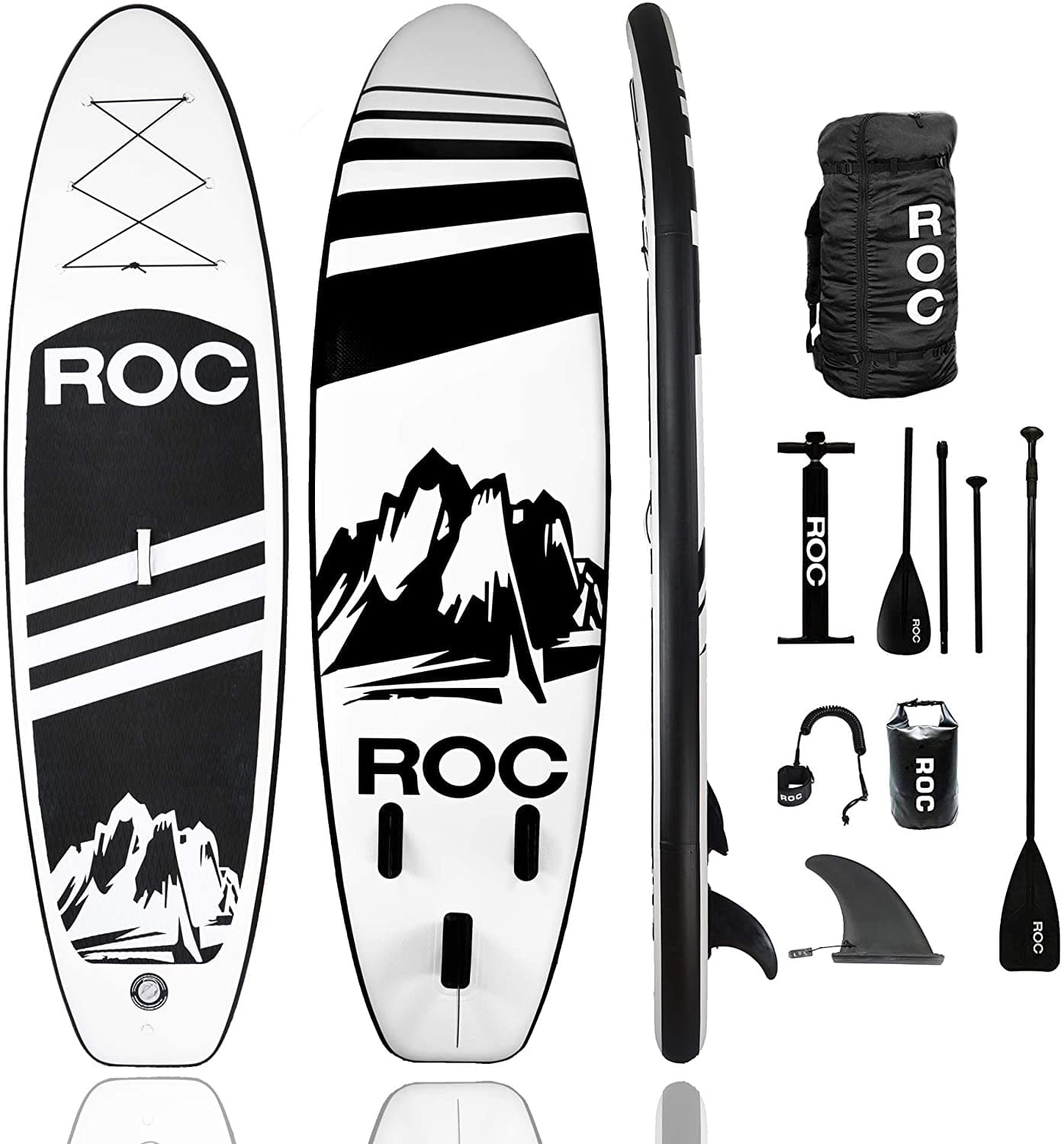 Pros
Affordable price point
Lightweight for kids
Included drybag is nice to be able to store your phone/keys/wallet
Diamond grooved deck pad helps with traction
Cons
Molded side fins limit performance over time
Not a lot of options to store gear
The ROC Inflatable SUP is another popular, affordable/entry level paddle board, and is the lightest on this page at just 17.5 lbs. Its light weight and small size, at just 10' long, 32" wide, and 6" thick, make this board great for younger kids to learn or just have fun on. At around $400, it definitely an affordable option, it's just not as performance or accessory focused as the boards we discussed above.
Because this board is lightweight, it's not constructed with as many PVC layers as the other boards on this list, and I'd expect it to lack a bit in durability. That's not to say that it won't hold up for a few summers of weekend paddling, or even longer if treated with care. The ROC 10' iSUP is also built with a 2+1 fin set-up with a slide-lock removable center fin and molded flexi side fins.
Features wise, this board is a little light compared to others. It has a 6 point bungee cargo area at the nose, a center handle, and a diamond pattern deckpad. We'd like to see some additional d-rings for the option to bring along more gear, but this board would still be fine to play around with for a couple hours without needing all the extras.
This kit is a decent value for the price. Along with the board, you'll receive a SUP backpack, single chamber hand pump, 3-piece aluminum paddle, coil leash, slide-lock center fin, and a drybag to store your phone, keys, wallet, or anything else you don't want to risk getting wet. This should be everything you need to atleast get a start on the water, but I could see the need to upgrade from a lot of these accessories as you progress.
As we've said, we would definitely recommend any of the SUPs on our main list over the ROC Inflatable SUP, but at about $400, this is an affordable SUP that would be a good learner or kids board. Past Recommended Cheap/Entry-Level SUP Reviews:
---
Ten Toes Retrospec Weekender Review
Ancheer Inflatable SUP Review
Reasons to consider a inflatable, entry-level SUP over a hardboard:
Stability: Inflatable paddle boards have higher weight capacities and stability than a similarly sized hardboard.
Durability: Inflatables are more durable and less prone to breaking than hardboards.
Safety for beginners: Inflatables are softer and much more forgiving when you fall than a hard board would be..
Transportation/Storage: Inflatable paddle boards are much easier to transport, and don't require a roof rack or board rack to transport or store.
Included Accessories: Most inflatable paddle boards will have everything you need for the water out of the box. Hardboards typically require you to buy your leash and paddle separately.
Price: High quality inflatable paddle boards are usually in the same price range as mid-tier hard SUPs.
Beginner SUP Buying Guide
Though we have heavily tested and are confident recommending each board on this list, we realize that there are circumstances that may lead you to a board that we have not specifically covered. Maybe a retailer is having a killer sale, someone is offering you a used board, or a board caught your eye at a local surf shop and you're trying to determine if it's the right fit for you. Regardless of the board you're buying, we want you to be confident in your decision, so below you'll find the factors that we consider when adding a board to our list and that you'll want to consider before making your purchase.
Stability: Stability is one of the most important factors to consider when looking for a paddleboard. The more stable you feel on a paddleboard, the less likely you are to fall in. Most of a board's stability depends on its width, so typically boards 30" and wider will be stable enough for beginners.
Maneuverability: Maneuverability refers to how easy it is to turn/change direction in the water. Because cheaper, entry-level paddle boards tend to be shorter and not as bulky as premium paddleboards, they already offer better maneuverability. However, add-ons such as diamond grooved tail deckpads or raised kick pads help with this as well.
Tracking: Tracking refers to how straight of a path a SUP can keep in the water without having to switch sides as often. Touring SUPs in the 11'6-12'6 size range usually have better tracking than entry level boards. However, tracking depends mostly on your paddle technique than on the board itself.
Construction: Better construction not only makes a paddleboard more durable, it also tends to help it perform better under more weight or in less than ideal conditions. Good construction does not always have to break the bank either. Most of the boards on the list above are dual PVC layer boards, with the Bluefin Cruise 10'8", iROCKER 10' All-around, and Thurso Surf 120 Waterwalker using triple layer construction.
Features/ Accessories: Just as we talked about with each board on this list, features are an important thing to consider when SUP shopping, but much of it comes down to personal preference. As an example, If you know you like to bring a lot of gear, look for a SUP with lots of cargo areas. Similarly, you'll also want to consider if a board comes with quality accessories, as the Thurso Surf 120 Waterwalker does, such as a carbon fiber paddle, double chamber pump, etc. It's more expensive to have to replace all of your accessories within the first couple of months of having your board than to invest some extra money in a board that includes better accessories.
Overall value: There is no simple formula for calculating the overall value of your kit, as whether something is worth the price tag is dependent on your needs. What we suggest is starting off with your budget cap, and then prioritizing the various factors that matter to you the most from our list
Why We recommend Starting With All-around Shaped SUPs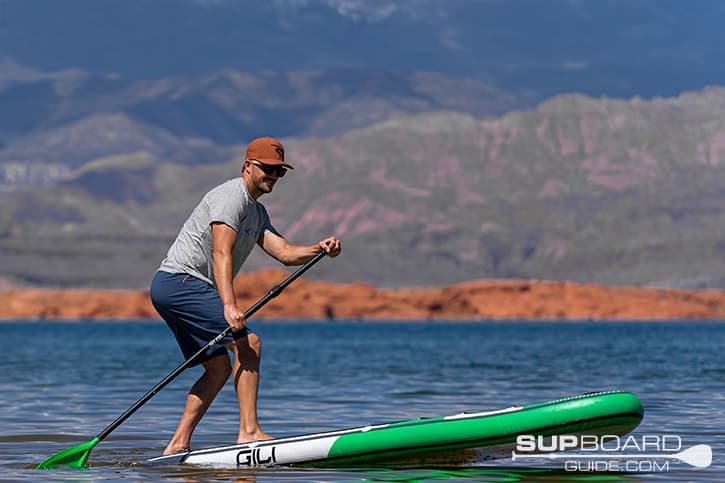 Looking at our list of the best cheap SUPs, you probably noticed that we almost exclusively recommend boards in the all-around category. In this section, we'll lay out why we suggest an all-around SUP for beginner riders.
Versatile Performance: All-around SUPs are jack of all trade paddleboards, meaning that they do nearly everything well, but don't excel in one specific trait. Buying an all-around gives exceptional stability, tracking, maneuverability, and overall performance without having to spend too much money on a dedicated or performance SUP. Having an all-around is especially great for beginners still trying to find their niche.
Affordability: Compared to specialized performance SUPs, all-arounds tend to have a more manageable price tag. This is because specialized SUPs, especially in the racing category, are constructed with high quality materials for optimal performance
Beginner skill-level friendly: All-around SUPs will typically be shorter, wider, and more rounded than specialized performance SUPs. As a result, they're more stable on the water and are ideal for beginners still learning how to balance and paddle correctly.
Included gear kits: All-around boards will often, if not always, include all the necessary gear you need to get out on the water. This is especially beneficial for beginners that don't have an arsenal of paddles, leashes, fins, and pumps as someone moving onto a performance of specialized SUP would.
Important Tips for Buying and Enjoying the Best Cheap SUPs:
When it comes to a cheap/entry-level SUP, there are a few other major factors or tips to consider that will help you make the most out of your paddleboard. Whether you go with one of the SUPs on our list or buy one on your own, consider the following factors:
Good accessories go a long way. This is especially important for 'cheap' paddle boards. Having quality accessories that perform well can make or break your SUP experience. This means keeping an eye out for kits that include a double chamber hand pump, and a carbon fiber or carbon fiber blend paddle, as well as a great backpack (even better if it has wheels).
Experience leads to better performance: Let's face it, nothing is fun when you're struggling to learn. Look for a SUP that won't work against you when it comes to stability or maneuverability. Look for SUPs that are wide enough (30"-34") to help you stay on your feet while you're learning to paddle. As you improve, you'll be able to make your board perform better in terms of tracking and speed. Patience is key; don't make extreme judgement on your board's performance until you get more comfortable in your skills.
Check the weather and know your environment: If you're a beginner paddler, a common mistake is to underestimate how much wind can affect your performance. What feels like a mild breeze on land can put a huge damper on your paddling experience. As a general rule of thumb 10mph winds are usually the cut-off between safe and unsafe paddling conditions, but 7mph is typically when it'll cause more difficulty. Also keep in mind that inflatables and lightweight boards tend to get pushed around more in the wind than heavier hard SUPs.
Wear the leash, and bring a PFD too: Nearly every SUP we've recommended comes with a leash, and we highly recommend wearing it to keep your board from floating out of reach if you fall off. Always remember to bring a PFD out when you're paddling as well! Wearing the leash will keep your SUP close, but it won't help you float if you fall off. In order to stay safe, bring a PFD with you, or better yet, wear it, even in shallow or calm water.
Get wet and have fun: Eventually, you're going to fall off your paddleboard. That's fine; in fact, that's part of the paddleboarding experience! Try not to take yourself too seriously, especially while learning. Our favorite thing about 'cheap' paddle boards is that they make this sport accessible to more people, and with that comes more good times on the water.
Conclusion: 'Cheap' is not synonymous with poor quality or performance
As we said at the start of this post, we don't like to use the word "cheap" to describe any of the boards on this list. Each of these boards is constructed to last and performs well in the water even in comparison to some premium boards on the market.
While the initial sticker shock while shopping for stand up paddleboards is overwhelming, our best advice would be to give one of the above boards on our list a shot, or look for used boards with the help of our buyer guide. However, if your budget is a bit higher or you need a bit more in performance than entry level boards can offer, head over to our list of the best inflatable stand up paddleboards.
As always, thanks for sticking with us through our list of the best cheap SUPs of 2023. Be safe, have fun, and happy paddling!
The following two tabs change content below.
SupBoardGuide Editorial Team
At SupBoardGuide.com we are a team who love the water, the outdoors, and are more than grateful that our full-time job allows us to review stand up paddle boards. We paddle year round (it helps that we are just about 2 hours outside of Las Vegas), and we bring in a wide range of paddlers with the goal of providing our readers with the best, most in-depth, and accurate stand up paddle board reviews.
Latest posts by SupBoardGuide Editorial Team (see all)