Glide O2 Angler iSUP Review
Pros
Extremely stable at 11'x 36'', so you can reel in the big guys without tipping over!
Well-designed rod holders that securely hold rods out of the way but are still within reach. Plus extra anchor points for more fishing gear.
Very portable. You can use this as your go-to fishing vessel instead of a boat that can't be strapped to your roof!
Big open deck so you can fish off of it in many ways - kneeling, sitting, or standing.
500 lb maximum weight capacity! So feel free to load up with fishing gear and extra bait.
Smooth glide through the water despite being a large, solid SUP. This is thanks to the parallel rails and slight rocker on the nose.
Awesome looking and comfortable deck pad. The teak color and design truly amps up the fishing vibe.
Cons
We would like to see Glide upgrade its shoulder strap to have metal clips instead of plastic.
Since you need a lot of gear to go fishing and things can get cluttered, we'd like to see paddle holders added to the board as a way to safely secure the paddle out of the way.
A 'more portable than your boat' fishing vessel for the everyday Angler!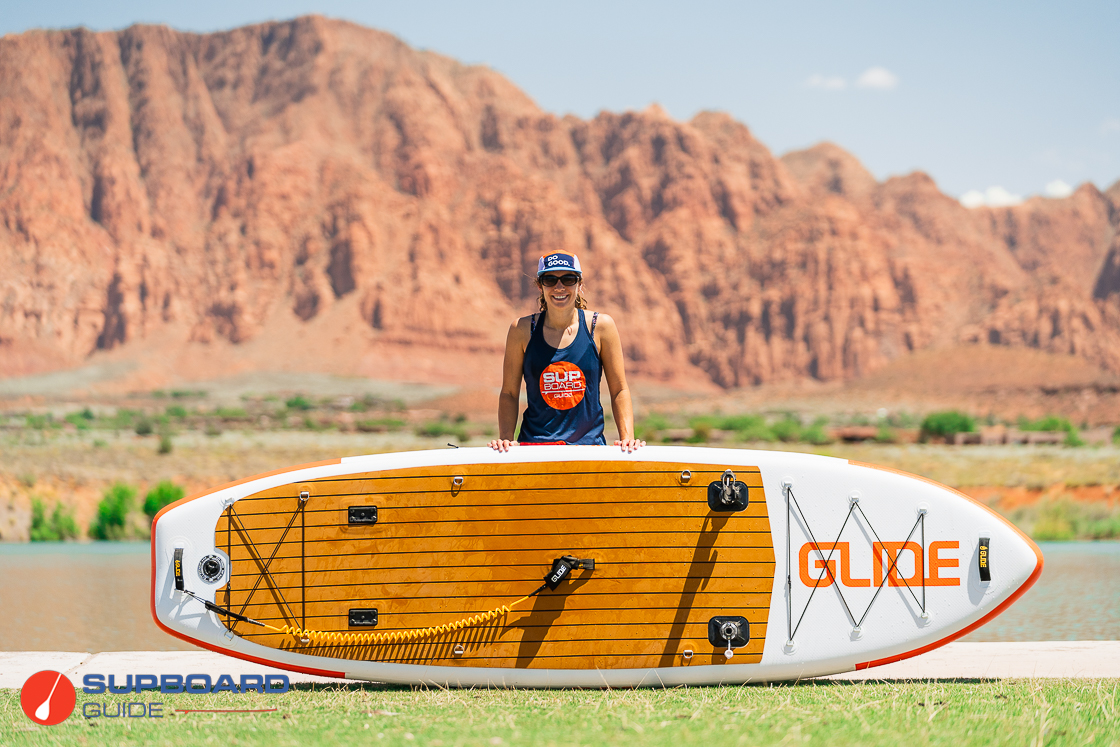 You can tune a guitar but you can't tuna fish.
Unless of course, you play bass!
Thank you, thank you, that's it for now ladies and gentlemen. Now it's time to get back to our Glide O2 Angler review. A fishing SUP that impressed our team even more than my awesome jokes do.
The Glide O2 Angler is 11' x 36'' x 6', so it's a large board. It's exceptionally stable, which will make it so much easier to land that big fish. Or, keep the chaotic child that wants to come along, dry.
Despite being large, it's very manageable, especially compared to a fishing boat. It can roll up to a small enough size to fit right into the Glide wheeled backpack, which easily fits into the trunk of a sedan. It also has a 500 lb weight capacity so it's able to support a lot of gear/fishing supplies. Do you have an unnecessarily massive tackle box? No problem. Just make sure you have quality bait because you know what they say about bad bait… it's a fail-lure.
We think the Glide O2 Angler would be a great SUP for paddlers who:
Are ready for a new, transportable fishing SUP
Appreciate a fishing SUP that has classic fishing mounts but does not overdo it
Want a SUP with a huge maximum weight capacity
Glide O2 Angler: Spec Sheet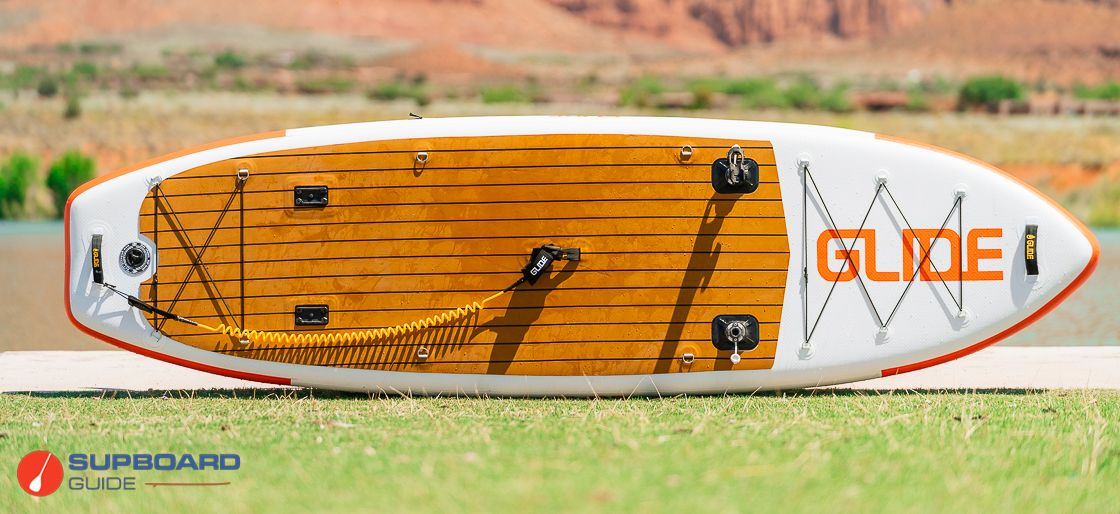 Main Category: Fishing
Board Dimensions: 11 x 36 x 6
Listed Board Weight: 25 lbs
Listed Max Capacity: 500 lbs
Recommended PSI: 12 – 15
Fins: Single center fin with US fin box
Paddle: 3-piece adjustable
Materials: Dual-layer PVC
Warranty: Limited lifetime
Performance Review of the Glide Angler O2 Stand Up Paddle Board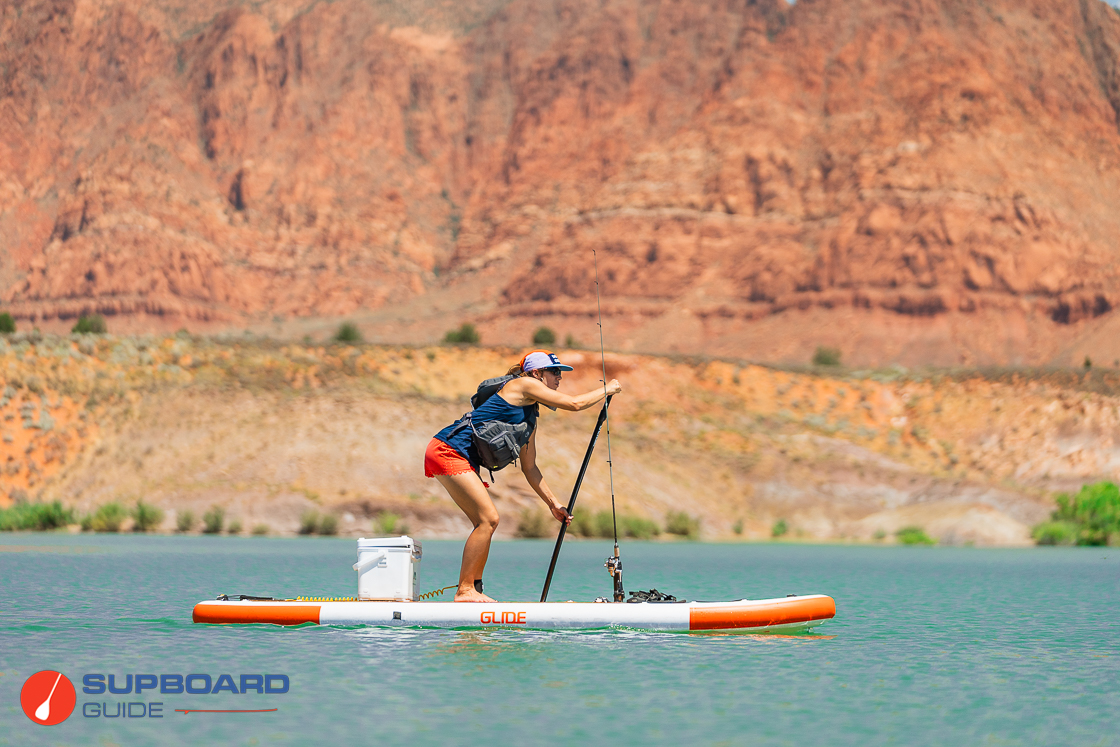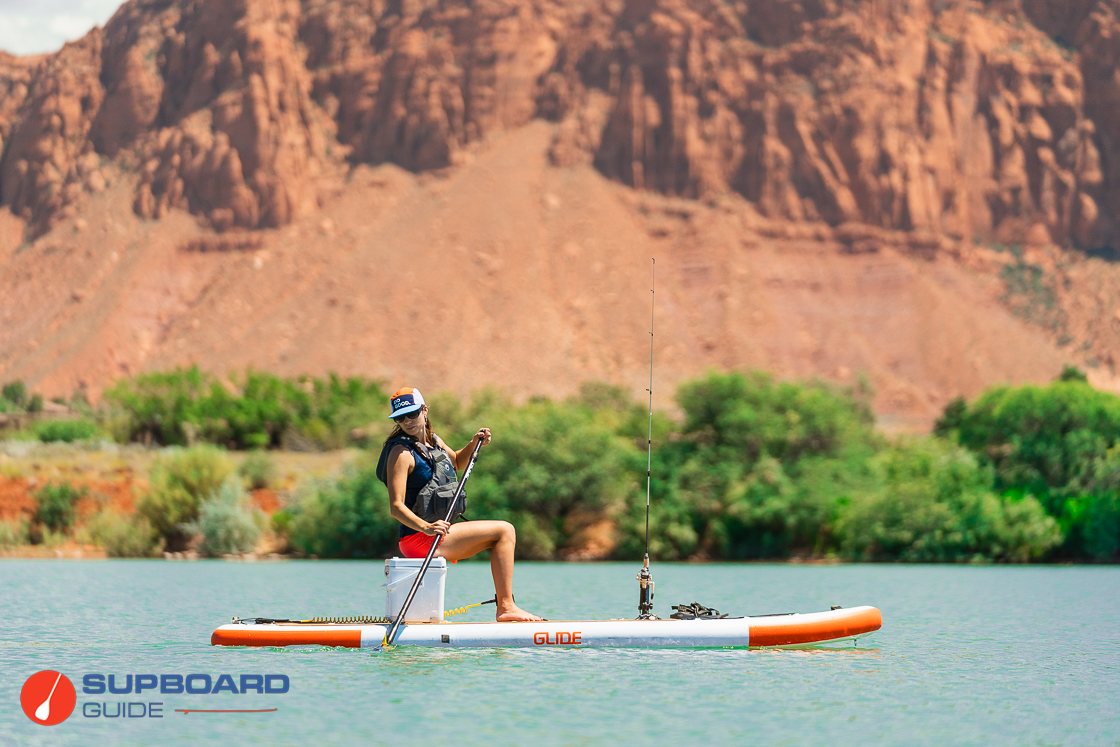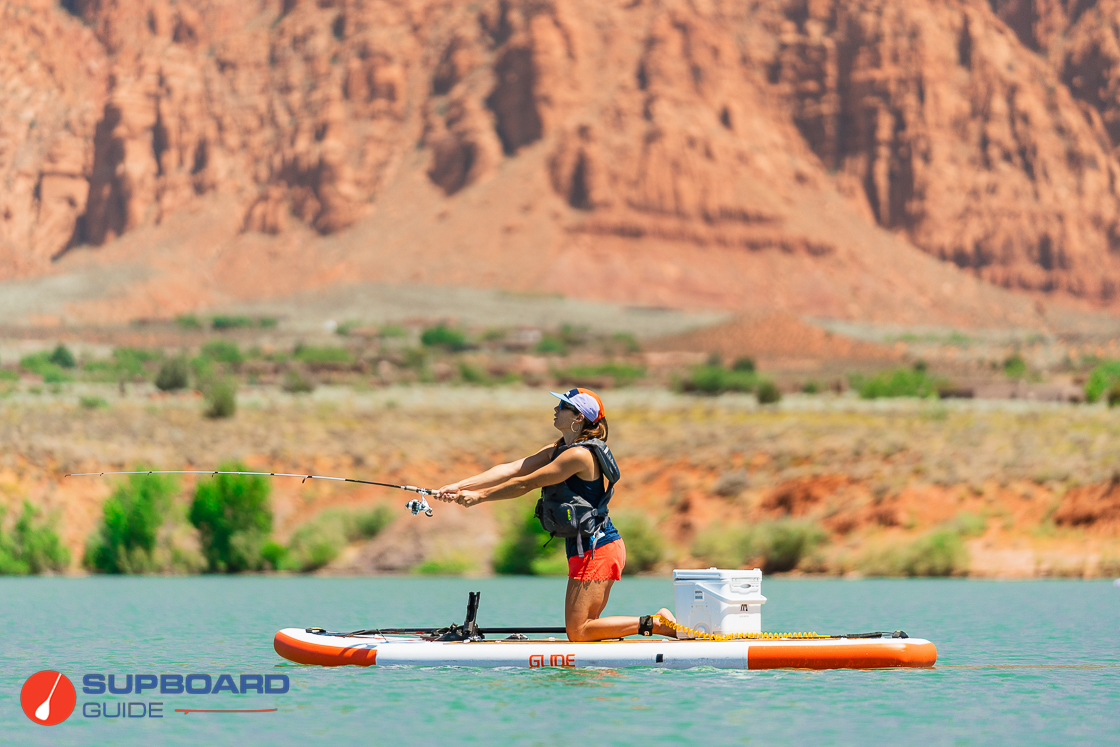 Overall Score: [9.4/10]
Stability: 9.9/10
Speed: 7.7/10
Tracking: 8.4/10
Maneuverability: 8.5/10
Construction Quality: 9.7/10
Features/Accessories: 9.5/10
Stability Rating: [9.9/10]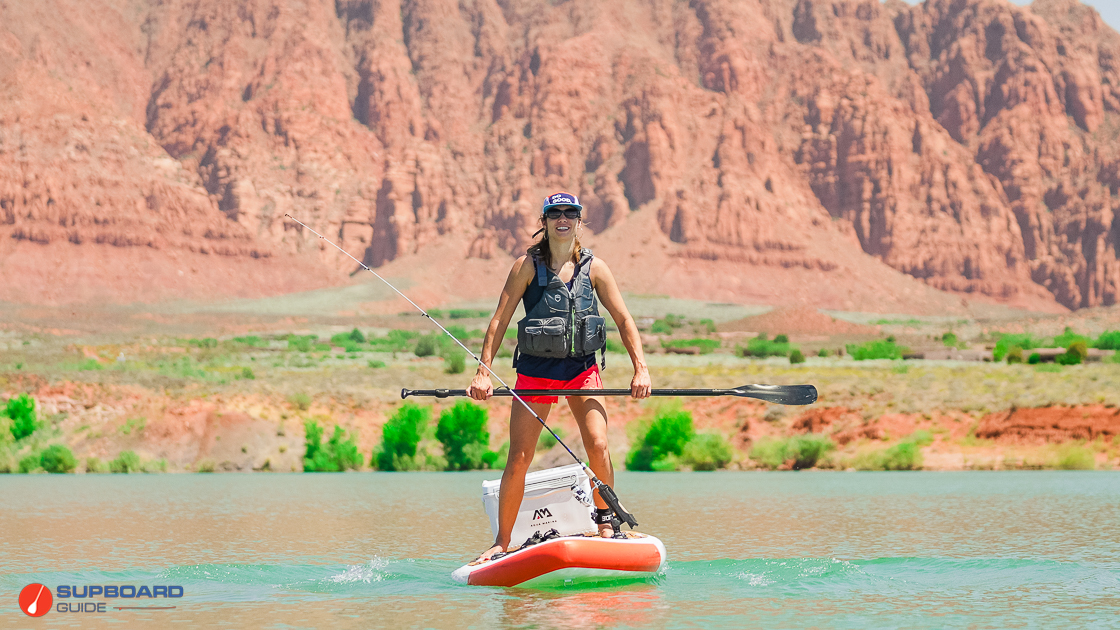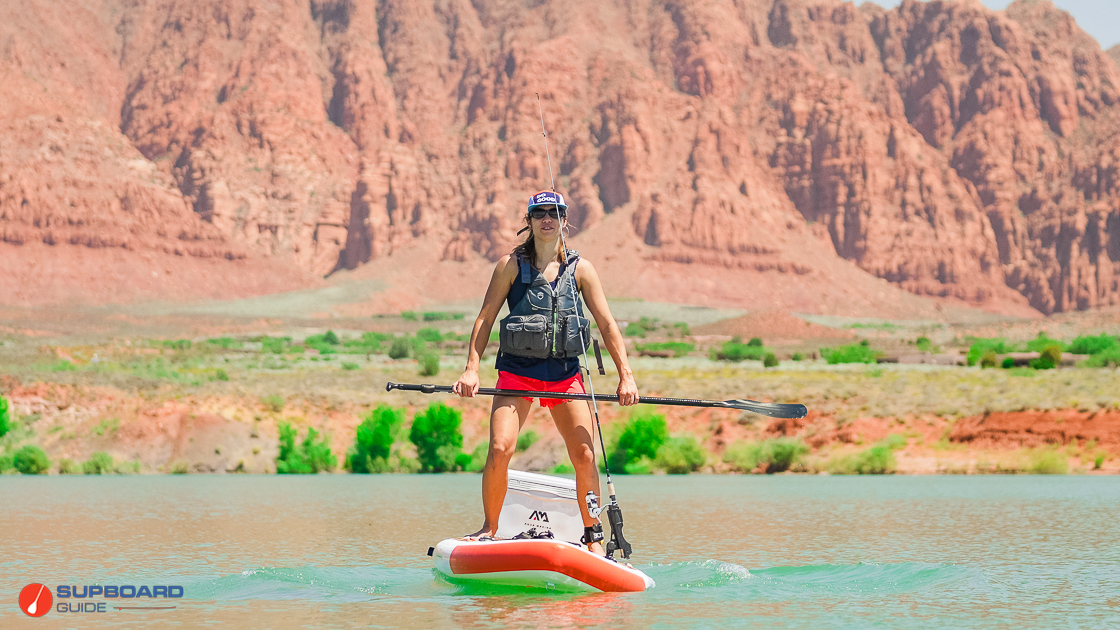 This Glide O2 Angler is exceptionally stable.
It's 36 inches wide, which is even wider than Glide's yoga board which is 35 inches wide. And we know that yoga boards are built to be stable, so increasing the width of the O2 Angler by an inch and making it a full 11' long is done to add even more stability.
In terms of plan shape, it has a very long wide zone through the middle of the board. It is almost as wide in the tail as it is in the nose, which gives it a large amount of flat surface area in direct contact with the water. Also, the tail is squared-off. And not just slightly squared off, but very prominently.
So in sum, if you're new to paddleboarding and aren't sure if you'll be able to stand on it and fish at the same time, rest assured, you will be able to. This SUP is so stable that anybody will feel comfortable on it, even with a fishing pole in hand. Plus, it has a wide open deck pad so you can sit or kneel on it with plenty of space – which increases your stability even more. So if you're fishing in a river or more windy conditions, you can opt to sit down while casting and reelin' em in.
Speed Test: 7.7/10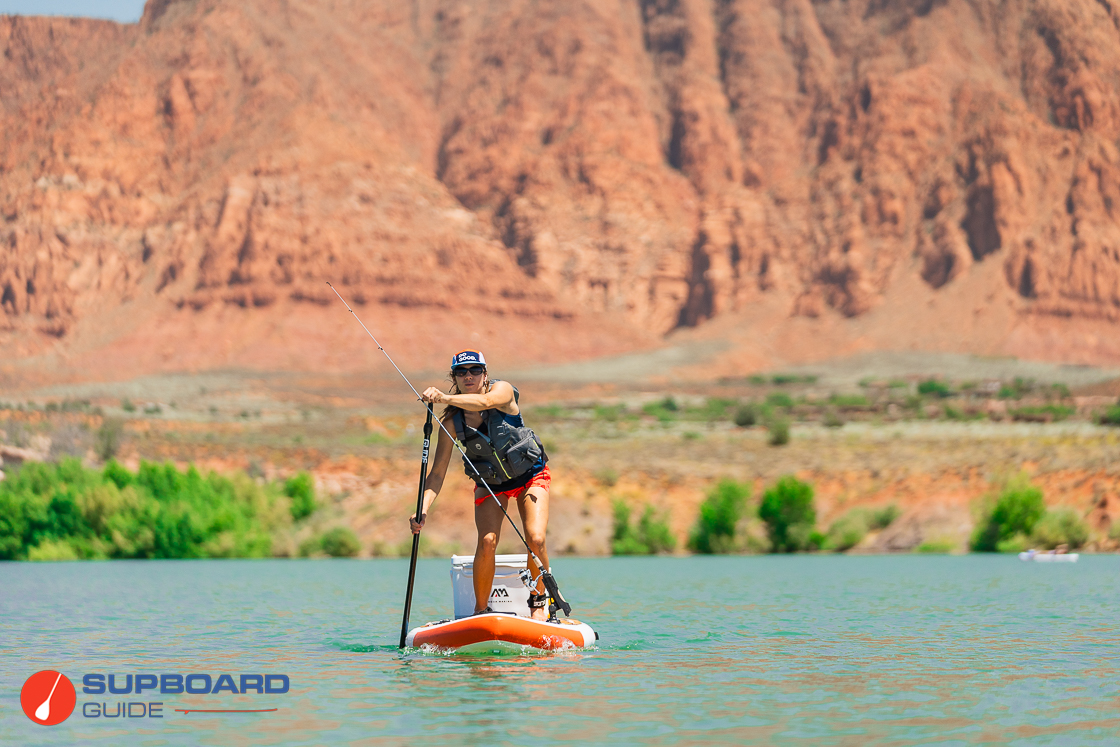 | | |
| --- | --- |
| Board | |
| Top Sprint Speed: | 4.9 MPH |
| Average Cruising Speed: | 3.85 MPH |
SUP Board Guide's Speed Testing:
To obtain our speed test results, we use a Speed Coach Sup 2. This gives us accurate readings on how fast we are paddling and our current stroke rates. For the top sprint speed, we paddle as hard as we can for approximately 10-15 seconds and then record our average speed. For the casual test, we paddle at 40-35 strokes per minute for approximately 30-60 seconds and record the average speed.
The Glide Angler O2 is quite obviously not the fastest SUP – it's big! But, it is only 25 lbs so it isn't painfully slow either. Overall, it has great speed for a fishing SUP; it's not too slow to the point where we don't feel like we could paddle out half a mile or a mile. The nose comes to a slight point with a little bit of rocker, which helps it glide over the water instead of pushing through it.
We also think it has a comfortable enough speed to be able to take a few kids out on it and use it as an adventure SUP, especially if you are a very large paddler.
Tracking: 7.8/10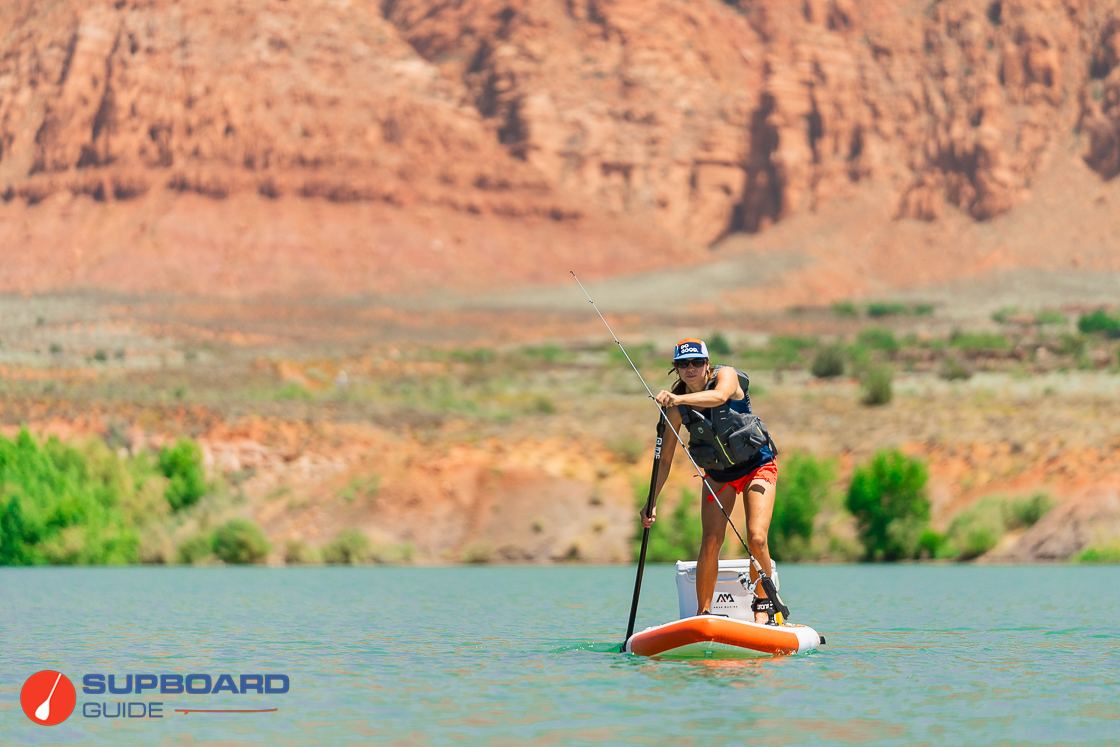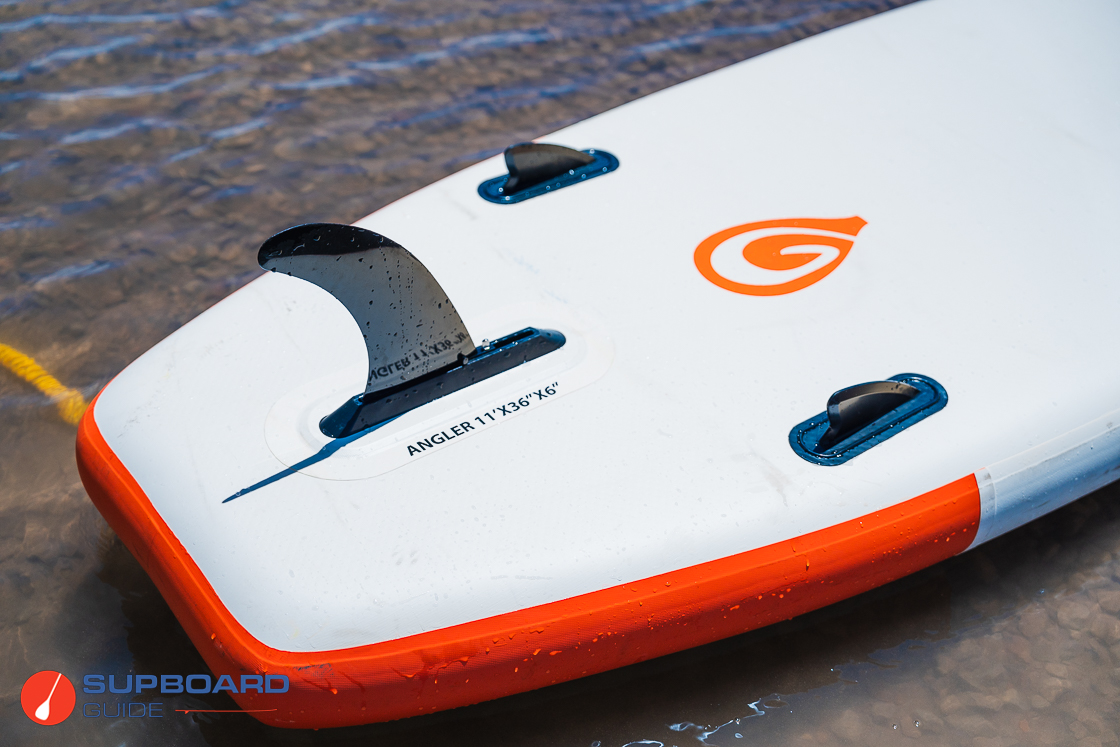 This SUP falls right in line with how we expected it to track. It tracks straight for about 7 paddle strokes per side, which is great for how wide the SUP is. The board has a good shape through the rail section – it's very straight – which helps with tracking.
It has two flexi small fixed fins with an FCS 9'' center fin. It is one of our favorite fins because it is very secure and we have never lost one (like we have with the Kumano). It's also easy to screw in and has a US fin box, so you can swap it out with other fins if you choose to. The two small side fins are very small, approximately 2 inches tall, and don't do much for the board's performance. We think Glide could remove these side fins and the board would perform the same.
Maneuverability: 8.5/10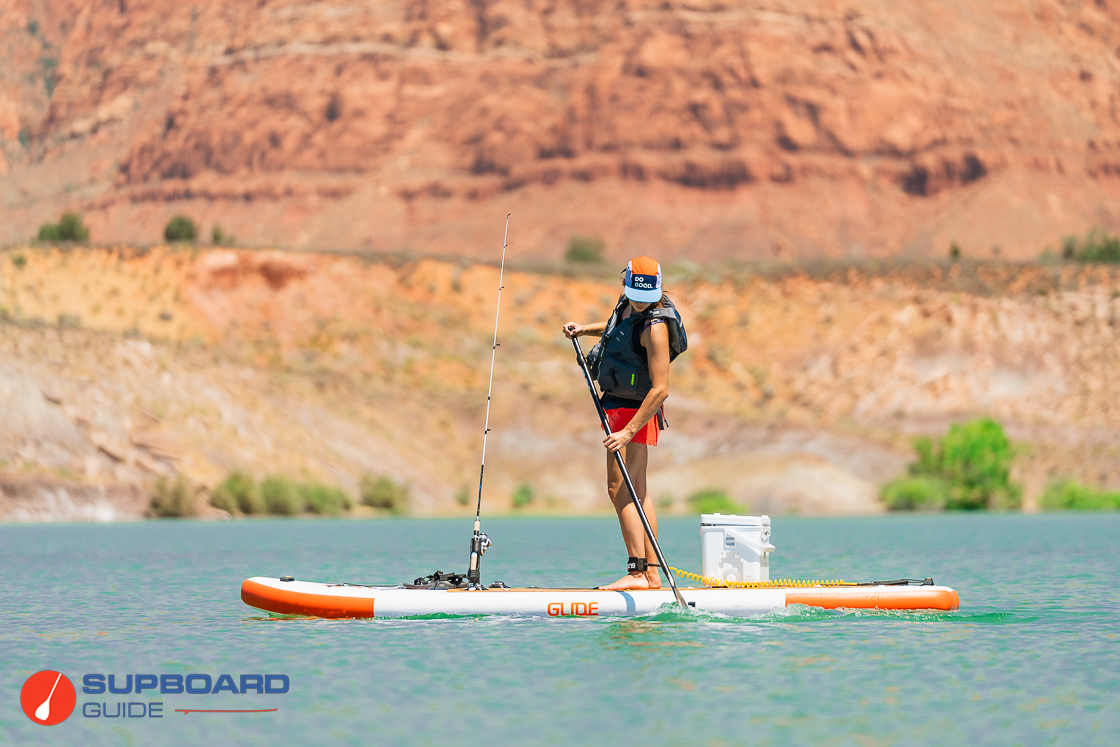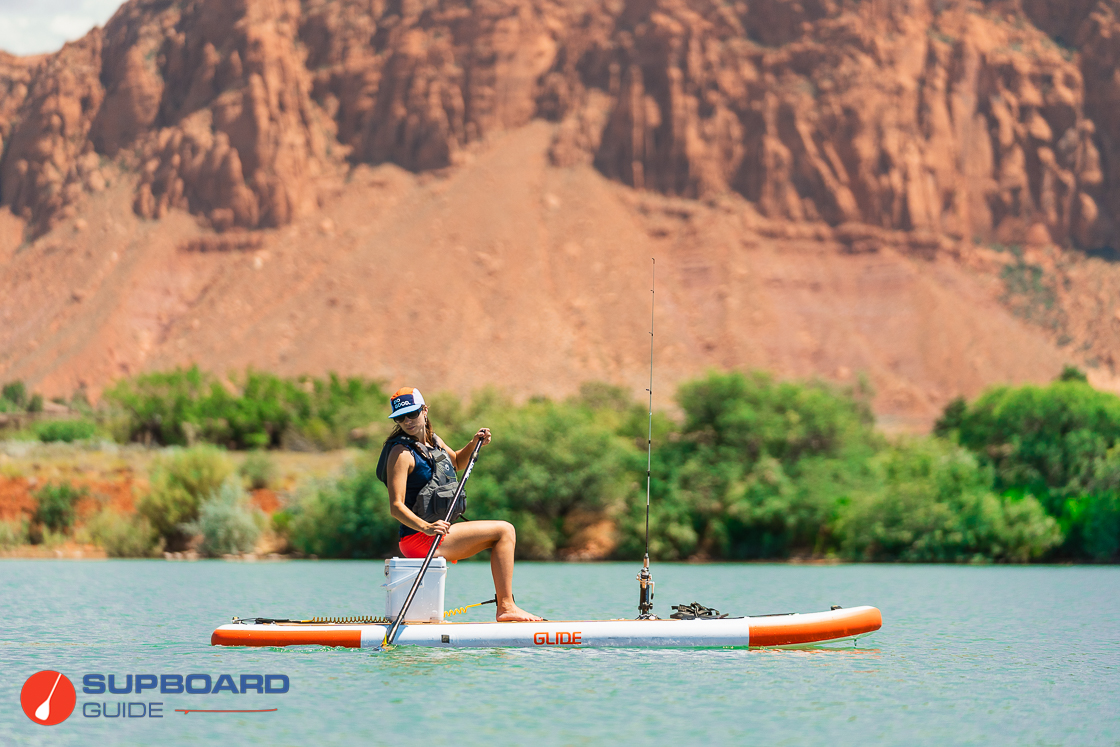 This board maneuvers nicely, but its not so maneuverable that you're constantly fighting to keep yourself in one place. Using reverse sweep strokes to change directions was my go-to on this SUP. It glides nicely over the water, so it doesn't fight back when you nudge it in a certain direction. We guessed it was going to be pretty easy to step back on the wide platform – and it is! Since the tail is so wide, it helps keep the board very stable as you walk backward and the nose begins to lift. Also, it's a big board, but it's only 25 lbs, so it's not very difficult to pop the nose out of the water.
Construction Quality: 8.2/10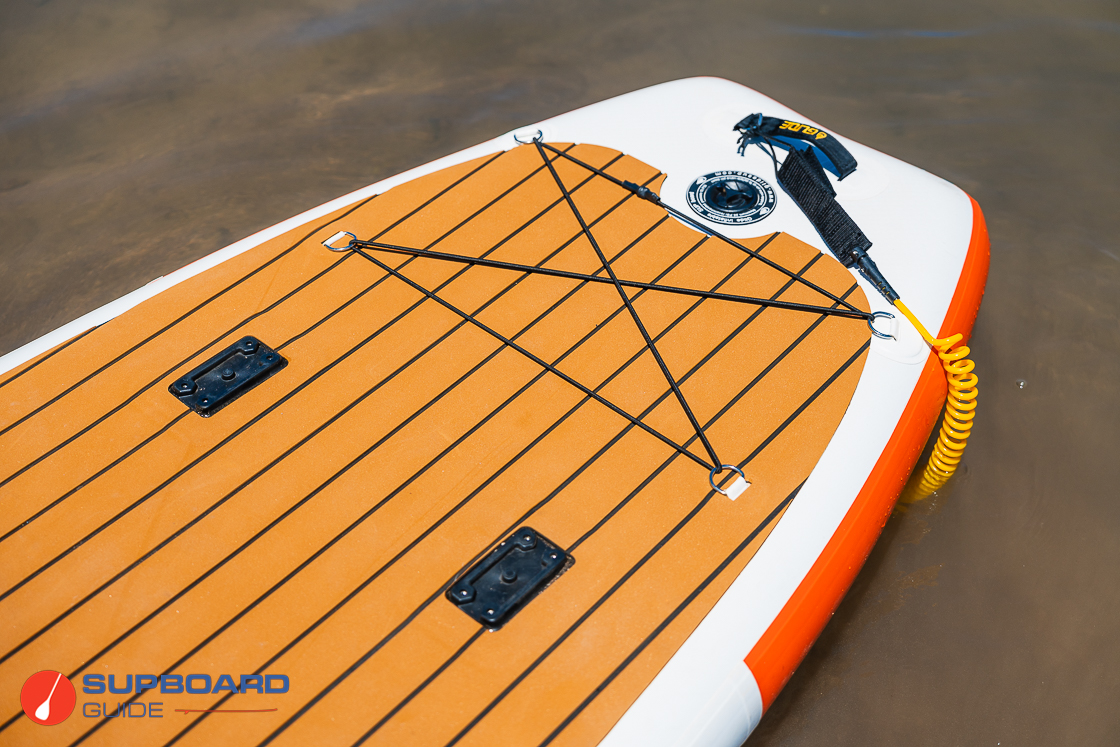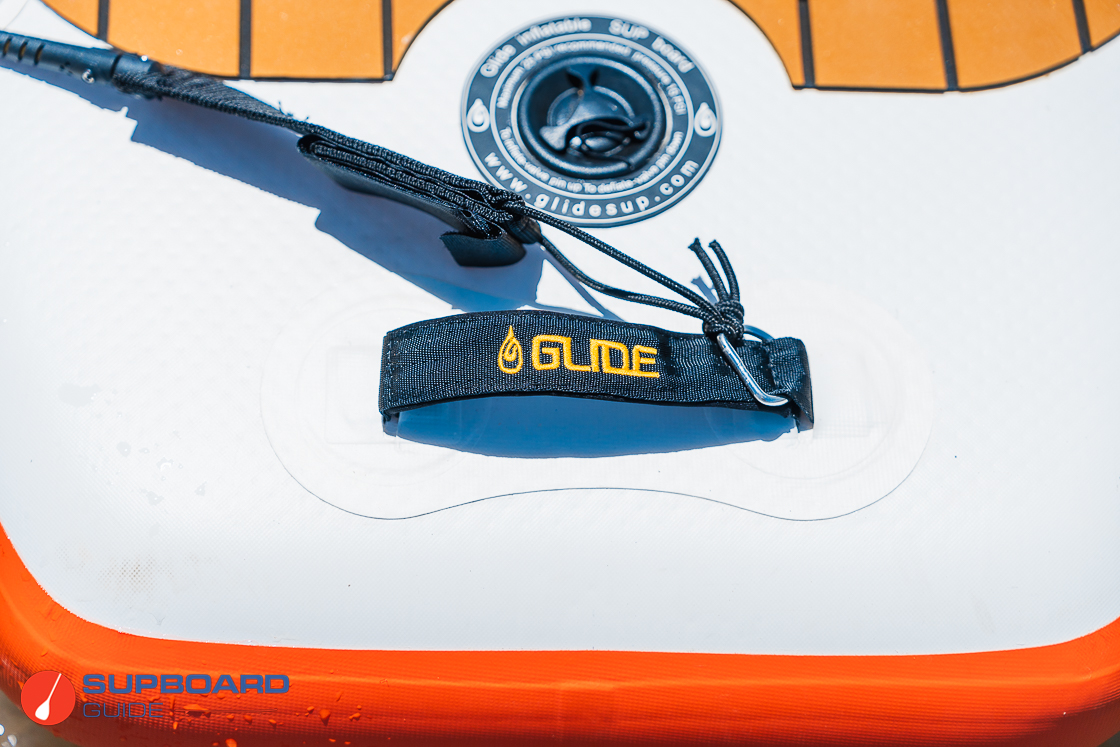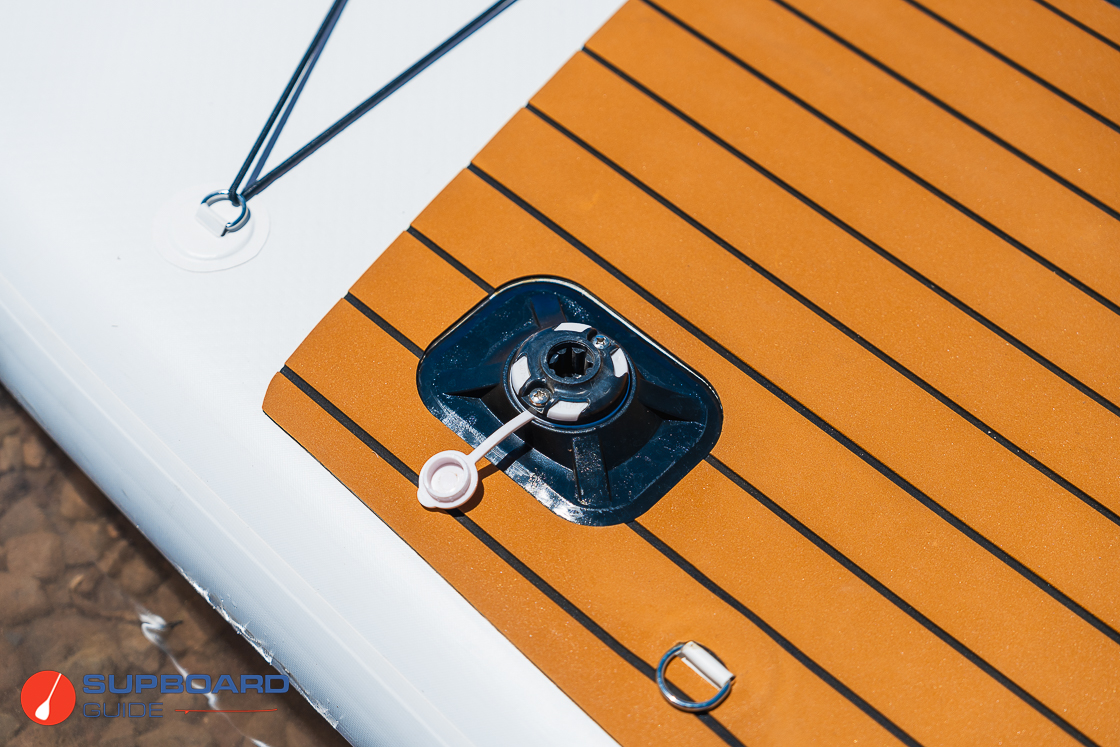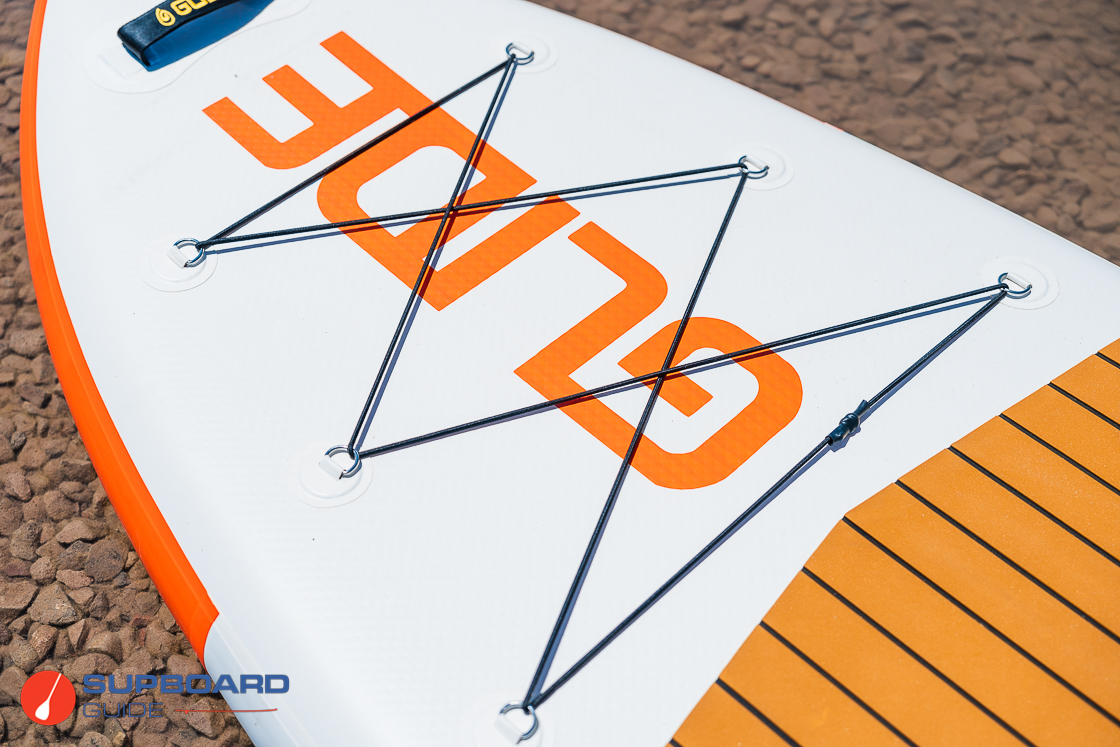 Glide states that the O2 Angler has a woven drop-stitch core with a dual-layer PVC coating and carbon fiber rails. These three components work together to create rigid, firm boards that should last for years.
What if you accidentally poke the board with a fishing hook?
You don't have to worry about that, because the hook is not likely to break the surface of the PVC – it is very dense. It's more probable that the hook would bounce off and fall into the water. The real risk comes from the knife you may use to gut your fish – so be extra careful there. The reason the PVC is dense enough to fight back against your hook is that Glide uses a heavier-than-average denier scrim for the PVC tarpaulin and welded seams. This means the second layer of the PVC is embedded with a loosely-woven fabric called a scrim, and heat and pressure are used to reinforce the seam cohesion.The only downside that comes with this is that it increases the weight of the board ever so slightly. However, 25 lbs is a remarkable weight for an 11' x 36'' board that has extra fishing attachments on the deck.
Board Stiffness: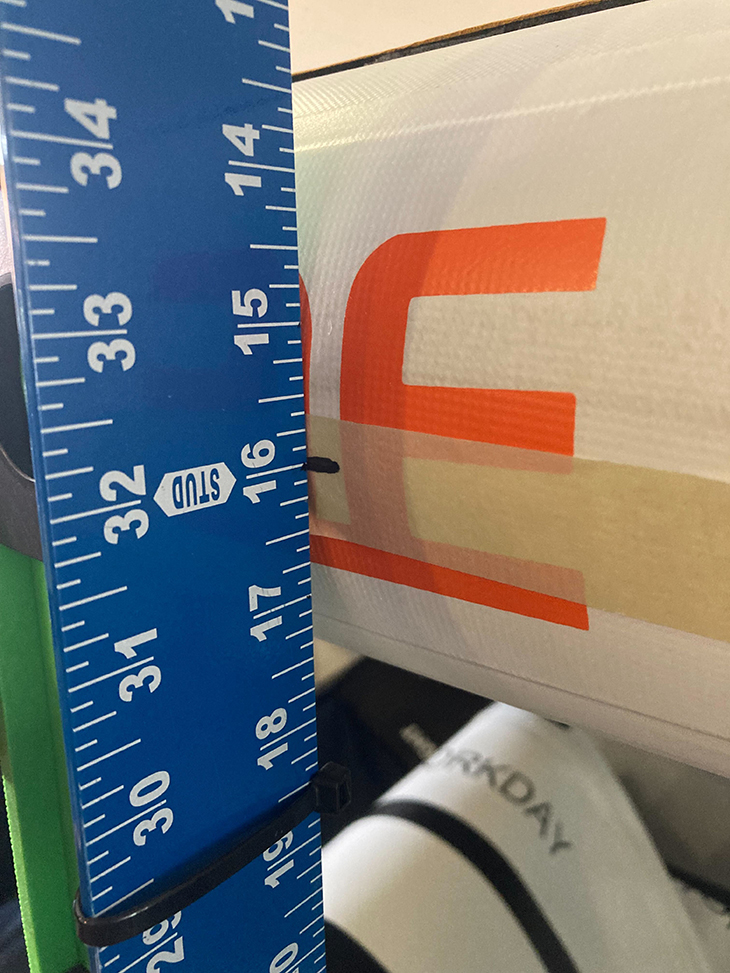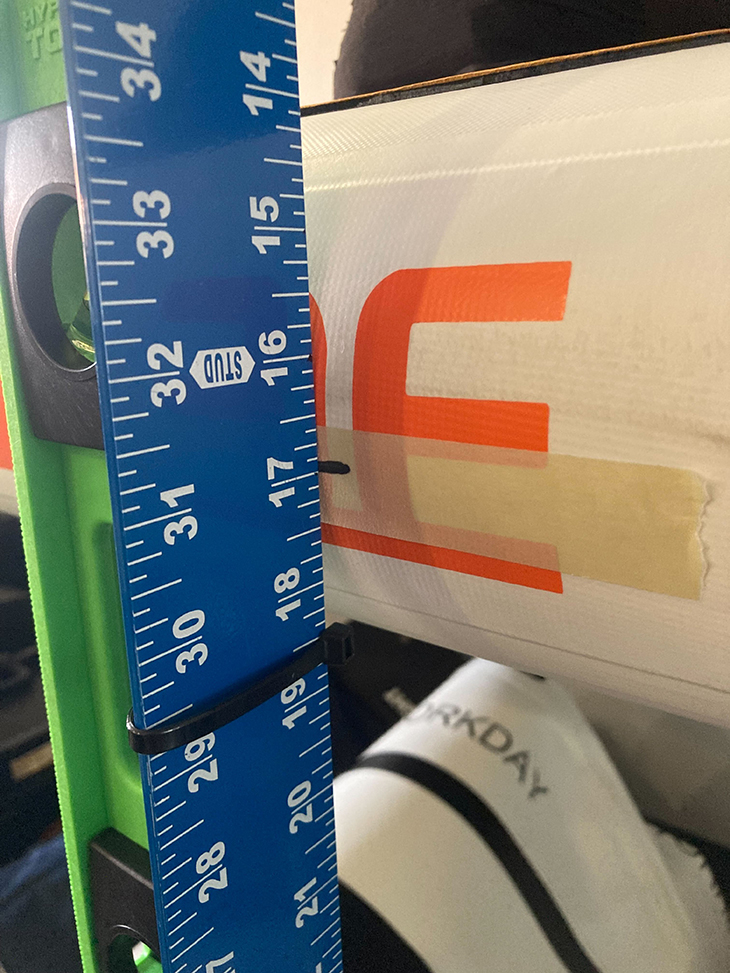 Stiffness Test: 1" Bend
SUP Board Guide's Bend Testing:
In order to attest to the rigidity of each board, we use a bend test curated by Supboardguide. In order to obtain the results, we inflate the board to its maximum recommended PSI and then place it across two sawhorses that are 7 feet apart. We then take a measurement in the middle of the board. Then, we place 150 lbs worth of sandbags on the middle top of the SUP. Last, we record its displacement (the movement from its original position). We use this method for every board we test as a way to mathematically compare boards across a common denominator.
Once this board is inflated and all ready to go, it provides excellent stiffness and rigidity. Only bending one inch is an achievement, and attests to Glides' quality construction processes.
Features/Accessory Review: [9.5/10]
Features: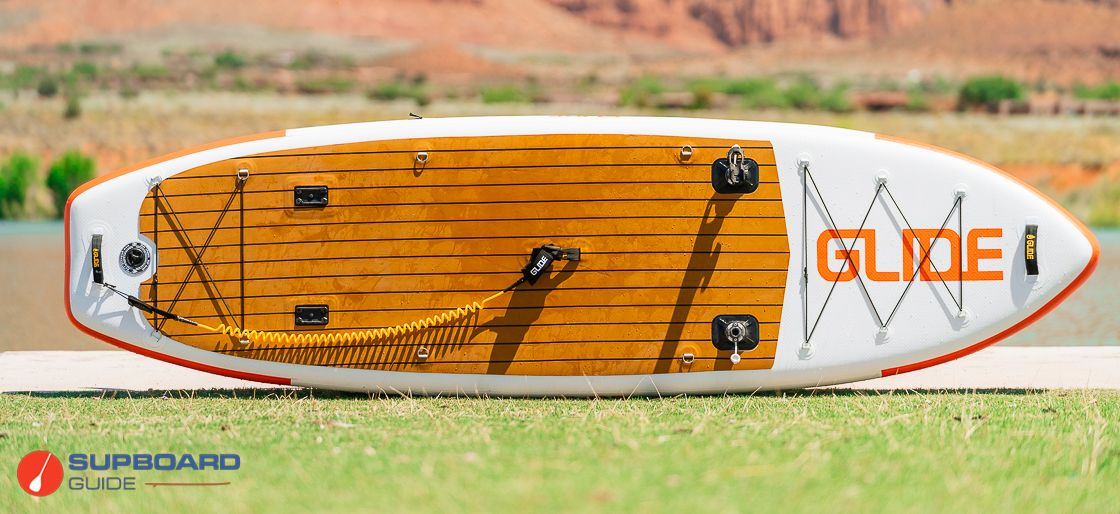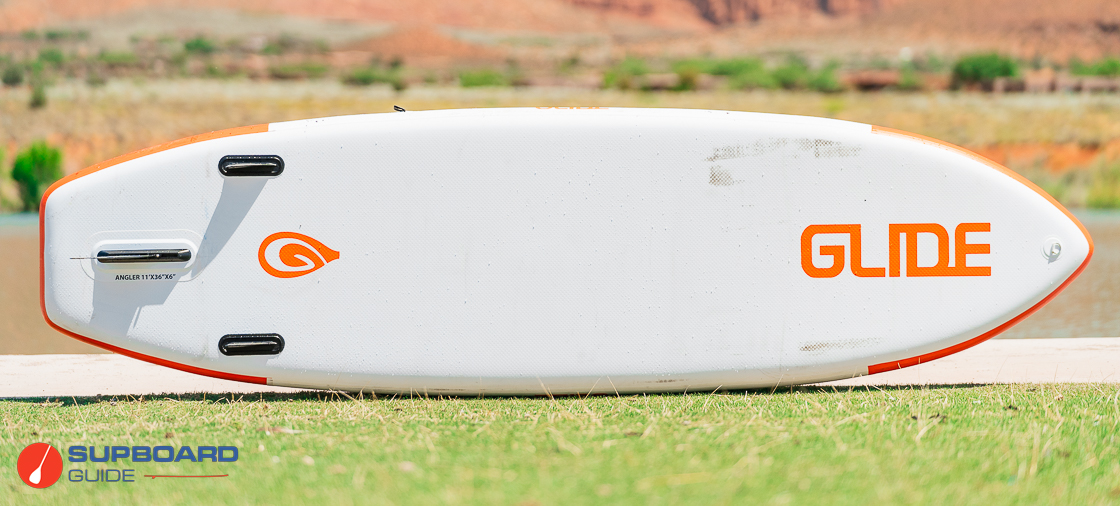 Overall, this fishing SUP is not overly extravagant. It has sufficient mounts, but still leaves a lot of open deck space for being able to spread out and get comfortable. You can stand, sit, kneel, or even sit atop a cooler if that's more comfortable.
There is a front and back bungee cargo area for strapping down your gear, such as a tackle box and a cooler with ice in it. Along the sides of the SUP, there are four D-rings that you can use as a means to strap down additional cargo or attach the slim kayak seat. The kayak seat is simple to attach and makes for a good backrest if you're in a lull from catching anything.
We love the deck pad – it's a brushed EVA with grooves and it's very comfortable. It helps with traction and with letting water drain off of the board.
The fishing mounts: On the front of the board there are two mounting points specifically designed for Glide's fishing rod holders that come included with the board. They securely hold the rods out of the way but still keep them within reach, and are also adjustable, rotatable, and have a locking mechanism. It's a very convenient system for giving your arms a rest. Right in front of the rear cargo pad are the Scotty-style accessory mounts. You could use these to attach a fishing rack if you want.
And to top it off, each side of the SUP has a nylon loop for anchoring in with an anchor pole.
We think the SUP has an almost perfect amount of accessory mounts without being too cluttered or distracting. The one thing we want to see added is a paddler holder – even two small velcro loops on the rails would suffice. Also, speaking of the paddle, we find that it does tend to flex a little bit when you are cranking on it. We don't find that happening with the Glide Retro or Lotus, but this SUP is a few pounds heavier than those two. We think the Angler O2 should be paired with a more heavy-duty paddle.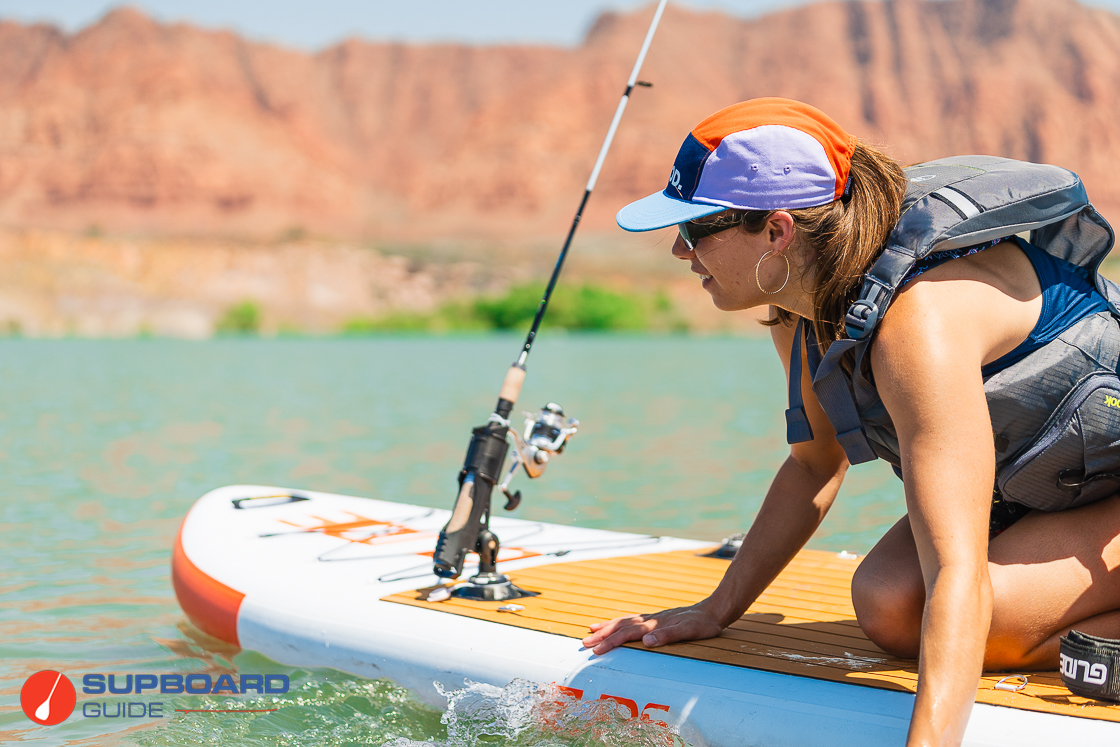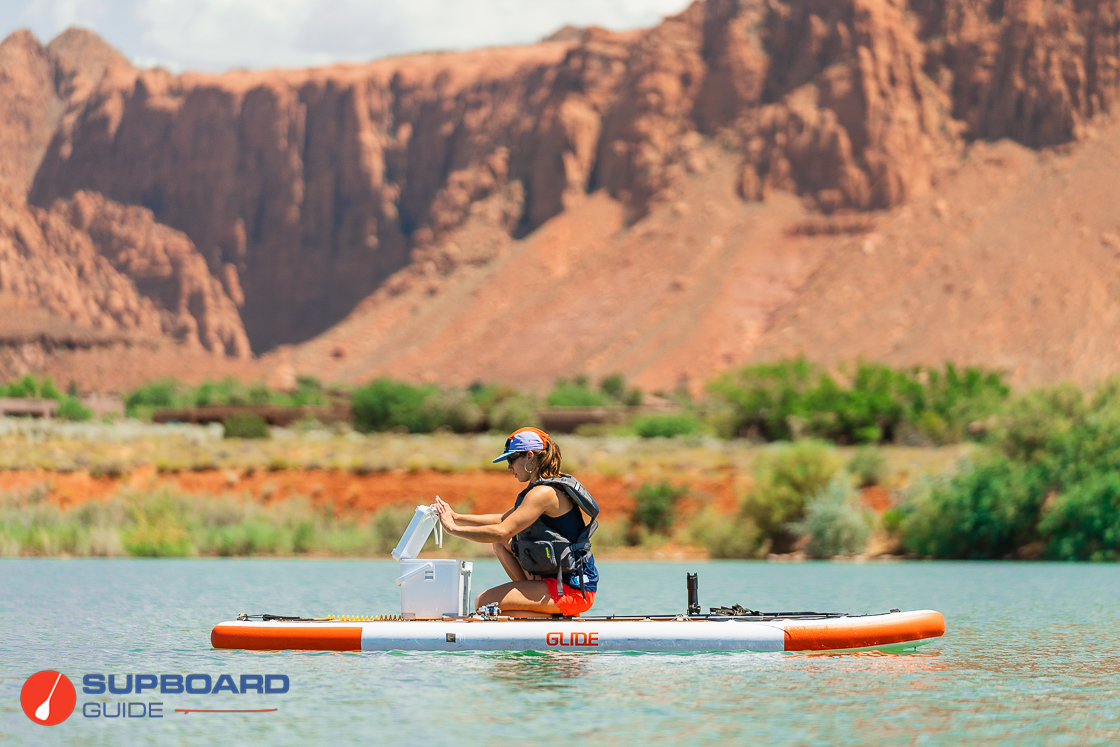 Included Accessories: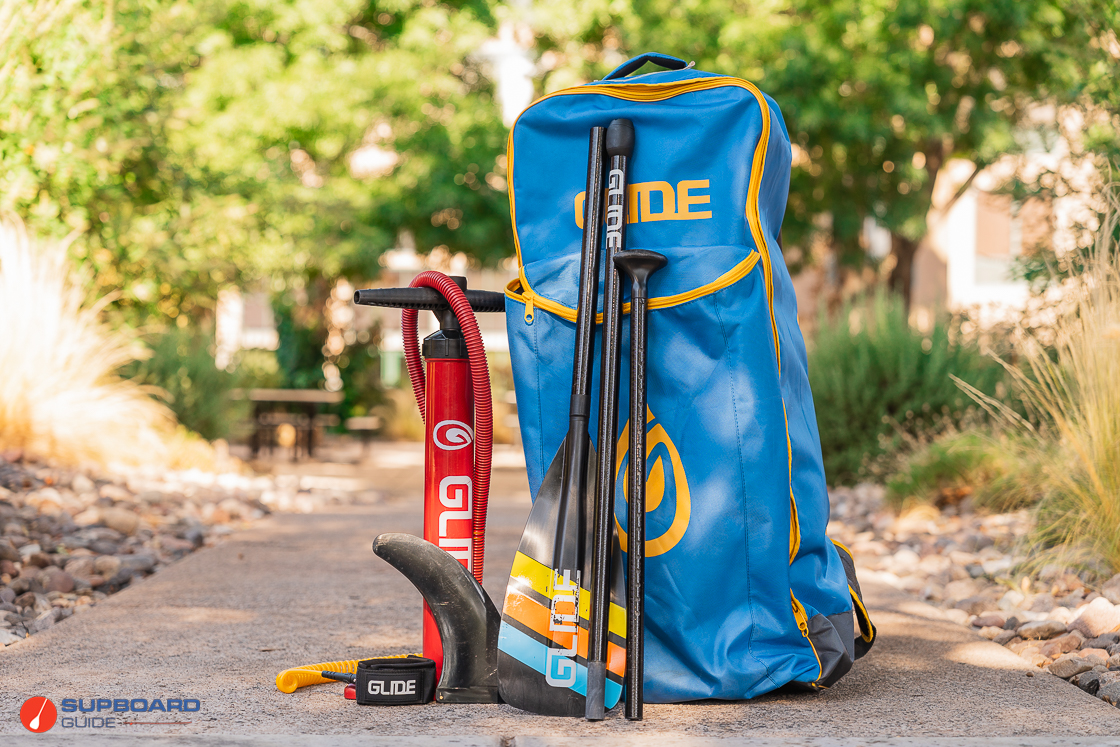 Included with the board is a 10' coil leash (in bright yellow!), a 3-piece paddle, a repair kit, a slim folding kayak seat, the 9'' fin, adjustable rod holders, and a large roller backpack. The backpack is light blue and yellow, so it looks really good. It's also durable and fits the board plus its accessories super easily.
It's awesome how portable this SUP truly is. When rolled up and inside the bag, it easily fits into the trunk. When rolled up and outside of the bag, it's slightly larger than a regular sleeping bag (not one of those ultralights). When inflated, you can put it on a roof rack and drive to the lake (or river or ocean) that way. When you think about it, this is a huge contrast to an 85 lb fishing kayak or an even heavier fishing boat. If you are an avid fisher, having the O2 Angler on hand for when you want to get in some recreational fishing without having to make a huge deal out of it would be a huge bonus.
Summary Review of the Glide O2 Angler – 2023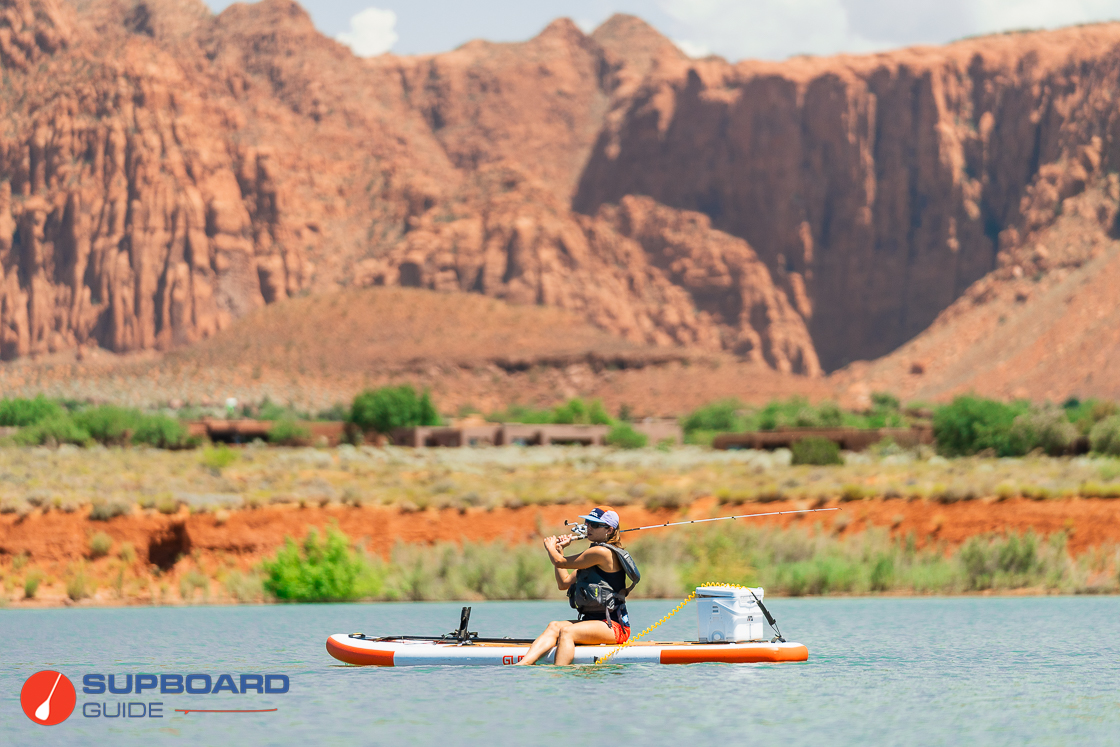 This fishing SUP is excellent for anybody who is ready to downgrade from their fishing boat to something lighter, more compact, and easily transportable. Its shape, size, and construction make it a super stable board that has a ton of room for moving around on so you can be comfortable for hours. We love that it has Scotty-style mounts and mounting points for the fishing rod holders that come with the board.
With its 500 lb capacity, it is also great for bringing out an extra passenger along with your fishing supplies – so if you want to teach somebody to fish, you both can hop on board and be comfortable. Just don't catch a 400 lb shark and capsize yourselves…
Happy paddling! We hope you enjoyed this review of the Glide O2 Angler. If you have any questions or comments please leave us a comment below!
The following two tabs change content below.
Latest posts by Laura Coor (see all)