Thurso Surf Prodigy 7'6'' Junior SUP
Pros
Well sized for children to practice good paddling techniques to take with them in the future
Stable and easy for children to maneuver
Lightweight at 19lbs = most children will be able to handle the Prodigy on their own
Grippy deck pad that also helps to drain water
Child friendly accessory set-up that doesn't lose out on quality
Cons
We like the small center fin for improved maneuverability, but we would prefer a larger center fin to really help kids with their tracking and stability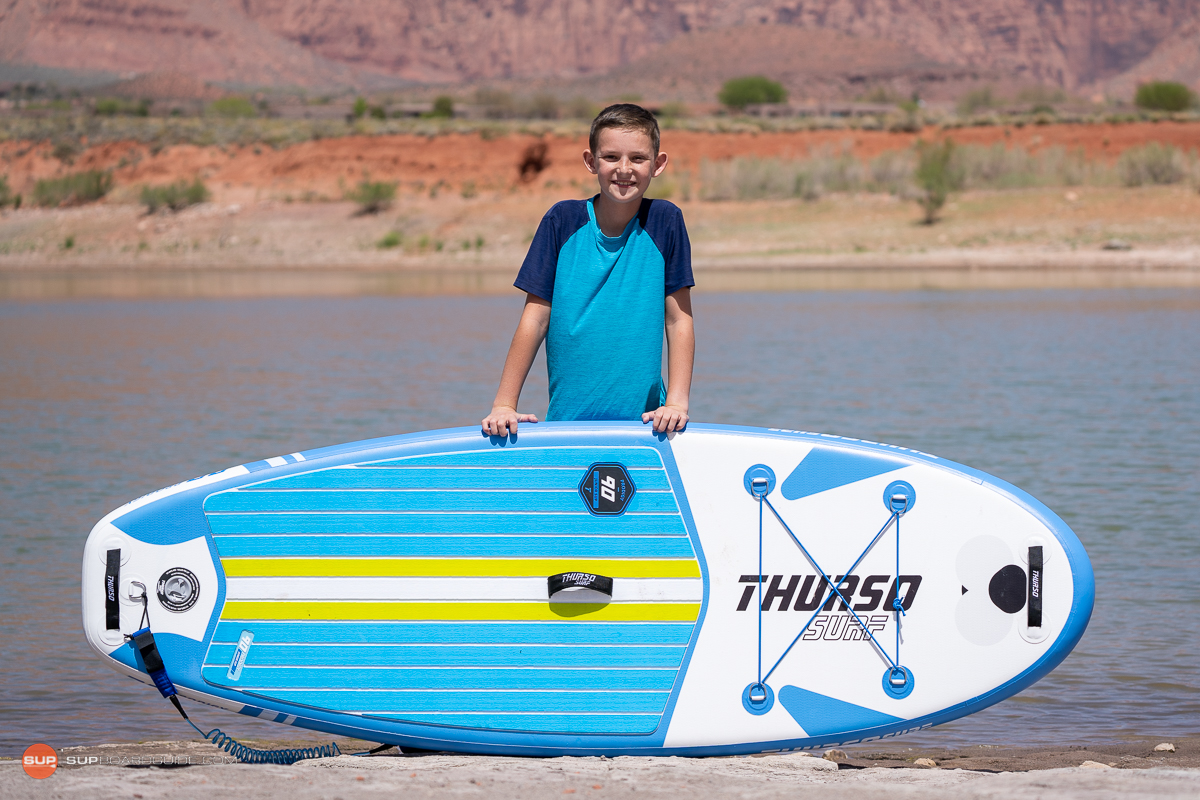 Finding a paddleboard for children can be a very hard task. You want to buy something that your kid will feel comfortable using, but not something that is poorly made and breaks after just a couple of trips out to the water. Getting a good combination of a lightweight, performance, durable, and good value paddleboard for a junior SUPer is a challenge few SUPs built for youngsters can deliver. So those were the elements we were looking at as we dove into this Thurso Prodigy Jr SUP review. And we used our resident 'kid supper, Max' as our 'reviewer' (Justin was able to paddle the 2023 Prodigy Jr SUP, but just barely).
The Thurso Surf Prodigy 7'6'' delivers. This is one of our favorite paddleboards for young paddlers, and one of the best tools for helping them feel comfortable and understand how to properly paddleboard. The Prodigy is stable enough to support kids large and small, while also being very easy to maneuver with and actually building speed properly as your junior SUPer builds their skills out on the water. The deck pad is very comfortable to go out for hours on and stay comfortable, which is perfect for those lake trips where your child wants to be out on the water as much as possible. Thurso also has accessories that are perfect for bringing out snacks and water to help them maintain their energy. The snap-lock fins are both well made and simple enough to install that any kid can do it by themselves, the handle setup also ensures junior paddlers can carry the lightweight board to the water without any help. We also think that the shorter paddle, built with children in mind, is another great sized tool that will further improve a child's paddling technique and overall experience. From top to bottom, the Thurso Surf Prodigy 7'6'' is a board optimized for young paddlers, and one of our top recommendations if you want something that will truly let your junior paddler learn how to SUP properly.
SUP Board Specs
| | |
| --- | --- |
| Length | 7'6'' |
| Width | 30'' |
| Thickness | 4'' |
| Weight | 19 lbs |
| Rider Capacity (lbs) | 165 lbs |
| Recommended Inflation | 12-15 PSI |
| Fins | 2 + 1 removable quick lock fins |
| Paddle Type | Carbon Fiber Shaft, Nylon Blade, 32 oz. |
| Construction | Triple Layer Coating PVC, Drop stitch core |
Who Should Buy This Stand Up Paddle Board:
As a junior paddleboard, you will primarily want to consider buying this SUP if you have a child that is 16 years old or younger. However, there are a few other reasons why even adults might want to consider using it. Consider the Thurso Surf Prodigy 7'6'' if you are among the following:
Interested in buying an optimized junior SUP for your child or young teenager.
Looking for a lightweight training board that will help you master SUP stability.
You are a lighter, shorter paddler, especially 5'4'' and smaller.
Are interested in a trick or surfing board that is extremely maneuverable.
For junior paddlers, we would suggest taking the SUP out to the following set of water conditions:
Still, large open bodies of water like lakes, bays, and marinas for the easiest paddling experience.
Small choppy waves near the shore, such as coast lines, for a more adventurous experience.
Ocean surfing and paddling! Larger waves may be a bit too hard for kids, but if they want to try to learn how to surf small waves the Prodigy is a fun option for junior paddlers.
Performance
Stability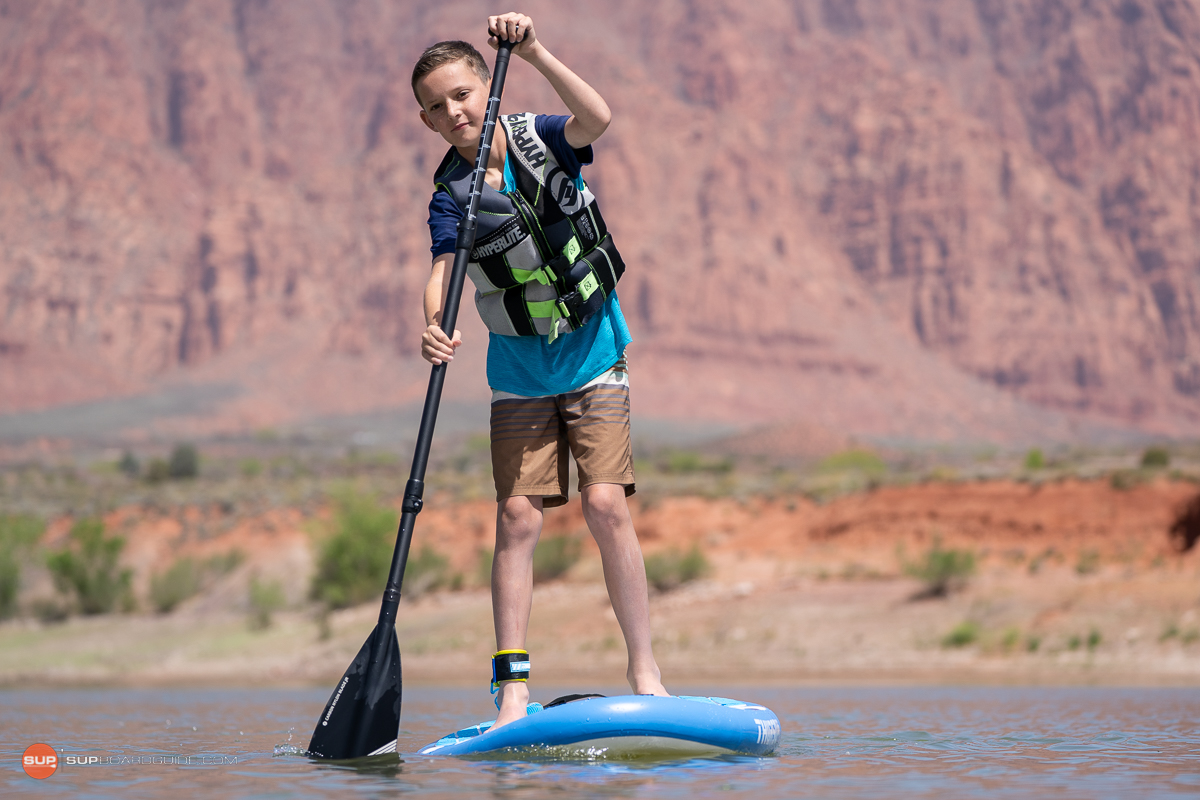 Finding a stable paddleboard is important for beginners, and especially important for children. They're not going to have fun if every time they try to turn, they tip their board over and wind up belly flopping into the water. Fortunately, while it is a smaller board, the Prodigy 7'6'' is definitely stable enough to help young paddlers to learn how to paddle without tripping over themselves in the water. The Prodigy has a 165 lbs recommended weight capacity, which is more than enough to support most kids and young teenagers who want to go out on the water. Due to the excellent Thurso Surf construction, a couple of our adult team members even went out and, while certainly shaky, found that the board was able to support their heavier weight. As such, we definitely think this is more than stable enough paddleboard to help kids feel safe, steady, and comfortable when they're out paddling.
Maneuverability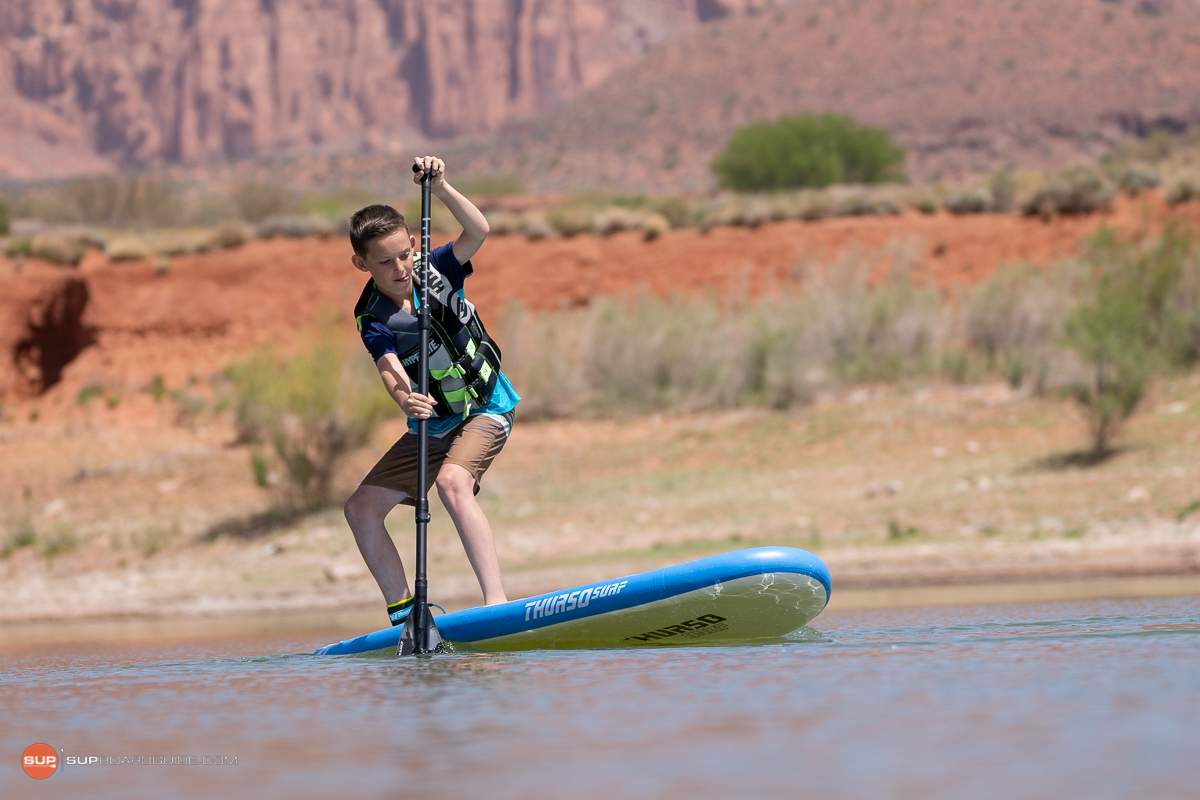 While adult paddleboards may be able to support children in terms of weight, the reason why they're very tough for junior paddlers is because of the larger surface area making it more difficult to maneuver and paddle. With the Prodigy 7'6'' Junior SUP, the shorter length is much more accommodating and ensures that junior paddlers are able to properly turn the paddleboard where they want to in the water. Not only that, but we found the Prodigy 7'6'' is able to help kids learn more advanced techniques like the step-back turn as well. By moving a foot to the back of the paddleboard, you can press your foot down to raise the SUP's nose into the air like you see in the picture above. Then, by paddling at your side, you can pivot on the spot and turn in any direction you want to go. This is a very hard technique for kids to learn on adult paddleboards, so we love that the Prodigy 7'6'' is maneuverable enough to help junior paddlers learn how to perform it properly.
Tracking/Glide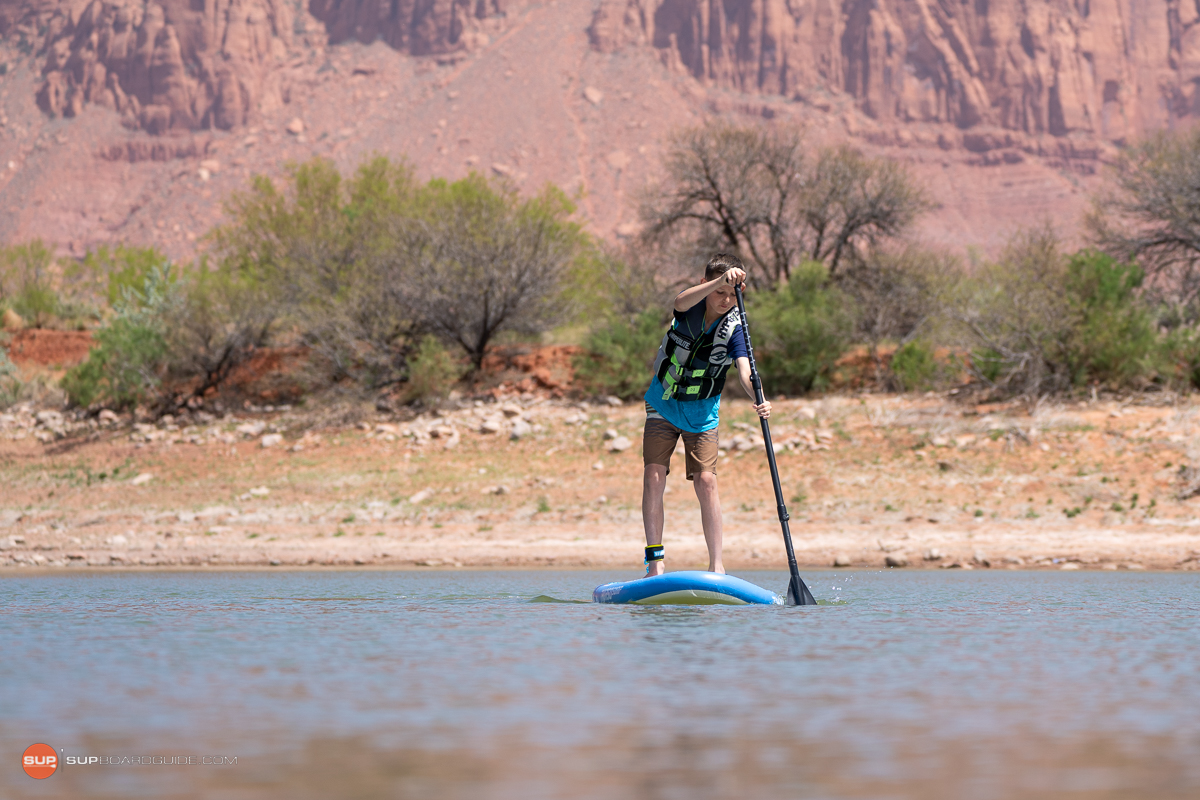 When it comes to the great feel and glide of the Prodigy 7'6'', it is yet another reason to consider going with a junior paddleboard for your kid. Adult paddleboards are hard for kids to propel themselves in the water, being so large and heavy that their short strokes aren't enough to get them to build momentum. With the Prodigy 7'6'', kids will find that it is not only easier to paddle compared to an adult board, but also much faster as well as their smaller strokes actually pair well with this smaller paddleboard.
On the subject of tracking, junior paddlers may find that it will be a bit tricky to maintain a straight course at first with the Prodigy due to its short 7'6'' length. However, we personally think this is a huge benefit to the paddleboard. Longer, adult paddleboards will maintain a straight course for children no matter how good or bad their paddling form is. With the 7'6'' length, the Prodigy is much more fidgety and more likely to divert off course when proper paddling form isn't followed. This will incentivize and help your junior paddlers learn what a good paddle stroke technique is, and children will have a greater sense of pride and accomplishment as they improve with the aid of the Thurso Surf Prodigy 7'6''.
To help your children have better tracking though, make sure to install the short fins included with the Prodigy 7'6''. The two side fins will help tighten the turning radius of the paddleboard, along with the center fin that helps it catch waves if you decide to go surfing with a minor increase in tracking. When used together, all three fins will help the Prodigy 7'6'' feel a bit more stable as well. As each fin is rather short at just 3.5'' long, you can even use this fin setup for shallow water paddling. Make sure you kids put their fins on before they go out for the best paddling performance!
Materials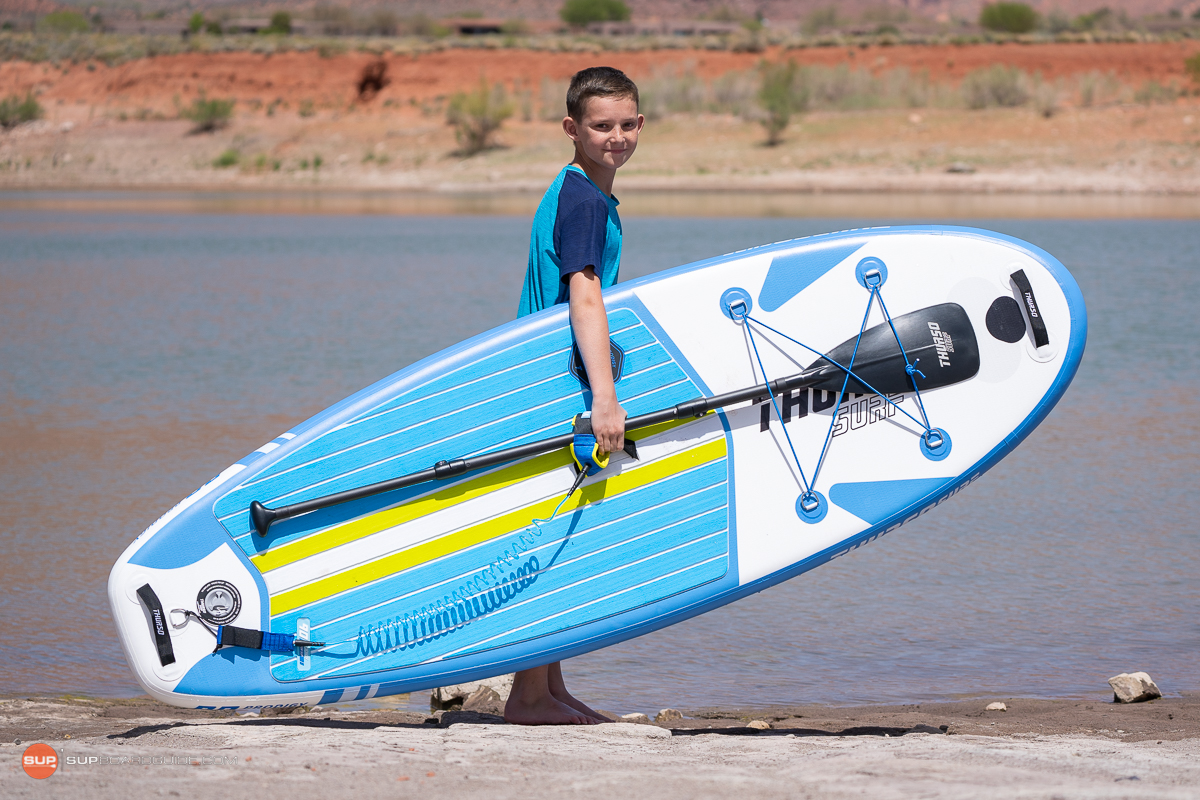 Part of the reason why the Thurso Surf Prodigy 7'6'' Junior is such a high-quality, durable paddleboard for a junior SUP is because it uses the same fantastic design as other Thurso Surf SUPs. This is a paddleboard that kids will find extremely difficult to damage, ensuring that even if they drop it as they carry it to the water or crash into something on the lake it will still function well. Be sure to read on if you would like a piece by piece, component by component technical breakdown of why we think Thurso Surf SUPs have one of our favorite material designs in the industry!
For the Thurso Surf 7'6'' Junior SUP, we have to start with the tight drop-stitch core. The drop-stitch core is made up of sheets of fabric that are joined together by several thousand threads carefully placed to give the core shape. As air inflates the core, the core expands like an inflatable, but as the strings go taught the SUP shape you see above is assumed rather than something more rounded like a balloon. This is the performance base of the paddleboard, allowing it to float on the water like an epoxy hardboard despite being an inflatable.
On Thurso Surf paddleboards, the first layer is a single PVC coating that protects the drop-stitch core while also preparing the SUP for the second, more durable layer. The second layer features two additional PVC coatings for three coatings of protection, with a UV coating as well to guard against sun degradation. Lastly, the side seams, the most vulnerable part of the board, is protected with three additional PVC coatings for quad-PVC coating protection. Thurso Surf calls their paddleboard a 'dual-layer' SUP, but you will find a level of durability and protection that far exceeds that of many other dual-layer paddleboards.
With the Thurso Surf Prodigy, you won't have to worry at all about your junior paddler accidentally breaking or damaging their SUP so they can grow into it by the time they need an adult board!
Board Design/Shape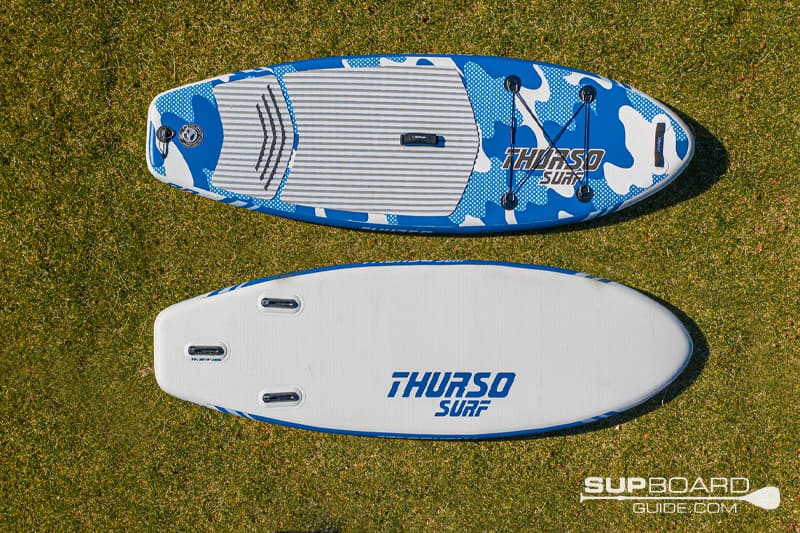 The Thurso Surf Prodigy is definitely built with children in mind so Thurso designed an optimized shape so that kids of varying heights and weights can enjoy it. The 7'6'' long SUP is very easy to maneuver with, while still being long enough for kids that they can learn how to improve their form and maintain a steady course in the water. The 30'' wide deck is more than enough space to spread out on, and the 4'' thickness helps kids ride close to the water for better stability and SUP control, besides further reducing SUP weight. Weighing 19 lbs, the Prodigy 7'6'' has a recommended weight capacity of 165 lbs, a weight we adults managed to exceed without suffering too much performance loss as we ourselves tried out the junior paddleboard.
In terms of what a junior paddler can do on this SUP, the Prodigy is a jack of all trades paddleboard, similar to many adult all-around SUPs. A junior paddler can go on a touring adventure if they have the energy and stamina for it, or just casually race friends out on the water. The bungee nose cargo area is great for storing food and other refreshments, so if they just want to chill out on the lake the Junior SUP is a great option for that as well. For those who want to river run or try out surfing or ocean paddling, the Prodigy can do it if used by a more experienced junior paddler. If your child doesn't like sharing a board and just wants something that will help them keep up with you, the Prodigy 7'6'' will help your junior paddler tag along on your own SUP adventures. This is definitely a paddleboard that will help young paddlers bridge the gap with adults by helping them learn how to properly SUP from an early age.
Board Features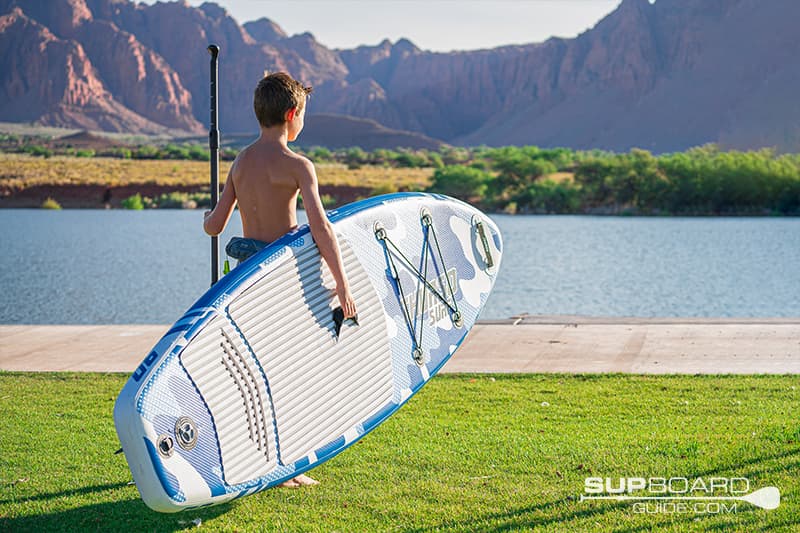 From a performance standpoint, the design and functionality of the Prodigy 7'6'' alone make it a worthwhile option for young paddlers. However, there are other nifty features that make it an even better package. Some of the features we want to highlight include the following:
Dual-layer military grade composite PVC:Though called a dual layer SUP, the Prodigy has a triple-coated PVC deck and quad-coated PVC rails for fantastic durability and protection. Far better than many other junior and entry level paddleboards on the market.
5 D-rings + Removable Bungee Cargo Area:While not a ton of accessory attachment options, the Prodigy has the bare essential options that will let you safely pack stuff for your kids. Coolers and lunch boxes fit beneath the nose cargo bungee system, while dry bags, leashes, and other cases can attach to one of the five D-rings. These are large D-rings too, built to prevent childrens' fingers from getting caught or tangled in them.
Child friendly carbon fiber shaft + nylon blade paddle:Easy to assemble and coming in three pieces, this is a shorter Thurso Surf paddle built with younger, shorter paddlers in mind. Also, it floats on the water, so if kids fall off the Prodigy they don't have to worry about their paddle sinking!
Side Deck Paddle Holder: If your kid wants to take a break, or need to free up their hands to carry their SUP, the side deck paddle holder is very helpful. The straps fit over the paddle well, ensuring it is tight, secured, and out of your junior paddler's way.
3 Carry handles:The triple carry handle setup makes it really easy to transport the paddleboard. If your kid wants to lift it by themselves, they can use the center handle, or you can help your junior paddler out with the nose and tail handles as well. All three have a cushy, soft neoprene handle build as well!
Textured EVA deck pad:EVA foam deck pads dry and drain quickly, which protects the deck pad from getting slick and slippery for younger paddlers. The small grooves also serve as a way for kids to improve their feet placement without looking down, along with additional traction improvements.
Fins
The tri-fin, snap-lock fin setup is great for children. Installing fins takes just a few seconds, and are simple enough that even very young junior paddlers can do it themselves. Lift the tab lever up on the fin box, insert the fin, and push the tab lever down in order to lock the fin in place. If you are unable to push the tab lever down, push your fin further in and you should now be able to lock your fin in. While limited in customizability, we think that snap-lock fins are among the best options for junior paddlers due to ease of installation and overall security, ensuring that your fins won't fall out as young paddlers explore the water.
Our one complaint about the fins though is that all three fins are the same 3.5'' length. These fins certainly help the maneuverability and are well suited for maneuvering and surf, but are less than ideal for flat water and touring. The center fin can snap off when used in shallow depths if not careful. We do understand that skipping the longer center fin will make it less likely for kids to break their center fin. However, especially because this board is somewhat unsteady when it comes to its tracking, we would still like to see a longer, 9''' center fin included as an option just like the other Thurso Surf kits.
Deckpad
Covering more than two thirds of the SUP deck, the deck pad is well built and will further help your junior paddler have fun as they learn how to properly SUP. The EVA foam, used in many popular yoga mats, is very quick to dry out and drains well when submerged, helping the board stay clean and also preventing it from getting too slick to stand on. The grooved lines also help with draining, and they improve traction support along with feet placement so kids don't have to look down as they move on the paddleboard. This is a deckpad built to be comfy as well, so your children will be able to paddle for hours without developing blisters or otherwise hurting their feet.
Handles
The triple carry handles are located on the nose, center, and tail of the paddleboard respectively in order to give paddlers multiple options to lift the Prodigy 7'6''. The center handle is how solo paddlers, including adventurous kids who want to lift the board alone, will be able to carry the paddleboard to the water. Alternatively, you can also carry the paddleboard in tandem with your junior paddler by lifting the SUP with the nose and tail handle.
A special note we want to highlight is that each of the three carry handles are built with neoprene material. Neoprene is great because not only is it softer and cushy to traditional SUP handles, but will also safeguard against blisters and chafing when held with soaking wet hands and is easier to grip for a child's smaller hands. It's a small feature, but kids will have an easier time carrying the Prodigy 7'6'' by themselves thanks to these neoprene carry handles.
D-Rings/Bungees/Cargo Areas
You don't want too many D-rings and bungee cords on a junior paddleboard, or you're just giving younger paddlers more ways to try and hurt themselves. As such, the Prodigy 7'6'' has just five D-rings, one of which is meant for the board's included leash and the other four are used with bungee cord cargo area. These D-rings are large, preventing fingers from getting caught, and are suitable for attaching dry-bags, cell phone cases, and other clip-on accessories onto. Alternatively, if you want to make sure your child is going out with food and water, you can easily slide a small cooler or lunch box beneath the nose bungee cargo area. These cords are completely removable as well, so if you are nervous about your child getting tangled up in them you can take them off without too much work.
Accessories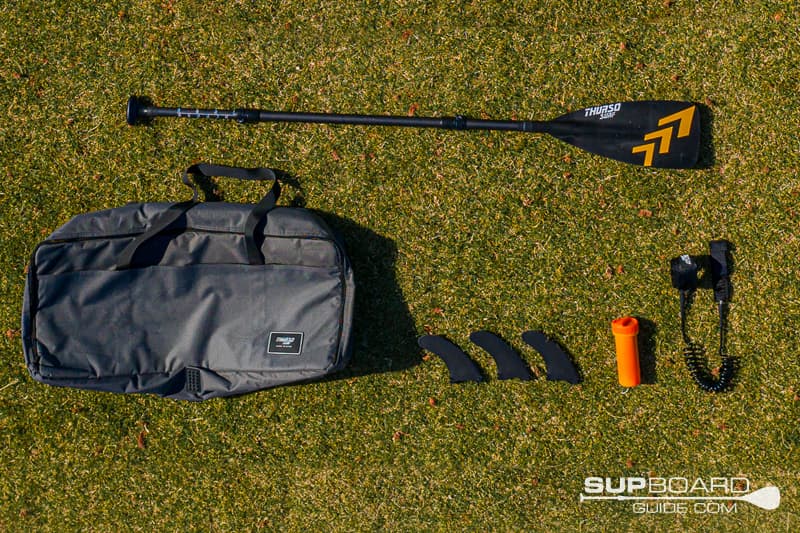 Paddle
Weighing 32 ounces, we are quite glad that Thurso Surf also made sure to include a shorter paddle that is more accommodating for children and teenageed paddlers. Built with the same carbon fiber shaft and nylon blade as their adult paddles, this is a durable paddle as well that should last as long as the board itself. The blade is rigid so that you can truly have a powerful push in the water, but flexible enough as well that it won't break if dropped on the ground.
Overall, this is a paddle that your kid will want to continue to use even as they upgrade to larger SUPs thanks to it's adjustable length, perfect even for shorter young adults. The paddle comes in three pieces, making it very easy to break down and store, with a simple latch system and height guide to help paddlers know where to adjust the shaft length to. Finally, the paddle does float in the water, though make sure to teach your children to grab their paddles quickly if they fall in as they do tend to float away quicker than you might expect.
Pump
Our one major negative when it comes to the Prodigy 7'6'' is that it does not come with a pump. We can understand why it doesn't, as having no pump does make it easier for kids to store their kit in their paddleboard duffle bag by themselves. Furthermore, most traditional pumps are going to work on the Prodigy 7'6'', and since most adults are going to be pumping up their board for their kids there wasn't a major reason to include an extra pump. If you do not already have a manual SUP pump, Thurso Surf does offer a single chamber manual pump at a discounted price that still fits in the included duffle bag.
Alternatively, you can also pay a bit more to instead go with the Thurso Surf electric pump. Electric pumps are some of our favorite pumps out there, and our number one recommended add-on for all SUPs, due to their great features and benefits such as inflating your paddleboard for you! Additionally, electric pumps are more compact than manual pumps, making it easy to store one even in the small Prodigy Junior SUP bag. Lastly, an electric pump is easy enough to operate that even a kid can use one, with auto shut off features to prevent overinflation, and inflate just as quickly as dual-chamber pumps. For these reasons, if you want to make it real simple for your children to inflate the Prodigy 7'6'', consider going with the Thurso Surf electric pump!
Backpack
While it might not have too many special features or characteristics, the included Prodigy duffle bag is more than enough to help kids comfortably carry their paddleboard kit around. The bag is built with extra space in mind, so even if your junior paddler doesn't get all of the air out of their paddleboard, they should still be able to fit it into the duffle bag. There is a separate pouch from the main compartment, which is where you can store the leash and fins away from the SUP and paddle to help things stay organized and to prevent small dings and scratches. There is a single shoulder strap for carrying the duffle bag, with a great shoulder adjustable shoulder pad to help it stay comfortable whether its adults or kids carrying it around. The Thurso Surf duffle bag is definitely a good solution for helping kids carry their Prodigy 7'6'' SUP kti around.
Leash
Packed into the Thurso Surf Prodigy 7'6'' kit is a 10' coiled leash, which you'll want to make sure your kids wear while paddling. Installing it is simple, as one end goes over the tail D-ring while the other slips onto the paddler's calf or ankle. When worn, the leash will ensure the paddleboard doesn't float too far away if your kid falls off their board or decides to take a swim. The coiled nature of the leash also helps ensure that the leash doesn't noticeably impact performance, while also preventing whiplash when yanked on. Leashes help paddlers of all ages stay safe, but the one thing they can't do is help you float any better. Make sure that you and your children go out with a PFD when paddling in order to truly stay safe out on the water!
Company Review – Thurso Surf
Thurso Surf originated with just a single, 11' long SUP, and has since grown to not only produce paddleboards in all shapes and sizes, but SUPs for all ages as well with their Prodigy 7'6'' junior paddleboard. Founded by Shenglong You, he and his team of engineers design their boards with speed and mind, relying on You's background in fluid dynamics to create paddleboards that have reduced drag in the water. Focusing on stability, durability, and performance, Thurso Surf is a well regarded paddleboard manufacturer with some of our favorite SUPs on the market!
While it is very unlikely that the Thurso Surf Prodigy 7'6'' will suffer any significant paddleboard damage in or out of the water, there are some great protections in place that will cover SUP breaks. The Prodigy 7'6'' is protected by a 30-day guarantee and 2-year warranty, with free shipping to the continental United States and many parts of Europe. Furthermore, while available for a great price at less than $450 dollars, the Prodigy also has finance payment options for up to twelve months. Featuring a pleasant customer support team, Thurso Surf deserves your attention both because of their products and their stellar service that looks for ways to improve their paddleboards year over year!
Conclusion/Bottom line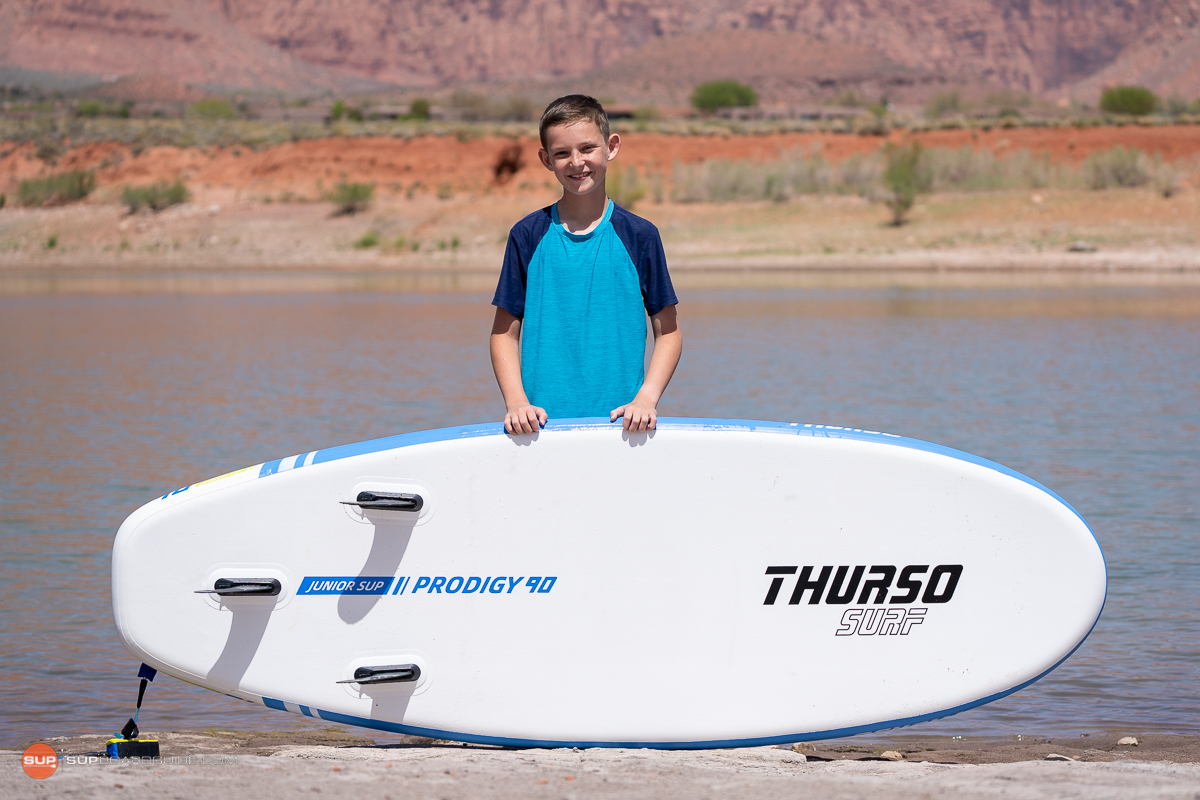 As a junior paddleboard, the 2022 Thurso Surf Prodigy 7'6'' checks off all the right boxes, and then some. While light at just 19 lbs, the board is stable enough to support all sorts of kids, with 165 lbs recommended weight capacity that can easily be exceeded with practice. The shortened, thinner paddleboard provides junior paddlers a level of maneuverability that they can't emulate with an adult SUP, having a great feel in the water that is both comfortable and fun for kids. The deck pad is built to provide traction support for paddlers even as the water gets a little choppy, the board itself having the same great dual-layer design as traditional Thurso Surf SUP paddleboards. Lastly, we also think the fin setup, paddle, and bag are all well optimized and designed with kids in mind, further making the entry-level $450 dollar price tag an even better value. Outside of a pump, this is a kit that has everything you need to not only have a solid paddleboard for your kid, but one that will truly help them learn and grow into becoming a great paddleboard. So, if your child really wants the best SUPing experience and hates having to rely on an awkward adult paddleboard, definitely consider going with the 2020 Thurso Surf Prodigy 7'6'' junior SUP!
Thank you very much for reading our 2023 review of the Thurso Surf Prodigy 7'6'' inflatable paddleboard. Do you have any questions about the SUP, or want to know more about how to help your child have an even better time SUPing? Then feel free to leave a comment below, or send us an email with your thoughts! We're happy to discuss anything and everything there is to know about paddle boarding, and also update our reviews based upon the feedback readers provide to us. Make sure to check out our reviews in the future for our up to date thoughts, including special deals and offers that might be available at the time.
Stay safe, and have fun SUPing!
The following two tabs change content below.
SupBoardGuide
Heyo! At SupBoardGuide.com we are a team who love the water, the outdoors, and are more than grateful that our full-time job allows us to review stand up paddle boards. We paddle year round (it helps that we are just about 2 hours outside of Las Vegas), and we bring in a wide range of paddlers with the goal of providing our readers with the best, most in-depth, and accurate stand up paddle board reviews.
Latest posts by SupBoardGuide (see all)