Gili Meno 11'6 Inflatable SUP
Pros
Lightweight for its size, and feels really good on the water
Very stable + high weight capacity for new or larger paddlers - but still good for lighter paddlers given how lightweight the board is
Comes with many different fin options included in the kit + tons of great features and accessories
Fast board for a large inflatable SUP
Carbon fiber rails for increased durability
A percentage of profits goes to help clean up the ocean!
Cons
We love the removable bungee concept, but it's hard to remove them with the small d-rings
We'd love to see a full-length deckpad option + some diamond groves or logo stamps for improved grip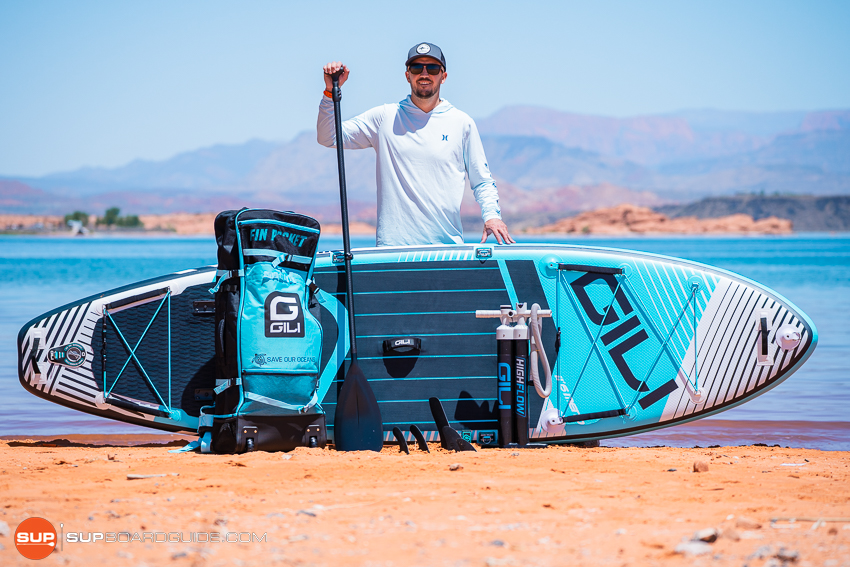 The Gili Sports 11'6 Meno was a really fun board to review. It's light and fairly maneuverable for a board its size and is also fairly quick through the water. With a plethora of included fins (5), tons of features and accessories, the Gili Meno 11'6 has earned a spot on our top rated inflatable SUPs for 2023.
We think the 11'6 Meno would be an excellent choice for:
Paddlers looking for an inflatable SUP that can support a lot of weight but is still lightweight. This is one of the lightest iSUP's in the 'big board' category
Families paddling with kids
Fishers looking to deck out the board with available accessories
Larger paddlers looking for very good stability
We think the 11'6 Meno would be great for:
Paddling through flat water wherever that may be (lakes, marinas, bays, etc.)
Open ocean paddling
Fishing expeditions
Gili Sports 11'6 Meno Review: Overview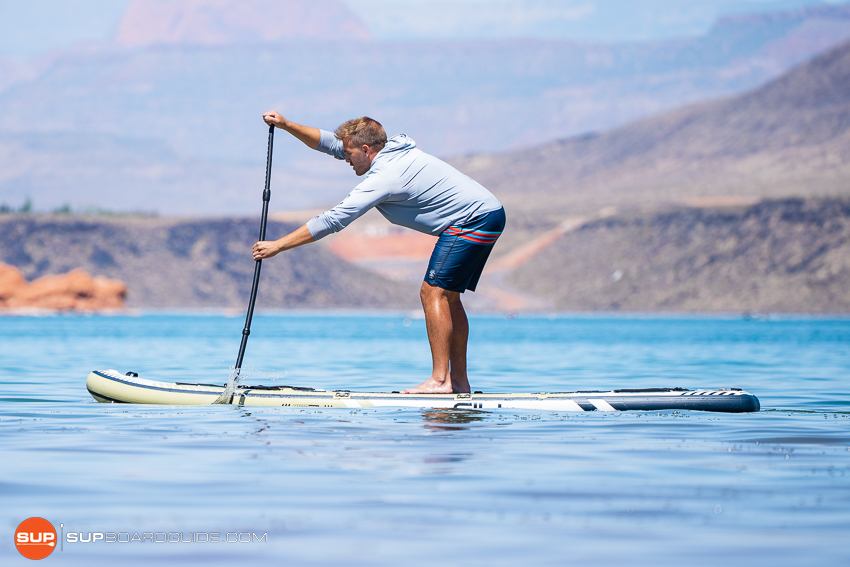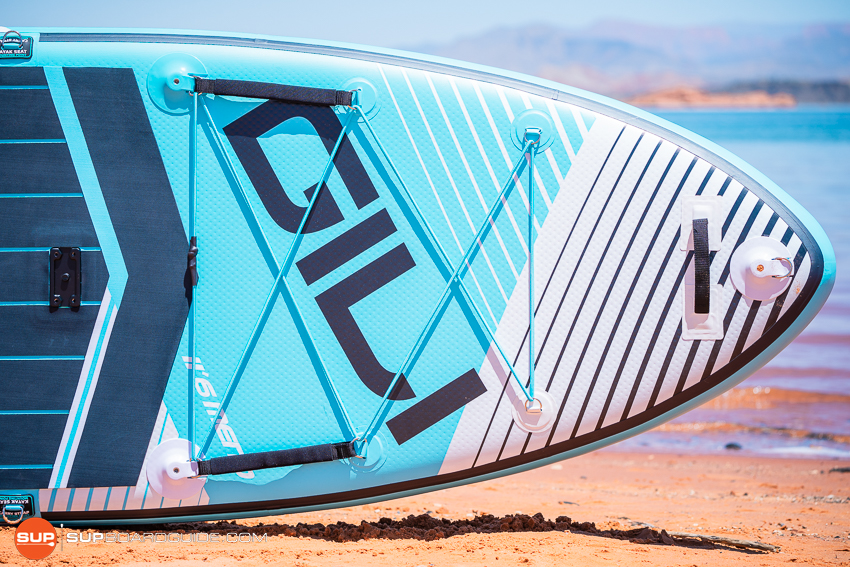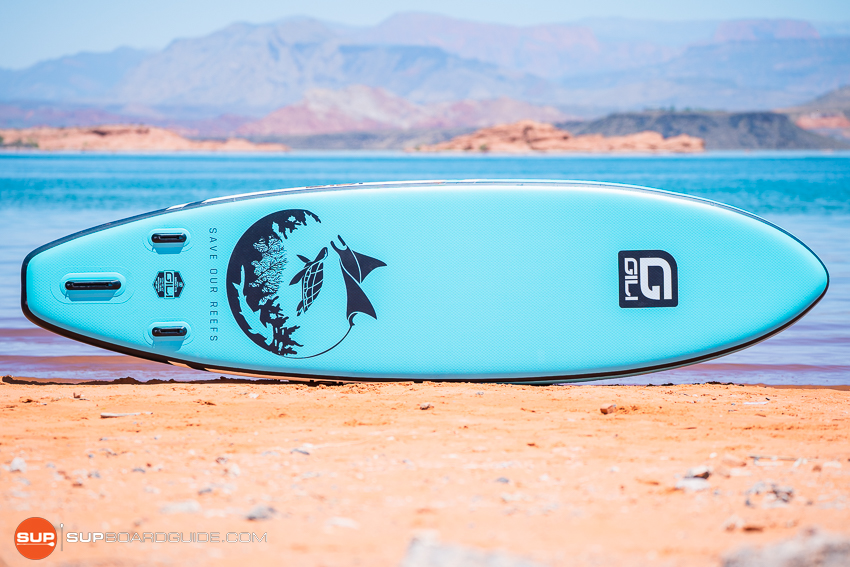 Gili made several updates for 2022 with their entire Meno line. We especially like the fin package that comes with this kit. You get 3 different center fins (9.5", 4.5", and 3") alongside 2 regular side fins, which is really great for anybody who wants to paddle effectively in many different situations. We also like the bungee grab straps, especially good for paddling with small children. The board mounted paddle holder, wheeled bag, and the 5 new action mounts really goes to show that Gili stepped up it's game for 2022.
This board is surprisingly fast through the water (if you're putting in the effort), and extremely stable. The Gili 11'6 Meno is really a great choice for beginners. You feel comfortable on the board right away and that confidence is really important in a first iSUP purchase. Yes it's a bit on the big side for smaller paddlers but we really like the added room for families with kids, pets, or tons of gear. We even paddled this with two grown adults weighing a total of 400 lbs and it did well in light boat chop.
Note: We want to get you the best reviews possible with these boards. We will not write a spec review and since we paddle these boards for as long as the manufacturer will let us, we are constantly updating and adding to our thoughts. Bottom line: we know these boards. If you have any questions please just post them below!
Gili Sports 11'6 Meno: Spec Sheet
Main Category: All Around, Inflatable
Board Dimensions: 11'6 x 35" x 6"
Listed Board Weight: 24 lbs
Listed Max Capacity: 485 lbs
Recommended PSI: 12-18 psi
Fins: 5 fins, 3 center and 2 side bites
Paddle: 3 piece carbon shaft with nylon blade and plastic handle
Materials: Carbon fiber rails reinforcing dual layer PVC that is fusion laminated
Price Range: Medium
Warranty: 2 year warranty w/ a 60 day money back guarantee
Official SupBoardGuide.com Performance Review: Gili Sports 11'6 Meno (2022)
We review and test these boards with the goal of verifying what the manufacturers say about their iSUPs and to provide you, the consumer, with much needed first hand information.
Overall Score: 9.7/10
We like to test our boards in three overall ways: Speed, Stability, and Accessories. With subsets of each of those main categories we think this is the best all around showcase of a board's abilities and value.
The Gili Sports 11'6 Meno did well in our tests with a #.#/10. We were really surprised with how fast it was as compared to its closest competitors. The three fin setup along with an easy to access dedicated spot for them was also really a nice feature.
We certainly tested it's capacity by putting 400+ lbs on it while paddling. Additionally we did repeated "stability" tests and it did excellent.
All in all we are thoroughly impressed with this board and especially so considering it's modest price point.
Stability: 9.6/10
Speed: 8.9/10
Tracking: 8.8/10
Maneuverability: 8.9/10
Construction Quality: 9.0/10
Accessory Review: 9.7/10
*Don't expect to see 10's as often as you would in a kids beauty pageant. We are concerned more with the factual results than a board manufacturer's feelings. We are honest and that should go to show that 9 is above average score and a 7 is good for being slightly above average.
Our overall rating of 9.5/10 for the Gili Sports Meno 11'6" shows that it's a viable option in the group of inflatable SUPs competing for the best inflatable board for 2023. It's lighter on the wallet than some competitors, and ultimately gives you more in the kit as well.
In-Depth Review of the Gili Sports Meno 11'6 Stand Up Paddle Board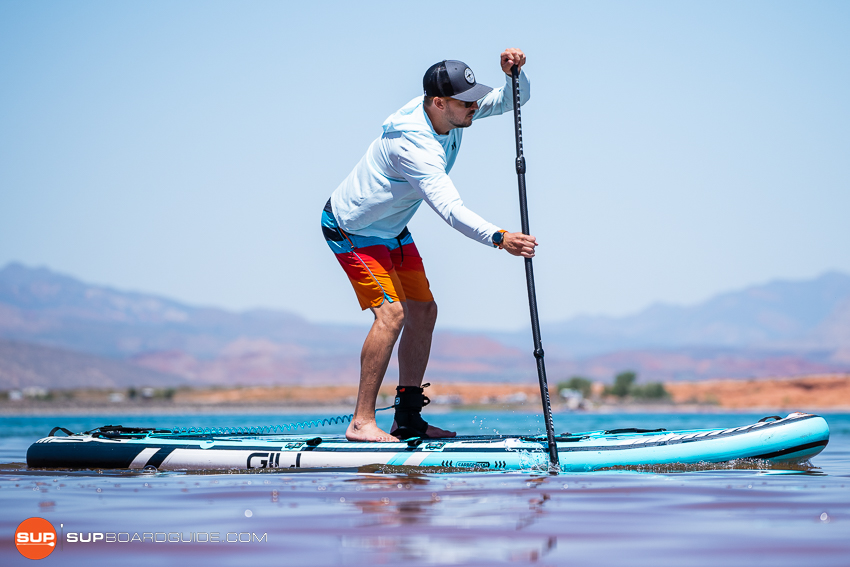 As mentioned above our performance segment is broken down in four categories: Speed, Glide, Tracking, and Maneuverability. We feel these elements add up to really display how a board performs in real world conditions.
Stability Rating: 9.6/10
Stability of a board is probably the single most important purchase decision factor that a new paddlesports buyer can measure. We break it's overall stability down in three sections: board stiffness, a boards weight capacity, and finally the construction of the board. All of these bring out the best stability rating we are able to come up with for each and every board we test.
The Gili Meno 11'6 did well on these tests with an overall score of 9.6/10. We feel this board is quite stable despite being so lightweight. It's overall dimensions really added to the stable feeling in our opinions, while it's construction is good enough to feel comfortable even being under heavy loads.
Board Stiffness
Stiffness Test: 0.9375" Bend (board on top of saw horses placed 7' apart, with 150 lbs of weight added right by handle in middle of the board)
The Gili Meno 11 '6 did surprisingly well on our bend test. With just dual layers of PVC, we expected the board to bend more than it did. At just 0.9375" of bend, this put the Meno just barely behind the Blackfin and actually even with the BOTE.
Typically we would expect to see more bend in the Gili vs something heavier like the BOTE, as less materials typically just flex more. However, Gili added carbon fiber rails, and also have a max PSI of 18. This is similar to the Blackfin, but the BOTE HD only recommends a max PSI of 15 – and that's ultimately why I think the Gili did the same as the BOTE in our tests. Higher PSI = a stiffer board. So, even though you have less materials with the Gili Meno 11'6, you still get a pretty stiff inflatable SUP.
One the water, the board does feel like it has more flex than the above boards, but we like the feel and as you can tell from our speed tests, that extra flex didn't really slow down the board, nor does it hurt it's stability.
Weight Capacity: 485 lbs
Tested Capacity: Roughly 400 lbs (two testers in the 200 lb range)
This board certainly impressed us with its weight capacity. We can say with confidence that this board can handle a 200+ lb rider as well as additional gear very well. We even brought up the testing capacity to 400+ by adding some extra reviewers (no reviewers were hurt in the process of these tests). It still felt stable, though at that excessive weight point it was quite a bit more difficult to maneuver around and even the slightest chop from boat wakes or wind made the board feel quite a bit less stable.
All and all, for a board that really feels so light we don't think it should hold this much weight as well as it does. Kudos for Gili for making a great family board platform that even smaller family members can still carry by themselves.
Speed Test: 8.9/10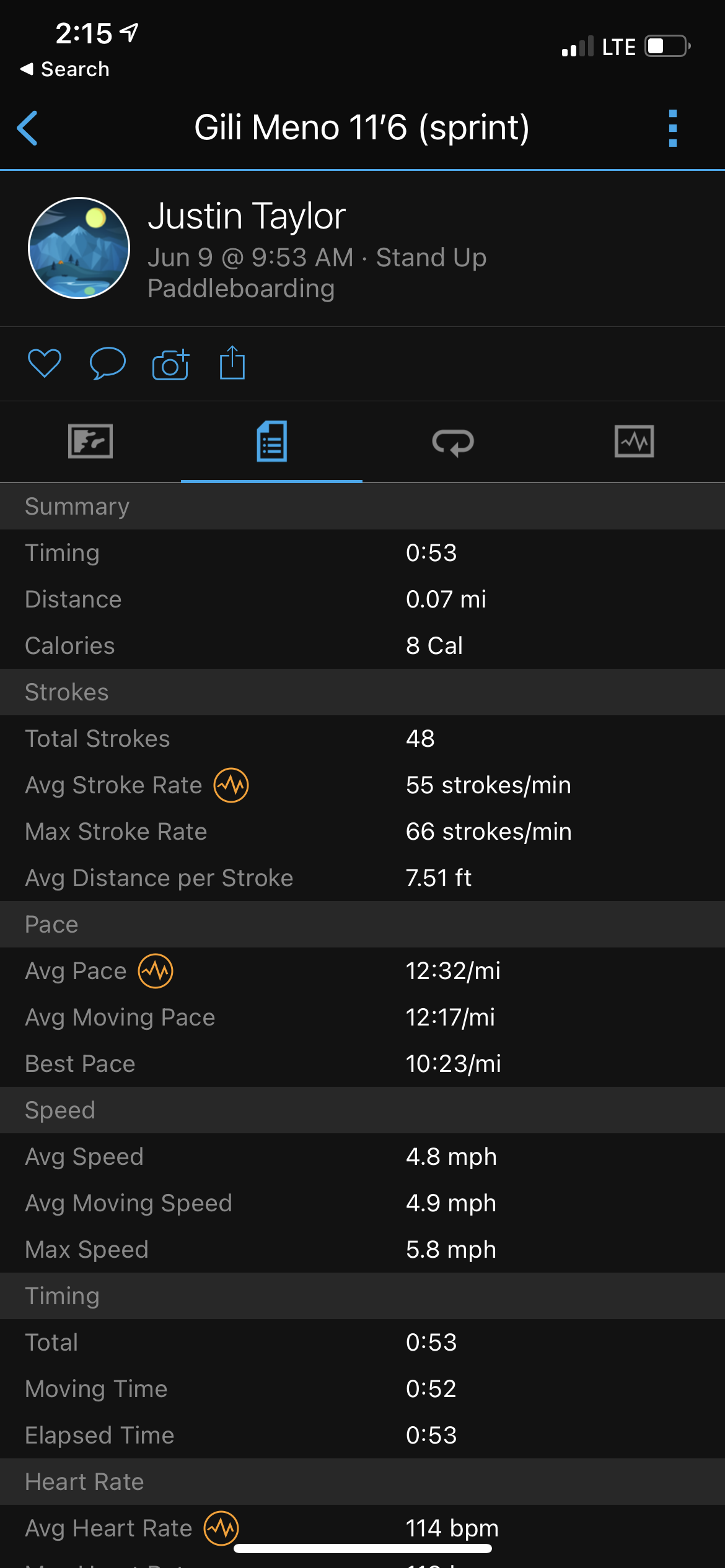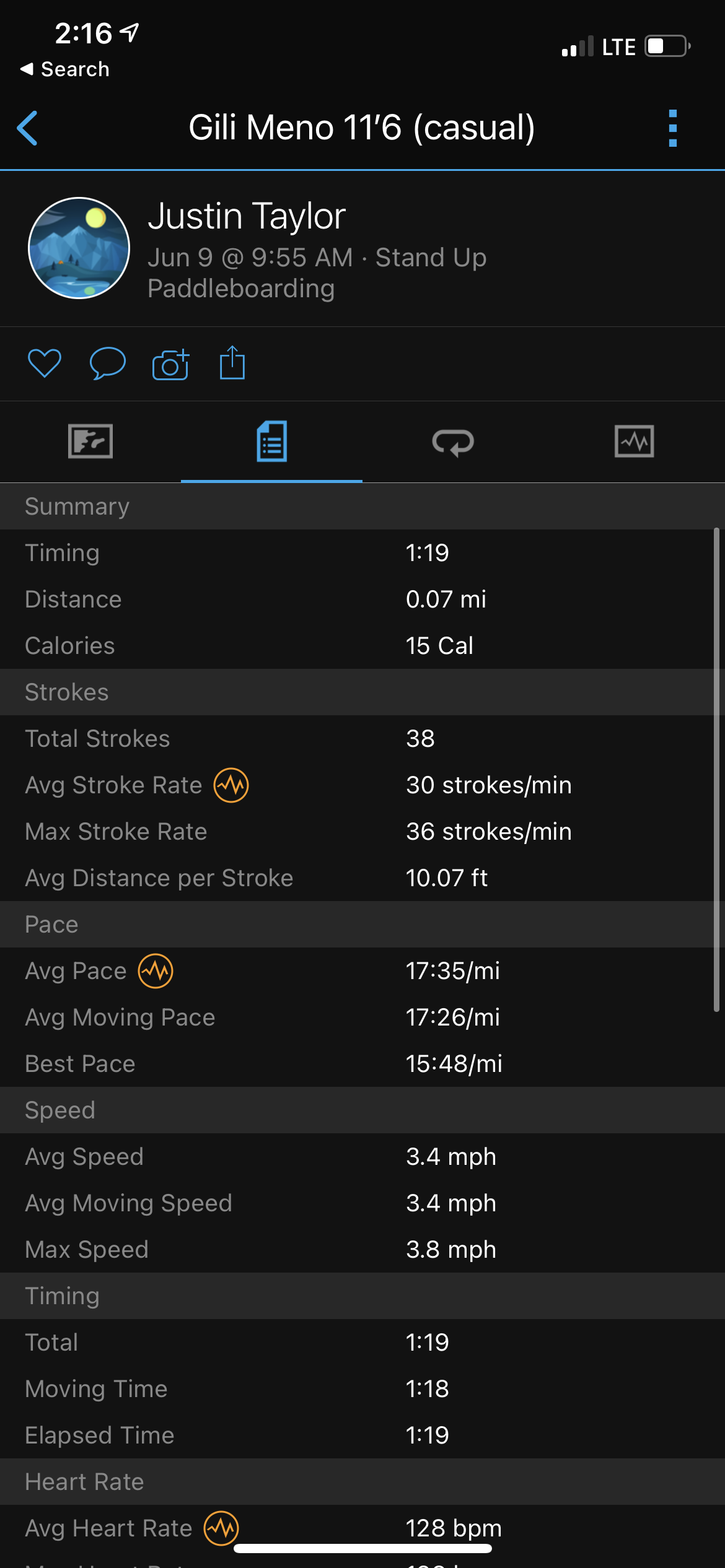 This board surprised us in the speed test. We expected it to be quick off the line given its light weight, but did not expect it to maintain the speed that it did.
We feel that it did so well because of it's long water line and the tendency to bury the rail when going all out. We believe this gave it the speed advantage by holding a slightly narrower shape. Paddling it fast was fairly easy and it felt stable despite us focusing on putting up speed numbers.
It was inched out in top speed by the Blackfin XL but surprisingly was ahead of the BOTE HD. In the low speed (cruising) section, this board was again just barely inched out by the XL, while the BOTE HD was a little faster than the Meno XL at a casual pace. All in all we are impressed.
Tracking: 8.8/10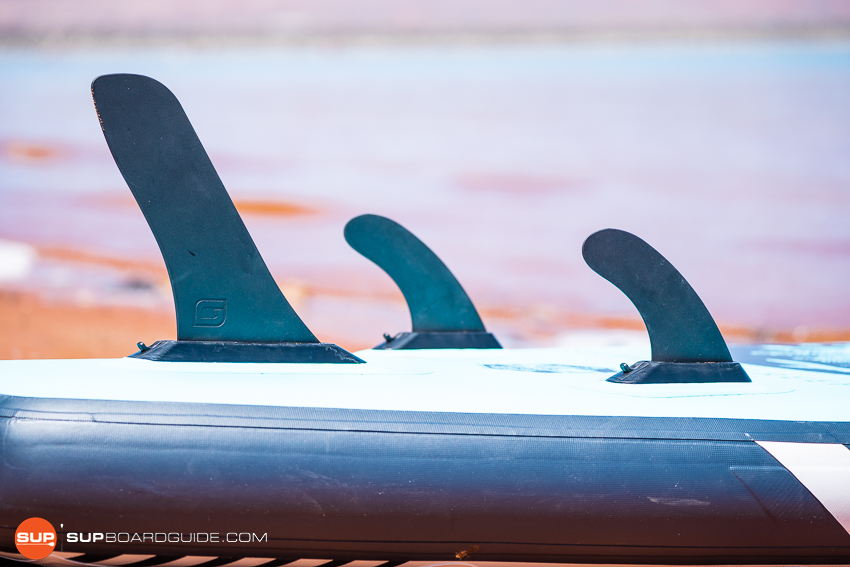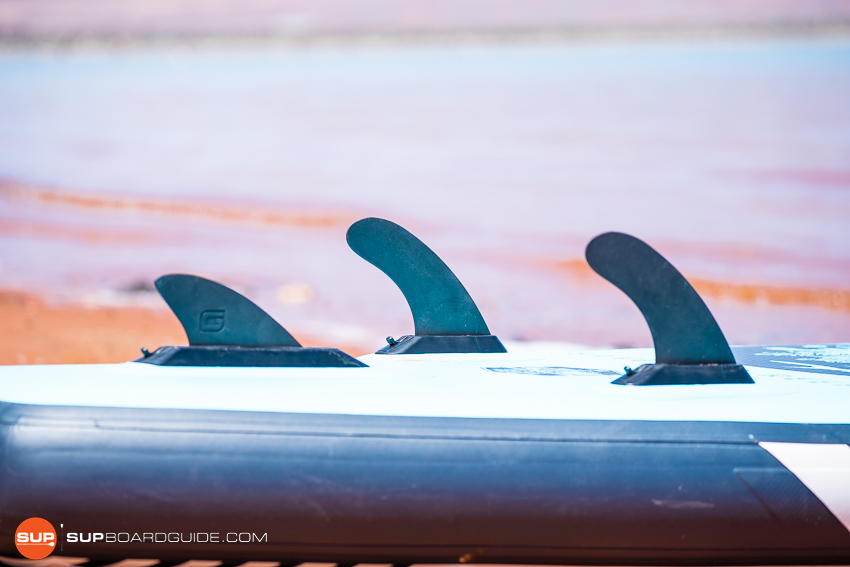 When Gili gives you 5 fins to choose from, you really don't have anybody to blame for poor tracking but yourself. We tested mostly with the 9" distance/race fin and it did great. The combination of that and the 2 side fins produced a board that tracked very well, even under heavier paddling, and choppy water conditions. The 4.5" speed fin was also nice in the shallower parts of the lake. Where tracking takes a bit of a nosedive is with the 3" shallow fin. But as you can guess with that fin in you could get to places the other fins just wouldn't allow.
The Gili Sports Meno 11'6 really impressed us with its tracking ability and it's adaptability with all the fins that come included in the kit. We would really like to see other manufacturers step up their game and include this fairly simple fin pack with their kits as well.
Maneuverability: 8.9/10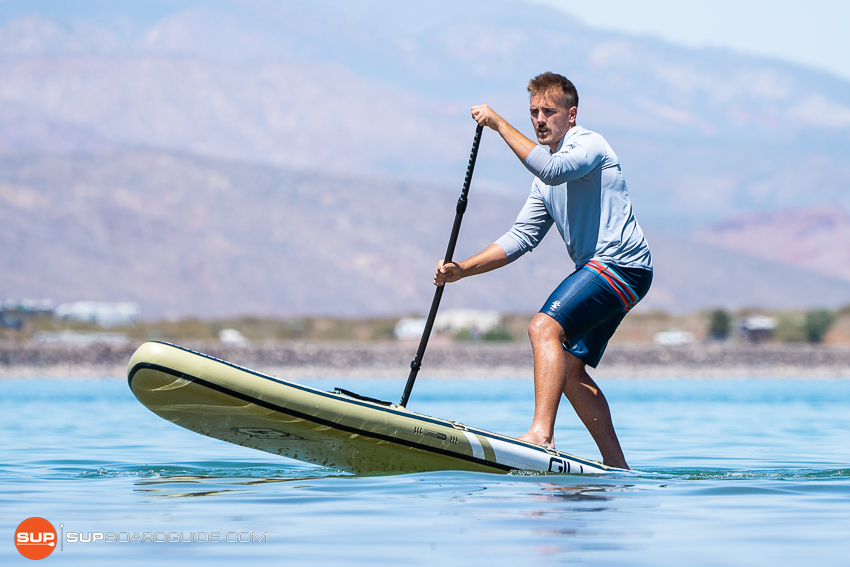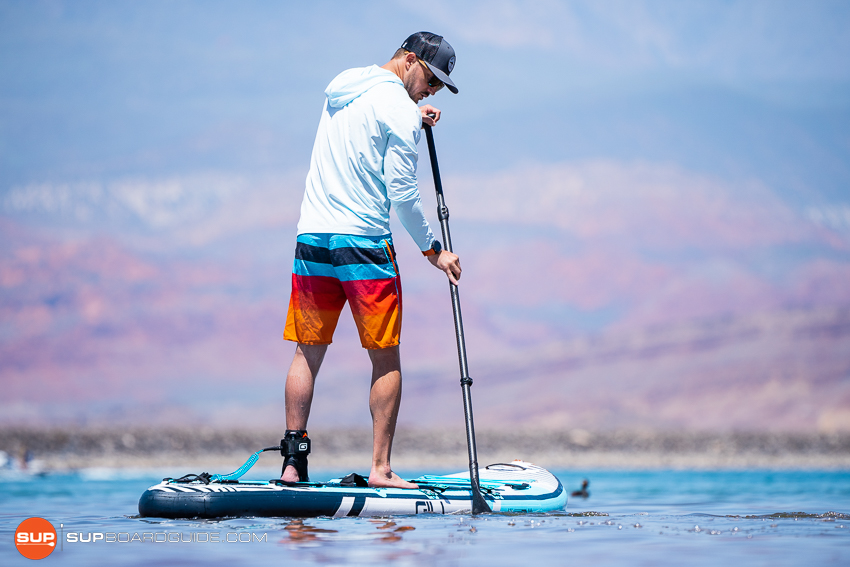 This board just feels lighter than its size might suggest. Gili uses a dual layer fusion PVC for this big board, so it comes in at just 24 lbs (a good 5 lbs lighter than the Blackfin XL and 6 lbs lighter than the Bote HD Aero). As such, this is a category where the Meno 11'6 wins when compared vs the Blackfin and Bote.
The board was fairly easy to move around with both beginner and intermediate paddling moves. I regret not being able to take this board through the "slalom" available to us other days, but we were able to successfully do plenty of step back turns and other maneuvers in the choppy boat waked waters.
In summary, the Gili Meno 11 '6 was surprisingly maneuverable. It responded well to direction changes and didn't want to fight you too much despite being a wide board with a large center fin and decent size side fins.
Construction Quality: 9.0/10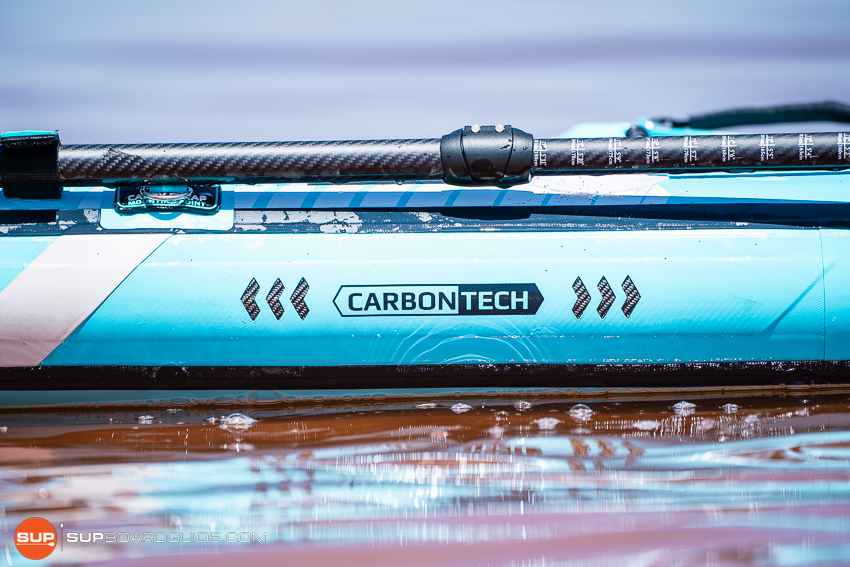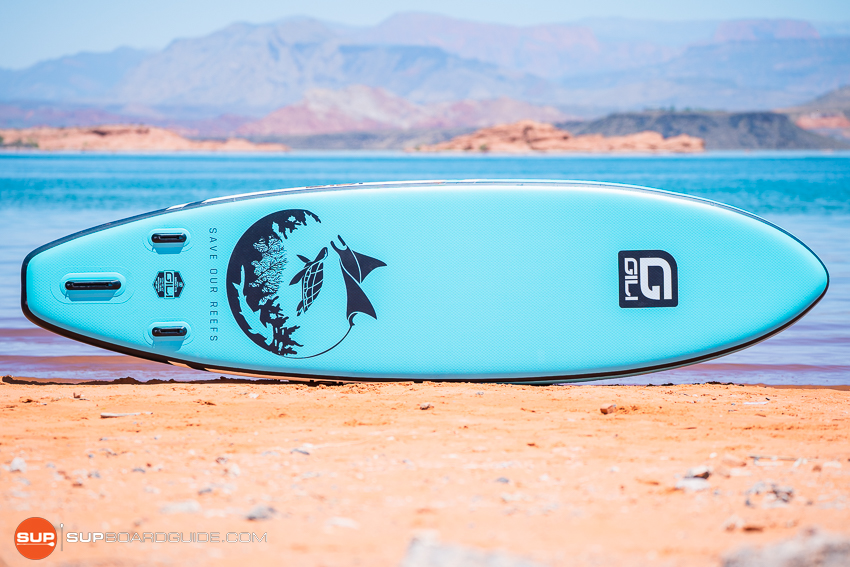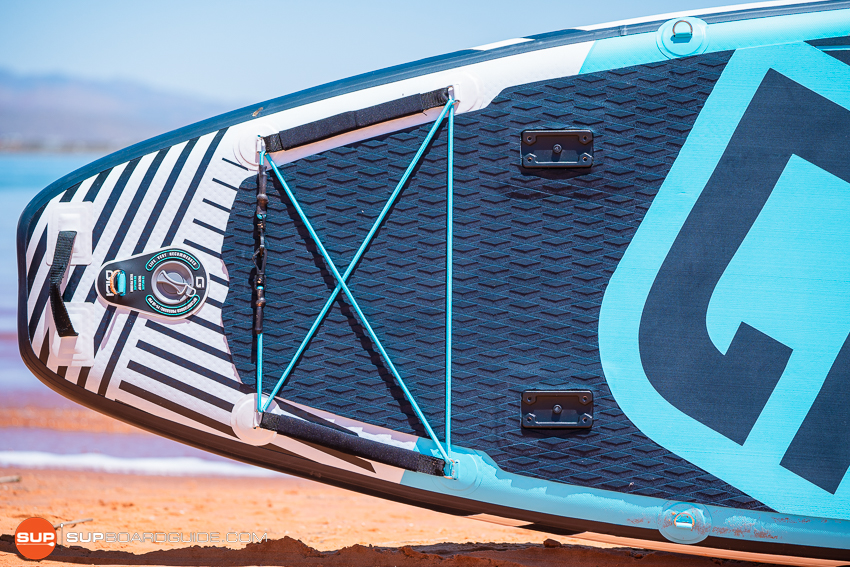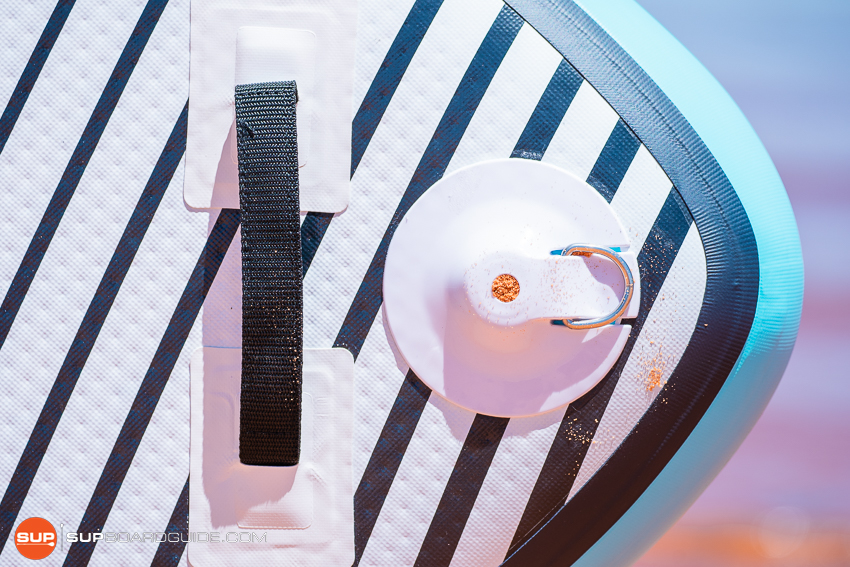 Gili sports uses a carbon fiber rail and dual layer fusion laminated PVC. They claim this produces a light yet sturdy iSUP. We are inclined to agree as this was one of the most stable inflatables we've tested thus far this year. Looking around the board, you see a lot of attention to detail. All pieces and components seem to be attached very well with no amount of normal pulling capable of dislodging any of them.
We were also impressed with the finish quality of this board. Very few, if any, incorrect overlaps in materials or colors. The rails were very well taped providing additional security and we enjoyed the multicolor deckpads and various accessories.
Features/Accessory Review: 9.7/10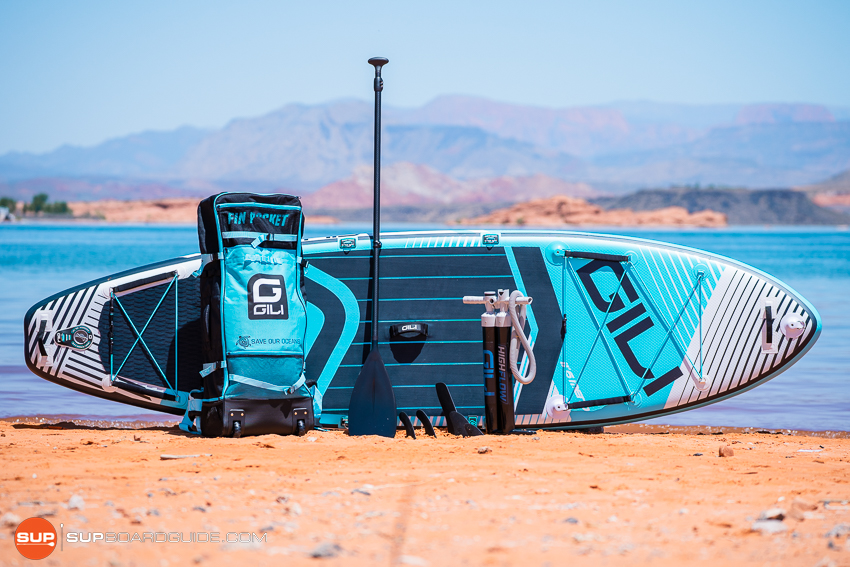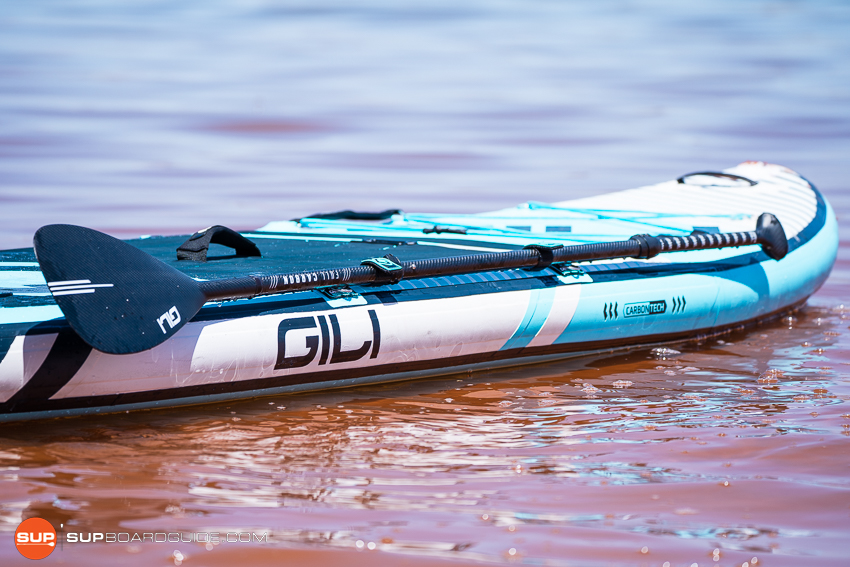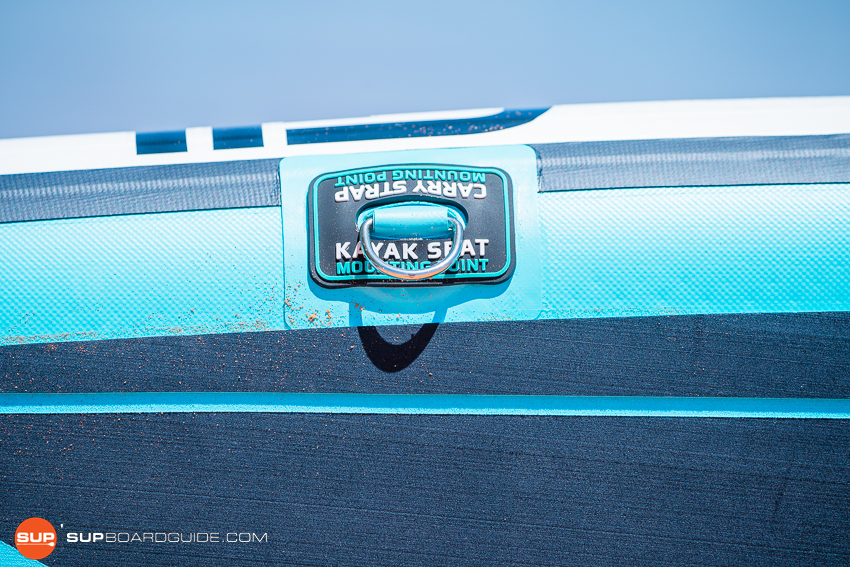 Included Accessories:
Gili includes quite a lot with the 11'6 Meno kit. We again, want to applaud Gili for providing a plethora of fin choices not normally included in a standard kit. The Gili Sports 11'6 Meno comes with:
Rolling iSUP backpack
2 chamber, 3 stage hand pump
Carbon fiber hybrid adjustable paddle
5 piece fin kit (3 center 2 side)
8' coiled leash
Repair kit
All and all a great kit and we really want to see those fin options become the new standard for all kits.
Paddle: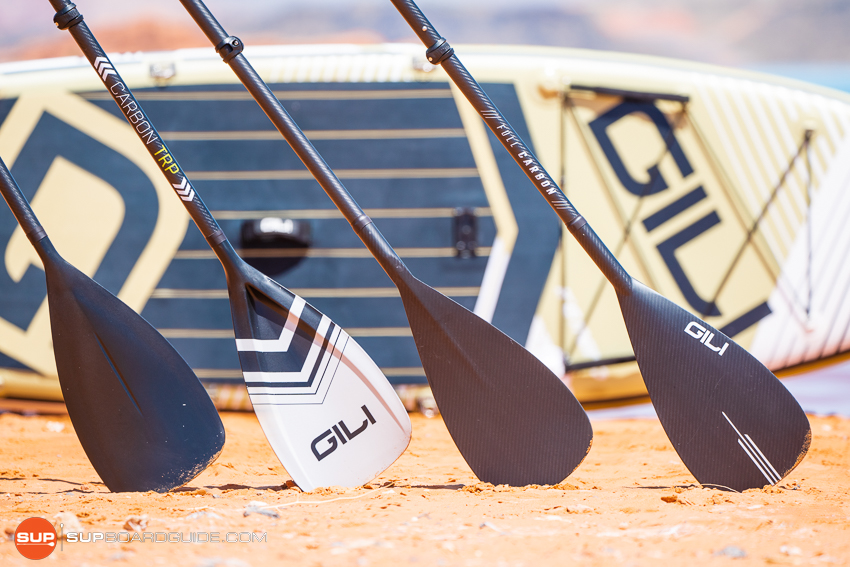 We like the 3 piece carbon hybrid paddle that comes included in the kit. The lower attachment point is strong and removes most twisting. The top adjustment is another clamp style piece but without the additional benefit of a pin lock. This did fairly well but we would still like to see some sort of groove to remove any and all handle twist. The plastic handle felt ok in our hands and was attached really well.
Gili was kind enough to also send us the full carbon paddle as well and we feel we would be remiss to not at least mention this paddle is available in the kit for an additional $65. It was considerably lighter and the all carbon construction was just wonderful. To be honest, there are only 2 places we will really push you to upgrade your iSUP experience, the paddle and the electric pump (more on that below). Given how Gili has priced their Meno series very reasonably, we do recommend upgrading the paddle if money/budget allows.
Pump: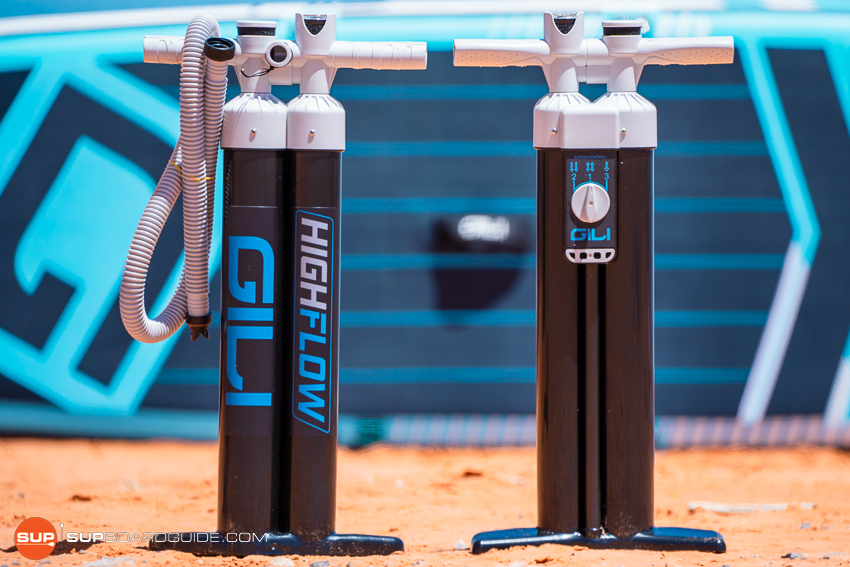 The 2 chamber 3 stage pump works fairly well. Though we didn't get much use out of the 2nd stage. The 3rd stage made pumping relatively easy, which is good if you're a smaller paddler with less mass to drive down the pump handle. The grips were fairly comfortable and broad so no hand pain here either.
Again, we are going to ALWAYS recommend an electric pump for your inflatable paddle board. It is simply so much easier and makes the paddling experience that much better. Gili has a good pump and it's well worth it. Save your shoulders and your lower back. You'll thank us later.
Bag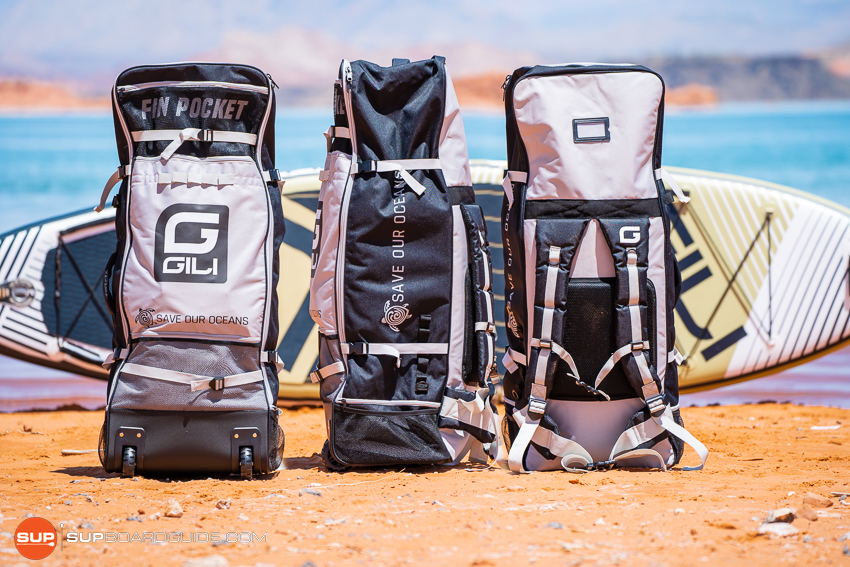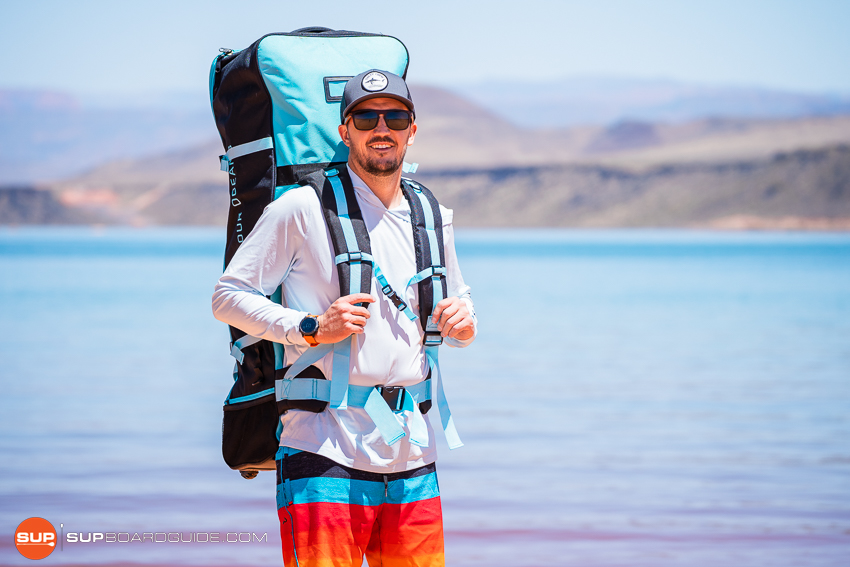 The Gili Sports 11'6 Meno comes with a great bag that not only keeps all your gear organized but has room for it all and then some.
Let's start with the rolling wheels, these make short work of long trips from the parking lot to the launchpoint. We definitely like the dedicated fin pouch, especially considering the quantity of fins included. The handles and straps are all well padded, as is the backpack.
We would like to see the bag get a few more mesh pass throughs to improve airflow and drainage. These boards are often put away wet and we just think that makes sense.
Optional Accessories:
Gili Sports offers many great accessories. Some of our favorites include:
12v Electric pump (this is a must)
Upgraded all carbon paddle (also highly recommended)
Sup to kayak conversion kit (the whole kit is the way to go so you don't miss anything)
Deck cooler bag
Paddle board shoulder carry straps
With all these and more there are plenty of options for tailoring your water activities to whatever you want. Give them a look at the checkout for sure.
Summary Review of the Gili Sports 11'6 Meno (2022 model)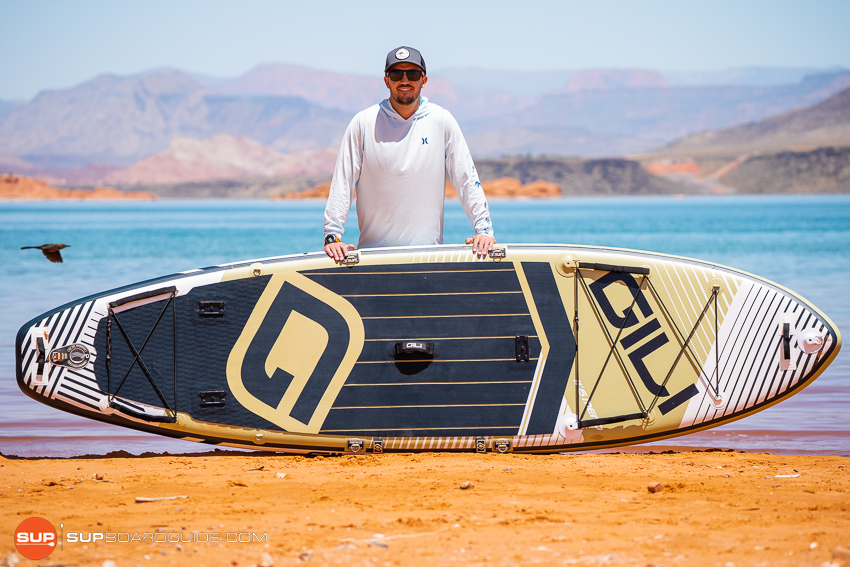 There is really a lot to like about this board. It's lightweight and easy to transport for starters, which in our opinion is great for smaller paddlers who might otherwise have trouble dragging these larger boards around. Despite it being so lightweight, it still does very well functionally. I can carry in excess of 400lbs and still maintain a relatively easy paddling experience in calm waters. Top this off with the plethora of accessories and attachments and you've got a board that is great for individuals and families looking to pack out for an entire day's adventure.
As always if you feel we have missed anything in our review or if you have any questions, please leave a comment below. Happy paddling and we can't wait to see you on the water.
The following two tabs change content below.
SupBoardGuide
Heyo! At SupBoardGuide.com we are a team who love the water, the outdoors, and are more than grateful that our full-time job allows us to review stand up paddle boards. We paddle year round (it helps that we are just about 2 hours outside of Las Vegas), and we bring in a wide range of paddlers with the goal of providing our readers with the best, most in-depth, and accurate stand up paddle board reviews.
Latest posts by SupBoardGuide (see all)