Xplor Youth Inflatable Paddleboard
Pros
Shorter, thinner paddleboard built with younger SUP'ers in mind.
Smaller size makes it easy for kids to navigate the water and encourages younger paddlers to improve their form
Solid inflatable construction that you won't have to worry about your kids dropping or crashing
Very comfortable deck pad that kids should find plush and comfy.
Full accessory lineup that has everything a junior paddler would need for the water out of the box.
A percentage of every sale is given to Shine on Malawi, an organization that helps provide meals for children in East Africa.
Cons
A single action pump can be too tough for kids to inflate past 10 PSI.
Backpack doesn't offer much in terms of padding or adjustability support.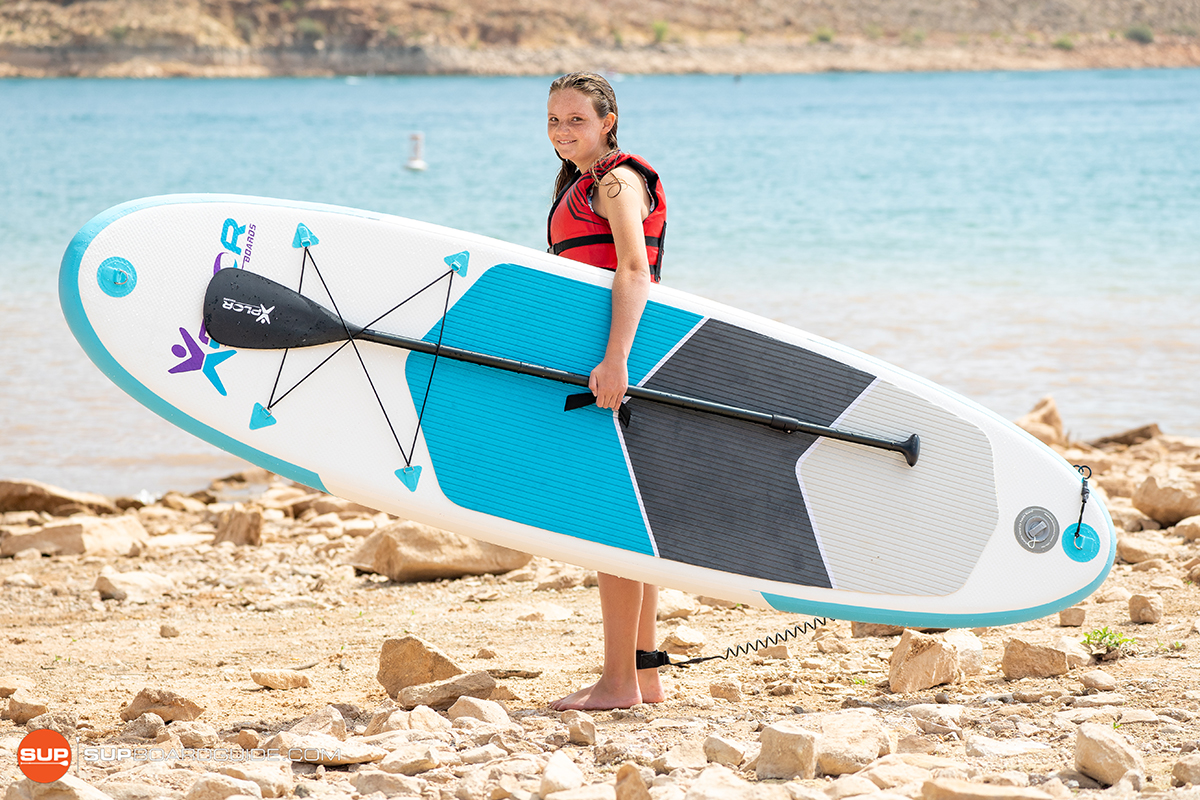 We get A LOT of questions on what paddleboards would be best for children and teens. Today's review of the Xplor 9' Youth iSUP should help answer that question. Let's be honest, as much fun as it is to take kids on our adult sized paddleboards with us, there is something to be said about giving them the tools to build a lifelong passion for the outdoors, exercising, and stand up paddleboarding.
Currently there are not too many options on the market for those looking to outfit teenagers specifically. You usually just have to find the smallest adult sized board available to you. However, we would like to suggest the Xplor 9' Youth iSUP as it is geared specifically for children in their teens. It's designed to be smaller for younger hands and muscles to be able to move about freely. Like the smaller 7'6" board by Xplor, the 9' youth SUP has a great deck pad and few D-rings and mounts to prevent them from getting tripped up easily. The kit comes with everything they need to get on the water, minus a PFD (lifejacket), and is fairly easy to carry around.
We think the Xplor 9' Youth SUP would be great for paddlers who
Are in their teens looking to try out SUP for the first time
Are smaller than 150 lbs
Want an affordably priced board for smaller paddlers
Want SUP capable of exploring various different environments: flatwater, chop, and ocean paddling
Xplor 9' Youth SUP Review: Overview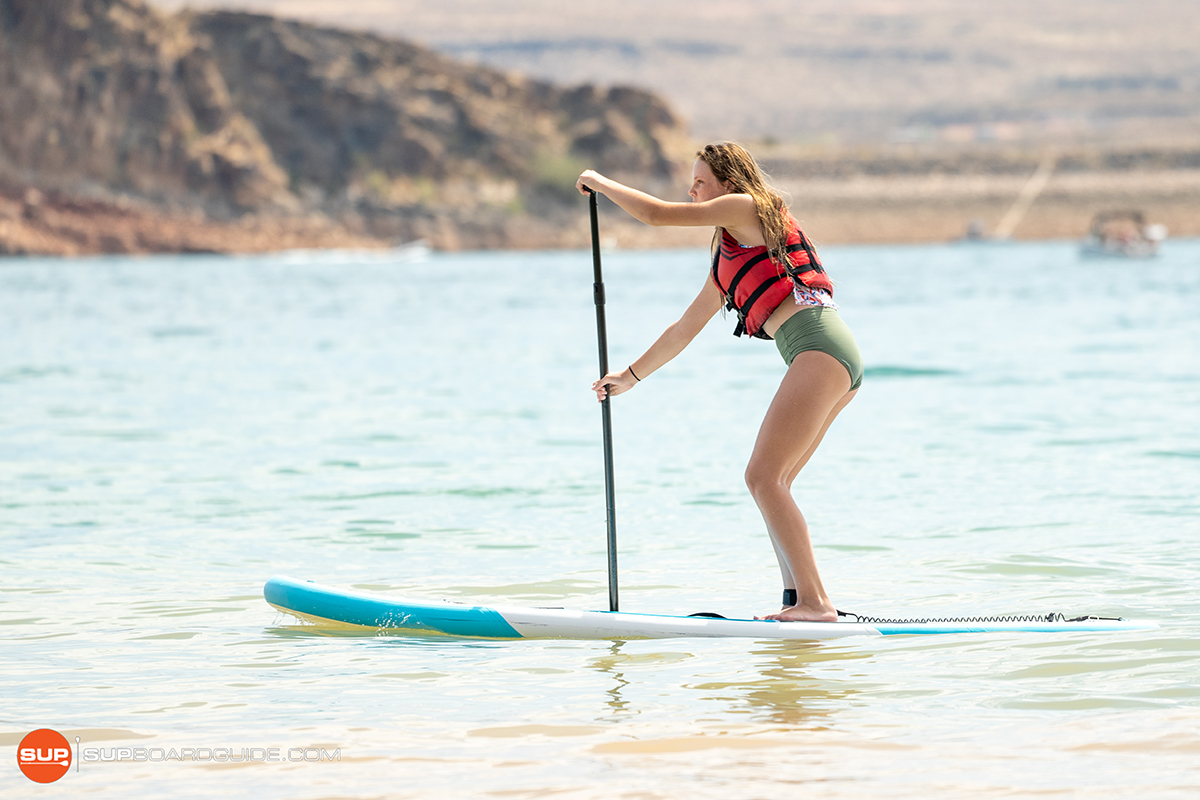 Note: We love to paddle and some of the staff have kids that love to paddle. While not directly used by most of the staff, we still strive to provide honest, useful feedback for people making a purchasing decision. As such we take these out as often as we can convince the kids to go outside and do our best to document their experiences. We welcome any questions you may have about this board and look forward to helping you out!
Xplor 9' Youth SUP: Spec Sheet
Main Category: Youth, Inflatable
Board Dimensions: 9' x 29" x 4"
Listed Board Weight: 24 lbs (though it feels much lighter)
Listed Max Capacity: 150 lbs
Recommended PSI: 12-15 psi
Fins: 2 built in side fins, 1 removable center fin
Paddle: 2 piece lightweight floating paddle
Materials: PVC with a drop stitched core
Price Range: Budget
In-Depth Review of the Xplor 9' Youth Stand Up Paddle Board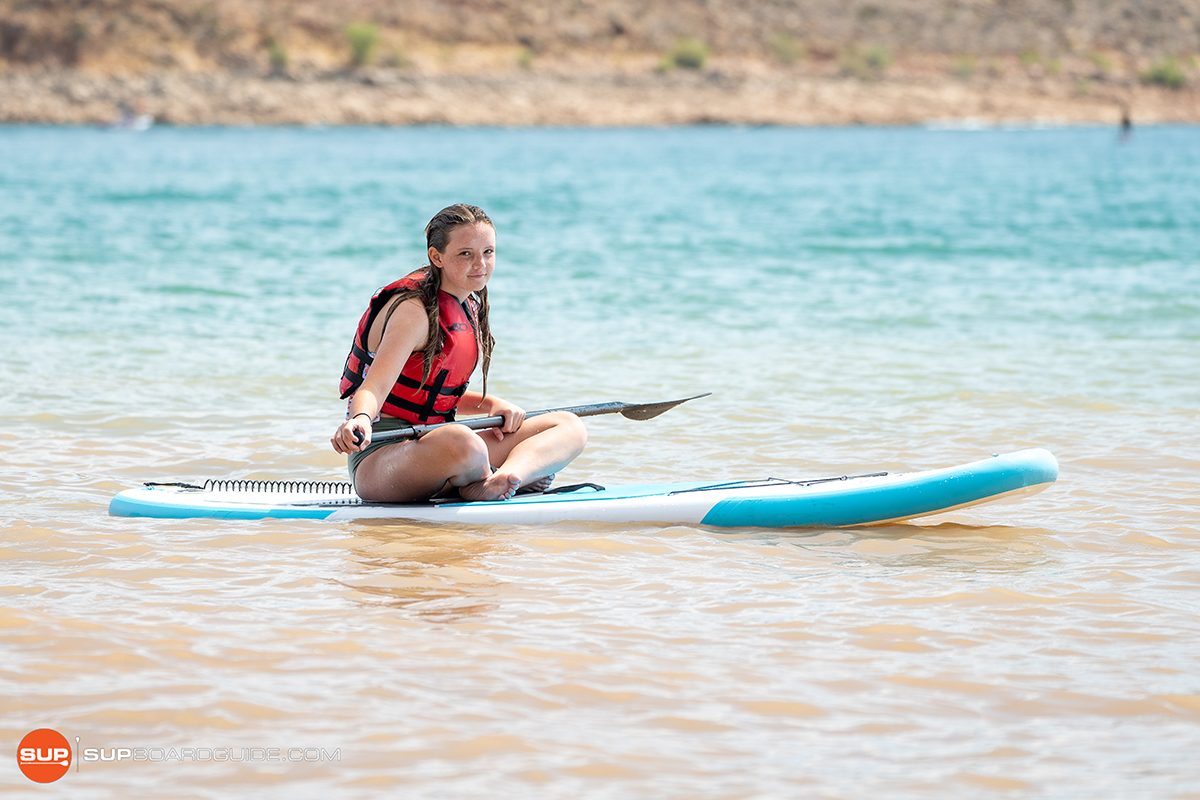 Several of our staff members have kids of their own and the question of "what do your kids paddle?" comes up quite often. Honestly, it's been a tough question to answer as we must toe the line between affordability, quality, and functionality.
In terms of teenagers, 10-14 year olds, whom this board is designed for, most people don't realize that a full sized adult board is just too much for them. Additionally not many parents or guardians want to pay "full prices" for something their children may eventually outgrow.
In comes Xplor with their 9' Youth iSUP. First and foremost the quality is excellent but more importantly the price is lower by comparison. They have one of the great options for teens in the iSUP marketplace.
What we liked about their 7'6" Kid/Child iSUP we continue to appreciate with this 9' Youth iSUP. The quality is great but more importantly they really thought out the design of the overall board. At 9' long and 29" it's small enough for them to handle while still being plenty stable. We also appreciate the lack of extras on the deck pad as younger kids are more likely to get distracted by or slip on some of the mounts.
Stability:
Stability is an important factor in any iSUP but when you consider that these are designed especially for teens, it's even more important. Developing leg and overall balance muscles can lead to a lot of falls.
At 29 inches wide the Xplor 9' Youth SUP is plenty wide for children and teens to feel stable and well supported, but not so wide that it will feel cumbersome and difficult to paddle. It's a great size for junior paddlers to be able to work on their SUP form, without needing to battle to stay on their feet.
Weight Capacity: 150 lbs
Like stability, weight capacity is often one of the most important factors when purchasing an iSUP. Rated from the manufacturer at 150 lbs, The Xplor 9' Youth SUP should be more than capable of supporting most teens and even some smaller adults.
Tracking: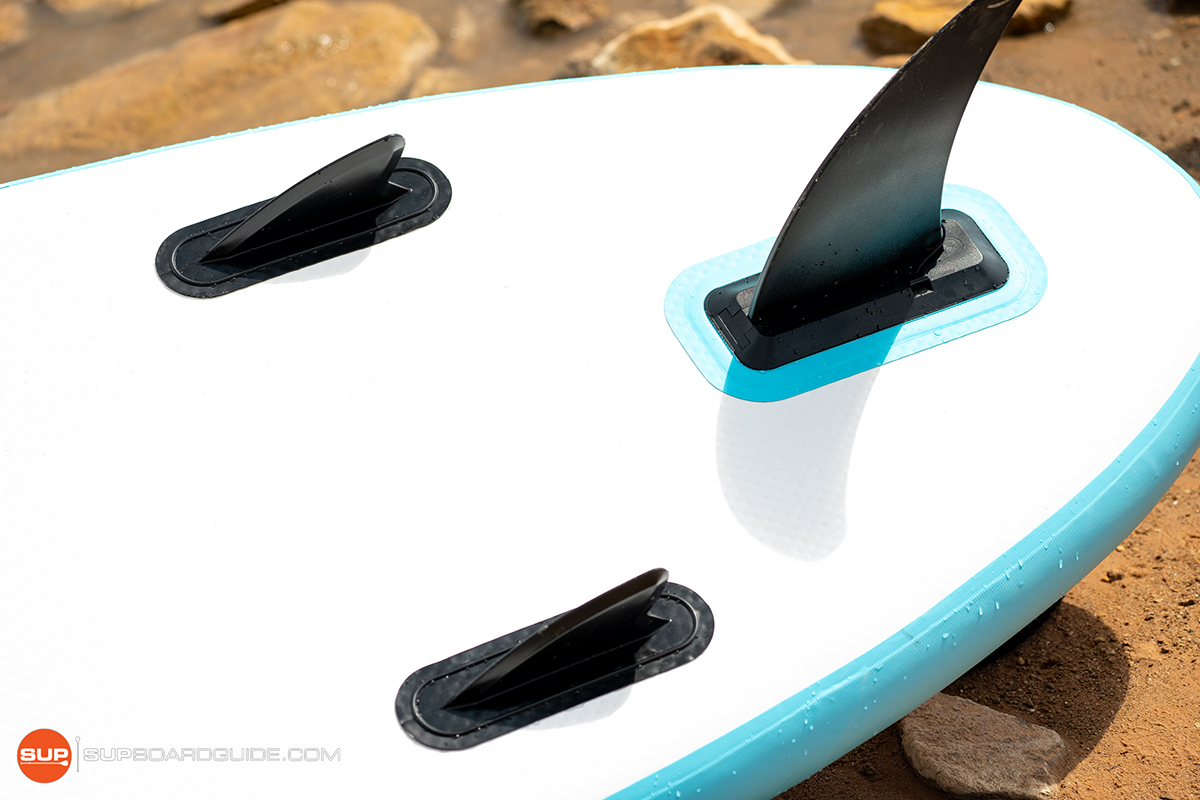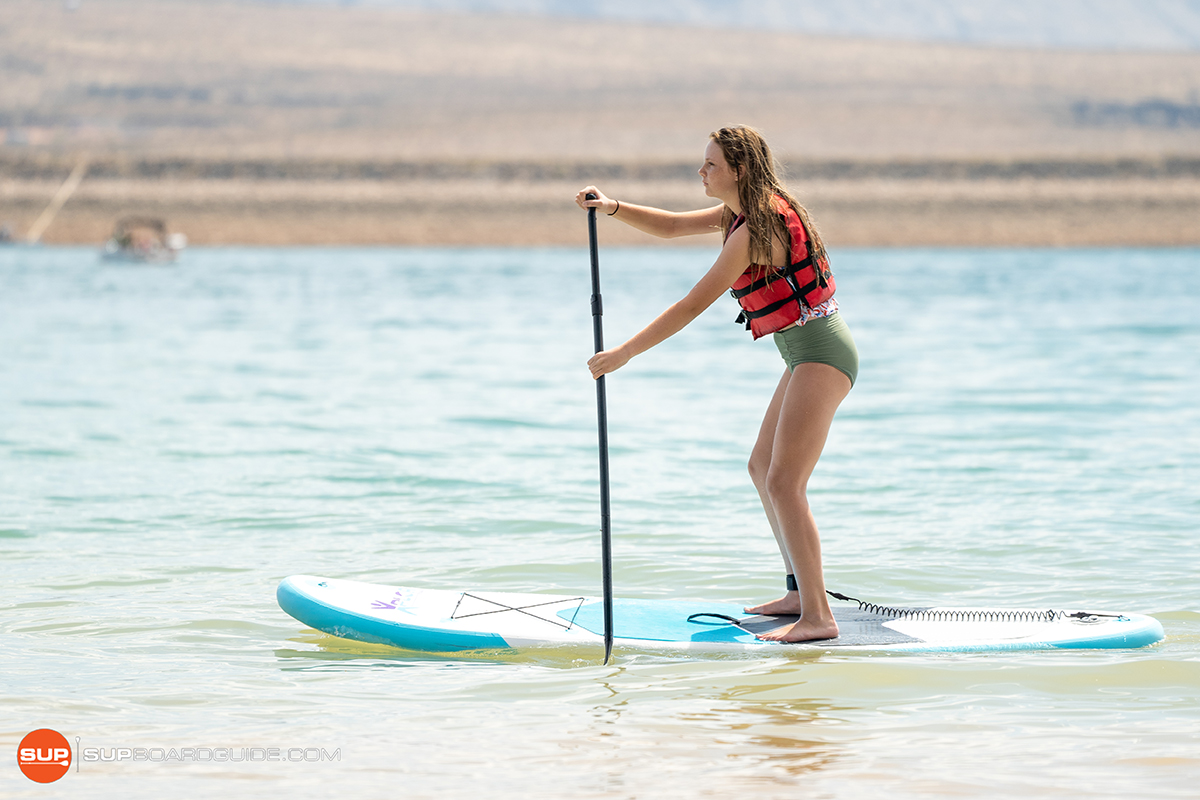 Again, being a youth board we won't dive too deeply into this subject. However, we do appreciate decent tracking capabilities for the fact that it will make the experience all the more enjoyable for our kids or teens.
When it comes to the Xplor 9' Youth SUP, we like the 2+1 fin set-up and its tracking capabilities. Though molded side fins are not usually our favorite, we appreciate them in this case, as it's not an extra couple of pieces for our kids to lose.
Maneuverability: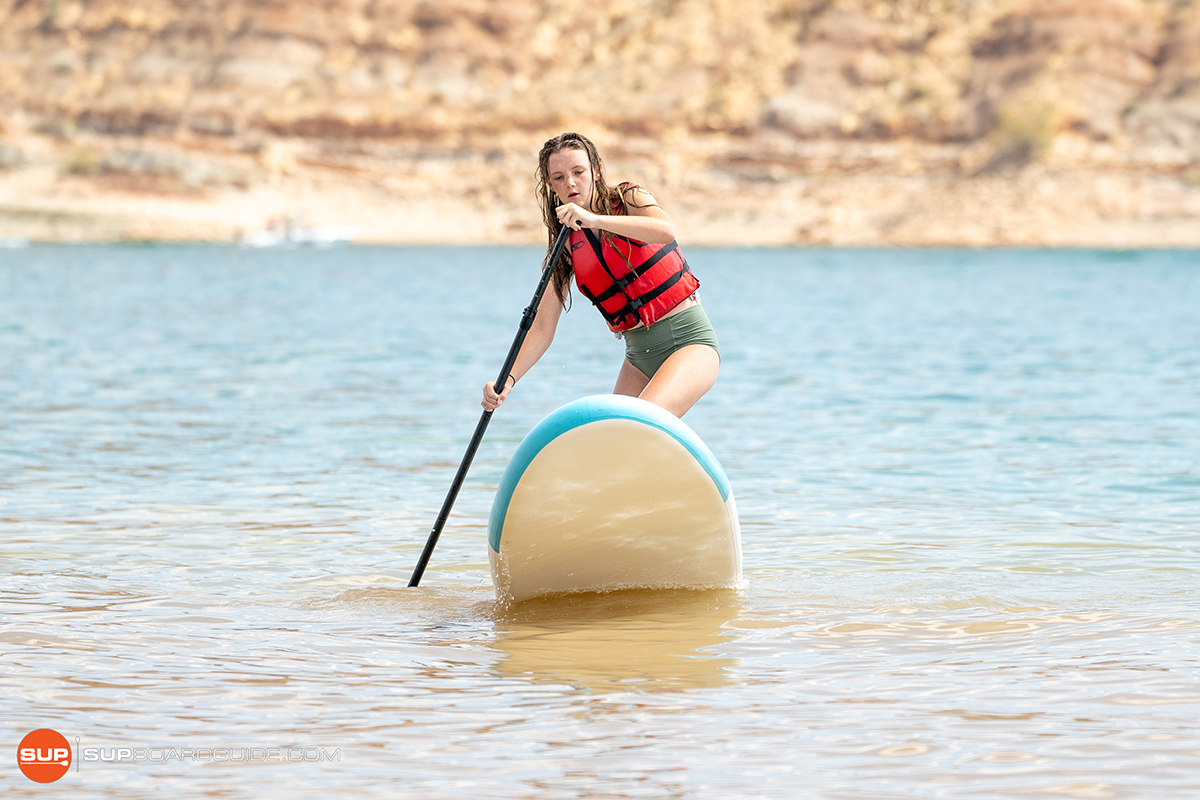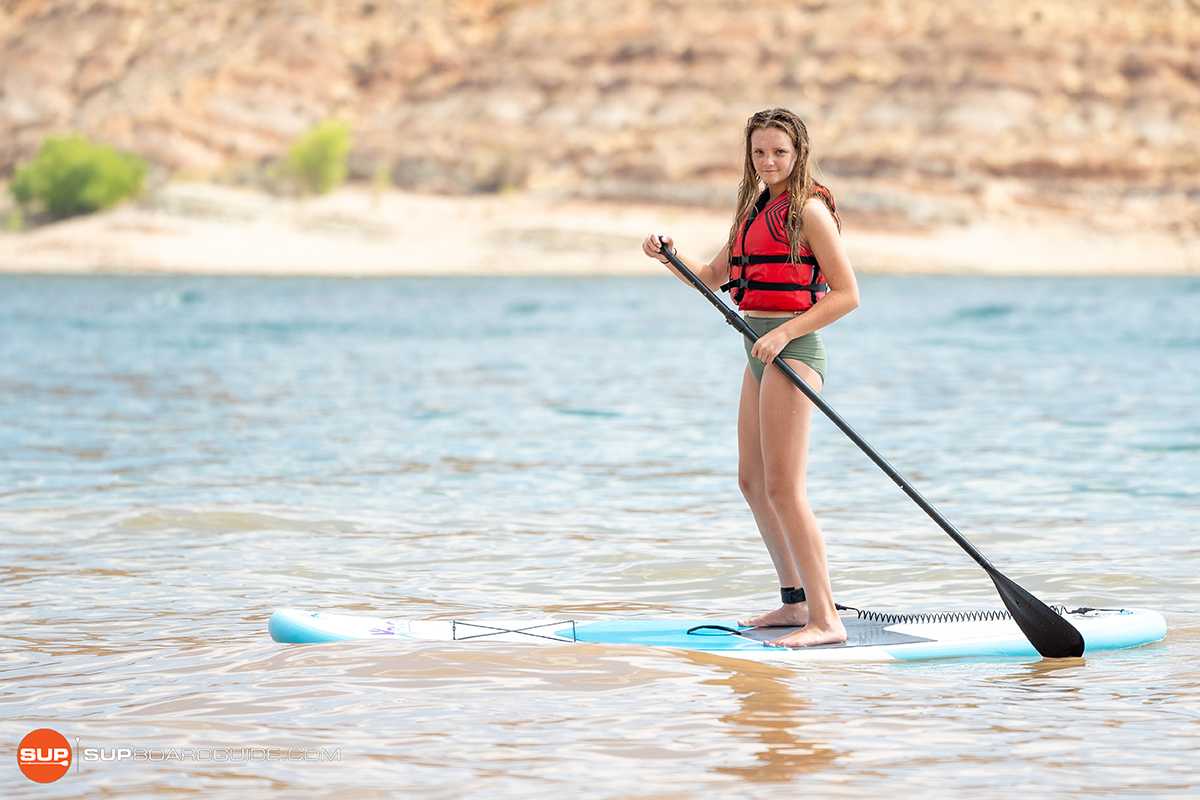 This board is small. As a result it's nimble and responsive. After watching several children paddle this it's clear that this board toes the line between stability and maneuverability. We think it's sized just right for its intended teenage age group.
It's light enough that junior paddlers can make a backstroke or sweeping turn pretty easily, and its stable enough for them to attempt a step-back turn as well.
Construction Quality:
Xplor uses PVC material and a well constructed drop stitch core to make a lightweight sturdy iSUP.
We would like to point out that quality construction is great for kids and teens. It can certainly take the abuse most youngerlings can dish out. This means you won't be as likely to need a replacement before they can afford their own.
Features/Accessory Review:
This board is more minimalistic in terms of features, with a single forward mounted bungee cord tie down system and 2 D-rings both fore and aft.
Normally this could be kind of a let down, but considering this is for kids to learn how to paddle board we think the simplicity is perfect. Additionally there is very little for the rider to trip over in addition to having a grippy two thirds length deck pad.
Included Accessories:
Considering the budget-friendly price, Xplor sure did a good job outfitting this kit with just about everything your child could need (minus a lifejacket). Here is a list of what the kit includes:
Adjustable floating paddle
Hand pump
Ankle strap
Repair kit
Backpack
All things considered this is a great deal for a youth focused iSUP and all the pieces are of acceptable quality. Especially the floating paddle, we can't tell you how many we have lost at the bottom of a river, lake, or ocean.
Optional Accessories:
Not to limit themselves to just the included kit pieces, Xplor also sells some additional equipment to make your experience that much better. Here are some of our favorites:
Deck Cooler
Goggle strap (cause you know they are going to want to go swimming)
Various different colors for an ankle strap (great for sibling designation)
Summary Review of the Xplor 9' Youth iSUP
We have had a hard time looking for iSUPs for our kids for quite a while. The Xplor series of child and small rider focused iSUPs really comes in to answer this problem brilliantly.
Specifically, this 9' Youth iSUP will make a great choice for any younger riders that are on the cusp of needing a full sized board, but you don't want to shell out the adult sized prices yet for something they may never do more than once. We applaud Xplor for producing this lineup of kids boards and keeping the costs manageable for parents.
We hope you enjoyed our review of the Xplor 9' Youth iSUP. If you have any questions at all please drop us a comment below! We are happy to get your questions answered as quickly and effectively as possible. We can't wait to see you and your kids on the water. Till then, Happy Paddling!
The following two tabs change content below.
SupBoardGuide
Heyo! At SupBoardGuide.com we are a team who love the water, the outdoors, and are more than grateful that our full-time job allows us to review stand up paddle boards. We paddle year round (it helps that we are just about 2 hours outside of Las Vegas), and we bring in a wide range of paddlers with the goal of providing our readers with the best, most in-depth, and accurate stand up paddle board reviews.
Latest posts by SupBoardGuide (see all)