Bluefin 15' Cruise Tandem SUP
Pros
Long, stable, and sturdy tandem paddleboard. Available for a very affordable price while offering mid-tier, borderline premium performance.
530 lbs recommended weight capacity is more than enough to support two adult paddlers.
Excellent tracking, and not too difficult to turn despite its long SUP length. Snap-lock fins further improve paddleboard performance.
Crocodile textured diamond grooved deck pad. Fantastic build that balances grip traction with feet comfort.
A ton of accessories included with the kit. Two fiberglass paddles, two kayak conversion kits, a leash, pump, backpack, and more!
Five year warranty that covers all defects and damage outside of normal wear and tear. Great warranty protection that further adds to the SUP's overall value.
Cons
Triple layer SUP construction makes the paddleboard very heavy, but since it's a tandem paddleboard two adults can easily carry the SUP working together.
While it is a long paddleboard and excellent for touring, it does take some work to build up momentum in the water. It won't keep up with other touring/racing hybrids.
This is a nice problem to have, but Bluefin gives you so much equipment that you can't actually fit it all in the same backpack without overwhelming it.
The single chamber pump is effective, but it's going to be somewhat slow going when inflating the 15' Cruise compared to a more effective dual chamber pump.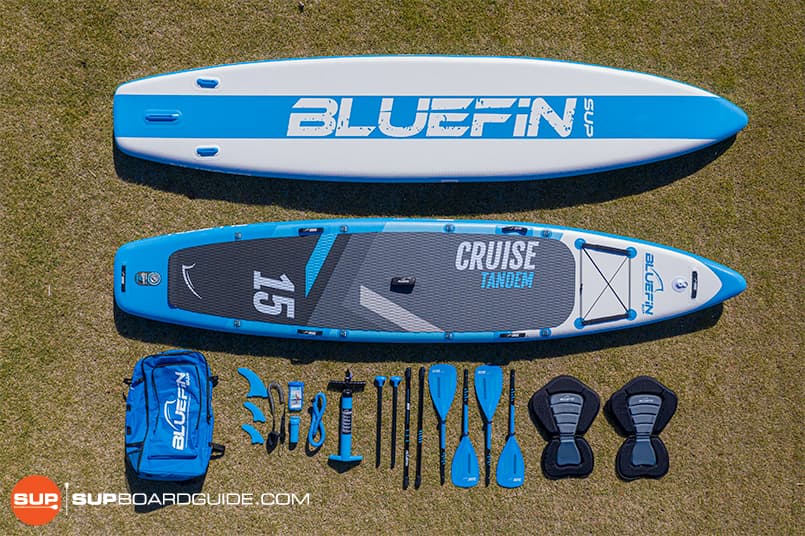 The 2023 Bluefin 15' Cruise Tandem SUP is the longest of the Cruise series, and one of the best options out there for an inexpensive tandem paddleboard. It's very long paddleboard length provides great stability (over 530 lbs!) and tracking, while still being somewhat easy to maneuver, especially with two paddlers on deck. The triple layer construction makes it quite hefty, but it provides great rigidity that further improves its glide along with its overall feel and performance.
The 15' Cruise tandem SUP is almost worth buying just for all of the equipment included with the kit. Two convertible kayak paddles and seat kits, a pump, easy to install fins, a leash, and other goodies that we won't spoil just yet! This is one of the few paddleboards we've ever gotten that gave us so much stuff, we had a hard time packing it in the high quality backpack included with the SUP. So, if you are interested in a solid tandem paddleboard with amazing value given its low price point, read on for our full review of the Bluefin 15' Cruise tandem SUP!
SUP Board Specs
| | |
| --- | --- |
| Length | 15' |
| Width | 35'' |
| Thickness | 6'' |
| Weight | 35 lbs+ (Depending on PSI) |
| Rider Capacity (lbs) | 530 lbs |
| Recommended Inflation | 15 – 18 PSI |
| Fins | 2 + 1 Snap-lock fins |
| Paddle Type | Fiberglass Shaft + Polyurethane Blade |
| Construction | Triple Layer PVC construction |
Who Should Buy This Stand Up Paddle Board:
The Bluefin 15' Cruise is a hybrid touring/tandem paddleboard, with excellent tracking and stability that is well suited for two paddlers working in a team. However, even if you aren't going out with a friend, you may want to consider buying this paddleboard if you are among the following:
Someone who is interested in going on long touring adventures, looking for something with fantastic stability and tracking alike.
An intermediate to advance paddler looking for a paddleboard that will challenge you more than your traditional all-around SUP will.
Anyone who prefers a paddleboard with a comfortable yet grippy premium deck pad.
Experienced paddlers who want to get into SUP kayaking, especially with a partner.
Heavy paddlers who have found other tandem paddleboards to be too unsteady, especially with a second adult on deck.
Performance
Stability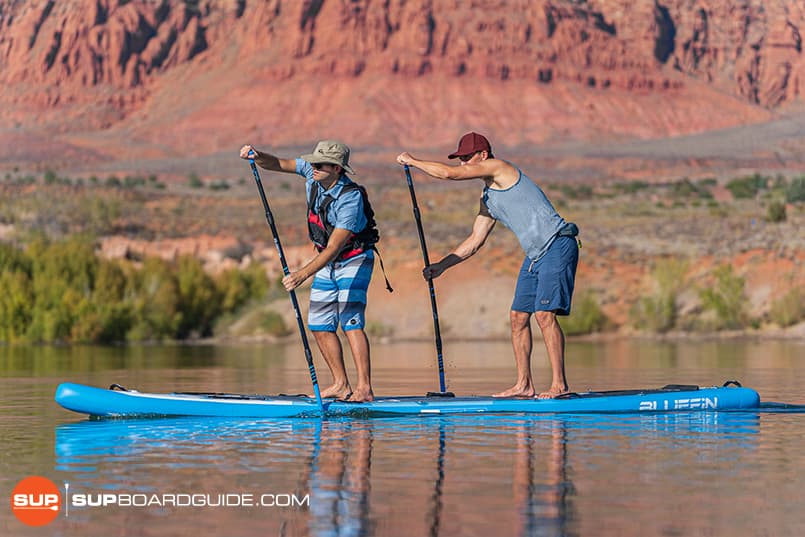 As a natural consequence of needing to support two adult paddlers, the Bluefin 15' Cruise tandem SUP is an extremely steady and stable paddleboard. We had no trouble at all with two adult paddlers on board, and we even managed to put three of our lighter team members on it with little stability loss. The paddleboard has a recommended weight capacity of 530 lbs, but we think it's about 550 lbs before you'll start to see serious performance issues. As a tandem SUP, you are welcome to bring a second adult out there with you, but if you want a paddleboard for bringing your kids or a pet along for the trip, this is a great solution as well.
Maneuverability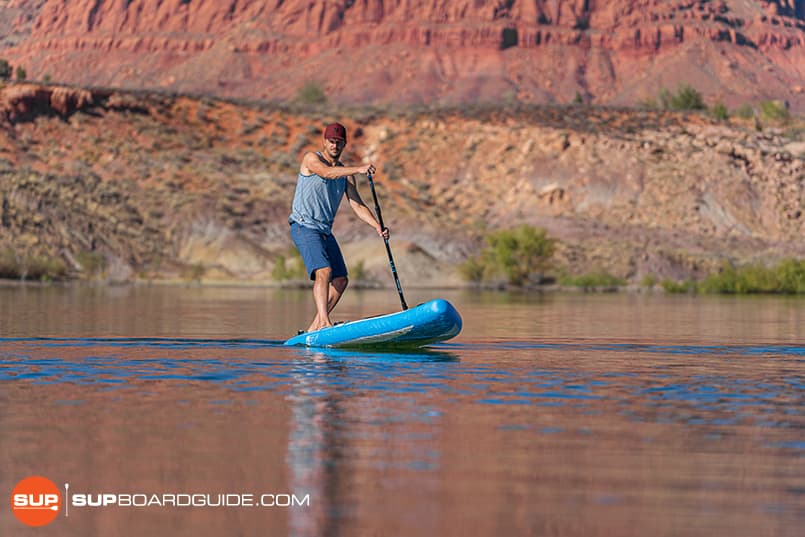 The longer a paddleboard is, the more difficult it will typically be to maneuver, which is why tandem paddleboards aren't well regarded for their maneuverability. Even so, the Bluefin 15' Cruise is pretty easy to turn, especially if you have a second paddler you can sync up with while you paddle. A few strokes to the side will help you divert the paddleboard out of the path of any paddlers, boaters, trees, rocks, or other obstacles in your path. As long as you pay attention to what's coming your way, you'll be able to adjust your direction and turn where you need to go.
The 15' Cruise tandem does have a tail raised heel pad, but while it will provide a bit of support for a solo paddler, you won't be doing a real step back turn with two people on deck. Instead, if you do need to make a sharp turn on the spot, both you and your partner will want to move closer to the nose. Both of you should then plant your paddle on the side of the board that you want to turn towards, and pull hard at the same time. By doing so, it'll only take a couple of paddle plants to spin in any direction, further helping you maneuver around the water with the 15' Cruise tandem.
Tracking/Glide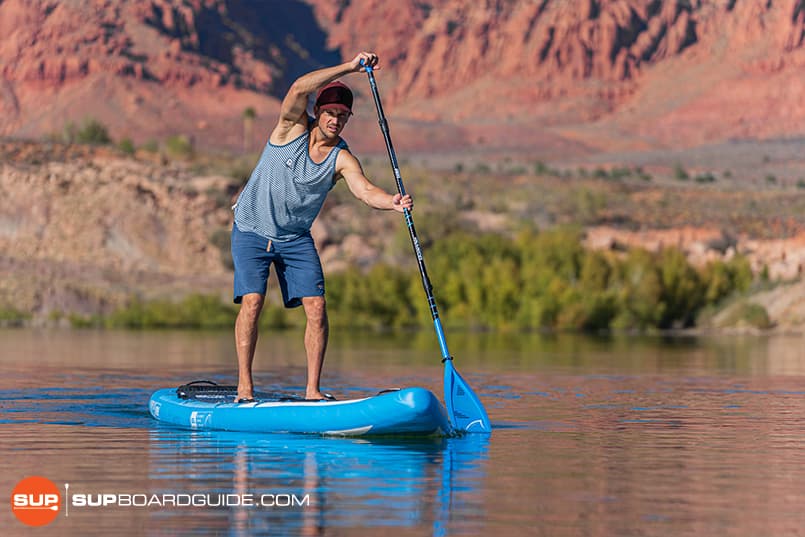 As a natural consequence of its long length, the 15' Cruise tandem SUP is going to offer the best tracking of the Bluefin Cruise lineup. Even with a beginner's paddling form, you'll manage to maintain a straight line on the water, especially if you maintain your focus on where you want to go. The heavy triple-layer construction, and wide 35'' deck does result in a slower SUP in order for it to be more stable, but once you build up your acceleration the 15' Cruise maintains its momentum well. In fact, the momentum was so good that even our solo tests caused us to be faster than the typical lightweight all-around SUP. As far as its glide, it manages to handle light chop and wind well, though for the best overall paddling feel you will still want to stick to flat water, especially with a second paddler on deck.
Included with the 15' Cruise are three snap lock fins, which you can install for improved performance. The center fin will further enhance the SUP's tracking, while the side fins tighten up the turn radius. With all three fins installed, you will also reduce the SUP's rocking and make it a bit more stable overall. We typically go out with all three fins every time we paddle, though we do take out the center fin in shallow water environments like rivers.
Materials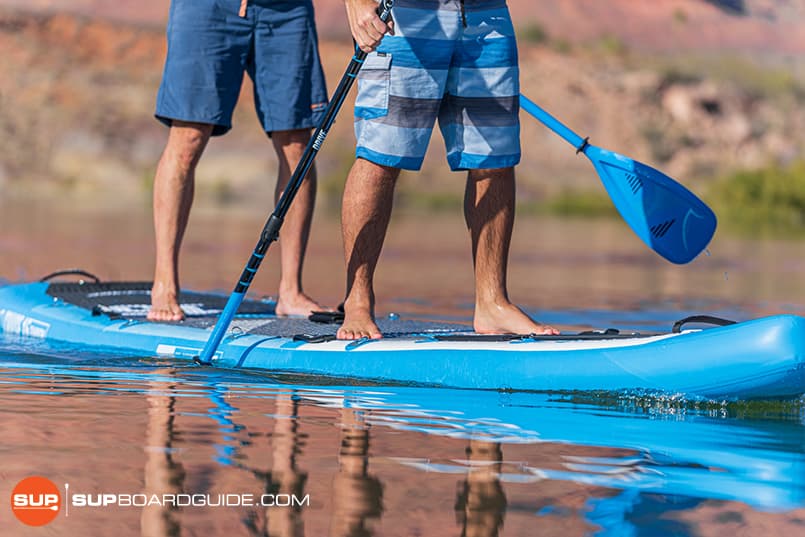 The 15' Cruise Tandem utilizes Bluefin's great triple layer construction to protect a tight drop-stitch core. Explaining the construction in a bit more detail, the drop-stitch core is made up of sheets of fabric bound together with 11,200 stitches of denier space yarn. As air is pumped into this drop-stitch core, the core expands like a traditional inflatable, but it will assume a SUP shape like you see above due to the threads going taut. With a drop-stitch core, the inflatable SUP can float on the water and support adult paddlers while staying lightweight thanks to its inflatable nature.
To further enhance SUP performance, additional layers of fabric and coatings of military grade PVC are applied to form the outer shell. The 15' Cruise Tandem consists of three distinct layers, and while this makes the paddleboard very heavy it also makes it durable, sturdy, and rigid as well. The more rigid a SUP, the better overall feel and performance it will have, which is why the 15' Cruise is such a joy to paddle on while also making it able to withstand most common SUP accidents. As a final protection precaution, a high pressure UV resistant coating is applied to the SUP as well. While you will want to minimize how much time you leave the 15' Cruise Tandem out in direct sunlight, the UV resistant coating will minimize degradation as a result of sun damage. Overall, this is a paddleboard that should last you for years to come with a little proper care, so make sure to clean it and let the air out properly to make the most of the Bluefin 15' Cruise Tandem.
Board Design/Shape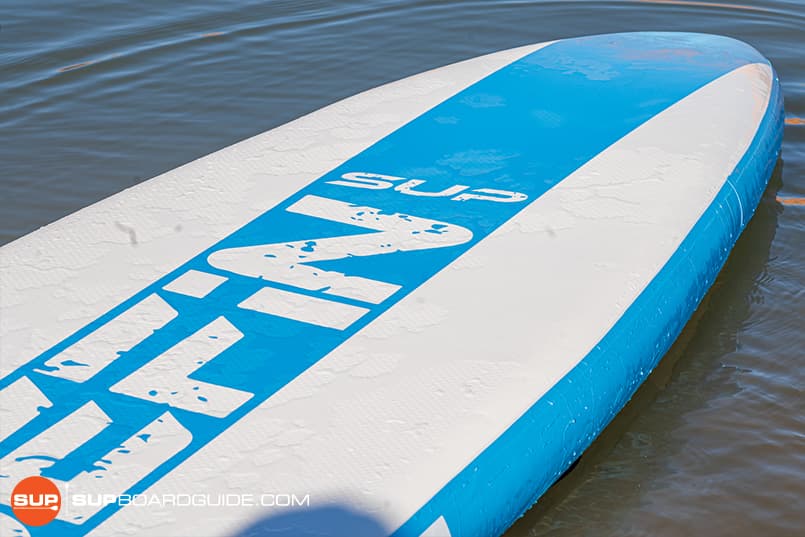 This is the longest of the Cruise Carbon series, with a 15' length that helps the paddleboard have excellent tracking, along with enough space to support multiple adults paddling together. The 35'' width, with a 6'' thickness makes it extra large, making this well suited for supporting multiple adults but also differentiating it from touring/racing hybrids. While you might not be as fast with this as other touring SUPs, you will feel very steady, stable, and comfortable thanks to its triple-layer design and premium deck pad.
This paddleboard is excellent for trying out a variety of water sports, whether as a solo paddler or with the help of another person. Touring is a major activity, and its long deck means that it's well suited for multi-day adventures. There's quite a bit of accessory compatibility, so it's also an excellent option if you want to bring some snacks or a Bluetooth speaker in order to jam out with friends on the water. While the tandem SUP is capable of supporting multiple adult paddlers, it's also a great option if you just want to head out with your kids or bring a pet along for the adventure. This is definitely a paddleboard that you want to take out for a date night, family time, or just to enjoy the water with a friend without both of you having to rely on your own paddleboards.
Bluefin has also thrown in two complete kaya kits with the paddleboard, so it's ready for a group kayak paddling session out of the box. If you want a versatile tandem SUP, you will want to consider the Bluefin 15' Cruise!
Board Features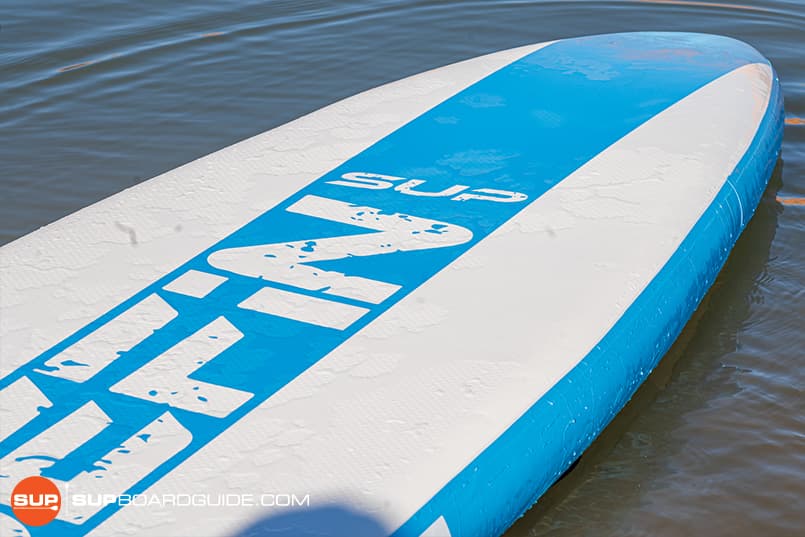 There are a number of other features that we love about the Bluefin 15' Cruise beyond just its overall performance. Some of these features we wish to talk more in depth about include:
Triple-layer Construction.
14 D-Rings + Action Mount.
Removable Bungee Cargo Area + Grab Handles.
Seven carry handles.
Raised kick pad.
Thermosealed Croco-Diamond Deck Pad.
Fins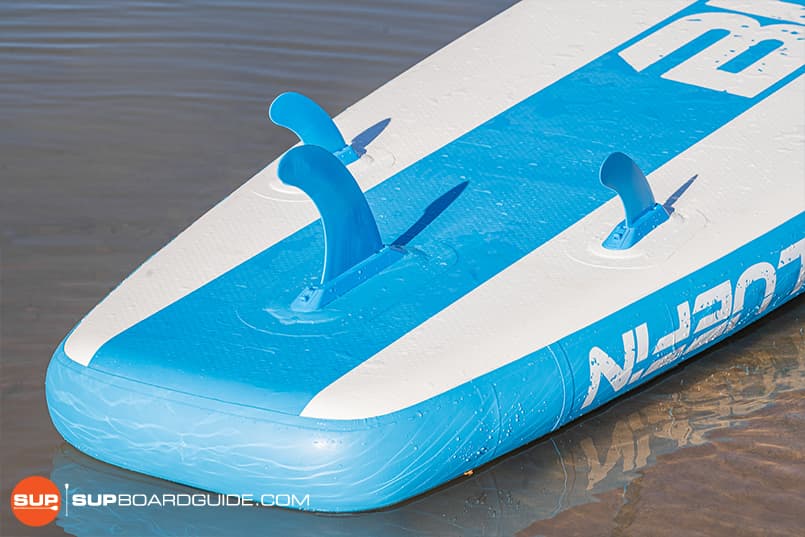 The 15' Cruise Tandem has three snap lock fins, all of which are very easy to install. Simply lift the fin box lever, insert the fin, push down on the lever until the fins lock, and you're done! Snap lock fins are some of the quickest fins to install, but as a result they aren't as secure as traditional plate screw fins. Furthermore, snap-lock fins are far more limited in fin shape and size compared to FCS, US fin box style fins. Even so, the majority of paddlers who use the 15' Cruise tandem will enjoy these fins, especially paddlers at a beginner to intermediate level. If you ever do wind up paddling in shallow water, you will want to make sure you remove the 8.5'' center fin, as it will cause performance issues or even fall out of the fin box if it drags across the ground.
Traction Pad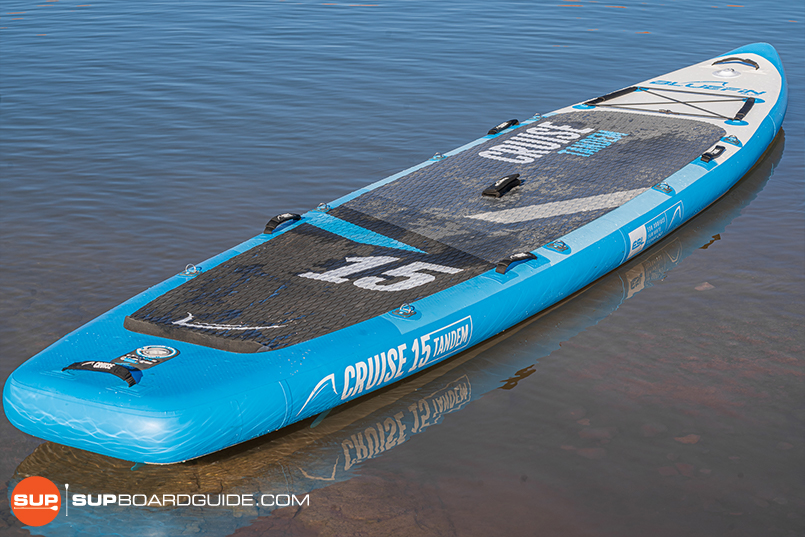 There's quite a few reasons why we love the Bluefin 15' traction deck pad. The deck pad is built with EVA foam, the same comfortable material used in yoga mats to guard your skin against irritation while working out. The EVA foam dries and drains very quickly when it gets wet, so you won't have to worry about slipping off the deck when you hit the occasional wave. The deck pad features crocodile skin texture and a diamond grooved pattern, which provides great traction while still staying cushy and soft to stand on. There is also a raised heel pad on the tail of the 15' Cruise, which provides great grip support when bracing against a wave or performing a step-back turn. Go on multi day paddling adventures, practice yoga, or just hang out with your teammate on this excellent SUP deck pad!
Handles
The 15' Cruise tandem SUP has a fantastic seven handle setup to help carry the board to the water. All of the carry handles are located on the edges of the SUP, ensuring that you won't be tripping on them while you paddle around either. Furthermore, each handle features a neoprene carry handle, which prevents blisters when held with freezing cold or soaking wet hands. While the paddleboard is definitely heavy, you'll have no problem carrying it to the water with the aid of your team mate given how many handles you can grab from.
D-Rings/Bungees/Cargo Areas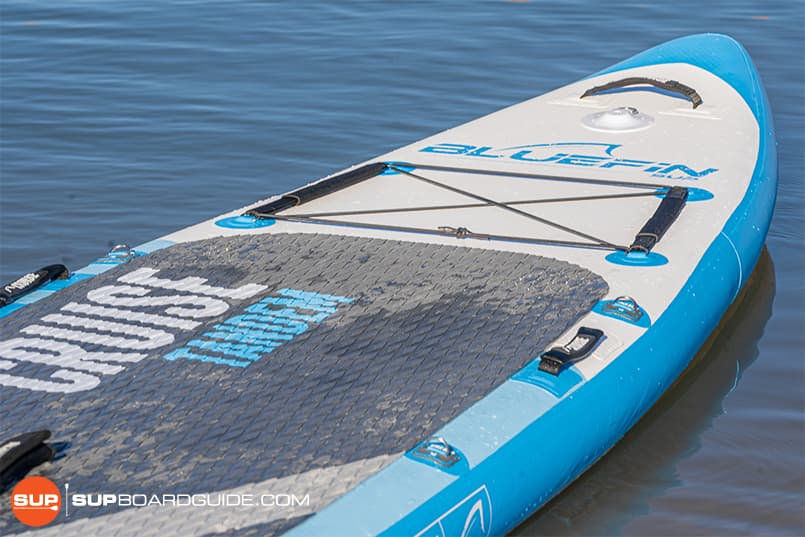 If you are someone who likes to bring add-ons with you, there are 14 D-rings and an action mount that cover the surface of the 15' Cruise Tandem. The D-rings are made for clipping on popular SUP accessories, like cell phone cases, coolers, and other pouches. The action mount is compatible with GoPro cameras, Bluetooth speakers, and other common electric mounts. The D-rings are all spaced out well enough that you can easily install the two kayak conversion kit seats without it feeling cramped.
Lastly, there is a nose bungee cargo area that will help you secure a cooler or small container, bungee cords that also have grab handles on the side. With these grab handles, passengers who aren't helping you paddle will have a place to hold onto if you hit a rough patch of water. There's quite a lot of accessory compatibility on this SUP without it feeling overwhelming, and another reason why we enjoy using the 15' Cruise Tandem SUP.
Accessories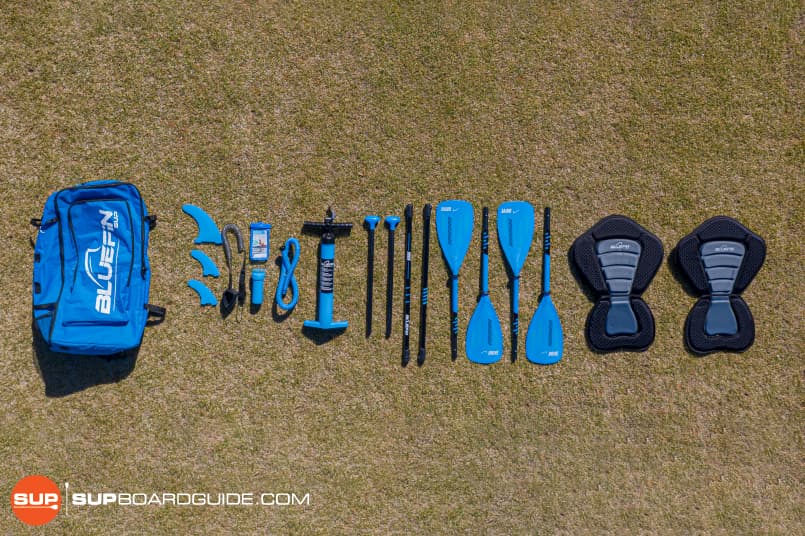 Paddle
We are shocked at how low priced the 15' Cruise tandem is, because Bluefin has included two fiberglass paddles with the SUP kit! Furthermore, these are fiberglass paddles, so while they're a bit heavier than carbon fiber paddles they are noticeably superior to aluminum paddles included with most budget kits. While experienced paddlers may still want to swap out their paddle for a carbon fiber alternative, we think that most customers who purchase this kit will thoroughly enjoy the performance provided by the fiberglass paddles.
Each individual paddle comes in four pieces, three of which will make a normal paddle and the fourth being an extra paddle blade that converts the paddle into a kayak blade. The multi-piece nature makes the paddles easier to pack, while also allowing you to adjust the length to fit your height. The fiberglass shaft is smooth yet resilient, and it pairs well with the polyurethane blade for a paddle that provides a powerful stroke in the water while withstanding the occasional drop on shore. You can also drop the paddle in the water and it will float, but currents do tend to cause it to float out of reach quickly. Make sure to grab your paddle quick if you're paddling in the ocean or a fast water moving area.
Pump
Something we're somewhat mixed on is the inclusion of a single chamber pump. Single chamber pumps are less expensive than dual chamber pumps, and they also save you room to pack more gear in your backpack. However, they aren't as efficient as dual chamber pumps, and you'll want all the help you can get given the size of the 15' Cruise tandem. HAving as second person to swap off pumping does make inflating faster, but you are probably going to have to spend at least 15 minutes in order to fully inflate the 15' Cruise tandem.
Alternatively, you can also just upgrade to the great Bluefin electric pump. Electric pumps are our number one recommended accessory because they will inflate your SUP for you, and unlike the included manual pump the electric pump will deflate your SUP as well. The Bluefin electric pump is about as fast as a manual pump, but it is also more compact and easier to store than a manual pump. Easy to use and built with an auto shut-off feature, you will definitely want to consider adding the Bluefin electric pump for the best paddling experience with the 15' Cruise tandem!
Backpack
There is a lot to love about the included backpack, even if it isn't perfect due to the 15' Cruise tandem SUP's size. The backpack is built with thick, heavy duty nylon built for all weather conditions, helping you protect your gear from water, sand, and other elements you'll encounter out in nature. There are two carry handles on the bag for carrying it a short distance, with a padded backside and adjustable straps for long distance carrying. Two storage compartments, consisting of the main compartment and a front facing accessory compartment, will help you keep your gear organized while you hike around with your kit.
The main problem we have though is that, while it's great that Bluefin gives you so much stuff, it doesn't all fit inside the included backpack! Most paddleboard backpacks are oversized so you don't need to have a perfectly rolled up SUP to store it, but we struggled stuffing the paddleboard into the included bag. As for the other accessories, we didn't manage to fit it all in there, no matter how we tried to pack the bag. Since this is a tandem paddleboard kit, you will have someone else that can help you carry excess gear you want to take with you when you're headed to the water. For the sake of simplicity, we typically just have a second small duffle bag we put the extra gear in, though it can still be a bit cramped putting the 15' Cruise into the backpack even without any accessories.
Leash
Included with the 15' Cruise tandem is a coiled leash, helping you keep your paddleboard near when you eventually fall off of it. To wear the leash, you just have to wrap one end around one of the D-rings, such as the D-ring below the inflation valve, and put the strap on over your ankle or thigh. There is just one leash included, but for safety reasons and to avoid injury you typically only want one paddler to wear a leash while using the paddleboard in tandem. However, make sure that everyone on deck wears a PFD when you go out paddling. That way, even if your team gets separated, you can stay afloat until the leash wearer can paddle over and help you back onto the 15' Cruise tandem.
Repair Kit
There are a few nifty tools to make use of if you need to perform some minor triage on your paddleboard. Included in the repair kit are adhesive patches, which can be used to seal up small holes and punctures if they aren't on the seams of the paddleboard. You will also find a Halkey-Roberts inflation valve wrench within the repair kit, which can be used to tighten up the inflation valve if it ever comes loose.
For significant paddleboard performance issues and damage, be sure to reach out to Bluefin SUPs for support. More information about their warranty coverage is available in the next section.
Company Review – Bluefin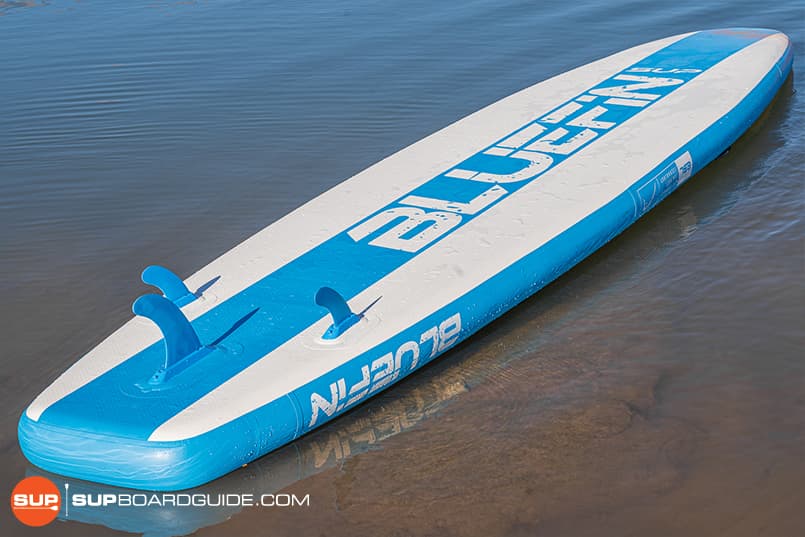 The 15' Cruise will withstand most common drops, crashes, and other SUP accidents that are typical when you visit the water thanks to its very durable three layer PVC construction. The paddleboard isn't invincible though, but it is backed by a 5-year warranty that will cover the board for all damage outside of typical wear and tear. Many parts of the US and Europe also receive free shipping with their orders, with paid shipping options available for other international customers. Bluefin is a pleasant company to interact with, and have always been quick to respond to our questions when we have them. The 15' Cruise tandem is another excellent addition to their lineup, and fits in well with their 10 model Bluefin SUP lineup.
Our full company review of Bluefin is available on our Bluefin landing page.
Conclusion/Bottom line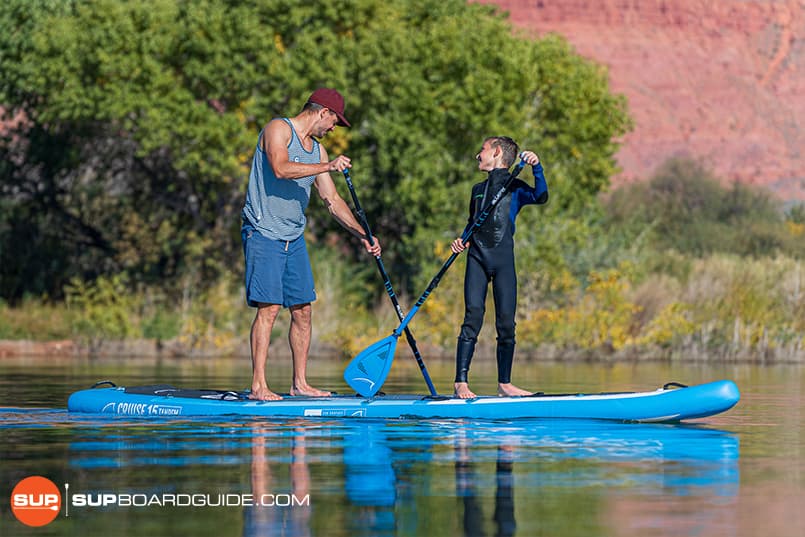 If we're being completely honest, we're surprised by how much we liked this paddleboard, both as a single and two person option. The Bluefin 15' Cruise is a very solid tandem paddleboard option for those who want a two adult paddleboard option on a budget. The 15' length and an extra wide deck provide over 530 lbs of weight support, making it great for tandem paddling or for bringing along kids or a pet as well. While it does take a bit of work to build up your speed due to the heavy board weight, it has great tracking and better maneuverability than we were expecting, with solid performance in almost every regard. The triple-layer construction provides for a durable and rigid SUP, one that feels great to take out with the high quality deck pad. We are also astounded at just how many accessories are included with the 15' Cruise, to the point we were struggling to even fit them all in the same backpack. Available for an entry level price, the Bluefin 15' Cruise tandem is an excellent tandem paddleboarding option you will want to consider if you're shopping around for a paddleboard in 2023.
Thank you so much for reading our review of the Bluefin 15' Cruise tandem inflatable SUP! If you have any questions about the 15' Cruise, or want to know more about paddleboards in general, be sure to leave a comment below or send us an email with your questions. If you have paddled on the 15' Cruise, we would like to hear your feedback so we can update our review and provide our up to date review thoughts throughout the year. While you're here, you can also check out our other paddleboard reviews, informational guides, beginner tips, and other articles to help paddleboarders improve their skills. We also have a SUPBoardGuide.com Youtube channel, where you'll find our in-depth video reviews of the latest, most popular paddleboards as they hit the market.
Thank you again for visiting, and we hope you have a blast paddling on the Bluefin 15' Cruise tandem inflatable SUP!
The following two tabs change content below.
SupBoardGuide
Heyo! At SupBoardGuide.com we are a team who love the water, the outdoors, and are more than grateful that our full-time job allows us to review stand up paddle boards. We paddle year round (it helps that we are just about 2 hours outside of Las Vegas), and we bring in a wide range of paddlers with the goal of providing our readers with the best, most in-depth, and accurate stand up paddle board reviews.
Latest posts by SupBoardGuide (see all)