by Sarah Sackville
Note: This review is for the old 2018 model. Check out our review of the new 2019 Blackfin Model X. 
Watch out. The new kid is in town. And he's super cool.
Are you after a reliable SUP that comes with accessories that will make you go giddy with excitement?
Something so tough you'd be easily mistaken into thinking you're aboard a floating tank?
Have you heard all of this before? Well, maybe it was true. But, then the Blackfins came out, and now I feel like I need to retract any other time I've called something stable or durable.
It's also the superficial pleasure of having such a cool looking board that makes me love paddling the Blackfin Model X around. You haven't seen a board this suave before!
Check out why we think so highly of the Blackfins below!
Specs
| | |
| --- | --- |
| Length | 10'6" |
| Width | 35" |
| Thickness | 6" |
| Weight Capacity | 450 lbs |
| Weight | 29 lbs |
Video Review
Check out our brand new video review and let us know what you think in the comments!
Performance

Before I had even got this board on the water, I knew straight away that it was going to be a nice ride. It was a little heavier than other iRocker models but I could tell it was for good reason and not just poor workmanship.
I pushed off the bank with a little run and jumped straight up as I do for fun sometimes! And straight away exclaimed, "OMG it's so stable!" I wish I had caught it on video.
It's got a wide berth at 35", much wider than other SUP iRocker has produced yet. While it's the same size as the Cruiser, it's shaped differently. Shaped for a little more speed with a slightly more pulled in tail. The polycarbonate center fin has got an interesting new shape. It's what you would see on a noserider longboard. It helps keep the tail still, which adds to the stability of this board.

On the side of the board you can see little cut out rectangles, they are the windows to the carbon rails. These carbon rails absorb impact impressively. I ran myself aground, up against a wooden jetty and felt a dramatic decrease in the bounce. There's nothing more embarrassing than falling off your SUP at dismount.
Paddling was a breeze too. I found even though the body is so wide, that it responds efficiently. The tail and center fin I speculate is the reason behind this. Like I mentioned earlier the center fin is somewhat similar to the center fin I'd use on my noserider longboard. It helps keeps the tail stable and holding its line on the wave while I pretend I can hang ten. Which I found acts the same for tracking on the SUP. I was able to pick up speed quickly and hold that line effortlessly
I wouldn't be taking these new BlackFins out in the surf unless I was on a point break that I could easily paddle back out through the bay and line myself up perfectly for waves. They are definitely built to be on flatwater and PERFECT for anyone needing the extra stability.
When I say people needing extra stability, I mean people that like doing SUP yoga as well as a leisurely paddle, fishing, taking a kid or two, the dog…If you need a SUP to for any of those activities, the Blackfin Models are going to leave you content with your purchase. Especially wanting a SUP for the kids to go on at the same time as you. On the nose, you'll notice the bungee cord has a handle too. These handles were solely designed for kids to be able to sit up front and hold onto something.

Taking extra passengers won't cause flex problems unless with your combined weight you go above the 450 lbs max capacity. Though, if you are above that, you can get a little extra leeway with the 11'6″ Blackfin XL Model that has a capacity of 485 lbs. Anything more, good luck finding another SUP that has the capacity these do!
I would suggest you could take these into light rapids even, you'd be stable, and the slight rocker in the nose would help with the chop. I'd be taking the center fin out though!
I haven't felt an inflatable SUP this rigid before and definitely never this stable. Talk about blowing the competition out of the water!
Board Design + Materials

Starting at the nose you have one handle, then on the bungee cords two more, a center carry handle and one on the tail. I love them. I can't believe how often they come in….handy 😉
It makes transporting the SUP's while inflated incredibly easy. The handles on the bungee cord are a thoughtful touch. Seeing as many people like to take their children paddling iRocker decided they needed to improve safety on board. Being able to get your little ones to hold onto the handles makes everyone feel much calmer.
An increased storage area for cargo has been added to the Blackfins too. D-rings with tie-down bungees to secure your gear are located on both your nose and tail. Especially useful if you do take someone extra with you. Keeping your bag behind you frees up all the deck space where an extra passenger would most likely sit.
There's an extra D-ring on the tail to secure your ankle leash and one under the nose for towing other boards/people. 4 more in the center of the board to attach the optional purchase of a kayak seat and also carry strap. Which there is more info on below.

At first, I didn't realize, but the deck pad is made up of thousands of tiny little blackfin logos. It's not as grippy as the diamond grooves, but I say you don't need any extra grip given how ridiculously stable the Model X is.
Moving onto the most important part..the aesthetics. We all like to look good!
The design on the board is seriously styling. The blues and contrasting black are so suave. I feel like I'm on the BMW of paddleboards. The only downfalls are the black deck pad can get a little hot under the tootsies, it's okay, you just need to splash the deck if you leave the board in the direct hot sun for too long. I also noticed there's a slight sheen in the material through the rails and nose that gives off this beautiful curvy figure. I swear I'm still talking about paddleboards.

Now it's great to have all these features a board that looks nice, but it still needs to be reliable. Is the Model X a reliable and durable board?
I can't say I've owned it for long, but I would say yes!
The usual manufacturing iRocker uses is a drop stitch core that is triple layered with PVC. The Blackfin models are quadrupled layered and then reinforced with carbon rails on the Model X. You can see through the little windows they are telling the truth! I've already explained how these absorb impact, but they also will protect your SUP against wear and tear.
These Blackfin models feel substantially more rigid and tough than other inflatables I've been on. They are heavier but apart from needing a little more effort to transport them, the weight effects nothing. Other times taking heavy boards out they will feel sluggish on the water, didn't have that problem with the Blackfin!

Features
Fins

For balance and manoeuvering, the blackfin features a tri fin setup.
A large removable center fin and two fixed side fins.
The center fin include is inserted and secured by screw and screw plate. While this is a safe system so you don't lose a fin, it's easy to lose a screw. If you are worried about how large the fin is, you can purchase other fins with low profiles from iRocker. They have a 3" or the 4.6" for reef and shallow rivers, the 4.6" offers better control too. Then up from there, it's 8" and 9". These will all need the screw and plate too.
There is an FCS Connect II fin that fits in the US fin box that doesn't require the screw and plate, but it would be a totally separate purchase from iRocker.
Inflate/Deflate

Recommended inflation is 15 PSI. You shouldn't need any more than that. If you do an extra PSI or 2 will be fine.
The double chamber triple action pump gets you pumped up in easily half the time any other manual pump takes. With easy to follow numbers 1,2,3 and a switch at the back of the pump, you should also find pumping easier in the higher pressures.
The deflate process is the common simple pin push and twist release.
The pump really shows that iRocker means business. So far Red Paddle Co's Titan pump was by far the best pump on the market. We're going to test them side by side but I think iRocker may have just raised the bar.
Accessories

Paddle
Accessories like these are what make everything better. They are the cherry on top. The chocolate top on an ice cream.
Paddle with ease. It's carbon throughout the shaft and with a beautiful matte finish which is as smooth as silk under your fingers. Though lightweight it's not to be mistaken to being weak. The blade is the same as the iRocker range because it's been proven to be a bulletproof option. This blade is built with a solid edge to confidently be able to push off rocks and hard objects.

Other features include it being adjustable from 72" to 86" and breaks down and packs easily for transport in the bag. The clasp is a double pin locking system which I personally prefer. It may not be a smooth, quick action as others, but you can't screw it up. I get a little OCD about my handle being in at exactly the right angle on the simple clasp or screw locking system.
Leash
Safety first! Included is a branded Blackfin leash. It's got some weight in it which suggests it's made to last. The coiled rope prevents harsh snapbacks if you fall off your SUP at speed. The coiled feature is perfect for small waves or currents where the board is easily carried a different way.

In the ankle strap, you'll find a sneaky stash spot for your keys. Don't worry about losing them from there either because the pouch is secured with velcro.
Backpack

Now they are just showing off.
There is really nothing that I don't like about the Blackfin travel bags.
You can choose to use it as a backpack or wheel it effortlessly. There's consideration in the wheel placement for the backpack preference too. You don't experience the wheels in your back! The other common issue with wheelie bags is the straps getting caught in the wheels, not when they are on the front they won't!
Now, what's the point of having wheels that can't roll over anything but airport floors? That's a feature being added to be used a very small amount of time. I couldn't help but notice straight away the off-road wheel on the blackfin bag. They're kind of cute, like miniature 4WD wheels.

The straps and materials are thicker than previous iRocker bags, and I feel spaced a bit better. I would honestly use these bags for my own personal travel if I ever need a bag that big!
Inside the bag are straps to hold everything in place and there's an extra pocket up front for your extras. The only downfall is that you can't fit all the gear inside as well. Mainly the pump because it's so big! But it'd be super easy to attach the pump, and it's bag to the outside to keep everything all together.
Pump
Get pumped!
Introducing the new dual chamber triple action pump.
That's a mouthful and full it will make your board.
The triple action is easy to navigate with 1,2 and 3 on the switch. Start with the max capacity, switch to medium pressure and finally to max pressure. You can switch as you feel you need to. This pump gets the job done in a fraction of the time others do.

One other problem I've had in the past is with cheap pumps being hard to use because they wobble or flex under pressure. I gave it a pretty good go on this new pump, and it held reasonably stable! A sign of good quality materials!
Extras

The following are all branded with the Blackfin label and available as a separate purchase
Kayak Bundle – The Blackfin kayak bundle includes an improved kayak seat from the other iRocker kayak bundles. It matches the rest of your gear with the branding and now has a little bag on the back of the seat for improved storage.
The kayak blade you receive for the Blackfin has a carbon shaft however the other iRocker kayak bundles are still the fiberglass paddles.
Cooler Bag – Want to be a cool kid? I love my cooler bag, I get ravenous on paddles, and there's a high level of enjoyment being able to stop paddling, sit down, put my feet in the water and enjoy a snack. The bags come with little clips where you attach it to either the front or rear bungee cord. I found them tricky to get off again, but I suppose that's what you want!

Carry Strap – If you're having trouble carrying your SUP, then this strap might be for you. It clips simply onto the same D-rings in the middle of the board as the kayak seat. The underside of the strap is well thought out with a nice soft rubber to prevent chafing and the strap digging in too much.
Conclusion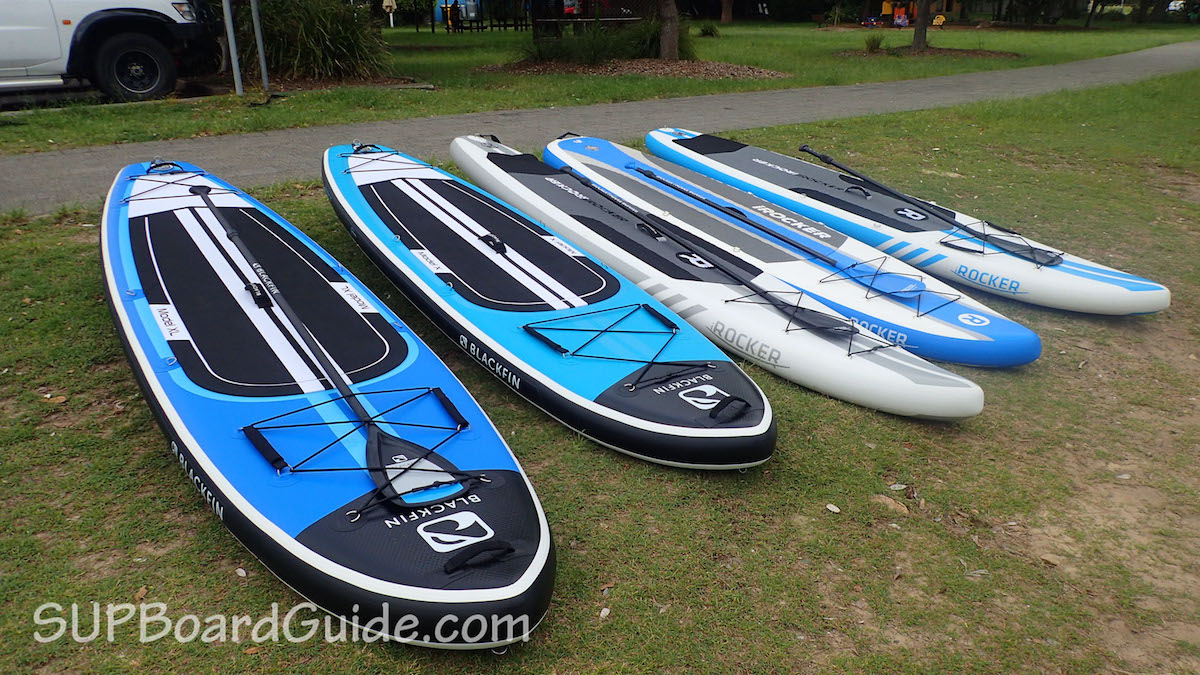 These new Blackfin models just go to show the dedication iRocker has when it comes to improving their lines.
If you need an inflatable SUP for touring, cruising or casual small point break waves, you can't go wrong. You'll be buying something that's extremely sturdy and indestructible. And it's all backed by iRockers 2-year warranty.
Beginners especially will love these Blackfin boards. Not only for how stable they but the durability. As a beginner it's going to be common you'll hit things while you are getting the hang of turns. Or sometimes you just get distracted looking the other way!
It's also a perfect family board, being so wide you can take the kids and the dog! The handles on the bungee cord up front are designed to keep your little ones safe and your stress levels low! With a HUGE max capacity of 450 lbs, you'll be floating effortlessly even with an extra passenger.
Though the extra 2" in width may deter you, it shouldn't. The intention behind the extra width was that by then changing the shape of the board a little it could be even more stable than their Cruiser (already one of the most stable on the market) but still produce speed.

These carbon fiber rails will protect you from any impacts as well as the tough edging on your paddle. As I mentioned earlier, the rails also absorb impact an incredible more amount than any other inflatable SUP I've been on.
For those who are a heavier rider or intend to take extra gear, especially fisherman, check out the Model XL, it's the same board but slightly bigger.
If you are after a faster SUP, the new 11' Sport will get you zooming past everyone else. It's advised you have been out on a SUP before to buy the Sport though as it's a little bit tricky for beginners!
The following two tabs change content below.

Sacky
Heyo! I'm Sarah or as many call me, Sacky! I'm an Australian lover of the outdoors. From losing teeth to rock faces and surfing with dolphins - it's all my second home. I do the online thing to fund my obsessions and keep me seeing this wonderful world. Hope you've enjoyed my content 🙂