Blackfin Model X Inflatable SUP
Pros
High quality, durable construction (carbon fiber rails, triple layer PVC)
Stable + very high weight capacity
Tons of d-rings, action mounts - can even be a great fishing SUP now!
Paddles great in a variety of conditions
Great for large paddlers and carrying gear/kids with you
2 year warranty + 60 day return period
Cons
No US fin box. However, the snap-lock fins are super easy, and the river fin system is available
Can be a little wide for smaller paddlers who don't need the extra stability
Every year we get stoked to review the Blackfin Model X. It's a board that continually ranks at the top of our best inflatable SUP list and for good reason. With it's triple layer composite PVC construction, carbon fiber supported rails, and 35" width it's a board that is fantastic for beginner and recreational paddlers looking for a very stable SUP, for intermediate to advanced paddlers looking for something capable of paddling down a river, for family paddlers who want to put kids and gear on with them, and even for SUP fishers who need a board that has tons of action and accessory mounts to make their fishing expeditions fun.
It's just a solid all around SUP that fits really nicely with a large portion of the population (beginner, recreational paddlers) we see getting into stand up paddle boarding right now:
Those who want a super stable, high quality iSUP that will last a long time
Someone looking for an all around board that will do really well in a variety of water conditions
Larger individuals (height above 6', weight above 200 lbs), or those looking to paddle with kids or a lot of gear
Advanced paddlers looking for a great whitewater river SUP
Anglers who want an iSUP with the ability to easily connect and carry their gear for a long, fun day of fishing
We think the Model X is great for the following water conditions/situations:
Flat water paddling (lakes, bays, marinas, etc.)
River SUPing
SUP Fishing
Ocean paddling
Surfing in small surf (1-3 ft)
Blackfin Model X Review Overview
The Blackfin Model X got a brand new look alongside a few nice upgrades. Overall, iRocker took a fantastic iSUP and made it even better. I'm personally a big fan of the new look and how they made the board available in so many different colors. When the board is looked at overhead or from the side, I'm seeing almost a fish scale type graphic popping out that just makes me want to get out on the water and gives the board a really nice look.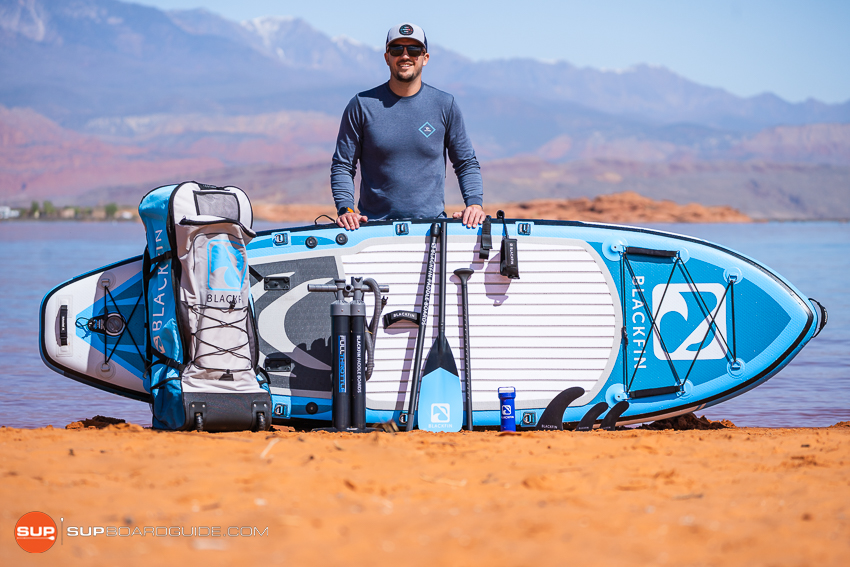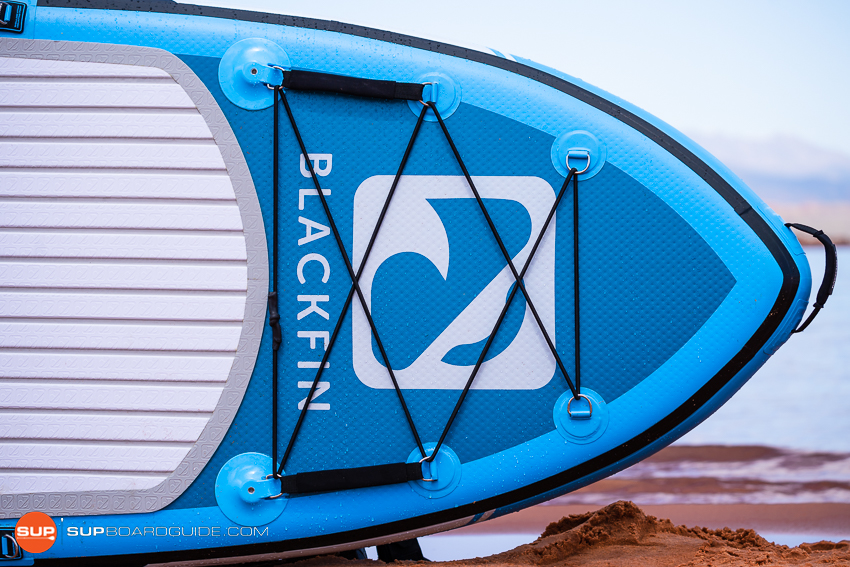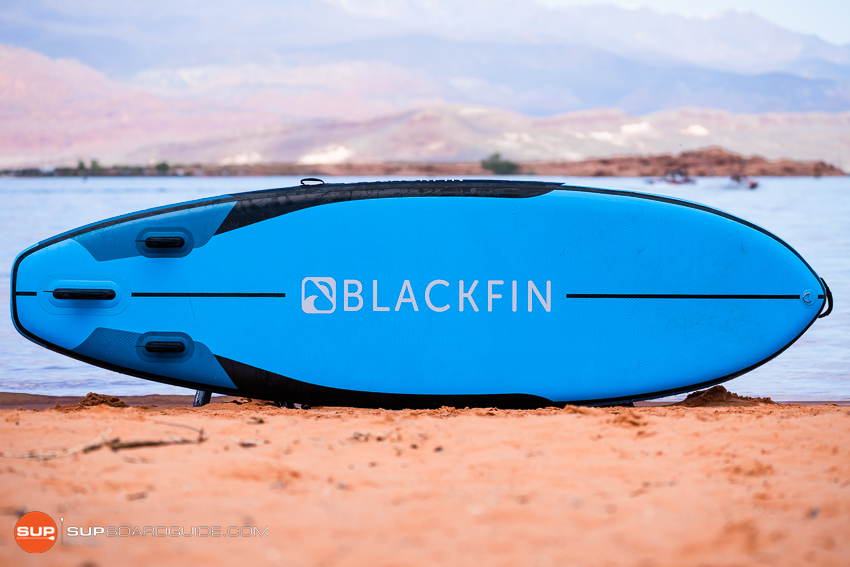 Note: We have put a ton of hours paddling the Blackfin Model X. This review of the Blackfin Model X is NOT a spec review like you see on so many other websites. It's an actual review, and our recommendations are based on the results from our testing process. As such, if you have any questions about this SUP, please contact us or drop your question in the comments below. We are happy to help you determine if this is the right paddle board for you.
Blackfin Model X: Spec Sheet
| | |
| --- | --- |
| Category | All Around, Inflatable |
| Board Shape | All Around |
| Board Dimensions | 10'6" x 35" x 6" |
| Listed Board Weight | 27 lbs |
| Listed Max Capacity | 450 lbs |
| Recommended PSI | 14-18 PSI |
| Fins | Nylon, triple flip lock, removable |
| Paddle Type | Full carbon shaft + Nylon blade |
| Materials | Triple layer composite PVC, carbon-fiber reinforced rails, high density drop stitch inner core |
| Price Range | Medium High |
| Warranty | 2 yrs + 1 yr for accessories |
Official SupBoardGuide.com Test Results: Blackfin Model X
Below you will see the results of our in-house tests for the Model X. Our goal with these tests is to verify what the manufacturer claims so a consumer can see how the board performs vs similar boards in real-world situations.
In-House Measurements:
| | |
| --- | --- |
| Board Shape | All Around |
| Tail Width | 12" |
| Nose Width | 8.5" |
| Nose Rocker | 13.1° |
| Weight | 26.4 lbs |
| Tested Capacity: | Coming Soon |
Overall Score: 9.8
As an all-around inflatable SUP, we found the Blackfin to perform exceptionally well and has earned our top honors for one of our best all-around iSUPs of 2022. As an all-around iSUP, the Model X performs at the top of the list when it comes to stability and versatility. At only 10'6" long and 35" wide, this isn't the fastest iSUP of the Blackfin Lineup. That honor goes to the Model V as the touring option. However, as an all-around iSUP, the Blackfin earns some of our top honors.
Stability: 9.8/10

Speed: 8/10 (above expectations for an all-around iSUP)

Glide: 8/10 (above expectations)

Tracking: 8/10 (slightly above expectations)

Board Stiffness: 9.8/10 (excellent)

Weight Capacity: 9.8/10 (excellent)

Construction Quality: 9.5/10 (excellent)

Accessories: 9.5/10 (excellent)
*Please keep in mind that we don't award 10's like you see in the NBA dunk contest. If a board earns a 9, that is considered exceptional a far above expectations. A 7 is also considered above average/expectations and is a very good score.
Our overall rating of 9.8 on the Blackfin Model X is us saying this is one of, if not the best, all-around inflatable SUPs
In-Depth Review of the Blackfin Model X Inflatable Stand Up Paddle Board
Performance Review: Speed, Glide, Tracking, and Maneuverability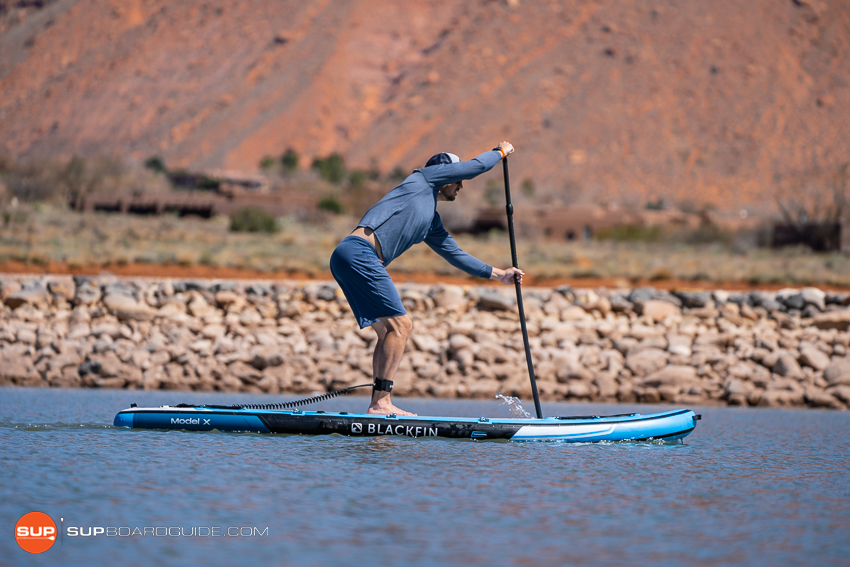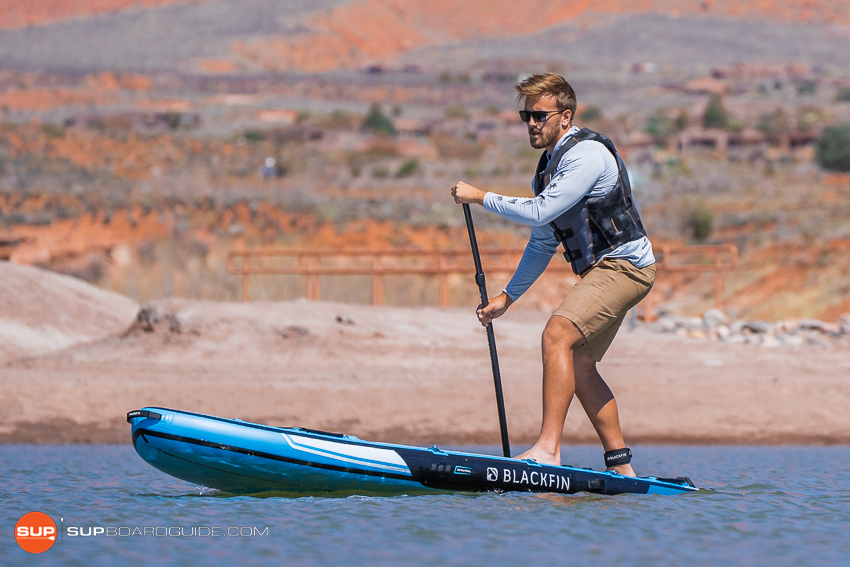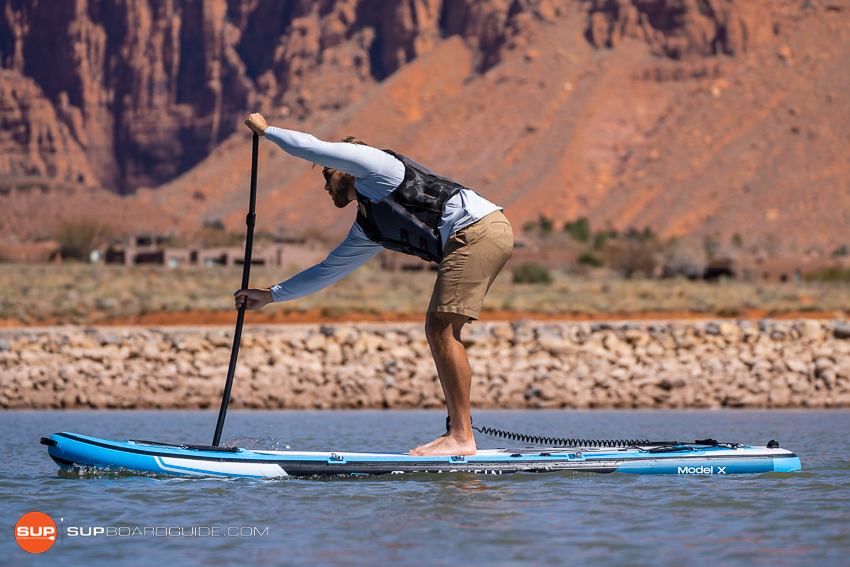 As you can see in the results below, the Blackfin Model X performed exceptionally well in all of our tests. Remember, our goals with these tests are to help our readers figure out what is the best SUP for them and their needs, and to provide solid feedback to brands like iRocker so they can continue to improve their boards every year.
With that being stated, we think it's important to recognize and give proper kudos to iRocker in that they really do listen to us and to our readers. Every year they are improving their boards based on our feedback, and we think the quality of their Blackfin Model X reflects this.
Speed Test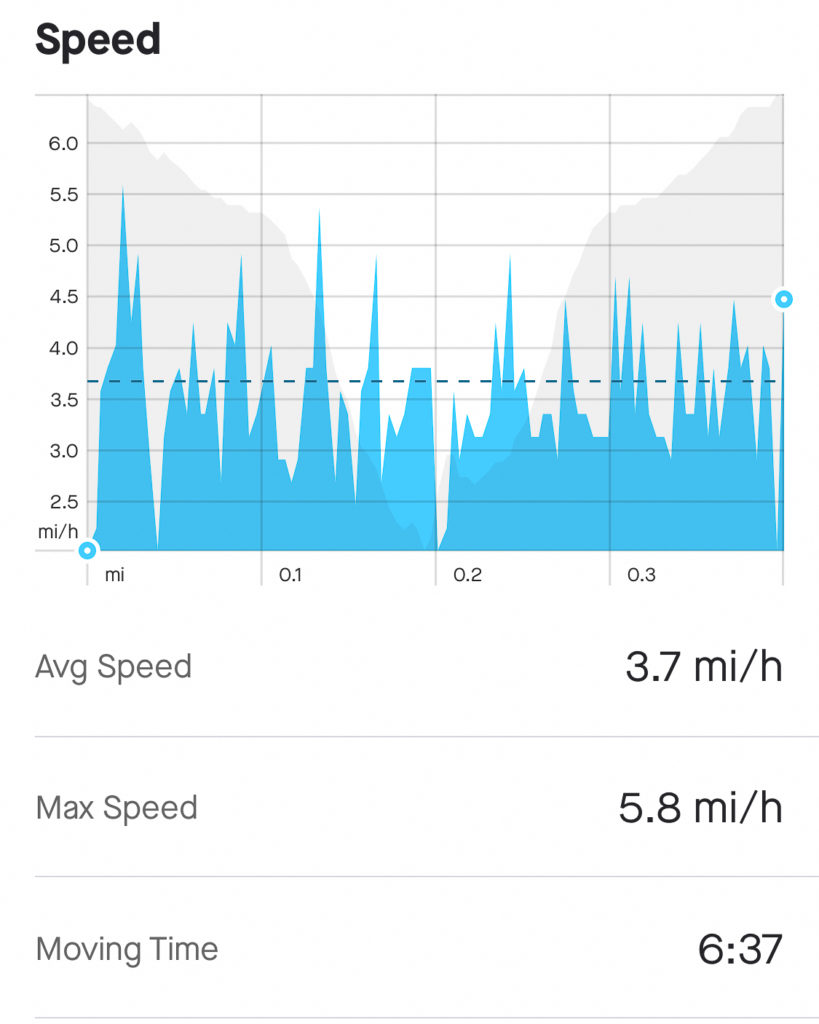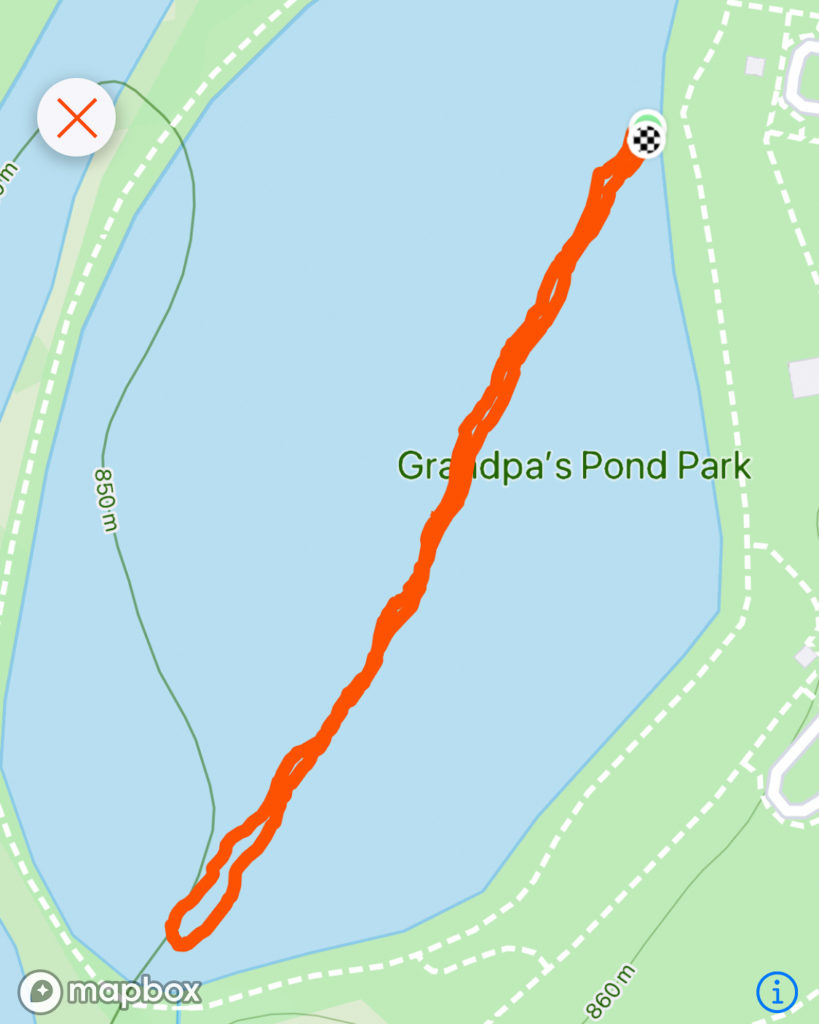 You'll notice that the Blackfin Model X is not the fastest Blackfin Model iSUP in their lineup. If you are looking primarily for speed, then you are going to be looking more at the Model V than the X. When compared to the iRocker lineup, we found the Blackfin to be faster than the 10' All Around and the Cruiser, and just a little slower than the 11' All Around and Sport Models.
At 35" wide and just 10'6, we found this board to fit squarely within the 'All Around' iSUP category in terms of speed. When compared to other all around iSUPs, the Model X performed quite well in terms of speed, and I'd say a little faster than what we would expect from a board this wide and short.
Glide Test
Average Distance Per Stroke:
(results to be posted soon)
We'll have all our glide test results posted soon (so stay tuned). However, from a feel perspective, I always love paddling the Blackfin boards. The solid board construction (dual layer PVC, high density woven drop stitch, carbon fiber rails) gives the board a very nice, solid feel. It also helps the board maintain its shape and glide through the water efficiently. This is not a flimsy inflatable, it's a well built iSUP that we find to be on par with performance level boards that cost several hundred more.
Tracking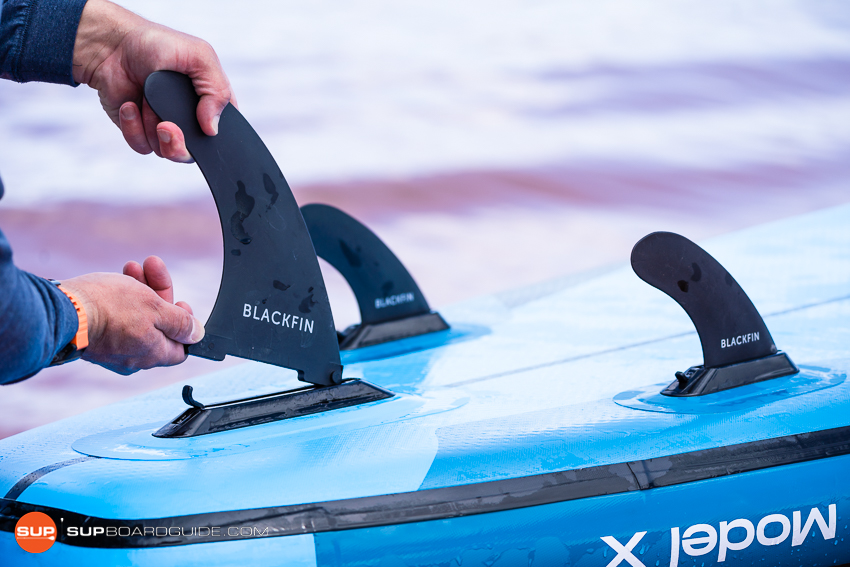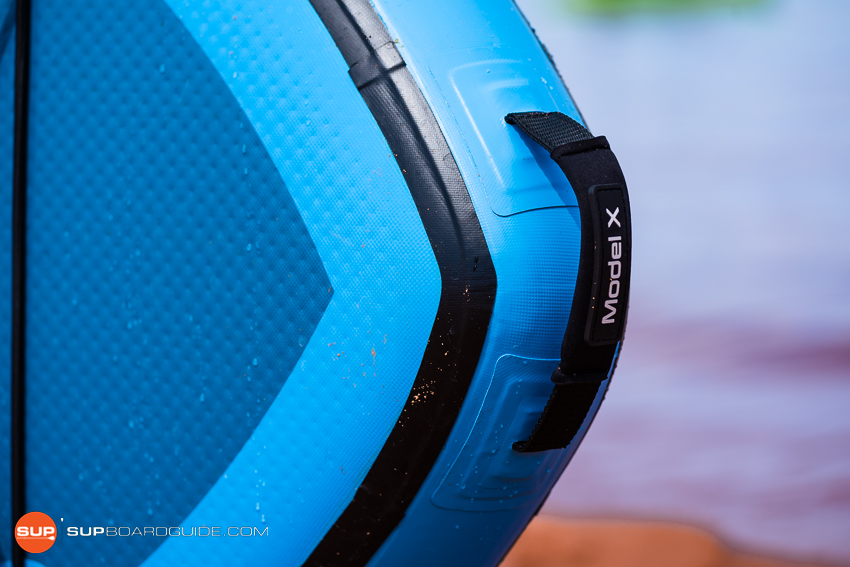 The Blackfin Model X tracks very well for a 10'6 x 35" iSUP. No, it doesn't track as well as the 12'6 Model V, but that is to be expected as this is an all around SUP and not a dedicated touring board like the V. We really like the triple fin setup. While a single fin would be slightly faster, we do appreciate the increased stability that 3 fins provides.
One note – the Model X is 35" wide, which does make it slightly harder to maintain a vertical paddle and you end up sliding the paddle against the side rail at times, especially for shorter paddlers. This can affect your stroke, and also your tracking. If this is a concern, then we do recommend looking at the Model V or the iRocker All Around 11, as they are 32" wide iSUPs. You can also look at the Model XL, as that is 34" wide. Going from 35" to 32" cuts off 1 ½" of reach, so taller individuals with broad shoulders won't notice this as much.
Maneuverability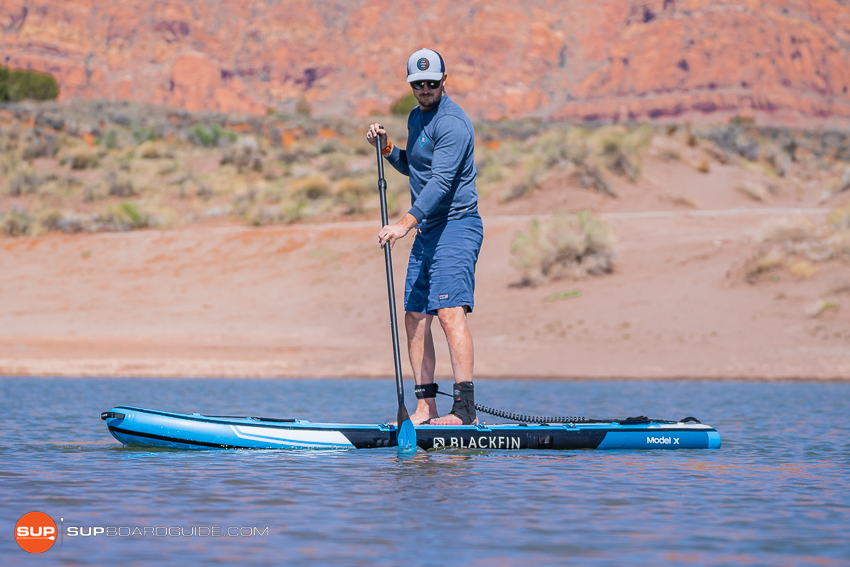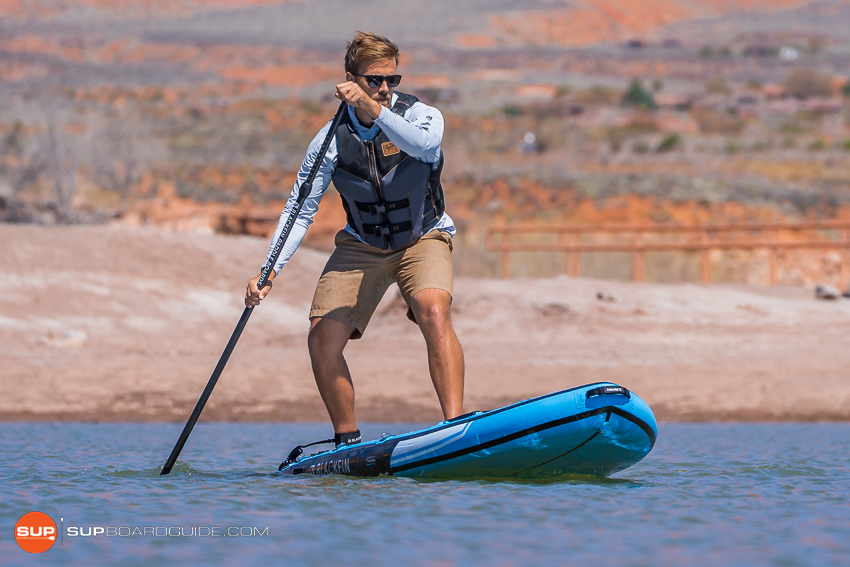 Where the Model X shines in the Blackfin lineup is with maneuverability. At only 10'6" in length, and with a 10" tail, it's very easy and comfortable for a paddler to step to the tail, lift the nose, and turn on a dime. It's also easier to paddle around rocks in a river than is it on longer iSUPs like the Model V.
This is why the Model X is one of our top recommended iSUPs for river paddling, as that maneuverability is required to safely navigate those kinds of waters. The maneuverability also makes this a great board to paddle around with kids or just a leisure day out on the lake by yourself.
Board Stiffness
Stiffness Test:
1" Bend (board on top of saw horses placed 7' apart, with 150 lbs of weight added right by handle in middle of the board)
There is a lot of debate in the SUP world about carbon fiber rails on inflatable paddle boards. Most industry experts seem to lean to the thought that adding carbon fiber to an inflatable is worthless and just makes the board harder to roll up.
From our tests, we are finding that the data says the carbon fiber rails does help improve stiffness. We found the Blackfin boards to be more firm than their iRocker counterparts, which don't have the carbon fiber rails. Yes, the Blackfin Model X is wider than the iRocker All Arounds, but we even found the 32" wide Model V to be more firm than the 32" wide iRockers. Also, the Blackfin lineup tested as one of the stiffest lineups, in line with other iSUPs that have carbon fiber rails.
Bottom line here – this is about as stiff as you get with an inflatable SUP, and it feels very solid in the water. We do think the 2 extra layers of PVC + carbon fiber layer on the rails helps improve stiffness and feel on the water and hope to see this continue on future Blackfin models.
Weight Capacity:
Listed Weight Capacity:
450 lbs
Tested Capacity:
(coming soon)
If you need a high performance iSUP that has a high weight capacity, you will love the Blackfin Model X. In past years I have paddled with 2 other large adults onboard the Model X with me, and the board was able to carry that weight. Yes, the board slows down as you approach that 450 lb capacity, but it will stay afloat. I'll also say that the board still performs quite well with me + one of my teenagers sitting on the board in front of me (so about 250-280 lbs of slightly distributed weight).
There isn't an inflatable SUP we've tested yet that is much better than the Model X in terms of weight capacity. Bluefin SUPs do a fantastic job as well, and so does Thurso. However, neither of those brands have a 35" wide SUP and you have to go to the 12' Cruise Carbon to get to the same capacity as you do with the 10'6 Blackfin Model X.
Bottom line – if you need a board that can support you + a kid (or two, depending on their size), or some gear, then the Model X is a great option. You can also look at the Model XL, which has an even higher weight capacity if you think you might need that.
Construction Quality: 9.5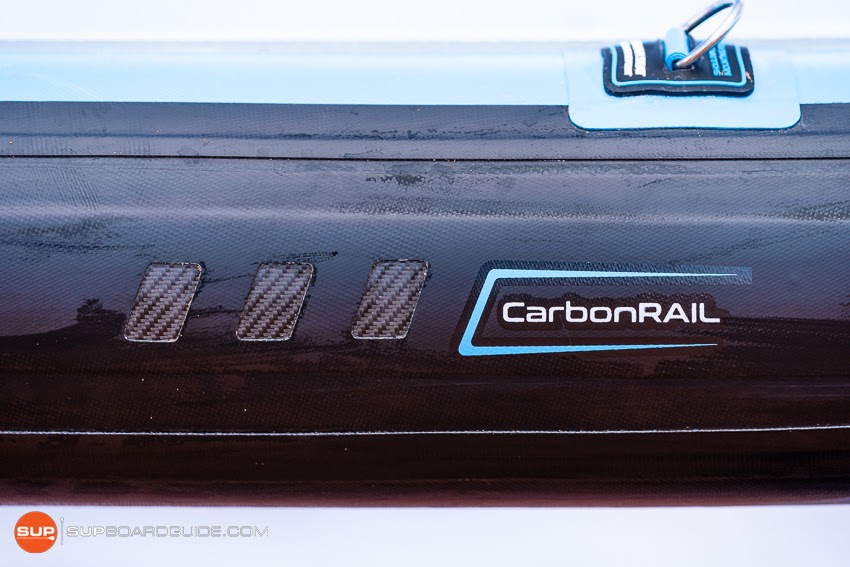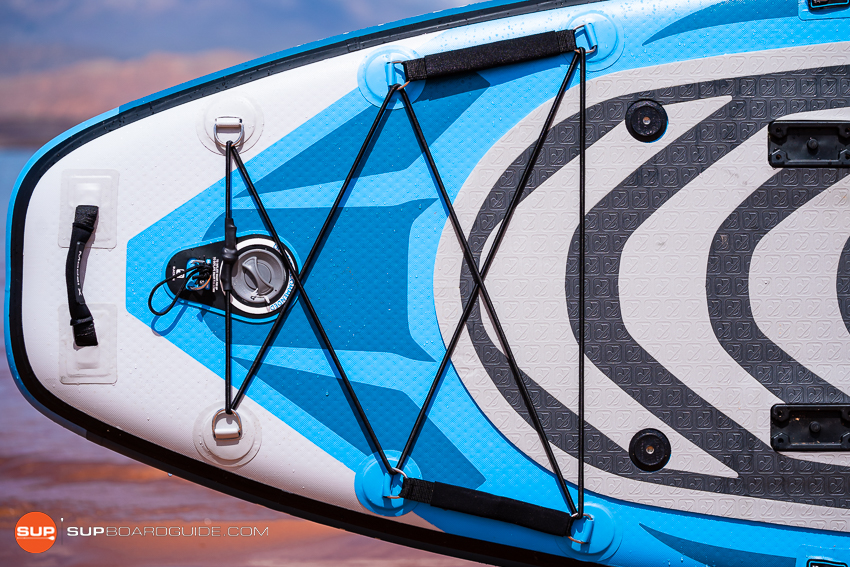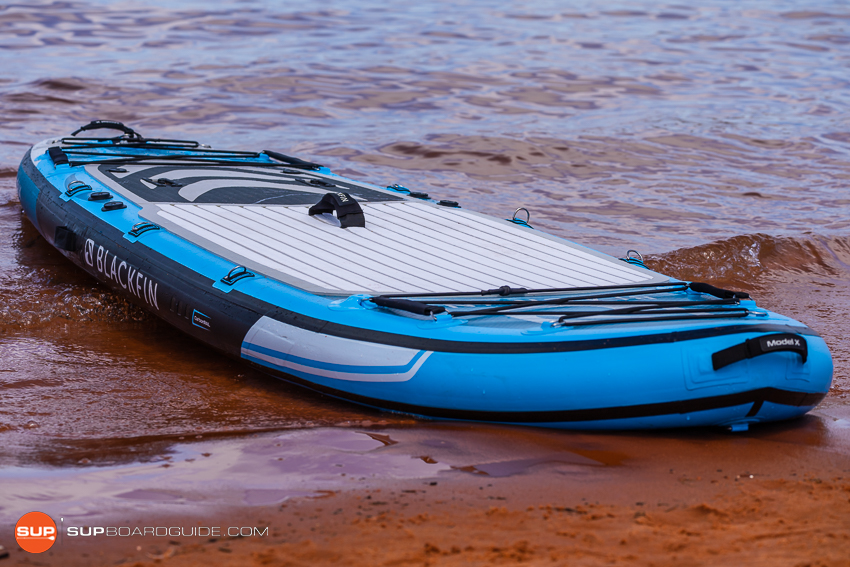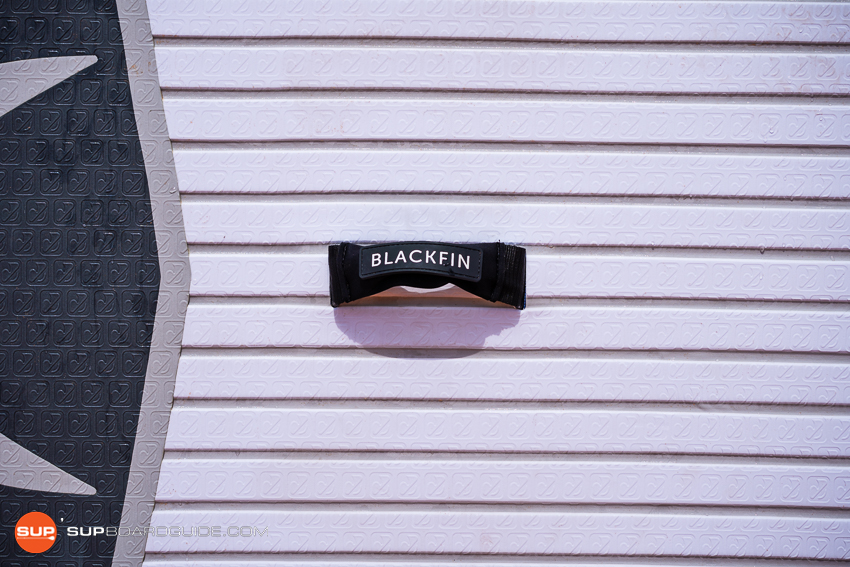 The Blackfin Model X is made with a high density, woven drop stitch core that is attached to a fabric layer on all sides. It is then wrapped by 3 layers of dedicated PVC + a carbon fiber mesh side rail.
There is a lot of discussion in the SUP community about construction, materials, etc. when it comes to inflatable SUPs. I've had several people try to call out Blackfin and state that they are not using an actual triple layer composite PVC around the drop stitch core.
However, when I'm paddling the Model X it does have a solid feel to it that many other boards just don't have. In talking with the founders over at iRocker, they explained why their boards have such a solid feel – it's because they actually apply 3 distinct layers of PVC to the board. The 1st and 3rd layers are solid PVC layers, and the middle layer is a mesh PVC. This mesh PVC layer I think is genius, as it cuts down on the weight of the Blackfin lineup (last year is when they went to this construction and cut weight by around 20%) but still gives the board a solid feel. You see the results in our bend test, and I can feel the results when I'm paddling.
The deckpad is a comfortable yet grippy EVA foam with deep cut lines to help water run off the board, and we really like the small Blackfin logos that are stamped into the pad. They look great and also add a little bit of grip.
There is nothing cheap feeling about the Blackfin, and our team at SupBoardGuide feels that the Blackfin lineup earns all the accolades it gets for construction quality and is worth the cost of the board. This board is going to last a long time, and we have never had any issues with the Blackfin models we've tested (and we still have the 2019 board they sent us almost 3 years ago and lend that board out to anyone who wants to take it out, it's been through the ringer).
Accessories: 9.5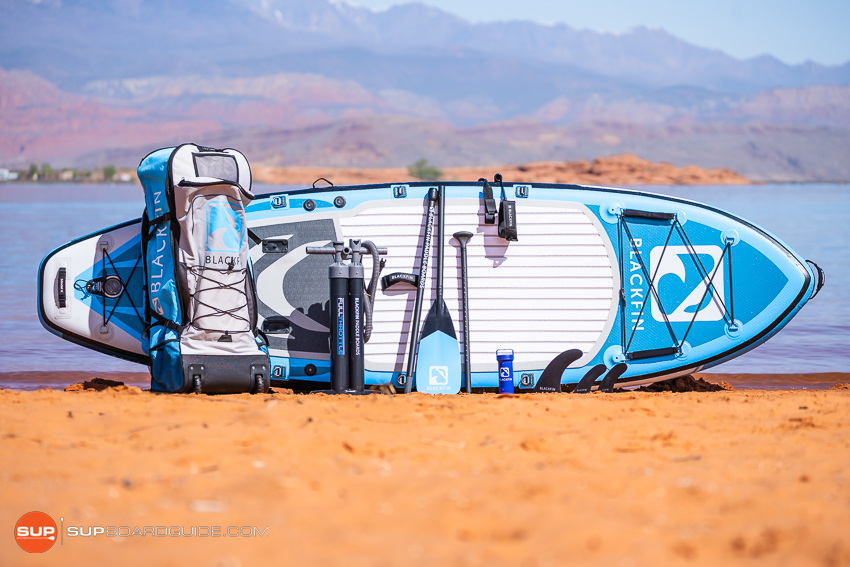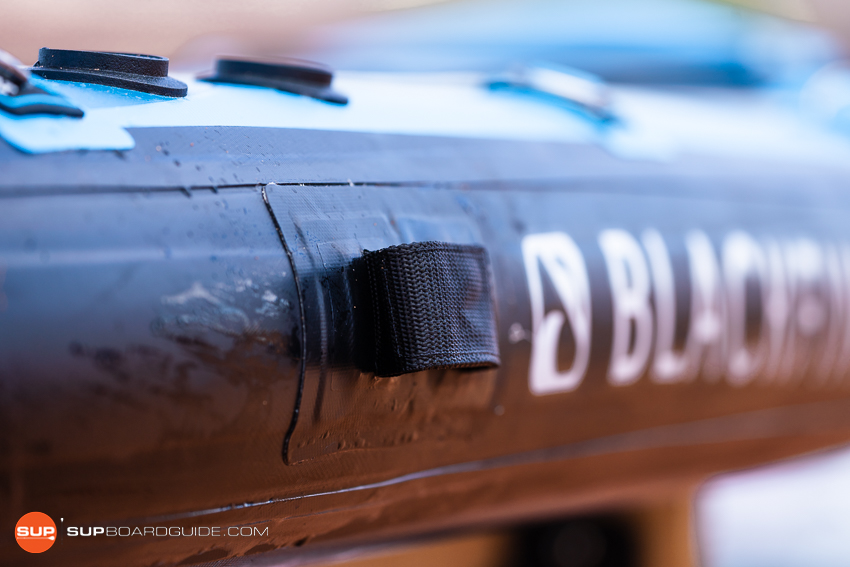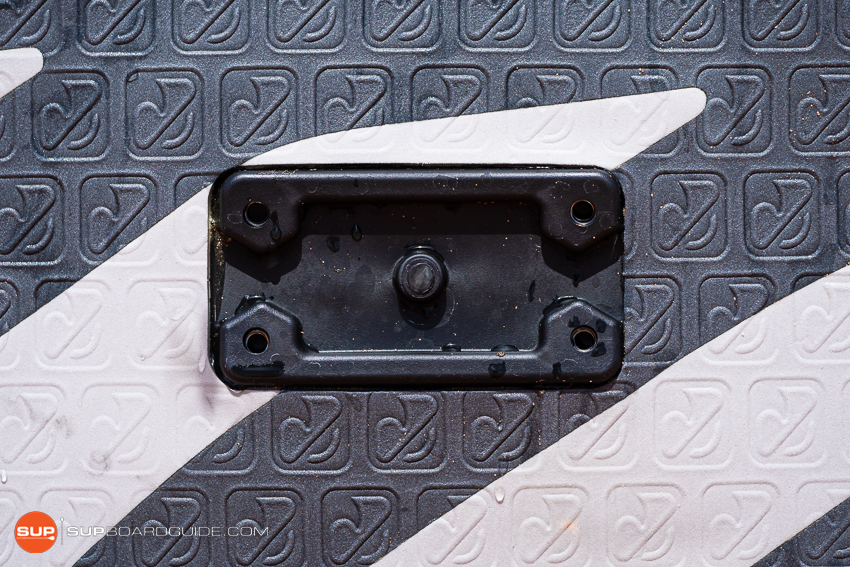 Accessories is another area where Blackfin shines. When you purchase a Blackfin Model X you get the following in the kit:
3 piece carbon fiber shaft, nylon blade paddle
Dual chamber, triple action pump
10' lease
Wheeled SUP backpack
Standard SUP repair kit
8 multi-use action mounts
20 d-ring attachments
Sand spear and fishing rack mounts (spear and racks sold separately)
Essentially, you have everything you need to get out on the water and start paddling from day one.
Paddle: 8/10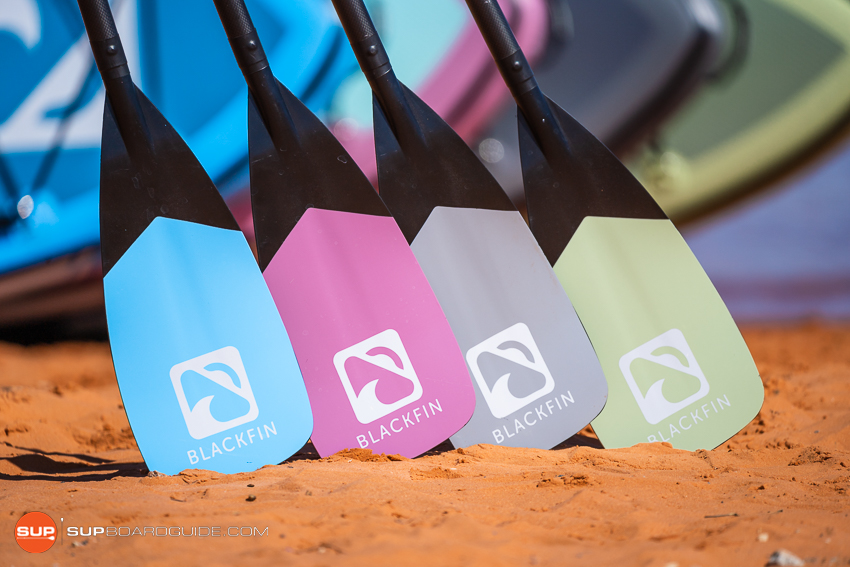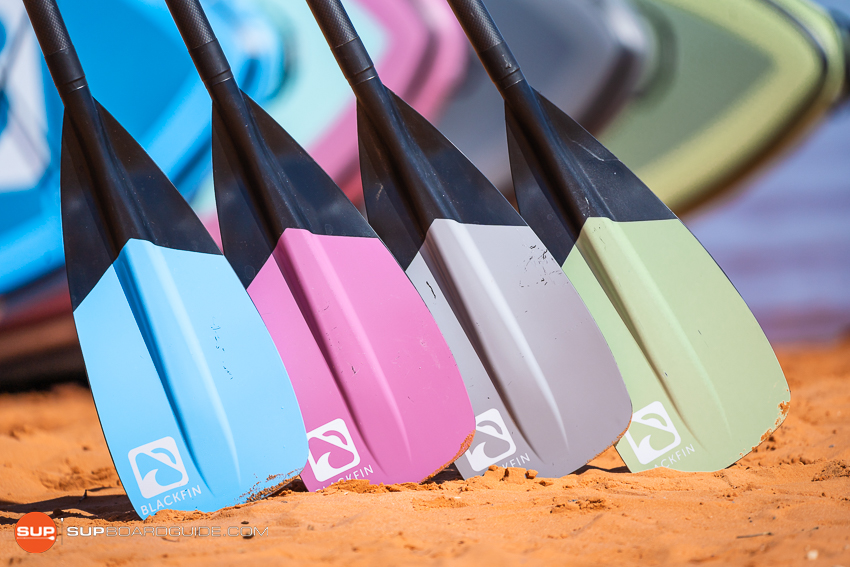 We like the new Blackfin paddle that comes included in the Model X kit. With the paddle, you get a matte carbon-fiber shaft and nylon blade.
The shaft feels nice and comfortable while paddling, and the thin nylon blade keeps the paddle lightweight. For a kit-standard paddle, this is on the nicer end of things.
There are two small improvements we'd like to see iRocker make with their paddles, however:
Add a clamp in addition to the pin lock where the shafts connect. There is a very slight amount of twist to the paddle that could be gotten rid of with such a clamp.
Add a tracking/guide slot on the inside of the paddle. This would also help reduce any twisting of the shaft and improve paddling slightly.
Of course, if you are someone who is as particular as I am about paddles, then you are most likely going to want to purchase an aftermarket paddle that is sized perfectly for you (this is why a lot of the higher end, performance brands don't include a paddle in their kits).
Pump: 9/10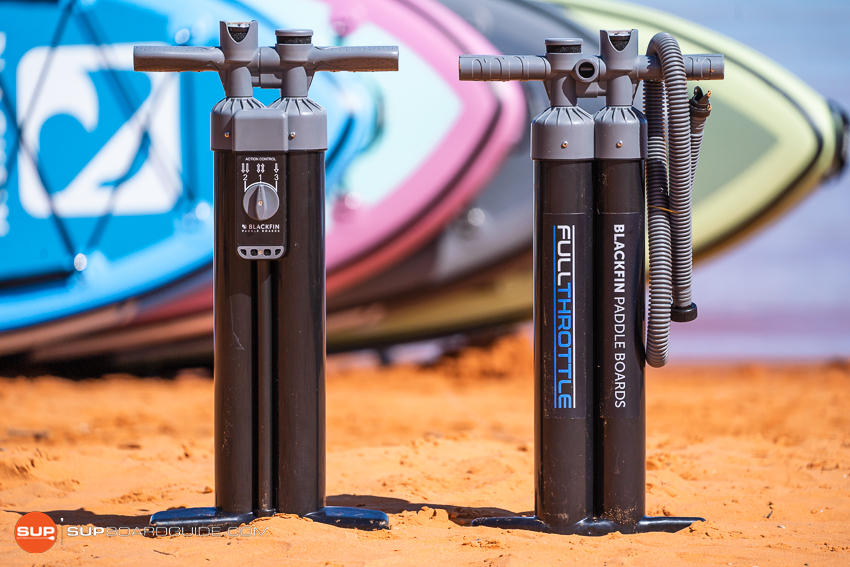 While we love the dual chamber, triple action pump that comes in the kit, we can't recommend enough upgrading to the electric pump by iRocker.
iRocker's electric pump is (so far) our favorite available on the market today.
Of course, if you want the workout, then this triple action pump will do a great job. It pumps up the board very fast, is well built, and is a great pump to have around as a backup if you do end up purchasing the electric pump.
Backpack: 9/10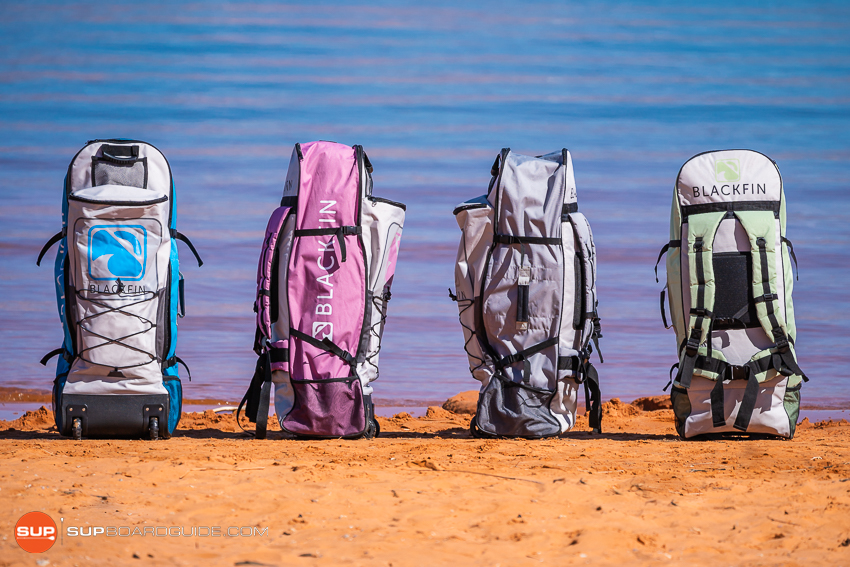 The Blackfin backpack is a great backpack for your iSUP. It's padding is comfortable, there are lots of adjustable straps, and even more extra pockets to organize and carry about anything you might need. The backpack comes with:
Rolling wheels, which are strategically placed on the outside of the backpack. This keeps the straps from getting caught in the wheels and makes it easy to roll the backpack around.
2 mesh side pounces
2 small side zipper pouches (great for keys or other small items)
Large front compartment (where I like to keep the pump and leash)
Top zipper compartment (fits the iRocker electric pump)
Side and top carry handles
Bungee front straps
Optional Accessories
iRocker offers almost too many accessories to list. With the 20 d-ring attachments, 8 multi-use action mounts, sand spear mount, and fishing rack mount, you can customize your Blackfin any way you would like to.
Some of the more noteworthy accessories you can add onto the Blackfin lineup includes:
Electric Pump
Sand Spear/Push Pole
Fishing Rack

R

iver fin system (shorter fins to make the board perform better in rivers)
Kayak conversion kit (very popular with those who don't want to stand at all times or who want to bring their kids onboard with them)
Kayak seat cushion (this I highly recommend for those buying the kayak conversion kit, but I'm super inflexible and need that extra lift when sitting)
SUP anchor
Cell phone holder
Cup holder
Vibe waterproof speaker (my kids favorite accessory)
Soft cooler deck bag
Hard cooler (great for sitting on while fishing or just paddling around)
Summary Review of the Blackfin Model X
As you can see from our review, we are pretty big fans of the Blackfin Model X. It's a fantastic all-around SUP that has great stability and maneuverability, while also tracking and gliding very well. The Model X is constructed using high quality materials, and is backed with a 2 year warranty by iRocker, one of the most respected brands in the inflatable SUP world.
Of course, if we didn't cover something in our review of the Blackfin Model X, please leave us a question in the comments below, or shoot us an email. We are happy to help you figure out if the Model X is the right inflatable SUP for you!
Happy paddling!
The following two tabs change content below.
Justin - Chief Paddler
Heyo! At SupBoardGuide.com we are a team who love the water, the outdoors, and are more than grateful that our full-time job allows us to review stand up paddle boards. We paddle year round (it helps that we are just about 2 hours outside of Las Vegas), and we bring in a wide range of paddlers with the goal of providing our readers with the best, most in-depth, and accurate stand up paddle board reviews.
Latest posts by Justin - Chief Paddler (see all)