Blackfin Model X Inflatable SUP
Pros
Super stable board with a high weight capacity (450 lbs), making this a great board for a beginner, larger paddler, or paddler wanting to load up with cargo, pets, and/or kids.
Faster than we expected for such a wide, stable iSUP.
Rigid and durable thanks to the triple-layer composite PVC and added carbon fiber rail. Improved rail construction features closer, tighter seams for a more uniform and stronger bond.
Extra wide (35'') so you can reel in a big fish without tipping over; its deck pad is full of action mounts and Scotty mounts for sand spears, fishing poles, fishing racks, and other gadgets.
Simple to use click-in and locking 2+1 fin system. Now there is no need to worry about losing a fin!
These boards look awesome and there are 6 different color options to choose from!
Great features and accessories, from nice, grippy deck pads to removable bungees.
Cons
We still would like to see a Blackfin option that doesn't include the Scotty mounts or finds a way to move them more to the outside edge of the board. These don't get in the way at all while paddling, but can get in the way if you're trying to do yoga or paddle with 2 people on board.
Meant for easy paddling, vibing, and/or action-packed days on the water, the Blackfin Model X has something for everyone.
The Blackfin Model X has already been known as an excellent all-around board; it has largely stayed atop our recommendations as one of the best SUPs for most any paddler, but it's due for another review because the 2023 model is even more rigid and higher-performing than the previous years! Oh, and now you can get it in pink! (If you're not as excited about pink as I am, feel free to choose one of the other five color options).
As a 10'6 x 35'' board, it's generally short and wide, making it not only super stable but also highly maneuverable. Its deck pad is decorated with action mounts so you can hook up anything from a sand spear to an entire fishing rack. It's very family-friendly and keeps the kiddos in mind with the removable grab handles that are on the (also removable) cargo bungee areas. Not to mention, those cargo areas can hold a lot of stuff!
And just in case you keep reelin' in 10 lb fish, the Blackfin Model X has a 450 lb weight capacity. Or, perhaps you just want to take out a cooler and a few bodies (furry friend or a child!) for a fun picnic on the water.
Regardless of how you load it up, on the Blackfin Model X, you will feel prepared to take on the water even as a new paddler and thoroughly enjoy yourself.
We think the Blackfin Model X would be a great SUP for paddlers who:
Want a wide, stable, all-around iSUP that is high-quality and meant for a lot of day-to-day use: whether it be cruising on the lake, loading up with gear for long paddle adventures, or even fishing at your favorite watering hole.
Like a board that can hold a lot of weight: this SUP has a 450 lb weight capacity and works great for paddling with gear and/or kids or pets
Want something that's a looker! It's got a great design and 6 different color options that all pop!
Blackfin Model X: Spec Sheet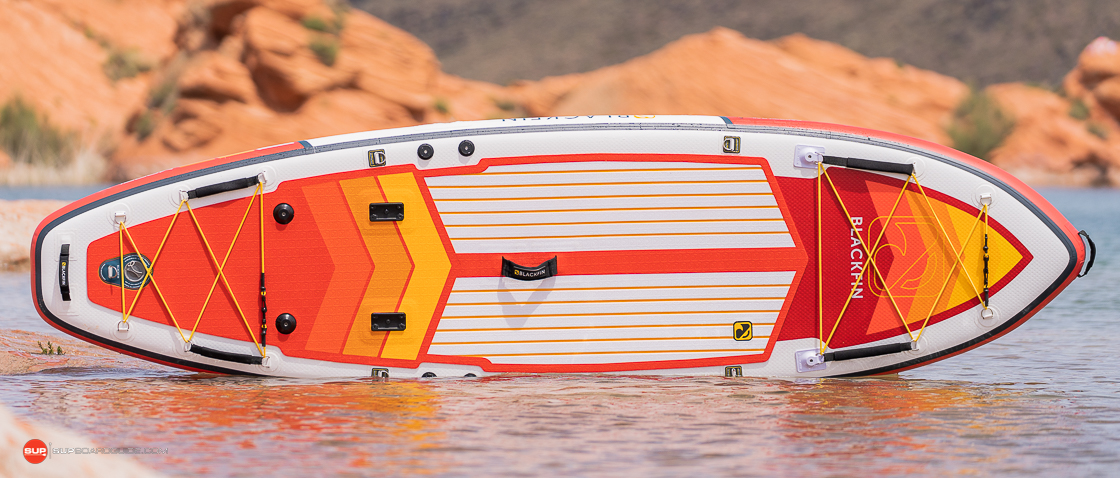 Main Category: All-around
Board Dimensions: 10'6 x 35'' x 6''
Listed Board Weight: 27 lbs
Listed Max Capacity: 450 lb
Recommended PSI: 16
Fins: 2+1 click in lock fins
Paddle: Not included in kit, can be added at checkout
Materials: PVC, carbon fiber
Warranty: 2 years general manufacturer, 3 years seams, 1-year accessories
Performance Review of the Blackfin Model X Stand Up Paddle Board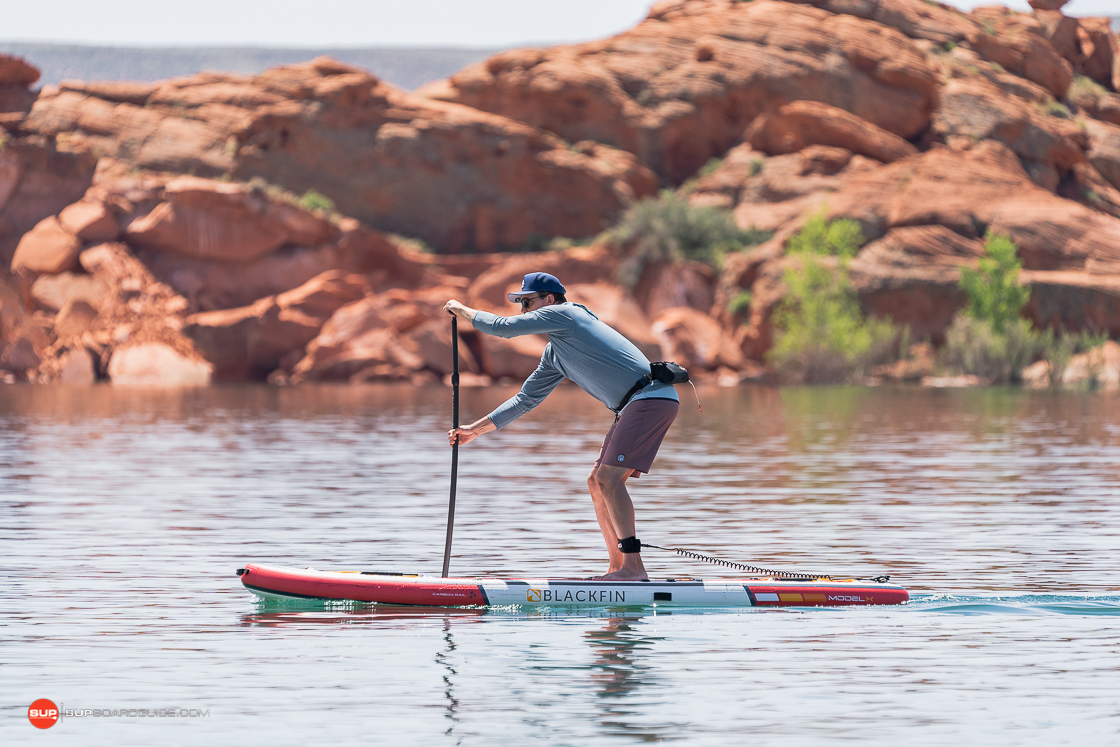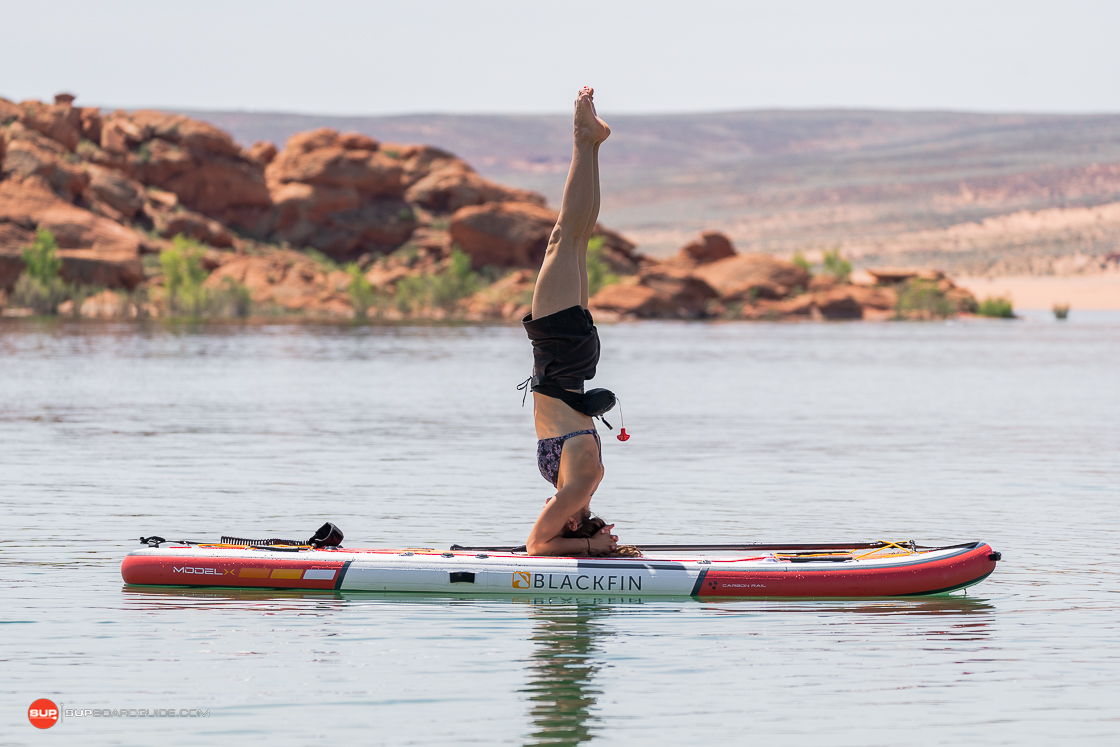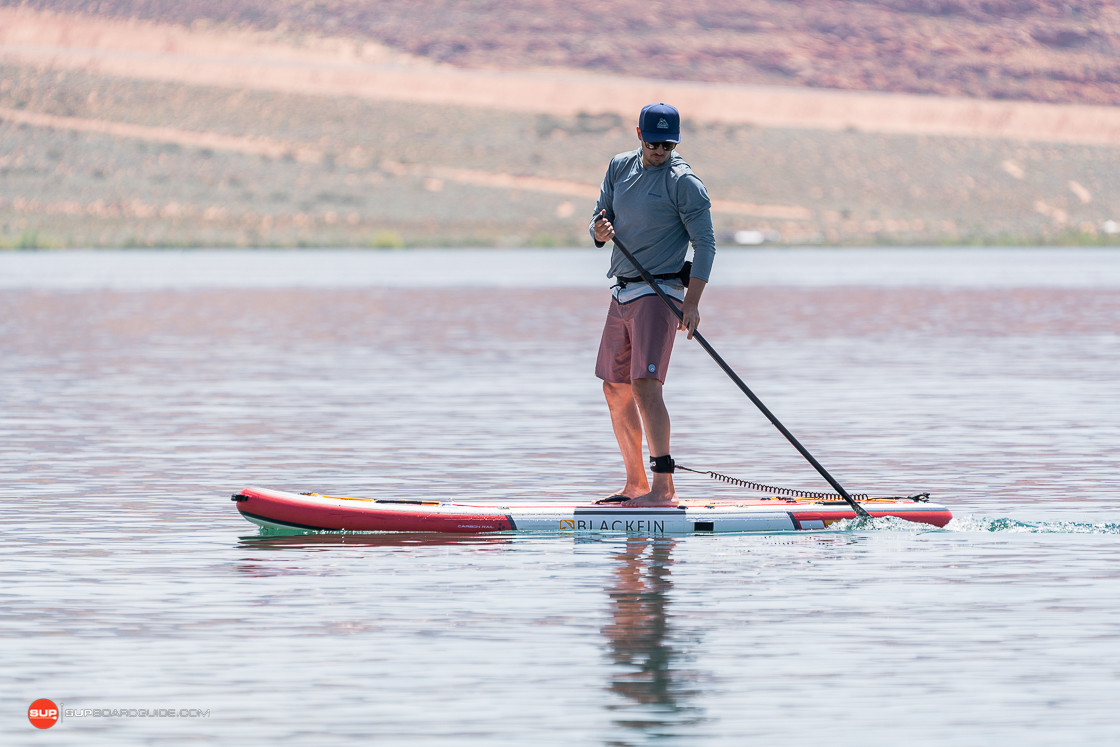 Overall Score: [9.8/10]
Stability: 9.8/10
Speed: 9/10
Tracking: 8.9/10
Maneuverability: 8.8/10
Construction Quality: 9.7/10
Features/Accessories: 9.7/10
Stability Rating: [9.8/10]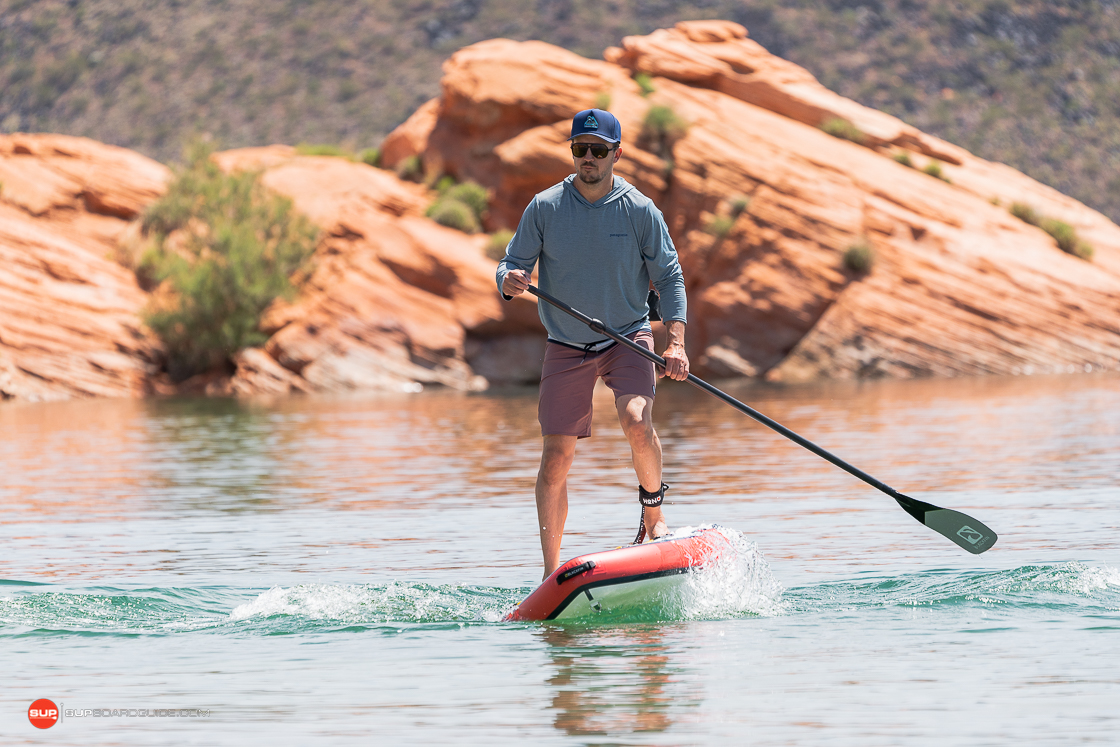 It came as no surprise to us that the Blackfin Model X was a highly stable board for our entire crew, even the less experienced paddlers. The board closely replicates the shape and size of an average all-around style board (short and oval shaped), but it is extra wide (35'' total) which adds to its stability and allows newer paddlers to quickly find their balance. Also, the tail is squared-off and only tapers to 19'' inches. That gives it a nice wide surface to flatly rest on the water as well as a large volume of 237 L for a high weight capacity of 450 lbs.
Additionally, the construction is very high-quality, with rails that are improved for greater stiffness and longevity of the board.
Considering the Blackfin Model X has lots of room for cargo, many action mounts, and a high weight capacity, we are stoked that it's stable enough for newer paddlers to feel balanced right off the bat. We think this makes it a great choice if you are hoping to take this SUP out adventuring with gear or your child without having to worry about a learning curve regarding board stability.
Because this board is very similar to its 'larger sibling' the Blackfin XL, you may be wondering which board is more stable. The X is one foot shorter than the XL but 1" wider, and for us, it's a toss-up when it comes to stability. We found the XL to be more stable when carrying an extra large load of gear (think for overnight adventures), but otherwise, they are neck and neck stability-wise.
Speed Test: 8.6/10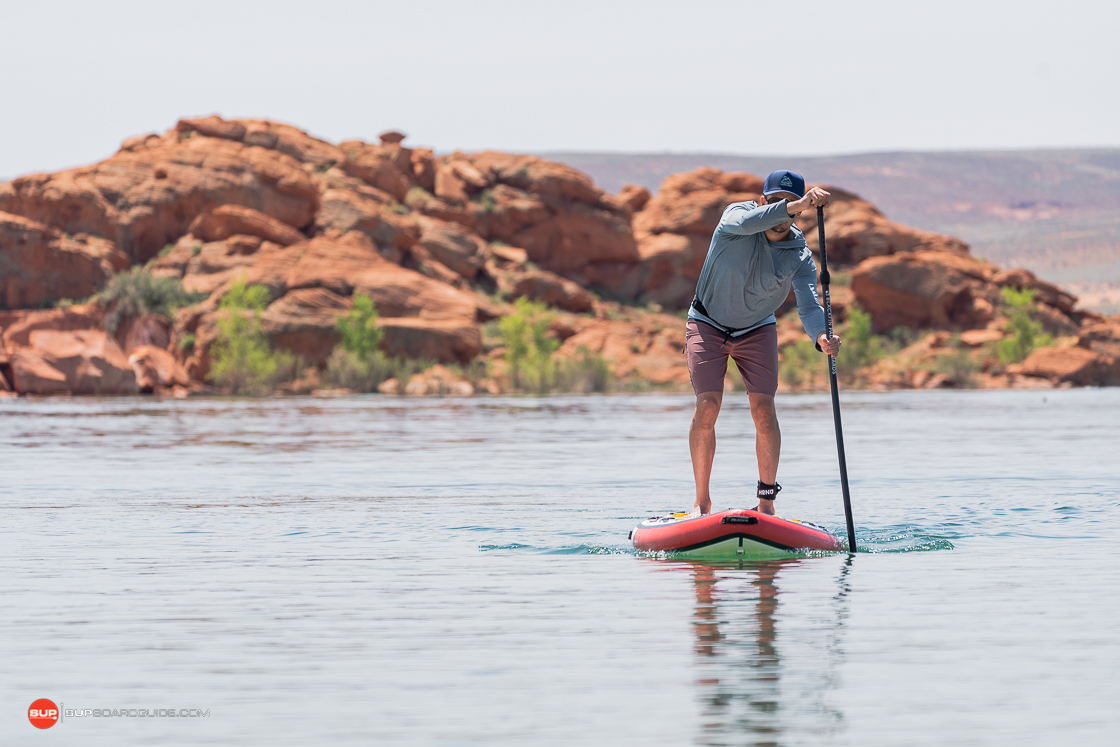 | | |
| --- | --- |
| Top Sprint Speed: | 5.35 MPH |
| Average Cruising Speed: | 3.8 MPH |
SUP Board Guide's Speed Testing:
To obtain our speed test results, we use a Speed Coach Sup 2. This gives us accurate readings on how fast we are paddling and our current stroke rates. For the top sprint speed, we paddle as hard as we can for approximately 10-15 seconds and then record our average speed. For the casual test, we paddle at 40-35 strokes per minute for approximately 30-60 seconds and record the average speed.
We were impressed with how well the Blackfin Model X performed in our speed tests. A 5.35 MPH sprint is comparable to some of the other lighter-weight, thinner, all-around SUPs we have tested. While we weren't necessarily expecting a boost in speed from last year's version to this year's, we were proven wrong. We actually did notice a slight speed improvement and after analyzing the results we concluded that the improved rail construction on the board is what we can attest to the improvement in speed.
This comes down to the fact that the improved rails decreased the amount of flex in the board (see the bend test below) and in turn gives the board an ever-so-slight smoother glide. And a better glide correlates to higher speeds.
Side note: we conducted our speed test without any extra cargo or people on board, so don't expect to go 5.35 MPH while you're paddling with your cooler full of drinks. But if you do, then definitely let us know in the comments!
Tracking: 8.8/10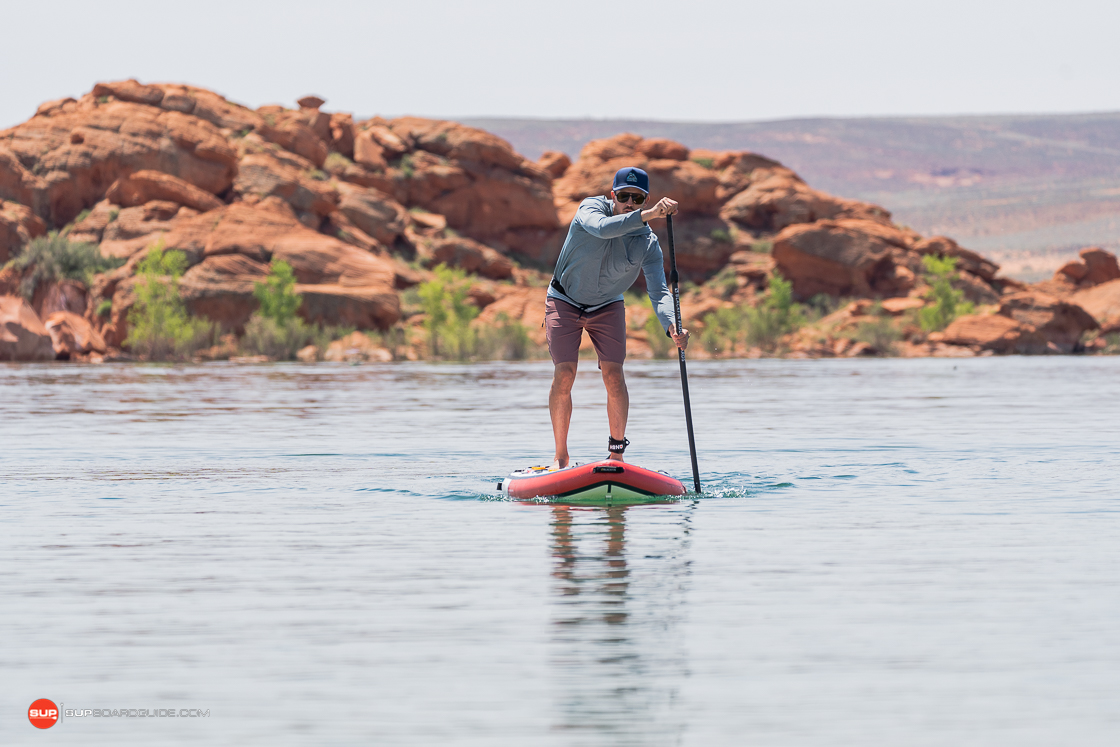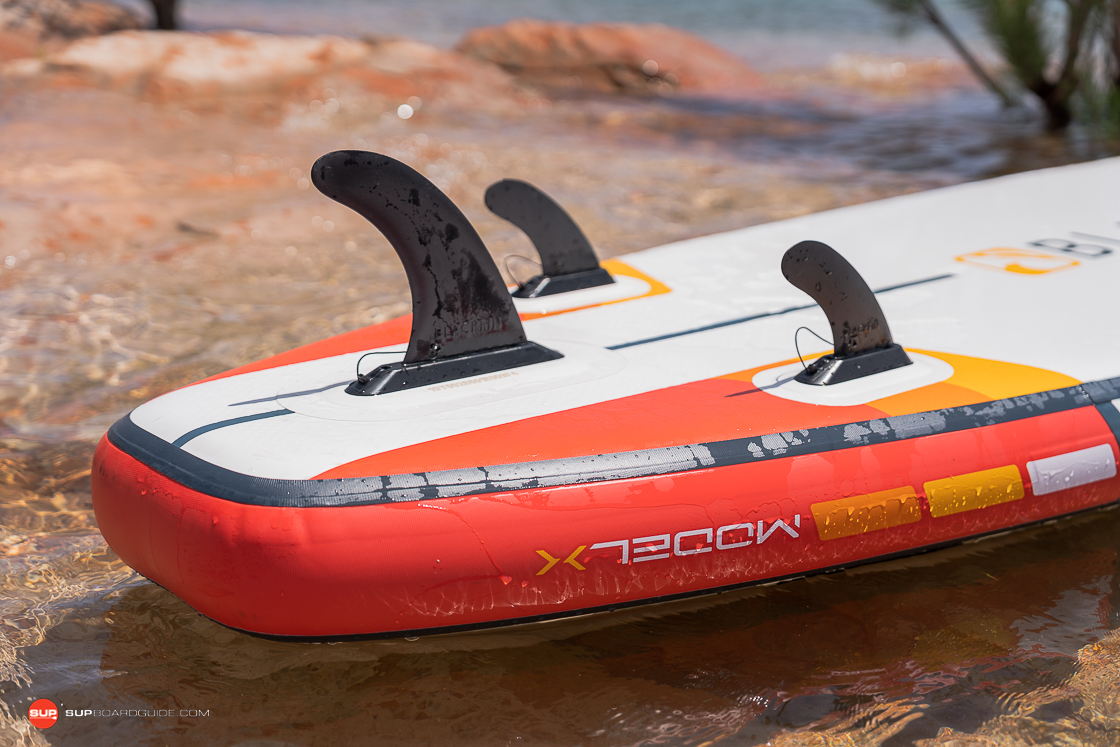 Generally, a shorter and wider board has high maneuverability, which can be a tradeoff to its tracking. But we find that the shape and size combined with its 2+1 fin setup help to balance that tradeoff and allow the Blackfin Model X to perform well in both categories. No, the Model X doesn't perform as well as the XL when it comes to tracking, but that's to be expected given it's a full one foot shorter and 1" wider.
However, it still is one of the better 10'6 x 35" iSUPs that we have tested in terms of tracking and should not discourage anyone from buying.
Maneuverability: 9.2/10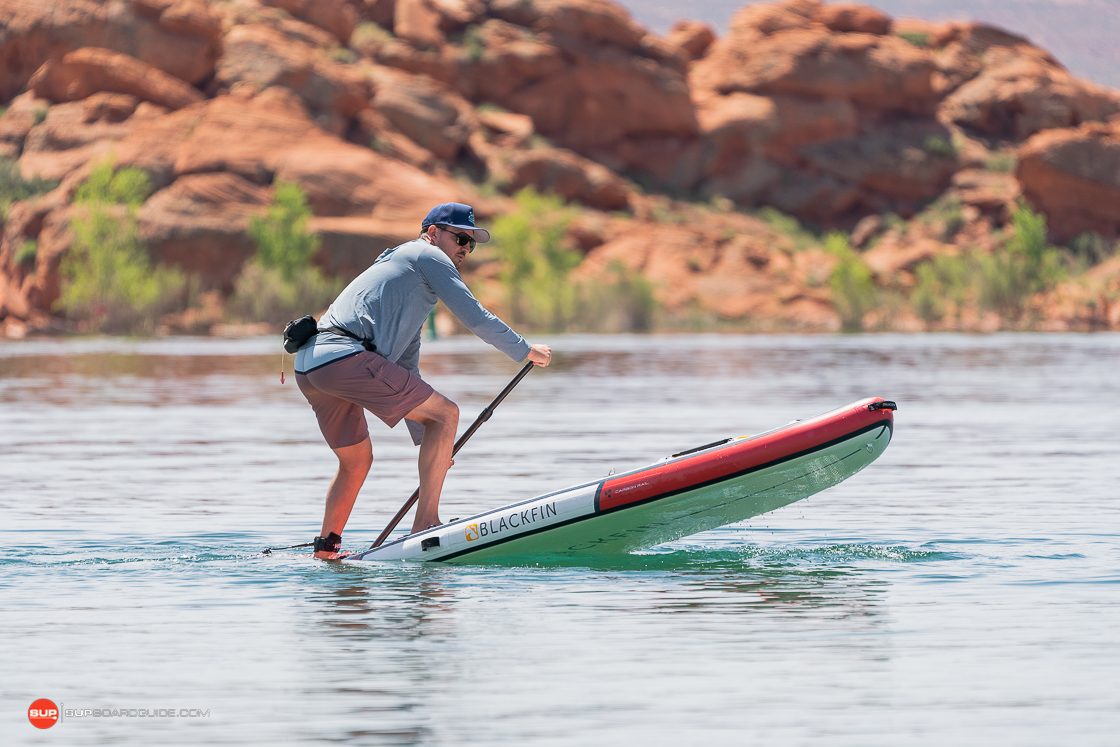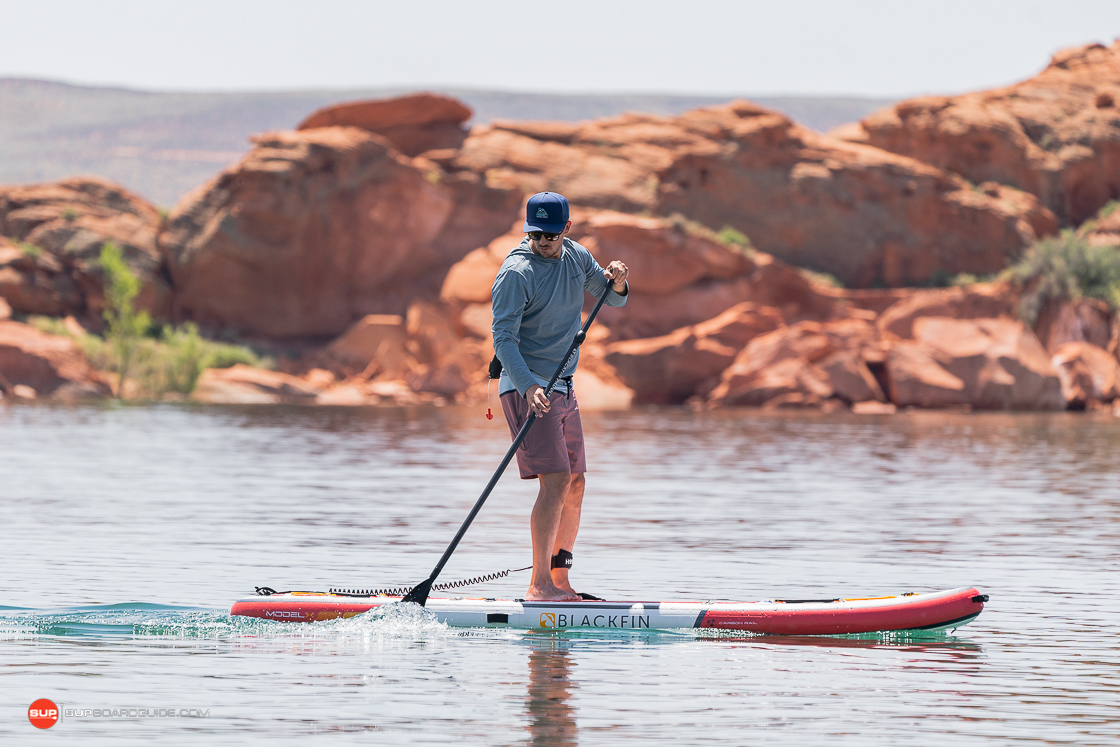 As I mentioned above, a short and wide board tends to have higher maneuverability. And the Blackfin Model X lives up to that. We noticed that this SUP has better maneuverability than the Blackfin Model XL, as it's a foot shorter.
When I went out for a paddle on this board, I was able to maneuver my way into a small opening in the shrubs that surrounded an underwater sandstone rock. From far away the water above the rock looked crystal clear, so I wanted to get closer and check it out. It was easy to paddle my way in there and hang out for a bit. It's nice that this board is only 10'6'' long because it can maneuver its way into smaller, off-the-beaten-path places for some solo rest and relaxation.
Also, with the Blackfin Model X, it's pretty easy to lift the nose out of the water, change directions with back sweeps, avoid a shrub, or make small directional changes with short quick paddle strokes. It only took us on average 4 back sweeps to turn the board a full 360 degrees.
Construction Quality: 9.7/10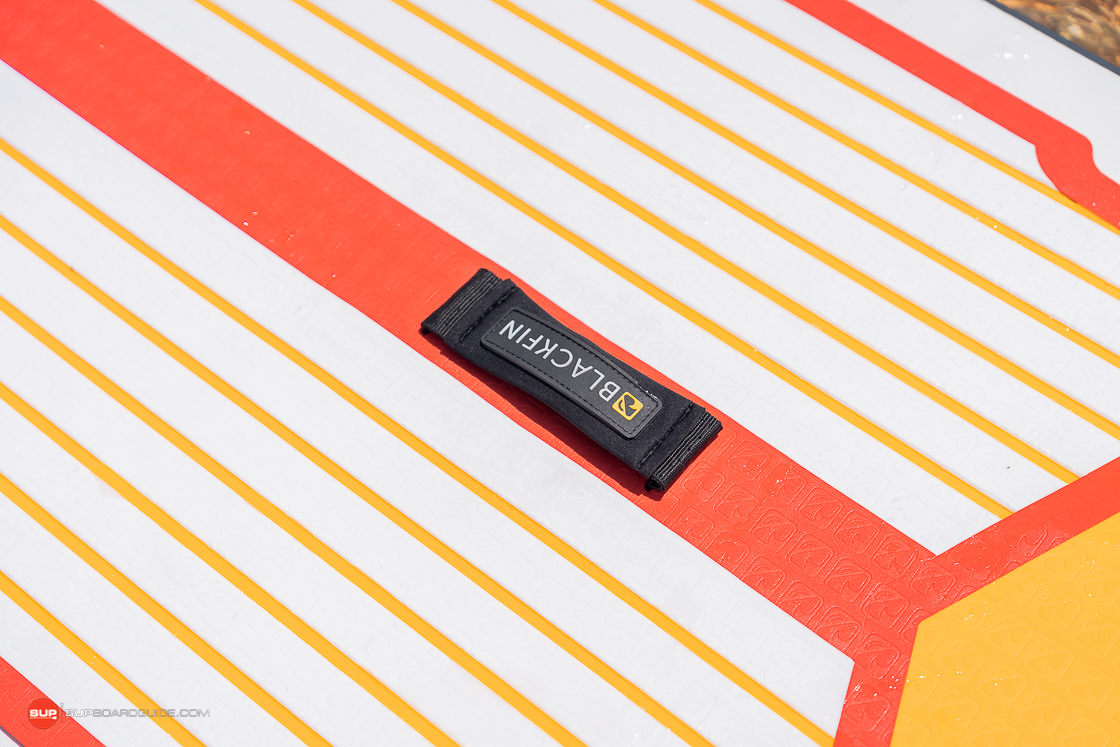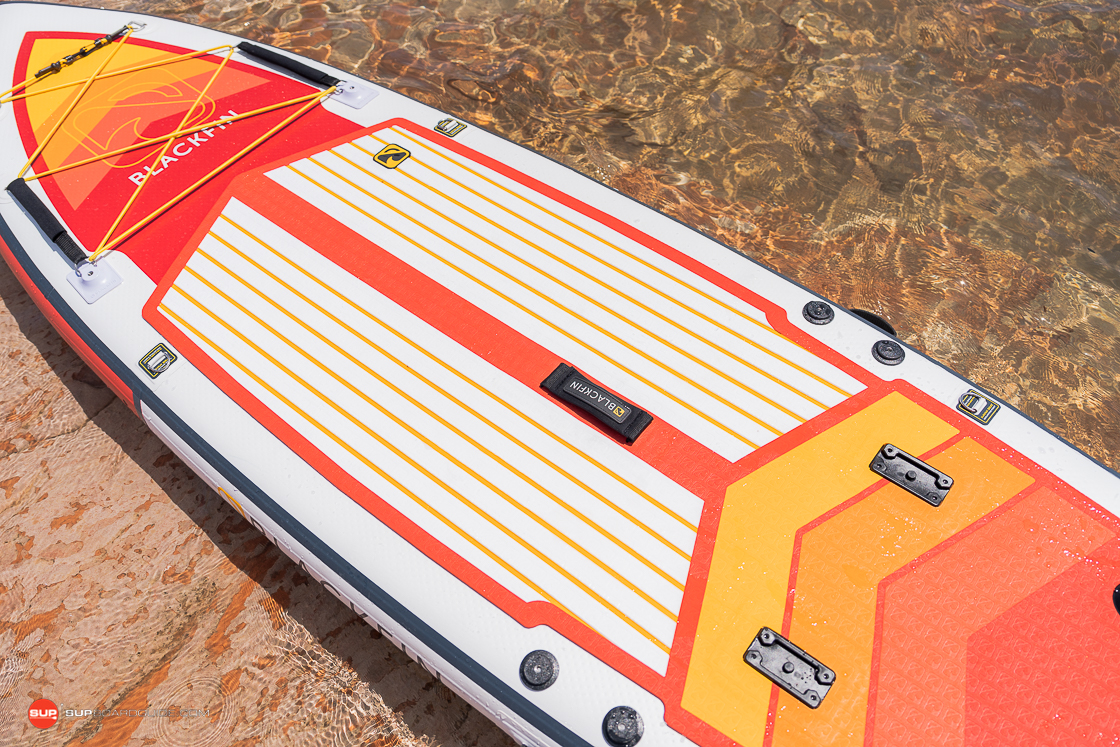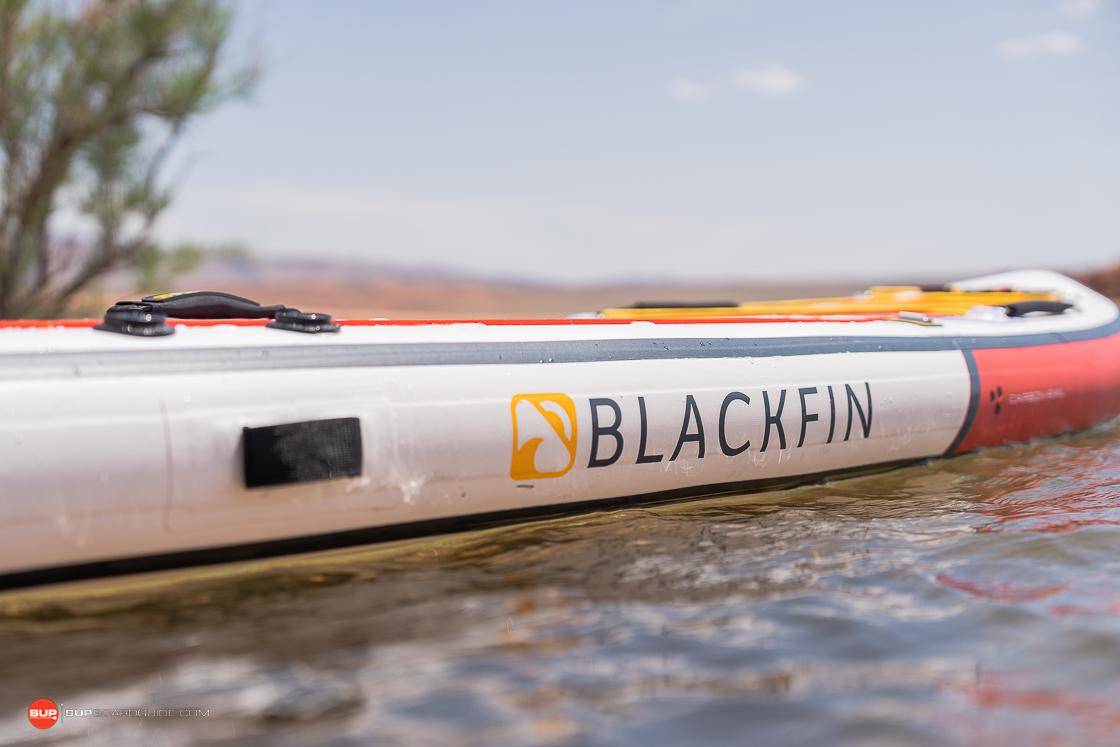 The Blackfin Model X is constructed with a high-density, V-knitted drop stitch core with non-resined carbon fiber rails. This means the fabric base layer(s) is knitted patterned and the nylon threads that make up the inner chamber of the board (and allow it to be inflated into a board shape and not balloon out) join together in a V-pattern. iRocker uses this construction method with all their Blackfin SUPs, with the exception of the Blackfin Ultra CX (which used x-woven dropstitch for the inner core).
From last year to this year, iRocker made an improvement to the construction of the board rails by bringing the top and bottom layers closer together before overlaying and gluing on the PVC and carbon fiber rails. I've mentioned throughout this Blackfin Model X review how this improvement has shown us better results across all of our testings, and we are very happy to see this improvement.
Additionally, with all of their Blackfin boards, iRocker claims to have slowed down their entire construction process to ensure quality and longevity. The eye and feel test on our end certainly backs that up. We can see the clean, tight lines, and feel the increased rigidity in the board throughout all of our on-the-water tests.
Overall, we notice that the Blackfin Model X performs very well even when it is loaded up close to its maximum capacity. We think this attests to not only its awesome shape and design but also how it's constructed. With high-quality construction, the less flex or bend a board has, the more it can hold up under high weights without having a 'taco' effect and throwing the paddler off balance.
Board Stiffness: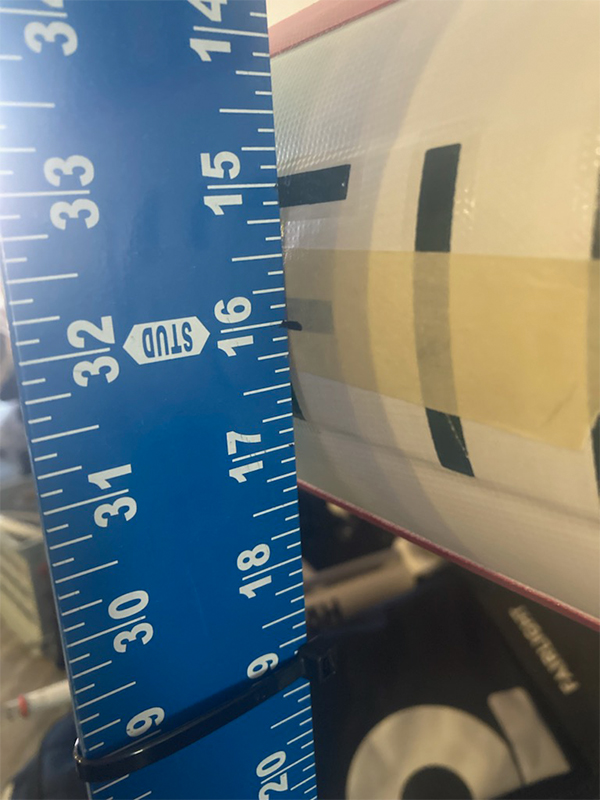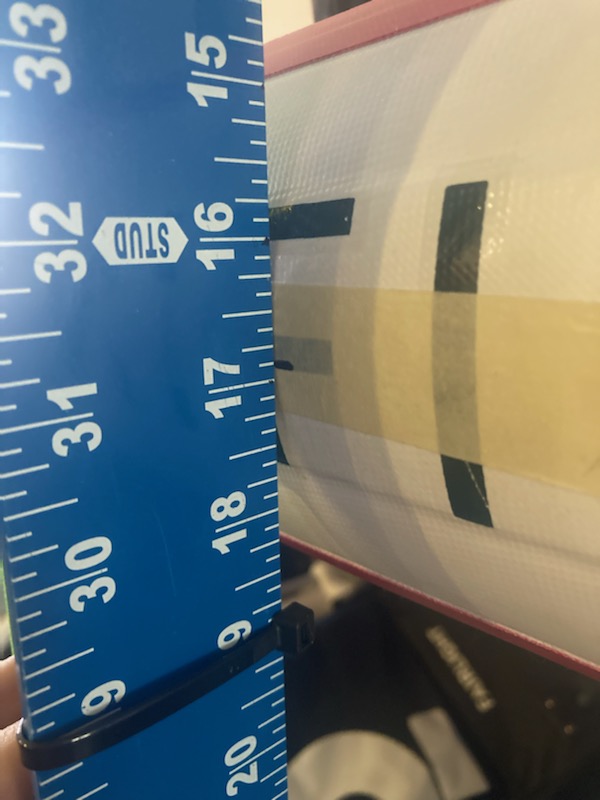 Stiffness Test: 0.875" Bend
SUP Board Guide's Bend Testing:
In order to attest to the rigidity of each board, we use a bend test curated by Supboardguide. In order to obtain the results, we inflate the board to its maximum recommended PSI and then place it across two sawhorses that are 7 feet apart. We then take a measurement in the middle of the board. Then, we place 150 lbs worth of sandbags on the middle top of the SUP. Last, we record its displacement (the movement from its original position). We use this method for every board we test as a way to mathematically compare boards across a common denominator.
The Blackfin Model X only bent 0.875 inches!
Last year, it bent 1 inch.
We love when we see a clear improvement in our bend test because it allows us to feel confident in the technological advancements the company makes to the SUPs. In this case, the improved rail construction has created a Blackfin Model X that is more rigid.
Features/Accessory Review: [9.7/10]
Features: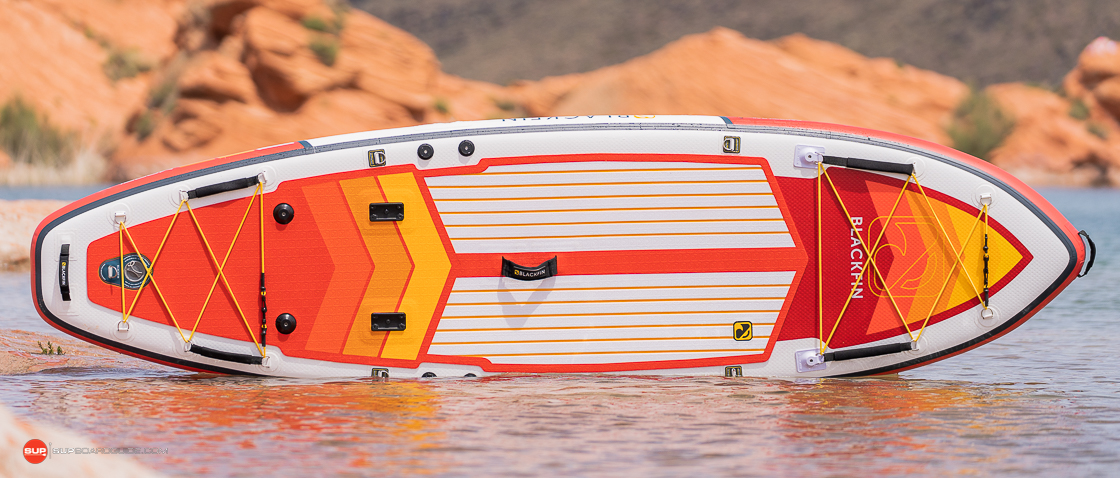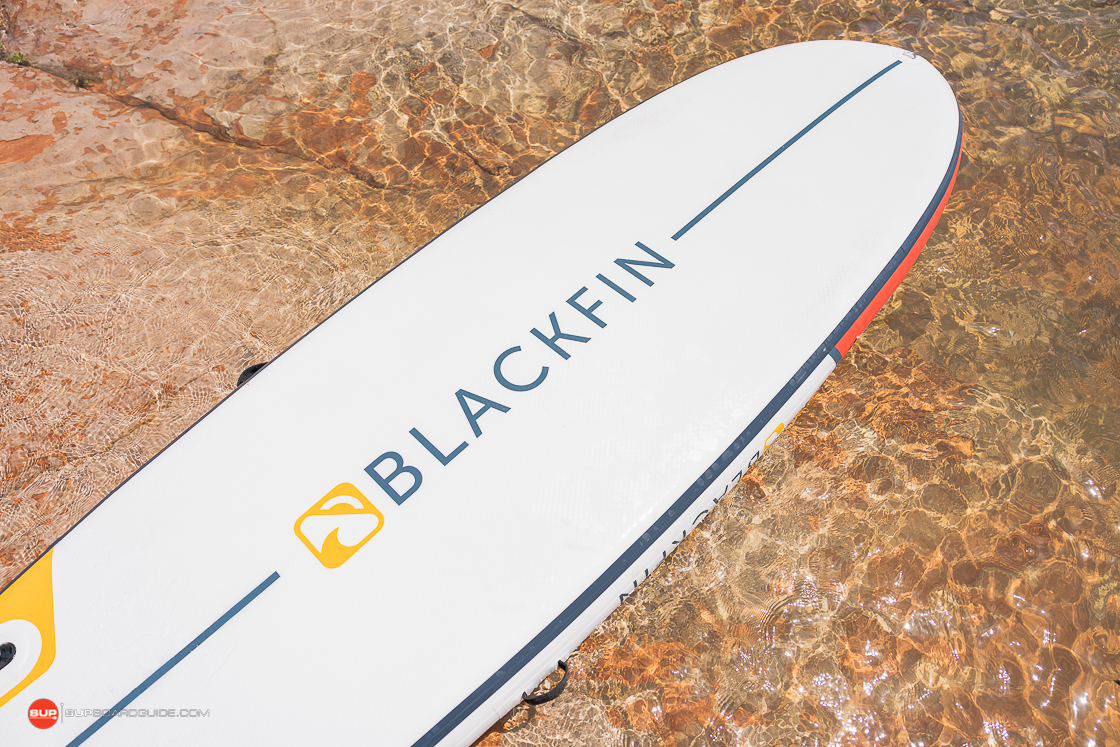 This board is meant for adventure. By just looking at the pictures, you can tell that it has a lot of action mounts and bungee cords that are ready to be put to good use.
On the nose, there is a large bungee cargo area that can fit multiple dry bags (for camping gear), as well as any other items you might want to bring along (cooler, water bottles, etc). It's also removable so if you don't want to bring any gear and you'd rather have a smooth surface for your pup to lay on, go for it. The cargo bungee area on the tail mimics the design on the nose.
Running along the sides of the board, there are four D-rings that can be used to rig up a kayak seat or used to strap down additional cargo. We noticed that iRocker decided to eliminate two of the D-rings this year, however, the kayak seat still rigs up to the D-rings very quickly and easily. We like how the kayak seat attachments use bolt snap hooks to secure them into place. We used iRockers kayak booster seat option, but if you're looking for an inflatable kayak seat, that option is also available on the iRocker website.
There is an additional D-ring on the tail of the SUP that is useful for hooking your leash up to, and on the underside of the nose that you can use for towing.
The Scotty mounts are perfectly aligned to be compatible with iRockers fishing rack. So, if you're on a mission to catch a lot of fish, we recommend purchasing the rack! There are also a few integrated accessory mounts that work great for gadgets like a GoPro, a smartphone, or even a selfie stick.
And let's not forget the sand spear mounts!
Justin and I spent a lot of time on this board to get a shorter and taller paddler's perspective. When discussing, we found ourselves going back and forth on if we loved all of the features, or wanted some of the action mounts moved out of the way. Ideally, we'd love iRocker to find a way to move the two rear action mounts to the side like they do at the front of the board. Also, it would be great if they could find a way to move the Scotty mounts out of the way, but we aren't sure that's possible and we realized that's more of an "on-land" observation rather than an on-the-water problem. Personally, I stepped on the Scotty mounts a few times while going into a downward dog yoga position, but it felt more like a friendly reminder to start more forward on the board than it did a hindrance.
I also want to point out that the EVA deck pad on the Blackfin Model X is super comfortable and grippy when it gets wet. We love how it is designed with the embossed Blackfin logo and elongated cuts that make it easy for the water to drain off the board. Not to mention the sleek and shiny colors that are carefully added to make it an even more family-friendly and exciting SUP to paddle.
Included Accessories: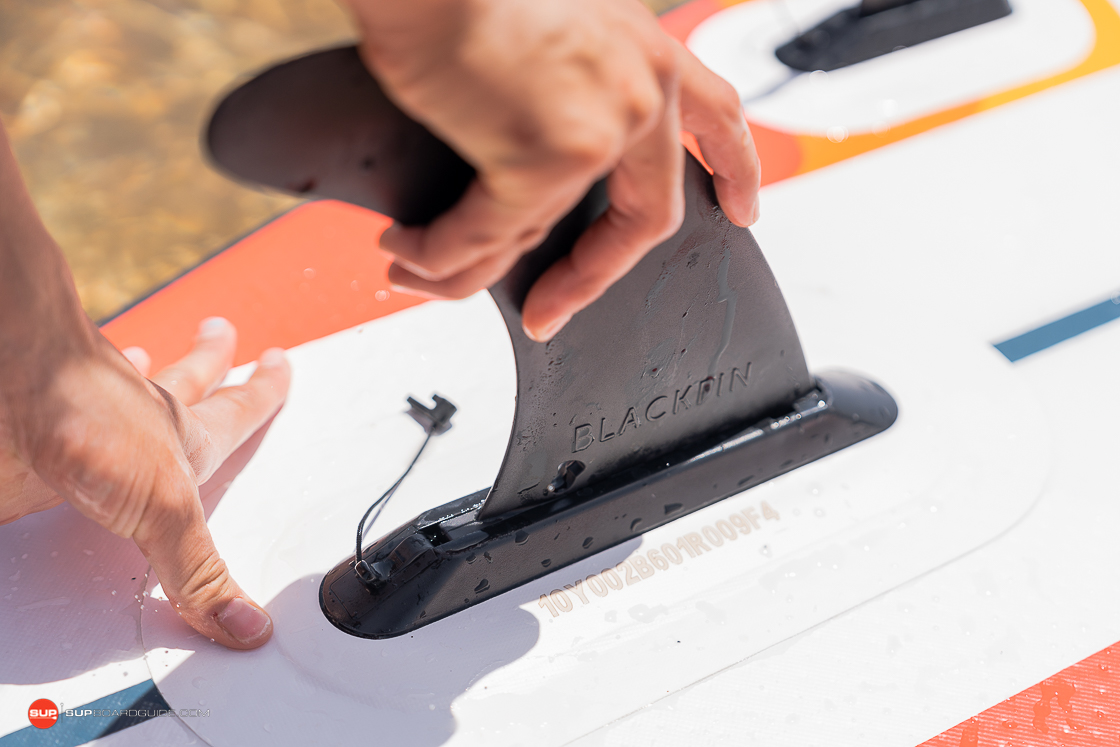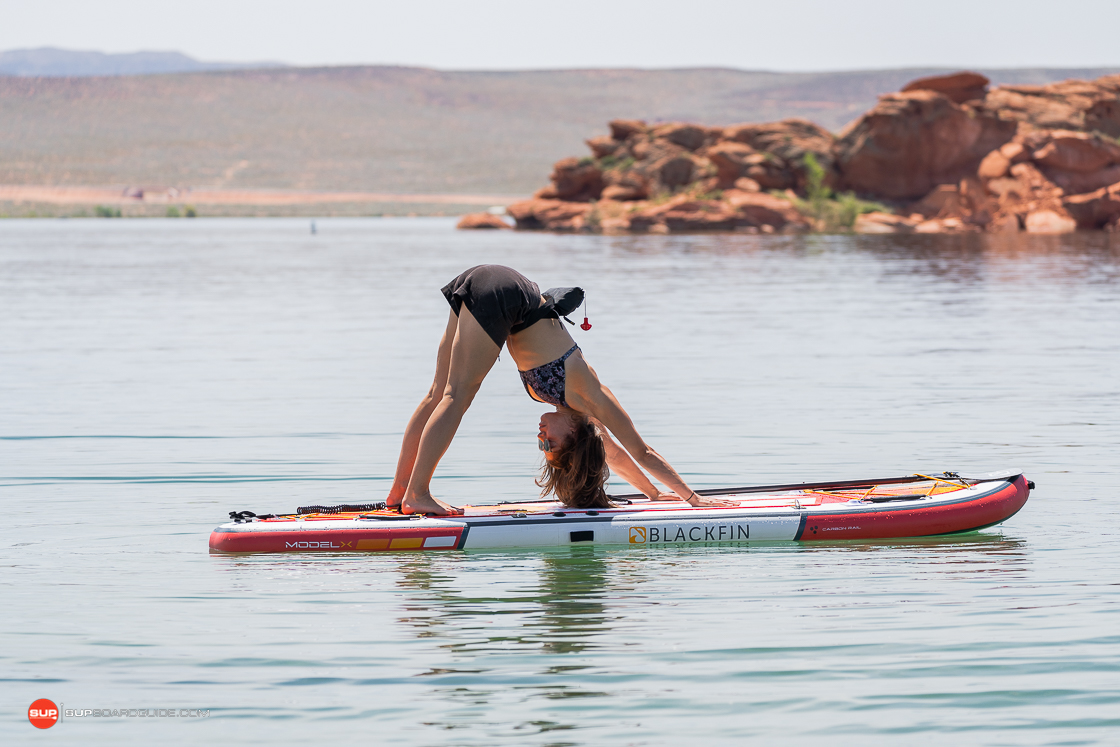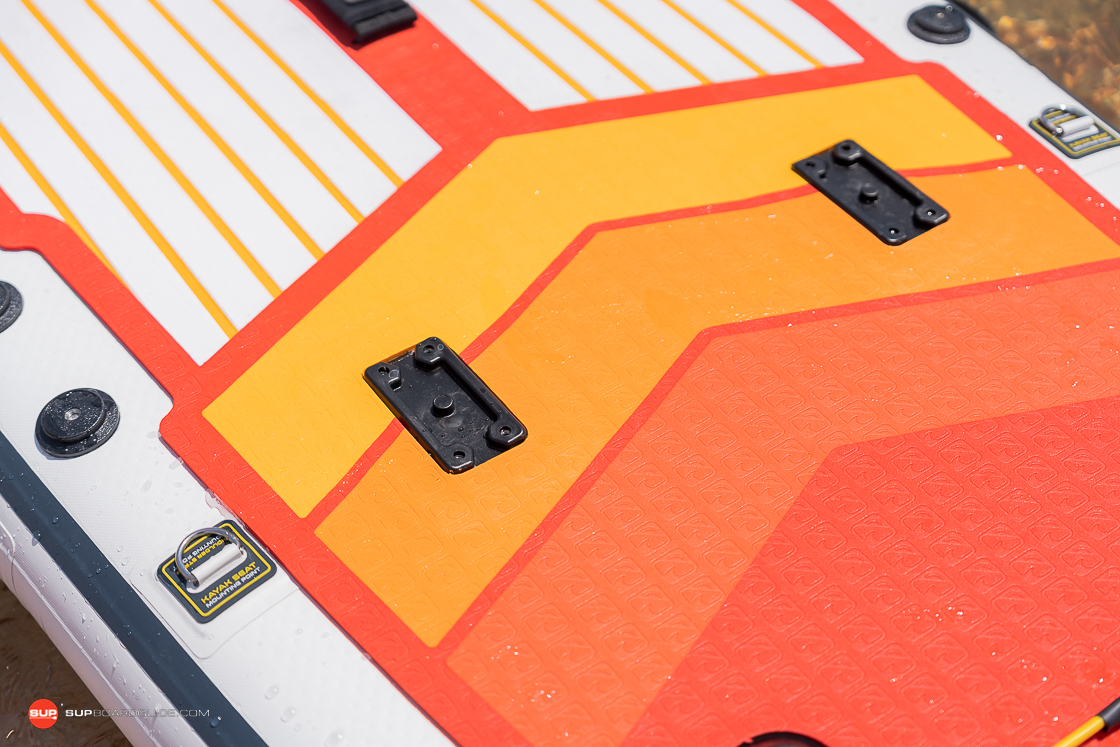 When you purchase the Blackfin Model X, you also get the three flip-lock tethered fins and a repair kit.
The flip lock fins are new and improved on this model because they now have a tethered locking device, which gives them another level of security even after being clicked in! It is a super user-friendly system and as a team, we really like it, especially for these Blackfin boards because it adds to their family-friendliness. Your kids will be able to click these fins in easily and lock them into place so you won't have to worry about them falling out. To lock them in, you just take the locking pin and fit it into its designated spot (clearly marked on the fin) and then turn it clockwise until it locks into place! It takes all of 15 seconds per fin.
The Blackfin Model X does not come with a paddle, pump, or a leash, so be sure to bundle those at checkout if you want (they do force you to add a leash, which we 100% agree with). This helps keep the price of the board down and helps to reduce waste for those who already have a paddle and pump and do not want/need an extra one.
It also does not come with a SUP bag. When discussing this as a team, we kept coming to two different conclusions. On one hand, not having a bag poses the issue of transportation. But on the other hand, it keeps the cost of the board down compared to a lot of other brands that also produce high-quality boards, and it makes it a slimmer set-up for storage. From personal experience, I do not need a bag and I feel as if it is easier for me to put the board in my car without one and drive to the water to get started even quicker. In the opinion of one of our other testers, he thinks that a bag is necessary especially when he is going to the lake with his family and has a lot of extra stuff. So, overall, it depends on your personal preference and if you do want a bag, make sure you bundle that at checkout!
Summary Review of the Blackfin Model X – 2023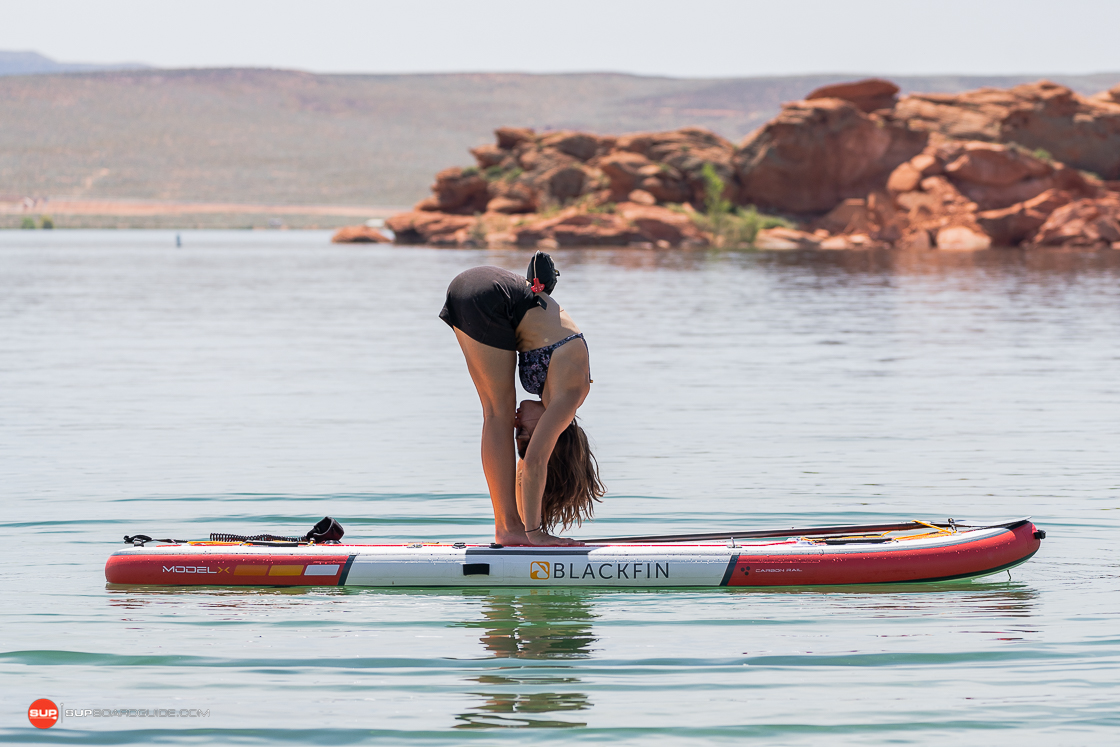 The Blackfin Model X has a lot going for it and that's not just because it comes in a multitude of awesome colors. It's a rigid, sturdy, high-quality, and family-friendly SUP that has a bit of everything so anybody can take it out and enjoy themselves.
While it performs well and is stable on the water due to its design and new and improved rail construction, it is also decorated with fishing and action mounts so it's suited up for a day of adventuring. If you have good luck when it comes to fishing, we encourage you to buy iRockers fishing rack that hooks right into the Scotty mounts that are already adhered to the deck.
At 10'6'' x 6'' x 35'', it has 237 liters of volume so it can hold up to 450 lbs of weight. That's great news for larger paddlers and/or paddlers who plan to load up their SUP! Whether you want to bring out a kid, a dog, or enough supplies for long adventures, this SUP has you covered.
Happy paddling! We hope you enjoyed this review of the Blackfin Model X. If you have any questions or comments please leave us a comment below!
The following two tabs change content below.
Justin - Chief Paddler
Heyo! At SupBoardGuide.com we are a team who love the water, the outdoors, and are more than grateful that our full-time job allows us to review stand up paddle boards. We paddle year round (it helps that we are just about 2 hours outside of Las Vegas), and we bring in a wide range of paddlers with the goal of providing our readers with the best, most in-depth, and accurate stand up paddle board reviews.
Latest posts by Justin - Chief Paddler (see all)