Blackfin Model X Inflatable SUP
Pros
High quality, durable construction
Stable + Very high weight capacity
Carbon fiber rails
Tons of d-rings, action mounts - can even be a great fishing SUP now!
Paddles great in a variety of conditions
2 year warranty + 60 day return period
Cons
No US Fin box, so less options available for fins. However, river fin system coming out soon from BLACKFIN to increase versatility
Can be a little wide for some smaller paddlers
Last Updated: April 2, 2021
*Note – iRocker just launched their new 2021 version of the Blackfin Model X. Click here to check out that board but keep in mind that you can also still purchase the 2020 version at a discounted price right now. We will also be updating this review very soon to tell you more about the 2021 Blackfin Model X.
We are finally able to release our 2020 BLACKFIN Model X review! We've had the board for just over a month, and it's been killing us to not be able to let everyone know about all the fantastic upgrades to the board this year.
Basically, iRocker/BLACKFIN took a fantastic board and made it even better in 2020 – and earned our award for best all-around sup for 2020 in the process!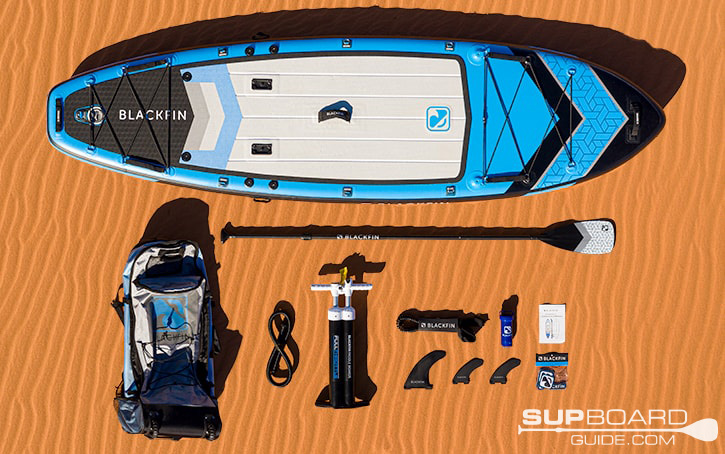 The core of the Model X board has basically stayed the same, which we are very glad to see. The length, width, and shape of the board is the same, the volume is the same, and they kept the same triple layer composite PVC construction and carbon fiber rails that made for a fantastic board last year.
Where BLACKFIN really has improved quite a bit on the Model X this year is with the features of the board that make the board our best rated iSUP for 2020. These features include: adding 7 additional action mounts (so a total of 8 now), adding mounts for fishing accessories, larger rear cargo area, and spear mount options.
SUP Board Specs: Blackfin Model X
| | |
| --- | --- |
| Length | 10′ 6″ |
| Width | 35″ |
| Thickness | 6″ |
| Weight | 27 lbs |
| Max Capacity | 450 lbs |
| Recommended Inflation | 15-18 psi |
| Fins | Nylon, Quick-lock, Removable |
| Paddle Type | Full Carbon Shaft, Nylon bBlade |
| Materials | Triple Layer Composite PVC, Drop Stitch Inner Core |
Who Should Buy This Stand Up Paddle Board:
The BLACKFIN Model X is a fantastic board for the following:
Those wanting a super stable stand up paddle board that is very durable
Larger paddlers and those who want to paddle with multiple kids (or even their partner/spouse)
Beginner to intermediate/advanced paddlers who want a board for all situations
People who want to try their hand at stand up paddle board fishing!
River SUPers who need a wide, stable board that can still maneuver around rocks and other objects
The Model X is great for the following conditions/situations:
Flat water paddling in lakes, bays, marinas, etc.
River SUPing
SUP Fishing
Ocean paddling
Surfing in small surf conditions (not for fast, hollow waves)
Video Review
Performance Review
Stability

It's pretty tough to find a SUP board (hard or inflatable) that is more stable than the 35" wide BLACKFIN Model X. With a weight capacity of 450 lbs you won't find many boards that can hold as many people either. We actually have tested that weight capacity because it's a little hard to believe the board can hold that much weight and still be stable.
It can. Yes, if you load 450 lbs on the Model X you won't be too fast, but you won't sink and you can still paddle around. If you have 300-350 lbs on the board it still performs remarkably well.
Note: when we review iSUPs, we first start with stability. Most of our readers are first time SUP buyers, and if they can't stand on the board then they will give up on SUPing pretty quick. In our review of the BLACKFIN Model X, we were extremely impressed by the board's stability.
Maneuverability

One of the reasons we ranked the BLACKFIN Model X over the Model XL is because of it's increased maneuverability. Being a foot shorter in length makes it a little easier to turn the board and maneuver. For example, if you are looking to go downstream river SUPing, you will want a wide board (check) that is shorter so you can easily paddle around rocks and other obstacles. The BLACKFIN Model X would do this really well.
Last year BLACKFIN went to a triple layer composite PVC construction w/ carbon fiber rails to decrease weight. In doing so, they created a board that not only is stable but also a board that is lightweight and maneuvers well. In this new 2020 model, BLACKFIN kept that same construction, mostly because of how successful the board was last year.
Tracking/Glide


The one area we were concerned with going into 2020 with the BLACKFIN Model X was tracking. Due to customer requests, BLACKFIN decided to go from a US fin box and large hatchet center fin to a smaller nylon flip-lock center fin. We really liked their large center fin last year, because it helped the board track and perform very well. We were worried that the tracking performance would decrease slightly by going to the easy to snap in fins.
We also typically prefer US fin boxes because of the versatility you can get out of buying whatever fins you like best. However, they can be kind of a pain when it comes to screwing in the fins every time you want to take the board out.
In other words, last year's BLACKFIN Model X had a more versatile fin box. This year's Model X has a more user friendly fin box – so which one is better really depends on you and your preferences.
For us, we have been very pleasantly surprised at how well the board tracks. I took out last year's Model X and this year's Model X and rode them side by side several times. After doing this, what I found was that the difference in performance is very minimal. Advanced paddlers might be able to tell the difference, but beginner and intermediate paddlers won't at all. However, everyone will notice and appreciate how easy it is to put in the flip lock fins. AND…iRocker/BLACKFIN is coming out with a nice set of river fins that will fit both the iRocker and current BLACKFIN fin boxes. As such, you will still get the versatility you had with last year's model, with the convenience of the snap in fins.

Materials


The BLACKFIN Model X is constructed with triple layer composite PVC and carbon fiber rails. Combine those elements with a drop stitch core and you end up with a very firm, durable board.
The key element that stands out on the BLACKFIN line of SUPs is the carbon fiber rail. No, this isn't a completely firm carbon rail that won't fold. Instead it's a carbon fiber composite that still allows you to roll the board up after use. It does make it a little harder to roll up, but it's much less inconvenient than the stiffening rods used with a system like RedPaddleCo's stiffening rods.
Board Design/Shape

You can see in the image above that the shape of the BLACKFIN X SUP is wider than the iRocker lineup, with the front coming into a point, but not the way a touring SUP would.
At 10'6" x 35" it's basically a nice all-around shape with a few extra inches added to the width. The positives with this shape (and the reason we have it rated so highly) are pretty straightforward – this is a go anywhere and do anything type of board. Want to go out and paddle around the lake? Need to take 2 kids with you and use this as a family board? Want to take your daughter out fishing on the far side of the lake that is super tough to get to? Want to go river SUPing? The shape of this board makes all of that possible.
The only downside to the design and shape is possibly the width. When paddling you don't want you paddle hitting the side of the board. At 35" wide, that means you do have to adjust your paddle stroke a little bit as you will end up paddling a little wider than on a 31" board (unless you are a pretty big and tall person). Of course, if the width is a concern, then you could go with the Model XL, which is 34" wide. Or, if you are really looking for a more pure touring board, then I'd recommend looking at the Model V, which is only 32" wide.
However, for a great all-around, family, river, lake, etc. board – we can't recommend the Model X enough. Basically, it's the board that gets picked by almost everyone on our team when they only have 1 board to take out and they are headed to the lake with family and friends.
Board Features

The BLACKFIN Model X really is a feature-packed inflatable stand up paddle board. So far, we haven't seen a board with more features in 2020. If we do, we'll let you know. Some of the key features of the Model X by BLACKFIN include:
Carbon Rails. We put this feature first, because the rails really make this a very firm board. If you haven't ever used or seen an inflatable SUP before you will be shocked at how firm the board is. A nice, firm board = higher performance, and we love that about the Model X and all the boards in the BLACKFIN lineup.
High quality Triple Layer Compsoite PVC layers. iRocker/Blackfin stands behind their products with a free 2 year warranty for a reason – they last, and people love them. That all starts with quality materials.
Ability to attach a ton of accessories. 8 action mounts, 2 fishing rack mounts, side spear mounts, 2 large bungee cargo areas, 20 d-rings, etc. You just won't find that kind of optionality on any other board on the market today. You could literally pack a cooler, a waterproof speaker, a cup holder, a GoPro, a kayak seat, a fishing pole holder, a fishing rack, a phone holder, and a dry bag and still have room and ability to attach more accessories.
High quality carbon fiber paddle that makes paddling much easier.
3 different handles (front, rear, and back) to make carrying the board easy for just about anyone.
High quality EVA deck pad that is both comfortable and grippy.
2 sets of safety handles to make it easy for your kids to hold on while you are paddling them around.
Fins


The fins that come with the Model X are nylon 'flip lock' fins. I've already talked about the fins quite a bit, but wanted to show them so you can see what they look like on the board. Again, from a performance standpoint, the fins do great. You will want to grab their set of shorter river fins when they come out, but for everything else these are good fins. I'm kind of hoping that next year BLACKFIN will go with the new FCS II longboard fin even though I think some consumers would probably put those in wrong and lose the fins. As such, the flip lock fins you get with the Model X are really the ideal setup for probably 90-95% of all people who purchase an iSUP.
Deckpad


I've always loved the BLACKFIN deckpad. It's super comfortable, the vertical grip lines are nice and deep and provide great traction. We also really like how the pad extends beyond the inflation valve. We've also had a ton of success with BLACKFIN's deck pad durability, and it cleans up nice even though it's white on this model.
Handles
Like last year's model, this year's Model X comes with three different carry handles. One is in the front, which is really nice when you're pulling your board in from the lake or ocean. One is in the middle of the board for carrying the board solo. And one handle is found on the rear of the board which is nice for pulling your board into the lake or ocean (fin first so it doesn't dig into the sand/shore).
D-Rings/Bungees/Cargo Areas
Last year, the BLACKFIN Model X had 18 d-rings. Somehow, BLACKFIN figured out a way to add 2 more, for a total of 20. Basically, you will never run out of d-rings for attaching accessories.
You also have 2 large cargo areas (6 d-rings each) for storing dry bags, coolers, and other gear. The rear cargo area was increased from 4 to 6 d-rings, which is a nice addition and makes that area more usable.
Accessories Review

Paddle
As mentioned above, BLACKFIN upgrade the paddle that comes included when you purchase a Model X. Everyone on our team who has reviewed the Model X has really liked the new paddle. It feels a little lighter with the carbon shaft and nylon blade. The blade is a little more thin and lightweight. Because the blade is at the end of the paddle, losing some weight there really makes a difference in the amount of weight you have to move with every stroke you take. Great job, BLACKFIN, with upgrading the paddle.
Really, the only thing that they could do to improve the paddle would be to offer a full carbon paddle (both shaft and blade). They could also maybe offer a one-piece paddle option for those who know the exact size paddle they need and want the lightest and most firm paddle available. However, I'd assume that those type of upgrades would add to the cost significantly, so I'm glad to see that they include a quality paddle in the base kit.
Pump
Like last year, included with the Model X purchase is a very nice triple action, dual chamber pump. The pump is a high-volume pump that performs really well. What is different this year is BLACKFIN improved the hose just a little bit and made it a little more thick and flexible. We didn't have any problems with last year's version, and like this one even more.
Of course, we can't recommend enough upgrading to the new electric pump that iRocker/BLACKFIN offers. If there is one accessory you decide to purchase, please make it an electric pump. Nothing will make SUPing more enjoyable in our opinion. Yes, we pump up A TON of boards, but it is so nice to have that electric pump doing all the hard work so you can save energy for your paddle. The electric pump also really helps when deflating the board, because it can suck out almost all the air from the board, making it really easy to roll the board up nice and tight. However, if you don't have the money for the electric pump, the manual pump that comes with the Model X really is top-notch and is one of our favorite manual pumps.
Backpack
The backpack that comes with the BLACKFIN lineup is a super high quality, roomy backpack that has both the space and compartments you need to keep your SUP in great condition. It also is very comfortable on your back and makes it very easy to carry your SUP wherever you need to.
The backpack includes the following:
Main compartment for your board and paddle.
Large front compartment that fits the pump perfectly. We love this because you don't have to store the pump and board in the same compartment. This might not sound like a big deal, but it does hold things better and is easier/more efficient with the space.
2 side mesh pockets, each with zipper pouches found behind. These smaller pouches are great for keys, wallets, and other small items (new for this year).
A new zipper pocket at the top of the bag that will fit the electric pump perfectly. Again, buy an electric pump :). And when you do, it's super nice that you have a place to store it. We've been purchasing small cooler bags to store our electric pumps, and are very excited that iRocker/BLACKFIN is the first company including storage for this in their standard SUP bags.
A velcro pocket that is behind the back support.
Roller wheels so you don't have to carry the bag if you don't want to.
Leash
The BLACKFIN Model X comes with a high quality coiled leash. The leash attaches to the rear d-ring and is coiled so it won't drag in the water and won't get in the way while paddling. It also swivels nicely so you don't get all caught up in your leash.
Repair Kit
Included is a standard repair kit that includes an inflation valve wrench. Keep track of this wrench, as it is very useful if your inflation valve ever becomes loose. This is very rare, but if you just throw the wrench away you know Murphy's law is going to smack you in the face and your valve will end up coming loose.
You also get a few patches in the repair kit.
Optional Accessories
As always, iRocker has a ton of great accessories that you can purchase to go along with your new All-Around 11' SUP! Here is a quick list, but you can see them all in more detail on our iRocker accessories page:
Speaker
Kayak kit (seat and kayak blade)
Kayak Seat Cushion
Shoulder Carry Strap
Cup Holder
Camera Mount
Cell Phone Holder
Electric Pump
Selfie Stick
Cooler Deck Pad
Fishing Rod Holder
Fishing Rack and dual Rod Holder
Push Pole and Sand Spear attachment
Sand Spear Mount
Company Review – BLACKFIN
BLACKFIN/iRocker is one of the best companies out there when it comes to producing quality, durable iSUPS. In addition, their customer service is top-notch. We've tested them as a 'normal' consumer where they don't know who we are, and every time we've had great experiences. Bottom line – the company will take care of you. You can read our full BLACKFIN company review here.
Bottom Line BLACKFIN Model X Review
As you can tell, we love the BLACKFIN Model X. It's our top rated inflatable SUP for 2020, and is simply a fantastic board. You can't go wrong with a BLACKFIN, and our general favorite of the 3 models for all-around conditions is the X.

Is there anything we missed or forgot to talk about? Have any questions about the BLACKFIN Model X? Ask questions below, or contact us directly and we'll get back to you ASAP. We also will be updating our Model X review periodically, so please give us feedback and we can continue to make improvements to our review. Thanks, and get out there and SUP!
The following two tabs change content below.

Justin - SupBoardGuide
Heyo! At SupBoardGuide.com we are a team who love the water, the outdoors, and are more than grateful that our full-time job allows us to review stand up paddle boards. We paddle year round (it helps that we are just about 2 hours outside of Las Vegas), and we bring in a wide range of paddlers with the goal of providing our readers with the best, most in-depth, and accurate stand up paddle board reviews.

Latest posts by Justin - SupBoardGuide (see all)