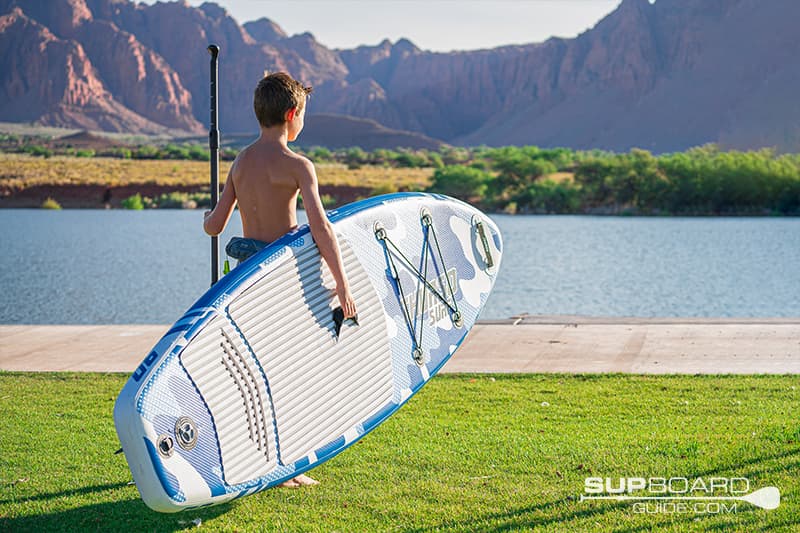 There are many paddleboards out there that will support you paddling with a child, but more adventurous kids may want to learn how to paddleboard for themselves. If you have a kid that's old enough to go out on their own, then you'll love our list of our favorite 2022 kid paddleboards! These are shorter, lighter, and generally more inexpensive boards that are built specifically to help kids learn how to SUP. You won't have to share boards anymore, and with a bit of practice they'll be able to keep pace with you as you explore the water together as a family.
Here are SUPBoardguide.com, we typically test each of our top recommended boards individually. Due to the smaller size and build of these boards, that would be a bit difficult, as most of them are not able to handle your typical adult stature. However, we do have kids, and so have taken the time to test these boards with their help, combining it with our own knowledge and familiarity of paddleboards. All of these boards are also built by some of the most trusted manufacturers in the industry, ensuring a high level of performance that is worth your money and won't fall apart after a few months.
Outside of our favorite 2022 boards, we also have a few tips and key pieces of information to know before you take your kids out paddleboarding. Even if you already own something they can paddle on, we hope that our page will be useful to help your children have a safer and overall more fun experience on the water. With that in mind, thank you so much for reading, and we hope you and your children have a blast paddleboarding together!
What Makes A Great Kids Stand Up Paddle Board (SUP)?
Kid paddleboards tend to be a lot smaller than adult sized paddleboards, with a smaller overall length, width, and thickness. The smaller volume makes kid paddleboards much easier for them to handle in and out of the water, from carrying it around to turning once they're out there paddling. Kid paddleboards are built to be safe, typically coming with less accessories or attachments that can get them in trouble, and are also built to be tough in order to withstand some rough housing from children. Lastly, while there are a few expensive paddleboards out there for children, most kid paddleboards are inexpensive due to the fact that they'll probably out grow it with just a couple years of paddling. If we recommend a kid paddleboard that is more than $500, it is either because it's a hybrid board that adults can use or offers truly stellar performance that will help them perform closer to an adult level.
Kid paddleboards are built in both inflatable and hardboard models, but for our best kid paddleboards we only recommend inflatables. There are good hard/epoxy SUPs out there for junior paddlers, but they tend to be more expensive, heavier, easier to break, and harder on kids when they fall over compared to inflatables. If you are still interested in buying a junior hardboard, we recommend following the same suggestions outlined in our buying guide.
Otherwise, here are our top 2022 inflatable kids SUPs. We review them based upon their stability, weight, fin setup, deck pad, appearance, durability, overall performance, and affordability. While each of these boards have different features and unique performance factors that make them better suited for certain types of junior paddlers, they are all worth considering. So, if you are in the market for an inflatable junior paddleboard, consider these options:
Best Inflatable Kids SUPS
Important Note: Some of the paddleboards on our list are currently unavailable due to stock shortage issues and other world events. We update our list periodically with current inventory, but please visit the manufacturer's website for up to date information about shipment expectations.
1. Thurso Surf 7'6'' Prodigy Junior SUP (Currently Available in Pink only)
2. Xplor 7'6''/9'
3. Huntington G3 – 9'6″ Compact (Currently Unavailable)
4. Bluefin Cruiser 8' Junior SUP (Currently Unavailable)
5. Gili Air 10'6'' Inflatable SUP
6. Nautical 10'6'' by iROCKER SUP
7. Bay Sports 8'10 Rider Surf/Kids SUP (Available for pre-order)
8. Red Paddle Co 9'4'' Snapper (Available for pre-order)
1. Thurso Surf 7'6'' Prodigy Junior SUP(Read Full Review)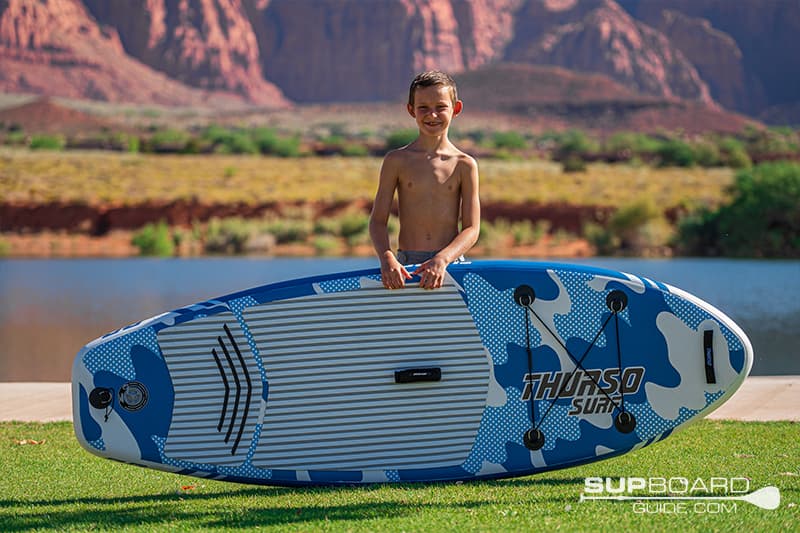 Thurso Prodigy JRSee Best Price & Customer Reviews
The Thurso Surf Prodigy Junior SUP is a dedicated kid paddleboard that offers great performance, featuring much of the same features used in other Thurso Surf SUPS. The board is just 7'6'' long, allowing kids to make quick turns with it, while also featuring a quick lock tri-fin setup for straight tracking as well. The 30'' wide deck is plenty of space for kids to spread out on, and the 4'' thickness keeps kids low to the water for improved stability and board control. Junior paddlers will find the board fast and nimble, being an absolute thrill to paddle on.
A few other cool features make the Thurso Surf Prodigy Junior SUP worth buying for a young paddler. The two carry handles make it easy for your kid to carry the board, and to navigate or pull it around the water once they're out paddling. The grooved deck pad is grippy ubt comfortable, the grooves improving foot placement and draining water quickly when the board gets wet. There is a nose bungee area you can fit a lunch box in, with a D-ring also behind the inflation valve to attach their leash to. Last of all, this all comes in a travel friendly and easy to pack duffle bag, which your junior paddler should have no trouble storing their SUP kit in.
The Thurso Surf Prodigy Junior is built with the same ultra durable triple/quadruple PVC coating system used in other Thurso Surf boards for outstanding durability, rigidity, and protection. The Carbon Nass-T will weigh about 19 lbs, and has a recommended beginner solo paddler weight capacity of 165 lbs. The fin setup is a quick-lock installation, with no extra parts kids will have to worry about losing outside of the fins itself. Other accessories include the 32 ounce paddle, the 10' coiled leash, and a travel friendly storage duffle bag.
If you have a younger paddler that want's a durable, quick, stable, and easy to learn SUP, we recommend the Thurso Surf 7'6'' Prodigy Junior SUP.
Thurso Prodigy JRSee Best Price & Customer Reviews
Pros
Great performance paddleboard for kids.
Easy to turn, with solid tracking thanks to tri-fin setup.
165 lbs weight capacity.
5 D-rings and removable bungee cargo area. Large D-rings are kid friendly.
Same fantastic build as adult sized Thurso Surf SUPs.
Tri-fin removable quick-lock fin setup.
Grooved deck pad that covers more than half of the SUP.
Easy to pack and travel friendly kit duffle bag.
2 carry handles.
10' coiled leash. Easy to put on kids and very safe, guarding kids against whiplash.
Included 32 ounce, three piece paddle.
2-Year Warranty
Cons
19 lbs might be a bit too heavy for very young, very tiny children.
No included pump. Adults may have to help very young paddlers inflate this board.
---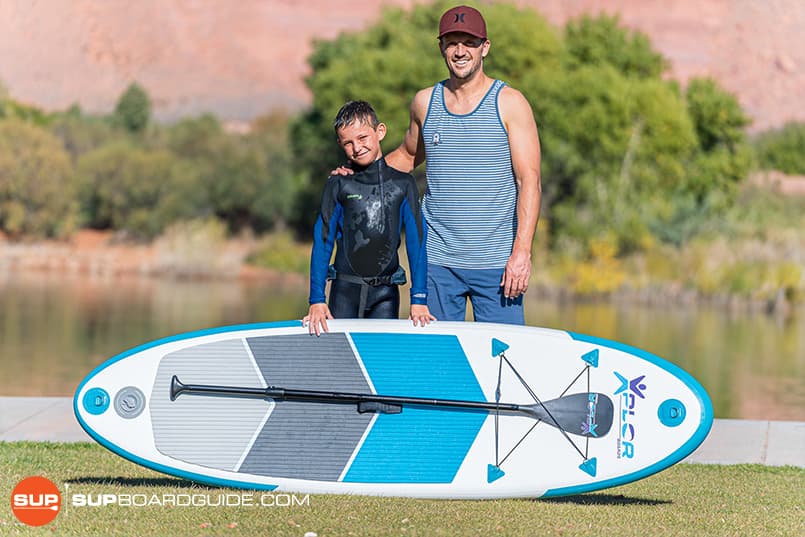 XPlor Child SUPSee Best Price & Customer Reviews
The Xplor paddleboard series are two of the least expensive junior SUP options on our list, while still providing good stability and performance that make them enjoyable for kid paddlers. Xplor founded their paddleboard company with junior paddlers in mind, with the 7'6'' optimized for 5 to 10 year olds, while the 9' long version is great for those between the ages of 10 and 15. These aren't paddleboards that junior paddlers will want to use once they are a young adult, but given their very low price they are great to have around as a beginner learning SUP tool.
The Xplor series also has a few other features that make them worth considering for junior paddlers. Their accessory setup is minimal, allowing kids to bring extra gear but not having too many mounts that kids can get caught on or tangled in since there's just 7 oversized D-rings. The deck pad is built to be very smooth and comfortable, and while it provides minimal traction support your kids won't find their feet nearly as sore after a few hours compared to adult SUPs. The accessories included with the Xplor are designed with younger and shorter paddlers in mind, including a junior sized paddle and simple single action/chamber pump. This kit is incredibly lightweight as well, so even kids as young as 7 or 8 can carry their gear to the water by themselves.
If you are looking for a paddleboard built for young paddlers on a very tight budget, you will definitely want to consider going with the Xplor 7'6'' or 9' inflatable SUP series!
XPlor Child SUPSee Best Price & Customer Reviews
Pros
Paddleboard designed specifically with junior paddlers in mind.
Very good performance. Kids have a lot of fun using these inflatable paddleboards.
110/150 lbs weight capacity.
7 D-rings and nose bungee cargo area. Basic accessory setup kids won't hurt themselves with.
Military grade PVC construction that will withstand most common drops and accidents.
Single center snap lock fin and permanent side fin. Easy setup even very young kids can properly handle.
Very soft, extended deck pad that kids will enjoy paddling with, even for hours.
Very lightweight kit, with a durable travel backpack. Easily carry your kid's kit for them, or let them carry their gear to the water by themselves.
Single center carry handle.
Single-action, single chamber pump designed for easy inflation by junior paddlers.
10' hybrid coiled leash. Sized to fit small, younger paddlers and larger kids alike.
Very compact three piece paddle sized for young, junior paddlers.
Extremely affordable price. Full paddleboard kit designed for kids that costs just a couple hundred dollars.
Cons
True recommended weight capacity. Thinner PVC construction means that kids close to the weight limit will want to move up to the next paddleboard on their list.
Dedicated junior paddleboard provides good, but not great performance. Kids will outgrow these paddleboards, forcing you to buy a new one a couple years later.
---
=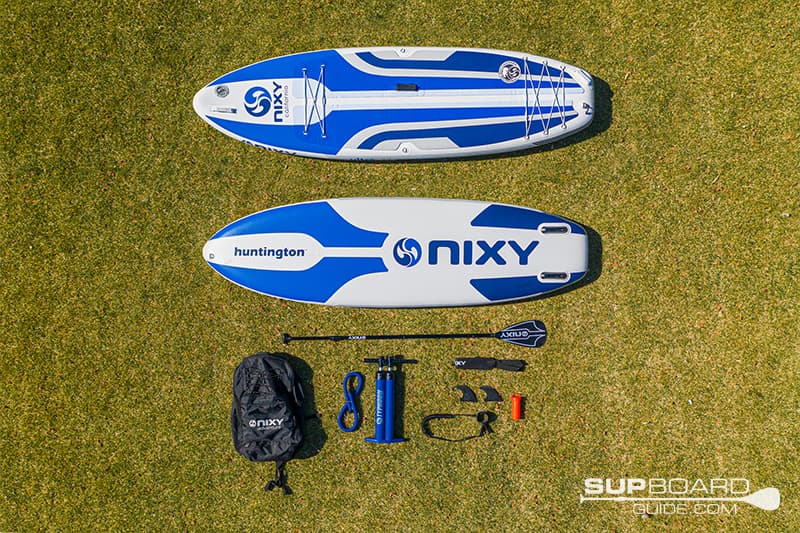 Nixy Huntington G3See Best Price & Customer Reviews
If you have an older kid or teenager that is looking for a paddleboard they can continue to use as a young adult, we definitely recommend the Huntington G3 Compact. This is a board built with adults and adventures in mind, but is small enough with great performance to attract some younger paddlers as well. While very young paddlers will have a tricky time on it, this is the paddleboard to consider for those who are on the cusp of adulthood or want something they can truly grow into.
At 9'6'' long, this paddleboard is longer than most SUPs we recommend for kids, but has better tracking for it while still being easy to turn. The 32'' wide deck and 6'' thickness really helps the board feel stable, making this an excellent option for heavier junior paddlers or those interested in going out with friends. Due to the build and size of this board, it is also an excellent option for kids who are looking for something more extreme, be it from performing tricks or going out for some ocean or river paddling.
As an adult oriented board, there are a ton of great features on the Huntington G3 that kids, teenagers, and young adults will all appreciate. The three grab handles make it very easy to carry the board around, be it for solo paddlers or for friends who want to paddle on this in tandem. There is a dual bungee cargo system for storing extra gear and cargo, and a grand total of 14 D-rings that are compatible with a wide variety of SUP accessories and add-ons. The non-slip NIXY traction pad keeps your grip tight even when wet, while being so as to prevent blisters and other forms of skin irritation. Finally, this board has carbon reinforced side rails, increasing the firmness of the board without excessively weighing it down for younger paddlers.
The Nixy Huntington G3 Compact is built with their advanced dual-layer construction for a durable board that is easy to carry. The G3 Compact weighs 23 lbs, and has a recommended weight capacity of 250 lbs for beginner paddlers. There are two tool-less removable screw-in fins, which are easier to install than traditional US fins for youngsters. Also included with the Nixy 9'6'' G3 Compact is a dual-chamber pump, 33 ounce paddle, 10' coiled leash, shoulder strap, and special NIXY compact travel backpack.
For teenagers or those who want a paddleboard they can grow into and continue to paddle on as a young adult, we recommend the 2022 NIXY G3 9'6'' Compact inflatable SUP!
Nixy Huntington G3See Best Price & Customer Reviews
Pros
Adult adventure paddleboard that teenagers and larger kids can use with ease.
Great tracking and overall performance that exceeds most kid SUPs.
250 lbs weight capacity.
14 D-rings and dual-removable bungee cargo areas. Massive accessory compatibility.
Dual-layer fusion construction is very durable, can handle rougher waters.
Dual screw-in tool-less fin setup.
Soft, extended traction pad that is comfortable to stand on but also grippy.
Compact backpack is short, making it fit well for teenagers and larger kids.
3 carry handles.
Dual-chamber, triple-action pump.
10' hybrid coiled leash. Specially designed for use on paddleboards.
Included 33 ounce, four piece paddle.
2-Year Warranty
Cons
23 lbs weight and large board size is built for adults and young adults in mind. Good board for older kids and teenagers, very young kids won't do well on it.
More expensive SUP option at $695 dollars. However, teenagers will be able to use this board for years to come as this is something they can truly grow into.
---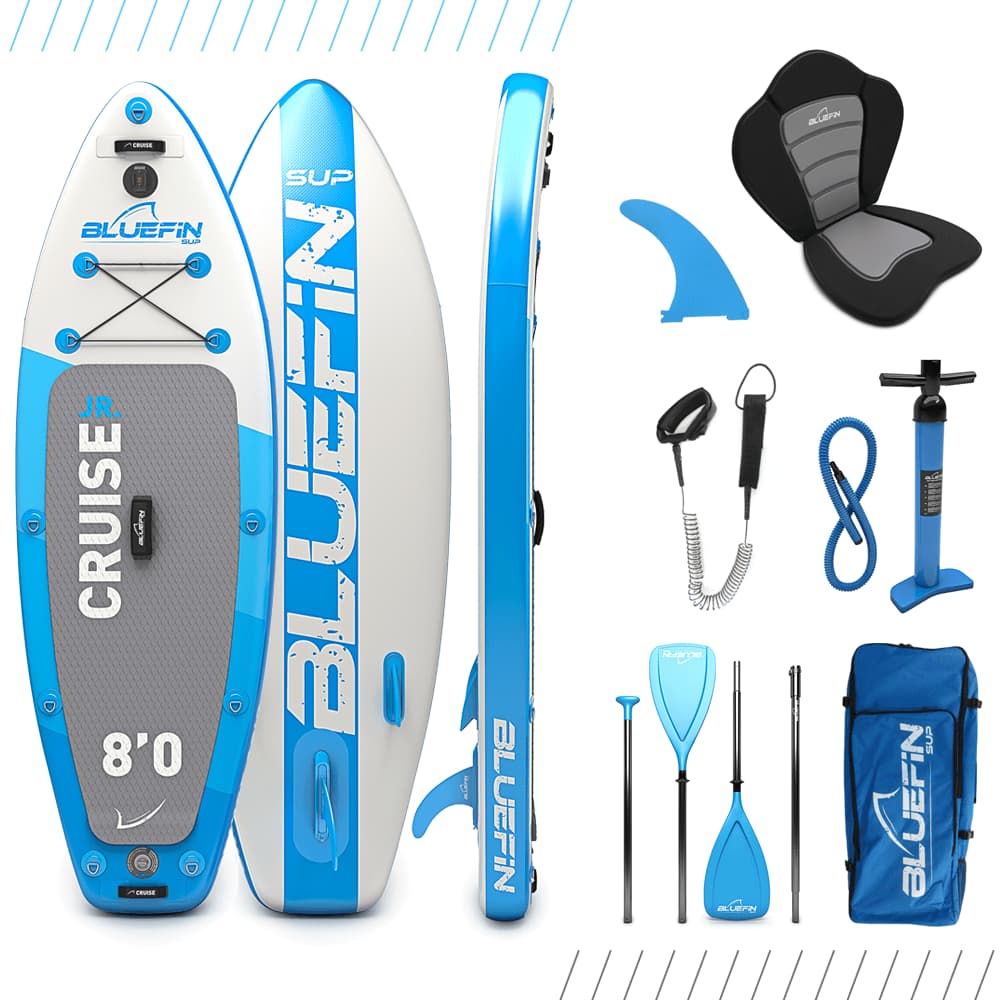 Bluefin Cruise JrSee Best Price & Customer Reviews
The Bluefin Cruiser Junior SUP is a very easy to put together paddleboard made for kids who want to go out on an adventure with little to no help from their parents. The 8'' long deck offers a good balance of tracking and maneuverability for kids, while the 29'' wide deck and 5'' thickness keep things lean for solid speed and overall performance. If you want the all-around version of a junior SUP, the Bluefin Cruiser 8' is the board for you.
So what great features also make this one of our favorite junior paddleboards? The permanent side fins and single removable quick-lock fin makes it real easy for children to set up and go out on this paddleboard, along with the simple single-chamber pump. The optimized rocker, heat welded double side rails, and EXO Surface construction offer stellar build durability and rigidity, making this a kid paddle board that approaches adult SUP performance. There are 11 D-rings for accessories, including the packed in kayak conversion kit, and a nose action mount you can attach a GoPro camera or other fun devices to.
The EXO Surface laminate technology construction has over 11,200 stitches for impressive durability that matches the lineup of adult Bluefin paddleboards. The 8' Junior SUP weighs 22 lbs, with a recommended weight capacity of 265 lbs. There are two permanent plastic molded side fins and a single removable quick-lock center fin. Other accessories included with the 8' Junior SUP include a single chamber pump, a coiled leash, an adjustable SUP/kayak paddle, a kayak conversion kit, and the Bluefin travel backpack.
The 2022 Bluefin Cruiser 8' Junior SUP is a fantastic paddleboard kit for young paddlers who want to go on an adventure on their own!
Bluefin Cruise JrSee Best Price & Customer Reviews
Pros
Feature heavy paddleboard kit that will give kids plenty of things to do with their SUP.
Good all-around kid SUP that offers a balanced mixture of solid performance in every regard.
265 lbs weight capacity.
11 D-rings, action mount, and removable bungee cargo area. Includes easy to install kayak conversion kit.
EXO Surface construction with heat welded double side rails. Very firm board for kids.
Permanent side fins and removable quick-lock center fin. Very easy to manage fin setup that is very hard to damage.
Crocodile skinned, diamond grooved deck pad offers fantastic traction support that prevents slippage.
Adjustable, durable backpack is very resilient, withstanding rough housing and lack of care from kids.
3 carry handles.
Coiled leash that will keep the SUP close in fast moving waters.
Single chamber pump.
Four piece paddle, with two pieces for a SUP paddle and four piece setup for kayaking.
Outstanding 5-Year Warranty
Cons
22 lbs weight is on the heavier side, very young children may need to wait a year or two before using.
29'' wide deck and 5'' makes this board quick and nimble, but it can be a little difficult to learn for brand new paddlers.
---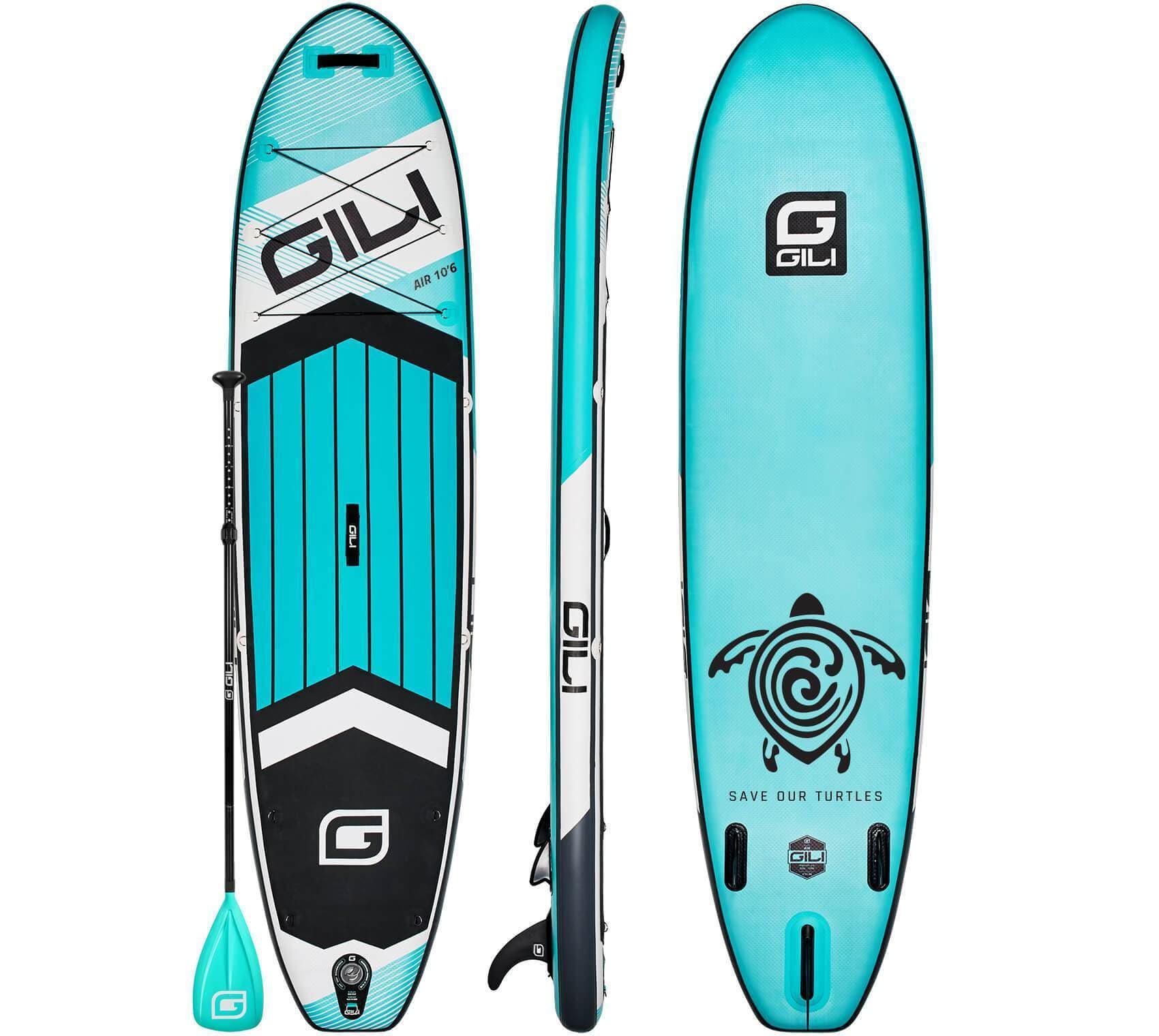 Gili Air 10'6See Best Price & Customer Reviews
The Gili Air is a very lightweight adult sized paddleboard that your kid will love, from the ultra soft deckpad to the fantastic color and turtle design that is GILI Sports promise to support ocean charities with every new board purchase. The Gili Air is 10'6'' long, with a wide 31'' deck and 6'' thickness for great weight support more than capable of supporting multiple kids at the same time. For those who care about the looks of their board as much as performance, and want to help support ocean charities like Save our Turtles and the Ocean Reef Alliance, we recommend considering the Gili Air 10'6'' SUP.
There are a ton of other great features that make the Gili Air 10'6'' worth considering outside of the solid performance and ocean charity support. There are nine total D-rings for accessory support, with a large nose removable bungee cargo area and an option to install bungees in the rear for secondary cargo support as well. A center and nose grab handle make lifting and tugging the paddleboard in the water very easy, while the deck pad is one of the softest and most kid friendly on this list. The center removable snap lock fin is very simple to install, with permanent side fins ensuring that your kid won't have to worry about losing any important parts. Finally, outside of the awesome turtle logo on the board's bottom side that kids and adults adore, the Air is available in four distinct colors that will further help a junior paddler feel like they're paddling a board built for them.
The Gili 10'6'' Air is built with military grade PVC composite protection that will withstand most common crashes, drops, and other SUP accidents in and out of the water. The 10'6'' Air weighs just 19 lbs, and has a recommended weight capacity of 280 lbs for beginners and new paddlers. Along with the removable center snap lock fin, this kit comes with a single chamber pump, an aluminum 34 ounce paddle, a 10' coiled leash, and an easy to pack travel backpack.
With a stellar look, adult level SUP performance, and a promise to donate $12 to $15 dollars to ocean charities with every purchase, we love to recommend the GILI Air 10'6''.
Gili Air 10'6See Best Price & Customer Reviews
Pros
Adult sized paddleboard that is easy to handle for kids as well.
Very stable, able to support multiple junior paddlers at the same time.
280 lbs weight capacity. 19 lbs is very light for a SUP built for adults.
9 D-rings, nose cargo bungee area and option to add bungees in the tail as well.
Military grade PVC composite construction offers solid durability while keeping the board very light.
Removable snap-lock center fin and permanent side fins. Sturdy and easy to manage.
Very smooth, soft extended deckpad. Relaxing to stand on while being safe and protective against injuries when kids tumble.
Lightweight, adjustable backpack that most kids will find comfortable to carry by themselves.
2 carry handles.
10' coiled leash, easy to put on and guards against whiplash.
Single chamber pump.
Three piece aluminum 34 ounce paddle.
2 year warranty.
$12 to $15 dollars donated to ocean preservation charities, including: Coral Reef Alliance, Project Aware, Oceana, and Save our Turtles.
Fantastic turtle stamp that kids and adults will love, with four distinct board color options.
Cons
It is nice that the kit includes a paddle, but the 34 ounce aluminum is among the heavier paddles on this list. Consider upgrading to a lighter paddle when purchasing.
While the board is lightweight, its overall size may make it tricky for very young children to handle by themselves.
---
6. Nautical 10'6'' by iROCKER SUP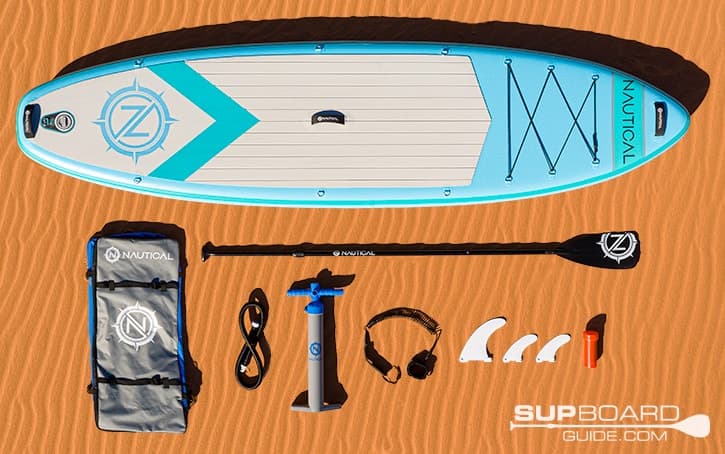 Nautical 10'6"See Best Price & Customer Reviews
The Nautical by iROCKER is another adult entry-level SUP that is both affordable and offers great performance that many junior paddlers will enjoy. The 10'6'' length offers a good balance of tracking and a steady glide with maneuverability, the board offering plenty of space to spread out with a 32'' wide deck and 6'' thickness. In terms of sheer volume, this is the largest inflatable SUP on our list, but is also among the most stable for it, more than capable of supporting multiple kids and even tandem teenage paddlers.
iROCKER, who makes the Nautical, is one of our favorite SUP manufactures for their great customer service and for the multitude of features that they include in their SUPs. There are 13 D-rings that all work well for attaching accessories, with a great removable bungee cargo area on the nose. The three carry handles are also soft and cushy to hold with their premium neoprene coverings, which protects against chafing when held with cold or soaking wet hands. The deck pad is very soft, ensuring that kids will enjoy standing on the Nautical, and is also impressively long in that it covers over two thirds of the board. The deck pad also has grooves, which will help beginner paddlers learn where to place their feet without looking down, and also drain water after you've gone through a wave or soaked the board. The NAutical also comes in two different shades of blue, letting your junior paddler stick out with either the dark Nautical Blue or shine bright with the Nautical Aqua.
The 10'6'' Nautical is built with a double layer of military grade PVC composite, which is durable enough to withstand almost any ding, dent, or dorp. The Nautical weighs 20 lbs, and has a beginner recommended weight capacity of 240 lbs. This paddleboard has a removable tri-fin snap-lock fin setup, which is easy to install while offering multiple performance options beyond standard, non-removable fins. Also included with the Nautical by iROCKER is a single-chamber pump, 10' coiled leash, repair kit, fiberglass paddle, and a highly adjustable backpack.
If you want an adult sized board at an affordable price, especially one that is extremely stable for younger junior paddlers, consider the 2022 10'6'' Nautical by iROCKER!
Nautical 10'6"See Best Price & Customer Reviews
Pros
Affordable, entry-level SUP for adults that many kids will love.
Great overall performance for an entry-level adult board, something kids will want to keep using as they grow.
13 D-rings give you many different options for attaching add-ons and accessories to.
Dual-layer PVC is very resilient while keeping the board light. 20 lbs weight, 240 lbs beginner weight capacity.
Removable snap-lock tri-fin setup. Good fin customization without having to worry about plates and screws.
Very soft and cushy extended deck pad with grooves for improved traction.
Well-designed balance of grip support and comfortableness.
Very roomy, highly adjustable gear backpack. Even younger kids can comfortably wear it.
3 carry handles.
10' coiled leash, easy to wear and keeps the SUP from drifting in fast moving water.
Single chamber pump.
Fiberglass shaft + nylon paddle blade.
3 year warranty.
Cons
Very young kids may find the SUP to be too big, may need to wait a year or two before using.
Shorter protection period than many boards with just a 1 year warranty. Very durable board, but be aware of shorter warranty window.
---
7. Bay Sports 8'10 Rider Surf/Kids SUP(Read Full Review)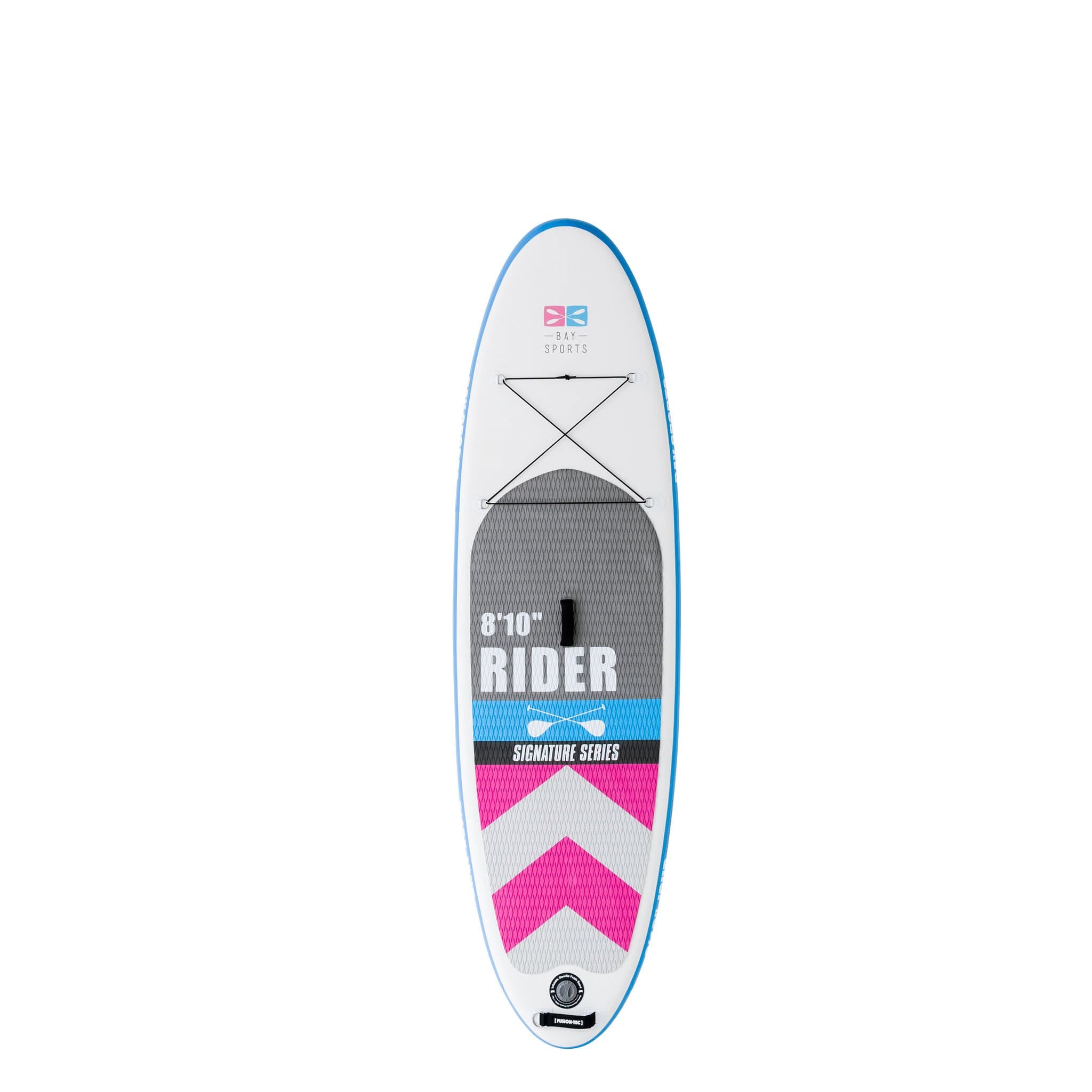 A true hybrid board, the Bay Sports Rider is a paddleboard that is great for adults looking for a surfing SUP that they can also loan out to their kids when they want to go out too. The 8'10'' length makes this board have impressive maneuverability, the 30'' width and 4'' thickness offering great speed while still staying stable for kids and adults alike. Available in three distinct colors, this is a paddleboard that parents and kids can both take turns truly enjoying.
So what other features make this a paddleboard worth considering? The raised nose rocker helps the 8'10'' Rider feel stable even when you're paddling through waves, with the triple-layered taped rails further improving rigidity, firmness, and stability. The diamond grooved EVA deck pad offers fantastic grip support, ensuring that even new paddlers will be able to maintain their grip on the Rider paddleboard. There are just 5 D-rings to worry about, limiting accessory compatibility but also keeping very young paddlers out of trouble and from tripping themselves on the board. Finally, there is a center and nose carry handle, letting junior paddlers carry the board by themselves or giving you a place to attach a towing rope to if you're out in the water with them.
The 8'10'' Rider is built with premium PVC Fusion-Tec construction for a premium lightweight, and truly firm paddleboard, weighing just 16 lbs and having a recommended weight capacity of about 165 lbs for beginners. The Bay Sports 8'10'' Rider has a tri-fin setup, with a removable tool-less FCS II center fin and two moulded plastic side fins. Other accessories included with this paddleboard include a dual-chamber pump, a 11' coiled leash, a repair kit, a 27 ounce fiberglass paddle, and a ballistic weave nylon backpack.
For adults who want a premium, highly maneuverable paddleboard for themselves and something their kids can borrow and use, there is the 2022 Bay Sports 8'10'' Rider.
Pros
Hybrid surfing paddleboard that kids can also use easily.
Stable for solo kid paddlers of any size. Very easy to carry at just 16 lbs.
5 D-rings and nose bungee cargo area. Limited accessory compatibility, but less things for kids to distract themselves with.
Fusion-Tec construction offers great durability while making this a board even very young children can lift.
US center fin box with FCS II tool-less fin, two permanent side fins. Great center fin box customization for a junior SUP.
Diamond-grooved EVA foam deck pad. Awesome traction support to help beginners learn how to maintain their balance while paddling.
Ballistic weave nylon backpack will definitely protect your kit, even when handled roughly by kids.
2 carry handles.
11' coiled leash, keeps your board close without impacting performance.
Dual-chamber pump.
Very lightweight 27 ounce paddle.
3 year warranty.
Cons
Heavier, taller kids and teenagers may struggle with this SUP if they are beginners.
Dual-chamber pump makes inflation quick, but can be a bit trickier for very young kids to use.
---
8. Red Paddle Co 9'4'' Snapper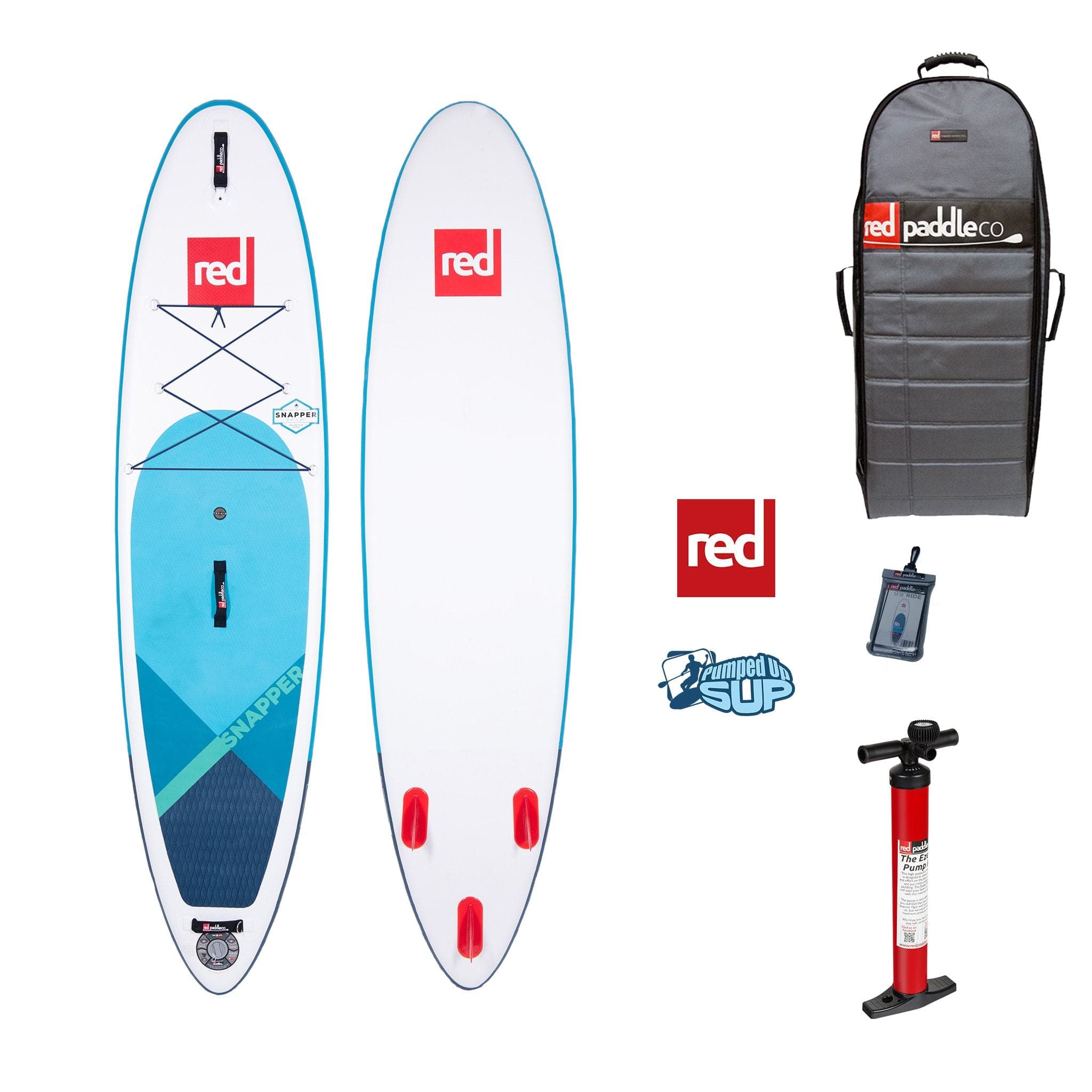 Last on our list is the truly premium, built with junior paddles in mind Red Paddle Co Snapper. This 9'4'' long SUP offers excellent tracking for a kid's paddleboard, with a thin 27'' wide deck and 3.93'' thickness offering impressive speed that will help you zoom across the water. This is a more expensive paddleboard at over $1,000 dollars, but if you want the best performance in a kids board, this is the one to go with.
The performance is the main selling point for the 9'4'' Snapper, but there are a couple of extra features as well that make it worthwhile. There are 7 D-rings and a removable bungee cargo area on the nose for accessories, with an action mount attached to the front handle for GoPro cameras and other devices. The grippy 'Red' hybrid deck pad balances traction support with a diamond groove pattern just in the tail, and a softer, more smooth texture pattern in the center for a more comfortable paddling experience. There are three handles so that kids can lift this paddleboard by themselves or with the help of a friend, or have places for parents to tie tug ropes to when paddling as a family. Finally, we want to highlight the iFin setup, with three non-removable molded fins that will improve performance without ever having to take them off the SUP.
The Red Paddle Co 9'4'' Snapper is built with the same great MSL Fusion and Tec Air construction methods used in their adult sized paddleboards, making them durable, firm, and easy to carry. The 9'4'' Snapper weighs 16.95 lbs, and has a recommended beginner weight capacity of 135 lbs, with more experienced junior paddlers able to exceed this. Outside of the permanent fin setup, this paddleboard also includes one of our favorite SUP backpacks, a compact single-chamber pump, a repair kit, and a waterproof phone case.
This is definitely an expensive paddleboard, but if you have the money and want the best performance you can get for a junior SUP, there is the 2022 Red Paddle Co 9'4'' Snapper.
Pros
Truly premium paddleboard designed with junior paddlers in mind.
16.95 lbs is light enough that almost all kids should be able to carry the board by themselves.
7 D-rings, action mount, and removable bungee nose cargo area. Good mixture of accessory compatibility.
MSL construction and Tec Air makes this one of the most durable SUPs on the market.
Permanent iFin setup. Limited fin customization, but enhances performance without ever having to worry about losing your fins.
Hybrid 'Red' deckpad that balances being soft in the center and offering better grip support in the tail for turning.
The all-terrain Red Paddle Co backpack is one of our favorite backpacks on the market.
3 carry handles.
Compact, easy to use single-chamber pump.
Incredible 5-year warranty.
Cons
Very expensive paddleboard kit for a junior paddler. Recommended only for those who want a top performance board for their kid.
Impressive performance at the expense of stability. Older or taller kids will quickly outgrow this board. More for very young paddlers only.
No included paddle or leash. Red Paddle Co offers great options you can add to your kit, but it will drive up the price further.
---
Kids SUP Buying Guide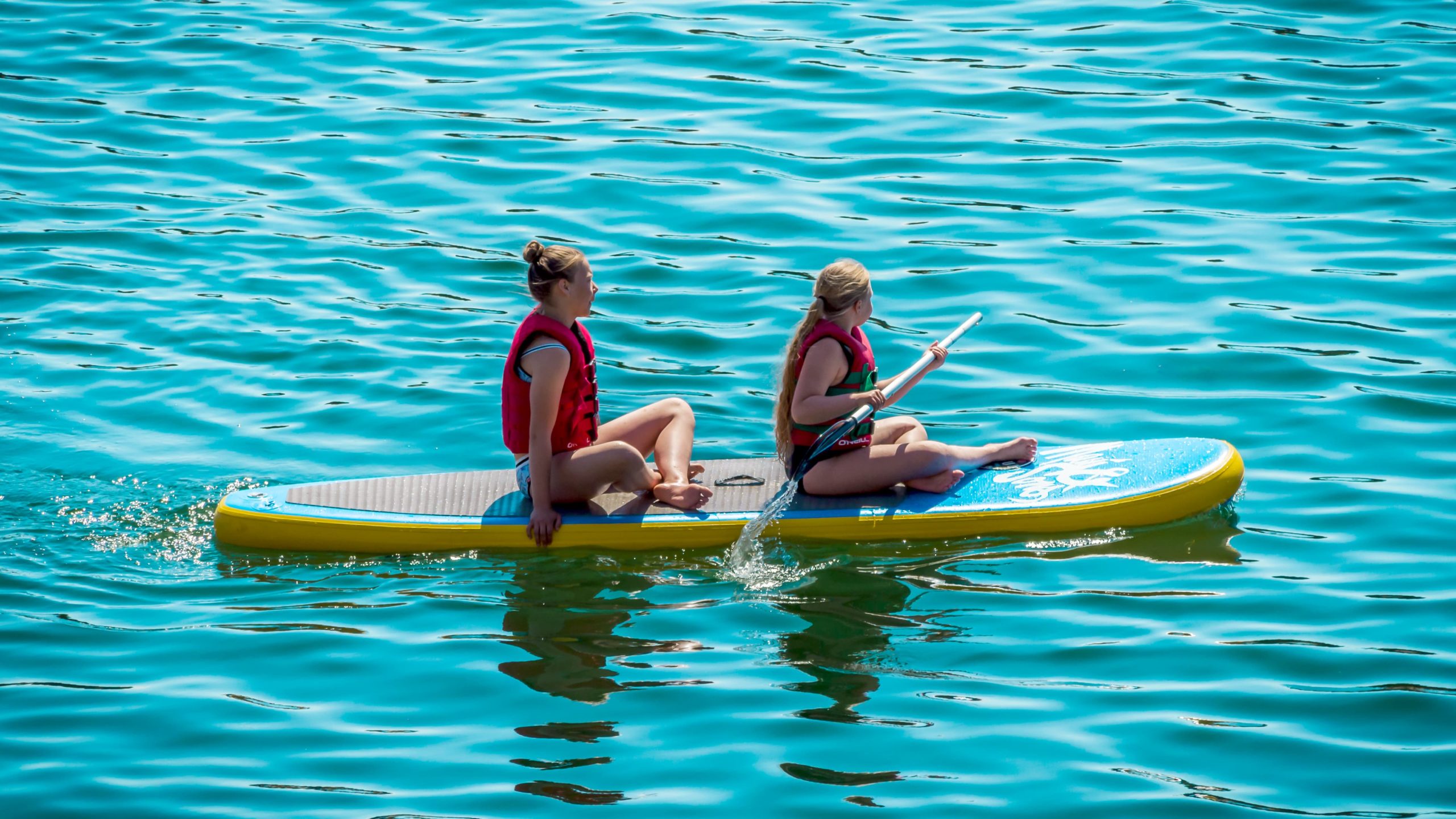 The inflatable paddleboards we listed above are some of our favorite 2022 SUPs that junior paddlers can use to have a safe and fun time out on the water. You might also be aware of a deal or have an offer from a friend that may have you looking at boards not on our list. To help you evaluate whether a particular SUP, inflatable or otherwise, is good for a young paddler, we recommend considering the following factors:
Stability: Stability is our number one performance factor when we consider a paddleboard for kids. Stability determines the overall feel and how easy it is for beginner paddlers to find their footing once they're on the water. The more experienced a paddler is, the less stability matters, but the majority of kids will be either brand new or very inexperienced to SUP water sports. Until they have a few years under their belt, finding a very stable paddleboard to learn with is an important factor for kids. For stability, the wider a board is the more stable it will be, and for most kids we recommend going with a board that is at least 28'' wide.
Weight: Weight is a fairly straightforward element, in that it describes how heavy a board weighs, which will help determine whether a kid can lift a board by themselves or not. Lighter boards are easier to carry, but they tend to be less stable and don't do as well in rougher waters. Heavier boards will typically support more weight, but can be hard to lift by kids and also typically wind up being less maneuverable once they're out on the lake. Finding a good balanced weight is important for a SUP that a junior paddler can lift while still offering great performance once they're paddling on it.
Fin Setup: While we ordinarily focus on boards that offer great fin customization, we prefer boards with less customization and parts for kids boards. Typical US fin boxes feature tiny screws and plates that are prone to getting lost or falling out when installed improperly, with many adults failing to keep track of such tiny parts. Snap-lock fins are better for kids, ubt they also can fall out while paddling if not perfectly secured. As such, the more permanent fins on a SUP the better it will be for junior paddlers, even if they don't offer the same level of tracking and performance as larger, more customizable fins.
Deckpad: Adult paddleboards typically have deck pads that focus on enhancing grip, with special grooves or textures that improve traction and help water drain quicker. As most kids will avoid rougher waters, we typically rank smoother, softer, and more cushy deck pads over boards with better traction but rougher decks. Paddleboards that have a hybrid setup, improving traction while also staying soft and comfortable to stand or fall on, are some of our favorite deckpads. Each of the deck pads on our best of inflatable list are boards that your kids will enjoy paddling on for hours, designed specifically to prevent skin irritation and slippage when wet.
Appearance: Apparence is a factor worth considering for adult boards, and one we argue is especially important for kid SUPs. Kids will want to show off or look cool in front of their friends, and many parents can tell you how their kids will refuse to interact with something just because they don't like how it looks. As such, we've chosen boards that either have a great look inherently or come in multiple color options, making it easier for your kids to fall in love with the paddleboard you give them.
Durability: Junior paddlers, be it from inexperience or over confidence, will often find themselves crashing or getting in trouble with their paddleboards more than adults. Finding a paddleboard that is built to withstand the trees, rocks, and other objects you'll encounter in and out of the water is important, especially for kids who handle their boards roughly. We have prioritized paddleboards on our list with great, resilient construction methods and materials that will withstand most common SUP accidents. Companies that have longer, more extensive warranty coverage also have been given a boost on our list, with every company listed on our best of page having at least a 2-year warranty.
Overall performance: Due to their small size, inexperience, and still developing muscles, it is hard for most junior paddlers to unlock the full potential of their paddleboards. However, there are still other performance factors that can change with a paddleboard, even when it's just a young kid paddling with it. Longer paddleboards will have better tracking, while shorter paddleboards will have superior maneuverability. Wider paddleboards will be more stable, while thinner paddleboards will be quicker in the water. Finally, thickness will determine how low a paddler is to the water, along with the overall weight capacity that can be supported, including the paddler and any extra gear. We've prioritized paddleboards that perform similarly to all-around SUPs, giving young paddlers the opportunity to try a bit of everything once they're in the water.
Affordability: The last of our major factors, but certainly not the least. Kid paddleboards are difficult to buy because you want to balance something that your kids can perform well on with a board that you know will eventually get replaced as they grow up. Unlike premium paddleboards for adults, which can last you over five years with proper care, we expect most kids to want to move onto something with better performance after just a couple years. As such, we've tried to highlight either very inexpensive boards that are intended to be replaced, or adult boards that might be a bit more expensive but that your kids will be able to continue using longer than traditional kid SUPs.
Dedicated Kid Board or Kid/Adult Hybrid Boards?
If you have a very young kid, between the ages of 6 to 10, you are almost always better off going with a dedicated kid paddleboard due to the lower weight and ease of handling. Kids who are aged 14 and above, especially taller teenagers, are going to be well off on most lightweight SUPs that they can grow into after just a couple years. Kids between the ages of 10 to 14 are a bit tricker to buy for, as you want something they can handle but also want to avoid getting rid of a paddleboard that they outgrow after just a couple years.
As such, here are some of our top benefits of using a dedicated kid board compared to a hybrid or adult SUP for junior paddlers to help you make the best, most informed buying decision:
Benefits of Using a Dedicated Kid Board:
Dedicated kid boards are typically less expensive than a hybrid or adult paddleboard.
Kid boards are easier to handle and maneuver with for especially young paddlers.
Junior boards are lighter and easier to carry by younger paddlers.
Dedicated kid boards are easier to inflate by junior paddlers.
Many kid boards have soft and cushy deck pads that will better protect kids against injuries.
Kid SUPS typically have less D-rings and accessory options, protecting against tripping to getting caught or stuck in something.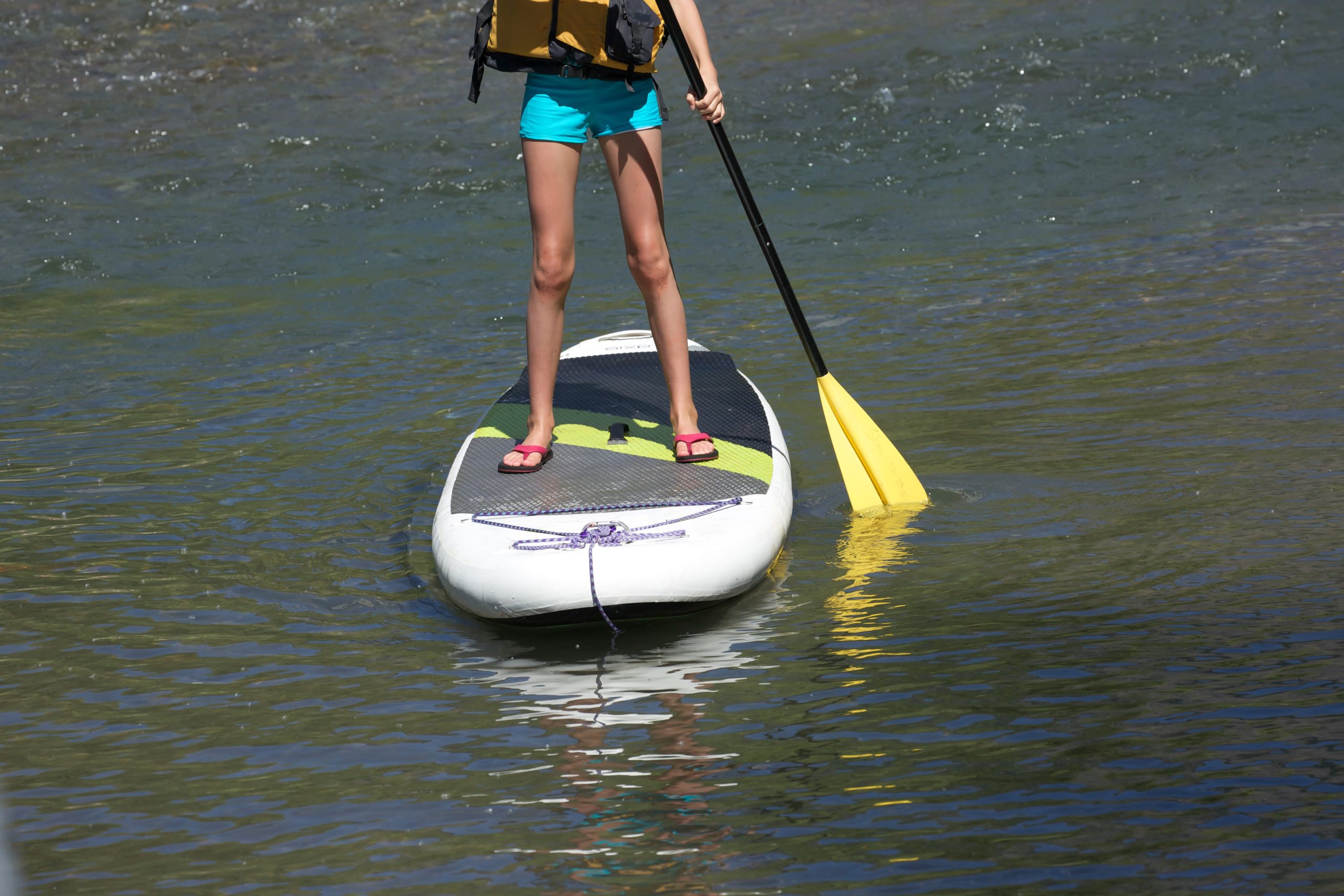 Benefits of Using a Hybrid or Adult SUP:
Kids can grow into adult paddleboards, making them more affordable in the long run.
Hybrid paddleboards will allow parents and kids to take turns paddling with the same board.
Hybrid and adult paddleboards have much better overall performance, especially stability, tracking, and weight capacity.
Adult paddleboards have greater fin customization for fine turning your performance.
Deck Pads on adult paddleboards typically offer better traction and grip support.
Adult paddleboards are built with thicker and more premium materials, making them even harder to damage
Premium, adult paddleboards have more accessory options, and are better suited for those bringing out speakers, food, fishing gear, or other
Tips for helping your kid make the most out of their paddling experience: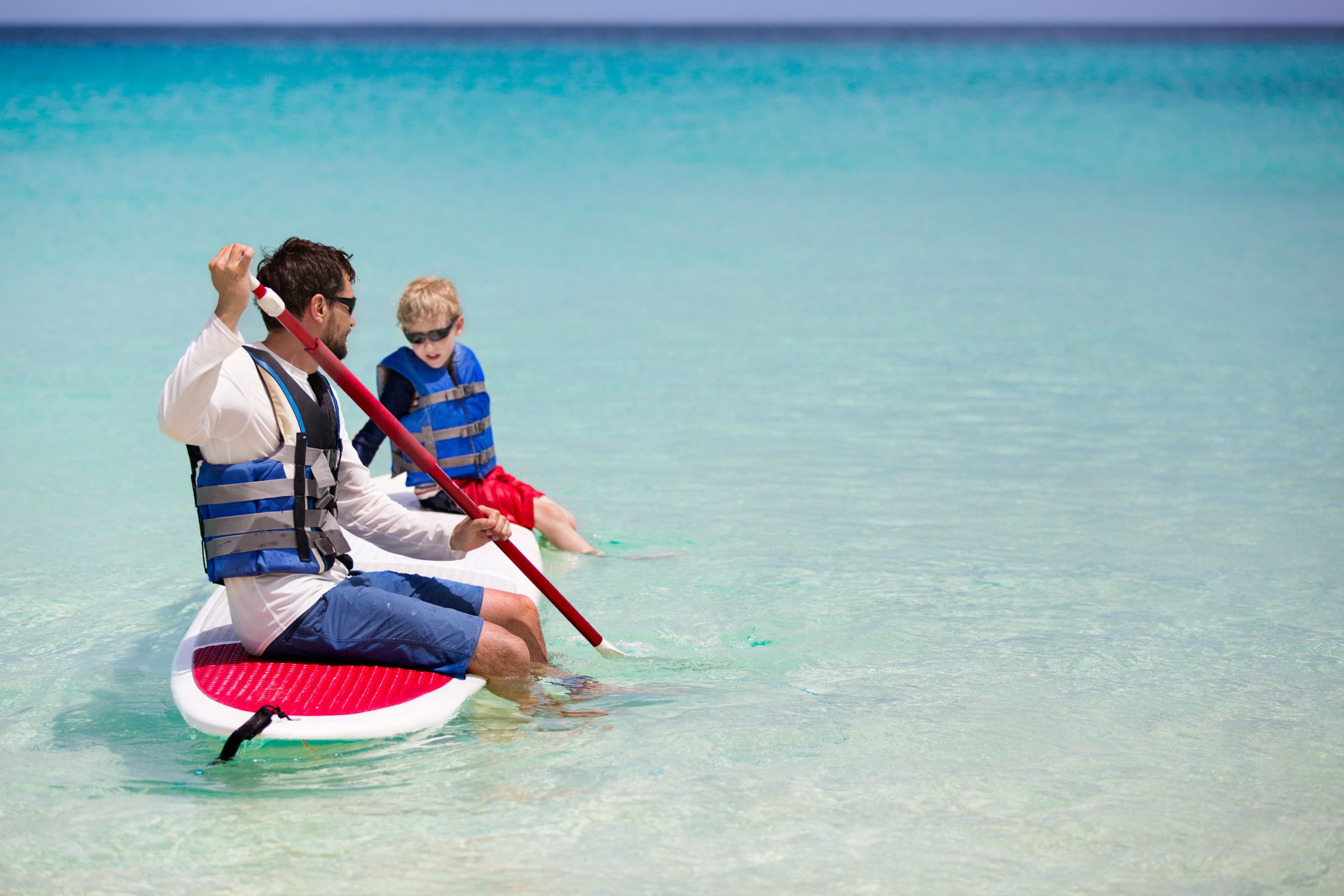 If we were to summarize our tips and tricks for helping your kids have a blast on the water, it would be to just paddle. A Lot of the fun that comes with paddleboarding is learning how to properly paddleboard! Give your child the space to do what he wants and try new things, though also keeping a close eye to make sure that they stay out of trouble and don't push themselves too hard. By just paddling at their own pace, they'll quickly pick up the sport and will be able to tag along at your side as you paddle around the water together.
With that in mind, here are some other words of advice and important information we want to share with you if you'd like more help.
Practice paddling in and out of the water. Many adults have trouble trying to figure out their paddling form, and for children it can be even tougher as they develop their fine motor skills. Fortunately, there's no rule that says you can only improve your paddling form and stance in the water. Work with junior paddlers on perfecting their paddling form at home before you even get out on the lake, and they'll learn much quicker than just waiting around for the next trip.
Adjust to the paddleboard at home. Some junior paddlers will feel very nervous about paddling when they see the water, so getting them on an SUP at home will do a lot to alleviate their fears. As many kid SUPs are shorter, you should be able to find some space in the grass or on the carpet to put down your paddleboard so your kid can stand on it. As long as you avoid jumping on it, your junior paddler should be able to get comfortable standing on top of the paddleboard without damaging the board at home.
Take it slow, and be patient with your kids. Unless they are a teenager or on the cusp of being a young adult, your kid is probably going to lag behind you as you paddle. Make sure you are patient and don't out pace them, slowing down your strokes so your children can keep up with you if you're paddling together. Also, remember to encourage your kids on the progress that they make to truly make their experience a fun and memorable one!
Outside of these key tips, there are also some important pieces of safety information that you'll want to know about for your kids. This includes the following:
Safety Tips for Junior Paddlers:
Make sure to wear a leash. Leashes are designed to help a paddleboard stay close to a paddler when they fall off or take a swim in faster moving waters. As they learn to find their balance or are learning how to swim, kids are much more likely to fall in and struggle returning to their paddleboard, even in still water. With a leash, they will find it much easier to get back on their SUP, especially if you teach them to tug a leash and how to use it properly.
Wear an appropriately sized PFD. A leash will keep a paddleboard close, but it will not help you float any better if you fall. It is very important that your junior paddler wears a PFD, even in shallow water or in areas where the law does not require it. Just as important is making sure that your child is wearing a PFD meant for their size. Using an adult sized PFD on a child can result in it not doing anything or even potentially cause greater injury.
Bring the sunscreen and other goodies too! Paddleboarding is a very fun sport, but what isn't as fun is getting sun burns. Make sure that your junior paddlers apply sunscreen, as this is a sport where it is very rare that you'll be paddling in the shade. Additionally, make use of the bungee cargo areas on SUPs by securing food and water on their SUPs as well. It may not look it, but stand up paddleboarding is quite the exercise, especially for younger paddlers who are still growing and trying to keep up with their parents and friends on the water.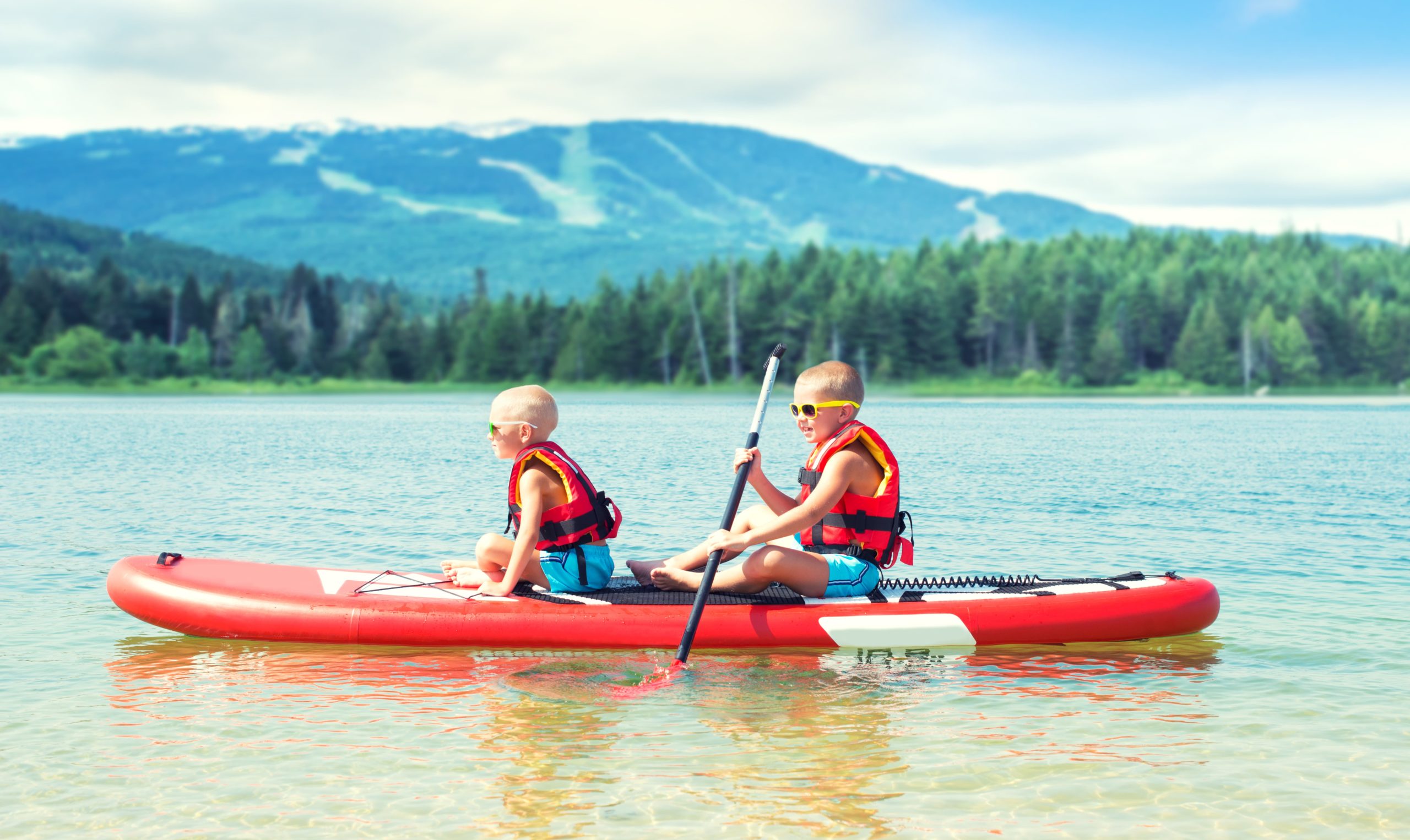 Conclusion
Paddleboarding continues to be a sport that becomes more popular year after year, and with the right paddleboard kids can join in on the fun as well. Offering performance optimized for their smaller and shorter sizes, your kids can have a blast as they either adventure alone or follow along with you on the water. So, if you want to get your kids out of the house and doing something that will keep them healthy and entertained, give them the gift of a kid stand up paddleboard!
Thank you for reading, and we hope our best kids SUPs of 2022 page was both informative and helpful. If you have any questions, or just would like to hear our opinion on a paddleboard you found, be sure to leave a comment below or send us an email! We also update our best of pages every year with new board models, along with any new surprising boards we find our hear about during the year. We also appreciate any feedback you might have for us that would make our website even better.
Otherwise, remember to have fun SUPing!
The following two tabs change content below.
SupBoardGuide
Heyo! At SupBoardGuide.com we are a team who love the water, the outdoors, and are more than grateful that our full-time job allows us to review stand up paddle boards. We paddle year round (it helps that we are just about 2 hours outside of Las Vegas), and we bring in a wide range of paddlers with the goal of providing our readers with the best, most in-depth, and accurate stand up paddle board reviews.
Latest posts by SupBoardGuide (see all)