Thurso Surf Expedition 138 Inflatable Paddleboard
Pros
Balances some of the speed of a touring board with some of the stability of an all-around
Large front cargo area can fit multiple drybags
Raised kick pad makes stepback turns easier and increase maneuverability
Upgraded SUP Roller bag is extremely roomy
Comes with an accessory/organization pouch to keep track of fin, leash, pump handles, and repair items
Thurso switched to a US fin box w/ and included Kumano hatchet fin = improved customization ability + convenience
Cons
Moderately heavy at 24 lbs (though it doesn't significantly affect performance)
The SUP roller bag may be 'too big' for some paddlers to carry on their backs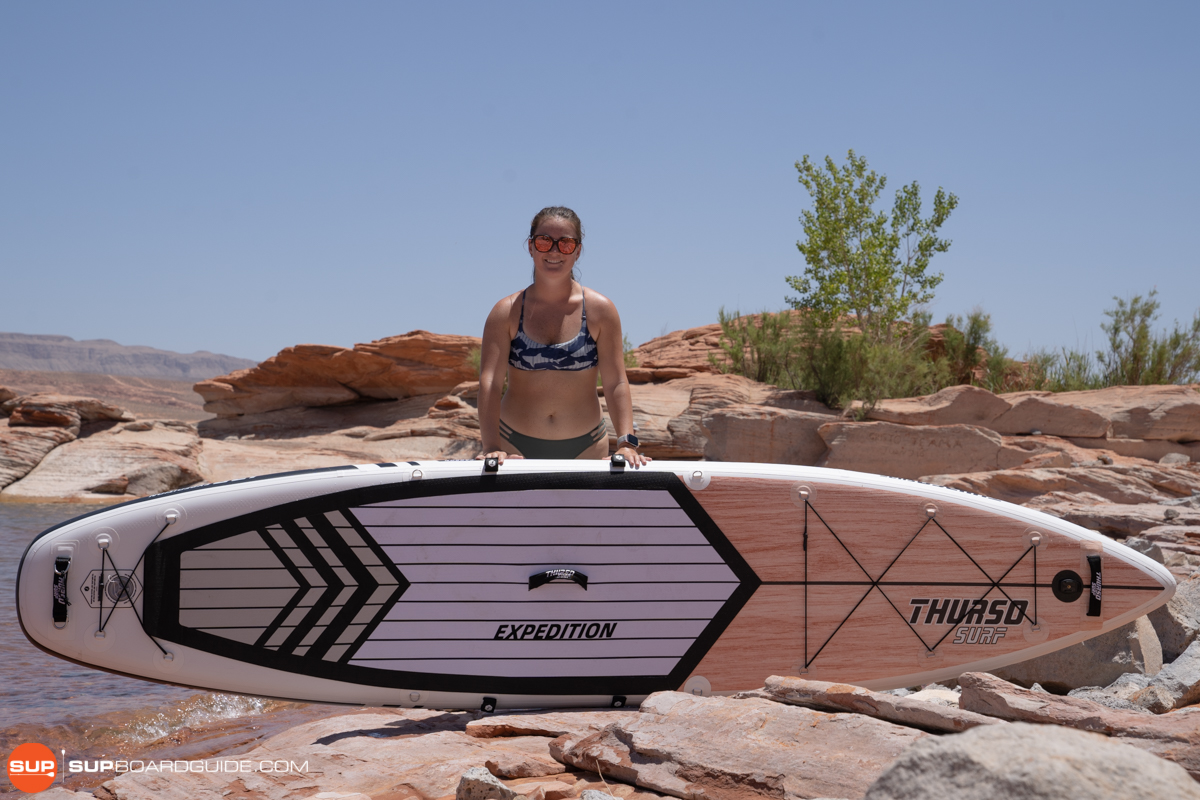 Typically, when we review 'shorter' touring SUPs like the Thurso Surf Expedition 138 (11'6 x 30"), we find them to mostly behave as a touring board, but also as a sporty all-around for taller/heavier paddlers. Expectedly, the Expedition 138 fit that bill pretty well.
For smaller paddlers, the 30" width and 11'6 length of the Expedition 138 provide a touring/adventure board experience. The waterline is longer than most all-arounds that suit these paddlers, and the narrow-ish width is enough to be stable, but not wide enough to significantly slow them down or hinder their stroke form.
On the other hand, the dimensions of the Expedition 138 are much closer to an all-around board for taller/heavier paddlers. It's 11'6 length isn't quite long enough to stretch out the waterline for paddlers that need more volume and/or longitudinal stability, and the 30" width contributes to some 'tippiness' when loaded up with gear. These paddlers would benefit from the added length and overall volume of the Thurso Surf Expedition 150 (12'6 x 31").
That said, we've had a great time testing out the Thurso Surf Expedition 138. For me, (5'2" x 135ish lbs) it was quick, but stable enough for me to bring along some gear, and surprisingly maneuverable due to the raised kick pad on the tail. For Justin (6'0 x 180 lbs), the Expedition 138 acted as a quick and maneuverable all-around that he'd enjoy on solo paddles, without a ton of gear.
On top of that, we were ecstatic to see Thurso make some notable upgrades to their kit and packagaing. They've opted for rommier roller bags, added an accessory pouch, switched to a US fin box and Kumano click fins, and most importantly, swapped out their plastic packaging for minimalistic paper and cardboard.
In short, the Thurso Surf Expedition 138 is poised to be a dual purpose board, depending on the paddler.
We think the Thurso Surf Expedition 138 would be great for:
Smaller board that want an adventure board that isn't super long/cumbersome
Taller/heavier paddlers that want a solo board to help develop their skills with a gentle learning curve
Paddlers who prefer a bit of speed, but don't need a super narrow touring SUP
Paddlers that are wanting to enter the touring a fitness scene without losing massive amounts of stability
Paddlers who are primarily in flat water but want a board capable of handling chop and waves
Thurso Surf Expedition 138 : Spec Sheet
Main Category: Touring, All-Around, Inflatable
Board Dimensions: 11'6 x 30" x 6"
Listed Board Weight: 24 lbs
Listed Max Capacity: 130-180 lbs
Recommended PSI: 12-15 PSI
Fins: Single Hatchet Fin w/ Kumano plugs + US Fin box
Paddle: 3-piece carbon fiber blend
Materials: Dual layer fusion w/ woven-linear drop stitch
Price Range: mid-high
Warranty: 2 years
Performance Review of the Thurso Surf Expedition 138 Stand Up Paddle Board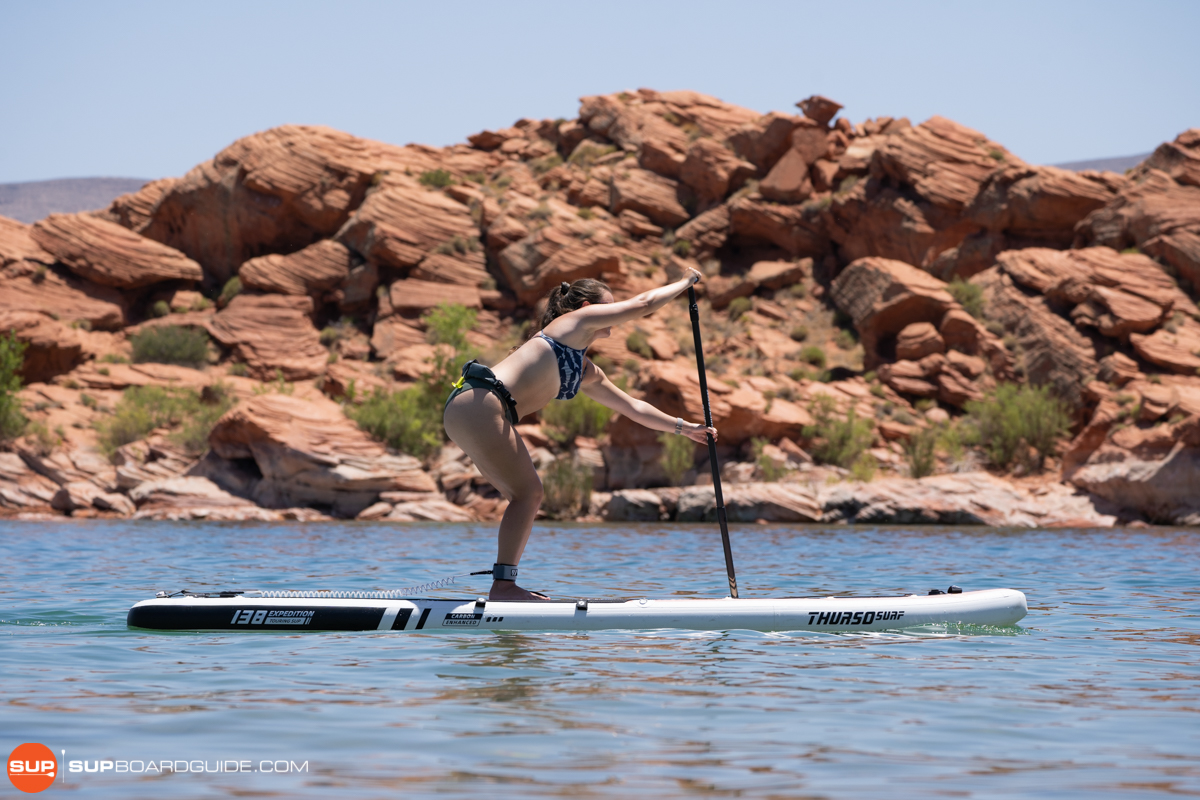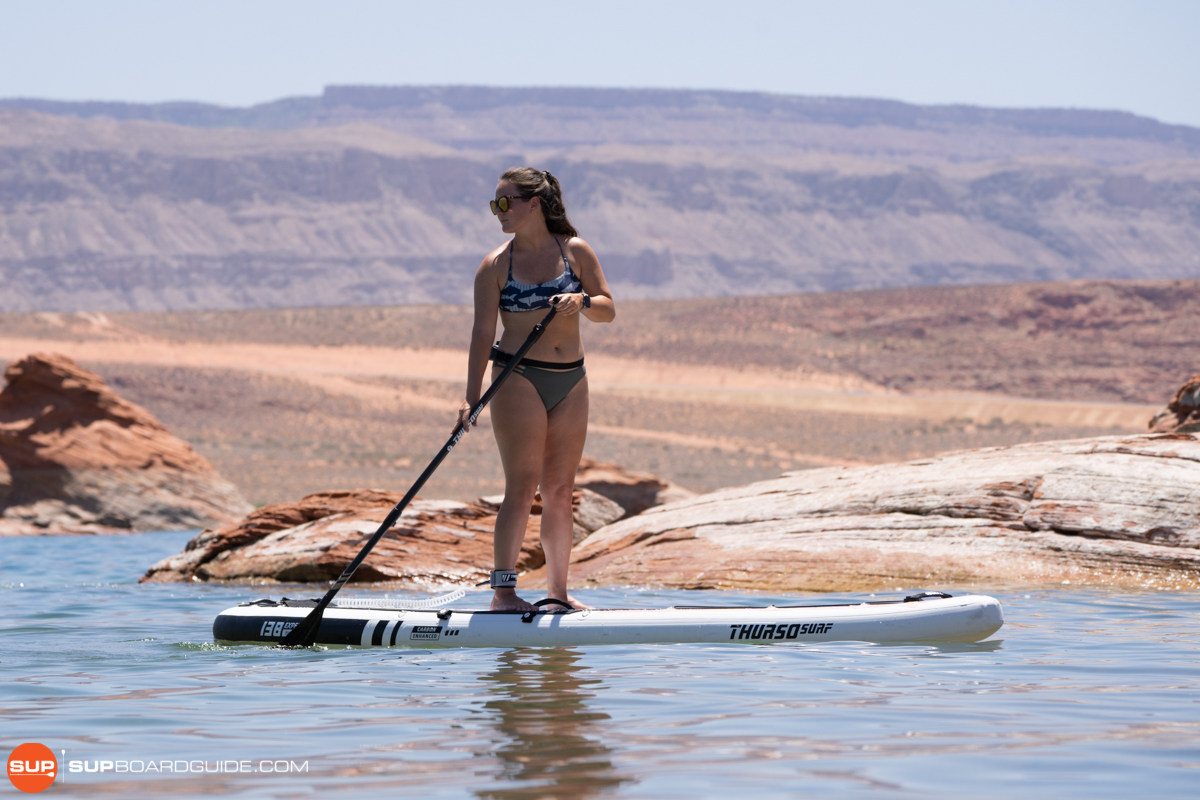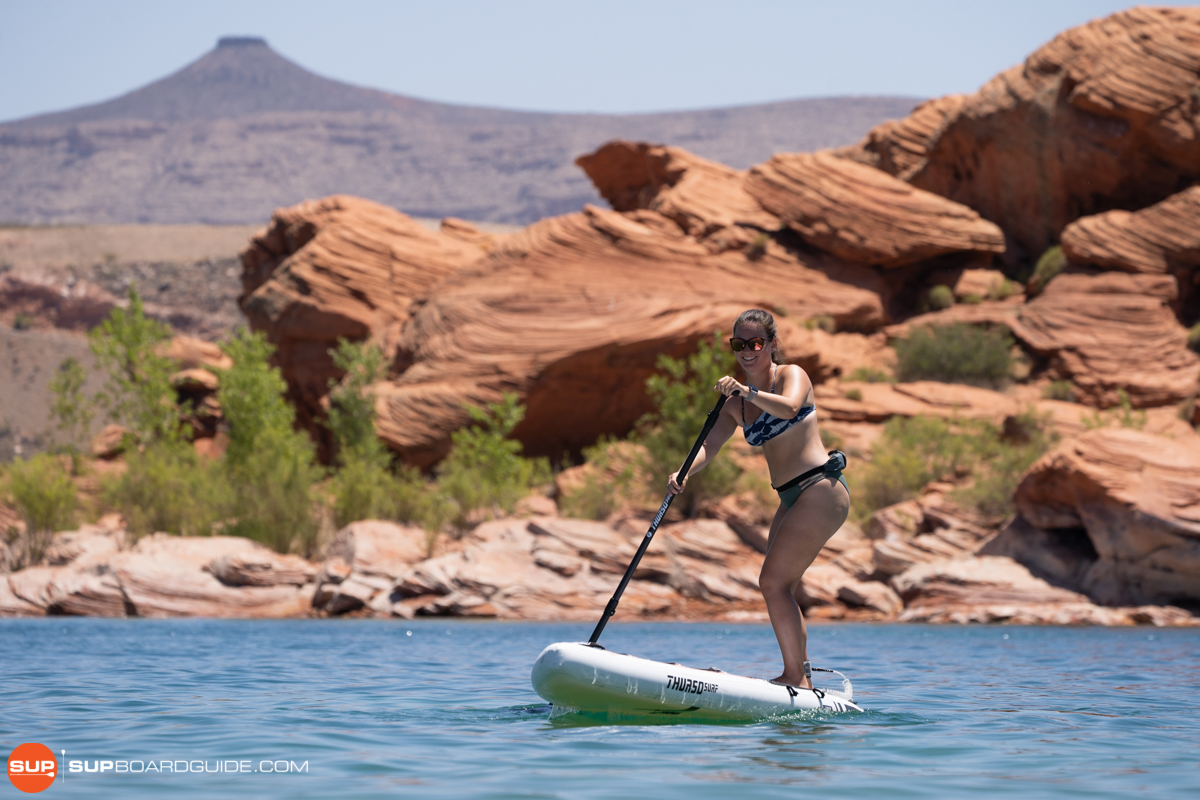 Overall Score: 9.3/10
Stability: 9.0/10
Speed: 9.3/10
Tracking: 9.4/10
Maneuverability: 8.7/10
Construction Quality: 8.9/10
Features/Accessories: 9.2/10
Stability Rating: 9.0/10
Like the 12'6 version of the Thurso Surf Expedition, the Expedition 138 (11'6) is on the more stable side of the spectrum for a dedicated touring SUP.
That being said, it won't be quite as stable as the Expedition 150 for taller or heavier paddlers due to the slight decrease in volume. Additionally, SUP newcomers and those used to wider boards will likely need a little bit of time to adjust to the 30" width on the Expedition 138, but it's not a super harsh learning curve.
As for carrying gear, the Expedition 138 will perform well under some added gear weight for smaller paddlers, but larger paddlers will benefit from the extra volume of the Expedition 150. Likewise, if you're a paddler of any size that is particularly gear heavy, the Expedition 150 would still be the better option between the two.
Speed Test: 9.3/10
Thurso Surf Expedition 138 Sprint test [0.05 mi.] – 0:00:53
Thurso Surf Expedition 138 Casual Paddle test [0.05 mi.] – 0:01:22
In this case, speed on the Expedition 138 is dependent on the paddler.
While the Expedition 138 is a couple of seconds faster for me (5'2 x 135ish lbs) when pinned against the Expedition 150, the opposite is true for Justin (6'0 x 180ish lbs). A paddler his size benefits from the added volume of the 12'6 x 31" Expedition 150 without being hindered by the extra inch in width, whereas someone my size doesn't need a higher volume SUP (in terms of speed/stability) and benefits from the narrower shape of the Expedition 138.
Tracking: 9.4/10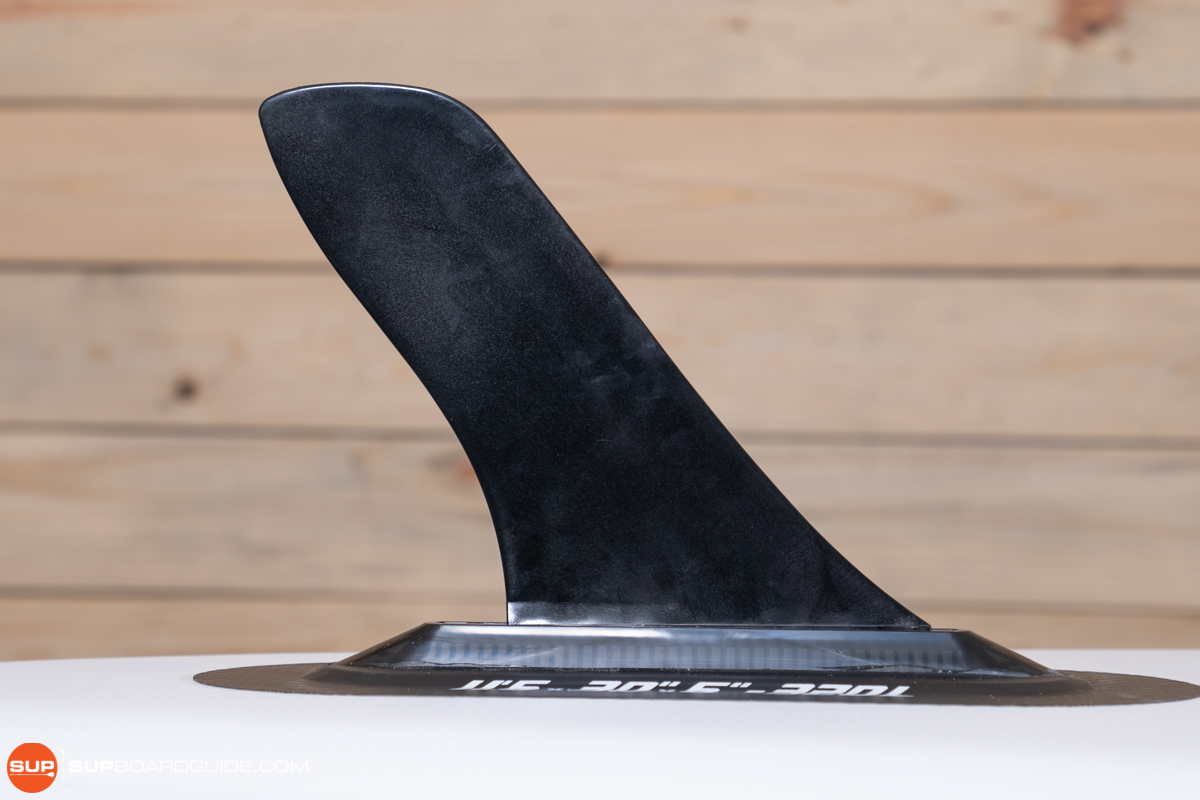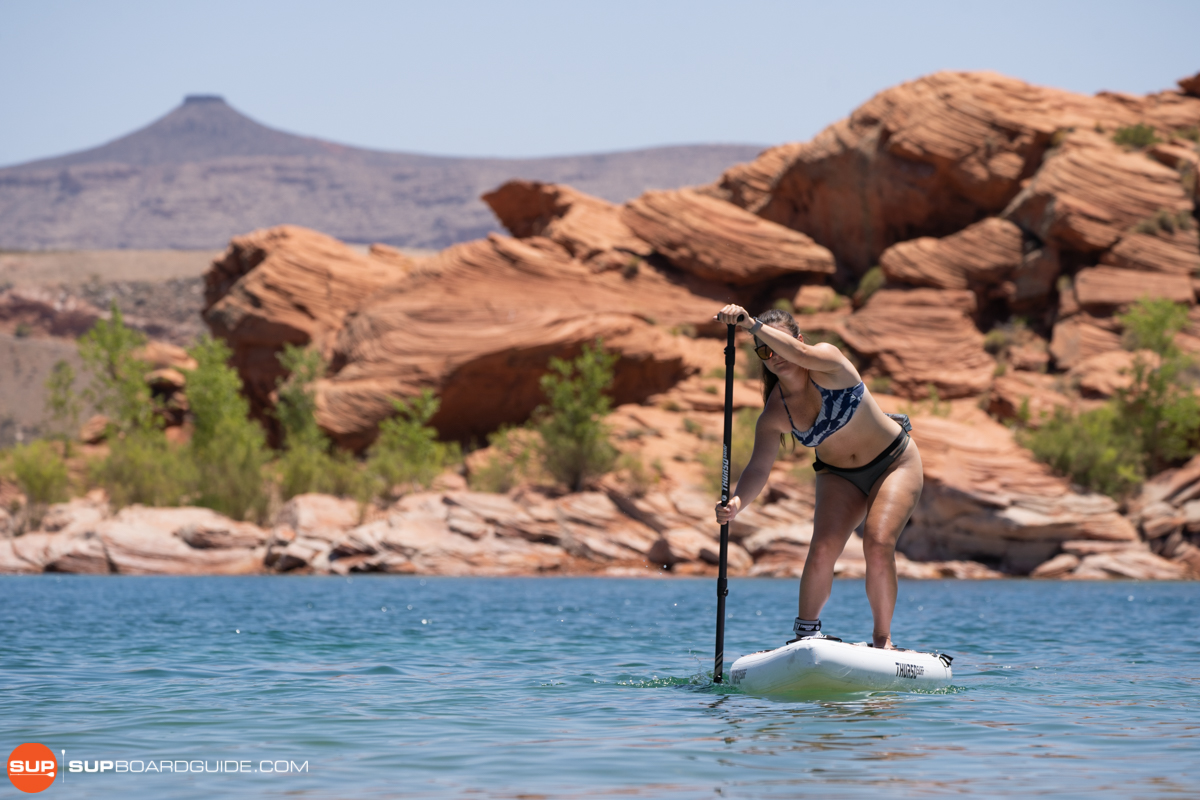 As usual with touring SUPs, the Expedition 138 has great tracking capabilities.
Compared to the Expedition 150, I personally think the Expedition 138 tracks slightly better because the narrower shape makes it easier to keep better form (if your balance is in check), but the difference is pretty marginal. Both SUPs' tracking can be credited to Thurso's included hatchet style fin.
Maneuverability: 8.7/10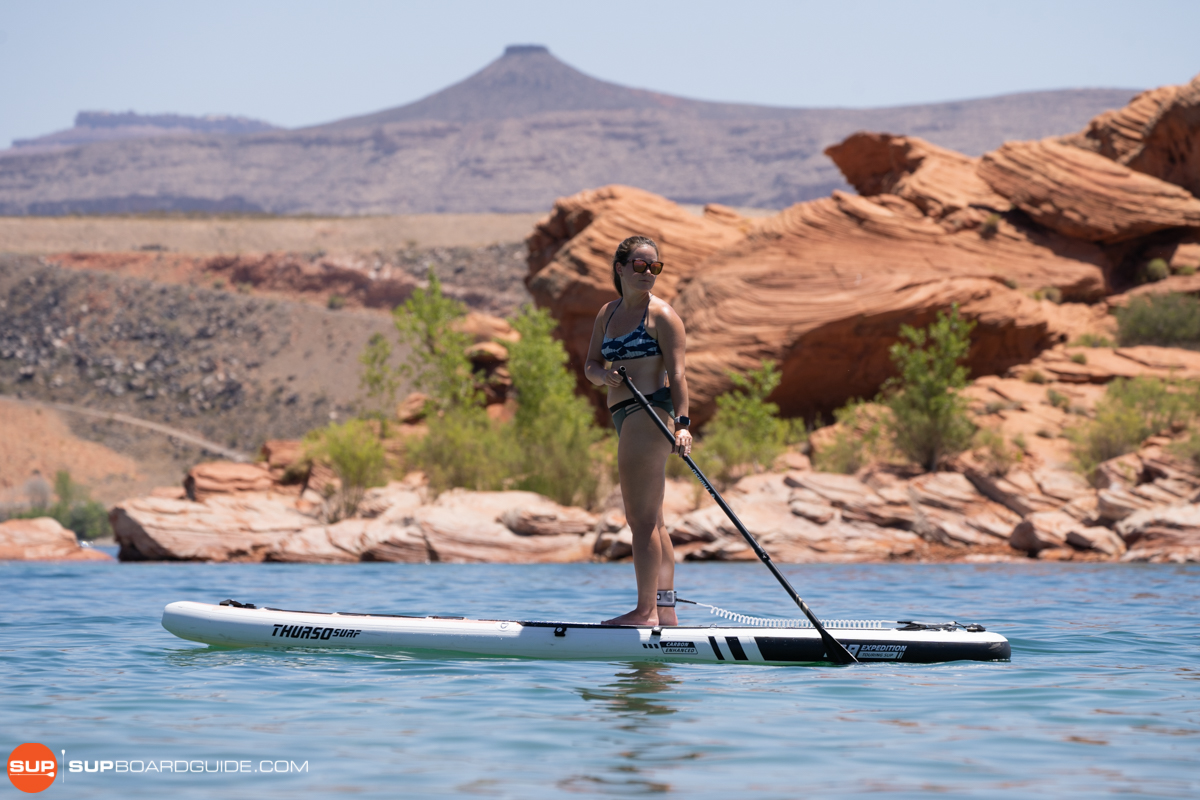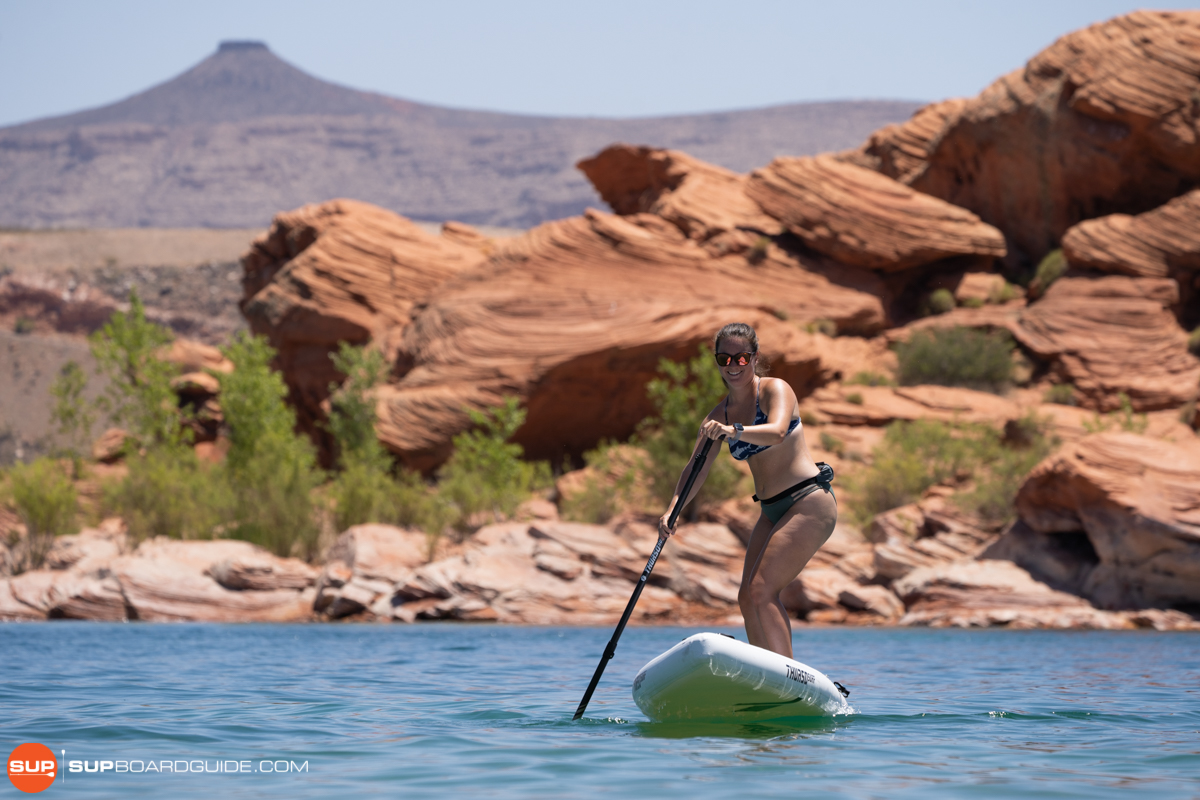 As a touring SUP, the Expedition 138 is more maneuverable than expected due to its 'shorter' length (most touring SUPs are 12'6 long) and raised kick pad.
Though the Expedition 138 is still expectedly slower on sweeping backstroke turns and forward sweeping turns, it's not quite as slow as the Expedition 150. In stepback turns, the 11'6 Expedition 138 is a bit sportier than the 12'6 Expedition 150, and the raised kick pad makes these turns much easier and more effective. However, I do want to note here that the kick pad is a bit too far forward to fully sink your tail; for a more aggressive stepback turn, you'll have to step behind the pad.
Construction Quality: 8.9/10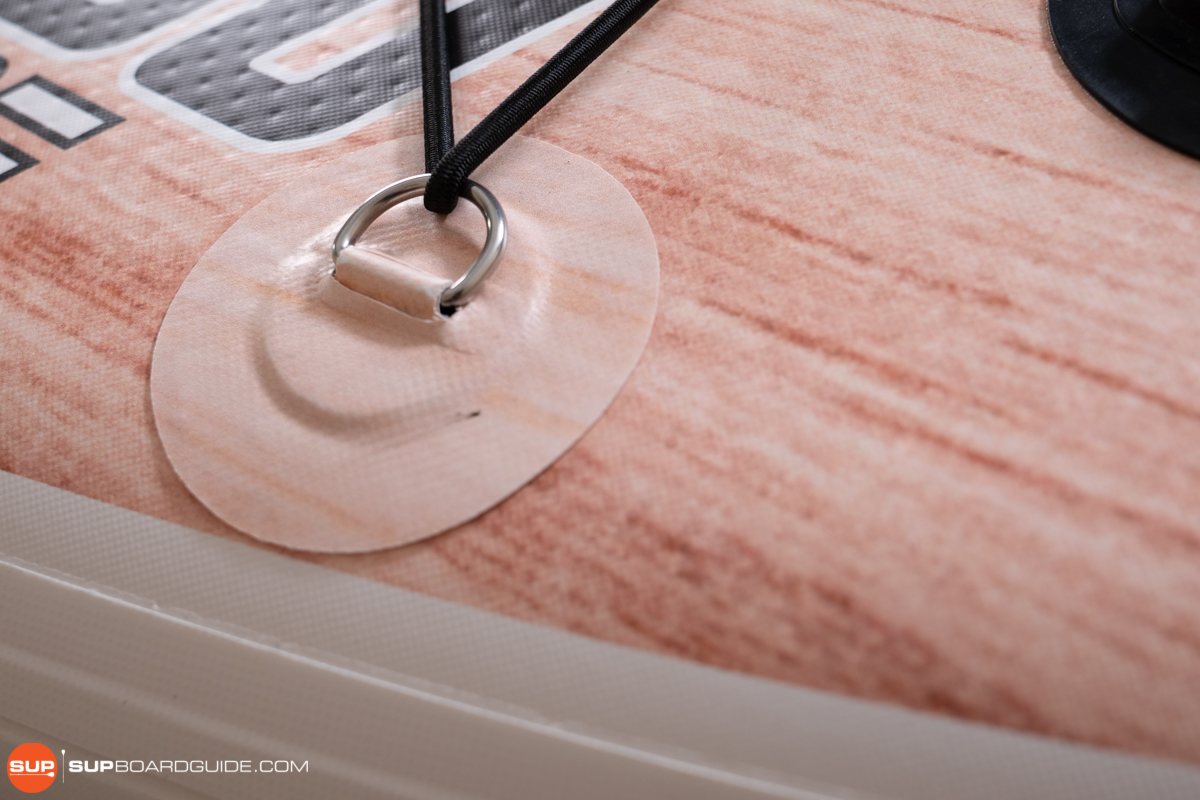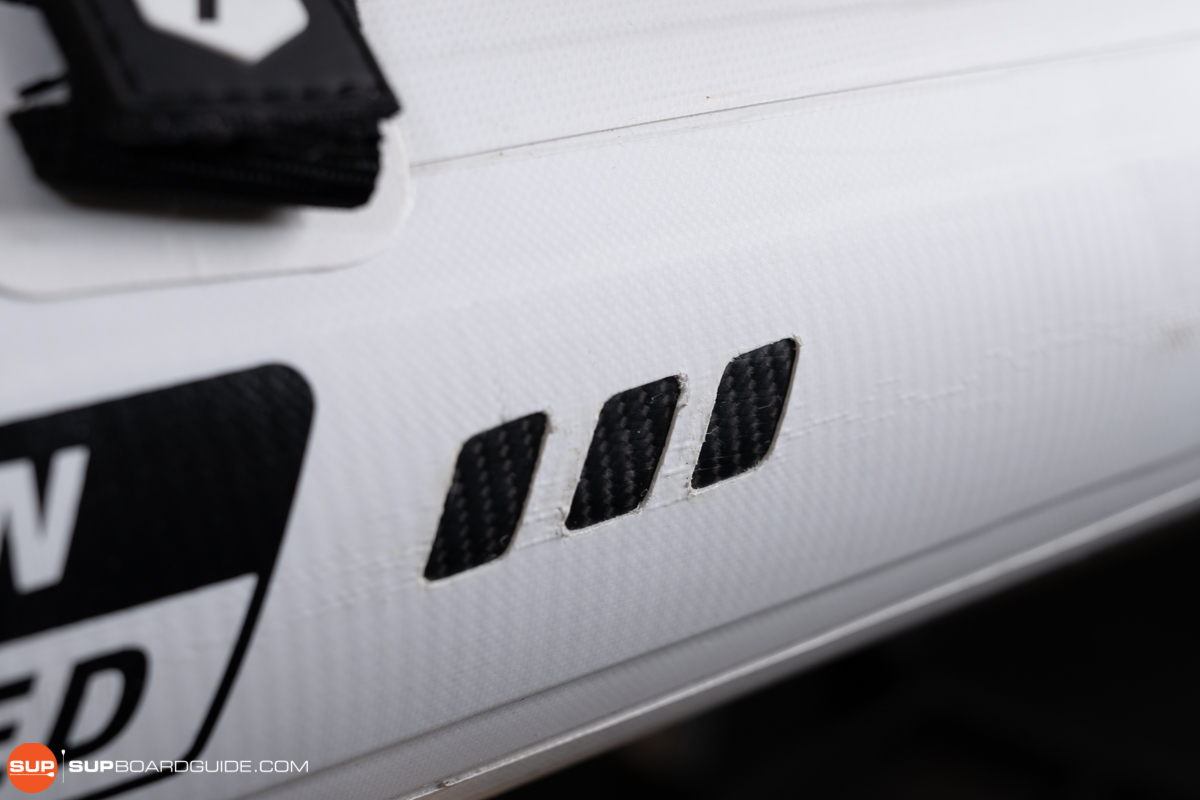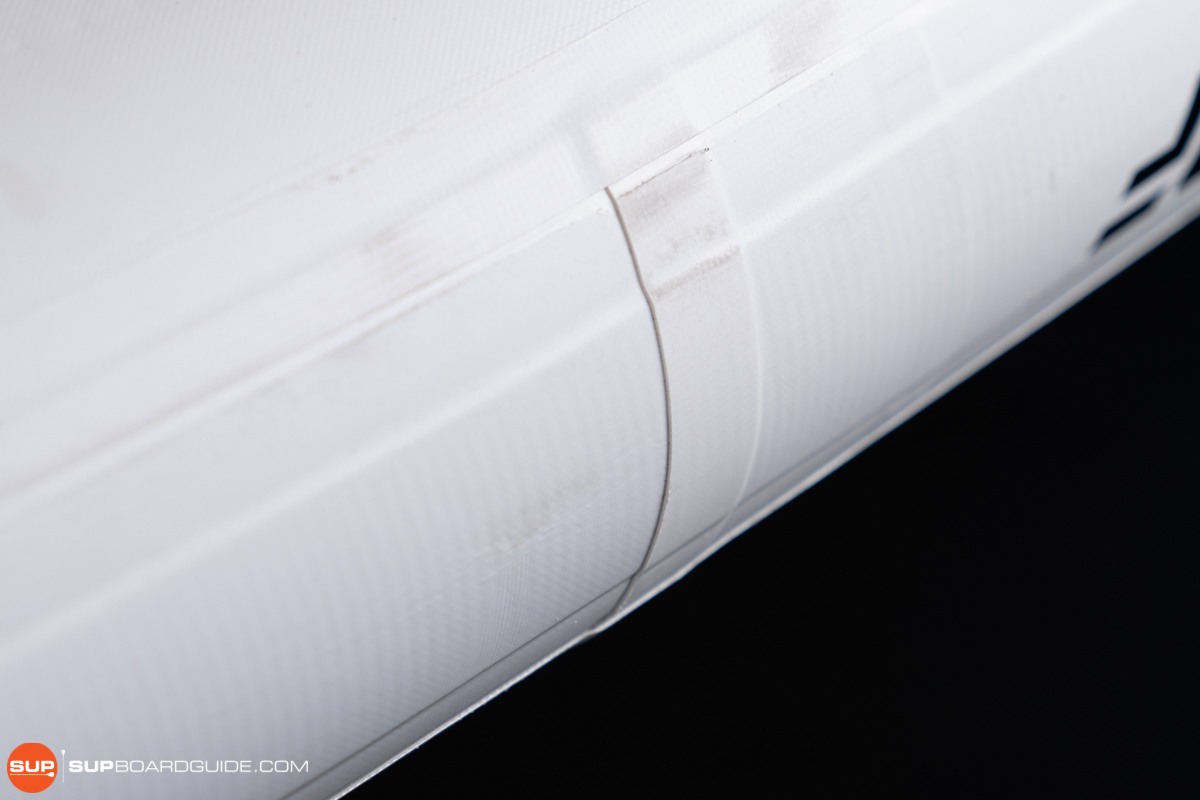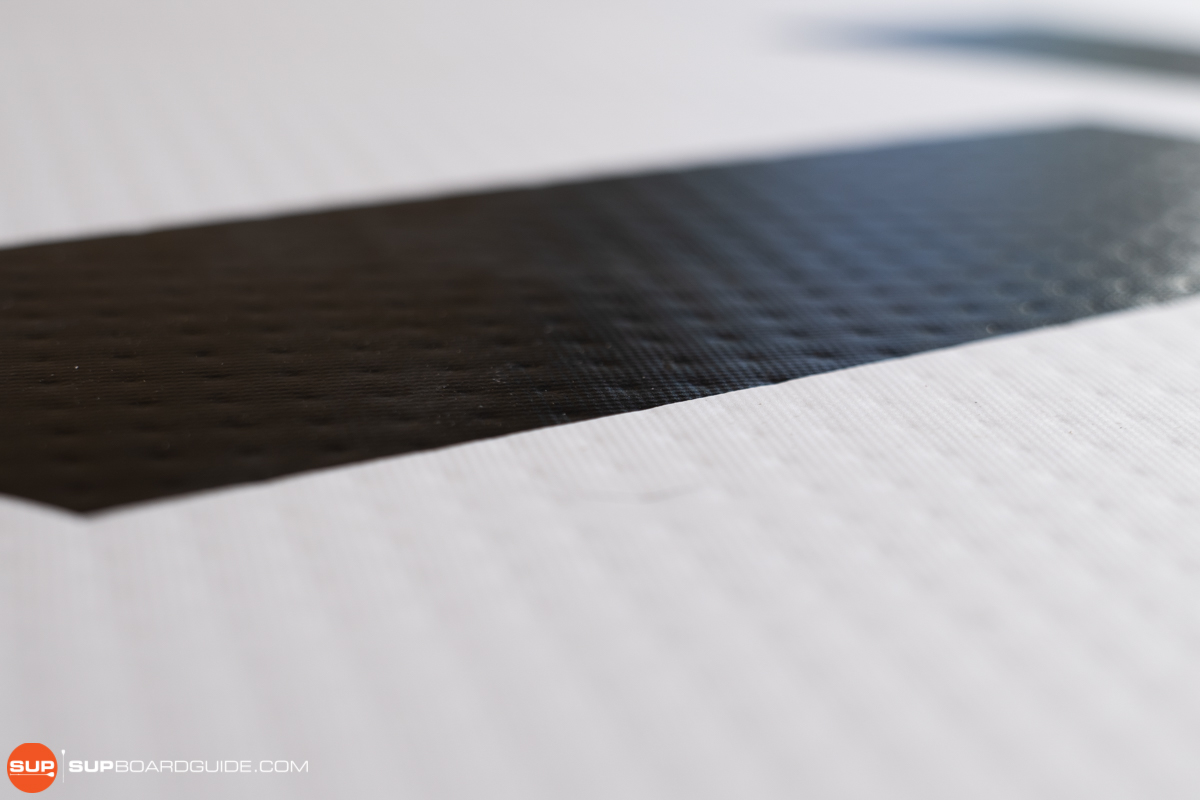 Thurso Surf constructs the Expedition series using a woven linear inner drop stitch and dual layers of fused PVC.
What this means is that the inner threads that maintain the shape of the Thurso Expedition 138 are oriented parallel to each other and run deck to bottom inside the SUP. They're anchored into a woven fabric layer, which contributes to a more rigid feel than an alternative knitted fabric that has a lot more micro air gaps. The fabric layers are then sealed with a laminate form of two PVC layers and allowed to dry. Once the drying is complete, Thurso applies their rails, which include a strip of carbon fiber fabric in order to add a bit more rigidity to the Expedition SUPs.
We love the overall stiffness of the Expedition SUPs, but we do wish Thurso could cut just a bit more weight from these boards. The Expedition 138 is roughly 24 lbs, which is becoming fairly heavy given some advancements that have been made across the industry. That being said, the weight isn't super noticeable when you're on the water.
Board Stiffness: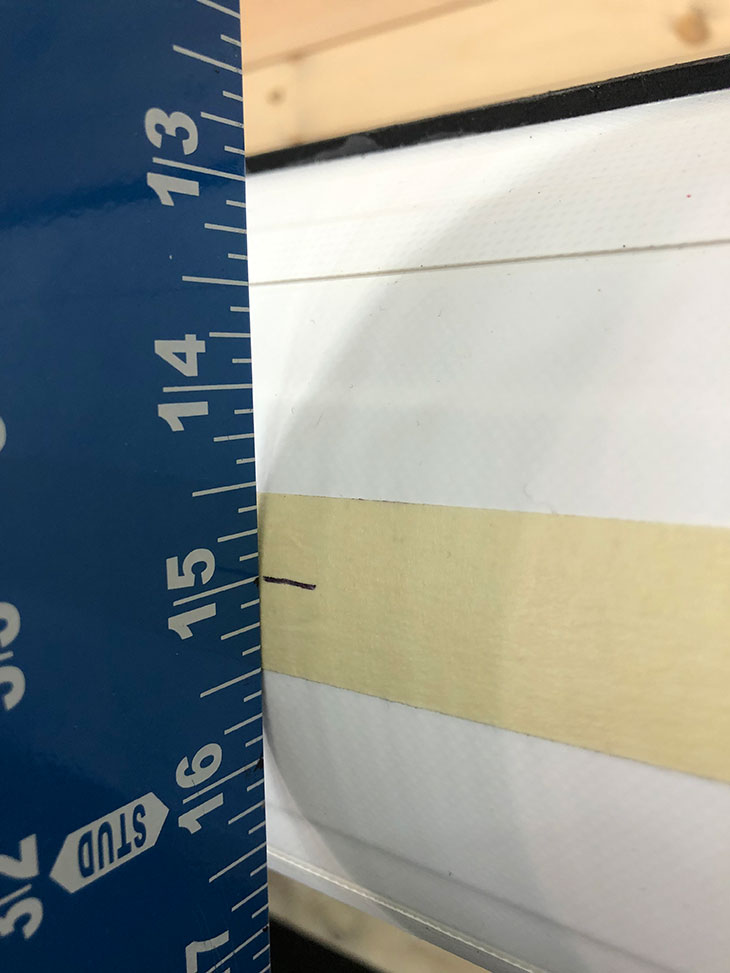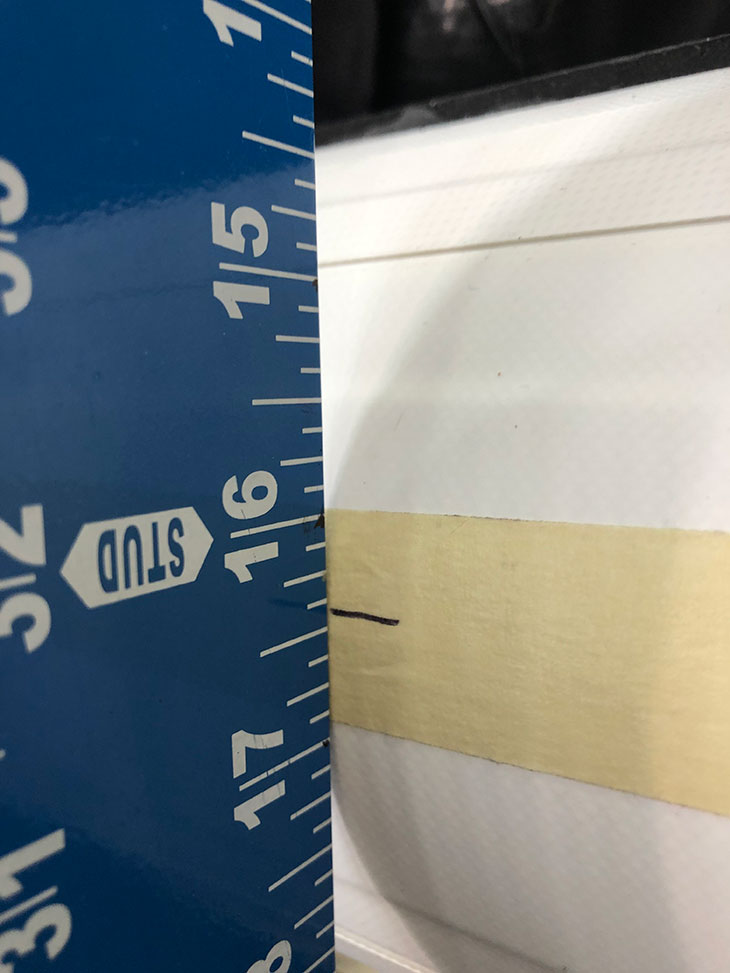 Stiffness Test: 1.3750" Bend
Our bend test is performed by placing the SUP on top of two sawhorses space 7' apart. We then load 150 lbs at the board's mid point and measure how much it flexes under the weight. To clarify, this is not meant to replicate the SUP's behavior in the water, but rather to help us differentiate between construction techniques and understand how those techniques contribute to rigidity.
At its max of 20 PSI the Thurso Surf Expedition 138 flexed 1.3750" under 150 lbs. Admittedly, this is more than we expected given that this SUP has carbon fiber rails and is comparatively heavy at 24 lbs. However, it doesn't seem to massively affect the Expedition 138's performance on the water; it still feels solid and supportive under foot. I would just like to do more testing to see how it handles for taller/heavier paddlers.
Features/Accessory Review: 9.2/10
The Thurso Expedition successfully balances versatility with light minimalism, meaning it has most of the same features you'll see on 'feature-heavy' SUPs, but your deck space is still relatively open.


Equipped with a large front cargo area, the Expedition 138 is more than capable of hauling a few drybags worth of day gear, or overnight gear – and while the rear cargo area is on the smaller side, it's great for stowing away shoes, and it won't make too much of a difference if you cut it off entirely to have easier access to the raised kick pad.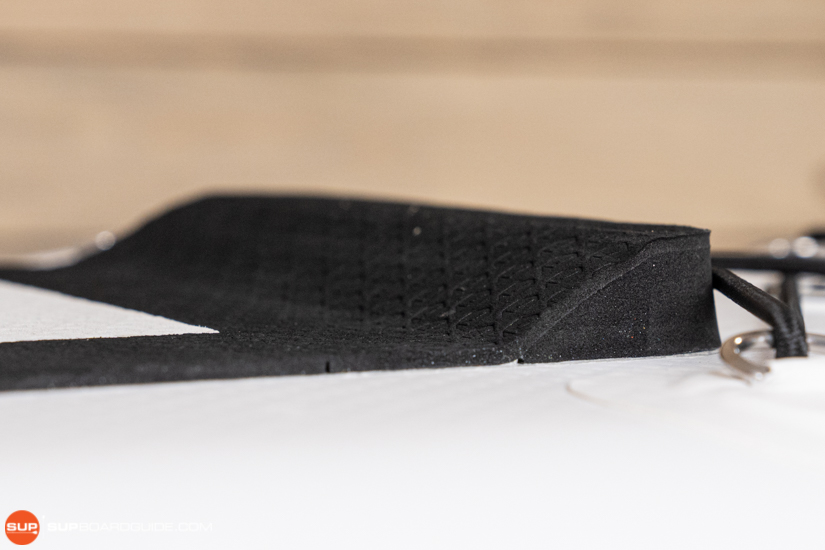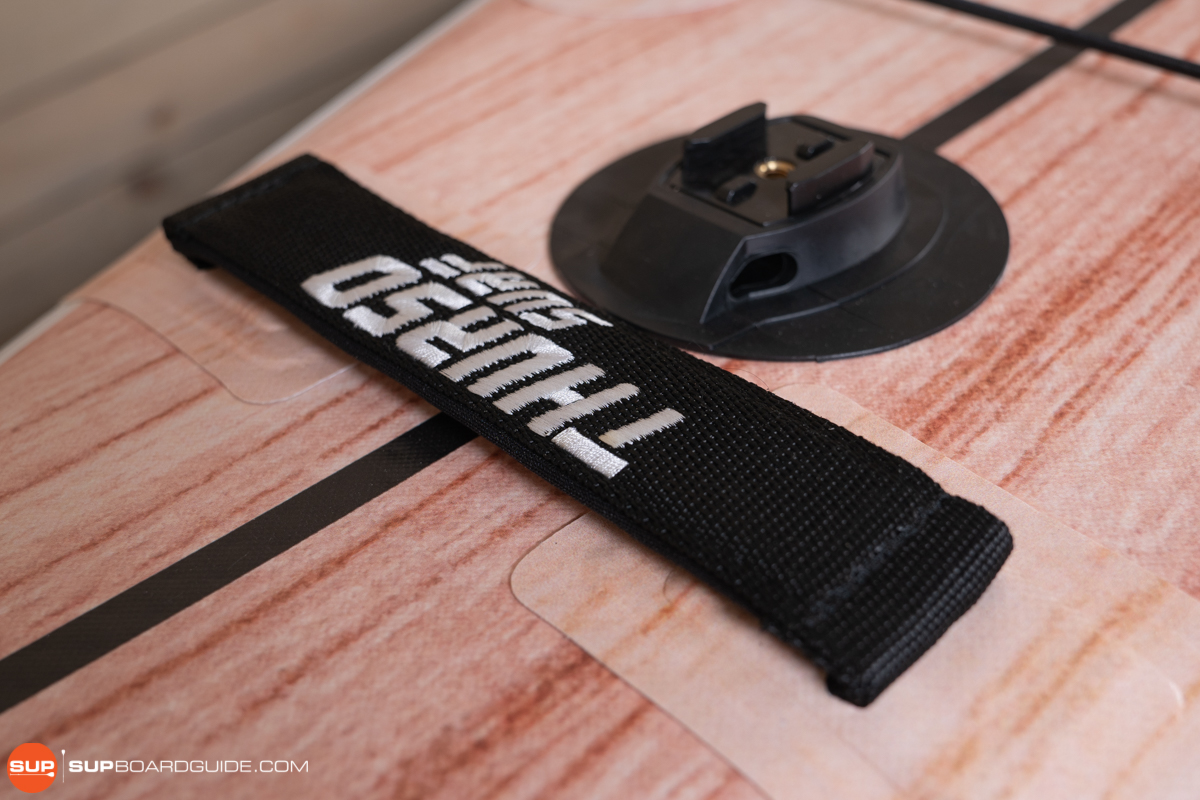 Staying on the topic of the raised kick pad, it's my personal favorite addition to the latest model of the Expedition 138; it contributes so much in maneuverability and makes step-back turns so much more manageable for those that are learning. I also really like Thurso's choice to place an action mount onto the nose of the Expedition series; it's the perfect spot to attach a go-pro.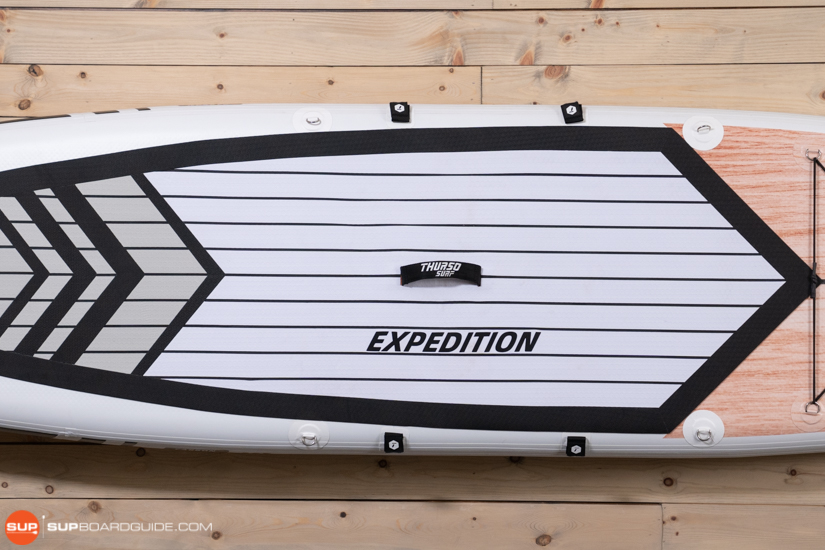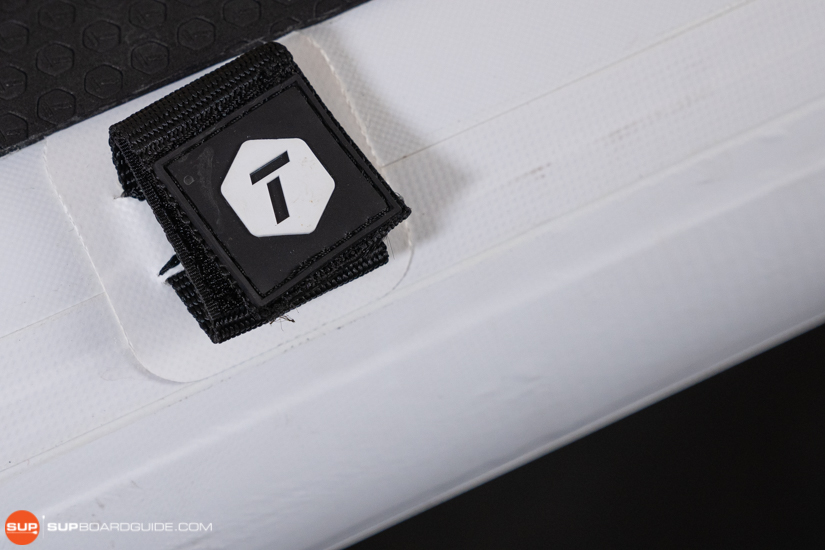 Another ode to versatility/functionality, the Expedition 138 has a set of velcro paddle holders on both rails as well as an extra 4 d-rings to attach a kayak seat. I love the paddle holders as it frees up my hand while I'm walking to the water and keeps my paddle secure if I go for a swim. And though I'm not much of a SUP-yakker myself, I can appreciate that it gives paddlers options when it comes to water-sport activities.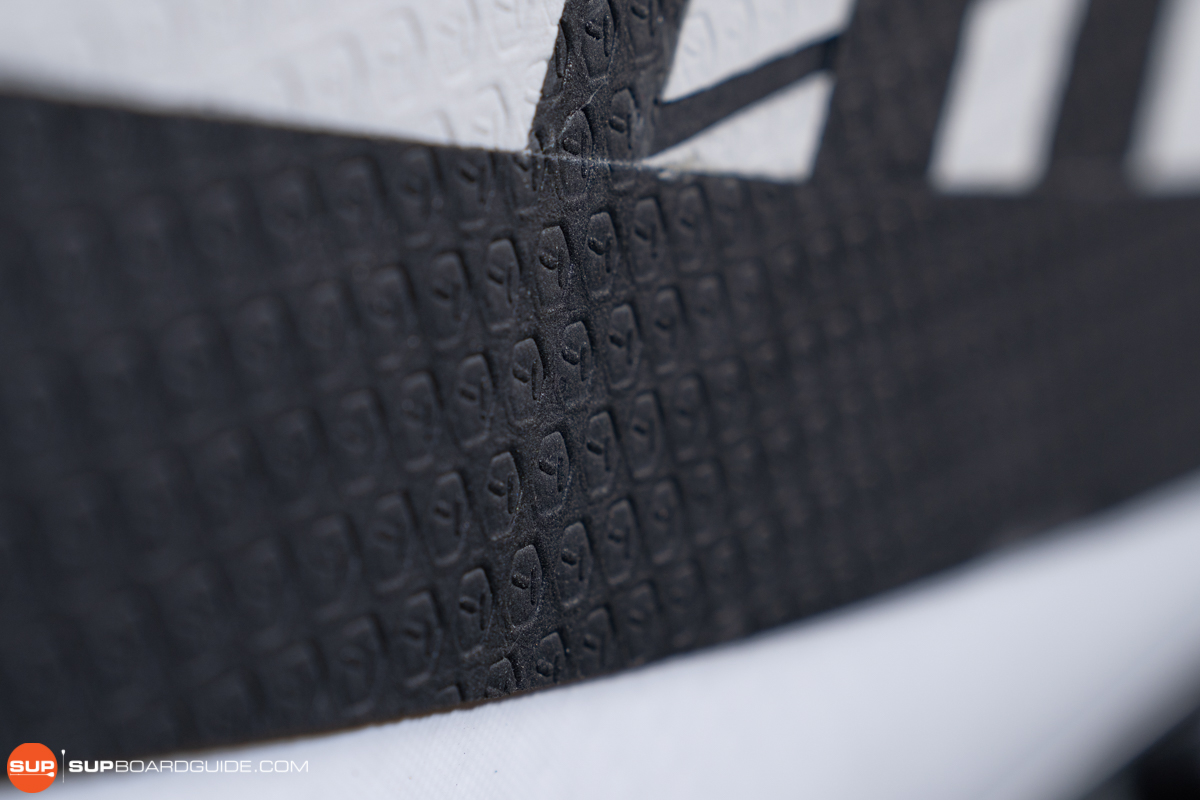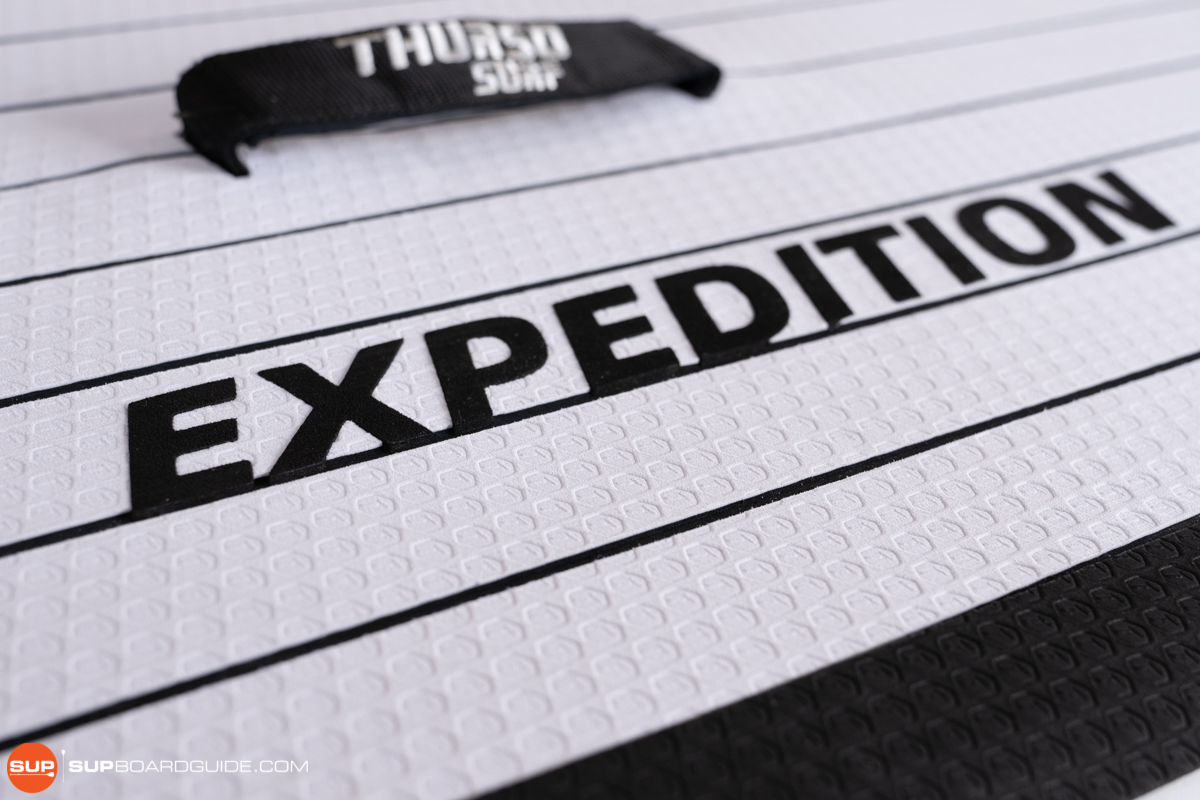 Lastly, we really like the new deck pad on the Expedition series. Thuros has spaced the grooves out a little bit to be more comfortable, and they've also added their brand stamping to add some traction as you move around the SUP.
Included Accessories: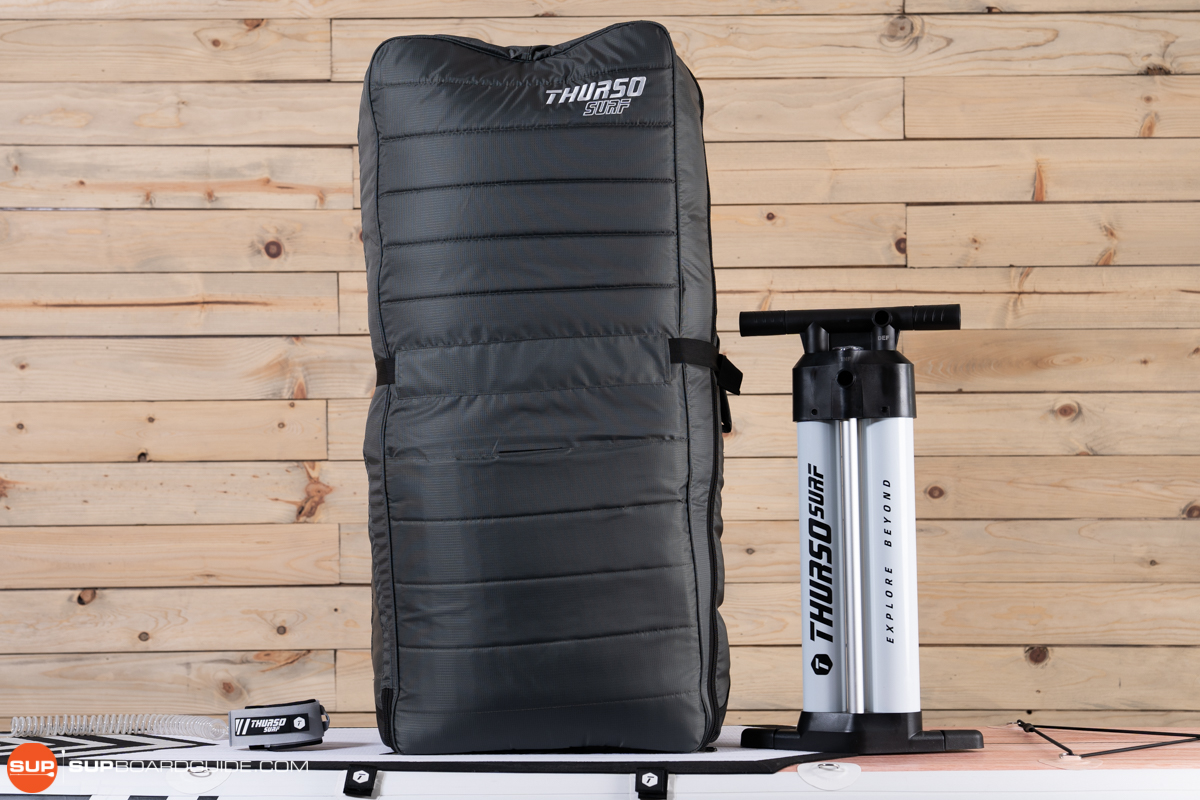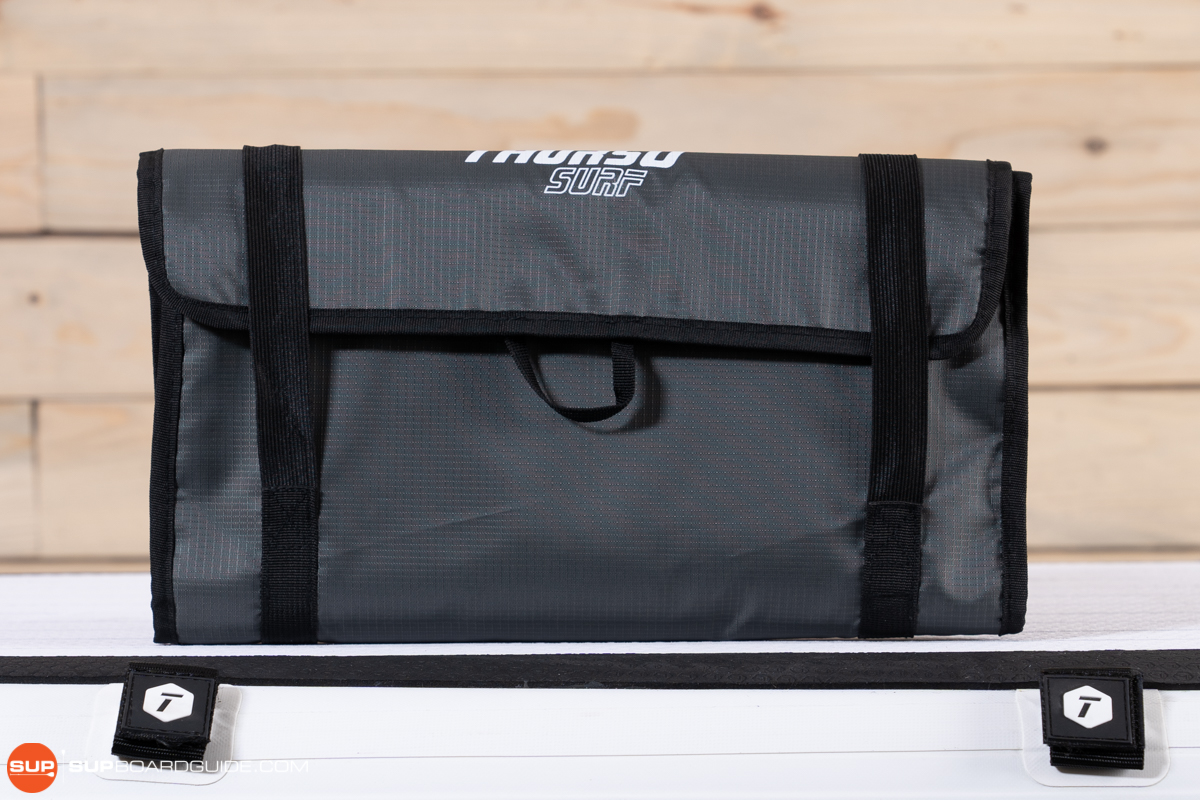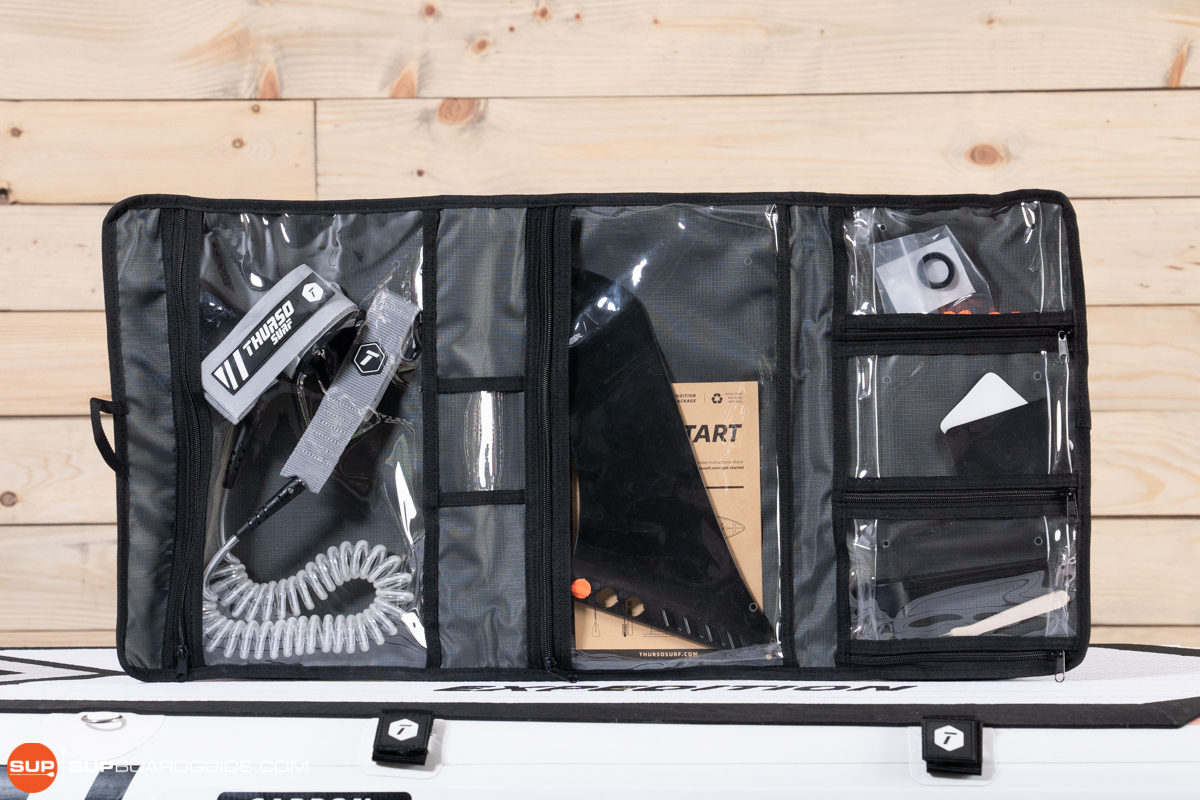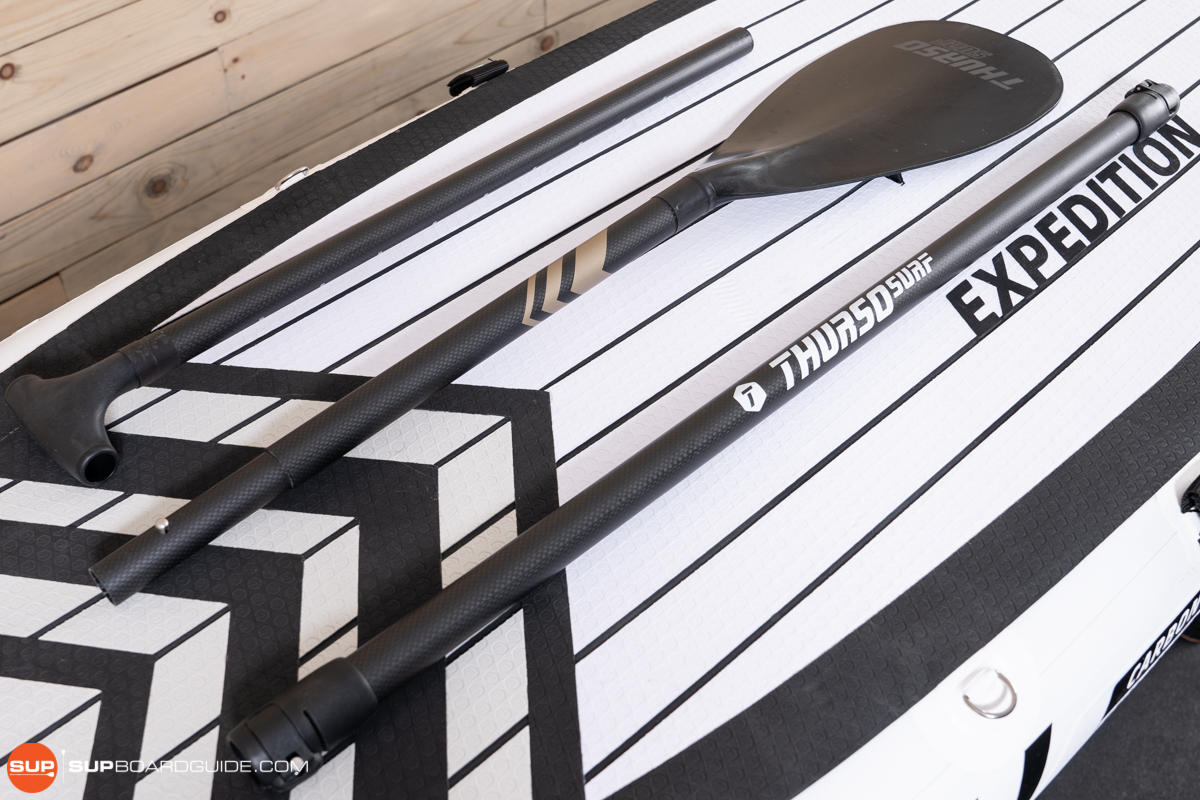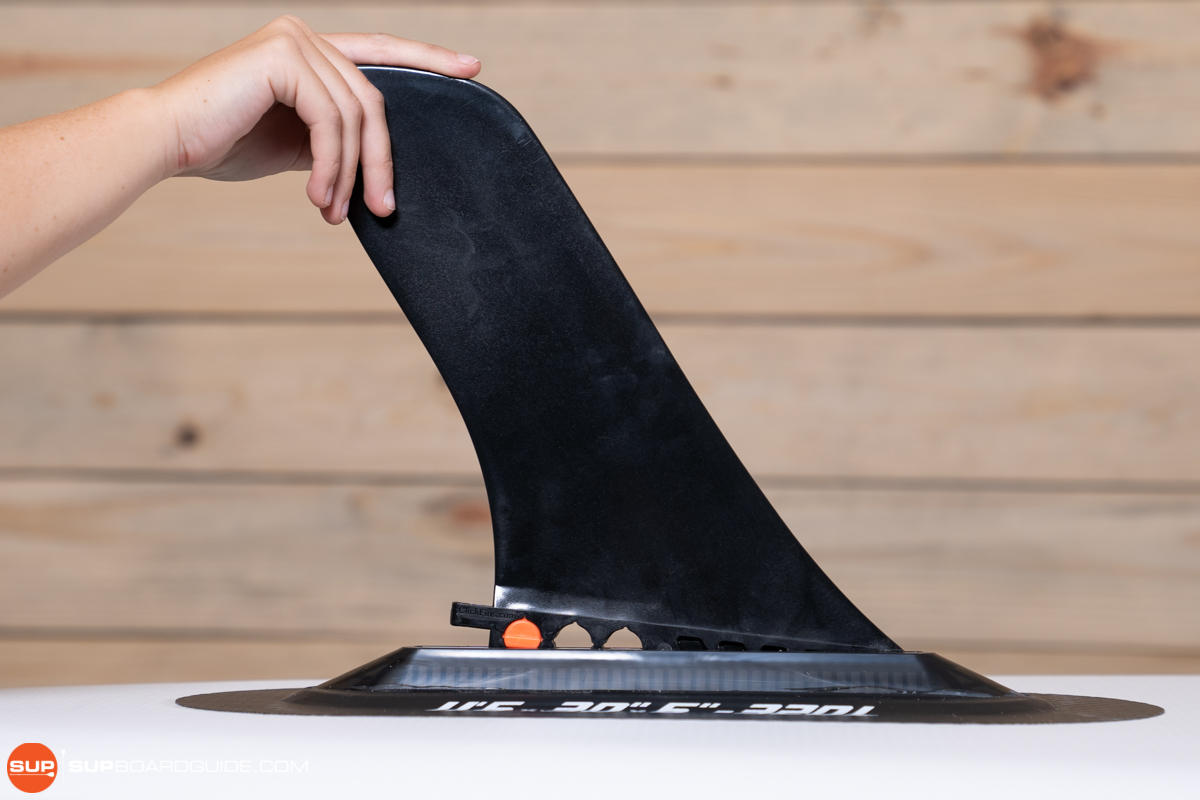 Thurso Surf has made some great upgrades to their SUP kit, and we were even more stoked to see Thurso minimize their packaging and switch to paper/ more environmentally friendly options. With each Thurso Surf Expedition 138, you'll receive:
3-piece carbon hybrid paddle
Accessory pouch/ organizer
Hatchet-style kumano fin
10' coiled leash
Dual-chamber triple action hand pump
Wheeled SUP backpack
Again, we think Thurso has done a phenomenal job improving this kit. My favorite piece of this kit is the newly added accessory pouch and organizer. It reminds me of a travel toiletry bag in that it neatly stores your leash, fin, extra plugs, and repair items in their own zipper compartments and then neatly folds up onto itself. It helps tremendously with keeping track of some of the smaller pieces, and it fits nicely in the front velcro pocket of the SUP backpack.
In terms of the new Thurso Surf backpack, we love that Thurso is sized up for a roomier bag. I also really like the mesh pockets on the sides for more efficient drying as well as the new material; it feels like a lightweight puffer jacket. Our only note on Thurso's new backpack/ roller bag is that they may have overcorrected the overall size. Their previous models came in SUP bags that were honestly kind of tight, and it made it more challenging than usual to pack away your SUP. While this issue is undeniably fixed with the new backpacks, they feel a bit too big when you're actually carrying it. It's not a huge deal breaker by any means, especially if you'll mostly be rolling your SUP bag instead of backpacking it, but it is something to keep in mind if your goal is to hike with your board.
Summary Review of the Thurso Expedition 138
Overall, the Thurso Expedition 138 serves a wide range of paddlers in different ways. For smaller paddlers, it acts as a stable, yet fast, adventure board capable of hauling overnight gear. For taller paddlers, it acts as a quick and maneuverable all-around, well suited to solo paddles with a minimal amount of gear.
Regardless of its purpose for each individual paddler, the Thurso Surf Expedition 138 comes with an array of higher quality accessories that are shipped in environmentally friendly packaging.
We've been impressed so far with Thurso's improvements across all of their boards, and the Expedition 138 is no exception.
We hope you've found this review helpful, but if you have any questions, don't hesitate to leave them in the comments. Stay safe and enjoy the water!
The following two tabs change content below.
Justin - Chief Paddler
Heyo! At SupBoardGuide.com we are a team who love the water, the outdoors, and are more than grateful that our full-time job allows us to review stand up paddle boards. We paddle year round (it helps that we are just about 2 hours outside of Las Vegas), and we bring in a wide range of paddlers with the goal of providing our readers with the best, most in-depth, and accurate stand up paddle board reviews.
Latest posts by Justin - Chief Paddler (see all)