ThursoSurf 11'6" Expedition
Pros
Long touring SUP with excellent tracking, glide, and stability. Maintains momentum well!
Fully packed kit that comes with everything you need for the water.
Large weight capacity. Able to support kids, pets, or a second adult paddler.
Large front bungee space, small rear bungee space, D-rings, and a new action mount. Huge accessory customizability.
Snap lock side fins and a standard US center fin box. Great for customizing fin setups.
Cons
The heavier weight leads to great performance in the water, but it isn't an easy SUP to carry. It's also slightly back heavy when carrying the board out of the water, so be careful when transporting it to avoid scraping the tail.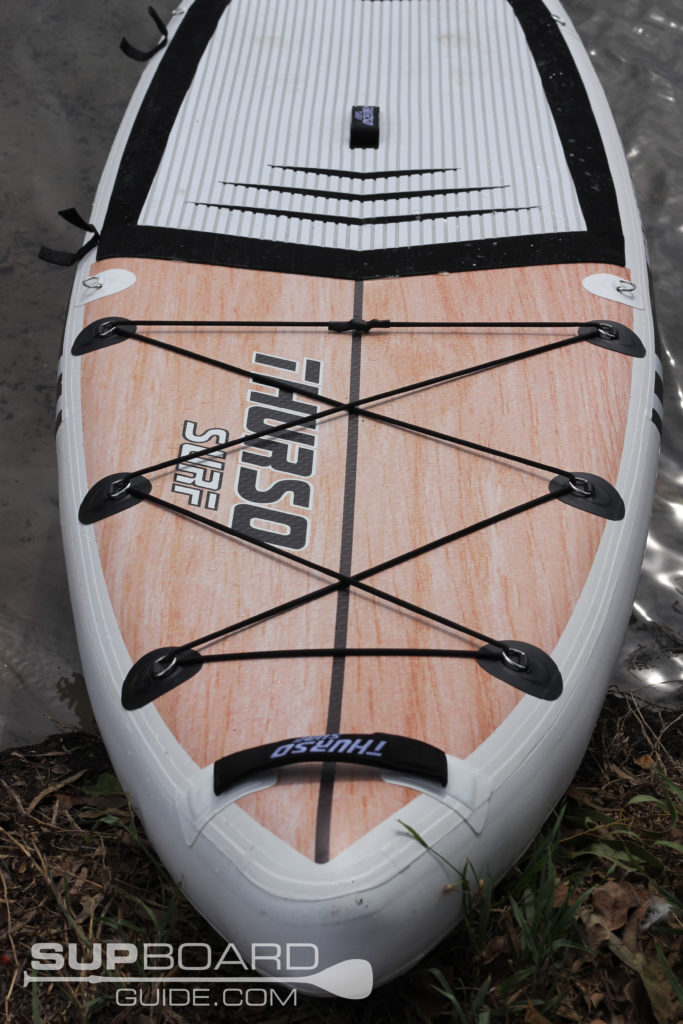 Are you in the mood for adventure? Planning an…Expedition…Perchance?
Are you sick of my sideways questions and just want to find out about the new 2019 ThursoSurf Expedition? Then read on below and excuse me using your time. Find out what's new, what's old, what we like and what we think could be improved!
Specs
| | |
| --- | --- |
| Length | 11'6″ |
| Width | 30" |
| Thickness | 6" |
| Weight Capacity | 330 lbs |
| Weight | 28 lbs |
Performance
Talk about speed! The Expedition flys along. It's narrow body and tapered nose cuts through water producing hardly any drag in its midst. While it stays stable with the 6″ thickness creating enough buoyancy that a confident beginner could get the hold of this board without too much practice.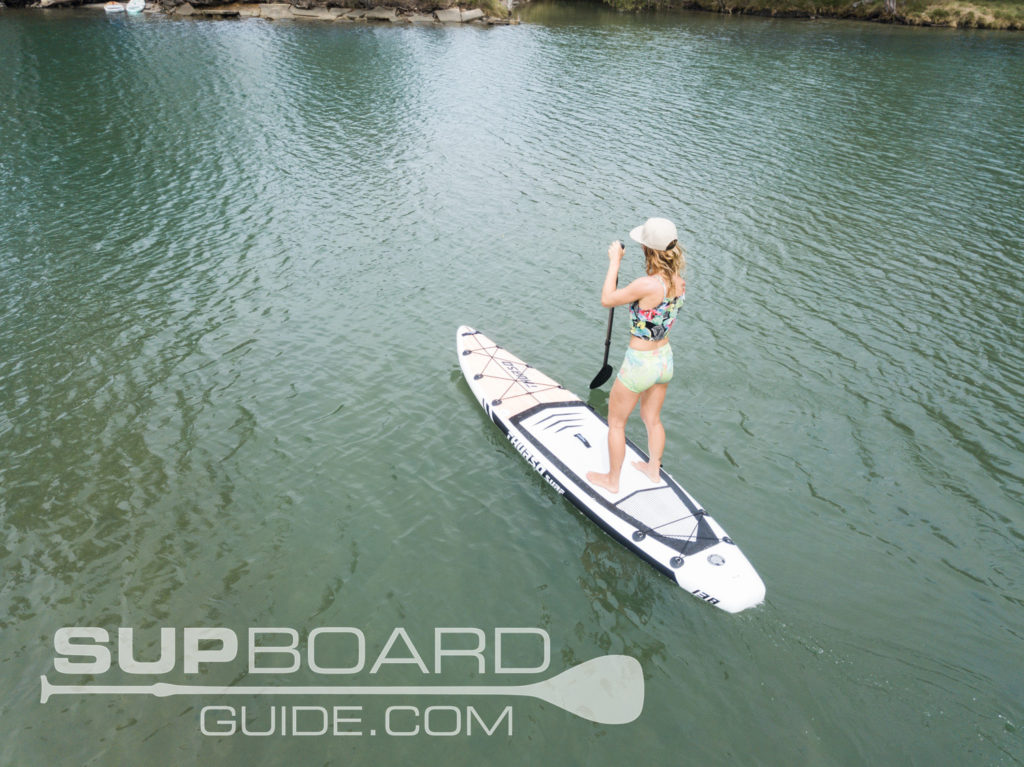 Those just starting out may find the board a little tricky to balance on while paddling and turning. While those who have paddled a handful times of before all the way through to more advanced riders will love how this SUP responds. Picking up speed is no issue with the streamlined body, and it tracks considerably well. The Expedition is the narrowest iSUP I've been on and am impressed with their design in keeping a good level of tracking, speed, and glide but still a fair amount of stability.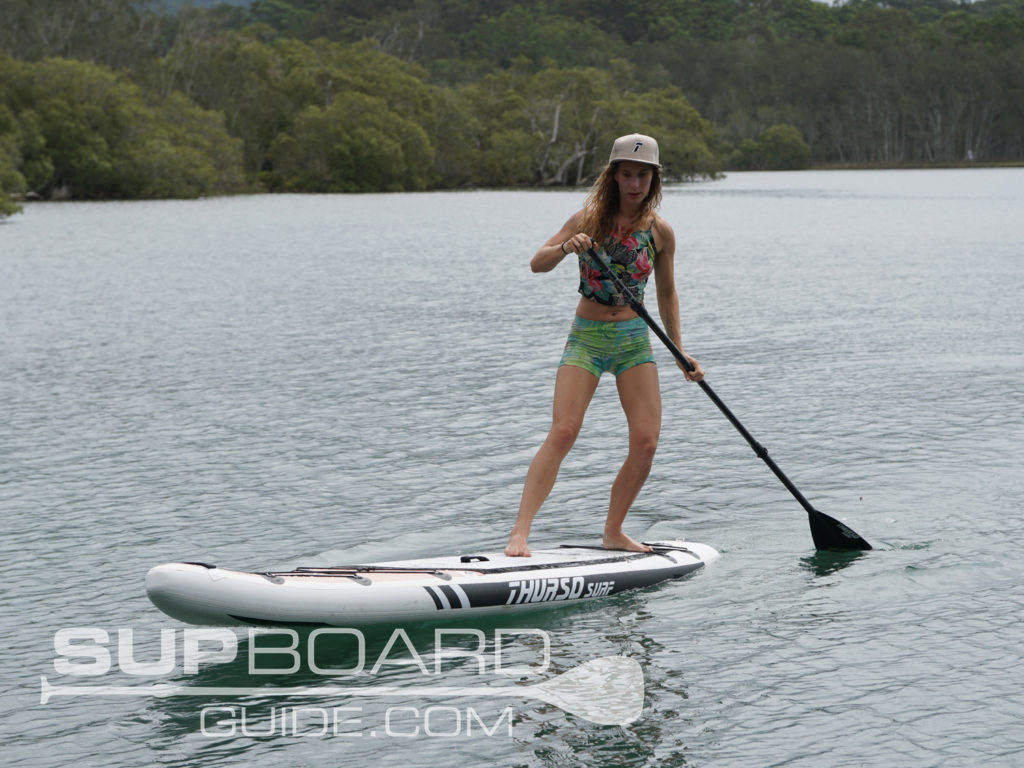 Using a back foot turn, turning this board is so easy and swift. It's lightweight nature and slightly squared tail makes for a ninja like slice through the water. Though for beginners, you may find it wobbly to turn, you need to be precise and confident with your foot placing and balance.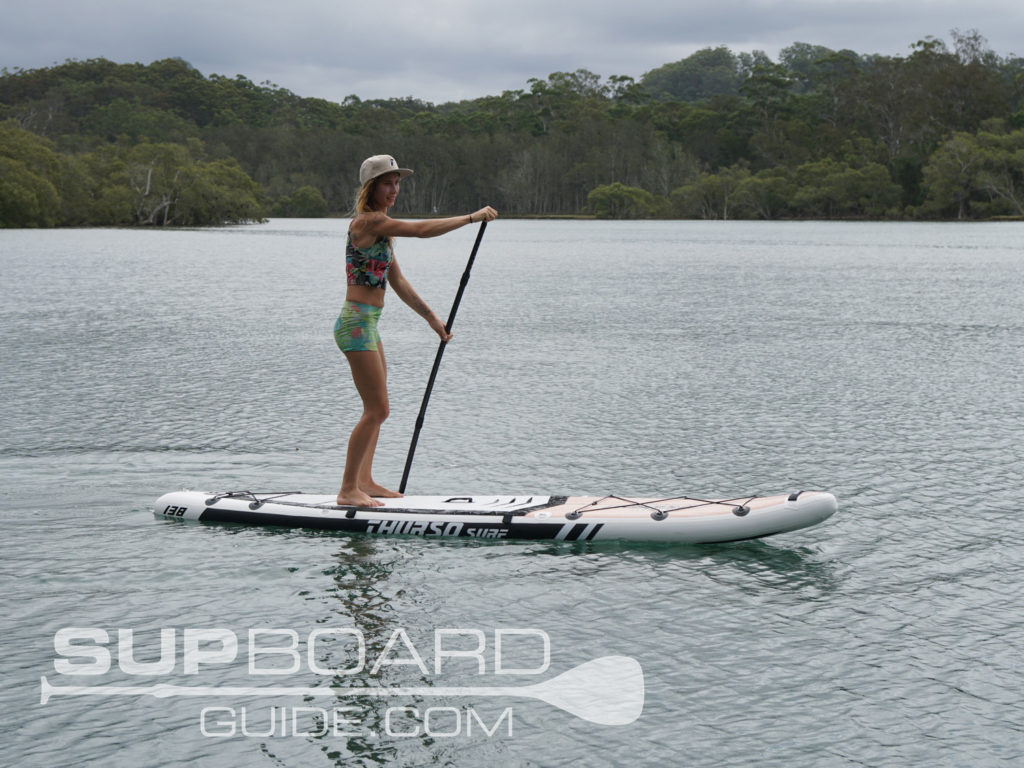 Getting out I would recommend this a long distance board, perfect to take you out on long days or even overnighters(great storage too). Paddling around the bay near the marina I got a fair amount of boats going past and was able to keep my footing. Being so close to the ocean, the area does tend to get a bit of coastal wind and chop, and again found the Expedition taking it all on without a fuss. The nose lifts up slightly (this is the rocker) which helps water to move past the board or the board past water. What came first? The chicken or the egg?! But anyway, the rocker aids, in particular, with choppy waters allowing the nose to dip in and out a bit to help the body of the board better maneuver.
Materials
Inside these tough boards is a drop stitch core that's protected by multiple layers of PVC. The military grade PVC wraps around the body 3 times and the sides are reinforced with an additional layer of PVC. Seeing as the rails are what tend to get hit the most, the extra layers of PVC ensures a bulletproof board. Some brands like iRocker used a quad-layer over the whole board but this increases the weight too. I have found both uses of the full quad layer and only the rails as quad layered to be resilient and strong so it comes more down to personal preference. There are pluses and negatives for both. Full quad you add extra weight but reinforced all over. Choosing the quad layering on just the rails, you lighten the board but you lose some protection and some of the rigidness.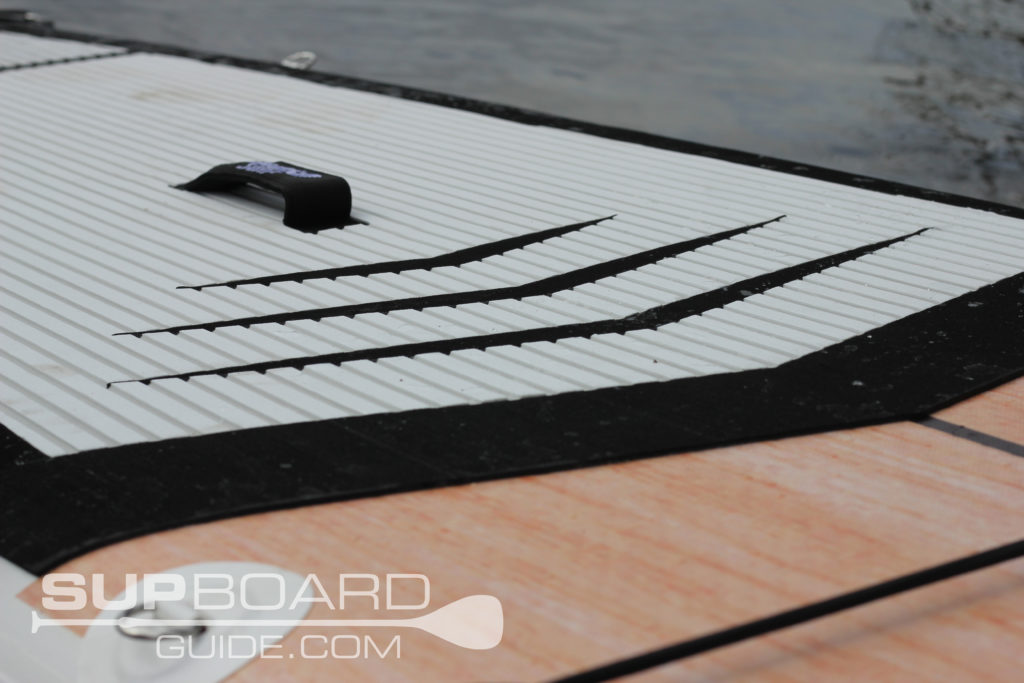 On top of the board keeping you stable and comfortable is the deck pad. It's made from a thick EVA foam and has vertical lines with ridges to keep you gripped to your board. It looks amazing against the wood grain and matches the branding down the sides, giving the Expedition a nice sporty look. My only complaint is any deck pad that is predominantly white is very hard to keep clean.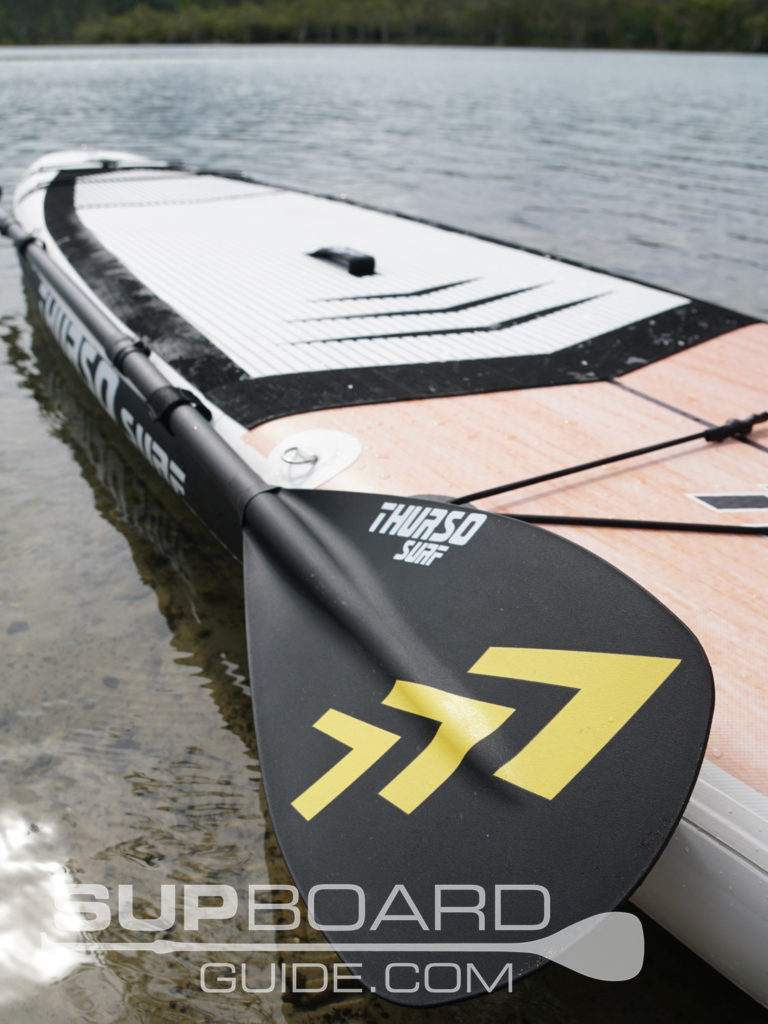 Board Design
Considering the name of this SUP you'd hope it'd be made to go on Expeditions. Well, guess what? That's exactly what's going on!
Let's start by addressing the storage. You can find D-rings placed nice and wide with a bungee cord on the nose and tail. Up front, there are 6 D-rings so a huge amount of space for anything you'd want to bring along. Though the board is narrow it's weight capacity still sits at high 330 lbs, which should be enough for you and some gear. Looking to the tail the 4 D-rings are the perfect size to attach one of the cooler bags and ideal for keeping it out of your way while paddling.
Moving the board around is made easy by the handles located on the nose and center, while the back bungee can even be used to help pull a board out of the water in a lurch. One of the really cool features I like is the paddle holder. There are velcro straps on the side of the board to secure your paddle. I have previously seen a design where the center handle came off and you reattach it with the paddle also inside but then the paddle is in the way. Being able to put it on the side keeps it completely out of the way, letting you enjoy a nice little lie down even!
The graphics that Thursosurf use can't be found elsewhere. Well not that I have come across anyway. I absolutely love the 2019 range for the graphics alone. They are printed immaculately and don't have that tacky pixelated look like some other prints you see getting around. It's nice to see they have branched out from the single color wood grain from last year and included ones like this slightly pink grain on the Expedition.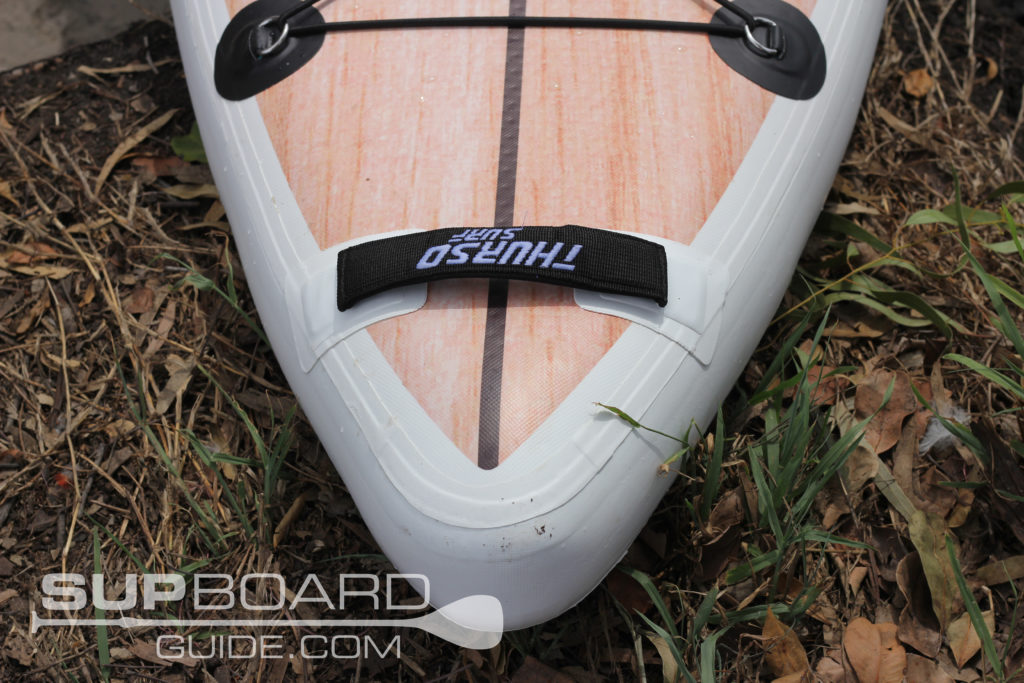 Features
Fins
Installing your fins is super quick and easy. There are 3 fins, two smaller side fins, and one large center fin. All of the fins are removable and easy click-ins. Depending on what you are after, you can change your fin setup to use all 3 or just opt to use the center fin. If you decide on using the center fin only, you may feel an improvement in tracking but a little less stability if doing back foot turns.
Inflate/Deflate
Using the included pump, you should be able to get your Expedition up and inflated to the recommended 15 PSI in about 8-10 mins. Maybe a little more depending on how hard you go! You can switch between single or double action which will help make the process faster.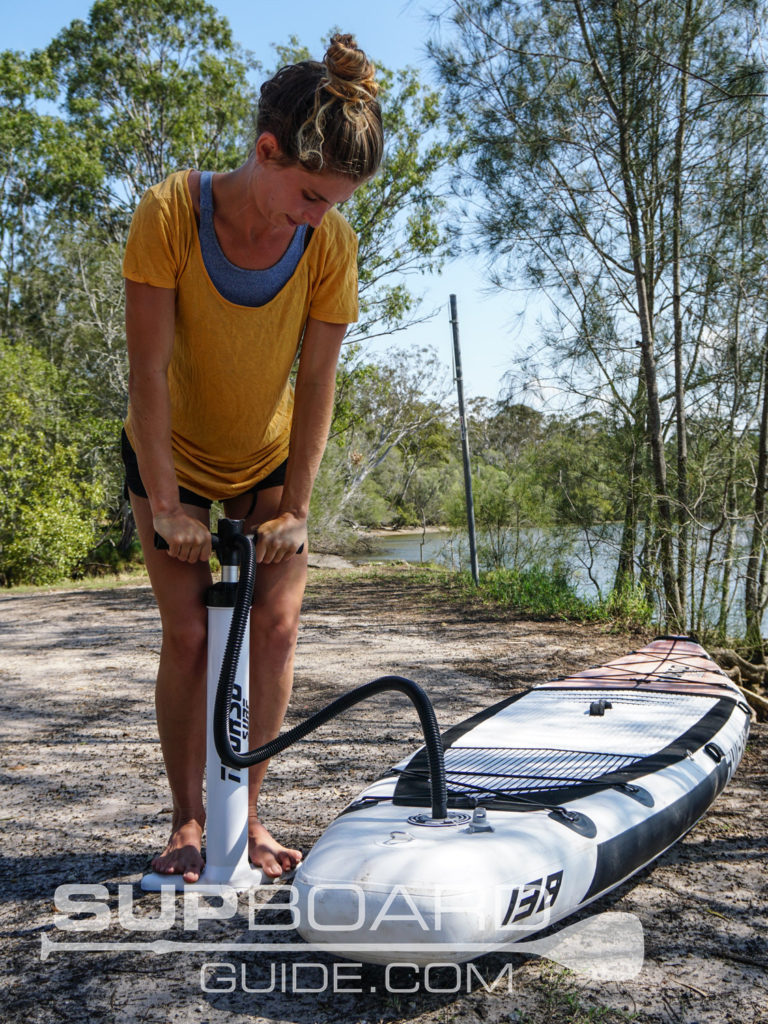 Deflating, you need to start by pushing the pin and twisting it to let the air continue to escape. If you want to compact your SUP like an authentic sushi roll, use the deflator on the pump. You'll notice an 'inflate' and 'deflate' hole for your hose on the pump. I won't insult you by spelling out what to do next.
Accessories
Paddle
There were some issues with the previous year's paddle, the joins not being secure and people losing their blades. Myself included mid 10 km paddle. So very happy to see that this has been addressed and the paddles are much more secure now. This 3 piece paddle floats, adjusts from 71″ to 87″ and weighs only 32 oz.
The carbon shaft is a nice luxury touch for a board in this price range. I prefer the feel of a carbon shaft but it also makes for a nice lightweight frame. The blade is sturdy enough to be able to push off edges and is a perfect fit between sizes. A blade too big can slow you down, too small and beginners will struggle. I find it to be a nice in-between all-around blade that allows you to pick up speed but also hold a cruisy stroke.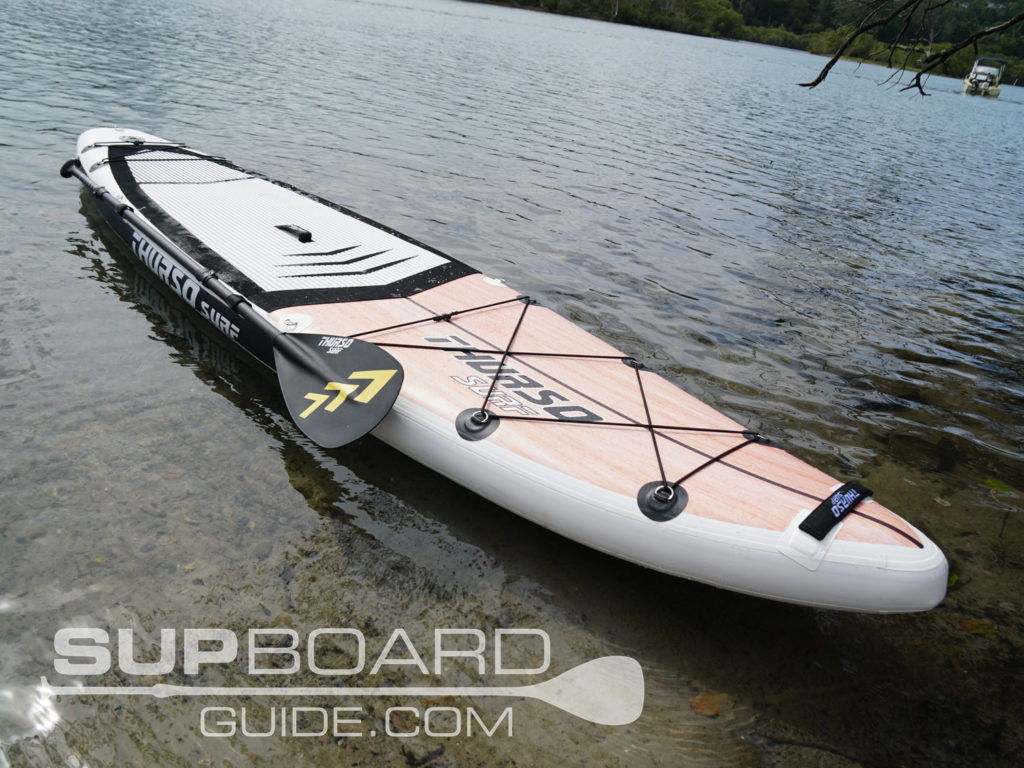 I did feel some flex paddling hard but I think this may still have something to do with the joining. A pull apart paddle is so convenient and necessary for storage but it can be tricky finding secure joining. Saying that it's still a much better paddle than the aluminum and cheaper fiberglass paddles you get in many packages in this price range.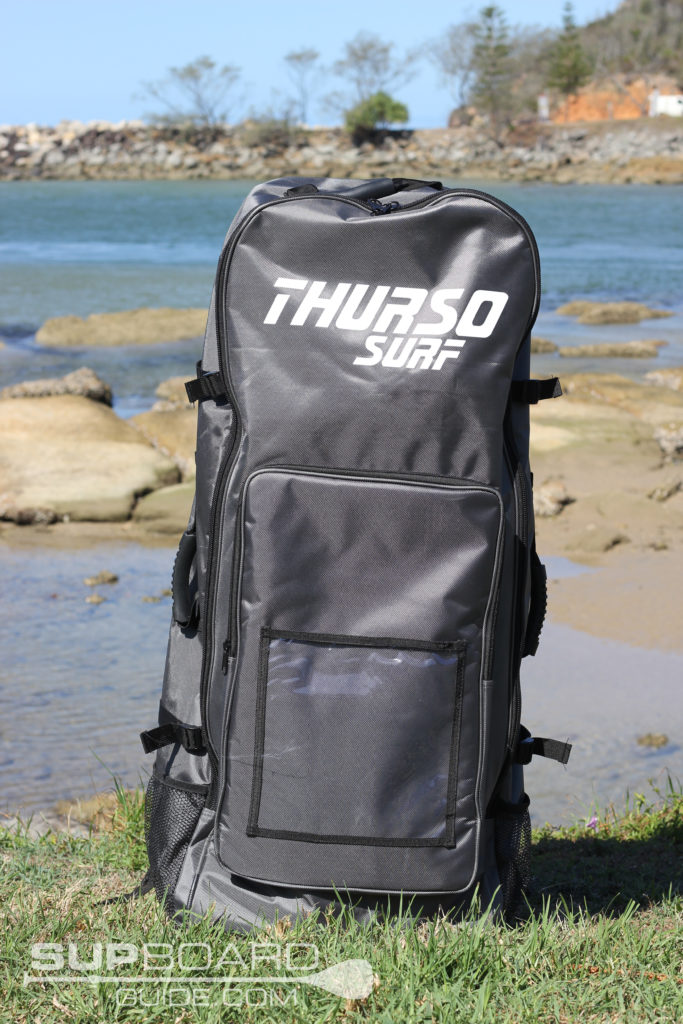 Backpack
Exert from previous Thursosurf review:
"Is it wishful thinking for wheels? The Yoga SUP especially being so big is a huge thing to lug around! A pair of wheels would be a brilliant addition to see on these already quality bags."
And voila! Like that our wishes were granted. The 2019 models saw an upgrade in their bags. Some rugged wheels that can handle being rolled over various terrains. I can't explain how little as something like wheels can make a big difference in day to day use.
The grey bags also look a bit smarter and clear pocket up front is perfect for keeping your manual in. The manual not only helps with DIY repairs but identifies what board is in your bag. If you have a couple of Thurso's, nice to be able to mark them easily. There's heaps of room inside as was before and the same cinching straps to help keep weight spread evenly. If you are carrying the board on your back, you should find the straps supportive and comfortable in both placement and cushioning.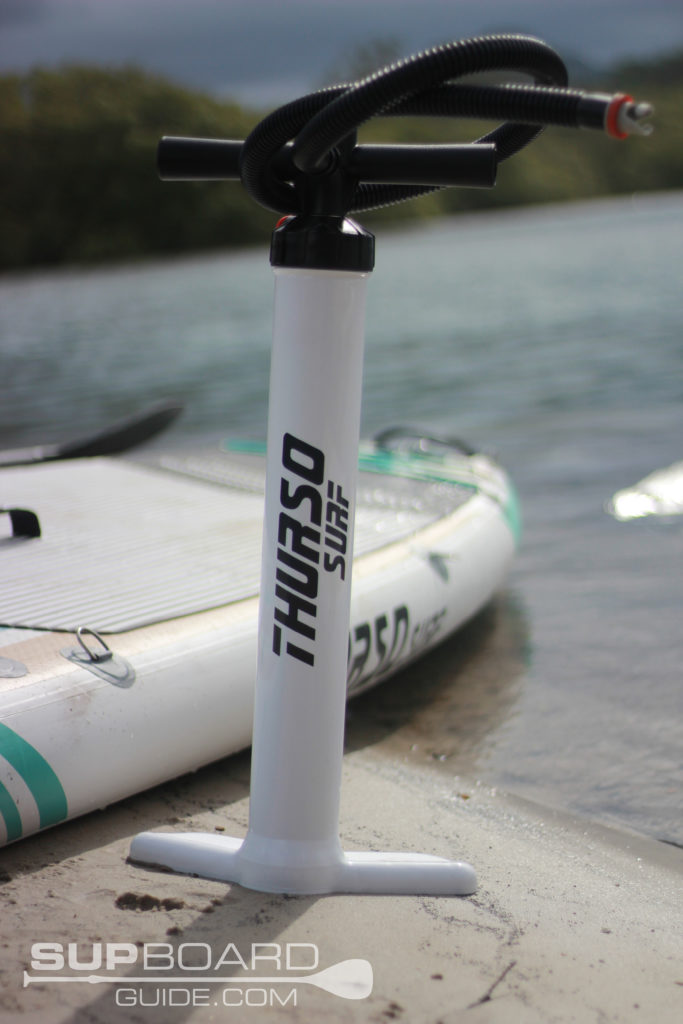 Pump
The dual action pump provided will get you inflated and even deflated pretty quickly. Though not as quick the dual chamber, triple action pumps that other companies in this price range like iRocker are now offering.
One feature that is great about their pumps is the deflate. By attaching the hose to the 'deflate' hole you can get that last little bit of air out. Not only does it make rolling easier, but it also provides a much tighter end result for easy storing.
The little toggle you can see on the back is to switch between actions. That is, choosing to inflate on the pull-up and push down or just on the push-down. Single action will be easier but less efficient, and vice versa. There's no right or wrong time to switch, just when you feel the pressure is too much for you.
Leash
And of course, your tie to safety! The coiled leash is 1) easy to store 2) stays out of the water preventing it being caught on objects 3) flexy enough to stretch but not so much your board will spring back unawares. Simply strap it onto your ankle or calf with the velcro cuff and get going!
Don't know which foot it should go on? Get someone to push you from behind, whichever foot you fall onto is your dominant and therefore what you most likely will put back first. Your dominant foot is the one you want your leash on.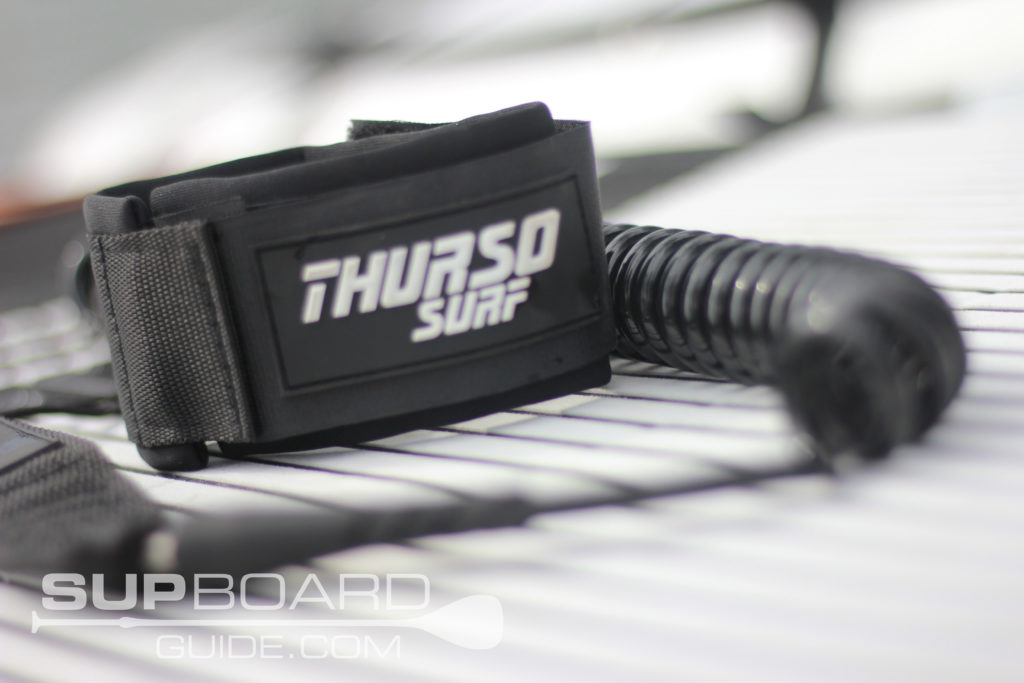 Repair Kit
Not that you'll probably need it but the board does come with a repair kit. You can find a valve tool to DIY repair leaky valves (happens easily if you don't rinse your boards). You can also find patches for any small punctures.
EXTRA GOODIES!
I love goodies. They make everything way more fun! Lucky me Thursosurf was generous enough to send out some samples of their goodies.
Electric Compressor 
THE number 1 thing any SUP enthusiast should be investing in. An electric pump will make your life so much easier. It even helps motivate you to get out more! Especially if you have more than 1 board to inflate. This pump hooks up to your car cigarette socket, then you just press what PSI you want to inflate up to and press start! It will inflate in about 5 mins.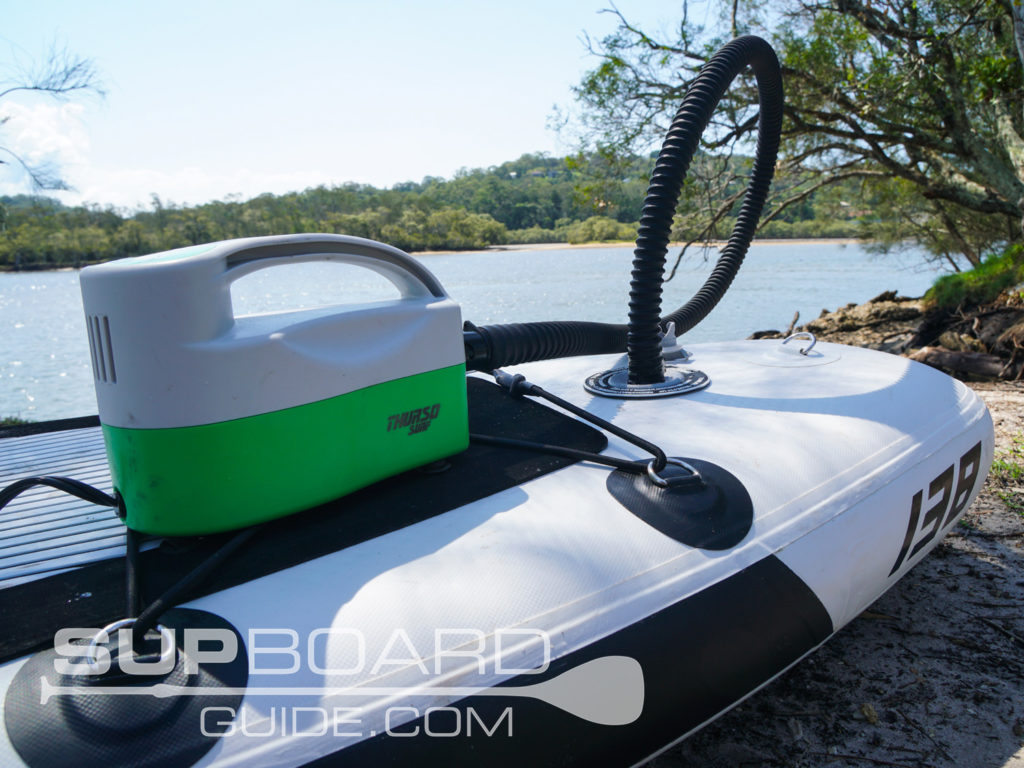 DeckBag
The upgraded deck bag is sturdier, bigger and more waterproof. It can attach to your board via its 4 clips on any D-rings. Personally, I love these bags and prefer them over a dry bag for a day trip. They are easier to get into and easy to pull things out of and as they secure so well, there's no risk of losing them in case of a capsize!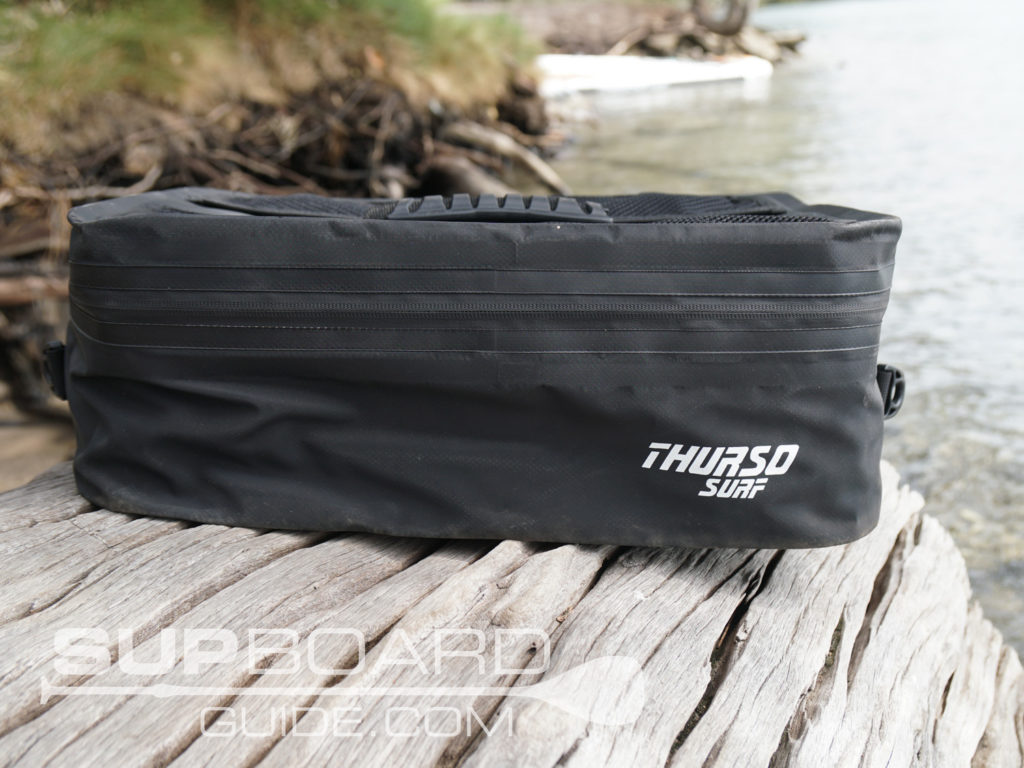 Sunnies + Hat + Bag Strap
Protect your eyes and face with a pair of the polarized sunnies and trucker caps. The wooden graphic sunnies with dark lenses are my personal favorite and have been enjoying wearing them regularly.
The strap is for your deck bag, in case you'd prefer to wear it over your shoulder but also to help transport it if you are already carrying your SUP a distance to launch.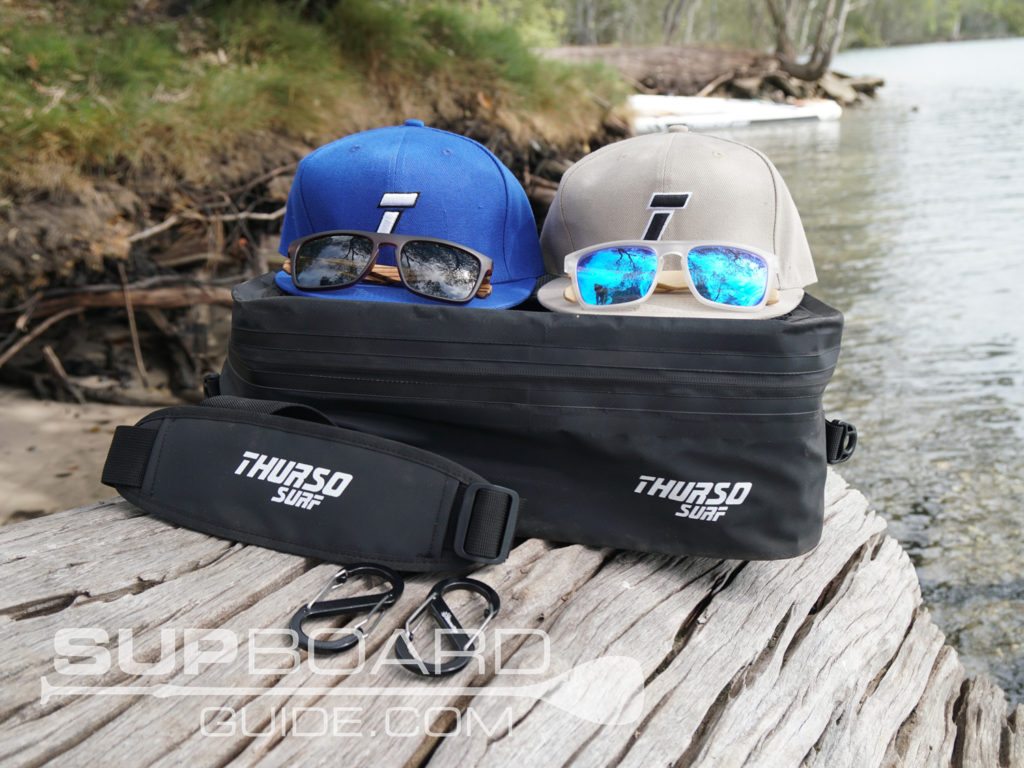 Kayak Seat And Extra Blade
Want to turn your SUP into a sit on top? Simply attach the seat to the D-rings in the middle of your board and the extra blade where you would normally put the handle.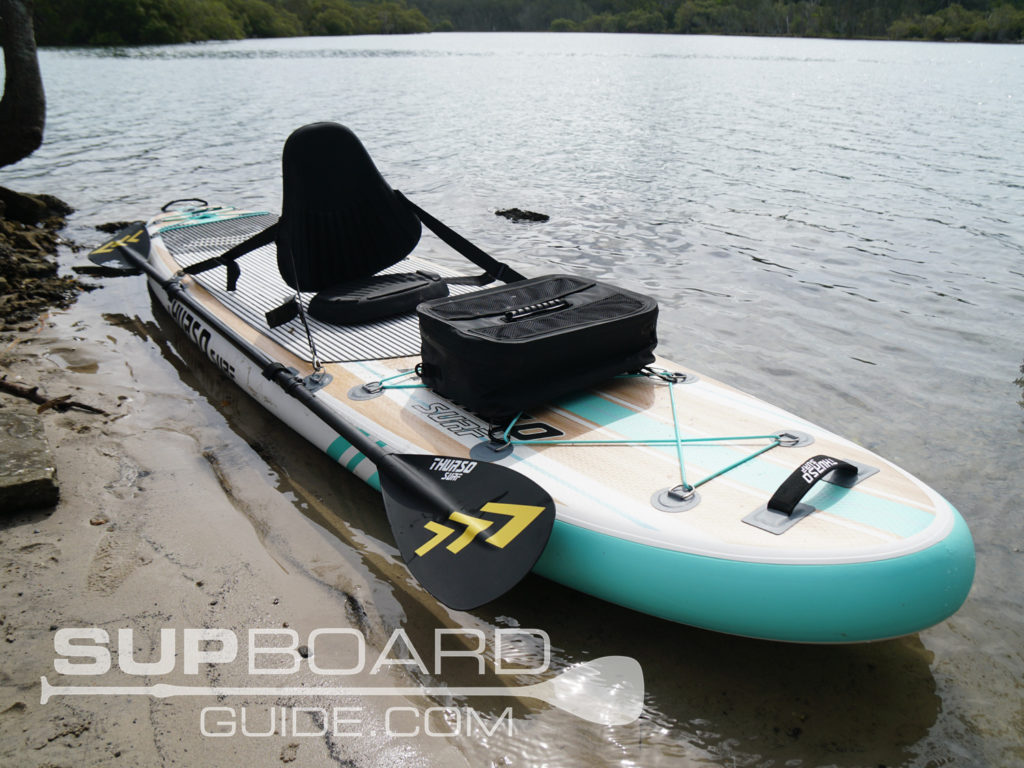 Conclusion
This pepped up little squirrel, is a fun, speedy number to add to anyone's quiver. While it would be a challenge for beginners, it's an achievable challenge. With loads of storage to go along with the desirable gliding/speed aspects, it's the perfect iSUP for adventures. Pack an overnight bag, secure it onto your board and off you go. Just you, your Expedition and the adventure that awaits!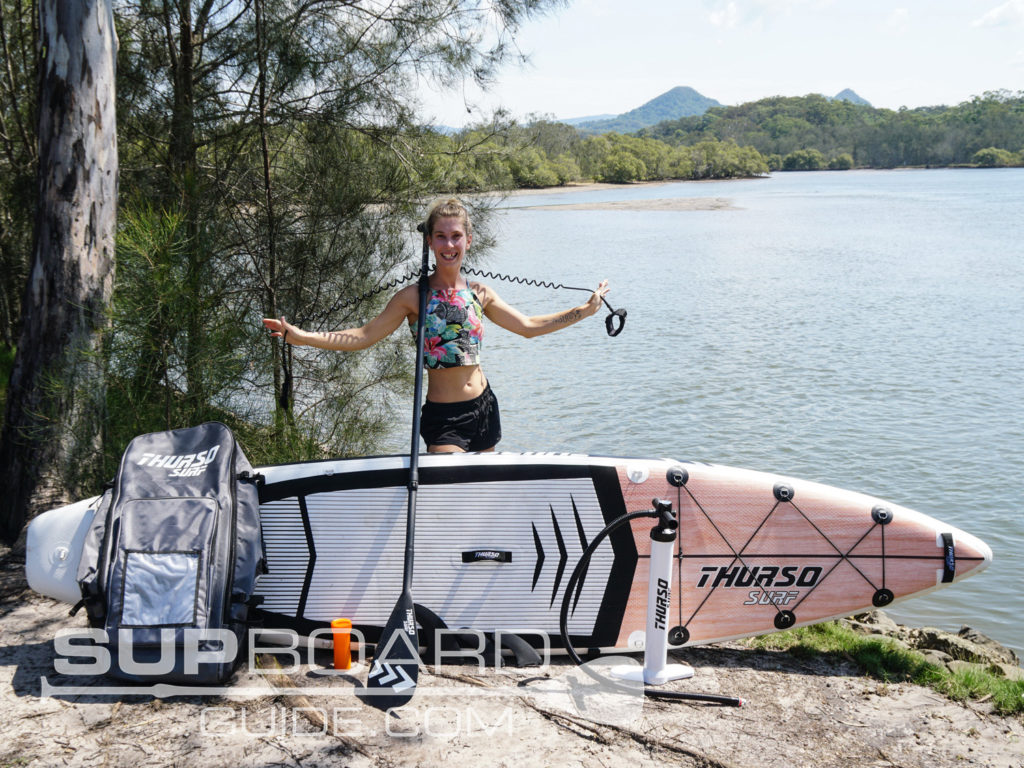 Those wanting to get out on rivers and large bodies of water with not too much turbulence will find the Expedition perfect. While it can handle chop and small waves well, as well as rivers with some turbulence, it's built for speed and agility not high-level performance like surfing or rapids. Those wanting something a bit more cruisey or beginner friendly the 2019 Thursosurf 10'6″ Waterwalker is awesome! As well as the new iRocker all-arounds.
Thursosurf has a 2-year warranty on their boards and an easy to deal with customer service team. If you are looking at Thursosurf as a brand to buy from and not entirely sure what board you may want, be sure to check out our other reviews.
The following two tabs change content below.
Justin - SupBoardGuide
Heyo! At SupBoardGuide.com we are a team who love the water, the outdoors, and are more than grateful that our full-time job allows us to review stand up paddle boards. We paddle year round (it helps that we are just about 2 hours outside of Las Vegas), and we bring in a wide range of paddlers with the goal of providing our readers with the best, most in-depth, and accurate stand up paddle board reviews.
Latest posts by Justin - SupBoardGuide (see all)