Glide O2 Retro Inflatable SUP
Pros
Full length deck pad great for SUP yoga, fitness, or pets
Included kayak conversion seat and carry strap
Stable well balanced board all around
Heavy duty PVC + high PSI rating makes for a very durable inflatable SUP
Cons
Limited gear storage and optional accessories
Listed max PSI rating of 25 is too high - we recommend keeping this at 15 PSI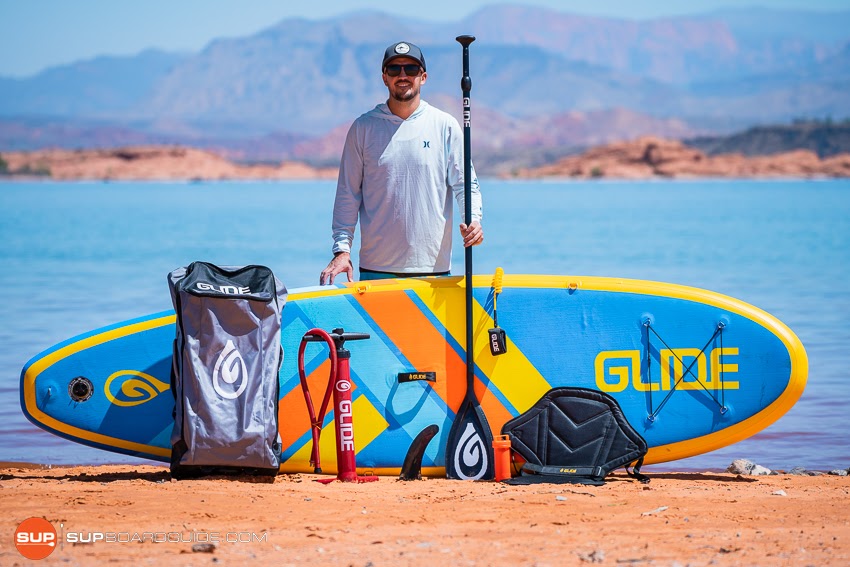 Glide as a company produces several stand up paddle boards both inflatable and resin based. Their history dates back to 2008 when the company founder suffered a tragic accident while whitewater kayaking. From the ashes his recovery time let him dream up how to continue to charge rapids with a stand up paddle board. From there it was off to the races as they say.
The Glide Retro SUP really does live up to its "Retro" namesake with the very bright colors and graphics. This really does pop like a vintage RV or some vintage album covers.
We think the Glide O2 Retro would be great for paddlers who
Want a paddle board with a fairly high (400lb) weight capacity
Are looking for a colorfully styled iSUP
Want an iSUP as good for SUP Yoga as any specialty SUP
Want an iSUP suited for taking puppies on board
We think the Glide O2 Retro is a great choice for the following situations:
Sup Yoga or similar SUP based workout
Beginner paddling in flat water lakes, rivers, marinas, etc
Light ocean paddling on calmer days
Glide O2 Retro Review: Overview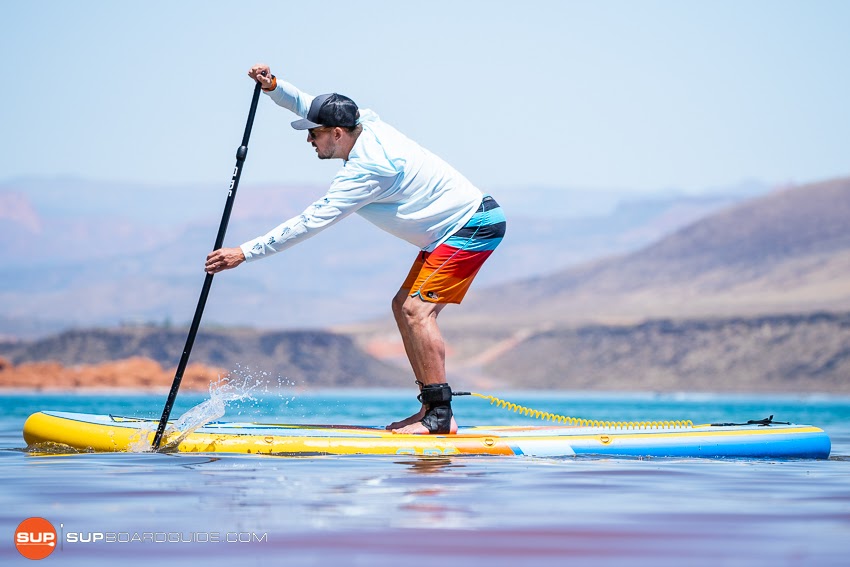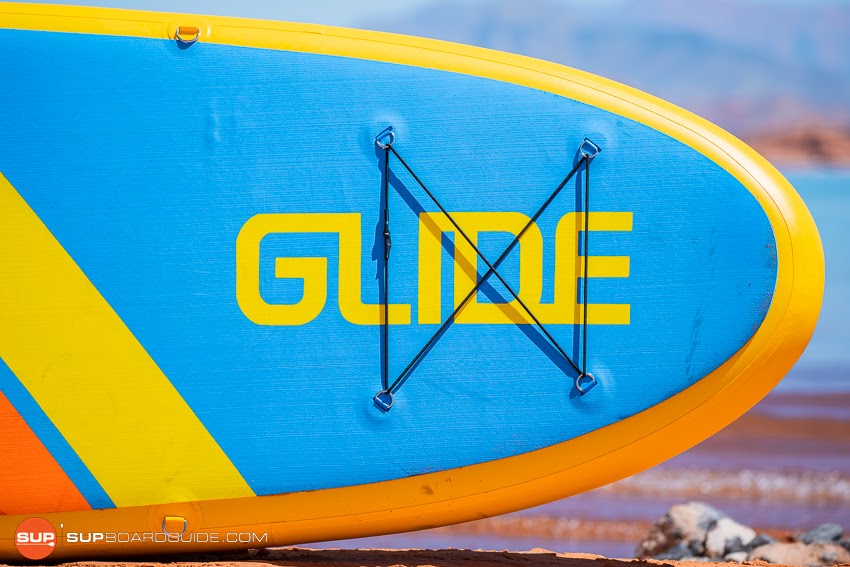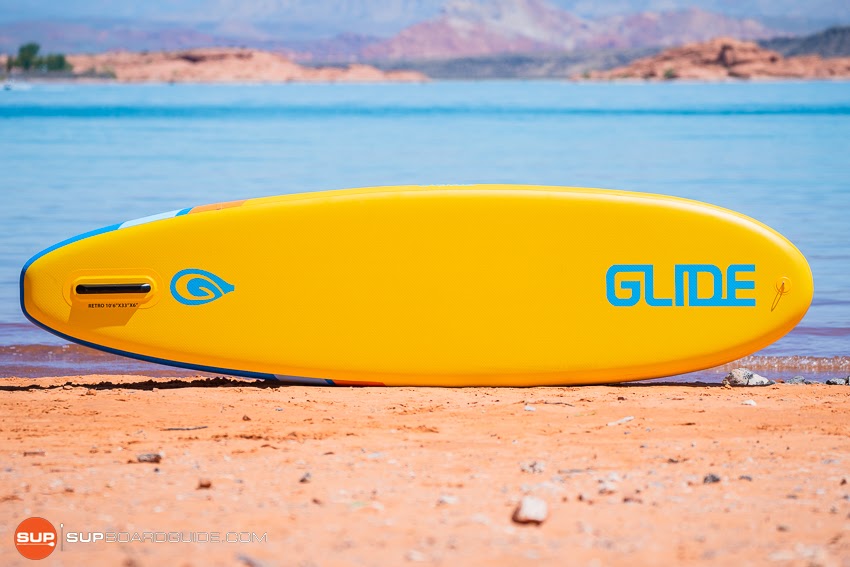 We received the Glide O2 Retro in a fairly innocuous bag. Once opened, we were able to see the bright colors present throughout their boards. Glide takes this color pallet to almost their entire lineup. Which at least makes them very easy to identify in a group.
Nostalgia aside, this board certainly looks bright and fun. We like the inclusion of a kayak seat and the carry strap for all 2021 Glide inflatables. That's normally an upsell with most manufacturers. We also have to point out the full length traction pad. This is awesome for SUP Yoga, or pets as it gives all paws something to grip.
Note: We love paddling, and we do it quite often. We make it our mission to rigorously test these boards in a variety of real world conditions. We even update reviews as we learn more about each and every SUP. The fact is we take our job seriously and do our best to give you the best reviews possible. These are certainly not a simple spec review found on other websites. If you have any questions or comments about this board please let us know. Comment below and we will get back to you ASAP!
Glide O2 Retro: Spec Sheet
| | |
| --- | --- |
| Main Category | All-Around, Inflatable |
| Board Dimensions | 10'6 x 33.5" x 6" |
| Listed Board Weight | 23 lbs |
| Listed Max Capacity | 400 lbs |
| Recommended PSI | 12-15 psi (stated max up to 25 psi, although we recommend a max PSI of 15) |
| Fins | Single removable center fin |
| Paddle | Adjustable fiberglass paddle and plastic blade |
| Materials | fusion PVC, reinforced drop stitch core |
| Price Range | medium range |
| Warranty | 1 year, 30 day return (minus 20% restocking fee) |
Official SupBoardGuide.com Test Results: Glide O2 Retro (2021 model)
Overall Score: 8.5/10
We like to base our board reviews on three key areas, performance, stability, and the accessories (both included and available from the manufacturer). For the performance portion we will break down the results in 4 separate categories, speed, glide, tracking, and maneuverability. The stability review is also broken down into 3 categories, board stiffness, weight capacity, and construction quality. Finally the accessory review encompasses both the included accessories (paddle, pump, bag) and those available for the board from the specific manufacturer.
Stability: 9.0/10

Speed:8.7/10

Tracking: 8.3/10

Maneuverability: 8.8/10

Construction Quality: 8.7/10

Accessory Review: 7.9/10
In-Depth Review of the Glide O2 Retro Stand Up Paddle Board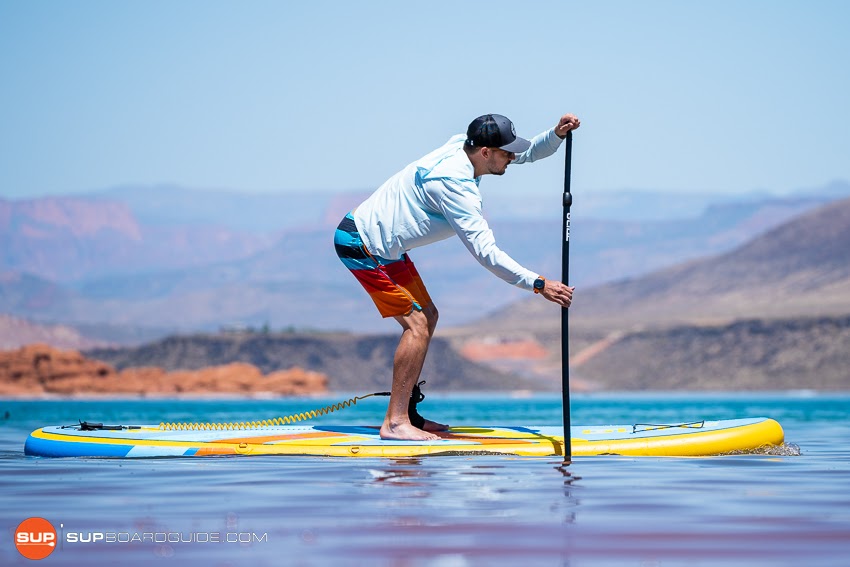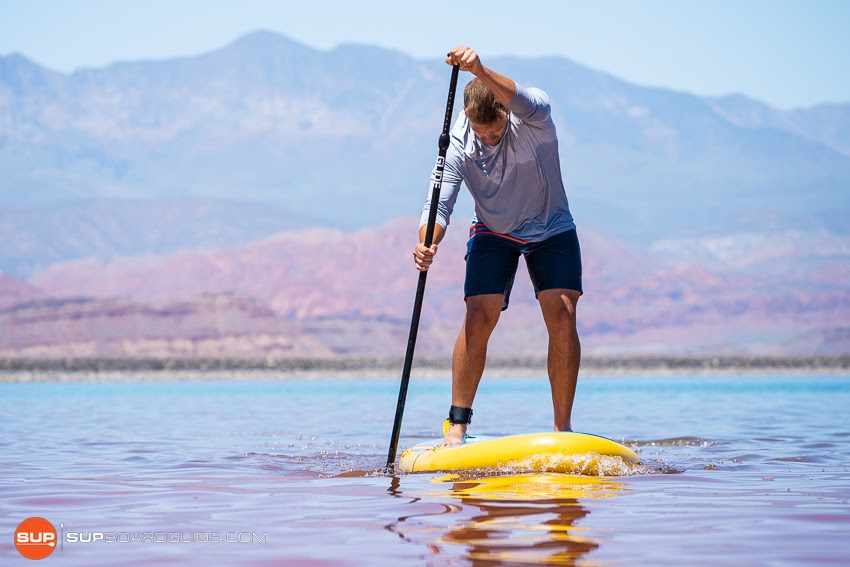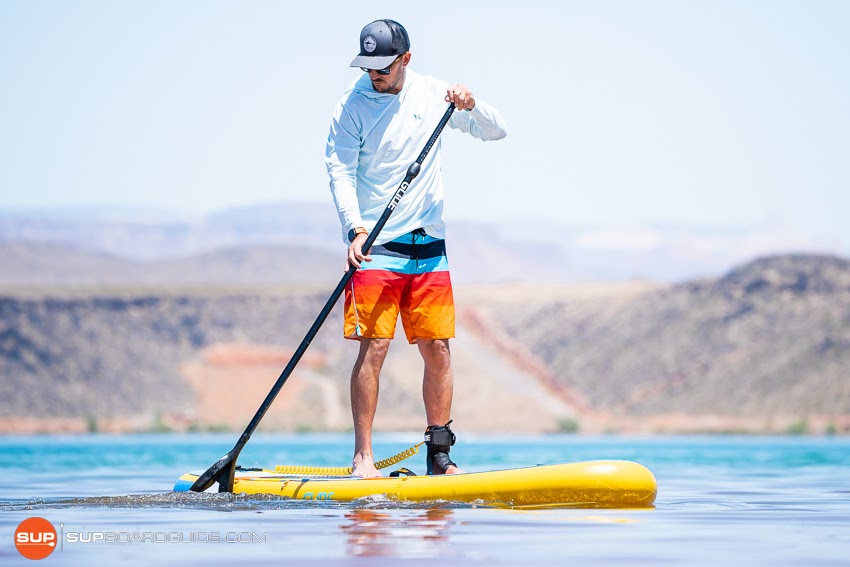 The Glide O2 Retro did fairly well in the performance segments. While not the fastest board, it did a decent job of keeping the speed it had gained. If we had to say, it certainly trades extra stability for overall performance. And that's totally ok in our book. This board reminds us a bit of the boards you see at rental shops – solidly built, clean deck pad, and good performance throughout.
Stability Review: 9.0/10
We are really interested in how stable a board is overall. This almost always translates into how much fun you have paddle boarding. The more stable the board, the more confident the paddler (regardless of their experience level) and the more fun your experience will be.
The Glide O2 Retro did well in our stability tests. Again it's size and shape comes into play. Being on the wider size it really made for a great platform for yoga or other sup based exercises. The full length traction pad goes a long way when moving your feet around as well.
Weight Capacity:
Listed Weight Capacity: 400 lbs
Tested Capacity: 400+ lbs
Glide says this board has a capacity of 400 lbs and we are inclined to agree. When we put two reviewers (approximately 400 lbs) on the board it supported the weight better than we expected. We think this board would be fine for beginners 220 lbs or less, and it will support more weight that that – just know that you do lose some stability as that weight increases towards its 400 lb capacity.
In general, the Glide Retro feels like a classic cruiser SUP – lots of stability, high weight capacity, and a great all around SUP for beginner to intermediate paddlers looking to casually paddle on the water.
Speed Test: 8.7/10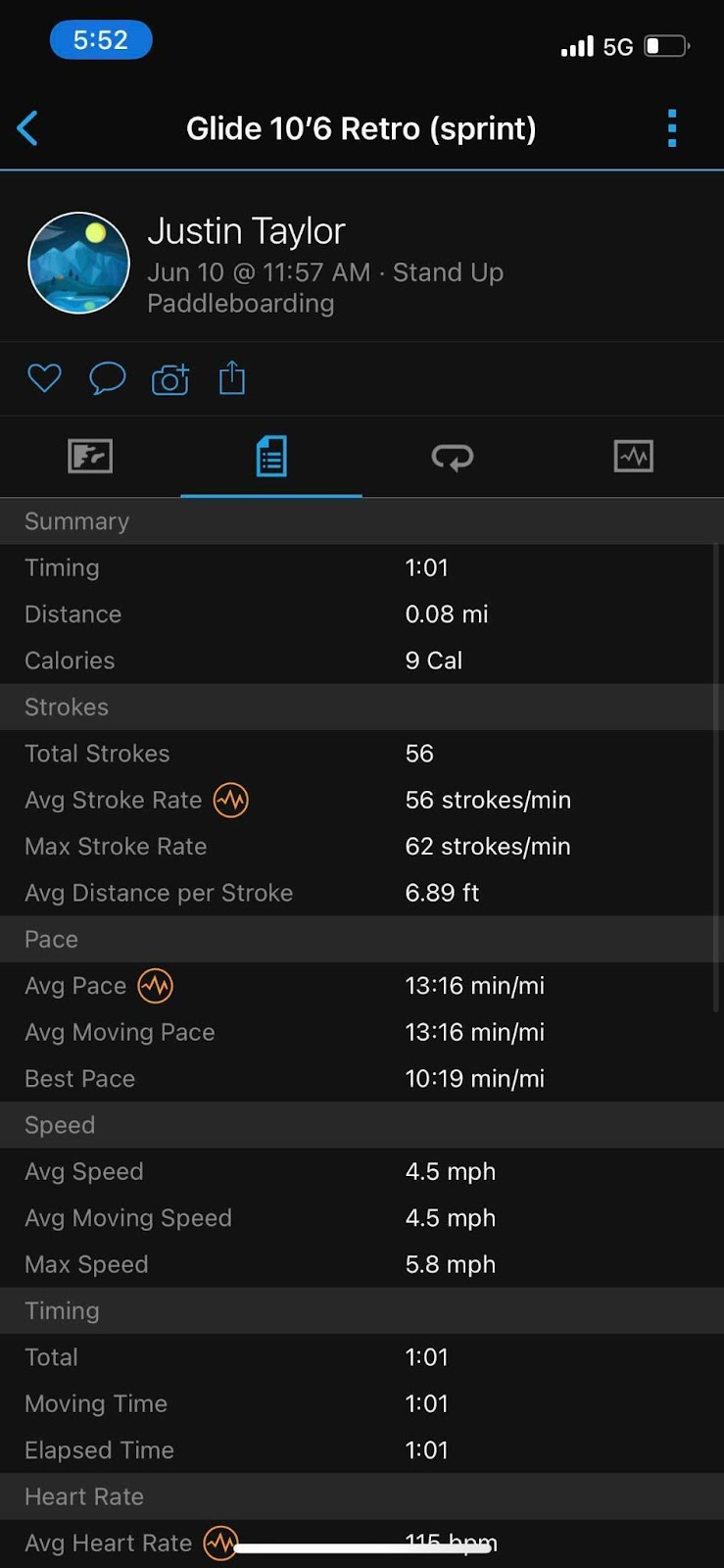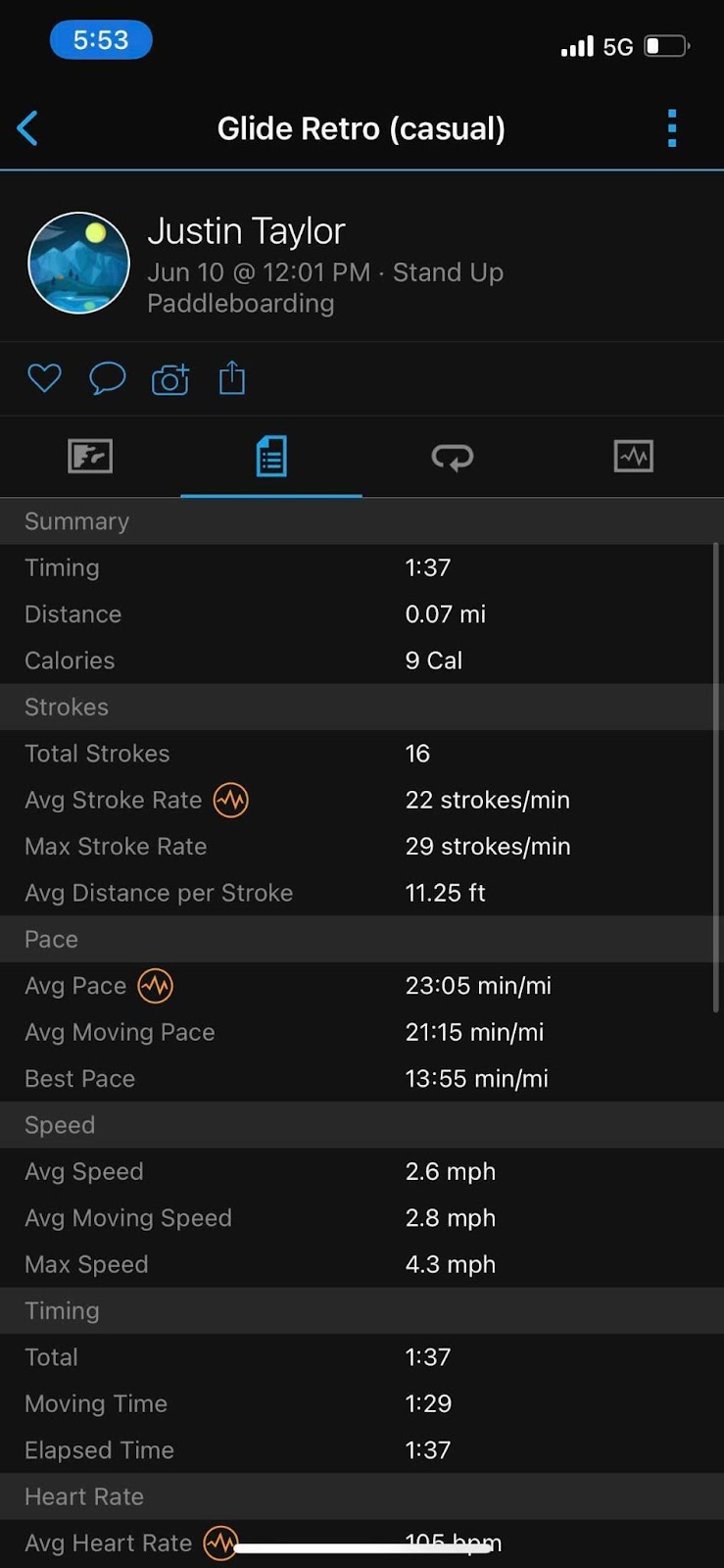 After testing it in various water conditions we were satisfied with our overall speed result for the O2 Retro. As a cruiser, t's not breaking any records to be sure but it felt smooth through the water, and was actually a little faster than we expected. It's extra width at 33.5" it's overall speed capabilities. But we feel this is fine as this board is more for all around paddlers who want to have a stable platform for all kinds of water activities.
Tracking: 8.3/10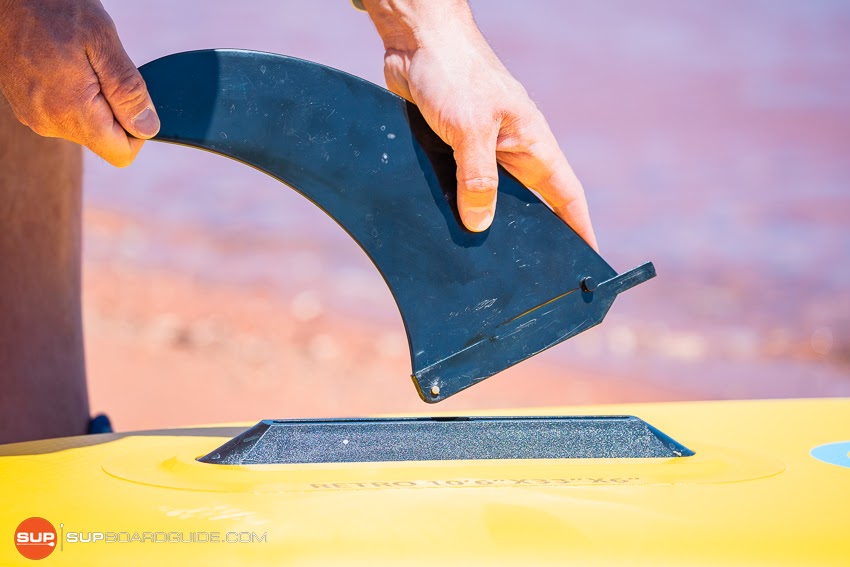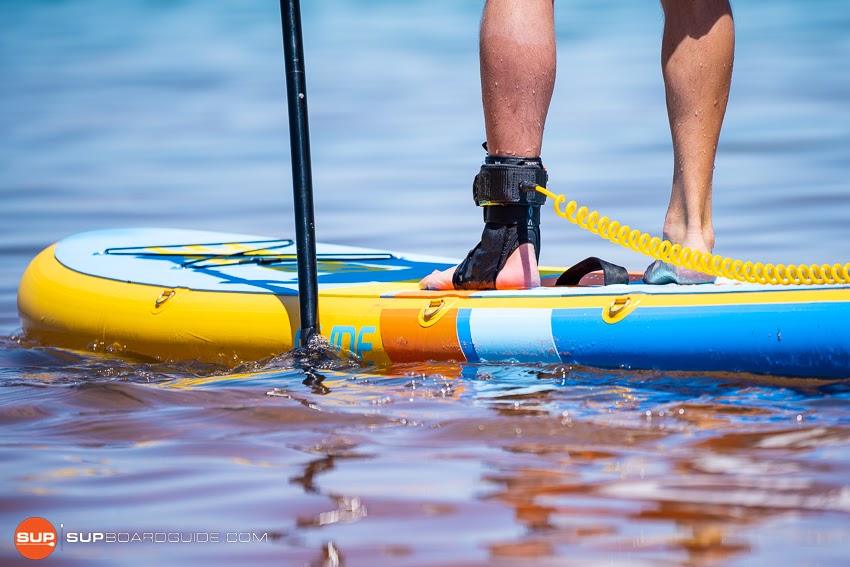 The Glide O2 Retro employs a single fin in their standard US fin box. The fin itself is a standard dolphin style large fin. However with that universal fin box, you get the opportunity to use any compatible fin for the conditions at hand.
In terms of tracking the board did ok. Keep in mind that tracking is 80-90% on the paddler, and the boards shape and fins make the rest of the difference. Being on the extra wide side of all around boards it is more difficult to get the paddle in perfectly vertically which will ultimately cause a slightly more erratic path. This led to a more frequent change of sides to maintain a straight line, but nothing more than we would expect for a shorter SUP that is 10'6 x 33.5"
Maneuverability: 8.8/10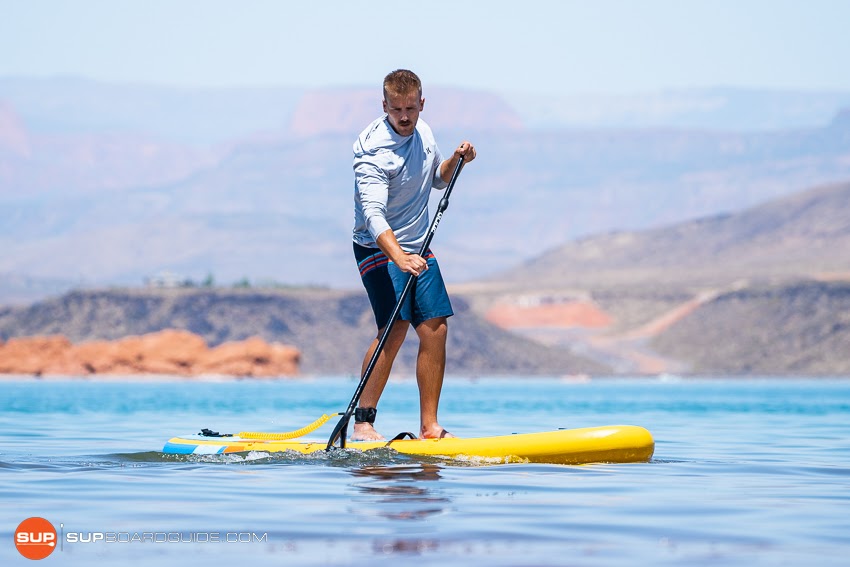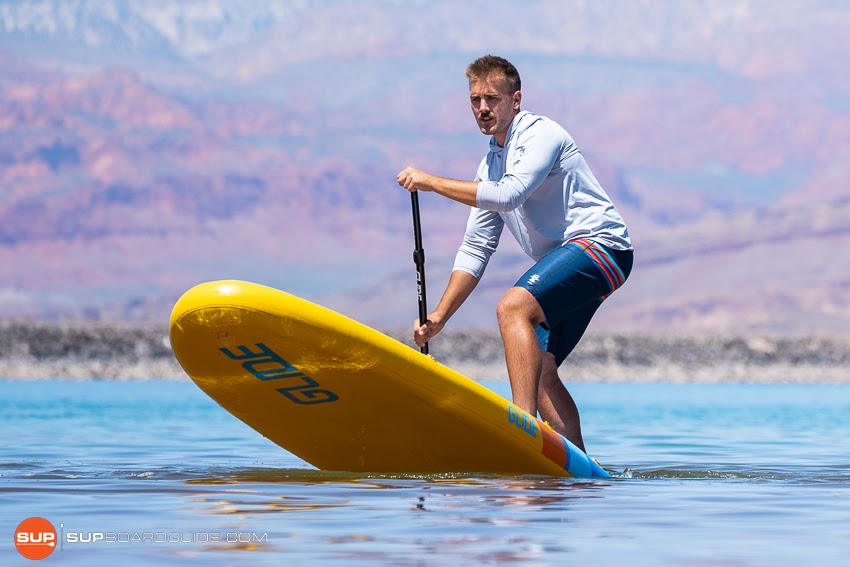 The board was fairly comfortable to move around on. This led to some easy turns and step back spins. Being as wide as it was, it was made for a solid platform so you really could sink your paddle and shift this board all around. It also benefits from it's overall length, a bit shorter than other all arounds, it's just less board to turn in the water.
From a maneuverability standpoint, we found the Retro by Glide to be a fun SUP to paddle.
Construction Quality: 8.7/10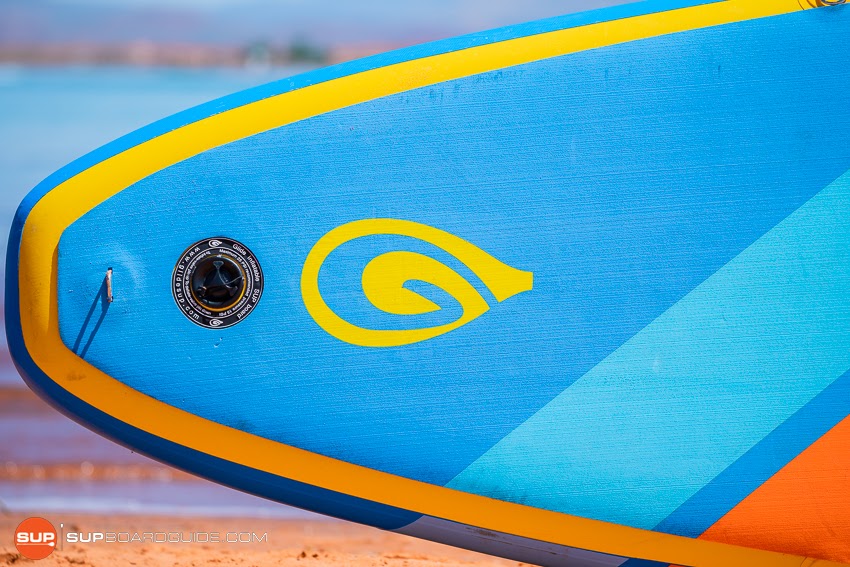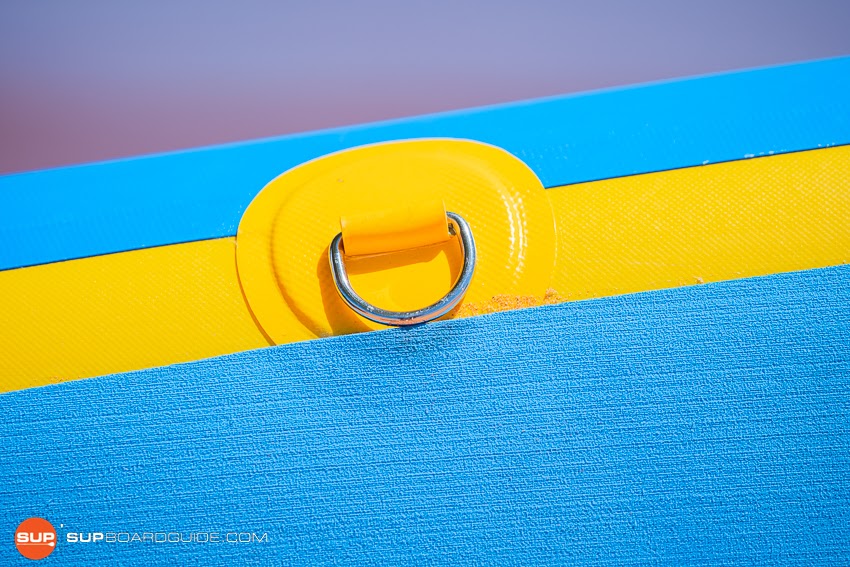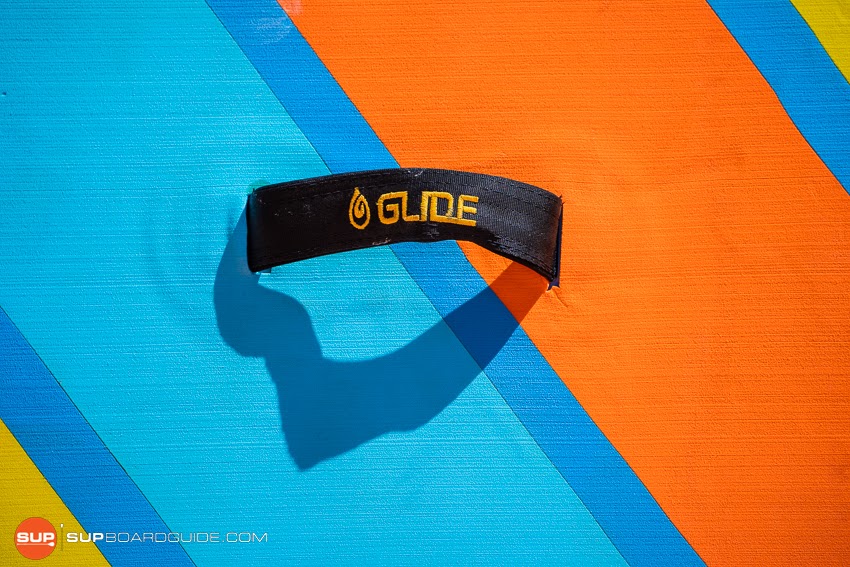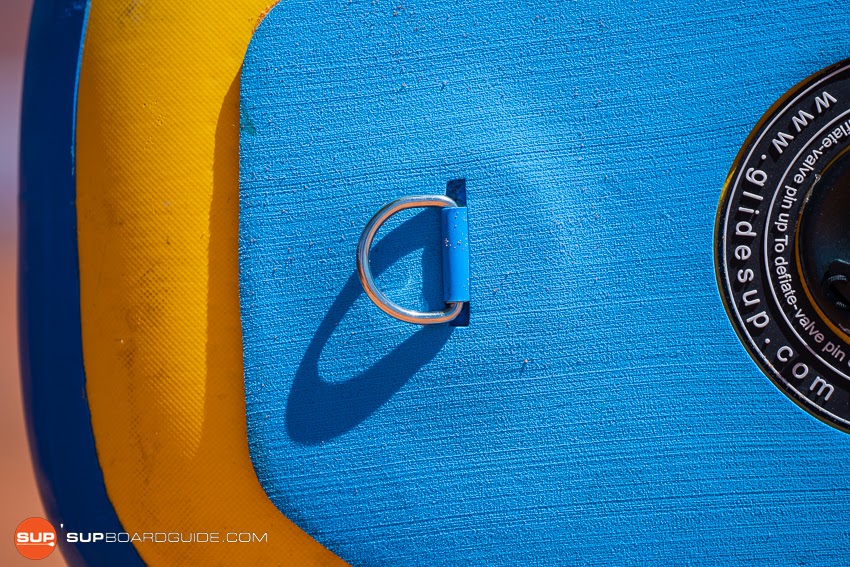 The entire Glide O2 lineup (inflatables) is made out of a high density, reinforced dropstitch core covered covered by a dual layer fusion PVC shell.
Glide states they use a higher density dropstich and thicker PVC than some other brands. Obviously we can't test them on this without cutting apart the poor board, but we are impressed with the overall build quality. The board performed very well in our bend test (see below), lending credibility to the company's claims..
All the seams felt solid though we typically don't like to see seams or deck pads overlapping other items. For instance where the side D-rings tuck under the deck pad, we just see this as a potential point for failure (i.e. a spot where the deck pad may start coming off the board).
Board Stiffness:

Stiffness Test: 5/8" Bend (board on top of saw horses placed 7' apart, with 150 lbs of weight added right by handle in middle of the board)
The Glide O2 Retro did very well in the bend test – in fact it performed right at the top in terms of bend when compared to all inflatable SUPs for 2021. This is a solid board, and we are curious to see how the board performs over the rest of the year.
Features/Accessory Review: 7.9/10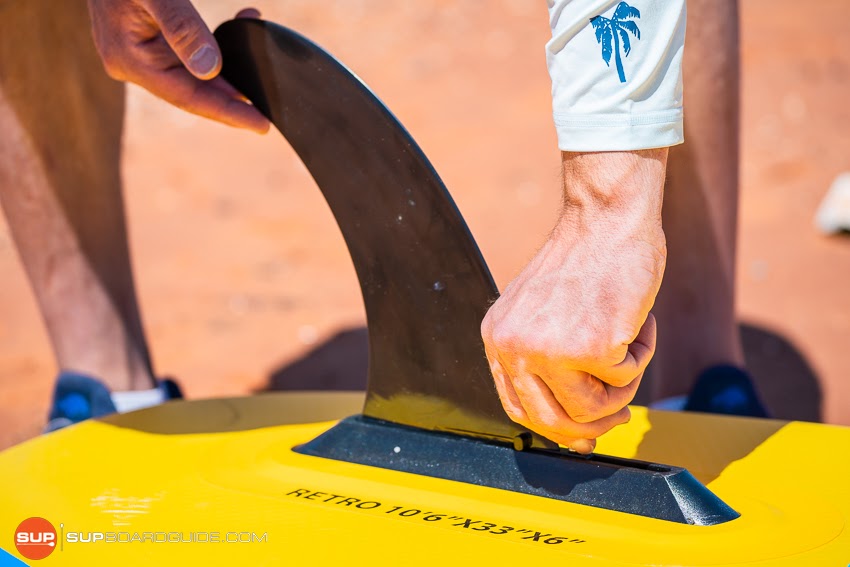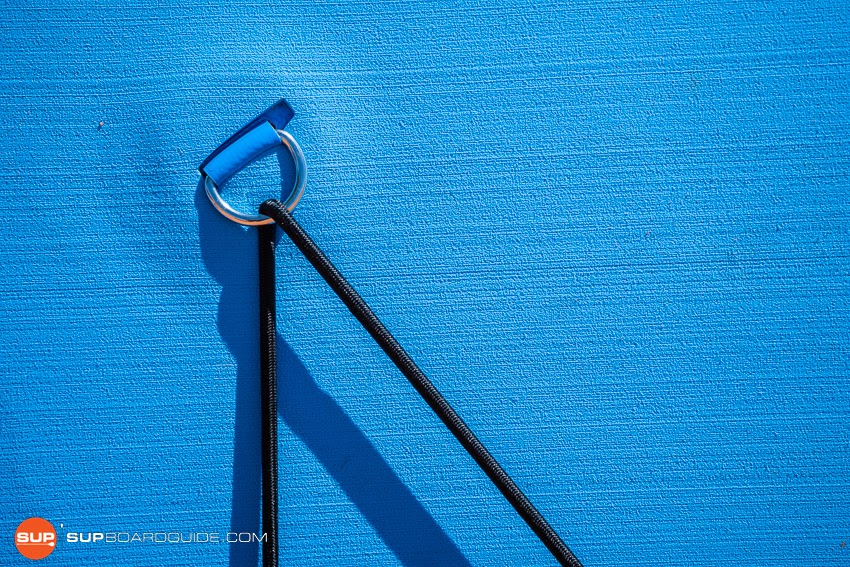 Features:

The Glide Retro comes with the following features:
3,300 g/square meter drop stitch inner core
1300 denier fusion PVC outer shell
Full length, brushed deckpad
4 D-ring cargo area
10 total D-rings
We like a lot of what we see with Glide's Retro SUP, and there are some nice features on the Retro. The ones we like most are those dedicated to improving the board's quality: the high denier PVC and high density drop stitch.
We would love to see Glide add some groves to their deck pad to increase grip, and also would like to see the front D-rings moved from on top of the deck pad to the side.
Included Accessories:

For 2021, Glide really stepped up their included accessories for their O2 iSUP line. They decided to include a kayak seat and SUP carry strap with every board purchased. This is nice considering our review of the other accessories is mediocre at best. The Glide O2 Retro comes with:
Wheeled backpack
Adjustable paddle
Coiled leash
Single chamber dual stage manual pump
Kayak seat conversion
Carry strap
Repair kit
It's nice to see manufacturers begin to step up the included accessories on their board kits. It adds value with little or no extra packaging or shipping costs. With other companies matching suit it was a smart move for Glide for sure.
Paddle: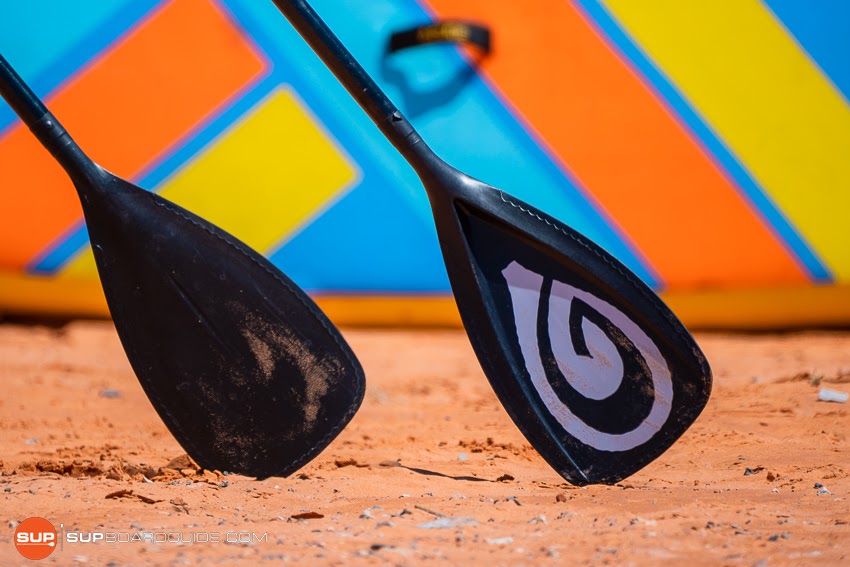 The paddle was a fairly simple three piece adjustable setup. It's combination of fiberglass and plastic didn't make it the lightest for sure, but it still felt sturdy in the hands. We would have liked to see the use of carbon fiber as that has seemed to become the universal standard for all but the more budget SUP boards. The adjustable end used a C-clip style system. Again not cutting edge, but adequate.
Pump: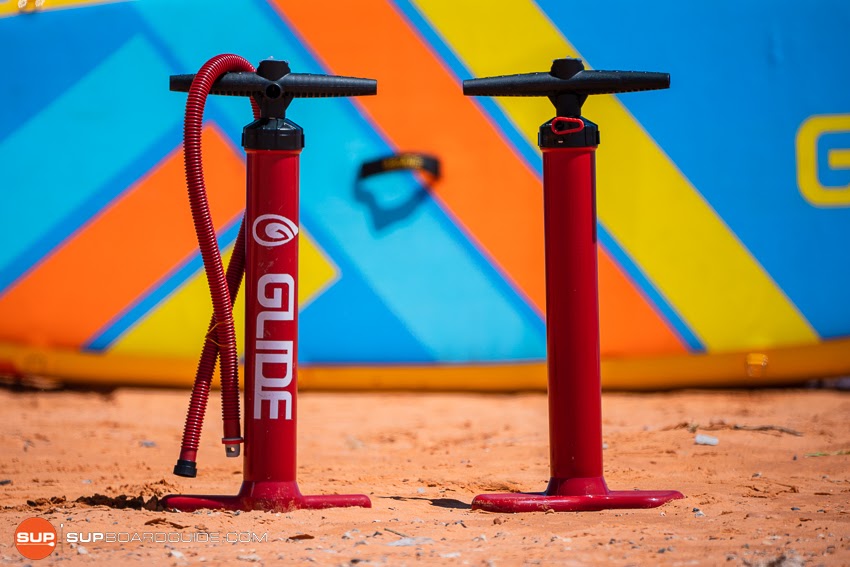 Glide includes a single chamber dual stage manual pump. The pump gets the job done, and is light and doesn't take up much space in the bag. Personally, we'd like to see a pump that can push out more volume. A dual chamber, triple action pump would do this – but it would also be heavier and take up more space. Either way, we'd recommend strongly that you buy a good electric pump for your SUP. Glide has one that looks solid (and a battery pack that makes the pump portable).
Bag: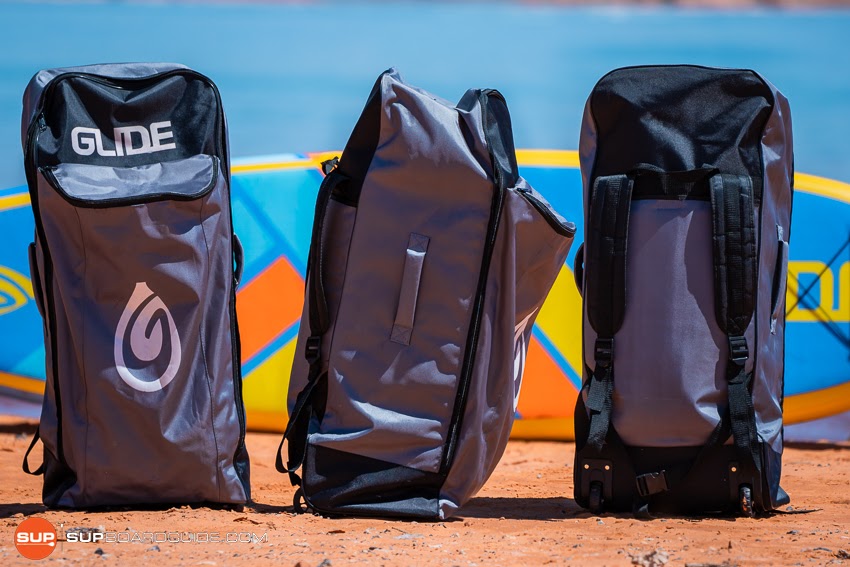 Glide includes a very sturdy wheeled backpack with this kit and we are definitely happy about that. We like how the single exterior pocket is big enough to hold the included manual pump and the interior pocket is more than large enough for the rest of the gear. The handles are all solid feeling, reinforced, and deccently padded. This is good for when you've got to move your bag around either in your trunk or at the airport.
Optional Accessories
Glide doesn't focus too much on their accessories and that's ok. Their current available accessories include:
Anchor Pole
Electric Pump (battery sold separately)
Various color Glide branded coolers
Bamboo lifeguard hat
Replacement for all included accessories (paddle, leash, kayak seat, strap)
Summary Review of the Glide O2 Retro (2021 model)
We came away fairly impressed with Glide's Retro 10'6 iSUP. We really like the full length deckpad, the solid build quality and focus on making a durable inflatable paddle board. The color/design really makes the board stand out in a crowd, and we really like the 'retro' look and cruiser feel of this SUP.
We feel confident that beginner paddlers will have a great experience with this board. They could also confidently slide into a SUP YOGA or SUPFIT class. Should they want to use it as a kayak, that is included as well. Good job Glide!
Thank you for reading our review of the Glide O2 Retro iSUP. We would love to hear what you have to say about our review and this board in general. Please post a comment below and we would be happy to reach out to you.
Happy Paddling and we look forward to meeting you on the water somewhere!
The following two tabs change content below.
SupBoardGuide
Heyo! At SupBoardGuide.com we are a team who love the water, the outdoors, and are more than grateful that our full-time job allows us to review stand up paddle boards. We paddle year round (it helps that we are just about 2 hours outside of Las Vegas), and we bring in a wide range of paddlers with the goal of providing our readers with the best, most in-depth, and accurate stand up paddle board reviews.
Latest posts by SupBoardGuide (see all)