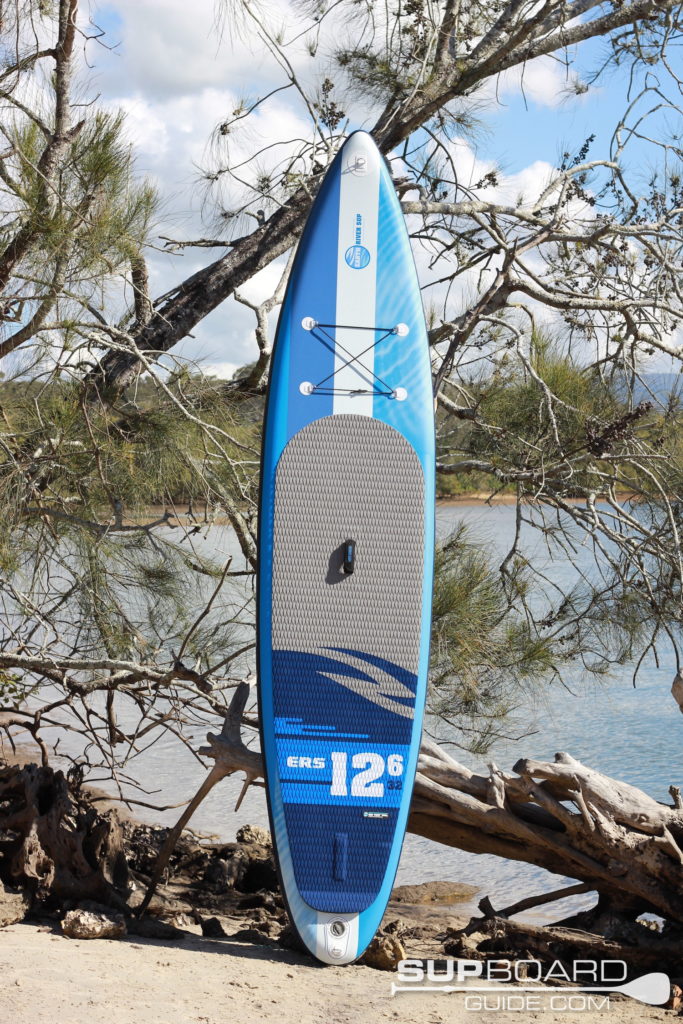 Does the idea of a versatile long-distance SUP sound good to you?
The ERS V3 12'6″ comes with a fantastic bundle of features that makes this one of the more versatile touring SUPs out there, performance wise anyway. It's a dream to paddle, cruising easily and efficiently and can hold lots of weight. There are a few things I would like to see different in the near future but predominately this is a really amazing touring SUP!
Find out what I like/don't like below!
**NOTE: Purchase at PumpedUpSUP to get a free leash and paddle plus discounts towards other gear like a compressor, PFD and upgraded paddle.**
Specs
| | |
| --- | --- |
| Length | 12'6″ |
| Width | 32" |
| Thickness | 6" |
| Weight Capacity | 350 lbs |
| Weight | 27 lbs |
Performance
The ERS 12'6″ V3 felt super solid from the moment it was inflated. It was the first thing I noticed, it felt particularly stiff. So it wasn't a wonder that when I got on board I felt as solid as a cement block. While I'm only about 60 kgs (130 lbs) I did also ask a friend to jump on with me and our combined weight makes double that. Even with her on board as well I felt unshakeable. I put this down to some great materials and manufacturing.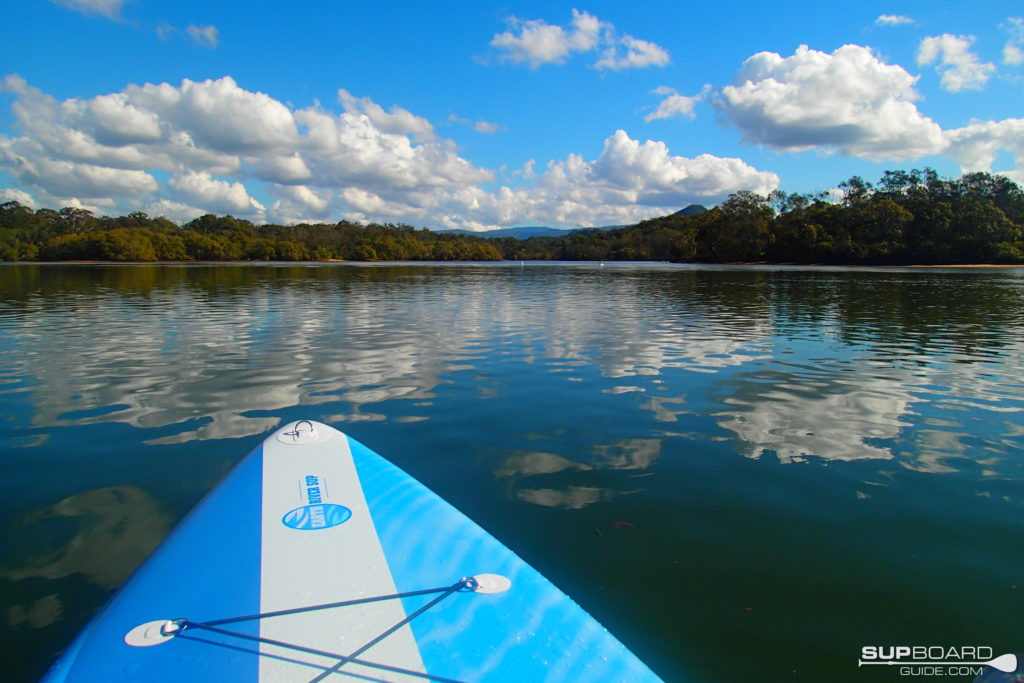 The next aspect I looked at was the glide and speed which combines in with how well the board tracks. I rate these things as a priority for a performance touring board. After all, if you are after a touring board it's normally because you want to cover long distances in a reasonable amount of time. With the variety of fins supplied, it's entirely possible to get the best performance out of any area you paddle in.
Using the large hatchet fin I found the tracking to be amazing, you can definitely feel the difference between a board like this and the mid-range touring boards. Looking at something in the same price range, I would say the tracking on the RPC Voyager and this is the same. While then using the dorsal fin and shallower fins, I found I lost a bit of tracking (not much at all) but became much more responsive to turning. Turning the board is made a lot easier by the raised heel pad. The ridge helps with stability but also guiding your foot to the right area without needing to look.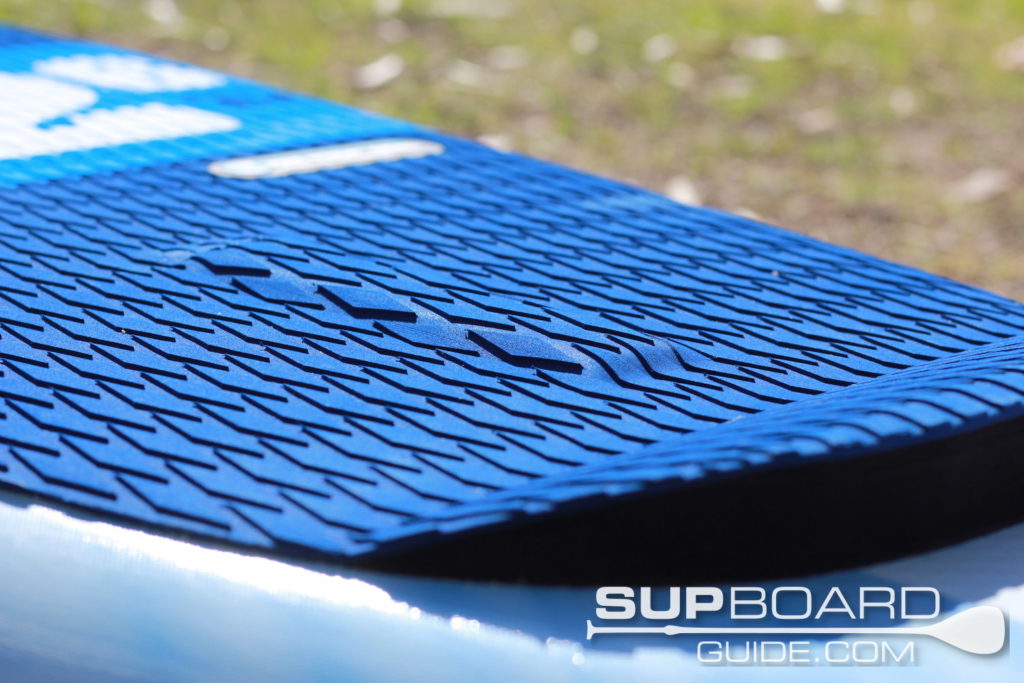 With top tracking comes glide which in turn helps with speed. Other factors that help with the speed and glide of the V3 are the materials as well as boards design which I go into more deeply below. For now, all you need to know is that it picks up speed and holds it as a fish takes to water.  As far as best suited environments, anything long distance is where you'll get the best results. Flatwater to moderate conditions. If you think you will experience turbulence, the 12'6″ should be able to handle it alright but if most of your journey is rapids I would suggest looking at something with more stability/maneuverability like the 10'7″ Skylake.
Materials
The V3 series is built for performance. From the inner drop stitch to all the finer features like D-rings. If you want to go into some serious detail then click here to nerd out some more. Otherwise, I will summarise it here a bit.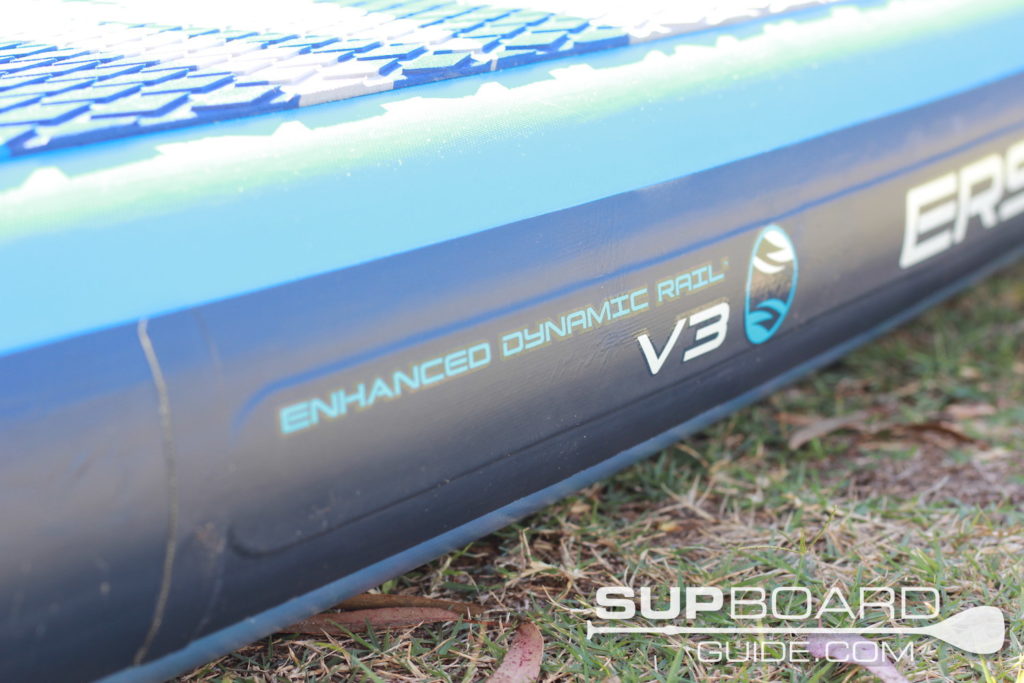 A high-density drop stitch core with an initial layer of PVC is found at the center with another layer of PVC fused over it using machine delivered pressure. This results in the board weighing and feeling like a single layer of PVC but having the rigidness and durability of additional layers. Then, to add additional stiffness, ERS added their Enhanced Dynamic Rails in their 2019 models. Essentially, these rails create a stiffer board that stays tight when you are leveraging force without adding much weight – it's a fantastic upgrade for 2019 that we love and further improves performance on all ERS 2019 boards.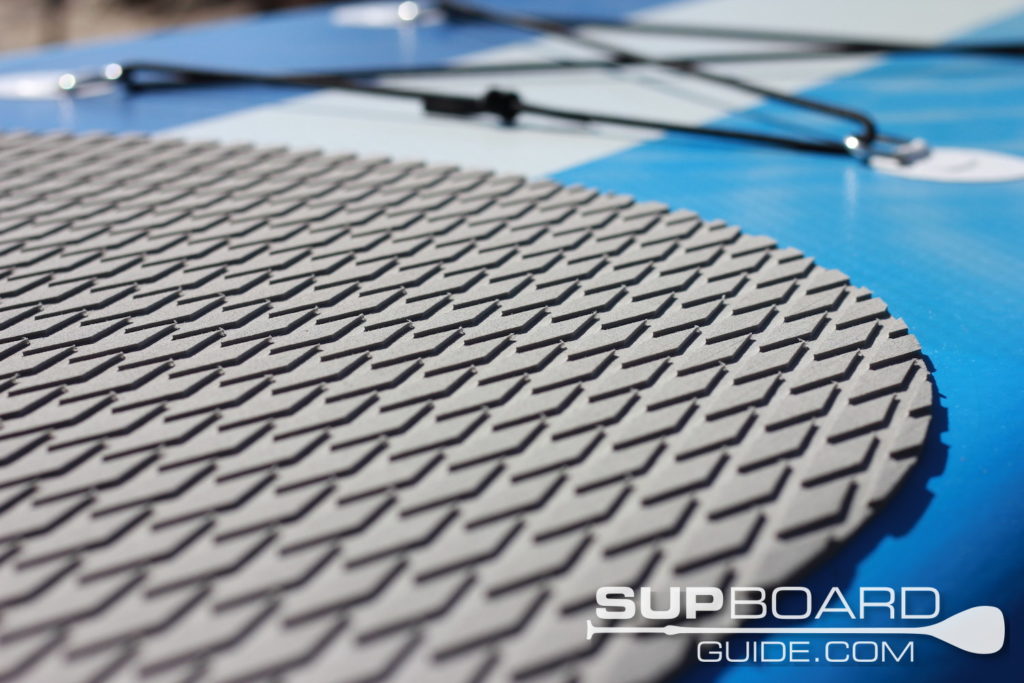 The machine pressed deck pad is made about 40% thicker than most standard pads. Choosing to use diamond grooves supplies you extra traction while also being incredibly comfortable.
Board Design
Just a few tweaks to the board and I would be once hugely satisfied SUP-er! While the overall design of the board for performance I cannot fault for a second, a few finer features wouldn't go amiss. I would love the board to have some more handles, such as on the nose or tail. Then additionally, a little more increased storage in case of wanting to do an overnight trip would be ideal. Though I did read a cool tip about using the nose D-ring to join more bungee onto for more storage.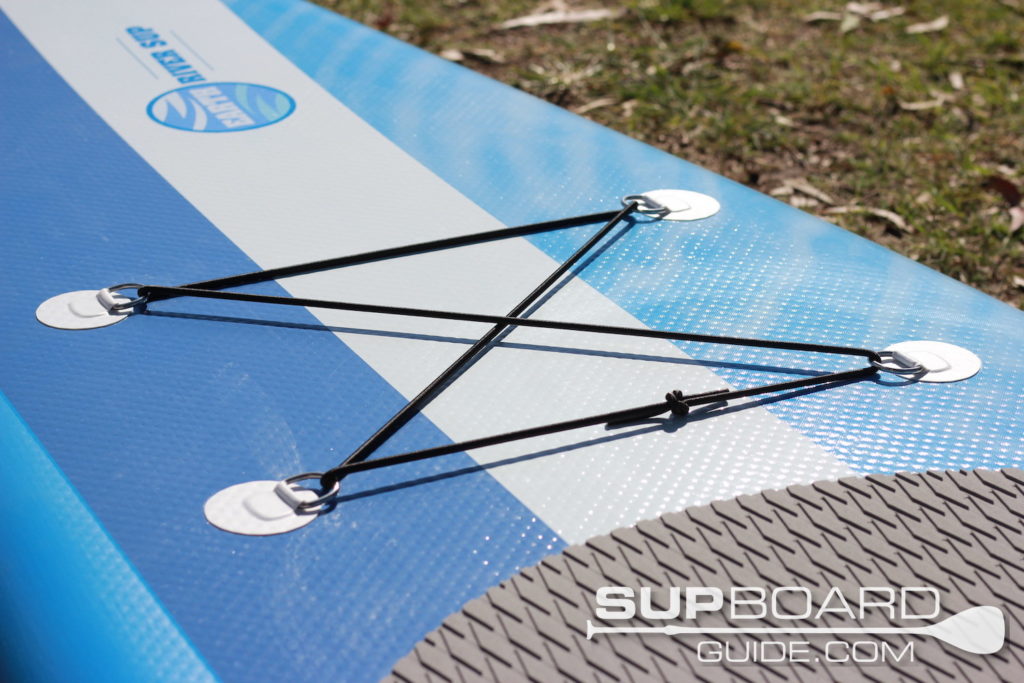 The center handle is a great design though! Being able to take the handle cover off you then have a flat surface for something like SUP Yoga. The other use is you also can wrap the handles around your paddle as a holder. And the tail D-ring used for your leash. Underneath the board, you can find the 3 fin boxes compatible with most fins including FCS.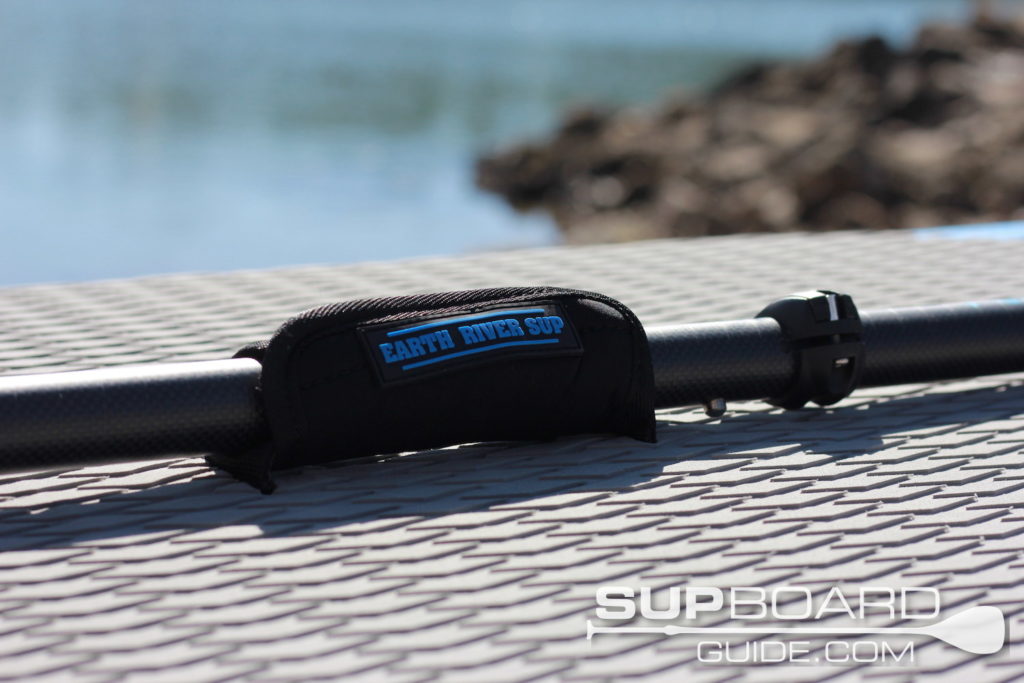 The shape of the board makes for a great touring board as the slender body with a narrower nose and tail helps with the glide. Additionally, the rocker in the nose has been carefully engineered to give the best assistance in challenging conditions but not hindering you covering distances on flatwater.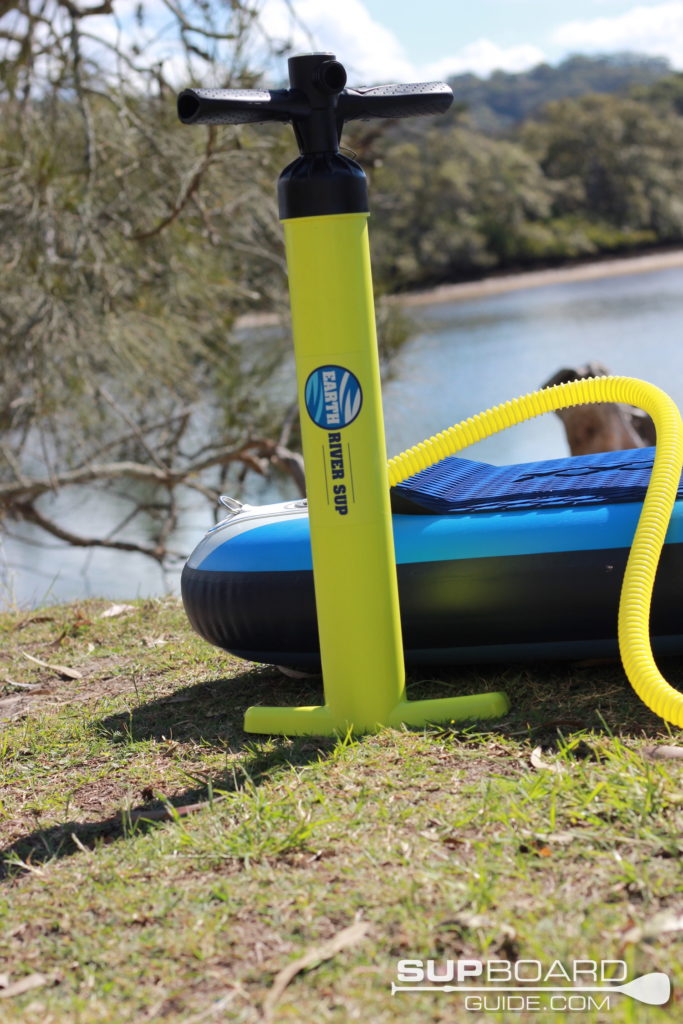 Features
Inflate/Deflate
The included pump gets you inflated in around the 10 min mark. The nose attaches securely to the valve and the pump is easy to use. I also have used my compressor on the board and nose fitted well, this I have found to be a good test of the valve as cheaper boards I've noticed the hose tends to slip off when I use the compressor.
The deflate was a little bit tough, similar to when I roll up Red Paddle Co boards. I think the materials make rolling up a little stiffer and take longer for the air to escape. Don't read this as a complaint though, I'd much rather wait a few mins to deflate and have amazing performance as the tradeoff. My tip is to leave the board in the sun a little while and let the sun warm the PVC, it makes it a bit easier to roll.
Fin Setup
You can set your V3 up as a single fin or thruster. The US fin boxes are compatible with most industry fins and easy to insert. For the center fin, you'll use the screw and plate or you could splash out and buy one of FCS Connect II fins for a tooless setup. While the side fins need a fin key to secure them. All of which you can find neatly tucked away into the fin folder. The folder has lots of pockets to keep everything organized. This choice of fins and the folder is really is a big bonus that no one else is really doing!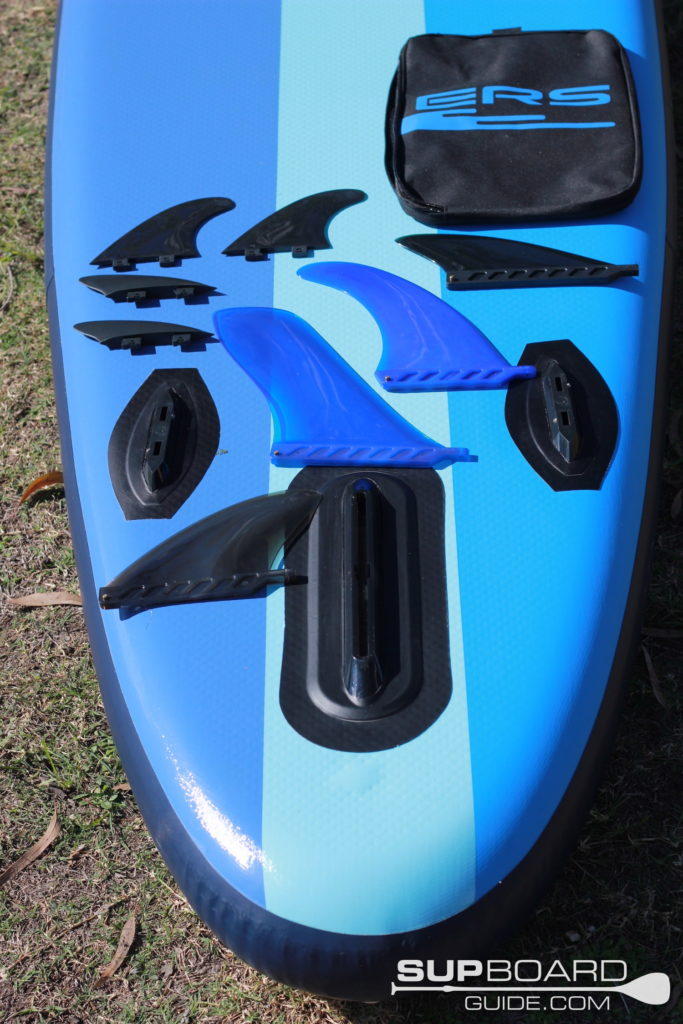 There are multiple options of both center and side fins, all of which help in different conditions. Choose to use the bigger fins for lakes/oceans etc while the smaller profile fins are great for shallow rocky rivers. They provide a huge amount of versatility. If you want some more in-depth detail about the fin options, ERS has done a great write up here.
Accessories
Paddle
A paddle isn't included but if you purchase at Pumpedupsup you get a free paddle! You also get discounts on the ERS full paddle range.
Backpack
Absolutely loving the ERS backpack. It's extremely convenient with the option to carry or wheel the bag and multiple handles to pick it up. Both options are well thought out with comfortable and supportive straps as well as rugged wheels. If you are wheeling the bag, you'll see on the back of the bag there's a velcro flap that secures your straps in place so they can't get caught up in the wheels.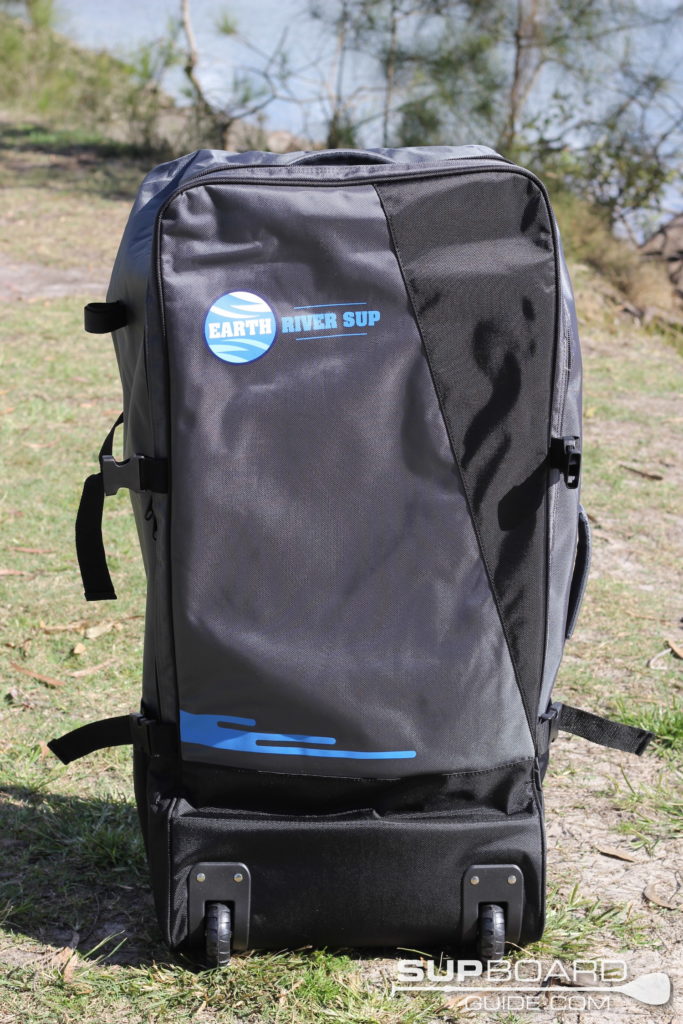 Inside the bag, there's room for the board, accessories and even a little leftover for your personal belongings. As well as more straps on the outside of the bag to secure things in.
Leash
If you buy through PumpedUpSUP you get a free leash at purchase! It's an ERS leash worth $49.99 USD, so you are getting a real treat!
Pump
The dual action high-pressure pump is super easy to use and gets the job done efficiently. ERS claims that they don't feel the need to use a dual chamber and would rather save on space. While this may true in some cases, there are some pumps that are emerging that you can't deny they are the same. The new iRocker full throttle pump as well as RPC Titan pump both noticeably get the job done quicker and easier.
Saying that I still don't mind using the ERS pump. It's not that much more arduous that I would never use it! Though to be honest, if you are paddling often, invest in a compressor. ERS makes a fantastic compressor as well as the REALLY cool ERS GO Battery that allows you to use your compressor from anywhere.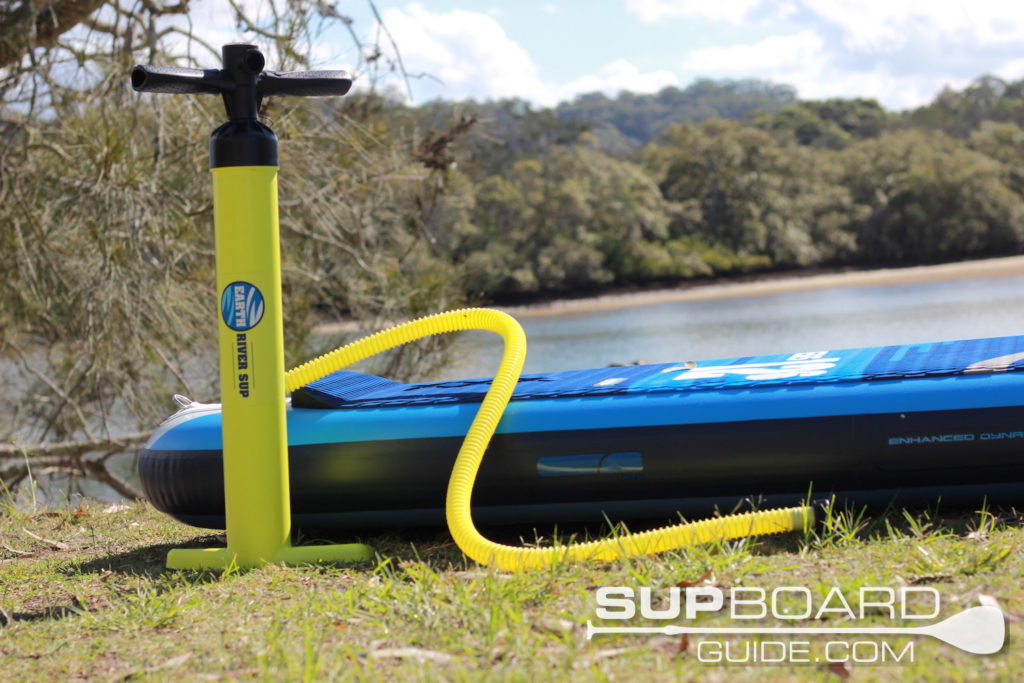 Repair Kit
Just in case of a boo boo you get some board bandaids. Depending on where you are, you may need to invest in some glue. The other part of the kit is the valve wrench. You can use this wrench in the case of the air valve malfunctioning.
EXTRA GOODIES!
Electric Compressor and GO Battery
Your compressor will be your new best friend in a short amount of time. While the GO Battery is a really cool gadget. It holds enough juice to be able to pump up your board 6-8 times! There's a few USB charging ports as well as the 12V port where your compressor plugs in. It allows you to inflate away from the car for more convenience!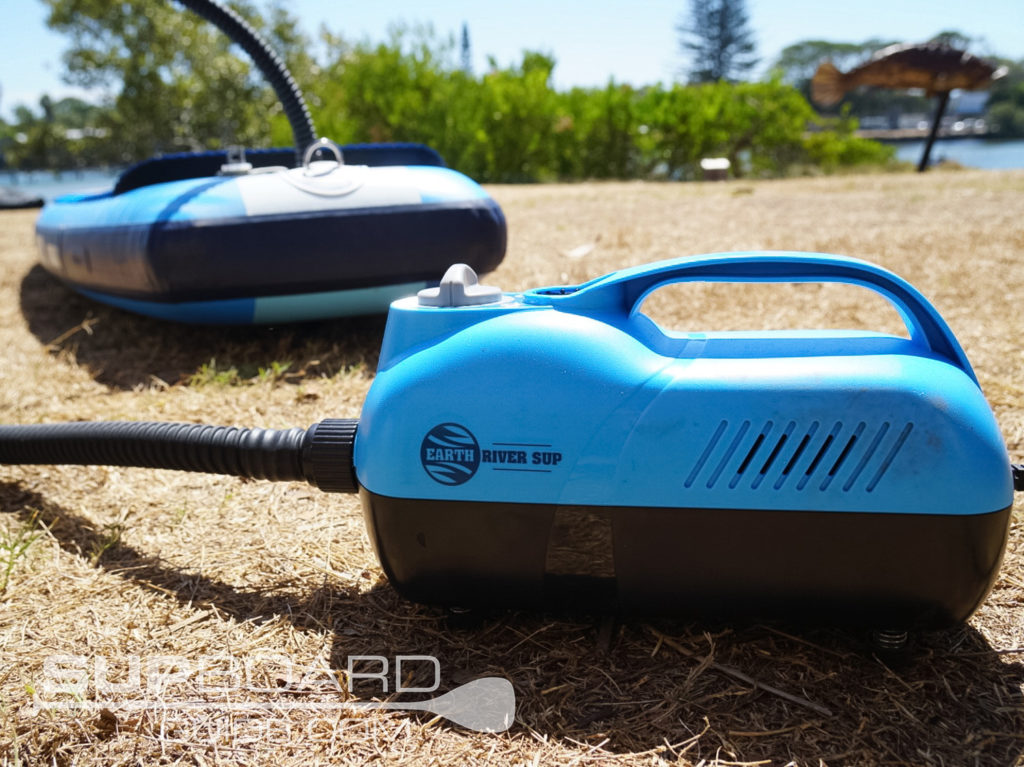 Carbon Paddle and Paddle Bag
All carbon paddles purchased through ERS come with this convenient carry bag also. The paddles are super light and do make a noticeable difference in performance, definitely worth the upgrade!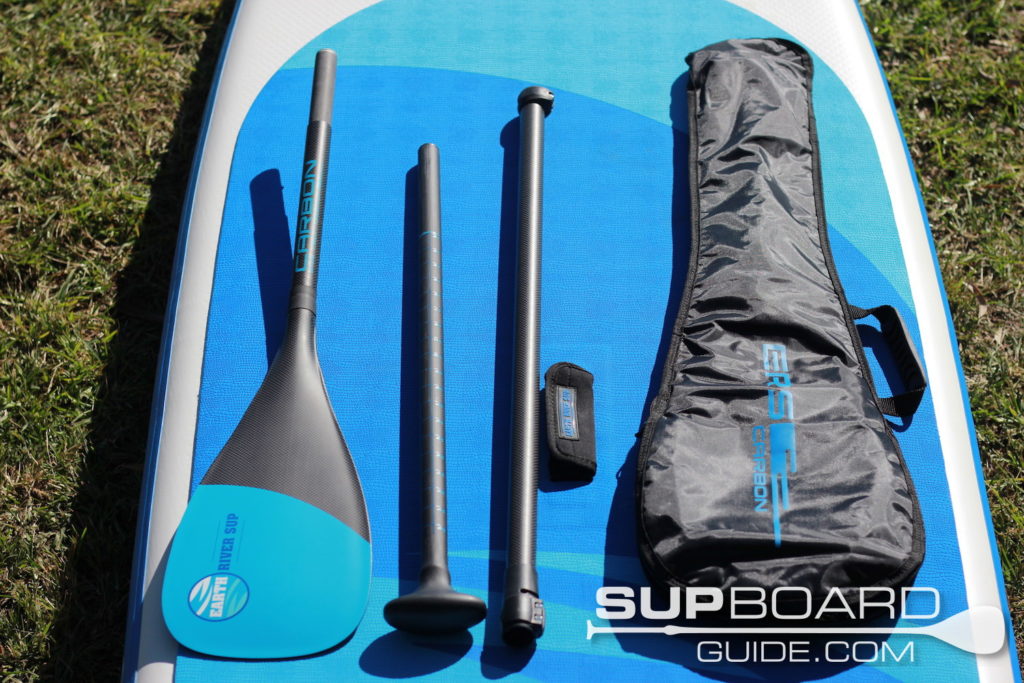 Conclusion
The V3 is an incredible touring iSUP. It performs well in various conditions and this combined with the choice of fins supplied, makes the V3 an incredibly versatile touring board. The materials, manufacturing, and accessories are some of the best in the game and a great option for anyone looking for a high performance, easy to travel with, performance touring SUP. Given that you currently get a free paddle, leash, and even free shipping we can't recommend this board enough.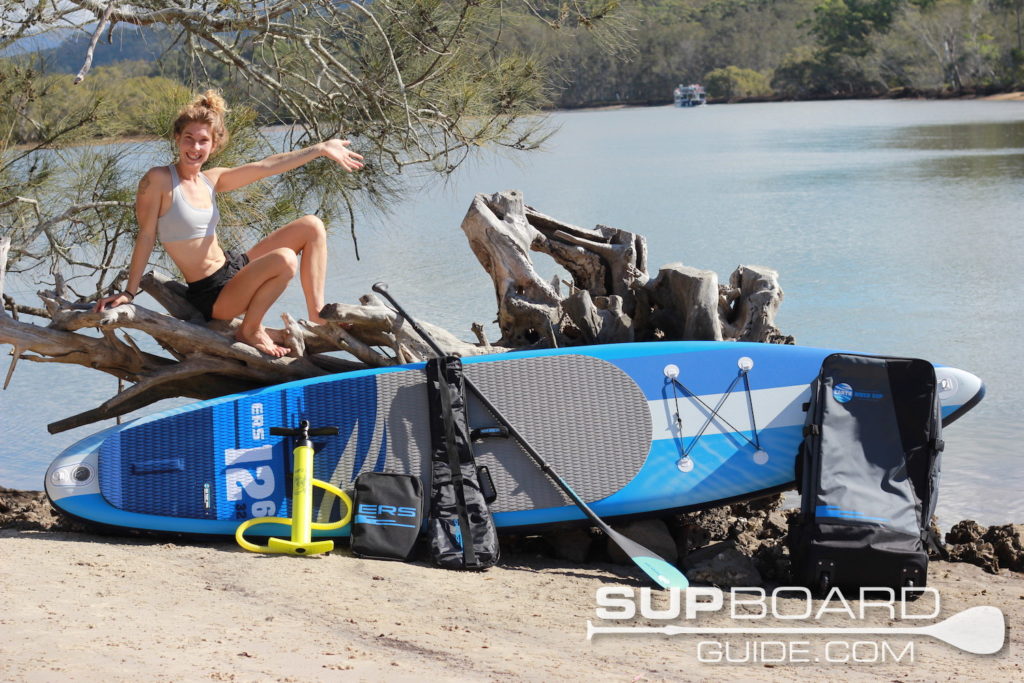 Earth River SUP team have always been super helpful and friendly, ever ready to answer questions and help where they can. You also get a 2 year warranty with your purchase.
The following two tabs change content below.
SupBoardGuide
Heyo! At SupBoardGuide.com we are a team who love the water, the outdoors, and are more than grateful that our full-time job allows us to review stand up paddle boards. We paddle year round (it helps that we are just about 2 hours outside of Las Vegas), and we bring in a wide range of paddlers with the goal of providing our readers with the best, most in-depth, and accurate stand up paddle board reviews.
Latest posts by SupBoardGuide (see all)