Pros
Perfect allrounder family board.
350lbs weight capacity. Ideal for heavier riders
Great for anything from Yoga to relaxed paddles
Best backpack in this price range
Cons
Comes in just one color which I personally don't mind since I like the design a lot. (2018 Update: There are now several colors available)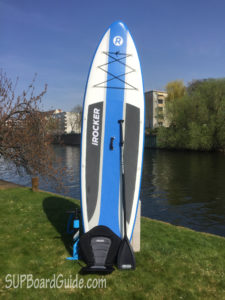 By Sarah Sackville
Note: Looks like you landed on an outdated review. The new 2019 models are out and we already reviewed the brand-new Cruiser here.
You know you've hit the jackpot when part of your work is getting SUP boards sent to you that have just hit the market to test out and review. Recently, the team at iRocker generously sent me the new 10'6" iRocker Cruiser SUP. **Thank you iRocker!!** What follows is my review after testing the board for several days.
Introduction
The 10'6" Cruiser is iRockers newest and improved inflatable cruiser style SUP board. The team at iRocker have improved the dimensions, paddle, and bag and it still comes with all your necessary extras!
iRocker Back Pack for easy transport
Adjustable Fiberglass Paddle
iRocker Ankle Leash
Dual Action Hand Pump
Repair Kit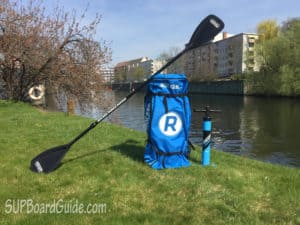 This bulletproof 10'6" Cruiser is made from a triple layer military grade drop-stitch material. Say whaaat? Basically, it's as tough as it sounds. You can hit rocks, have it come off the roof of your car, scrape coral…I promise it won't even leave a scratch. The iRocker Cruisers extra wide tail and 33" width, means it's iRockers most stable board and one of the most stable inflatable SUPs on the market. As an extra feature, you can purchase a Kayak Bundle which can be used on any of the iRocker boards. This includes an attachable kayak seat and kayak blade to transform your SUP experience into a kayaking adventure.
Product Review
Specs
| | |
| --- | --- |
| | 10'6" iRocker Cruiser |
| Length | 10'6" |
| Thickness | 6" |
| Width | 33" |
| Weight | 25lbs |
| Capacity | 350 lbs |
| Fins | 2+1 |
Inflate/Deflate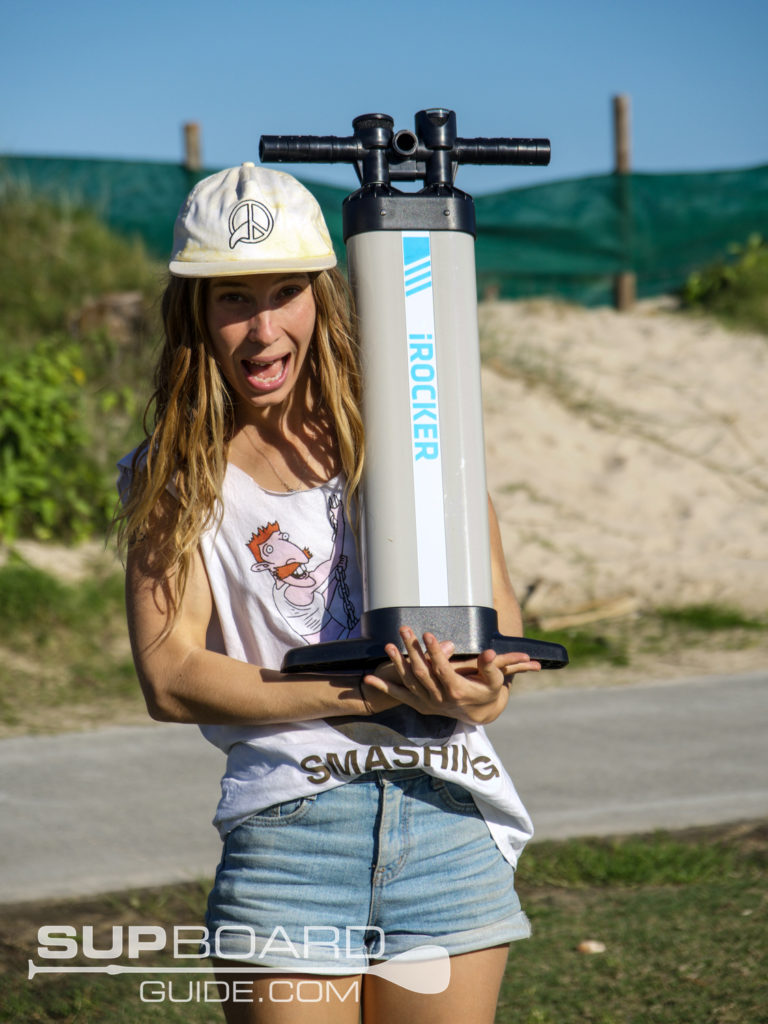 Update: iRocker released their brand-new double chamber pump in 2018. It's by far the best pump included with any board in this price-range and similar to the pump you already know from the Blackfin boards. It makes pumping up your board easier and faster than ever before.
Deflating the board is even easier. You just open the valve and push in a little pin in. Simply roll your board up and back into its bag, and you're done!
Materials and quality
Being that iRocker is one of the best-known names in the inflatable SUP world, it's no surprise that when a new model like the 10'6" comes out that it's a winner. A winner in my eyes is a board that is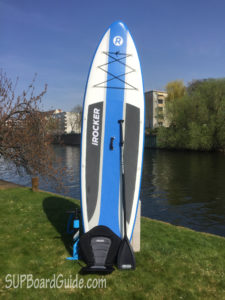 Durable
Suited to a range of people
Easily portable
Affordable
This is all ticked off with the iRocker 10'6" Cruiser. Strength and durability have not been sacrificed for compactness or portability. As I mentioned earlier triple layer military grade PVC with drop stitching makes this one of the toughest boards on the market. A board this price with undoubting durability and it's flexibility in user size and experience is what I consider high quality.
Performance
The Cruiser is a fantastic board for anyone starting out. Not only because it's easily moved from A to B so you can test it out easily, which keeps you motivated! It's also the stability and easy paddling which is ideal for a beginner, I explain this a little more in depth below.
Let's talk stability. Some compact boards don't suit heavier riders. Most inflatable SUPs, especially those priced like the iRocker Cruiser, don't suit heavier riders. The Cruiser has a weight capacity of more than 250lbs, just like the Adventurer 2 or the Isle 10'6". However, the iRocker Cruiser leaves even the heavier rider feeling stable. Its stability doesn't just make it great for beginners and riders that have trouble keeping their balance. It also means you can do Yoga, bring your dog or kids or enough gear for a day trip making it an interesting choice for intermediate paddlers as well.
The fins: The Cruiser has the same tri fin setup we already know from the iRocker Sport. That means it tracks very well (Keeps you going straight). Definitely, something beginners will appreciate.
One obvious drawback that comes with a wide shape is of course that it's a fairly slow board. The extra width and tail mean it's not quite as fast its predecessor the 11'. That's, of course, true for all boards designed for stability but still worth mentioning.
Extra Features/Improvements
It's the simple extra features that are improvements on later models that makes this board stand out more than anything. In my original iRocker review I listed both the backpack and the paddle as cons. Both were not as good as I wanted them to be but iRocker has significantly upgraded both. They literally took the paddle and backpack from being one of the lower quality ones in the market to a level that you usually know from high-end brands like Red Paddle Co.
The paddle
The new paddle is made from fiberglass, and it weighs half as much as the other aluminum paddles leaving your arms with more strength to paddle longer! The paddle is adjustable for your height with a two pin locking system. It also has been designed with a rubber edge to stop any damage occurring when pushing off hard objects like rocks.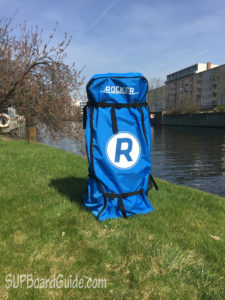 Upgraded Back Pack Carry Bag 
Where you may have been finding you were losing gear in old packs, this new one has interior and exterior cinching straps to keep it bundled together. An extra handle on top of the bag provides another option for carrying. The most important part though is the extra cushioning on shoulder and waist straps, as well as the back support. The old backpack was made from fairly thin material, meaning you could feel the fins or parts of the paddle on your back. That's no longer an issue with the new backpack. It's super comfy and is on the same quality level as the Red Paddle Co Ride backpack. The best part? All the gear you can see in the picture up there can fit inside. You'll have plenty of space.
Ankle Leash with Key Holder
This leash is thicker and more durable than before and a there's a little stash spot for your keys, so no more end of day frantic searching when you've forgotten where your hidey hole was. The leash also stretches 5x  its length so you won't have to be as scared of the board coming back too quickly towards your face if you fall off.
Increased storage
Two more D-Rings making for a total of 6 D-rings that are generously spaced have been put on the board for more room to carry your things.
Optional Kayak Bundle
If you're feeling a sit down is in order, an optional purchase for the iRocker is the Kayak bundle. All iRocker boards are designed to compliment this bundle. This includes an attachable seat and extra paddle blade. The boards have four extra D-rings around where you would normally stand for easy attachment of the seat. With the paddle just simply attach the blade to the other end, and you are ready to go exploring, fishing, the adventure is yours!!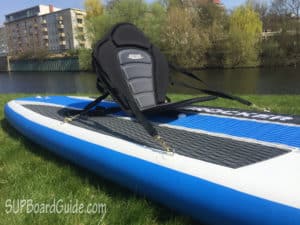 Conclusion
So why should you buy the iRocker?
The Cruiser is a perfect addition to the original iRocker. It's less of a sporty touring SUP and more of a true all arounder family board. That means it's not only more stable and easier to handle for beginners, it's also perfect for heavier paddlers and it allows you to do Yoga or paddle with two people as well as your dog.
The added features have really amplified this boards appeal. When you start to use your board, it's the finer things like the backpack and paddle that become important for quality. Having a backpack that is comfortable to use is a huge plus, especially for those long trips. Another massive plus with the 10'6", is a paddle that is lighter and a lot higher quality than before. The fact that the team at iRocker takes reviews and feedback so seriously and does such a great job at improving their products shows how much they value their customers.
Aside from being a little slower and not as many options for colors, there isn't too much I can say isn't great about the 10'6" iRocker cruiser. Another great all-rounder board for all levels of experience that offers fantastic value for the money.
Good job iRocker!
Not the board you're looking for?
If the Cruiser isn't quite what you're looking for, I recommend you look at the other boards iRocker has to offer. Here is a picture of all the boards they currently offer.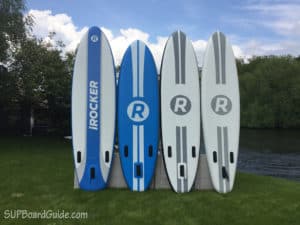 The All Around 10′ and 11′ are 32″ wide and have a sportier shape than the Cruiser. Great All-rounders that are still super stable but also a bit faster than the Cruiser. You can read the review here.
The board on the right is the 11′ Sport (also available as a 10′). That's currently the most performance oriented board iRocker has to offer, and it's perfect for flat water and recreational touring. You can read my full review here.
The following two tabs change content below.
SupBoardGuide Editorial Team
At SupBoardGuide.com we are a team who love the water, the outdoors, and are more than grateful that our full-time job allows us to review stand up paddle boards. We paddle year round (it helps that we are just about 2 hours outside of Las Vegas), and we bring in a wide range of paddlers with the goal of providing our readers with the best, most in-depth, and accurate stand up paddle board reviews.
Latest posts by SupBoardGuide Editorial Team (see all)