Red Paddle Co 11'3'' Sport Stand Up Paddle Board
Pros
Premium all-around/touring hybrid. Very beginner friendly, but great performance to satisfy expert paddlers as well.
Very stable, yet also lightweight. 240 lbs weight capacity can be exceeded even by beginners. 22 lbs weight is lighter than many similarly shaped SUPs.
The Speed Tail noticeably reduces the drag of the water coming off the tail of the board when paddling which made an impact on our speed when testing.
'Red' hybrid deck pad is equal parts grippy yet cushy and comfortable to stand on. New flat bungee cord system allows you to store extra cargo.
New Titan II pump for 2021 models is among the best manual pumps on the market. Also includes the awesome all-terrain RPC roller backpack.
MSL/Tec-Air build is extremely resilient. Online registration backs the SUP with a 5-year warranty.
Cons
Premium paddleboard costs a premium price tag. The performance equals the price, but because of how high it is it's hard to recommend the SUP for beginner paddlers.
No included paddle means that beginners who are buying this as their first SUP are going to have to pay even more. Does cut down on the price for veteran paddlers.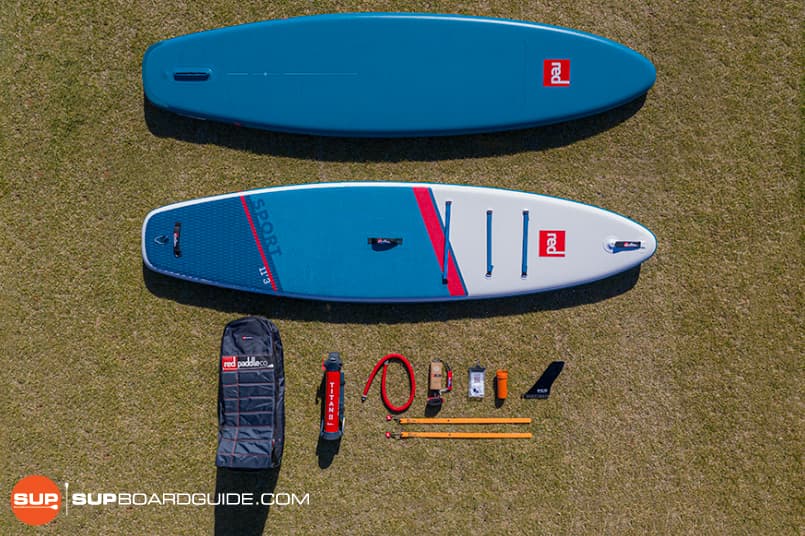 The Red Paddle Co 11'3'' is an all-around/touring hybrid, providing excellent tracking while also providing plenty of stability and good maneuverability as well. This paddleboard is great for taking out kids or a pet on, while also being lightweight and easy to carry for younger and shorter paddlers. The drawn out nose, coupled with the new speed tail makes this version of the 11'3'' Sport even faster than previous models, and a bit easier to maneuver with as well. The 11'3'' Sport continues to be a premium paddleboard not just for the new additions, but given the very durable MSL construction and Tec-Air process used in other RPC paddleboards.
The 'Red' hybrid deck pad makes a return, providing a soft but grippy texture to stand on, with the top side of the board seeing an upgrade with the new flat bungee cargo cords. The pump has also seen an upgrade, the Titan II manual pump among the very best on the market. Fitting into the deluxe all-terrain roller backpack, everything about the package is stellar, though new paddlers will need to add a paddle to their order to complete the kit. The 11'3'' Sport is also one of the more expensive SUP kits out there, so it isn't the most beginner friendly in terms of design and cost. For those who are interested in a premium SUPing experience though, we highly recommend checking out the 11'3'' RPC Sport!
SUP Board Specs
| | |
| --- | --- |
| Length | 11'3'' |
| Width | 32'' |
| Thickness | 4.7'' |
| Weight | 22 lbs |
| Rider Capacity (lbs) | 240 lbs (Beginner recommended weight capacity, can be greatly exceeded) |
| Recommended Inflation | 16 – 22 PSI |
| Fins | Removable FCS US Fin Box |
| Paddle Type | None Included |
| Construction | Tec Air + MSL Construction |
Who Should Buy This Stand Up Paddle Board:
The 11'3'' Sport is an all-around/touring hybrid, so you can use it for a bit of everything and have a great time paddling with it. You will be especially interested in this paddleboard if you are one of the following:
Beginner to intermediate paddlers who want a very stable, easy to handle SUP.
Expert paddlers who want a premium paddleboard with exceptional performance.
Experienced paddlers looking for a company that puts a ton of research and development into each and every one of their boards for optimal performance.
Paddlers who want a premium SUP that comes with top of the line accessories as well.
Performance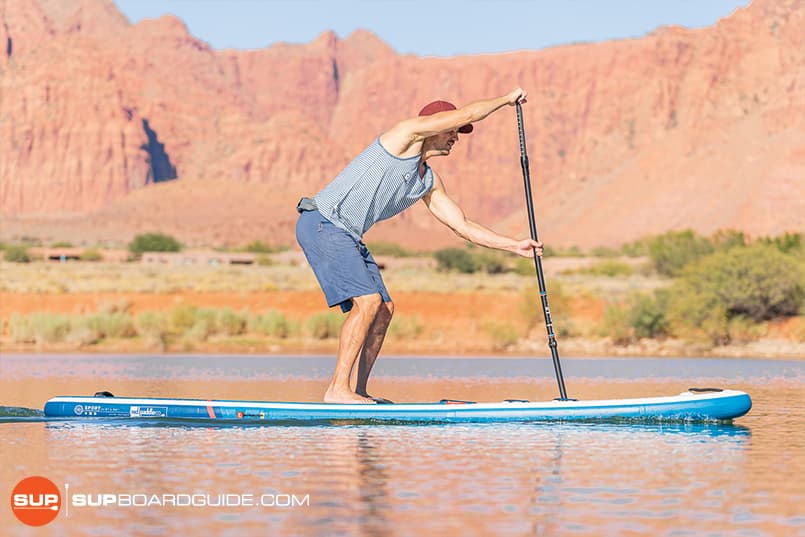 Stability
All-around paddleboards tend to prioritize stability, as it makes them beginner friendly but also capable of participating in racing, surfing, touring, yoga, and other paddleboard activities. Such is true for the touring/all-around hybrid, with the 11'3'' Sport offering great stability that exceeds the dedicated all-around Ride series. This paddleboard will be stable enough to not only support a large solo paddler, but support their kids, pet, or a lighter second adult paddler as well. The Tec-Air/MSL construction, RSS baton system, reinforced taped rails, and overall size all compliment each other in providing a high level of stability. We also appreciate the 4.7'' thickness, as the lower center of gravity provides you with greater control and stability compared to more traditional 6'' SUPs.
While rated for 240 lbs, we believe that even a few hours is enough for most beginner paddlers to greatly exceed the recommended weight capacity with minimal performance loss. Just make sure you insert the RSS batons at about one to five PSI, as they make the SUP noticeably more rigid.
Maneuverability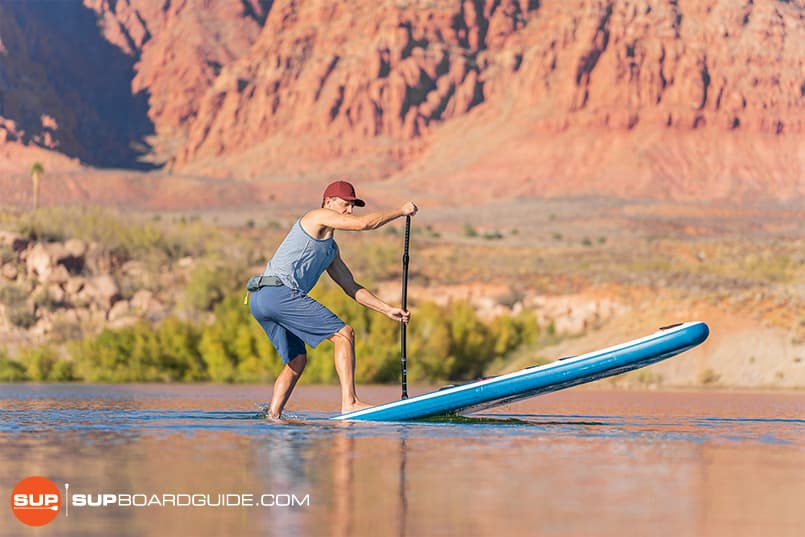 The downside to a longer SUP, especially touring SUPs, is decreased maneuverability. However, the 11'3'' Sport is not as long as most touring style paddleboards and it does turn better than many other similarly shaped touring paddleboards. Outside of the almost typical all-around length, one of the major reasons for the padldeboard's solid maneuverability is the thinner 4.7'' thickness. While this does take away some of the stability it might otherwise have, the 4.7'' thickness allows paddlers to SUP closer to the water and maintain better paddleboard control. You'll need some practice before you go river running, but even new paddlers will be able to dodge incoming boats, SUPs, and other objects in the water with ease.
Tracking/Glide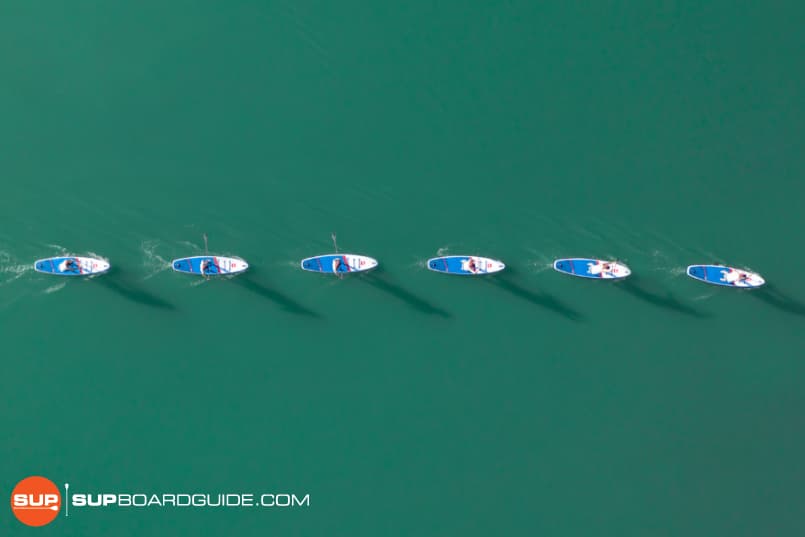 The longer a paddleboard is, the better tracking it will typically have, and the rule holds true with the 11'3'' Sport. Form does impact the overall tracking of a paddleboard, but with the 11'3'' length you'll be able to maintain a largely straight line in the water with just an okay paddling form. This doesn't have as great tracking as the 12'6'' Sport, but as a result it does force beginners to correct their form more often than the longer RPC Sport touring models.
The drawn out nose reduces drag and improves the overall speed of the paddleboard, as does the rubberised speed tail. By putting a tight edge on the tail, water release is improved and the 11'3'' Sport is able to build speed faster as a result. We were really impressed at how much of a difference the speed tail makes, as the 11'3'' Sport was able to keep up with longer touring/racing SUPs that didn't have the speed tail.
Something else that will improve the tracking, glide, and speed is the removable FCS US fin. The 11'3'' Sport has a single fin box, but by using the included touring fin you'll find yourself going even straighter, and the paddleboard will feel a bit more stable as well. Just like a trail that extends from a kite, the long center fin helps direct the water flow, which in turn improves the tracking and overall performance of the SUP. You will need to remove the long touring fin when paddling in shallow water, but for all other situations we highly recommend installing it for the best touring performance.
Materials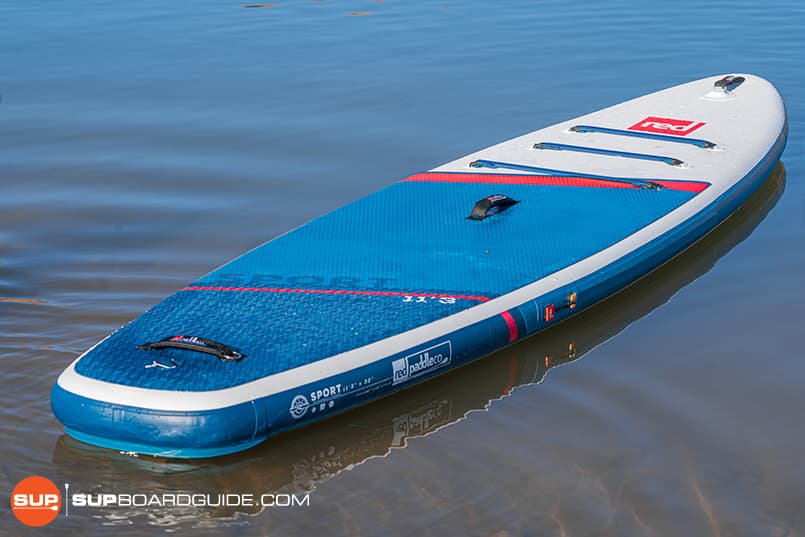 There are two key components to the 11'3'' Sport: the drop-stitch core, and PVC shell. The tight drop-stitch core is made up of sheets of fabric that are held together via thousands of internal threads. As air is pumped into the paddleboard, the drop-stitch core will expand like a typical inflatable, but attain a rounded SUP shape due to the placement of the strings that go taught. Due to the importance of the drop-stitch core, Red Paddle Co spends 72 hours painstakingly crafting it for each paddleboard in production. As a result, Red Paddle Co SUPs like the 11'3'' Sport have some of the lowest return rates for the paddleboard industry, averaging less than .5% per year! The machine assisted crafting is the Tec-Air process, producing a drop-stitch core that provides much of the stellar performance of the 11'3'' Sport.
To further improve paddleboard performance, Red Paddle Co relies on Monocoque Structural Laminate, or MSL tech, to form a protective, durable, supportive shell around the inflatable core. Coatings of high density PVC are applied to the drop-stitch core, and once completed forms a shell that is nearly impervious to common SUP accidents. If you haven't seen it already, you'll want to visit Red Paddle Co's website to watch a MSL protected paddleboard get run over by a 24 ton road roller and emerge ready for the water! Red Paddle Co SUPs are some of the most durable inflatable paddleboards within the industry, and are surprisingly lightweight as well!
Board Design/Shape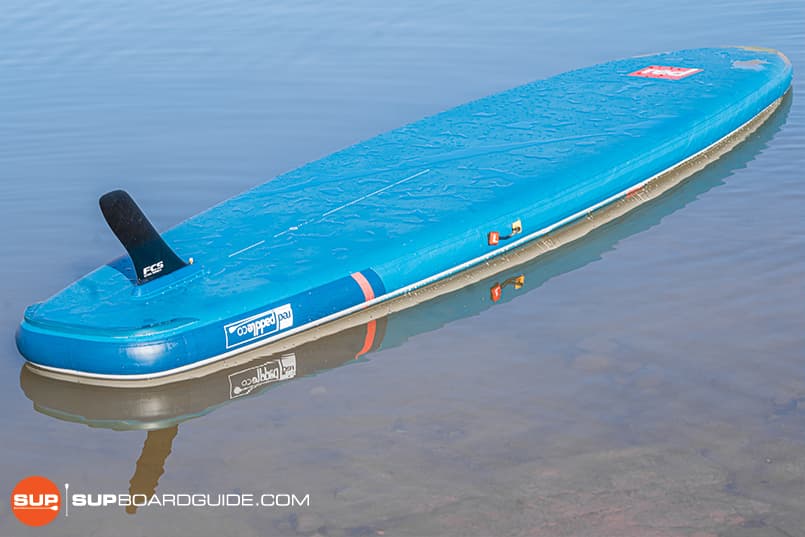 The normal and special edition of this version of the Sport measures 11'3'' long, 32'' wide, and 4.7'' thick. As a result, it is best classified as a touring/all-around hybrid, able to sample a bit of everything but best suited for long paddling adventures that rely on maintaining a straight line. Due to the high quality of the deck pad though, this is also a great paddleboard for yoga, or for cruising with friends or family if you want to paddle with others on deck. The overall nimbleness and agility make this a fun option for having casual races with friends, and if you're skilled enough you can take it into some rivers or surf some waves with it as well. The drawn out nose, and speed tail, are both designed to help the paddleboard be even faster in the water, while still being rather maneuverable and easy to handle. Overall, the 11'3'' Sprint is a very beginner friendly SUP, but it should still satisfy intermediate and even expert paddlers looking for a touring/all-around combination.
Board Features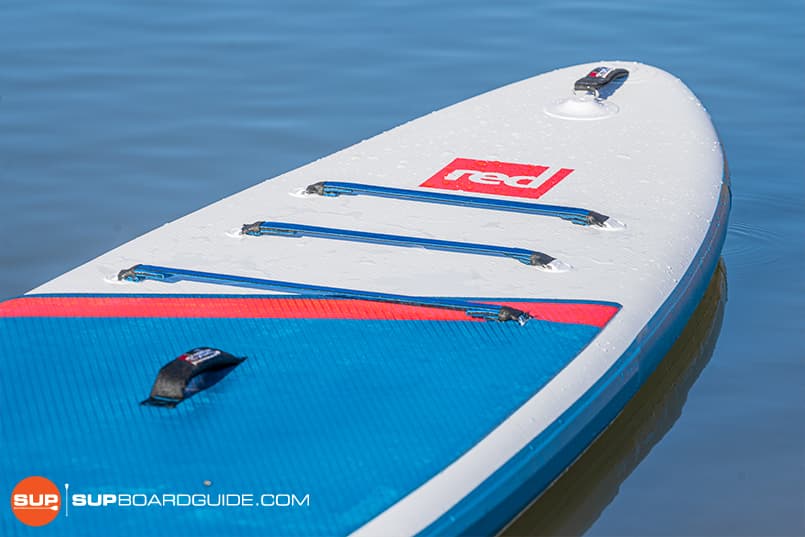 A premium paddleboard, the Red Paddle Co 11'3'' deserves praise not just for its great performance, but for its numerous features as well. Some of the features we think are worth highlighting include:
Reinforced Taped Rails + RSS Fiberglass Removable Rods.
Speed tail.
Tec Air/MSL construction.
Nose Action Mount and 7 D-rings.
Triple carry handles.
'Red' traction pad.
Rail System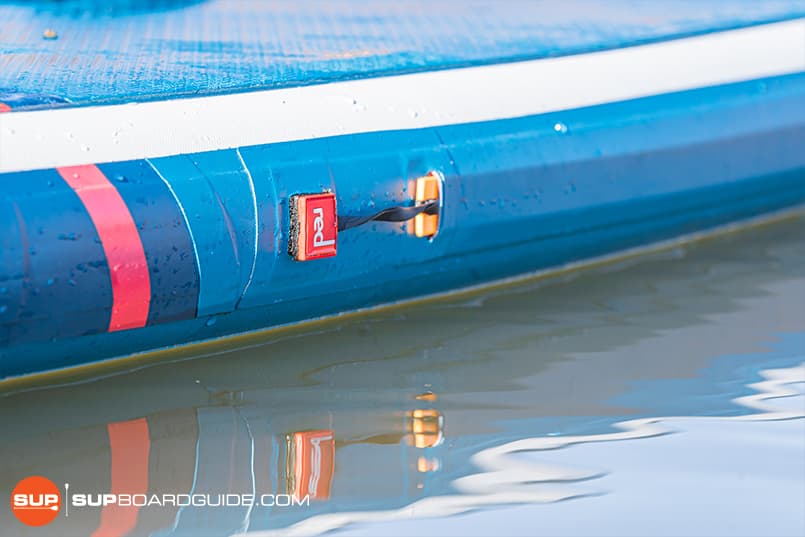 The reinforced taped rails further improve the rigidity of the 11'3'' Sport, but the real highlight of the paddleboard is the Rocker Stiffening System, or RSS fiberglass rods. These struts, when inserted, improve the inflatable SUP's rigidity by 40% without excessively weighing down the paddleboard like with carbon fiber rails or extra PVC coatings. The more rigid a SUP is, the better feel you'll have paddling with it, along with greater overall stability and performance. It's a fantastic system, and with the even more flexible struts and the rods are easier to insert than ever before. You will need to remember to insert them at the one to five PSI range, as the board will be too rigid if you wait until after you've fully inflated the SUP.
Fin Setup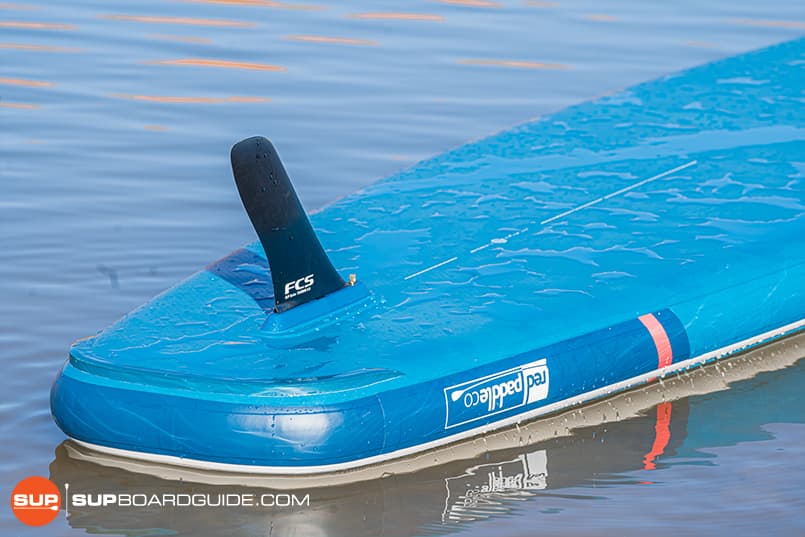 The 11'3'' Sport has a single FCS US fin box in the center. We love US fin boxes because they are the most versatile when it comes to fin customization, allowing you to really fine tune your performance. Furthermore, US fin boxes are pretty easy to install fins in as well, especially if you purchase the FCS II Connect barrel lock fin, the fastest fin to install on the market with no extra parts. As for the included fin, it's built tough and can withstand the occasional drop or crash, though be very careful when using it in shallow water. If you don't have much clearance, we recommend leaving the fin out all together or adding a shorter fin designed for river paddling to your SUP kit.
Traction Pad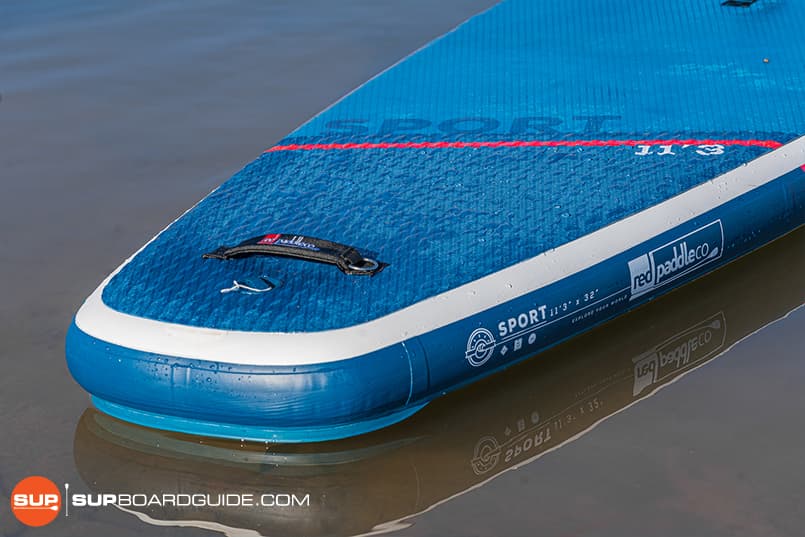 The hybrid 'Red' traction pad is the same design featured on other Red Paddle Co inflatable SUPs, a design they continue to reuse for good reason. The center section is very soft, cushy, and comfortable, with a diamond grooved tail section that provides greater traction support where you really need it. The EVA foam deck pad is made out of the same material as many yoga mats, so you can stand or stretch out on it without irritating your feet or skin. EVA foam is not only well suited for the water, but dries and drains quickly, preventing it from ever getting slippery as you cut through chop and waves. The traction pad does change color depending on the SUP you get, with the standard edition being blue and the special edition being purple. An example of the purple deck pad is below.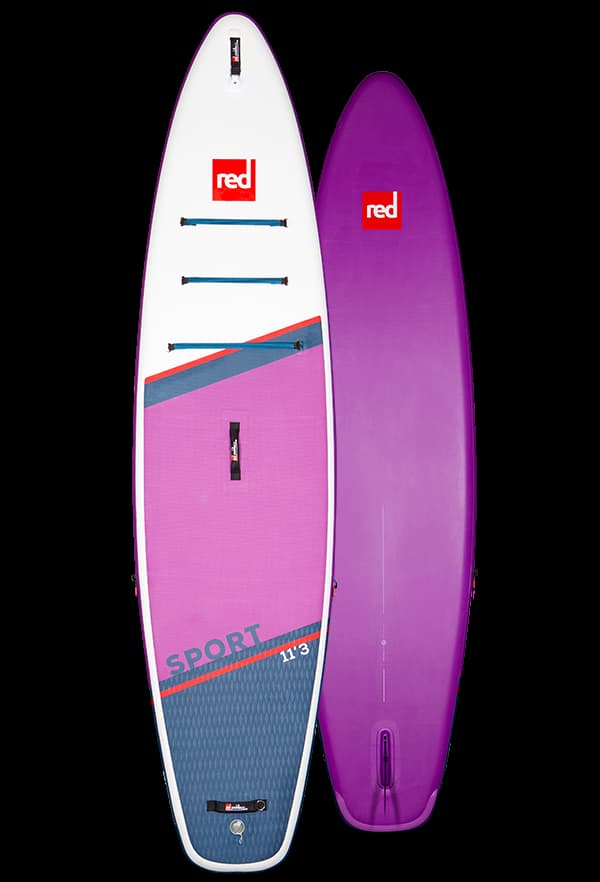 Overall, we think it's a fantastic deck pad, but the center stamped logo pattern won't be loved by everyone. Our team member Bryce does prefer a more traditional diamond grooved pattern used across the whole deck pad for added grip support. However, the trade off is that we've found the center stamped logo section to provide better support for extended paddling sessions, especially when you're paddling for several hours in a row without dismounting. This is a personal preference thing, and we would suggest wearing water shoes if you do find the stamped logo center to be a little lacking.
Handles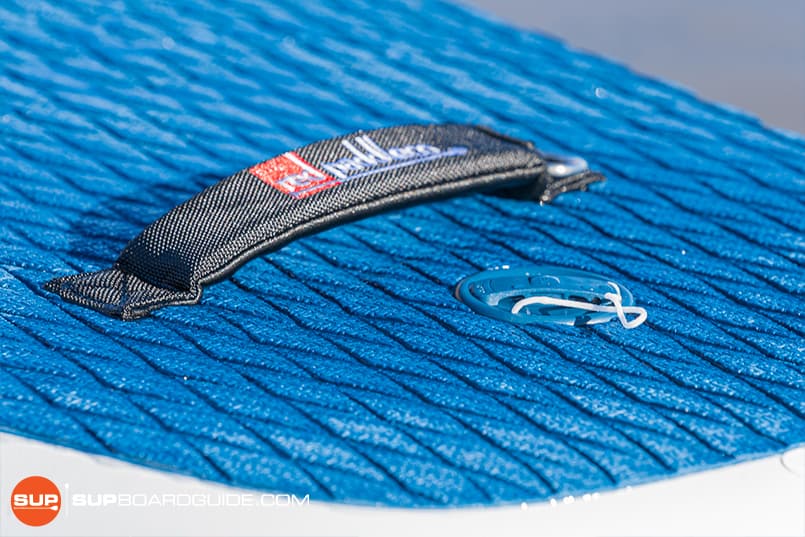 At just 22 lbs, the 11'3'' Sport is a very easy paddleboard to carry, especially with the three handle setup. Lift the paddleboard with the center handle to carry it by yourself, or work with a partner by grabbing the nose and tail handles. All three handles are built with neoprene covers, which are very soft and comfortable to hold. Neoprene covers also allow paddlers to grip the SUP comfortably with freezing cold or soaking wet hands without fear of developing blisters. The handles are also appropriately spaced apart so that you shouldn't trip on any of them as you paddle on the 11'3'' Sport.
D-Rings/Bungees/Cargo Areas
There are seven D-rings on the 11'3'' Sport, which are great for attaching dry-bags and the included cell phone case, along with a leash on the rear handle. The action mount on the nose is compatible with many popular electronic mounts, including those used for GoPro cameras and Bluetooth speakers.
The real highlights are the revamped bungee cord cables. Instead of thin, interlocking cables, the new flat bungee cords allow you to store larger gear, besides providing a tighter, more secure hold for your cargo. These new flat bungee cords are much easier to remove or install, and can be clipped on and off the D-rings in seconds. However, they are a bit harder to use when it comes to very small objects, like a personal water bottle, and have a tendency to reset back to their normal length even when you tighten up. If you do prefer other, more traditional bungee cords, they are easy to swap out on the 11'3'' Sport.
Accessories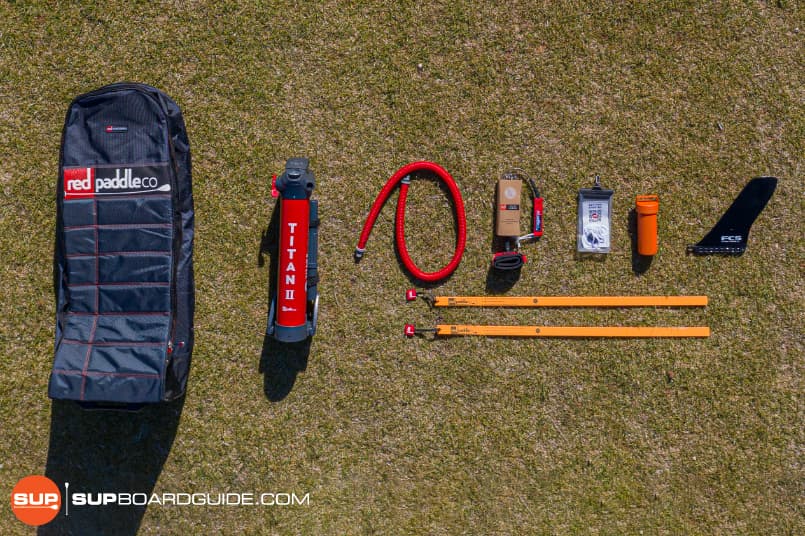 Paddle Options
As part of the base kit, the 11'3'' Sport does not come with a paddle. Leaving the paddle out does reduce the price for those who already have a paddle from another kit, and you can add a paddle to your order at checkout. For new and beginner paddlers, be aware that if this is your first SUP, you will probably have to spend between $100 to $200 dollars for a solid, lightweight paddle.
If you do need to buy a new paddle or upgrade, take a look at Red Paddle Co's range of paddles. All of the RPC paddles are very lightweight, and can be adjusted to fit most traditional adult paddler heights. The three piece paddle can be stored in the backpack with ease, or assembled together in just a few seconds. All Red Paddle Co paddles will float on the water as well, though they get swept up in currents so make sure to grab them quickly before they float out of reach. A Red Paddle Co paddle is one you'll be able to use even longer than the paddleboard itself, and a piece of equipment you'll want to reuse with other SUPs.
Pump
The Titan I manual pump was our favorite SUP pump on the market, so we're both surprised and impressed that Red Paddle Co decided to upgrade.The chambers, previously attached at the hip, are now stacked front to back so you don't have to spread your feet out as far in order to stabilize the pump. The feet will now fold into the pump, and with a removable handle the Titan II is more compact and easier to store than the Titan I. Lastly, the plug previously used to change the action mode has been replaced with a quick lever for easier switching. When we used it, we were able to inflate the Red Paddle Co 11'3'' Sport in less than five minutes without even breaking a sweat. We mean it when we say that the Titan II is the best manual pump on the market.
Backpack
Red Paddle Co continues to use the all design for their backpack, but given how quality it is we're glad for it. The backpack is built to protect your equipment against the elements, and is made up of double-stitched seams and bonded nylon thread for a very durable, protective build. The interior of the SUP backpack has integrated foil lining, which not only makes the backpack even more durable but also regulates the internal temperature of the bag. You can leave the backpack out on a hot sunny day, and your SUP and accessories will be protected from overheating. In terms of wearing the backpack, the straps are highly adjustable, ensuring that short and tall paddlers alike can wear the backpack comfortably. There are three carry handles for short distance transportation, and with roller wheels you can easily bring the backpack with you if you're traveling through an airport or over concrete. With a ton of storage space for SUP and other equipment alike, we think you'll love the Red Paddle Co backpack just as much as we do!
Repair Kit
The 11'3'' Sport has a small repair kit with a couple of tools that you can use to address minor problems and performance issues with your SUP. Inside are adhesive patches, color coded to match your SUP deck and bottom, that you can use to seal holes that aren't on the seams. The other tool included is a Halkey-Roberts inflation valve wrench, which can be used to tighten up the inflation valve if it ever comes loose or falls out. The inflation wrench is also helpful in that its designed to help flatten out and seal the adhesive patches to your SUP without scraping the paddleboard.
With comprehensive warranty coverage, be sure to contact Red Paddle Co for major performance issues or paddleboard damage. More information about their warranty policies can be found below.
Company Review – Red Paddle Co.
The warranty coverage is also another reason why we endorse Red Paddle Co SUPs. By buying the 11'3'' Sport, you will receive a one year warranty with your paddleboard. If you go online and register your SUP within the first three months of purchase though, you will get a comprehensive five year warranty, among the longest in the industry! With a less than .5% return rate, we doubt you'll need to rely on the warranty, but it's nice to have in the very rare instance that something does manage to damage the superb MSL construction.
Conclusion/Bottom line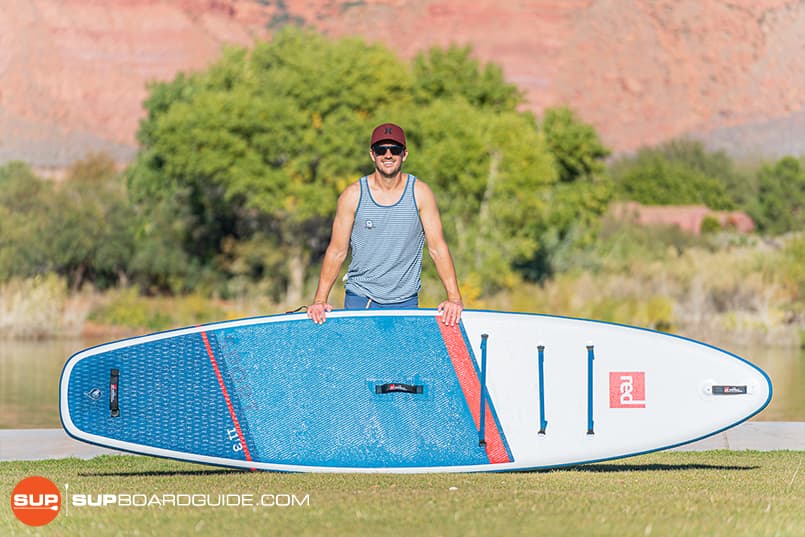 The Red Paddle Co 11'3'' Sport is a great SUP and paddleboarding kit, well suited for all types of paddlers and skill levels. The very durable MSL construction, along with the RSS system, makes it very durable besides providing great rigidity to improve its stability and feel. The drawn out nose and new speed tail make this a fast SUP with great tracking, and with a 11'3'' length it is the most maneuverable of the 3 RPC Sport paddleboards. The 'Red' hybrid deck pad is as enjoyable as ever to be on, with the improved Titan II pump and deluxe all-terrain backpack just as accommodating. This is a very beginner friendly SUP, but due to the lack of a paddle and larger price tag we tend to recommend it more for intermediate and advanced paddlers. If you have the budget for it though, new and veteran paddlers alike will love the 11'3'' Sport touring/all-around hybrid inflatable SUP!
Thank you so much for reading our review of the Red Paddle Co 11'3'' Sport. If you have any questions, or you want to share your thoughts on the SUP, let us know what you think of it by either leaving a comment below or sending us an email! We are working hard to make SUPBoardGuide.com the best SUPing resource on the internet, so be sure to check out our other reviews, along with our instructional tips and guides and let us know what you think. Be sure to also subscribe to the SUPBoardGuide.com Youtube channel for our latest video reviews too!
Remember to stay safe and wear plenty of sunscreen, and be sure to have fun SUPing!
The following two tabs change content below.
SupBoardGuide
Heyo! At SupBoardGuide.com we are a team who love the water, the outdoors, and are more than grateful that our full-time job allows us to review stand up paddle boards. We paddle year round (it helps that we are just about 2 hours outside of Las Vegas), and we bring in a wide range of paddlers with the goal of providing our readers with the best, most in-depth, and accurate stand up paddle board reviews.
Latest posts by SupBoardGuide (see all)