Gili Air 10'6" Inflatable SUP
Pros
Very lightweight design at only 19 lbs
At 10'6 x 32, it offers stability without compromising its ability to efficiently pick up speed
Easy click in tri-fin system allows for good tracking
Comes as a complete iSUP package including a backpack, 3-piece paddle (either aluminum or fiberglass), hand pump, leash, fin & repair kit.
6 color options, including camo!
Cons
More flexy than boards with double-skin/fusion construction
The aluminum paddle offered with the package is not great quality (we almost never like aluminum paddles). Luckily, Gili also offers a much nicer fiberglass paddle option.
The Gili Air 10'6 is an affordable entry-level iSUP with an adventurous look and design!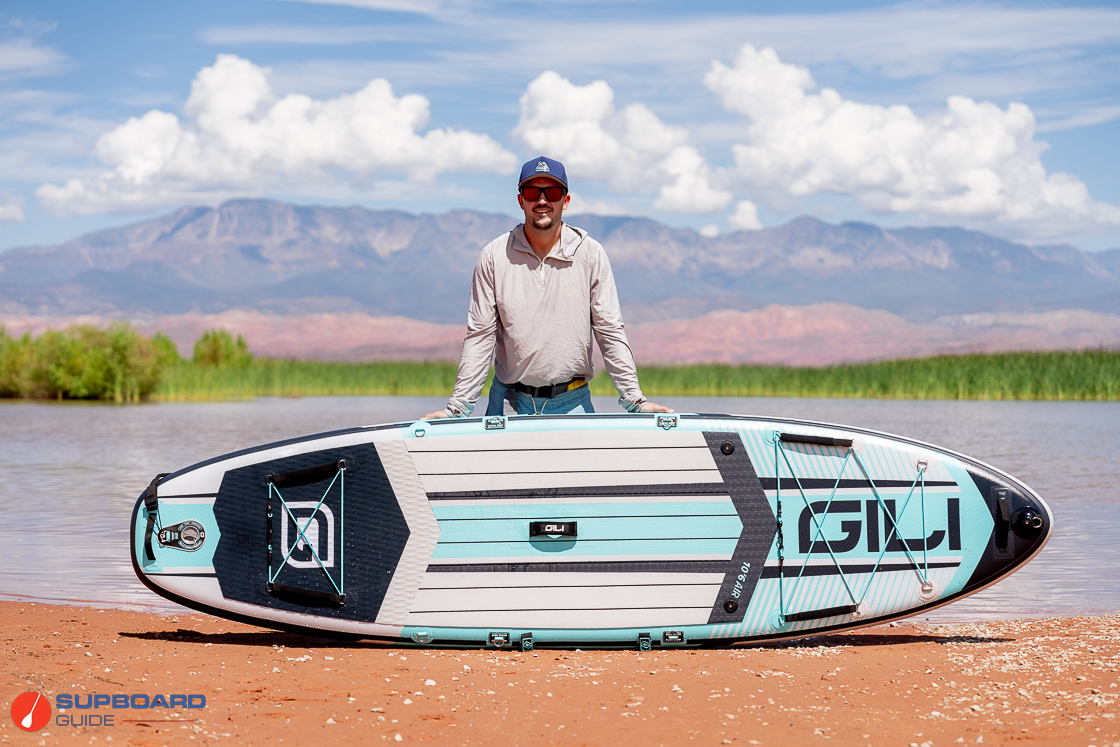 Note to readers: this is our Gili Air 10'6 Paddle Board review, which has been updated as of 9/11/2023.
The Gili Air 10'6 is a good entry-level, affordable option with as good of a range of features and attachments as you're going to find on an iSUP at this price point. Performance-wise, the Gili Air's 32-inch width helps it remain a stable beginner-friendly paddleboard while maintaining an efficient cruising speed so it's still fun for more experienced paddlers. Plus, it's only 19 lbs so it's quite easy to get up to speed without having to paddle super hard, and it's easy to transport to and from the water!
Our testing process involves using riders of a range of different weights and sizes. We'll discuss the various aspects of performance throughout this review, but overall, our general feeling is that the Gili 10'6 Air works best for small/medium-sized paddlers. For taller/larger folks, the 11'6 Gili Air will be a better fit due to that extra foot in length.
We think the Gili 10'6 Air would be a great SUP for paddlers who:
Want an affordable all-around SUP that has features, attachments, and an array of color choices
Are small – medium sized paddlers (under 6' and 250 lbs)
Like a click-in fin system
Prefer a lightweight SUP (19 lbs)
Gili 10'6 Air: Spec Sheet

Main Category: All-Around
Board Dimensions: 10'6 x 32'' x 6''
Listed Board Weight: 19 lbs
Listed Max Capacity: 280 lbs
Recommended PSI: 10- 14
Fins: Tri-fin snap lock
Paddle: 3-piece aluminum or fiberglass
Materials: Dual-layer PVC
Warranty: 2 Years warranty
Performance Review of the Gili 10'6 Air Stand Up Paddle Board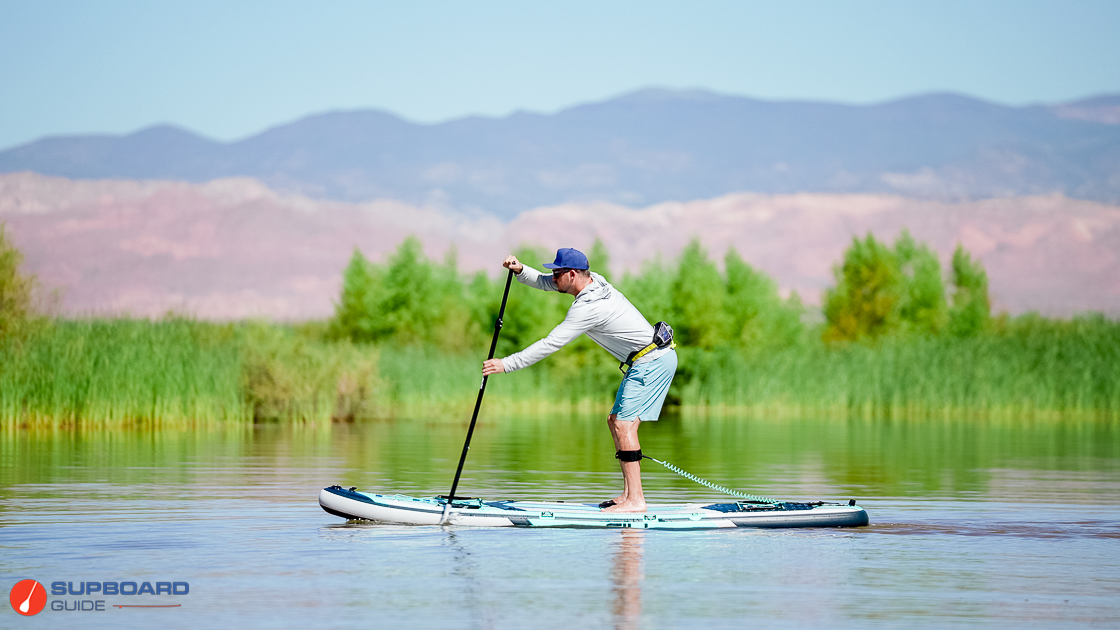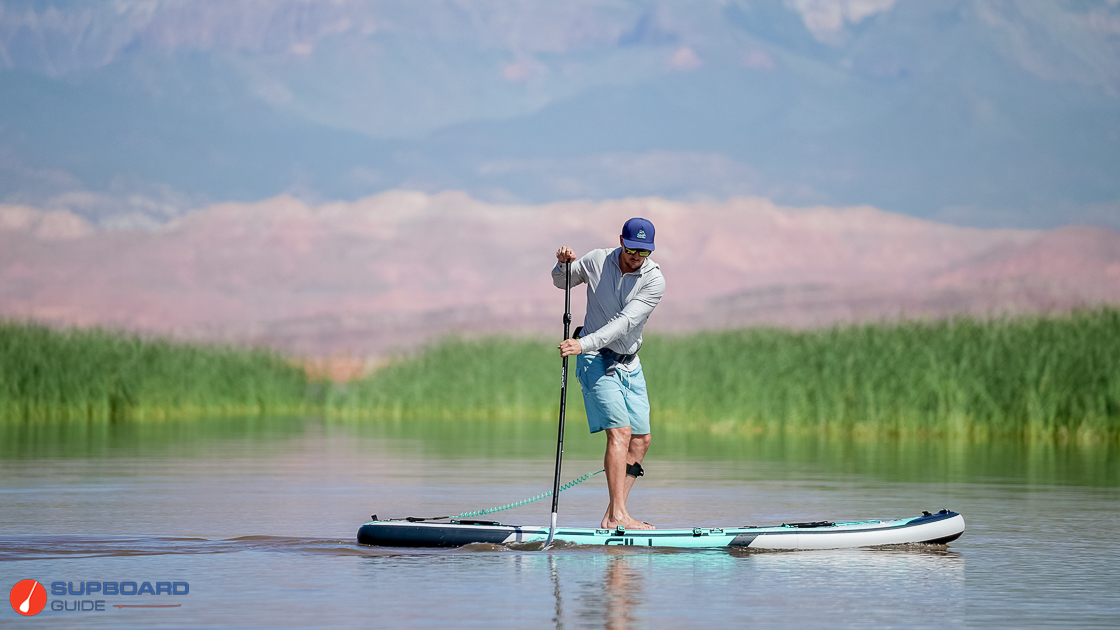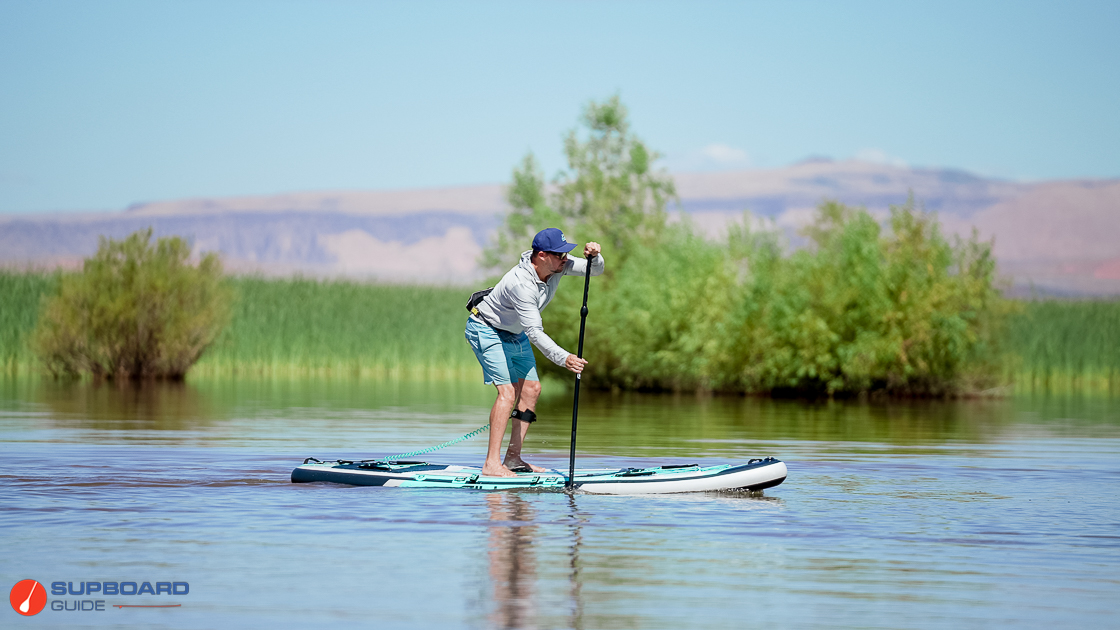 Overall Score: [8.4/10]
Stability: 8.8/10
Speed: 8.6/10
Tracking: 8.5/10
Maneuverability: 8.6/10
Construction Quality: 8.1/10
Features/Accessories: 9.2/10
Gili 10'6 Air Stability Rating: 8.8/10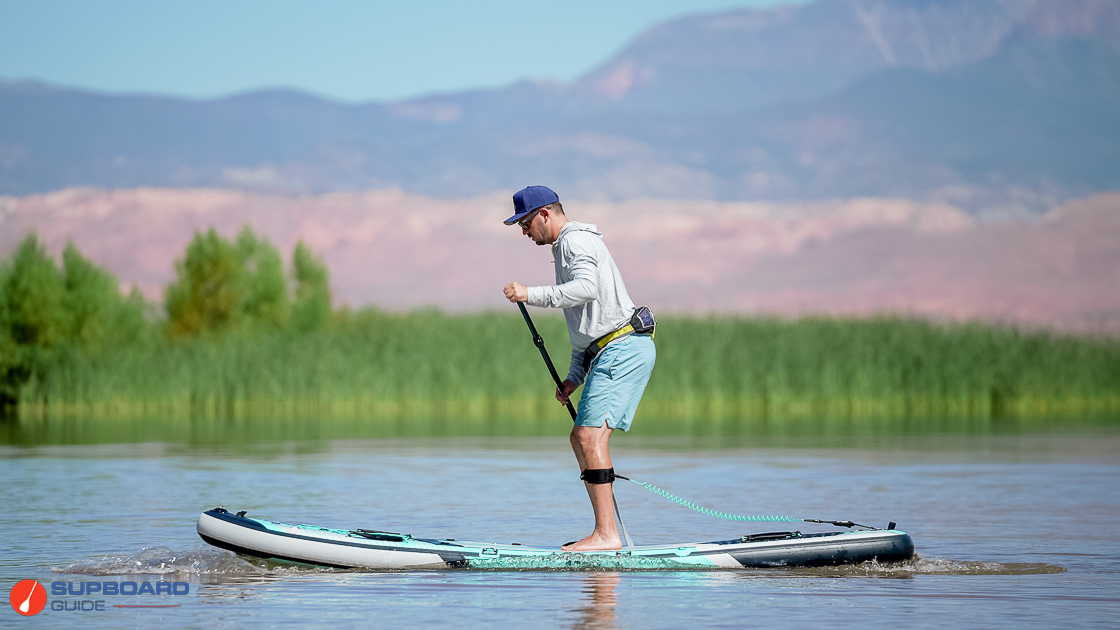 The Gili 10'6 Air is 32" wide, which is just below average width for an all round general purpose iSUP. However, its wide square tail and fairly broad shoulders (the section of the board just in front of where you stand), increase the stability quite a bit, resulting in good stability overall for a board of this width, aided further by the decent-sized center fin. From our on-water testing we are confident that small to medium-sized paddlers will feel good on this board. Paddlers weighing in at much more than 175lbs might prefer the 11'6 version of this SUP.
Gili 10'6 Air Speed Test: 8.6/10
| | |
| --- | --- |
| Board | |
| Top Sprint Speed: | 5.1 MPH |
| Average Cruising Speed: | 4.1 MPH |
SUP Board Guide's Speed Testing:
To obtain our speed test results, we use a Speed Coach Sup 2. This gives us accurate readings on how fast we are paddling and our current stroke rates. For the top sprint speed, we paddle as hard as we can for approximately 10-15 seconds and then record our average speed. For the casual test, we paddle at 40-35 strokes per minute for approximately 30-60 seconds and record the average speed.
At 10'6 x 32 with a plan shape geared towards stability, the Gili 10'6 Air is not designed to win races. Nevertheless, it's not slow; the board's cruising speed is right in line with other 10' 6 x 32 all-arounds we have tested this year, and its sprinting speed is only slightly slower than much higher-performance SUPs. The Gili's parallel-sided planshape with the pointed nose has a lot to do with this, being a faster configuration than the round-nose/round-tail designs more commonly found at this 10'6 size. The light weight plays its part too; being only 19lbs the Gili Air accelerates easily, and once up to cruising speed it's happy to stay there.
Tracking: 8.6/10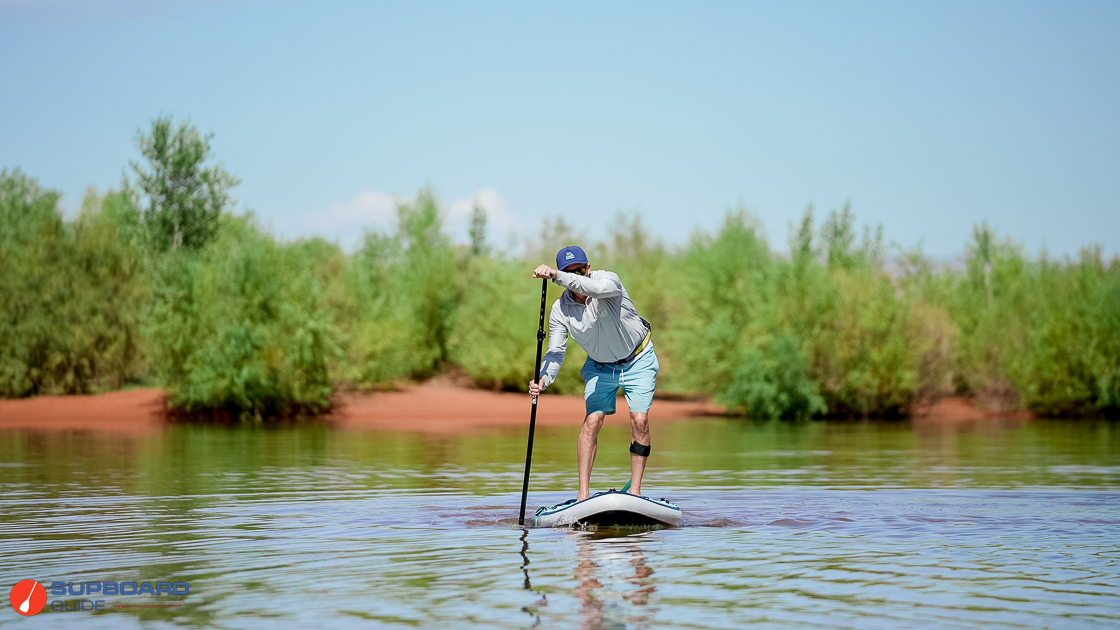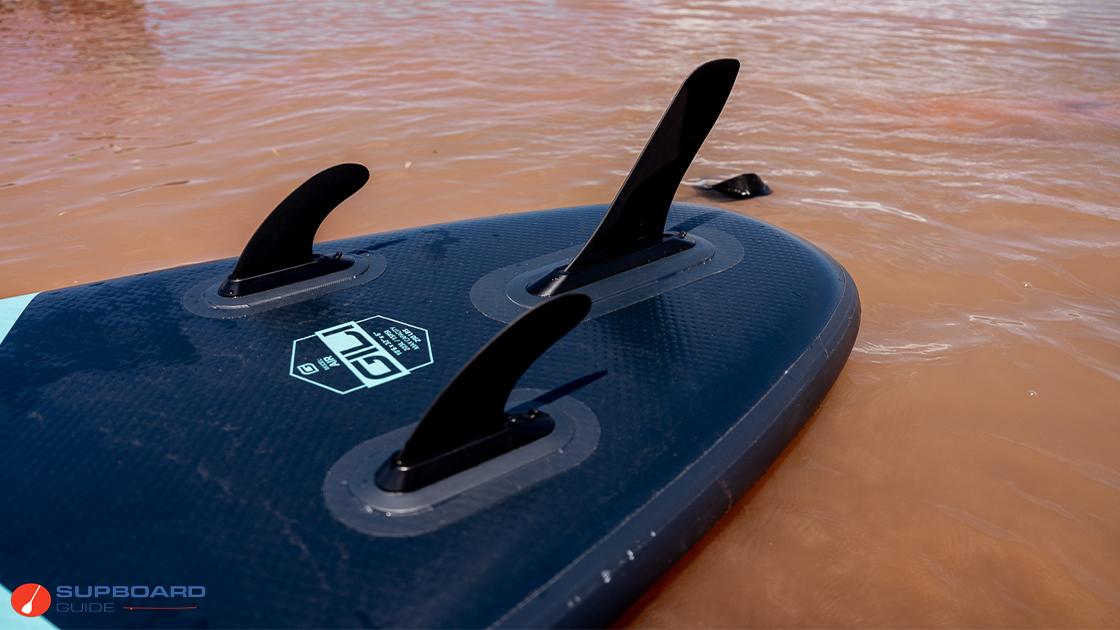 The Gili 10'6 Air tracks well. The square tail and parallel sides help the board maintain a straight line. The board features a 9'' single center fin that gives plenty of directional stability, while the two relatively large side fins add extra grip to enhance the board's tracking even further. Having all three of these fins in place takes its toll on the Gili's maneuverability but inexperienced paddlers are unlikely to notice the difference. Nevertheless, if you're the sort of person that likes to experiment, it's worth playing around with the fin setup to find out which way you prefer. The fins are very easy to click into place so the configuration can be adjusted in just a few moments.
Gili 10'6 Air Maneuverability: 8.6/10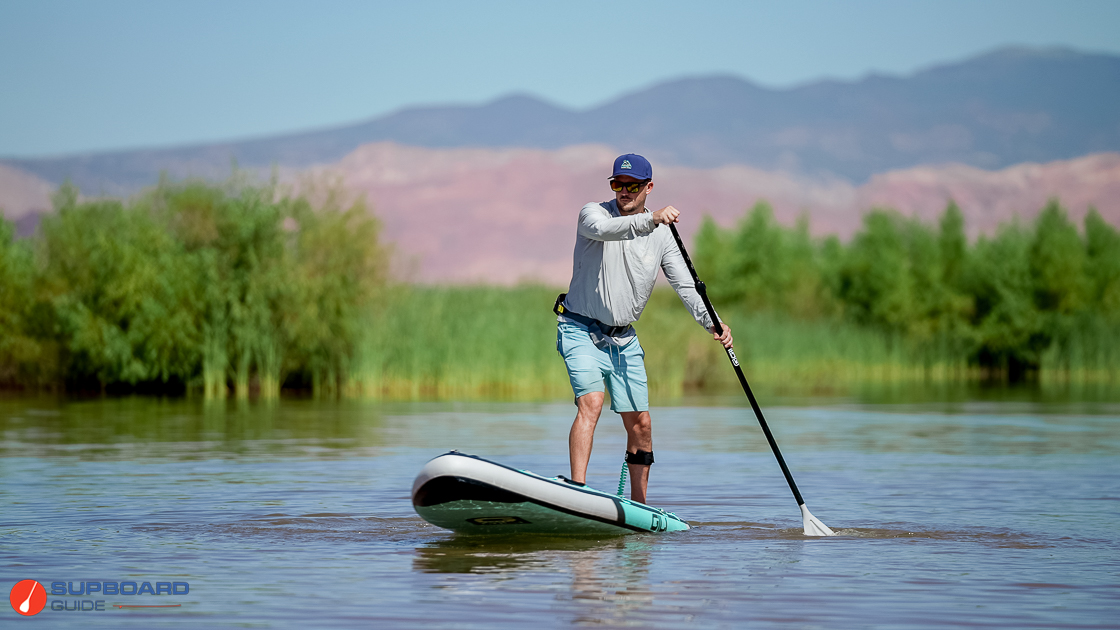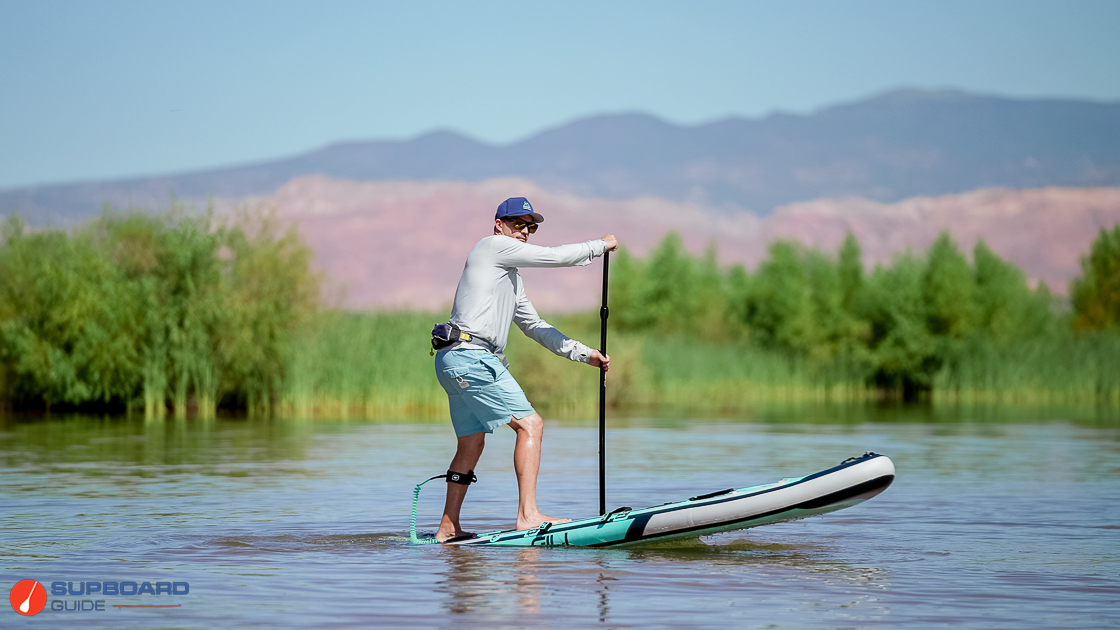 The shorter the paddleboard, the more maneuverable it is, and 10'6 is towards the lower end of the normal length range for all-round SUPs, so we were expecting plenty of maneuverability from the Gili 10'6 Air. However, while we'd normally expect to require just three reverse sweep strokes to spin a board of this length in a full circle, it ended up taking four. This is primarily down to that large fin area discussed in the Tracking section – the maneuverability increases significantly if the side fins are removed.
Weighing in at only 19 lbs, it's very easy to pop the Gili's nose out of the water and perform a step-back turn, aided further by that nice wide square tail, which gives plenty of rider support when you're standing back in that area. We love light boards for this reason; it's always great fun to raise that nose as high off the water as possible (hopefully without falling off!).
Gili 10'6 Air Construction Quality: 8.1/10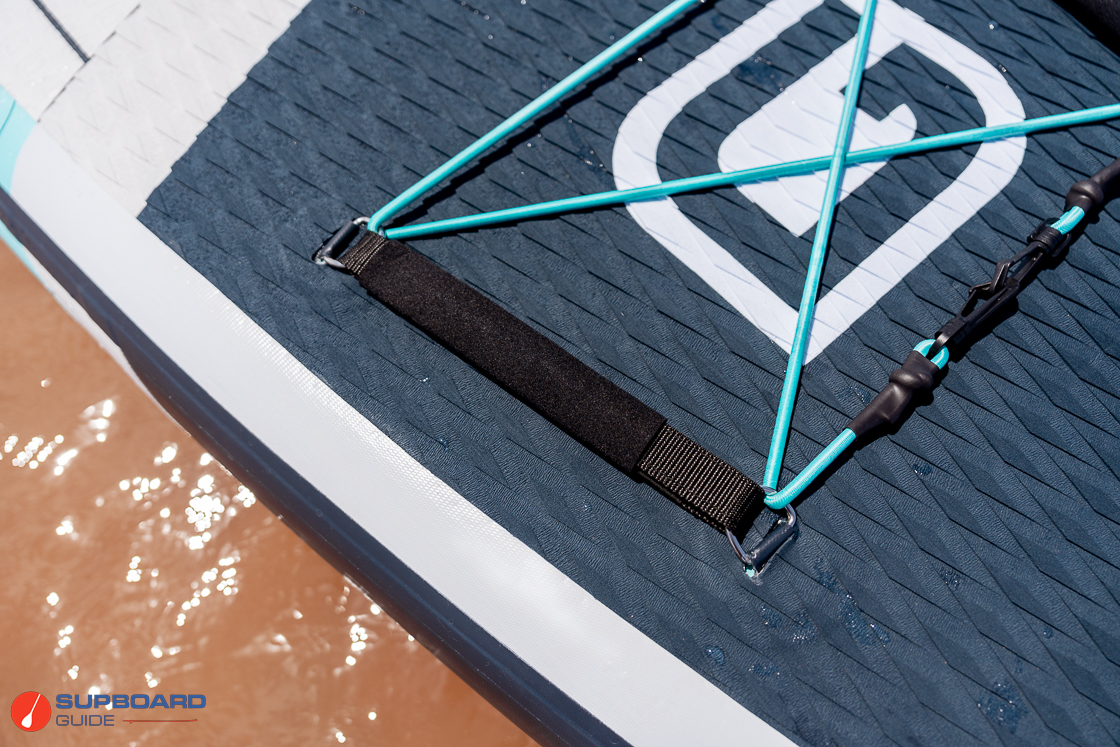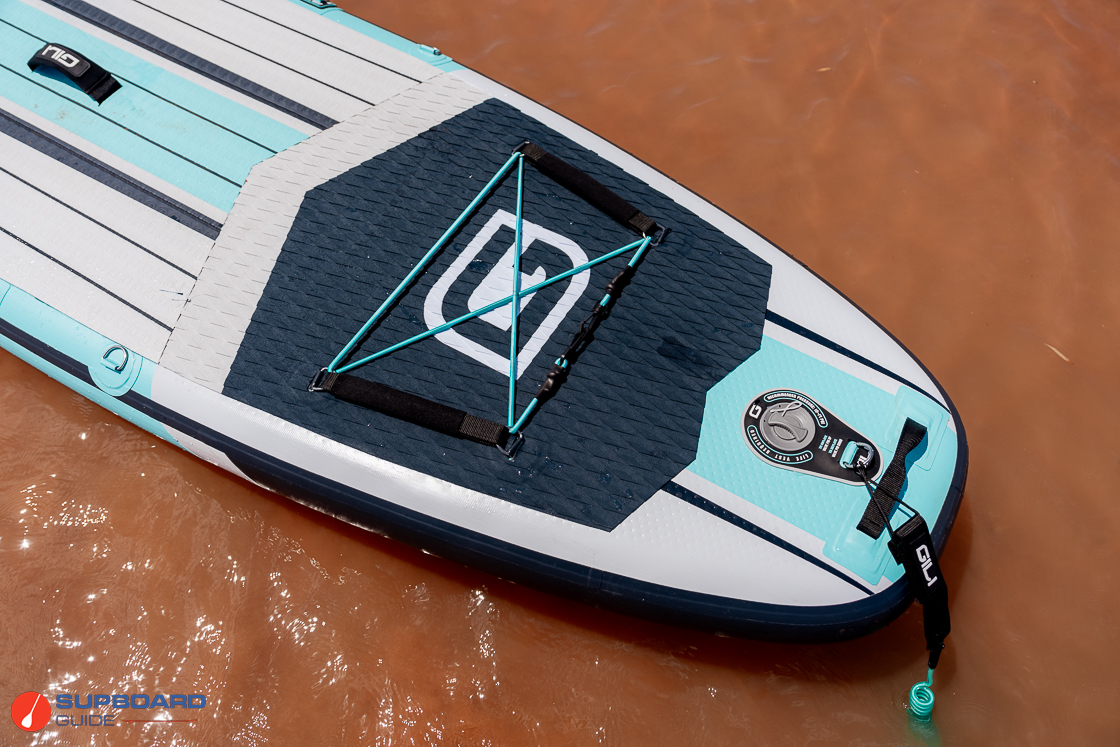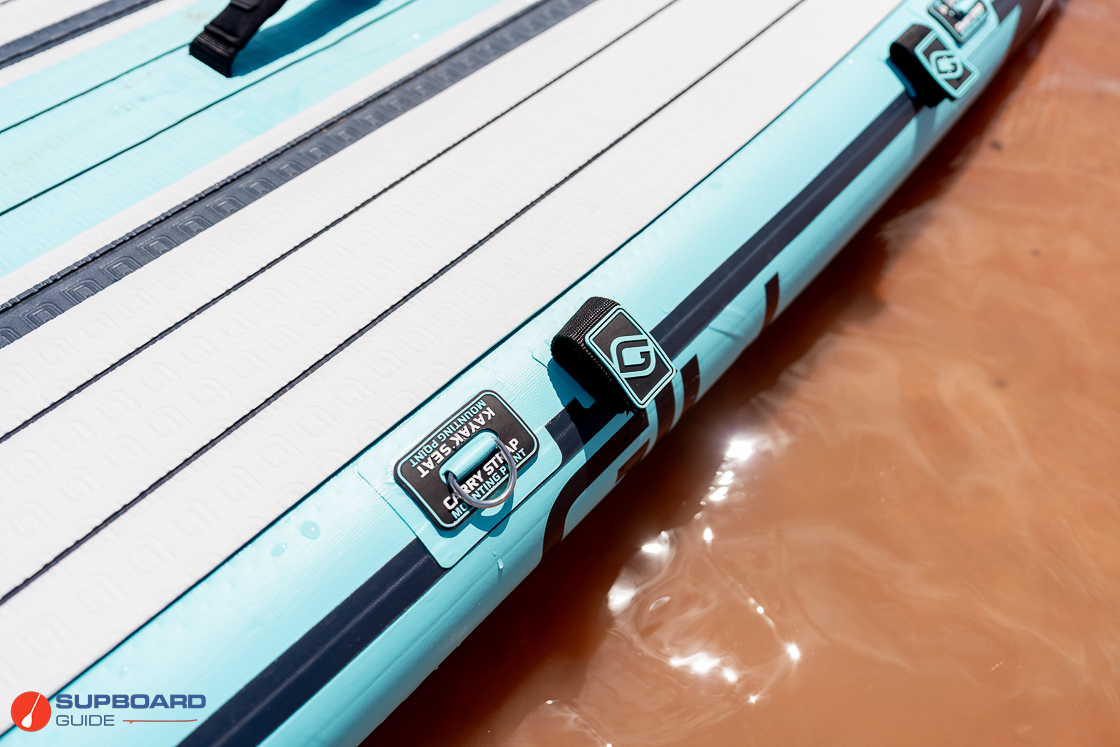 Gili Sports describes this SUP as being constructed using military-strength PVC. We are not keen on this phrase because it doesn't actually mean anything and is very over-used within the industry. More significantly, the board is single-layer construction, i.e. just one outer layer of PVC is applied to the drop stitch inner. This is certainly why the board is so light, and it also keeps the cost down. However, single-layer construction does mean a less stiff board and also impacts on the durability, so it's always a trade-off.
The drop-stitch core is composed of knitted fabric base layers with standard V-knit space yarns between them. Gili Sports added grooves to their deck pad which enhances its traction, and a rear diamond traction area for even more grip when performing those step-back turns!
Gili 10'6 Air Board Stiffness: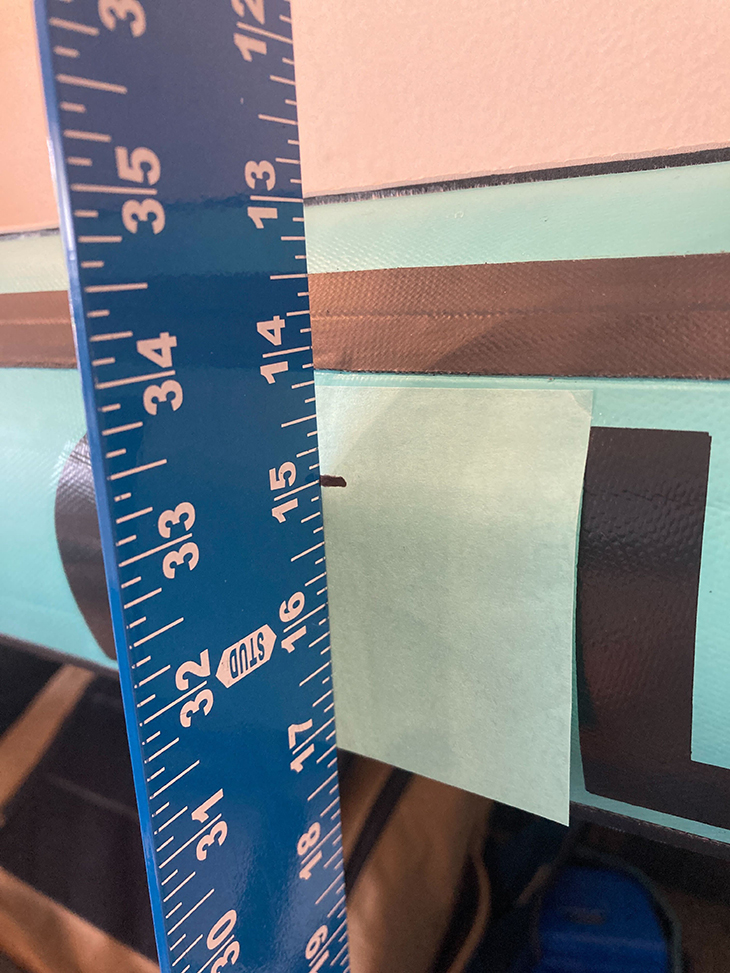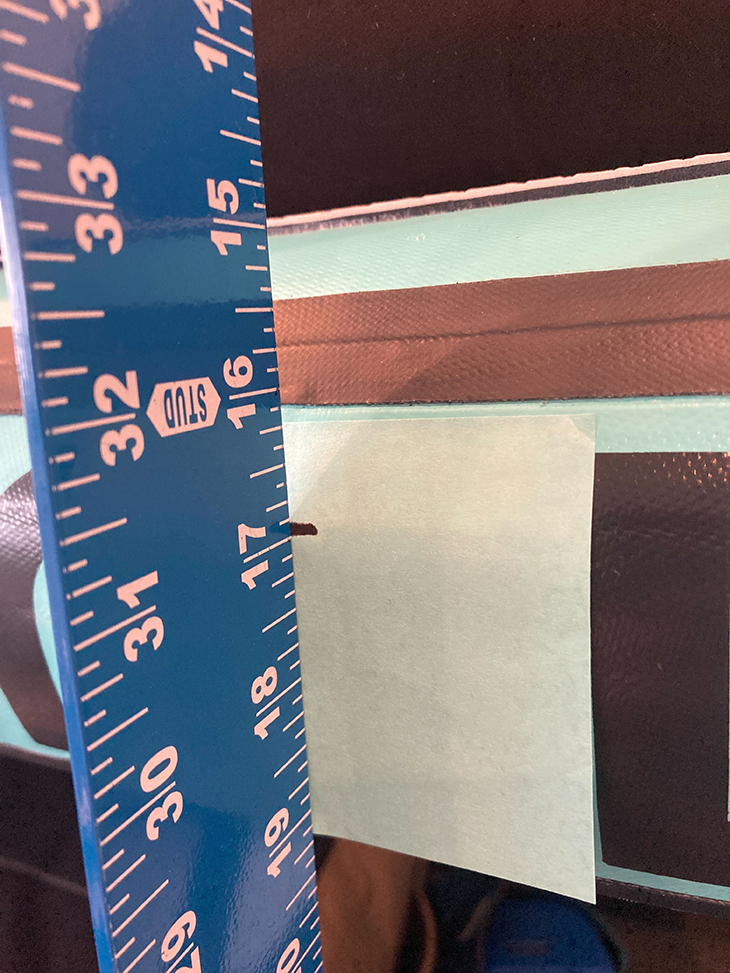 Stiffness Test: 1.9375" Bend
SUP Board Guide's Bend Testing:
In order to attest to the rigidity of each board, we use a bend test curated by Supboardguide. In order to obtain the results, we inflate the board to its maximum recommended PSI and then place it across two sawhorses that are 7 feet apart. We then take a measurement in the middle of the board. Then, we place 150 lbs worth of sandbags on the middle top of the SUP. Last, we record its displacement (the movement from its original position). We use this method for every board we test as a way to mathematically compare boards across a common denominator.
At its recommended maximum pressure of 14 PSI, the Gili 10'6 Air bent almost two inches, which is more bend than we've found on other Gili boards we've tested in the past, but consistent with the relatively low max pressure and single-layer PVC construction, which will never be as rigid as fusion or double-layer construction. On the water, we did feel a slight bend in the board as we increased the force behind our paddle strokes, and the heavier the paddler, the more this will be noticeable. Nevertheless, despite being a bit less rigid than we'd like, we still feel like the Gili 10'6 Air performs well at its price point
Gili 10'6 Air Features/Accessory Review: 9.2/10
Features:


We have always thought the look of the Gili boards screams adventure. The color scheme is on point and the design is, for lack of a better word, cool. Sometimes the word 'cool' truly does suffice! You're looking at the pictures, how would you describe it? To add even more coolness, all six of the color options pop, but our favorite would have to be the camo, an option we haven't seen from any other brands before. Our only word of warning would be regarding the quite extensive use of black, which will quickly get hot in the sun – not great for the glue underneath. We'd strongly recommend that Gili Sports switch to a lighter, less heat-absorbent color for their board rails.
The Gili 10'6 Air comes with a large set of cargo bungee holders on the nose, and a smaller set on the tail. We like that they use steel D-Rings for the bungee fixings, as this means other straps or carabiners can be attached as required to give a wide range of carrying options. There are 18 D rings in all, which is awesome for a paddle board at this price point. Plus which, there's also a nose, middle, and tail carrying handle and two safety handles on the front cargo area. So if you're paddling speedy quick and your child wants to grab on and feel extra safe, Gili has you covered.
There are two action mounts in front of the standing area and one at the tip of the nose. We like the on-the-nose placement because it's optimal for a GoPro, and getting action shots head-on. There's also a paddle holder and some more D Rings down each side.
Included Accessories: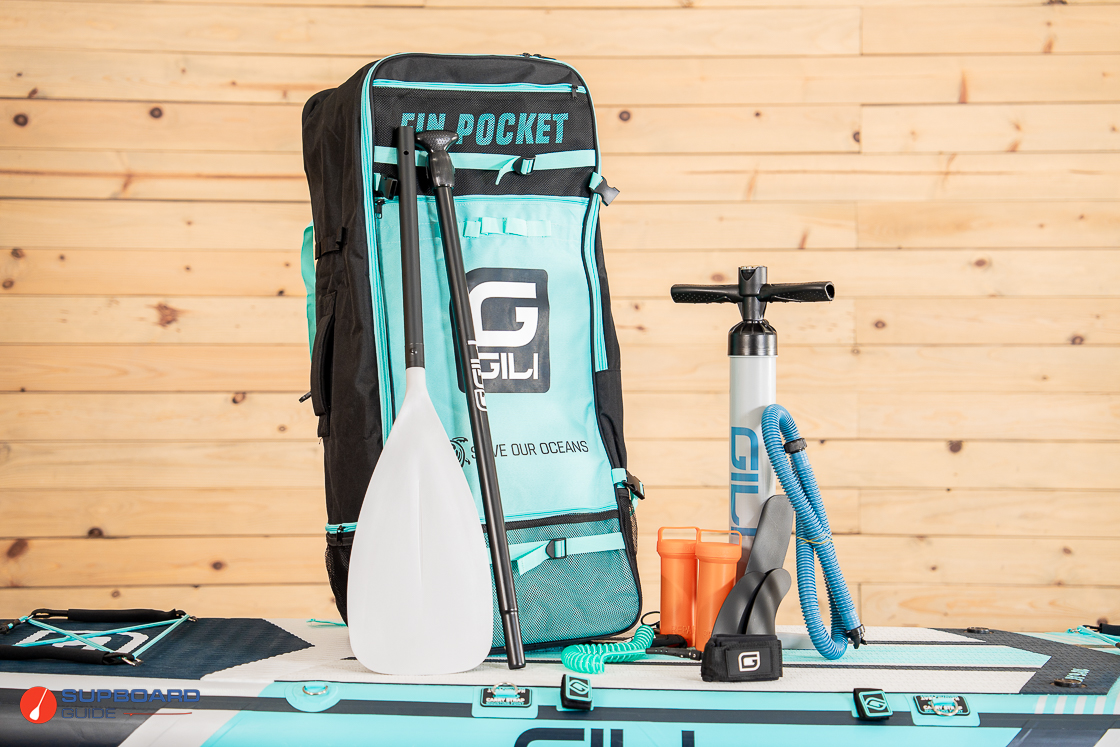 The Gili 10'6 Air comes with a durable iSUP bag that has specific fin pockets, a 3-piece paddle, a hand pump, a coil leash, a fin kit, and a repair kit. As for the paddle, Gili Sports offers you either a fiberglass or aluminum option. We have tested them both and
found the alu paddle to be fairly low performance and easy to bend, whereas the fiberglass paddle performed very nicely, so for just $45 more we would thoroughly recommend this option.
It may seem like a pretty basic brag that the Gili Sports board bag comes with fin pockets, but honestly, it's very helpful when you are dealing with a lot of accessories. To be able to know exactly where the fins are gives our team a lot of peace of mind.
Summary Review of the Gili 10'6 Air – 2023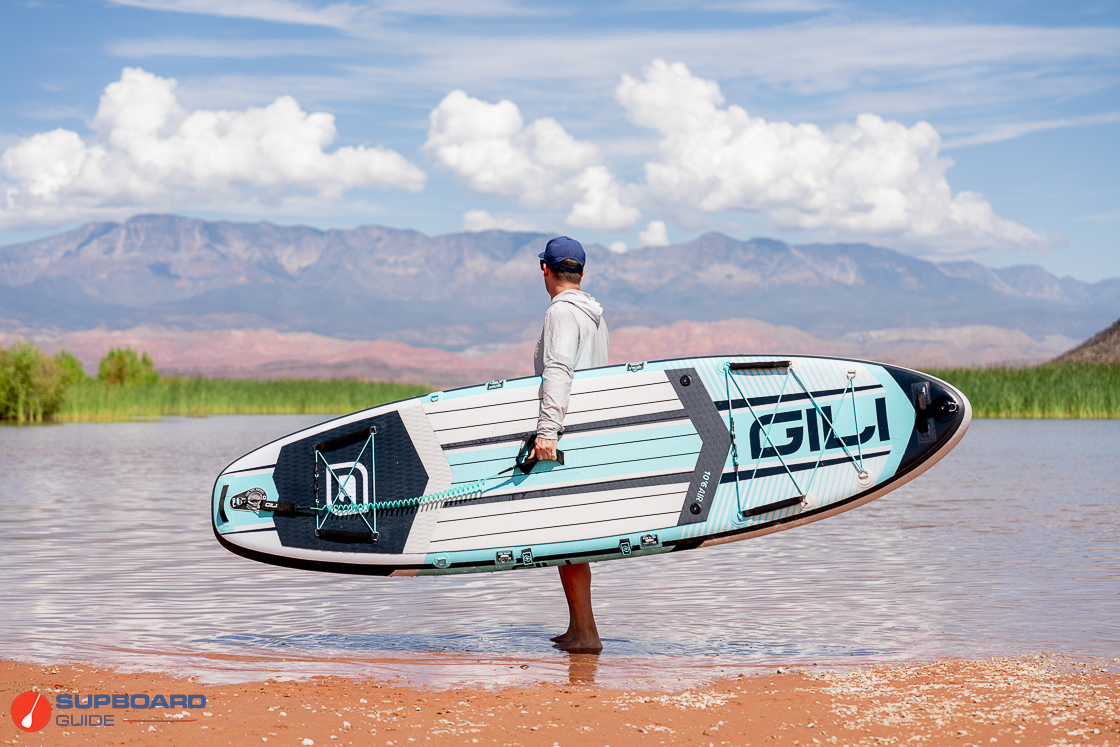 In comparison to other entry-level, reasonably priced paddle boards, we think the Gili 10'6 Air has an adventurous look and style, and is packed full of features – far more than you'd usually find on a board in this price range. It has dual bungees, 3 action mounts, 18 D-rings, and grab handles for when you pick up speed. Which is easy to achieve, since it's only 19 lbs and doesn't take much effort to get going off the line! Due to the single layer construction it's not as stiff or durable as the Gili Adventure or Meno series. Nevertheless, it tracks and maneuvers well and is very stable for its size so it's a great beginner-friendly SUP for the small/medium sized rider. If you're a larger/taller paddler, then we suggest checking out the Gili 11'6 Air.
Happy Paddling! We hope you enjoyed our Gili Air 10'6 review and if you have any questions, please leave us a comment!
The following two tabs change content below.
SupBoardGuide Editorial Team
At SupBoardGuide.com we are a team who love the water, the outdoors, and are more than grateful that our full-time job allows us to review stand up paddle boards. We paddle year round (it helps that we are just about 2 hours outside of Las Vegas), and we bring in a wide range of paddlers with the goal of providing our readers with the best, most in-depth, and accurate stand up paddle board reviews.
Latest posts by SupBoardGuide Editorial Team (see all)