Gili Air 10'6" Inflatable SUP
Pros
Good, stable board for an entry-level price
Very Lightweight and feels good on the water
Comes with lots of great features (handles, bungees, action mounts, diamond grove rear deck pad, etc.) for a budget level iSUP
A portion ($12-$15) of every purchase goes to ocean clean up charities and initiatives!
We love the turtle graphics!
Great kit - everything you need to get out on the water
Cons
We'd like to see larger d-rings to make the removable bungees better
We like the deck pad a lot, especially the rear section with the diamond grooves. We'd like to see maybe a stamped middle/front section for better grip in those areas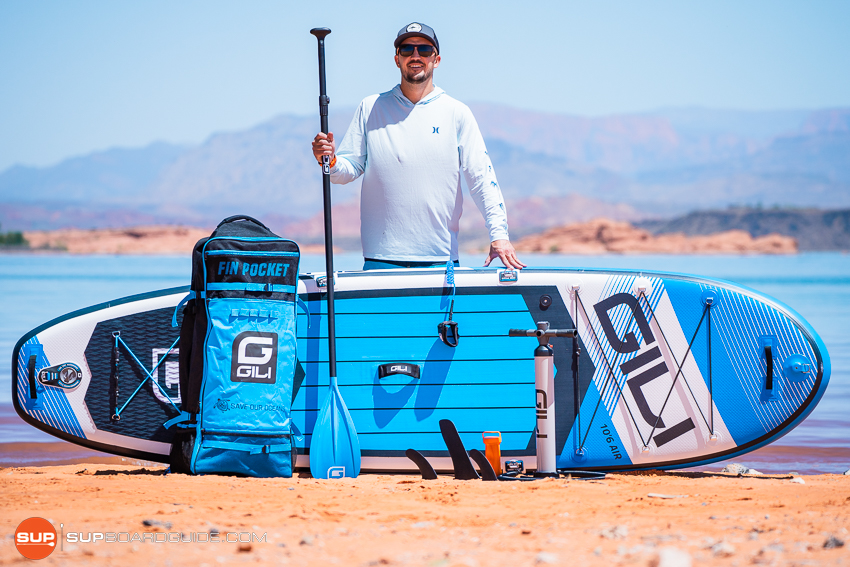 Now you wouldn't think the budget category of inflatable SUPs is so competitive, but sadly you would be wrong. We feel the manufacturers are either making solely budget boards, or they are setting up pipelines for riders to return to their brand in perhaps a larger capacity for the next purchase. Either way these boards did well across the board.
Gili has been impressing us so far in 2022 and our Gili Sports 10'6 Air review keeps the momentum going. For starters the price is very reasonable considering all the accessories that are included. This just goes to show that "budget" doesn't necessarily have to have that negative connotation of being less than. This kit is not lacking in any way – especially when considering its price point.
We will also take a moment to mention Gili Sports commitment to protecting the waterways and aquatic wildlife we appreciate so much. Each and every one of their board sales benefits one of several charities they actively support. While other manufacturers will often donate to similar (or the same) charities, not many manufacturers commit a portion of their overall sales to these groups quite like Gili does. Thumbs up for saving the turtles (and other wonderful sea creatures)!
We think the Gili Sports 10'6 Air would be great for paddlers who want:
A budget friendly board loaded with good accessories in the bag
A great beginner board for those weighing 225 lbs or less
A board with a large array of optional accessories from the manufacture
A board with a large pallet of colors to choose from (6)
We think the Gili Sports 10'6 Air is great for the following water conditions/situations:
Casual paddling with friends
Calm water excursions
Windless ocean paddling
Surfing in very small waves
Gili Sports 10'6 Air Review: Overview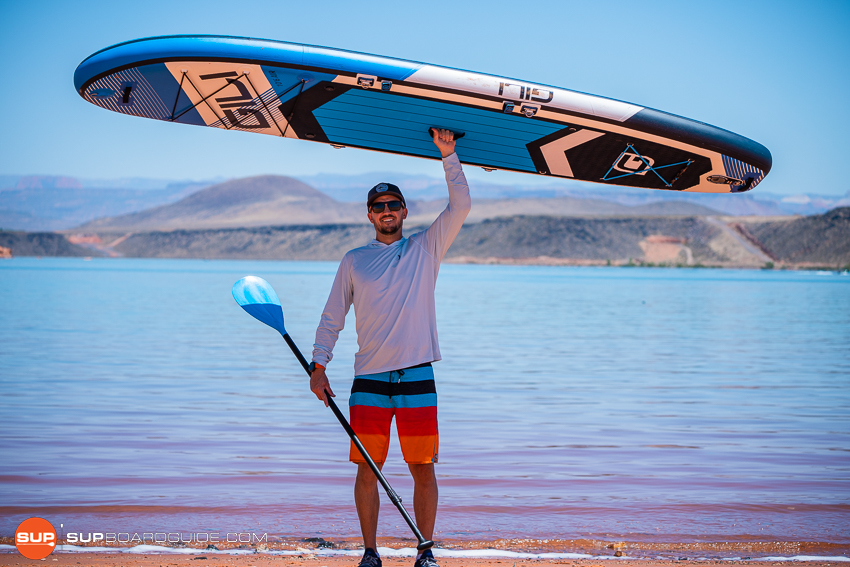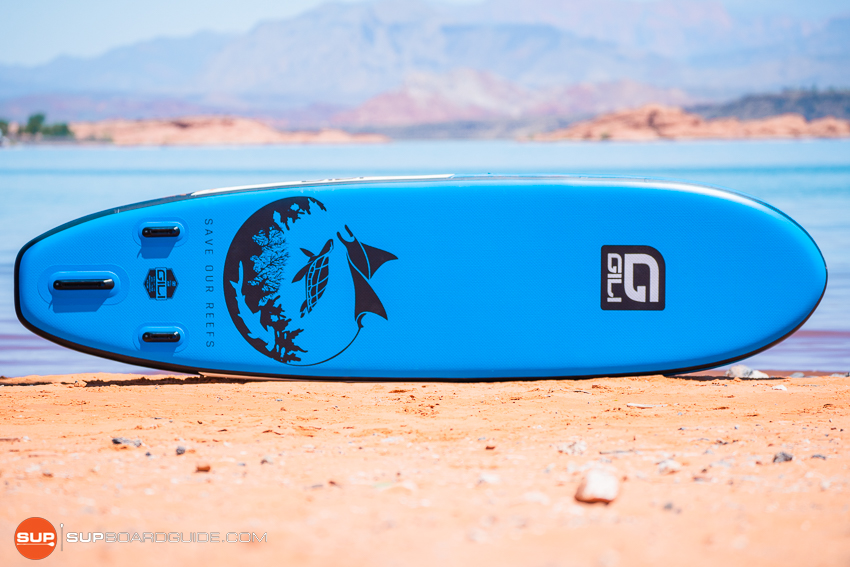 The Gili Sports 10 '6 Air doesn't look the part of a budget board. It really does a good job of impressing us both visually and in overall fit and finish. We really like the plethora of color options (though we are not sure exactly why the camo costs extra). It is certainly very light as well – a big bonus for smaller paddlers who may have to carry the board great distances to the put in.
New for 2022 Gili Sports has included the following in their 10'6 Air package:
Redesigned nose, center, and stern handles
Dual bungee system with a rear removable bungee
3 forward action mounts
Velcro paddle holder
New traction pad
Gili Sports snap in fin set (3)
An upgraded iSUP bag/backpack
All of these changes make this board a must have when looking for your next budget priced iSUP. We are really impressed with how Gili Sports has not only taken our previous years feedback, but continues to innovate on their own. We continue to expect great things from this brand going forward.
Note: We get out to paddle quite often, we try to take a vast array of boards when we do so we can see how they perform in everyday real world conditions. We hope you can see that we don't write simple spec reviews. Our in-depth analysis of each board takes hours of paddling time to come up with. As such, if you have any questions about the board, we are happy to help. Just leave us a message below and we will be happy to answer any questions you may have.
Gili Sports 10'6 Air: Spec Sheet
Main Category: All Around / Cruiser , Inflatable
Board Dimensions: 10'6 x 31" x 6"
Listed Board Weight: 19 lbs
Listed Max Capacity: 280 lbs
Recommended PSI: 15
Fins: 3, two side one center
Paddle: 3 piece aluminum and plastic
Materials: Drop stitch, dual layer military grade PVC
Price Range: Budget
Warranty: 2 year manufacturers warranty 60 day refund minus 20% restocking fee
Official SupBoardGuide.com Review: Gili Sports 10'6 Air (2022)
As mentioned above we do our best to test these boards as much as possible. We want to be able to provide the consumer with a general idea of how the boards will perform in the real world. Our goal has always been to be a reliable source of information in regards to the purchase of a stand up paddle board.
Overall Score: 8.5/10
We rank these boards on various criteria. The most important being "Performance" and "Stability". This can mean different things to different people so we try to break down each of those categories further into more manageable and understandable categories.
We also like to rate the included accessories as well as those immediately available from the manufacturer. We think this will give you a general idea of the value of the kit itself in terms of the overall price.
The Gili Sports 10'6 Air did very well for itself in the budget category ranking #3 out of a fairly crowded field. We think this is due to the fact that Gili also produces boards in more expensive classes. The technology, and at very least the parts, get used here as a "cost savings" move and the consumer benefits from a much better overall board.
Stability: 8.5/10
Speed: 8.0/10
Tracking: 8.3/10
Maneuverability: 9.0/10
Construction Quality: 8.3/10
Accessory Review: 9.0/10
*Don't expect to see 10's like you would at a children's skating competition. We aren't nearly as worried about the manufacturer's feelings. For a good indicator, know that 9 is an exceptional score and well above our expectations. On a similar note a 7 is considered a good score, still above the rest of the pack just not stellar.
Our overall rating of 8.5/10 for the Gili Sports 10'6 Air is us saying that this board did extremely well for a budget priced board. As mentioned it took podiumed in our best cheap SUP board list, and that's with some pretty impressive competition.
In-Depth Review of the Gili Sports 10'6 Air Stand Up Paddle Board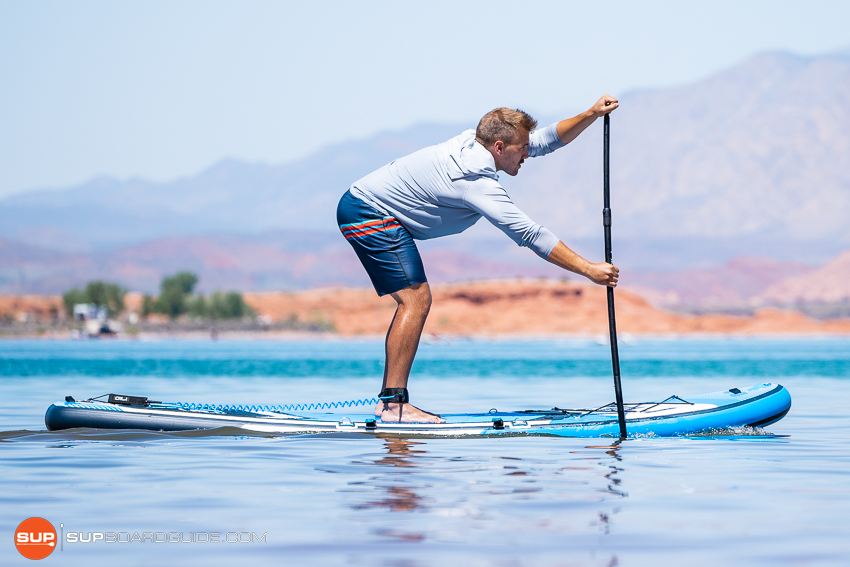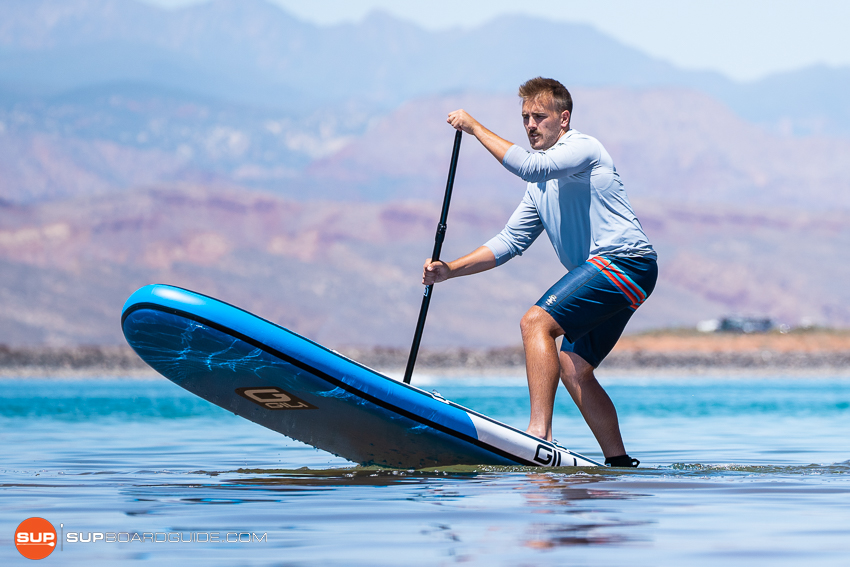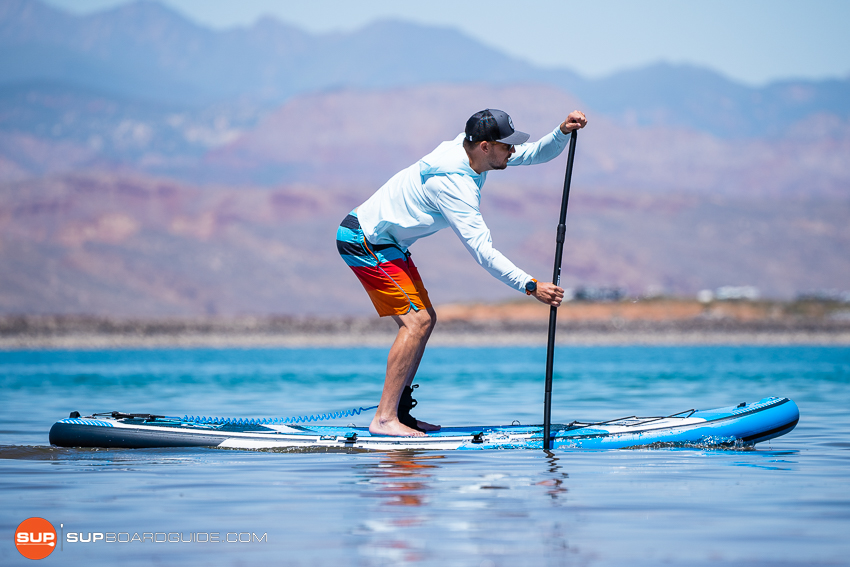 Our performance review is broken down into 4 categories; speed, glide, tracking, and maneuverability. In terms of overall performance we didn't expect this board to put up big numbers but we were pleasantly surprised with it's overall feel. Budget boards kind of make you think of the lowest of the low and we don't think that's the case here.
The Gili Sports 10'6 Air was a pleasure to paddle and did really well in our stability tests and even better than expected on our speed test. With At 31 inches wide it was the narrowest of the budget class and as a result it performed slightly faster than the 10'6 Nautical and the 10'8 Blue Fin. It was a little more difficult to engage in more advanced turns than the Nautical and the Bluefin.
Stability Rating: 8.5/10
Here at Sup Board Guide believe that stability is the single most important factor when choosing a first time board. With that in mind we recognize that all individuals won't be at the same fitness level. We try to relate how a board will handle the general population as best we can by having multiple riders try out every board.
Overall, we were happy with the Gili Air, and we've had many different beginner stand up paddlers love the board. You'll notice below that the board does tend to flex a bit, but in some regards that can help the board almost absorb some of the chop when the water gets a little rough. Bottom line – if you are a beginner under 200 lbs then you should be good on the Gili Air with a little practice. However, if you are super nervous about stability, then we'd recommend looking at the Gili Meno 10'6 or 11'6, as they are wider boards with much higher weight capacities.
Board Stiffness
Stiffness Test: 1 3/4" Bend (board on top of saw horses placed 7' apart, with 150 lbs of weight added right by handle in middle of the board)
The Gili Sports 10'6 Air didn't really excel in the bend test. But being the budget iSUP that it is, I don't think it's supposed to. Without all the additional layers and other enhancements of the larger Gili Sports boards, it did about as good as expected.
Weight Capacity
Listed Weight Capacity: 280 lbs
We think Gili Sports was fairly on point with their weight capacity assessment. The board did well for all our sub 200 lb reviewers. They found it sturdy enough to do all maneuvers through despite any adverse conditions. The board got decidedly less stable as you crossed the 225 lb threshold. And while it wasn't impossible to handle the closer you got to 250 lbs it became increasingly difficult. The bottom line here is that if you need to support a lot of weight (for any reason), you're better served saving your pennies and going for the larger boards.
Speed Test: 8.0/10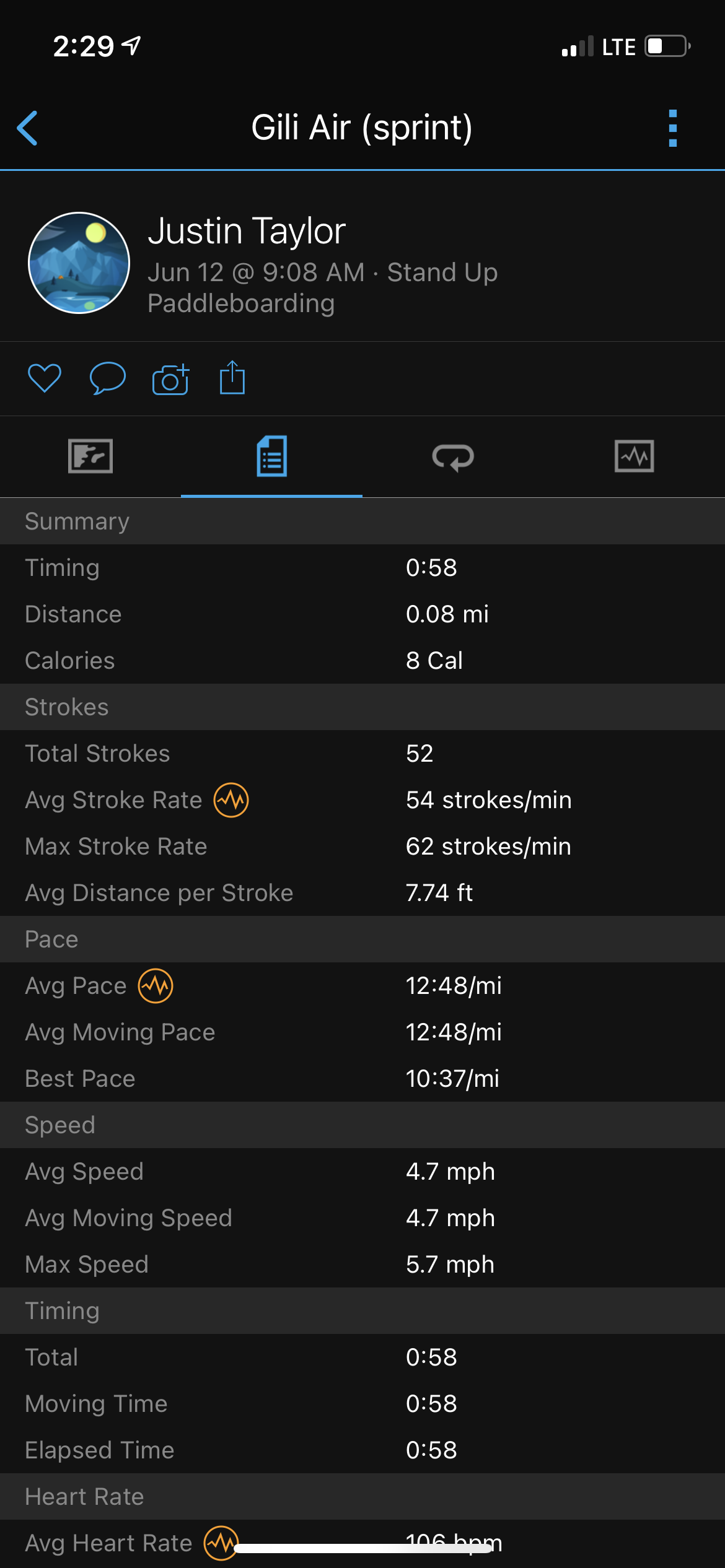 We do our best to compare these boards over similar conditions. When we can't it's just another excuse for us to go out and paddle them again. For the instance of these budget boards we faced a variety of conditions and when we finally were able to compare calm conditions we were pleasantly surprised by the results.
As mentioned above, the Gili Air was just a little faster than both the 10'6 Nautical (the 11'6 Nautical was faster, fyi) and the 10'8 Bluefin Cruise. The dual layer construction makes this a lighter board, and it's very easy to paddle and get going.
Tracking: 8.3/10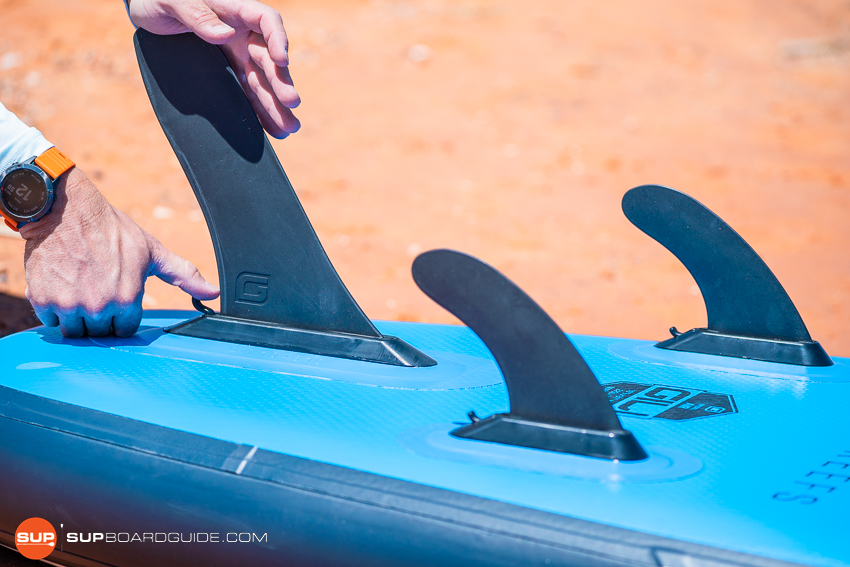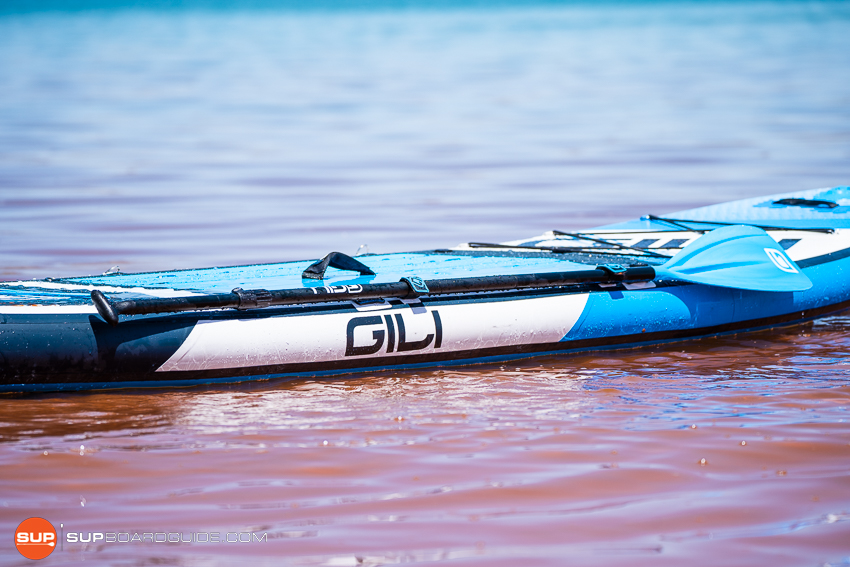 The Gili Sports 10'6 Air did well tracking. We really like the three fin setup you get from Gili Sports, though we wish this had the five fins from the more expensive kits. Regardless, the setup you are given works very well in both low speed and high effort paddling. We were typically able to hit a minimum of 8 strokes per side despite varying water conditions.
Maneuverability: 9.0/10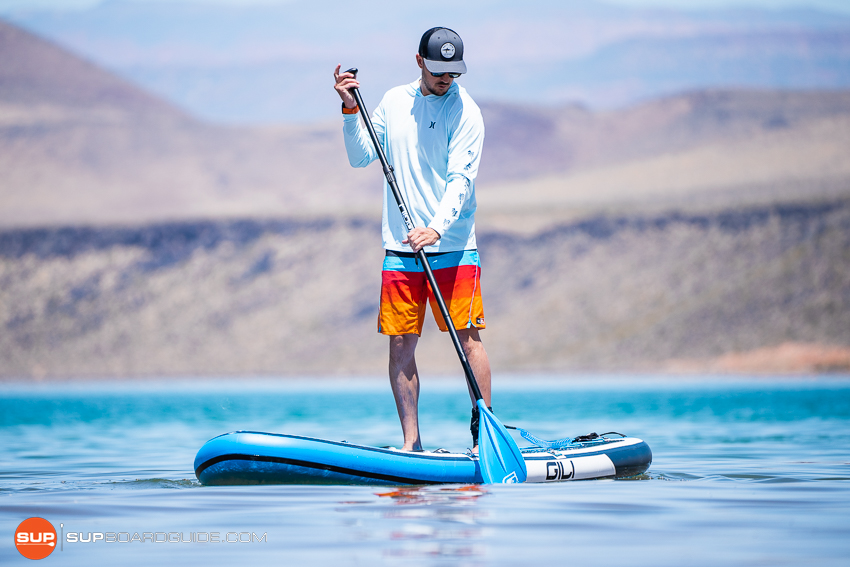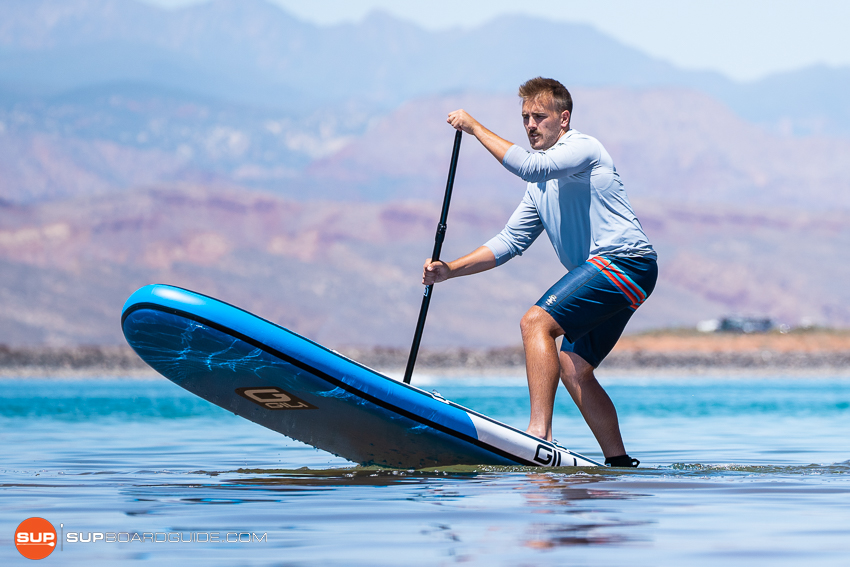 This board feels light (because it just is) so it did fairly well through the slalom test. The Gili Sports 10'6 Air was also a little less easy to do step back turns compared with the Nautical and especially the Bluefin. Don't take this as a to0 much of a negative though, few if any beginner riders attempt such silly things anyway. I say this board does well enough to navigate a set of boat slips, or maybe even a nice winding creek.
Construction Quality: 8.3/10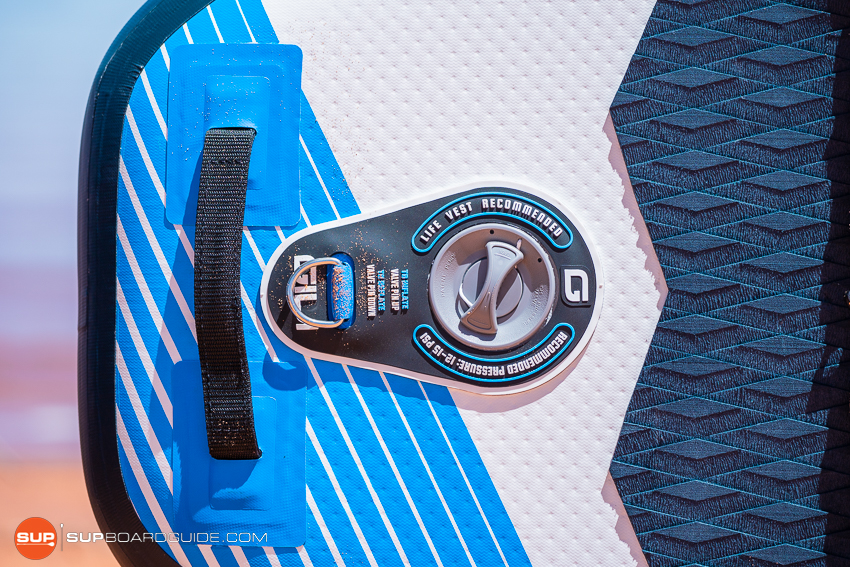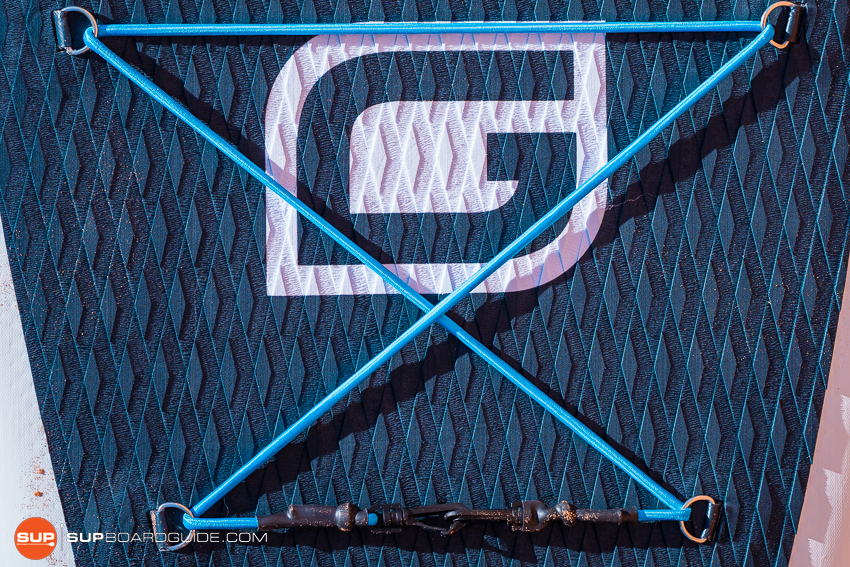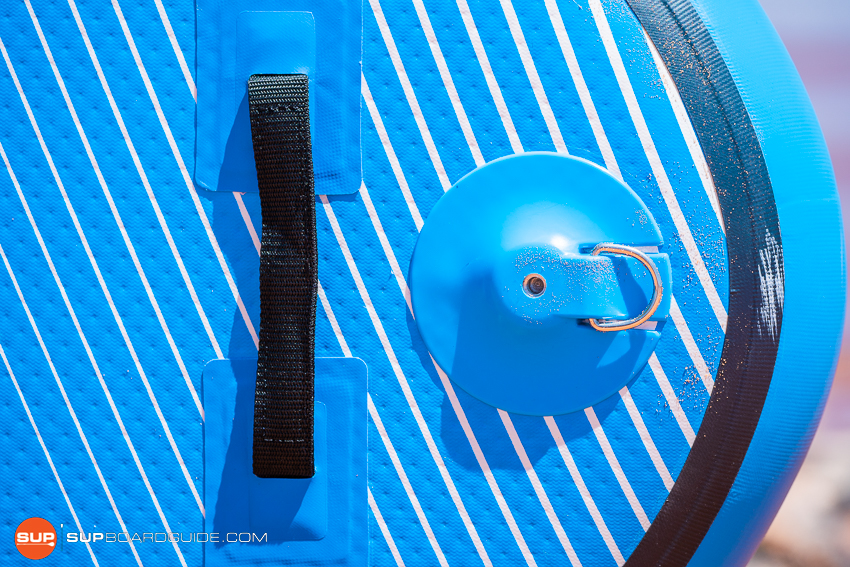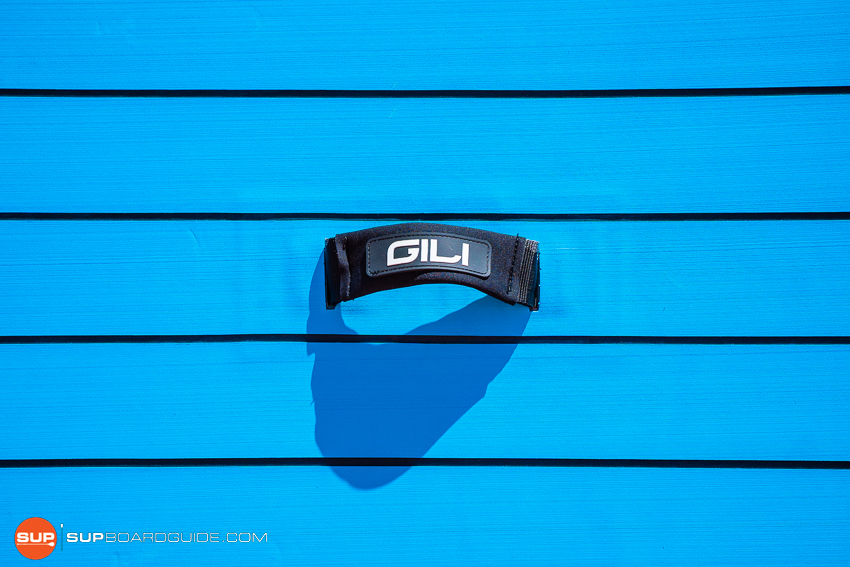 The Gili Sports Air 10 '6 is made with "durable military grade PVC" and while we can't confirm the 'military grade' part, we are not suspect as they didn't include any other buzzwords in their literature on this one. No carbon fiber reinforced rails, no multi layer PVC, just simple straight military grade PVC. And that's to be expected in a budget level iSUP.
What we really like is all the extras this board has – for such an inexpensive SUP you really do get a lot with this board. Handles front and rear (though not as padded as the center handle), bungee tie downs as well, a nice deck pad, and rear diamond grip traction pad. All of these add up to a solid feeling well constructed board.
We also want to note all the available color options with this iSUP make it nearly impossible to not find something you like.
Features/Accessory Review: 9.0/10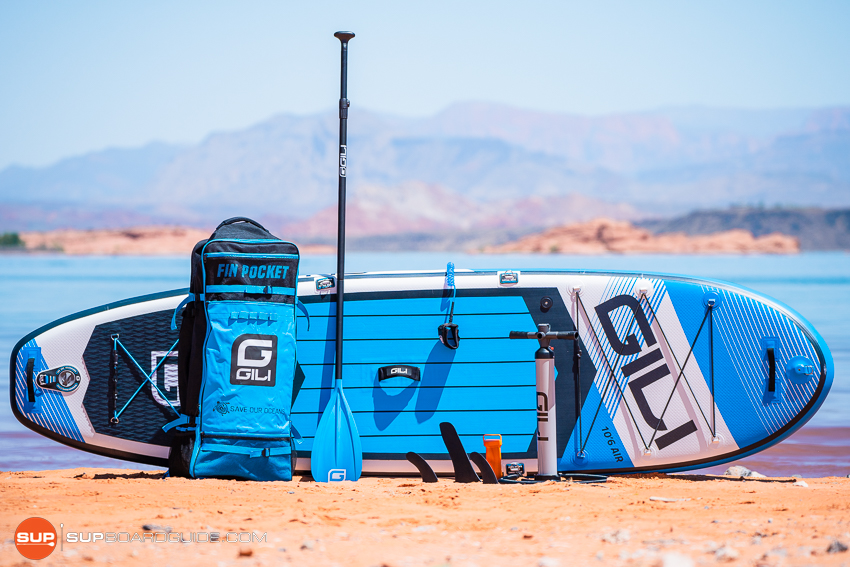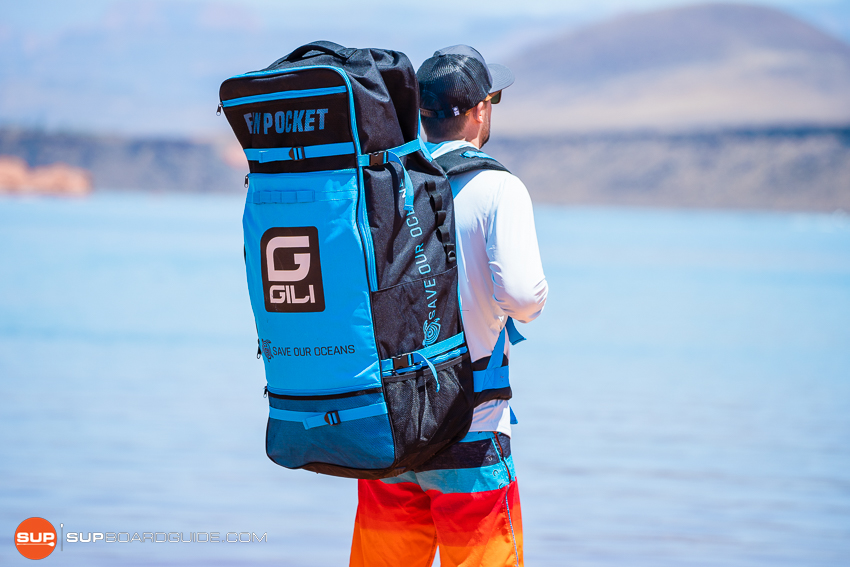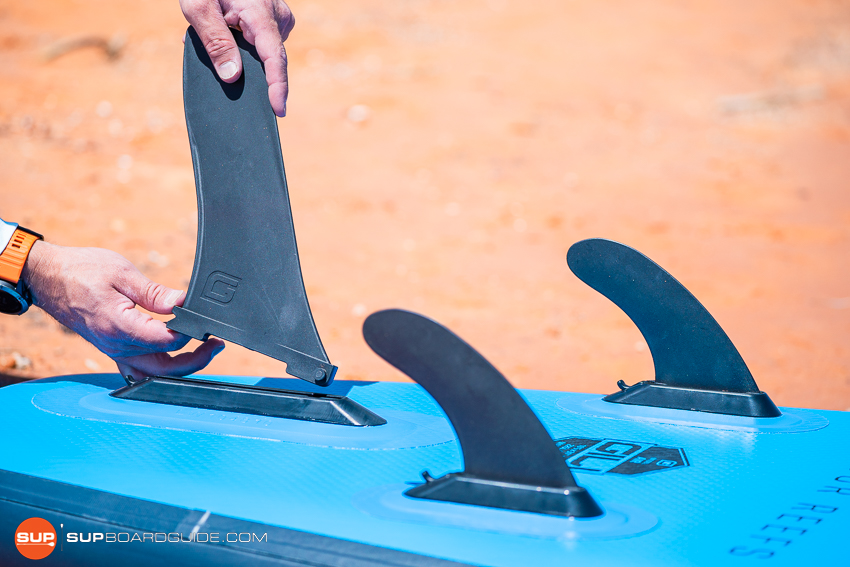 Included Accessories:
The Gili Sports 10'6 Air does a really good job of including everything you need on a budget. While these might not be the best examples of kit accessories, they certainly get the job done at a reasonable cost. When you buy a Gili 10'6 Air you get:
Sup backpack
2 stage single chamber hand pump
3 piece aluminum adjustable travel paddle with nylon blade
3 piece snap in fin set (1 center, 2 sides)
8' coiled ankle leash
We really like this kit overall. It doesn't feel cheap in any way and it's a good value for the money. We would like to point out that a lot of the great features and ideas that go into the more expensive Gili models eventually make their way down here. And that is just fine by us.
Paddle: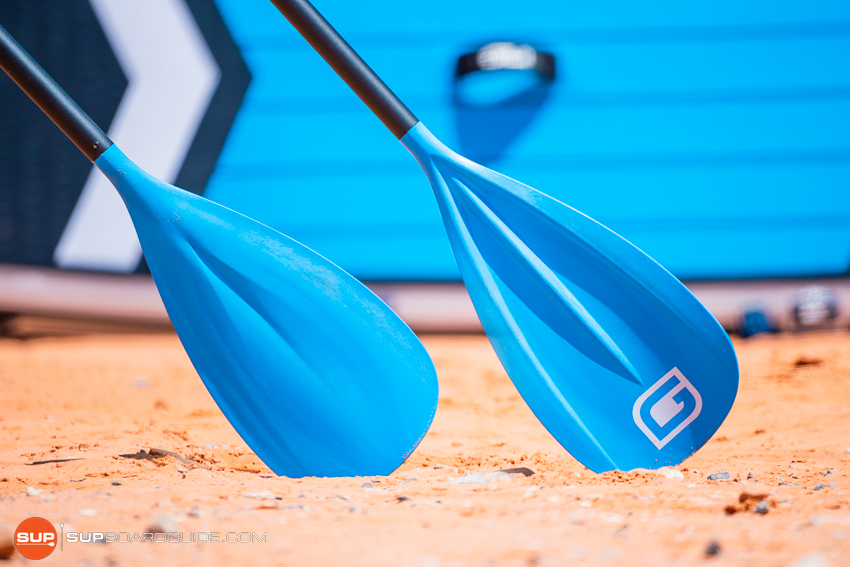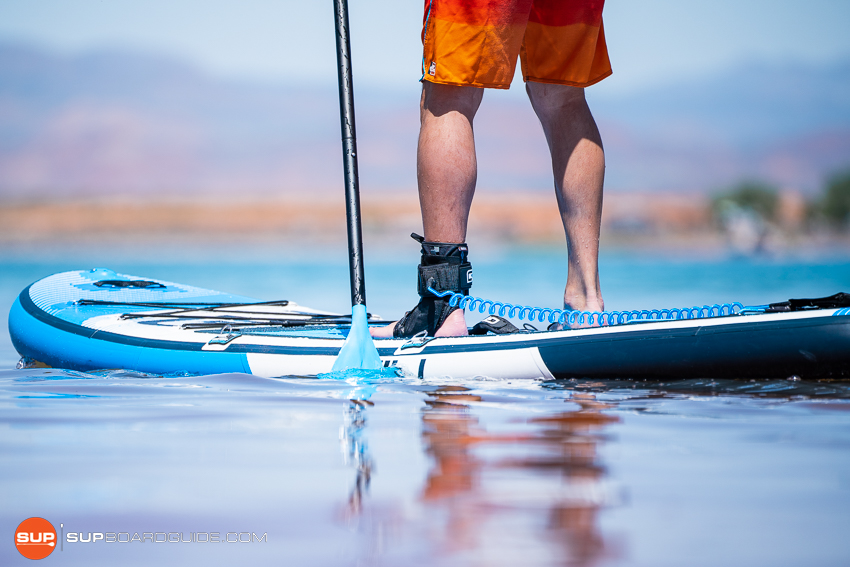 The Gili Sports 10'6 Air comes with a reasonable paddle. Is it the best, no. But it is great for any beginner. While aluminum isn't our favorite material for the shaft, it does provide a very solid feeling paddle. And Gili made sure that despite its weight it would float if dropped into the water. We are also happy with the locking mechanisms on the bottom and top of the paddle as they prevent most if not all of the twist in the shaft while paddling. All in it's a good beginner paddle.
Pump: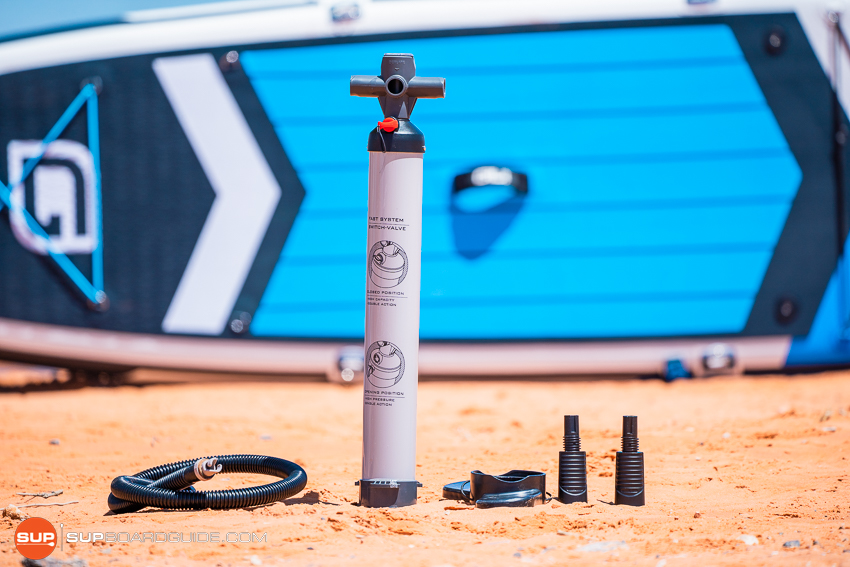 This single chamber, dual stage pump isn't terrible. I will say that to get into the higher PSI one needs to be a larger individual as the downward strokes get tiresome. Other than that it will reliably get the job done. Of interesting note is how the pump "breaks down". The handles unscrew and the base is removable (something I wish all manufacturers did, because the base is always in the way when packing). This makes the pump easily stored inside the folded up iSUP.
Stand back while I drag out the dead horse. We still say, no matter what your price point is, the electric pump is an iSUP game changer. Especially on these lower end model manual pumps. Save yourself the time and energy. You'll thank us. Especially if you're a smaller paddler the electric pump should be a no brainer. We are partial to the iRocker electric pump, but any electric pump (with a decent warranty) is going to be a major benefit to you and your friends. Most likely they will have the same halkey roberts valve setup.
Bag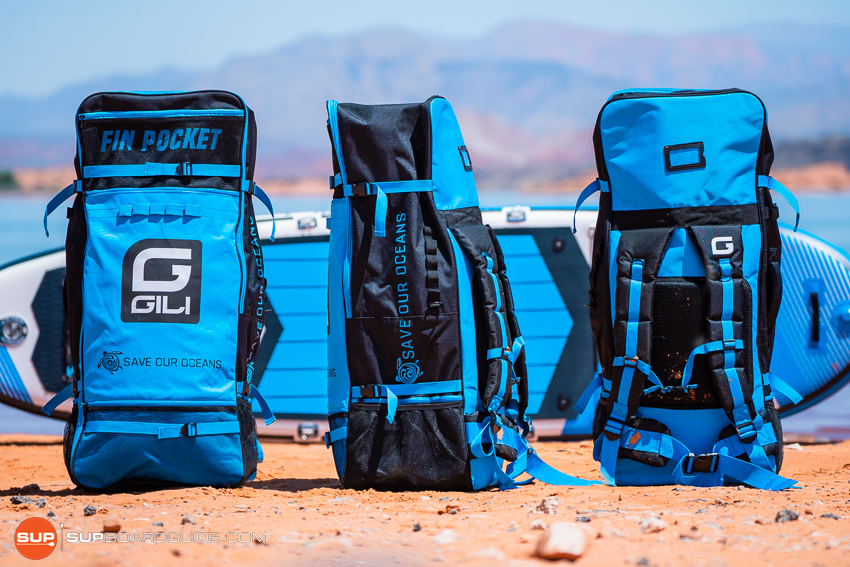 For a budget backpack there is a lot to like about this. First of all the backpack straps are well padded as is the back pad. We really like how Gili made that fin pocket for their entire line. It makes misplacing your fin quite difficult.
In addition to that it has solid handles both on top and the side. We also like the daisy chain loops on the side and rear. It makes attaching extra pieces or accessories a breeze. Some will complain that this doesn't come with the wheeled setup from the more expensive Gili Sports kits, but I can see why they didn't include them in this budget setup. And if that's a deal breaker for you then we think you'll enjoy all the additional features of the more expensive setups included. For a budget priced kit we still have no reason to complain.
Optional Accessories:
Gili sports offers a good amount of accessories for the 10'6 Air. We are happy that they included all the needed hardware on the board to make most of their accessories a plug and play option. Some of our favorites are:
12v Electric pump
Sup to kayak conversion kit
Paddle board shoulder carry straps
Cooler deck bag
Various sized dry bags
The best part of these accessories is they will work just as effectively on the higher end Gili Sports boards. That means you can keep the accessories you have while you grow into bigger and better models of the Gili Sports lineup.
Summary Review of the Gili Sports 10'6 Air (2022 model)
We really were impressed with the Gili Sports 10'6 Air. It did a great job of toeing the line between affordability and a quality, well thought-out design – making this one of our top rated 'best cheap inflatable paddle boards' for 2022.
Thank you for reading and if you have any thoughts or questions on this review please let us know. Leave a note in the comments below and we will do our best to answer your questions or address your concerns.
Happy paddling, and we look forward to seeing you on the water!
The following two tabs change content below.
SupBoardGuide Editorial Team
At SupBoardGuide.com we are a team who love the water, the outdoors, and are more than grateful that our full-time job allows us to review stand up paddle boards. We paddle year round (it helps that we are just about 2 hours outside of Las Vegas), and we bring in a wide range of paddlers with the goal of providing our readers with the best, most in-depth, and accurate stand up paddle board reviews.
Latest posts by SupBoardGuide Editorial Team (see all)