Gili Air 10'6" Inflatable SUP
Pros
Good, stable board for an entry-level price.
A portion ($12-$15) of every purchase goes to ocean clean up charities and initiatives!
Good backpack and pump; kit includes everything you need to get out on the water
Several beautiful color design options.
Cons
Single layer PVC
We'd like to see a lighter fiberglass paddle instead of the aluminum paddle.
Removable side fins would be an improvement in the future.
Gili 10'6″ Air Sup Board Overview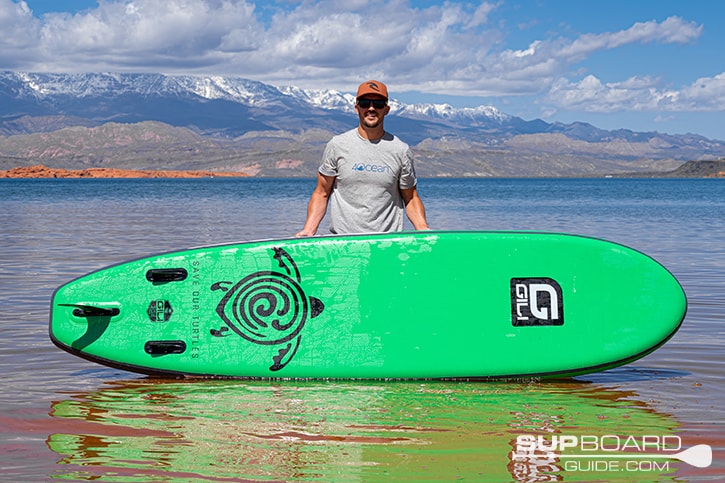 Everyone has to start somewhere, both in life and in paddleboarding. You don't want to go off and blow a ton of money on an advanced board that's difficult to use if you're a first-time rider. You're probably looking for something lighter, inexpensive, but still functional enough so you can get a taste of what SUP sports offer. The board should offer you at least a good taste, so you're willing to come back and do even more as you master the art of stand up paddleboarding.
The GILI 10'6'' AIR will offer you more than just a good taste of what SUPs are like. Despite being an entry-level board, the AIR is a good, stable, lightweight board. At under $500, the GILI Air is a great board for those looking to get into paddleboarding. Weighing just 19 lbs, the AIR offers a very solid 290 lb. weight capacity, and is a suitable supboard for both young riders and beginner adults. With 15 D-rings, a smooth EVA deck pad, and a solid backpack the AIR offers a ton of great accessory options for more intermediate riders on a budget.
The fact that the GILI is a sub $500 dollar board is impressive; the fact that GILI donates a portion of every sale to ocean preservation is astounding. The board won't outdo most performance boards, and we're still not hot on the paddle. However, GILI 10'6'' AIR will more than meet the demands of those who want a solid entry-level to mid-level board, and want to help save the ocean at the same time!
SUP Board Specs: Gili 10'6″ Air Sup Board
| | |
| --- | --- |
| Length | 10'6″ |
| Width | 31″ |
| Thickness | 6″ |
| Weight | 19 lbs |
| Rider Capacity | 280-290 lbs (up to 300lbs for more advanced SUPers) |
| Recommended Inflation | 12-15 psi |
| Fins | Tri-fin set up, removable quick-lock center fin, permanent, flexible side fins |
| Paddle Type | Aluminum Shaft, Nylon Blade |
| Materials | Single Layer Military Grade PVC, Drop Stitch Inner Core |
Who Should Buy This Stand Up Paddle Board:
The GILI 10'6'' AIR will benefit the following riders:
Beginner SUPers who want to try out an inflatable SUP on a budget.
Young paddlers who are looking for an extremely lightweight board.
Boarders who want to have a sturdy, stable secondary board.
Riders who want a simple, all-around board for recreational paddling (flat waters).
For maximum performance, the GILI AIR will perform best in the following settings:
Smooth water, such as calm lakes, marinas, or other flatwater settings.
Rivers without any rapids
Light ocean waters and possibly small, clean, longboarding waves, for the occasional surf ride.
Performance
Stability


If you're new to SUP boards, you'll want to try to focus on boards that offer the most stability. It takes some practice and training to get used to standing up on a paddleboard, especially if you're trying not to fall over. Even moderate to advanced riders will occasionally stumble, though that can often be the fault of the board instead of the rider. The more stable the board, the more friendly the board will be for beginners.
The GILI 10'6'' AIR is plenty stable for beginners and first-time riders. Weighing just 19 lbs, I was somewhat worried about how stable the board would feel once I got out on it. That the AIR is an entry-level board also made me cautious, but it turns out that my caution was unwarranted. I managed to turn, race, and do pretty much every typical SUP move on the GILI without feeling like the board was wobbly.
Maneuverability

While this is an entry-level board, I think its size and light board weight might tempt some moderate to advanced users to take a look at it as a secondary, goof off board. Turning the AIR felt as natural to me as maneuvering on most boards that cost twice as much. In calm water, I had no trouble zipping and dodging around trees sticking out of the lake, and felt the AIR could handle the twists and turns of slower rivers (again, no rapids) just fine.
The difference between the AIR and more expensive boards became more apparent when the wind and wake started to pick up. I was still able to paddle around, but I definitely had to put in the extra effort to keep myself from getting blown in circles. For calm settings, the AIR will perform admirably. As the inflatable SUP is just 19 lbs, teenage riders can start learning how to do tricks like back-step turns and other advanced maneuvers.
Tracking/Glide


The AIR stays straight and on track, and as long as the wind wasn't blowing I pretty much headed right in the direction that I wanted to go. The tri-fin set up included with the AIR helps with the tracking, and I barely had to put in effort to correct myself when I got off course. Yes, a longer, more narrow touring board will track better, but a beginner rider will get to where they need to go with an AIR. Even better, if a friend challenges you to a race, I don't think you'll have too hard of a time keeping up with the speedy little board despite its shorter length.
For the most part, I was content with the gliding as well. The AIR has a wide and largely flat nose that helps it ride on top of the water. This planing board shape helps it ignore most of the shakes and rumblings that come with riding over small wake. The nose and glide will help keep starting riders upright, even when they do encounter a little trouble.
Overall, the AIR offers an enjoyable ride in the water and tracks really well.
Materials

The GILI 10'6'' is constructed with a single layer of military grade PVC surrounding it's drop stitch core. Inside the GILI, thousands of polymer threads connected to fabric sheets form the 'drop stitch' center. When the board is inflated, these sheets spread out as far as the threads will allow them. By keeping the threads short, the inflated object takes a board shaped instead of a round one as expected of most inflatables. Layers of military grade PVC are then wrapped around the board to add further protection and weight support, and typically range from 1 to 3 layers for the average all-around.
The AIR features just one layer of PVC protection. This is why the AIR is so light as a board, and also why it can be sold at an affordable price. While it could definitely be more durable if GILI added a 2nd layer of PVC, the GILI is still just as resilient as other entry level boards, if not more durable. Further, even with a single layer of PVC, the GILI AIR will withstand drops, scratches, and typical wear and tear you'll incur at your local beach. It's not invulnerable, but it's pretty hard to seriously damage the GILI 10'6'' AIR.
It should also be noted that, despite being only a single layer PVC board, it really does have performance similar to other dual layer PVC SUPs. I didn't really believe it was going to support around 290 lbs given its smaller size, weight, and construction, but I pushed it and had zero problems with its stability. The fatter nose and tail help, but credit should be given that the GILI is just a tight, well-put together board.
Board Design/Shape
The GILI AIR is 10'6'' long, so it won't be as fast as most touring boards, but it is more maneuverable and easier to paddle for kids and other young riders. That isn't to say the board is slow; the 31'' width helps ensure that the AIR is faster than many cheaper all-around boards. The 6'' thickness aids in the stability and weight capacity department, and is partially why the AIR can support up around 290 lbs.
The overall shape of the board does lend the AIR to perform well in a variety of activities. Many riders will be able to stretch out on the AIR with ease, and find the deck pad very comfortable. I also found the AIR to be quite fast as an all-around, and I think you can have some fun races with it. Given how light it is and easy to propel, I think the AIR can function for some touring as well without tiring you out too much.
The GILI 10'6'' AIR offers good performance for plenty of activities, doing better on the water than what we expected for a sub $500 dollar inflatable SUP.
Board Features

Despite being a more entry-level board, the GILI 10'6'' AIR comes with a range of features that make it more than suitable for beginner riders. A few of the key features worth highlighting include:
High quality, Single-Layer, Military Grade PVC Construction: The GILI AIR will withstand almost anything you encounter in the water. Rocks, trees, and other boarders shouldn't be able to puncture your board, so paddle with confidence and comfort. In case something does go wrong though, GILI offers a 60-day guarantee and 2-year warranty with their boards
Front Cargo Area: The GILI Air features 15 D-rings, making it compatible with a large assortment of SUP accessories. The forward 6 D-Rings come with a bungee system that can be used as a cargo area. Coolers, dry-bags, and other small containers can be secured tightly to your board with the included bungees. By attaching your stuff to these D-rings and bungees, you'll never have to worry about losing your stuff should you take a tumble.
Kayak Conversion Kit Compatibility:New to this year's model, the center 4 D-rings are compatible with kayak conversion kits. For those wanting to try their luck with some friendly kayaking, the GILI AIR will make for a suitable beginner option.
Back Cargo Compatibility:The back 4 D-rings are compatible with a bungee system that GILI will release in the future for additional cargo storage. Until then, these back D-rings will work great with board leashes, cell phone bags, and other accessories you can attach to these rings. You can also attach your own bungee cord if you need to.
Aluminum 3-Piece Adjustable Paddle:Sturdy, heavy paddle that new riders will find easy to use and assemble. Can adjust to fit any rider within the 5' to 6'8'' height range, and is well suited for teenagers to adults alike. The paddle setup takes only fifteen seconds and is simple enough that even young, first-time riders can confidently put the paddle together themselves. As an aside, we would love to see GILI upgrade to a more lightweight, fiberglass paddle, or to give the option to upgrade at checkout.
Front and Center Grab Handle:At 19 lbs, carrying the AIR into the water is simple for even young riders, especially with the center neoprene grab handle. Sturdy but comfortable, you won't have to worry about accidentally losing your grip on your board, even with wet hands. Once you're in the water, you can also use the front handle to maneuver your board around, or carry it back onto shore when you're done for the day.
Extra Large Traction Pad:A beginner-friendly deck pad, the AIR traction pad has a design that boosts the grip of your feet to the board without sacrificing comfort. You'll be able to stand on the board all day without hurting your feet, but you won't slip and slide all over it should the board get wet or get rocked by waves.
4 Great Color Options:The 2020 AIR design is an improvement over the 2019 version, and now comes in 4 different color options instead of two. Choose from teal, blue, light blue, or green so you can have a board that isn't just great to use, but great to look at as well.
Charitable Donation with Every Purchase: The turtle icon on the back of your board isn't just a heartwarming design; it's a promise made by GILI. With every board purchase, a portion of the proceeds goes to ocean conservation charities. By buying an AIR, you'll also help preserve oceans, reefs, and endangered sea life like turtles.
Fins


The GILI Air has a tri-fin setup, with two permanently attached side fins and a center, removable fin. The center fin is a snap-lock system, and can be installed in seconds with just the flip of the lock lever. The hard nylon center fin will also withstand almost anything you encounter in the water, but can be replaced if you do happen to lose or somehow break your fin.
The two side fins are far more flexible, and they're nearly indestructible because of their flexible nature. However, with use and storage, these side fins will sometimes lose their performance shape.
Fortunately, it's an easy fix to make your side fins look good as new. Should your side fins be less than perfect, wash them with some hot water and dry your board out in the sun. Within 10-15 minutes, your flexible fins should restore themselves back into their normal state. If your side fins still look wrong after treatment, or if you have any other fin problems, be sure to contact GILI for additional aid.
Deck Pad


One of the things we're mixed on is the 2020 AIR deck pad. Last year's AIR had a diamond deckpad, while this year's model adds grooves but removed the diamond texture. While we do like how comfortable the smooth 2020 deck pad is, we miss the extra grip that came with the diamond texture in previous models.
The 2020 deck pad is still great, even without the diamond texture. The long foam pad covers the board from the inflation valve to the front cargo area, giving riders plenty of room to spread out and stretch on. Finding your feet placement is tricky for first-time riders, so the six deck grooves are appreciated for keeping you centered without looking down. These grooves also help drain water from your board, should it ever take a wave or as you're washing your AIR clean after use. Lastly, the soft EVA foam deck pad will aid your foot grip, without causing unnecessary inflammation or soreness. Barefoot riders will be able to ride the GILI AIR all day without worrying about any foot problems disrupting their fun on the water.
Handles
The center handle is securely built into the board, so you can rely on it as you carry your board into the water. The forward handle is a little less sturdy, but will still withstand the trials of boarding activities. Both are friendly to grip, so no having to worry about potential carpet burn.
Use the front handle to tug the board around the water or onto the shore, and rely on the center handle to get the board everywhere else. While we would like to see a handle added to the back of the board, the current 2 handle set up will more than suffice for most users, especially since the board weighs so little.
D-Rings/Bungees/Cargo Areas
The GILI AIR has improved itself drastically in this area, both in the number of D-rings offered and their compatibility. 8 additional D-rings have been added to this year's model, meaning that the 15 D-Ring GILI AIR 2020 more than doubles last year's board variant. While some riders might not find too much use for these D-rings as they start out, experienced SUPers will be glad to find the AIR compatible with their many SUP accessories.
The front cargo area of the AIR is enlarged over previous models, so you'll be able to store more gear than ever before. The center 4 D-rings can be used with a kayak conversion kit, for those who are a little more daring with their AIR. The back four d-rings, and the inflation valve D-Ring, can all be used with a board leash. GILI also promises that an extra bungee system is being developed as an add-on for the AIR, giving an option for extra cargo space.
Top to bottom, the AIR offers an impressive list of accessory compatible options for a sub $500 dollar board.
Accessories
Aluminum 3-Piece Adjustable Paddle
The GILI 10'6'' AIR comes with a 3-Piece adjustable aluminum paddle. Aluminum tends to be an option that is included with many entry-level boards. With an aluminum paddle, you'll get plenty of performance on a lower manufacturing cost, though it weighs more than fiberglass and carbon shaft paddles. The paddle that comes with the AIR weighed in at 34 ounces, so its certainly not taxing to hold, but is a weight you'll notice as you paddle throughout the day.
Even so, the paddle is still a good paddle for the price. The 3-piece adjustable set easily comes together, and can be adjusted to fit the height of any rider 5' and taller. The aluminum shaft will help you plant the paddle in the water as you row. The great nylon blade is rigid enough to help propel you while being hard enough that kid riders shouldn't be able to easily break it. The top grip rests comfortably in your hand, and shouldn't cause any blisters or other hand sores after a long day of use.
While we're highly satisfied with the performance of the paddle included with the GILI AIR, we would love to see something lighter in the future. Either including a fiberglass shaft out of the box or as an additional add-on option would be a terrific upgrade for the AIR kit.
Pump
Something that pleasantly surprised me was the quality of the single-chamber, dual-action pump. The GILI AIR SUP pump has a bit of a wider base, a more flexible hose, and a sturdier feel compared to some other manual pumps. The new pump model also opts for a button instead of a cap for switching action modes, which is easier to use and one less part you might accidentally lose. While a double-chamber, triple action pump would inflate a board faster, the single-chamber pump keeps the total kit weight light and inexpensive.
To use the single-chamber pump, connect the hose from the pump to your board. You want to make sure that the pump button is depressed before pumping. Once you're ready, begin pumping the board until you reach about 7 PSI. You'll be pumping in the first mode, which will pump on both the rise and fall of the pump. When you start encountering resistance, press the pressure button for the second action mode. You will now be pumping on just the downward pump, making it easier to pull the pump handle back up. Keep pumping until you're finished; we recommend 15 PSI for maximum performance, though anywhere in the 12-15 range will do.
Alternatively, you can buy an electric pump. Electric pumps are our favorite SUP accessory because they do the hard work of pumping you SUP for you. A manual pump might be a good work out, but so is the extra time you could be spending on the lake. Further, an electric pump will not just inflate your board faster, but it will help deflate it too once you're packing up for the day. Get an electric pump, especially for young riders who will be unable to pump their board themselves.
Backpack
We thought the GILI AIR backpack was good enough for beginner riders in the past, especially when compared to most other entry-level backpacks. So, to discover that the 2020 bag is even better than previous years models certainly put a smile on our faces.
The new AIR backpack is built with thicker material than past bags, helping it withstand the water and other elements you might encounter while just giving the bag a more quality feel. The front zipper helps keep your bag organized, allowing you to separate your leash, center fin, and a snack or two from your board. The new side handle makes it even easier to carry your kit at your side, so you don't have to wear the bag on your bag if you're just taking it a short distance.
Overall, every single new addition is appreciated and adds to the overall great quality of the backpack. As long as you deflate your board properly, you'll find it easy to pack up your board, paddle, pump, and everything else within the AIR SUP backpack.
Leash
The 10' coiled leash is designed to keep your board close should you tumble into the water, while also giving it flexibility so the leash doesn't impact your performance as you paddle. Strap the leash around your ankle, and tie it into either the inflation valve D-ring or any of the other D-rings on your board, and you'll be ready to go.
Just make sure you wear a PFD when you're boarding. The leash will keep your board from floating away, but it won't do much to keep you afloat should you take a bad fall!
Repair Kit
Inflatable SUPs are built to last, and the AIR is no exception. Odds are, you'll never have to even open your repair kit. In the unlikely event that you do, there are a couple of items you can use from your kit to get your board off the water and into a repair shop.
The inflation valve wrench can be used to tighten up your air valve should it ever come loose as you use your board. The patches will help seal a puncture, as long as it doesn't occur on the seams of the board. For any significant board damage, be sure to contact GILI Sports for help.
Optional Accessories
With 15 D-rings, there's going to be at least a few accessories you'll want to use with your board. While you're probably already thinking about just seeing what's available on Amazon, GILI Sports offer a range of official accessories guaranteed to work with the 10' 6'' AIR SUP. A few we recommend taking a look at are:
Kayak conversion seat
GoPro paddleboard action mount
Waterproof dry bag
Waterproof phone case
Company Review – GILI Sports
To design and build the best stand up paddle boards possible.
To help save our world's oceans and sea creatures in a sustainable way.
In our opinion, they've managed to hit both of those points pretty darn well. GILI Sports have constantly released well-performing boards that they actively improve upon year after year. Just as important as a good board is a promise to back their product, and GILI has a 2-year warranty and a 60-day guarantee on every board they sell. GILI offers free shipping to the continental US and up to 12-month financing options on their already affordable value boards. There's also a price guarantee that states that if the price drops on their board within 30 days of purchase, they'll refund you the difference in what you could have saved had you waited.
The best testament to GILI Sports as a company though is not its fair customer practices, but their dedication to environmental preservation. The 'Save our Turtles' logo on the back of every board is a promise that a portion of the board proceeds will go to initiatives dedicated to supporting ocean life. GILI works with the Coral Reef Alliance, Project Aware, Oceana, and are continuing to look for additional ocean life charities to support as a company.
By purchasing the GILI 10'6'' AIR SUP, you're getting the backing of a company that will go out of the way to support not just your board in the future, but the world you're hoping to explore.

Conclusion/Bottom Line Review
Weighing just 19 lbs but still performing better than most entry-level boards, the GILI 10'6'' AIR is among the best boards out there for young and beginner riders. Easy to carry to the water, the AIR is well suited for cruising, recreational paddling, and lounging on the lake. The board is beautiful to look at, quick to inflate, and comes with everything a first time paddler would need to get on the water right out of the box. While the paddle isn't top-notch, and removable side fins would offer more customization, these are minor complaints about an otherwise great board.
Overall, as a secondary board or for a way for new paddle boarders to try the sport, the AIR is a fantastic choice, especially given its sub $500 dollar price tag. That a portion of your purchase will go to improving ocean conservation efforts is just an extra incentive to consider the GILI Air as your next SUP.

For any additional questions about the GILI 10'6'' AIR SUP, be sure to ask a question below or contact us directly. Otherwise, good luck, and have fun!
The following two tabs change content below.

Justin Taylor, Head Paddler
At SupBoardGuide.com we are a team who love the water, the outdoors, and are more than grateful that our full-time job allows us to review stand up paddle boards. We paddle year round (it helps that we are just about 2 hours outside of Las Vegas), and we bring in a wide range of paddlers with the goal of providing our readers with the best, most in-depth, and accurate stand up paddle board reviews.

Latest posts by Justin Taylor, Head Paddler (see all)