Starboard 14'x28" All Star Airline Inflatable Racing SUP
Pros
Very stable for a race SUP - a good option for paddlers who are just getting started with narrower SUPs or heavier paddlers that need more volume
Rigid construction holds the SUP's shape better while paddling hard; drag is more consistent and it performs better at higher speeds than other inflatable SUPs
Aramid cable system optimizes your nose shape and allows you to adjust your stiffness level to best fit your environment
Spongy side walls provide a brace for your feet in challenging environments and make this SUP feel a bit more stable than it already is
One of the fastest inflatable race SUPs available - this SUP even beat it's closest competitor in our sprint test despite that board being an inch narrower
Cons
We would have appreciated a high-quality race fin to be included rather than a more standard plastic fin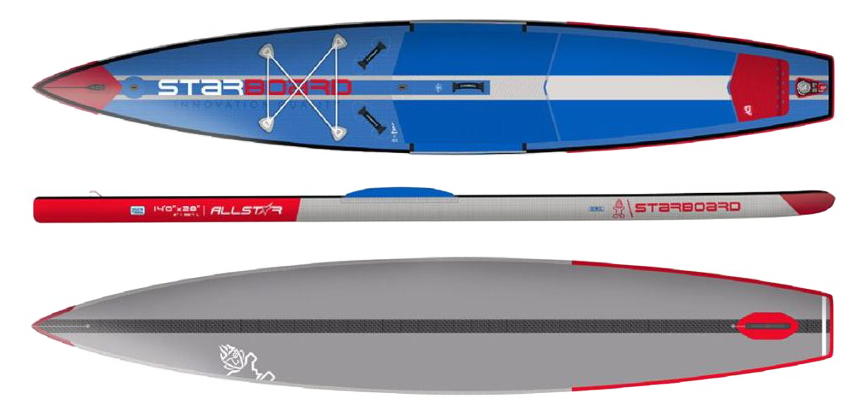 Across the SUP industry, the name Starboard is nearly synonymous with champion. These boards have won world and national titles and have been in the hands of the sports' fastest paddlers: Conner Baxter, Penelope Strickland, Fiona Wylde, and now…us. To say our expectations were high while reviewing the 14' x 28" All Star Airline would be a gross understatement.
Although not completely the same as their carbon All Star model, Starboards's Airline series replicates its counterpart's award-winning shape to make it one of the fastest inflatable SUPs on the market. And, while some paddlers would undoubtedly be capable of higher speeds on the All Star Airline's narrower models, the 14' x 28" offers a balance between speed and stability that can be many paddlers' gateway into more advanced paddling.
More still, every aspect of this SUPs' build, from construction to added features, serves to maximize its performance. With an interior woven drop stitch, the All Star Airline series is remarkably stiff, yet its fused PVC layers help keep it lightweight and nimble. The patented aramid cable system allows you to fine-tune your stiffness and rocker to best suit your environment, while the rail edge technology limits drag and gives this SUP an even bigger advantage over other inflatables.
Make no mistake, this SUP can and will win races. Despite being the widest of the All Star Airline series, the 14' x 28" Starboard is exceptionally fast, especially for paddlers who need a bit more stability. It will allow you to power into your stroke without fighting for balance and will help you conserve your energy over longer distance courses. This board, along with the others in its line-up, represents the pinnacle of inflatable race SUP design.
We think the Starboard 14′ x 28" All Star Airline Racing would be great for paddlers who
Need the highest performance 14' inflatable race SUPs available
Want a SUP that's capable of winning races, but don't want to make big sacrifices in stability
Need a SUP that is extremely rigid while also being lightweight enough to manage while traveling
Want hard-board like performance
Starboard 14′ x 28 All Star Airline Racing iSUP: Spec Sheet
Main Category: Racing, Touing, Fitness, Inflatable
Board Dimensions: 14' x 28" x 6"
Listed Board Weight: 24.9 lbs
Listed Max Capacity: 340 lbs
Recommended PSI: 15 -18 PSI
Fins: Single fin w/ US fin box
Paddle: None
Materials: Woven drop stitch
Price Range: High
Warranty: 2-year
Performance Review of the Starboard 14′ x 28 All Star Airline Racing Stand Up Paddle Board
Overall Score: 9.8/10
Stability: 9.0/10
Speed: 9.7/10
Tracking: 9.7/10
Maneuverability: 8.5/10
Construction Quality: 9.9/10
Features/Accessories: 9.6/10
Stability Rating: 9.0/10
The Starboard 14' by 28" Allstar Airline does qualify as a narrower SUP, but it's still wide enough to not present too steep of a learning curve for paddlers who are just starting their transition onto faster boards. Likewise, the width provides a bit more volume for heavier paddlers than other narrow, speed-focused SUPs, so it will be inherently more stable.
Also making this Starboard more stable is the spongy, foam side walls. While they are technically designed to give your feet something to brace against, they add a bit of buoyancy to the rails of the SUP, limiting any 'rolly' feeling that sometimes comes with narrower boards. Because of this, the primary stability of the 14' x 28" inflatable All Star is extremely forgiving for a race board. It's not at all unfeasible to stop paddling to enjoy to scenery or relax on this board without having to focus on balancing. As expected the secondary or dynamic stability of this board is also accommodating. Once moving at a pace, this board feels increasingly stable and easily tackles any chop or challenging conditions.
Speed Test: 9.7/10
Sprint Speed 5.2 mph
Cruising Speed 3.8 mph
The All Star Airline series has a reputation for speed, and this 14' x 28" falls well within our expectations. Despite being a bit wide for a race board, this Airline beat its closest competitor, the Red Paddle Co. 14 x 27" Elite, in our sprint test, and came close to matching it in our cruise pace test.
Given that it is an inch wider than our 14' Elite from Red Paddle Co. we didn't expect the Starboard to come so close in our speed testing, let alone actually beat it in a sprint. However, dimensions aside, Starboard has done a phenomenal job on this board's shape. They've made the taper at the nose and the tail transition seamlessly into the wider standing area, avoiding a 'ballooned' shape that hinders speed. Instead, the All Star series showcases straighter rails that create consistent engagement with the water to minimize drag and hold a straighter path. It's also impressively rigid due to its construction and aramid cable, and a bit lighter than the Elite, making it easier to get up to speed over shorter distances.
Tracking: 9.7/10
As we eluded to above, the Starboard All Star series effortlessly holds a straight course on the water. The 14' is directional by design, as longer boards are always going to excel in tracking. However, Starboard's carefully planned shape comes into play here as well.
The straight rails combined with its tapered nose, squared-off tail, and rail edge technology help the All Star Airline keeps its longer waterline more consistent in its engagement with the water minimizing drag, but also keeping it equal on all sides, which avoids any unwanted pulling to the right or left directions while paddling.
Maneuverability: 8.5/10
Given that this is a longer, speed-focused SUP, I did not have high expectations for our maneuverability testing. This board is meant to go fast in a straight line, and it does exceptionally well. It's not built to turn on a dime.
Even so, the 14' x 28" All Star Airline faired surprisingly well on the maneuverability front. It responds better than expected to basic sweeping turns from the tail – though this will obviously take a bit longer than more advanced turning maneuvers. Aggressive pivot turns are, of course, extremely effective to tightly turn this SUP, and the stability and raised kick pad make them more manageable. Similarly, crossbow turning maneuvers also turn this SUP relatively quickly.
Construction Quality: 9.9/10
Starboard set out to make the All Star Airline series lightweight but incredibly stiff, and they've utilized advanced construction techniques to do so.
The core of this SUP is a cross-woven drop stitch, which enables Starboard to use less material while creating a stiffer base. The interior threads cross over each other to form 'X' patterns to maximize their structural integrity when the board is inflated, consequently increasing their rigidity and responsiveness. These threads are anchored into a woven base fabric, which resists stretch and flexure more than a knitted fabric alternative.
Starboard laminates the woven base fabric with a layer of PVC that is bonded to the fabric via heat instead of weight adding adhesive. They've limited their use of glue even further by heat welding their rail layers, which also results in a stronger, more uniform bond improving the SUP's overall durability.
With these combined methods, Starboard has made this series among the lightest high-performance race SUPs on the market, while simultaneously being the most rigid.
Board Stiffness:
Stiffness Test: 1" Bend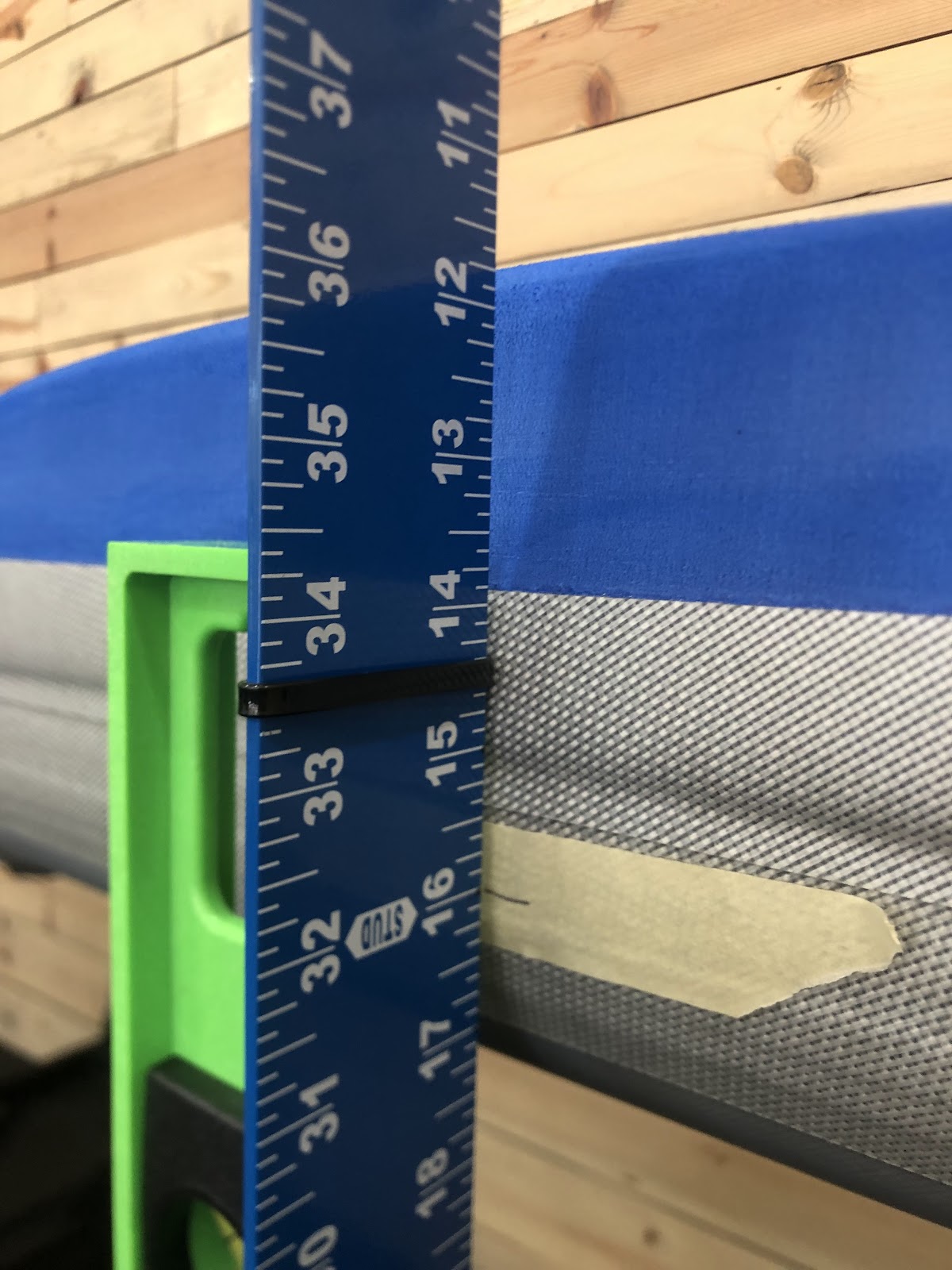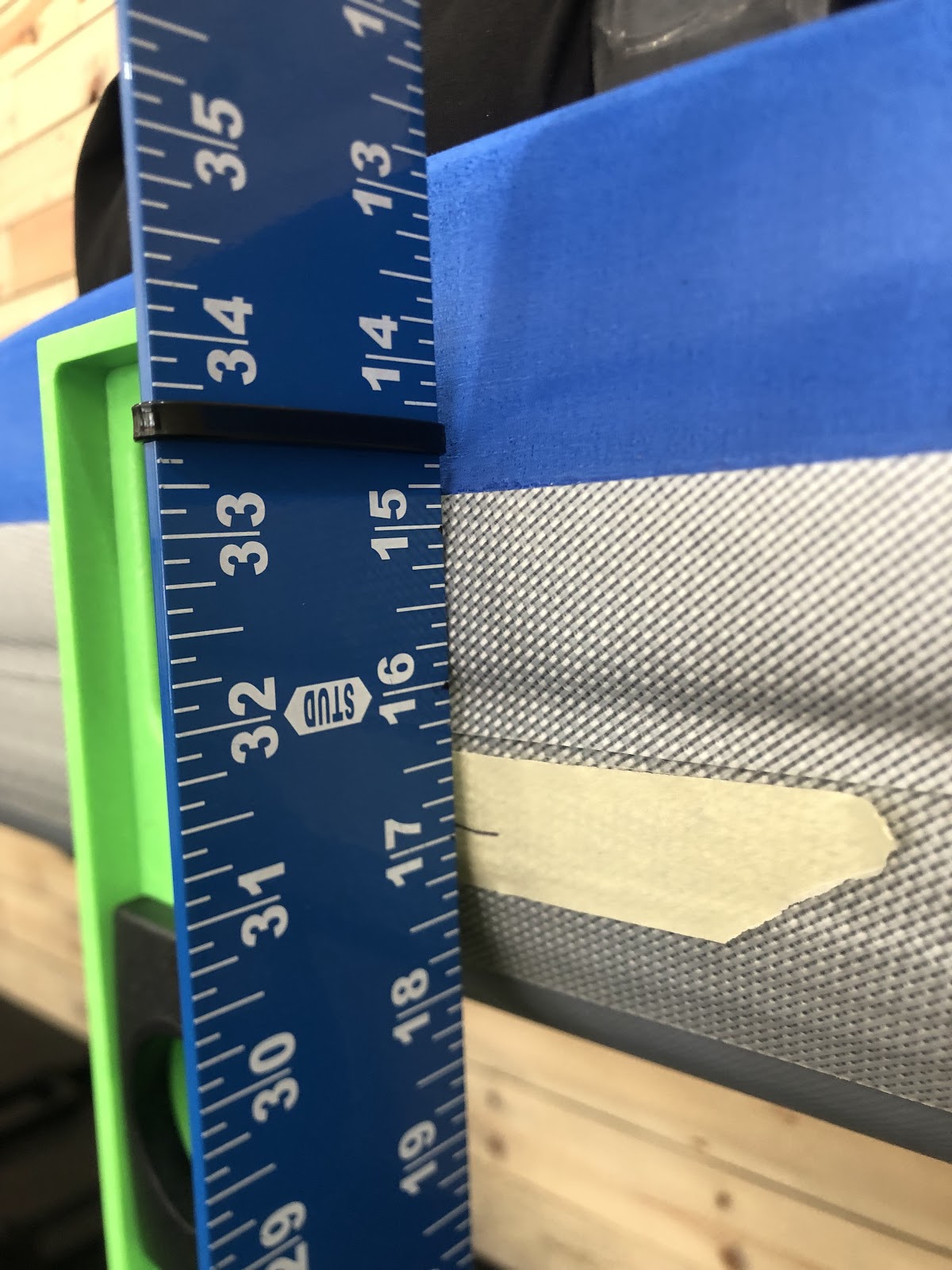 Our stiffness test is carried out by placing the SUP on top of two sawhorses spaced 7' apart. We then place 150 lbs on the board's midpoint and measure how much it flexes under the weight. While this obviously does not replicate the conditions that the SUP would be subjected to on the water, it does give us a quantitative comparison between different construction methods and their effect on overall stiffness.
This Starboard only gave way to 1" of bend when loaded with 150 lbs worth of sandbags. This puts it among the top performers out of every SUP we've tested, which is extremely impressive given its weight and size. More than that, the stiffness can be fine-tuned to your own preferences using the aramid cable and its 4 anchor points, which put an increasing amount of tension on the cable.
Features/Accessory Review: 9.6/10
As a race board , the 14' x 28" All Star Airline is pretty feature heavy.
From nose to tail, most of the Starboard's features are performance-focused, but there is still some versatility and customization ability to this board.
At the nose, there is a front cargo area large enough for a couple of drybags, making this SUP a good option as an all-day style touring SUP. They've also added a pair of race handles in front of the standing area that are useful for running beach starts.
On either side of the standing area, Starboard has added spongy side walls that help provide a brace for your feet and add a bit of extra buoyancy to the rails to increase stability. There's also a standard center carry handle here, and an FCS insert capable of mounting various accessories such as GoPros, drink holders, etc.
At the tail of this SUP, Starboard has placed a raised kick pad for aggressive stepback turns and has covered it with a diamond-grooved deck pad to provide more grip than the lightly textured EVA that covers the rest of the deck.
On the underside of this SUP, you'll notice an aramid cable that is anchored into the fin box. It then wraps over the top of the nose and can be looped around one of the 4 possible rigging points. While it can make it a bit challenging to insert your fin, the cable enables you to fine-tune your rocker line and stiffness level to best suit your environment and paddling style. Starboard is the only brand that has done this, and it opens up a level of performance that inflatables were previously thought incapable of.
Also on the underside of the SUP and along the tail is Starboards rail edge technology, which provides a sharp edge for water to release from the tail. This stops water from wrapping around the curved edge of the tail, minimizing drag and improving tracking.
Included Accessories:
As expected for a race board, the Starboard comes with just a few necessities to get you out on your SUP. Included with this board are the following:
Race fin
Single chamber hand pump
Starboard leash
FCS inserts for GoPro mounts/ other compatible accessories (x2)
We were pleasantly surprised with how well this single chamber pump works. And while we still recommend investing in an electric pump, we're impressed that the taller design makes inflating this SUP just a little bit easier, while still keeping the small and lightweight profile of a single chamber hand pump. We like the leash as well, as it flattens out when stepped on to make moving around the SUP for turning maneuvers easier.
Our only (somewhat minor) complaints about this accessory kit are about the SUP bag and the included fin. The bag needs to be extremely wide since this SUP needs to be folded rather than rolled to protect the side walls. Although this is not a huge deal, it does make it challenging to carry the board on your back through an airport or to a more remote body of water. As for the fin, we just would have expected a higher quality race fin to be included with this SUP, especially at its price. Though it is easy enough to simply replace this fin with a better one since Starboard does utilize a US fin box.
Overall, this is a great assortment of accessories to be included with a race SUP, but one last thing to note is that it does not come with a paddle. For higher-performance race SUPs, it's best to choose a paddle that can best suit your environment and paddling style.
Summary Review of the Starboard 14 x 28" All Star Airline Racing iSUP
We went into our testing of the Starboard 14' x 28 All Star Airline with extremely high expectations, and this SUP had no problem matching or exceeding them.
It is remarkably fast while providing an extremely accommodating level of stability. And, we realize some paddlers wanting to maximize their speed may be turned off of a SUP that is 28" wide. However, significantly more narrow SUPs do come with a caveat: it's impossible to be fast if you cannot stay on your feet. So, paddlers that do need some extra stability will be much faster on this 28" board than they would be on a 24" board.
Like all All Star Airline SUPs, we were extremely impressed with its build quality and features. Starboard puts performance at the forefront of every design and construction decision, and because of that, their SUPs consistently rise above the rest.
Bottom line – the All Star Airline series dominate the inflatable race SUP market, and we'd be hard-pressed to name a SUP that beats these boards in any aspect of our testing.
We hope you've found this review helpful, but please don't hesitate to reach out in the comments below with any questions.
Stay warm and safe paddling!
The following two tabs change content below.
Justin - Chief Paddler
Heyo! At SupBoardGuide.com we are a team who love the water, the outdoors, and are more than grateful that our full-time job allows us to review stand up paddle boards. We paddle year round (it helps that we are just about 2 hours outside of Las Vegas), and we bring in a wide range of paddlers with the goal of providing our readers with the best, most in-depth, and accurate stand up paddle board reviews.
Latest posts by Justin - Chief Paddler (see all)