Sea Gods Diatom TEN6 CX iSUP Review
Pros
Stability focused! At 10'6x34'', this SUP has standard all-around dimensions that aim to make paddlers of all levels feel comfortable.
Bright, beaming, and beautiful, you cannot ignore the intricate mandala design by artist Jamie Locke. The art is custom-made for this board.
Reinforced 'everything' for extreme durability. Including triple-reinforced D-rings, heat-molded seams, rail seam tape, neoprene-wrapped handles, reinforced drop-stitch, and a reinforced ULF tech fusion layer.
Great on-water feel. It's a wide board but it still glides across the water thanks to its plan shape and detail-oriented construction.
Comes with a leash, a double-chamber pump, and a 9'' flexible bright green Kumano fin!
Cons
Tracking performance could be improved with a larger, touring-style, fin.
Adding a raised kick pad would be a nice benefit for intermediate+ paddlers!
A large all-around SUP that can be enjoyed by all paddlers of all skill levels. Plus, it's a beautiful piece of Mandala art!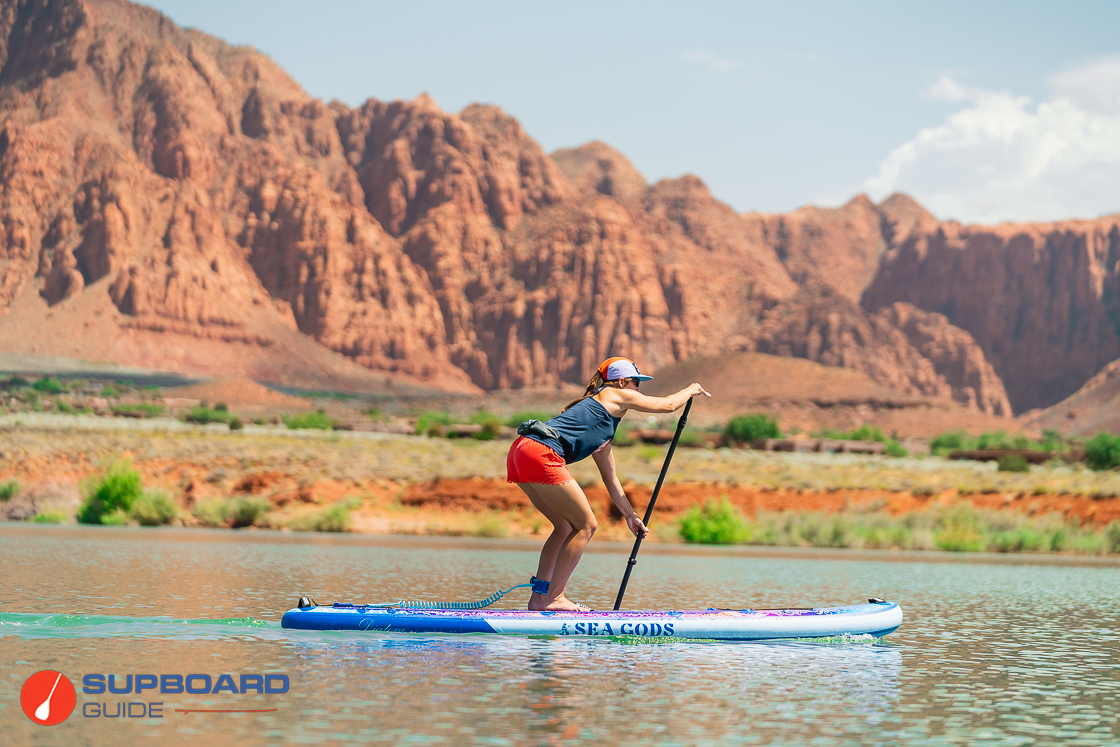 The SeaGods Diatom TEN6 CX is the upgraded version of the Sea Gods Diatom ULF board. The main difference between the two boards is the construction process, where this new version uses Cross-Weave technology in addition to the ULF (ultra-light fusion) technology for an even more durable and rigid board. However, in this Sea Gods Diatom TEN6 CX review, we are going to get into more than just the construction.
At 10'6 x 34'' x 6'', the Diatom TEN6 CX uses popular all-around board dimensions to create a stable and secure ride for all paddlers, regardless of paddler size and skill level. Whether you are small or large, novice or advanced, you will feel good on this SUP.
Sea Gods blows us away at their ability to combine aesthetics with SUP quality and performance. We are huge fans of their boards for this reason – there is no tradeoff between the two. You can rest assured that the Diatom TEN6 CX performs as good as it looks. And with one glance, you will see for yourself how stunning it truly is.
We think the SeaGods Diatom TEN6 CX would be a great SUP for paddlers who:
Want a super stable all-around board suitable for all paddler sizes and all skill levels
Want a SUP that doubles as magnificent Mandala art
Want a 10'6'' SUP with a carrying capacity upwards of 300 lbs
Sea Gods Diatom TEN6 CX: Spec Sheet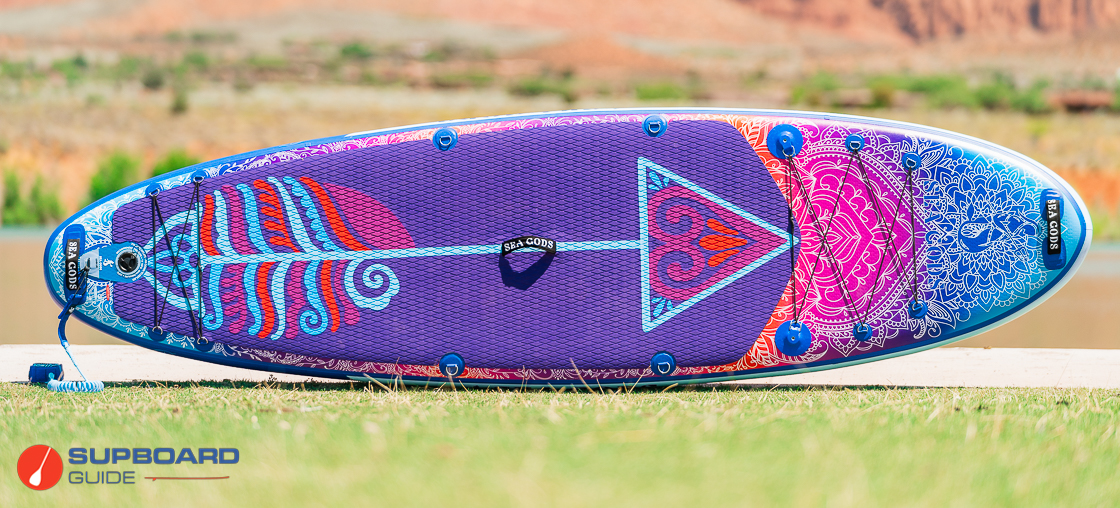 Board Category: All-around
Board Dimensions: 10'6x34x6
Listed Board Weight: 20 lbs
Listed Max Capacity: 340 lbs
Recommended PSI: 14-18
Fins: Flexible Kumano style Single Center Fin
Paddle: 3-piece carbon fiber
Materials: Cross-weave ULF tech with heat-molded seams
Warranty: Limited Lifetime
Performance Review of the Sea Gods Diatom TEN6 CX Stand Up Paddle Board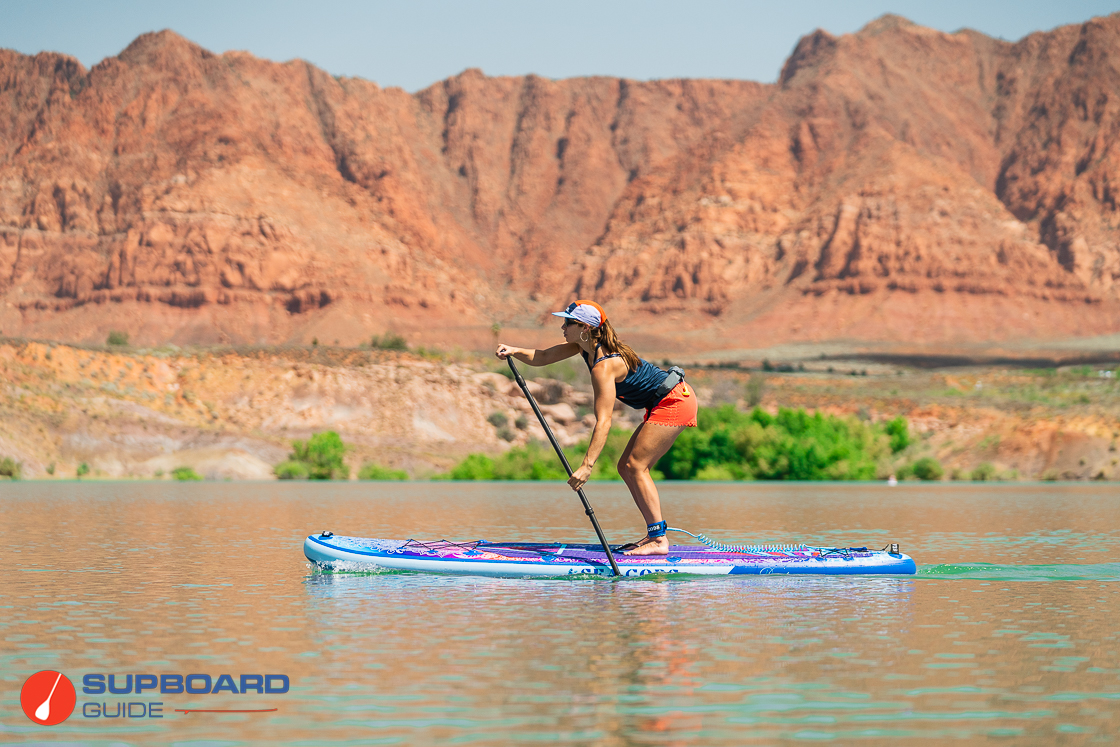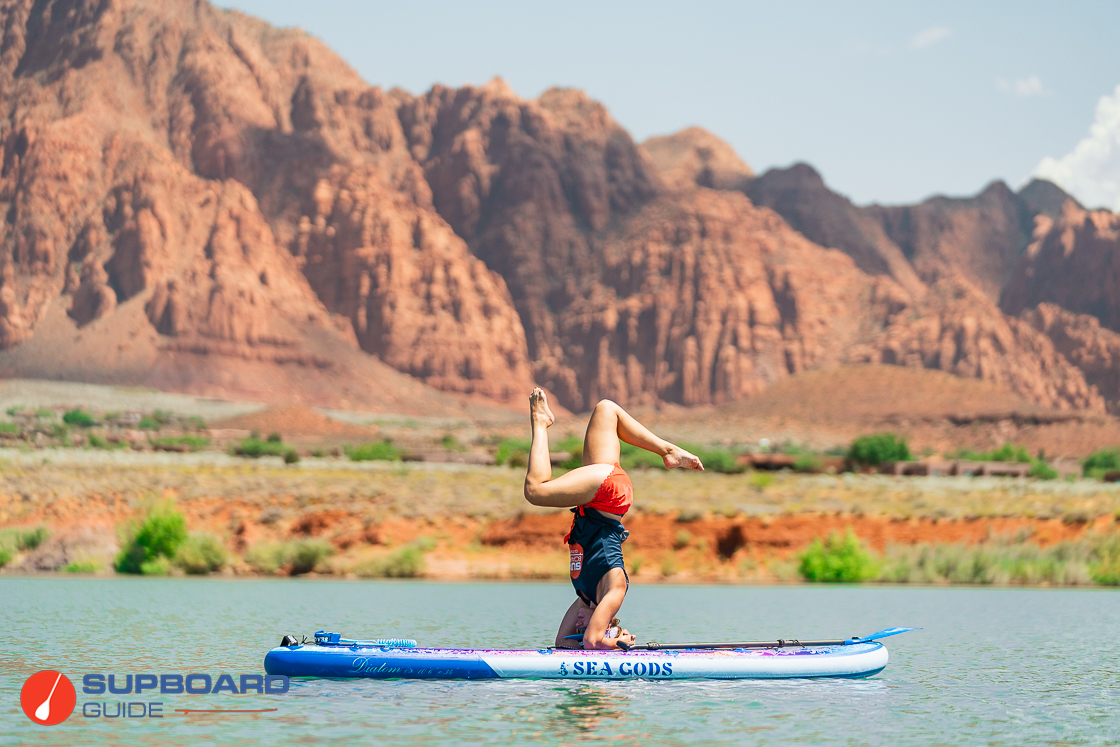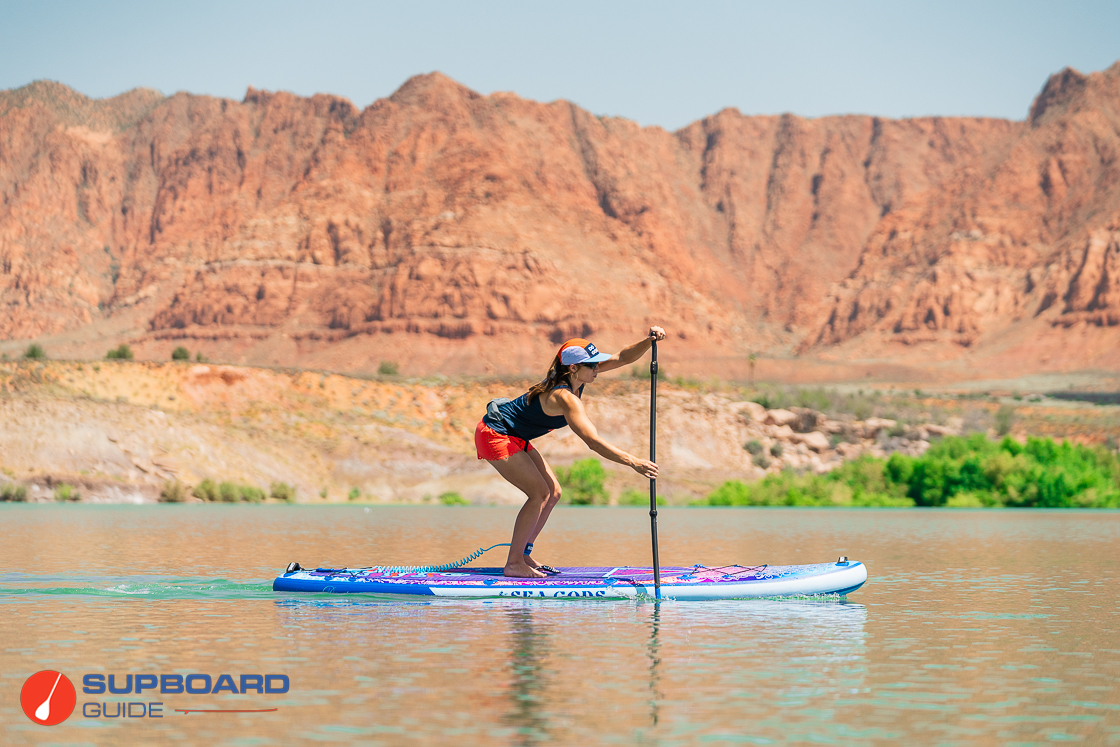 Overall Score: [x/10]
Stability: 9.5/10
Speed: 8.9/10
Tracking: 8.9/10
Maneuverability: 9.2/10
Construction Quality: 9.8/10
Features/Accessories: 9.4/10
Stability Rating: [9.5/10]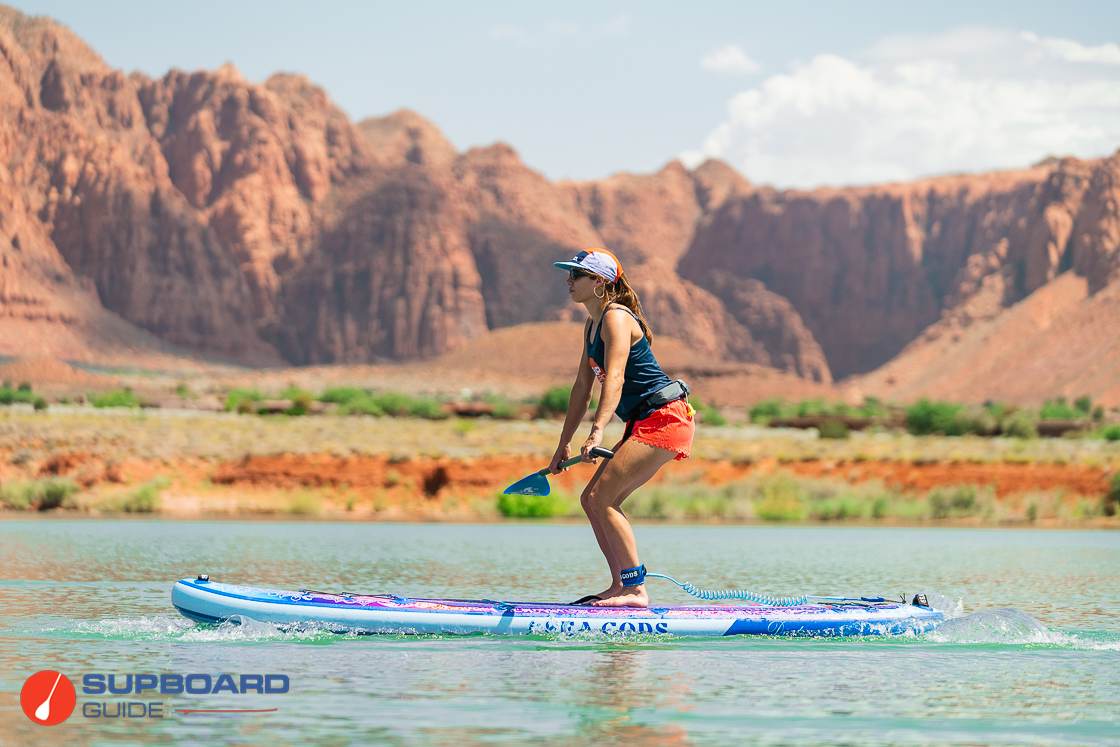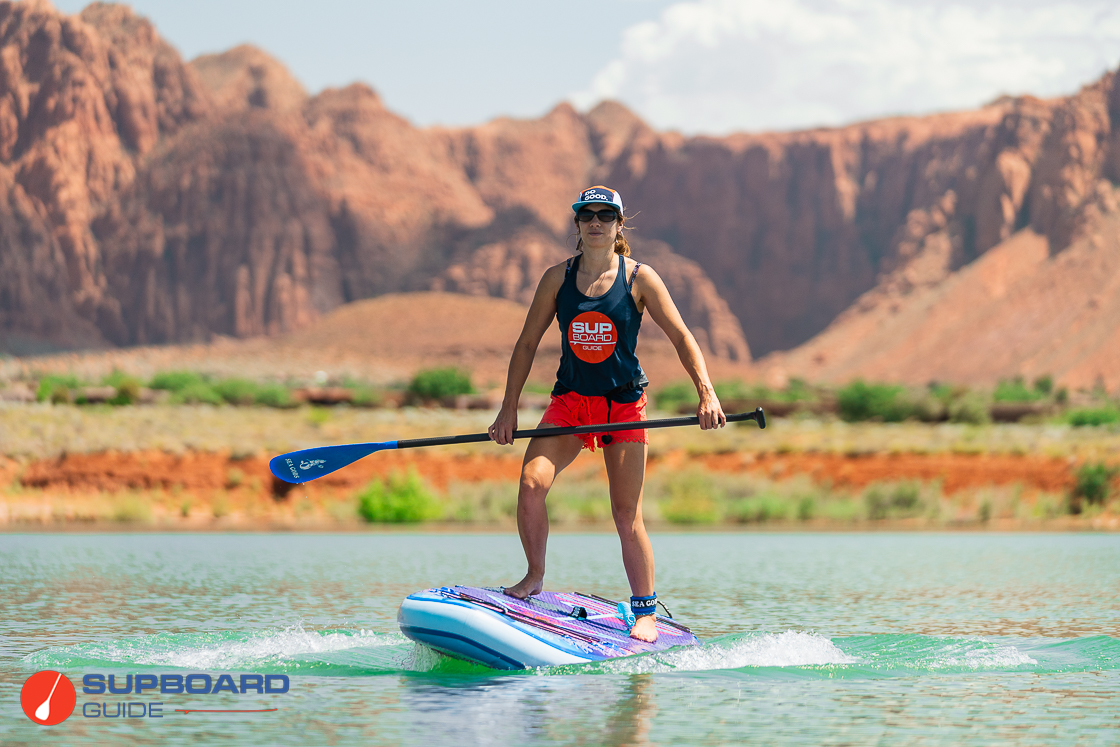 This is a very stable board. This is thanks to its 34-inch width and its 'egg-like' shape. When you look at it, you'll notice it maintains a considerable width throughout its length. It then rounds out in the nose and tapers off in the tail – a great shape for stability. Yet, the tail is small, which is a design that helps its other capabilities like speed and tracking.
For testing purposes, I took this board out with one of my friends who had never paddled before. I put her on an all-around with a more narrow shape first, and when I asked her to switch to the Diatom TEN6 CX and asked what she thought, she first mentioned the difference in stability. If my friend who has never paddled before could pick up on its stability, then I feel comfortable saying that it will be stable for most people. Plus, she is a very tiny person and the Diatom TEN6 is a big board, yet she had no trouble paddling it. Because it has a 340 lb weight limit and wide dimensions, it's clearly suitable for larger paddlers. But now we know that it's also suitable for smaller folks too!
Speed Test: [8.9/10]
| | |
| --- | --- |
| Sea Gods Diatom TEN6 CX | |
| Top Sprint Speed: | 5.25 MPH |
| Average Cruising Speed: | 4.25 MPH |
SUP Board Guide's Speed Testing:
To obtain our speed test results, we use a Speed Coach Sup 2. This gives us accurate readings on how fast we are paddling and our current stroke rates. For the top sprint speed, we paddle as hard as we can for approximately 10-15 seconds and then record our average speed. For the casual test, we paddle at 35-40 strokes per minute for approximately 30-60 seconds and record the average speed.
Considering this is a wide SUP with an overall egg shape, it is not meant for speed. However, it is only 20 lbs, so it's easy to get it up to a mellow, cruising pace without putting a ton of force behind your paddle stroke. This makes it a fun and easy board to ride, and you won't tire out trying to push it across the water.
In terms of its sprint test, a score of 5.4 MPH measures up to the other Sea Gods CX boards recently tested. 5.4 MPH is only a few tenths of a second slower than the Sea Gods Carta Marina CX, which is a touring board. It is also four-tenths of a second faster than the Sea Gods Medusa CX, which is a yoga board. This puts it right in line with its all-around label!
Tracking: [8.9/10]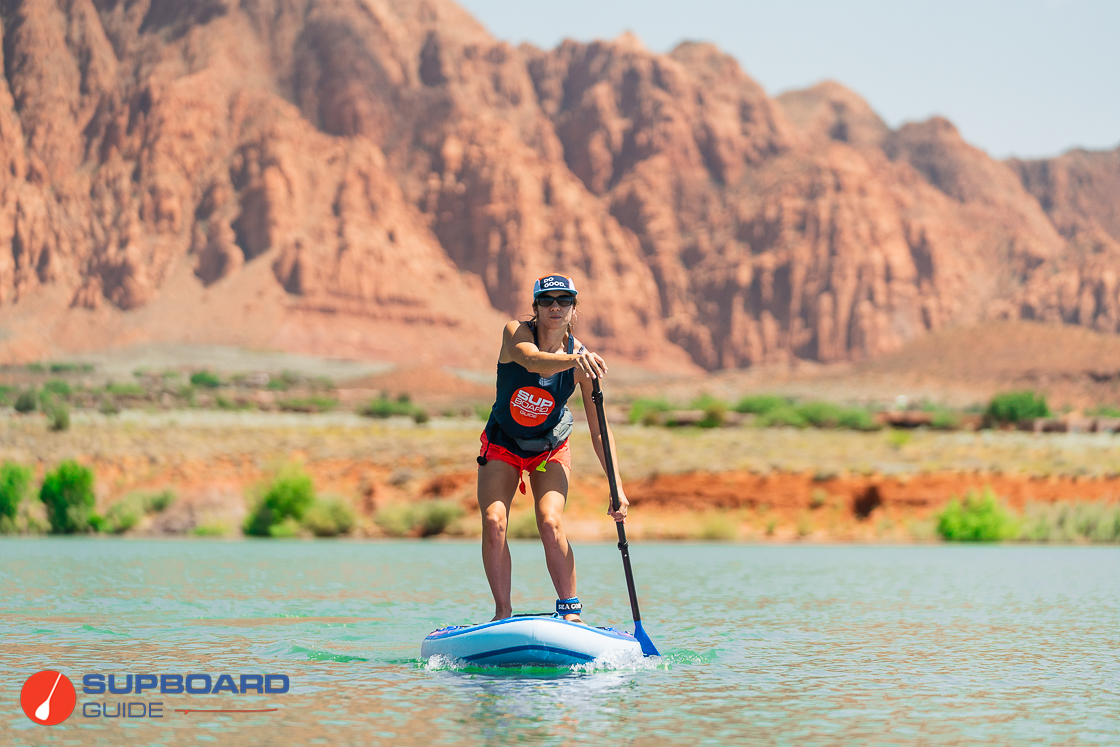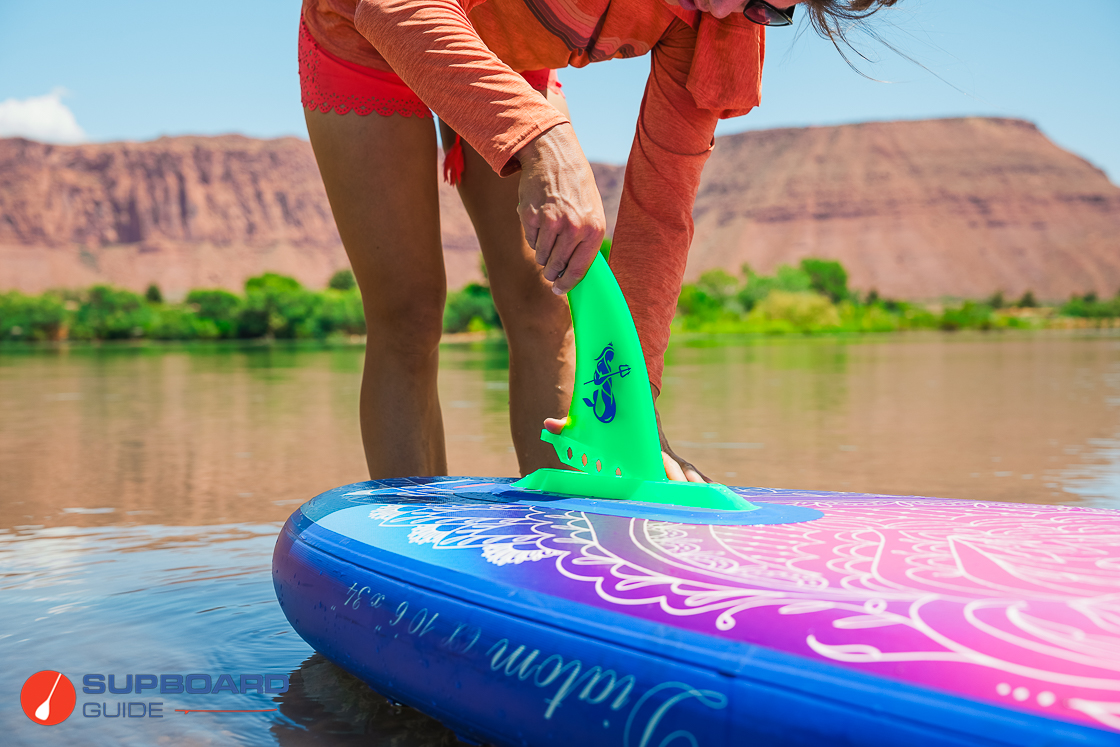 In general, shorter SUPs are meant to be more maneuverable than trackable. Since the Diatom TEN6 CX is only 10'6", this is the case here. This makes us first and foremost wish SeaGods would pair this SUP with their 9'' hatchet-style fin instead of the 9'' dolphin-style. The hatchet fit is straighter, which helps enhance tracking more than a fin that has a curve in it.
Depending on how good your form is, you will find that you can paddle in line for approximately 4-5 strokes on each side. Taller paddlers will have an easier time planting the paddle into the water at a vertical angle, and thus tracking straighter, due to the board's width. If you are shorter, spend a few minutes before each paddling session practicing your stroke, and you will find that your tracking will improve! If you need advice on how to improve your stroke, check out our YouTube video How To Improve Your Paddling Technique.
And while we would prefer the hatchet to the dolphin-style, 9'' flex-fin with a Kumano plug system is one of our favorite fins when it comes to quality versus convenience. It's easy to pop into the US fin box using the fin plugs, and it's flexible but not to the point where it will bend if you set the board on the ground with it still in place. However, we recommend avoiding that if you can.
Maneuverability: [9.2/10]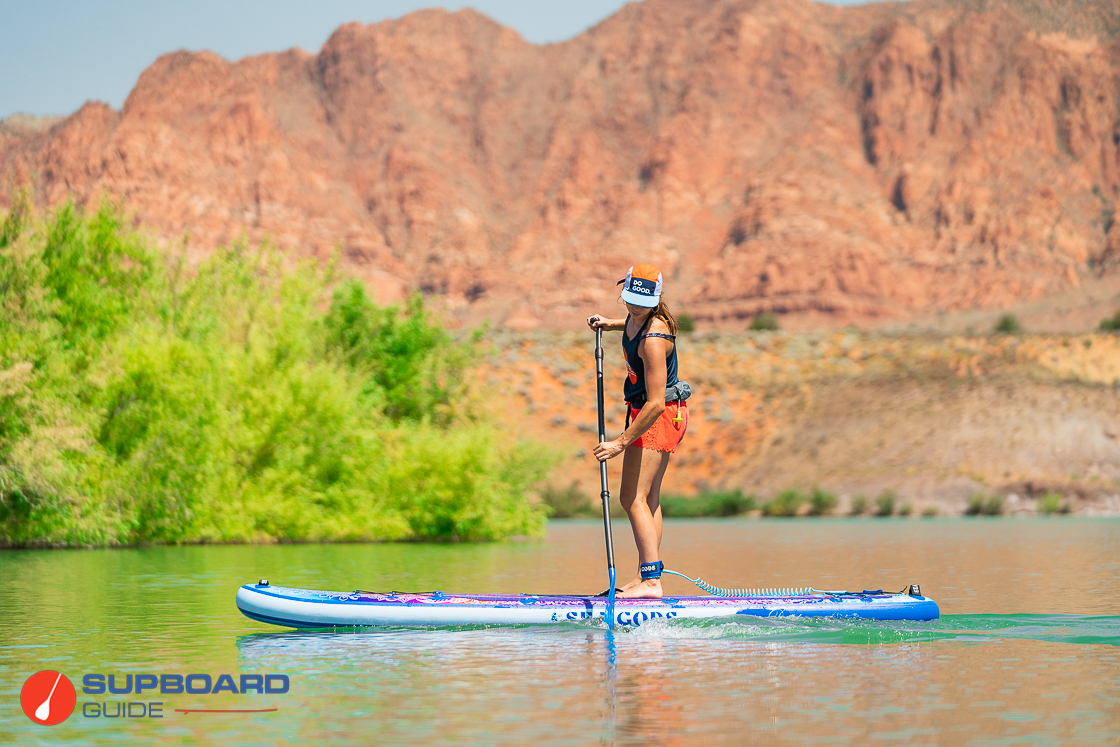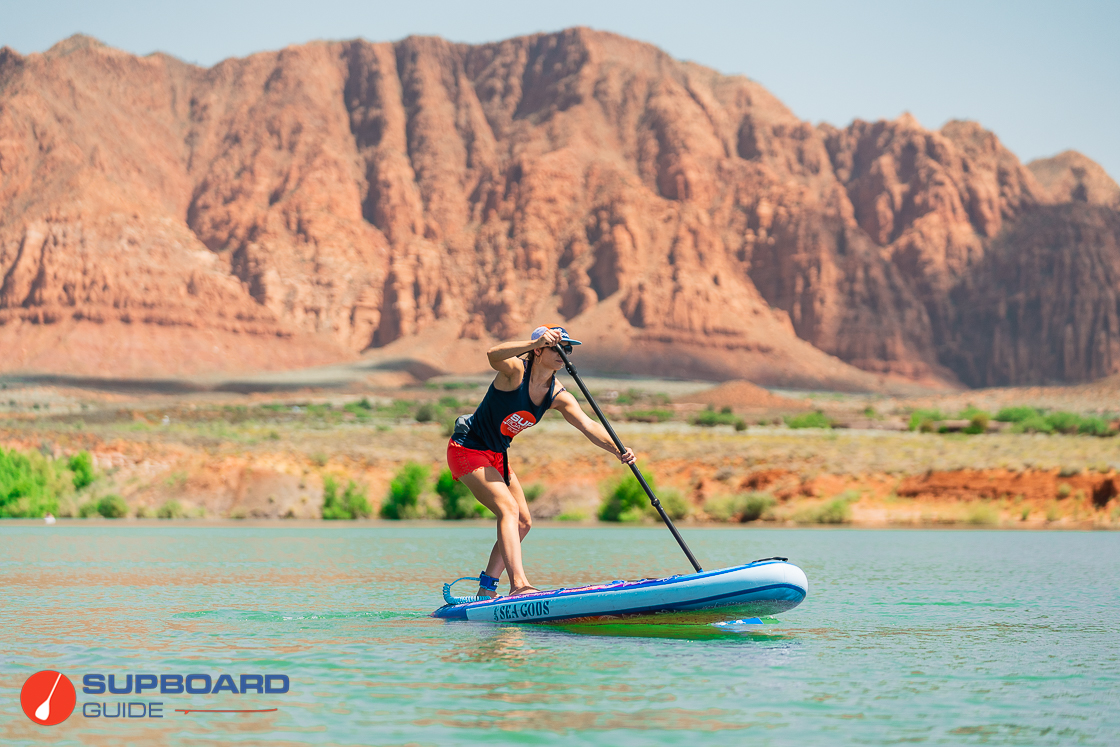 As I said before, shorter boards are more geared toward maneuverability than tracking. However, there are no hard and fast rules when it comes to SUP testing. There are other factors to consider, two of them being overall board size and weight. The Diatom TEN6 CX is a bigger board, so in theory, it might be slower to turn than other more nimble boards.
However, it is only 20 lbs, which is extremely light. Especially in relation to its overall size.
With that being said, it's a highly maneuverable SUP. It only took 3.5 back sweeps to turn it a full 360 degrees. It's very easy to change directions using different paddle strokes. There are no problems when it comes to maneuverability, and anybody, whether you are tiny or large, will be able to control which direction you go.
Also, step-back turns are a breeze. Firstly because it's so stable that walking to the tail of the board is easy, but second, because it's so lightweight the nose naturally lifts out of the water as your body weight brings the tail down.
Construction Quality: [9.8/10]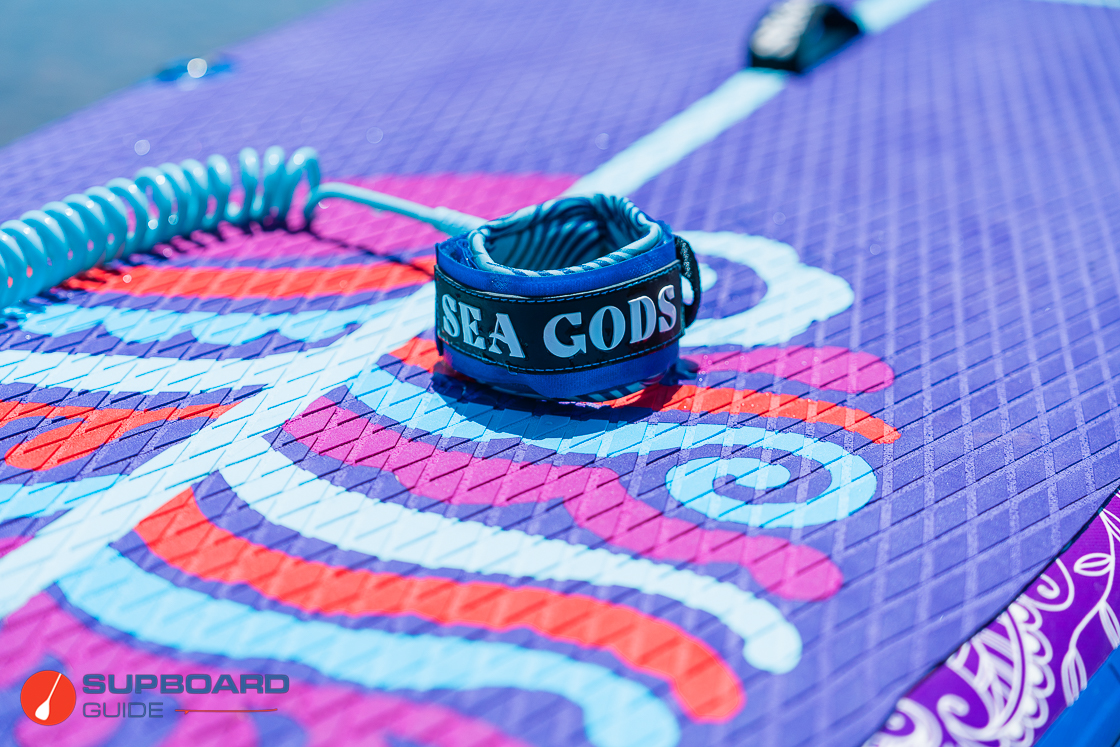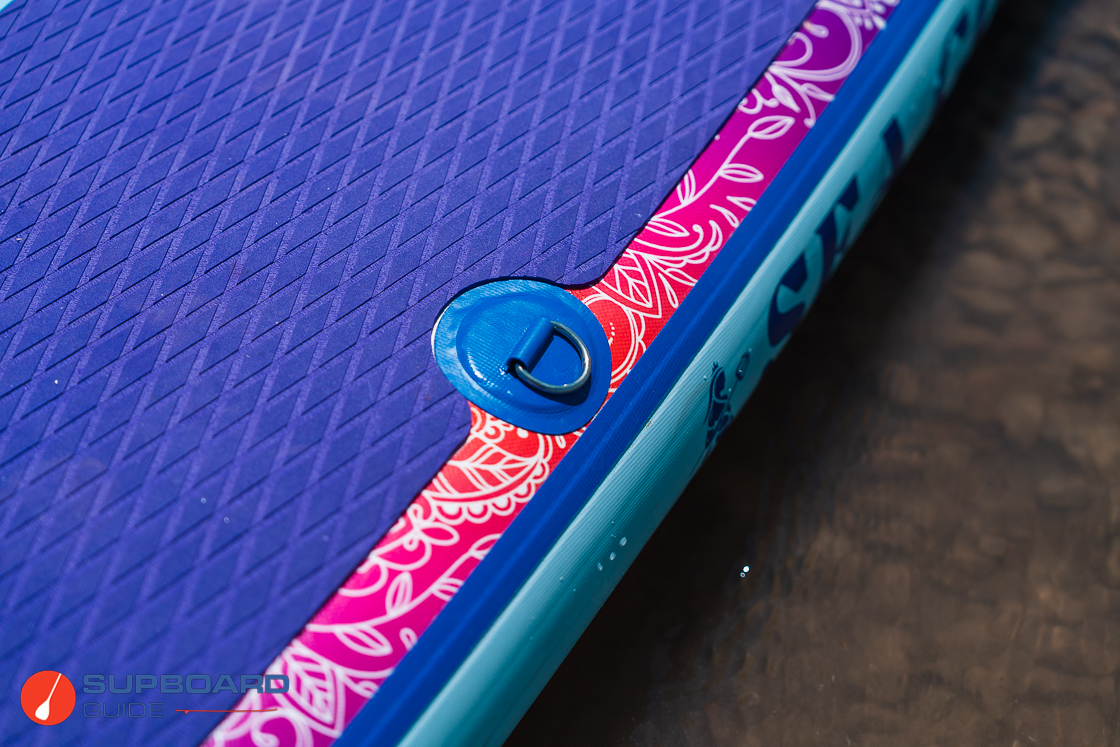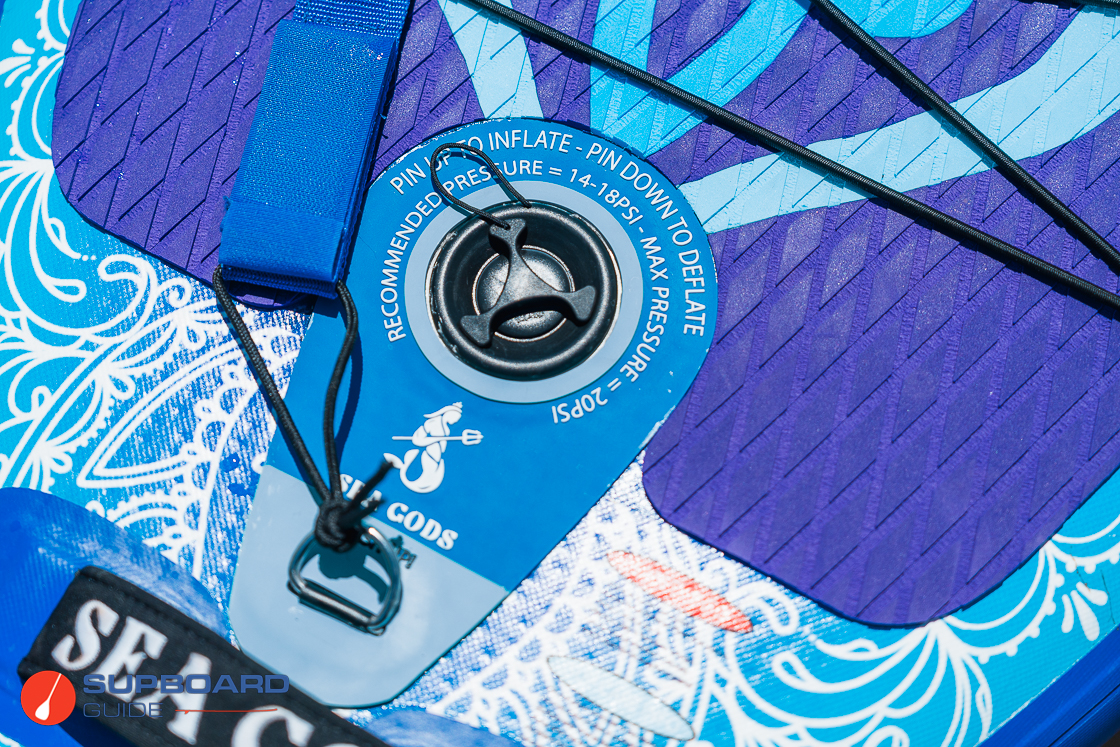 The construction quality of the Sea Gods Diamton TEN6 CX produces lightweight, yet very rigid and durable boards. The CX construction produces boards that are only 20 lbs, this one included.
Changing from a V-knitted drop-stitch to an X-woven is the main factor that allowed it to cut weight. By using an X-woven drop-stitch, fewer space yarns are necessary to keep the board rigid. Fewer space yarns mean less material, and thus less weight.
ULF, 'ultra-light fusion,' means the two layers of PVC are stuck together using heat and pressure instead of glue, making them essentially one thick layer instead of two separate ones. Also, adhesives are no longer used to adhere the ULF PVC layers to the inner core of the board. Fusion replaced that as well. Without adhesives, even more weight is cut.
Additionally, Sea Gods chose to reinforce just about every piece of material that makes up the SUP. This includes
– 12800/M2 Drop Stitch fabric
– Triple reinforced D-rings
– 1.7mm thick PVC
– Heat molded seams
– Integrated seam reinforcing strip (the blue strip surrounding the board)
– 5mm thick diamond-grooved deck pad
– Nylon-wrapped neoprene handles
When you examine the board, you will notice that all of the lines are very straight, and there is no excess glue near the seams. It is clean and crisp, just like the artwork printed onto the hull. Even the blue reinforcing strip that is added on after the fact as a way to increase longevity is straight and precise, despite having to be rounded to curve around the nose. It helps mitigate damage, seam tears, and storage rub. Not to mention the deep blue color of it accents the deep purple deck pad.
Speaking of the deck pad, it is extremely comfortable and while 5mm thick might not mean much on paper, you can feel its thickness when standing on it. It also extends far back on the tail for extra grip when attempting step-back turns.
Board Stiffness: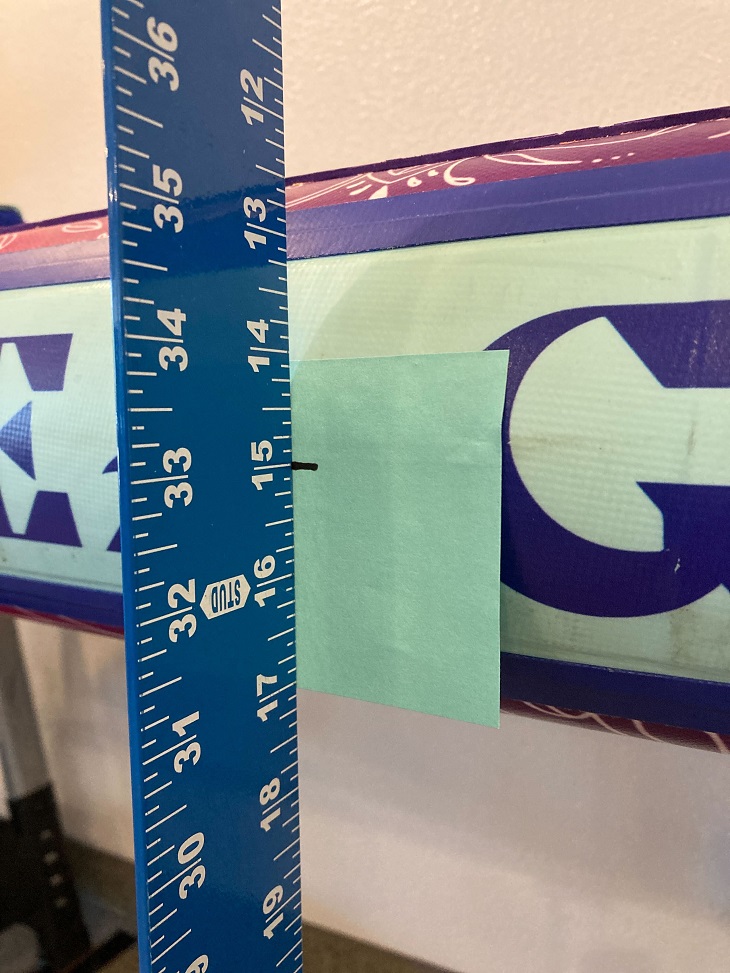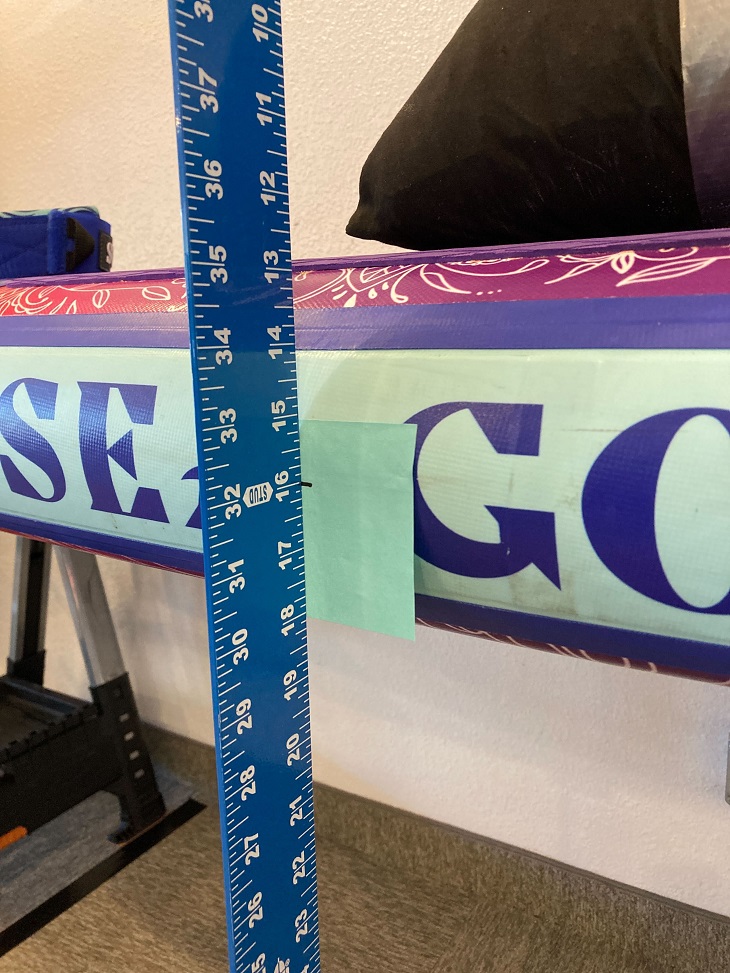 Stiffness Test:0.8125" Bend
SUP Board Guide's Bend Testing:
In order to attest to the rigidity of each board, we use a bend test curated by Supboardguide. In order to obtain the results, we inflate the board to its maximum recommended PSI and then place it across two sawhorses that are 7 feet apart. We then take a measurement in the middle of the board. Then, we place 150 lbs worth of sandbags on the middle top of the SUP. Last, we record its displacement (the movement from its original position). We use this method for every board we test as a way to mathematically compare boards across a common denominator.
The Sea Gods Diatom TEN6 CX bent less than 1 inch (0.825" to be exact) after placing 150 lbs of sandbags on top of it. We are happy with this bend test result, as it falls right in line with the other Sea Gods CX boards we bent this year, and it feels very stiff on the water. The new CX, cross-weave, technology does create rigid boards, as corroborated by both our bend test and on-water testing.
Features/Accessory Review: [9.4/10]
Features: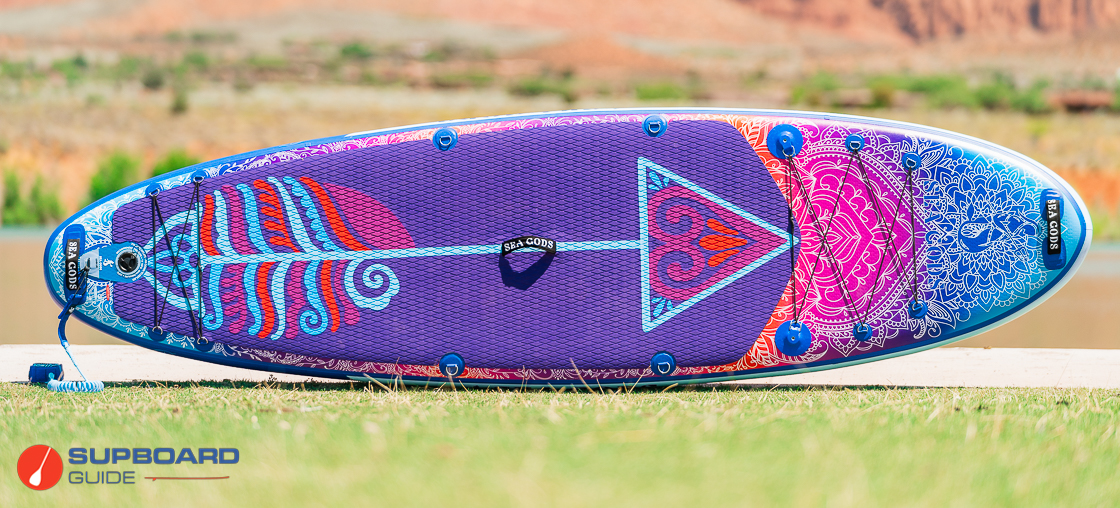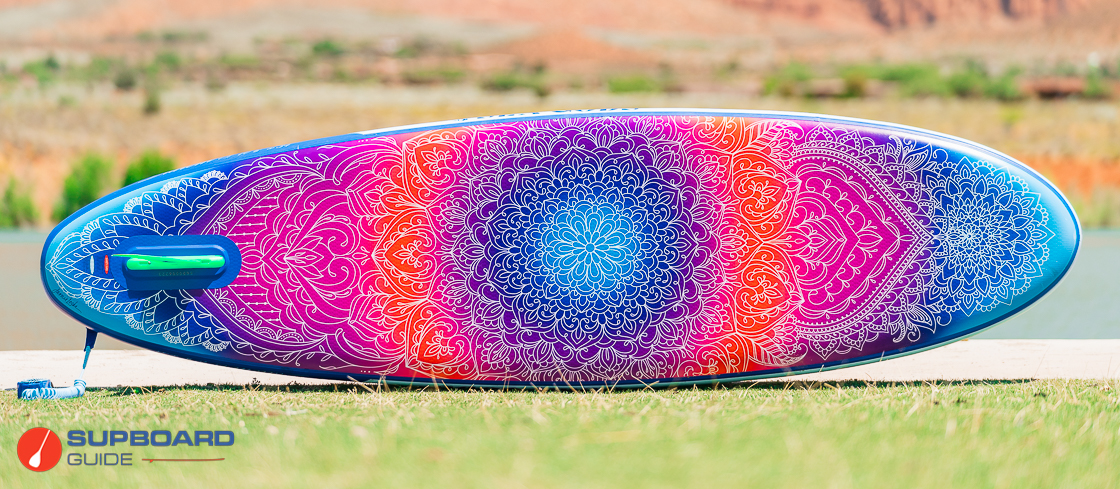 Starting at the nose, there is a heavy-duty neoprene-wrapped portage handle that is embroidered with the brand name Sea Gods. These handles are comfortable, provide excellent grip, and are made to withstand lots of use.
Then you get a patch of beautiful mandala art before the 6-point bungee cargo area, where each point of attachment features a D-ring. The two points of attachment closest to the middle of the SUP are action mounts, meant for attaching a GoPro, camera, or even an accessory like a cup holder. We love how the D-rings and action mounts are integrated into the bungee points. The cargo space itself is large enough for multiple dry bags or even a large cooler. Tip: attach a cooler by utilizing the D-rings instead of stuffing it underneath the bungees. That way, you can preserve the cargo space by reducing the amount of stretch it experiences. However, it is a heavy-duty bungee area and straps down cargo tightly and securely.
Next, the deck pad begins and extends to the tail of the board. It is a 5mm thick, diamond-grooved pad that is super comfortable with lots of traction. It's one of the factors of the board that you can only truly attest to its quality if you feel it for yourself. Or, you can take our word for it.
There's a middle carry handle and a rear carry handle, so there are plenty of options for how you transport the board into the water. If you prefer partner carrying, it's doable!
The four D-rings in the middle of the board are meant to be used for attaching the simple-to-use kayak seat from Sea Gods that is sold separately. We love the kayak seat because it is minimalistic and only takes around 3 minutes to attach.
To finish it up, there is a four-point bungee cargo space on the tail of the board that also has D-rings at the attachment points. And there is a D-ring specifically for leash attachment. Suffice it to say, there is plenty of space for attaching cargo to the board. You can really take advantage of that 340 lb weight capacity!
Included Accessories: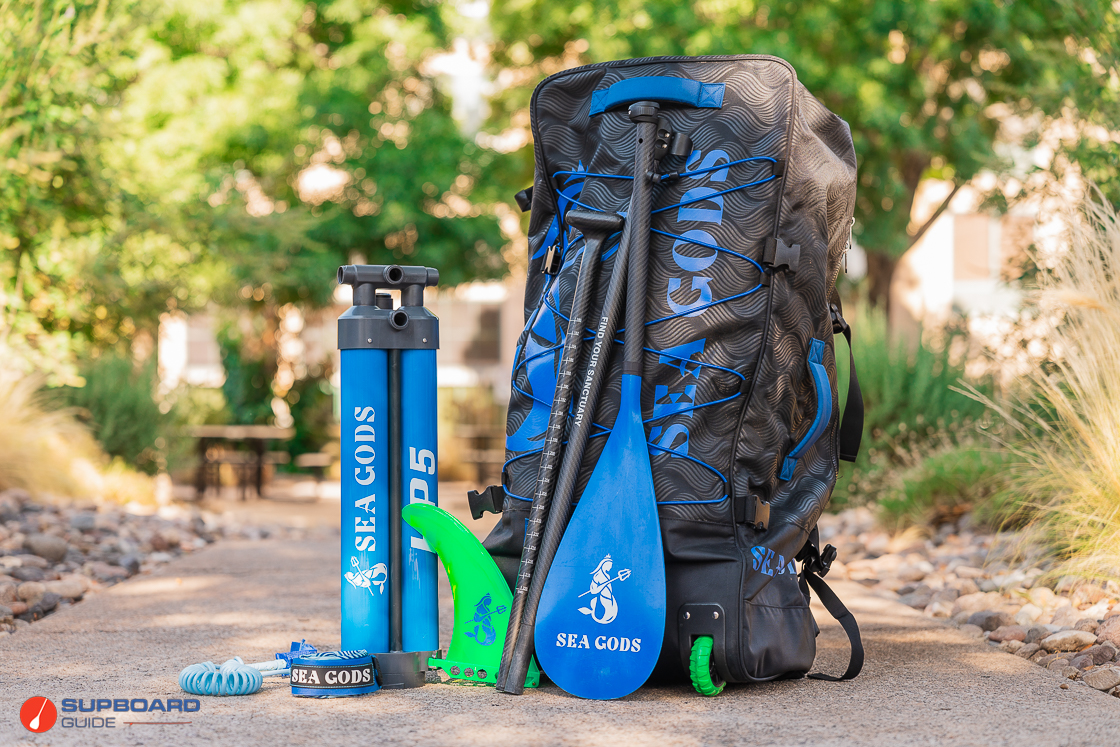 The Diatom TEN6 CX comes as a full iSUP package. This includes
Carbon fiber 3-piece paddle with an 8.5 x 17-inch Nylon blade
Heavy-duty wheeled back (with bright green wheels!)
Dual chamber hand pump (it takes around 14 minutes to hand pump the board to 20 PSI, tested by me)
Maintenance kit
11' coil leash
US fin box with Kumano plug system and extra plugs
This is a great package deal, and each accessory is designed with paddlers in mind. The backpack itself easily fits the SUP and has pockets for the fin and room for other personal items. It has a unique design where the zipper is on the side that is up against your back.
Summary Review of the Diatom TEN6 CX – 2023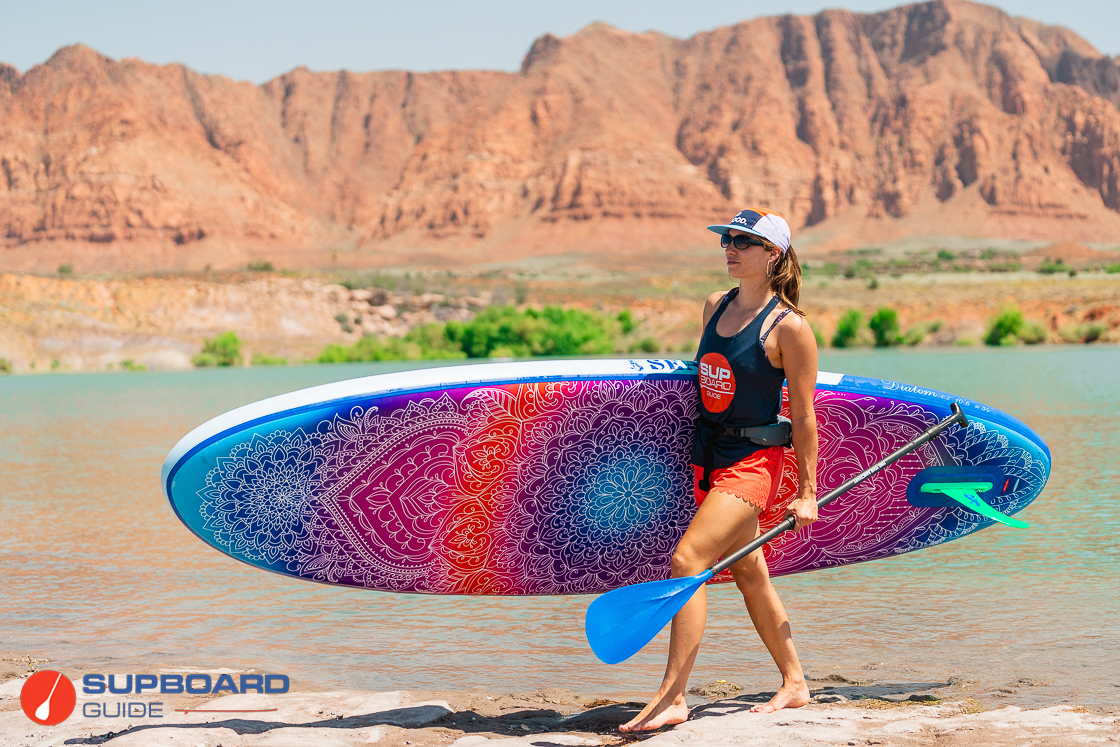 Sea Gods is an eye-catching brand not only because of the original artwork that is featured on the boards, but also because of the board's overall great performance. We feel like Sea Gods deserve a round of applause for their ability to combine the two! At 10'4 x 34'' x 6'' and only 20 lbs, it is stable for all paddlers of all skill levels, yet still excels in speed and maneuverability. It's an easy board to handle and have fun on.
By upgrading the Diatom TEN6 CX to cross-weave construction, it is now an even lighter weight board than before. It still features Ultra Light Fusion PVC layers, and reinforced/heat-molded seams for rigidity and longevity.
Happy paddling! We hope you enjoyed this review of the Diatom TEN6 CX. If you have any questions or comments please leave us a comment below!
The following two tabs change content below.
SupBoardGuide
Heyo! At SupBoardGuide.com we are a team who love the water, the outdoors, and are more than grateful that our full-time job allows us to review stand up paddle boards. We paddle year round (it helps that we are just about 2 hours outside of Las Vegas), and we bring in a wide range of paddlers with the goal of providing our readers with the best, most in-depth, and accurate stand up paddle board reviews.
Latest posts by SupBoardGuide (see all)