Hydrus Joyride XL Inflatable SUP
Pros
Super stable platform
Exceptional rigidity
Extremely tough construction
Excellent array of fittings
3 different fin options - a really classy touch!
Nice open unencumbered deck area
Cons
The deckpad can be slippery for bare feet
The super robust construction means that it's not the best choice for a paddler needing a lightweight board
Extremely user-friendly, excellent stability and super-tough yet surprisingly versatile too – we like the Hydrus Joyride XL a lot!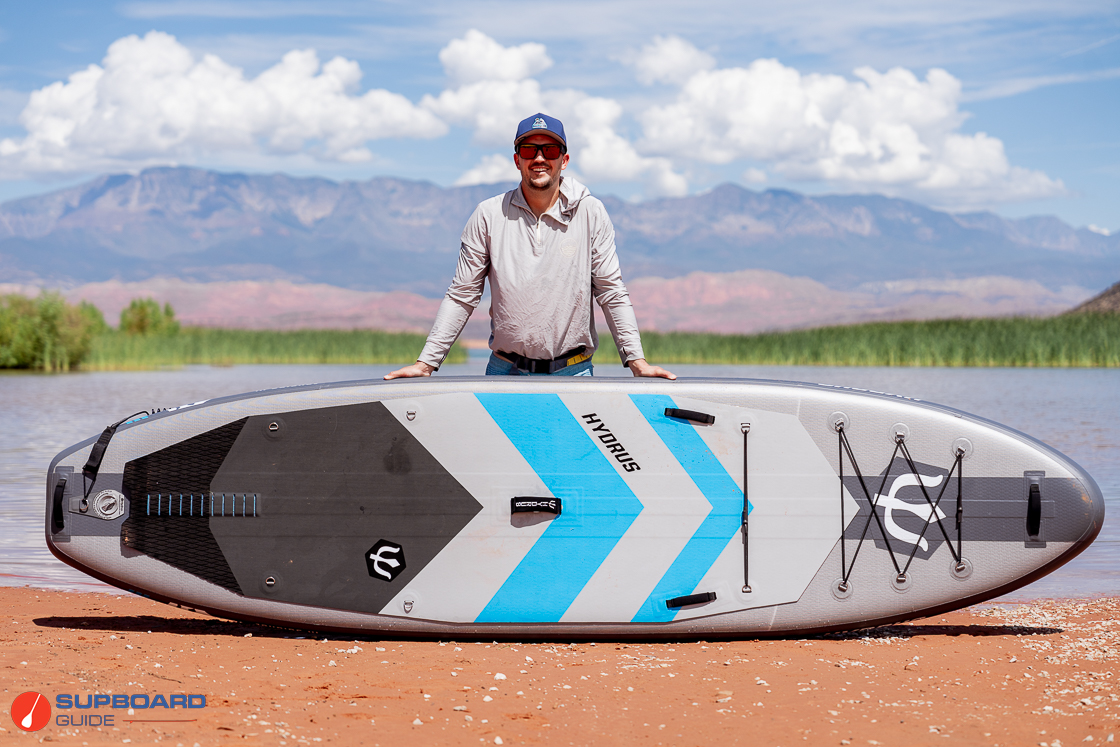 The Joyride XL is the big brother of the Hydrus Joyride, a board that performed extremely well in our review which you can read here. The XL is 2″ wider than its sibling, which equates to a huge increase in terms of stability, so it's no surprise that this board scores very highly in that department. However, while most boards of this width and length are very much beginner-orientated, the Hydrus Joyride XL manages to offer rather more. It delivers a decent turn of speed and tracks nicely; enough to function as a touring board, and it particularly stands out as a first time river board, which is after all its pedigree; Hydrus are based in Boise, Idaho and river paddling is in their blood.
We think the Hydrus Joyride XL would be a great SUP for paddlers who:
Are above average in weight/height and want a super stable platform
Want a good mix of beginner-suitable stability, touring potential and river-riding performance
Like a board that's tough and durable
Hydrus Joyride XL Spec Sheet

Board Category: All-Around
Listed Board Dimensions: 11'6 x 34" x 6"
Measured Board Dimensions: 11'6 x 34.5" x 6"
Listed Board Weight: 29 lbs
Actual Board Weight (board only, not inflated): 25.5 lbs
Listed Max Capacity: 280 lbs
Recommended PSI: 15-25 PSI
Fins: Single US fin box with 3 fin options supplied: 9" touring fin, 6.5" swept back and 4.5" gummy fin for river riding.
Paddle: No paddle supplied with the standard kit, glass/carbon paddle as bundle extra for $160
Board Shell Construction Materials: dual-layer fusion-laminated PVC
Drop-stitch type: X Woven
Price Range:
Warranty: limited lifetime warranty
Performance Review of the Hydrus Joyride XL Stand Up Paddle Board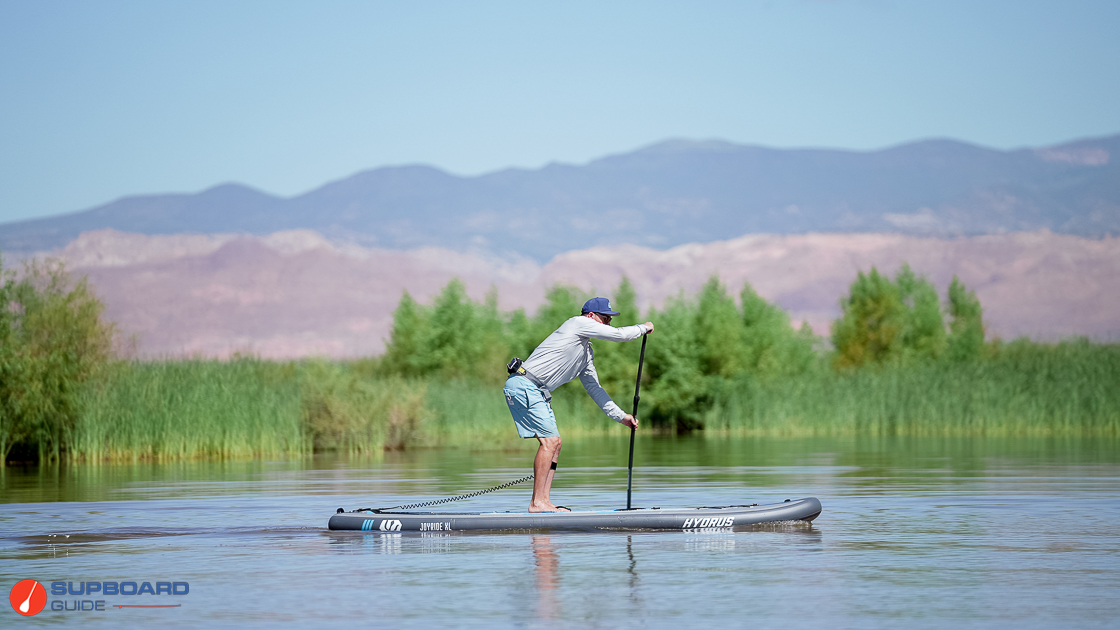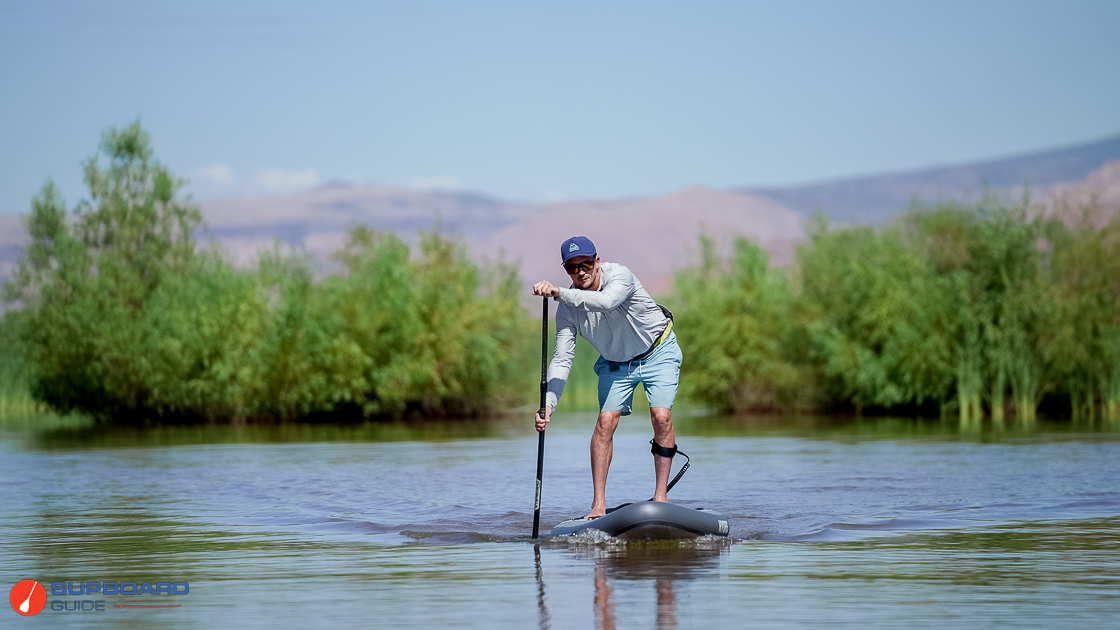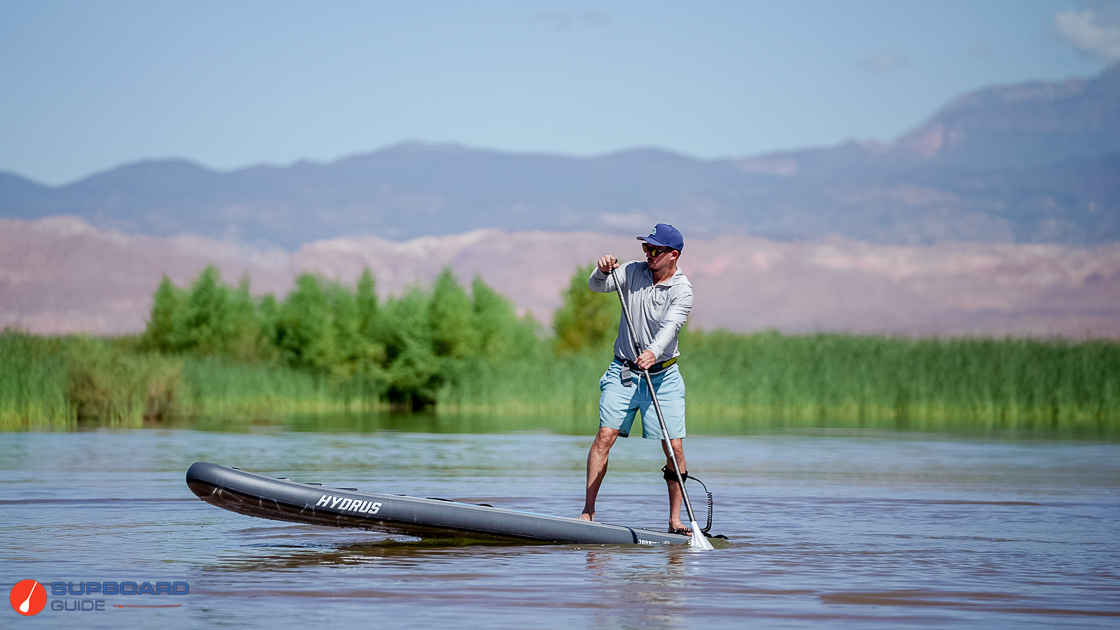 Overall Score: [9.7/10]
Overall: 9.7
Stability: 9.8
Speed: 8.8
Tracking: 8.9
Maneuverability: 8.8
Construction Quality: 9.7
Features/Accessories: 9.5
Check Prices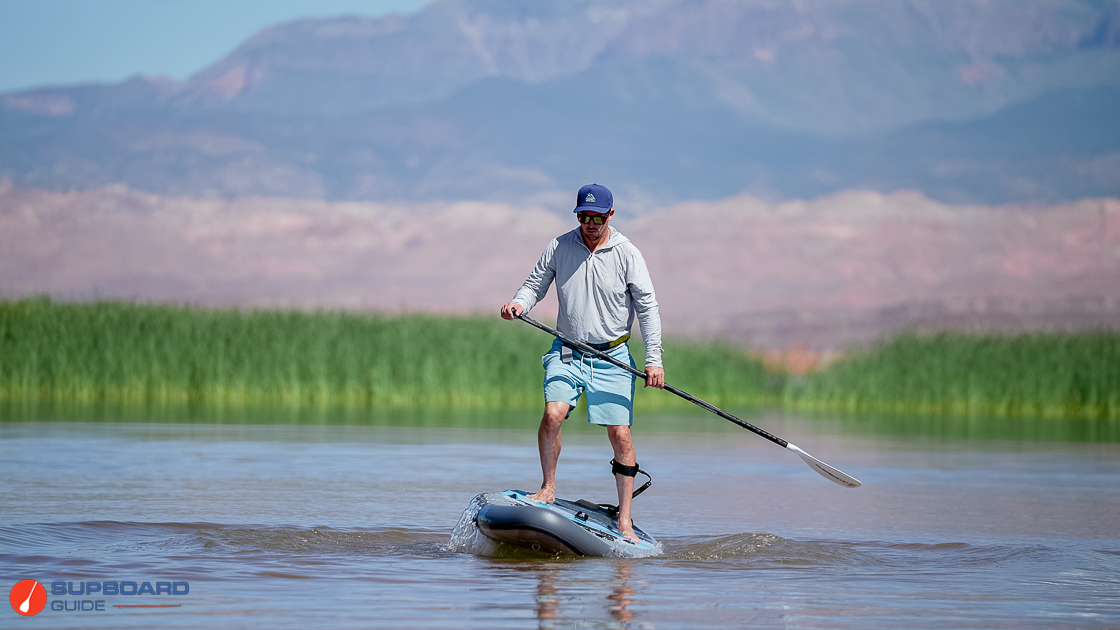 Stability Rating: 9.8/10
The Hydrus Joyride XL design is like a case study from the 'how to achieve maximum stability in a paddleboard' manual. It's quoted as being 34" wide which is a whole lot of width, but it actually measures even more than that; nearer 34.5". And as can be seen in the main picture, the planshape of the Joyride XL is extremely parallel-sided, so this maximum width measurement actually extends a long way back behind the standing area, and even more significantly, a very long way forward too. Those extremely wide 'shoulders' up front create an exceptionally stable platform. The extreme stiffness of the design also plays its part; the less a board flexes, the more stable it feels.
What all this translates to on the water is an exceptionally stable ride. On a flat water day, you're hard pressed to know you're even afloat! Those very parallel sides through the middle section also give excellent secondary stability; if you attempt to push a rail down into the water there's a whole lot of buoyancy there pushing it right back up again.
The Hydrus Joyride XL is clearly an awesome choice for heavier paddlers looking for maximum stability. It will certainly carry a lot of weight, so it will be great for paddlers who want to put their kids or the dog (or indeed both) onto the board, and it will work well too for touring paddleboarding involving the carrying of cargo. Our only caution on this would be not to put too much weight in the front cargo area as it's a long way forward, as we discuss in more detail in the Features section later in this review.
All that stability will be fantastic too for paddlers wanting to get into white water paddling, again, particularly the heavier or less mobile paddler.
Speed Test: 8.8/10
| | |
| --- | --- |
| Hydrus Joyride XL 2023 | |
| Top Sprint Speed: | 5.3 MPH |
| Average Cruising Speed: | 4.2 MPH |
SUP Board Guide's Speed Testing:
To obtain our speed test results, we use a Speed Coach Sup 2. This gives us accurate readings on how fast we are paddling and our current stroke rates. For the top sprint speed, we paddle as hard as we can for approximately 10-15 seconds and then record our average speed. For the casual test, we paddle at 35-40 strokes per minute for approximately 30-60 seconds and record the average speed.
Width usually comes at the expense of speed, since extra width means extra drag. (This is why raceboards are generally extremely narrow). Most boards of 34" or wider are relatively slow, so we were pleasantly surprised by how well the Hydrus Joyride XL performed in this department. That 'bullet-like' plan shape with the long parallel sides helps it cut a clean line through the water, and the progressive rocker profile (explained in detail in the maneuverability section) helps the board stay comfortable over the bumps. While you'd never buy a board this wide specifically for fast paddling, it's only when you try and sprint on the Joyride XL that you really notice the width, and also the extra weight of the board from the extremely robust construction. Whereas when cruising neither of these factors are so noticeable, and the cruising pace of the Joyride XL really isn't bad. It certainly doesn't put you off the idea of going for a longer paddle and maintaining a decent pace throughout. Because of the boards extreme rigidity you also feel that you could put quite a bit of cargo on deck without it significantly affecting the speed, either.
Tracking: 8.9/10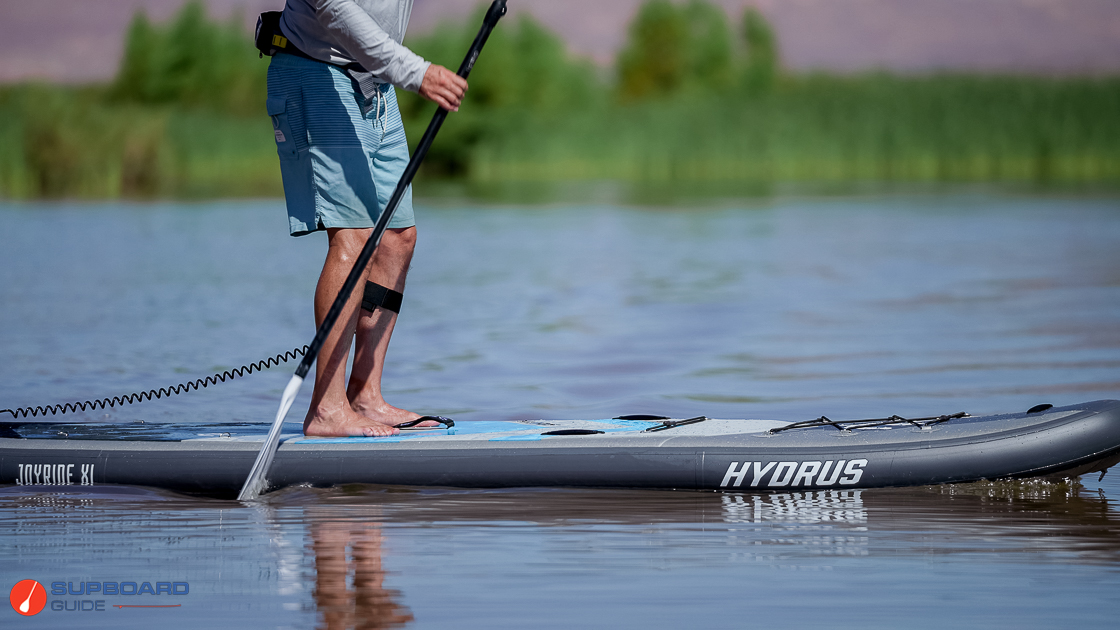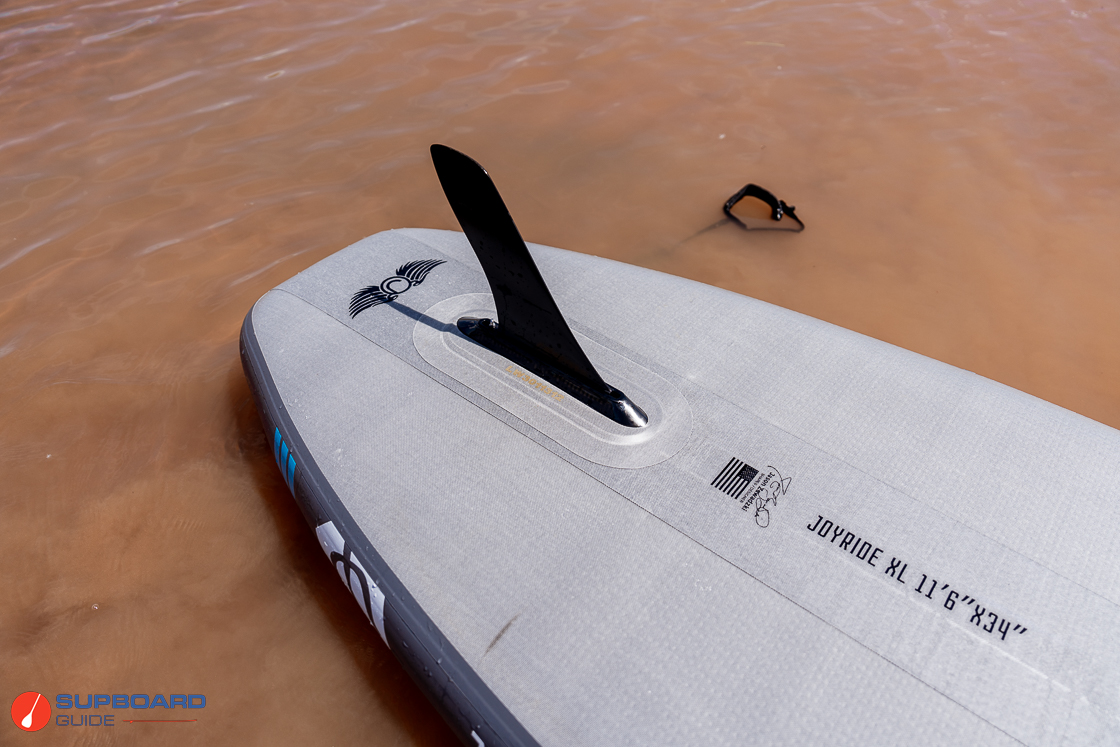 Boards of this width aren't generally the best when it comes to tracking, but those parallel sides and the wide tail along with the extra length actually do a pretty good job in keeping the Hydrus Joyride XLtracking nicely. If you are planning on traveling any decent distance where tracking will matter, then definitely configure the board with the 9" touring fin, which provides the best grip. Seeing as Hydrus use the US fin box on all their inflatable paddle board designs which means a wide range of alternative fins can be used, you could of course opt for an even bigger blade to improve the tracking further.
Maneuverability: 8.8/10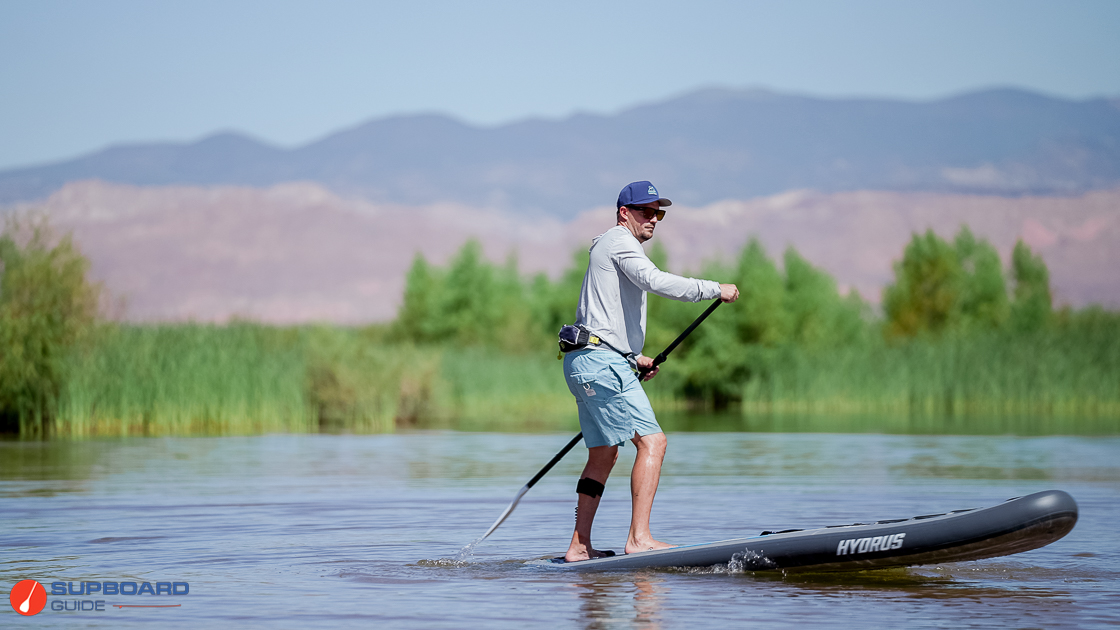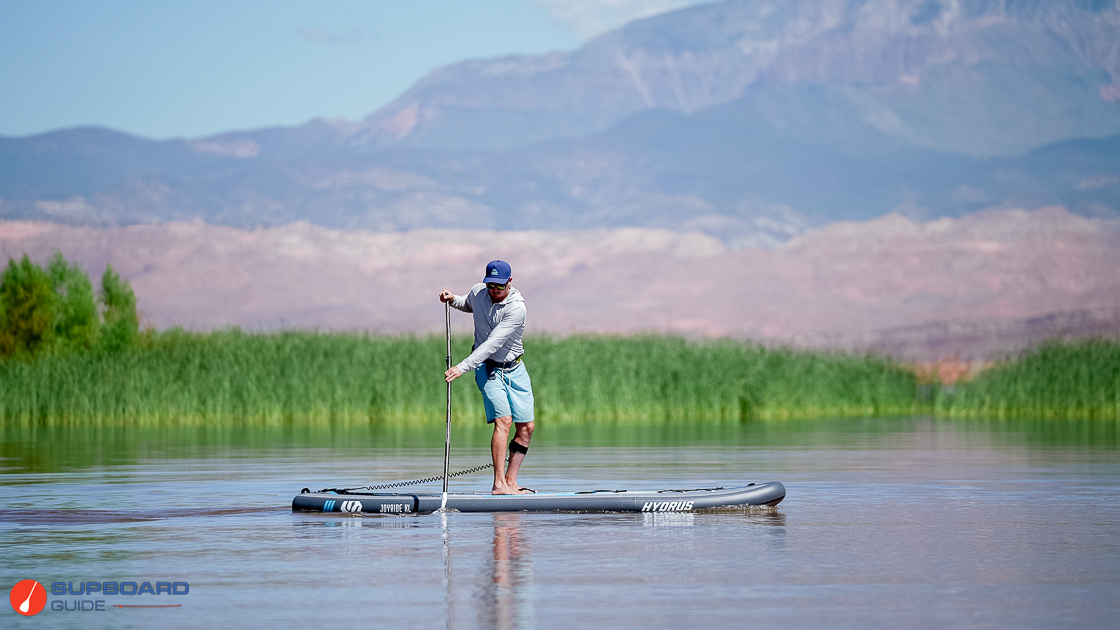 The longer the board, the less maneuverable it is, which is why surf SUPs are generally pretty short. So with the Hydrus Joyride XL measuring in at 11'6 length and performing pretty well in the tracking department too, it's never going to get described as 'twitchy' or super-turny. Nevertheless, it doesn't feel quite so locked-in as many 11'6s, as it's aided by a more progressive rocker profile than we generally see on boards of this size, by which we mean the nose rocker starts a little earlier and then rises more gradually to the nose, and there is just a hint of tail lift too. Both these factors 'free' the board to allow it to turn more easily when you want it to. Plus which, all that stability makes it very easy to step back in order to get more crank into your turn. If you want to loosen it up yet further then put one of the smaller fin options in, which makes a noticeable difference to the maneuverability.
The progressive rocker profile also increases the Joyride XL's suitability for riding over the bumps and holes of an active river. Indeed, our river-riding expert reckons the Joyride XL is about as good a board as he's found for teaching people on Class I-II white water.
Construction Quality: 9.7/10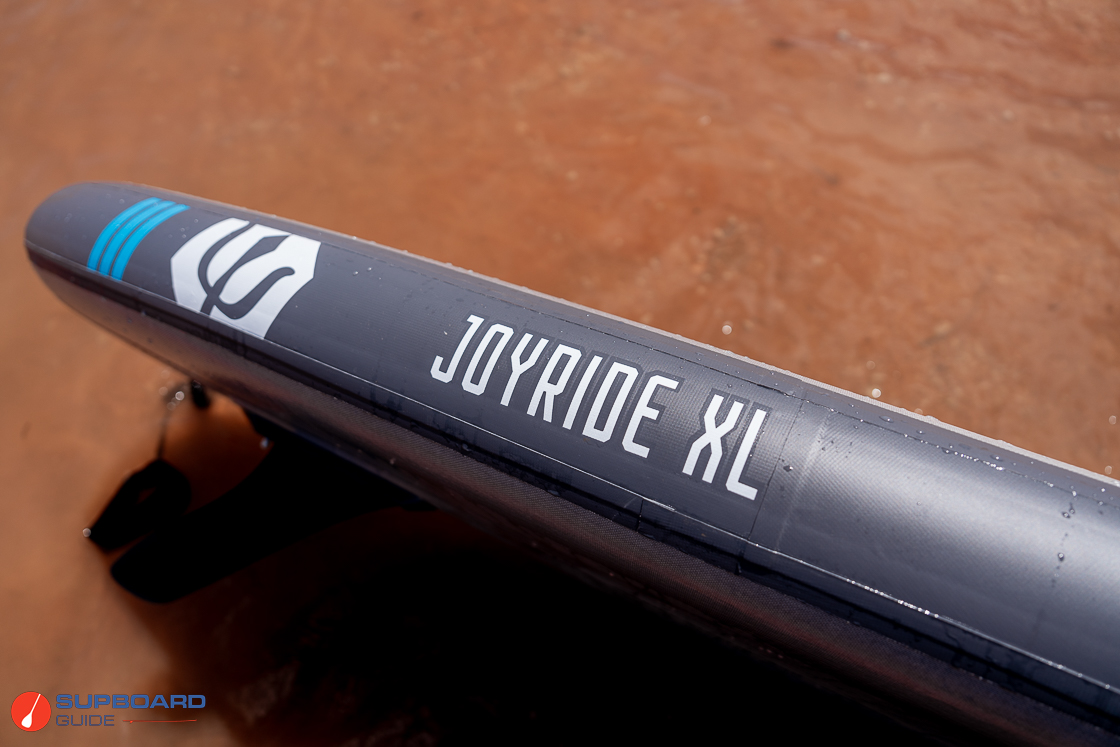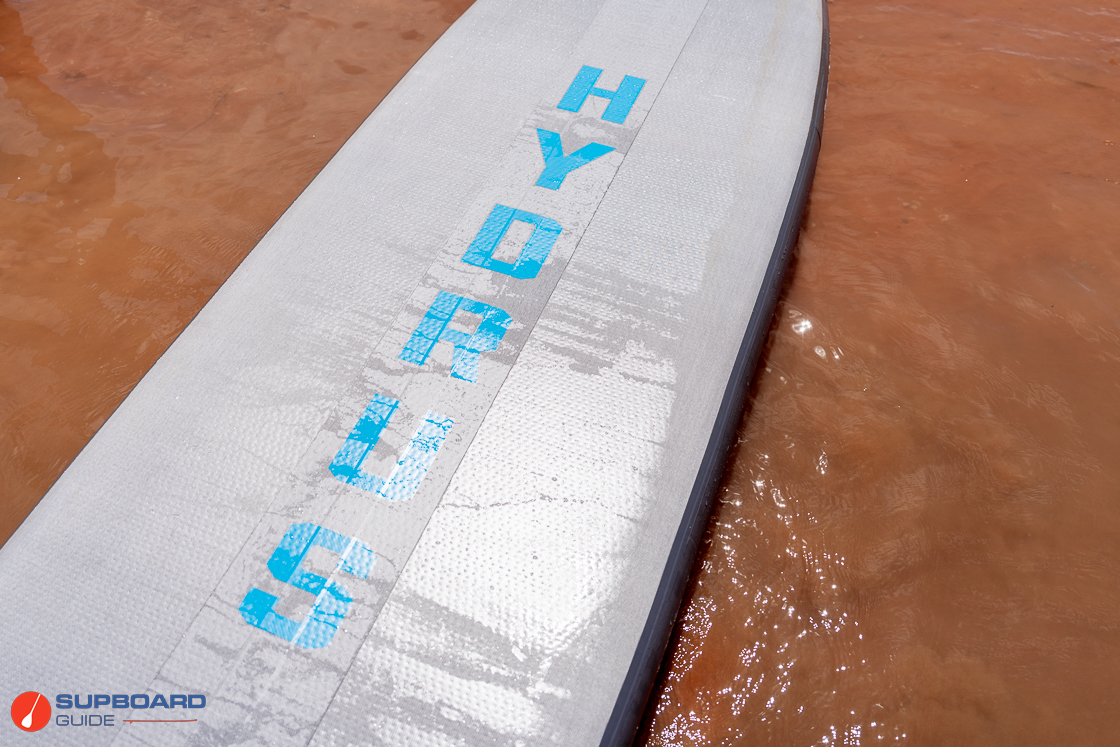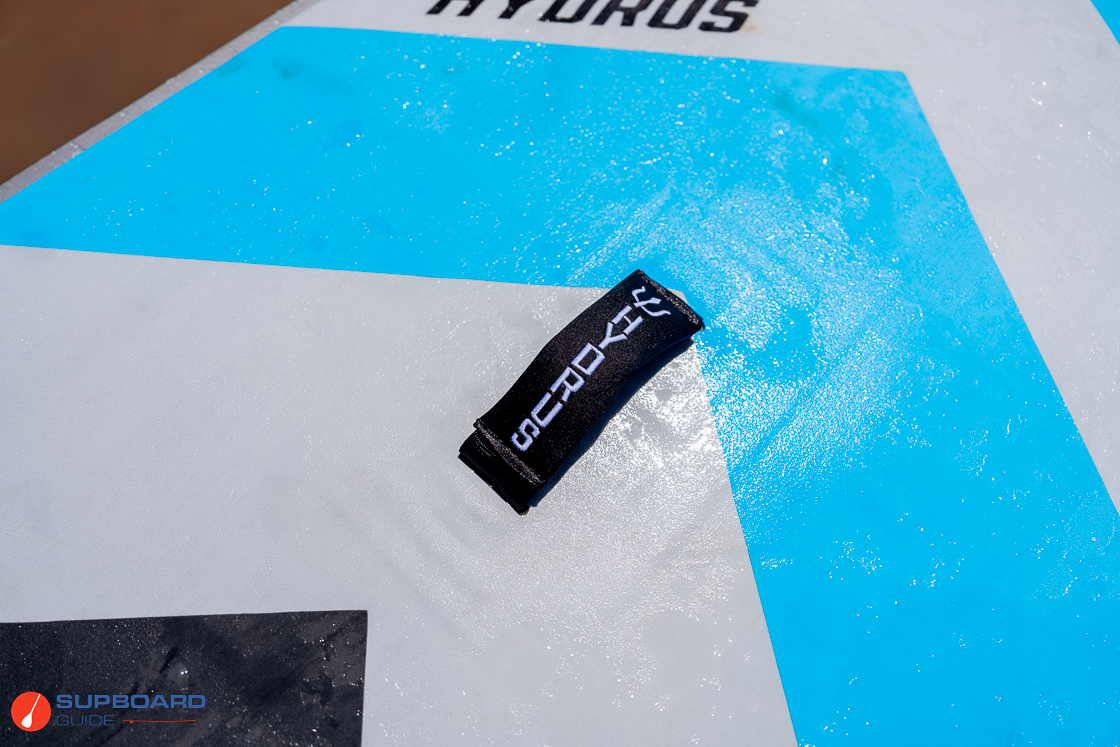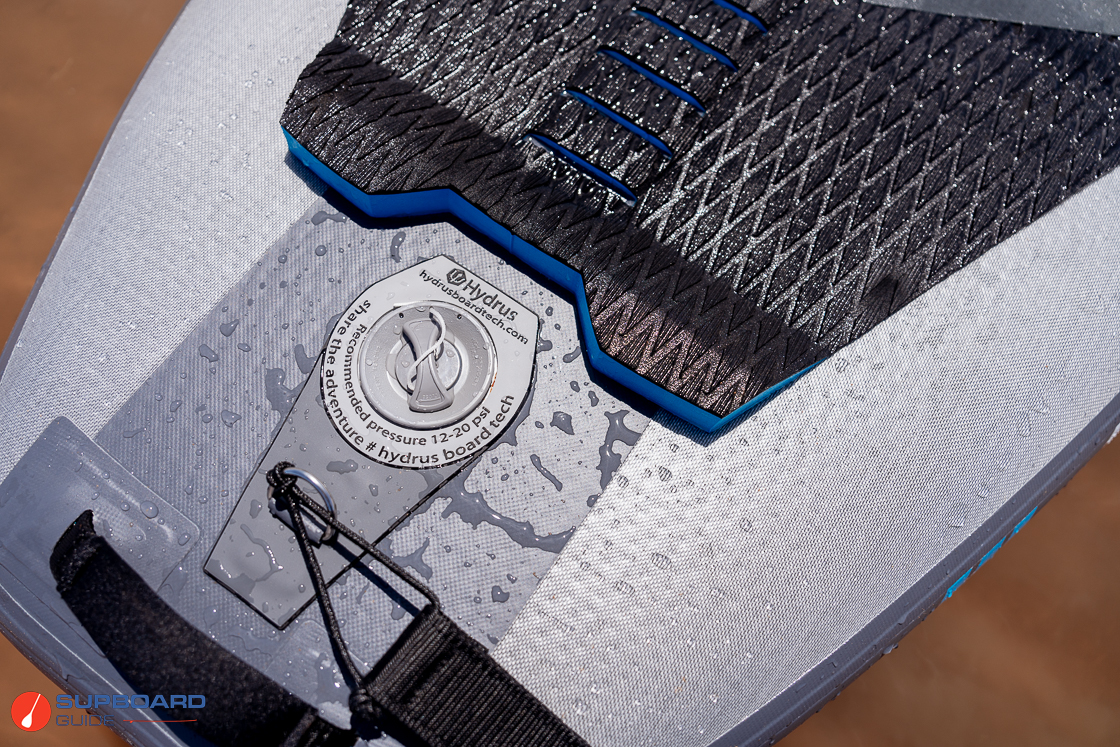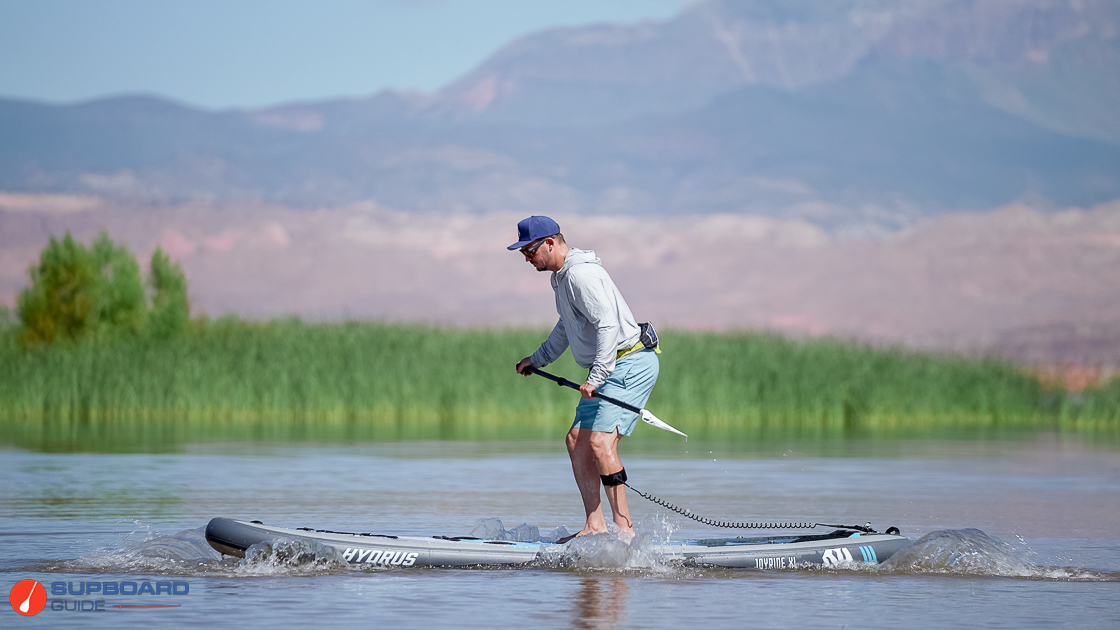 Any manufacturer building boards for white water needs to know all about how to make them tough, and Hydrus' pedigree shines through very clearly here.
Hydrus have upgraded their construction process for 2023. The Joyride XL features a dual layer high density PVC outer shell over an X woven drop stitch core. The two PVC layers of the outer skin are joined together using the 'fusion' heat/pressure construction method which removes an entire layer of glue, thus saving a considerable amount of weight over the traditional double-layer boards. From our testing of many hundreds of boards over the past few years it also does seem that X woven drop stitch is both lighter and stiffer than knitted dropstitch, so this is a definite plus point for the Joyride XL. The seams are welded (another plus point), and the rails are heavily reinforced (yep, we'll give that a plus too!).
To increase rigidity, the board also has a carbon fiber fabric stringer on the deck and underside, with an extra protective layer of PVC over the top. The theory behind these stringers is that because they are resistant to stretch, they reduce the ability of the board to flex, thus making it feel stiffer. And there's no doubt that the Hydrus Joyride XL does indeed feel super-stiff on the water.
Hydrus are clearly very proud of their construction process, hence their lifetime warranty against manufacturing failure. (This warranty is fully explained on the website; it's not talking about a human lifetime, but rather the life span of the PVC material, which is around 10-15 years. It's still a hugely impressive statement to make, though.) Apparently every board is tested to 31PSI before leaving the factory, to ensure that they're definitely going to be fine at their recommended 15-25PSI.
Board Stiffness: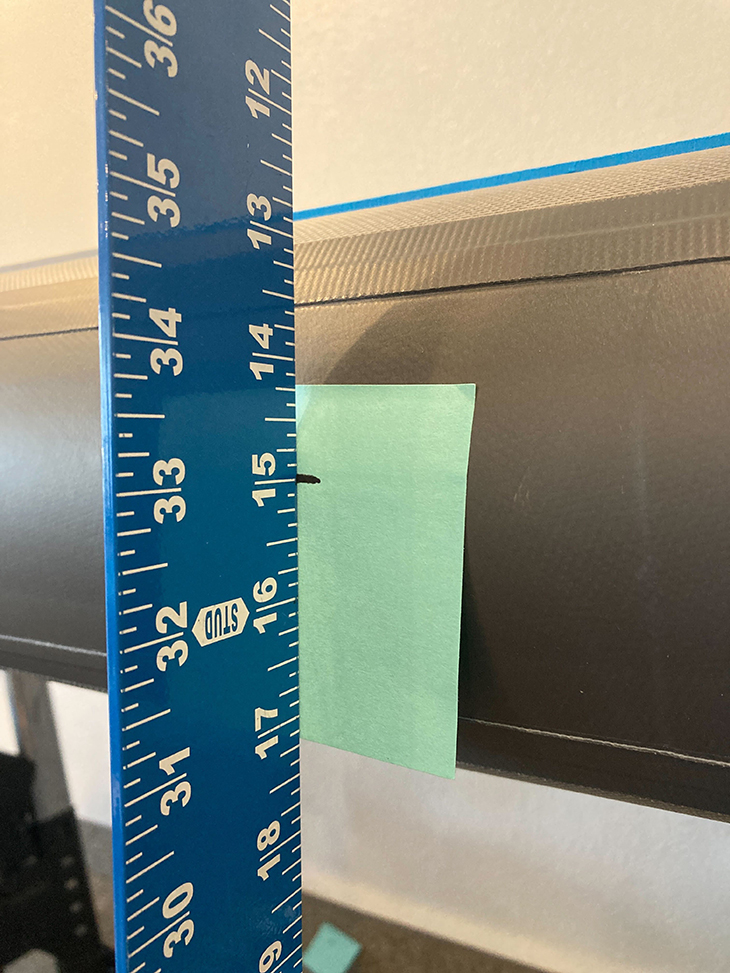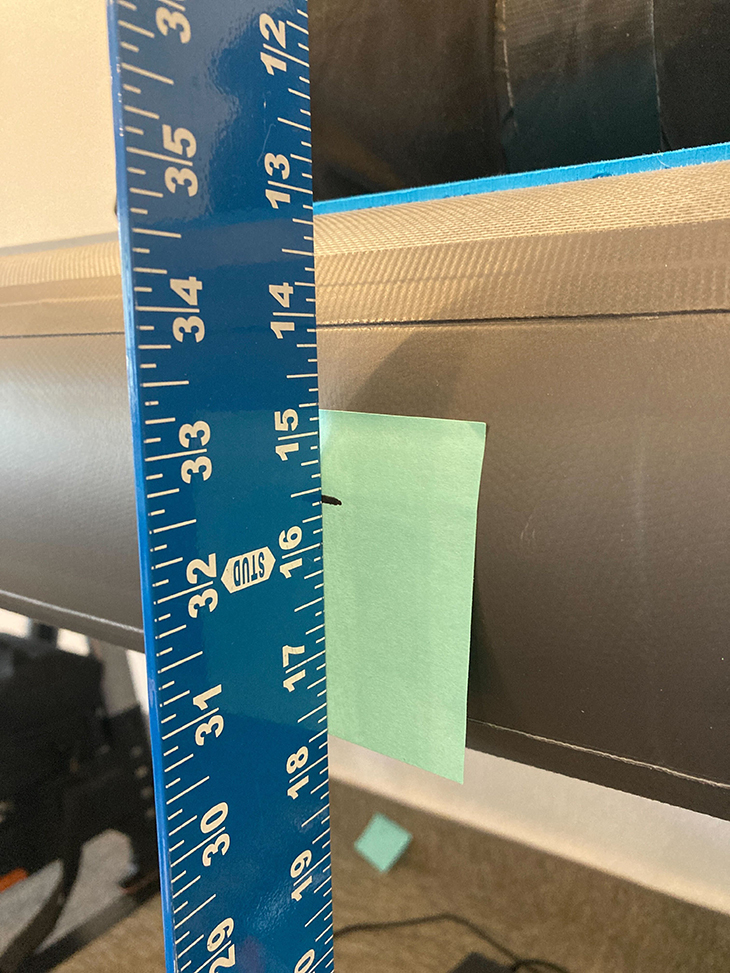 Stiffness Test:0.5625" Bend
SUP Board Guide's Bend Testing:
In order to attest to the rigidity of each board, we use a bend test curated by Supboardguide. In order to obtain the results, we inflate the board to its maximum recommended PSI and then place it across two sawhorses that are 7 feet apart. We then take a measurement in the middle of the board. Then, we place 150 lbs worth of sandbags on the middle top of the SUP. Last, we record its displacement (the movement from its original position). We use this method for every board we test as a way to mathematically compare boards across a common denominator.
Any board that bends less than an inch while under load in our board stiffness test is going to score well, and the Joyride XL flex was only just over half an inch, which is seriously impressive. This matches what we felt on our on-water testing, where our small-medium-sized testers felt no flex at all – indeed they found it hard to get the paddleboard to flex at all, even when purposely applying downward pressure. Our heavier paddlers could feel a tiny bit more flex but only when purposely applying downward pressure and it didn't affect their paddling experience (since you don't normally try to flex a board when you're cruising around!).
The stiffness comes primarily from the combination of the plan shape (particularly the width), the heavily reinforced rails and the robust construction. The deck and underside stringers will play their part although we've never been entirely convinced as to just how effective these carbon cloth longitudinal stringers actually are. Nevertheless, there's no denying that this is one extremely stiff board, so we're happy to give Hydrus the benefit of the doubt on this!
Features/Accessory Review: 9.5/10
Features:


We're really pleased to see that Hydrus have moved away from the black rails they were using on their inflatable paddle boards last year. Black PVC and hot sun just don't mix well. The 2023 Hydrus range looks elegant and classy, with the blue chevrons on the deck pad popping out nicely from the subtle gray shades on the rest of the board.
The Joyride XL has a comprehensive set of fittings, but they've still managed to prevent the deck from looking or feeling cluttered. The board has three carrying handles; middle, nose and tail. The handles are neoprene-wrapped and very comfortable to use. The bungee on the nose is attached via steel D rings, which we always approve of as they're useful for attaching other types of cargo too, as opposed to webbing loops which aren't really any good for anything other than holding the bungee. The nose bungee is quite a long way forward; over the area of board where the nose rocker starts to lift up, so you're best off keeping any heavy cargo to the rear of this set of bungees, so it doesn't push the nose down too much. There are also four more D Rings back behind the main standing area, which would actually be the better place to attach your heavier cargo. There is also a single lateral bungee a bit closer to the standing area (again attached to D rings), for small items. If you do want to store significant cargo up front it might be worth just relocating the main bungee back to utilize these D Rings so as to bring the weight further back.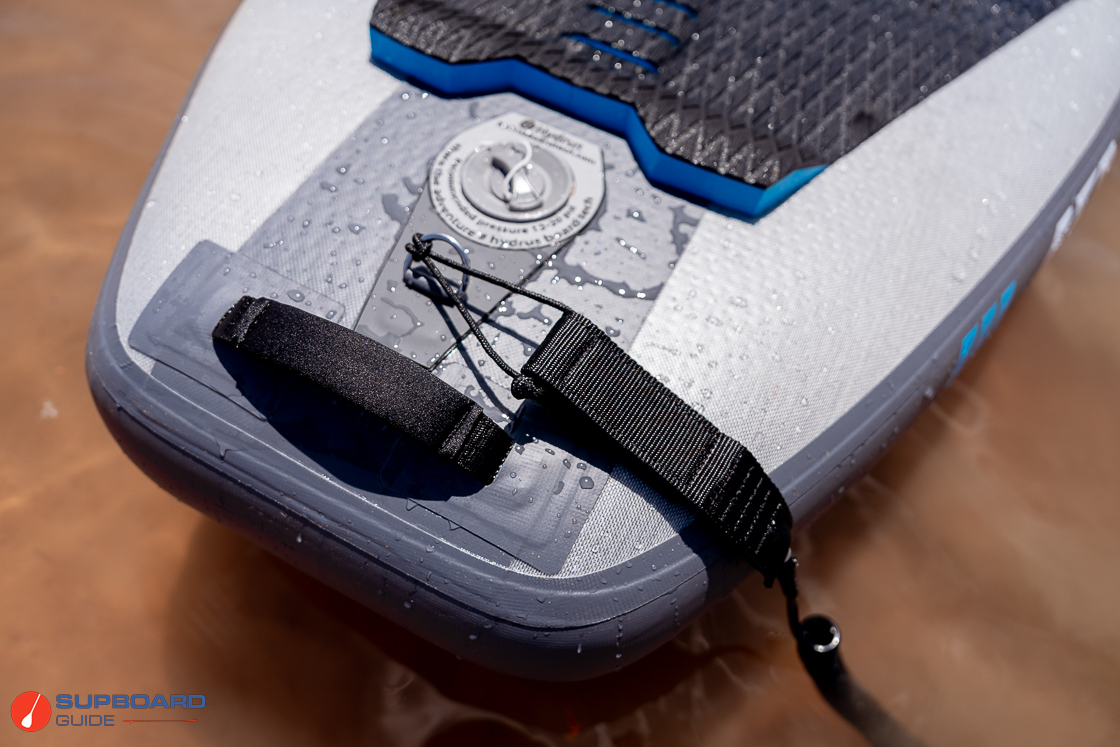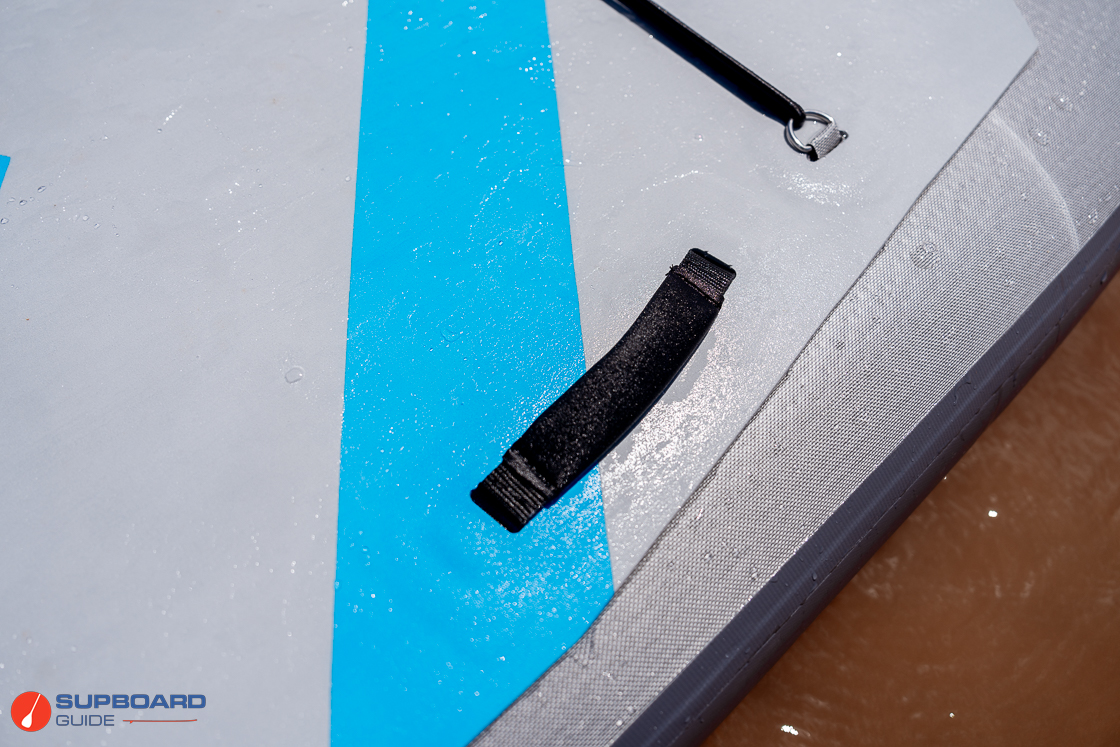 The Joyride XL has an extra handle on either side, just in front of the standing area. These are a really nice touch. Handles like this are normally found on raceboards but actually they're useful in many situations, particularly if you're trying to control or move the board around while you're in the water. If you're carrying a passenger they can use them for holding on, and they'll be great if you need to 'take a knee' and just hang on when you're careering down a particularly bumpy stretch of river.
The deck pad is well sized, and extends a long way back, culminating in a nice 'kicker', which allows you to know when you've got your foot as far back as you can for step-back turns or taking big river drops. We did find that the deck pad could use a bit more texture, as it can get a little slippery in bare feet when wet.
The board doesn't come with an action camera mount on the board, but it is supplied with a stick-on one that you can position on the board wherever you want.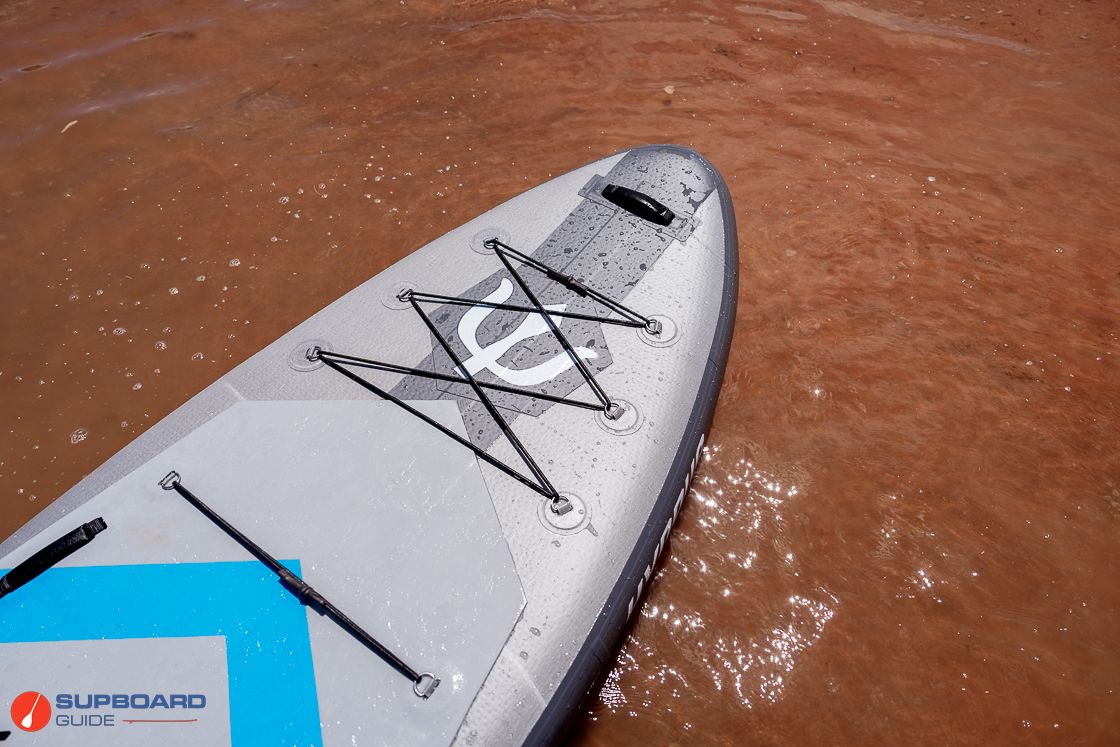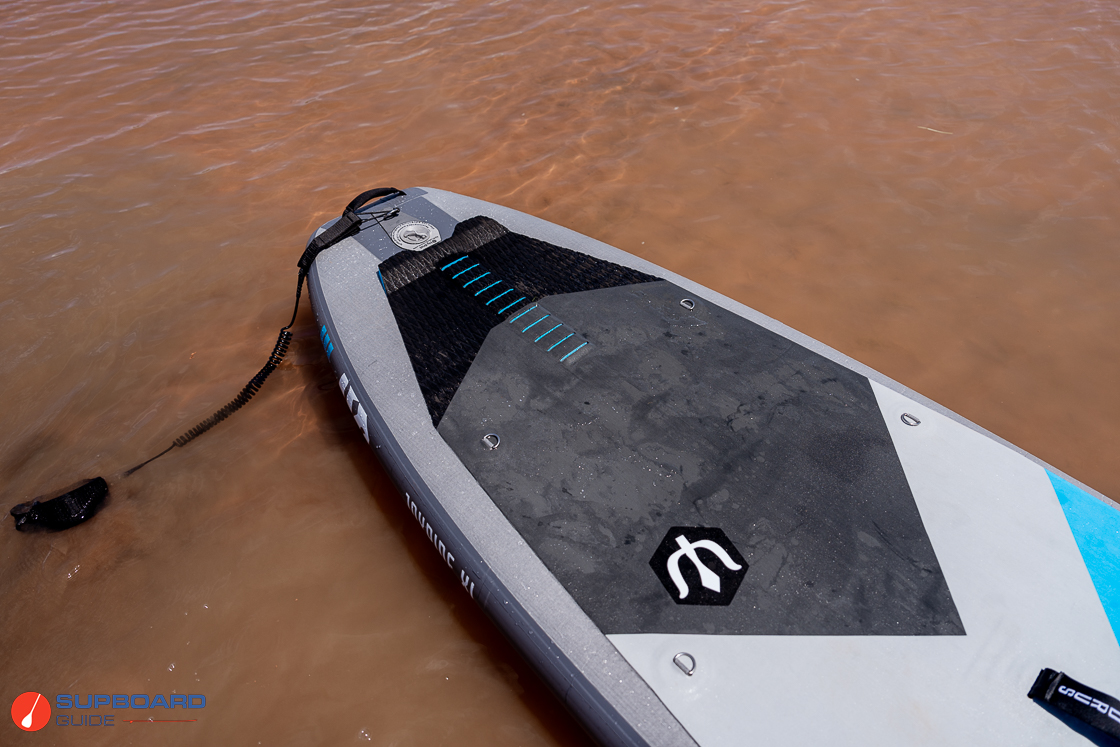 On the underside of the Hydrus Joyride XL we find a single US fin box. This is a great decision as there are thousands of US-box-compatible fins out there to choose from if you want to try other styles, or you've lost your fin and need another – pretty much any surf shop in the world will have a fin that will fit your board! However, Hydrus gives you no less than three different fin options as standard with the Joyride XL anyway; a standard 9" upright touring fin for maximum tracking, a 6.5" swept-back anti-weed fin and a 4.5" gummy fin for rivers.
Included Accessories: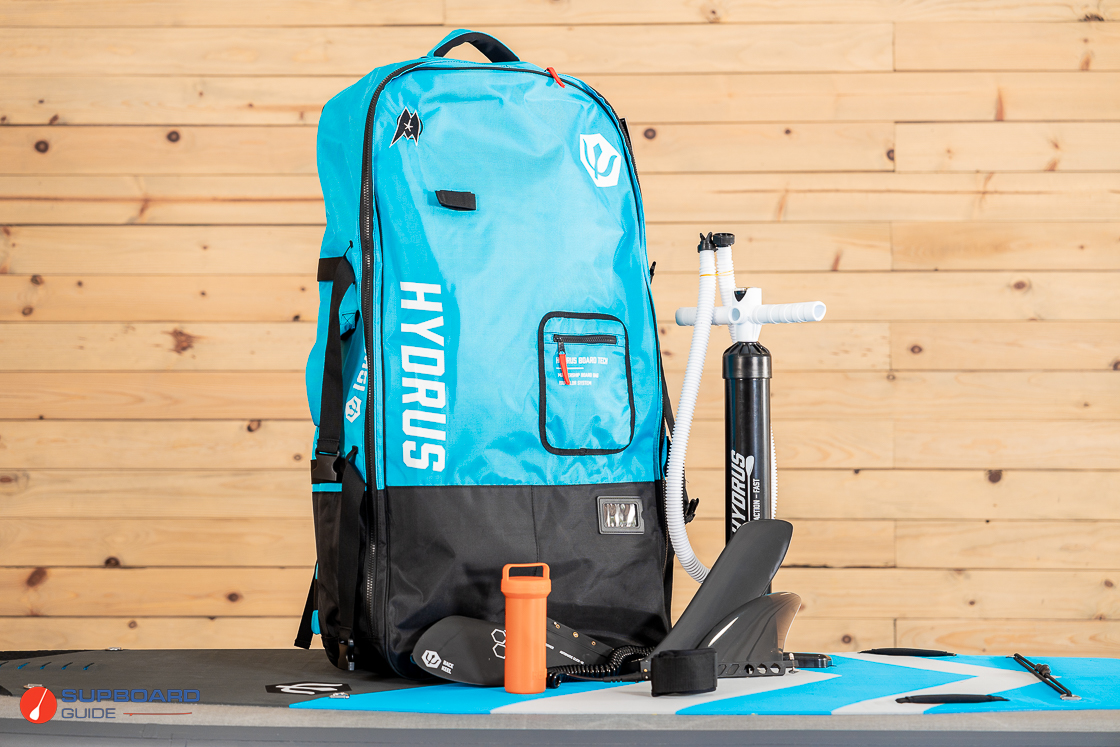 The Joyride XL comes with the excellent 'Mothership' bag, which features an external key pocket, internal fin pocket, external key pocket, padded carry handles, and a very comfortable backpack harness.
A coil leash is supplied as part of the package, which can be attached to the ankle or calf. Hydrus do not include a paddle with the standard package – they explain on their website that this is because they recognise that many customers will already have a paddle of their own. However, those wanting a paddle can purchase the Hydrus 3 piece carbon/glass paddle as an extra for just $169 when bundled with the board at checkout.
Finally, we want to give a big thumbs up to Hydrus for their innovative 30-Day Test Ride option: if you don't like the board you can either swap it for another board in their range, if you feel you've chosen the wrong model, or you can get a cash refund. There are obviously some caveats and rules to this procedure, but it's all fully explained on their website and is a great idea.
Summary Review of the Hydrus Joyride XL – 2023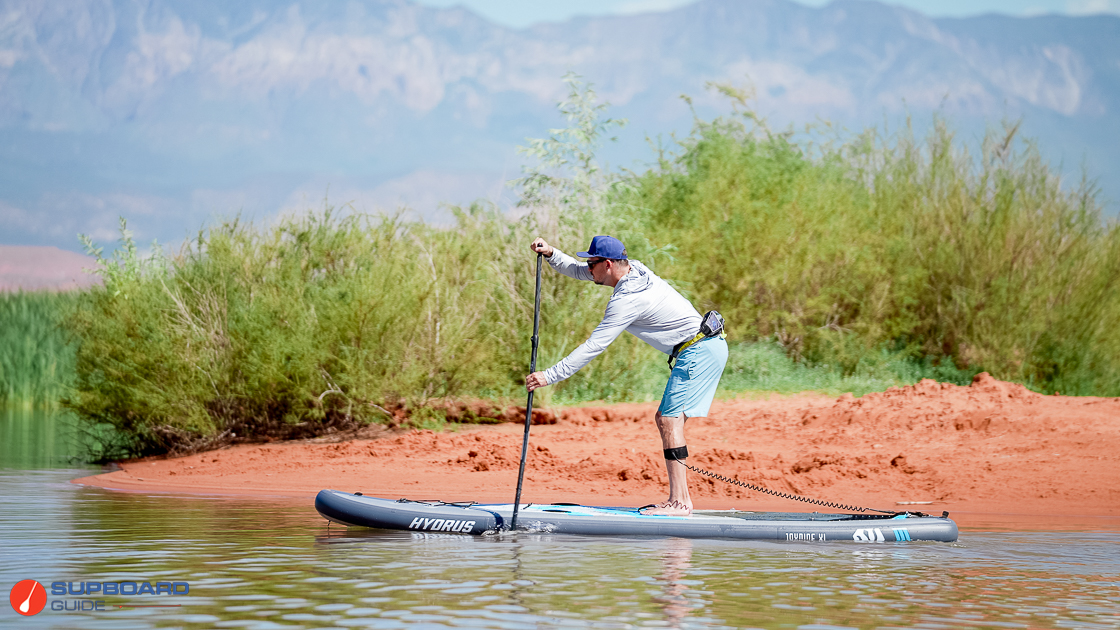 We really liked the Hydrus Joyride, so we actually weren't sure what to expect with this XL version. All too often, scaling up a successful design ends up increasing the stability but sucking the life out of all the other parameters that make paddleboarding fun.
However, Hydrus have managed to keep a whole lot of relevance in this XL version of the Joyride – it most certainly has not become a 'dullride'! Being such a stable platform, it's simply going to be too much board for any rider weighing in at much less than 180lbs for whom the regular Joyride would be the better choice, unless they're also planning on taking other members of the family and/or the dog along for the ride too.
However, for heavier paddlers the Joyride XL offers an impressive mix of performance and stability, particularly if some white water paddling is on the agenda. The durable construction, impressive array of fittings, excellent warranty and the 30-day trial option make the package even more attractive. So overall, we're really happy to report that yes, we very much like the Hydrus Joyride XL as well! Respect also to the brand for donating 2% of their profits to conservation and partnerships with organizations like American Whitewater and Outdoor Outreach.
Happy paddling! We hope you enjoyed this review of the Hydrus Joyride XL. If you have any questions or comments please leave us a comment below!
The following two tabs change content below.
SupBoardGuide
Heyo! At SupBoardGuide.com we are a team who love the water, the outdoors, and are more than grateful that our full-time job allows us to review stand up paddle boards. We paddle year round (it helps that we are just about 2 hours outside of Las Vegas), and we bring in a wide range of paddlers with the goal of providing our readers with the best, most in-depth, and accurate stand up paddle board reviews.
Latest posts by SupBoardGuide (see all)