Hydrus Joyride XL Inflatable SUP
Pros
Great SUP for both the novice paddler who needs stability, or the advanced paddler who wants a board to load up with gear but still have solid performance in terms of speed.
Highly stable + durable iSUP even for heavy paddlers. At 11'6x34'', the 3-layer composite (PVC + aramid fibers) and reinforced rails provide a very high 400 lb. weight capacity and large, stable platform.
Has the ability to be paddled in a variation of conditions (flat water to rivers and open oceans) due to its included interchangeable fin set up: the Hydrus touring fin, the standard keel fin, and the gummy shallow water fin.
Suited for adventures and strapping on extra cargo and gear. The 13 D-rings spread across the deck of the board allow for rig customization.
We love the look and design of the board with its clean, high-quality deck pad and raised stomp pad (Hydrus could add some softer/brighter color options for those who don't love the black/gray color scheme).
Cons
We would like to see padded handles added to the nose and tail of the board for easier launching, especially for times when you're loaded up with gear
Although a paddle is not included in this kit, it is offered at a discounted rate when bundled, which leaves room for those who want to pick a specific paddle or already have one.
A large, incredibly stable iSUP built to carry cargo + large paddlers that performs surprisingly well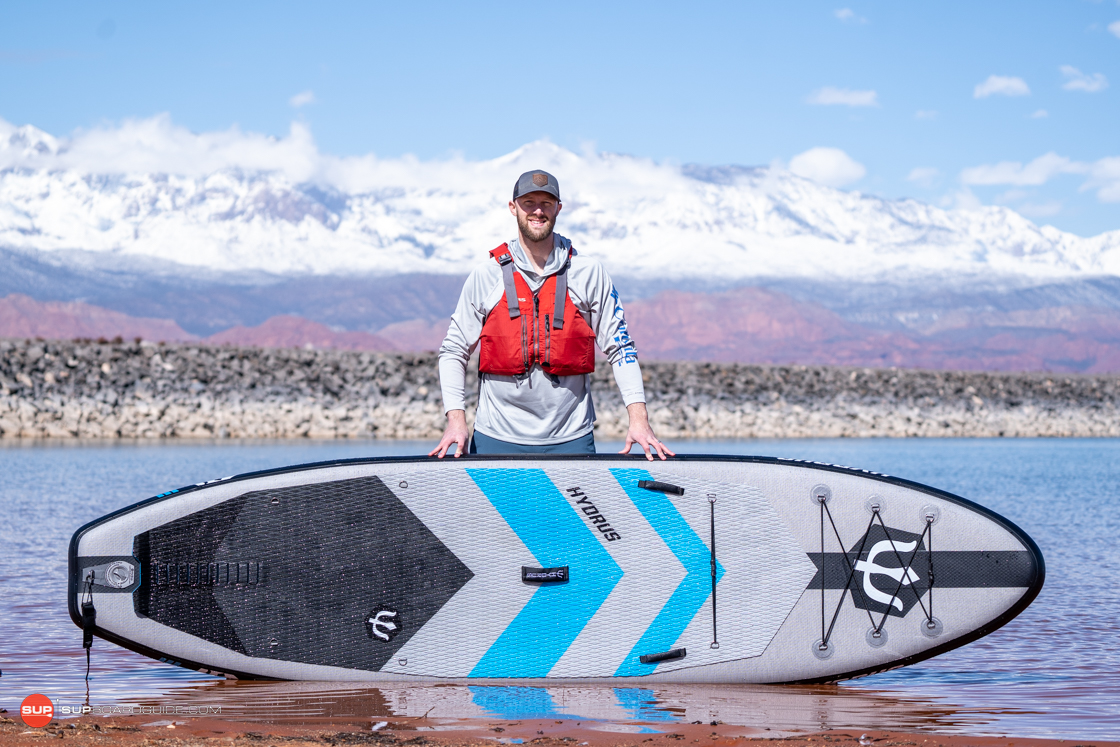 The Hydrus Joyride XL is a large, strikingly stable all-around board that is meant for the heavier paddler or strapping on a heavy load. It is designed to withstand a variety of conditions and support a variation of skill-levels. With exceptional rigidity, durability, and stability, it scores high in all of our comprehensive tests.
Being 11'6 long x 34' wide, and having a 3-layer composite (PVC + aramid fibers) reinforced outer shell, the Hydrus Joyride XL is capable of carrying up to 400 lbs! This makes it very deserving of its XL name tag. In our Hydrus Joyride XL review, we expand on how this board's excellent stability and high carrying capacity makes it a great choice for a beginner paddler who needs a large all around iSUP, or an experienced paddler looking for a SUP for adventuring and other loaded-up expeditions.
We think the Hydrus Xl Joyride would be a great SUP for paddlers who:
Are eager to strap up with ton of gear and take the board out adventuring (think overnight SUP camping with tons of gear, for example)
Are heavier paddlers that want to feel stable and secure on the board right off the bat
Are seeking an all-around board that has multiple uses and can be taken out on different bodies of water, from flat water lakes to faster flowing rivers
Want to paddle with a small child or teenager or even a larger furry friend on board
Hydrus Joyride XL: Spec Sheet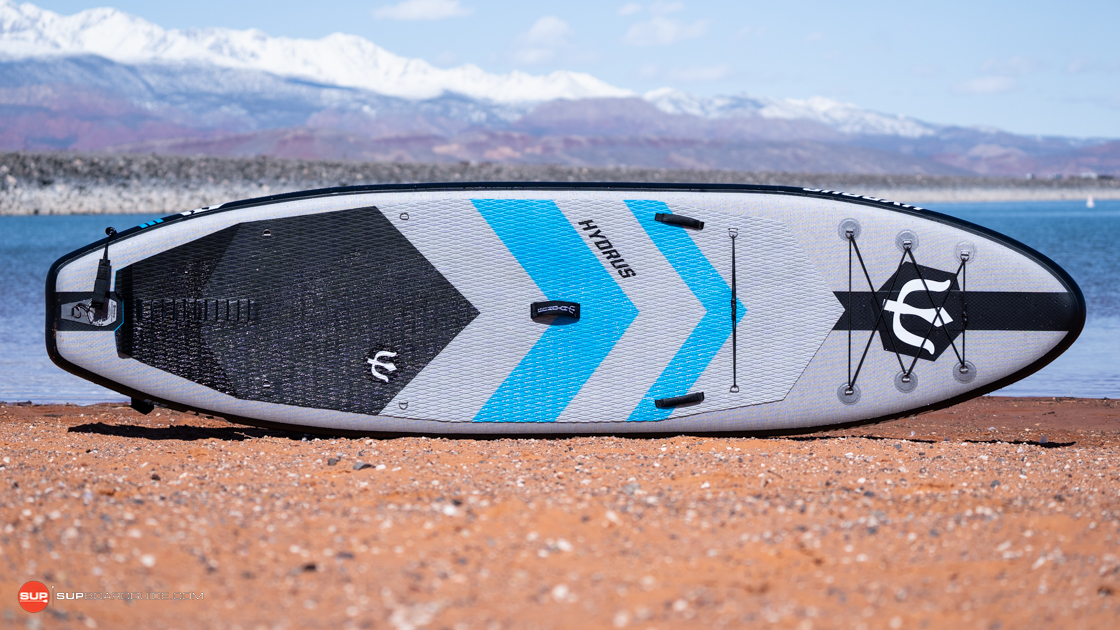 Main Category: All-Around
Board Dimensions: 11'6'' x 34'' x 6''
Listed Board Weight: 29 lbs
Listed Max Capacity: 400 lbs
Recommended PSI: 20
Fins: Hydrus 9'' touring fin, 9'' standard keel, and gummy shallow water
Paddle: Not included with kit; can be purchased for a discount at checkout
Materials: 3-layer composite (PVC + aramid fibers)
Warranty: Lifetime with a 30 day money back guarantee after initial purchase
Performance Review of the Hydrus Joyride XL Stand Up Paddle Board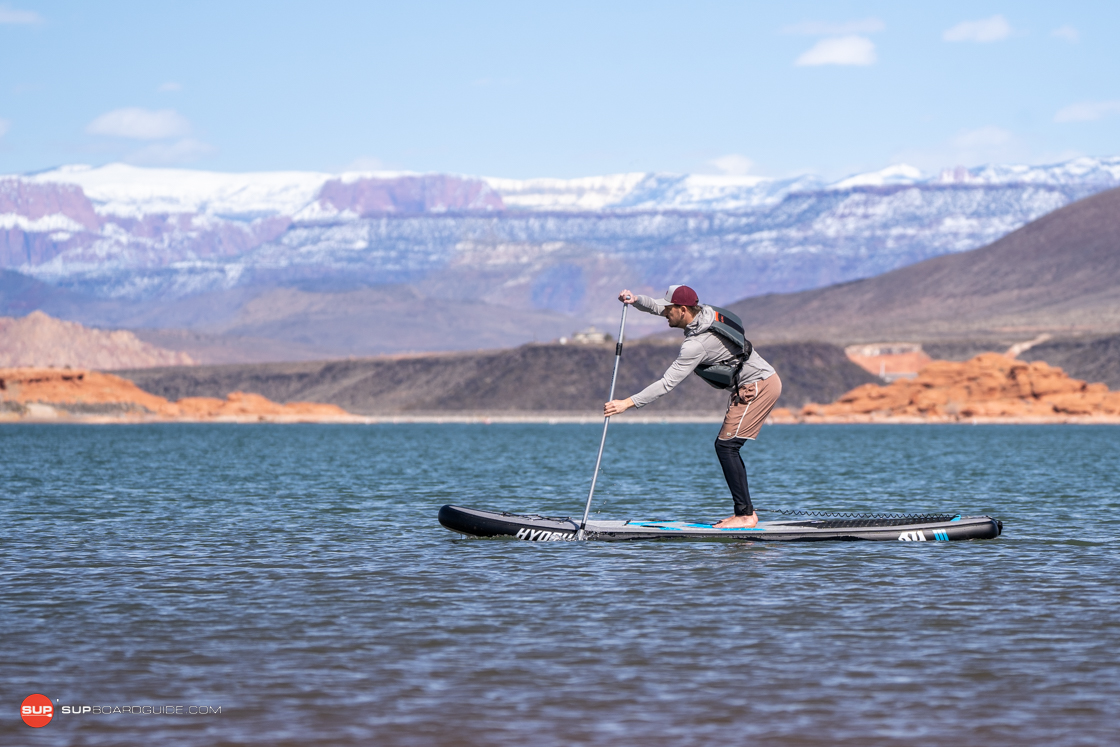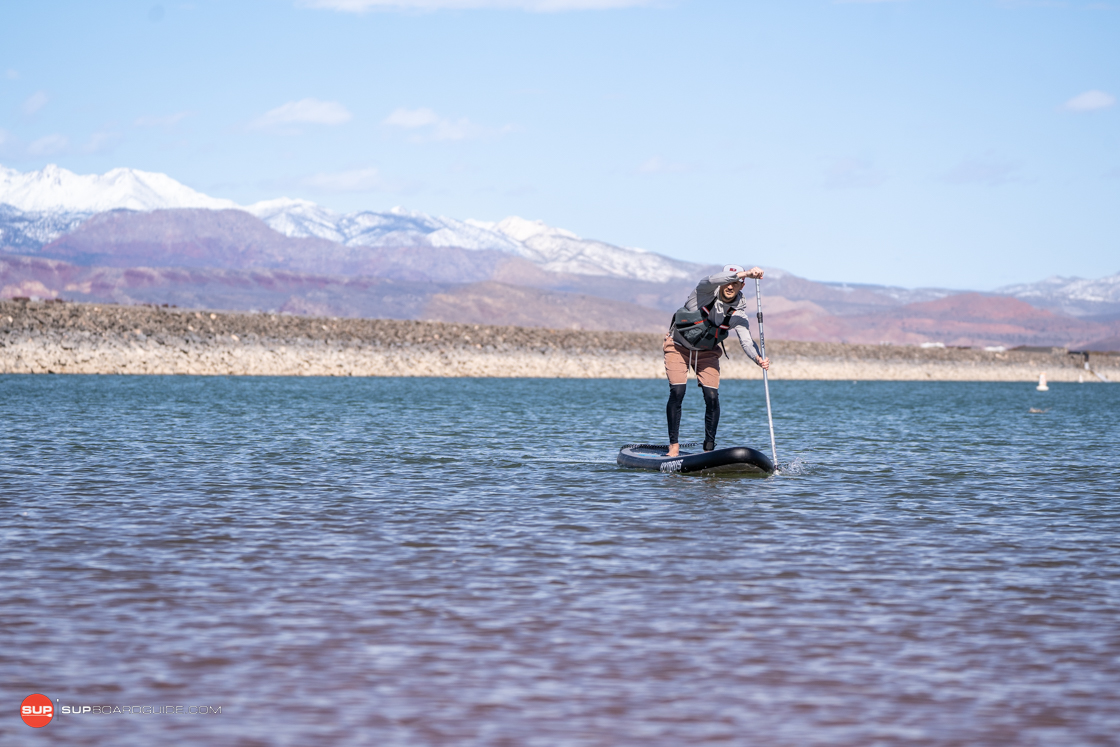 Overall Score: 9.7/10
Stability: 9.7/10
Speed: 8.8/10
Tracking: 8.9/10
Maneuverability: 8.8/10
Construction Quality: 9.5/10
Features/Accessories: 9.5/10
Stability Rating: 9.7/10
Receiving an admirable score, the Hydrus XL Joyride is a very stable board. It is a reliably (warning: repetitive language) stable iSUP for heavier paddlers, as well as for large loads of cargo. The bottom line is that in the stability category, this board does exceptionally well. As it turns out, it is slightly more stable than the Blackfin model XL.
The dimensions of this board are 11'6 x 34'' x 6''. If you take a look at the photos of the board, you will notice that there is only a slight taper in width towards the tail and nose. The square tail measures at 23'' wide, and the nose measures at 21'' wide (measured 1' from the tail and nose on both ends). This width throughout the board, from the shoulders and through the hips, makes for a very stable board.
The Hydrus Joyride XL comes with three different fins: the Hydrus 9'' touring fin, the 9'' keel fin, and the gummy shallow water fin. While each fin has its own unique purpose, we found that using the 9'' touring fin is the best choice if you want to absolutely maximize your stability while paddling for fun. This fin goes deeper into the water than the keel fin, which we found to be just slightly more stable.
Another factor in enhancing the stability of an iSUP is the particulars of the how the SUP is constructed. The materials used and how they are adhered relate to the boards stability following the board's dimensions and fin setup, and I will expand on this in the construction section down below.
Speed Test: 8.8/10
| | |
| --- | --- |
| Board | |
| Top Sprint Speed: | 5.1 MPH |
| Average Cruising Speed: | 3.5 MPH |
*Notes on our speed test:
To conduct our speed tests, we use a SpeedCoach SUP 2 to measure a top sprint speed and an average cruising speed. To obtain the top sprint speed, we first maintain a cruising speed and then we paddle as hard as we can for 10-15 seconds. We aim to conduct these tests in calm, smooth water and little to no wind in order to optimize our consistency across all boards.
Considering that so far in our Hydrus Joyride XL review we have reinforced how stable this board is, we did not expect it to be the speediest of iSUPs. However, we were pleasantly surprised at how fast the board truly was, reaching a top speed of 5.1 MPH in our sprint test, and a speed of 3.5 MPH in our cruise test. This is a solid, rigid board with little flex, which are the qualities that allow it to maintain a respectable speed given that it's a large all-around board.
Is the Hydrus Joyride XL the ideal inflatable SUP if you are aiming to tour/fitness paddle 2-3 miles, twice a week? No, but that's to be expected because of its large, all-around shape (if you are looking for a touring board, we'd recommend you look at our list of top rate touring iSUPs).
However, if you are looking for a board that you can load up with gear (or a child) that will still have decent speed and performance, then the Hydrus Joyride XL is going to be one of the top iSUPs on that list.
Tracking: 8.9/10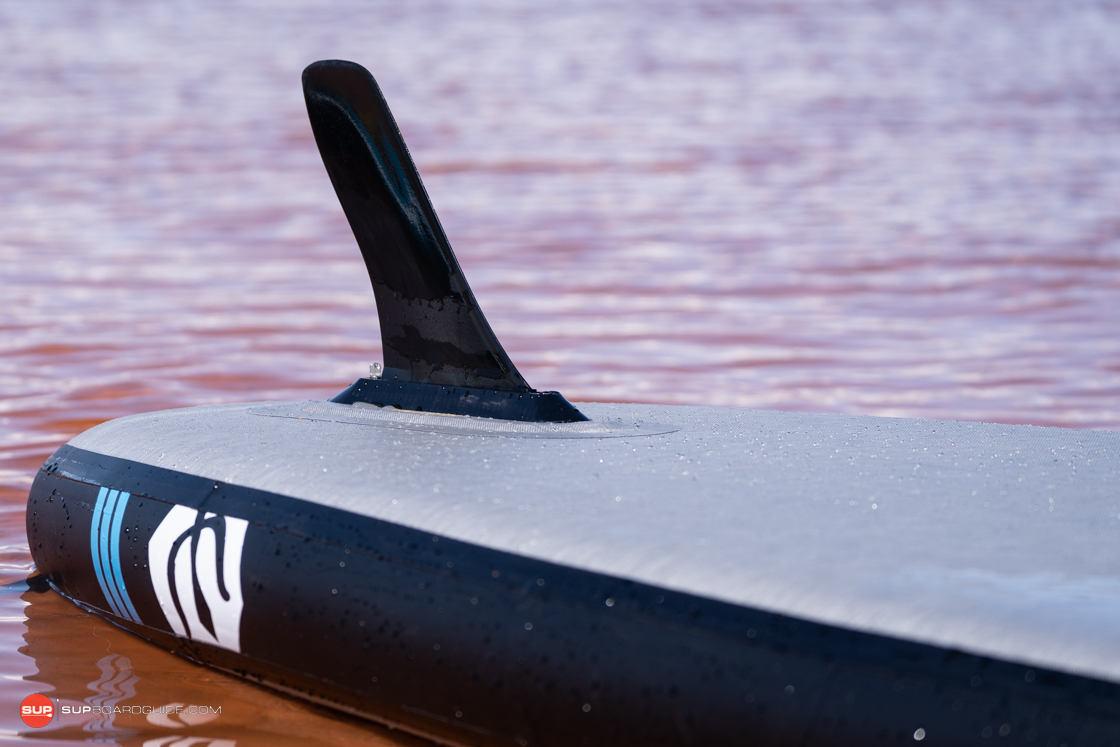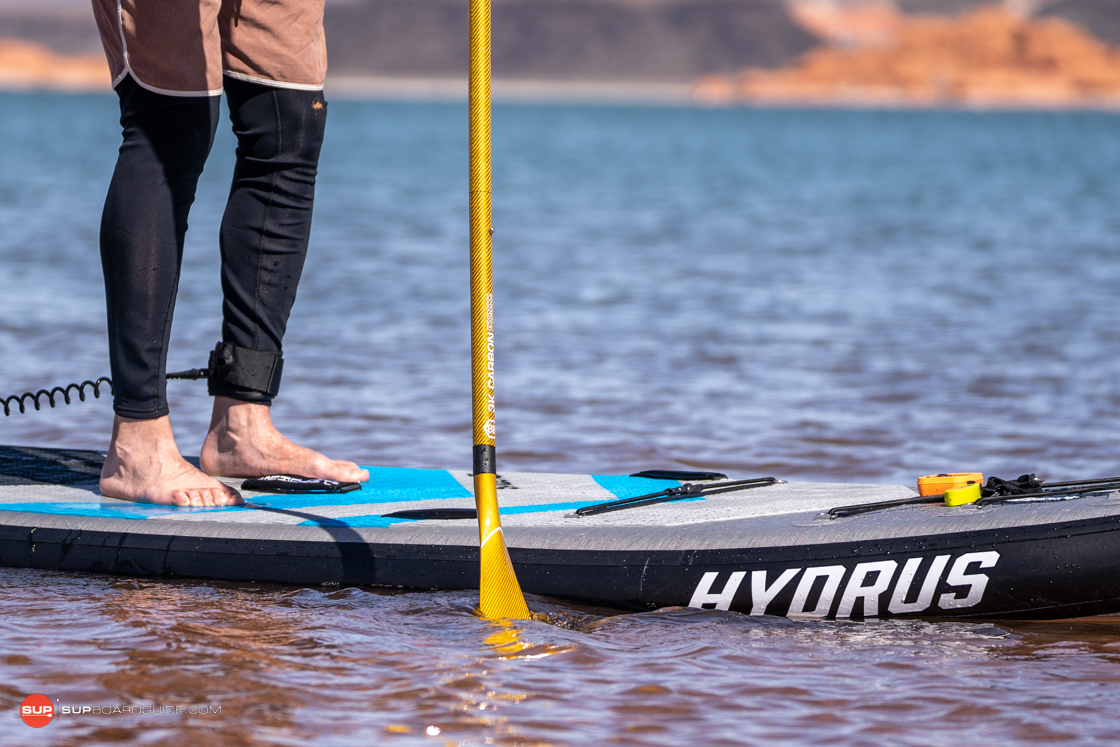 The tracking abilities of the Hydrus Joyride XL are solid. Being that it is a large board with an all-around shape, it tracks above our expectations. The touring fin and standard keel fin are larger fins with large surface areas, enabling this board to track as well as it does. They are both 9'' fins and either are a great choice for regular day-to-day paddling. We found the board to track slightly better with the standard keel fin, so that's the one we recommend for longer paddle adventures. Be sure to use the shallow gummy fins if you are taking this board into shallow waters, like rivers.
It's worth it to mention that while tracking is reliant on the boards shape and size, it also comes down to each individual person and their paddling technique. Tracking on a wider board is by nature slightly more difficult because you have to reach farther across the board to get your paddle into the water at the optimal angle. If you're a shorter person, you can definitely still paddle this board and stay stable, but keep in mind that it will take more effort than a smaller, more fitted to size board would.
Maneuverability: 8.8/10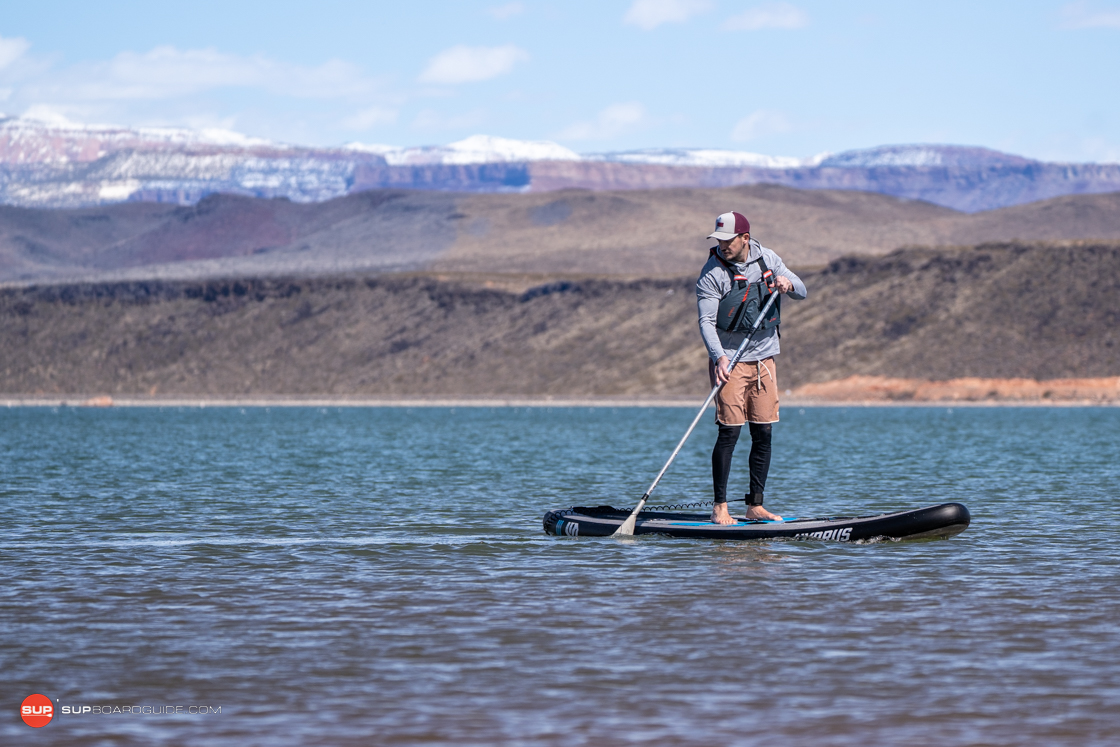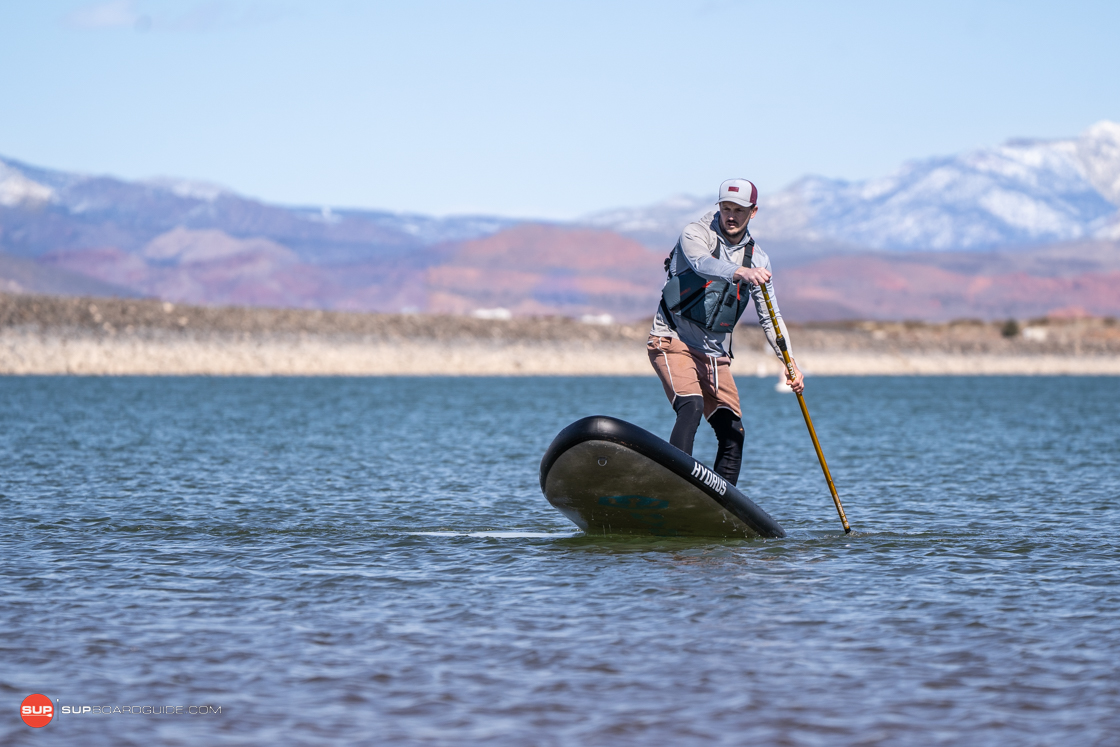 At 11'6×32 and 29 lbs, we would not expect this board to be very maneuverable. However, we were pleasantly surprised at its ability to perform swift step-back and sweep turns. Overall, the maneuverability is comparable to the Blackfin model XL; however, the Hydrus has the extra feature of the kick and rear stomp pads. Because this is a larger board, this rear kick pad acts as an aid to those step-back turns. We are happy that the Joyride XL thought to add this feature because it really helps with the overall maneuverability that may become compromised once a bunch of cargo or extra loads are added.
Justin feels that the maneuverability of this board truly excels when it comes to the step-back turns, and also with the forward sweep strokes and reverse sweep strokes. It only took him about 5 reverse sweep strokes to turn in a full circle.
Additionally, the weight of an iSUP needs to be considered when analyzing maneuverability. But much like the tracking, it also varies person to person. A shorter person, like myself, trying to maneuver a heavier board will be harder than a taller and heavier person trying to maneuver a heavy board. This board weighs 29 lbs, not including any gear you may bring out on the water with you. Deciding to bring with you a cooler, a dog, a fishing pole, and a kid, will definitely make this board heavier and thus harder to maneuver. But in sum, the Hydrus Joyride XL has great maneuverability for being a large all-around board.
Construction Quality: 9.5/10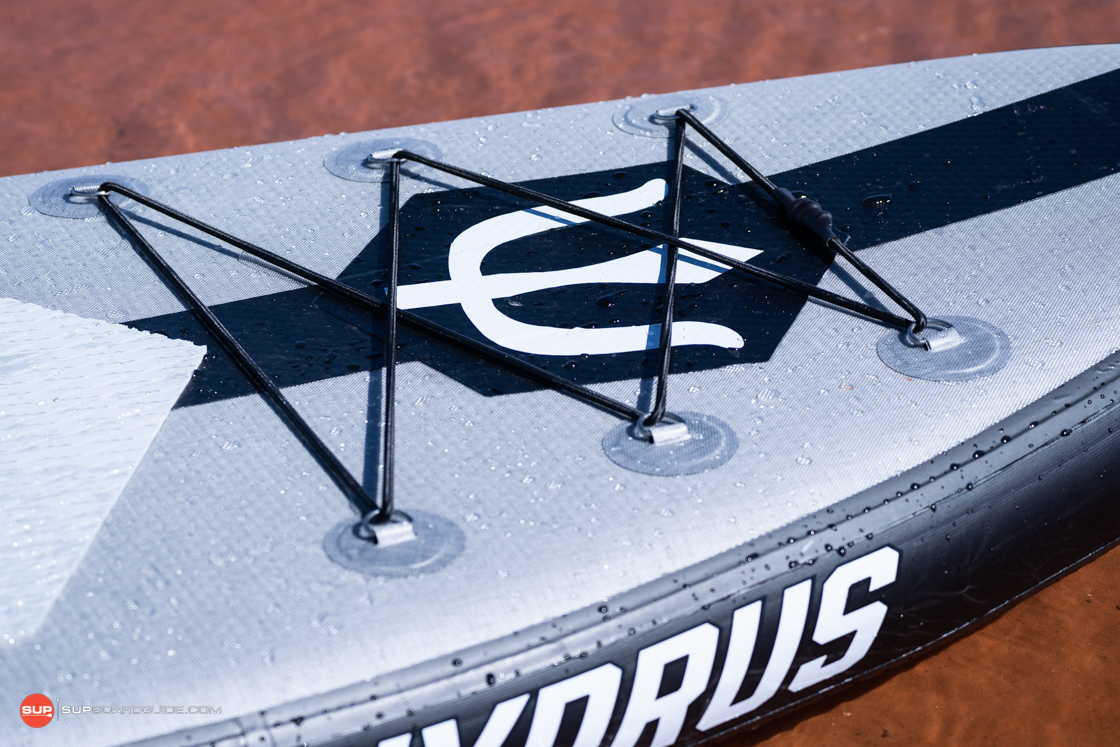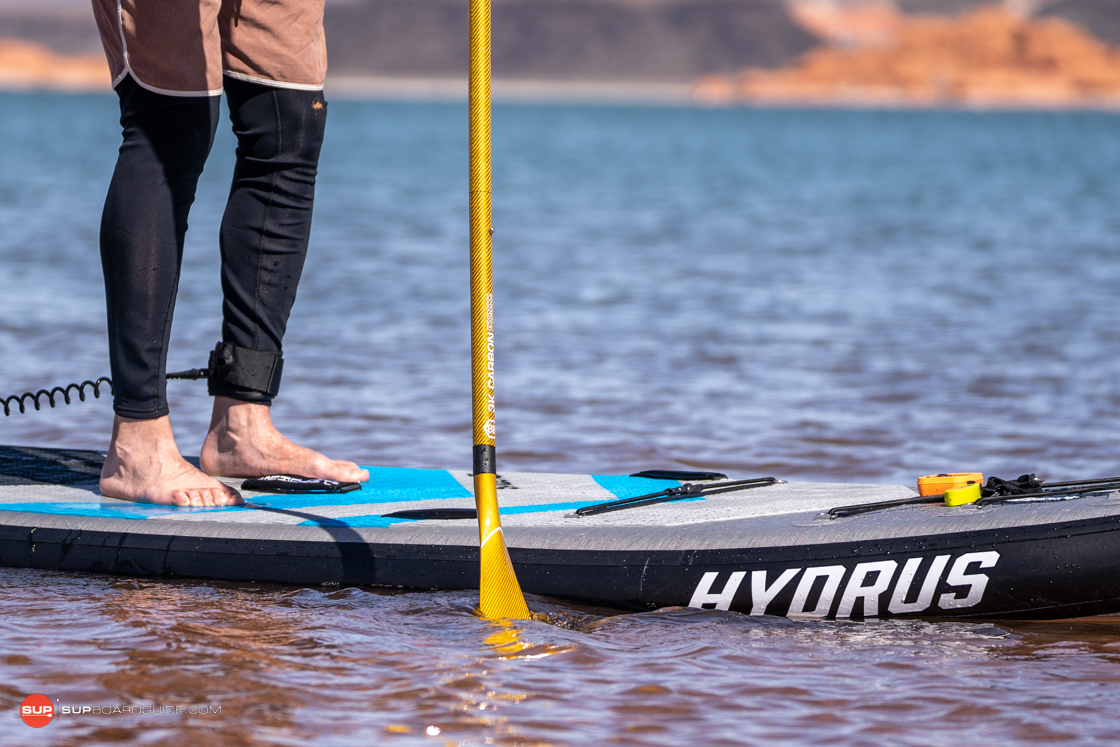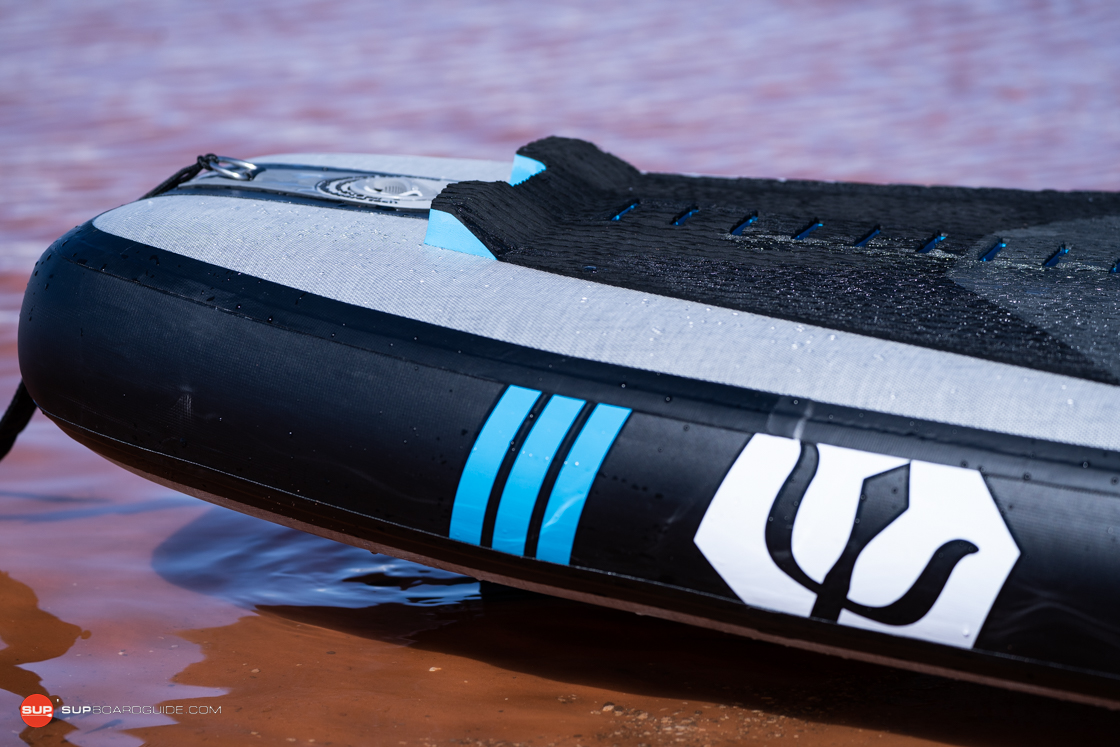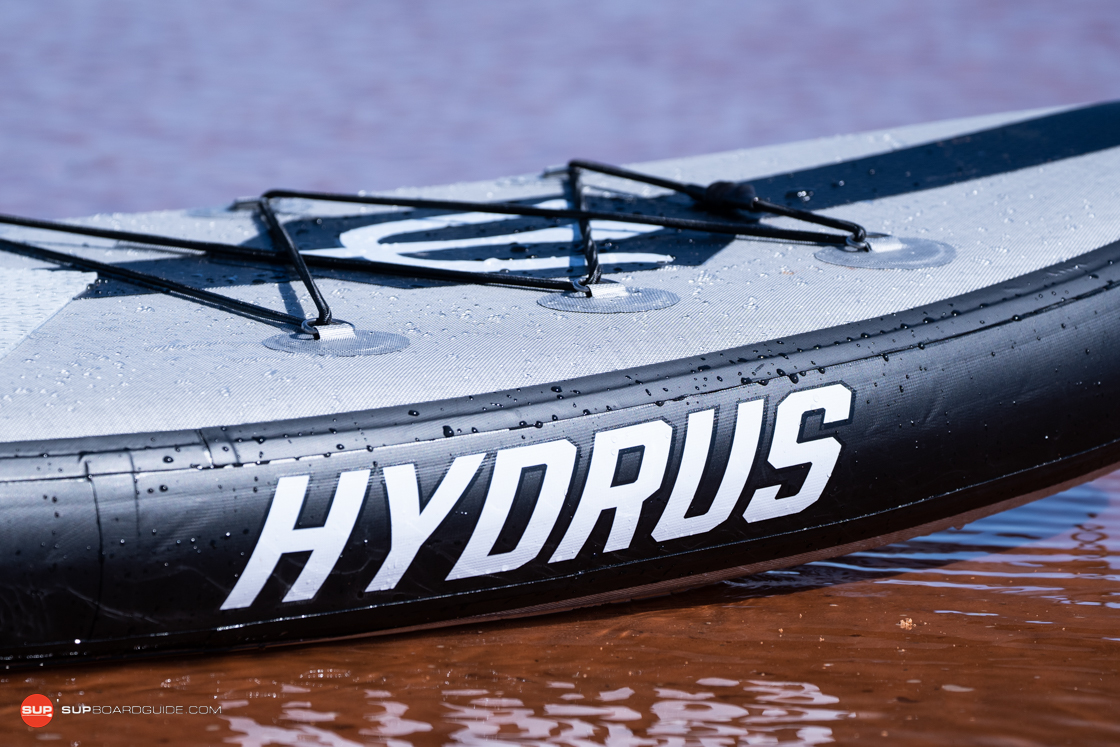 The Hydrus Joyride XLs construction quality is top-of-the-line and extremely impressive. It is designed and engineered with a 3-layer composite (PVC + aramid fibers) reinforced outer shell, woven drop stitch core, and heat welded inner rails.
All iSUPs have 3 main components to their construction: the drop stitch core, the PVC shell, and rail layers that cohere the board. All three of these components come together to create a viable iSUP, but the details of these components are unique to each board.
The Hydrus Joyride XL uses a woven drop stitch technique to attach the space yarns to the top and bottom fabric layers of the core. The woven drop stitch technique is an upgraded technique from the knitted drop stitch, and allows for an even stronger bond and an even more rigid board.
To further improve this board's construction and overall performance, Hydrus upgraded to using a new 3-layer Fusion composite reinforced outer shell. Fusion is the process of using heat instead of adhesives to adhere the three layers together. This upgraded technology means even more rigidity and durability, and even higher performance. The layers are made out of PVC + aramid fibers. You can clearly see the aramid fibers on the board: they are what give the textured look and feel to the gray portion of the deck and the boards underside.
Rounding out the construction, and one area where we found the Hydrus Joyride XL to shine, is on the rails. Hydrus used welded interior seams – which is also upgraded technology – in order to make the seams the strongest part of the board. Using welded interior seams to create stronger, tougher seams is something we value a lot.
Board Stiffness: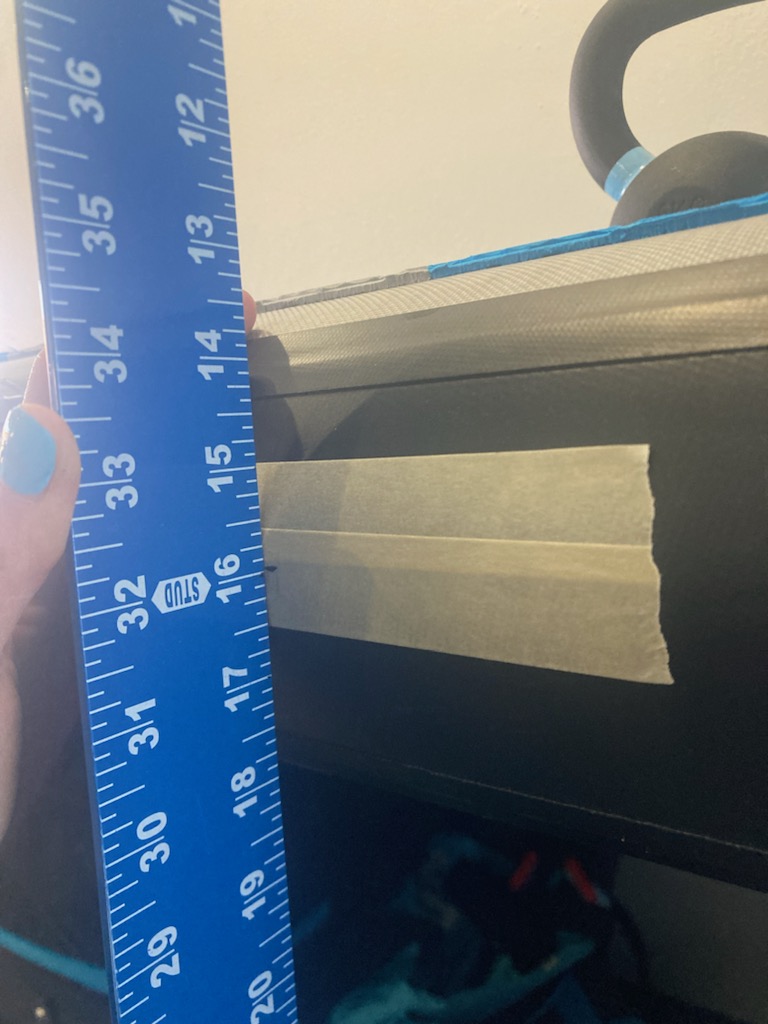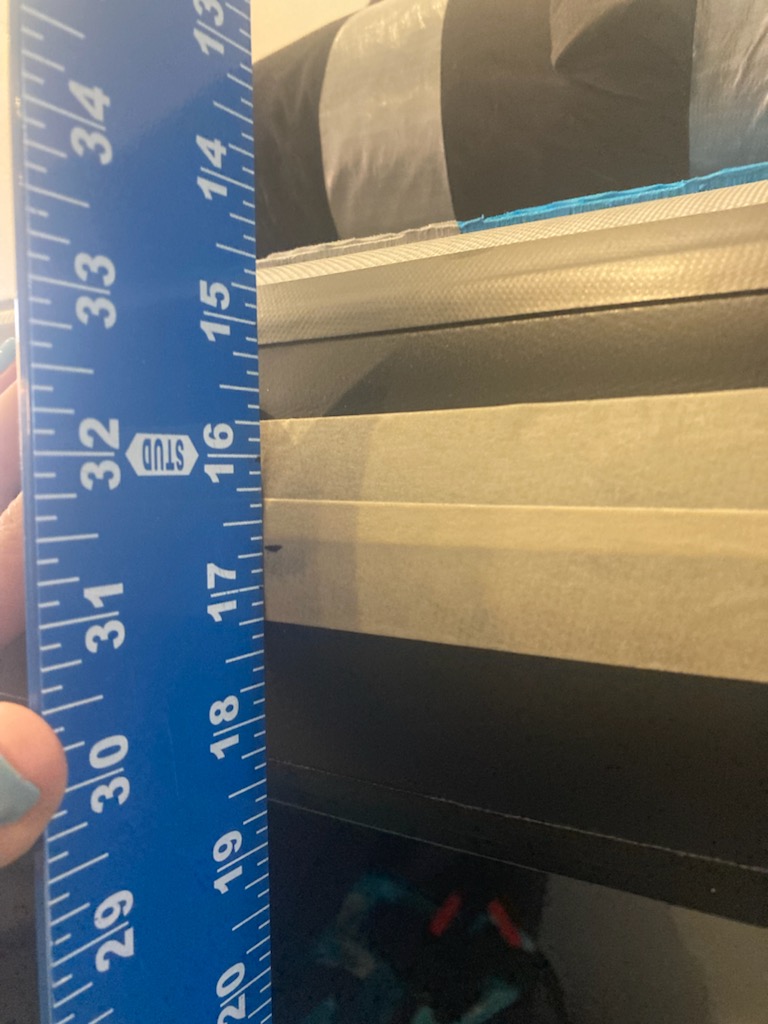 Stiffness Test: 0.8125 inches Bend
In order to attest to the overall stiffness of the board, Supboardguides created our own bend- test. For this test, we test the board at its maximum recommended PSI, which for the Hydrus Joyride XL is 20 (Hydrus states 25 as the max recommended PSI, we just don't think you need to go above 20 and don't recommend doing so). We then lay the SUP evenly across two sawhorses that are placed 7 feet apart. Next, we take a height measurement at the middle of the board and record it. Lastly, we place 150 pounds worth of sandbags on top of the middle of the board, and take another measurement. We measure the displacement (the movement from its original position) to account for the bend of the board. We use this test as a way to mathematically compare boards across a common denominator.
At its max PSI of 20, the Hydrus Joyride XL bent 0.8125 inches after 150 pounds were placed on top of it. To conceptualize this more easily, it bent just under an inch, which is a really, really good score.
It honestly beat our expectations, and corroborates the high quality and advanced technology this board uses in its construction process – and is also one of the main reasons we decided to award the Hydrus Joyride as one of our best all around iSUPs for 2023.
Features/Accessory Review: 9.5/10
Features: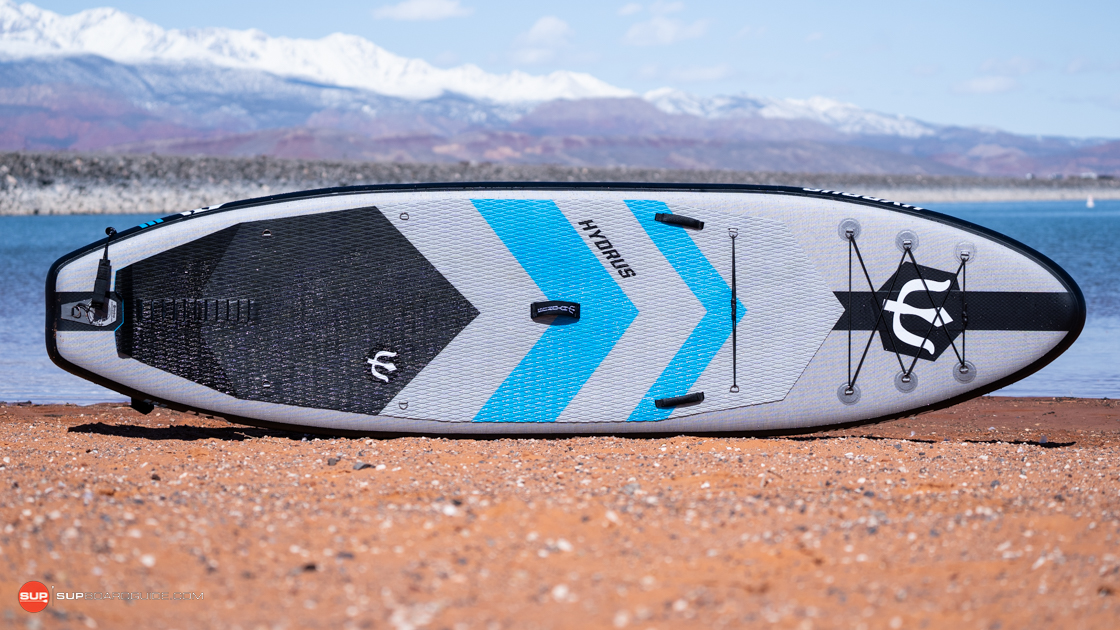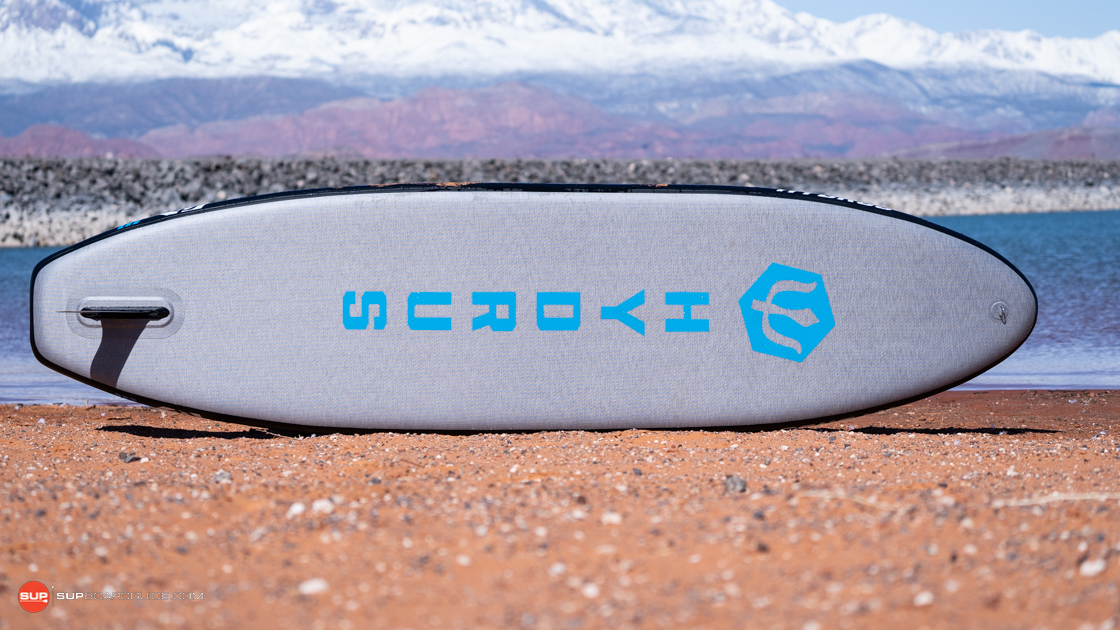 The Joyride XL is designed to meet the needs of a large range of paddlers who want to do a bit of everything. The included features allow the board to be set up in a way that each individual paddler can enjoy, while maintaining a sleek and clean design. It's not over cluttered or busy, yet can be utilized in many ways.
On the nose of the board, the Joyride XL has a six-point cargo area made out of bungees. This area can easily fit dry bags up to 25 liters in size. Under the tail of the board is a D-ring that is set for adding an anchor to your board. If you want to fish, do yoga, or be towed, use that D-ring to anchor in.
Behind the main cargo area is another set of D-rings with one big bungee cord running between them. This is an added storage area for the items that you want close to you, such as a water bottle, your shoes, or your favorite snacks that you meant to save for the middle of your paddle sesh but only lasted 15 minutes (not me or anything).
In total, the Joyride XL has 13 D-rings dispersed across the board for additional rigging points. You can use them to tie down a cooler, a fishing pole, extra accessories, or anything else you come up with. They are distributed across the deck of the board in a manner that allows for the surface of the deck to be completely free from the nose to the tail. Personally, I like this design because I can walk all over the board without worrying about tripping on a D-ring or an action mount. Also, the deckpad is made with diamond shaped grooves, which improve the grippiness.
So you want to do a cool and quick pivot turn? Then you will appreciate that the Joyride XL has a unique kick pad on the tail. If you're not quite there yet, then you'll definitely appreciate the 12'' long raised pad that leads up to the kick pad itself. This portion of the board allows you to have a no-look approach to determine how close you are to the actual kick pad (and end of the board) itself, and lets you know if your rear foot is centered on the board. It's great for practicing the pivot turn stance, and proper stance overall! If you're a beginner, this is a great board for starting the process of learning the movements. If you're a pro, then you're set up for some suave turns.
This board also has what Hydrus calls a "high-performance rocker." Rocker is how far the nose of the board is turned up from the water line, and aids iSUPs in gliding over turbulent water rather than slice through it. The Joyride XL has approximately 6 inches of rocker, which makes it easier to navigate choppy waters.
Additionally, the Joyride XL has a padded center carry handle as well as two padded carry handles on each side of the board. These make for comfortable, easy handling. The two side handles are conveniently placed for when you find yourself in situations where you want to quickly grab ahold of something substantial (like a handle!) in order to further stabilize yourself, for instance when you're moving through rougher waters. We would like to see Hydrus add a rear and front carry handle to make it easier to transport and launch the board.
I want to quickly mention the style of this board. Being somebody who tends to paint my nails bright colors and sparkly, this board does not immediately catch my attention when it comes to looks. But I will say that Justin and I had a laugh about this. He loves the look of this board, and personally gravitates more towards the toned-down color schemes and darker featured iSUPs, which is precisely the Hydrus Joyride XL. Putting my bias aside, I can definitely see how this blue and black board gives off a rebellious, action-oriented vibe that calls upon a vast population of people. I personally would love to see the Hydrus team add some color-scheme options to this design, but let me be a reminder for us all: looks aren't everything – and they are very personal..
Included Accessories:
When you order the Hydrus Joyride XL, you will not only get the awesome SUP, but you will also receive a heavy duty Hyrdus backpack (yes, their Mothership bag!), an additional 4.5'' gummy shallow water click in fin, and a coil leash. I'm glad to see that Hydrus includes the gummy fin with this board because it shows me that they value their choice to make the Joyride XL a board that can thrive in different water conditions and destinations. Rather than being told that it can handle river SUPing, it comes equipped with the tools necessary to do it.
The Hydrus Joyride does not include a paddle, but if you need one, simply choose the "add-on" option to get the board + paddle package deal. This will ensure that you get the best package pricing possible! Before you get deterred because this model doesn't come with a paddle, think about all of the variability this board offers. It's best to pick your own handle out after considering how you think you might want to utilize this board.
Summary Review of the Hydrus Joyride XL – 2023

As you can see from our Hydrus Joyride XL SUP review, we love this board. So much so that we are awarding it as one of our top rated all-around iSUPs for 2023. It's a high-quality, high performance, large all-around board with fantastic versatility to meet the needs of a large range of paddlers. Its high maximum carrying capacity makes it possible for heavier paddlers to stay stable as they move, for bringing along a second passenger, and/or for solo travelers to load up the board with cargo and head out for an adventure.
It's an optimal shape and size for the new paddler who wants a chance at standing up on calm, flat water, and for the advanced paddler who wants to go exploring and even take it on some lighter (class 2 and light class 3) river trips. The Hydrus team did an excellent job at incorporating advanced features into an all-around board, as well as using new technological advancements to make it a stable, rigid, and exceptionally durable board! We had a blast testing it out and are super excited for you to try it!
The following two tabs change content below.
SupBoardGuide
Heyo! At SupBoardGuide.com we are a team who love the water, the outdoors, and are more than grateful that our full-time job allows us to review stand up paddle boards. We paddle year round (it helps that we are just about 2 hours outside of Las Vegas), and we bring in a wide range of paddlers with the goal of providing our readers with the best, most in-depth, and accurate stand up paddle board reviews.
Latest posts by SupBoardGuide (see all)