When talking about paddling gear, a good set of drybags is essential. There's few things worse than tucking an unprotected towel or set of clothes under your cargo bungees just to find it soaked when you actually need it, or precariously strapping down loose plastic baggies of your valuables like your phone and car keys and hoping they don't get lost in the water (actually, I'm sure there's a lot of things worse than those scenarios, but you get the point).
Within our constant rotation of drybags at the SUPBoardGuide office is the set from NIXY Sports that we'll be covering in this review. Available on their site are the following size/style options:
5L Dry sack
10L Dry bag
30L Dry bag
NIXY Dry Bag tote
We'll dive deeper into how we use each of these bags and what we've come to like about them below, but first let's discuss why a drybag is such a necessary addition to your gear arsenal.
Why Do You Need a Dry Bag?
Now, I know this question seems obvious, in that the main point of a dry bag is to keep its contents, well…dry. However, there's a lot of added benefits to a dry bag that can be overlooked. There's often the misconception that a drybag can't do more for you than a set of trusty sandwich bags or a backpack, but there's actually more to it than just providing a space to store your belongings.
Waterproofing
'Uh, isn't that like..the whole point?' Yes, but let me elaborate. The roll top mechanism on most dry bags (this set from NIXY in particular) is both simple and extremely secure. Where a waterproof sandwich bag can easily be left slightly unsealed, it's almost impossible to incorrectly close a roll-top bag. Likewise, once the bag is closed, it's very unlikely that it would come undone if it gets knocked around a bit. Personally, I like having that added peace of mind.
Floatation
One of my favorite things about drybags is that they fill with air as you roll the top closed, enabling them to float in the water if it falls off of your board or your back. This is one of the reasons I always recommend going with a brighter colored drybag; this way you'll have an easier time being able to locate it if it's knocked off during a wipeout.
Versatility
Although dry bags are obviously super useful in water sports, they're a valuable piece of equipment in any facet of outdoor recreation. When I'm not paddling, I find myself reaching for a drybag during backpacking and camping trips to store my phone, food, keys, nightclothes, and socks. Being able to not worry about these items in the rain, during river crossings, or even in the event that my water bladder leaks makes me feel that much more prepared when venturing outside.
Nixy 5L Dry Sack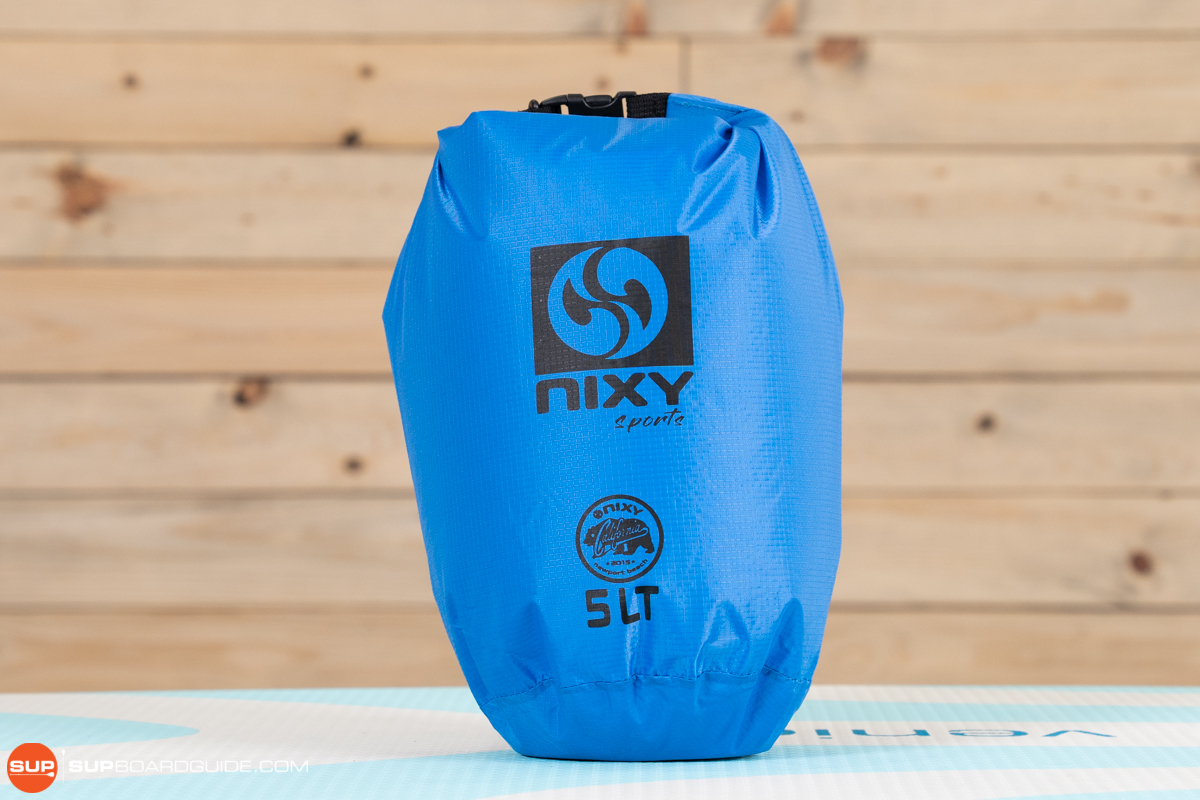 We'll start off our review of the Nixy Sport Dry Bags with their smallest size option, the 5L Dry sack.
While this is not going to be a full day pack, this is the dry bag I use if I'm only going for a short paddle and need something to store my phone, car keys, and a tightly rolled up towel. I also reach for this little dry sack for day hikes with questionable weather to again store my phone and keys, as well as some light, tightly folded rain pants/jacket.
That being said, I do have some concerns about the durability of the 5L dry sack compared to Nixy's larger options, as the waterproof fabric is thinner and flimsier, and it looks to only be a single seam along the bottom. I haven't had any issues with it as of writing this review, but we will update as we continue to use it.
Nixy 10L Dry Bag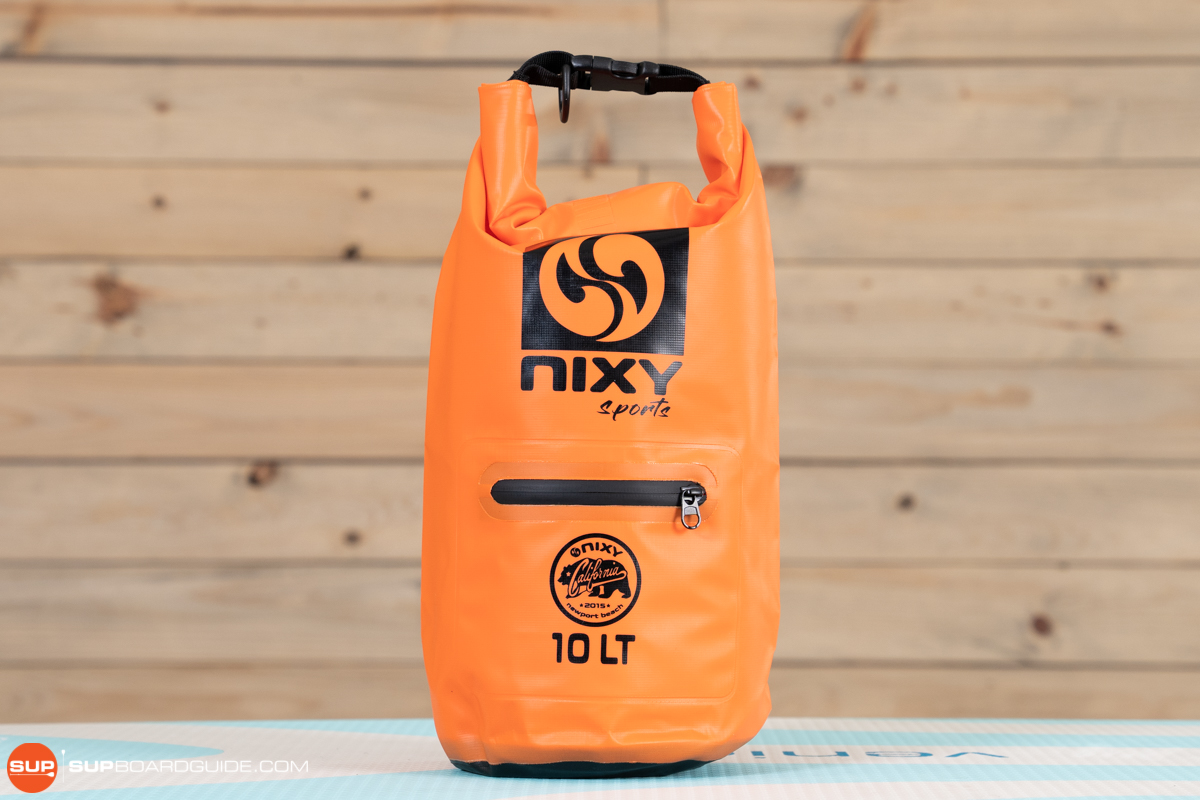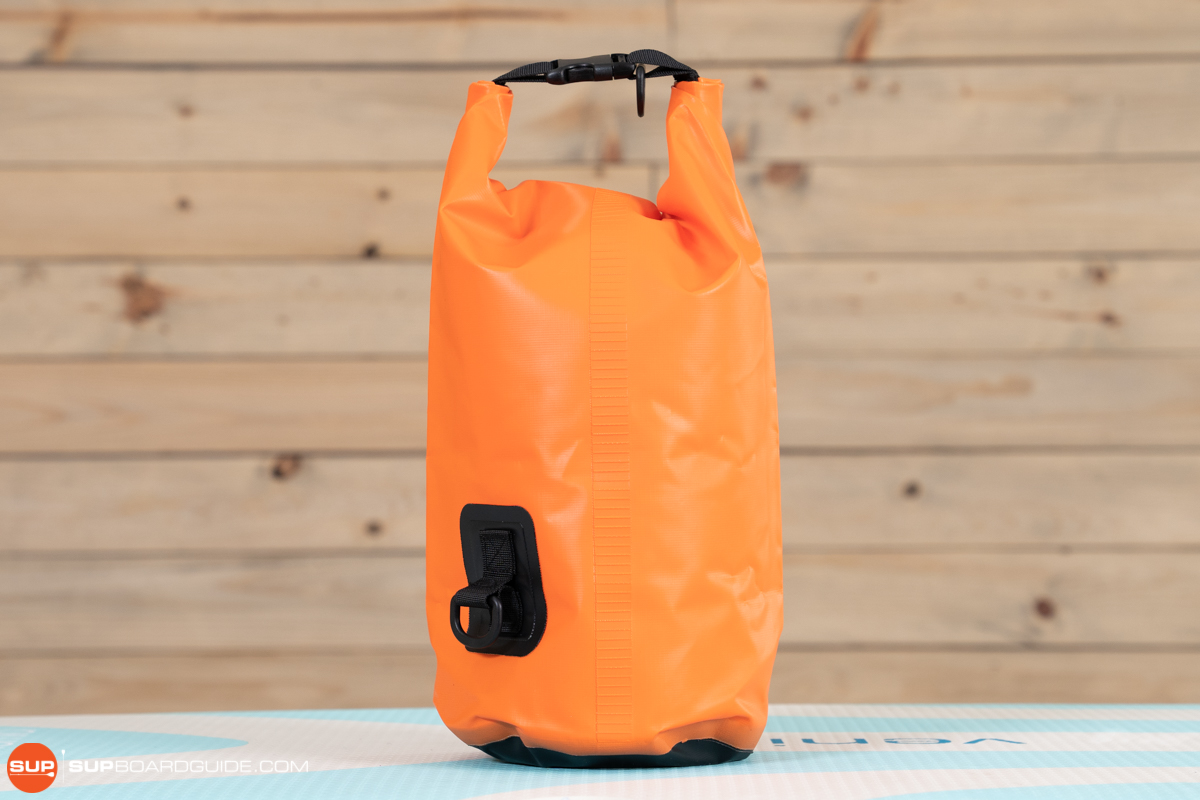 The next size up from the 5L Dry Sack is Nixy's 10L Dry Bag.
I'm often using the 10L option as a day pack if I'm going for a long solo paddle. It's large enough to fit a towel, a light change of clothes, and some food or extra water. One of the main things I like about the 10L, and all of Nixy's dry bags other than the 5L, is the front zipper pocket; it's the perfect spot to store your phone, allowing you to access it without having to undo the roll-top. The 10L also has an attachment on the back and top clip to attach a crossbody strap, enabling you to carry it across your back instead of tucking it under your SUP's bungees.
As for this bag's durability, I don't have the same concerns that I had with the 5L dry sack. The 10L bag, and the 30L bag that we'll discuss next, are made of a tougher, malleable PVC material, and the seams seem much sturdier. Of course, we will still update if we do run into issues with this bag or the 30L bag to follow, but I have much higher hopes for it than I do the 5L dry sack.
Nixy 30L Dry Bag – Backpack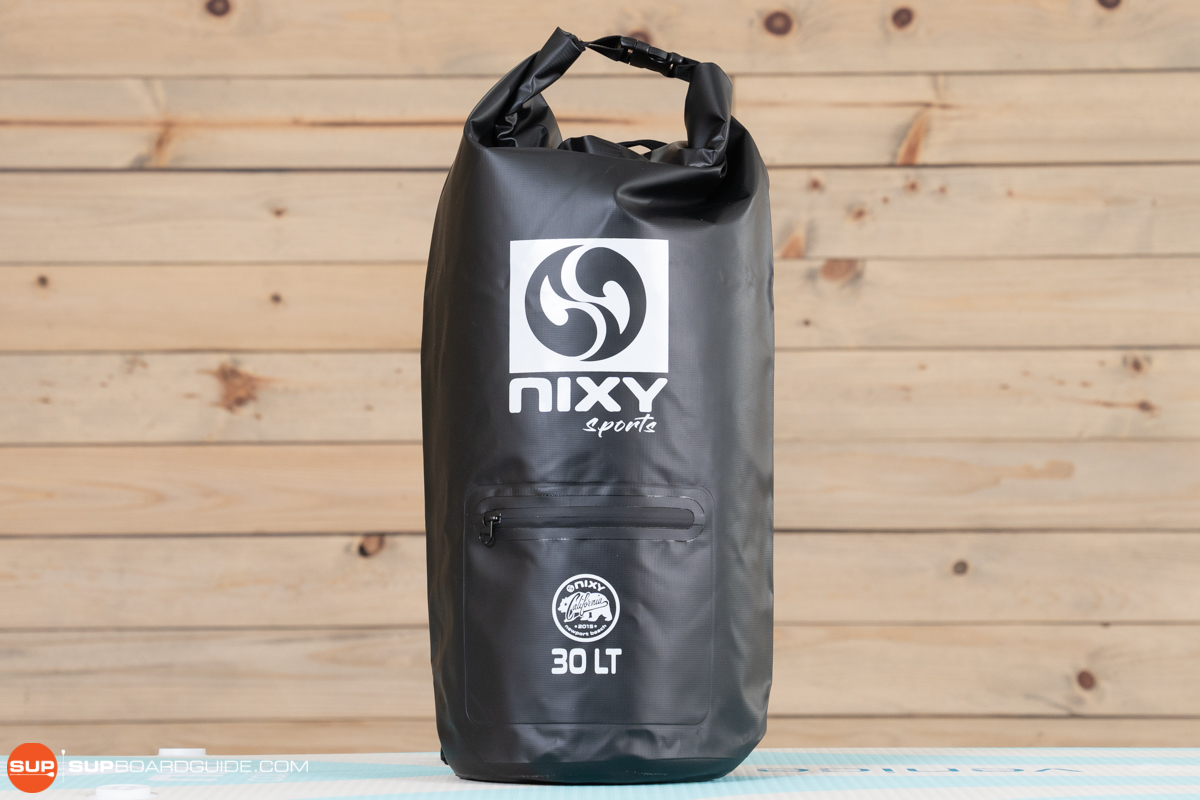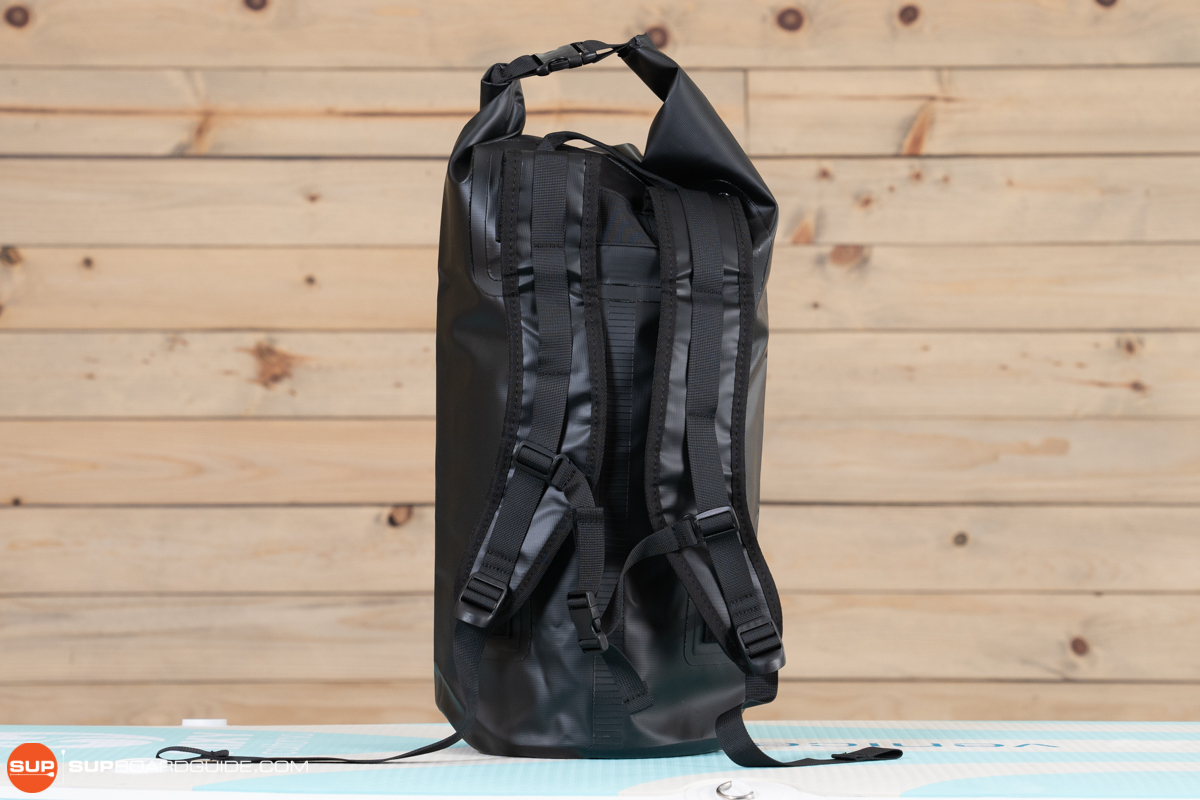 Nixy's 30L Dry bag backpack is my personal favorite out of the set.
It's large enough that I can fit some compact overnight gear, extra food and treats for my dog (and myself), a towel, some water, and a change of clothes. I also love the backpack function, as it frees up space in the cargo area of my board when I carry the 30L bag on my back and bring along a couple of additional dry bags if I'm on a gear-heavy tour. The backpack function enables this bag to function as a great rainy day hiking pack as well. Lastly, as with the 10L bag that we discussed above, the 30L option also has the front zipper pocket for easily accessible and protected phone storage.
Again, I don't have any concerns about the durability of this pack. It's made of the same malleable PVC as the 10L bag and all of the seams feel fairly solid compared to the 5L dry sack.
Nixy Dry Bag Tote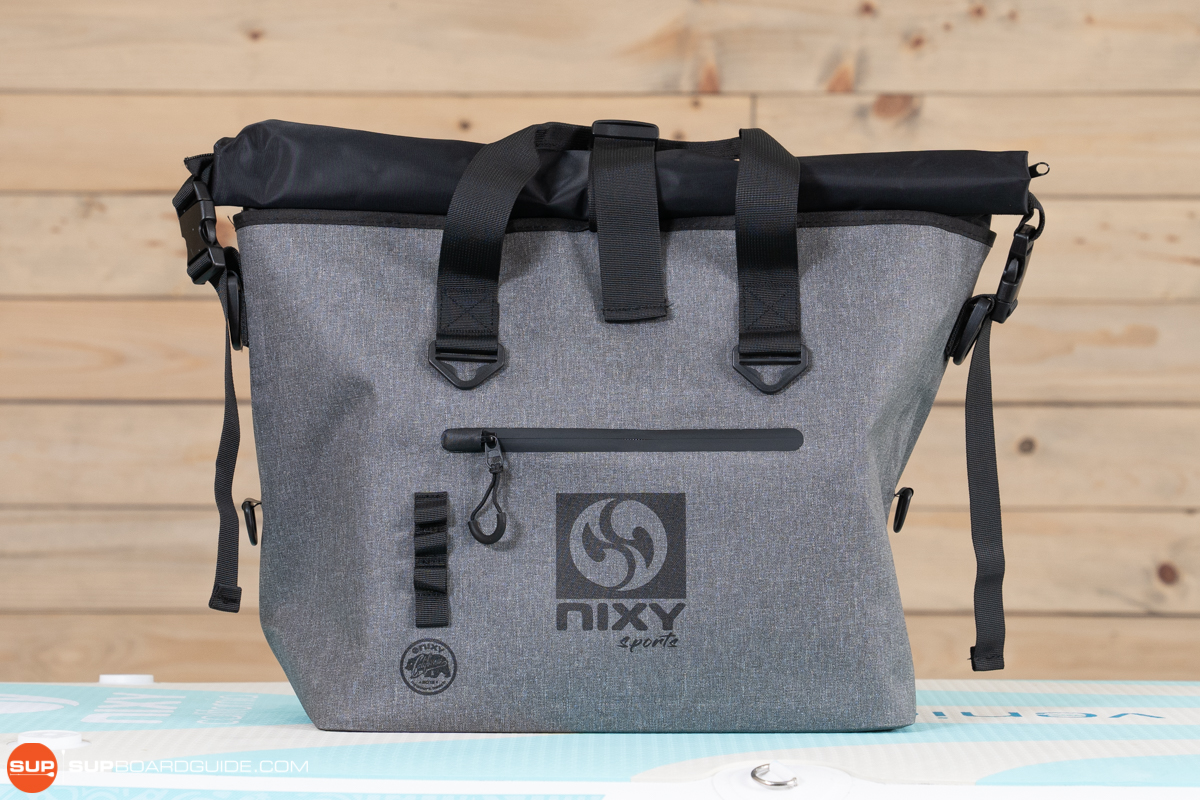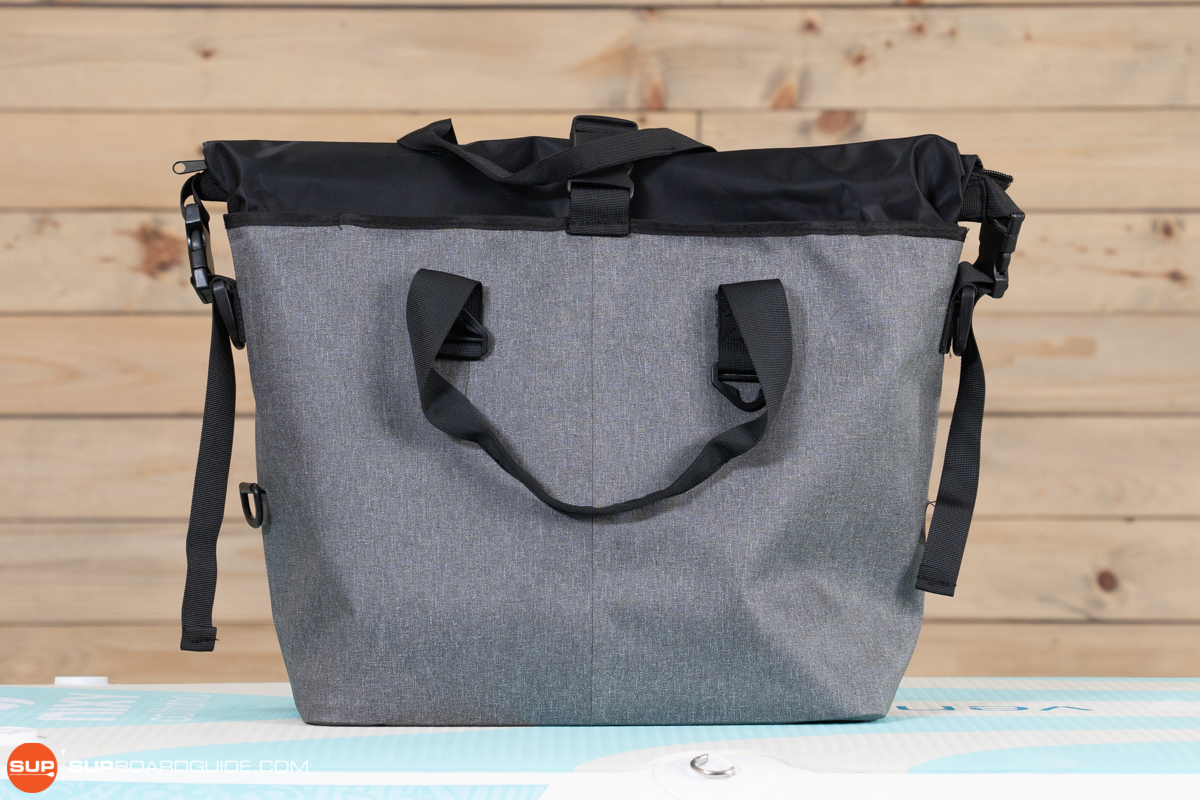 The Nixy Dry Bag Tote makes for a phenomenal beach bag. It has a decent bit of storage, is easy to carry, and you won't have to dive to grab it if the tide comes up and encroaches on your spot.
I won't lie to you – I have been using the Nixy Dry Tote nearly exclusively for beach beers. And can you blame me? All you need to do is load this thing with ice and your favorite drinks and you won't have to worry about it leaking, or sinking if it falls off of your board. I, of course, love the zipper pocket and the 2 interior pockets, but what I love more is the molly loops and the clips at the bottoms of the carry straps to attach a speaker, keychain, etc. The Nixy Dry tote is just a really functional and practical option for a beach or boat day, SUP picnic, or anywhere else you would take a normal tote; this one just so happens to be waterproof.
That being said, I do want to note that to fully utilize the water proofing abilities of the dry tote, you need to ensure the top is rolled tightly, and clip the roll top buckles to each other (as you would with a normal drybag). If it's done loosely and the clips are buckled downwards, as they are in the photo above, the gap at the zipper seam is exposed and will let water inside of the bag.
From a durability standpoint, the Dry Tote feels sturdy all the way around, though I will be interested to see how the main zipper holds up over time; I'd appreciate it if Nixy swapped this one out for a tougher, waterproofing zipper in the future.
Summary Review of the Nixy Sports Dry Bags
In short, we've been fairly happy with the quality and size options of Nixy's drybags. Each bag has the ability to serve it's own purpose and we appreciate the features on each, such as the front zipper pockets, carry strap, backpack function, and molly loops.
While we would recommend skipping to the 10L bag instead of opting for the 5L dry sack, each of the larger bags feels well-made and capable of withstanding some more frequent use.
As we've stated in the beginning, a good dry bag is essential to any gear list, and the Nixy Drybags would be a useful and reliable addition to your arsenal.
The following two tabs change content below.
SupBoardGuide
Heyo! At SupBoardGuide.com we are a team who love the water, the outdoors, and are more than grateful that our full-time job allows us to review stand up paddle boards. We paddle year round (it helps that we are just about 2 hours outside of Las Vegas), and we bring in a wide range of paddlers with the goal of providing our readers with the best, most in-depth, and accurate stand up paddle board reviews.
Latest posts by SupBoardGuide (see all)