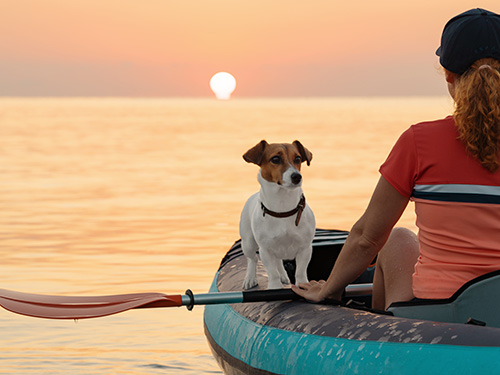 Note: New for 2019!
There was a time when even the best inflatable kayaks were thought of as little more than pool toys – flimsy balloon boats that couldn't handle anything more than the calmest lakes. That assumption wasn't necessarily wrong either, as early inflatables were manufactured with low-quality materials and terrible hull designs that made paddling a nightmare. They were marketed to casual users who just wanted something that would float.
But all that has changed, and inflatable kayaks can now perform on par with some of the best hardshell recreational kayaks. Taking their cues from the whitewater rafting industry, many inflatables are near bulletproof and can be seen shooting through some of the world's wildest rivers. Most surprisingly, they do that while weighing a fraction of what their hardshell counterparts do.
The very best thing about an inflatable kayak is that you can take it anywhere – just like you can with an inflatable SUP. I don't mean you can paddle it on any water (though you certainly can with higher-end models), but rather you can carry it with you anywhere. No specialty roof racks are required – just toss it in the trunk of your subcompact and drive away. Inflatables can also be stored anywhere. They're frequently found in the closets of tiny apartments, giving city dwellers the opportunity to get out on the water without needing a garage or storage unit for their boat.
Finding the right inflatable kayak for your needs isn't the easiest task, though; there are a lot of models to consider, and the best ones don't come cheap. We've created a buyer's guide including ten of the best inflatable kayaks on the market right now to help make your decision a whole lot easier.
The Best Inflatable Kayaks of 2019
---
Our Top 10 Inflatable Kayaks of 2019
---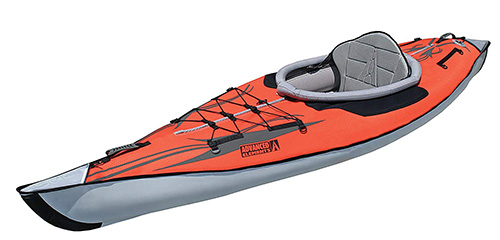 One of the biggest complaints about inflatables is that they don't track as well as hardshells. Their bulbous hulls lack the clean lines necessary for moving fast and straight. Folding kayaks are one alternative, but they're considerably more expensive and take much longer to assemble.
Advanced Elements specializes in building a hybrid between a folding kayak and a standard inflatable. Their AdvancedFrame model uses built-in aluminum ribs to give it the structure necessary to perform like a hardshell. Not only does it have excellent tracking, which is helped by the multiple removable skegs, but it also sits lower in the water than most inflatables.
The AdvancedFrame is also really comfortable compared to many other options, with a fully cushioned seat that makes all-day paddling a joy. It's quite durable as well, with seven inflation chambers protected by triple-layer PVC fabric for great puncture resistance. The twist lock valves make inflating all seven chambers a fairly painless process.
There are some downsides, though. The aluminum ribs that make this such a unique kayak add pounds, giving it a total weight of 36 lbs. With that in mind, the duffel-style carrying case is insufficient for moving it very far. The boat is also designed to take a spray skirt, which would make it as waterproof as a hardshell, but the cockpit rim really isn't rigid enough to hold most skirts.
Overall though, the AdvancedFrame is an excellent choice for paddlers who want the performance of a hardshell but maybe don't have the space for one.
Pros
Well-cushioned adjustable seat
Sits low in the water
Durable PVC construction with reinforced seams
Rigid shape and multiple skegs for excellent tracking
Easy inflation with twist lock valves
Cons
On the heavier side
Longer set-up time
Inconvenient carrying case
Doesn't hold a spray skirt very well
---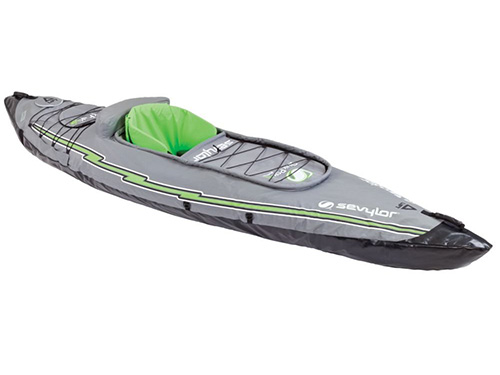 If this is your first time buying a kayak, particularly an inflatable, and you're not sure what you're looking for, the Sevylor Quickpak K5 might be the right choice. It's one of the least expensive models that still offers great performance and isn't just an oversized pool toy.
With its included pump, the Quickpak inflates in about half the time (five minutes) of most other inflatables. It has multiple air chambers, which should help to keep the kayak afloat in the event of a puncture. The unique backpack-cum-seat design cuts down on both the boat's weight and volume, but it also makes for a rather uncomfortable seat that is ill-suited for longer paddles.
While the 24-gauge PVC on the hull is much thicker than some of the "pool toys" you occasionally see at big box stores, it's still not something you'd want to take on whitewater or fast-moving rivers, where punctures are more likely. The three-piece paddle that comes standard with the kayak gets a lot of complaints, as it's neither very nor very portable. Lastly, the boat's 250-lb. weight capacity isn't too impressive either, making this a poor choice for larger paddlers or those wanting to carry much gear.
If you're an experienced kayaker, the Quickpak K5 will probably not impress you. It's a budget model for first-time kayakers. However, paddlers in that category will likely be satisfied with it, particularly if they aren't getting out on the water every weekend.
Pros
Inflates in about five minutes with included pump
Has multiple air chambers
Relatively thick hull for a budget boat
Very inexpensive
Cons
Comes with a flimsy three-piece paddle
Uncomfortable seat
Not the strongest hull material
Low weight capacity at 250 lbs.
---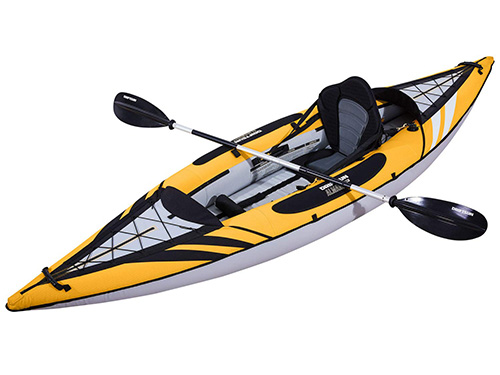 If you're an intermediate or advanced paddler looking for a lightweight inflatable touring kayak, the Almanor is one of your best options. At 11 feet, it's about a foot longer than most solo inflatables, and its aggressive hull shape can track well and turn fast. It only weighs 23 lbs., making it one of the most portable inflatables out there.
Novice paddlers might find the Almanor difficult to use, as it has lower primary stability due to the rounded hull. But that hull design is part of the reason it's such a maneuverable boat. The bow and stern are also quite narrow, helping the kayak cut through the water better. These narrow spaces aren't the easiest to pack your gear in if you'll be using this kayak for touring, though it has a 300 lb. weight capacity.
Larger paddlers might also feel cramped in the cockpit, as it's fairly narrow as well. But on the plus side, you can wedge your thighs into the air chamber to get a better brace and more control. Somewhat paradoxically, the outside edge of the cockpit is rather large at 34 inches, which means the paddle may strike the edge of the boat on each stroke if you're short.
The Almanor 110 is a little more expensive than some of the other solo inflatables due to its more technical and lightweight design, and it's not designed for beginners. But for more experienced paddlers who want an inflatable that performs well, it's one of the best options.
Pros
11-foot length for better tracking
High weight capacity of 300 lbs.
Highly portable at just 23 lbs.
Tight cockpit for better bracing and enhanced maneuverability
Cons
Bulbous cockpit, making efficient paddling difficult
Somewhat tippy due to the rounded hull
May feel cramped in the smaller cockpit
Can be difficult to wedge gear under front and rear covers
---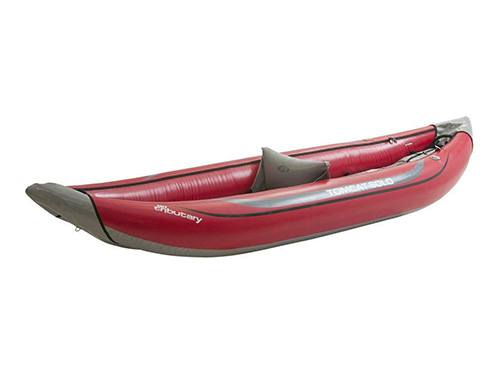 When it comes to building high-quality whitewater-ready inflatables, Aire is a leader in the industry. Their Tomcat Solo is no exception, and it's one of the best choices for novice and intermediate whitewater paddlers.
The Tomcat comes with an aggressive rocker that helps it bounce up and over big rapids rather than riding through them. The hull design is geared towards stability too, so beginners won't need to worry about it rolling over in Class II or III rapids. The hull is also self-bailing, so if you do get a little soaked, that water won't stay in the boat for long.
While Aire is known for making some of the toughest inflatable kayaks on the market, it should be noted that the Tributary line is made in China rather than the U.S. and isn't quite as durable as their more famous models. That being said, it comes with a 1000-denier PVC hull covering, so it's still tougher than most other inflatables.
Admittedly, the Tomcat's ten-foot length can feel a little long in tight whitewater conditions. If you don't need the 375-lb. weight capacity, a boat that's a foot or so shorter might be preferable.
The length and its relative durability also add weight, and the Tomcat comes in at around 34 lbs. That's not outrageously heavy, but it will still be challenging to carry since there are only grab handles at the bow and stern. All and all, this is a solid pick for novice and intermediate paddlers looking for a quality whitewater inflatable that's a good value.
Pros
Incredibly stable, good for beginners
Extremely durable 1000-denier PVC hull
Self-bailing
High capacity of 375 lbs.
Aggressive rocker for tackling big rapids
Cons
Not the same quality as Aire's other kayaks
On the heavier side at 34 lbs.
More expensive than most inflatables
Awkward to carry
Feels long on rocky whitewater
---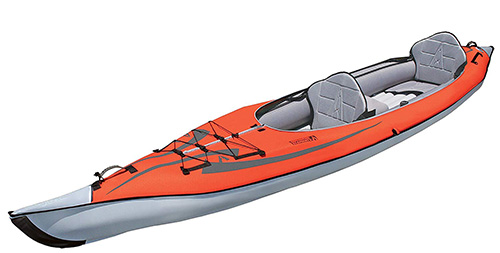 A tandem kayak, Advanced Element's Expedition is essentially an elongated version of the AdvancedFrame and comes with two seats instead of one. Like its smaller cousin, it's equipped with aluminum ribs that make it paddle more like a folding kayak than an inflatable, with extra rigidity for improved tracking and maneuverability. It's also constructed from the same three-layer PVC that gives the AdvancedFrame such great durability. It has six air chambers to inflate though, so you'll need to budget a little more time for getting it set up. However, those chambers will be extremely handy should the hull get punctured.
Of course, the major difference between the AdvancedFrame and the Expedition is the addition of the second seat. Like it's predecessor, the Expedition has well-padded seats with high backrests that make it an ideal touring kayak. Additionally, it's fairly easy to reposition the seats into solo formation when you don't have a partner to paddle with.
The Expedition also shares some of the AdvancedFrame's downsides, including the carrying case, which is no better – in fact, it's worse, because the Expedition weighs a full 52 lbs. Duffel bag handles are not sufficient for carrying this any appreciable distance.
Overall, the Expedition is an excellent choice if you want a high-performance two-person inflatable without spending a lot of money.
Pros
Easily reconfigured for tandem or solo paddling
Incredibly comfortable seats
Very strong PVC construction for excellent durability
Six air chambers to protect against capsizing
Cons
Heavier than most, at 52 lbs.
Somewhat complicated set-up
Not suitable for carrying long distances
---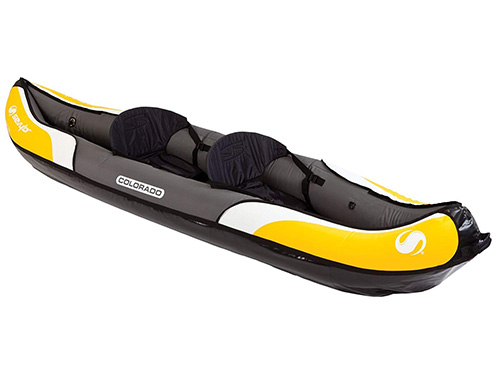 The Colorado from Sevylor is one of the better tandem kayaks for budget-minded customers. It's about half the price of the typical tandem, but still has most of the features you would look for in a basic inflatable kayak.
It has a 1000-denier nylon floor and an 840-denier nylon tarp that goes over the air chambers, which is sufficient protection on most flatwater adventures. This is also one of the more comfortable flatwater kayaks. The seats are well cushioned and slightly elevated, which gives you a better view and is easier on your legs.
Unlike many inflatables though, the floor is not an air chamber in itself – it's just a piece of fabric, so there's really no shape to the hull bottom. This type of design has poor tracking and maneuverability. Unfortunately, the Colorado's 470-pound weight limit makes it infeasible as a touring kayak. With two people in the boat, it doesn't leave enough space for heavy camping gear, and there's not really enough legroom for taller paddlers. For a solo expedition, though, it's more than sufficient.
The Colorado also does not come with a pump, which is rather irritating for a budget kayak, which should be ready to go right out of the box. Perhaps this should be expected with a kayak that's so inexpensive, though.
Pros
Very durable
Easily converts to a solo kayak
Elevated seats allow for more comfort
Very affordable
Cons
Poor tracking and maneuverability
Only 470-lb. capacity
Does not come with a pump
Not enough leg room for taller paddlers
---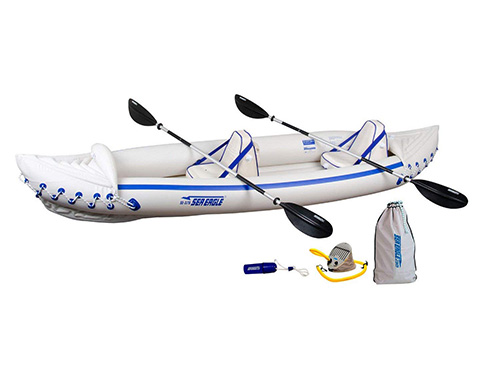 Finding a good, low-cost tandem inflatable can be a challenge for first-time kayakers. Thankfully, the Sea Eagle 370 fills that role perfectly, as an easy-to-use and durable kayak that won't break the bank.
The Sea Eagle is rated for up to Class II rapids, so it's best for novice whitewater paddlers or those sticking to flatwater. The 370 is equipped with a self-bailing drain valve that lets it shed small amounts of water should you get swamped by a rapid or wave. It also comes with an easy-to-use foot pump, which is much less exhausting than the hand pumps that come with most kayaks.
Where the 370 really shines, though, is in the comfort department. Its inflatable seats with tall, fully adjustable backrests are second to none. These seats and the 650-lb. weight capacity make it the ideal boat for multi-day excursions.
The Sea Eagle is not designed to be a high-performance kayak, though. The hull sits high in the water, affecting tracking, speed, and maneuverability. It's also not a good choice if you're looking for a fishing kayak either, since it isn't stable enough to stand in.
If you want to get out on the water with family or friends, and this is your first inflatable, the Sea Eagle is a solid choice that won't put too much of a dent in your gear budget.
Pros
Suitable for up to class II rapids
Extremely comfortable inflatable seats
One of the most affordable tandem inflatables
Easy-to-use foot pump
Self-bailing drain valve
Cons
Can't go very fast
Lacks maneuverability
Not stable enough to stand in
High center of gravity
---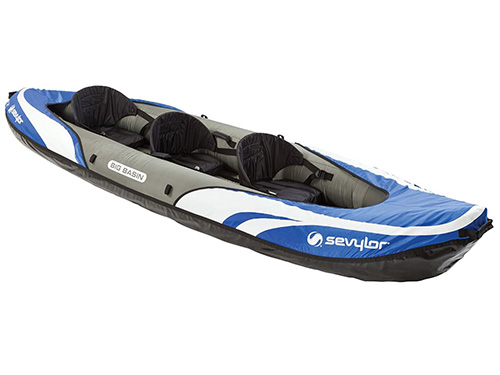 Most inflatable kayaks can carry only one or two people. But what if you want to go paddling as a group of three? Enter the Big Basin 3-Person kayak from Sevylor, an incredibly affordable family boat that still performs fairly well compared to other inflatables.
The Big Basin is 36 inches wide at the cockpit, giving it excellent primary stability, which is very important for new paddlers who might be thrown off by a tippy boat. It's also quite durable, with a multi-chamber hull and a fabric tarp covering that resists punctures. It even comes with a partial spray deck that helps prevent water from sloshing into the cockpit.
You'll need to temper your expectations, though, and remember what the Big Basin is: a budget-friendly family boat. It floats high in the water, which makes it turn more like a raft, and the hull is designed for stability, not for speed or maneuverability. You can pretty much forget about paddling this boat solo too, since the center seat is small and doesn't have any foot or thigh bracing. (It will work fine with just two people, though.) Most surprising is that the Big Basin doesn't come with a pump, so you'll need to purchase one that fits its Boston valves.
If you're looking for a high-performance kayak, this is admittedly not it. But for a family with small children or a group who just wants to go out for fun, it'll fit your needs well.
Pros
Very affordable family kayak
Comes with spray deck to keep paddlers dry
Moderately strong PVC hull
Excellent primary stability due to its 36-inch width
Cons
Feels crowded with three people
Not designed for fast-moving rivers or whitewater
Hard to paddle solo
Does not come with a pump
---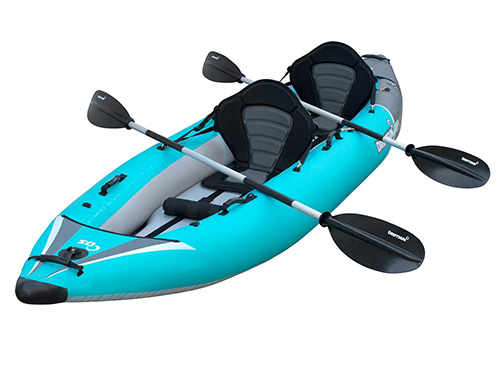 Ever considered taking on the thrill of whitewater with your closest friend? The Driftsun Rover 220 might be just what you need. This 13-foot tandem kayak is built from 1000-denier reinforced PVC and has an ultra-tough PVC floor, making it near puncture-proof. It's built to the durability standards of a whitewater raft but has the sleek hull design of a kayak for enhanced maneuverability.
The Rover 220 was definitely designed for performance in mind. It's got a fairly aggressive rocker that helps it punch through big rapids up to class IV. It's also equipped with a removable aluminum tracking fin to keep it going straight on flatwater. It's self-bailing, too, so you don't need to worry if you get swamped on a big rapid.
It can fit three paddlers, but will feel cramped with more than two adults (though a child or four-legged companion will squeeze in just fine). With the 600-lb. weight capacity, you don't really need to worry about overloading it with gear. Considering how durable this boat is, it's also incredibly lightweight at just 28 lbs.
It should be noted that the Rover 220 is designed for more experienced paddlers, as novices will find it rather tippy. The hull shape sacrifices primary stability for greater secondary stability; it won't flip in a rapid, but might dip enough to one side that you need to do some bracing with your paddle. The Rover's seats aren't especially comfortable, so it's really better for short excursions, not all-day touring.
The Rover 220 is one of the best tandem whitewater inflatables on the market right now, and it shows in the price. It's the ideal boat for more experienced kayakers planning to paddle on whitewater.
Pros
Durable 1000-denier PVC construction
Performance hull that rides well in whitewater
600-lb. capacity, meaning enough space for three plus gear
Removable aluminum fin for better tracking
Self-bailing
Cons
Somewhat short for a tandem
On the pricey side
Lower primary stability
Somewhat uncomfortable seats
---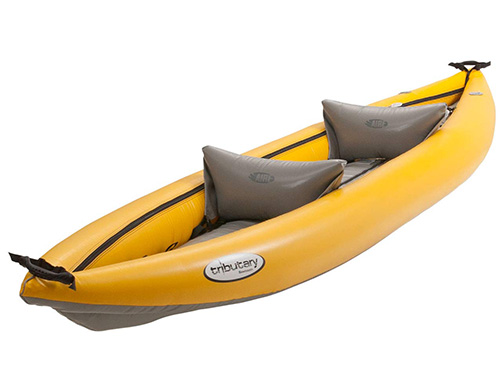 The Sawtooth is another great product from Aire's Tributary line. Unlike the Tomcat, the Sawtooth is a tandem kayak and is designed for flatwater paddling. However, it comes with many of the same great features, like a 900-denier PVC shell and a self-bailing hull. As always, a shell that's this durable adds some weight, and the Sawtooth comes in at 42 lbs.
The Sawtooth is a great flatwater kayak, with a removable skeg for improved tracking. This boat differs from many other models in that you sit on its floor instead of a seat cushion, which lowers your center of gravity and makes for better maneuverability. The seat backs are relatively comfortable, with high backrests that can be easily repositioned for solo paddling.
One of the downsides to the Sawtooth is that it has a fairly low weight capacity for a tandem, just 400 lbs. While that might be enough to hold you and a buddy, it doesn't leave much room for gear. As it's part of the Tributary line, the Sawtooth is also made in China and doesn't have quite the level of quality that Aire fans might be used to. But as far as flatwater boats go, it's still very durable and should last for several years.
The major issue with the Sawtooth is its price, and it's hard to justify it. While the Tomcat has great whitewater performance, something many inflatables do not, the Sawtooth is just slightly better than other less expensive flatwater kayaks. But if you can swing the cost, you're sure to enjoy paddling this boat.
Pros
Strong 900-denier PVC shell
Self-bailing
Can be converted to a solo seating setup
Removable skeg for better tracking
Cons
Somewhat heavy at 42 lbs.
High price tag
Less durable than other Aire boats
Low weight capacity at 400 lbs.
---
The Best Inflatable Kayak for You
The best kayak for you is the one that suits your needs and the waters you'll be using it in. If you think whitewater is in the cards, the Aire Tomcat and Driftsun Rover 220 will probably be the best choices, depending on whether you want a solo boat or a tandem. Both have very durable and maneuverable hulls, which are two of the most important qualities in a whitewater inflatable..
However, flatwater paddlers will be happier with something like the Advanced Elements AdvancedFrame or the Driftsun Alamor. Both are high-quality kayaks that will perform well in fast-moving waters, and they have a decent amount of gear space for overnight trips.
Those wanting to paddle with a friend will probably like the Advanced Elements Expedition for performance or the Sea Eagle 370 for a more comfortable ride. For a more budget-minded purchase, you can't beat the Sevylor Quickpak K5 for solo paddling or the Coleman Colorado for tandem.
---
How to Choose the Best Inflatable Kayak
Is an Inflatable Right for You?
Choosing between an inflatable and a hardshell is one of the biggest decisions you'll make when buying a kayak. Inflatables offer greater portability, often packing down to fit in a backpack. This makes them a favorite of apartment dwellers who would never have the space to store a regular kayak. It also makes them popular with hikers who want to go deep into the backcountry to paddle alpine lakes.
Inflatables are usually about half the price of an equivalent hardshell kayak, too. Their low cost makes them a great choice for beginners who aren't sure what kind of features they're looking for or what type of water they'll prefer to paddle.
Inflatables come with a few downsides though, mostly related to performance. Compared to their hardshell cousins, inflatables have a much more rounded hull, leading to poor tracking (the boat's ability to travel in a straight line) and diminished maneuverability (because the boat sits on top of the water rather than in it). You'll need to carefully weigh these traits to decide whether an inflatable kayak is right for you.
---
Should You Get a Solo or Tandem Kayak?
This is another one of the biggest questions you have to ask yourself when purchasing a kayak. Buying a solo model could exclude friends and family who would love to come along with you, but tandem kayaks are much harder to maneuver when you're all by your lonesome. Think about how often you'll be likely to have a partner with you; if it's less than half, it's probably better to buy a solo kayak (maybe your partner will get one too).
One of the most overlooked aspects of tandem kayaking, though, is how difficult it can be to paddle with a partner. Retailers jokingly refer to tandem kayaks as "divorce boats" because they frequently lead to arguments when the two paddlers are unable to sync their strokes. Getting it right takes time, and if you're not sure you can handle the stress, two solo kayaks might be a better choice.
---
How Much Capacity Do You Need?
Capacity refers to how much weight a kayak can hold. Manufacturers give a maximum capacity for every boat, but this only tells you how much weight it can hold before water comes over the lip of the cockpit and sinks the kayak.
More important is the kayak's functional capacity, which is how much it can hold and still perform well. It's a subjective measurement based on your paddling skills and how you expect the boat to perform. In any case, you want to have plenty of leftover capacity after the weight of you, your paddling partner (if it's a tandem), and necessary gear are accounted for. That's even more important if you want to use your boat for fishing or camping trips, which would require far more gear.
---
How Does Hull Shape Affect Maneuverability and Speed?
One of the most important differences among kayaks is hull shape. While the angles are much more pronounced in hardshell models, inflatables still have a certain shape to them that dictates how well they'll perform in different types of water.
Longer kayaks typically perform better on large expanses of flatwater; they go faster and have superior tracking (going in a straight line). They also usually have less drag, because they can have a narrower hull for the same volume. Each paddle stroke also pushes you ever so slightly towards the side opposite from the paddle blade that's in the water, and longer boats are better able to resist this change in direction, which makes for better tracking.
However, that resistance to change can be a hindrance when you want to turn quickly. Longer boats have a wider turning radius, particularly those with an angular hull shape. Round hulls, in comparison, can pivot without displacing as much water in the process.
---
How Does Hull Shape Affect Stability?
There are also two different types of stability, primary and secondary, and both are affected by hull shape. Primary stability refers to how tippy a boat feels; a boat with poor primary stability is not a good choice for a novice paddler. Boats with good primary stability usually have a more angular hull, as much as that can be said with the rounded air chambers of an inflatable. Hulls with good primary stability will more or less come to a point in the center, and triangular hull shape resists the boat's tendency to roll from one side or the other as easily. Boats with a more rounded hull will roll more, giving them better maneuverability (they can lean into a turn), but also make them harder to control.
Secondary stability refers to how easily the boat will tip over and capsize. Kayaks with good primary stability often have poor secondary stability and vice versa. This is because that angular hull that resists rolling also has a point of no return at which the boat will flip over. More rounded hulls don't have a pronounced point of no return and can be leaned aggressively during a turn without flipping.
---
What Makes a Kayak Durable?
Everyone wants a kayak that can withstand a few bumps and scrapes, and this is especially true with an inflatable that could sink if its air chambers are punctured. Most inflatables are built from thick PVC plastic, which is a compromise between durability and weight. PVC isn't as strong as some of the more exotic materials you'd see in whitewater raft construction, like Hypalon, but it's light enough to easily carry from your vehicle to the put-in point.
The important thing to look at when comparing inflatable kayak materials is the denier count. This is sort of like the fabric count of your bed sheets, except higher numbers refer to density and strength rather than softness and comfort. Many inflatables also come with a fabric covering over the air chambers, which will further protect them from abrasion and minor punctures. If it gets worn out, replacing the fabric is much easier and less expensive than if it were the air chamber being damaged.
To enhance their reliability, inflatable kayaks are built with anywhere between two to seven air chambers. Should one of them get punctured, you'll still have enough flotation to get you to shore where you can probably perform a patch job and get it re-inflated. Having more air chambers increases set up time, though, as you'll need to attach the pump and inflate each one separately.
---
How Do I Find a Comfortable Kayak?
One of the most important considerations when choosing an inflatable kayak, especially one that will be used for all-day or multi-day trips, is the comfort of the seats. A comfortable seat should have adequate padding on both the seat cushion and the backrest, and should be fully adjustable to get them dialed into just the right position. Some inflatables only have a backrest, and in others, the seat is just another inflatable air chamber that can't be adjusted to your body. These are fine for trips lasting a few hours, but are sure to cause pain and discomfort on longer touring expeditions.
While a number of inflatables are listed as being able to carry two or even three paddlers, you'll need to look at the length of the cockpit to see if that's actually a feasible option. Some really have only enough leg room for a child to fit, while others have as much as any solo kayak.
---
How Portable Do I Need My Inflatable to Be?
Portability is the name of the game with inflatable kayaks and the main reason people choose them over hardshell models. Most inflatables pack down fairly small, to the size of a large backpack, so you shouldn't have trouble fitting any of them into a closet or the trunk of your car.
The bigger differentiator between inflatables is how much they weigh. A lightweight solo kayak might come in around 25 lbs., while a tandem that's on the heavier side could be over 50 lbs. To decide whether weight is an important factor for you, first consider how far you'll need to carry the kayak. Is it a thirty-second walk from your car to the put-in point? Weight shouldn't be at the top of the features list. However, if you need to carry this boat on public transportation (they are small enough), it might be the most important factor to consider.
Perhaps the most overlooked feature of inflatable kayaks is the carrying case. This is really what determines its portability and should not be considered an afterthought. Kayaks with a backpack-style carrying case are great for hiking, as most boats don't weigh much more than the pack you'd carry on a camping trip. However, a good number of inflatable kayaks only come with a duffle bag carrying case; if you've ever tried to carry a 30- to 50-lb. duffel bag, you'll understand why these models aren't exactly portable.
---
Do I Need a Self-Bailing Boat?
To those unfamiliar with it, self-bailing might sound like device that dips a bucket into a waterlogged kayak and then dumps water over the side automatically. In actuality, it just refers to a drainage hole in the rear of the kayak that allows water to pass through. When at a standstill, the hole sits above the waterline so no water sloshes in. When the kayak is in motion, the boat tilts upward slightly, allowing any water that's inside the hull to flow out the back. Whitewater rafts are almost always self-bailing.
It's not a feature you see on every kayak, but it's important for whitewater boats that frequently have waves crashing over the deck, especially since spray skirts can be nearly impossible to attach to inflatables.
---
How Long Does it Take to Inflate a Kayak?
Even though it's right there in the name, many paddlers overlook the fact that inflatable kayaks actually need to be inflated. To those accustomed to blowing up a small sleeping pad on a backpacking trip, it just doesn't seem like a very big deal. However, inflatable kayaks hold large volumes of air, and getting one inflated can take up a hefty chunk of your time (and energy) before the paddling even begins.
The simplest and cheapest method for inflating your kayak is a manual pump, which is just an oversized version of the one you'd use to air up a bicycle tire. A few kayak companies use a foot pump, which will save your arms and back but isn't much faster than the bicycle pump design. It usually takes five to ten minutes to air up an inflatable kayak with either of these manual pumps.
To save your muscles for the river and get the boat inflated quicker, many paddlers choose to purchase an electric pump. These typically run off a 12V power supply, so you can connect them to your vehicle's cigarette lighter or auxiliary port. A few are even battery-operated, untethering you from the car's position. Most electric pumps aren't that expensive, but inflatable kayaks don't come standard with them. No matter the inflation method, the longer and wider your kayak is and the more air chambers it has, the more time it's going to take to inflate.
---
Considering the Cost of Your Inflatable Kayak
No matter how much you might love a particular kayak, when push comes to shove, most of us have to make the final decision based on price. However, unlike with clothing or breakfast cereal, price is a fairly good indicator of quality for kayaks. When boats are expensive, it's usually because they're made from better materials or are designed to perform in more adverse conditions.
What you should really be asking yourself when deciding how much to spend on a kayak is this: how well will you be able to use the features a particular boat offers? Are you experienced enough to paddle an aggressive hull design? Do you need bulletproof durability if your paddling adventures are tranquil excursions around a lake? You don't want to buy an expensive kayak with features you won't use.
You'll also need to be honest about how much use you're going to get out of this boat. If you paddle for an hour or two after work each day, those niggling issues like a slightly uncomfortable seat will feel a whole lot more important than if you only make it out on the water a few times each summer. Conversely, are you a newbie who's really serious about breaking into the sport? In that case, your first purchase might be a starter boat, and you'll upgrade in a year or two when you're more confident about what you want in a kayak.
The following two tabs change content below.
Justin - Chief Paddler
Heyo! At SupBoardGuide.com we are a team who love the water, the outdoors, and are more than grateful that our full-time job allows us to review stand up paddle boards. We paddle year round (it helps that we are just about 2 hours outside of Las Vegas), and we bring in a wide range of paddlers with the goal of providing our readers with the best, most in-depth, and accurate stand up paddle board reviews.
Latest posts by Justin - Chief Paddler (see all)