Isle 9'6 Pioneer Pro iSUP
Pros
Super maneuverable, fun, sporty iSUP/kayak combo.
Targeted to petite paddlers, it can be both a super fun kayak and shorter iSUP
Extremely rigid board while still being lightweight (20) lbs.
High quality construction throughout the board, from the X-Woven dropstitch core to welded rails and Infinity Fiber stringers.
About as stable as you can make a 9'6 iSUP, supporting paddlers up to 195 lbs (and even more for advanced paddlers)
4 year warranty, although we think the board will last much longer than that given the high quality construction
Full length deckpad that is very comfortable
Cons
As a super maneuverable board, the tradeoff for that maneuverability is less tracking performance. Tracking will be better for shorter, more experienced paddlers.
While we love the feel of the deckpad, it can get dirty a little easier.
A super maneuverable, sporty inflatable SUP/Kayak combo board designed with smaller paddlers in mind.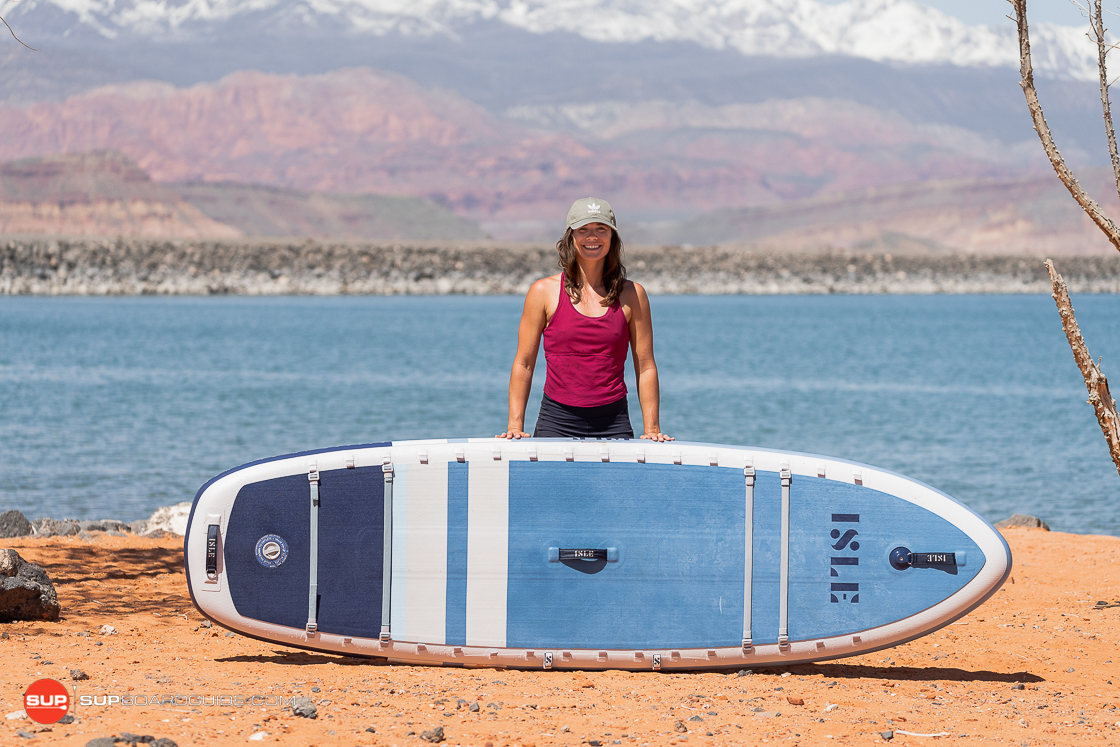 In our testing and review of the Isle 9'6 Pioneer Pro, we struggled a little bit to figure out who exactly this short, super sporty SUP Kayak is for. Isle designed the 9'6 Pioneer Pro with the smaller paddler in mind (think teenager or small adult), and as a paddle board we found ourselves wanting the board to be just a little bit longer and maybe even a few inches narrower.
And then we put on the kayak kit and saw how much fun and versatile this board can be.
While all of the Pioneer Pro boards were fun as kayaks, the 9'6 is the perfect size for the smaller (under 5'5) paddler who wants a combo kayak / SUP. It's hyper maneuverable, yet still has the volume needed to support even larger paddlers. As a SUP, you do lose some tracking abilities given its shorter length, but what you lose in tracking as a SUP you gain in fun as a kayak.
Combine that 'fun' with top of the line construction and we can't think of a better kayak/SUP combo board for a smaller paddler.
We think the Isle 9'6'' Pioneer Pro would be a great SUP for paddlers who:
Are a smaller paddler looking for a super maneuverable and fun iSUP/Kayak combo
Want your iSUP/Kayak combo to have high-quality construction for a rigid and stable feel on the water
Do not need a iSUP/Kayak with a weight capacity over 195 lbs
9'6'' Pioneer Pro: Spec Sheet

Main Category: All-around
Board Dimensions: 9'6''x32''x6''
Listed Board Weight: 20 lb
Listed Max Capacity: 195 lb
Recommended PSI: 17
Fins: Split US fin box, 9'' touring fin
Paddle: Not included in kit
Materials: Isle's Airtech™ Prolite (thick single layer PVC, welded Powerfuse™ inner rail, and 6 InfinityFiber™ stringers
Warranty: 4 years
Performance Review of the Isle 9'6'' Pioneer Pro Stand Up Paddle Board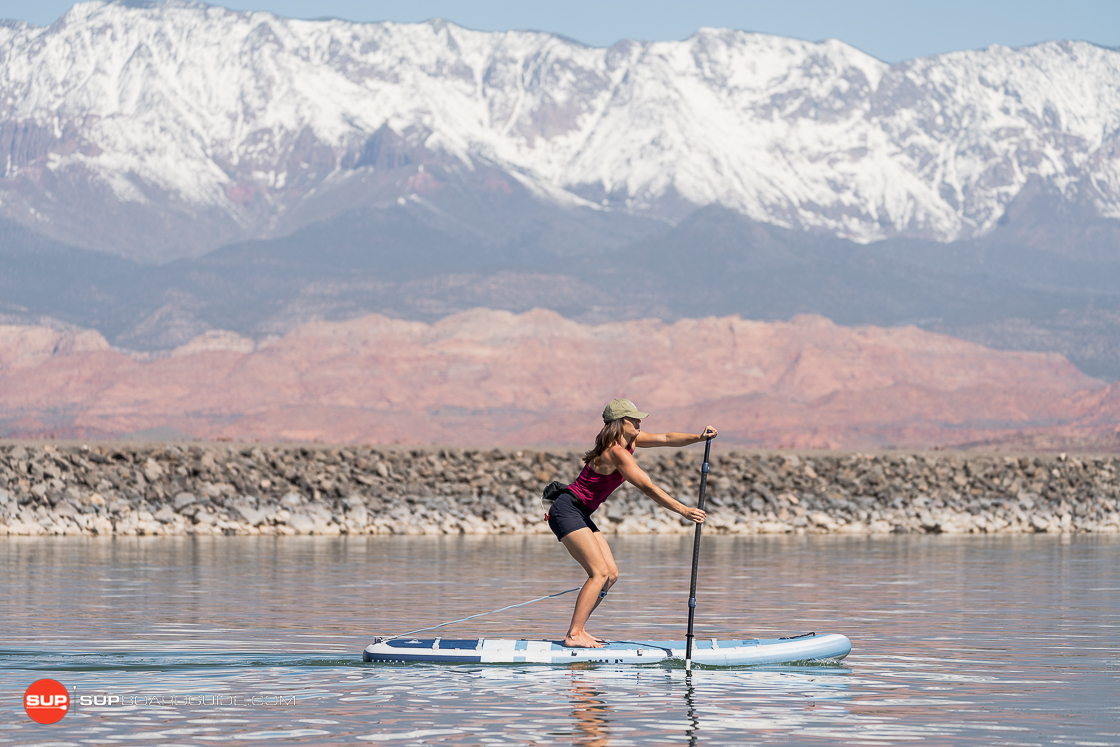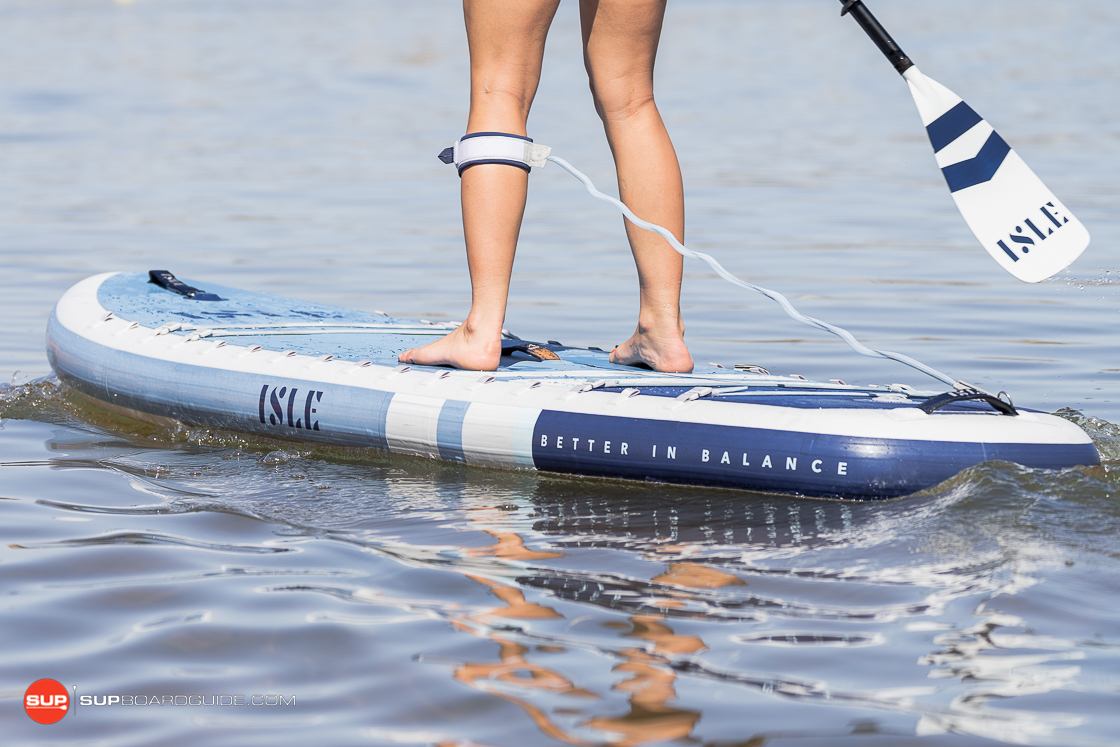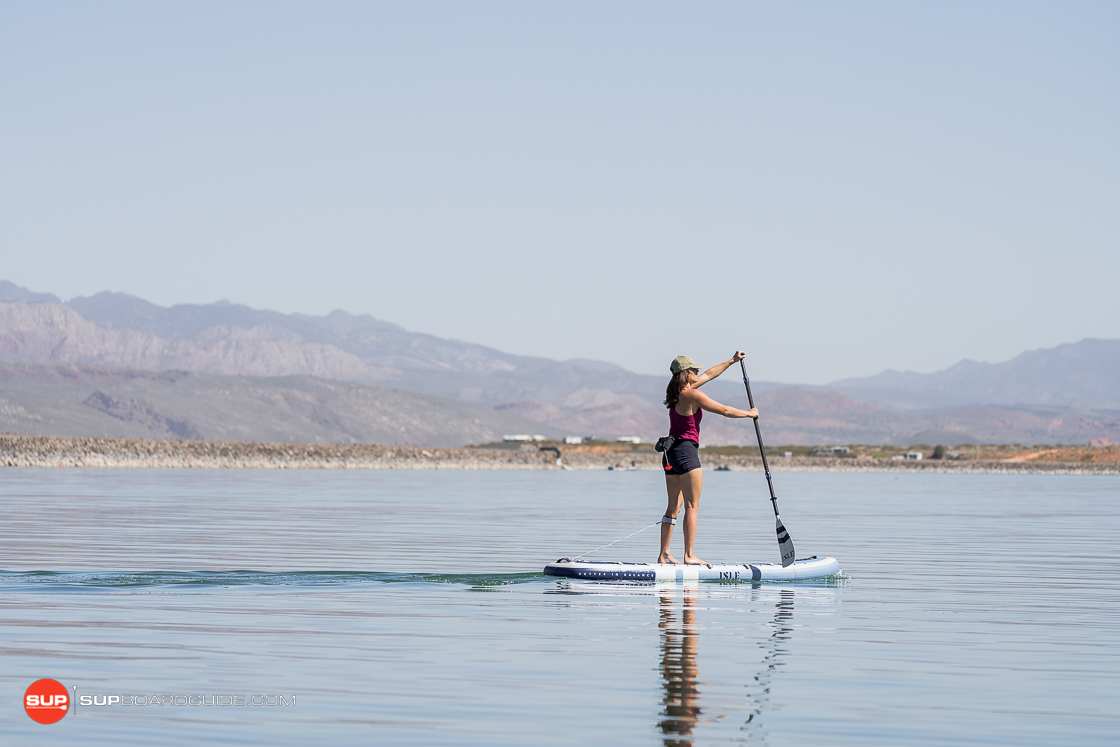 Overall Score: [9.3/10]
Stability: 8.5/10
Speed: 7/10
Tracking: 7.5/10
Maneuverability: 9.7/10
Construction Quality: 9.8/10
Features/Accessories: 9.8/10
Stability Rating: [8.5/10]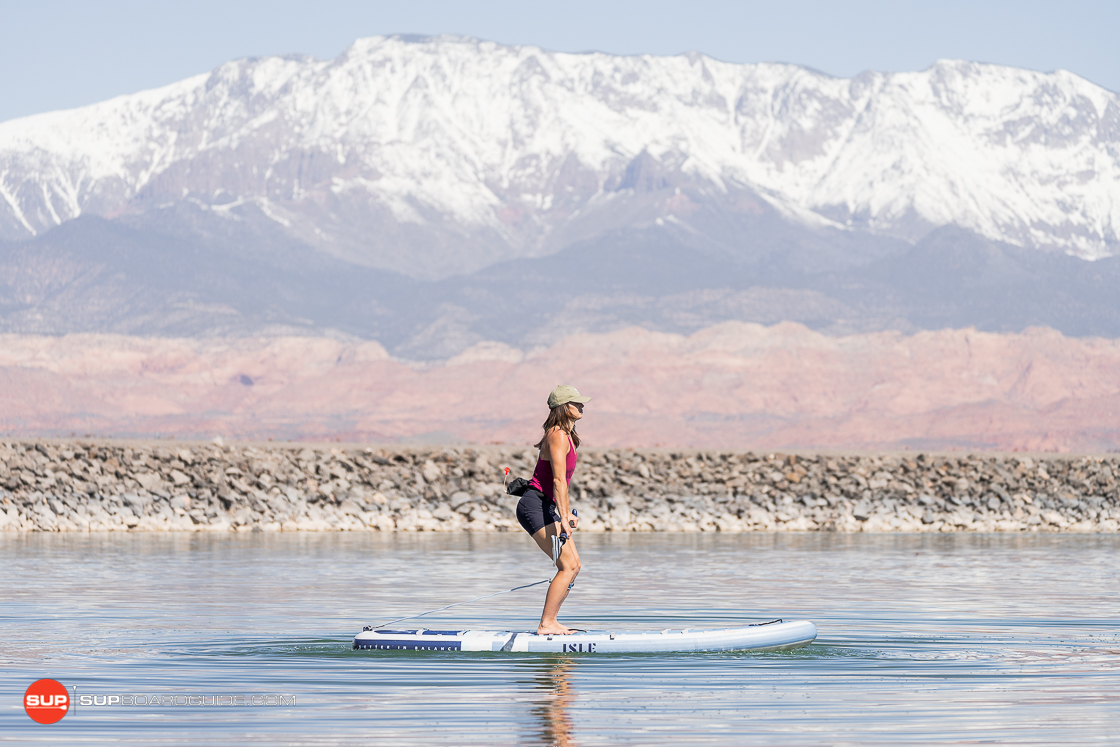 While 9'6'' boards are naturally less stable than longer boards, those who are the proper size for this SUP will be more than happy with the stability when using it as either an iSUP or kayak. The rigidity that Isle is able to achieve with their fantastic construction makes it possible for even this board (the shortest in the Pro series) to be highly stable for the petite paddler (we'd say under 5'5 and 140 lbs).
The board's width stays mostly consistent from the nose to the tail. The nose is slightly pointed which helps with the boards glide. Referencing the pictures, you will notice that the squared-off tail is very similar in width to the body of the board. This creates a large surface area in direct contact with the water, which helps you stay balanced.
Furthermore, the board's remarkable stiffness greatly contributes to its stability. As you can see in the top right photo above, even when I applied downward pressure to the middle of the board, it barely moved. Given my weight (135 lbs) I was not able to make any wake/splash while bouncing on the board! It felt extremely tight.
If you are a petite paddler or somebody with awesome balance who is excited about having a short, hyper-maneuverable iSUP/Kayak, then this is a fun choice of a board not only because it's sporty and quick-twitched but because it is built with extreme attention to detail and blows us away with how rigid it truly is.
Speed Test: 7/10
| | |
| --- | --- |
| Isle 9'6'' Pioneer Pro | |
| Top Sprint Speed: | 4.7 MPH |
| Average Cruising Speed: | 3.4 MPH |
*Notes on our speed test: We use a SpeedCoach SUP 2 to conduct our speed tests. With this device, we get accurate readings on how fast we are paddling and our current strokes per minute. To obtain our top speed results, we paddle as hard as we can for 10-15 seconds. For our cruising speed, we paddle at 40-45 strokes per minute for 30-60 seconds and record the average.
We know that the longer the waterline is (the longer the board), the faster the board will go (holding all other factors constant). Considering this is a short board, it doesn't compete with the other Isle Pro series boards in the speed category.
BUT, do not let that deter you! Just because it's the slowest of the bunch, does not mean that it is slow in general. It is actually quite speedy, and we were pleasantly surprised with our top sprint speed and very satisfied with our cruising speed both as an iSUP and a kayak.
Being that the cruising speed is 3.4 MPH, you will have fun out there for a long time without getting too exhausted or feeling sluggish on the water.
As a kayak, I thoroughly enjoyed having an increased amount of control due to being closer to the water and my ability to paddle at a faster rate. I felt like I could really ramp up how fast I paddled, and I fed off of my own energy to get it really going!
One note on our speed test: we do think that the board could benefit from an extra 6" of length here. However, we aren't sure if that would take away from the board's sportiness and maneuverability as a kayak that makes this board so much fun as a kayak.
Tracking: 7.5/10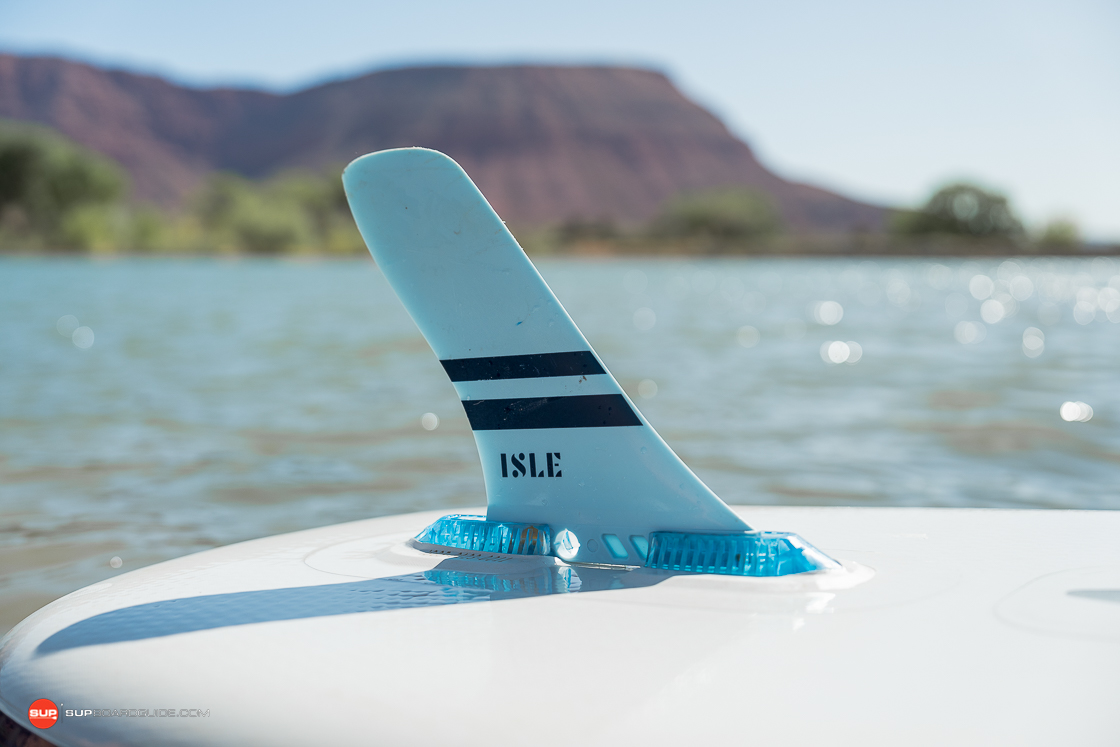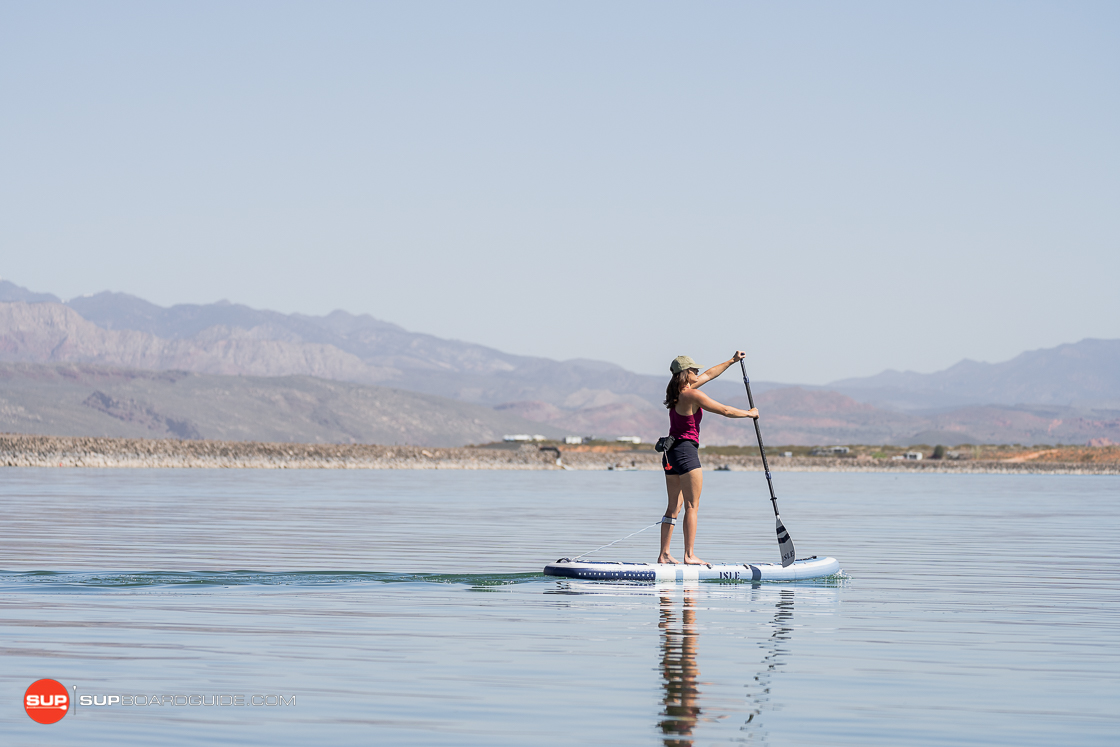 Although Justin did not have a hard time keeping the 9'6'' Pioneer Pro straight, the tracking can be a little challenging given the boards lack of length. It's a hyper-maneuverable little guy, so the tracking will inevitably be sacrificed.
Since Justin isn't necessarily petite, why can he keep this board straight?
The answer is: 90+% of tracking has to do with the person themselves and their paddle technique. Since Justin has been paddling for years and has had the benefit of receiving proper training, he has a great paddle stroke and technique. He can strike the water at a vertical angle almost every time. This allows him to accomplish good tracking on pretty much every board he gets on. However, he did find that he needed to switch paddling sides more frequently than the other Isle Pioneer Pro series boards.
For me, it took spending time on this board to become satisfied with my tracking. But afterwhile, I learned its natural movement pattern and was able to adjust my stroke to get it to go straight to the point where I could go for a while without having to switch sides too often – and I ended up having a lot of fun on this SUP! But as a reminder, it's just about the perfect size for me (5'5'' and 135 lbs).
If you use it as a kayak, you can pretty much avoid any learning curve and paddle straight right off the bat.
If you're worried about your paddle technique and how it might affect your tracking, check out our How To Improve your Stand Up Paddle Board Technique video for some amazing tips and tricks!
Maneuverability: 9.7/10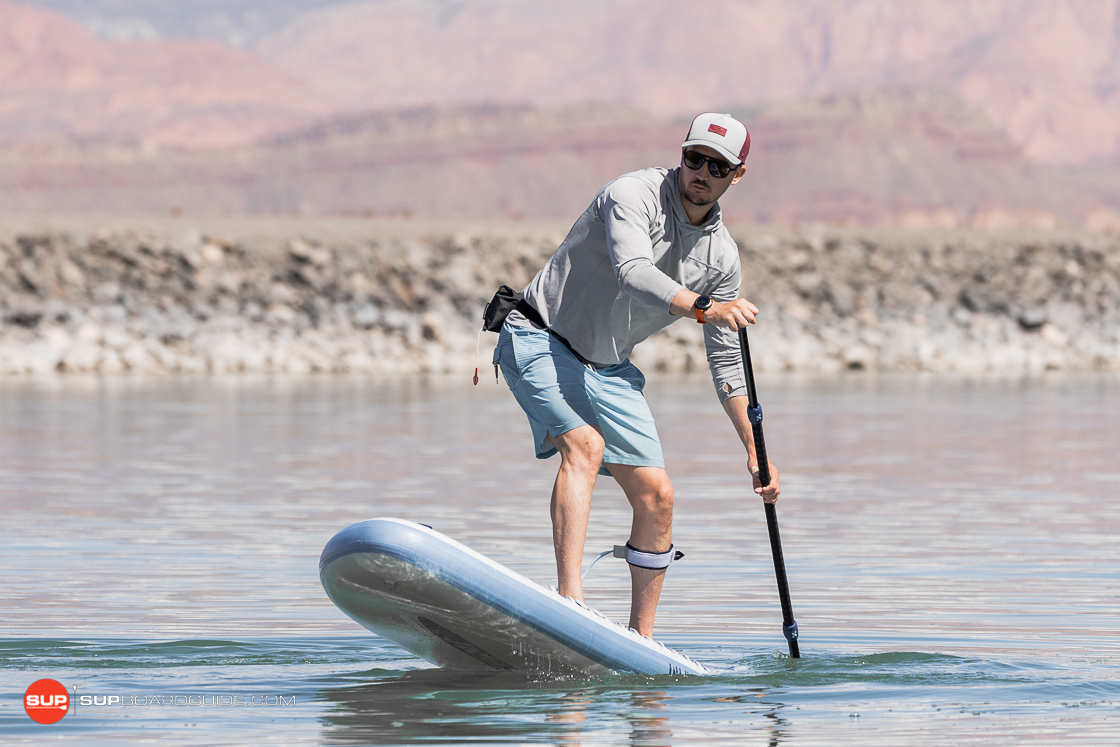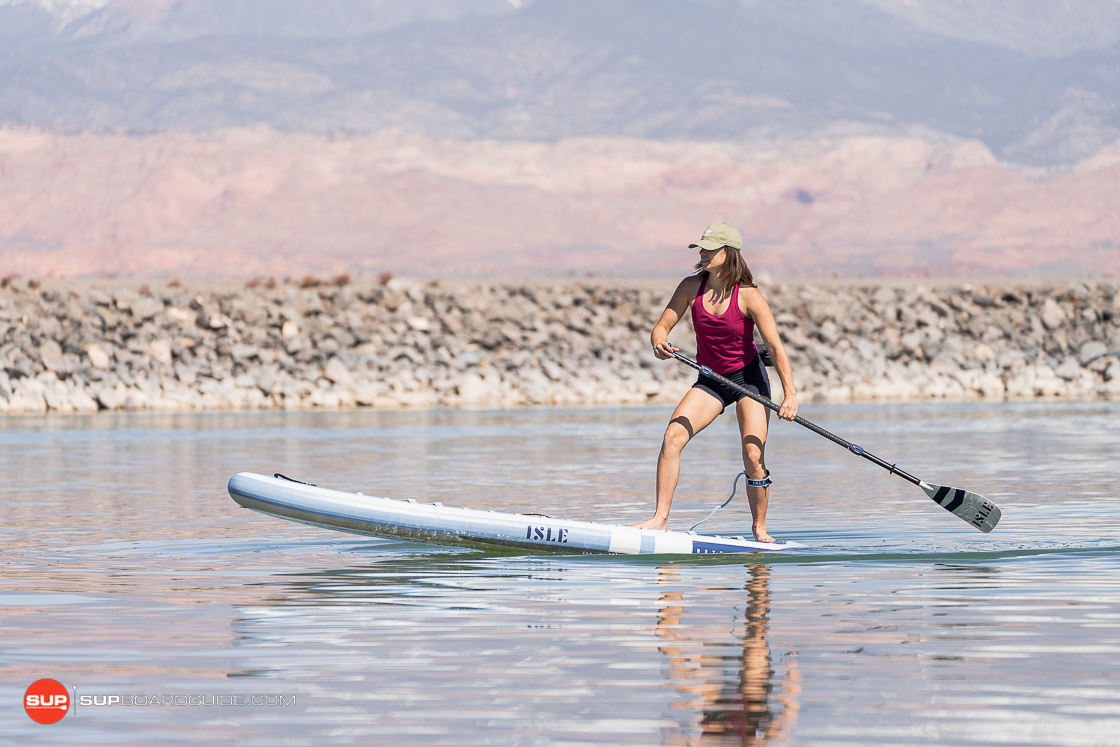 You guessed it! This board is very maneuverable. Taking first place in this category, the Isle 9'6'' Pioneer Pro is the most maneuverable board in the Pro series lineup.
It only took Justin 3.5 back-sweep strokes to turn a full 360 degrees. It's also a very lightweight board (only 20 lbs) which adds to its ability to move swiftly. It's even easy for more beginner paddlers to sink the tail and do a step back turn – much easier than other 9'6 iSUPs we've tested.
As a kayak, you are essentially in complete control of which direction you go. If you attach the footrest at the correct length for your height it enables you to apply pressure on your feet for greater control. When paddling forward, press with the foot on the side you are paddling on.
Construction Quality: 9.8/10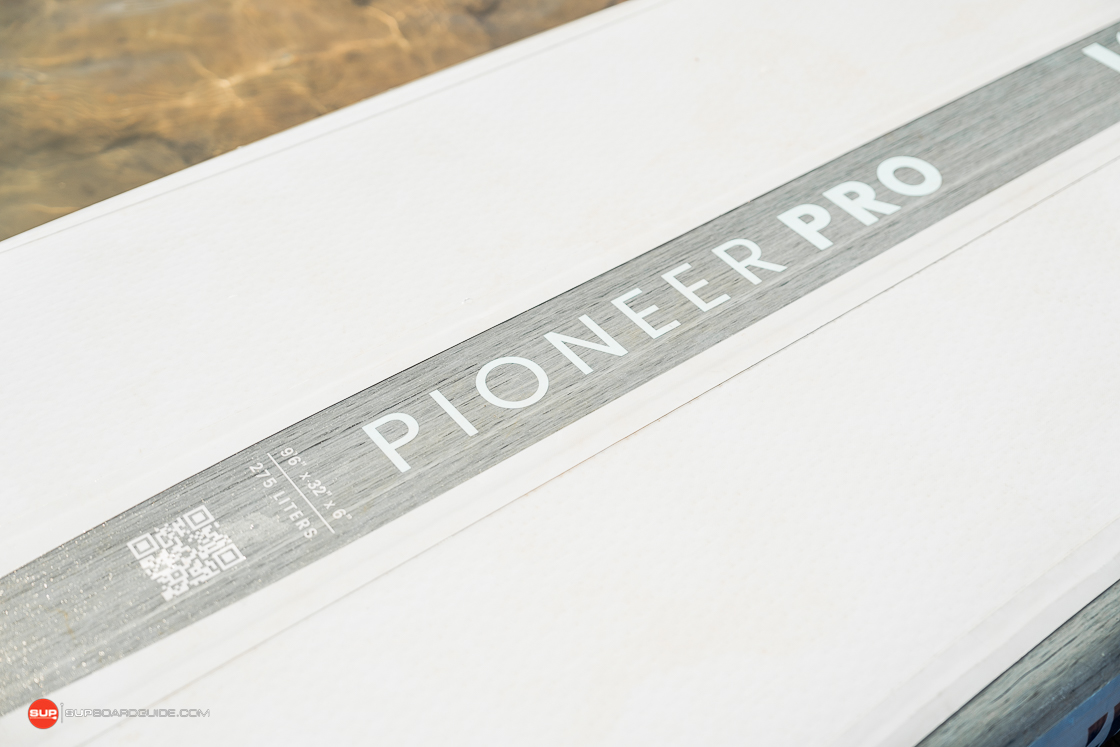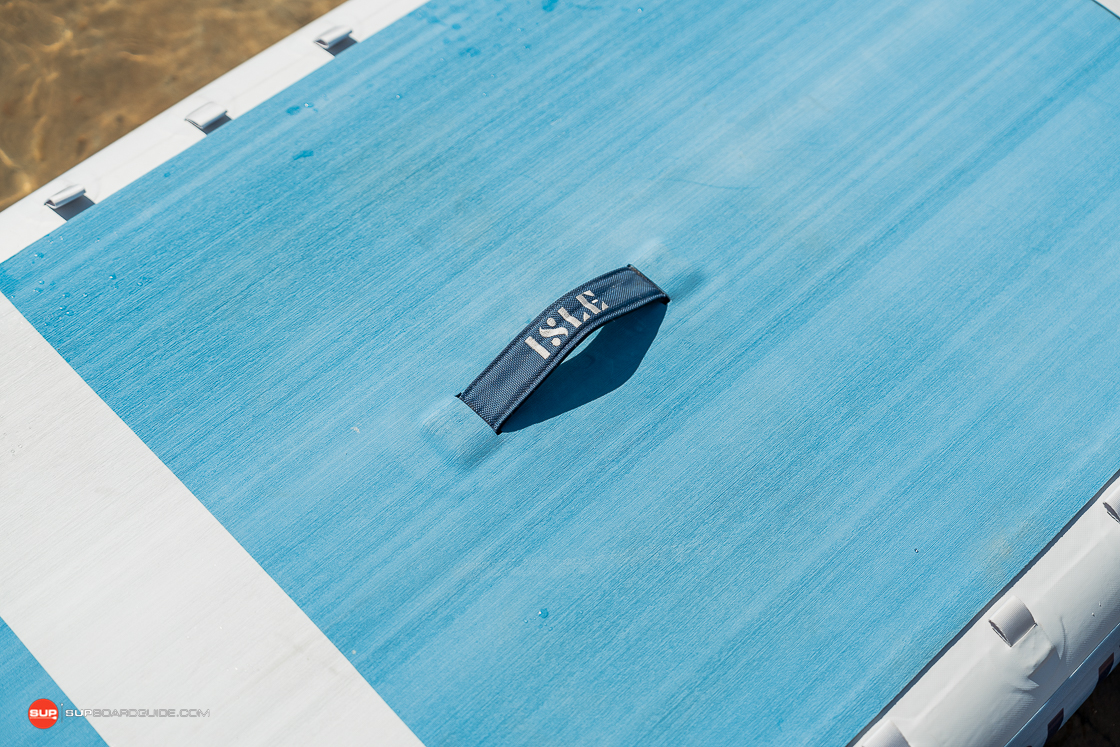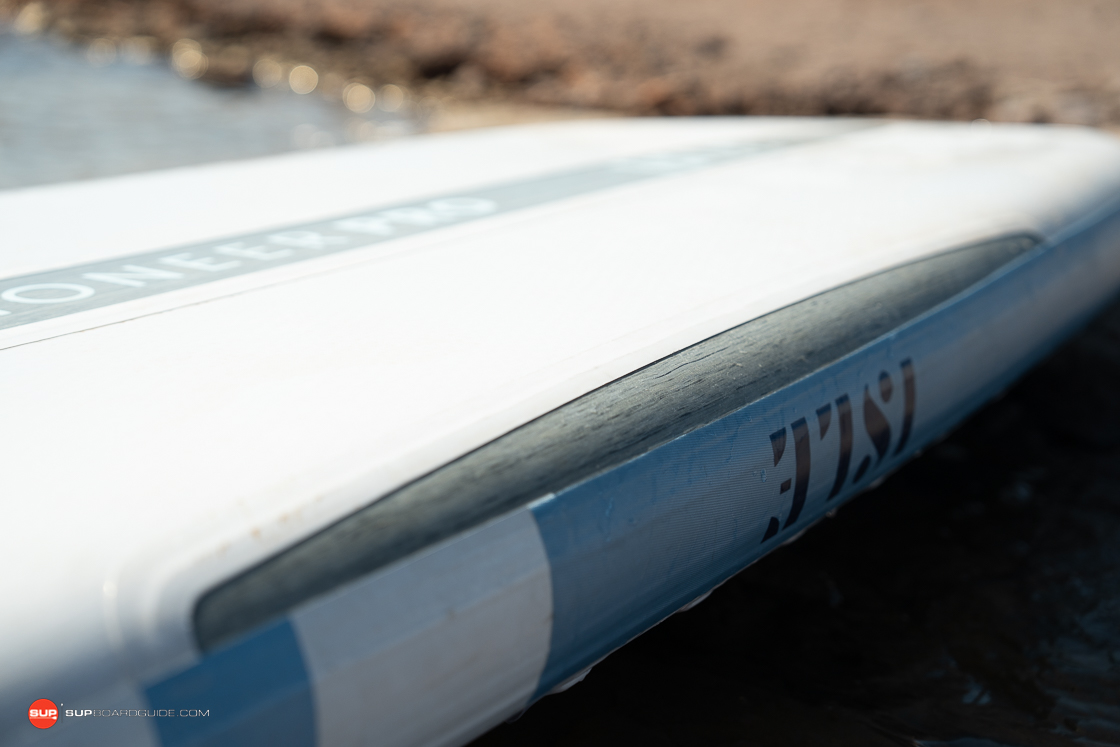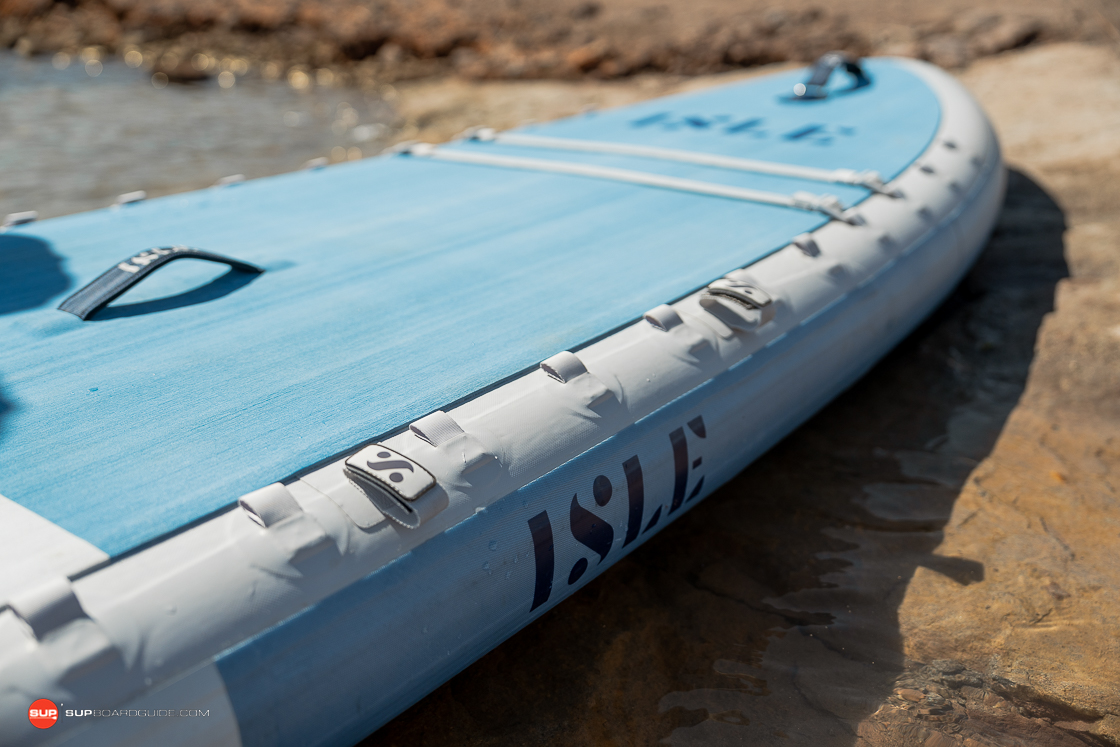 Now for the fun part of the Isle 9'6'' Pioneer Pro Review (for other SUP geeks out there that is!)
In order to achieve such extreme stiffness and rigidity, Isle applies their Airtech Prolite construction process combined with their InfinityFiber™ stringer system. To adhere the different layers of the board together, Isle uses what they call Powerfusion. This is a method of heat-welding that is so strong it fuses the materials on the rails, the deck, and the hull into one single ultra-strong layer. This avoids any air leakage and increases the longevity of the boards.
AirTech Prolite combines a cross-woven inner drop-stitch core (space yarns crossing in an X pattern instead of linearly) and a super thick outer PVC layer that is powerfused to the base layers of the board.
Yet the component we accredit to what we believe to be industry-changing results is the InfinityFiber™ stringers. These stringers make all five boards in the Pro series unbelievably stiff and rigid.
InfinityFiber Stringers are
Fiber-reinforced thermoplastic strips glued onto the top, bottom, and sides of the board (2 on each side)

– These are the gray material that you see on the board and greatly increase the rigidity
– You will be able to feel the strength they give to the SUP when you go to roll it up!
– You can think of these like the snap bracelets we had as kids; when straight they are super rigid but they can also be rolled up and put away
Our bend test results show us that Isle is not kidding around when they say the Pro series are the most rigid boards in the industry.
Board Stiffness: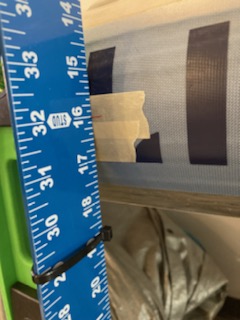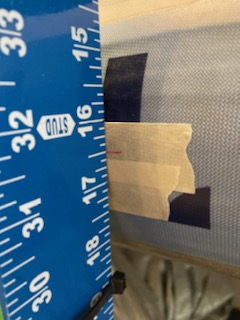 Stiffness Test: 0.4375inch Bend
The bend test result of the 9'6'' Pioneer Pro is right in line with the other Pro Series boards, despite being significantly shorter and only 32'' wide (the 11'6'' is 34'' wide).
Because it performed just as well as some of the wider or longer (or both) boards, we can really see the value of the InfinityFiber stringers combined with Isles' other exclusive construction processes. While the results of each Pro series board we bend-tested blew us away, it is even more mind-blowing that this board – the shortest in the bunch – tested so well. We think that without the (6) Stringers, we would have seen a greater variance between the boards in the series.
We bend-tested these boards over 3 times because we were bewildered by the results. The results are truly amazing and why we say that this technology is industry-changing.
Features/Accessory Review: [9.8/10]
Features: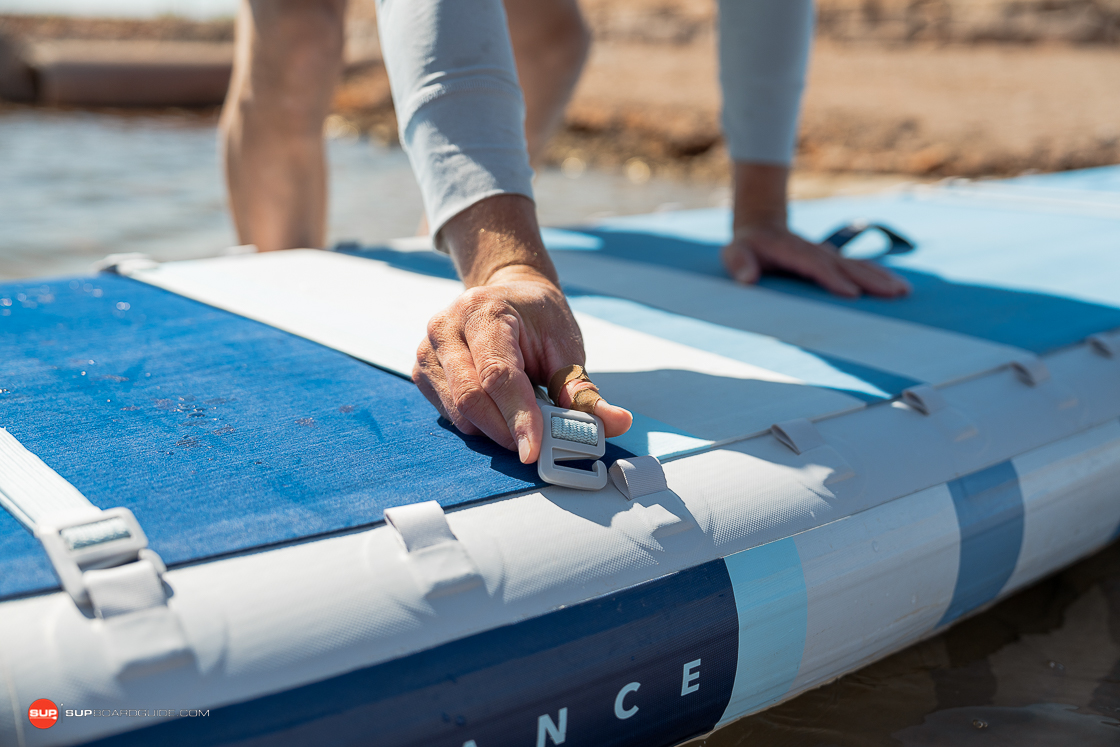 At first glance, this board might seem more simple than other SUPs when it comes to its features. But in reality, that is Isle's fabulous technique of hiding their exciting new features in plain sight.
If you look at the first picture above, you'll see what is called the Isle-Link system. This is a series of molly loops that run up and down the board, where you can use Isle's thick and flat bungees to customize your board. They are easily removable so you can decide how many or how little you want. We love this feature because it allows you to either keep the deck completely free or load it up with a ton of gear and strap it down where and how you like it! There's also a simple velcro paddle holder on the sides of the SUP that makes it easy to strap down your paddle out of the way of the deck pad.
The Isle-Link system is also how you attach the kayak conversion kit. You simply take the straps that are attached to the kayak seat and footrest and hook them into the molly loops. It is a simple process and takes less than 5 minutes to do.
Additionally, the US fin box is a split fin box, which makes rolling up the SUP a lot easier.
There are two carrying handles on the nose and tail of the board in addition to the middle carrying handle. On the nose, there is an integrated accessory mount conveniently located to hook up a GoPro or a camera or even a water-bottle holder.
The deck pad is comfortable and durable. If we are being picky, I would like to see Isle upgrade their deck pads to having diamond grooves. Personally, I find that I prefer diamond-grooved deck pads. But if you prefer a perfectly even deck-pad, then you will love this one. I will say that if you leave the bungee(s) on and your board out in the sun, you may see some sun damage when you go to remove them. And if you step on the board, you may leave a footprint. With this in mind, just be sure to take extra-good care of your board and treat it with kindness!
Included Accessories: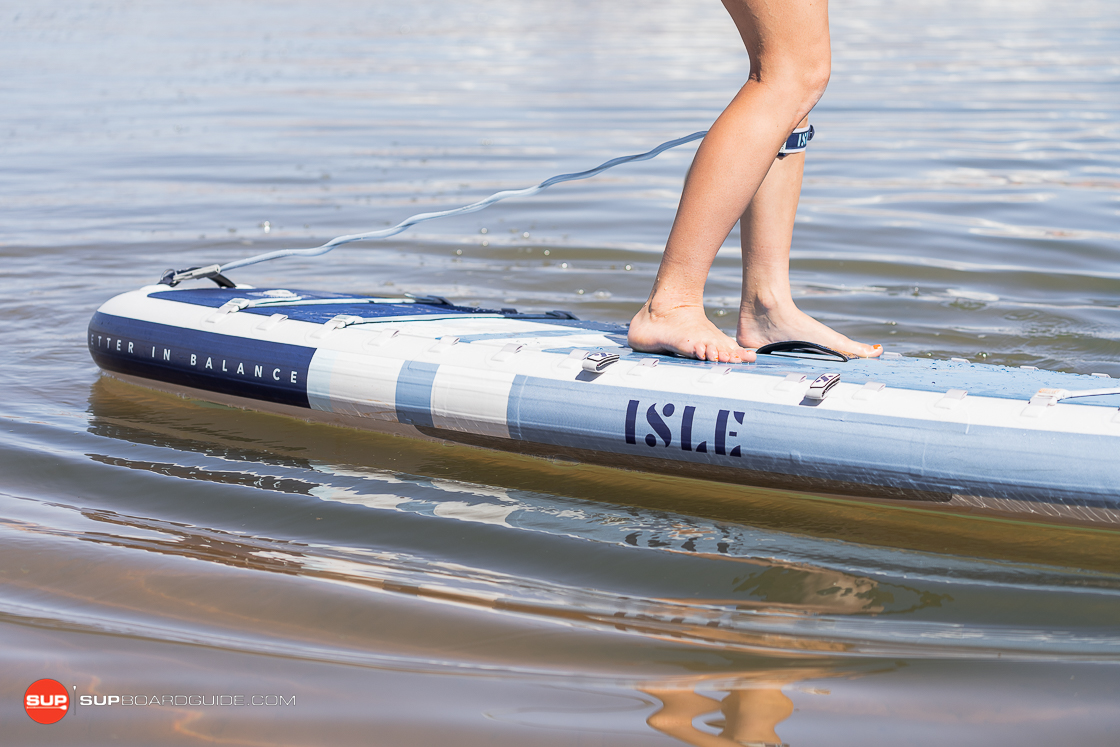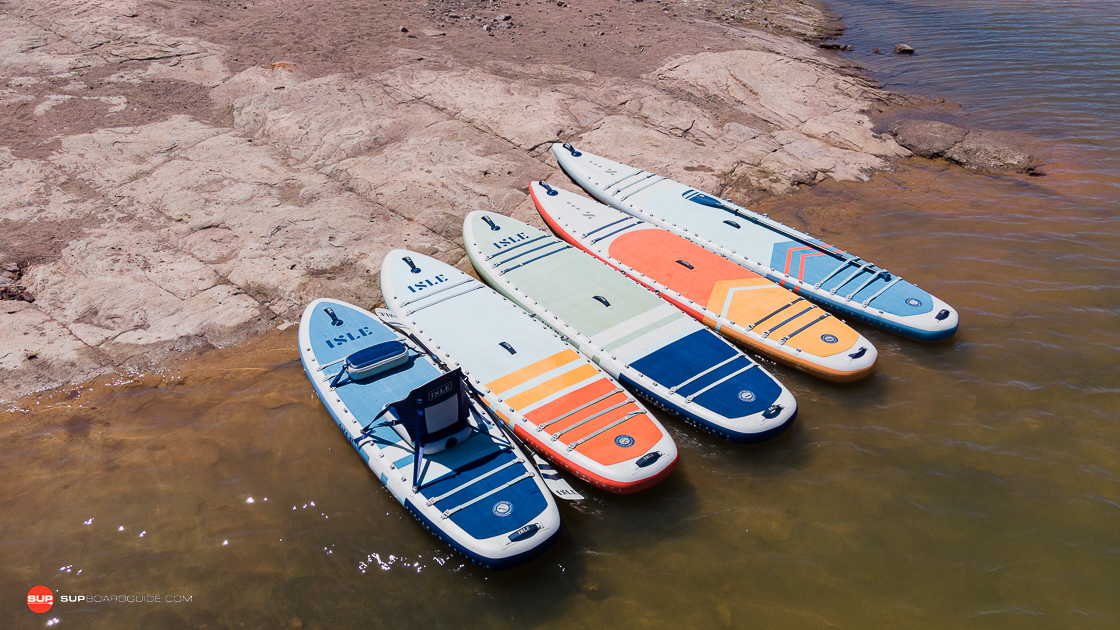 With the new Pro Series boards, you get:
A rigid 9'' Touring Fin in a dry-bag
A lightweight straight leash in ice blue
Wheelie backpack
The straight leash is cool because you barely notice it and it does not feel bulky at all if you happen to step on it. Unlike a coil leash, it won't get wound up in your toes!
The wheelie backpack is very durable, thick, and big so you can easily fit your rolled-up SUP into it with the kayak conversion kit, a pump, and the dry fin bag.
Isle does not include a paddle or the kayak conversion kit straight off-the-bat but has it easily set up on their website to bundle the items you want at a discounted price when you purchase a board. This system is nice because it keeps the cost lower as well as reduces waste for those who already have a paddle or don't want the kayak conversion kit.
Summary Review of the Isle 9'6'' Pioneer Pro – 2023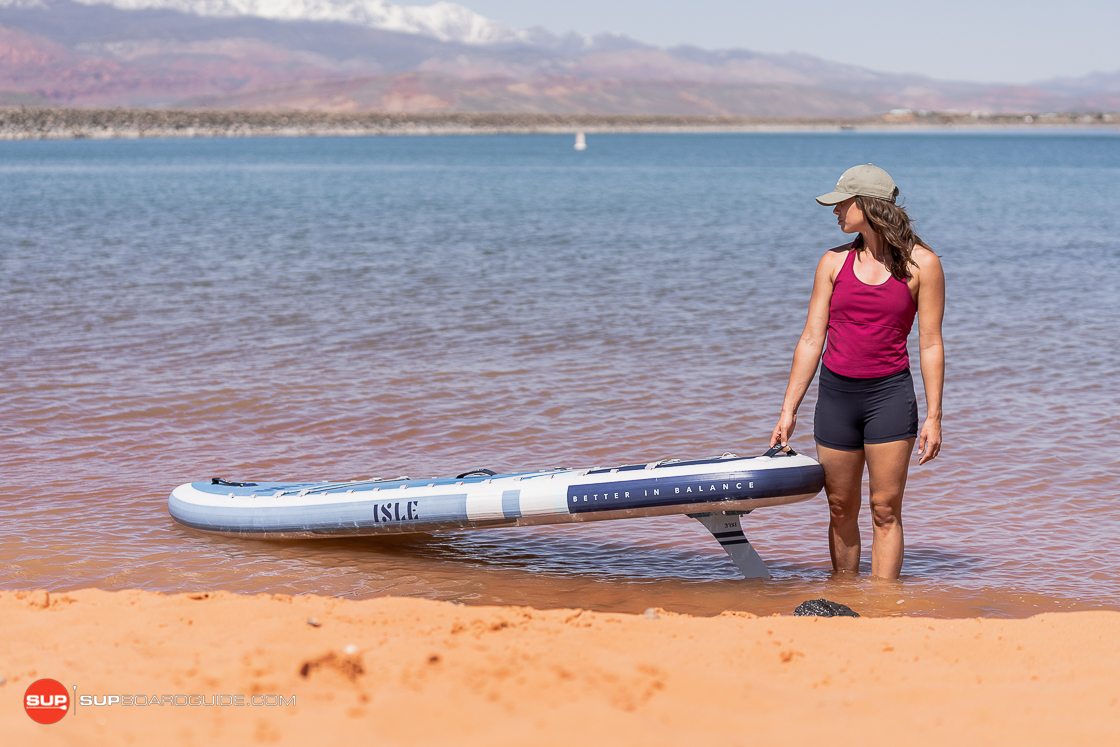 To wrap it up, the Isle 9'6'' Pioneer Pro can be a fabulous iSUP/Kayak combo for the smaller paddler who wants a hyper-maneuverable SUP/Kayak.
As a team, we are hugely impressed with the Isle Pro series construction process, technology, and intelligent design. In the case of the 9'6'', we do think that tacking on a bit more length would open the realm of possibilities for who could ride this board and feel stable right-off-the-bat, but we can't say for certain that that wouldn't compromise how it currently functions as a kayak (which we love).
Happy paddling! Leave us any questions or comments you have below!
The following two tabs change content below.
SupBoardGuide
Heyo! At SupBoardGuide.com we are a team who love the water, the outdoors, and are more than grateful that our full-time job allows us to review stand up paddle boards. We paddle year round (it helps that we are just about 2 hours outside of Las Vegas), and we bring in a wide range of paddlers with the goal of providing our readers with the best, most in-depth, and accurate stand up paddle board reviews.
Latest posts by SupBoardGuide (see all)