iROCKER All-Around 10' Ultra
Pros
Speedy and agile compact SUP that is well suited to smaller paddlers
Extremely compact and easy to carry backpack - we love the new compact ultra series for long travel (and even just throwing in the trunk of your sedan)
Lightest option in iROCKER's Ultra series
Stiff construction adds more responsiveness and a higher level of performance
Nice balance between maneuverability and tracking thanks to the 9'' twin fin system
Great sup for backpacking, probably the best on the market
Comes with iROCKER's 12V Electric Pump included in the kit, making the overall price a great value
Cons
Included paddle may be too tall for paddlers under 5'0, even at its shortest setting (though it's not an issue if your form is fairly casual)
When I first unboxed the 10' All-Around Ultra for review, and its concept really started to sink in, I only had one thought: 'I really wish I would've had this board sooner'.
One summer during college, I took a break from my usual job guiding tourists' SUP excursions in New Jersey to take an extended road-trip covering Glacier, Yellowstone, and Grand Teton National Parks. If you've ever been to, or done some research on this area, you'll know that it is littered with Alpine lakes, scenic rivers, and otherwise jaw dropping mountain-surrounded bodies of water. Before my trip I was frantically trying to devise a plan to somehow bring a SUP with me.
When it came time to head off though, my best friend's mom's minivan (the most stylish vessel for adventure, obviously) was bursting at the seams and a paddleboard, either hard or inflatable, just wasn't going to make the packing list. While initially crushing, I was able to lick my wounds by lamenting on how hard it would've been to hike even an inflatable SUP (of that time) into some of the harder to reach spots, and concluded that paddleboarding and hiking just weren't going to mix.
That is, until the 10' All-Around Ultra came into my life. This 10' x 32" iSUP packs down into a remarkably small SUP bag, and with the entire package weighing just 32.2 lbs, it is more than ready for a moderate hike, a trip through the airport or being squished between the seats of a fully loaded minivan.
More than its portability though, the 10' All-Around Ultra's performance is really what made it my current favorite all-around SUP. It's extremely well suited to smaller paddlers like myself, and wow'd me with its higher level of maneuverability, capacity for speed, and unexpected ability to track fairly naturally. Though its stability may take some getting used to for paddlers accustomed to more volume, the agility of this SUP will put a smile on your face.
As the final piece of the puzzle, iROCKER sweetened up this deal with one of the highest value SUP kits we've tested to date. While we do see some areas for improvement, we overall love the inclusion of their 12V Electric Pump, the compact and comfortable SUP backpack, and the accessory pouch.
Stick with us as we jump into the details of why this little SUP has quickly become my go-to paddleboard.
We think the iRocker All-Around 10′ Ultra would be great for
Smaller novice paddlers or small-midsize intermediate paddlers
Paddlers who want a higher level of maneuverability while keeping a capacity for speed and tracking
Travelers/adventure oriented paddlers who want a SUP that can easily come along for the ride, flight, or hike
Paddlers who value lightweight construction
Paddlers that venture into a variety of water environments (flat water, chop, oceans, winding/slow-moving rivers)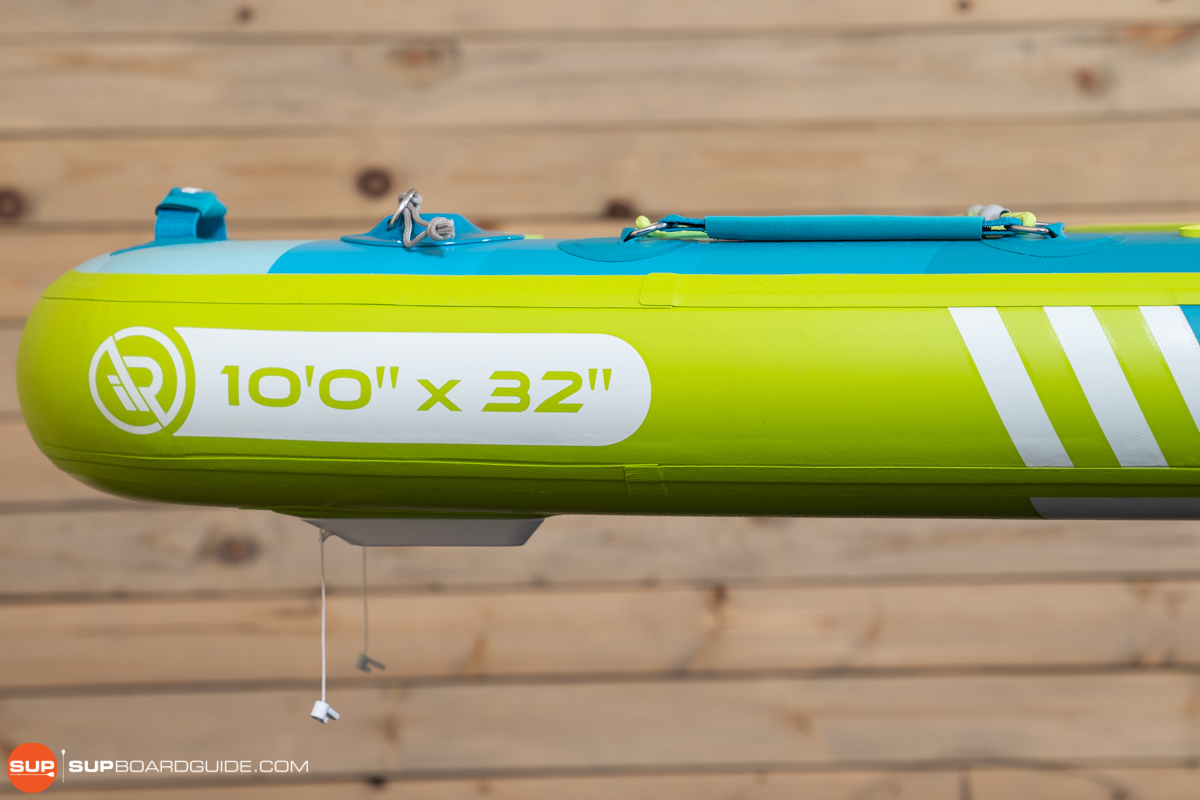 iRocker All-Around 10′ Ultra: Spec Sheet
Main Category: All-Around, Inflatable
Board Dimensions: 10' x 32" x 6"
Listed Board Weight: 19.8 lbs
Listed Max Capacity: 260 lbs
Recommended PSI: 14-16 PSI
Fins: 9" Twin-fins; snap-lock w/ locking tether
Paddle: 5-piece carbon fiber blend
Materials: Triple layer composite PVC w/ woven drop stitch
Price Range: High (though a great value considering the kit and construction)
Warranty: 3 year
Performance Review of the iRocker All-Around 10′ Ultra Stand Up Paddle Board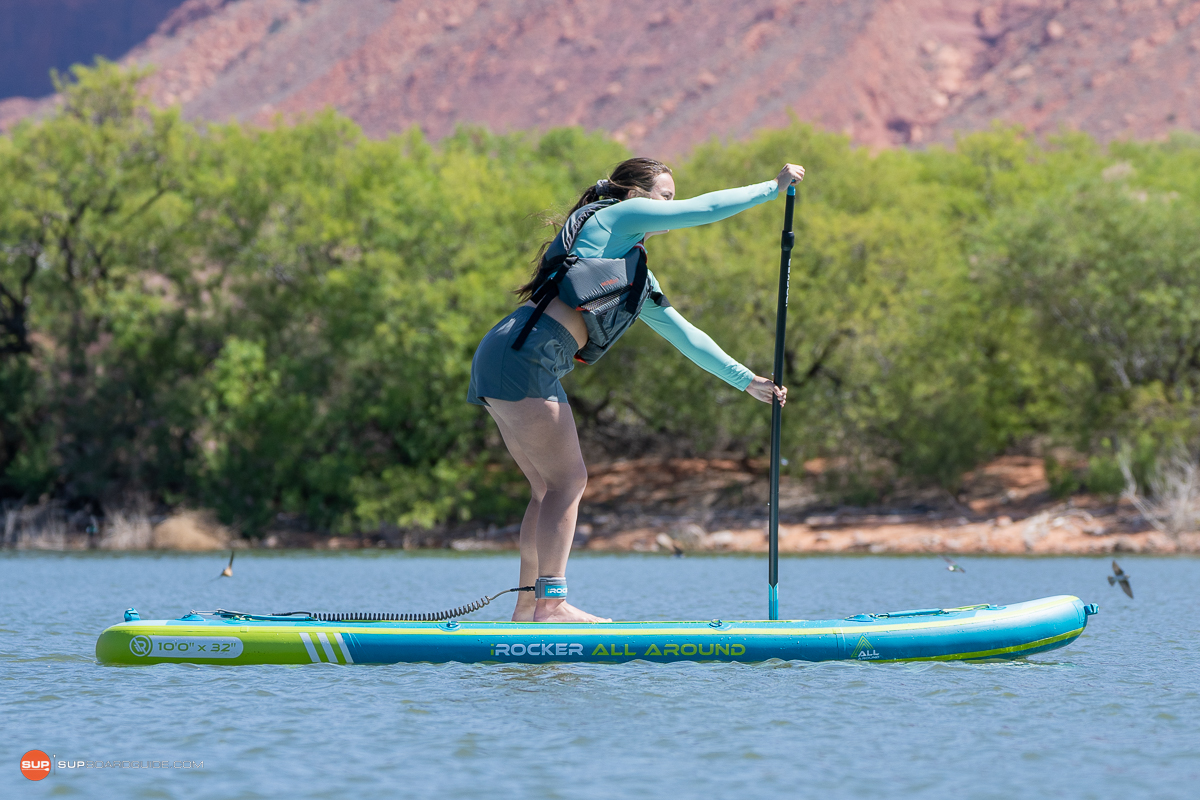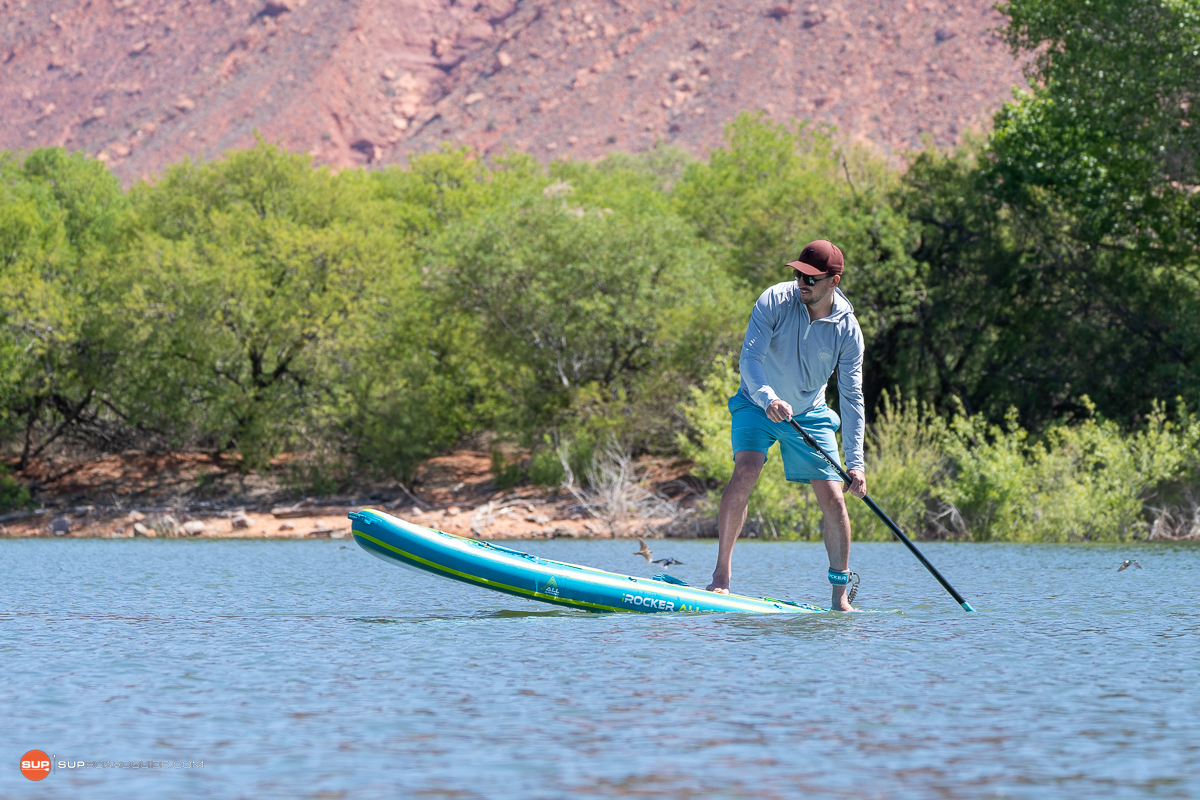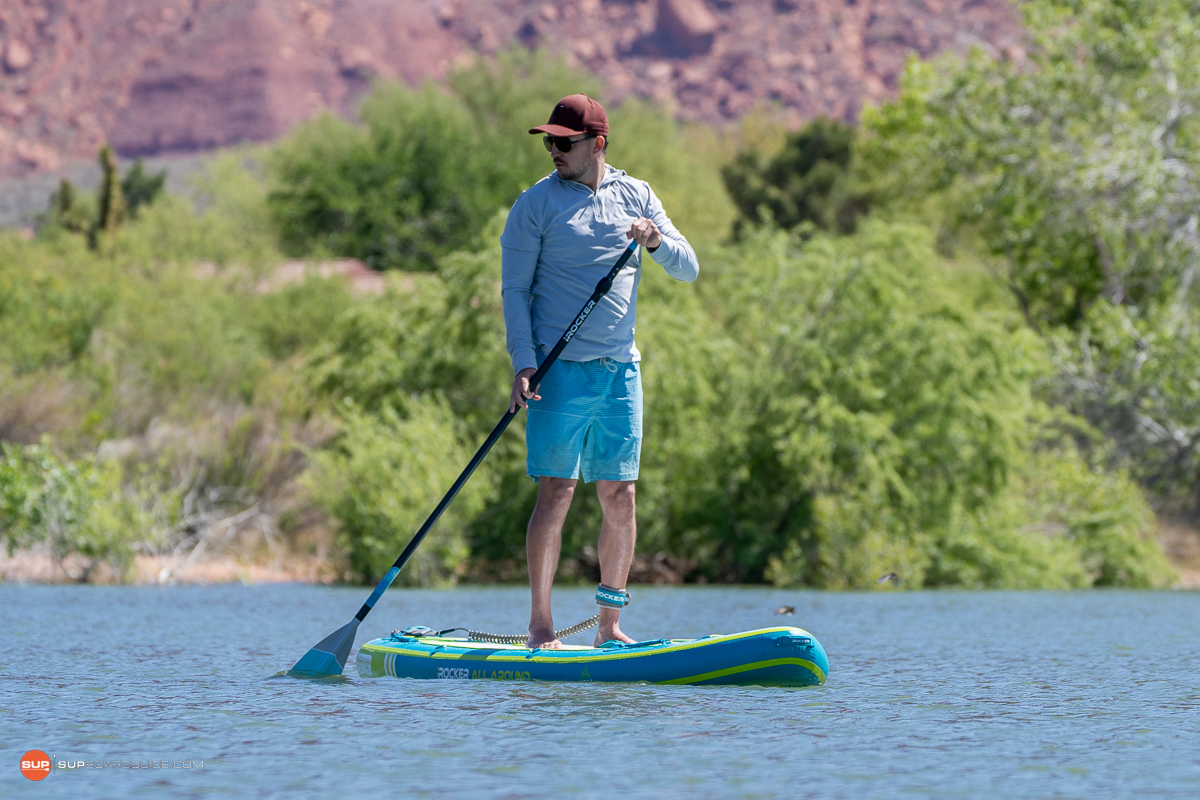 Overall Score: [9.6/10]
Stability: 8.9/10
Speed: 9.0/10
Tracking: 8.9/10
Maneuverability: 9.3/10
Construction Quality: 9.8/10
Features/Accessories: 9.8/10
Stability Rating: [8.9/10]
The 10' All Around Ultra is clearly on the zippy and dynamic end of the spectrum. It favors speed and maneuverability over excess stability, so may come with a small learning curve that will be exaggerated for taller paddlers as it won't offer as much lateral (nose to tail) stability as longer SUPs.
That's not to say that it's a massively challenging board though; we think it'd be a great option for smaller, confident new-comers that want to build their skill or intermediate paddlers that want a nimble SUP. The All-Around10' Ultra is almost as stable as its non-compact counterpart, the original 10' All-Around from iROCKER, but exhibits a slight decrease in stability due to the added stiffness and responsiveness as you shift your weight.
Compared to other SUPs in the Ultra series, the 10' Ultra is less stable than the 32.5" wide Blackfin CX Ultra as well as the iROCKER Cruiser Ultra, but is almost on par with the 11' Ultra. Though it's important to note that the 10' Ultra has the lowest volume of the group, and will therefore be the most comfortable for smaller/shorter paddlers; its stability will be more challenging for taller/heavier paddlers.
Speed Test: 9.0/10
| | |
| --- | --- |
| Top Sprint Speed: | 5.25 MPH |
| Average Cruising Speed: | 4.2 MPH |
SUP Board Guide's Speed Testing:
To obtain our speed test results, we use a Speed Coach Sup 2. This gives us accurate readings on how fast we are paddling and our current stroke rates. For the top sprint speed, we paddle as hard as we can for approximately 10-15 seconds and then record our average speed. For the casual test, we paddle at 40-35 strokes per minute for approximately 30-60 seconds and record the average speed.
Comparing this board to the non-compact 10' All-Around, the 10' Ultra is nearly a full 5 lbs lighter, which contributes to its overall paddling ease and ability to gain speed rather quickly and without a ton of effort from the paddler. I think the 9" twin fin system also comes into play here, as the 10' Ultra displays a greater ability to track and won't require you to switch sides (and lose momentum) as frequently as the original 10' all-around.
Pinning the 10' Ultra against the other 'Ultra' options from iROCKER and Blackfin, the 10' Ultra had slightly differing results dependent on the paddler. While Justin and I both found the 10' Ultra to be a few seconds slower than the Blackfin CX Ultra, and a few seconds faster than the Cruiser Ultra, we had opposite outcomes when comparing our 10' Ultra Sprint test data against the 11' Ultra's timesheet. For Justin (6'0 x 180 lbs), the 11' Ultra beat the 10' Ultra by a couple of seconds, while for me (Alli, 5'5 x 135 lbs), the 10' Ultra beat the 11' by more than a few seconds.
While I realize these results are initially confusing, they serve as a really great example of the benefits of properly fitting the board to the paddler. The main reason the 10' Ultra was slower for Justin was because it's just too short of a board for him to pick up speed. He doesn't have as much lateral stability on the 10' Ultra as he does on the 11' Ultra, and therefore cannot extend the reach phase of his stroke to be in the optimal spot to transfer power and propel himself forward during the pull phase. For a paddler my size, and with both of these SUPs being the same width, the 11' Ultra is a bit too large of an all-around, adding more board surface area that is in contact with the water, therefore creating drag without contributing any necessary stability.
Tracking: 8.9/10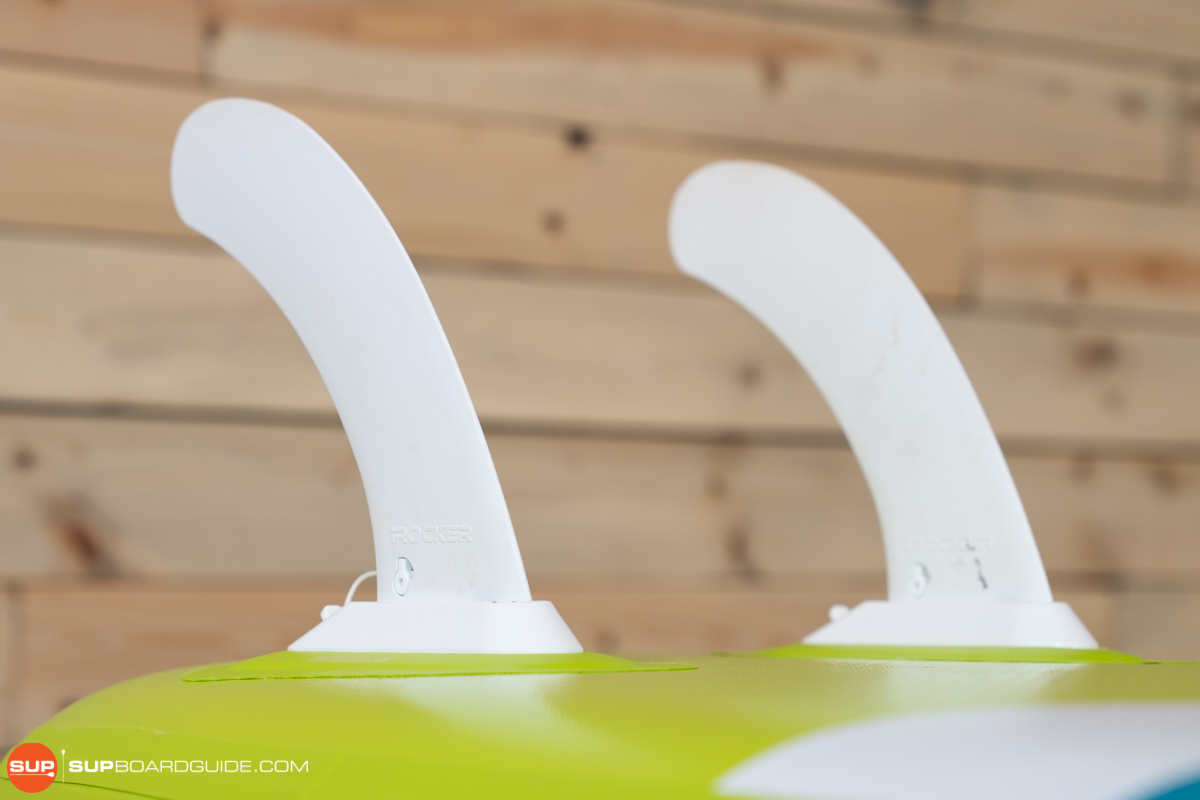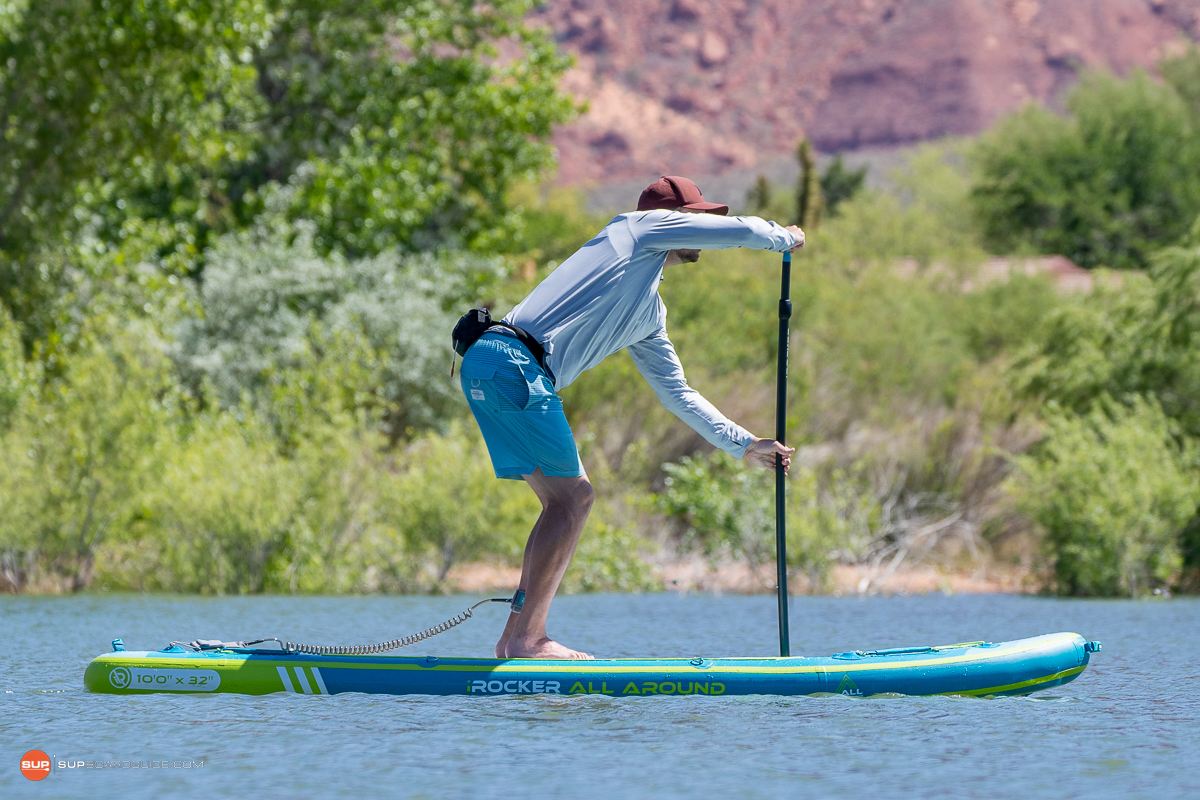 One thing that has been consistent across the entire Ultra line is great tracking. I expected the 10' Ultra to be an exception to this rule, given its agile nature, but was happily proven wrong; this sporty little SUP will hold a straight line in the water if your form is up to par.
Leaning back onto a comparison against its twin sister, iROCKER's original 10' All-Around, the 10' Ultra's new 9" twin fin system notably improves its tracking capabilities. During our sprint tests, I had to switch sides two more times on the original 10' All-Around than I did on the 10' Ultra, which was likely a fairly major contributor to the Ultra's faster pace.
While the 10' doesn't track quite as well as the Blackfin CX Ultra or the 11' Ultra (this is okay, it's built for maneuverability), it tracks a bit better than the Cruiser Ultra. I'd chalk this up to the fact that the Cruiser's wider shape warrants a more relaxed/casual paddling technique, while the Blackfin CX Ultra and the 11' Ultra's slightly narrower width allow for a more tracking-focused stroke.
Adding to that last statement; your paddling technique will be the one of the most important factors when it comes to SUP tracking. The 10' Ultra, though more inclined to maneuverability and quick turns, will track even better than it's naturally inclined to if you keep great form. If you need help with your form, you can check out our video How To Improve Paddle Technique.
Maneuverability: 9.3/10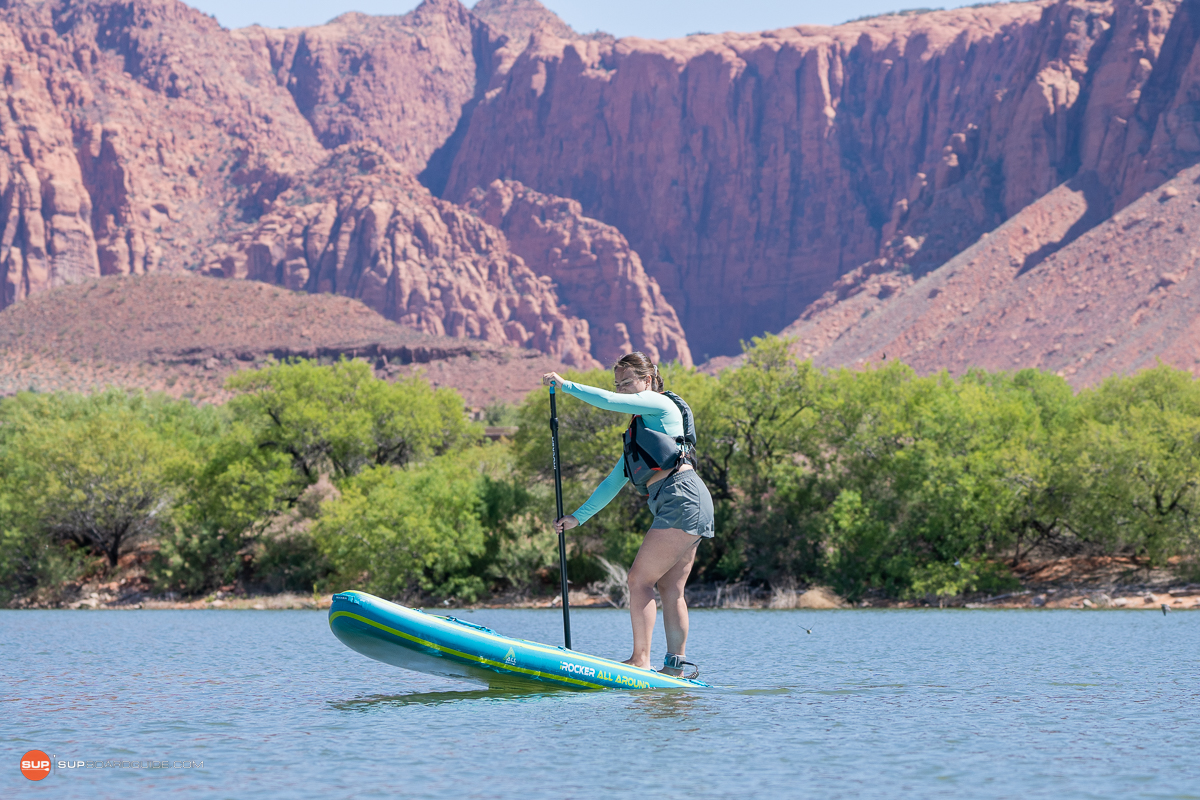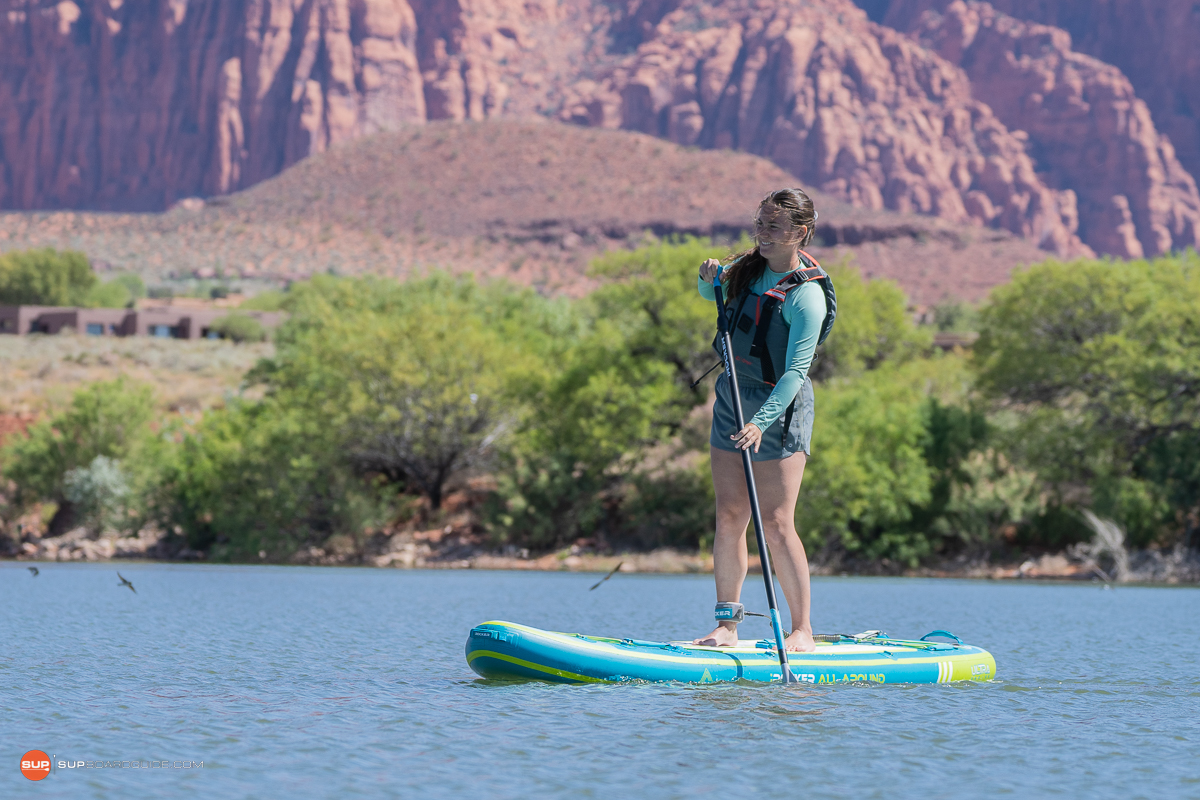 The 10' Ultra is, expectedly, one of the more maneuverable out of the Ultra line-up, coming second (by a very close margin) to the performance-oriented Blackfin CX Ultra.
When tested against the original 10' All-Around, the 10' Ultra is nearly on par. It is slightly less maneuverable than the non-compact, 2+1 fin version, but we had to really hone in our focus to notice the difference. Both forward sweeping and backstroke turns change the direction of the 10' Ultra with ease and its lightweight build (19.8 lbs) make lifting the nose for a stepback turn much easier for smaller paddlers.
Compared to the remaining Ultra series options (excluding the Blackfin CX Ultra that we touched on above), the 10' Ultra proved the most nimble of the bunch. It changes direction with less effort than the 11' Ultra requires, and transitions into a stepback turn much more seamlessly than the Cruiser Ultra.
Because the 10' Ultra is naturally more agile than the longer SUP options in the series, I would like to see iROCKER incorporate a raised kick pad into future models. I realize this would be a challenge with the split deckpad and compact design, but if iROCKER were to come up with a do-able solution, the 10' Ultra would be leagues above any other compact short-SUP on the market. In the meantime, we think even just extending the 10' Ultra's deck pad to the tail to provide some more grip during a stepback turn would catapult this SUP onto another level in terms of maneuverability.
Construction Quality: 9.8/10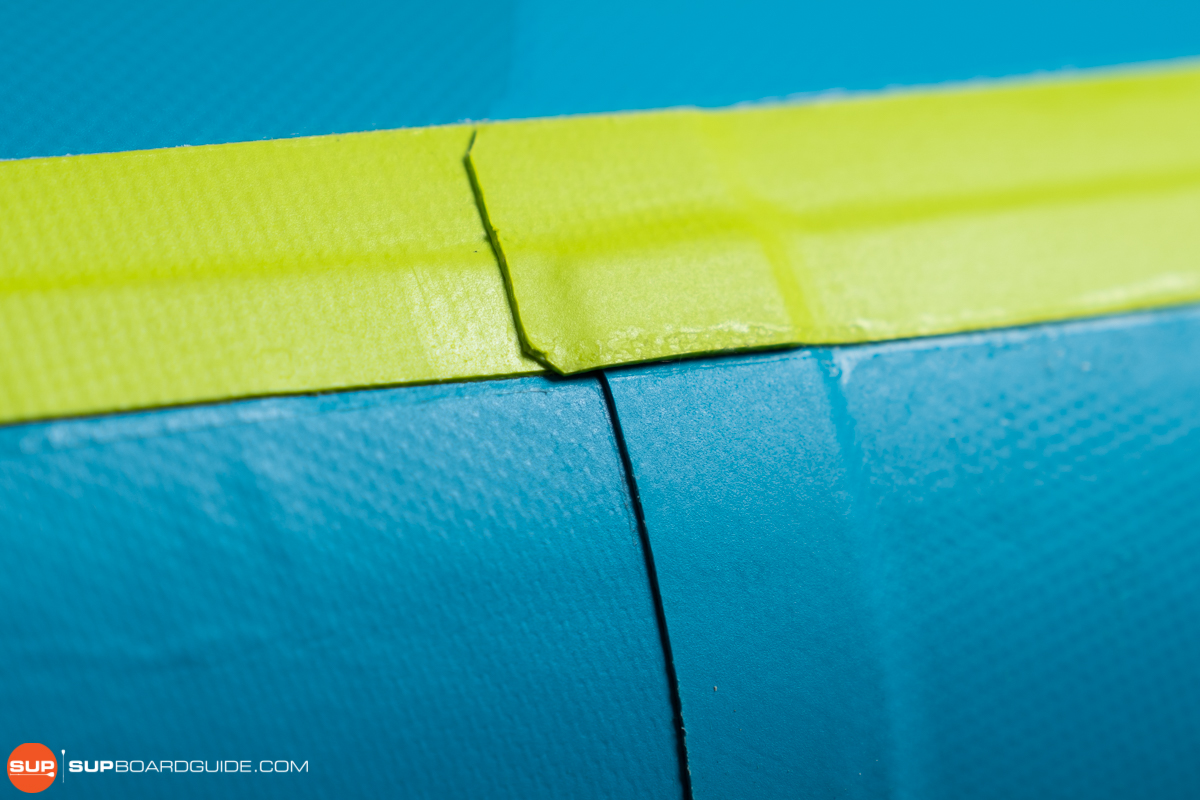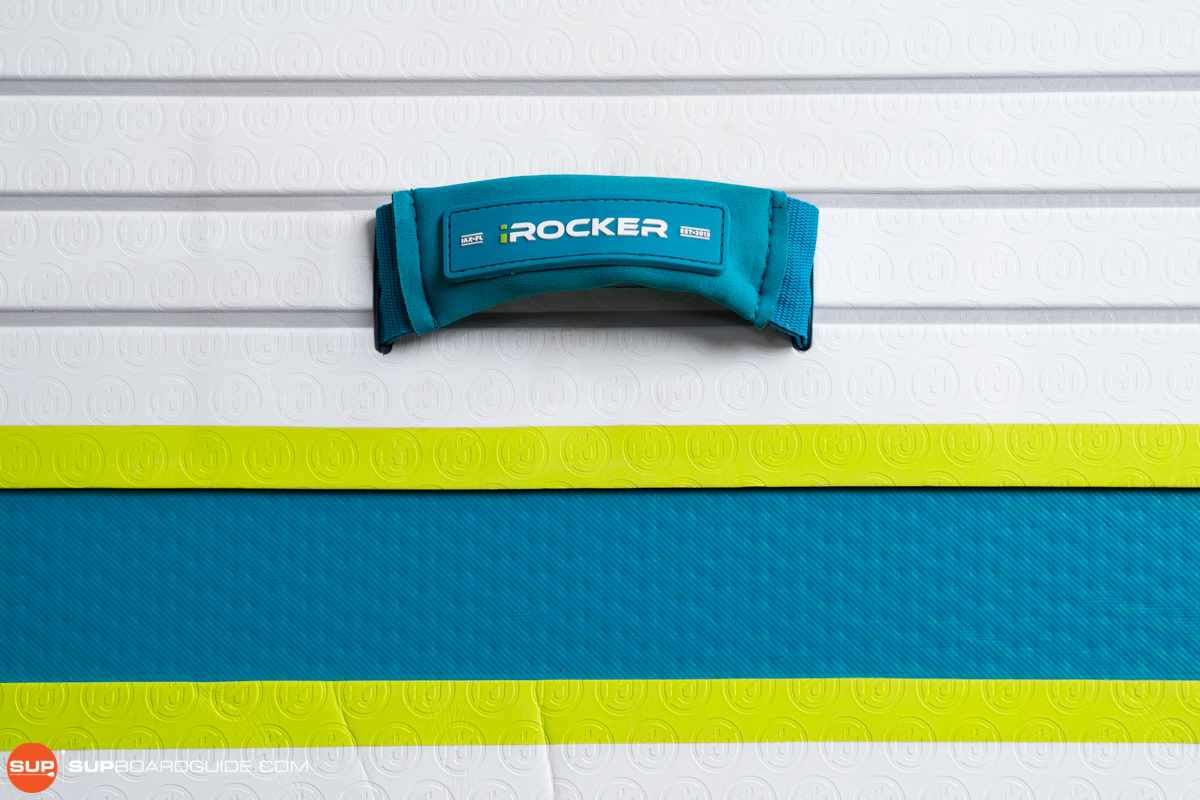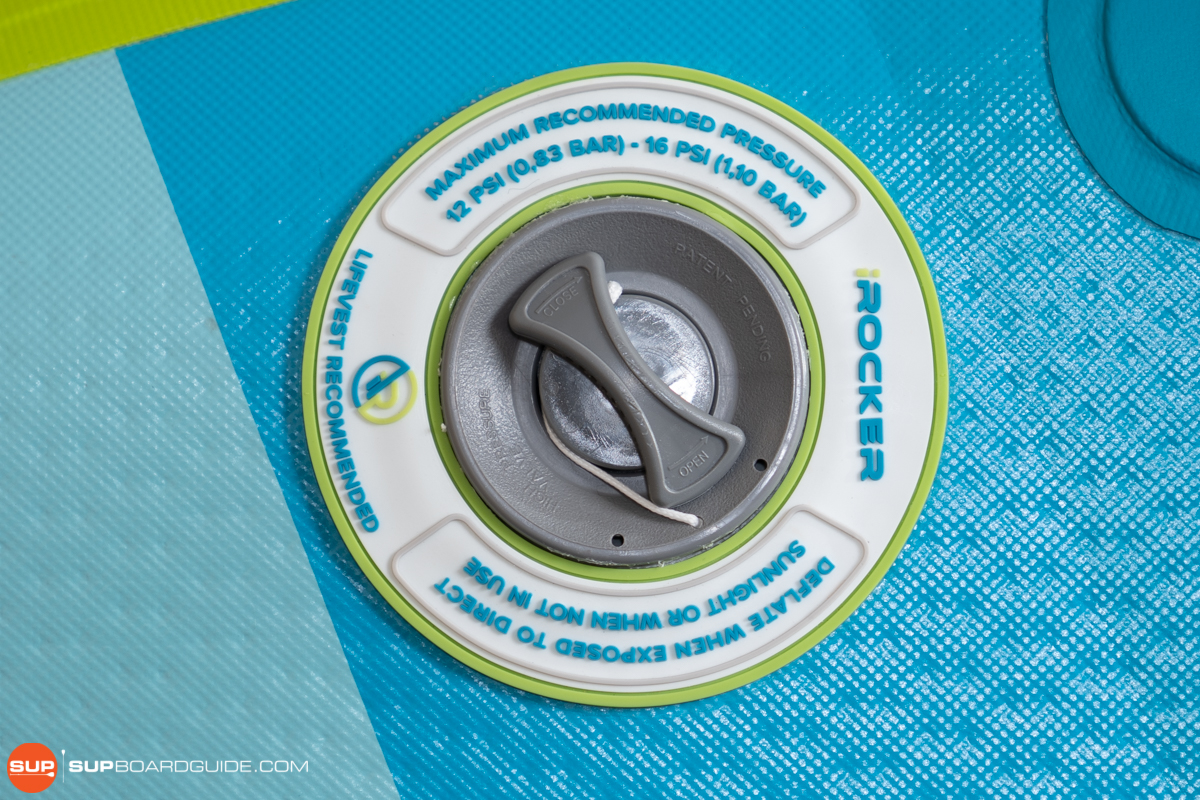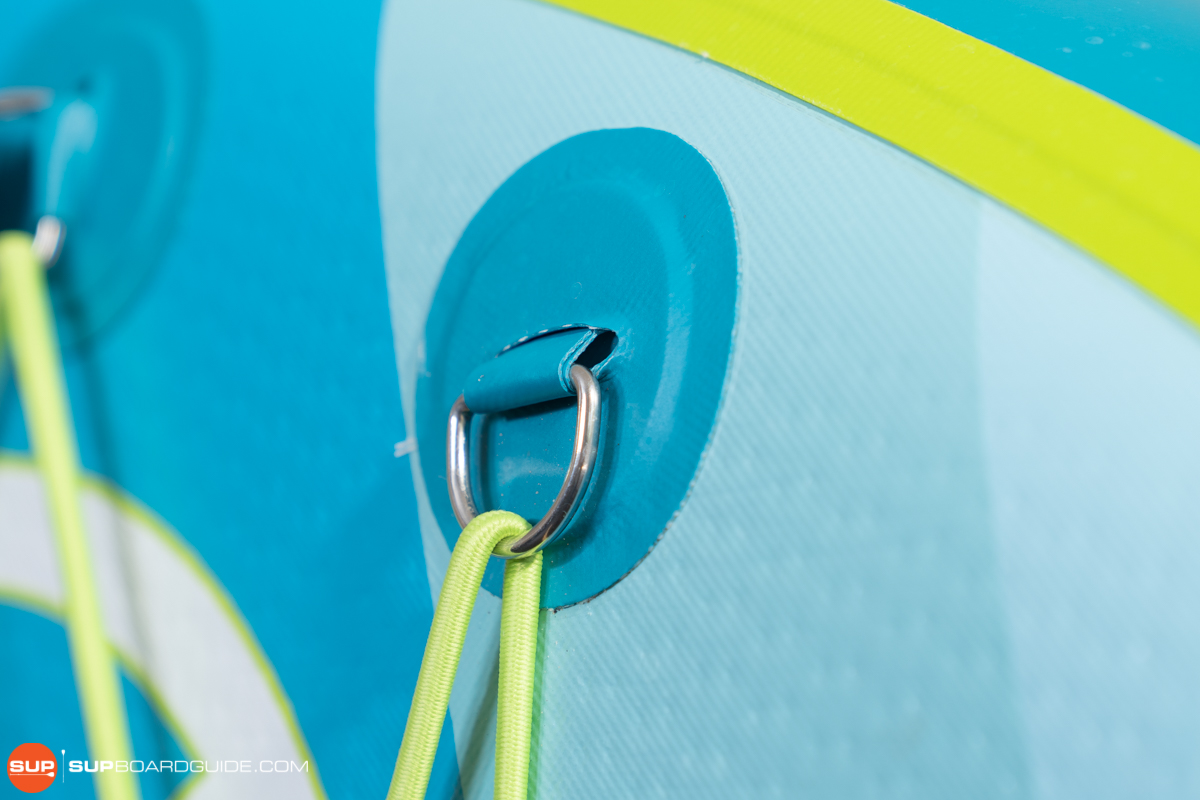 The Ultra series differs slightly from iROCKER's usual construction methods in order to produce lighter, stiffer SUPs.
Starting from the inside of the 10' All-Around Ultra, this SUP is constructed around a woven drop stitch core. This means that the thousands of threads that are responsible for maintaining the board's shape are oriented in an 'X' formation instead of the standard linear formation. As a result of this change, the SUPs in iROCKER's Ultra series are more rigid than their original line, while using less raw material (therefore weighing in at lighter weights).
Moving to the SUP's exterior, the woven drop stitch core is encased in 3 composite layers of PVC, meaning that each layer is of differing densities, so that iROCKER can further fine tune the weight of the board. Additionally, the Ultra series still sports some of the finer details of iROCKER's construction that we've come to appreciate over the years like reinforced seams and well-attached accessories.
Board Stiffness: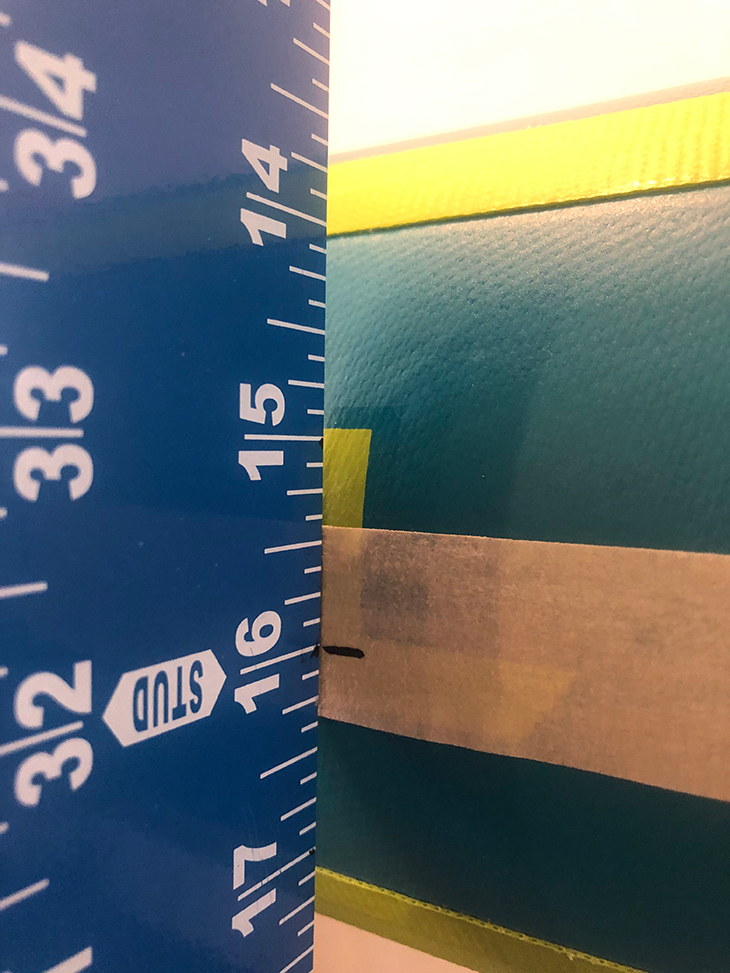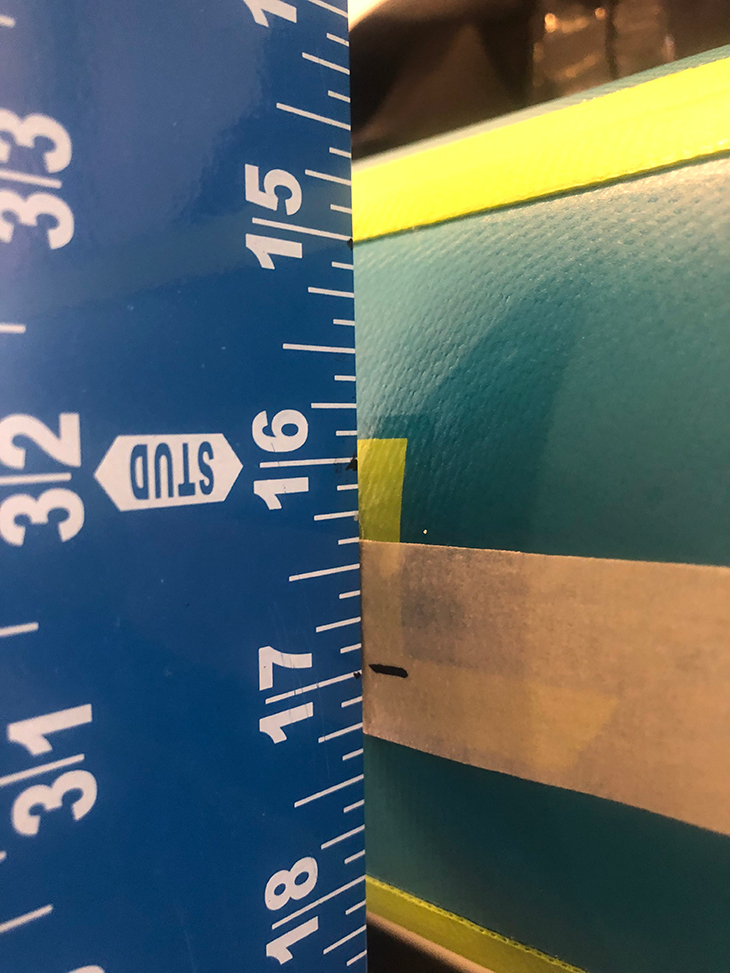 Stiffness Test: 1" Bend
SUP Board Guide's Bend Testing:
In order to attest to the rigidity of each board, we use a bend test curated by Supboardguide. In order to obtain the results, we inflate the board to its maximum recommended PSI and then place it across two sawhorses that are 7 feet apart. We then take a measurement in the middle of the board. Then, we place 150 lbs worth of sandbags on the middle top of the SUP. Last, we record its displacement (the movement from its original position). We use this method for every board we test as a way to mathematically compare boards across a common denominator.
The 10' All-Around Ultra only flexed 1" during our bend test, which is on par with the other SUPs in iROCKER's Ultra series. This result is about 1/16th of an inch better than the original 10' All-Around from iROCKER, and the added stiffness is apparent on the water in the 10' Ultra's responsiveness and overall better feel.
Features/Accessory Review: [9.8/10]
Features:
One thing iROCKER never compromises on is incorporating a variety of features onto their board to accommodate nearly anything a paddler could throw at it. The compact Ultra series was no exception to this rule.

iROCKER designed a new pair of fins for their Ultra series that fit into a narrow fin box, twin fin set-up. This has improved tracking throughout the entire Ultra line, and its smaller design also helps to cut weight and allow for easier folding.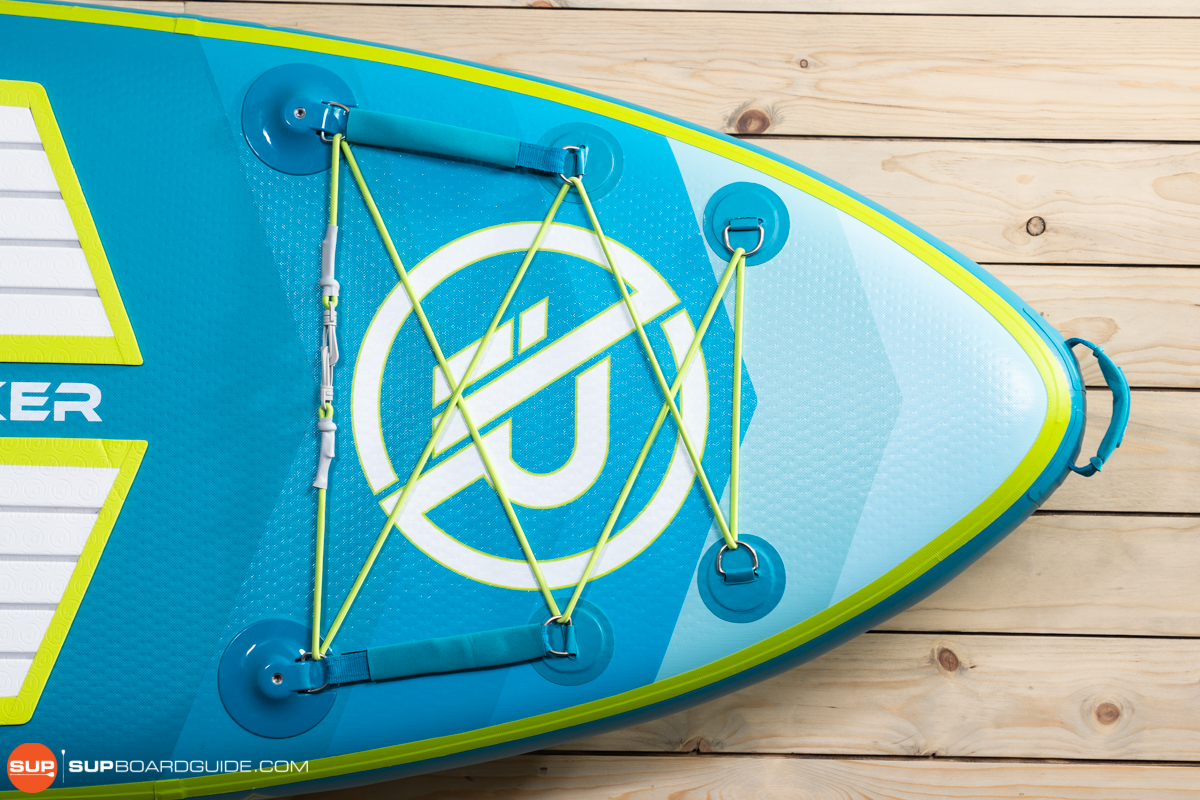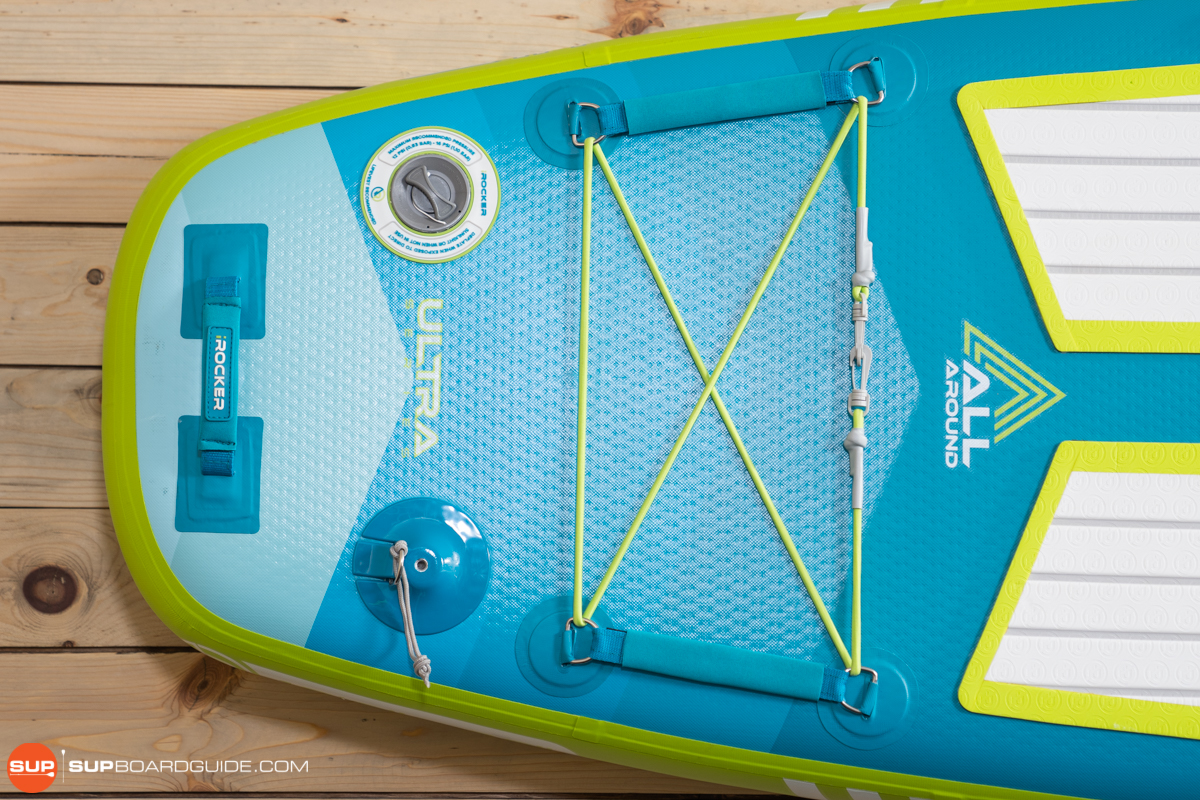 The 10' All-Around Ultra has front and rear cargo areas with a pair of extra grab handles on each. iROCKER also took the opportunity to integrate a pair of action mounts into the D-rings of the front cargo area and provide a third action mount at the tail.
Because the 10' Ultra is a compact SUP and needs to be folded 'hotdog' style before being rolled up, the center carry handle is slightly offset. The nose and rear carry handles remain the same as iROCKER's original line though, and make it much easier to either launch your SUP into the water or walk it into the beach.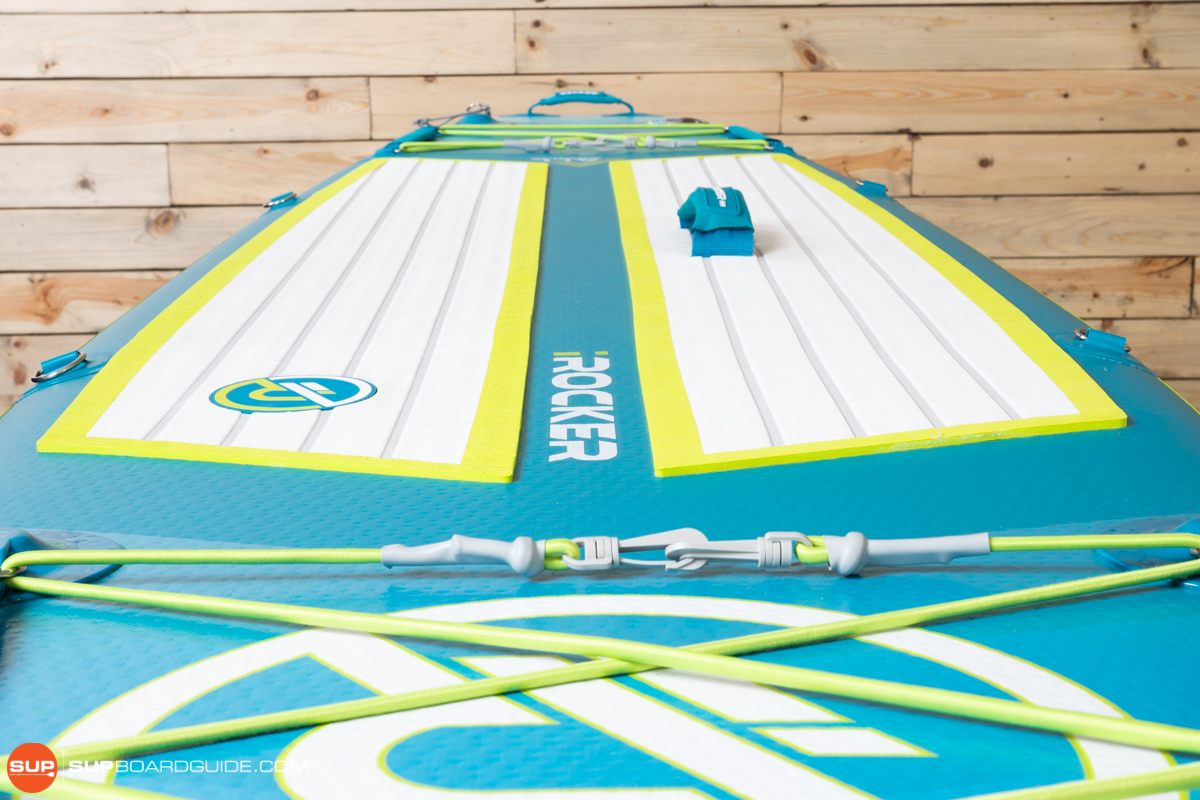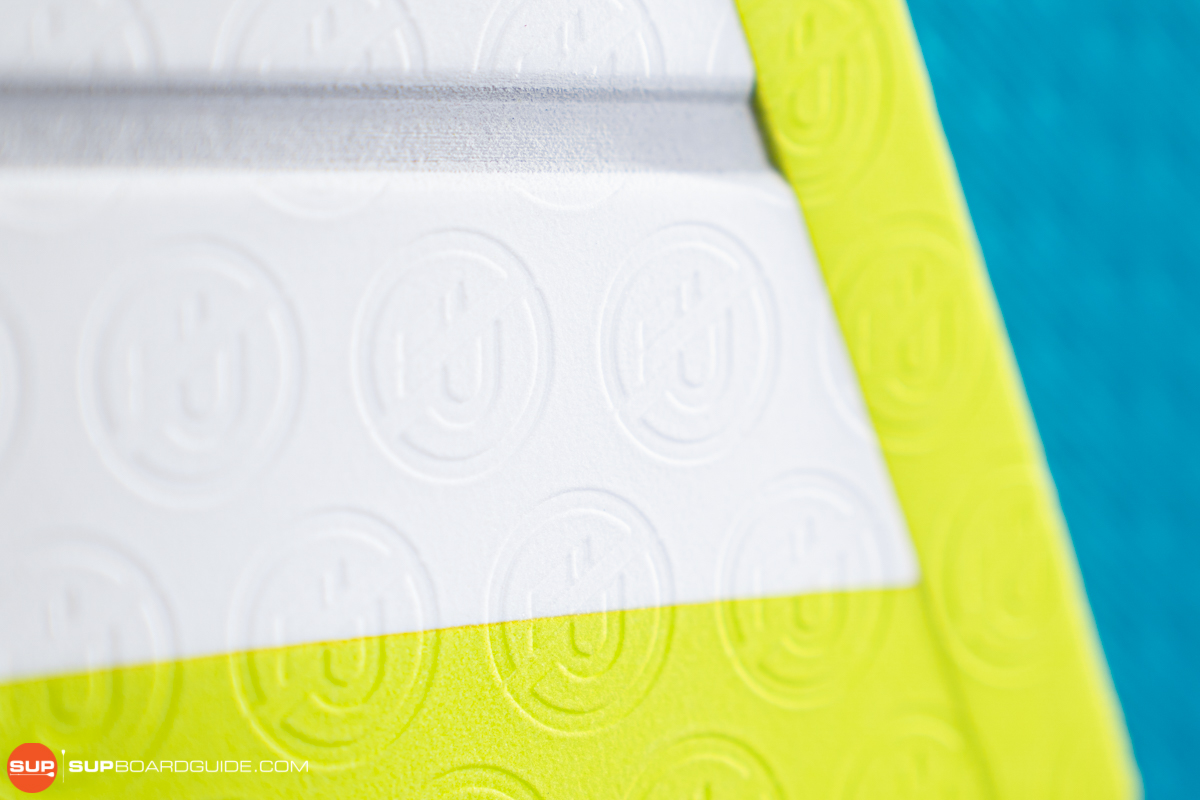 For the final touches, the 10' Ultra is equipped with iROCKER's characteristic grooved and brand stamped deckpad, though it is split to allow for folding up the middle, as well as extra D-rings for kayak seat compatibility.
Included Accessories: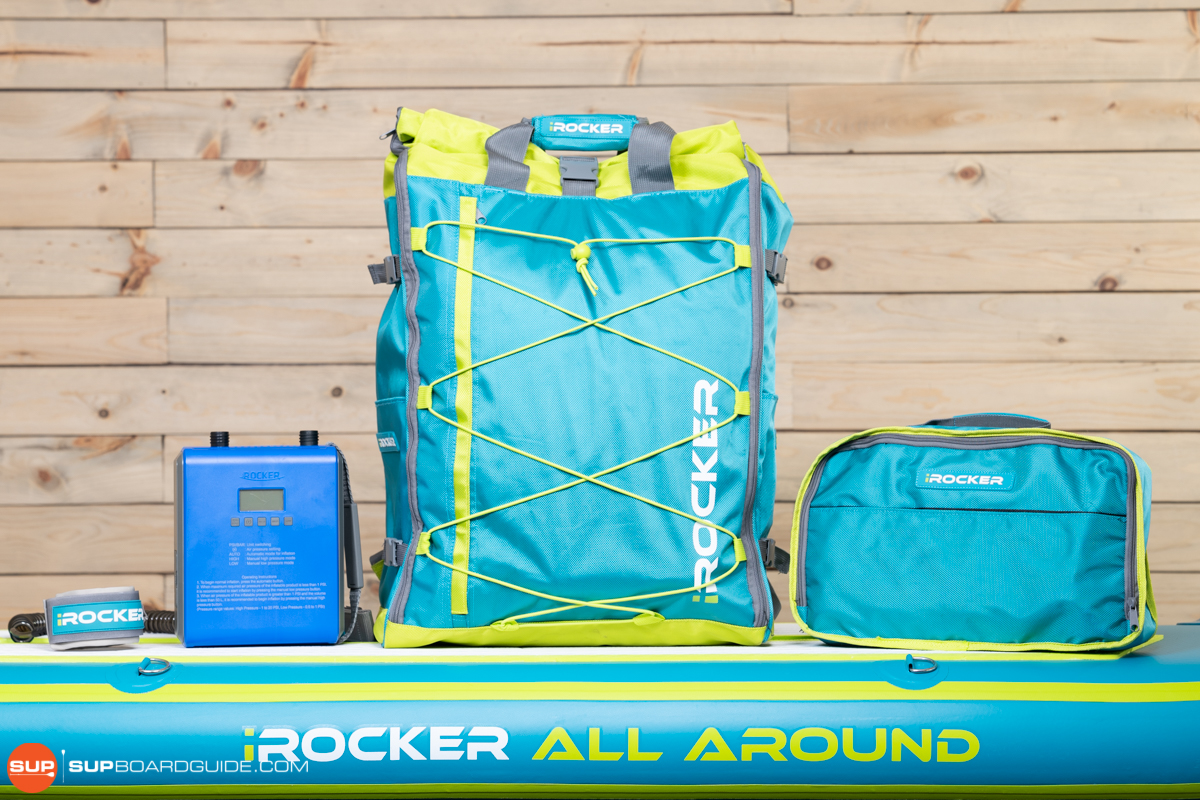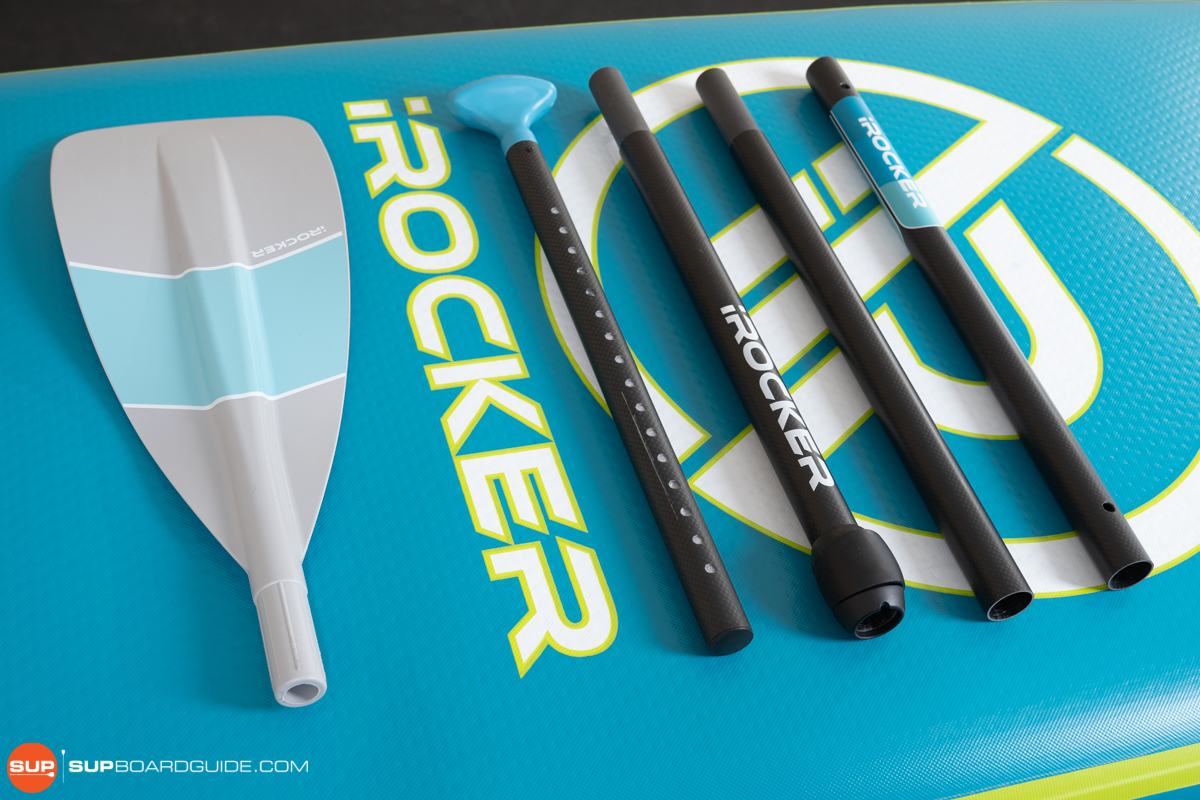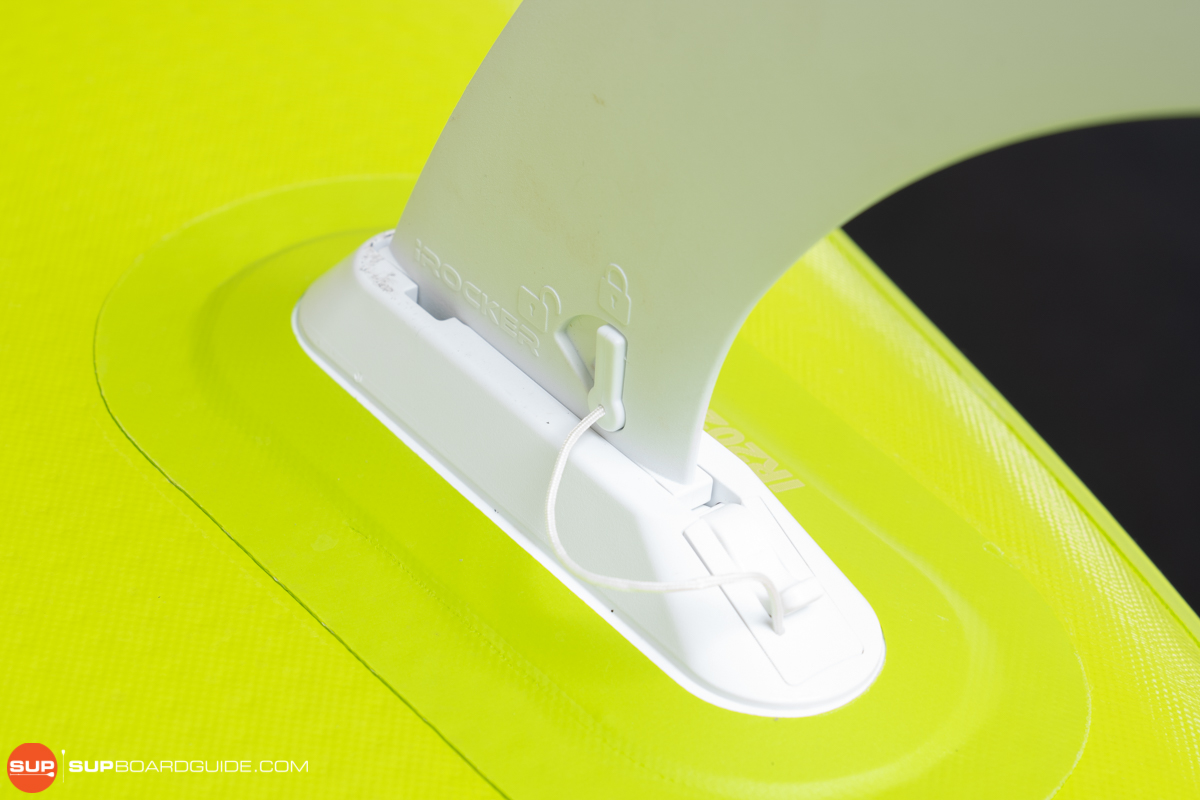 When all pieces of the Ultra's SUP kit are considered, along with the excellent performance of the board, we think they are an incredible value. Included with every Ultra SUP form iROCKER, you'll receive the following:
5-piece carbon shaft paddle w/ nylon blade
iROCKER 12V Electric Pump
10' coiled leash w/ key pocket
9" snap-lock fins w/ lockable tether (x2)
Compact SUP Backpack
Accessory pouch
Repair kit
While we are big fans of several pieces of the Ultra SUP Kit, we're particularly ecstatic about iROCKER's decision to include their electric pump. We preach the importance of investing in an electric pump on this site, as it makes for a significantly more enjoyable experience than having to manually inflate your SUP with a hand pump. More than that though, the iROCKER 12V Electric pump has been one of our long-time favorites and has held a spot on our Best Electric Pumps page for multiple years. This pump is fast, reliable, and super easy to store; it single-handedly adds tons of value to the overall price of this board.
We also really like the SUP backpack with its roll top closure and zipper front panel. It makes packing up this SUP a breeze, as you can simply unzip the panel to place the SUP inside, and then re-zip it closed to utilize the roll-top function allowing you to pile in your accessory pouch, extra towels, or any other gear that needs to be in an easy-to-reach spot.
The one thing we would change about this kit involves the 5-piece paddle. While we love the carbon fiber shaft and the ability to break it down and fit into the backpack, we'd like to see iROCKER re-work the connection points to ensure there's no 'wiggle' in the shaft as you paddle.
Summary Review of the iROCKER All-Around 10' Ultra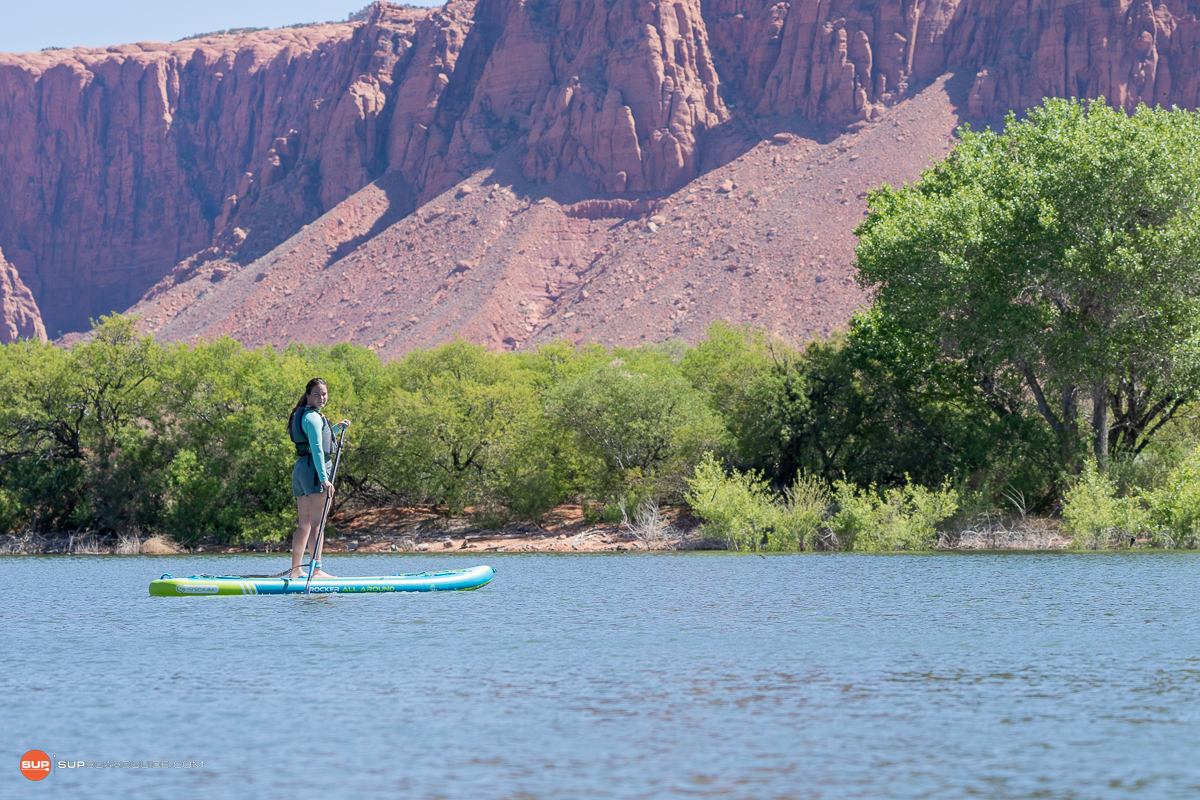 As we alluded to in the beginning, the 10' All-Around Ultra (and the entire Ultra series) is a traveling paddler's dream. Though honestly, we think this is where all inflatable SUPs should be heading. The Ultra line achieves the most portability, while still maintaining, and oftentimes exceeding the level of performance that we've come to expect from iROCKER SUPs.
The 10' All-Around Ultra is best suited to smaller paddlers, but will serve as a sporty and agile SUP for intermediate paddlers that push its size range. We've found the 10' Ultra to be one of the most maneuverable of the series, while still capable of speed and tracking that nears the Blackfin CX Ultra. Though not quite as stable as the original 10' All-Around from iROCKER, the 10' Ultra showcases an improvement in performance in every other facet of our testing.
While the 10' Ultra is expectedly priced higher than the original 10' All-Around, the value of the kit is nearly unsurpassable. We love that it comes with an included electric pump, and the compact backpack opens a whole new set of doors in the SUP adventure/travel space.
We hope you've found our review of the iROCKER All-Around 10' Ultra helpful in your purchasing decision, but if you have any questions or feel there's something we've missed, please reach out to us in the comments.
The following two tabs change content below.
SupBoardGuide
Heyo! At SupBoardGuide.com we are a team who love the water, the outdoors, and are more than grateful that our full-time job allows us to review stand up paddle boards. We paddle year round (it helps that we are just about 2 hours outside of Las Vegas), and we bring in a wide range of paddlers with the goal of providing our readers with the best, most in-depth, and accurate stand up paddle board reviews.
Latest posts by SupBoardGuide (see all)