ERS 11' V3 Inflatable SUP
Pros
Great speed, tracking, and glide. High performing inflatable SUP.
Dual PVC layers and enhanced dynamic rail system provide great rigidity and durability.
5'' thickness brings you closer to the water, and improves stability and performance
Excellent diamond grooved deck pad + raised heel pad and arch support for performing advanced techniques.
Huge fin assortment, optimized for multiple water settings.
Stable, high weight capacity board for large paddlers (34" wide, 245 rider weight)
Cons
Single chamber pump works, but a dual chamber would be a nice upgrade. However - ERS does offer one of our favorite electric pumps for a discounted price at checkout, along with their fantastic ERS+GO portable battery.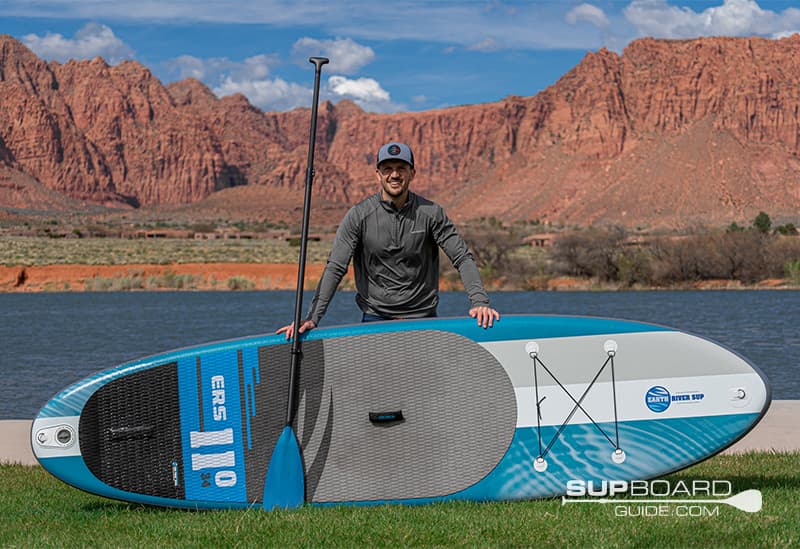 If you're in the market for a sturdy, stable, premium SUP that is great for families, small groups, or large single paddlers alike, we recommend the ERS 11' V3. Extremely stable, the V3 is capable of supporting heavier paddlers just as well as smaller ones while still providing great speed, tracking, and glide. At 34" wide and just 5" thick, we think it's fair that ERS markets the 11' V3 as "The most stable stand up paddle board on the market". Even our largest, tallest, most beginner paddlers had no problem paddling the 11' V3 in both smooth and super windy/choppy conditions.
However, that stability does not detract from the boards' performance. The ERS V3 11' is not only a high-weight capacity board, but it will still perform phenomenally due to the boards top-notch features:
An assortment of fins that allow you to fine tune your SUP for almost any situation.
A high-performance, grippy raised-heal deck pad.
Proprietary ERS enhanced dynamic rail system.
Dual layer construction.
SUP Board Specs
| | |
| --- | --- |
| Length | 11' |
| Width | 34'' |
| Thickness | 5'' |
| Weight | 27 lbs |
| Rider Capacity (lbs) | 245 lbs (although we think it might be higher) |
| Recommended Inflation | 12-15 PSI |
| Fins | Trii-fin setup, 4 US center fins (9″, 8″, 4.5″, 3″) and two sets of side click fins (4.5″, 2″) |
| Paddle Type | Carbon fiber shaft, nylon blade. |
| Composite PVC Layers | Triple-layer military grade PVC, drop stitch core. |
Who Should Buy This Stand Up Paddle Board:
We believe that the ERS 11' V3 is best suited for the following type of paddlers:
Tall, larger paddlers who want a SUP that emphasizes stability and still gives you top-notch performance.
Beginner to intermediate paddlers still gaining experience that want an SUP to grow into.
Advanced paddlers looking to paddle the toughest waters, from ocean waves to whitewater rapids.
Those looking for a SUP with touring like performance, well suited for long distance paddling.
Those wanting to practice yoga or get some stretching in on the water.
Paddlers with children or a pet that they want to bring with them on the water.
Those who want a clean SUP that isn't littered with unnecessary D-rings and accessories.
The ERS 11' V3 paddles really well in all conditions, as good as any other inflatable SUP we have tested:
Smooth, open water settings like a lake, bay, or ocean.
Small to moderate chop and wind. You'll find that the V3 incurs much less performance loss than expected in rougher conditions.
Long-board style ocean waves, for some fun paddle up surfing.
Rivers and even rapids for those experienced, thrill seeking paddlers.
Performance
Stability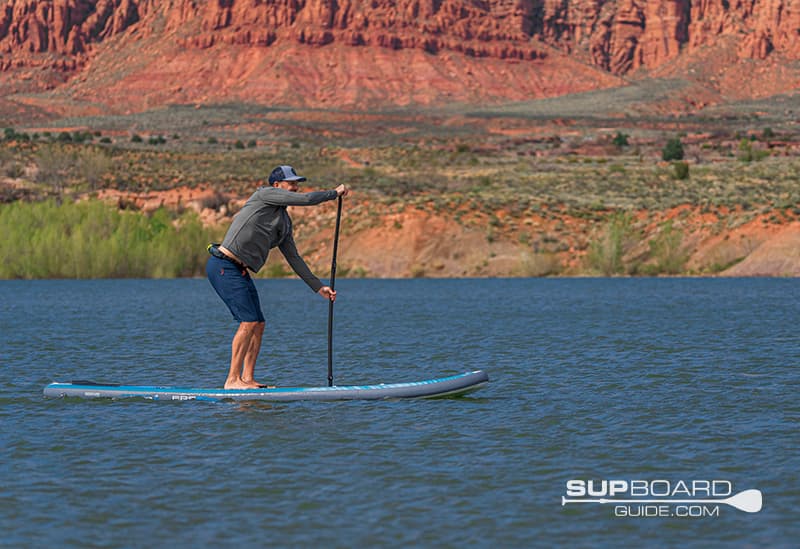 Thanks in part to the long length and wide width of the V3, 11' and 34'' respectively, this is a truly stable SUP. Single paddlers weighing up to 245 lbs will suffer little to no performance loss, while larger paddlers who exceed the recommended limit will still find the V3 a mostly stable SUP. Something else to note is that the SUP has a 5'' thickness compared to the 6'' thickness of many other inflatable SUPs. The thinner board causes you to ride lower in the water, which lowers your center of gravity and can provide for a smoother, more comfortable experience.
The large size and great stability also make this an excellent family SUP, for those who want to bring children with them as they paddle or have a dog they like to go out with. The ultra stability makes this an excellent option for beginner paddlers to quickly learn how to SUP with – it was the favorite board stability-wise for the taller and beginner paddlers we tested the board with.
For more experienced paddlers might be interested in trying more daring challenges, such as light rapids or surfing, the V3 is an excellent option.
Maneuverability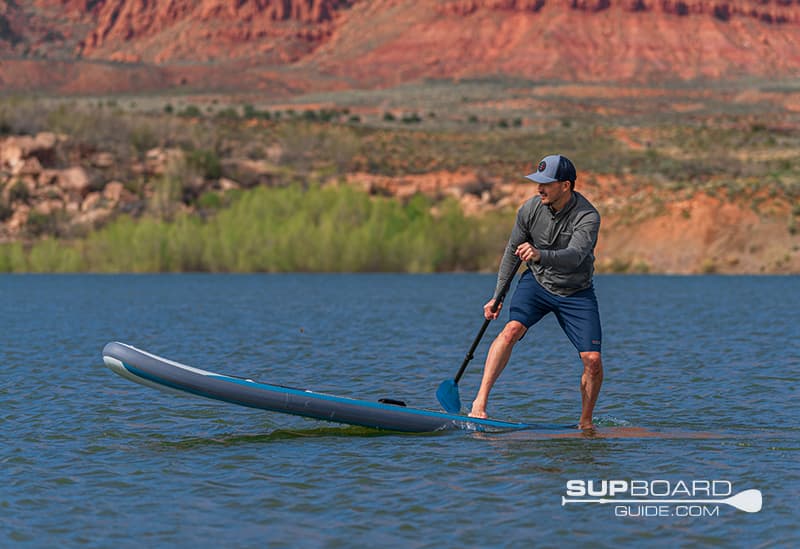 While certainly a large SUP, the 11' V3 is still a very responsive SUP, and will still turn with ease as you paddle in the water. Something that helps alot with maneuverability is the raised heel pad and arch support, which make it easy to be in an aggressive surf-style stance or perform a back step turn without having to look down to see where your feet are positioned. The arch support also improved my grip, making it even easier to turn the SUP without feeling like I was about to take a swim. Once you've mastered the back step turn and surf stance, you'll find the V3 to be a highly maneuverable SUP able to dodge almost anything.
Tracking/Glide
Thanks in part to the long 11' length, the V3 offers excellent, straight tracking and a smooth, stable glide. While the center of the SUP rides low on the water, the raised rocker really keeps the nose out, helping you cut through light and moderate chop easily. The rocker further improves the rigidity of the V3, along with the enhanced rail system that helps the whole SUP feel firm. While having excellent glide on smooth and still water, the 11' V3 is good enough that you can have a fun time surfing some small waves as well.
The tracking of the V3 is fantastic, thanks in part to a wide assortment of fin options, including the 9" hatchet fin (more on the fins below). In addition, I found it easy to still keep my paddle vertical even though the V3 is 34" wide.
Materials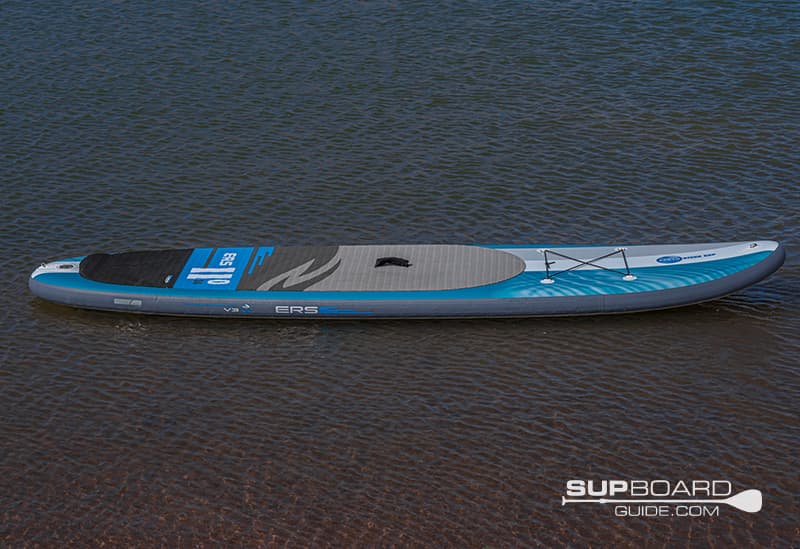 The ERS 11' V3 is what they consider a 'dual layer' board, made using a proprietary construction process. We put "dual layer" in quotes because ERS uses the terminology a little bit different from other SUP companies and it can be somewhat confusing. In actuality, there are 6 different "layers" to the ERS V3 line. As stated on the ERS website, the V3 includes the following:
DROP STITCH + PLASTIC COATING 1 + ADHESIVE LAYER + PLASTIC COATING 2 + WOVEN FABRIC + PLASTIC COATING 3
So, you end up with what some companies would consider a triple layer PVC board, and some might even say quad layer if you count the woven fabric as a layer too. What we are impressed with is how there are 3 different layers of PVC, and yet the board is still only 27 lbs and feels very light and responsive on the water.
In addition to the various layers, the V3 also uses their proprietary enhanced dynamic rail stiffening system. This system is unique in that it does not require stiffening rods or carbon fiber composite to stiffen the rails. Instead, ERS uses a high tensile strength material that provides enhanced rigidity without having to slide in and out metal rods, and without having the extra weight added by carbon fiber rails. We really like the ERS rail system, as it is easier to use yet still very functional and does a great job stiffening the board.
Thanks to the quality construction, the ERS 11' V3 will resist most common accidents and injuries that might befall the SUP. While we wouldn't recommend going out of your way to test its durability, things like accidentally dropping your SUP as you unload it, crashing into another paddleboard on the water, or bouncing off some rocks in the river won't cause significant damage. For the rare occasion where something does go wrong, the V3 is covered by a 2-year warranty.
Board Design/Shape
The 11' length helps the ERS V3 maintain excellent tracking, glide, and stability, with stability further enhanced by the 34'' wide deck. The 5'' thickness causes the SUP to ride lower to the water, which in turn lowers the center of gravity to make for a smoother, more comfortable paddling experience for some paddlers.
Touring, especially exploration of straight or wide bodies of water, is the sport best suited for the ERS 11' V3. While the deckpad itself isn't quite as long or as smooth as a traditional yoga board, you'll also be able to relax, stretch, and have a good time practicing yoga on the V3 as well. Overall, this is a traditional all-around shaped SUP that is a good choice for a variety of activities. We've personally had a ton of fun with the 11' V3 everywhere – from the lake to the river in light rapids and love the all-around shape. While we didn't get the chance to go surfing with the V3 during the initial testing period, we expect it'll be great at catching waves as well!
Board Features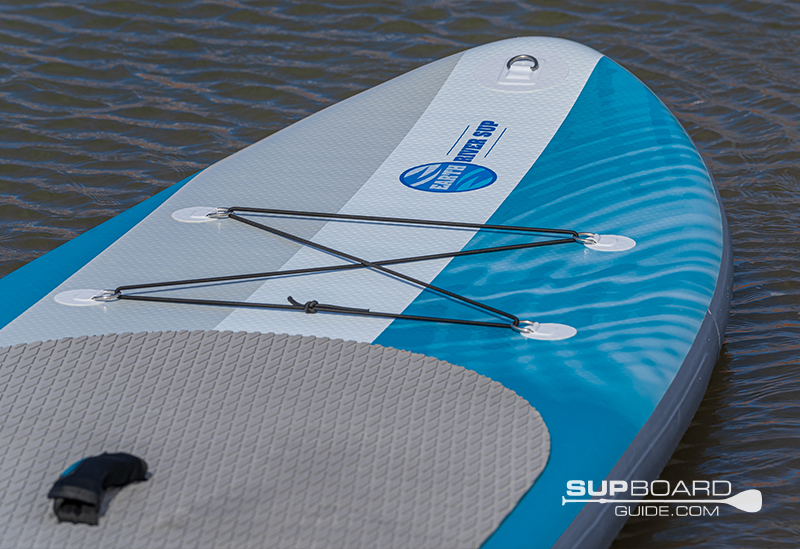 The ERS 11' V3 might look simple at first glance, but it is loaded with a ton of great features worth highlighting. They include:
Dynamic rail system: The enhanced dynamic rail system is an awesome feature that provides firmness and rigidity when you need it, while not impacting lightness or flexibility when you don't. You'll feel more resistance when you're making turns or are in choppier water, but without the stiffening when you need to roll up your SUP or are on flat water like carbon rail SUPs. You also don't have to insert or remove rods like some other SUPs, so you're not wasting extra time inflating or deflating your SUP.
Triple-layer Military Grade PVC composite: The triple-layer PVC protecting the drop-stitch core will hold up against the rocks, sticks, and other debris you might encounter on the lake. If it doesn't, the 2-year warranty and 'ride at a different level' 30-day guarantee will help you resolve any problems you may have.
6 Simple D-rings: Some SUPs overburden and clutter their deckpad with their D-rings, but the ERS 11' V3 keeps things simple. With 6 D-rings, and the forward bungee area, you'll still have plenty of options for attaching coolers, dry bags, and other accessories to the ERS 11' V3.
Carbon Fiber paddle: The lightweight paddle features a carbon/fiberglass blend shaft and a reinforced nylon blade. This is a great paddle in itself, with the option to upgrade to an even lighter carbon paddles for a heavily discounted price.
Neoprene center carry handle: If you're paddling alone, you'll be able to carry your V3 without too much trouble using the center carry handle. Built with neoprene, the sturdy handle will feel comfortable to hold, no matter how cold or wet your hands are.
Ultragrip Traction Pad: Made with a specialized rubber compound and featuring a true diamond groove pattern, the V3 deck pad provides truly ultra level grippiness. Built to be thick, you'll find it comfortable to stand on as well, with the deckpad able to quickly drain water for a dry, stable experience.
Fins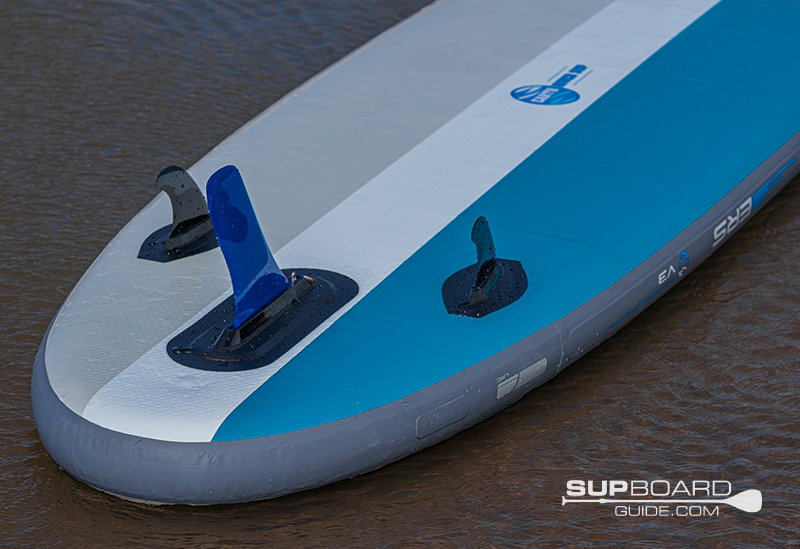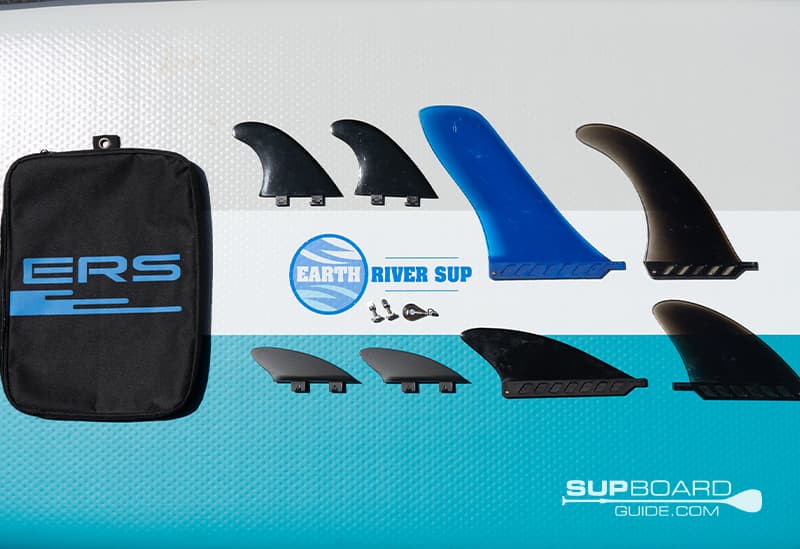 With eight different fins out of the box, you'll really have the customizability to finetune your paddling experience.
For the center fin, you have:
8'', for an all-around experience in most traditional water settings.
9'', for improved tracking, glide, and those wanting to paddle long distances.
4.5'', for those who want quicker turning and a faster, overall SUP.
3'', for those who are entering shallow wants but want to improve their tracking.
As for the side fins, the two options include:
4.5'', for increased tracking and stability in most traditional water settings.
2'', for increasing tracking and stability in shallow water, or for more maneuverability when used in conjunction with the speed center fin.
Overall, these are all great fins, and easily installed as well. The center standard US fin box is compatible with a large variety of fin types as well. While it's unlikely you'll ever need to go out and buy additional fins given what comes with this kit, the fact that the ERS 11' V3 is compatible with even more fin options is a nice feature to have.
Deckpadad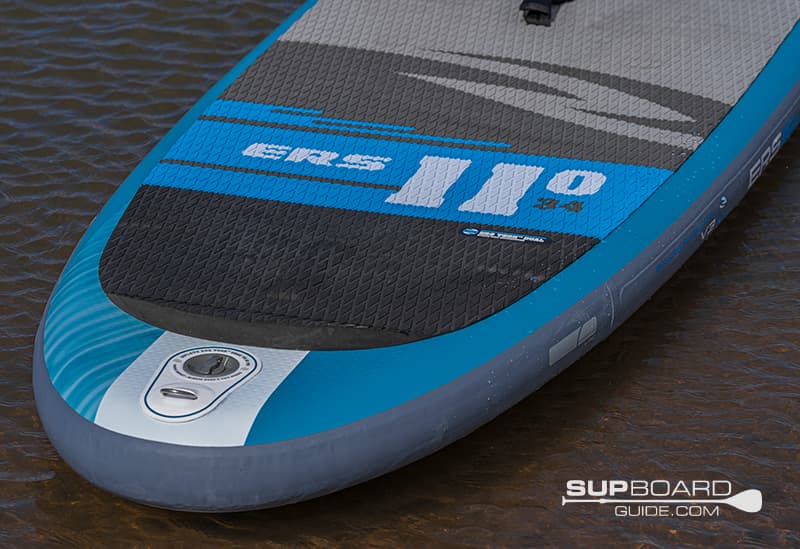 The diamond groove texture really helps you maintain your grip to the SUP, while the rubber like material makes it easy to stand on without any worry of skin irritation. Due to how thick and well put together the deck pad is, you can get it soaking wet and watch as it drains and dries in minutes. Further, the cool colors and textures help it hide stains really well, meaning it'll look good even after you've taken out your SUP a dozen times.
The best part of the deck pad is definitely the raised heel pad though, which starts just below the logo and comprises the black portion of the deck. If you've caught yourself looking down or struggling trying to perform a step back turn, or get into an aggressive surf stance, this raised heel pad helps you find your feet placement without having to look. Further, the arch support means you'll have added support, stability, and comfort as you push down on the SUP to make your turn. We really love the support the deckpad and raised heel pad provide.
Handles
There is a single carry handle in the center, built out of neoprene for a smooth, comfortable, relaxing grip. Unlike some basic carry handles, which can be irritating to hold or even hurt when your hands are cold or soaking wet, the neoprene handle is built to withstand both. No matter how wet or cold your hands are, you'll be able to grip the V3 center handle without hurting your hands.
D-Rings/Bungees/Cargo Areas
The ERS 11' V3 keeps things simple and sleek when it comes to its additional accessory attachment points. You have four D-rings that comprise a bungee area that takes up about a quarter of the SUP, the bungees able to lock down most traditional coolers, lunch boxes, and small containers. An additional forward and rear d-rings are also included, which are perfect for attaching other drybags and containers to. The rear most d-ring is especially good for latching your SUP leash to, a cell phone bag, or other items you need quick or close access to.
Accessories
Paddle
Included with the purchase of a new V3 is a three piece adjustable carbon fiber paddle. Weighing just 28 ounces, this is a truly light paddle that you can use for hours without your arms getting tired. The nylon reinforced paddle blade is great as well, allowing for powerful strokes while still being flexible enough that it won't shatter or break if you accidentally step on it.
The three piece adjustable nature of the paddle allows it to break down to a small size, ensuring you minimize the room it takes up in your SUP kit bag. The pieces also lock tightly into place so there is no movement, making the paddle feel like a one-piece when paddling. Putting it together takes seconds, as does adjusting the height so you can swap with friends even when you're on the water. Any paddler between 5' and 6'6' tall will find the perfect paddle length, with additional paddle options for the extra tall or short paddler.
Be sure to also check out the heavily discounted carbon shaft and blade 85/95 paddle options at checkout as well. These paddles weigh even less, and are some of the best paddles in the SUP industry.
Pump
One of the only complaints that can be levied against the ERS 11' V3 kit isn't against the board itself, but the single chamber pump it comes with. Overall, it is a good pump, and can inflate the large 11' V3 in 10 to 15 minutes without too much hard work by following the dual-action settings. However, as dual-chamber, triple-action pumps become more common in SUP kits, we would love to see the chamber get an upgrade along with the board itself next year.
The argument FOR a single chamber pump would be for those wanting to backpack with their SUP. In that case, a smaller and lighter single chamber pump is ideal.
ERS does produce one of our favorite electric pumps, which is heavily discounted with the purchase of a new V3. Electric pumps are our number 1 most recommended SUP accessory due to the ease by which they inflate SUPs, saving you the hard work of having to inflate yourself. Electric pumps inflate just as fast as many manual pumps, and can help deflate your SUP as well. The ERS electric pump is especially cool, because you can buy it with the ERS GO battery, letting you use your electric pump without having to plug into a car.
The single-chamber pump works well enough, but we definitely recommend getting the ERS electric pump and GO battery for the best, easiest SUP inflation experience.
Note: the ERS Go battery is truly a game changer. It makes it so much easier to pump up your board, and we've been able to pump up 7 boards on one charge! If you have the money, we can't recommend it enough.
Backpack
The ERS SUP backpack is sizable and roomy, helping you store the 11' V3 and its various components without struggling like campers do with their tent bags. Two carry handles exist on the bag, for short carrying trips, along with adjustable backpack straps for carrying long distance. Wheels are also placed on the front of the bag, allowing you to drag your bag on concrete and other flat surfaces, without having to worry about your back straps getting tangled up. This is a good bag that will help keep your gear secure and organized, especially with the separate black pouch that you can store your fins in.
Leash
The 10' coiled leash fits over your calf or ankle, and easily connects to one of the D-rings on your SUP. While the V3 holds up well against light to moderate wind, the ankle leash helps keep your SUP close should you ever fall, ensuring you can get back on your board quickly. However, the leash won't help you stay afloat, so you'll want to always go out with a PFD as well in order to truly stay safe and afloat in the water.
Optional Accessories
With the D-rings, you'll be able to use most third party accessories you encounter online with your ERS 11' V3 without issue, though always check compatibility before purchase. If you are interested in some official ERS accessories meant to be used with the V3, we recommend the following:
12V Electric Pump + GO Battery
Dry Bag
Pressure Gauge
8 Lbs Anchor
Company Review – Earth River SUP (ERS)
Founded in Potomac River, Maryland in 2012, Earth River SUP started with a collective of SUP enthusiasts, engineers, and retailers who wanted to develop their dream SUP equipment. The first company to develop the 11' x 34'' SUP shape, optimizing stability, tracking, and glide, they have since brought their expertise to over a dozen over high performance SUPs. Since then, ERS has become one of the foremost respected SUP manufacturers in the world, not just for their high quality boards but for their informative, educational articles they publish on their website.
The ERS 11' V3 comes with a 2-year warranty and 30-day 'Ride at a different level' guarantee. Not only can you return your SUP within the first 30-days if you are unhappy with it, but if you feel you want something different you can exchange your ERS SUP for another ERS SUP without having to go through the full refund process. That way, you have the opportunity to try out multiple SUPs without having to waste your time waiting for a refund before trying another board.
From their paddleboards to their pumps and paddles, and with great customer service, ERS deserves its reputation as a great SUP manufacturer.
Conclusion/Bottom line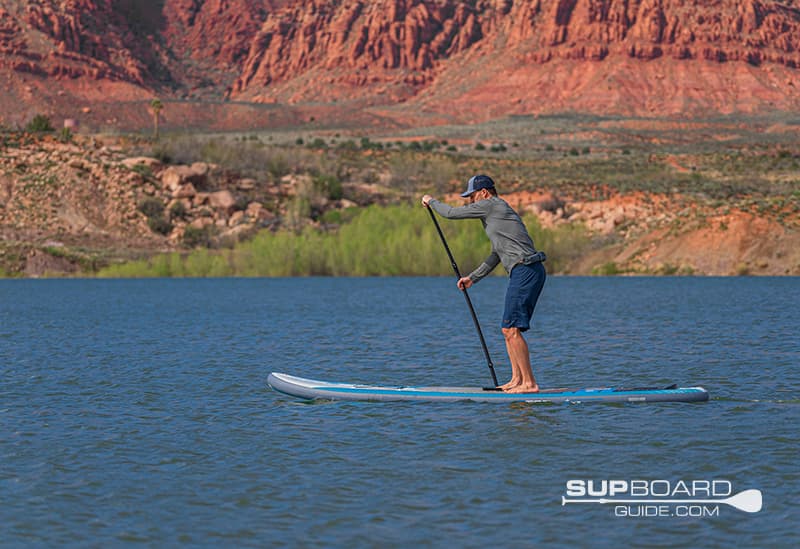 The ERS 11' V3 is a premium, performance focused SUP that offers great stability, tracking, and glide for small and large paddlers alike. The deck pad offers great grip, with the raised heel section providing excellent aid for advanced paddling techniques. The fin setup can be finetuned for multiple water environments, the carbon fiber paddle is excellent and lightweight, and the wheeled backpack contains it all in an excellent package. As it is a large SUP, an upgraded pump would help in making this great SUP even better. Overall though, this is still a fantastic all-around inflatable paddleboard, perfect for calm lakes and even small ocean waves alike.
Want to know more about the ERS 11' V3? Have a question about paddleboards in general? Want to leave your own feedback or mini review? Then feel free to leave a comment below, or send us an email to ask your question. We love to hear from our readers, and are grateful for the time you took to read this review.
The following two tabs change content below.
SupBoardGuide
Heyo! At SupBoardGuide.com we are a team who love the water, the outdoors, and are more than grateful that our full-time job allows us to review stand up paddle boards. We paddle year round (it helps that we are just about 2 hours outside of Las Vegas), and we bring in a wide range of paddlers with the goal of providing our readers with the best, most in-depth, and accurate stand up paddle board reviews.
Latest posts by SupBoardGuide (see all)