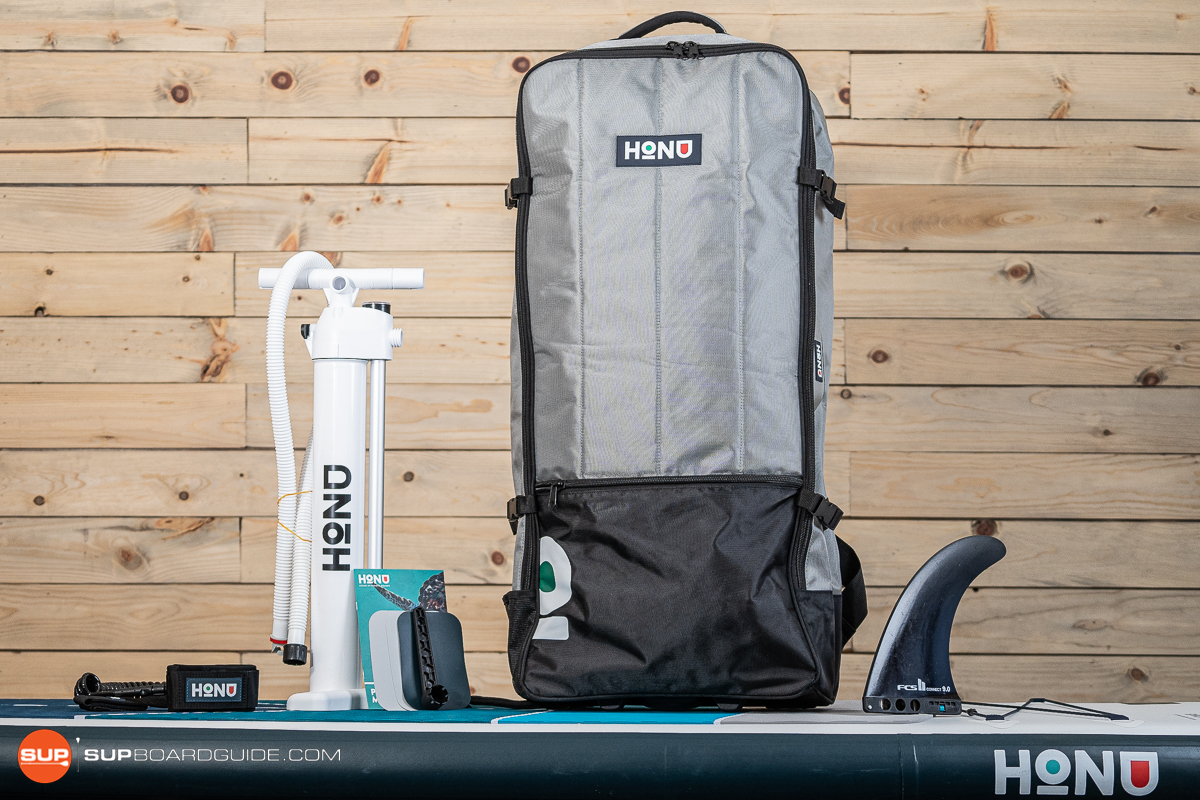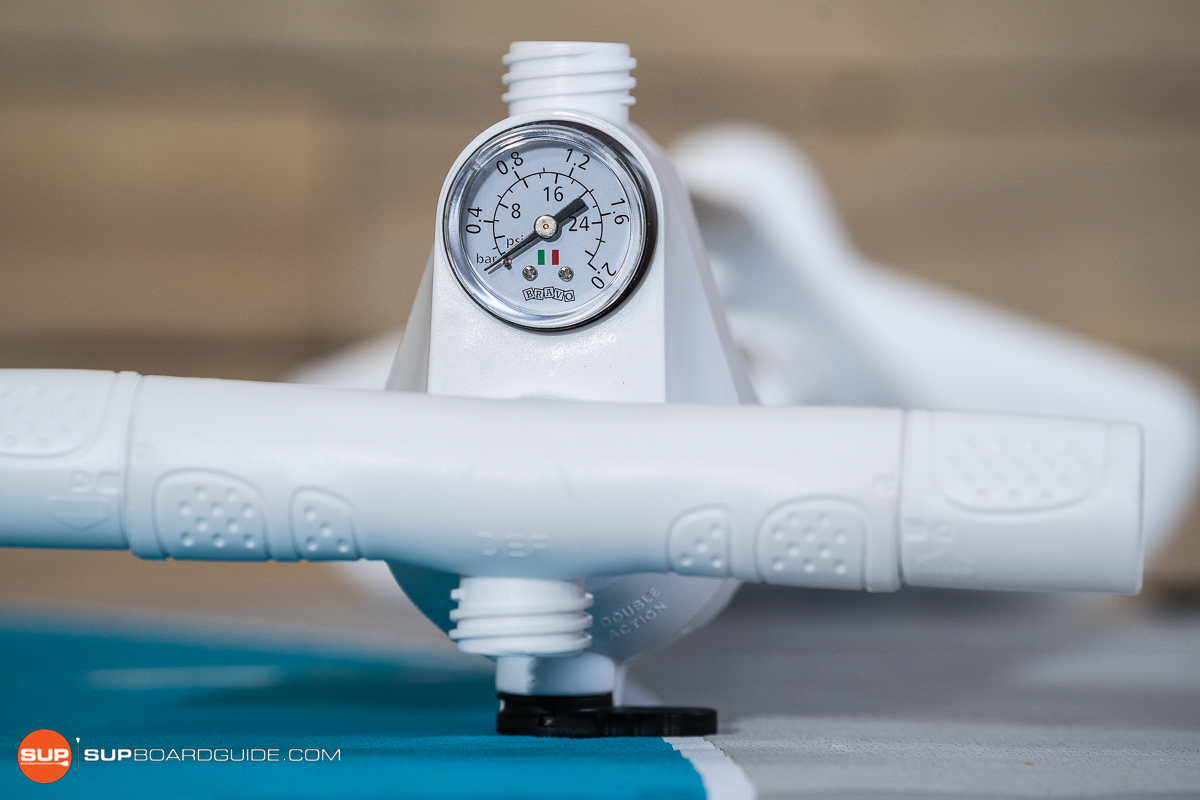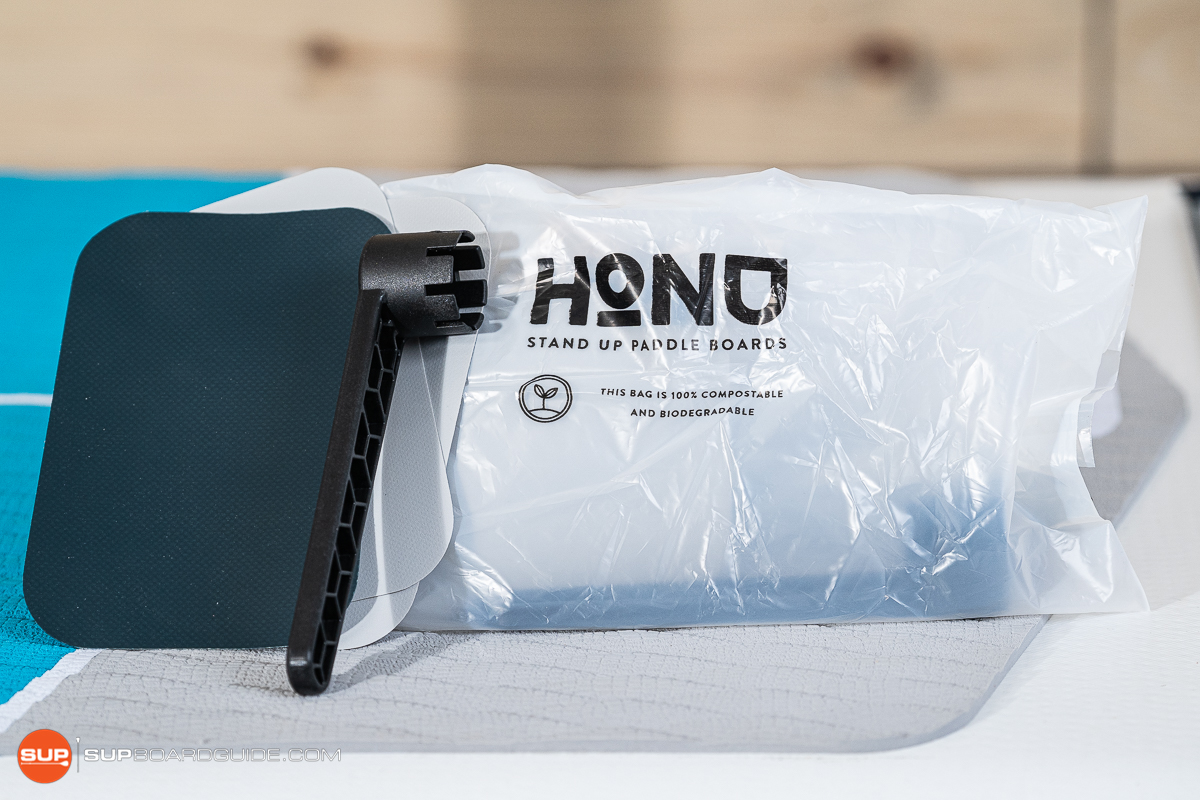 Honu values quality over quantity when it comes to their entire product line, spanning from board features all the way to accessories and packaging.
Each Honu SUP comes with the main necessities: a backpack, fin, leash, and pump. However, they give you a choice when it comes to your paddle. You could opt to use a paddle that you already own and pay for just the SUP and the aforementioned accessories, or you can select a paddle from Honu's own line for a discounted price to bundle with your SUP.
More importantly, Honu does not use excess packaging on their SUP or accessories, and the packaging that they do use is compostable and biodegradable.
Stick with us to learn more about each piece of Honu's accessory list as well as two of their paddle options that we've been able to try out.
Included Accessories:
As I mentioned above, Honu SUPs come with the following list of accessories. The only area where they will differentiate slightly is the fin, as the all-rounder and surf hybrid SUPs will come with a dolphin style fin but the Sorrento Touring SUP kit includes a hatchet style touring fin.
Fin (FCS II)
Coiled leash
Single Chamber/ Dual Action Hand Pump
Wheeled SUP Backpack
Fins: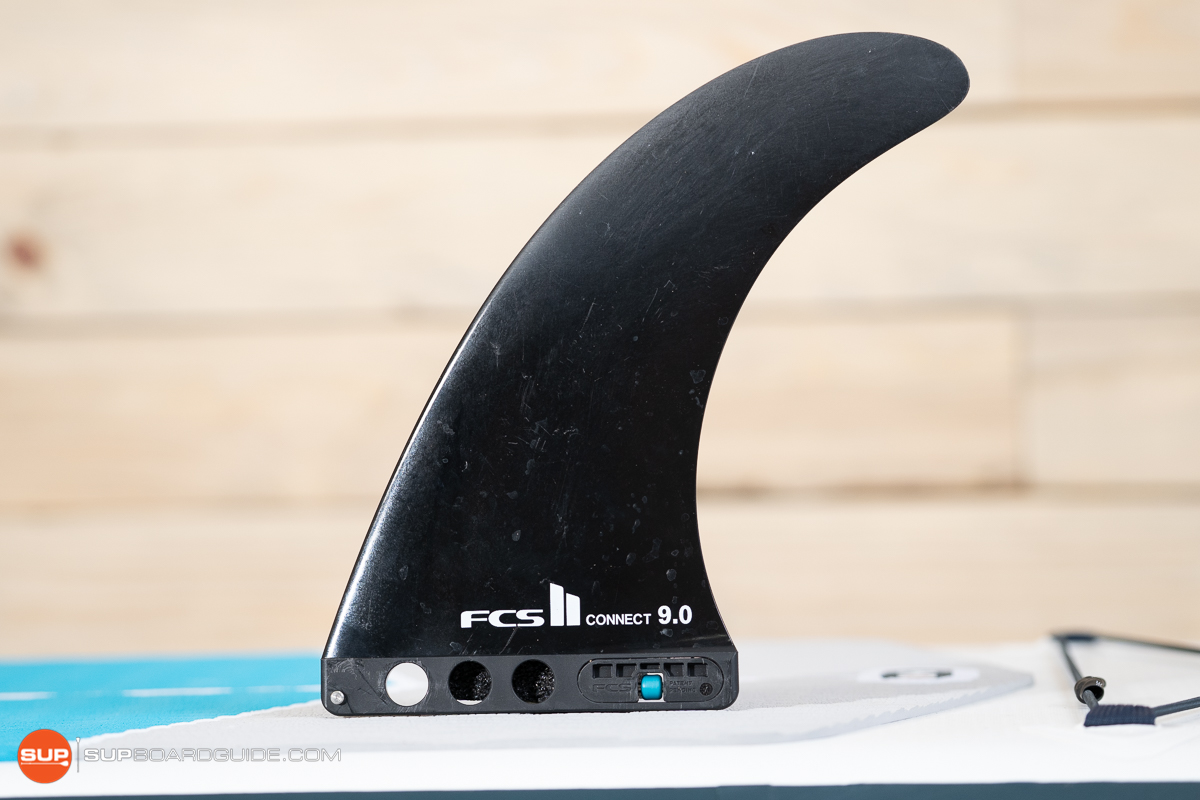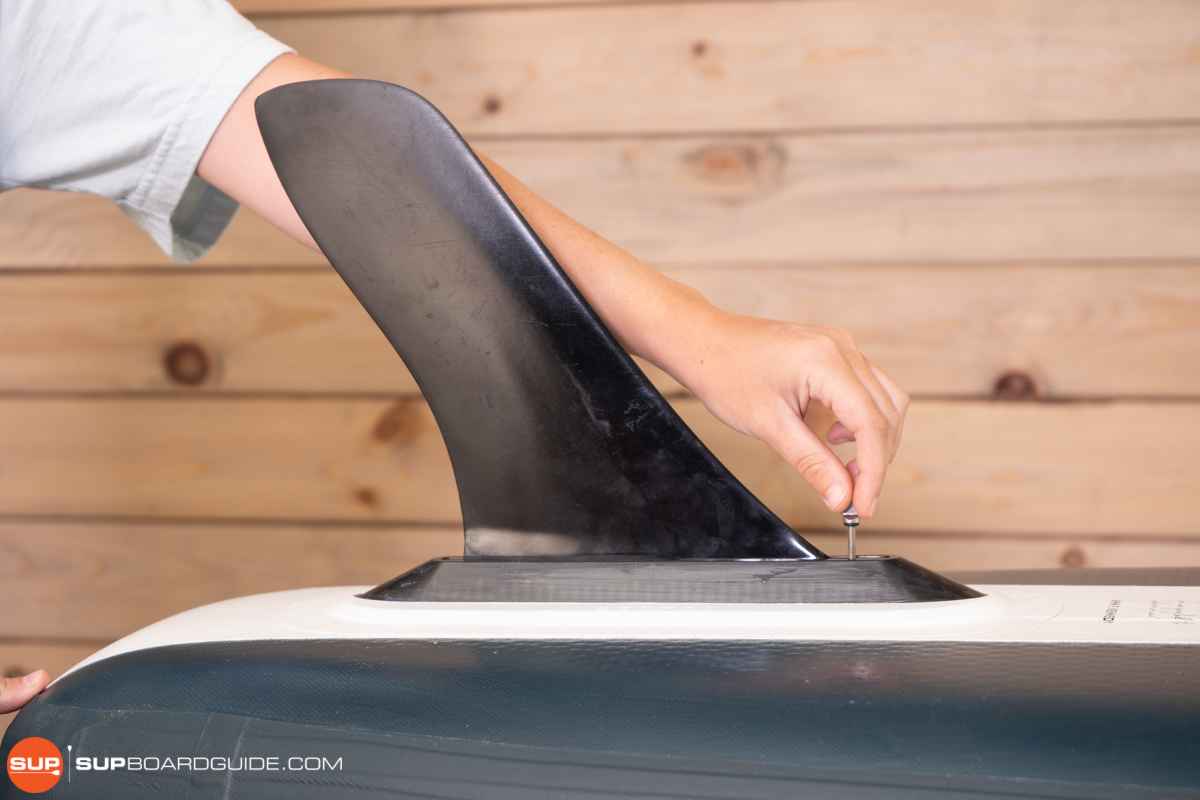 Honu supplies all of their 'all-rounder' SUPs with a 9" dolphin style FCS II Connect fin, and their Sorrento Touring SUP with a screw-plate hatchet style fin. Both of these fin systems have their advantages and disadvantages, which we'll discuss shortly, but for now we love the US fin-box and their SUPs' tracking capabilities.
Now to the advantages and disadvantages. The FCS II connect fin uses a tool-less mechanism that clicks into the fin-box groove with the blue pin (shown in the photo above). While this does make things much less complicated for those of us that are terrible at keeping track of screw plates, it also means your fin is a little less secure. We've knocked the Byron's and Fairlight's fins out more than a couple times while backing our boards off of the beach and into the water. Don't take that too much to heart though, all it takes is just a bit more carefulness not to knock your fin on anything (realistically, we all should be doing that anyway).
As for the Sorrento's screw plate fin, the obvious 'disadvantage' is that it's super easy to lose your screw and plate. Whether you drop it in the sand, through dock planks, or in the parking lot, it's just another small part to keep track of. However, the screw plate set-up does make for a very secure fin; to knock your fin out you'd have to crack actual metal, and at that point losing your fin is probably the least of your worries. With this secure-ness there's another disadvantage in that if your fin won't be knocked out on some hard hits, you could end up damaging your fin box, which is a much more complicated fix than simply buying a new fin as you would if you knocked out your FCS II Connect fin. On second thought, maybe the real lesson here is to treat your fins carefully?
Benefits and drawbacks aside, we've been super happy with both of these fin styles' performance in the water. The dolphin style fin helps you to balance tracking and maneuverability, while the hatchet style on the Sorrento helps to lock your SUP on a straight line path.
As a final note, if either fin style or securing mechanism is not your cup of tea, Honu SUPs utilize a customizable US fin box meaning you can switch to basically any fin of your choosing.
Leash: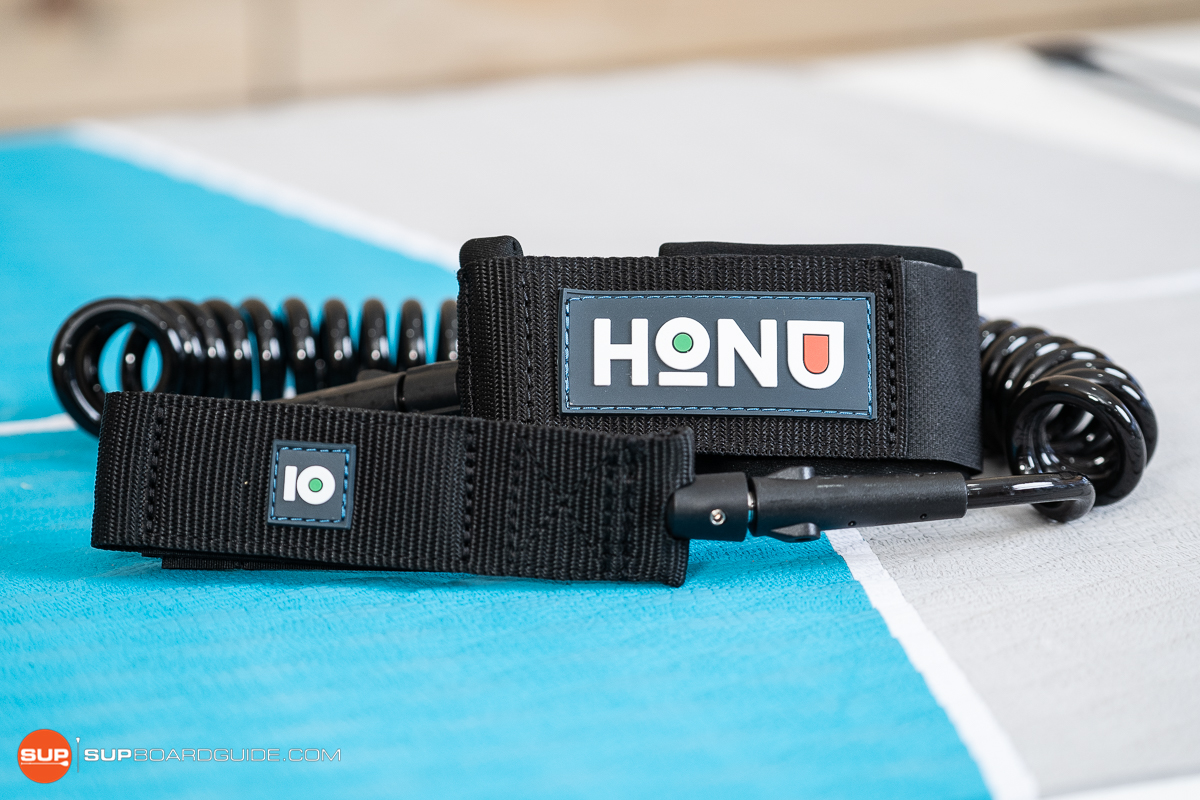 Your SUP leash is often thought of as a pretty standard accessory and it's quality is sometimes overlooked in other reviews. However, your leash can potentially be your life line, attaching you to your SUP if you fall off in rough or cold water with no life jacket. Understanding this, Honu did not skimp on quality on their included SUP leash.
Included with your Honu board, you'll receive a full swivel coiled leash with a velcro ankle attachment. Overall, it feels durable and is coiled tightly enough that it doesn't get in our way if we walk around the board.
Lastly, as a gentle reminder to this section, please wear the appropriate leash for your conditions. If you're surfing, you need a straight leash and if you're paddling on fast moving water you need a quick release leash. The included leash is great for flat-water paddling, but won't serve you well otherwise.
Pump: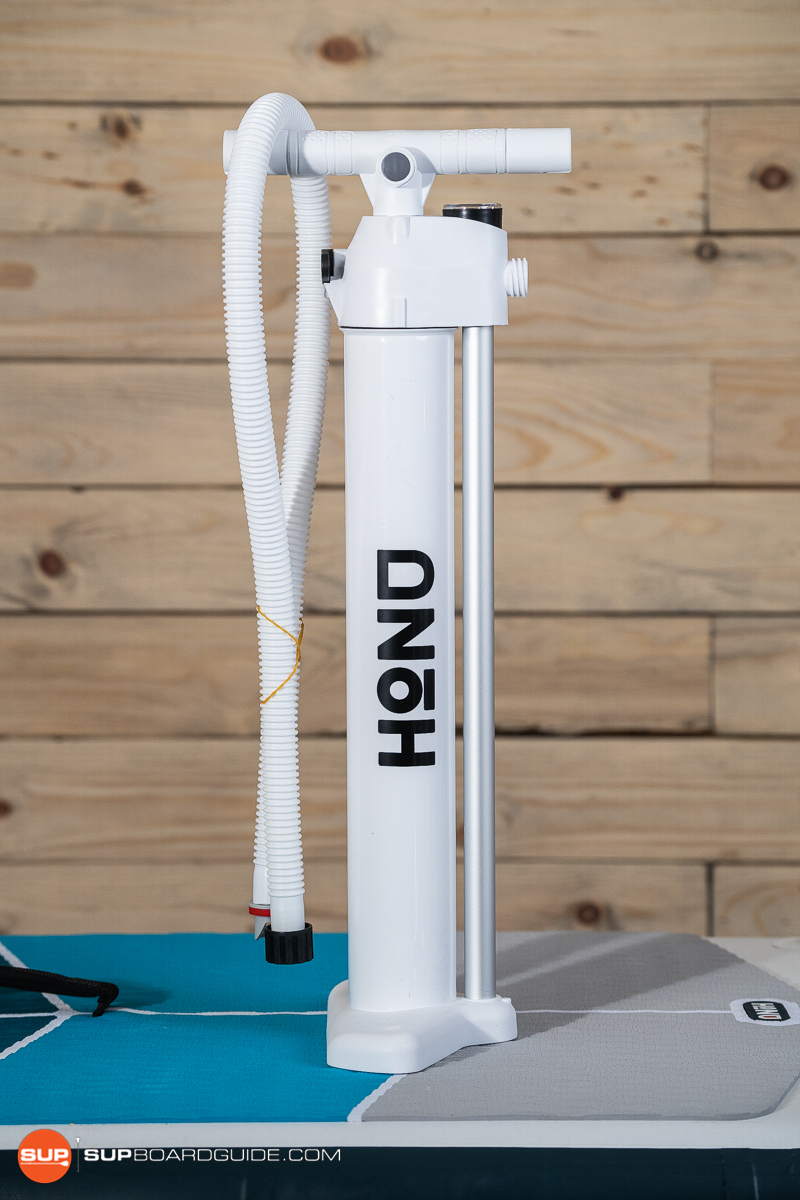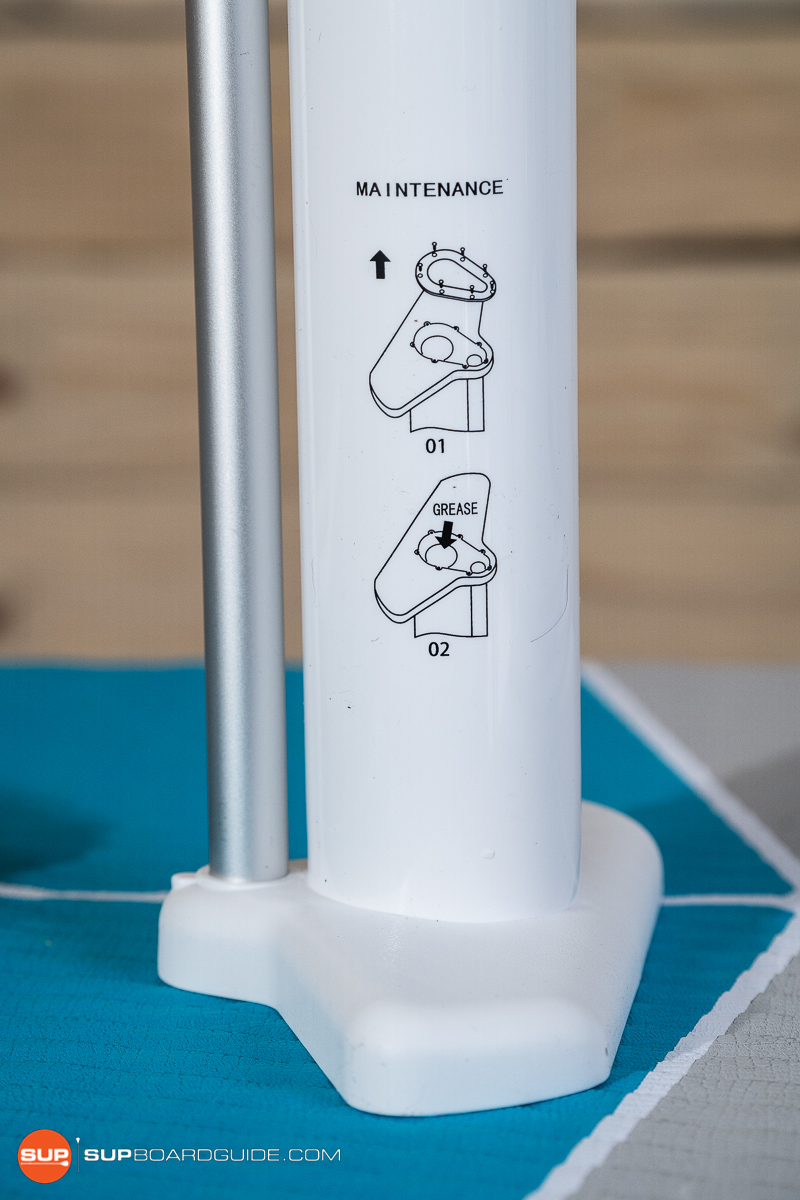 Full disclosure: we're not thrilled about the included single chamber pump. Yes, it will inflate your board, but not without a decent bit of effort on your part, especially if you're going up to the recommended max of 20 PSI.
There've been tons of times at the lake that we've seen families or solo adults struggling with a single chamber pump to even make it up to 15 PSI, which is okay for some boards, but not the best for Honu SUPs. At the end of the day, Honu boards feel their best and are their most rigid when you can get them to 20 PSI, and we just don't think a single chamber pump is ideal to get the most out of Honu's exceptional performance.
Our advice is always, and especially in this case, to invest in an electric pump. It'll save you time, sweat, and tons of energy before your paddle sessions. Our favorites are listed on our page of the Best Electric Pumps.
Bag: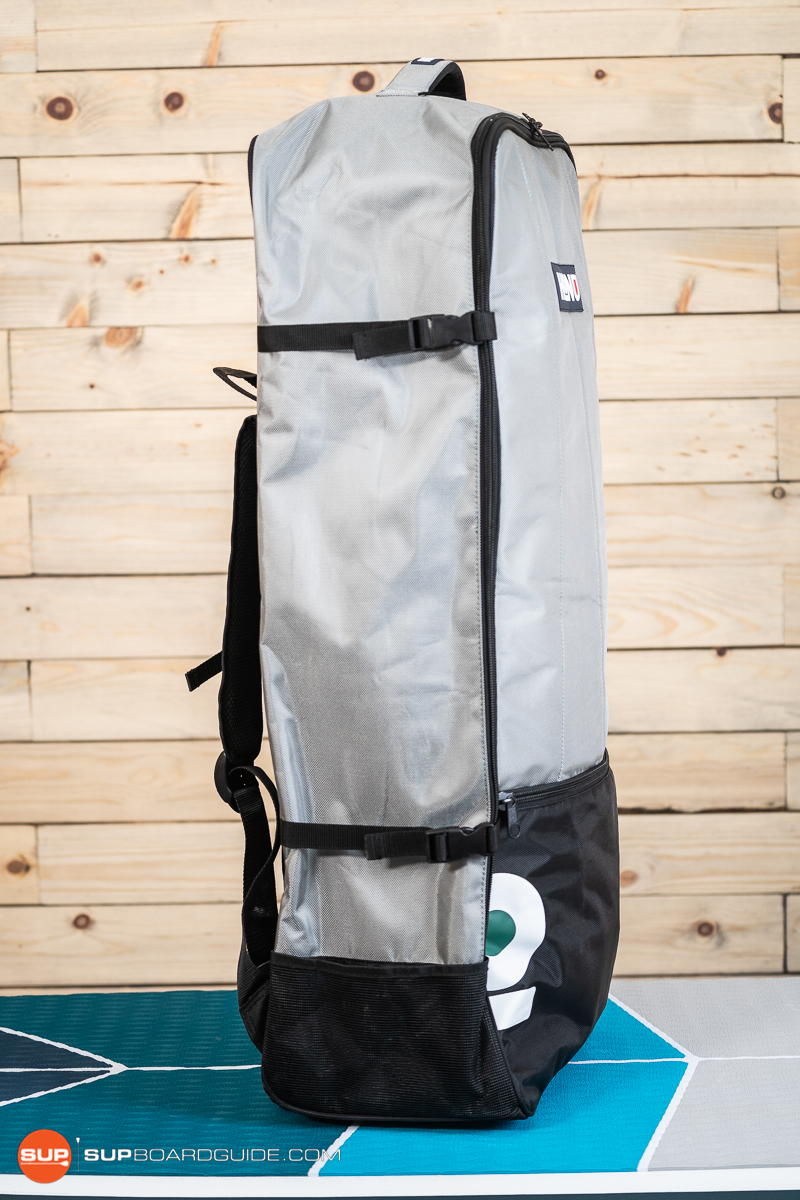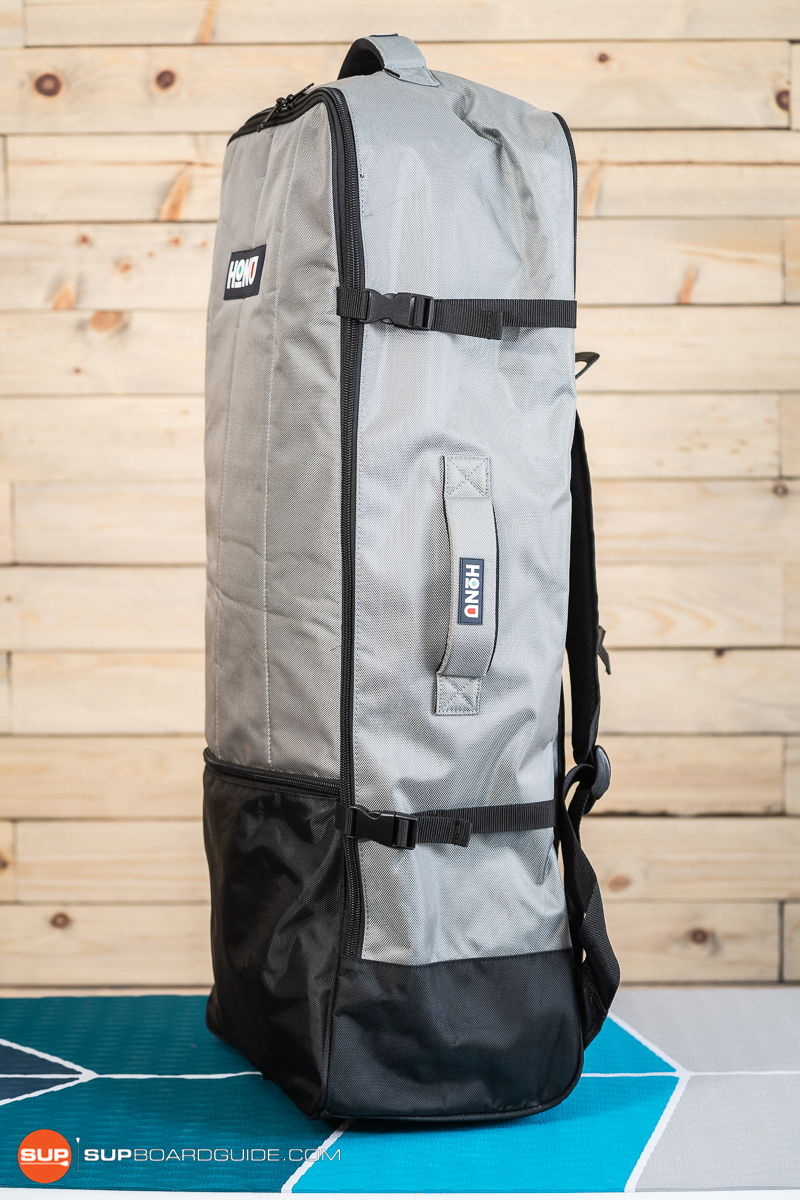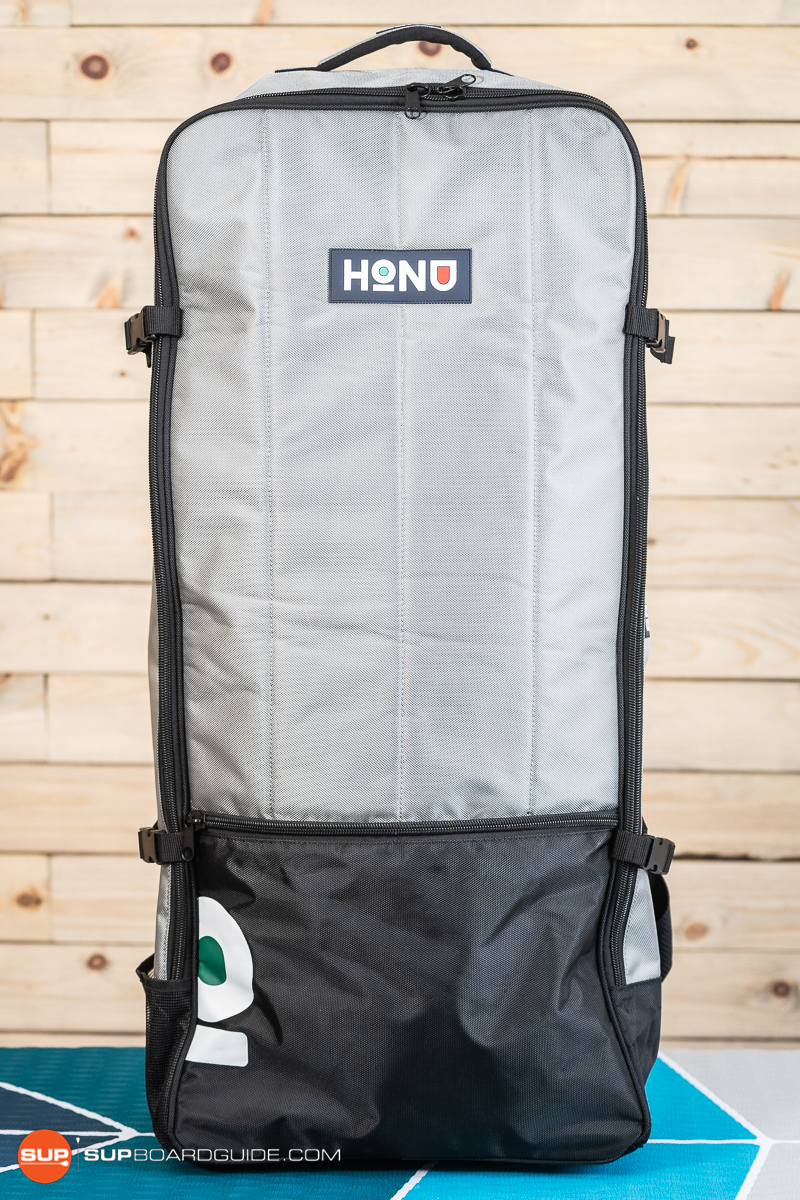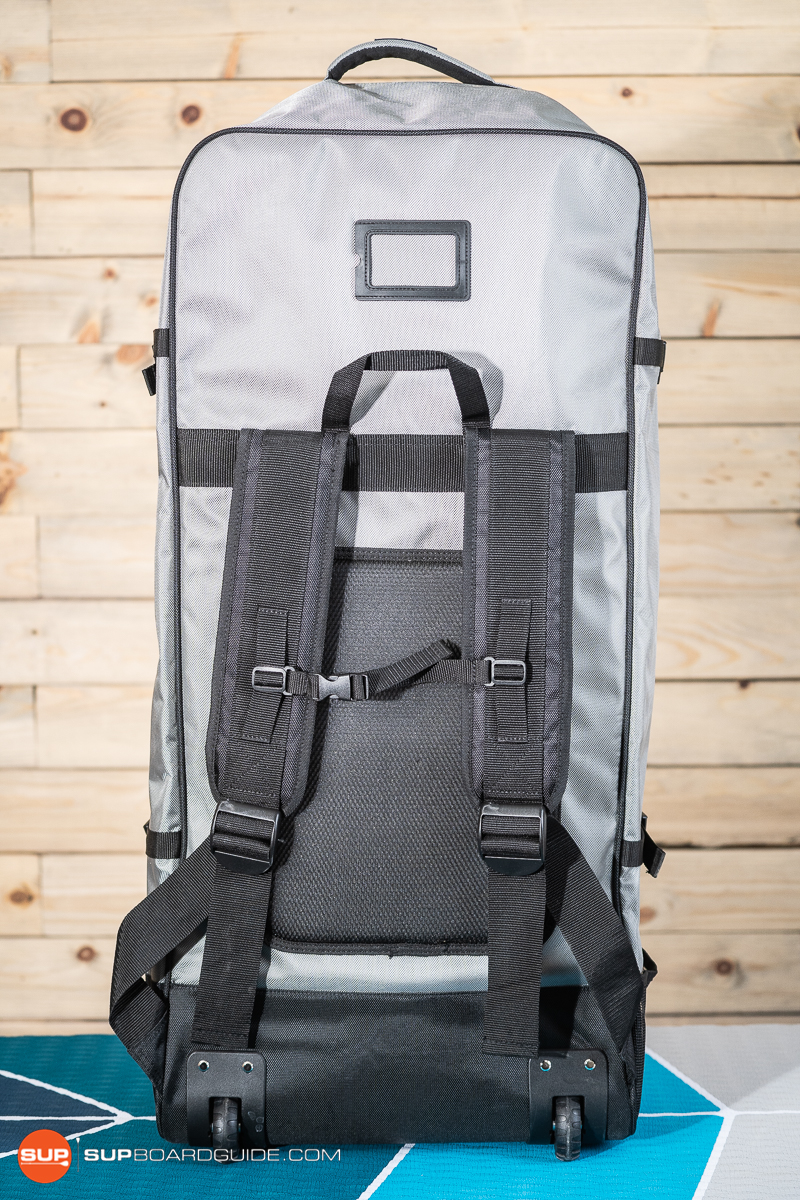 Honu SUPs and their included accessories are shipped in their roomy wheeled backpack (contained in a cardboard box for shipping, of course).
In short, there's a lot to like about this pack. It's spacious enough that your SUP and accessories will easily fit inside and the shoulder and back pad are well padded to keep you comfortable if you need to carry it (though the wheels make it much easier to just roll around). I also like the front organizational pocket to store my leash and fins.
My only complaint is that I would have liked to have the wheels on the opposite side. Because the wheels are positioned on the same side as the straps, they can dig into your back as you carry or they run over and tangle the straps as you roll it.
Optional Accessories:
Honu does offer extras of all of the included accessories we've discussed above on their site, with the exception of the screw-plate hatchet style fin. Additionally, they offer a straight leash, making for a safer surfing experience.
The most important optional accessory in Honu's arsenal is the paddle. Because the paddle is not included right away in your SUP kit, Honu gives you the option to choose between all of their paddles or simply use one you already own. Among their paddle options are:
Evolution Bamboo (carbon shaft; multiple color ways)
Evolution Carbon (full carbon)
Element (carbon shaft, nylon blade)
Element Jr. (kids paddle)
Below, we'll be going into more detail about the Evolution Bamboo and Evolution Carbon paddle options, but in short these are high quality, performance focused paddles.
Paddle: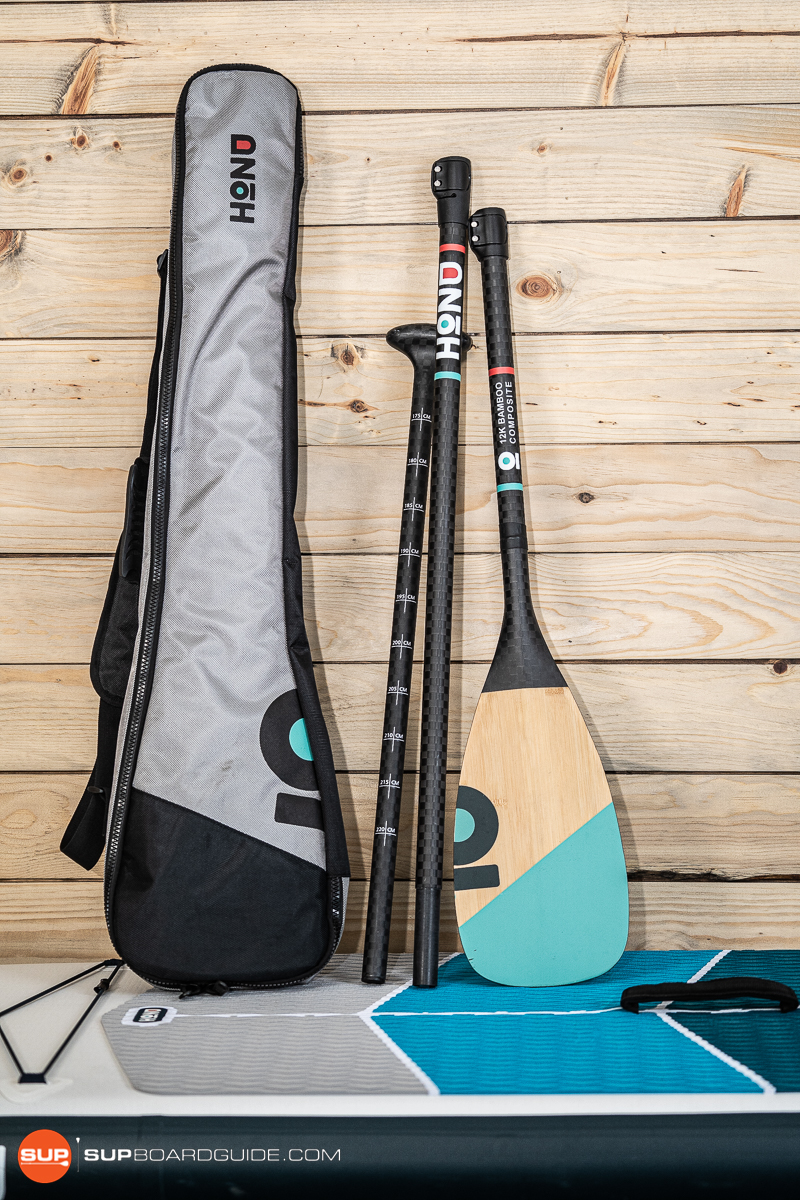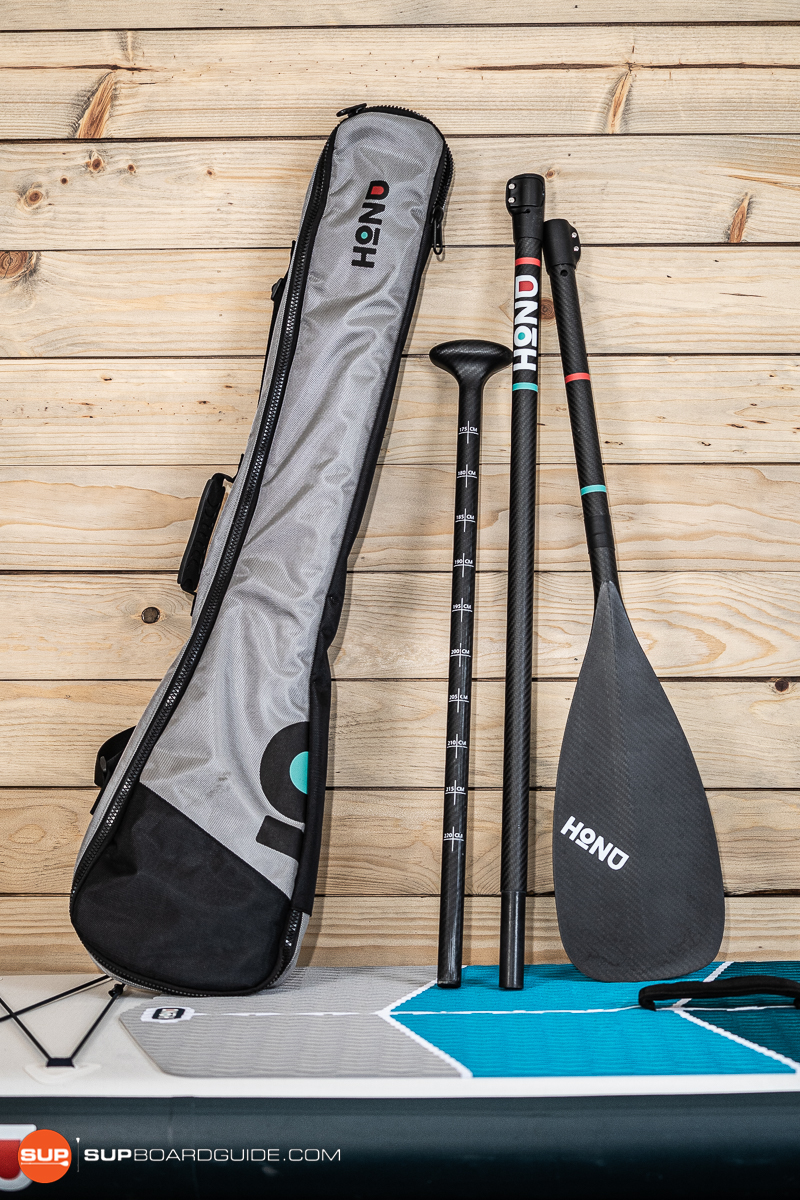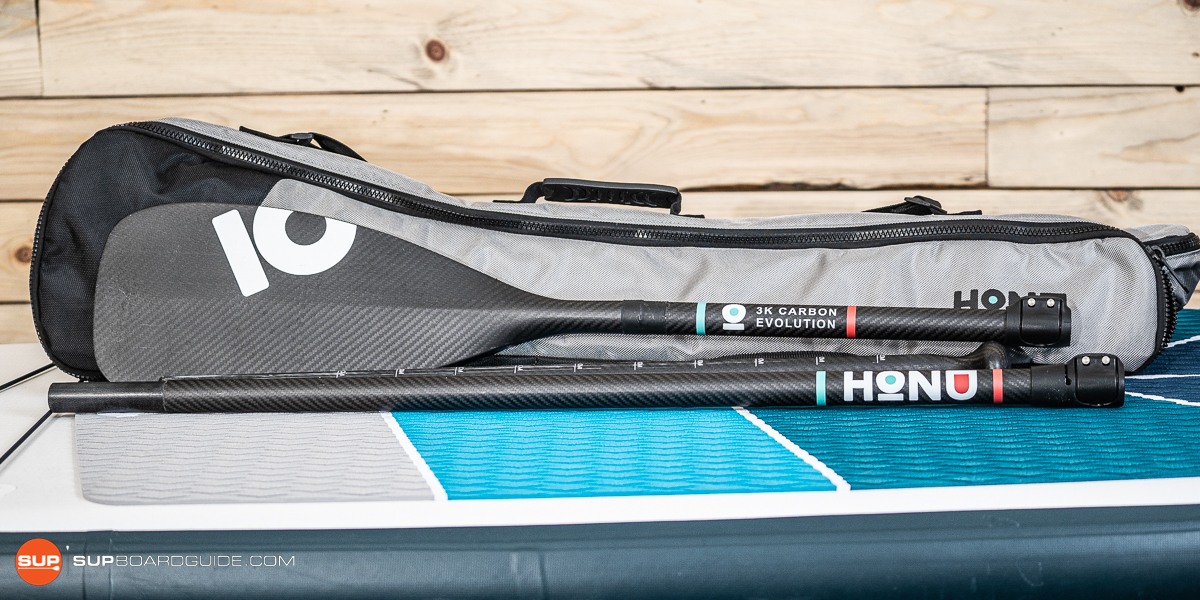 So far, we've been big fans of both the full carbon evolution paddle as well as the bamboo evolution paddle. We've found both to be lightweight and easy to use. The full carbon option to be extremely rigid in the water, giving us great leverage when it comes to sprints and fitness paddling. The bamboo evolution paddle has just the right amount of flex to be a little easier on your shoulders during a long distance tour.
I'm personally a big fan of the rectangular blade shape, as it helps you create a cleaner catch and exit, meaning it's less likely to create a splash compared to a teardrop or scoop blade. The shape/size of the blade also makes it so you don't grab too much water in your pull phase, which would make it harder to paddle with a higher cadence or stroke rate. This is likely why we've loved these paddles so much during our sprint tests.
Our only qualm with the full carbon evolution paddle and the bamboo evolution paddle that we're currently trying out is that the anti-twist groove is just a little off set, making it so your handle is not fully in line with your blade. It's not extreme to the point that the paddle is unusable, and we honestly didn't notice it for a decent bit of time, but still is just a bit disappointing considering the price and Honu's usual level of attention to detail.
Summary of Honu Accessory Review
As we said at the start, Honu's focus is always on quality rather than quantity and their accessory list is no different.
While we would've preferred a more efficient pump for their 20 PSI boards, we've found the backpack, leash, and fins to be exactly what we needed to enjoy a Honu SUP experience.
Thanks for reading through our Honu accessory review, for more info on the SUPs themselves, see our reviews of the Honu Byron 10'6 All-rounder, Honu Fairlight 10'9 All-rounder, and the Honu Sorrento 12'6 touring SUP.
Stay safe and happy paddling!
The following two tabs change content below.
SupBoardGuide
Heyo! At SupBoardGuide.com we are a team who love the water, the outdoors, and are more than grateful that our full-time job allows us to review stand up paddle boards. We paddle year round (it helps that we are just about 2 hours outside of Las Vegas), and we bring in a wide range of paddlers with the goal of providing our readers with the best, most in-depth, and accurate stand up paddle board reviews.
Latest posts by SupBoardGuide (see all)