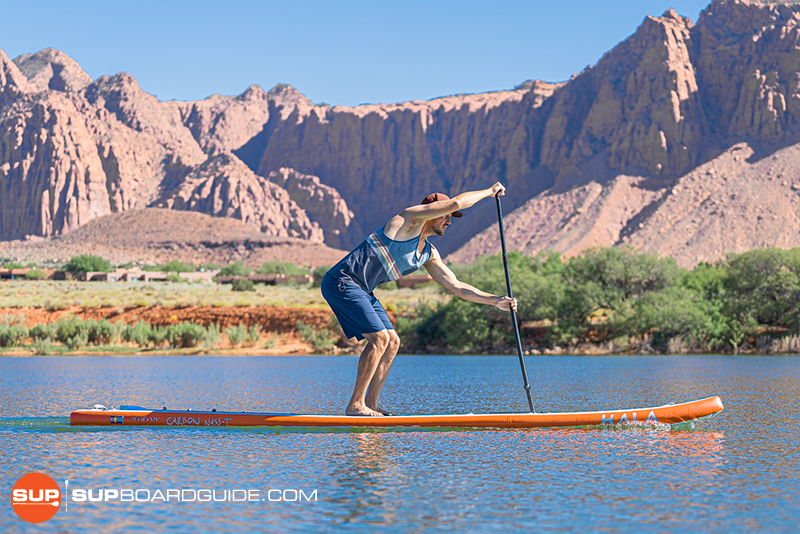 Full disclosure: I am super excited to talk you through our list of the Best Touring SUPs of 2023. My ideal paddle sesh is one that starts and ends with the sun (usually with a few drinks cracked along the way) so it's no surprise that I am a self-proclaimed touring board enthusiast. I can't get enough of a board that's light, fast, and just seems to cut through the water like butter, so you can imagine how much fun I had testing out boards for this post. All in a day's work, right?
Below, I'll walk you through our list of this year's Best Touring SUPs considering an array of factors such as speed, tracking, maneuverability, features, construction, etc. We'll also be going over a buyer's guide to touring SUPs, the differences between hard touring and inflatable touring SUPs, and a few tips to help you get the most out of your board.
Our goal here at SupBoardGuide is to provide you with our real world, day to day experience on each of these boards along with the technical specs to help you make the most informed decision when it comes to your SUP purchase. With that in mind, we hope you enjoy reading our list of the Best Touring SUPs of 2023.
Best Inflatable Touring SUPS
Honorable Mentions
Sea Gods Ketos
Hala carbon Nass-T 14×28
---
Honu Sorrento 12'6 Touring SUP (See Full Review)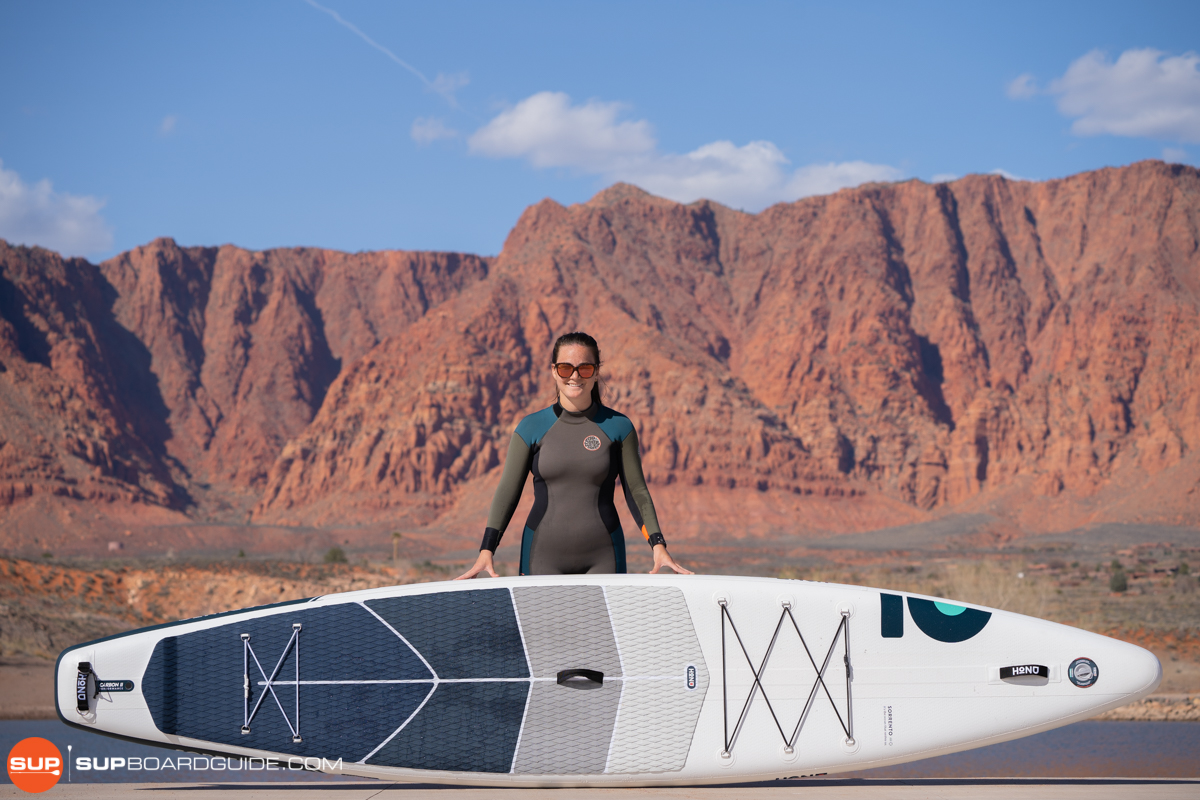 Pros
Incredible tracking capabilities
Ultra stiff construction reduces drag and improves performance
30" width and 12'6 length allow for higher speeds
Raised kick pad is well placed for more maneuverability than you'd expect from a touring SUP
Lightweight 21.6 lbs
Cons
Will not be super stable for beginners (this is an expected trade-off for added speed)
The Honu Sorrento is one of the team favorites here at SUPBoardGuide. With it's 12'6 waterline and 30" width, the Sorrento is best suited to more advanced paddlers that need well-built, lightweight, speed-focused touring board. It would also lend itself to ambitious beginners that are willing to give themselves more of a balancing challenge and recognize this SUP as an investment in the sport and in their developing skills as a paddler.
During our testing, we were massively impressed with the Sorrento's performance on the water. It is undeniably built for speed and at just 21.6 lbs it feels effortless to paddle (as long as your balance is in check) and easy to maintain a quick pace. We also want to note that the Sorrento has the best tracking capabilities that we've seen to date, which is likely due to both its hatchet fin set-up as well as its stiff construction that minimizes uneven drag. Though we might've expected this excellent tracking to impact its overall maneuverability, the Sorrento sports a raised kick pad that allows you to sink its tail and pivot this 12'6 SUP in any direction with relative ease.
Focusing more on the aforementioned construction, Honu attributes the Sorrento's noteworthy stiffness to it's carbon fiber stringer that runs nose to tail on both the top and bottom of this SUP, as well as it's carbon fiber rail layer that works in conjunction with a PVC layer to add durability and rigidity. As for the core of the Sorrento, it's a cross-woven drop-stitch that also minimizes board flex and keeps the Sorrento a light weight. The finishing touches such as the diamond grooved deck pad, front and rear cargo areas, and carry handles are also well attached and add to the overall enjoyment factor of this SUP.
As a final note the Sorrento does come with an included high quality wheeled SUP backpack, FCS II hatchet fin, full swivel coiled leash, and a single chamber hand pump, but does not come with an included paddle. Instead, you have the option to choose from Honu's impressive paddle line-up for a discounted price (when bundled with your SUP) or use a paddle of your own.
---
Blackfin Model V (See Full Review)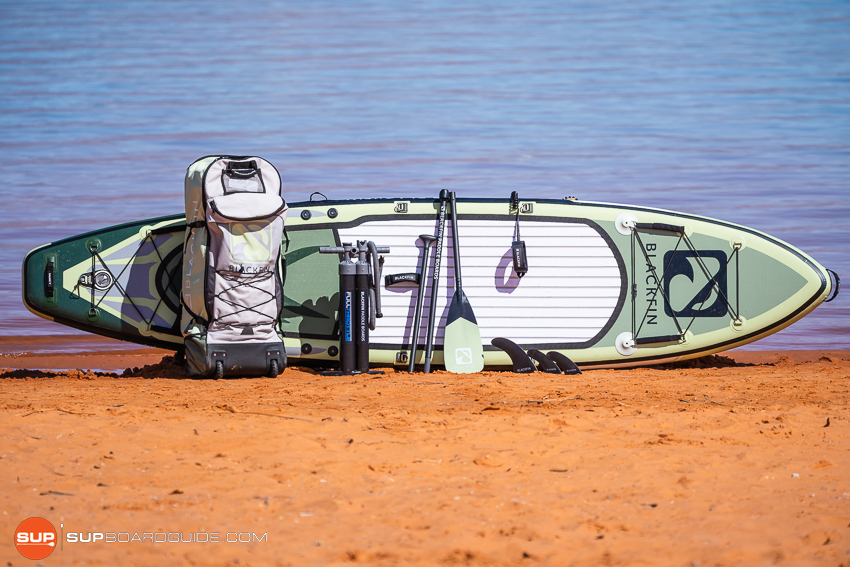 Pros
Stable without sacrificing speed
Good tracking capabilities
High weight capacity to bring along gear, kids, or pets
Tons of features to add versatility
Good quality kit paddle (carbon)
Nice roller backpack
Cons
We'd love to see a raised kick pad
Sitting near the top of our list of best touring SUPs for 2023 is the BLACKFIN Model V. This 12'6 long, 32" wide, 2+1 fin set-up SUP is super stable on the water without sacrificing that classic touring board speed. It is a heavier board at 29 lbs, but that's due to its durable triple layer PVC construction. The Model V also has a weight capacity of 485 lbs, giving you plenty of wiggle room when it comes to loading on gear, kids, or pets.
This SUP is also loaded down with features to help you have the best, most versatile time on the water. With 20 D-rings and 8 action mounts, you have tons of compatibility whether it be fishing gear, a kayak seat, gear storage, speaker set-ups, cup holders, or everything at once, this SUP has the capability to do it all. I also love the BLACKFIN's deeply grooved deck pad, as it cushions and keeps your feet dry all day long. The carry handles make loading and unloading this 12'6 SUP a breeze as well, and the safety straps on the front and rear cargo areas are great for a kid or passenger to hang onto during your ride.
Overall, the BLACKFIN Model V is a great option for paddlers that need a board that can handle a full day on the water and anything you throw it as far as hauling along gear, coolers, pets, or kids. It's also affordable compared to other specialized touring boards on the market.
---

Pros
Large front cargo area for gear storage
Tapered nose and tail help minimize drag for a faster board
Carbon fiber rails add rigidity and performance
Includes an efficient dual chamber pump
High quality roller backpack with multiple compartments
Cons
Heavier construction can be cumbersome for smaller paddlers; in this case, go with the Expedition 138
The Thurso Surf Expedition 150 is one of the narrower board on this list, while still being capable of hauling a decent load of gear. The narrow width, combined with its single fin set-up enable this board to easily pick up and maintain speed, while it's rigid construction makes it more accomodating for heavier paddlers. Though we do want to note that smaller paddlers tend to prefer the lighter weight Expedition 138 (11'6 x 30″).
We were pretty satisfied with the features on the Expedition 150 as well. It has a large 6-point cargo area at the nose, and a smaller 4-point cargo area at the tail. There's also 3 carry handles, paddle holders on either side or the SUP, extra D-rings to make it kayak seat compatible, and a raised kick pad. My one suggestion would be to make the cargo area at the nose a bit smaller to extend the deck pad, and shift the rear cargo area forward to get the bungees off of the kick pad, as they can get in the way of your foot.
As usual with Thurso Surf, the Expedition comes with a great accessory kit. Right out of the box with your board, you are given a 10' coil leash, a US fin-box center fin, a double chamber triple action pump, and a 3-piece carbon shaft paddle. As a small note, the Thurso Surf kit paddle is one of my personal favorites. It feels super stiff in the water and feels like you get a ton of leverage to pull yourself along at a good speed.
The Thurso Surf Expedition 150 is perfect for midsize beginners or more advanced larger riders looking for a quick, agile, and versatile touring board that won't hurt their wallet.
---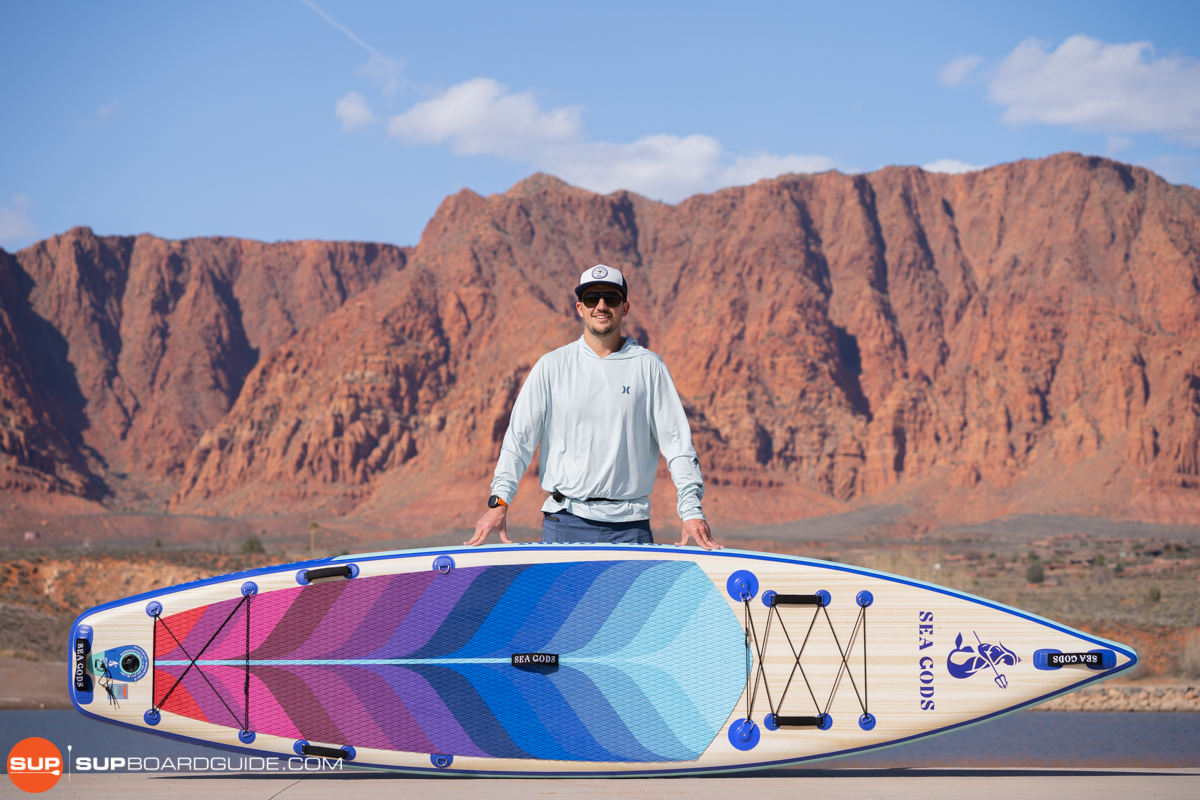 Pros
Lightweight 21 lbs
Front and rear safety handles
3 carry handles for easy launching
Extra D-rings to connect a kayak seat of more gear
Locally sourced art to make an eye catching board
Lifetime warranty
Cons
We would have liked to see a double chamber hand-pump
This eye-catching 12' Carta Marina is impressive even aside from it's looks. At 32" wide it's still a stable board for beginners, but the tapered nose, square tail, and single fin allow this board to pick up speed with ease without wavering from a straight path. You also have a bit more options when it comes to bringing along gear or passengers than you would with the Red Paddle Co 12'6 Sport due the Carta Marina's 350 lb weight capacity combined with its array of features, despite being just 21lbs.
The 12' Carta Marina's 3 sturdy carry handles at the nose, tail, and center of this board to make carrying, launching and loading it a walk in the park even for smaller or younger paddlers. There's also an 8 point bungee cargo area at the nose with 2 integrated action mounts and safety straps as well as a 4-point bungee cargo area at the tail, sitting behind another pair of safety straps. The Carta Marina doesn't skimp on versatility either, with extra D-rings for a kayak seat or more gear storage options. Another thing we loved about this board is the beautiful, traction focused, yet comfortable diamond grooved deck pad.
Sea Gods kills it in the accessories game too, providing you with all the necessities right out of the box to get you and the Carta Marina happily out on the water. Included with your iSUP is a lightweight carbon fiber 3-piece paddle, double action single chamber hand pump, a US fin-box/kumano system center fin, 11' coiled leash, repair kit, and a sturdy roller backpack.
The bottom line is that the Sea Gods Carta Marina is a great SUP. It kind of bridges the gap between the a full blown adventure touring SUP and the Red Paddle Co 12'6 Sport as it still offers a wide range of features and accessories while maintaining performance focused speed and tracking in the water. The Carta Marina is a good choice for paddlers who like having the option to bring along gear, pets, or kids but also want to use this iSUP for fitness touring.
---
RedPaddleCo 12'6" Sport (See Full Review)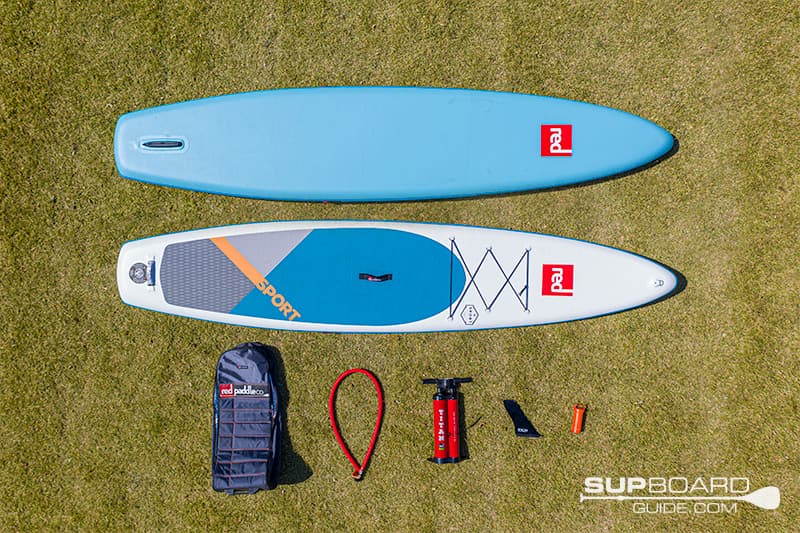 Pros
30" wide = plenty of stability but won't slow you down
Less cluttered deck pad
US fin-box (FCS) allows for customization
Double chamber triple action hand pump included for easier inflation
Traction focused tail portion of the deckpad
Cons
We'd the kit to include a paddle
Admittedly, the Red Paddle Co 12'6 Sport was really close to making our top slot. We felt this board rode better overall; it was faster, had better tracking capabilities, and is much lighter. The main reason we decided to place it as number 3 is because it's at a bit higher of a price point and limits you in terms of bringing along gear, kids, or pets due to its lighter feature list and lower weight capacity at 330 lbs. With that said, we absolutely loved this board. It's still stable at 30" wide, but its narrower width combined with its single fin set-up and being a lightweight 23.5 lbs, helps it move quickly through the water.
Like we alluded to earlier, the Red Paddle Co 12'6 Sport is a bit lighter on feature list. However, I personally prefer a less cluttered deck because I am not a paddler that's bringing along kids or tons of gear. This board has 1 bungee cargo area at the nose of the board as well as 3 carry handles to make launching a 12'6 much easier. One of our favorite features on the Red Paddle Co 12'6 Sport is the dual-section deck pad, with the front area being more smooth and comfort focused and the rear being a traction oriented diamond groove pattern. This helps tremendously with step-back turns, which are nearly a necessity when it comes to making a tight turn on a touring board.
Along with the Red Paddle Co 12'6 Sport you'll receive a high quality roller backpack, a double chamber triple action pump, an FCS center fin, and a repair kit. While each of these accessories is great quality and built to last, we would have loved to see a paddle included with this board, though we do understand that not including one gives you the ability to focus on getting a paddle that is best suited to you even outside of the Red Paddle Co brand.
The Red Paddle Co 12'6 Sport is a great option for those with a higher budget looking to develop a fitness style of paddling. I could also see this board being a great stepping stone before advancing into racing style SUPs.
---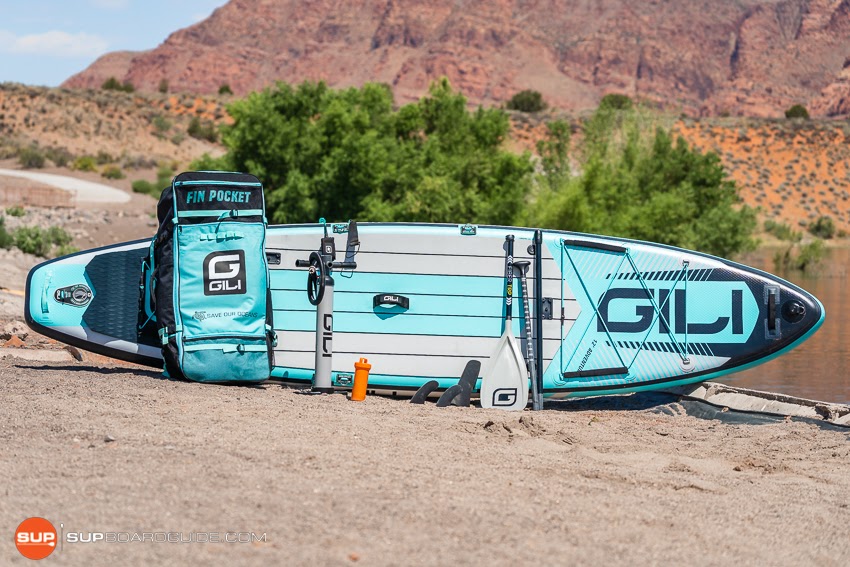 Pros
Affordable price
Tons of features to stow gear, attach kayak seats, etc.
Raised kick-pad for easier turns
Scotty mounts for fishing gear
Includes a lightweight carbon fiber paddle
Cons
Would have liked to see a double chamber pump
Front and rear bungees have a quick release clip but it doesn't fit through the D-rings to take off
Gili's 12' Adventure is a great entry level touring board for an affordable price. It's a super stable, beginner friendly board given its 32" width and 330 lb weight capacity at just 23 lbs itself. Though not as fast as the previous two boards on this list, the 12' adventure still moves quickly in the water and has decent tracking capabilities as long as your paddling technique is there to match.
As far as features and versatility go, the Gili 12' Adventure is, as it's name would allude, adventure focused. It sports 3 carry handles, front and rear cargo areas, added D-rings for kayak seat attachments, 3 action mounts, 2 pairs of safety straps, a paddle holder, scotty mounts for fishing gear and a raised kick-pad to make for easy step-back turns. We also loved the comfy grooved deck-pad that transitions to a diamond pattern on the tail and kick-pad. This SUP is capable of nearly any water activity you can imagine.
We have almost no complaints when it comes to the Gili 12' Adventures included accessory list either. With an iSUP purchase you'll receive 3 snap lock fins, a single chamber dual action pump, a 10' coiled leash, a well padded backpack with tons of compartments, and a 3-piece fiberglass paddle. We're not thrilled about fiberglass paddles as they tend to be irritating on our hands, but Gili does give you the option to upgrade to a carbon fiber paddle for a small added cost (personally I'd advise doing this, it's definitely worth it for a touring board). I'd also love to see a roller backpack and a double chamber pump, but understand this would raise the overall cost of the board.
The Gili's 12' adventure is best suited for paddlers with a budget that are looking for a stable, versatile touring SUP and don't mind putting in a tiny bit more effort to get their board up to speed.
---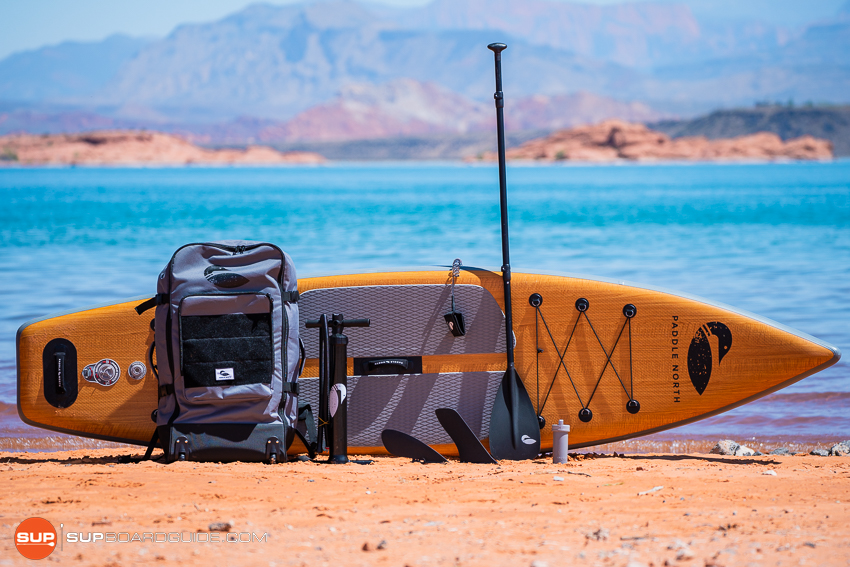 Pros
33" width makes for a super stable touring board
Kayak seat compatible
Lightweight board at 21lbs
In-built pressure monitors regulates internal pressure (especially beneficial for hotter climates)
Roomy roller backpack
Affordable price
Cons
Split deck pad limits your standing space/mobility (it adds to the lightness of this board though)
Like the Thurso Expedition, Paddle North's 11'6 Portager is one of our more maneuverable touring boards on this list, especially at just 21 lbs. Though the Portager is a more stable 33" wide, it's still a fast board whether you're going for a sprint or a more casual paddle. You also have some room to bring along gear with the Portager's weight capacity listed at 350 lbs.
The Portager is not as feature heavy as some of the other boards on this list. Again, that's not necessarily a bad thing depending on your personal preference. There are front and rear cargo areas on this iSUP as well as 2 carry handles located in the center and tail. We also really loved the incorporation of a built-in pressure regulator that eliminates the risk or over-inflation and adds to the overall longevity of your board. The deck pad on the Portager is a lightweight split design with a diamond grooved pattern. While this style of deck pad does keep added weight off of the board, it does limit you in terms of mobility and standing room, especially if you were to try to bring along a passenger. We also would have appreciated the deckpad extending to the tail so we could do step-back turns.
Paddle North does a great job with the accessories kit on the Portager as well. Included with this SUP is a single chamber dual action pump, a 10' leash, 10" lake fin, 5" river fin, 3-piece aluminum paddle, and a well made roller backpack. Of course, we'd love it if they upgraded this kit to include a double chamber pump and a lighter paddle, but given it's overall price, it's fairly reasonable.
The Paddle North Portager is a great SUP for those looking for something lightweight and maneuverable without sacrificing speed. It's also more ideal for those not wanting to bring along kids or pets.
---

Pros
Affordable
Maneuverable and stable but still quick to paddle
Large front cargo area with extra D-rings for more gear storage options
US fin-box on center fin = customization ability
Cons
Molded flexi side fins get bent out of shape easily and limit performance over time
Does not track as well as other touring boards
The Atoll 11' utilizes a 2+1 fin set-up. While this will very slightly decrease your speed capabilities, it adds some stability and maneuverability to this SUP. At 32" wide and 21 lbs, the Atoll 11' is super easy to get up to speed and will accommodate gear, kids, or pets with its 315 lb weight capacity.
When it comes to features, the Atoll strives for versatility. It has a 6 point bungee cargo area at the nose as well as extra D-rings dispersed along the sides of the board to enable you to attach a kayak or an extra cargo area if you need some more gear space. I love the Atoll 11's diamond pattern deck pad that covers most of the deck for tons of mobility and plenty of room to make a step-back turn. There's also 2 carry handles located at the center and tail of this board, making it manageable to launch or load it up.
The accessory list for the Atoll 11' does have some room for upgrades, but keep in mind that this is still a reasonably priced kit. Included with this board is a single chamber dual action pump, a 10' coiled leash, a 3-piece carbon/fiberglass blend paddle, an 8" quick-lock center fin, a repair kit, and a SUP backpack. I'd love to see Atoll add wheels to their backpack, though they did manage to keep their SUP fairly lightweight. I also would appreciate them moving away from molded flexi side fins and switching to an entirely removable fin set-up. We've found that the molded fins get bent out of shape pretty easily over time, which limits the performance of the board without constantly heat-fixing them.
In short, the Atoll 11' is a great touring option for a paddler who needs a bit more stability and maneuverability than a classic single fin touring board, but is not willing to make massive sacrifices when it comes to speed.
---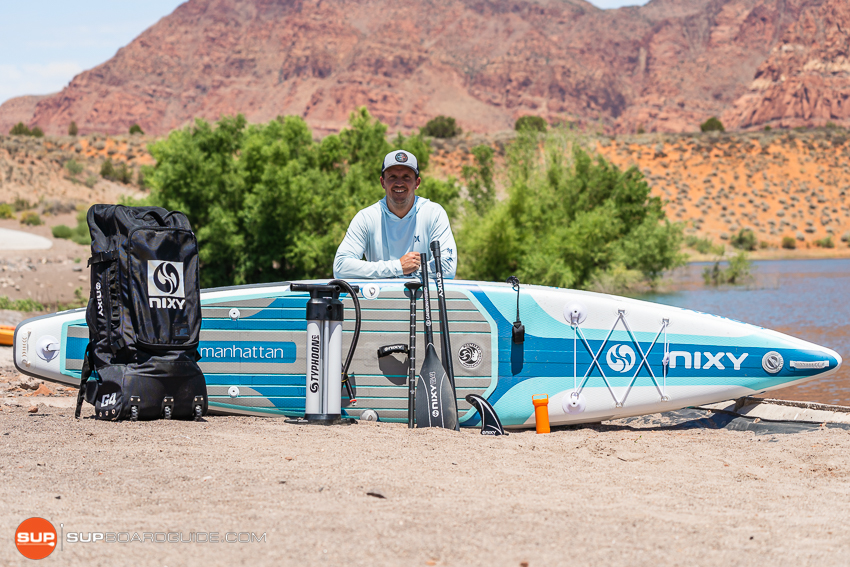 Pros
Fast and nimble on the water
Single US fin-box helps with speed and tracking
Super solid roller backpack
Lightweight, easy to carry
Lightweight carbon fiber hybrid paddle
Cons
Not ideal for heavier/beginner riders (this is a fast, fitness/racing focused board)
The Nixy Manhattan is one of the narrower boards on our list, at 12'6 long, 28" wide and just 22 lbs. It's super speedy on the water and easily picks up momentum to help you leave your friends in the dust, as long as you have your balance in check. Being a narrower, single-fin board, it's no surprise that the Manhattan is has a steeper learning curve than others on this list. That's not to say it's impossible, but this board is definitely more suited to smaller beginners or more intermediate to advanced paddlers within the 170 lb range. That being said, it does have a weight capacity listed at 350 lbs, so you do have the ability to bring along some gear, though again, this would test your balance even more.
The Nixy Manhattan boasts an impressive array of features. It has 3 carry handles at the nose, tail, and center as well as a 6 point cargo area at the front of the board. There's also 2 D-rings on either side of the deck and 2 action mounts placed towards the tail. The grooved deck-pack is a nice balance between comfort and traction and I love that it extends all the way to the tail to give you some grip during a step-back turn. My one complaint is that I'd prefer action mounts to be in front of me when I'm standing on the board to make it easier to reach whatever I have screwed in.
As far as accessories go, Nixy typically hits it out of the park and the Manhattan is no exception. Included with this SUP is a double chamber triple action pump, a 3-piece carbon hybrid paddle, a FCS center fin, a coiled ankle leash, and a high quality roller backpack. I want to note here that Nixy's backpack is one of our favorites. It's super roomy and makes it much easier to fit the board when you're packing up. It also has tons of compartments to keep you well-organized down to the smaller accessories.
To summarize, the Nixy 12'6 Manhattan is a great option for smaller or more confident beginners that are looking for a challenge to develop their skills as well as advanced riders that want to eventually progress into racing or serious fitness paddling.
---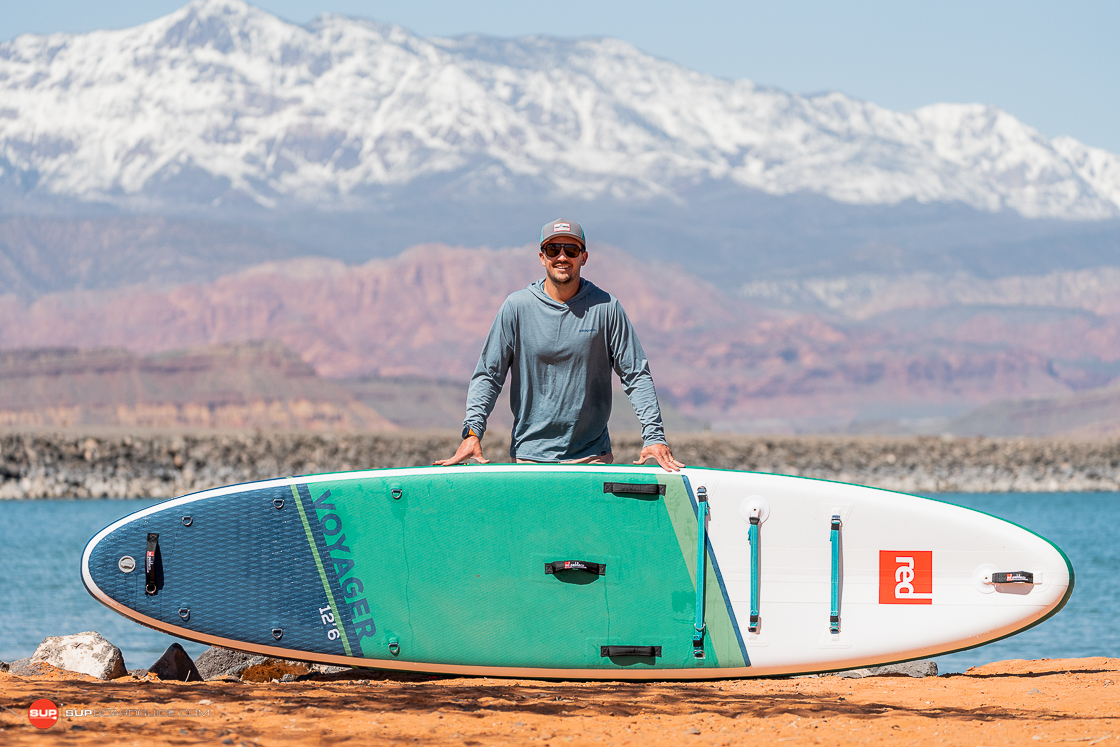 Pros
Premium-level and comfortable for long-range explorations
V-hull design that cuts through the water offering a nice smooth glide, even in mildly choppy conditions
Super rigid due to the RSS fiberglass batten system, MSL construction, and reinforced rail tape
Cons
Not much. As long as your budget can afford it, this is one of the best boards on this list
The RedPaddleCo 12'6 Voyager is one of the top touring/adventure SUPs. It's different than a lot of other options because it has what is called a 'V-hull,' which is a specific design that helps the board slice through the water. At first, we weren't too sure about this design, but after hours of testing it, we have come to find that we can truly see its benefits and we find that it improves the overall feeling the board produces as you move through the water.
This is one of the more expensive boards on our best touring SUPs list, but you get what you pay for. And you'll be able to see that within the first few minutes of paddling this SUP, especially if you're coming from something more entry-level priced..
RedPaddleCo uses what they call MSL technology, which is a specific way of constructing the board that involves an x-woven drop stitch, fusion, and reinforced taped rails. Also, this board has RSS batten rods that are quick and easy to install and increase the board's rigidity. This year, they are more flexible than the previous versions so you don't have to worry about snapping them if you are cleaning up the board in a hurry.
The quality that stood out to us the most on this board is its ability to balance stability, comfortability, and speed so well. It's a big board, 12'6×33, with a 240 lb weight capacity, but it doesn't feel sluggish on the water at all. When I tested it out, I remember going back and forth trying to figure out why I was moving so smoothly even though I was on such a big board.
We think this is a great board for going on day-long adventures, or even overnight trips. It's also stable enough to support novice paddlers, and fast enough to impress the more advanced!
---
Hyrdus Paradise Touring (Full Review Coming Soon)
Let's cut to the chase: this board is meant to last. Hydrus uses 'aramid fiber' in its construction process, which allows it to be more abrasion resistant than a lot of SUPs on the market today. That means it's an extremely tough and durable SUP that is also high-performance! It's overall a great board and we think a lot of people are really going to enjoy it which is why it's worth a look amongst the best touring SUPs..
Aramid fibers are more commonly known as Kevlar. This is a material that you see being used in a lot of other outdoor sports gear, especially in the climbing world. Kevlar is an extremely strong material that can withstand more pounds than you could even imagine. In this case, the Kevlar is built straight into the board's deck and hull materials to make them tougher and ready to bump into rocks, if that's how you roll. Additionally, this material is unable to stretch, which makes it a great choice for upgrading the board's rigidity. There is basically zero flex when you paddle this SUP, which makes it a great choice for larger/taller paddlers who like a board with a little extra oomph in terms of durability. It comes in two lengths, 12'6×30 or 13'3×28. Both of these sizes are great for larger people and have higher weight capacities.
The Paradise comes with a durable wheeled SUP backpack that is deemed, by Hydrus, as the Mothership iSUP bag. We think the name is fitting because it is a big bag that you can zip the SUP in and out of without getting frustrated that it won't fit. And just like my mom and her purse, the Mothership can magically hold everybody's items with room left over for snacks!
---
Honorable Mentions
Sea Gods Ketos (See Full Review)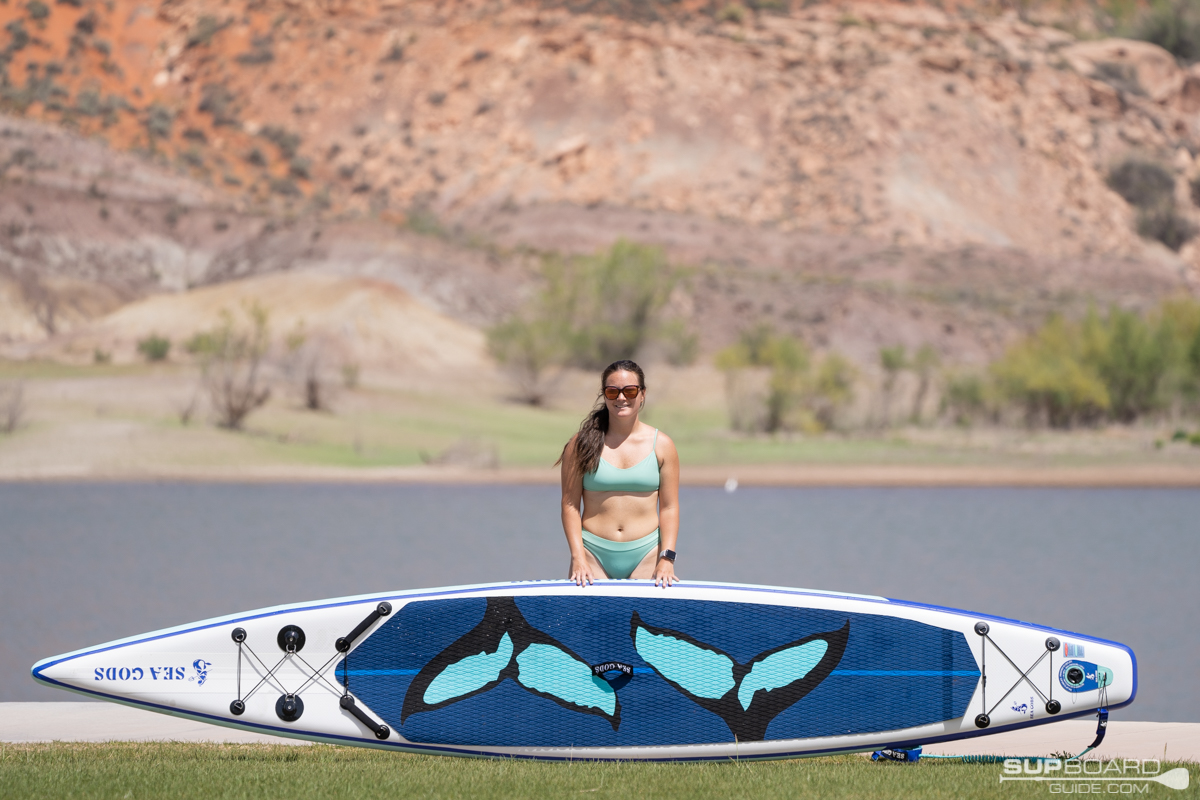 Pros
Lightweight especially for a 14' board
Narrow width makes it ultra fast
Great tracking capabilities with single center fin
US fin with Kumano system is customizable/ convenient
Array of features despite being more fitness/racing focused
Cons
We'd like to see a double chamber pump included
The main reason the Ketos was left out of our main list is because we think this board would fit more into the racing/fitness category than a more casual touring board. However, we were undeniably stoked about this SUP. It is an absolute rocket on the water at 14' long, 28" wide, and just 22 lbs. Stability does tend to go by the wayside with a board this narrow and tapered, especially when it utilizes a single fin set-up, but the Ketos has a reasonably high weight capacity of 300 lbs and was surprisingly manageable when it came to balancing.
We were impressed with the features on the Ketos as well. It has front and rear cargo areas, as well as a sturdy center handle. I would normally like to see nose and tail handles on a 14' SUP but because Sea Gods was able to keep the Ketos a light 22 lbs, the center handle does just fine. The Ketos also has two D-ring integrated action mounts at the front of the board to help you get the best angle if you're documenting your SUP adventures. Our favorite feature on the Ketos is a beautifully designed diamond grooved deck-pad. We don't normally talk about aesthetics here at SupBoardGuide, but it's worth noting that Sea Gods locally sources all of the art seen on their boards and we love it when companies put in the extra effort to support their community. Our one suggestion for the Ketos would be to add a raised stomp-pad to make step-back turns a bit easier.
As with the Carta Marina that we discussed above, we have very few complaints when it comes to the Ketos paddle kit. With this board you receive a 3-piece carbon paddle, single chamber double action pump, US fin-box with Kumano system center fin, 11' coiled leash, repair kit, and durable roller backpack. Of course, we'd love to see a double chamber pump for a 14' board.
If you couldn't tell already, I am a huge fan of the Ketos. This board would be great for someone willing to give their balance a small challenge in exchange for speed and performance.
---
Hala Carbon Nass-T 14×28 Inflatable Touring SUP (See Full Review)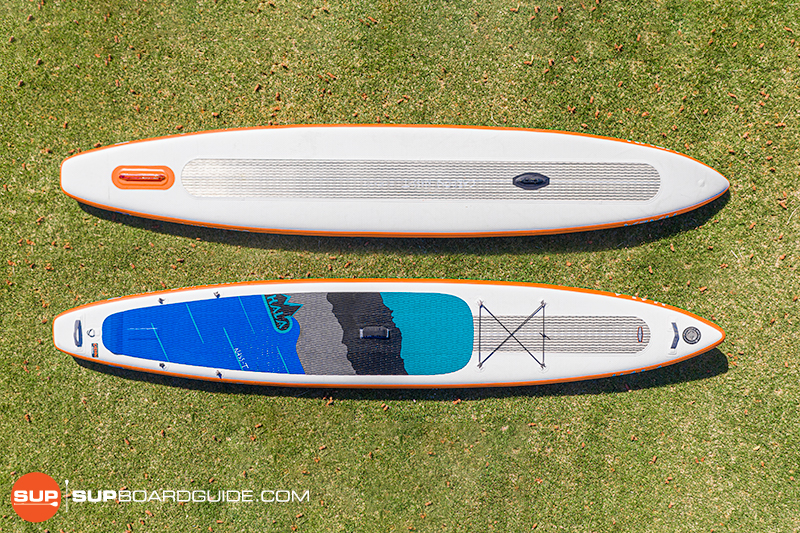 Pros
Fast, performance focused iSUP
Raised stomp pad
Included carbon paddle
4.5" tracking fin included for added tracking capability
Integrated carbon stringer adds rigidity
Cons
4.5" central tracking makes it hard to casually turn this board (this is a non-issue if you can do a stepback turn)
Heavier board at 27.5 lbs
Like the Ketos, the Hala Carbon Nass-T does not get a slot on our main list because we'd argue that it would classify more in the racing category than in the casual touring category that our list focuses on. At 14' long, 28" wide, with an incorporated 4.5" central tracking fin, this board had us flying through the water and effortlessly keeping a straight path. My only complaint is that the Nass-T leans on the heavier side of the spectrum for iSUPs at 27.5 lbs.
Although the Nass-T does sport a bit cleaner of a look, there are still several features that had us loving this board. There are 3 carry handles on the nose, tail, and center, making carrying this board around much more manageable. I also love the 10 soft rigging points located towards the rear of the Nass-T that give you the option to attach another cargo area or bring along more gear. What truly stands out on this board is the 4.5" center tracking fin. If your paddle technique is already honed in, this little fin can give you a little 'oomph' when it comes to holding a straight path on the water. A downside to the center tracking fin is that it makes it a bit more difficult to turn this board without making a step-back turn to lift the nose out of the water. Hala mitigated this by adding a raised kick-pad to make step-back turns way less challenging.
Hala recently upgraded this kit by including a 3-piece carbon paddle, though we have yet to try it out. It is still a lighter kit, but does supply the necessities to get started, including a coiled leash, single chamber pump, center fin, 4.5" tracking fin, and a roller backpack. Each of these accessories is good quality, though I would appreciate an extra zipper compartment on the backpack.
The Hala Carbon Nass-T is a high quality, performance focused board. This would be a great choice for a paddler that is focused on fitness paddling or even training to get into SUP racing.
Best Hard Touring SUPs
We understand that inflatable paddle boards are not everyone's cup of tea and for some environments, they just aren't the most practical. Below we'll go through a few of our favorite hard touring SUPs.
BOTE Traveller
Starboard Waterline Carbon
Pau Hana 12' Endurance VFT
1. BOTE Traveller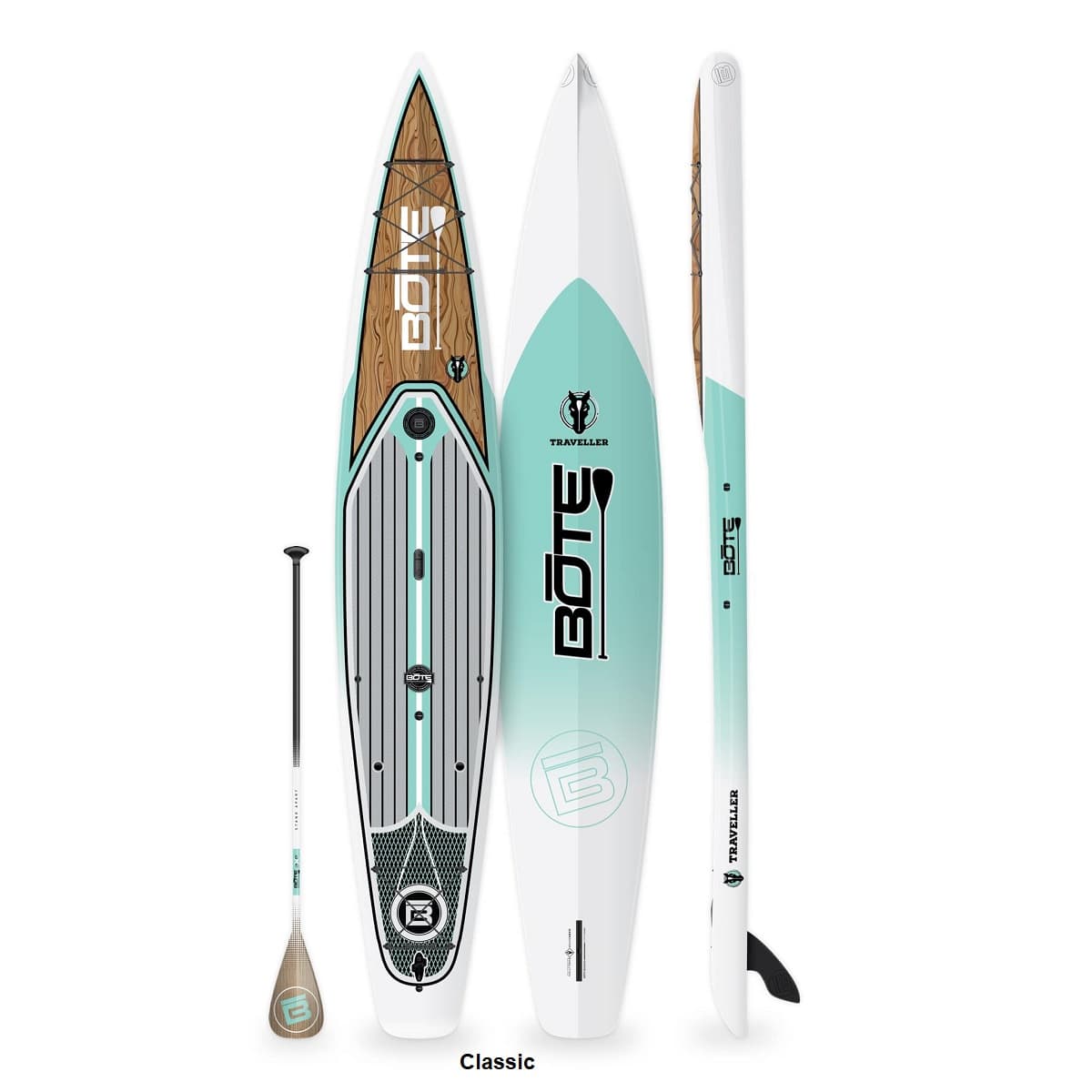 Pros
Tons of features to make for a versatile touring board
Displacement hull slices through flat water
Tracking fin enables this board to keep a steady path without much effort
Customizable US fin box
Slightly recessed standing area lowers center of gravity and helps with balance
Cons
Narrow board + displacement hull can make for a stability challenge for beginners
Heavier board
The BOTE Traveller comes in as 12'6 and 14' option. Heavier or taller paddlers would probably enjoy the 14' option for some added stability as its 29.5" wide, while smaller or more advanced paddlers would likely enjoy the 28" width on the 12'6. Either option will be quick in the water due to its displacement hull and single fin set-up. The long touring fin will also help the Traveller keep straight on its path as you paddle. Though on the thinner side, you do still have some room to bring along gear with the Traveller's 315 lb weight capacity. The only downside of both the 14' and 12'6 Traveller is that they are moderately heavy at 42 lbs for the 14' and 34 lbs for the 12'6.
The variety of features is what made the Traveller stand out to take the top spot on our list of best hard touring SUPs. Both Traveller sizes have a front and rear cargo area as well as a series of mounts that are compatible with kayak seats, BOTE's fishing 'RAC' system, and cooler tie-down straps. There's also a paddle sheath at the nose of this board to allow you to quickly stow your paddle if you're fishing, swimming, or just simply don't want to hold it. The BOTE Magnepod 'cup-holder' that keeps your drink still as long as it's in BOTE's 'magnepod' compatible cup is a nice touch as well. The slightly recessed deck pad makes balancing a narrower displacement hull board a bit less challenging, while the grooved deck pad keeps you comfortable for the whole ride.
Hard SUPs will typically have a less involved kit than inflatables, simply because they don't need a lot of extra parts like pumps and backpacks. With this board you'll receive a 2-piece paddle and a 10' removable center-fin. I know at first glance it seems like a light list, but many hard SUPs won't even include a paddle, so I'm pretty satisfied that BOTE gives you everything you need right out of the box.
The BOTE Traveller hard SUP would be a great option for paddlers looking to tour for long hours in flat-water conditions. The displacement hull will make this board slice through the water, while it'd width will help it effortlessly pick up speed
2. StarBoard Waterline Carbon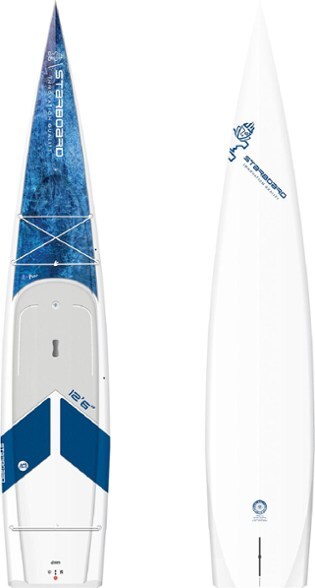 Pros
Narrow width + displacement hull + square tail makes this board super fast
Recessed standing area helps with balance
Wide single center fin maintains a straight path
Still space for gear even though it's more of a racing SUP
The StarBoard Waterline Carbon also comes in a 12'6 and 14' option. Both are the same width, so I'd expect the 14' Waterline to be a bit more stable than the 12'6 due to it's added length but without paddling that board, I can't say with certainty. Regardless, 28" is still on the narrower end of the spectrum so the Waterline Carbon series would present a bit of a challenge to beginners that don't quite have their balance yet, especially given how tapered the displacement hull is. However, the recessed deck and square tail take some of the edge off when it comes to instability. What this board truly excels in is speed and tracking. There's no better way to describe it than saying this board easily just eats up miles and miles on the water.
The Waterline Carbon is almost broaching the racing board category, so it's not super surprising that it's a bit light in the feature list. However I like that the front cargo area is recessed into the deck pad. This makes it easier to balance and access any gear you've brought with you. I also love the recessed handle as it won't trip you up as you move into a step-back turn. Looking at the bottom of the board, the included fin is a large tracking fin that will keep this board heading straight in the water. The US fin-box allows for some customization as well, if you want to experiment with longer or shorter fins depending on your environment and conditions.
Unsurprisingly, this racing/fitness geared SUP comes with no added accessories. Though we'd love to see an included paddle, Starboard gives you the ability to find a well-suited paddle to pair with this SUP.
As I've said, the Starboard Waterline Carbon is ideal for more advanced or confident beginner paddlers looking to get their feet wet in the racing/fitness world.
---
3. Pau Hana 12' Endurance VFT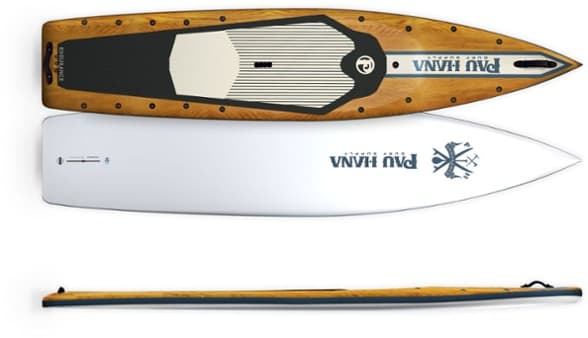 Pros
Shortest of the hard SUPs on this list = easier to store and maneuver
30" width makes it more stable than the others
Displacement hull adds speed in flatter conditions
Multiple rigging points to attach bungees or action mounts if you choose to
Recessed handle won't get in the way if you move your feet around
The 12' Pau Hana Endurance VFT is one of the shorter and wider boards out of our hard SUPs list at 30" wide. Given that information, The Endurance VFT will be slightly more stable and maneuverable than the previous two boards. That's not to say it won't still be fast, as I'd expect the displacement hull and single-fin set-up to help this board glide through the water with ease. The reason it's towards the bottom of this list is because it's somewhat lacking in features and is a heavier 34lbs.
Features wise, the Endurance VFT has a ton of rigging points to give you the option to set up bungee cargo areas, though none are set-up prior. It does have a nose, tail, and center grab handle to make moving this heavier board pretty easy. The grooved portion of the deck pad should keep your feet comfortable and dry, while the diamond pattern tail section will add some traction during a step-back turn. Usually, we'd love to see action mounts or extra D-rings for kayak compatibility, but the Pau Hana would be a great option for someone who likes a less cluttered deck but doesn't want to entirely give up the ability to bring gear.
Like the Starboard Waterline Carbon, the Pau Hana 12' Endurance VFT does not come with any included accessories. Again, this is typical of hard SUPs, especially ones that are almost in the racing category
The Pau Hana 12' Endurance VFT would be ideal for a more entry level fitness or racing focused paddler, as it still has plenty of speed but a bit more stability than a true racing SUP.
---
What Makes a Great Touring Stand Up Paddle Board (SUP)?
The short answer to this question is that a great touring SUP is one that allows you to put in a lot of miles and a lot of hours on the water with less effort than an all-around would require. As simple as that seems, there is some nuance to this depending on water conditions, paddler skills and preferences.
To get in this nuance let's first talk about nose shape. Many touring SUPs will feature a displacement hull. The definition of a displacement hull gets kind of clouded in the industry due to marketing efforts, but what characterizes a true displacement hull is that it's pointed shape slices through the water (thereby 'displacing' it onto either side of the SUP) much like the bow of a boat does. This type of hull does great in flat-water conditions as it minimizes friction on the board and allows you to go faster, but it struggles in choppy or 'bumpy' water as it hits each bump head-on instead of gliding over. If you'll need to be able to glide over bumps and chop, you'll want a touring board with a planing hull, A planing hull is typically easy to spot because most have a slight rocker to push the nose upwards out of the water.
In short, a touring board with the displacement hull might be great for a paddler that's frequently in lakes, bays, or overall flat-water, but it would be less than ideal for a paddler that's frequently in bumpy or choppy waters. The same applies in the opposite direction; a flat-water paddler would find a planing hull touring board to create more friction on the water and not be as efficient as a SUP with a displacement hull.
When it comes to paddler skills, what I'm generally referring to is the paddler's balance. Touring boards tend to be on the thinner side, which means a bit less stability than a beginner level all-around. However, there are plenty of touring board options on this list that are on the wider end of the touring spectrum and will provide more stability, but won't be as fast as their thinner counterparts. So, while a wider touring SUP would make a great board for a more beginner level paddler, it would likely be too slow for a more advanced paddler looking for performance. Likewise, a beginner paddler would probably not enjoy a board that is too thin for them to stand comfortably, while an advanced paddler would appreciate the extra speed.
At this point, you're probably noticing a theme here; the answer to what makes a great touring SUP is less objective than it seems. It truly comes down to paddler preferences, especially when considering features such as D-rings, extra handles, action mounts, etc. Some paddlers love the ability to stow gear along for the ride and will love a board that's got plenty of d-rings, and bungee areas, while others would prefer to forgo all the extras for more standing room. Some prefer a smother, more cushy deck pad, while others like a traction focused deeply grooved variation.
What I'm really trying to make clear here is that what makes a great touring board is really dependent on you as a paddler. My best advice for matching yourself to a great board would be to start by analyzing your most frequent water condition to determine what nose shape you'll look for. Then assess your balance skills to give yourself a width range. Once you have the shape of the board you need, start evaluating features that best fit your lifestyle.
Touring SUP Buying Guide
Although we are more than confident that all of the boards listed above will fit a wide variety of paddler needs and preferences, we understand that there are circumstances that will lead you to a board that we have not yet reviewed. Whether it be an opportunity to purchase a used board for a great price or a board from a local shaper and surf shop, we want you to feel informed on your purchase to make the best decision possible and improve your SUP experience.
Below we'll list some key factors to consider before swiping your card and loading a new SUP into (or onto) the car.
Stability
Despite touring boards being generally less stable than all-around board options, stability is still the most important factor when finding the right board for you. Sure, a thinner board will go faster in the water, but falling in every few strokes will undoubtedly slow you down. I'm not saying not to push your limits when it comes to balancing a narrower board, but don't push to the point that paddling is no longer enjoyable or feasible.
Speed
If you want a touring SUP that will help you leave all your friends in the dust, you'll want to look at thinner boards. Another thing to consider here is nose shape, as you'll be faster with a displacement hull in flat-water conditions, and a planing hull in choppy or bumpy conditions.

As a side note: speed kind of goes hand in hand with 'glide', which refers to how much distance is covered with one paddle stroke (a board that covers more distance on one stroke will be faster in the water). A major contributor to how well/or not well the board 'glides' is friction due to the amount of the board's surface area that is in contact with the water (also called wetted surface). In theory, the less 'wetted surface' a board has, the less friction, and thus more glide/speed. This is why thinner boards are typically faster.

Tracking
Tracking refers to how well the board keeps a straight path in the water without the paddler switching sides. A good touring board will keep straight in the water without having to switch sides as frequently. Part of this is because constantly switching sides gets pretty tiring after hours on the water. It also slows you down by causing your board to lose some of its momentum, which plays into our speed conversation above.
Durability
Touring boards typically come with a bit higher of a price tag than a leisurely all-around SUP. Because it can be a considerable investment, you'll want to ensure that your SUP is durable enough to last through day to day use. Inflatable SUPs are more durable compared to hard SUPs, when it comes to being dropped or bumped into hard surfaces. However, minor damage to a hard SUP is usually easy to fix with some epoxy resin and fiberglass patches. A hard SUP is also less susceptible than inflatable SUPs to issues such as shape warping and sun damage.

In general, you'll want an inflatable SUP that is constructed with dual or triple PVC layers for added durability or a hard SUP that is built with an inner foam core, a fiberglas wrap and resin seal.

Features
As we touched on at the beginning of this post, features really depend on personal preference. If you like to load a lot of gear, look for a board with D-rings and cargo areas, consider what kind of deck pad you like, or if you want to utilize action mounts for cup holders or camera set-ups.
Maneuverability
I put maneuverability last as a consideration on our touring SUP buying guide because these SUPs are built to go in a straight line fast. They're generally longer and thinner than an all-around board and are therefore slightly more challenging to turn, but by no means impossible. If maneuverability is still important to you on a touring board, go for the shorter options or keep an eye out for a raised kick pad that will help with step-back turns.
Inflatable Touring Board or Hard Touring Board?
One of the more frequent questions that we receive is how to decide between an inflatable paddleboard (iSUP) and a hard SUP. There's a great selection of boards on the market in both categories that could suit anyone's needs and preferences. However there are some major differences that may make one or the other a better option for you.
Benefits of an Inflatable Touring Board
Weight capacity/Stability
Inflatable SUPs generally have a higher weight capacity, and therefore more stability, than similarly sized hard boards.
Durability
iSUPs hold up better against drops, scrapes, and crashes than hardboards do.
Weight
Inflatable boards typically weigh less than similarly sized hardboards. However, as you get into more durable/rigid dual and triple layer boards, the weight difference is less significant.
Cost
iSUPs are usually less expensive than similarly sized hard boards and are easier to ship.
Easier Storage/Transport
One of the best parts of iSUPs is that they can be deflated, rolled up and packed away into a bag to fit in the trunk of a small car or be stored in a closet.
Benefits of a Hard Touring Board
Hull Options
Hard SUPs have the ability to have a true displacement hull that cuts through the water instead of gliding over top like most iSUPs.
Tracking
Hard boards sit lower in the water and have greater tracking capabilities than iSUPs.
Speed
Due to their tracking capabilities and ability to cut through the water, hard SUPs are usually faster than inflatables.
Ease of Repair
Although hard SUPs don't hold up as well to drops, scrapes, and crashes as iSUPs, they're much easier to repair either by yourself or at a local shop. Damage to an iSUPs usually means sending it out for repair or a totaled board.
No Extra Parts
Hard boards don't require any additional pumps or hoses. You'll be ready to go with just your board and paddle (and life-jacket of course).
Better Performance in Non-ideal Conditions
Hard SUPs handle wind, chop, and waves much better than similarly shaped inflatable paddle boards.
Tips for Making the Most of Your Touring Board
Once you have your touring board you'll notice right away how much faster and straighter it glides through the water, especially if you're transitioning from an entry level or all-around board. While it doesn't take much to have a great time on a quality touring board, we'll set you up with a few tips below to help you have the best experience possible.
Hone in your paddle technique
If you feel as if your touring board is not tracking as well as you expected, it could be an indication that your paddle technique needs improvement. Focus on stacking your arms and shoulders to have your paddle enter the water more vertically, as well as using your core and legs to pull yourself through the water.
Practice step-back turns
As we've said, touring boards are slightly more challenging to turn than a shorter all-around board. One way to mitigate this and still be able to pivot your board quickly is to master a step-back turn. Walk your feet back towards the tail of the board (it's easiest if you keep your paddle submerged while you do this), then place one foot on the tail over top of where the center fin would be. This will lift the nose of your board out of the water and you can use your paddle to quickly pivot your board in any direction.
Prepare for a day on the water
A great touring board gives you the ability to spend your whole day out paddling. As fun as that is, it can quickly turn sour without the right preparations. Apply sunscreen before heading out and be sure to reapply (every 2 hours, or more if you're doing a lot of swimming). Wear comfortable clothes or swimwear and make sure to bring a lifejacket and plenty of water.
Final Thoughts
If you've read this far, I hope you've enjoyed our list of the Best Touring SUPs of 2023! I also hope you've learned some valuable information about how to determine which SUP would be the right match for you and how to make the most out of a great board.
We feel confident that any of the boards discussed above would suit a wide range of water conditions, paddler skills, and lifestyle preferences and have loved paddling each one ourselves. If a touring board seems a bit too specialized for you, check out our list of the Best Inflatable Paddle Boards of 2023 where we go over an array of more all-around options.
As always, practice water safety, have fun, and enjoy paddling!
The following two tabs change content below.
SupBoardGuide
Heyo! At SupBoardGuide.com we are a team who love the water, the outdoors, and are more than grateful that our full-time job allows us to review stand up paddle boards. We paddle year round (it helps that we are just about 2 hours outside of Las Vegas), and we bring in a wide range of paddlers with the goal of providing our readers with the best, most in-depth, and accurate stand up paddle board reviews.
Latest posts by SupBoardGuide (see all)