iRocker All-Around 11' Inflatable SUP
Pros
Paddles really well - perfect board for beginner to intermediate paddlers
High Weight Capacity (435 lbs), great for packing gear or kids
Lightweight, but not too lightweight - board feels solid in the water
Tons of great features (4 action mounts, 21 d-rings, etc.)
Durable triple layer PVC Construction
Lots of color options + great looking board
Cons
Could move the back 2 action mounts more to the side
Not much else - it's a fantastic board that you should strongly consider!
The iRocker All Around 11' inflatable stand up paddle board is one of our favorites to review every year. It was one of the best-selling isups last year, and has once again performed really well in our tests.
Given that iRocker kept the core of this board pretty much the same as last year's model, but spiced it up with some new color options, we expect the 11' All Around from iRocker to be on the top selling and best rates sups for 2023 as well.
Now, for those of you new to the board, the iRocker 11' All Around is an all-around shaped inflatable paddle board that is a great value. You get a lot of board for the money, and it's significantly better than the random branded boards you find on Amazon. If you are looking for a solid all around sup, then stepping up in quality to the iRocker All Around is a great option. It's a great board for anyone who:
Wants a well-built, solid inflatable SUP that's great for beginners and intermediate paddlers alike in a variety of water conditions
Needs a board with high weight capacity (435 lbs)
Wants an all around SUP that also is decent touring across the lake
Would like to paddle with kids and/or additional gear
Wants to load their SUP with all kinds of accessories for a fun day out on the water
We think the iRocker All Around 11' is great for the following water conditions/situations:
Flat water paddling (lakes, bays, marinas, etc.)
Recreational paddling (beginners, just paddling around flat water w/ friends and kids)
Ocean paddling
Surfing in small surf (1-3 ft)
iRocker All Around 11' Review: Overview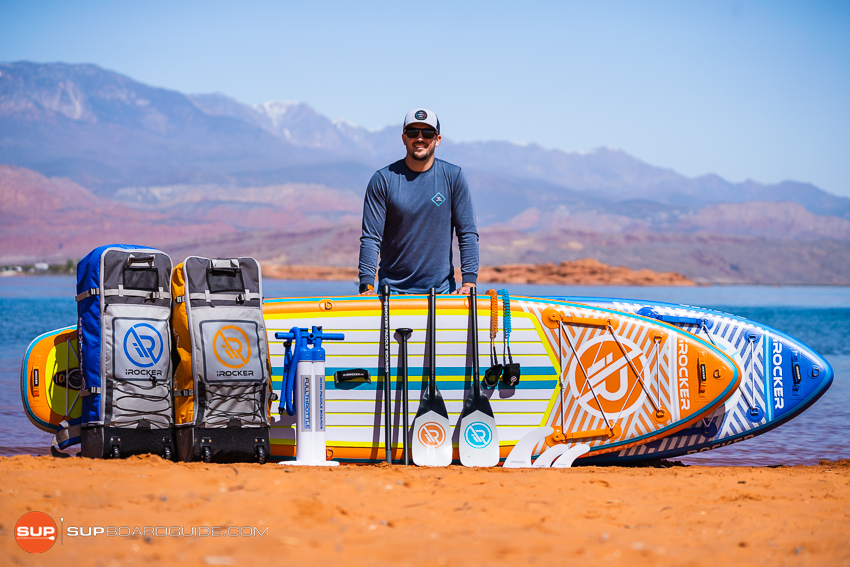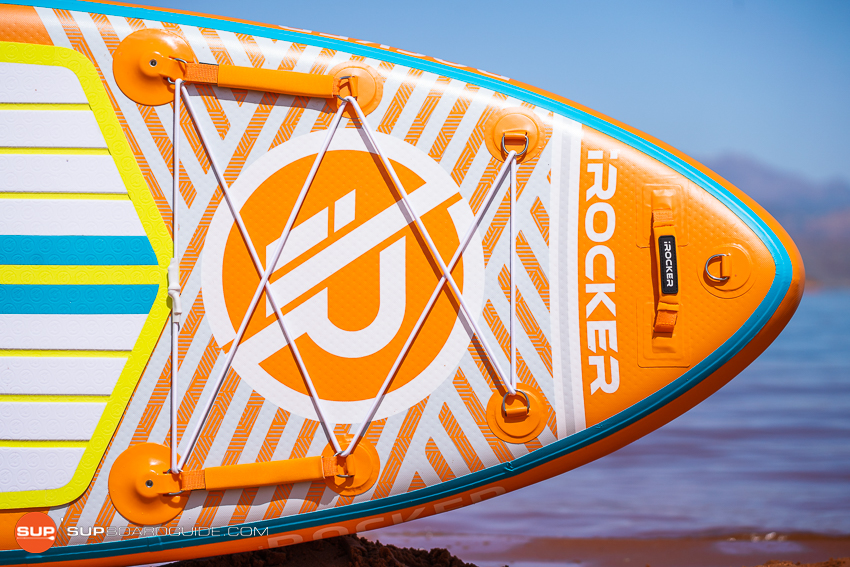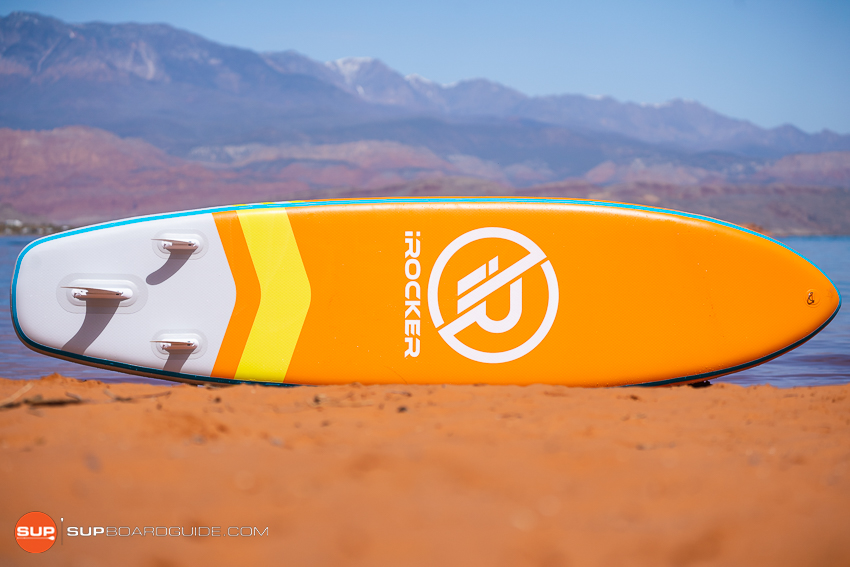 As I mentioned, iRocker kept the core of the 11' All Around intact from the previous year's model. This makes sense given how popular the board was and how well it performed (it was also one of our top rated iSUPs last year too). Another weird quirk this year was once again due to COVID – it's been hard in the iSUP industry to keep up with demand and had iRocker made too many drastic changes I think the quality would have suffered. Most high quality brands haven't done anything too crazy this year, and we think that's a good thing in order to keep quality consistent.
Of course, that doesn't mean iRocker didn't do anything. Notable upgrades include adding wheels to the backpack (we love it), improving the paddle (love it again), and adding several new color options to appeal to more consumers (also love).
Note: We have paddled this board A LOT. We ask all companies who send us board to allow us to keep them so we can test them throughout the year. We hope you can tell, but we don't just write quick spec reviews. This is a real, in-depth review of the iRocker All Around 11'. In fact, we even talked iRocker into sending us 2 All Arounds just so we could see multiple color options (thank you iRocker!!). Bottom line – we spend hours and hours on these boards, and more hours testing them. As such, if you have questions about the board, drop us a line – we'd love to answer your questions and help you out!
iRocker All Around 11': Spec Sheet
| | |
| --- | --- |
| Main Category | All-Around, Inflatable |
| Board Shape | All Around / Inflatable |
| Board Dimensions | 11" x 32" x 6" |
| Listed Board Weight | 26 lbs |
| Listed Max Capacity | 435 lbs |
| Recommended PSI | 15-18 psi |
| Fins | Nylon, triple flip lock, removable |
| Paddle Type | Full carbon matte shaft + Nylon blade |
| Materials | Triple layer composite PVC, high density drop stitch inner core |
| Price Range | Medium |
| Warranty | 2 yrs + 1 yr for accessories |
Official SupBoardGuide.com Test Results: iRocker All Around 11' (2023 model)
Below are the results from our in-depth SUP testing. The goal with these tests is to verify the information manufacturers claim about the stand up paddle board, and also help consumers get a great idea of exactly how the board will perform in the real world.
In-House Measurements:
| | |
| --- | --- |
| Board Shape | All Around / Inflatable |
| Tail Width | 16" |
| Nose Width | 7 1/8" |
| Nose Rocker | 14.4° |
| Weight | 24.6 lbs |
| Tested Capacity: | Coming Soon |
Overall Score: 9.7
As mentioned, we put the iRocker All Around 11' in the 'All-Around' category, meaning it's judged from the standpoint that it should be good at most everything, but we don't expect it to be fantastic at any one thing.
From that standpoint, the All Around 11 performed extremely well in our tests, and once again has earned top honors as one of our best all around SUPs for 2023. Comparing vs the other iRocker's, the All Around 11 is not going to be the fastest (that's the iRocker Sport), or the most stable (Cruiser), or the lightest (10' All Around). However, it's going to be the best in terms of all around performance and is our top recommendation for most people when it comes to iRocker boards.
Stability: 9.5/10

Speed: 8.5/10 (above expectations for an all-around iSUP)

Glide: 8.5/10 (above expectations)

Tracking: 9/10 (slightly above expectations)

Board Stiffness: 9.6/10 (excellent)

Weight Capacity: 9.6/10 (excellent)

Construction Quality: 9.6/10 (excellent)

Accessories: 9.5/10 (excellent)
*Also, please keep in mind that we don't award a 10 very often (if ever). If you see anything with a 9 that is exceptional and beyond our expectations for that kind of board. A 7 is considered to also be above expectations and is a very solid score.
Our overall rating of 9.6 for the iRocker All Around 11 ranks this as one of the top inflatable SUPs for 2023, and is our top board for anything under the $800 price range.
In-Depth Review of the iRocker All Around 11 Inflatable Stand Up Paddle Board
Performance Review: Stability, Speed, Glide, Tracking, and Maneuverability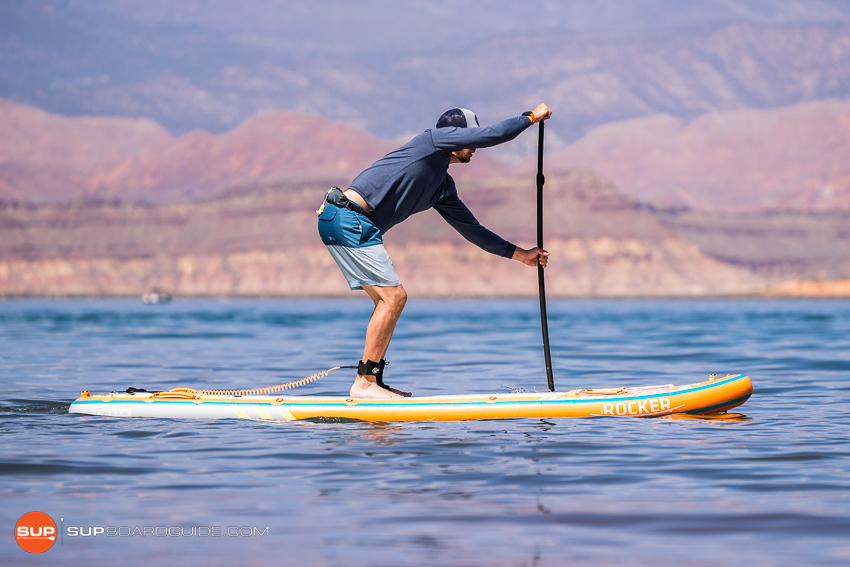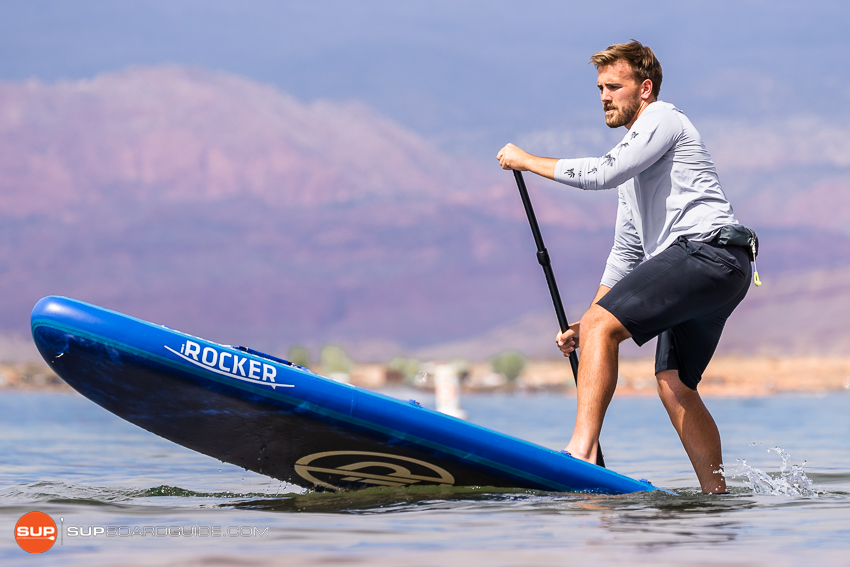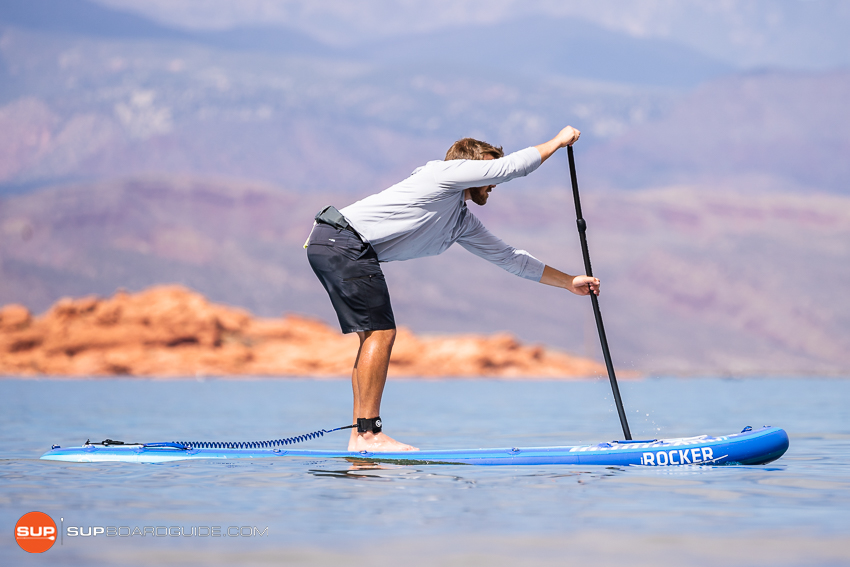 You will see in the results below, the iRocker All Around 11 performs really well for an all around iSUP. Another note I wanted to make before you dive too deep into the review: iRocker recommends the 11' version of the All Around for those 5'7" and up. For those below 5'7", they recommend the 10' version. While we agree that those above 5'7 should get the 11' All Around, we also do recommend this version for those under that height who want to carry extra cargo, kids, or just go a little faster in the water and use the board more on the touring side of things.
Speed Test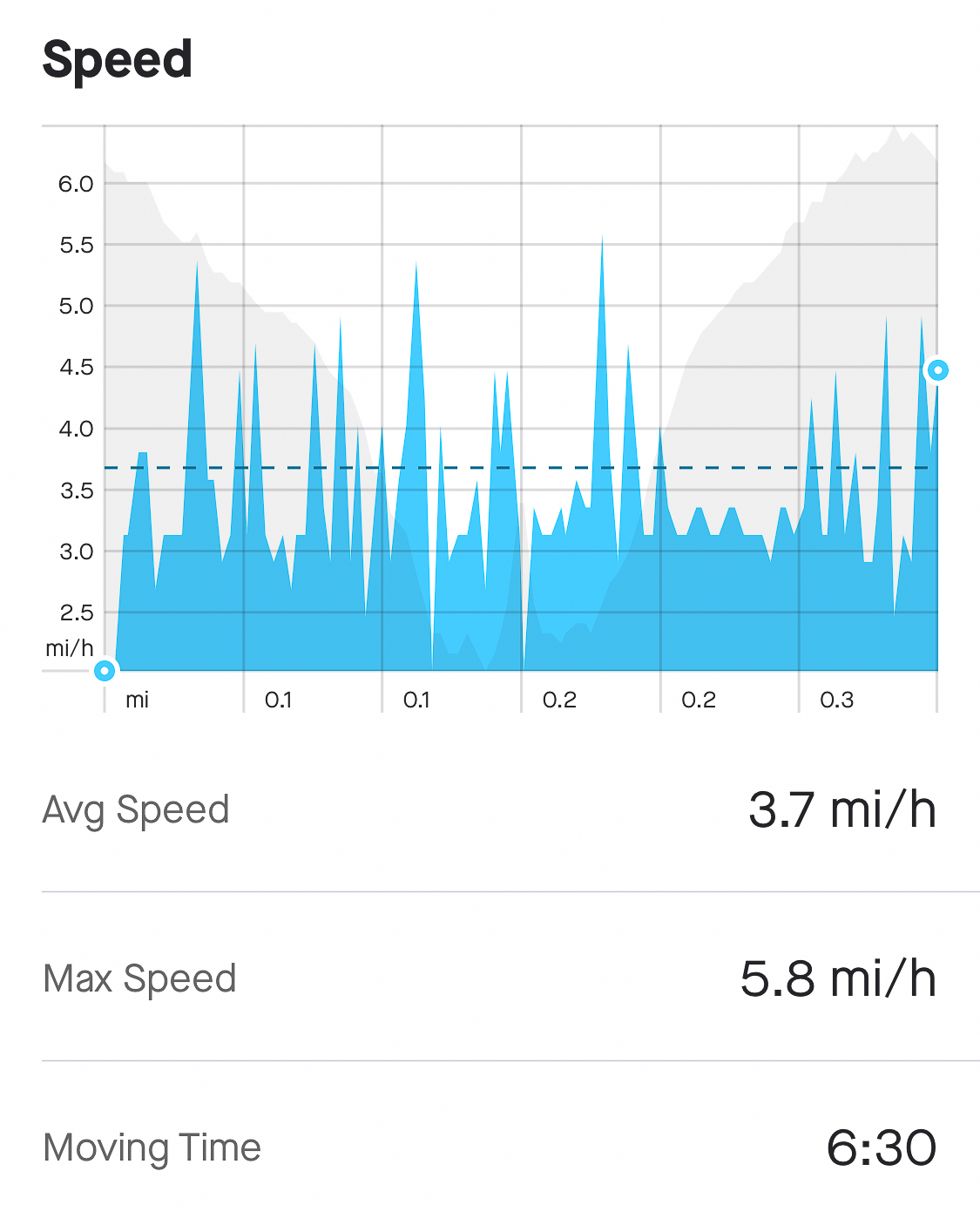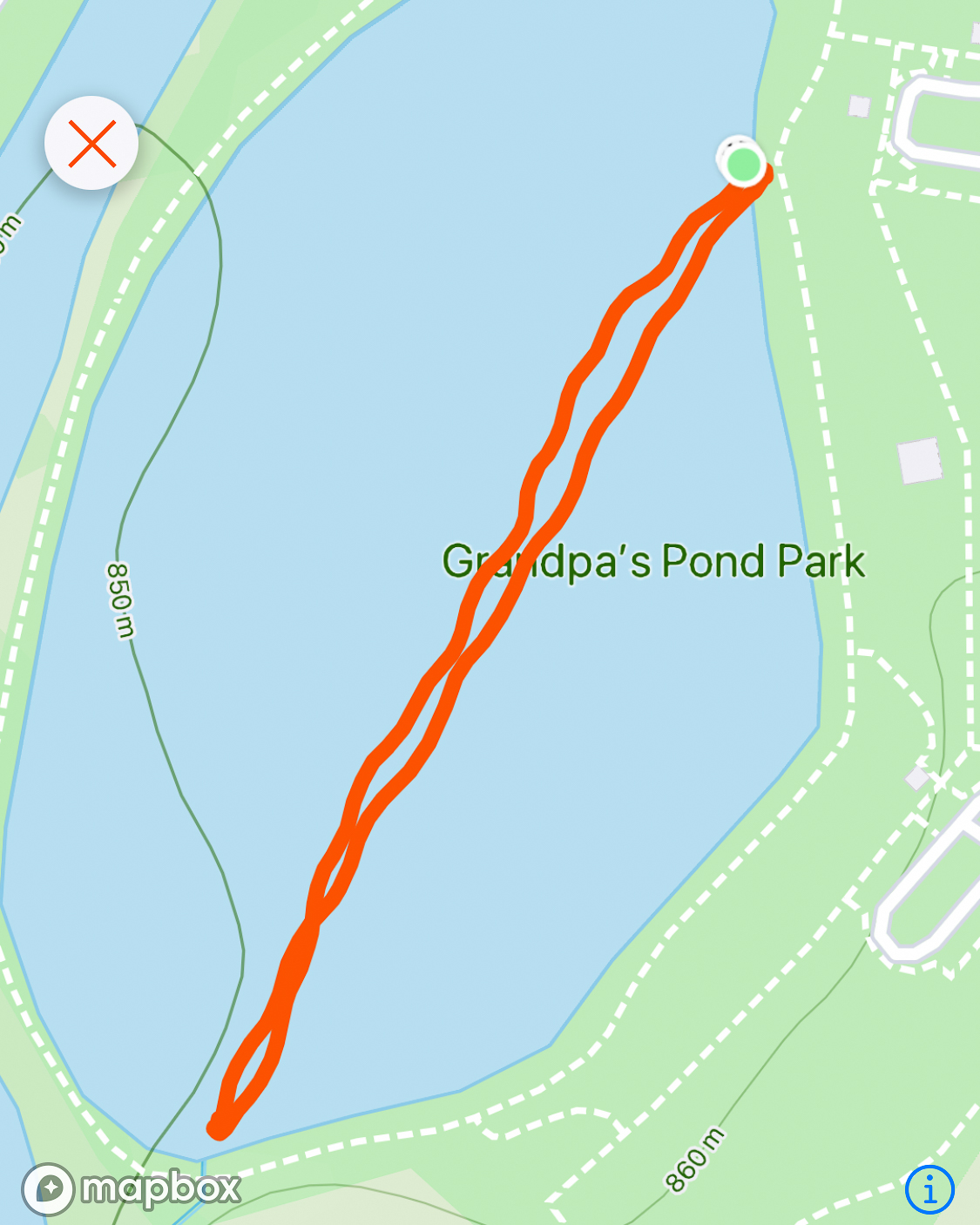 At 11' x 32" x 6", we expected the iRocker All Around 11 to perform better in terms of speed than all the other iRockers, with the exception of the Sport. It's longer than both the Cruiser and 10' All Around, which helps with speed once you get the board going. Compared to the Sport, it's just marginally slower, which we chalk up to the extra weight and being 1" wider.
Basically, in terms of speed, the iRockers rank in the following order:
Sport
11' All Around
10' All Around
Cruiser
Now, when comparing the Blackfin models, we found the 11' All Around to be slightly faster than the Model X and XL, but not as fast as the Model V.
Glide Test
Average Distance Per Stroke:
(results to be posted soon)
Sorry we don't have the glide test results yet, but we'll get that post soon. However, part of glide is also how the board 'feels' in the water and is a combination of the board's dimensions, fin setup, stiffness, and also who is paddling the board.
In terms of how the board feels under our feet, we think the board is exceptional. It glides nicely through the water and performs above our expectations for an all around board, especially in this price range. As with everything iRocker, the board is built very solidly and is a great investment.
Tracking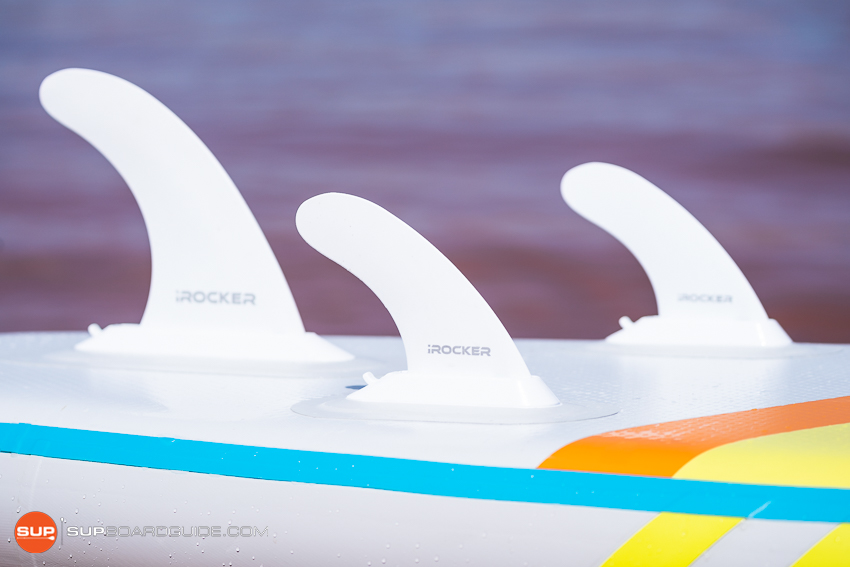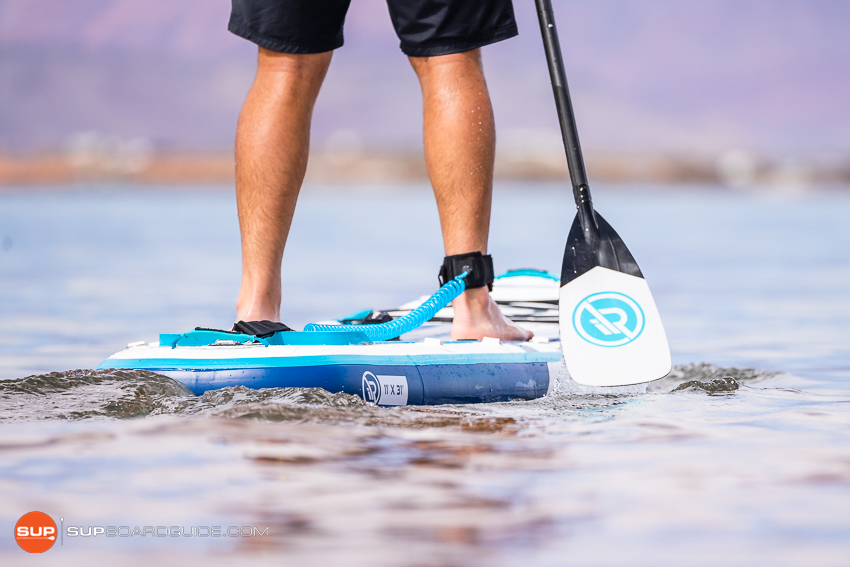 We really like how well this SUP trackes. At 32" wide, it's right on the average width for an inflatable SUP, which makes it fairly easy to maintain a vertical paddling position and proper stroke. Combine that with the triple fin set up and the board does a great job going straight.
Tracking on the 11' All Around is also a little better than the 10' version, even though they are both the same width. This is because of the extra foot you have in length, which improves tracking, speed, and glide in the water.
Side note: As an all around, we like how this SUP comes with the triple fin set up. This isn't quite as fast as a single-fin set up would be, but does provide a little bit more stability (see below) when moving on the water and we think that's a plus.
Maneuverability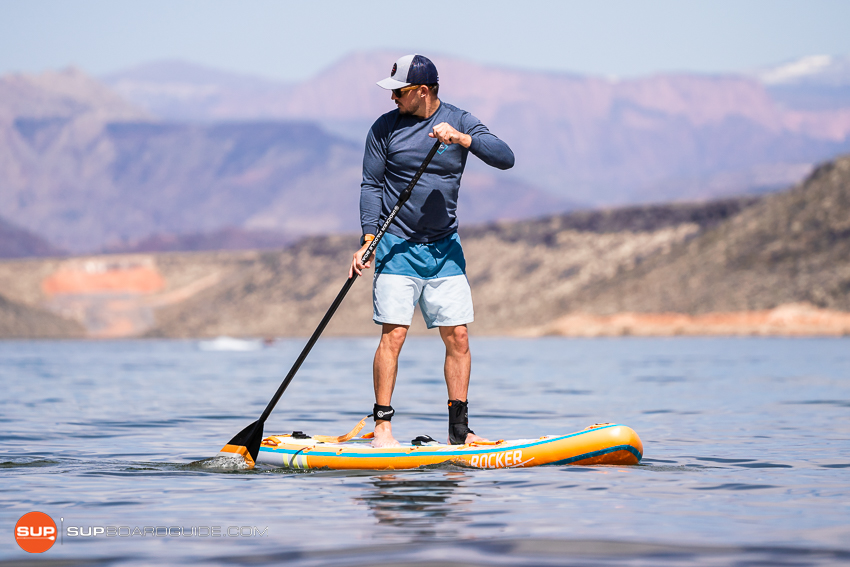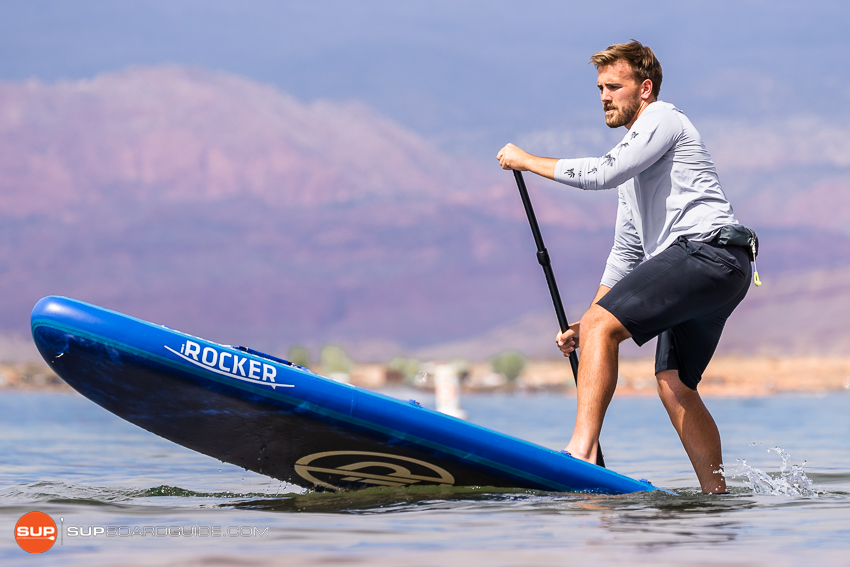 The iRocker All Around 11 is a great board for maneuvering around, although it's not quite as maneuverable as the 10' or Sport versions are. However, we found it very easy to not only maneuver lazily around the lake, but with a 16' tail and just under 26 lbs, it's a great board for step back turns as it's pretty easy to get the nose out of the water.
As such, we think you could easily take the 11' down a light river and move around as needed, even with some fast spots (as long as you know what you're doing). No, it won't be as high performance in the river or quite as durable as the Blackfin Model X or XL, but it will do a decent job.
Board Stiffness
Stiffness Test:
1" Bend (board on top of saw horses placed 7' apart, with 150 lbs of weight added right by handle in middle of the board)
The iRocker lineup does not come with the carbon fiber rails that the Blackfin series gets. The question we get all the time is: how much does this affect performance? While this the first year we've done what we call 'The Bend Test', we are finding that while carbon fiber rails do help, it might only be on the margin. Other factors such as max PSI, board construction quality, width of board, and weight (which indicates how much material was used in construction) come into play as well.
With that being said, the iRocker 11' All Around performed really well on the bend test – and actually tied the Blackfin Model V with 1" of bend. This is a pretty "solid" board for being an inflatable SUP.
Weight Capacity/Stability: 9/10
Listed Weight Capacity:
435 lbs
Tested Capacity:
(coming soon)
We'll talk more about the construction below, but suffice it to say: given the high weight capacity of the 11' All Around we can tell it's made out of quality materials.
The board is listed at being able to carry up to 435 lbs. Stay tuned for our weight capacity test (we are kind of waiting for warmer waters to do this one as we haven't fully embraced the Wim Hof method yet). However, know for now that this is a very high capacity board, and is going to be a great option for those who want to paddle with a child and/or a lot of gear. I've had me and 2 kids on this board. Yes, it slowed the board down, but it supported the weight surprisingly well. I've also paddled with my wife (5'7), and as long as she was sitting down we had no problem (I would not say that this is a great board for 2 adults paddling together while standing up).
From a stability standpoint, this is a fantastic SUP for beginners both big and small. Our tallest, least experience tester is 6'5 and around 240 lbs and he had no problem paddling this board. If you're concerned with stability, this is a great option. The only iRocker with a higher weight capacity would be the Cruiser; however, you do lose a foot of length with the Cruiser so I find that you can actually get a little more people + gear on the All Around 11.
Construction Quality: 9.5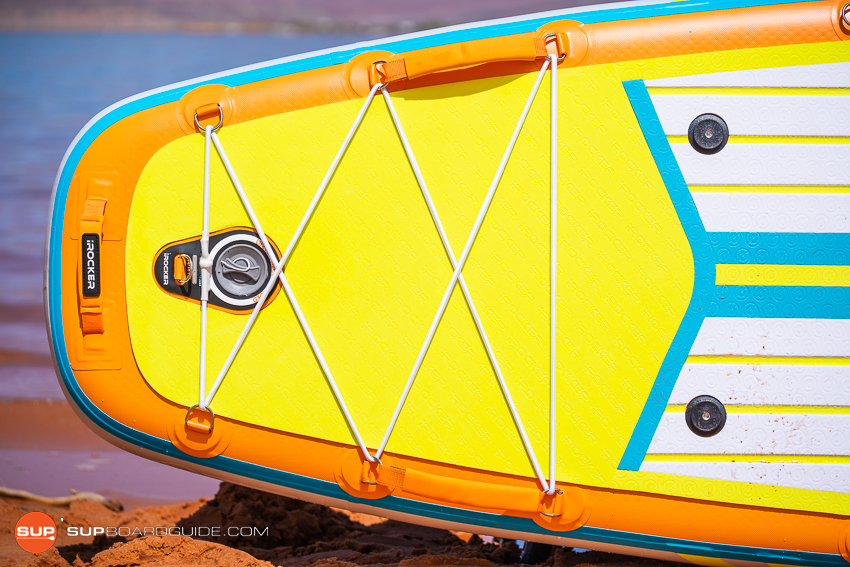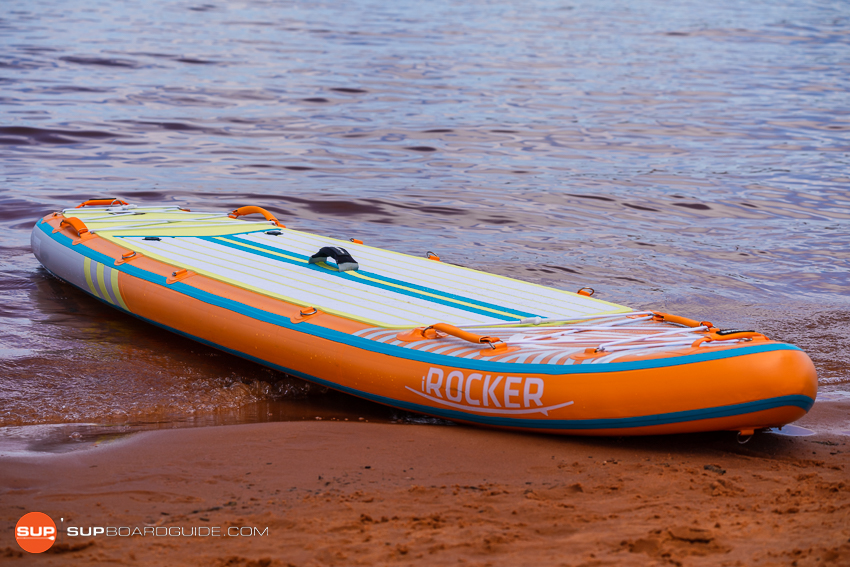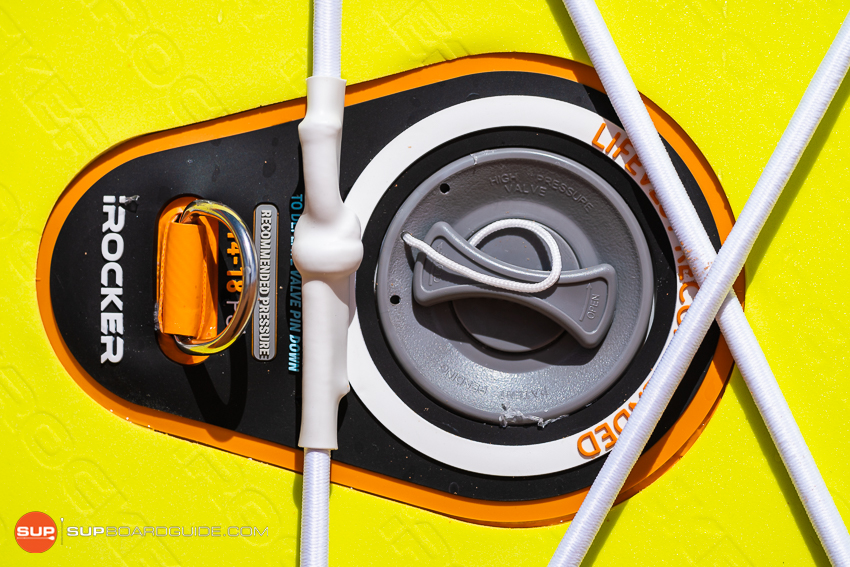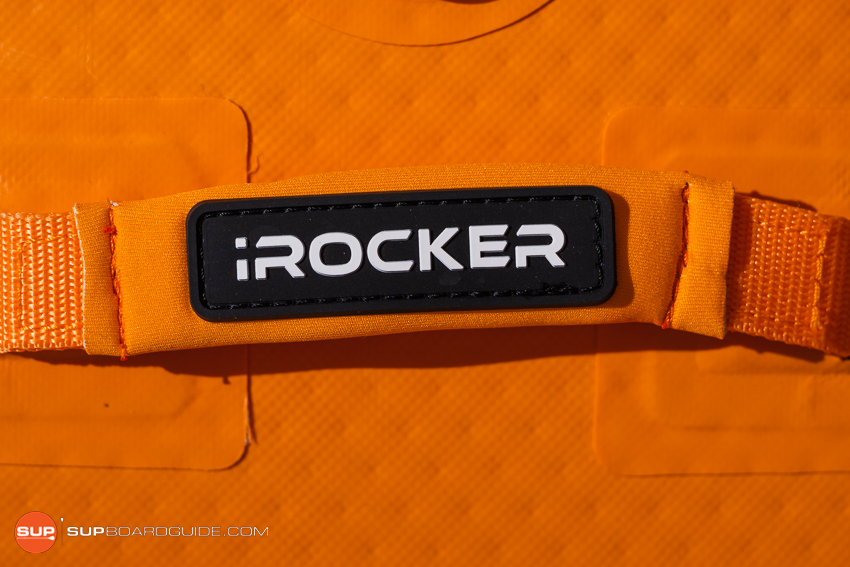 iRocker builds all their 'iRocker' lineup using the same construction materials: triple layer PVC around a drop-stitch core (1000's of high density nylon threads attached to a fabric layer that gives the board its shape).
Important Note: iRocker uses 3 actual layers of PVC on top of the drop stitch core. One layer of solid PVC wraps around the core. A second layer is actually a mesh PVC, then a third full layer of PVC is added to finish things off. This is what makes the board weight right around 25 lbs (the one we received weighed in at 24.6). The board is listed at 26 lbs, and I think iRocker is being conservative with that number and choosing to err on the heavy side of things given the boards measure weight.
The deckpad is a nice, high quality EVA foam that feels right in between soft and hard, with pretty deep lines running from the front to the back. I like the lines as they really help keep water off the deck, and the pad is a nice "medium" on my personal firmness scale (sorry, we don't have a deck firmness test, so this is simply my own personal comparison scale I'm using). It's a deck pad that I can paddle pretty much all day on and not have my feet get sore. And before you laugh at that, sore feet when paddling is a real thing, and until you've spent 8 hrs paddling across Lake Powell with 4 kids you won't quite know what I'm talking about when I say it's important to have a good deck pad (matter of fact, I did that paddle on an iRocker with this same deck pad).
Our only complaint on the deck pad is the placement of 2 of the action mounts (you see them in the above photo). They are located towards the rear of the deck pad, and we wish they would move those and combine them with the side d-rings. They did that one the front 2 action mounts, and it would be nice to clean up the deck pad by moving the back two mounts to the side as well.
The lacking feature of the iRocker lineup is simply the carbon fiber rails that come with the Blackfin line. We'll be doing more testing on that in terms of stiffness, but I do think that the carbon fiber rails are an upgrade when it comes to durability, which is why we do rank the Blackfin line a little higher than the iRockers when it comes to construction quality and durability. However, not having the carbon fiber rails make it easier to roll up the iRocker's.
Accessories: 9.5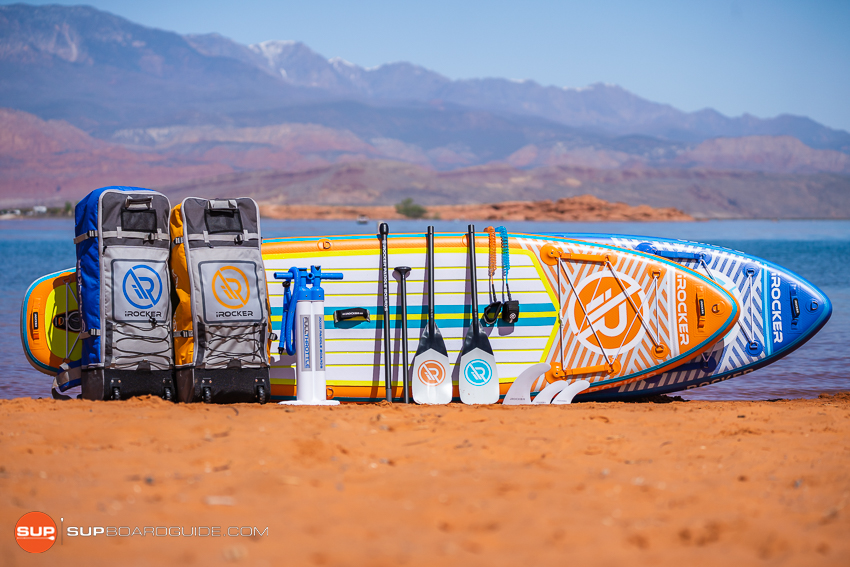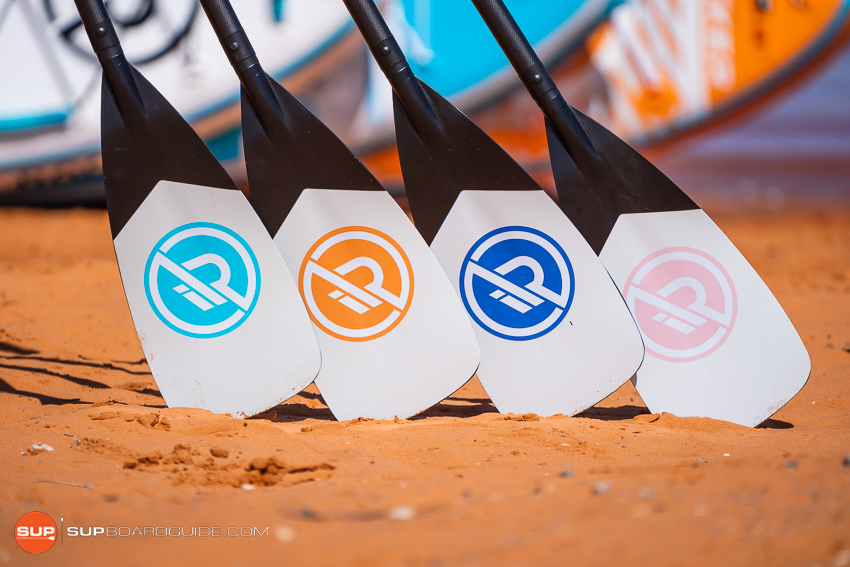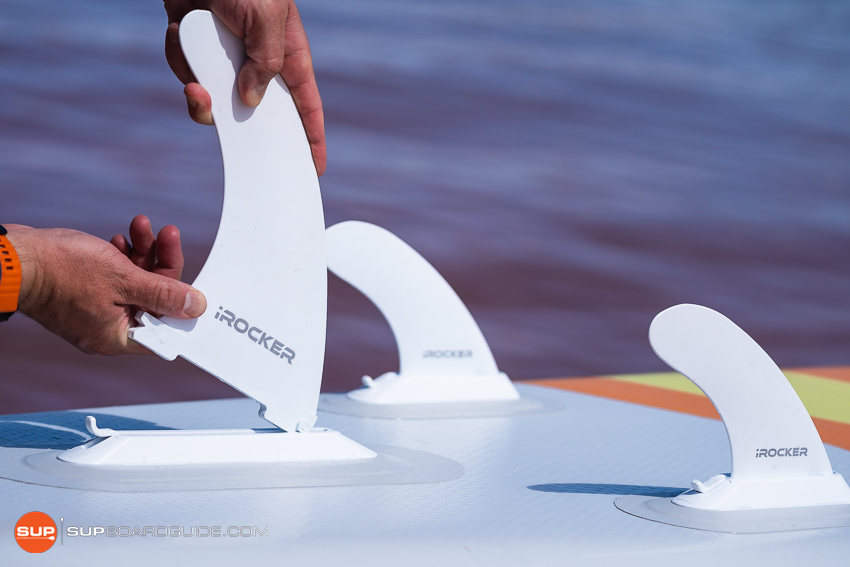 iRocker always shines when it comes to accessories, and to be honest it's hard to tell much of a difference between the iRocker and Blackfin line up when it comes to accessories, with a few key exceptions. The iRocker All Around 11' comes with the following out of the bag (i.e. you don't need to buy anything to get out on the water):
3 piece carbon fiber shaft, nylon blade paddle
Dual chamber, triple action pump
10' lease
Wheeled SUP backpack
Standard SUP repair kit
4 multi-use action mounts (Blackfin's come with 8)
20 d-ring attachments
The iRocker lineup DOES NOT have the following:
Sand spear and fishing rack mounts
In other words, if you are looking for something to fish on, we would highly recommend looking at the Blackfin lineup. However, you can easily fish from the iRocker All Around 11, you'll just need to figure out your own system like you have to on most other SUPs since you can use the fishing rack or sand spear.
Paddle: 8/10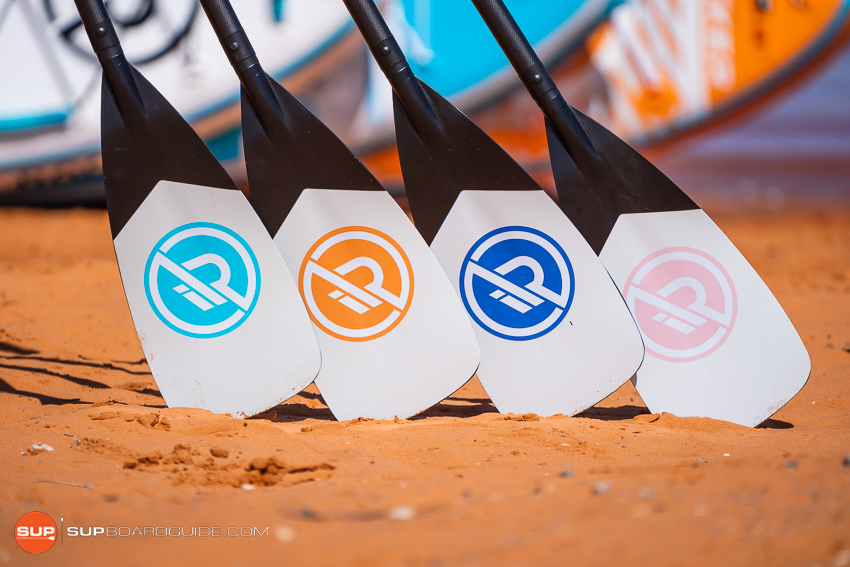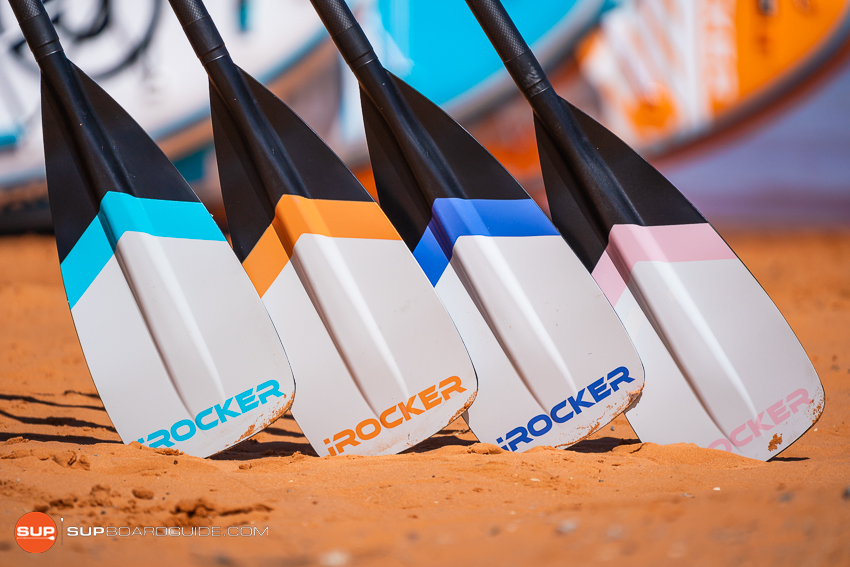 iRocker upgraded their paddle from a fiberglass/carbon fiber blend to a full carbon fiber matte paddle. It's also lighter, weighing in at just 28.5 oz. For a stock paddle in a mid-range priced board, it's a good buy. It's also nice how they match the colors and logos of the paddle with the colors of the board. Just note that the paddle colors do tend to scrape off, so that is one thing we wanted you to be aware of.
Another area we'd like iRocker to improve on would be the locking mechanism on the paddle. It's a simple pin lock, which does a good job. However, we'd love to see iRocker add a clamp lock to keep the paddle even more secure and eliminate all twist when paddling.
Pump: 9/10
While we really do like iRocker's triple action, dual chamber pump, we are going to recommend that you upgrade to iRocker's electric pump if you can. If you can't, you will be able to pump up your board in just about 10 minutes (give or take given you size and fitness level). The included pump is great, but it's not as good as Red Paddle Co's new Titan pump.
However, almost no matter how good the pump is, we would still recommend iRocker's electric pump, as that's our favorite electric pump on the market today, hands down. It's super reliable and can pump up boards up to 20 psi. We don't leave the office without it (or 2 or 3 of them depending on how many boards we take out).
Backpack: 8.9/10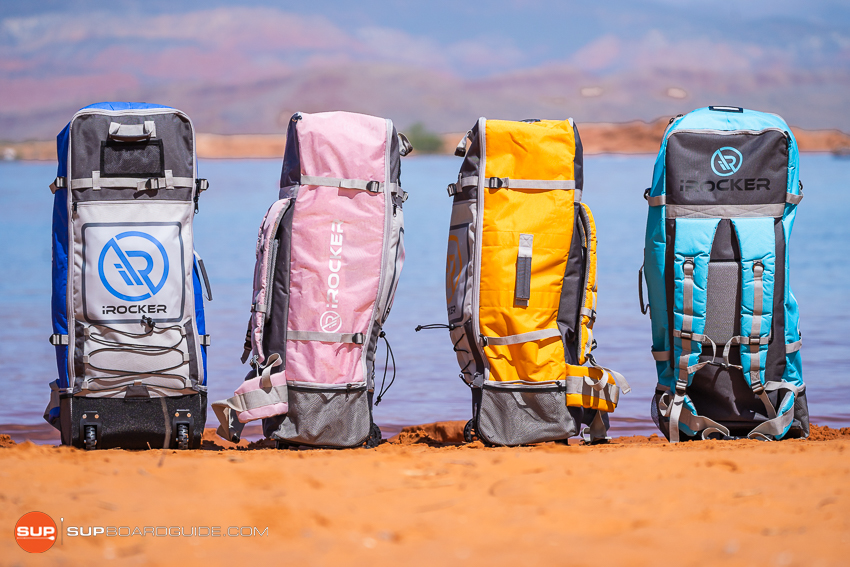 The iRocker backpacks also got an upgrade in 2021, with iRocker adding wheels to the pack. We love that move personally, as the vast majority of our use is from car to lake and having those wheels really makes moving these bags around a lot easier. In total, the iRocker set up (board, bag, accessories, etc.) weighs around 36 lbs. So, not too much to carry by any means, but it's just nice to have the wheels.
The bag also has the following features, which are similar to the Blackfin lineup. The main difference between the two is that the Blackfin is a thicker, better material all the way around and has a larger front pocket that can put the pump, whereas the iRocker front pouch is significantly smaller. I personally think it's iRocker trying to create areas where the Blackfin just feels a little more high end. From a functional standpoint, the iRocker backpack is pretty much just as useful and we don't really have any complaints.
Rolling wheels, placed on the front of the bag so they don't get caught in the wheels and don't dig into your back when hiking.
2 mesh side pouches
2 small zipper side pouches
Small front compartment
Top zipper compartment (fits the iRocker electric pump)
Side and top carry handles
Bungee front straps
Color matching to your board!
Optional Accessories
iRocker offers almost too many accessories to list. With the 20 d-ring attachments and 4 multi-use action mounts, you can do a lot with the iRocker All Around 11'. And don't forget that you have a full 11' of deck space for those accessories!
Some of the more noteworthy accessories you can add onto the Blackfin lineup includes:
Electric Pump
River fin system (shorter, smaller fins for shallow river beds)
Kayak conversion kit (we can't recommend this enough)
Kayak seat cushion (makes the kayak seat way more comfortable – highly recommended if you buy the kayak seat!!)
SUP anchor
Cell phone holder
Cup holder
Vibe waterproof speaker (a fan favorite)
Soft cooler deck bag
Hard cooler (great for sitting on or storing a nice cold beverage, snacks, and more)
Summary Review of the iRocker All Around 11'
We like the iRocker All Around 11', and just like last year's board, it's a paddle board that we like out of the box but somehow end up liking it more and more as the year goes on. I think it's because of how functional the SUP is. You can do just about anything on this board, it's well made, and it's priced pretty fair given all you get.
If you're someone looking for a top-rated, tested, and proven all-around SUP for you, your family, or your kids, this is a great option you should consider!
Happy paddling, and as always if we left out anything in this review of the iRocker 11' All Around, please let us know in the comments below!
The following two tabs change content below.
Justin - Chief Paddler
Heyo! At SupBoardGuide.com we are a team who love the water, the outdoors, and are more than grateful that our full-time job allows us to review stand up paddle boards. We paddle year round (it helps that we are just about 2 hours outside of Las Vegas), and we bring in a wide range of paddlers with the goal of providing our readers with the best, most in-depth, and accurate stand up paddle board reviews.
Latest posts by Justin - Chief Paddler (see all)