Blackfin Model V iSUP Review
Pros
A clean split between a touring SUP and an adventure SUP, this board harnesses a bit of everything: it moves fast, travels far, and can be loaded up with tons of gear, a child, or both!
Action mounts galore. This SUP makes it easy to hook up fishing poles, sand spears, GoPros, selfie sticks, a fishing rack, a kayak seat, coolers, you name it.
Speedy quick! If you're all about speed, you will be all over this SUP. Its long and narrow build makes it the fastest in the Blackfin series.
It is built to move across miles of water without stealing all of your energy. It's 12'6x32'' with a pointed nose so it smoothly cruises across the water.
Rigid and durable thanks to the triple-layer PVC composite, carbon fiber rails, and reinforced seams.
Can carry larger/taller paddlers + their gear! The weight capacity is high at 485 lbs.
Nice looking and colorful. It comes in 2 different color options; a subtle blue/gold and (our favorite) a bright blue/fuschia combination!
Cons
While we love the rear action mounts, we would love even more to see them integrated into the rear handles.
Because this is a long SUP with a lot of room for gear, we think a raised kick pad would improve its maneuvering abilities.
The Blackfin Model V is an excellent touring board for gear-heavy adventures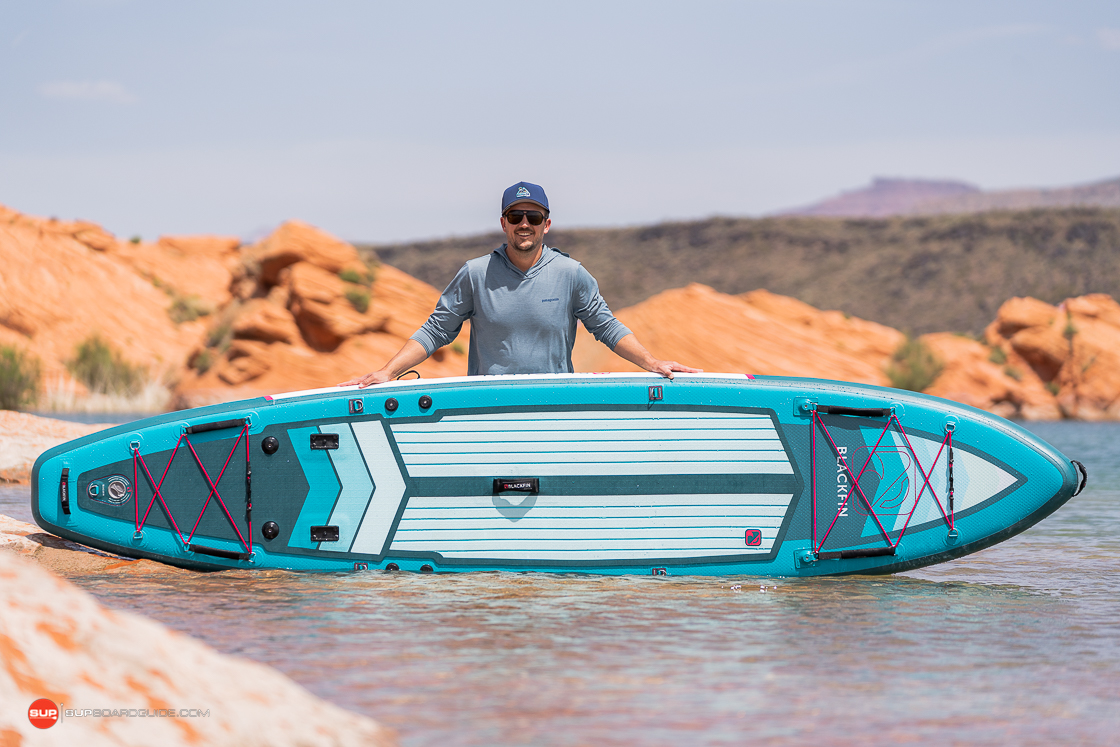 Ah yes, the Blackfin Model V.
This is the one of those boards that will truly amaze you when you find out everything it can do. At first glance, it looks like a vibrant, long and thin board with more action mounts than most other cruising boards tend to have. But with more inspection and comprehensive testing (this is where we come in), you'll find out that while it is quite pretty and sleek, it also has a long list of capabilities in which it excels. It is able to go fast, travel far, hold up a fishing pole or even fishing rack, and support you + a friend (furry or not) all at once if you want it to.
Or, you can use it for different things at different times. If you want to fitness paddle, it's 12'6×32 build makes for a smooth-cruising on the water workout. If you want to adventure, it has a 485 lb weight capacity so it's ready to support a big load of gear or multiple people. Plus, it has plenty of bungee cargo space so if you're thinking about using it on overnight adventures, just make sure you have some dry bags and you're good to go.
But perhaps most importantly, it is stable enough that novice paddlers will easily find their balance, and agile enough that more advanced paddlers won't get bored. It is a SUP that can fit into any family, and it just might be one of our favorites. We're excited to tell you the details about what we found during our testing!
So without further ado, let's dive in.
After thoroughly reviewing the Blackfin Model V, we feel it would be a great SUP for paddlers who:
Are looking for a second board that is faster than their all-around (or the Blackfin X or XL if you already own a Blackfin SUP)
Want a board that is a jack of all trades that excels at many: speed, fitness paddling, recreation, and overnight adventures.
Like to move fast and far when you want, but also like to stop and fish: there are a ton of action mounts ready for you to hook up your fishing pole or even a fishing rack.
Like to load up your SUP! Whether it be with every gadget imaginable, or you want to go for a tandem ride, this board can hold up to 485 lbs.
Enjoy a board that fits your vibe color-wise; you can pick between a more subtle blue/gold color scheme or a bright teal/fushia!
Blackfin Model V: Spec Sheet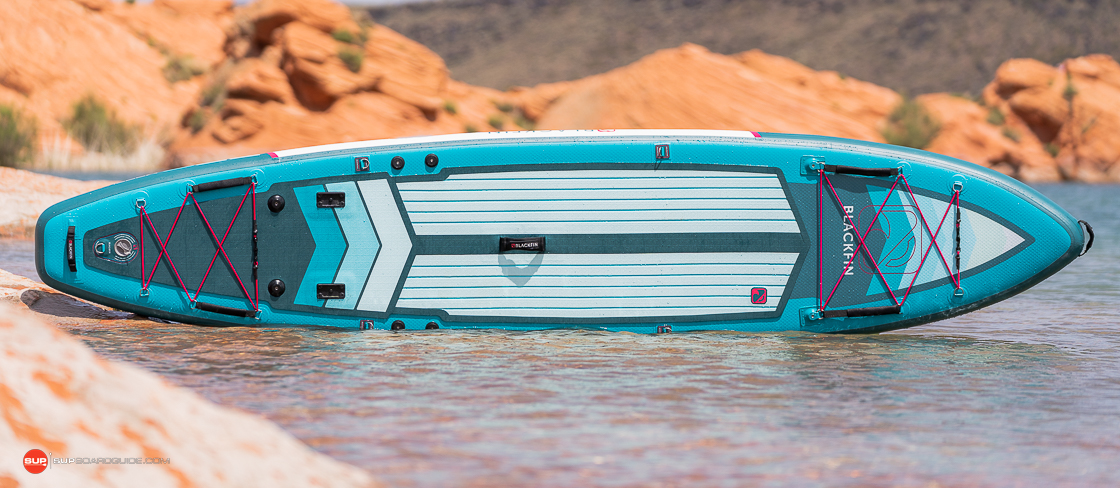 Main Category: Touring/Adventure
Board Dimensions: 12'6'' x 32'' x 6''
Listed Board Weight: 29 lbs
Listed Max Capacity: 485 lbs
Recommended PSI: 14-16
Fins: 2 + 1 click-in fin setup
Paddle: not included
Materials: triple layer composite PVC
Warranty: 2 years general manufacturer

3 years seams
1-year accessories
Performance Review of the Blackfin Model V Stand Up Paddle Board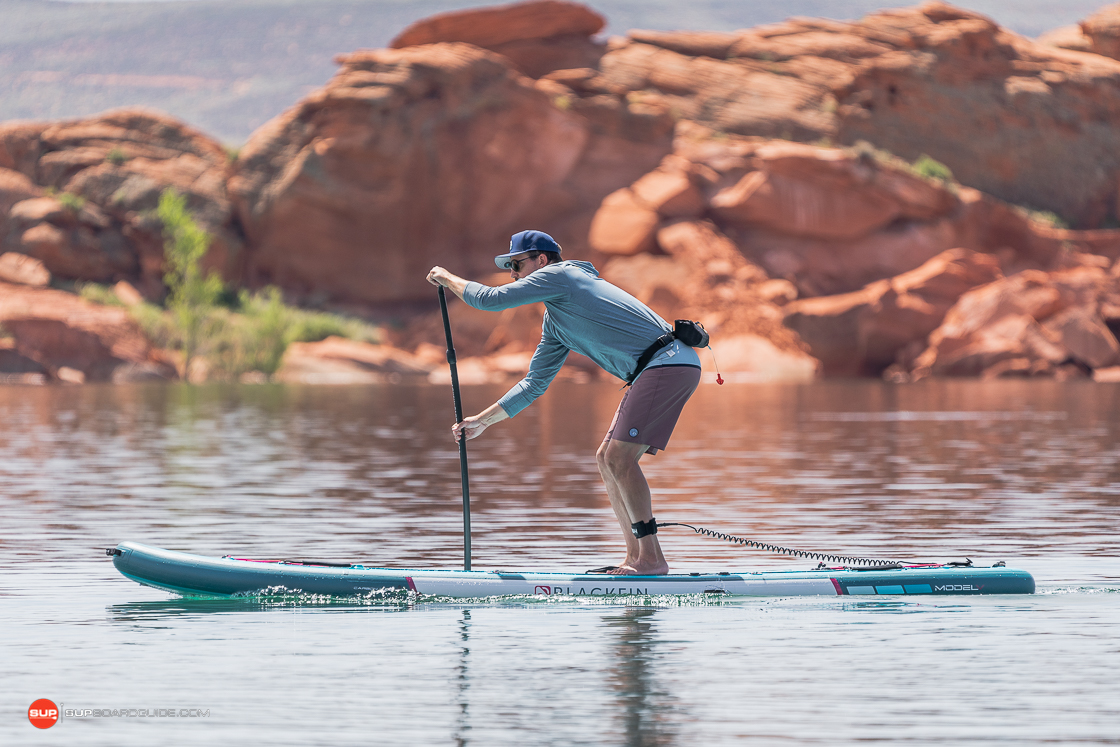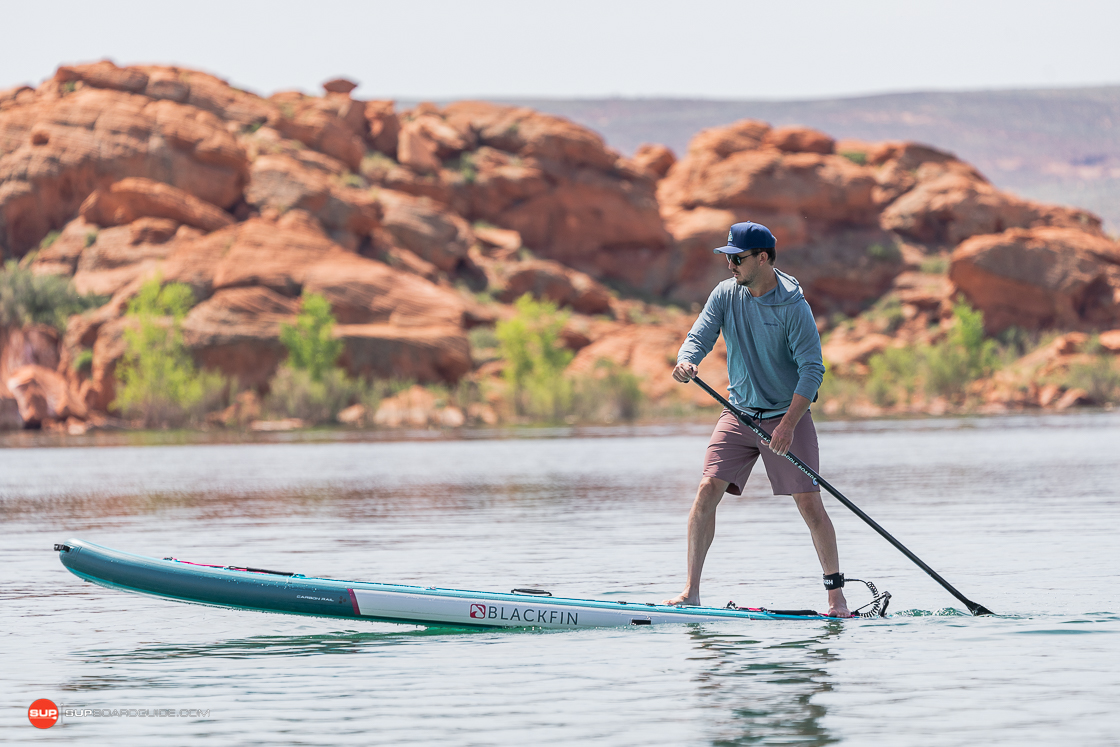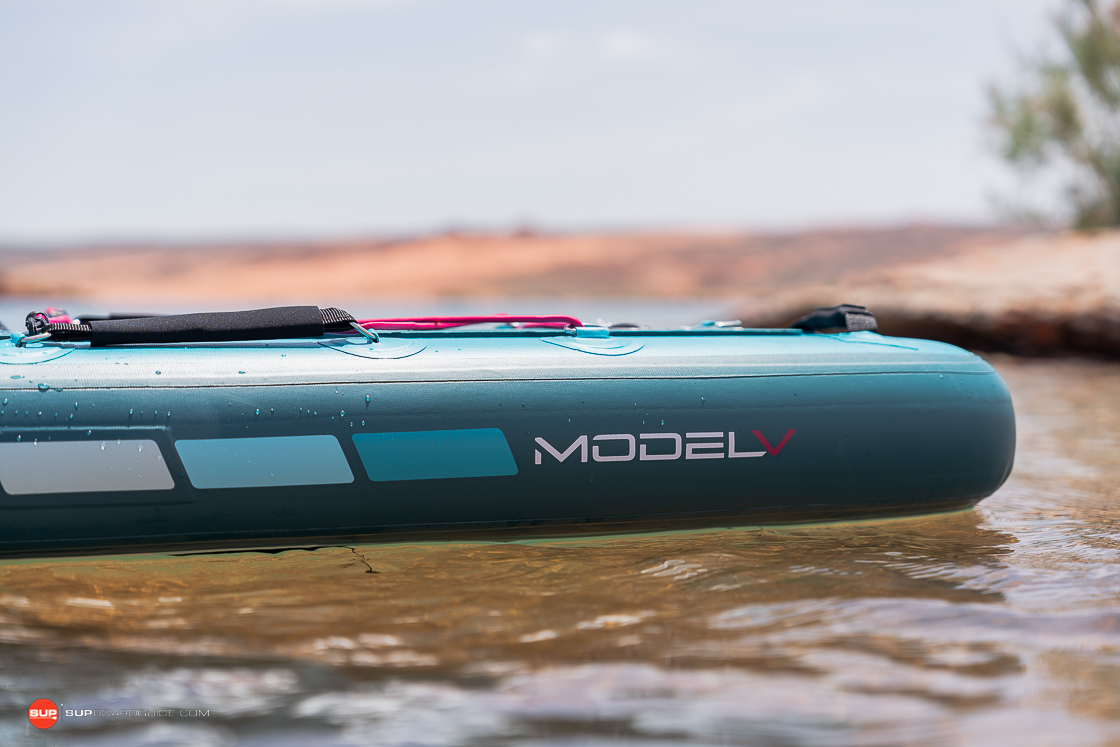 Overall Score: [9.7/10]
Stability: 9.3/10
Speed: 9.3/10
Tracking: 9.3/10
Maneuverability: 8.5/10
Construction Quality: 9.7/10
Features/Accessories: 9.7/10
Stability Rating: [9.3/10]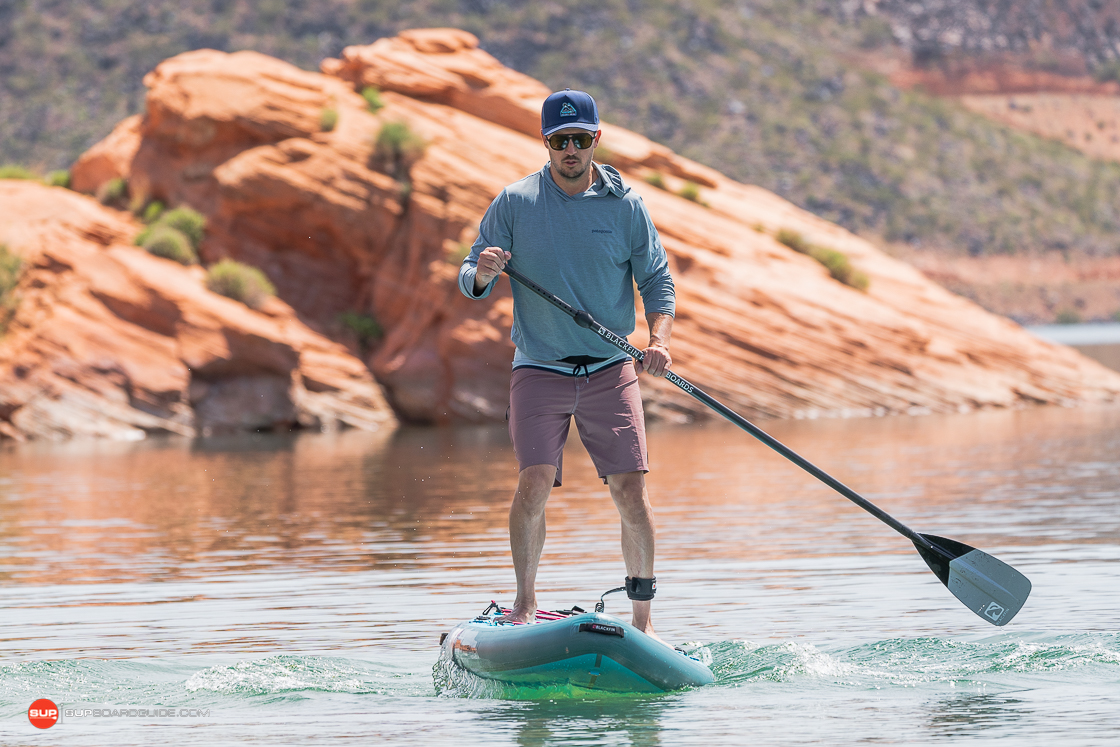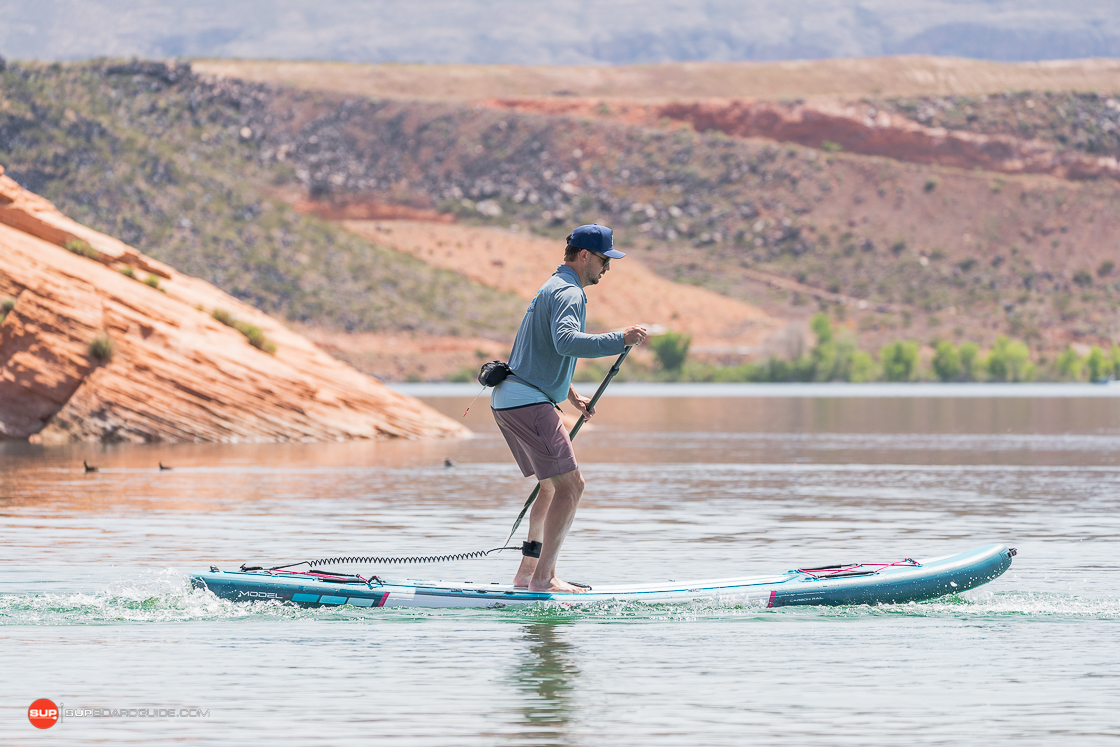 Although this SUP is built long and narrow, 12'6 x 32, it is wider than a typical touring or race board (which is usually 28 – 30 inches wide). This extra width is a bonus for its stability. We found that while it moves fast and goes far, it does so in a stable and balanced manner even for beginner paddlers.
This extra width also increases the board's total volume. It has a total volume of 259 L. This is an important factor because with all the room for extra gear (fishing poles, etc) the board must have enough volume to support high-weight loads. In this case, the board can hold up to 485 lbs of weight, and we are confident in saying that even with a large load or an extra person on the board, you will stay stable.
I will get into it in more detail down below, but the construction quality of Blackfin SUPs is very high, which plays a big part in the stability of the board as well. Boards that are built poorly can have more bend and feel floppy on the water, making them way harder to stay balanced on. But the Blackfin Model V has a precise construction process with a dedicated team behind it.
We think the Blackfin Model V has a great shape and build for going fast and far while also accommodating a wide range of paddlers in terms of stability.
Speed Test: 9.3/10
| | |
| --- | --- |
| Top Sprint Speed: | 5.7 MPH |
| Average Cruising Speed: | 4.5 MPH |
SUP Board Guide's Speed Testing:
To obtain our speed test results, we use a Speed Coach Sup 2. This gives us accurate readings on how fast we are paddling and our current stroke rates. For the top sprint speed, we paddle as hard as we can for approximately 10-15 seconds and then record our average speed. For the casual test, we paddle at 40-35 strokes per minute for approximately 30-60 seconds and record the average speed.
The high speed we recorded in our speed tests is one of the reasons why we love this SUP so much. Yes, here at Supboardguide we like to move fast.
Upon first impressions, it can seem like the Blackfin Model X is geared more towards adventuring than endurance or racing (i.e. many action mounts, cargo space, high weight capacity). But, that's not the case, and it is definitely an even split.
5.7 MPH is a high sprint score comparable to some of the dedicated touring SUPs we tested. And a 4.5 cruising speed is an admirable score and makes us happy because we can endurance paddle without tiring out after 15 minutes.
While we aren't going to tell you to enter an official race with this SUP, we do dare you to race against yourself (or perhaps a buddy who likes to brag about how fast their board is). We are confident that you are going to see your time reduce to surprising speeds the more you paddle, and really enjoy the speed you get on longer adventure paddles when you're loaded up with gear.
Tracking: 9.3/10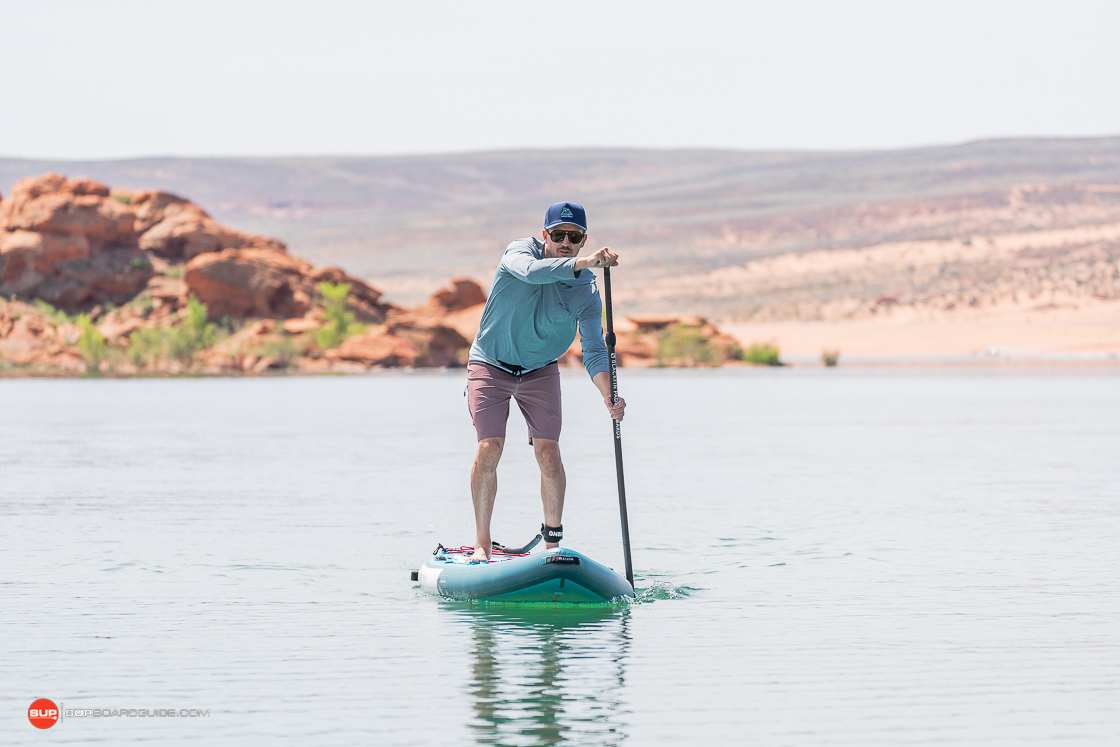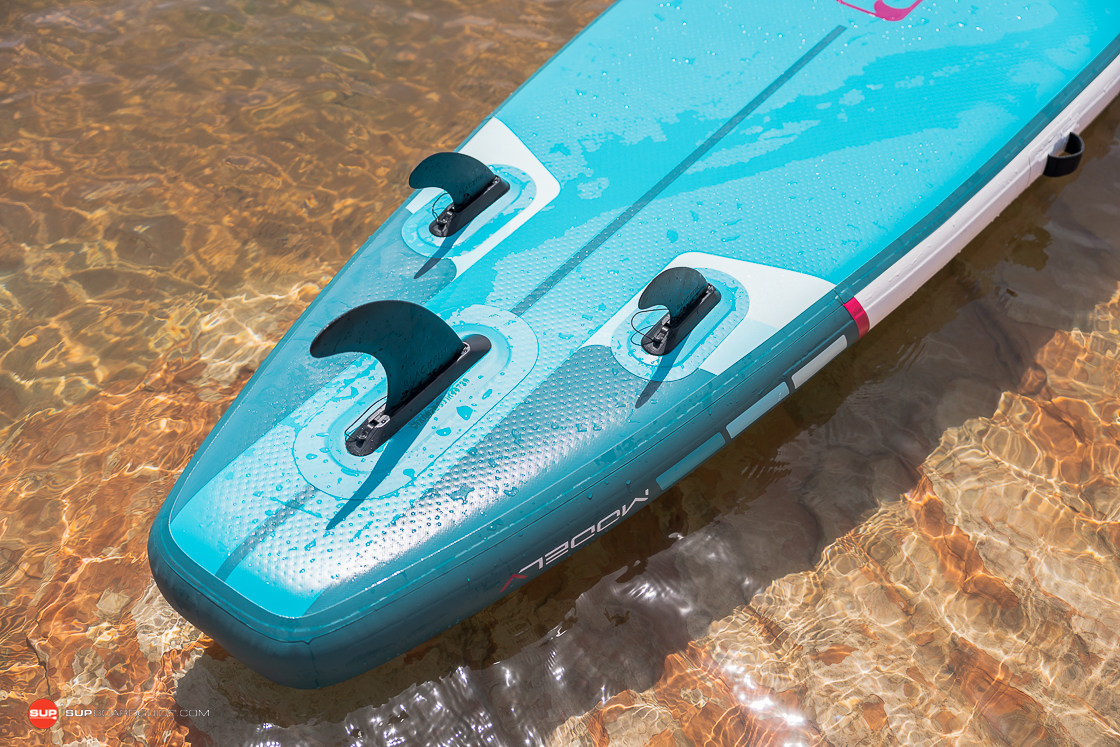 Being that this board is long (12'6'), it has a long water line which is very helpful when it comes to the board moving in a straight line. Needless to say, the Blackfin Model V tracks very well and takes very few corrections from the paddler to stay straight.
It has a three-fin setup, and while there is an ongoing debate about whether this is the best setup for achieving the maximum capabilities of a SUP, the three fins on the Blackfin Model V are set up in what is known as a '2+1 fin setup.' This means that the fins are aligned in a triangle shape, where there are two smaller fins on the side and one larger fin in the middle (see the picture above).
A huge bonus to the click-in '2+1' setup is that, if you want, you can take the two smaller fins out and paddle with just the large center fin (some theoretical SUP gurus will say that will make you faster, but you honestly will need to be pro level in order to even notice). Or, you can take out the large center fin and paddle with just the two smaller side fins if you're paddling in shallow water.
As a team, we found that having all three of these fins clicked in allows for the SUP to track well without having to switch the side you paddle on very often. However, with this setup, you do have the freedom to play around with your fins and find out which mode tracks the best for you.
Maneuverability: 8.5/10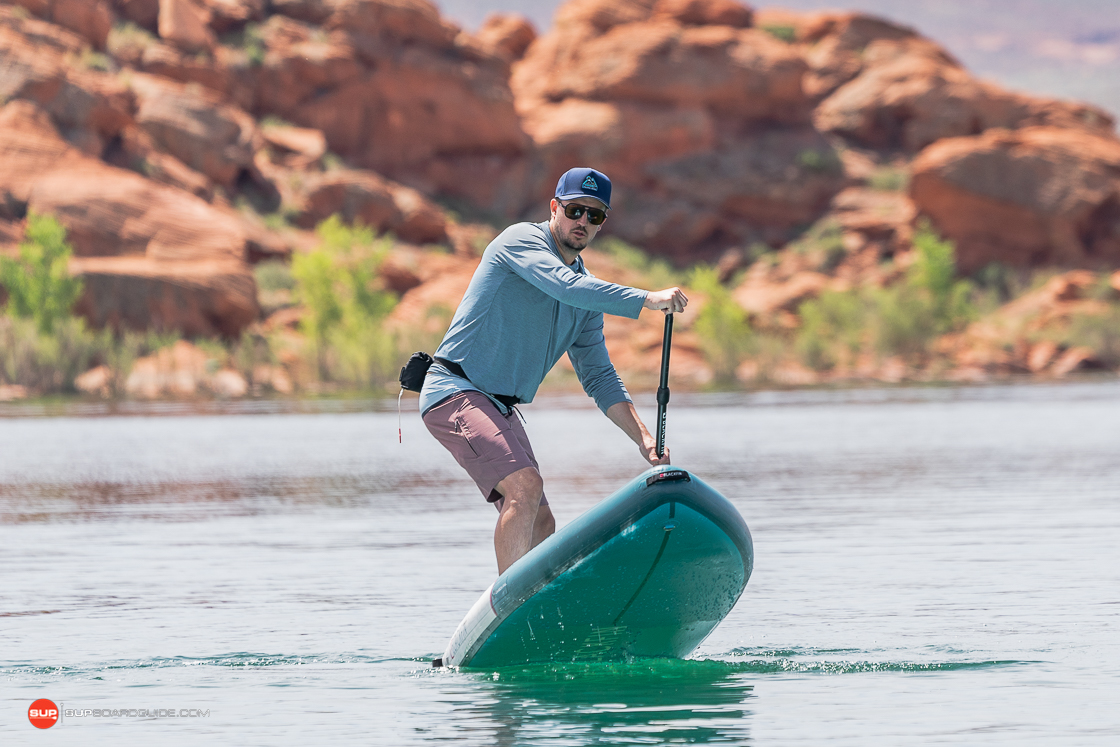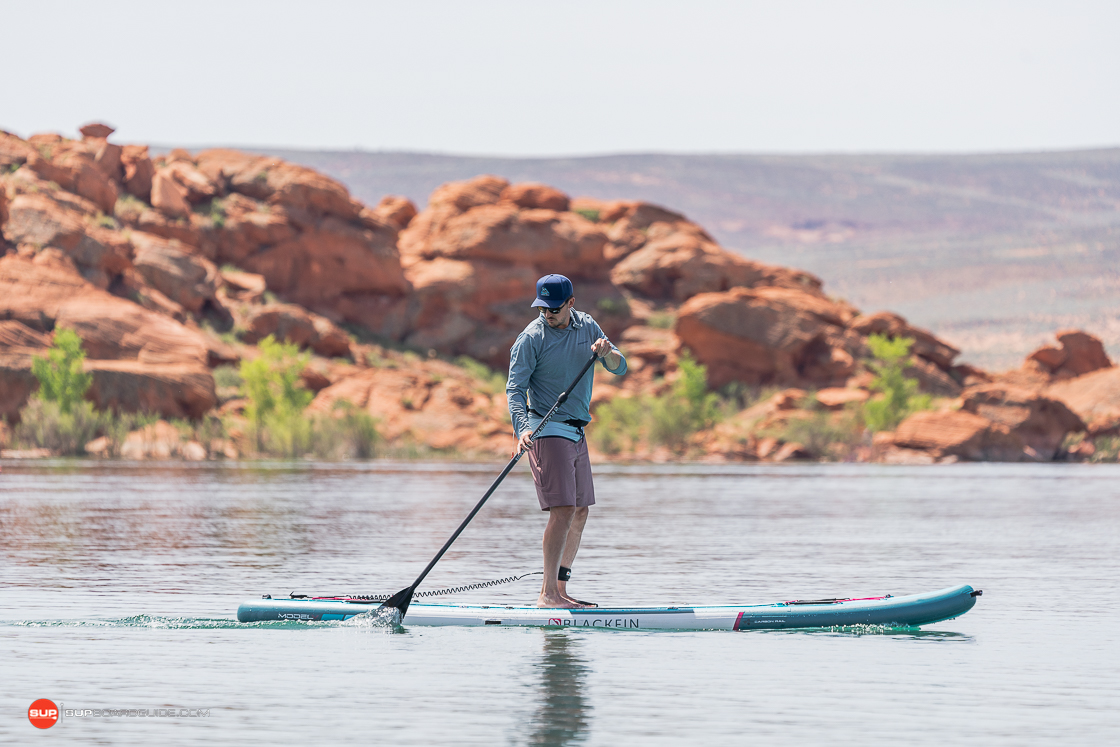 While we might want to, we can't fight physics: a longer and more narrow board that is meant to go straight and fast will have lower maneuverability than a board that is short and wide. With that being said, the maneuverability of the Blackfin Model V is still very good, and for us, did not pose any problems when we wanted to change the direction of the board or dodge a small shrub.
It took us on average 5.5 back sweeps to turn a full 360 degrees in calm waters. The one time I did run into some maneuverability snag was when I was out paddling this SUP in windy and choppy conditions and I attempted to turn in a full circle; I did have a moment where I made three back sweeps and didn't make much progress. But my solution, and a great one I must say, was putting more effort and strength behind my stroke to combat the wind fighting against me. With more force, I was able to continue to spin the board and complete my full-circle turn.
We'd love to see a raised kick pad mounted onto this board. We think that would help improve the board's maneuverability, especially for a long and more narrow SUP.
Construction Quality: 9.7/10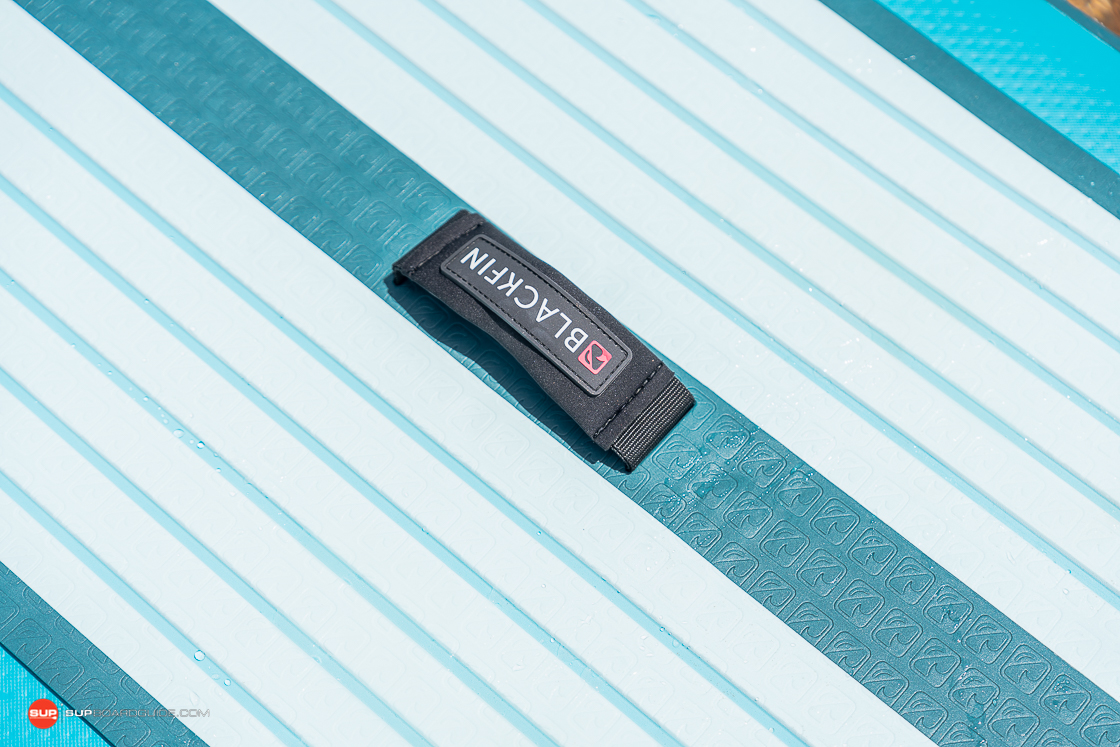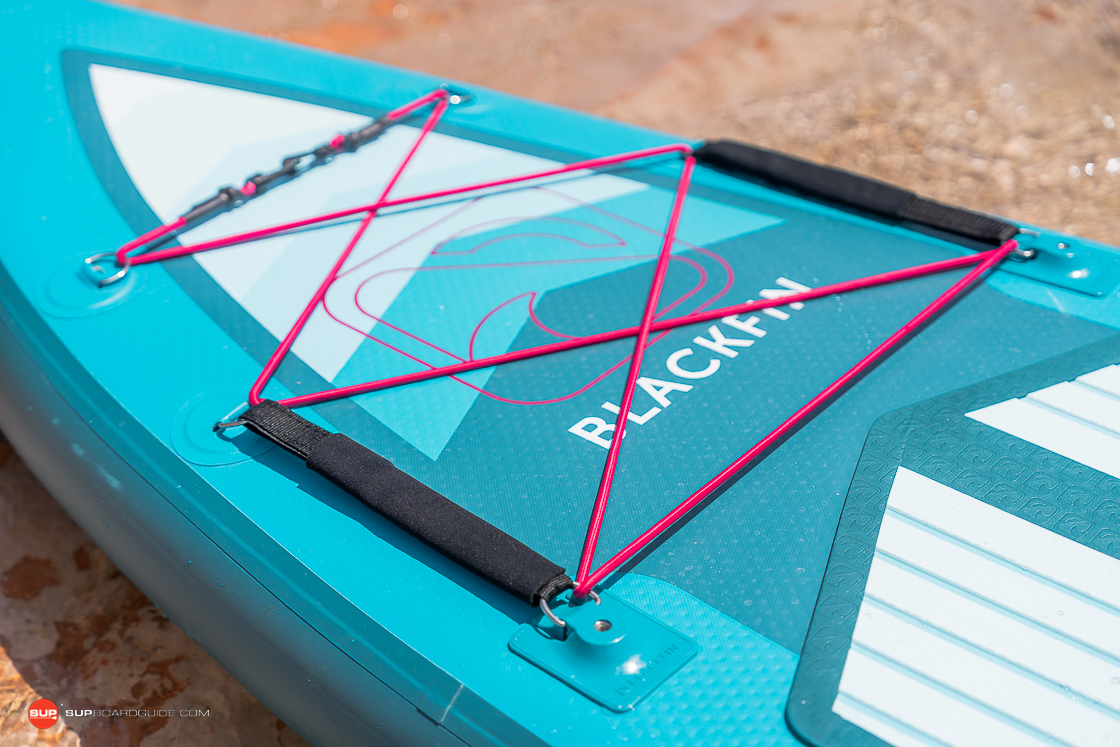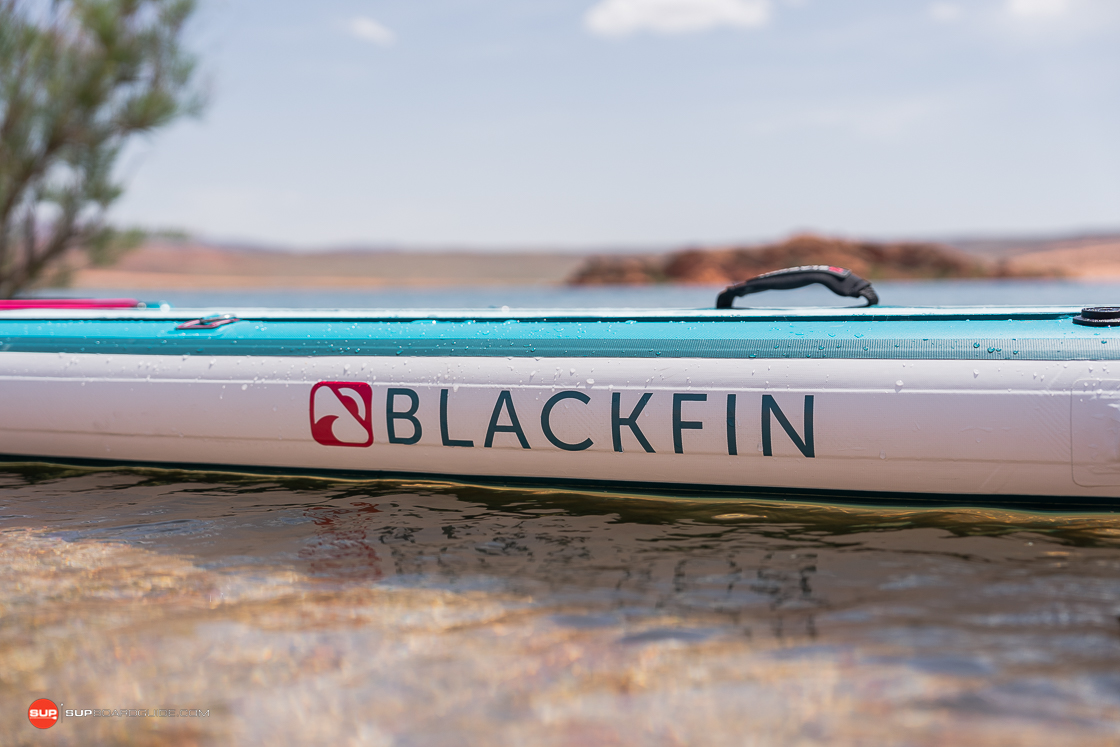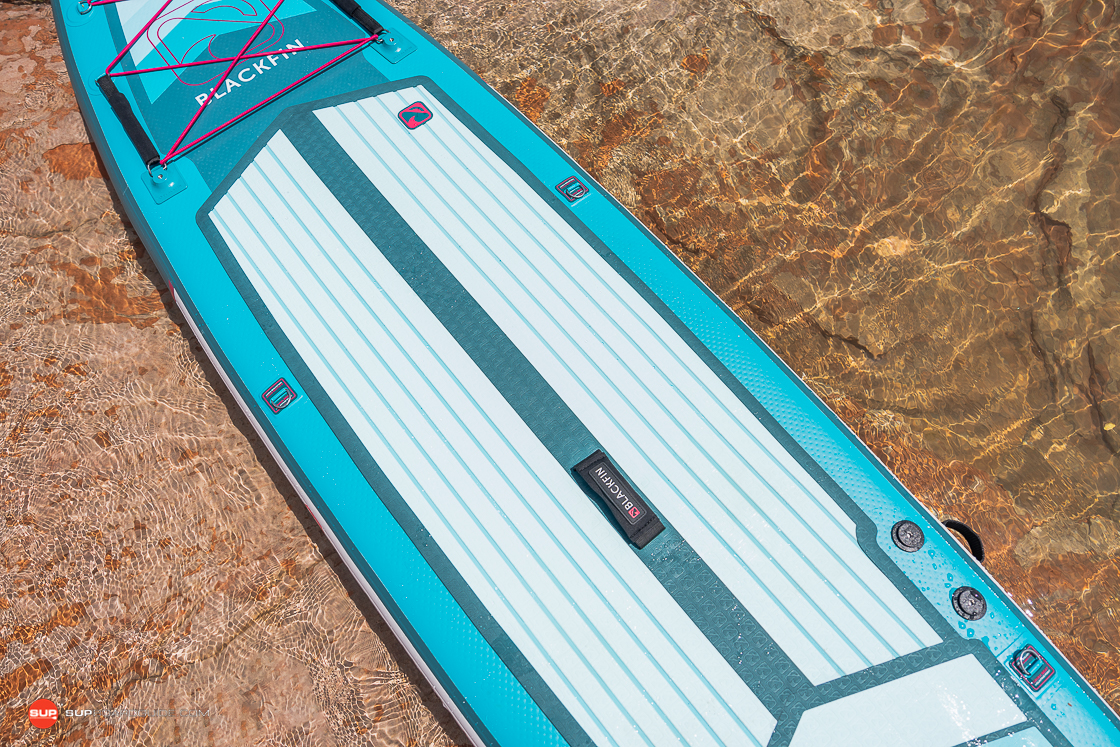 Dun dun dun dun! Introducing the Blackfin Model V and its triple-layer PVC!
Yes, that rhymes. But no, I'm not a poet, so let's get back to the construction of the board before you exit out of this Blackfin Model V review.
To get an inflatable to maintain its shape, a drop-stitch core is mandatory. This means there are durable nylon threads attached to the upper and lower fabric material. This makes up the drop-stitch inner core that is then, in the case of the Blackfin Model V, sandwiched between three layers of PVC composite material. Adding three layers of PVC allows this SUP to be extra rigid, and thus excel in not only stability but all of its capabilities. The more rigid and durable an inflatable is, the better stability and on-the-water sensation it will have.
In addition to the three layers of PVC, the Blackfin Model V has a built-in carbon rail that allows for even more rigidity and enables the board to have such a high weight capacity (485 lbs). A carbon fiber rail is an additional layer of non-resined carbon fiber added to the sides of the board and layered with another layer of PVC. It's this extra addition and attention to detail that allows us to feel confident when we tell you to load this board up with gear or a child and take it for a spin. This year, the rail material is brought closer and tighter together for an even stronger bond, and we can feel this improvement when we paddle. The board has a particular 'strong' feeling underneath our feat. It's muscly.
The logo-embossed EVA deck pad feels awesome under your feet and is proactive at keeping the board grippy when it gets wet. Personally, I like that it has the elongated cuts because (ok don't judge) I think it looks cool, as well as offers traction. Also, upon checking it out and testing it, it seems as if all of the action mounts and extra cargo areas are very well secured to the board and Blackfin puts a lot of thought behind where and how they apply those extra accessories.
Board Stiffness: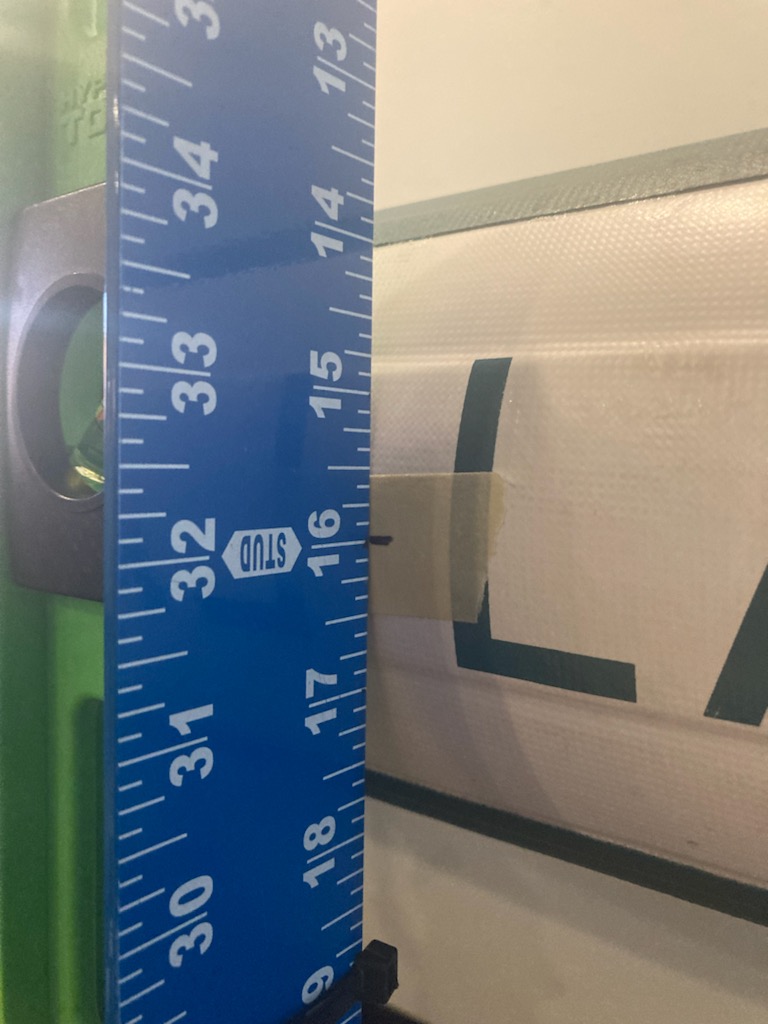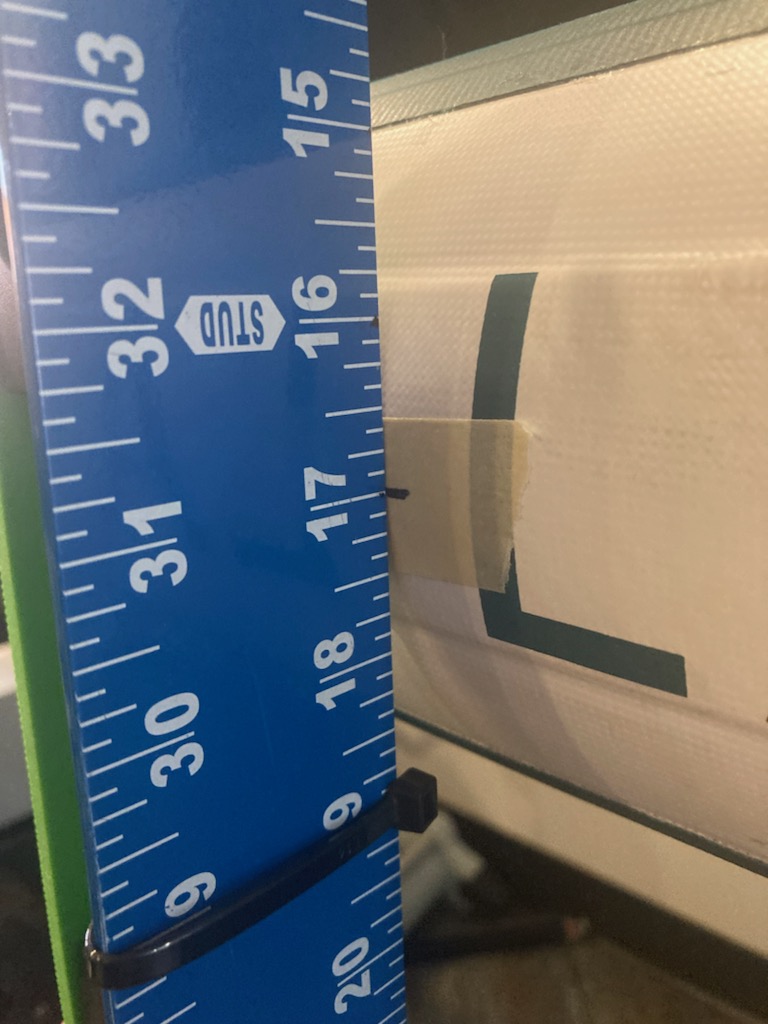 Stiffness Test: 1" Bend
SUP Board Guide's Bend Testing:
In order to attest to the rigidity of each board, we use a bend test curated by Supboardguide. In order to obtain the results, we inflate the board to its maximum recommended PSI and then place it across two sawhorses that are 7 feet apart. We then take a measurement in the middle of the board. Then, we place 150 lbs worth of sandbags on the middle top of the SUP. Last, we record its displacement (the movement from its original position). We use this method for every board we test as a way to mathematically compare boards across a common denominator.
To attest to the stiffness of the SUPs across a common denominator, we use a personally curated bend test. For this, we place the board across two sawhorses that are 7 feet apart. We then measure the middle of the board. For the bend, we place 150 lbs of sandbags on the top and then measure the displacement (the movement from its original position).
When we saw that the Blackfin Model V only bent a single inch, we were pleasantly surprised. We knew that Blackfin is one of the higher-end boards that iRocker puts out, but we didn't realize it was going to be so rigid that it only bends an inch in our test! That's an awesome score and we are stoked to see it.
Features/Accessory Review: [9.7/10]
Features: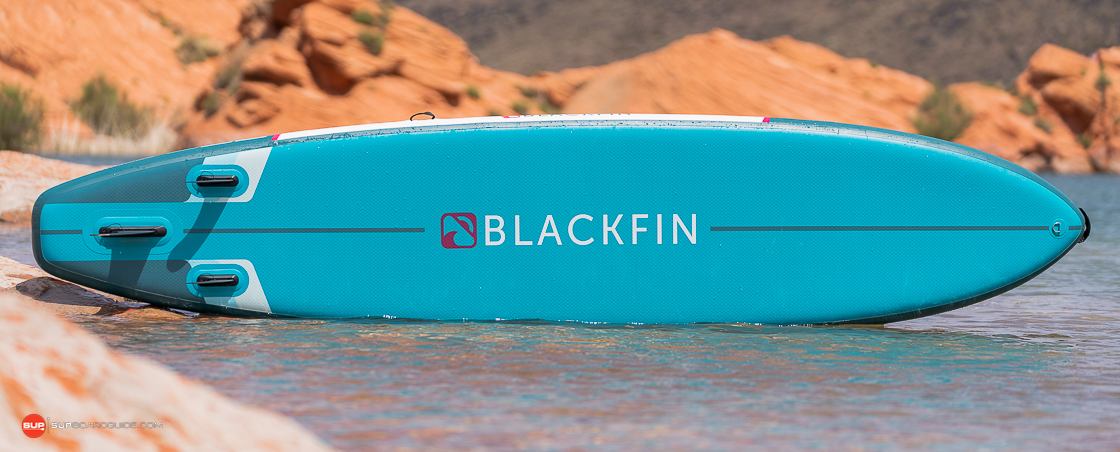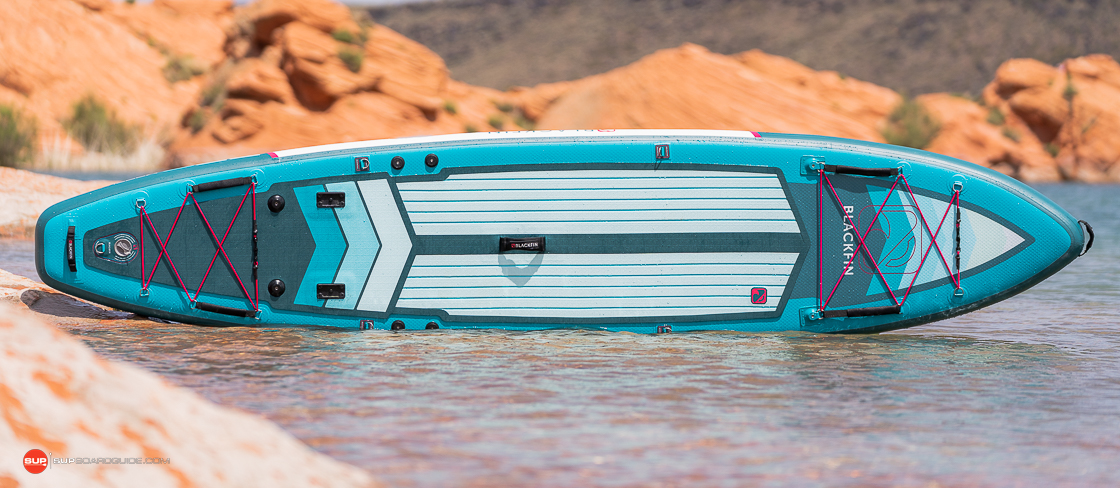 Adventure awaits! I've said it already, but we have now arrived at the section specifically dedicated to talking about the features and cool extras this board has. And for the Blackfin Model V, well, there's a lot.
At the front and the rear, there are large bungee cargo storage areas, and the rear cargo space has removable passenger grab handles. These cargo areas allow space for multiple drybags (to fit camping gear, etc) as well as additional room for personal accessories, shoes, water bottles, and that sort of thing. The removable handles are an awesome addition because your kids can grab onto them if they are riding passengers.
We like the handle integrated mounts in the front and found ourselves wishing the two furthest back mounts did the same for a clear deck pad area.
Dispersed throughout the board you will find six D-rings. There are two that run on each side of the board and can be used to tie down cargo, or more specifically kayak seats or coolers. You can actually attach two kayak seats onto this SUP and ride in tandem. There is a D-ring underneath the nose of the board to be used to attach an anchor for holding the boat still in one place, and then there is a D-ring on the tail that you can use to attach your leash.
Okay, that's it.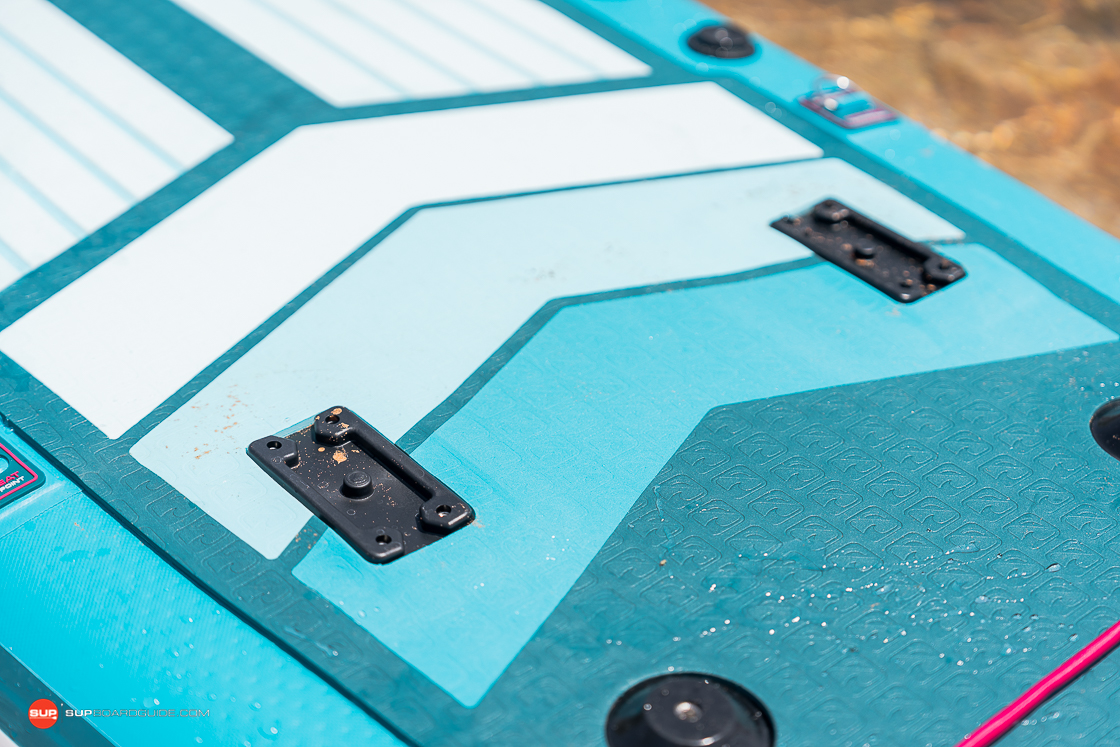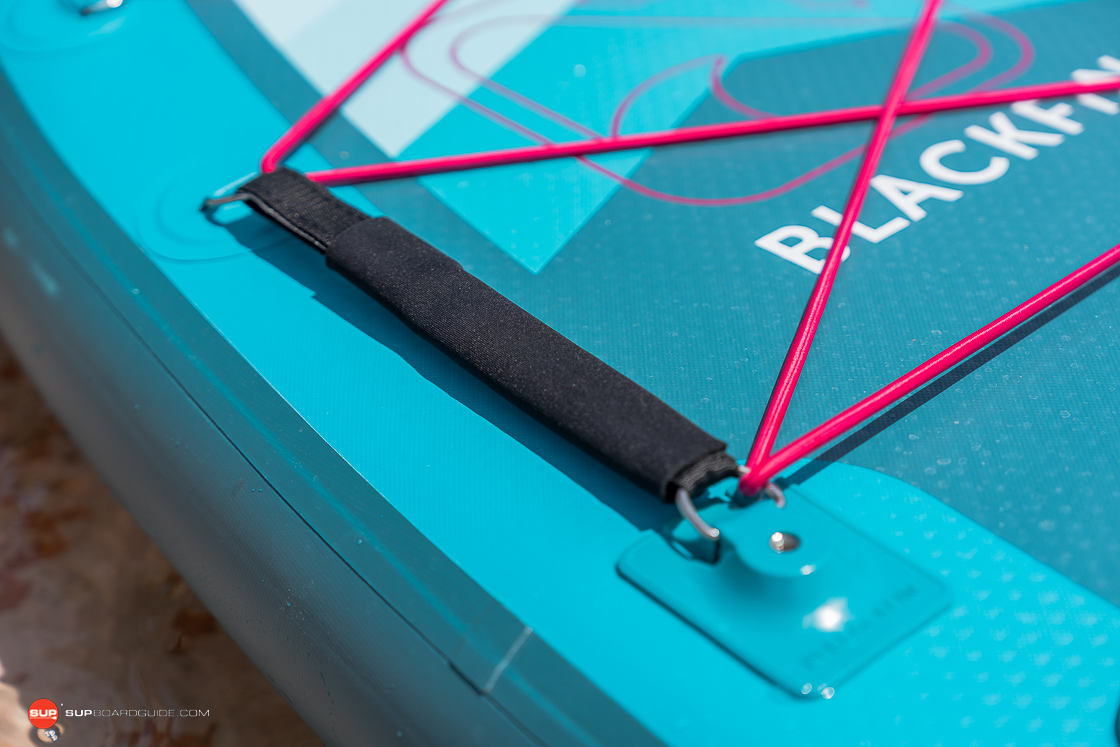 Just kidding, there's more.
There are also two flush-mounted Scotty mounts in the rear, designed to fit the iRocker fishing rack. So if you're out to catch a lot of fish, we suggest purchasing this. They can also be used as a sand spear mount.
I told you, this SUP is designed for adventure!
Included Accessories: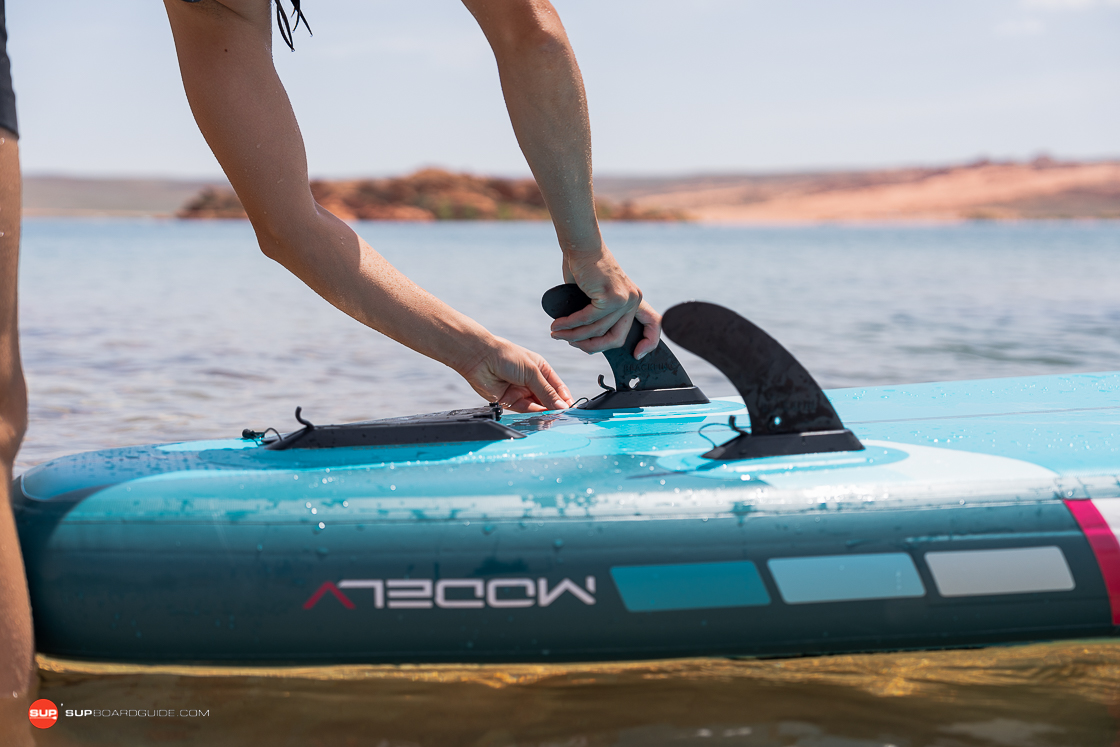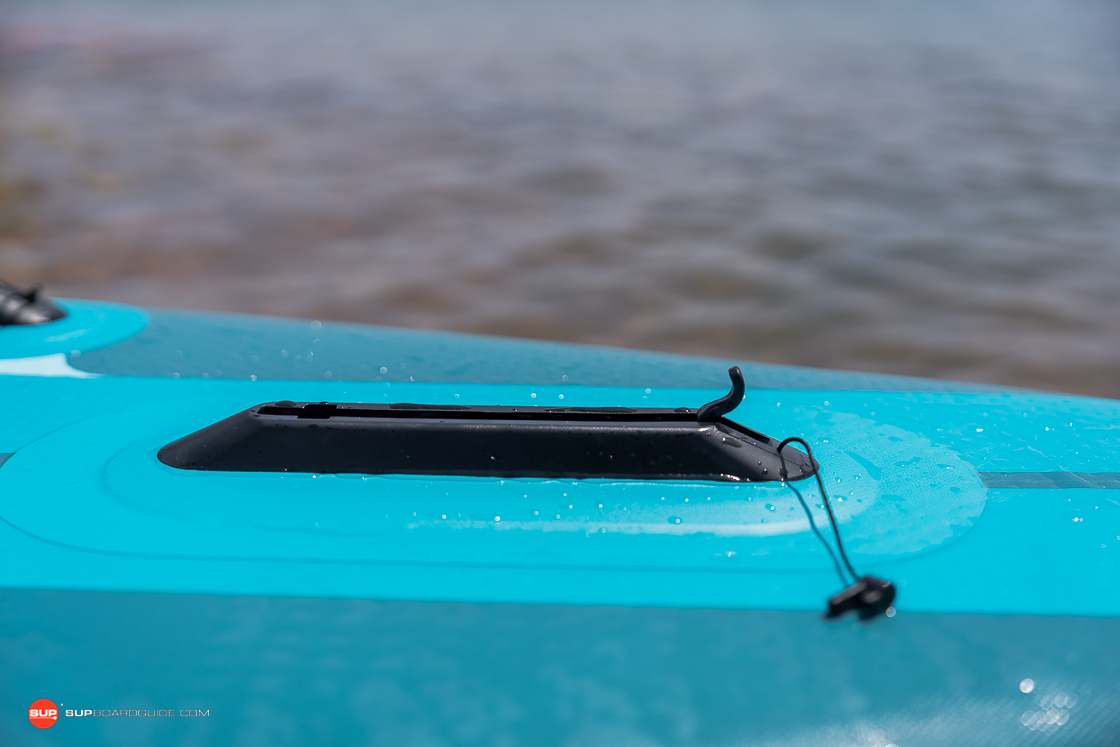 All Blackfin Model V orders are bundled with the inflatable paddle board, three flip lock tethered fins (one large and two small side fins), and a repair kit.
If you want to order items such as a paddle or an electric pump (which we highly recommend) you will receive 25% off if you bundle them with the board at the time of purchase. Selling these items with a bundle discount instead of with the board helps keep the cost of the board down and reduces waste for those who don't need a paddle or other accessories.
Summary Review of the Blackfin Model V – 2023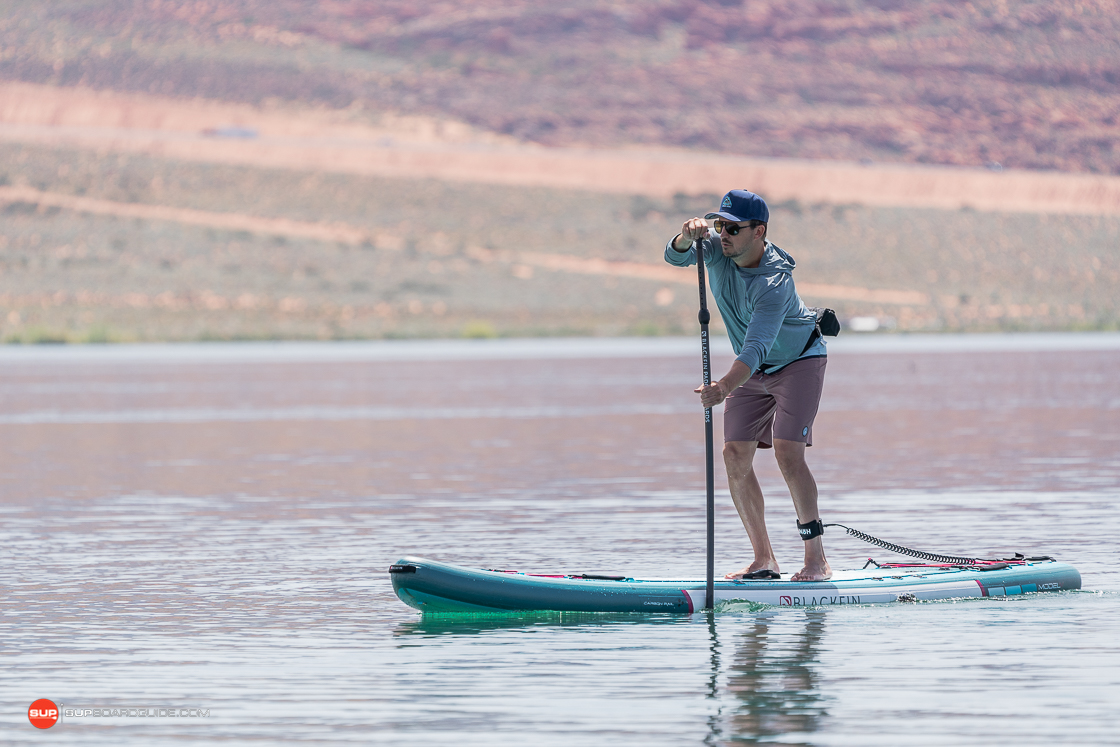 Considering we're a team of SUP testers (and nerds), it's always exciting when we come across a board that combines a plethora of SUP capabilities into one. And does it well. The Blackfin Model V certainly does a great job and has us thoroughly impressed.
But even when we find a board that claims to do a bit of everything, we don't consider it a winner unless we see that it is constructed with care and is high quality. As for the Blackfin Model V, it's definitely a winner. It has excellent construction and is made by iRocker, a well-established and trustworthy competitor in the SUP world. So in conclusion, our team sees a ton of value in this board and we are excited to get this review out to the public so you can consider it for yourselves.
Happy paddling! We hope you enjoyed this review of the Blackfin Model V. If you have any questions or comments please leave us a comment below!
The following two tabs change content below.
SupBoardGuide Editorial Team
At SupBoardGuide.com we are a team who love the water, the outdoors, and are more than grateful that our full-time job allows us to review stand up paddle boards. We paddle year round (it helps that we are just about 2 hours outside of Las Vegas), and we bring in a wide range of paddlers with the goal of providing our readers with the best, most in-depth, and accurate stand up paddle board reviews.
Latest posts by SupBoardGuide Editorial Team (see all)