BLACKFIN Model V
Pros
Well built, stable, fast touring board
Plethora of D-rings, action mounts, straps, and accessory mounts - make for a great adventure SUP
Heavy duty construction with 2 year warranty
Exceptional fishing platform for intermediate to advanced paddlers.
Great new color options
Quality kit that contains everything you need to get out on the water
Cons
Rear action mounts could be integrated into the side handles
We'd love to see a slightly longer deck pad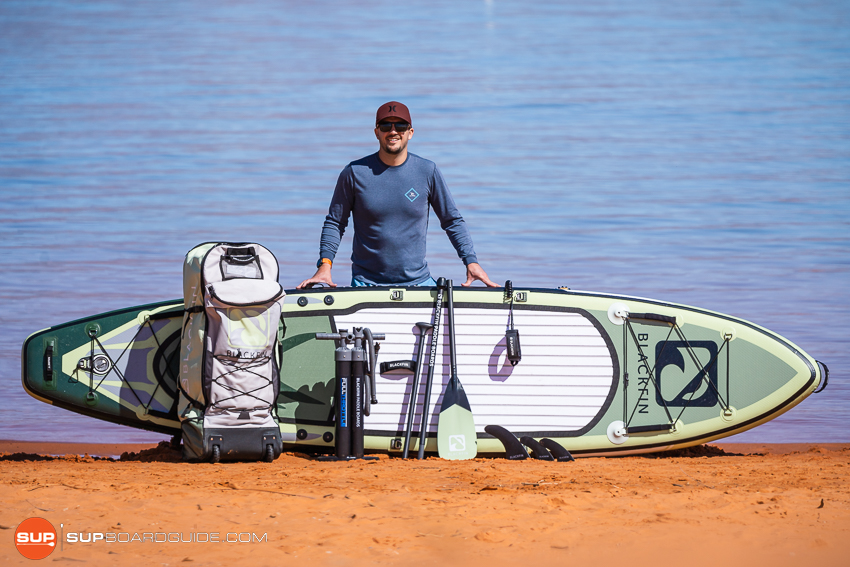 The Blackfin Model V, much like the iRocker Sport, is one of our team's favorite SUPs to review. The long 12'6" water line and narrow(ish) 32" width just looks fast in our opinion. Combined with some of the color options this is one good looking iSUP.
Looks aside, this board has a lot going for it performance wise. The triple layer composite PVC construction, supplemented by carbon fiber rails really gives this board a solid feel when fully inflated. Probably most intriguing of all though is that due to it's longer shape and reasonable width it has the same volume as the Model XL, which means this too is rated by Blackfin to support 485 lbs. In case you missed that review, that weight capacity offers you a lot of possibilities and makes this a very versatile touring SUP. It's a very good choice for touring as it's long water line lends itself to a fairly efficient glide. Pack whatever you want, even the kitchen sink, and get out and explore. We think this is a great board for:
Wants a quality built, solid feeling iSUP
Wants a faster touring iSUP for longer adventures and fitness paddling
Needs a board with a extremely high weight capacity (485 lbs)
Would like to paddle with kids and/or additional gear
Wants to load their iSUP with all kinds of accessories for a fun day out on the water
We think the Blackfin Model V is a great choice for the following water conditions/situations:
Flat water paddling (lakes, bays, marinas, etc.)
Recreational paddling (beginners, just paddling around flat water w/ friends and kids)
Ocean paddling
Sup Fishing (intermediate to advanced paddlers due to narrower profile)
Blackfin Model V Review: Overview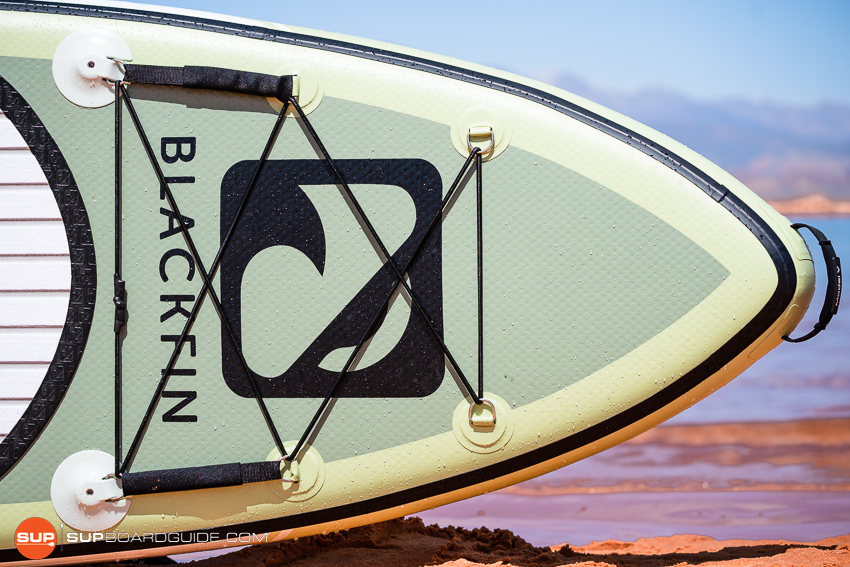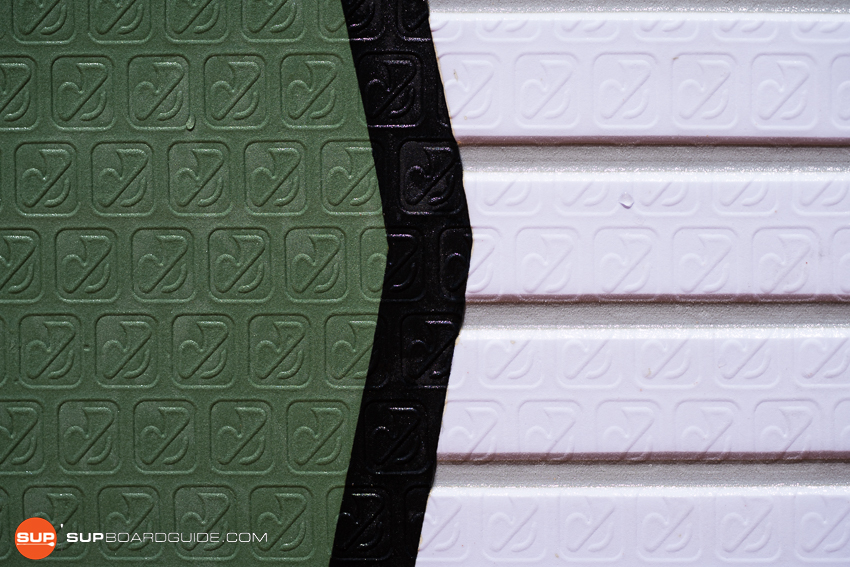 The Blackfin Model V is a very solid feeling and fast board despite being skinnier than it's stable mates by around 2 inches. At 12 '6", this is very solidly in the touring board category. And while the board could be even faster if they made it 30" wide, we find ourselves liking the extra width. The board is still fast (see the speed test results below), but also extremely versatile because of the high weight capacity and stability.
Like all Blackfins, the Model V comes well equipped with a host of user friendly features and accessories. This is really the board you want for touring with a lot of gear and equipment. Don't believe us, just look at iRocker's (Blackfin's) ever growing list of accessories on their website. Furthermore, the 8 included action mounts open the board up to an entire world of compatible attachments.
Note: We spend hours paddling these boards. We try to ask all companies who send us boards to allow us to keep them so we can test them throughout the year. These aren't just quick spec reviews. Bottom line – we spend hours and hours on these boards, and more hours testing them. If you have questions about the board, drop us a line – we'd love to answer your questions and help you out!
Blackfin Model V: Spec Sheet
| | |
| --- | --- |
| Main Category | Touring, Inflatable |
| Board Dimensions | 12'6" x 32" x 6" |
| Listed Board Weight | 30 lbs |
| Listed Max Capacity | 485 lbs |
| Recommended PSI | 15-18 psi |
| Fins | Nylon, triple flip lock, removable |
| Paddle | Full carbon shaft + Nylon blade |
| Materials | Triple layer composite PVC, carbon-fiber reinforced rails, high density drop stitch inner core |
| Price Range | Mid – High ($1,000 +) |
| Warranty | 2 yrs + 1 yr for accessories |
Official SupBoardGuide.com Test Results: Blackfin Model V
The comprehensive SUP testing results are listed below. Again these are an aide for the end user when making a purchasing decision. If you have any questions we are more than willing to help you out directly as well. Shoot us a message or leave a comment below.
Overall Score: 9.5
This is a very nice touring board. Often my biggest complaint with touring boards is that there is simply not enough room and weight capacity for gear and equipment storage. That is not the case here, with one of the greatest manufacturer recommended weight limits, I would challenge you to find something you COULDN'T take on your next paddling trip.
This board ranks near the very top, if not the top, in a group of fairly competitive touring boards. After looking at everything that comes in the bag, not to mention the bag itself, it's easy to see why.
Stability: 9.4/10

Speed:9.4/10

Tracking: 9.4/10

Maneuverability: 8.3/10

Construction Quality: 9.3/10

Accessory Review: 9.8/10
Our overall rating of 9.5 for the BlackFin Model V ranks it ahead of most other touring boards tested. That performance, along with the versatility of this board, has earned the Blackfin Model V a top spot on our 'Best Inflatable Touring SUPs' list. In terms of price, it's just barely in the "high end" category. So it's competing with boards that are $500+ more expensive in some cases.
In-Depth Review of the Blackfin Model V Stand Up Paddle Board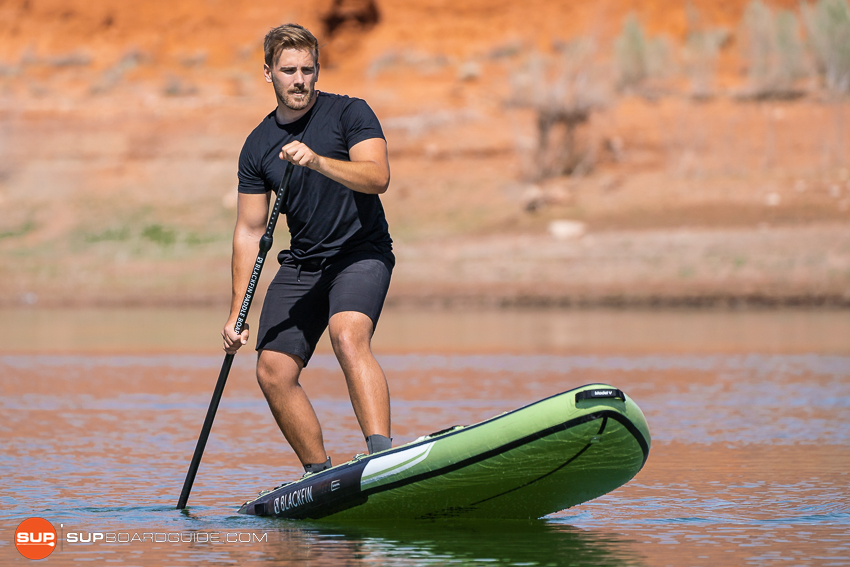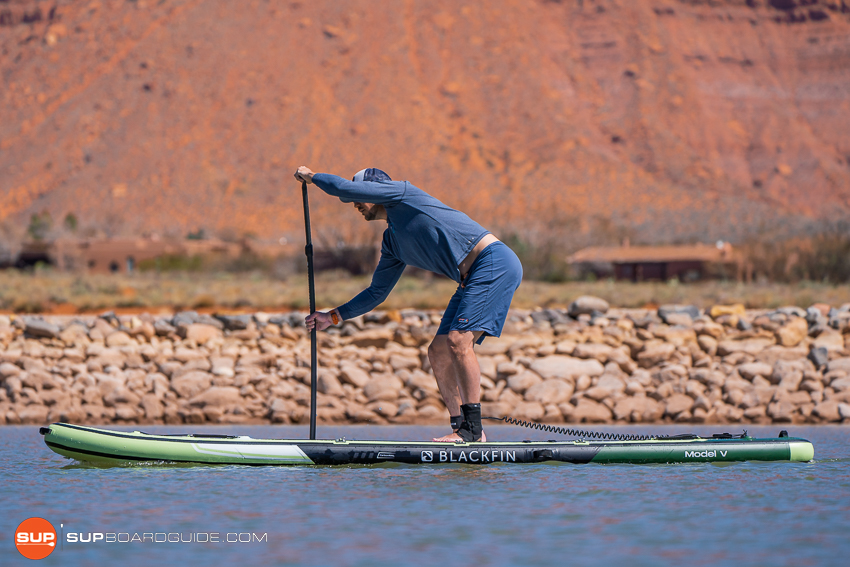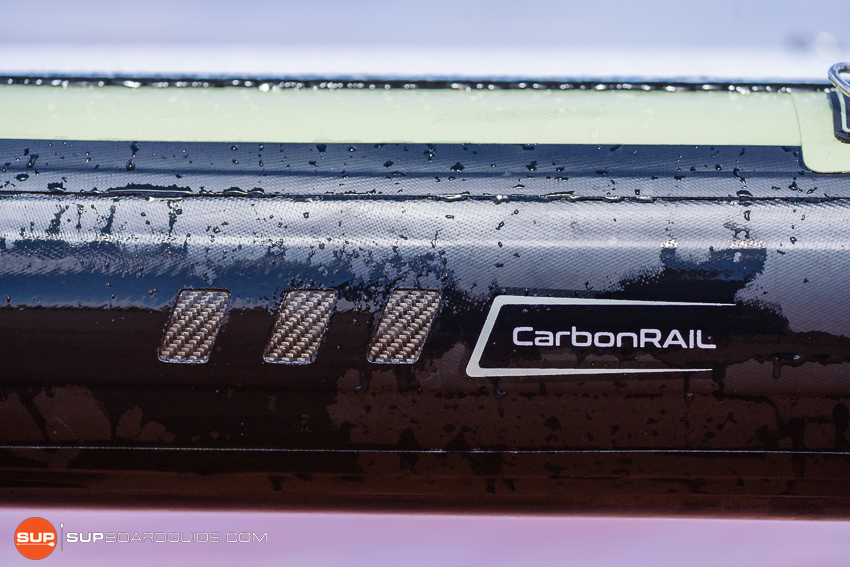 The Blackfin Model V is a pleasure to review. It's extremely stable while also being very efficient through the water. This means getting where you're going faster and having room on board to bring the gear to enjoy your time there. I have to commend iRocker for really delivering a touring board loaded with interesting features.
Stability Review: 9.4/10
As expected the Model V did very well in our stability reviews. This is not unexpected as the entire Blackfin line is manufactured with extremely high standards, quality materials, and those carbon fiber reinforced rails. These boards are just plain solid and the reviews reflect that. I would have no problem recommending this board to just about any sized paddler regardless of experience level.
Board Stiffness:

Stiffness Test: .968" bend at 18 PSI | 1" bend at 15 PSI
The stiffness of a board displays a lot about how well the board will perform in real world situations when loaded down with people and gear. It also is a good way to see how well a board is made in comparable terms, without having to cut up everyboard we test.
In this case, the triple layer composite PVC, carbon-fiber reinforced rails, and high density drop stitch inner core, goes a long way to keep this board flat regardless of how much weight we continue to add. I know there is some talk over "carbon-fiber" being a marketing gimmick in terms of iSUPs. After doing a considerable amount of research we have come to the following conclusion. To experience its full potential in terms of rigidity, carbon fiber needs to be combined with resin. Doing this prevents the rails from being "rolled" up as an iSUP would need to do. However, there are current manufacturing companies working with highly flexible carbon fiber panels in various industries. The pieces in question are highly flexible in a single plane, while being extremely rigid in the other plane. Does this mean the Blackfin uses this newer carbon fiber layup methods in their boards? Again, without cutting out the carbon fiber rail it's hard to say. We feel that in direct comparison to the iRocker models of the same width and thickness, we saw the following results:
The iRocker All Around bent at 1.0625" (18psi) and 1.125" (15psi).
The Blackfin Model V bent at .968" (18psi) and 1"(15psi).
What we can infer from this is that:
Since the iRocker boards showed a greater degree of flex, the carbon rail stabilization actually does help the board retain its rigid shape. Since most of our test results differ in the form of 16 ths of an inch that approximate .125" (⅛") is significant.
Weight Capacity:

Listed Weight Capacity: 485 lbs
Tested Capacity: (coming soon)
Weight capacity tests show how reliable a manufacturer is at rating their boards in terms of usable weight capacity. We have seen some manufactures (like iRocker) under-rate their board capacity, leaving us happily satisfied, about as much as some manufacturers will do the opposite. It's important to test this because the true weight capacity goes a long way in determining a board's usability.
When considering the weight capacity of a particular iSup it's important to take into account several variables (some of which we get into below). First and foremost we look at the volume of the board itself. This is probably the number one factor in determining a usable weight capacity. Simply put the more volume the board has the more lbs it can effectively carry across the water. Another big aspect is the construction quality and materials used. Having a better construction quality with more durable materials means the board can be pressurized better, giving it additional buoyancy.
Overall the Blackfin Model V did very well in our weight capacity tests. With the Model V, it has a really high weight capacity and is a great option for someone looking to adventure long-distances, or carry a lot of gear, and kids. I can stand up and paddle with my daughter (she was about 100 lbs at the time), but would struggle if me and my wife were paddling together. It's fine though if she were to sit down while I paddled.
Speed Test: 9.4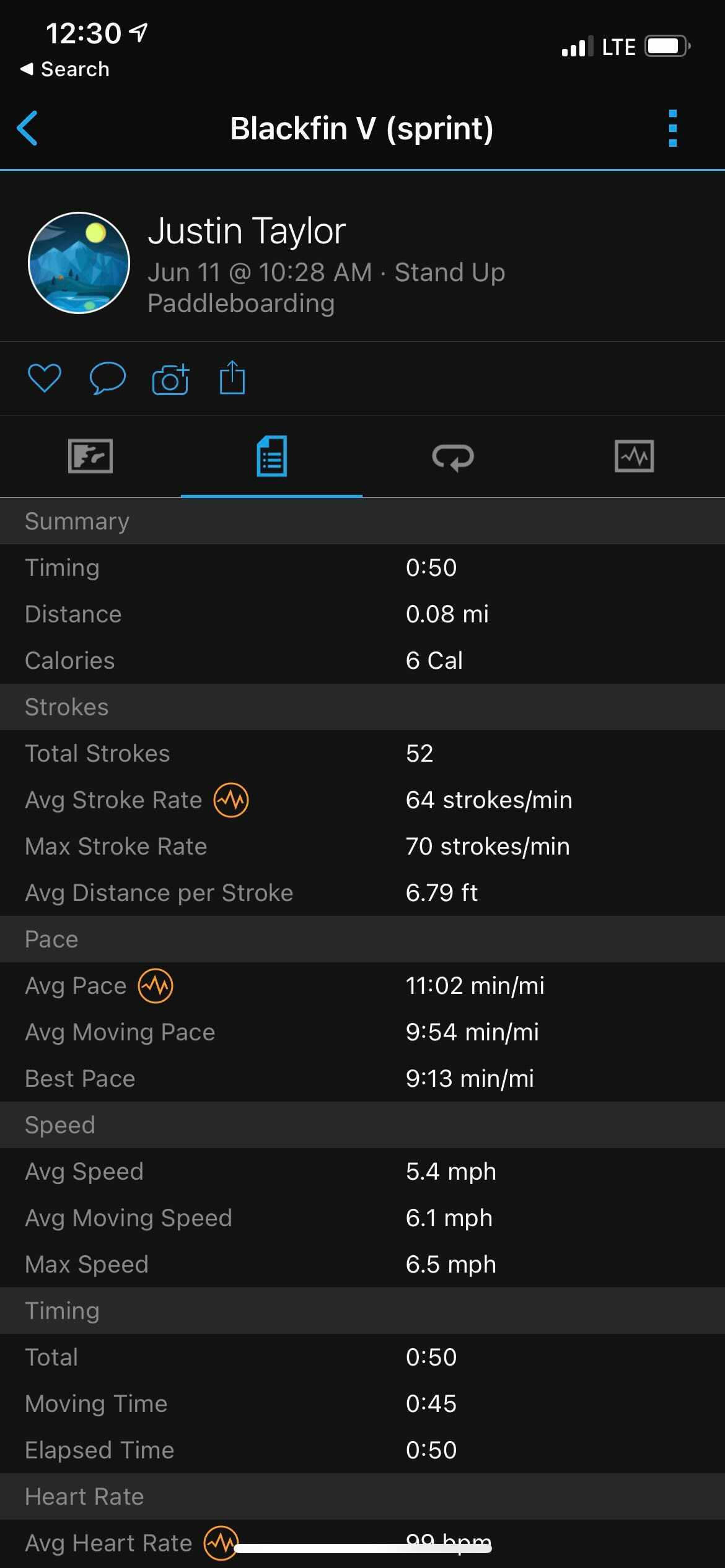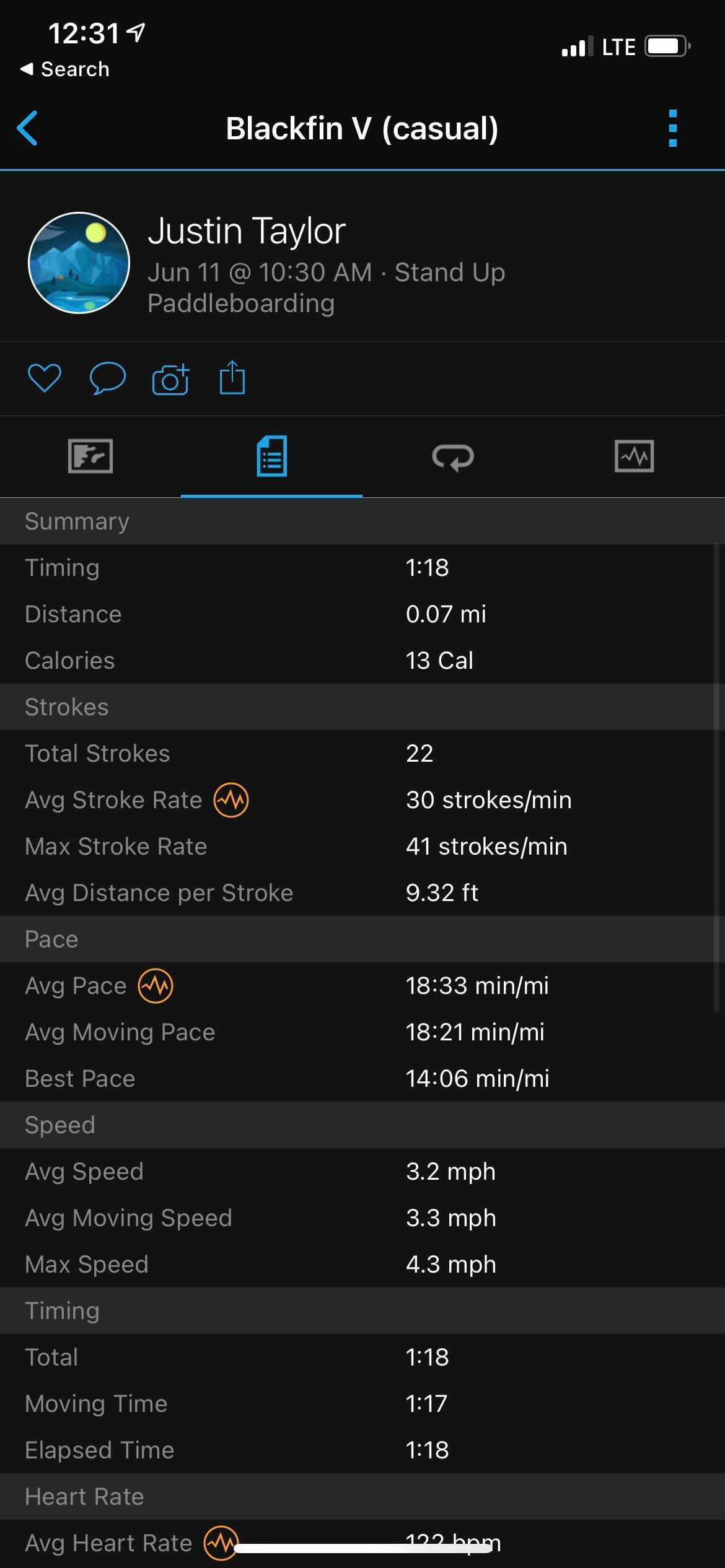 In terms of speed the Model V is the fastest available in the Blackfin lineup and also performed faster than all the other touring SUPs we tested, with the exception of the Red Paddle Co 12'6 Sport. Even at 32" wide, this is a fast SUP.
With the long water line and "relatively" narrow width it's easy to see why. That width also allows for more even paddling (more vertical and therefore more efficient) and it also benefits from the three fin setup allowing this board to track fairly straight
Part of us wants to say that we'd love to see this board slightly more narrow (i.e. 30"). That would make this more of a dedicated touring SUP and give it a little extra speed. However, we think that for the vast majority of paddlers they will appreciate how versatile the SUP is and will be more than happy with the speed. If you are someone who really is just looking for speed and doesn't want to ever carry gear or other paddlers, then you could get a little bit faster if you look at the Red Paddle Co 12'6 (if you can find it in stock).
For us, we are happy with the 32" width and speed of the Blackfin Model V and don't recommend that iRocker change the width in future models.
Tracking: 9.4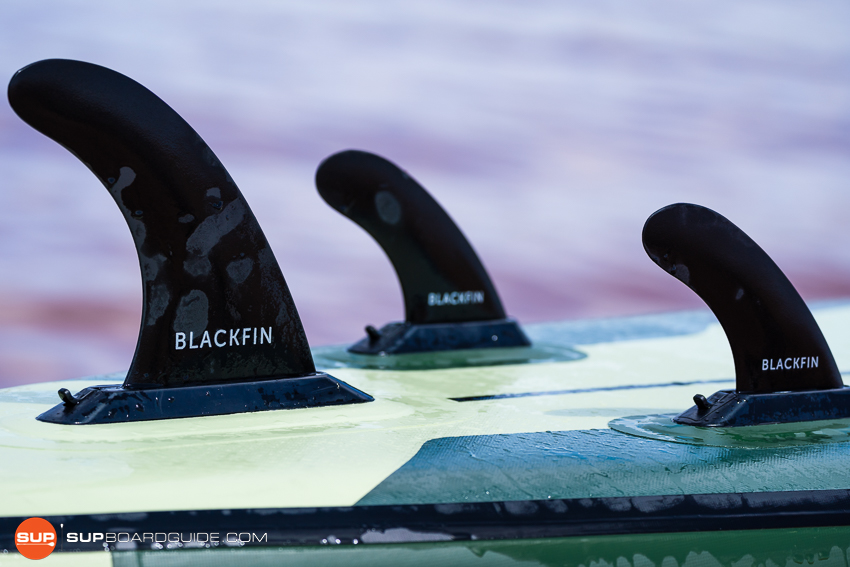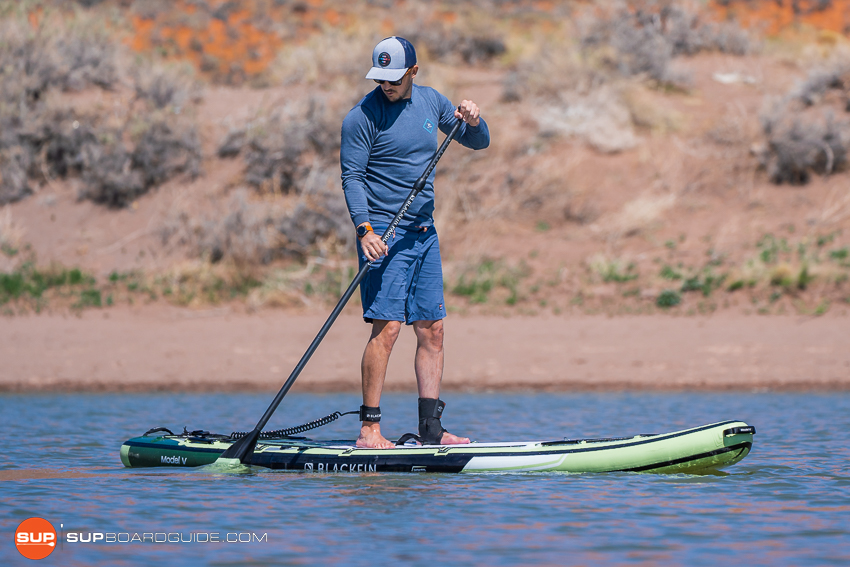 Tracking plays a big part in the speed of a board as well. The less corrections the rider needs to make to their course the more they can focus on putting power into their forward motion.
Though some may say the three fin setup isn't the ideal way to go for speed, I would argue that the setup provides greater tracking ability. Regardless of where you sit on the multi fin vs single fin debate, this board does a great job of tracking straight due to its fin setup and long water line.
Maneuverability: 8.3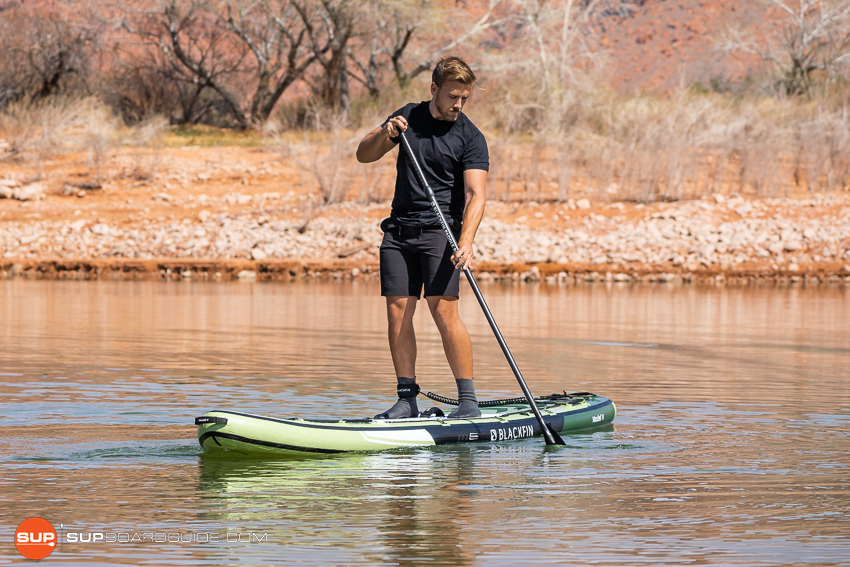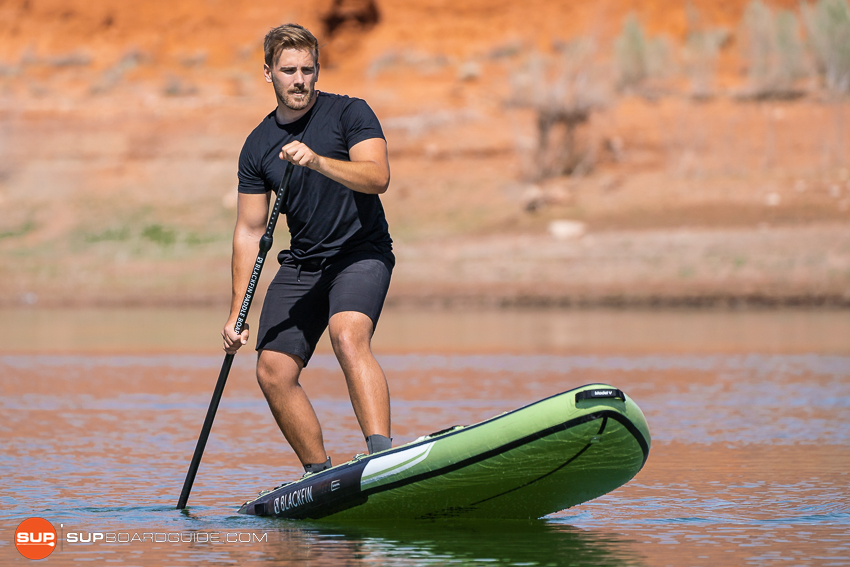 With great speed comes poor maneuverability. Well, not always but they do seem to work counter to each other. Simply put, the attributes of a SUP that breeds speed are the same ones that make a board more difficult to turn. This is true with all touring SUPs, and the Blackfin is no exception. It's not going to be the most maneuverable board, but it does perform above average when it comes to more advanced techniques like the step-back turn.
Simply put, in order to really turn on a dime with a 12'6 board you are going to need to step toward the back of the board, lift the nose out of the water, and turn. This is pretty easy on the Model V, and easier than some other boards in this category. Going back to that 32" width – it does make it a little easier to balance while you lift the nose and turn.
One thing we would love to see that relates to maneuverability on the Model V would be extending the deck pad and including a rear stomp pad. That would make the back step turn even easier.
Construction Quality: 9.3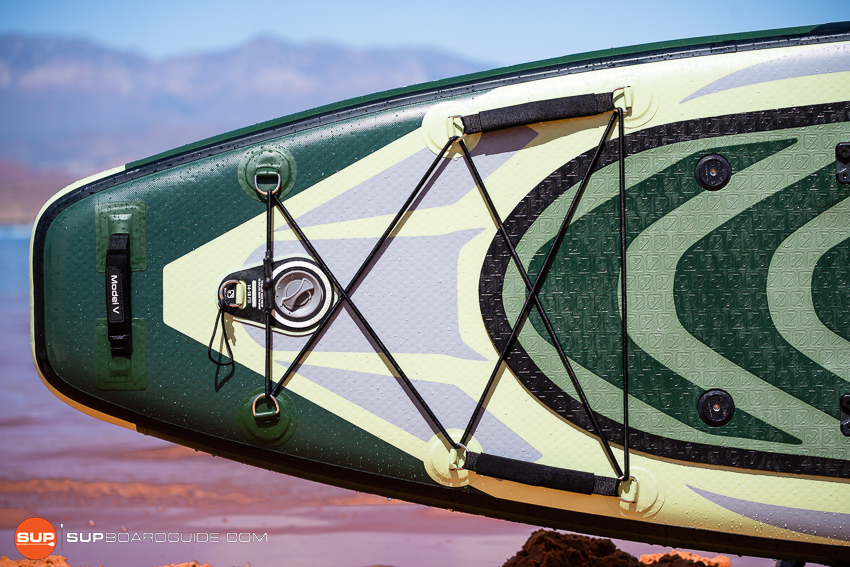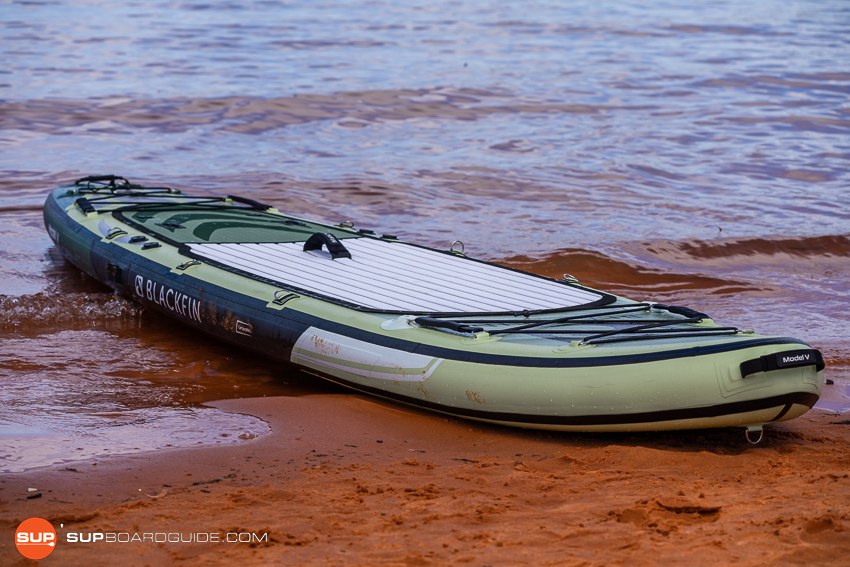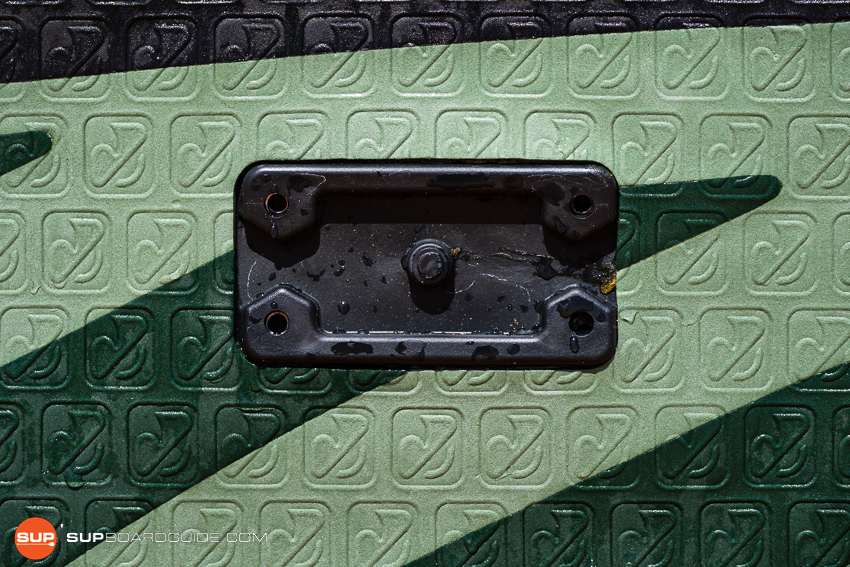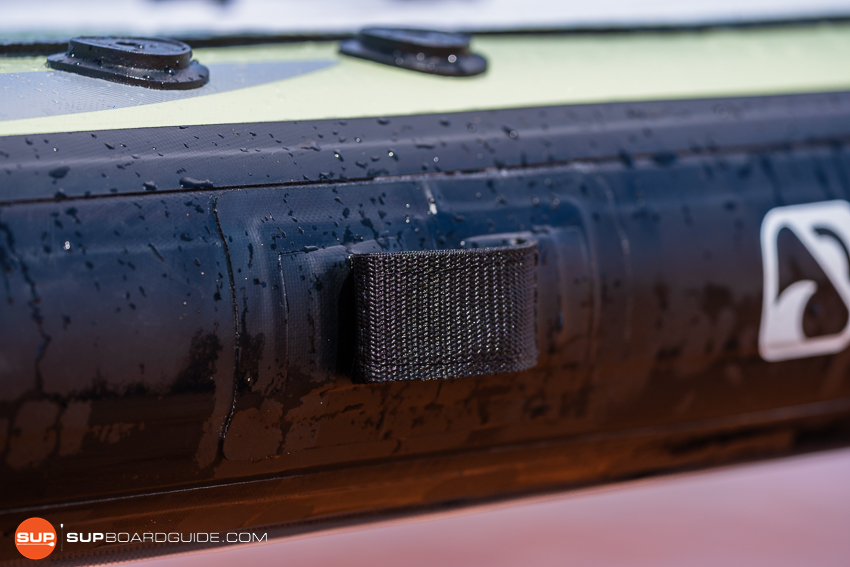 The Blackfin Model V benefits from being the "high end" model in the iRocker company lineup. Not only does it share the excellent triple layer composite PVC and high density drop stitch inner core, it benefits from having carbon fiber reinforced rails. Again, we acknowledge the debate on whether this is simply a marketing trick or if it actually adds solid benefits. We feel that at very least the use of the carbon in the rail (which visibly sticks out from the rest of the board) will work well to keep the rails protected. Even if that is simply due to it's extra thickness. Furthermore the flex results clearly show a slight edge in rigidity with the carbon fiber reinforced rails.
In our opinion the board feels well built from nose to tail. The materials all seem to be of a grade commensurate with more expensive boards. It's overall weight of approximately 30lbs may be a little more difficult for smaller individuals to lug around, but it reinforces the well built feel of the board overall.
Accessory Review: 9.8/10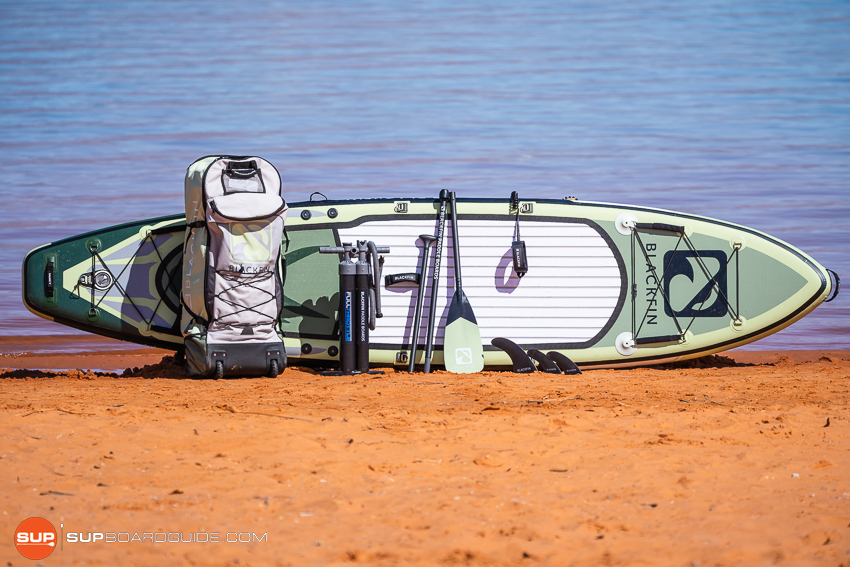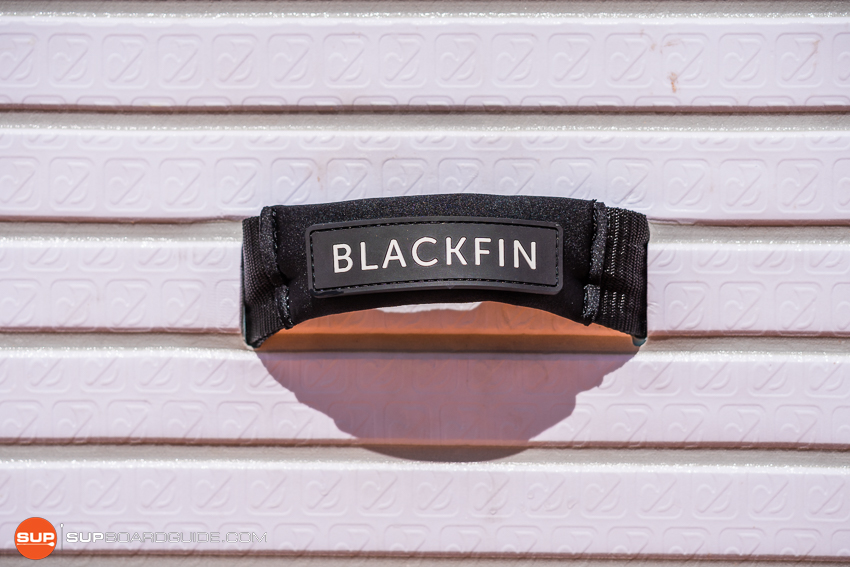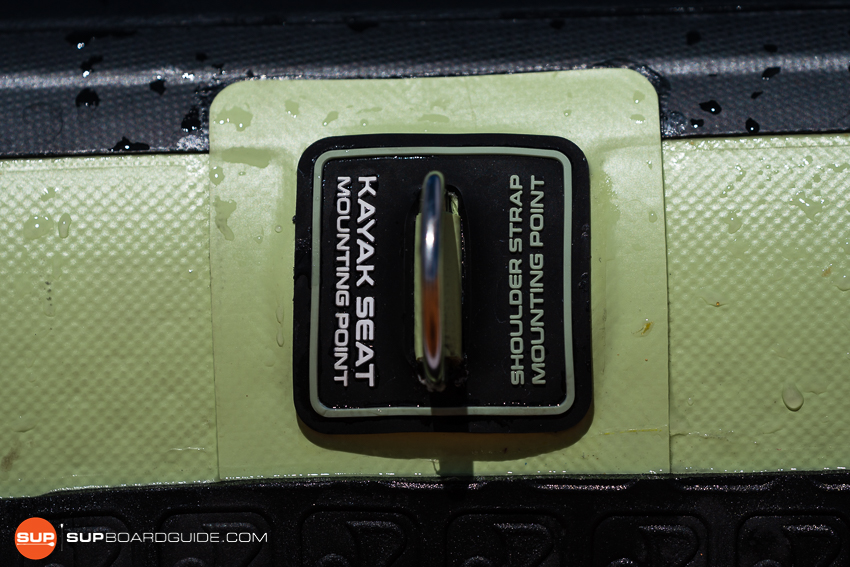 Included Accessories:

In the bag accessories is excellent with the Blackfin Model V. You get the following:
3 piece carbon fiber shaft, nylon blade paddle
Dual chamber, triple action pump
10' leash
Wheeled SUP backpack
Standard SUP repair kit
8 multi-use action mounts
20 d-ring attachments
Sand spear and fishing rack mounts (spear and racks sold separately)
That's everything you need (except PFD), to get on the water right away. This kit is really designed to be taken directly to your nearest body of water!
Paddle: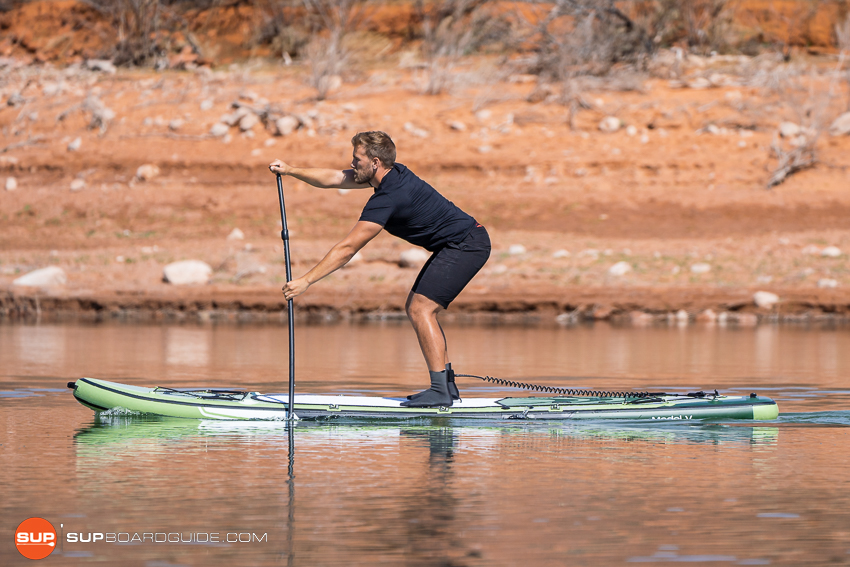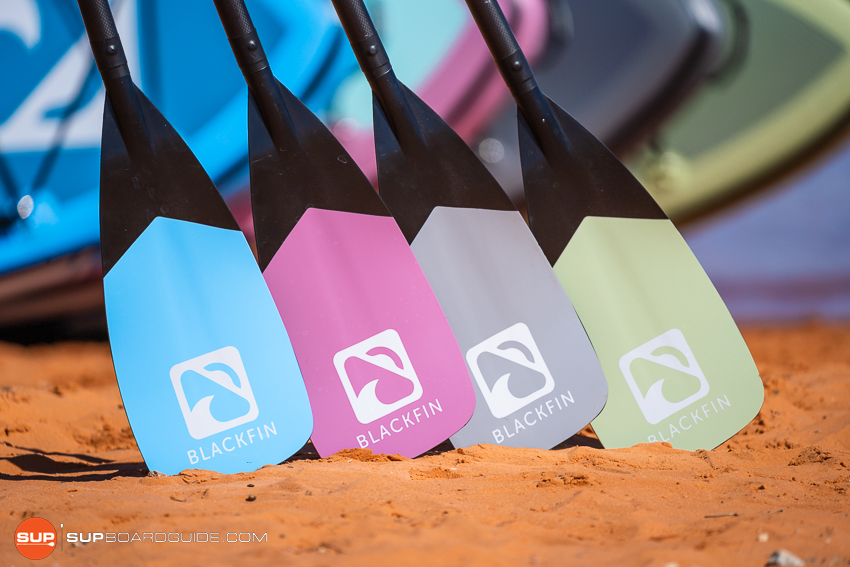 Blackfin includes a nylon bladed paddle, (great for durability) attached to a matte carbon-fiber shaft. This is a fairly good piece of standard equipment that is only bettered by going to a custom paddle. So the fact that it's included with the Model V is a great deal.
Some improvements would be to add some sort of clamp to the lower connection point. It twists ever so slightly and we would like to see that eliminated. This might also be accomplished by adding some sort of guide mechanism like we've seen on the inside of other kit paddles.
Again, this is a great paddle to come in a kit, but if the above issues speak to you then it's probably time to go custom. Most high-end boards don't even include a paddle because they assume you already have one.
Pump: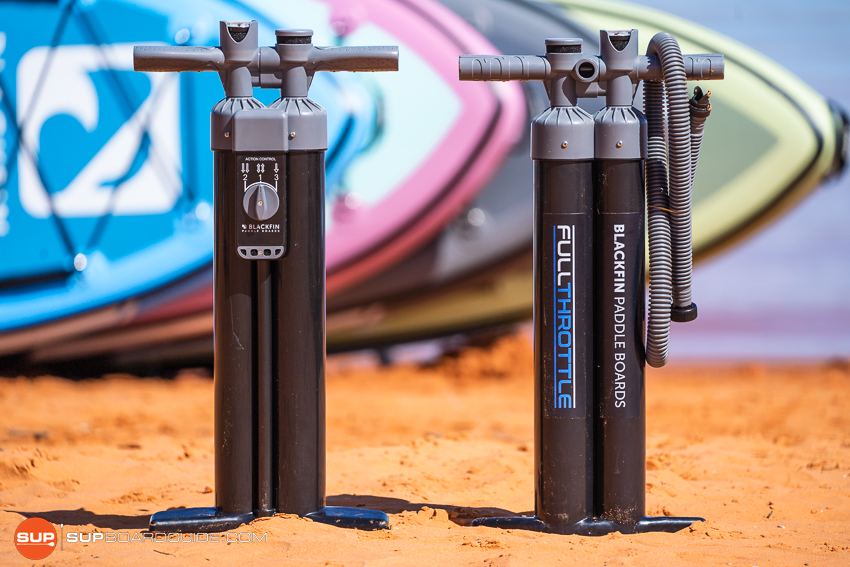 Out of the bag you get a dual chamber, triple action pump. When compared to other kit pumps it's fairly effective and won't leave you out of breath when you're done pumping up your board. If we had to give it a rank overall, we would probably rate this just behind the Red Paddle Co Titan pump. That pump is simply the best manual pump we've tested to date.
As always, we can't recommend the benefits of upgrading to the electric paddle board pump by iRocker enough. Being our current favorite electric pump available, it really does make getting on the water much easier. Especially considering this board is made to hold a lot of gear and equipment. Save your back, shoulders, and arms for paddling, fishing, etc.
Bag: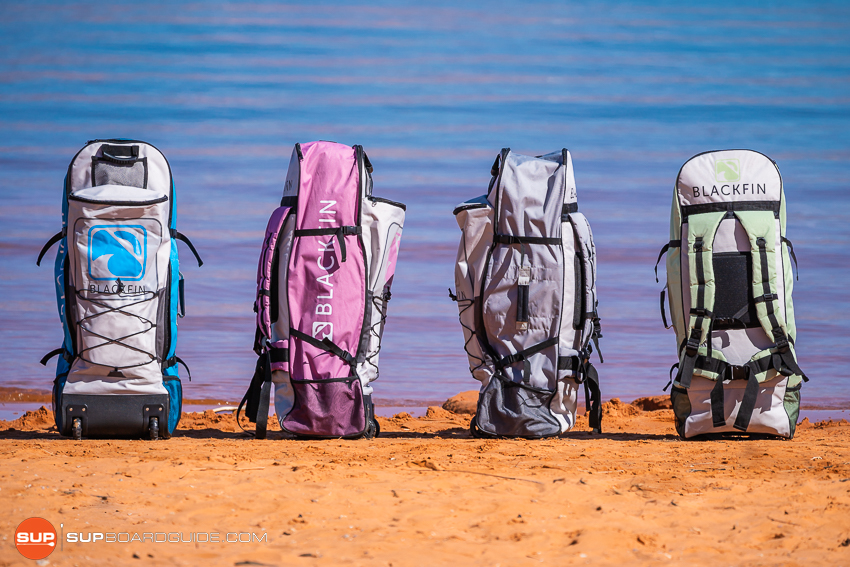 Like the rest of the equipment included with the Model V the Blackfin backpack just feels like quality. In comparison to the iRocker series it does feel like it's made with better materials and offers some more storage and features. It's comfortable with good padding, and lots of straps and pockets for all the necessary gear you could need. The backpack comes with:
Rolling wheels, which are strategically placed on the outside of the backpack. This keeps the straps from getting caught in the wheels and makes it easy to roll the backpack around.
2 mesh side pounces
2 small side zipper pouches
Large front compartment
Top zipper compartment
Side and top carry handles
Bungee front straps
Optional Accessories
Accessories and add ons are where these boards really stand out. The Model V is perfect for those looking to adapt their paddling experience for almost any situation. With too many accessories to list, really, go check the website, here are some of our favorites:
Electric Pump
Sand Spear/Push Pole
Fishing Rack
River fin system (shorter fins to make the board perform better in rivers)
Kayak conversion kit (very popular with those who don't want to stand at all times or who want to bring their kids onboard with them)
Kayak seat cushion (this I highly recommend for those buying the kayak conversion kit, but I'm super inflexible and need that extra lift when sitting)
SUP anchor
Cell phone holder
Cup holder
Vibe waterproof speaker (my kids favorite accessory)
Soft cooler deck bag
Hard cooler (great for sitting on while fishing or just paddling around)
Bottom line, this board is designed to be as diverse and flexible as you are. From fishing to relaxing with friends this board has the accessories and the ability to change at the drop of hat for your next adventure.
Summary Review of the Blackfin Model V
The Blackfin Model V is a great touring board with significant features that allow it to do just as well in the all around category, and even some good sup fishing.
This board has an absolutely incredible capacity allowing you to modify your adventures from day to day, or just bring most everything along with you. There are tons of attachment points and available accessories so you really have a lot of options.
I personally love the look and feel of the board, it's swift water line, and that sand spear. With all the included accessories we feel this is a great deal and one that will last you a very long time.
Of course, if we didn't cover something in our review of the Blackfin Model V, please leave us a question in the comments below, or shoot us an email. We are happy to help you figure out if this is the right board for you!
Happy paddling and we look forward to seeing you on the water!
The following two tabs change content below.
SupBoardGuide Editorial Team
At SupBoardGuide.com we are a team who love the water, the outdoors, and are more than grateful that our full-time job allows us to review stand up paddle boards. We paddle year round (it helps that we are just about 2 hours outside of Las Vegas), and we bring in a wide range of paddlers with the goal of providing our readers with the best, most in-depth, and accurate stand up paddle board reviews.
Latest posts by SupBoardGuide Editorial Team (see all)