Who is iROCKER?
Founder(s): Steve Elder
Where: Jacksonville, Florida
When: 2013
Welcome! This is our page where you can read our reviews and learn more about iRocker, including their company and their central brand of boards. For those wanting to know more about their premium BLACKFIN range, please check over here.
After many years of paddleboarding with hardboard SUP's, the team at iROCKER decided to create an inflatable, easy to use, and high performing alternative that alleviated their issues with hardboard SUPs. Combining their manufacturing knowledge, their knowledge of the paddleboard industry, and their years of experience riding paddle boards, they started developing their own line of inflatable SUPs. The results of their hard work were the first fleet of remarkable iRocker inflatable SUPs, which have only grown in quality and value over the past seven years.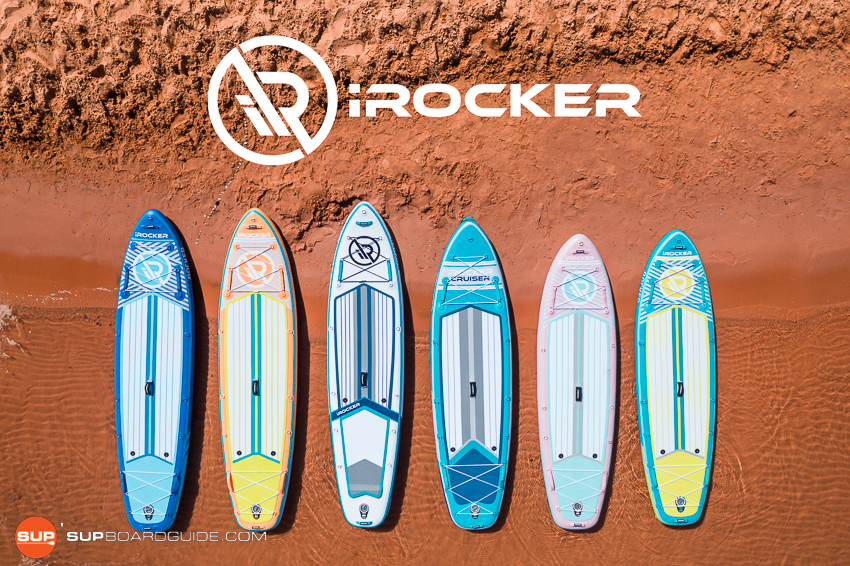 iRocker now has 9 boards in their arsenal, including the premium BLACKFIN range and entry-level Nautical range. Below, you'll find our reviews of this year's iRocker boards.
Durable, lightweight, and featuring everything you need to get on the water right out of the box, you'll get high-quality boards for a mid-range price when you go with the iRocker line.
Why We Love iROCKER SUPs and Recommend Them So Highly
Having watched iROCKER SUPs evolve over the past seven years, one thing is for sure – they listen! iRocker has been a brand that has consistently listened to customer feedback and sought ways to improve their board year over year. We love how they surprise annually with the new additions they add to their boards. Even with all the things they change in their board designs, iRocker maintains a high standard of quality with enough performance to satisfy even advanced riders while also working hard to keep their boards affordable.
We love how iRockers handle, and how they are suitable for beginners but are also the type of board you will want to keep as you grow in experience. They are loaded with features for versatile use, which further cements just how great of a value they are. When you're investing in a quality board, you want a long-lasting product, and we believe iRocker SUPs are among the most durable inflatable SUPs in the mid-level price range.
iRocker boards are also some of the most rigid! Using military-grade PVC drop-stitch construction, iRocker inflatable SUPs are manufactured to be among the best in the industry. iRocker boards are able to carry a large amount of weight, suiting a larger range of riders and riders wanting to take a kid or pet out. Yet, despite supporting a large amount of weight, iRocker boards are strong without sacrificing maneuverability, glide, or tracking. There's a reason that iRockers regularly feature as one of our top picks on our best inflatable SUP page.
iRocker doesn't just provide great boards, but great customer service as well. We talk with manufacturers regularly to get a good idea about their products and company values. We want to make sure we get all our facts right and try to get the best inside knowledge to then pass onto you, our readers. Thankfully, iROCKER shares the same values, and are not only helpful and transparent but constantly reach out to us to make sure we have everything correct as well.
Lastly, there are some real stand out features and accessories that make iRocker boards some of the best investments you can make.
The triple layer Composite PVC construction, giving a great balance in durability while maintaining a lightweight nature.
Quad action mounts and 20 D-rings on every board for extra storage, towing, and use with other attachments.
High quality, lightweight paddles (carbon composite shaft + lightweight nylon blades).
The twin-chamber, triple action pump that allows for full inflation in five to ten minutes.
Bungee cord cargo areas to easily secure your valuables and give kids something to hang onto while they ride.
Consistent color coding of board, packaging, and accessories in multiple color options for an iconic look.
Everything you need to get comfortable on the water, right out of the box – pump, paddle, bag, ankle leash, and a repair kit.
iRocker does not distribute through retailers and instead interacts with the customer directly. As such, they can maintain the high quality of their boards, accessories, and customer service for an affordable price. iRocker truly is one of the best board lines in the business, especially for those looking to invest in the mid-level price range. For those wanting to know which board is best suited for them, we recommend taking a look at our iRocker reviews below.
iROCKER Reviews – The Boards
iROCKER All-Around 10' SUP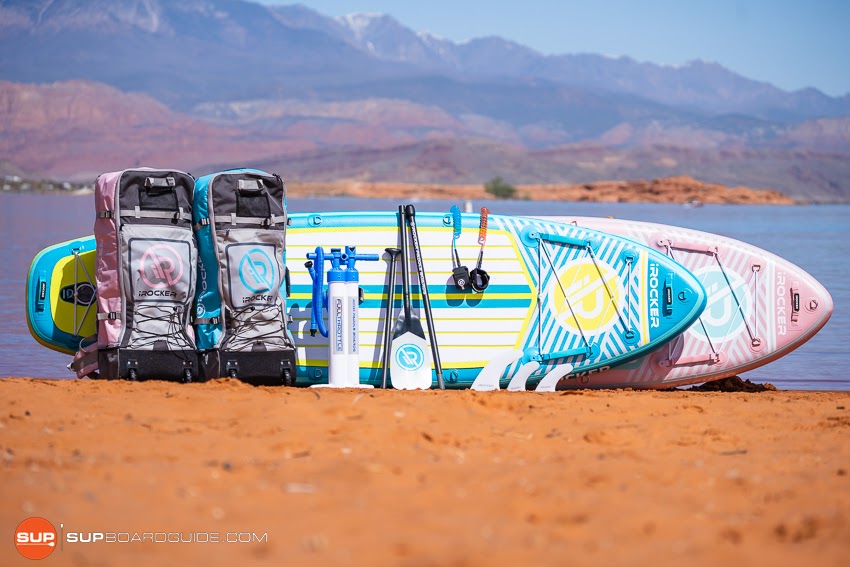 The 10′ All-Around is a great board for beginners to intermediate riders. The 32″ wide deck offers plenty of stability, while its 6″ thickness gives paddlers a lot of volume and high weight capacity. The board is loaded with great features like the forward bungee storage area to the quad action mount and an astounding 20 D-rings that support an array of fun extras.
For even more versatility, you can change out your flip-lock fins, making them well suited for a variety of situations. Use the board with the included tri-fin set up when you want to tour across the lake or just paddle around. You can then also purchase the river fin set up and take the board down shallow rivers. Beginners and pros alike will love this board, especially in calm to moderate waters.
Read our review of the iRocker All-Around 10'
iROCKER All-Around 11′ SUP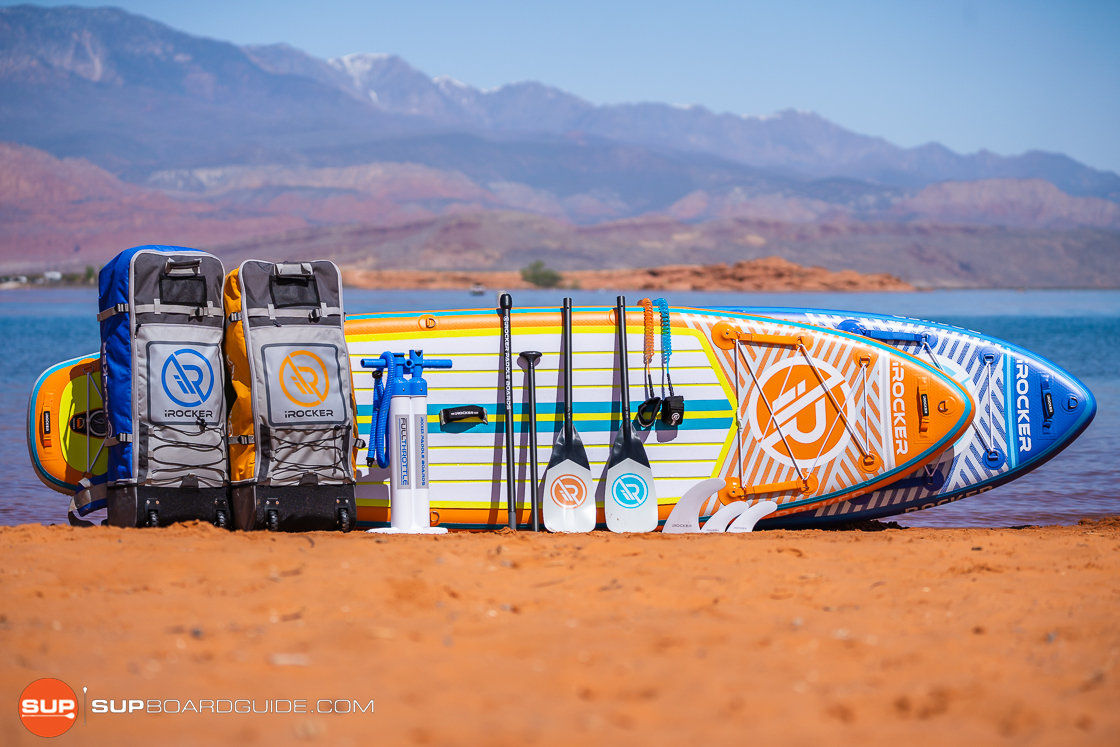 The big brother of the iRocker All-Around10', the 11′ X 32″ X 6″ iROCKER All-Around is great for those who like the idea of a versatile all-around board but want extra weight support. The 11' is great if you like to take gear or kids and pets out with you regularly, as the extra space and volume will help keep things more stable. The three handle configuration and 20% lighter design compared to the previous year's model also make it even easy to transport despite its large size. The board is great in calm to moderate conditions, and any level of paddler will enjoy the 11′ All-Around.
Read our review of the iRocker All-Around 11'
iROCKER Sport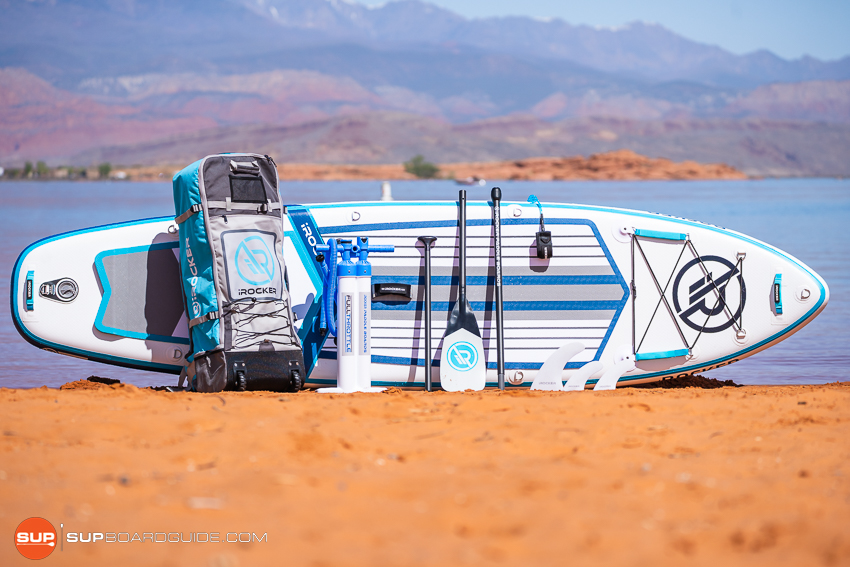 For those looking for something a little quicker, the iROCKER 11′ Sport would be a great choice. It's a tad narrower than the other iRockers at 31″, and the body is more tapered in order to give the board a better glide and additional speed. We find the Sport to be a great combination of a quicker all-around SUP + a shorter touring SUP. The Sport is going to get you places quickly, with the board built for long distances in calm to moderate conditions in mind. The thinner frame also gives it an advantage in conditions that may require some maneuvering, such as easy rapids, small waves, and light chop. A confident beginner wanting to learn quickly to advanced paddlers who know how to ride will love the iRocker Sport.
Read our review of the iRocker Sport
iROCKER Cruiser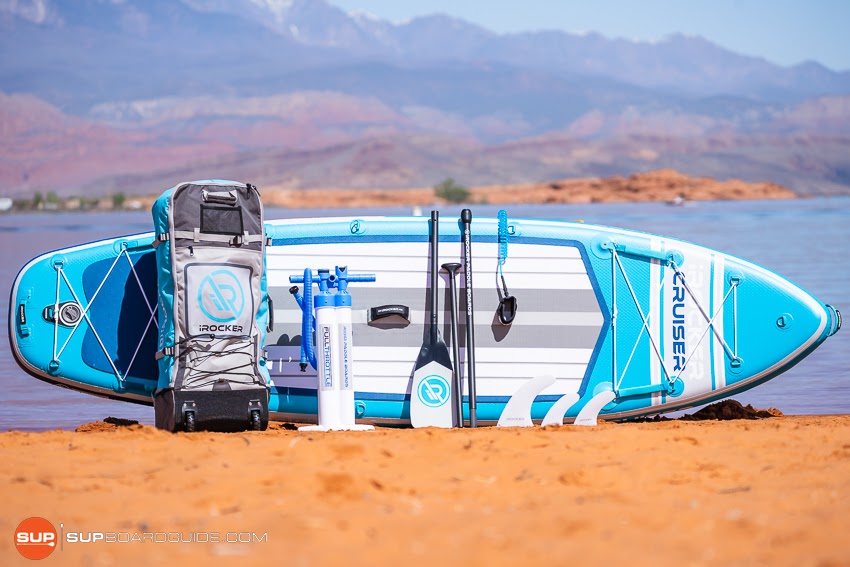 The 10'6″ Cruiser is a fantastic board for beginners, and an extremely enjoyable SUP to paddle for that leisurely exploration of the local river. It's a touch more stable than the All-Arounds with a 33″ wide deck, and a more squared tail which produces better balance, especially when you're turning the board. You can also choose between 6 different colors for your Cruiser, making it a highly customizable SUP!
The iRocker 10'6'' cruiser performs best for long trips in calm waters. While the board handles chop and some bumps well, it's not suited for trickier, more dangerous conditions. Those trying out inflatable SUP will find it easy to handle, while average to experienced riders will enjoy it as a leisurely board to explore with.
Read our review of the iRocker Cruiser
iROCKER SUP Review – Accessories
With each iRocker SUP purchase, you will get the following accessories:
The long-lasting iRocker SUP backpack, now compatible with a removable wheel attachment.
The full-throttle triple action, dual-chamber high-pressure pump, which will inflate your board in 5-10 minutes.
10' color-coded coil ankle leash, with a hidden compartment to hide your keys.
A new 3 piece adjustable ultralight carbon blend shaft with a nylon paddle blade.
3 various use flip lock fins: two side fins, and one large center fin.
DIY emergency repair kit, including patches and a valve wrench.
2-year warranty, and a 30-day money-back guarantee.
Optional Extra Accessories
iROCKER also offers a variety of official accessories that are compatible with all of their mainline boards. A few that we consider to be great additions are:
An electric pump. Save time and energy from inflating your board by using a small electric pump that will fit great in your paddle board bag. The electric pump will also deflate your board for you, helping packing up for the day even easier and extending the life of your board. Electric pumps are our number one optional accessory recommendation, especially for young riders who will have a harder time inflating their boards manually.
The SUP to Kayak conversion kit. While iRocker boards aren't the best for heavy rapids, the kayak conversion kit comes with a great seat for those wanting to sit down and paddle for long stretches. You will also need to buy a iRocker kayak paddle converter, unless you own a BLACKFIN brand paddle already.
Action mounts. These can be installed almost anywhere on your board, and can be quickly removed or moved thanks to their suction technology. By having action mounts, you'll enable your board to be compatible with an even greater range of accessories from iRocker and third party brands.
iRocker roller tray. Get this if you're hiking long distances, or would rather pull their iRocker inflatable SUP bags than carry them. The roller tray uses a secure click in system at the bottom of your bag, making installation and removal a breeze.
iRocker SUP anchor. For those engaging in water sports where floating away isn't ideal, the SUP anchor will keep you in place. Small and light enough to carry with you without impacting the stability of your board either when it's not in use in the water.
VIBE waterproof speaker. Features an internal storage of 4GB, a capability of almost a thousand songs. Alternatively, pair it with your smartphone to stream audio with its dual speaker pairing options.
While third parties offer a large range of accessories for inflatable SUPs, make sure to check whether they are compatible with your iRocker boards before purchase.
Where To Buy iROCKER Stand Up Paddle Boards, Warranties, and Refunds
iRocker sells directly to the consumer, which helps to not only save on costs but ensures their high rate of customer satisfaction. iRockers are some of the least returned boards, thanks to their high quality and the help the company provides in resolving your issues. For those living in these countries below, you'll have free shipping with your purchase; those living elsewhere can still buy an iRocker, but with an additional shipping cost.
U.S
Canada
Australia
UK
Spain
Italy
Germany
Europe
iRocker SUP Reviews – Customer Service / Warranty
All iRocker boards come with a 60-day guarantee and can be returned for a full refund depending on the quality of the returned board. Additionally, all of the iRocker line boards come with a 2-year warranty that covers most injuries that can happen to the board.
Perhaps even more important than the warranty is how the company stands behind their product. 2021 has been a crazy year, with brands across the board suffering from supply chain issues related to COVID-19. Even during these times, we have yet to see an instance where iRocker wouldn't take care of their customers. It might take a little longer given all the craziness out there, but Steve and his team care deeply about every customer who buys and iRocker paddle board (and if you do have any issues, please contact us and we will reach out on your behalf).
The following two tabs change content below.
SupBoardGuide
Heyo! At SupBoardGuide.com we are a team who love the water, the outdoors, and are more than grateful that our full-time job allows us to review stand up paddle boards. We paddle year round (it helps that we are just about 2 hours outside of Las Vegas), and we bring in a wide range of paddlers with the goal of providing our readers with the best, most in-depth, and accurate stand up paddle board reviews.
Latest posts by SupBoardGuide (see all)