Who is iROCKER?
Founder(s): Steve Elder and David Erwin
Where: Jacksonville, Florida
When: 2013
Welcome, here you can find all our iROCKER SUP reviews as well as a little info on iROCKER themselves. Their premium BLACKFIN range can be found over here.
After many years of paddling themselves and encountering the transport/access issues of hardboard SUP's, the team at iROCKER decided to make the solution to their problems. Combining their skills and manufacturing knowledge from years of being familiar with the industry, they started producing their first fleet of inflatable SUPs.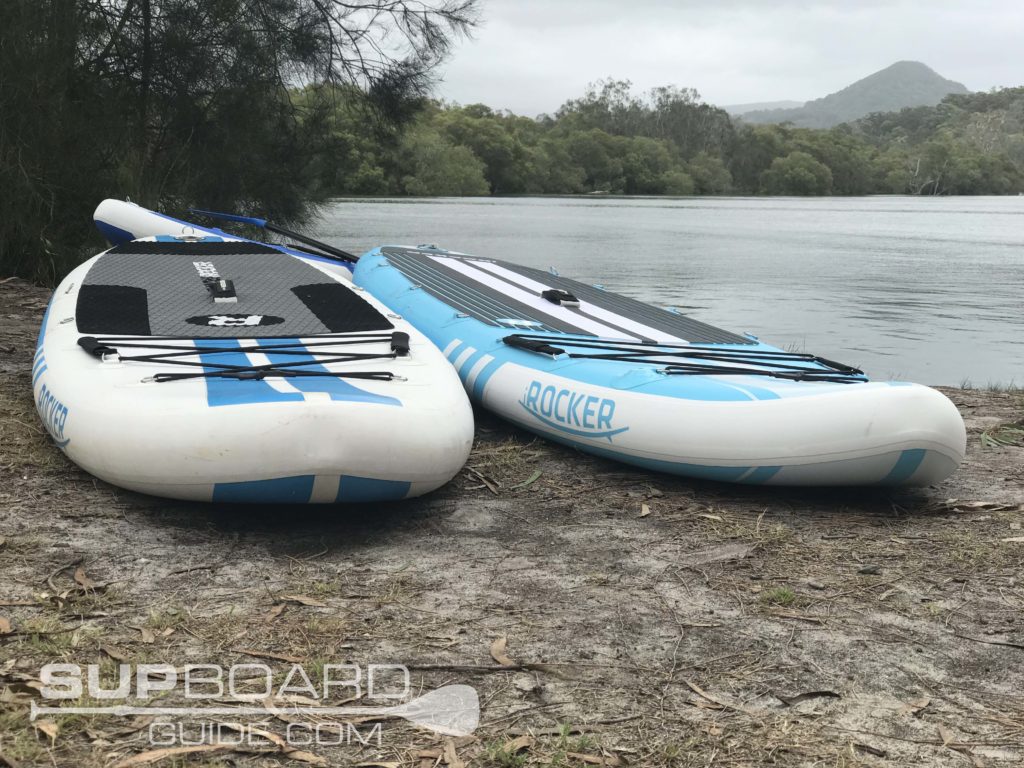 They now have 9 boards in their quiver, including the premium Blackfin range. Below is listed the original iROCKER range. 2019 sees upgrades with board features as well as a new design. As of 2018, iROCKER decided to make their boards with a quad layer PVC, making them some of the most durable iSUPs money can buy. Not only do you receive the full kit and caboodle to get going on the water, most of the accessories are higher quality than what you'd expect to see in a mid-range priced board.
Why We Love iROCKER SUP's and Recommend Them So Highly
After watching the iROCKER SUPs evolve over a few years, one thing is for sure – they listen! When we talk about something we don't like or can see the room for improvement, more often that not, there's something been done about it next season.
We talk with manufacturers regularly to get a good idea about their products and company values, to make sure we get all our facts right and try to get the best inside knowledge to then pass onto you, our readers. When we have these conversations with iROCKER they are always super helpful and transparent.
As far as their boards go, there's consistency and a high level of standards are kept into ensuring for the best quality iSUPs at an affordable price. We love the boards because they are affordable for most and also offer up enough performance for more experienced riders to still love them too.
We love how they handle, how they are suitable for beginners but also are the type of board that grows with you. They are loaded with features for an extremely versatile use, which punches that value into place even harder. For the utmost value, you want a long lasting product though and iROCKER SUPS we believe are the most durable iSUPs around this price range. Also the most rigid! Another bonus of this manufacturing is that it allows the board to carry a large amount of weight, suiting a larger range of riders and/or people wanting to take their kids/pets out There's a reason that they regularly feature as #1 in our best inflatable SUP page.
There are some real stand out features / accessories that give the board their value.
The pump, it's what you'd expect to see in higher priced packages
The unique quad PVC layering
Bungee cord features handles up the front and at the back for kids to hang onto
An action mount on every board
Color coding the accessories
You get everything you need to start – pump, paddle, bag, ankle leash repair kit
As you can see, there's really not much else you can expect. In order to keep their boards affordable they prioritise what they believe to be most important. For some other companies they splurge in things like the bag, whereas iROCKER has decided that the pump and the overall quality of the board is where the most attention needs to go to. Not to say that the other bits and pieces that come with their boards aren't great though. Just in comparison to other brands in this price range, it's the pump and board quality that stands out the most.
iROCKER SUP Review – Accessories
With each iROCKER SUP purchase, you will get the following accessories:
The super SUP bag
The epic Full Throttle Triple Action, Dual Chamber High-Pressure Pump
Groovy color coded ankle leash
A convenient 3 Piece fibreglass travel paddle with a nylon paddle blade
3 fins, two side fins, and one large center fin
Little orange tube, DIY Repair Kit, including patches and valve wrench
2 Year Warranty and a 30 day money back guarantee
** Minus the Big Blue – it comes with 2 fibreglass paddles, the option of 2 hand pumps or a compressor and a repair kit.
Optional (Really cool!!) Extra Accessories
The Action Mount – The action mount on all iROCKER and Blackfin boards plays host to a range of different accessories. You can hook up a fishing rod holder, a GoPro mount or the super cool waterproof/bluetooth speaker that also stores music/podcasts so no need for a phone.
Then also there's the kayak seat with pouch and extra paddle blade to turn your SUP into a sit on top kayak. Further again, there's iROCKER electric compressor, stylish swag, insulated deck bag, phone holder/waterproof case, PFD's and a range of backups.
iROCKER Reviews – The Boards
iROCKER All-Around 10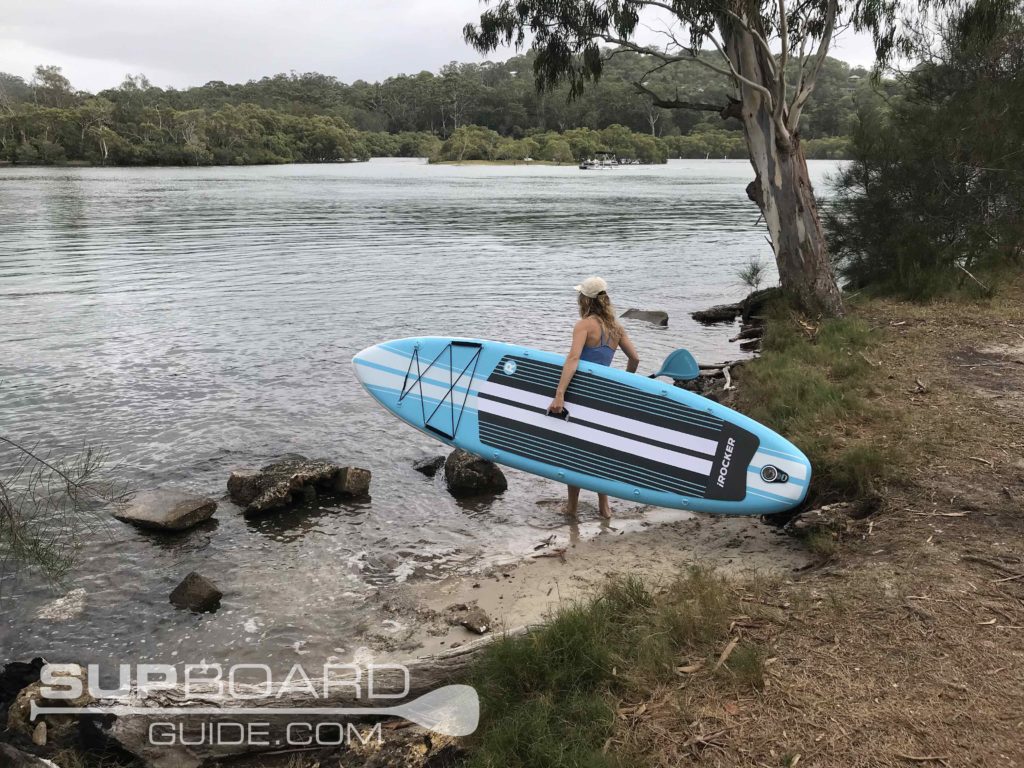 The 10′ All-Around is a great board for beginners through to intermediates. It's super stable with the 32″ wide desk and 6″ thickness keeping your high and dry. The board is loaded with features from bungee storage areas to the action mount that plays host to an array of fun extras. For even more versatility, you can mix up your fins, using the board as a tri-fin thruster when you need to maneuver more or as a single fin for better tracking on long straight paddles. It's made to be able to paddle in a range of conditions from calm to moderate waters. While the paddler experience needed is anything from absolute beginner through to a pro.
Read our review of the iRocker All-Around 10'
iROCKER All-Around 11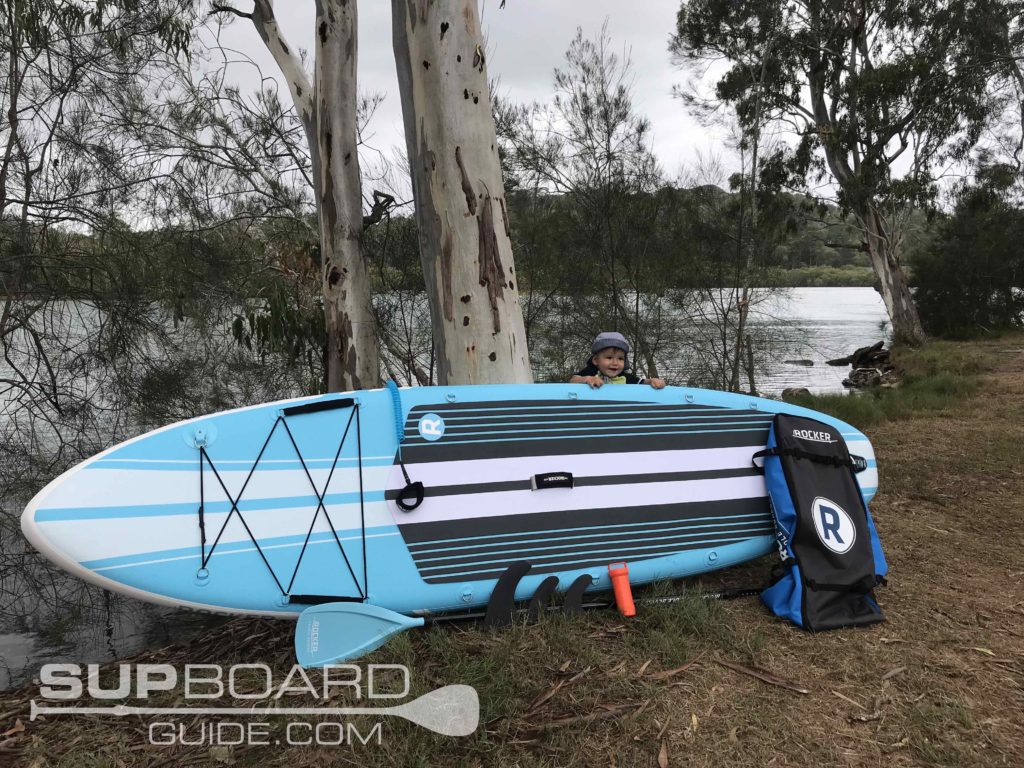 The big brother of the all-arounds, the 11′ X 32″ X 6″ iROCKER All-Around is great for those who like the idea of a versatile all-around but are bigger riders. It's great if you like to take gear or kids/pets regularly, the extra space and volume will help keep things more stable. There are even soft handles on the bungee cord which is perfect for kids. It's great in calm to slightly moderate conditions but the length does it make it tricky the more challenging the waters get. Any level of paddler will enjoy the 11′ All-Around.
Read our review of the iRocker All-Around 11'
iROCKER Sport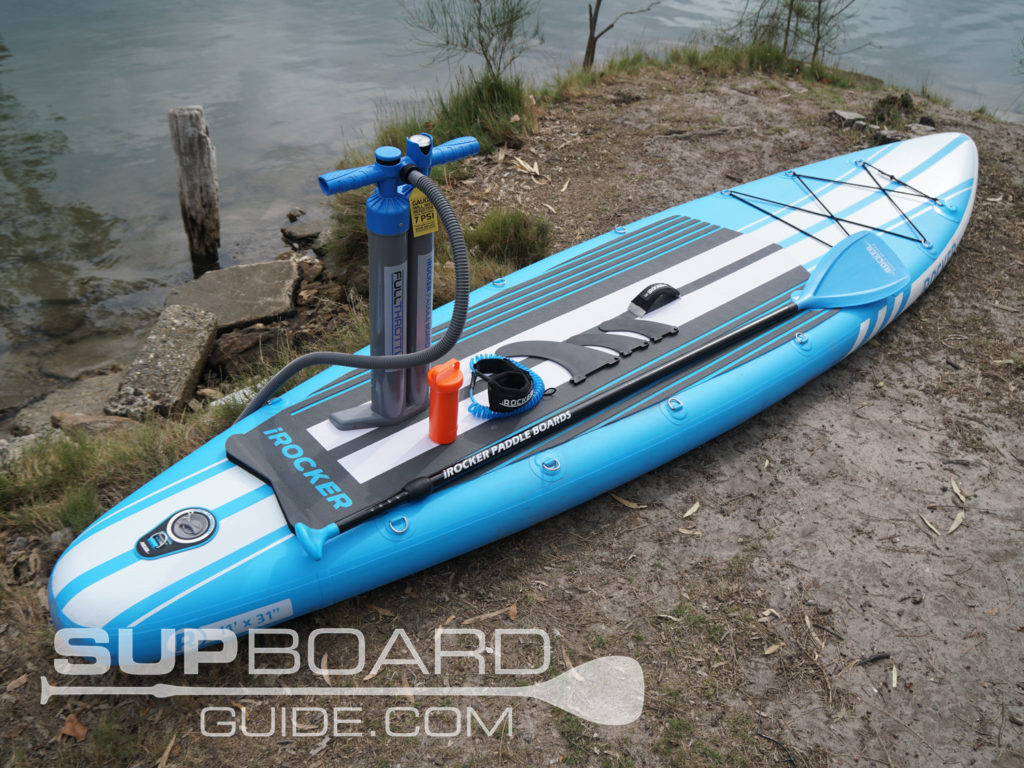 For those looking to spice up their life a little more, the iROCKER 11′ Sport may be the go. It's a tad narrower than the rest at 31″ and the body more tapered for better glide/speed. This means it's not as stable as the other iROCKERs, so beginners you may want to test out your balance first, but the pay off is an increase in performance. The Sport is going to get you places quick, so long distances in calm to moderate conditions is best. The thinner frame gives it in advantage in conditions that may require some maneuvering such as light rapids / small waves / chop. A confident beginner through to advanced paddlers will love the Sporty spice.
Read our review of the iRocker Sport
iROCKER Cruiser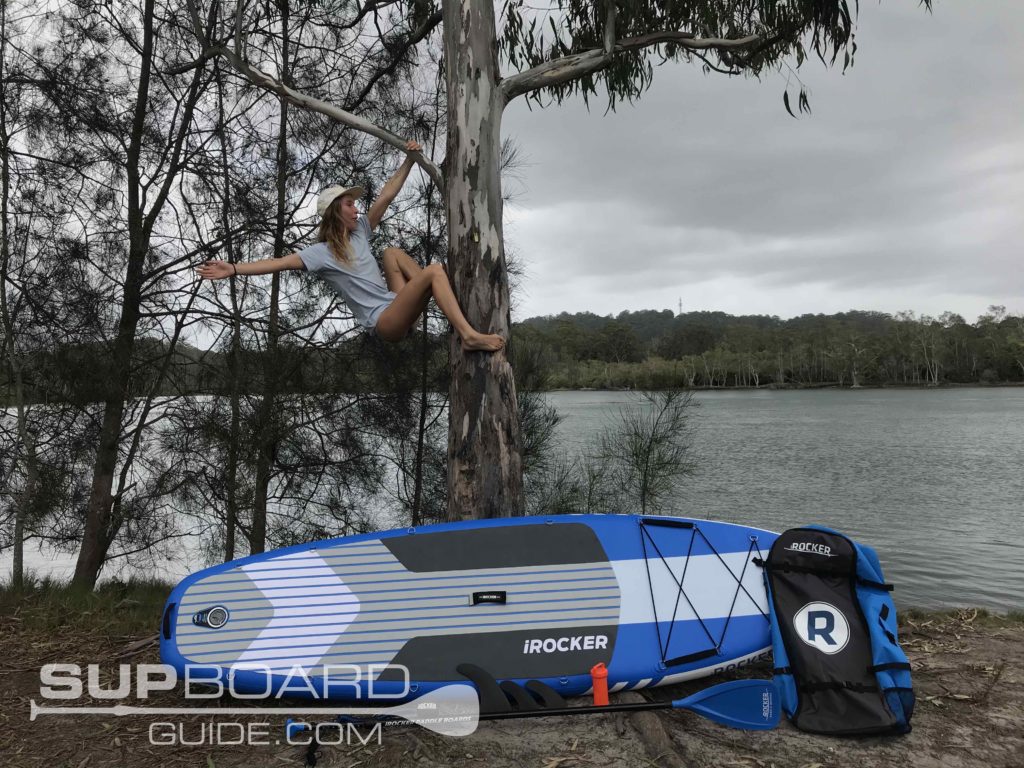 The popular kid on the block. The 10'6″ Cruiser is a fantastic beginners boards and extremely enjoyable SUP to paddle for that leisurely exploration of the local river. It's a touch more stable than the All-Arounds with a 33″ wide deck and more squared tail which produces better balance especially when turning. You can choose between 5 colors for your Cruiser including some cool retro ones like the bright green!
Your Cruise performs best on longer paddles in calm waters, while it handles chop and some bumps well, it's not suited to trickier conditions. Enjoyed by all levels of paddlers!
Read our review of the iRocker Cruiser
iROCKER Big Blue
It's name is Big Blue for a reason! It's 13'6" long, 50" wide, and 8" thick. This small boat could act as a transporter for your local river crossing. At minimum you'll want two people paddling it and it does come with 2 fibreglass paddles. However, you could have up to 4-5 paddle on board and there be no issue. So how does one move around a small boat? Well you can fashion some kind of sled but alternatively, get each friend to grab one of the 16 handles on board to get yourselves to the water's edge.
You can find dual valves so two people can be inflating at once or if you opt to get the compressor, just let it do it's thing! The big blue is made with quad layer PVC much like all other iROCKER boards making this bundle of fun almost indestructible. You won't want to be trying to paddle this down some rapids or catching steep waves (or do you?!). It's a novelty SUP made for fun group paddles and a huge success at any waterside gathering.
See the current price on the iROCKER Big Blue
**Current iROCKER Promo Codes, Coupons, and/or Discounts **
→ Buy 2 boards and save $80 USD
Where To Buy iROCKER Stand Up Paddle Boards
Buying online is the easiest and more efficient way to get your next iROCKER SUP. With free and fast shipping from all countries listed below. You can still purchase an iROCKER SUP outside of these countries but you will need to cover shipping.
U.S
Canada
Australia
UK
Spain
Italy
Germany
Europe
The following two tabs change content below.