Thurso Surf Tranquility SUP Board
Pros
Very stable SUP that is fantastic for practicing yoga on the water.
Triple/Quad PVC coatings. Very durable, resilient design with 350 lbs recommended weight capacity.
Newly added action mount + 12 D-rings. Plenty of accessory options.
Features carbon rails. Enhanced rigidity for greater SUP performance.
Redesigned deck pad is more beautiful than ever.
Pump and backpack also improved for 2020 Tranquility. Great kit has everything you need for the water out of the box.
Cons
The Tranquility weighs around 29 lbs fully inflated. Difficult to carry, but there are now 4 different carry handles to make things easier.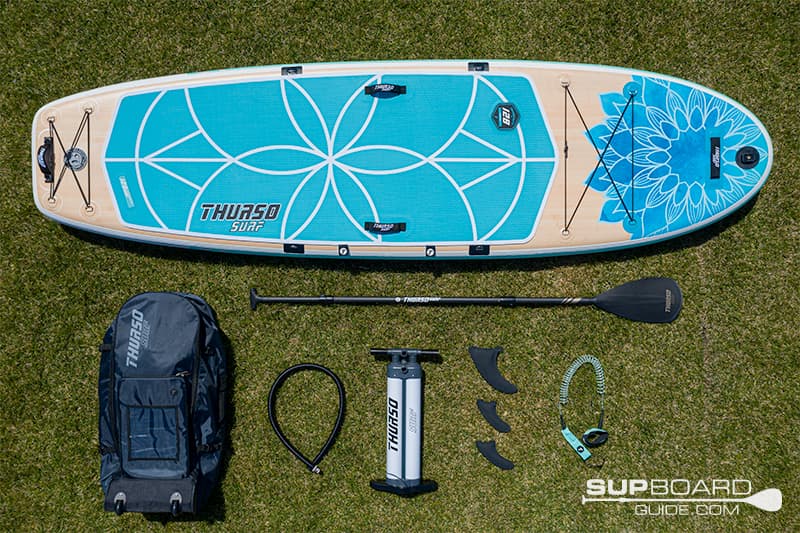 If you want something that will get you in the mood to practice some yoga on the water, you'll be interested in the Thurso Surf Tranquility inflatable SUP. The Tranquility is a very stable paddleboard, making it a great option to not only learn with, but even go out with your kids or pet on. The smooth and enjoyable glide makes it fun to paddle with the Tranquility in calm water and a little chop alike, with tracking that will keep you on course, especially when using the tri-fin setup. Floral patterns and the distinct Thurso Surf wood grain style provide a dazzling design, while also acting as a soft but grippy board that makes it real easy to stand on. The Tranquility is also built to last, with quite a few coatings of PVC for protection, along with performance boosting carbon reinforced rails. The Thurso Surf Tranquility is a study, solid paddle board that is great for yoga, and good for other SUP water sports as well.
SUP Board Specs
| | |
| --- | --- |
| Length | 10'8'' |
| Width | 34'' |
| Thickness | 6″ |
| Weight | 29 lbs |
| Rider Capacity (lbs) | 350 lbs |
| Recommended Inflation | 12-15 PSI |
| Fins | 2 + 1 removable quick lock fins |
| Paddle Type | Carbon Fiber Shaft, Nylon Blade, 32 oz. |
| Construction | Triple PVC layers of reinforcement, drop stitch core + Carbon fiber composite reinforced side rails |
Who Should Buy This Stand Up Paddle Board:
The Tranquility is primarily a yoga SUP, but it does offer a performance that is close to some all-arounds paddleboards as well. As such, the Thurso Surf Tranquility is great for most paddlers, including:
Anyone trying out paddleboarding, wanting something easy to stand on and learn with.
Aspiring yogis, or those who just want something spacious to stretch out on.
Families interested in heading out on the water with their kids. Great with pets too!
Those who want to invest in a very durable paddleboard that will last them for years.
People who want something that isn't just solid in the water, but great to look at as well.
As to where you can paddle with the Tranquility 128, consider trying out the following:
Large, wide open water areas like lakes, bays, or marinas.
Calm, friendly waters for practicing yoga and finding inner peace.
Some chop and wind, which have little impact on the overall SUP performance.
Light river running, and even some rapids would be fun to try with the tranquility given it's wide base, carbon fiber rails, and 10'8" length.
The ocean! You'll find it great to stretch as you listen and roll with the waves.
Performance
Stability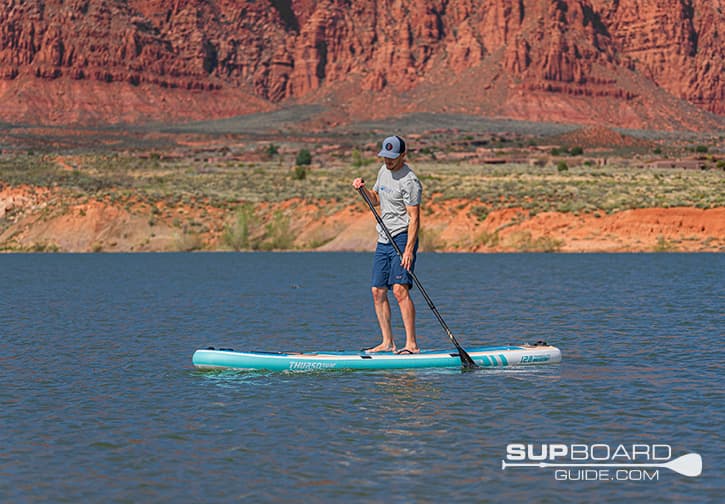 If you're going to become a paddleboarding yoga master, you want something you can stretch, lean, and even occasionally jump on without tipping over. You'll be able to do all of that, and more, on the Tranquility 128. This is a very stable paddleboard, and when inflated to the recommended 15 PSI should have no trouble supporting at least 350 lbs. The large weight capacity makes it great for larger paddlers, and for those who want to bring their kids or pet along with them. With some experience and proper spacing, two adult paddlers can have a good time paddling together on the Tranquility as well. The board feels very rigid, and the newly added carbon reinforced rails to the 2020 model make it even easier to stand tall in the water.
Maneuverability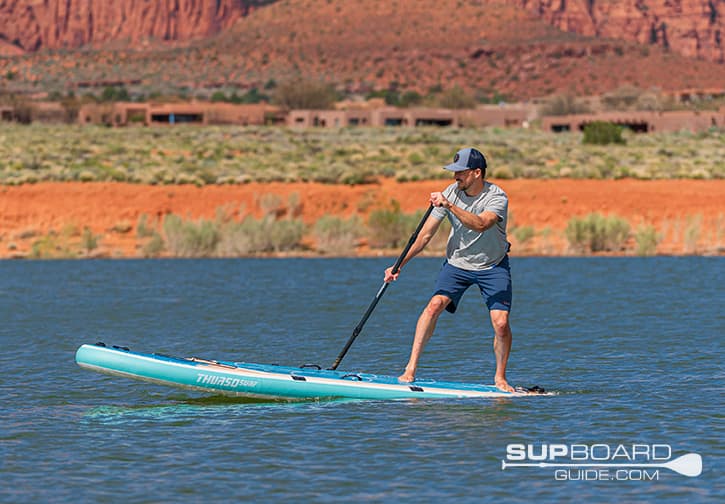 Thr Tranquility is large, but still rather easy to maneuver with on the water. While it won't make sudden quick turns, it only takes a few strokes to change your direction to avoid colliding with rocks, trees, and paddlers who might disrupt your peaceful meditation. If you do need to turn on the spot though, you'll be able to do so with a step-back turn. Move a foot behind you, push the tail into the water, and you'll raise the nose of the Tranquility into the air like you see above. Once your nose is out of the water, you'll be able to pivot the board in any direction you want to go in just a couple seconds. Given how stable the Tranquility is, along with the board's tail width, it won't take much work to master the step-back turn so you can maneuver on the water like an expert. It will be a little tricky to really push the tail into the water, but you can still get the nose up so you can make a turn, as you see above in the picture.
Tracking/Glide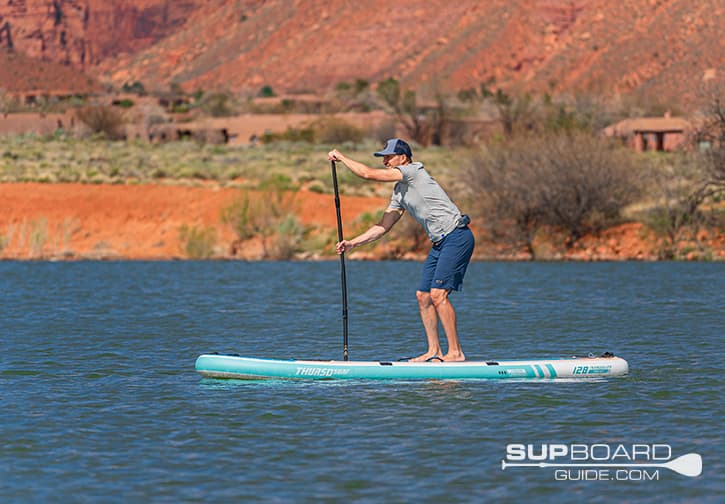 Thurso Surf's founder Shenglong You, utilizing his PhD studies in mechanical engineering and fluid dynamics, has designed his boards with the objective of reducing drag to improve speed and overall performance. The Tranquility 128 benefits from such a design, offering a very solid glide and good tracking while still being a large yoga board. We find the Tranquility to be very smooth to paddle through calm water, and enjoy the pleasant rise and fall that comes with hitting light waves. On its own, the Tranquility manages to keep a pretty straight course, tracking well in the water when the proper paddling technique is used.
If you want even better tracking, besides some additional stability and overall better performance, make sure to insert the snap-lock fins before going out. The center fins will provide tighter, straighter tracking, ensuring that even brand new paddlers can head in the direction they want. Adding in the two side fins also improves the stability, besides just providing a better overall feel as you paddle. Taken together, the Tranquility SUP and tri-fin set up provide the speed, glide, and tracking you need to have fun paddling, whether it be for yoga or something else.
Materials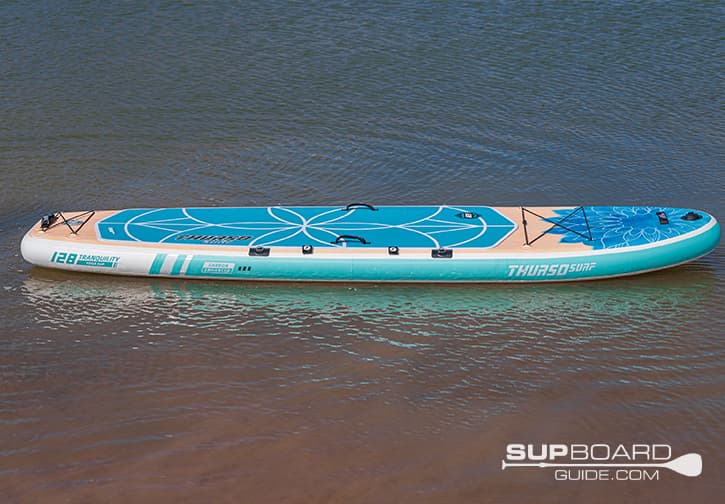 At the very center of the Thurso Surf Tranquility is a tight drop-stitch core. This core consists of sheets of fabric that are held together with thousands of short strings. As air is pumped into the core, the sheets expand away from each other until going taught due to the strings. With this design, you can have an inflatable that floats well in the water, while also achieving the paddleboard shape you see above.
On its own, the drop-stitch core is functional, but paddleboards typically feature additional layers of protective material that also increase performance. Thurso Surf uses their 'dual-layer' system, which is made up of several different coatings for maximum support. The first layer is made up of the drop-stitch core and a PVC coating that protects the core and serves as a base for the second layer. As for the second layer, two additional PVC coatings, another polyester sheet, and a UV coating are all included to further enhance the durability of the Tranquility 128.
Added together, the deck has a triple PVC coating protection that will withstand most common drops, crashes, and SUP accidents with little to no structural damage. If you're wondering about the rails, you'll be delighted to know that they're even more protected, with 4 coatings of PVC besides the newly added carbon rails. In total, this is a very sturdy and strong SUPboard that can handle almost anything you throw at it, though we caution against trying to test the durability. No point in purposefully scratching such a pretty board!
Board Design/Shape


The Tranquility is 10'8'' long, 34'' wide, and 6'' thick, weighing about 29 lbs when inflated to 29 lbs. The large size and weight of the Tranquility make it very stable in the water, performing best in calm water and admirably in some light chop and wind. The added carbon rails to the 2020 further enhance the rigidity of the Tranquility 128, which further enhances performance in almost every regard over past models
The Tranquility is very fun to use, and while it's optimized for yoga it can be used for other SUP activities as well. If you want to do some light exploration or just enjoy a friendly, casual race with your buddies, you'll be able to do so on the Tranquility. If you need something that can tackle rougher waters while still feeling comfortable, the Tranquility is a great pick as well. Finally, those who want to paddle with their pets or kids will definitely want to make use of the Tranquility 128. We definitely enjoy how the Tranquility feels in the water, so be sure to try a little bit of everything when you go out with it.
Board Features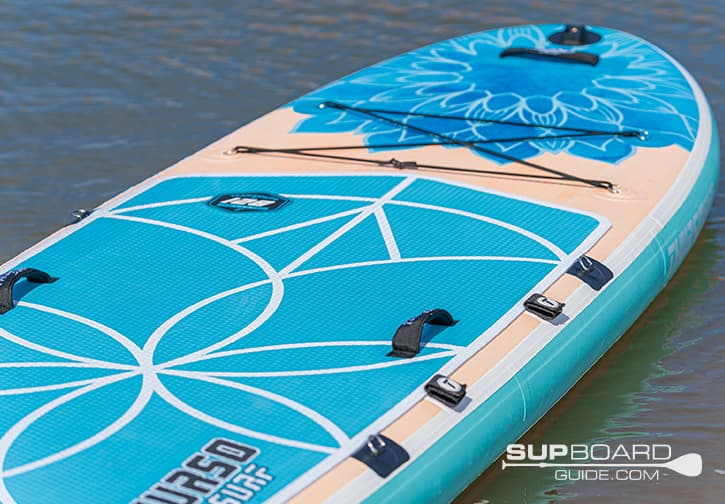 The Thurso Surf Tranquility is a very beautiful looking board, and there are a ton of features built into the board that doesn't just make it pretty, but better functionally too! Some of our favorite features include:
Carbon Rails: Added to the Tranquility 2020 model, the carbon reinforced rails are our top upgrade to this year's model. The carbon reinforced rails increase the rigidity of the board, increasing overall performance and feel of the board in the water. The carbon reinforced rails are also built right into the board, so you get a performance boost without having to deal with removable rods like with some other SUPs.
Dual-layer military grade composite PVC: The Thurso Surf dual-layer system is fantastic due to the impressive durability that the triple/quad PVC coatings provide. The Tranquility will more than pass the test when it comes to withstanding the common drops, crashes, and accidents that happen while paddleboarding. Be sure to read more about the design in the materials section above!
12 D-rings + New Action Mount:It's very easy to secure your add-ons with the Tranquility by using one of the 12 D-rings scattered around the board. New to the 2020 Tranquility model is a nose action mount, perfect for GoPro cameras, speakers, and other electronic devices. Bring some music or an audio work out routine to make your yoga session even better!
Side paddle holder straps: The paddle holder straps from last year's model returns as well, giving you another option to secure your paddle. If you want both hands to carry the board, or just want a safe place to put your paddle as you practice yoga, make sure to use these straps! From a yoga SUP perspective, we really love how we can strap the paddle to the side and get it 100% out of the way. The side paddle holder is not a common feature we find on many other iSUPs, so extra credit to Thurso Surf!
Carbon fiber shaft + nylon paddle blade: Easy to hold and put together, the 33 ounce paddle will get you where you need to go on the water. You can adjust the length to share the paddle with others, and watch it float if you ever drop it in the water.
4 Neoprene carry handles: This may be a big board, but Thurso Surf has made carrying it a breeze with the four different carry handles. There are dual carry handles located in the center, a carry over from last year, and two new carry handles on the nose and tail. All four handles have neoprene covers as well, for maximum carrying comfort!
Textured extended EVA deck pad: We love the new floral design that Thurso Surf has opted for over the bland white deck pad seen in previous models. It's very functional as well, made with similar EVA foam used in many traditional yoga mats. You'll find the Tranquility to be soft and relaxing to stand on, with a textured pattern that will improve your grip to the board.
Fins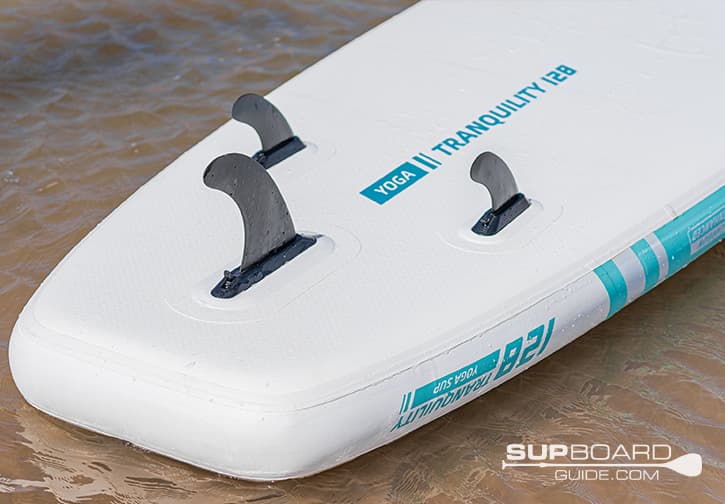 The Thurso Surf Tranquility sports a tri-fin setup of three removable snap-lock fins. These fins are very easy to install, and just require inserting them into the fin box and pushing down on the lever to secure them. The fins are built to last, made from reinforced nylon, and should survive just as long as the life of the Tranquility board itself. Use the center 9' fin for increased tracking, and add the 4.5'' side fins for additional stability and general performance support. Your paddling experience will be even better with the fins, though you'll want to avoid taking the center fin in shallow water environments.
Deck Pad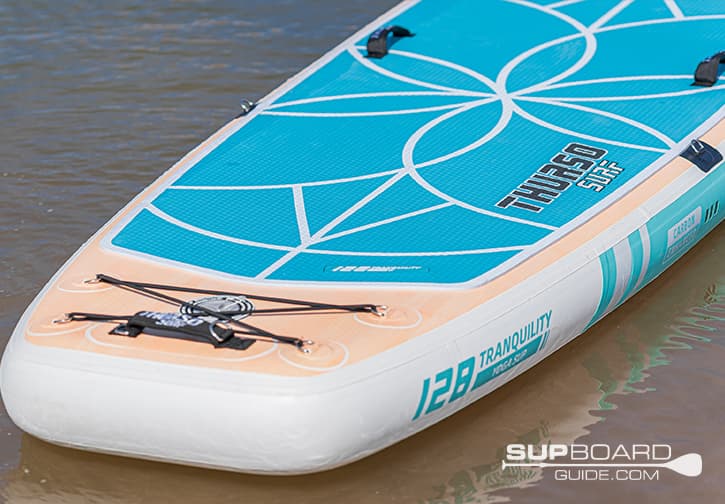 Previous models of the Tranquility featured a white deck pad with black stripes, which looked fine but did tend to stain easily. Thurso Surf has opted to completely redesign the look, opting for a soothing blue and white floral pattern that is calming and pleasing to stare at. If you're trying to get in the mood for yoga, the new Tranquility 2020 deck pad design will definitely help you on your path for inner peace!
Of course, we don't just care about looks, and are glad to report the Tranquility deck pad to be highly functional as well. EVA foam is a material common in many traditional land yoga mats, and has been integrated into the deck pad of the Tranquility for a similar experience. The deck pad is soft and cushy, allowing you to stand on it for hours without hurting your feet. There is a textured pattern to the deck pad that also improves traction, making it easy to grip the board as you paddle. It's a fantastic deck pad, both from the way it looks to the way it performs.
Handles
In the past, the Thurso Surf Tranquility had two carry handles for lifting the board with. These were good on their own, but it's awesome to see that the Tranquility has been upgraded to four carry handles. Tandem paddlers heading out with the Tranquility can lift it from the nose and tail, while solo paddlers will appreciate lifting from either side of the board with the dual center handles. All four carry handles are built with neoprene covers too, making them comfortable to carry and protecting against chafing for soaking wet or freezing cold paddlers.
One last thing to note is that the center handles are moved to the outside of the board, compared to being in the middle of the board like past models. This handle positioning does make it a little harder to carry, but it also keeps the handles out of the way so you have a very nice, wide yoga deck.
D-Rings/Bungees/Cargo Areas
The 12 D-rings support a multitude of accessories that will clip onto your board, ranging from dry-bags and coolers to cell phone cases, key bags, and more. An addition to the 2020 version of the Tranquility is an action mount, which works well with accessories that you have to screw in to secure. GoPro camera mounts and speaker mounts are two of our favorite accessories to use with the action mount, though there are plenty more to choose from for the action mount.
Beyond the D-rings and action mount, there is also the dual-bungee system that makes it easy to secure small containers. While small, the rear bungee area is a new addition with the 2020 model, and is great for securing things you want quick access to. Both bungee systems are removable as well, letting you make use of the full length of the Tranquility when needed.
Accessories

Paddle
The carbon fiber shaft and nylon blade weighs 33 ounces when fully assembled, and is a solid paddle for the majority of casual paddleboarders. The paddle is light and comfortable enough that you can use it for hours without wearing yourself out, providing powerful strokes as you glide through the water. However, we do prefer the Carbon Elite paddle by Thurso Surf, which weighs just 27 ounces due to the carbon fiber blade. If you are willing to spend a little bit more, or just want the best paddle Thurso Surf provides, consider upgrading to the Carbon Elite.
We do like how easy it is to put the paddle together, and the ability to break down into 3 individual pieces makes it easy to store the paddle in the included backpack. Those going out with friends will love how quick you can adjust the height, letting you optimize the shaft length even on the water. The paddle also floats in the water, should you accidentally drop it while passing it to a buddy.
Pump
A major upgrade from the previous version of the Thurso Surf pump, the 2020 Tranquility kit now features a dual-chamber, triple-action pump compared to the old single-chamber pump. The extra chamber and action mode makes inflating the Tranquility faster than before, and by following the instructions on the pump you can have your board ready to go in less than 15 minutes. The dual-chamber pump also has an extra nozzle that you can use to deflate your paddleboard, ensuring that you only have to roll up your paddleboard once when you're ready to pack.
Manual pumping is a lot of work, and if you're going out to practice yoga you're probably not wanting to tire yourself out before you even get in the water. That's why we invite you to consider our favorite SUP accessory, an electric pump. Electric pumps will do the hard work of inflating your paddleboard for you, and will be just as fast as doing it yourself. Electric pumps make it real easy to deflate your paddleboard as well, allowing you to focus on other things as you pack up. Electric pumps weigh about the same as manual pumps but are more compact in size, taking up less space in your kit bag. For these reasons, we definitely recommend going with an electric pump for the best paddleboarding experience, including the Thurso Surf electric pump.
Backpack
The very solid Thurso Surf backpack is even better in 2020. Built with thick nylon material, you won't have any problem protecting your gear against water, sand, and other elements you'll encounter in nature. There is a ton of space within the bag, ensuring you can load your gear without feeling cramped or limited like with bags used for tents. If you just need to carry the bag a short ways, you can use any of the three carry handles located on the bag. For hiking and long distance trips, the padded back and adjustable straps will help the backpack fit for short and tall paddlers alike. This backpack also features wheels that work well on flat surfaces, and is also the area with the most important change. Instead of rear-facing wheels, they are now located on the front of the bag for 2020. This change ensures that your straps won't drag across the ground or get caught up in the wheels like in past versions of the bag!
Leash
Included with the kit is a 10' coiled leash, which you'll definitely want to wear in rougher water. The leash fits over your ankle or thigh, and can be attached to one of the many D-rings on the SUP. When worn, the leash will keep your paddleboard close if you fall into the water, preventing it from drifting away on windy days. Make sure you go out with a PFD as well though, as the leash on its own won't help you stay afloat.
Repair Kit
Packed into the orange repair kit are some patches that will help you seal small tears and holes that aren't located on the seams of the Tranquility. Also included is an inflation valve wrench, built for tightening the Halkey-Roberts inflation valve if it is having trouble locking in place.
For major paddleboard damage and other SUP concerns, be sure to reach out to Thurso Surf.
Optional Accessories
Most third party accessories will work with the Thurso Surf Tranquility, though you'll always want to check their compatibility before purchasing. Thurso Surf also has a few accessories as well that we like and would recommend buying. These accessories include:
Thurso Surf electric pump
Kayak seat
Deck cooler bag
SUP strap carrier
Company Review – Thurso Surf
Founded by Shenglong You, Thurso Surf entered into the world of paddleboard manufacturing with an inflatable 11' SUP. This 11' iSUP was the foundation, and in 2020 Thurso now has 7 different paddleboard models available for purchase. Designed with stability, speed, and a smooth paddling experience in mind, we thoroughly enjoy every single paddleboard made by Thurso Surf. We also can't help but gush over their signature wood grain style either!
You will have a very hard time damaging the Thurso Surf Tranquility, but if something does go wrong it has a 30-day guarantee and 2-year warranty coverage. If you are interested in buying it, Thurso Surf also has finance options that let you pay over the course of up to 18 months. These are very solid boards, and the reinforced carbon rails introduced in many of their 2020 boards is a huge step up that made their good boards even better. We love how Thurso Surf has responded to feedback, and look forward to seeing what they'll develop next.
Conclusion/Bottom line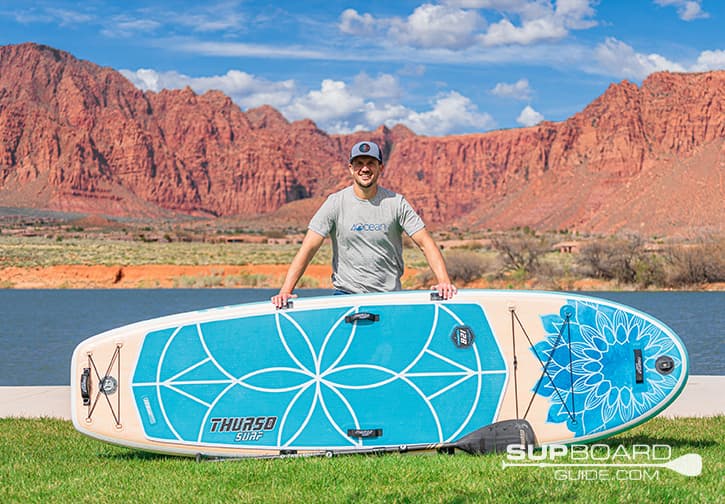 The Thurso Surf Tranquility 128 is a fantastic option for yoga, while still offering good performance for beginners and intermediate paddlers. This is a very stable paddleboard in the water, enhanced by the well designed dual-layer construction and reinforced carbon rails. The tri-fin setup makes it easy to maintain a straight track in the water, while maintaining a steady glide that will allow you to enjoy flat water and some small chop alike. The deck pad has been revamped for a new, beautiful design that is also highly functional, providing additional traction and grip support. We also like the new action mount, along with the upgrades made to the pump and backpack alike. If you're interested in stunning paddleboard that is fun for other activities as well, you'll want to check out the Thurso Surf Tranquility 128.
Want to know more about the Thurso Surf Tranquility, or have some other question about paddleboarding? Then make sure to leave a comment below, or shoot us an email! We love discussing paddleboards, and also try to improve our reviews based upon the feedback and experience other paddlers have with them. If you have the Tranquility, let us know what you think of it!
Thank you so much for reading. We hope you have a good time paddleboarding!
The following two tabs change content below.
SupBoardGuide
Heyo! At SupBoardGuide.com we are a team who love the water, the outdoors, and are more than grateful that our full-time job allows us to review stand up paddle boards. We paddle year round (it helps that we are just about 2 hours outside of Las Vegas), and we bring in a wide range of paddlers with the goal of providing our readers with the best, most in-depth, and accurate stand up paddle board reviews.
Latest posts by SupBoardGuide (see all)