Thurso Surf Tranquility Yoga SUP
Pros
Huge stabilityVery stable SUP that is fantastic for practicing yoga on the water.
Triple/Quad PVC coatings. Very durable, resilient design with 350 lbs recommended weight capacity.
Great design!
Quality pump and backpack
Cons
Little on the heavy side
Bag is a little small for the large board. It fits, but we'd love to see a slightly larger bag for this one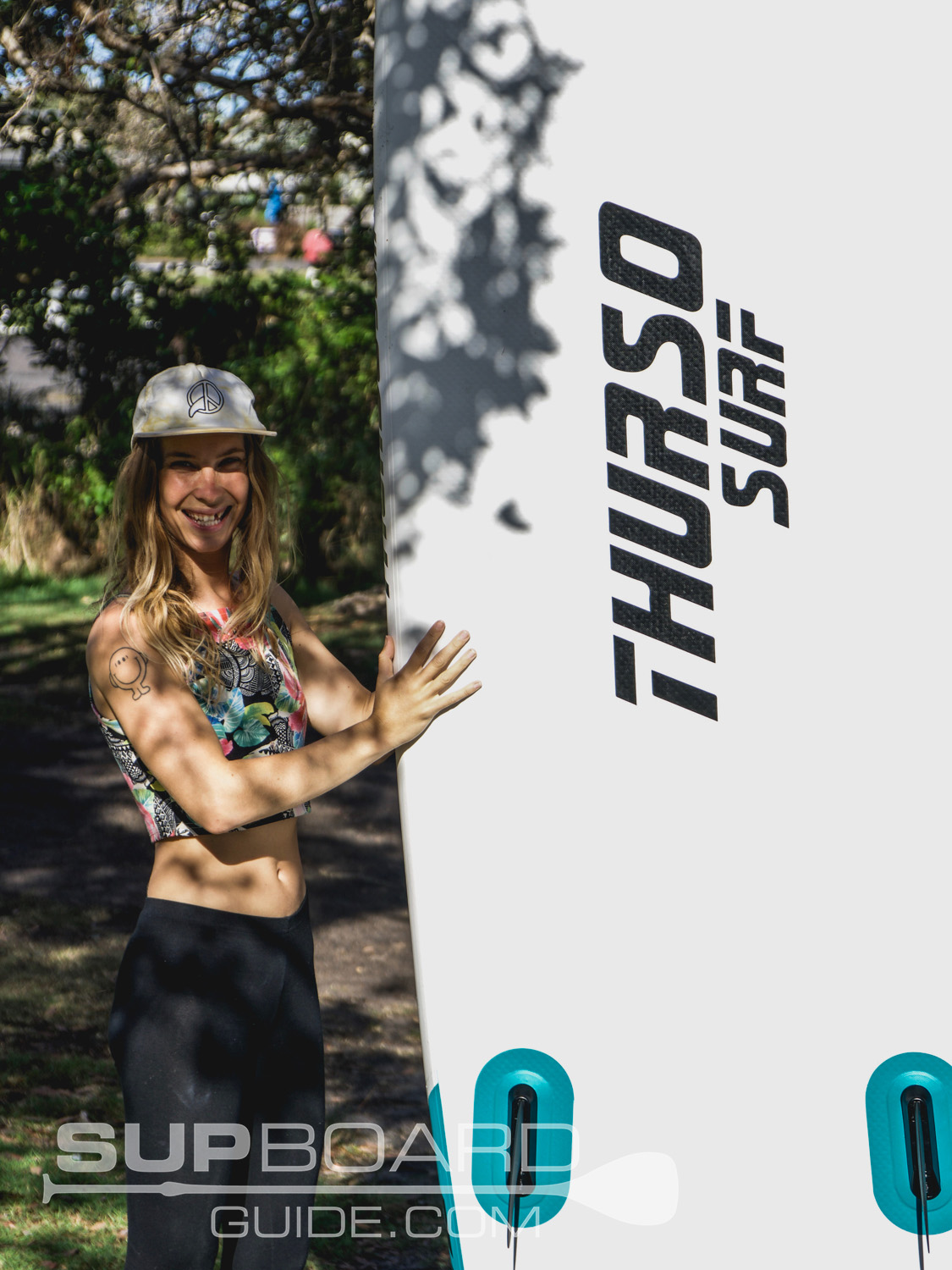 Heard about SUP Yoga? Automatically assume you can't do it? Well, maybe that's because you haven't tried doing it on a board like Thurosurf Tranquility.
Thurso Surf has created a Yoga SUP to compliment the rest of their range including the Waterwalker and Expedition which we have reviewed previously.
It's also not too bad for a casual paddle either, bringing it in as #1 Yoga SUP for our Best Inflatables For 2018 post.
Have a read on for everything you need to know about this beautiful inflatable Yogi SUP!
| | |
| --- | --- |
| Length | 10'8" |
| Width | 34" |
| Thickness | 6" |
| Weight | 29 lbs |
| Weight Capacity | 350-480 lbs |
Performance
Well, it's a tricky thing to judge a Yoga board on its performance. Am I judging how good it is for Yoga or how well it paddles? I'll do both!
Yoga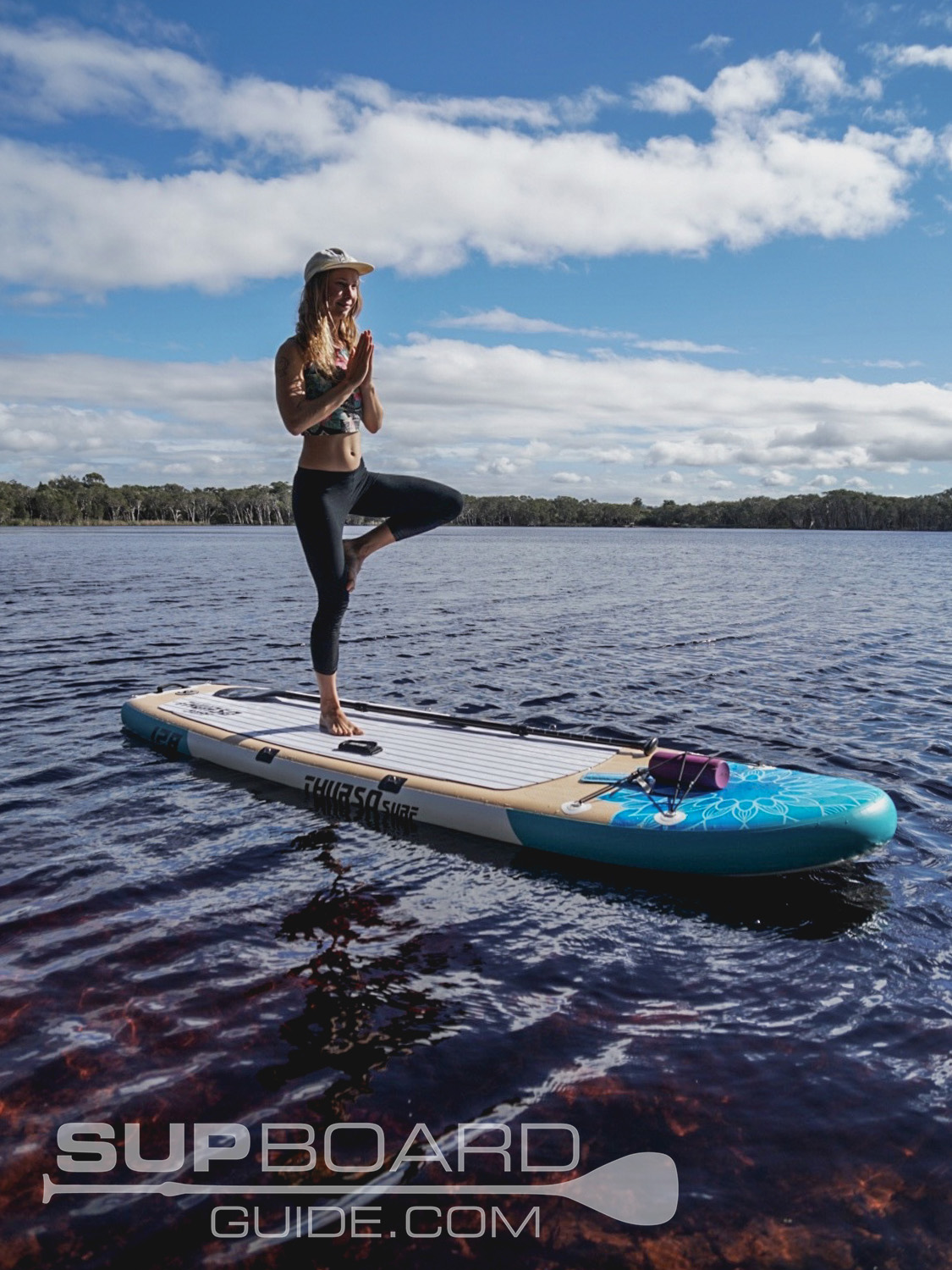 Well, the main thing here is that it's stable. And stable from nose to tail as you tend to stretch out all over the place. And I'd give this board a solid 10/10 for stability. You can move freely around on its huge deck space at 34" wide. As well as utilizing a squared tail for back-end balance and a rounded nose with a relatively flat rocker for front-end stability. Wondering about SUP Yoga? Check out our article for beginner poses!
The Casual Paddle
This here is why we picked the Thursosurf Tranquility as our #1 Yoga SUP for 2018. When I headed out on the lake after a few downward dogs and headstands, I was super excited to realize this board could offer me both options for yoga and a paddle.
To be realistic, it's huge, so you can't expect it to go super fast, though once you do get going, it glides beautifully. Tackling the corners, the tri-fin setup boosts turning while the squared tail offers the stability to execute a relatively tight turn.
Take a look at other boards like the LOTUS YSUP, it's practically a blow-up camping mattress with more solid insides. While this is amazing for Yoga activities, it means you are buying a board for a very small amount of use. The Tranquility is just as stable as the Lotus. Stable and still fun to paddle! I love being able to pair a good stretch with a bit of a paddle too. Even better, a pre and post stretch for a big paddle! That's what I call maximizing your time on the water.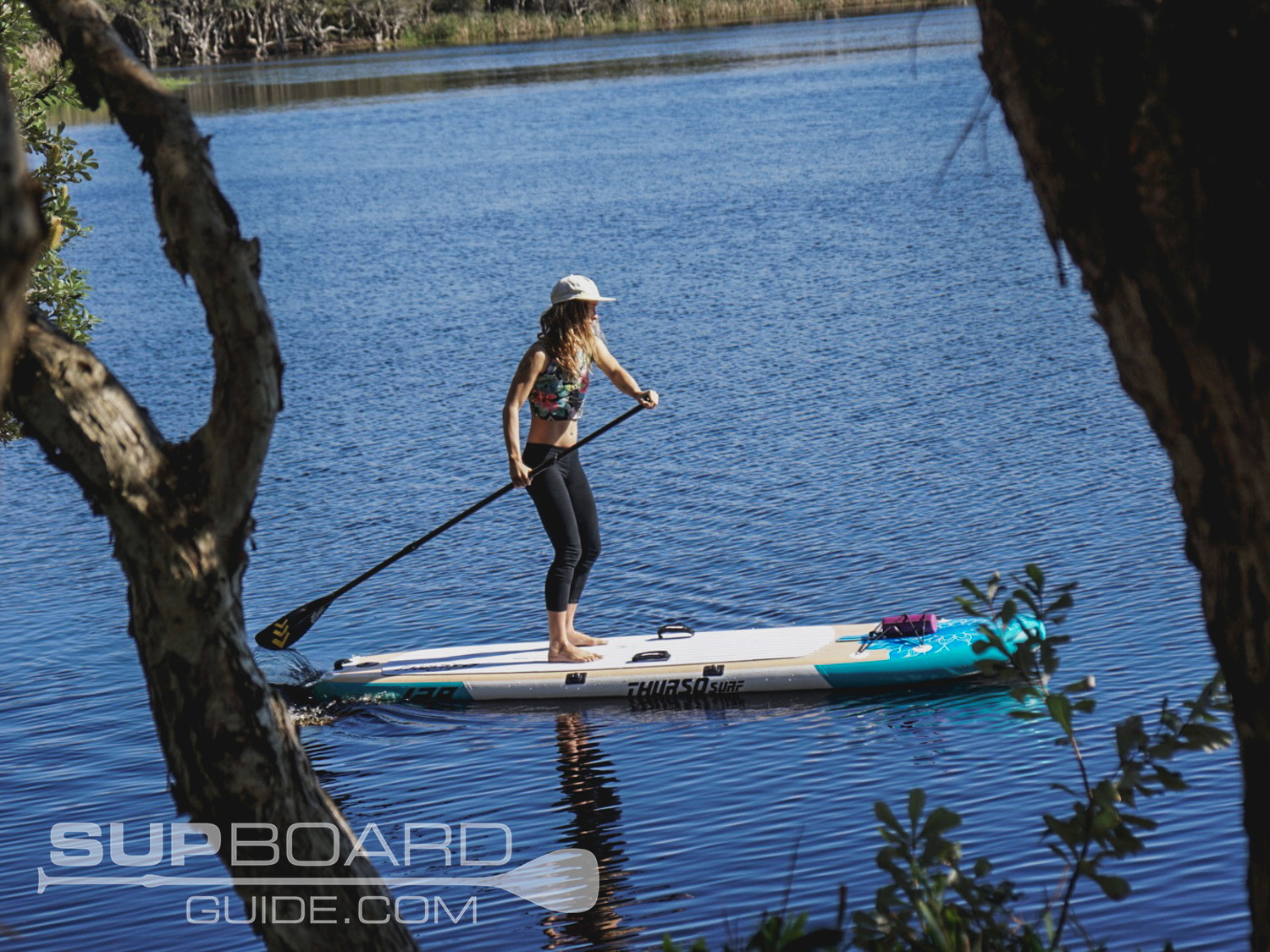 Materials
Look inside what do you see! A drop stitch core that is then protected by a triple layer of PVC.  Strong enough to hit a tree. I've run out of rhymes. Thursosurf uses triple layer PVC in their manufacturing to ensure a strong and durable board. Not only does it help protect the board, but these layers also add to the rigid feeling you'll have once fully inflated.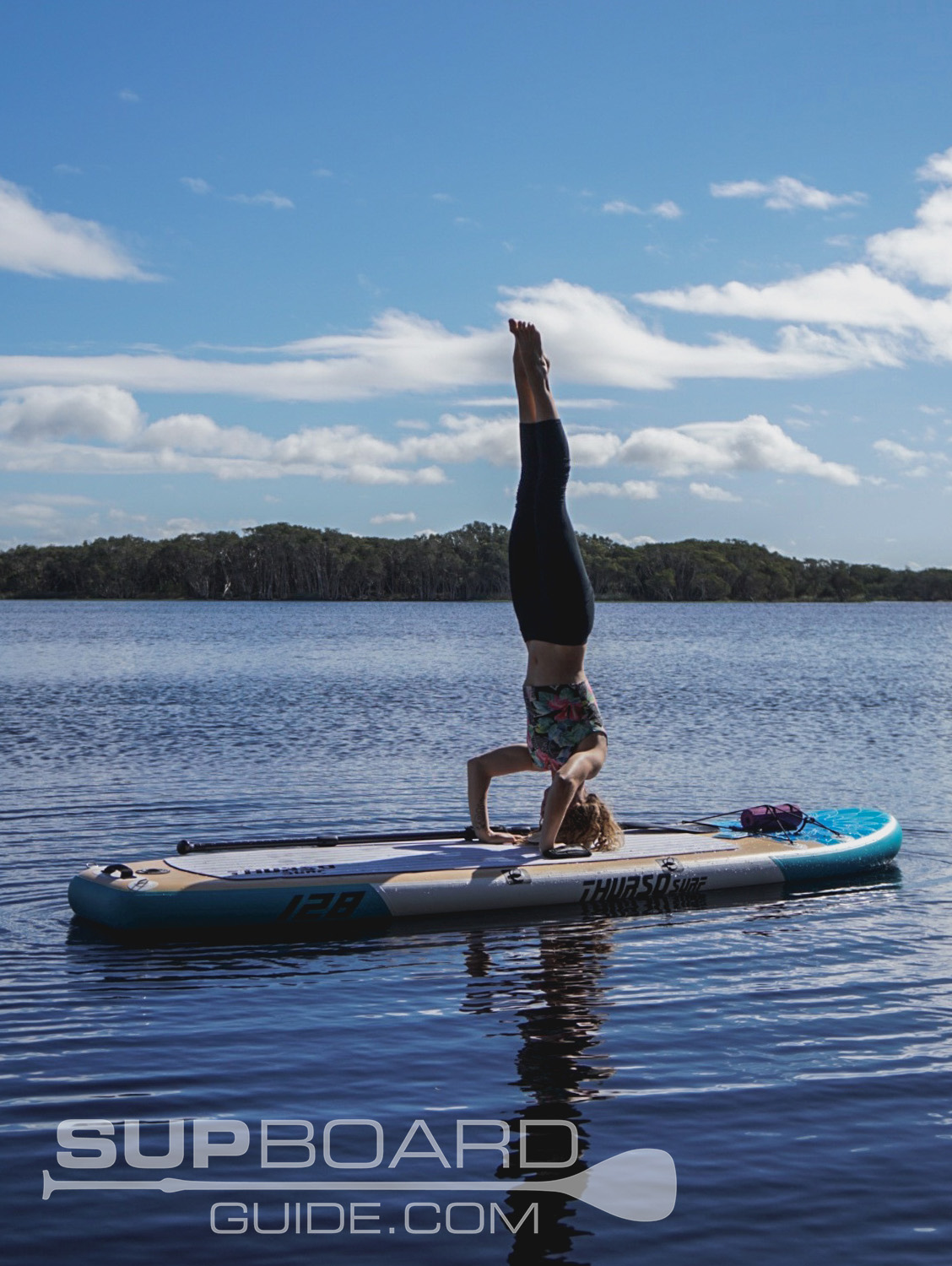 Drop stitching is a term that if you haven't heard before, you will soon. It's used in every single inflatable. It's how an inflatable SUP can be inflated to high pressures without popping. Basically, thousands of threads are stitched between polyester fabrics. As these threads expand they become stiffer. Until they can no longer stretch, then they just tighten and reinforce the stiffness of your board.
The top layer of PVC has their trademark wooden graphic which is done so well that more than once people have mistaken the boards to be made of wood. The Tranquility has a beautiful Lotus on the nose which has also had time taken to make it look natural and not tacky. Then on this deck is of course – your deck pad!
Stretching 80" X 30" there is plenty of room to move around and do your poses. Not only does it look nice on top of the board with its stripes, but it's also very thick and cushioned for comfort. The handles offset to the sides also leave heaps of room to lay down easily.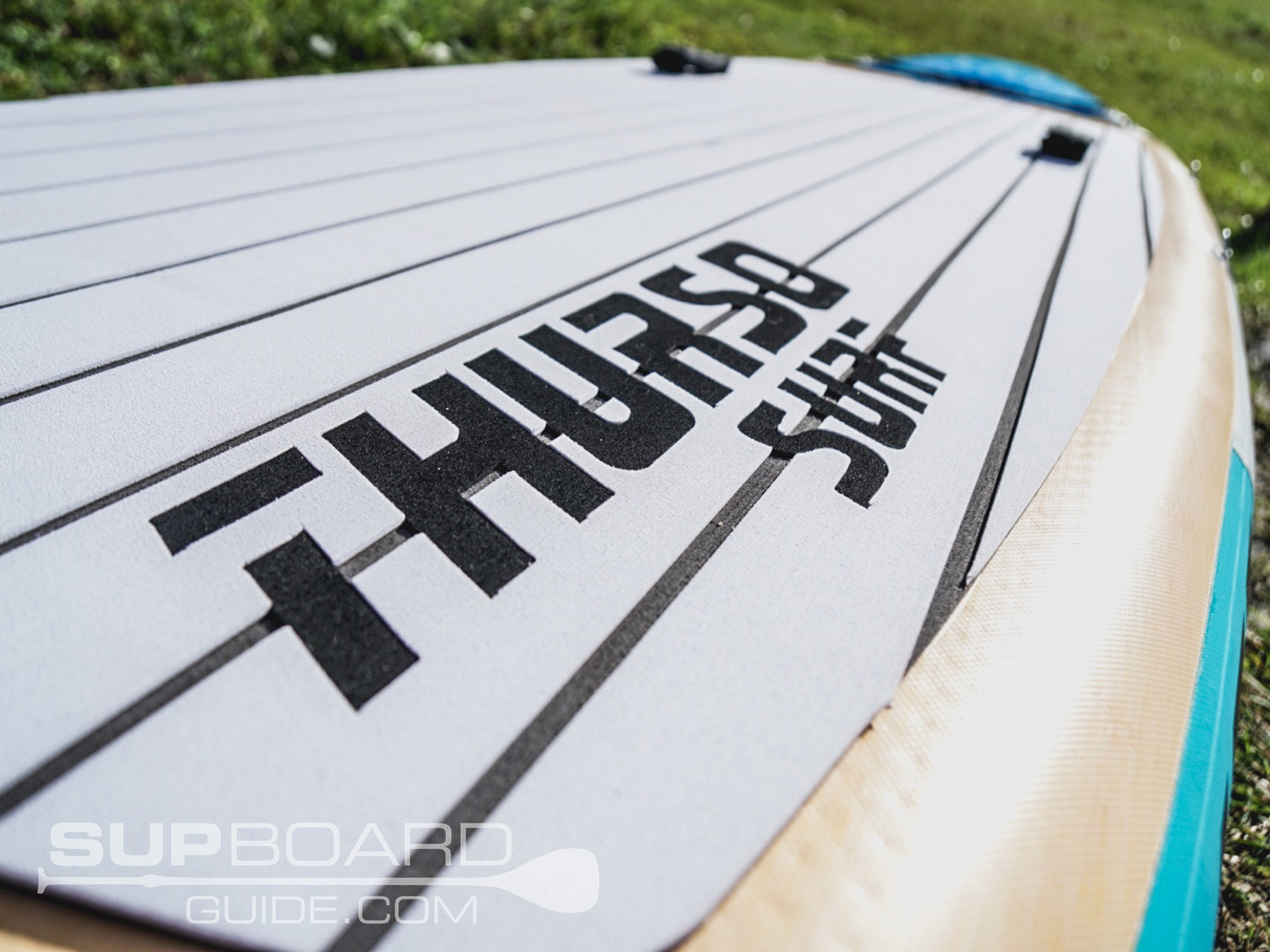 Features
Fins
Push your way through the water with the tri-fin thruster setup. All fins are snap locked in, making for a super easy and quick setup. The center fin does a great job at tracking and seeing as all fins are removable you can choose to use it as a single fin. The benefits of a single fin setup are that you'll increase glide and tracking. Your side fins add a bit of stability as well as aiding in maneuverability.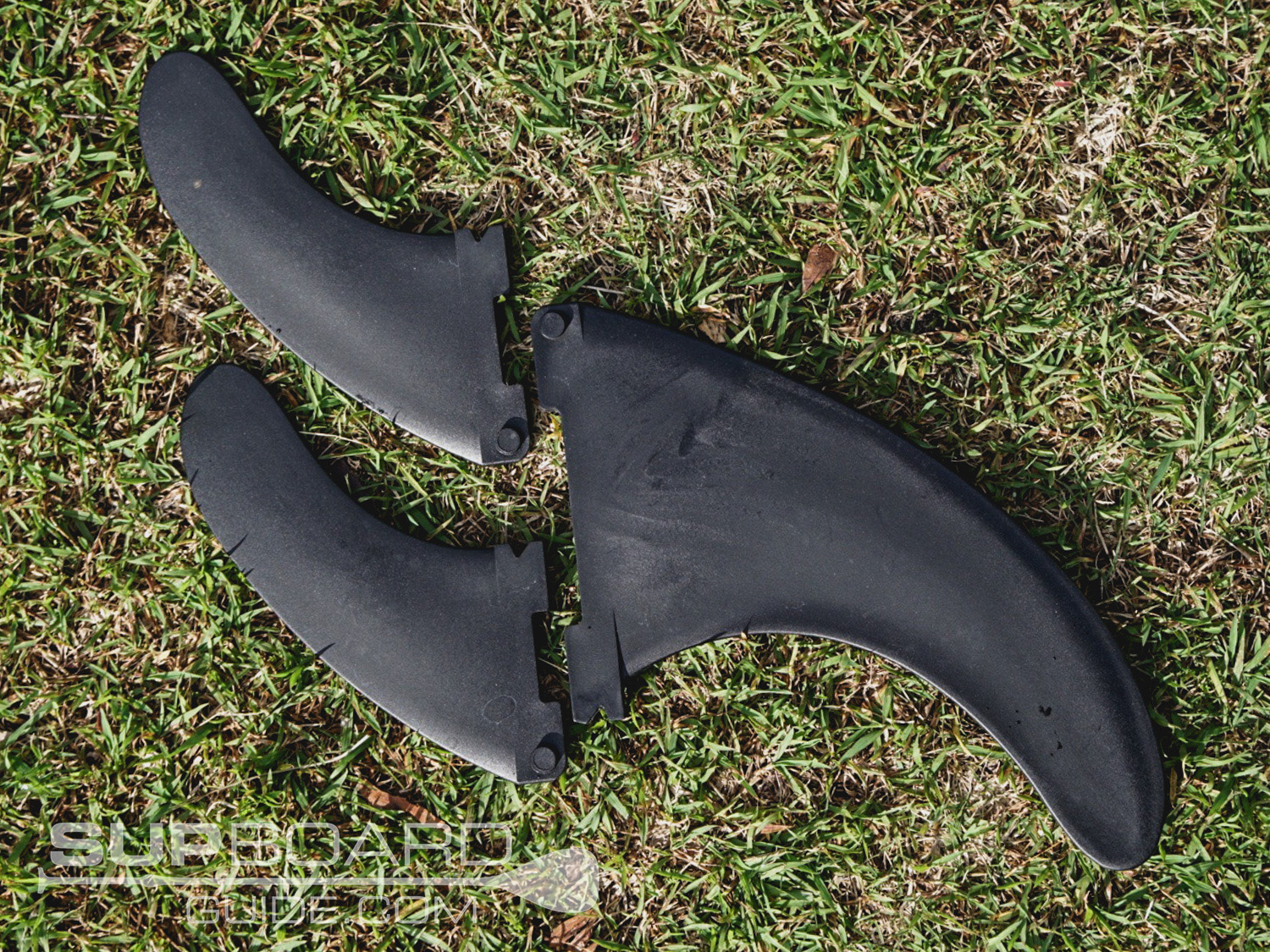 Inflate/Deflate
Inflation was about 10 mins with some consistent pumping. It definitely felt like it took a little longer than other boards I've reviewed recently, probably given that it is huge!
Deflate is a simple push down off the pin and turning it clockwise will lock it off. Locking it off will mean as you roll the board up it'll push out the last bit of air.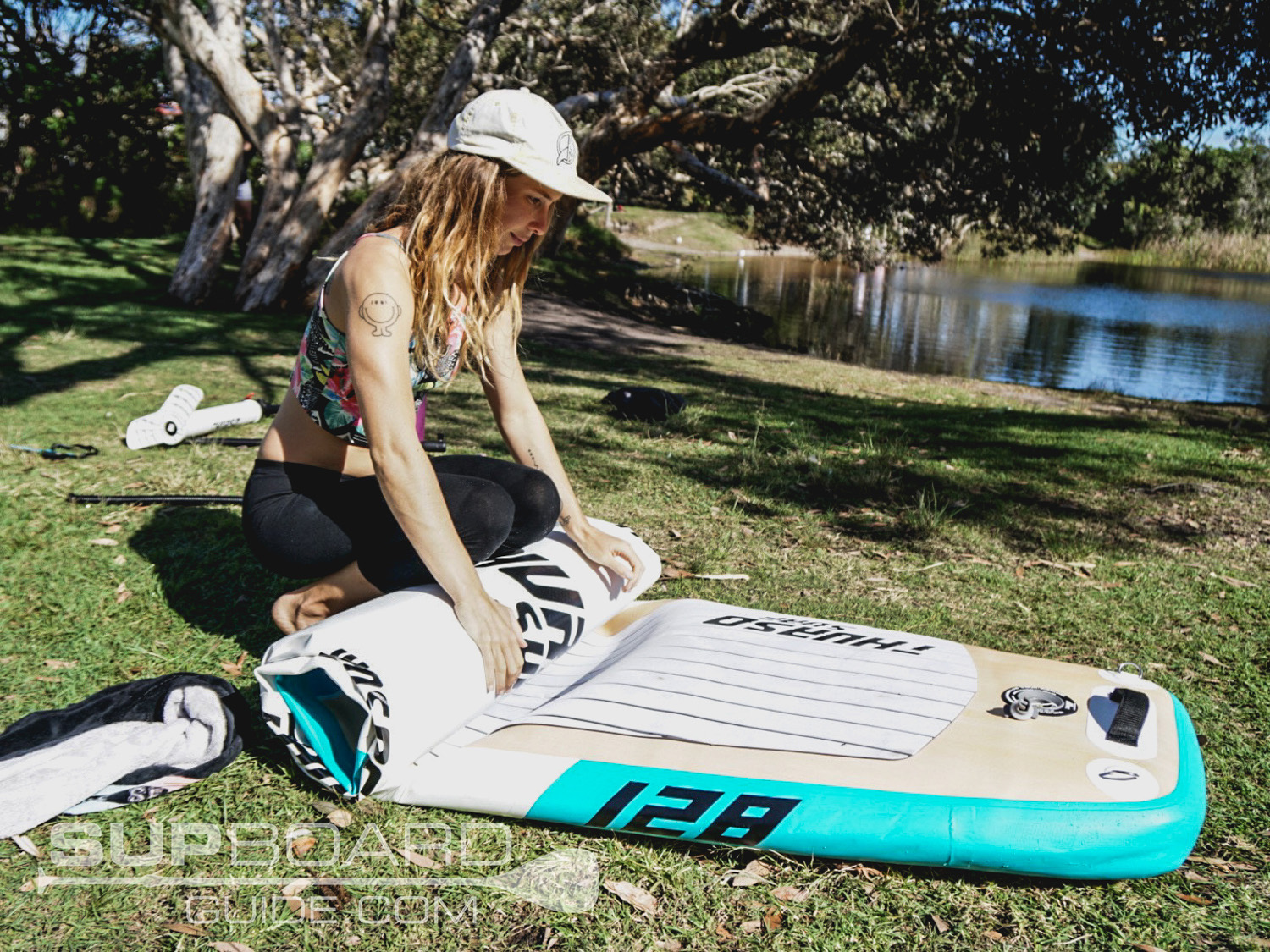 Board Design
On the board, you'll find 10 D-rings.
Two are located the end for your leash as well as towing. Four more in the middle for the optional kayak seat that can be purchased separately. Then finally, four more on the nose where you can also find the bungee cord which helps keep all your gear safe and dry.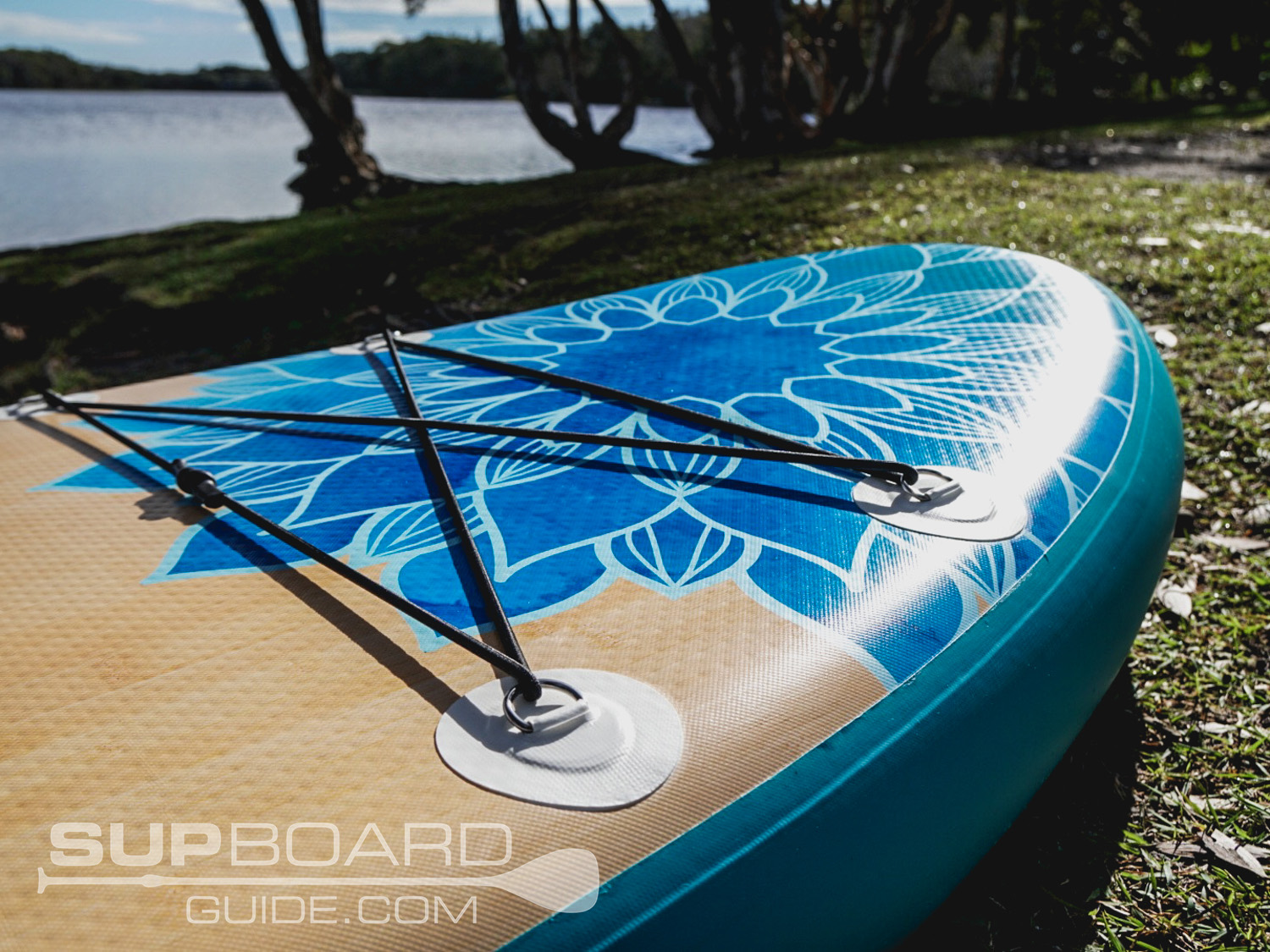 The storage area is ample, and I personally thoroughly enjoyed taking my waterproof UE Megaboom out on the water with some relaxing tunes to do yoga with. But what did I play off? My phone of course, as the Thursosurf package includes a waterproof phone case! Amazing. So the only bonus about that is that if you are new to Yoga, you can youtube a class and play it through your speaker while you are on the water.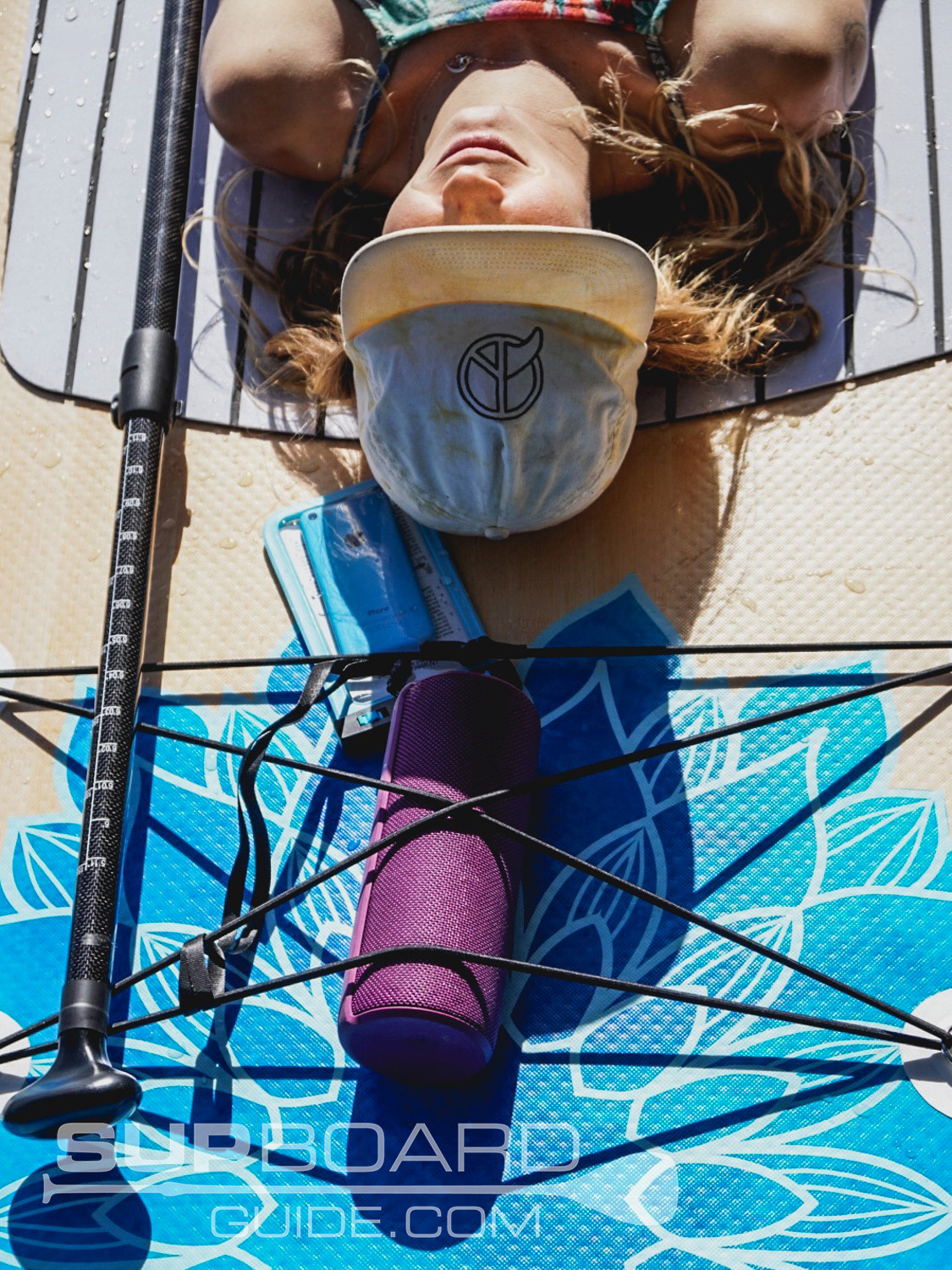 Moving onto the board's shape, you can see it's huge. It's wide and flat, as in not much rocker in the nose or tail. This provides the best amount of stability. No need to worry about spare clothes as the 6" thickness makes sure you stay dry while you are shavasna mode. Like I mentioned in the performance it still has some shape through the body which is ideal so that you can still enjoy a casual paddle at the end of your practice.
Now looking at the aesthetics, I love this board! While I'm well aware there are probably quite a few men out there who would find the bright blue lotus on the nose a bit too girly, I think it's a stunning design. Thurso Surf do a great job with their graphics, with the wood design always being a standout and mistaken as real!
The part I would like to talk about that I didn't entirely love is the handles. While it's great they are out the way for lying down on the board, I found it a little tricky to carry the board. The handle was either too far or too close. So as a result, I carried it on my head! Which also works but not for everyone I'm sure and definitely not if it's windy!!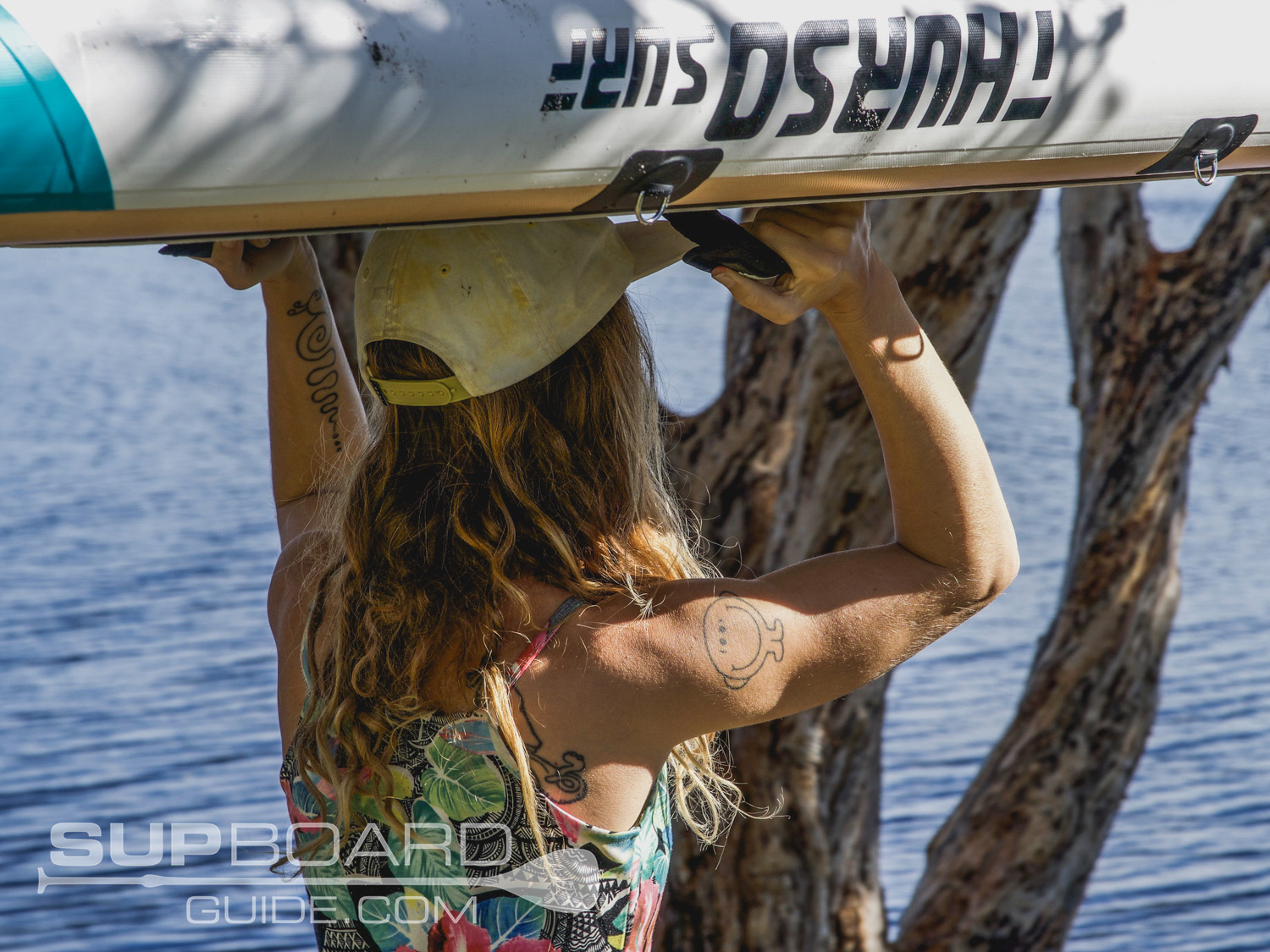 Accessories
Pump
Pumping this board up does take a little longer than other SUP's. Purely because of its size. Though, you can't ask for a much better pump without paying a lot more. In about 10 mins the dual action pump had the job done. Consider the pump an extra on top of the already gained health benefits of SUP Yoga!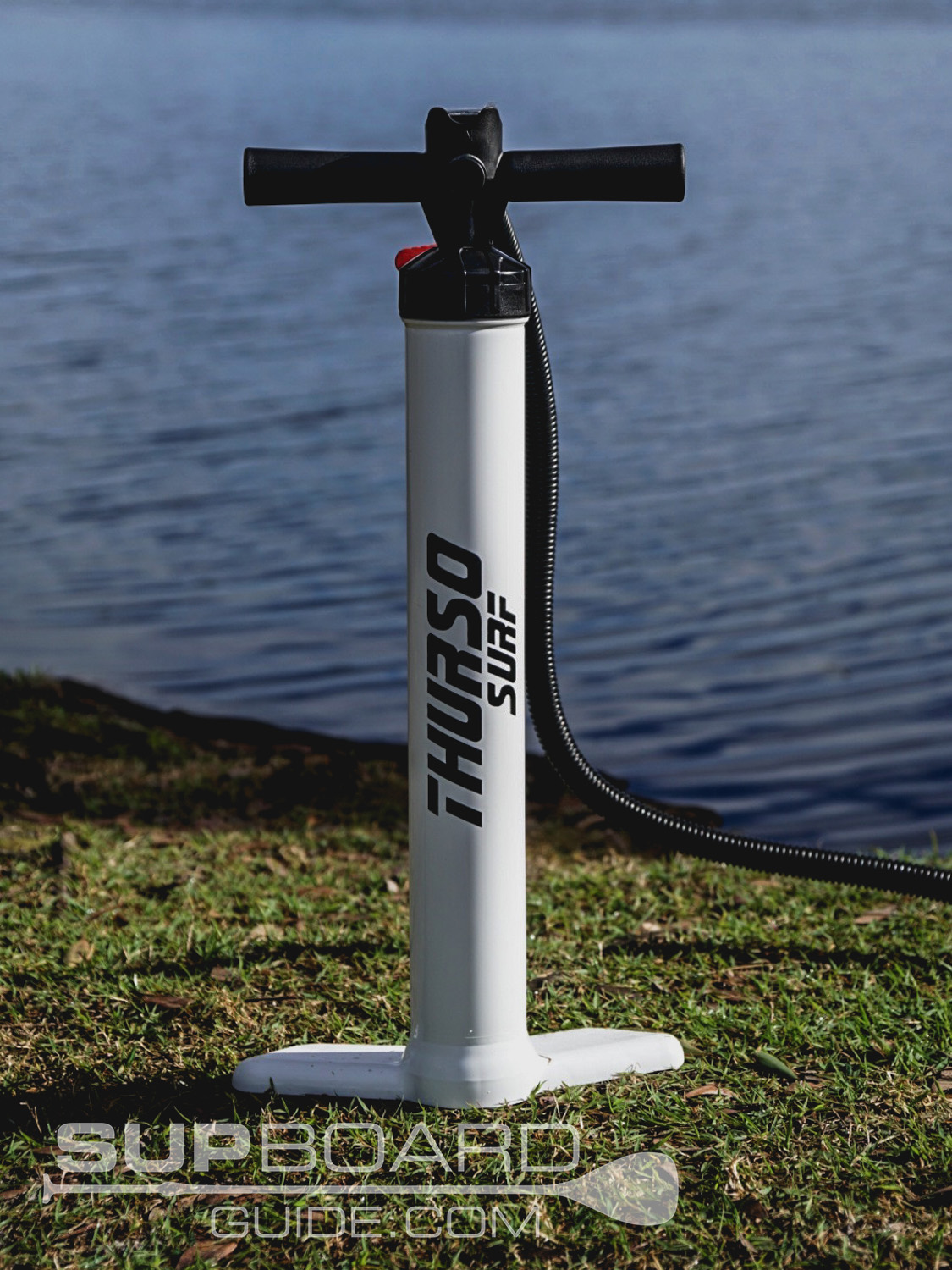 Keeping an eye on the pressure with the integrated pressure reading on top is easy, watching that little needle move and wishing it just move faster haha! Sometimes I go a little nuts on the pumping to just see how well the pump can handle a bit of extra downward pressure, some cheaper pumps tend to buckle and wobble, but not this one!
Paddle
The included paddle impressed me. The carbon shaft makes it super lightweight weighing in at a mere 2 lbs. And looks so shiny! The blade is sturdy and strong and has a nice dihedral shape to give you that extra oomph to your stokes. It can be extended from 64" to 84" and floats!
I would like to see a bit more grip on the handle, perhaps next year! Saying this, the paddle you get is way more than what I would expect to get in a Yoga SUP package.
Leash
While doing Yoga with an ankle leash would be a bit annoying, it's a nice touch they include one. As I mentioned in the performance, the Tranquility is a fun SUP to paddle as well being great for yoga activities. So why not put the leash in the included deck bag for after?!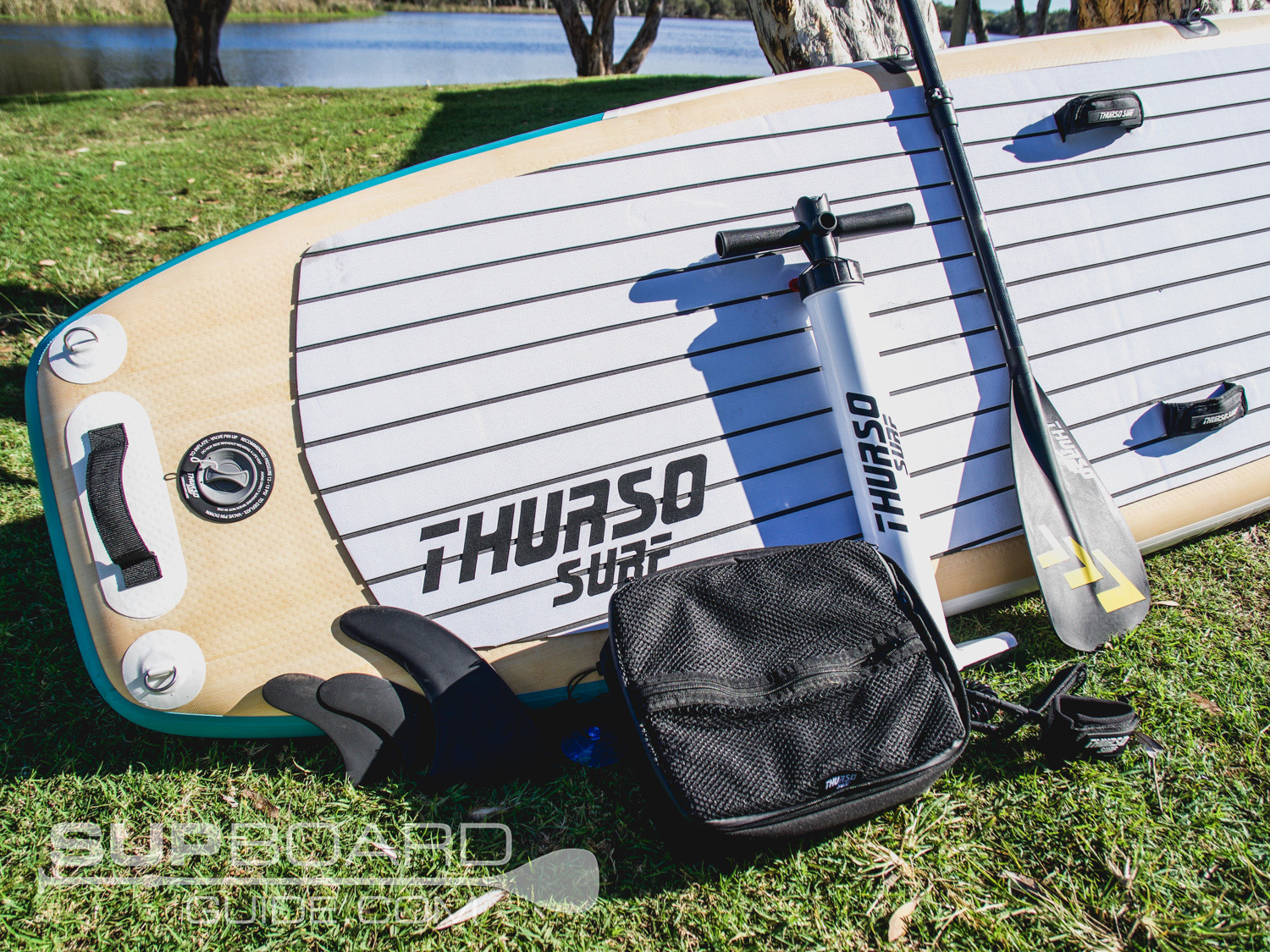 The branded ankle cuff is soft and thick, comfortably fitting and staying on with the strong velcro. Coiled leashes are always preferred to lessen the chance of being caught in/on objects underwater. But they also absorb the stretch if you fall off much better than straight leashes.
Backpack
The bag is so huge I think I could fit inside it as well as the board! Which is great for packing and unpacking but it can make it a little awkward to carry. Moving the bag around whether you are carrying it by hand or on your back is easily done with the many handles and straps that be found in and outside of the bag. Carrying it by hand, the materials felt strong, and the straps felt well padded when I launched it onto my back.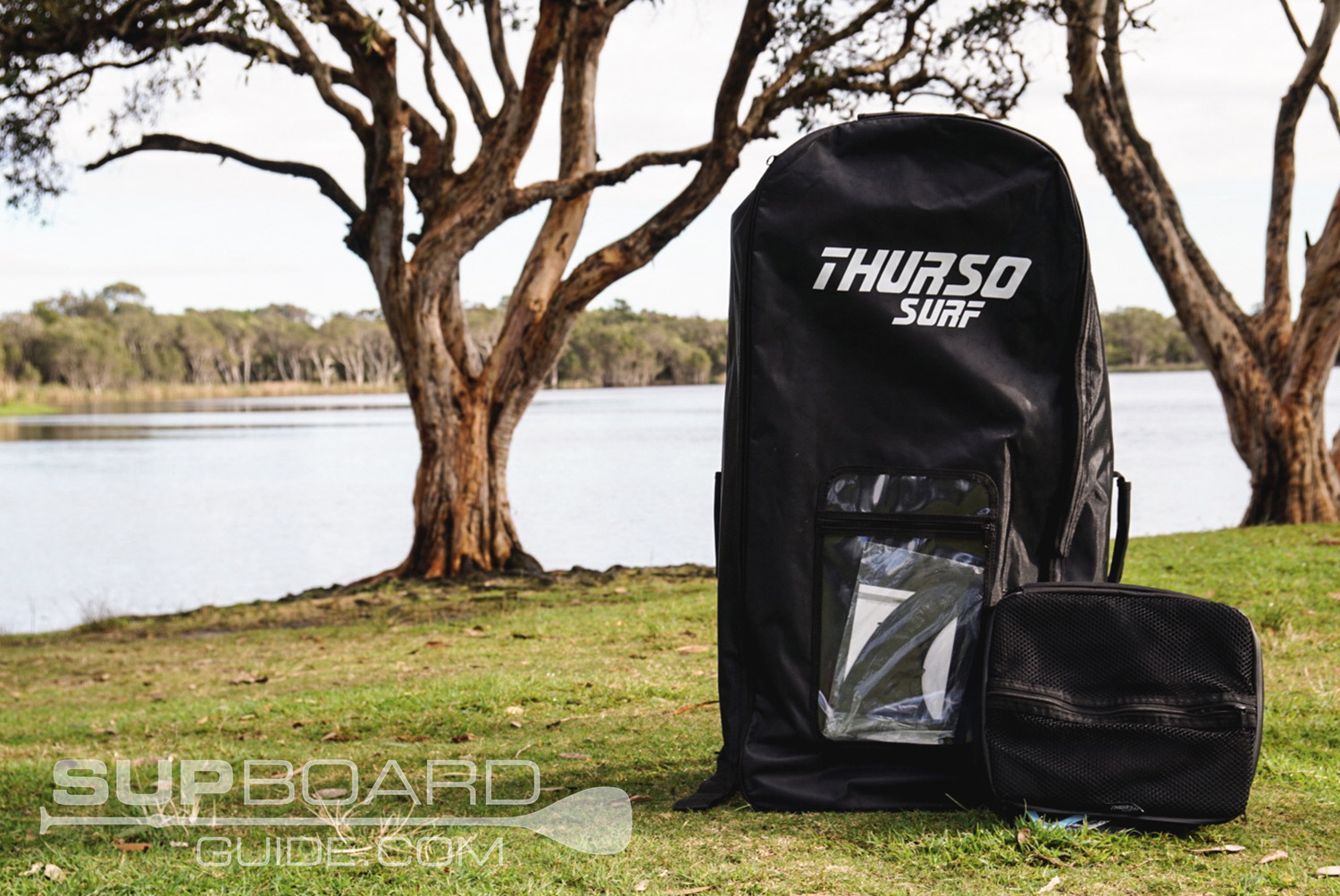 Is it wishful thinking for wheels? The Yoga SUP especially being so big is a huge thing to lug around! A pair of wheels would be a brilliant addition to see on these already quality bags.
Repair Kit
And of course, included is a standard repair kit. Inside is the usual patches, valve wrench tool, and glue. Lucky for you, I doubt you'll need it!
FREE GOODIES! (Deck Bag + Waterproof Phone Case)
One of the biggest selling point about all of Thursosurf SUP packages is the fact you get a free deck bag and a waterproof phone case with every purchase.
So, the deck bag is insulated to keep food fresh and has a couple of mesh pockets to store all the extra bits and pieces! It easily clips onto the D-rings on the nose, or there is also suction cups. The suction cups are intended for hardboards so if you do have a hardboard without D-rings or a bungee to clip the bag on, you can use the suction cups to hold your bag in place.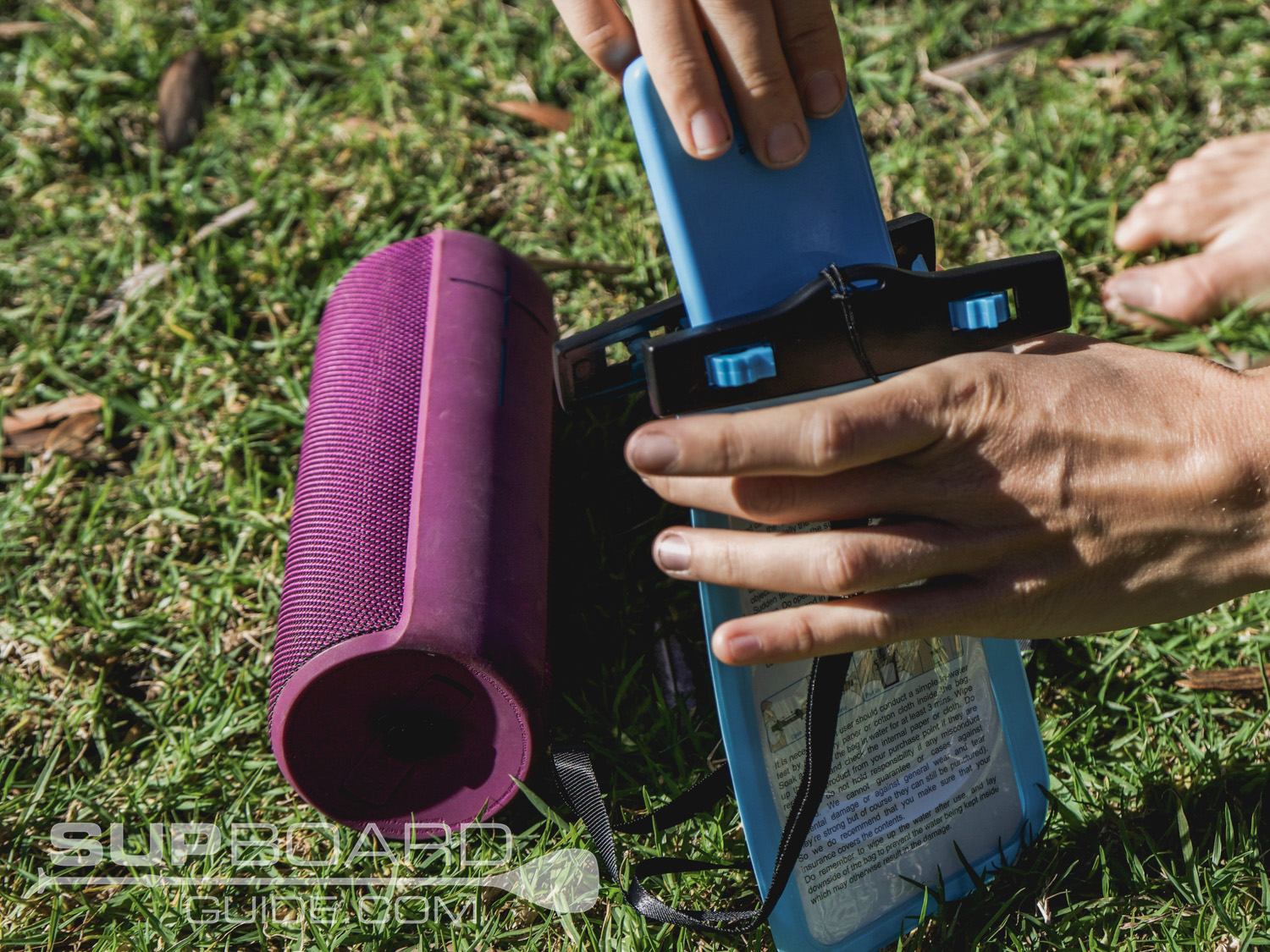 What I really love about the phone case in particular with the Tranquility is the fact I can take my phone out with me to play relaxing meditative music on my waterproof speaker.
Conclusion
Not only do you get the goodies of a deck bag and waterproof phone case, but you also get a 2-year warranty.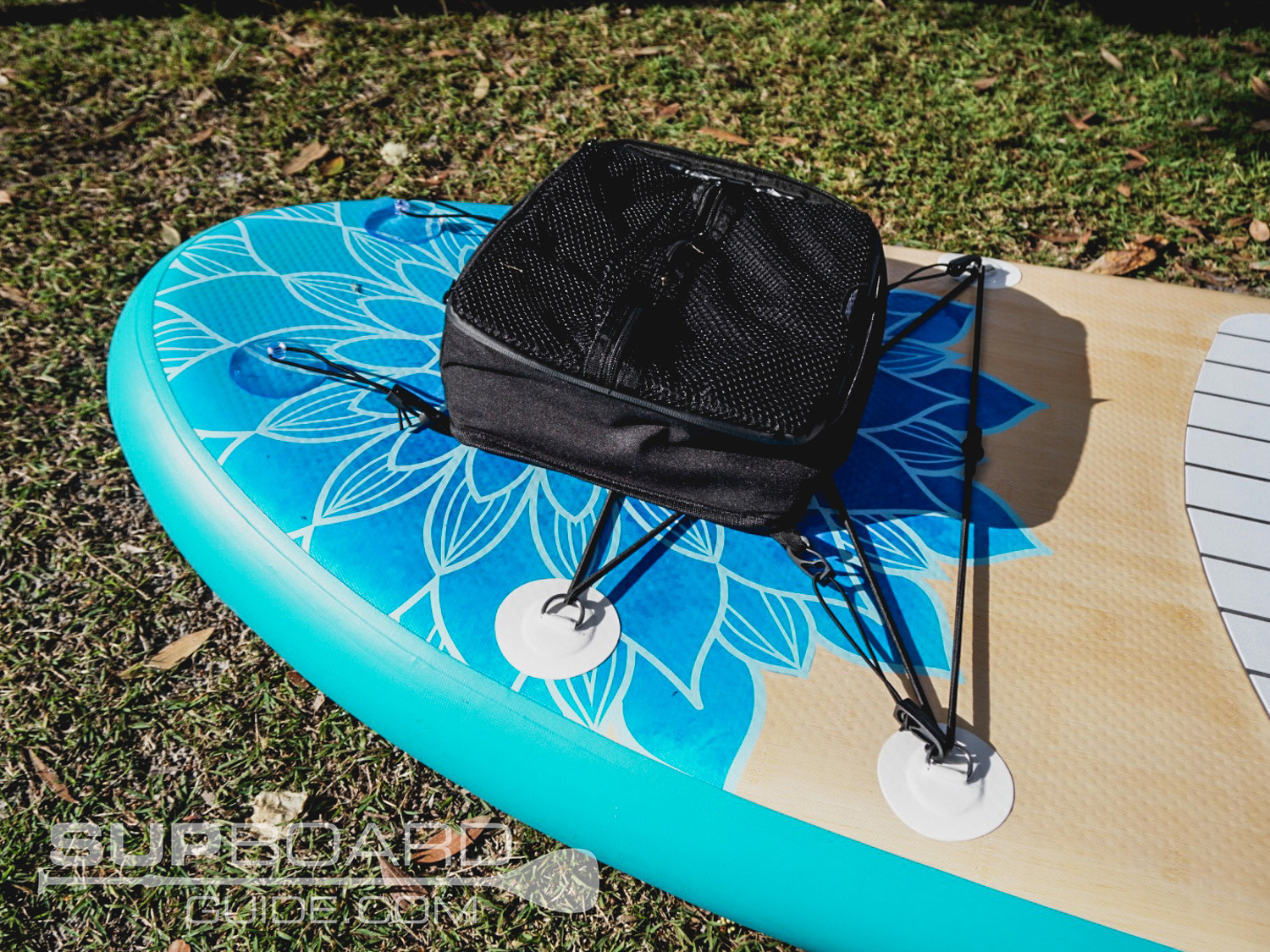 It's really nice to see a company who's put in the effort to make a Yoga SUP. One that still can be paddled leisurely and be enjoyable but also include decent accessories. Seeing as SUP Yoga is a much smaller market, it's understandable companies won't want to spend the money on little extras. But it does make the ones who do stand out!
Not only is the design beautiful and well printed, the actual board itself is a pleasure to paddle. I'd even recommend it as a larger beginners board. It's really quite similar to the Blackfin boards, that were made with families in mind. So I definitely wouldn't be turning your nose up if you aren't into Yoga. The Tranquility has many abilities.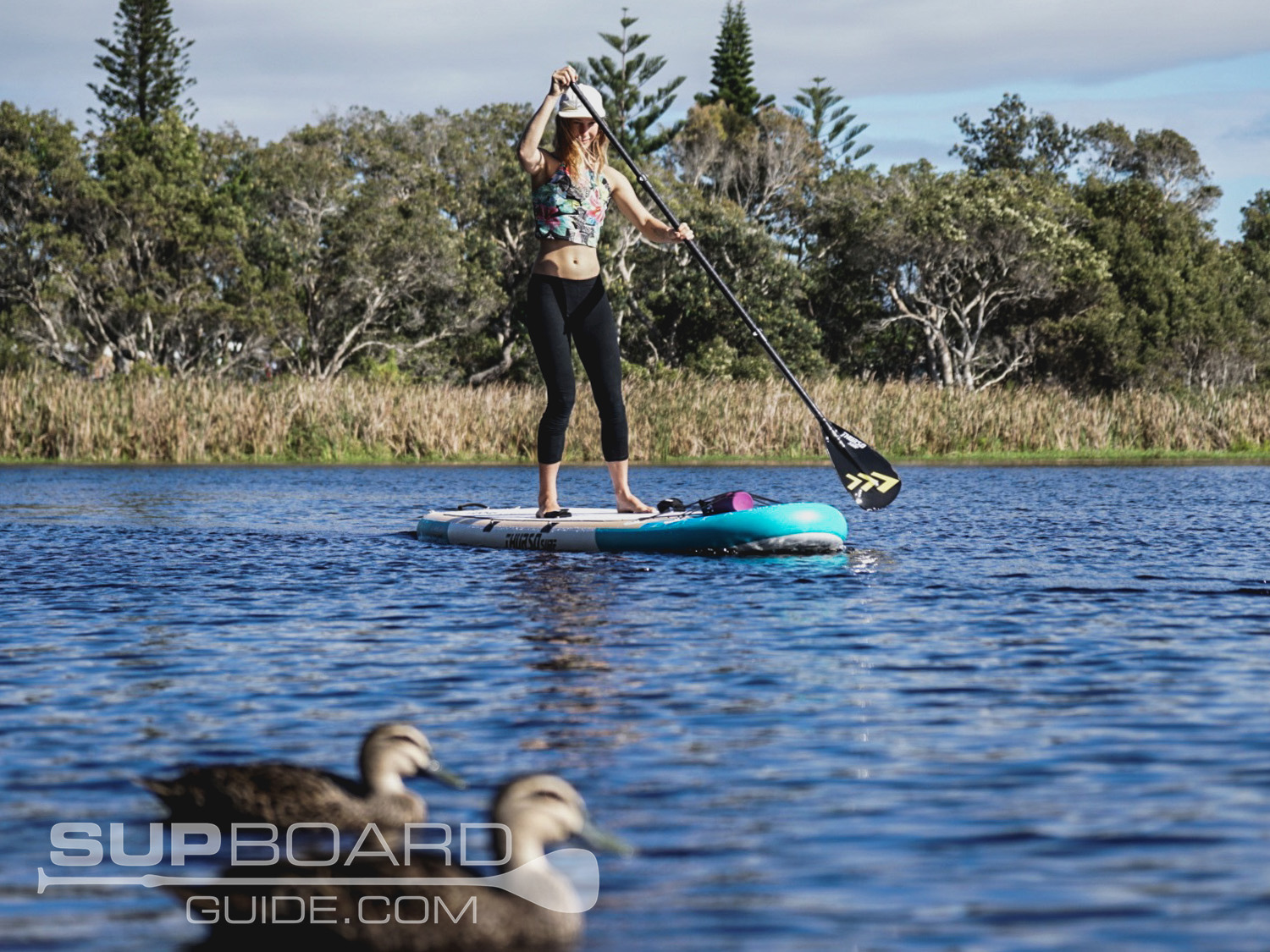 If you missed it earlier we have a couple of articles of SUP Yoga, including the health benefits as well as beginner tips, so please check them out! Also, don't forget to like our FB page and hit "Subscribe" on our Youtube channel. We are now regularly uploading (hilarious and awkward) video reviews. We always appreciate the feedback!
Namaste fellow SUP Yogis!
The following two tabs change content below.
SupBoardGuide
Heyo! At SupBoardGuide.com we are a team who love the water, the outdoors, and are more than grateful that our full-time job allows us to review stand up paddle boards. We paddle year round (it helps that we are just about 2 hours outside of Las Vegas), and we bring in a wide range of paddlers with the goal of providing our readers with the best, most in-depth, and accurate stand up paddle board reviews.
Latest posts by SupBoardGuide (see all)