11' Atoll iSUP Inflatable SUP Board
Pros
Good adventure SUP due to how lightweight the board is (hiking, backpacking, traveling, etc.)
Machine laminated dual-layer PVC construction. Durable and stable board with high 400 lb weight capacity.
Solid tracking and glide, which is further improved with included 8'' composite center fin.
Very grippy, diamond-grooved EVA foam deck pad. Comfortable to stand on as well. Also available in 4 unique color variants!
4 Different Color Variants
15 D-rings for multiple accessory options. Spaced out throughout the board to keep things from getting tangled or feeling squished.
Cons
Would love to see removable side fins.
Dual Chamber pump would be a nice option for those not needing a lightweight/compact pump.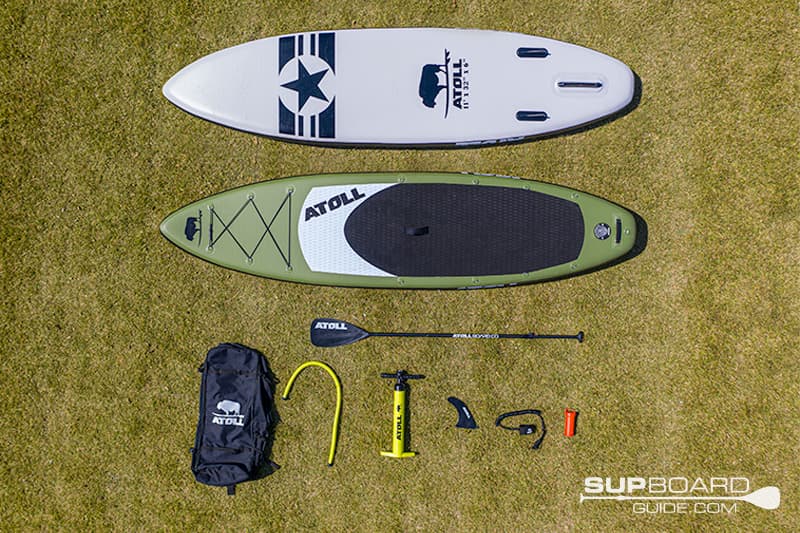 For those who want a high-adventure paddleboard, with solid overall performance while staying light and easy to carry, we happily recommend the 2020 Atoll 11' all-around inflatable SUP! With a few key improvements over the past year's model, the 2020 version of Atoll's signature paddleboard offers good stability, tracking, and glide in a lightweight package. Despite weighing just 21 lbs, it's built to withstand almost anything you can throw at it with its machine laminated dual-layer PVC construction. We also love the diamond-grooved deck pad, which is comfy yet very grippy, along with the performance boost provided by the included 8'' center US standard fin. Two of our major complaints about the kit from last year have also been revamped, the 2020 Atoll 11' kit now featuring a lighter fiberglass paddle and a more adjustable, reinforced padded backpack. The board also comes in four unique colors, letting you stick out on the water, and features the awesome Atoll bison logo on the nose and underside of every board. Overall, an already solid all-around adventure board has been made even better with the 2020 Atoll 11' SUP.
SUP Board Specs
Length
11'
Width
32''
Thickness
6"
Weight
21 lbs
Rider Capacity (lbs)
400lbs
Recommended Inflation
14.5 psi
Fins
Center: Standard US Fin Box, 8'' Composite fin
Side: Molded plastic side fins, 2.5''
Paddle Type
Fiberglass shaft and Nylon blade, 29 Ounces
Construction
Dual-layer fusion, military grade PVC composite coatings
Who Should Buy This Stand Up Paddle Board:
As an all-around paddleboard, the Atoll 11' will let you try a little bit of everything that the world of SUP water sports has to offer. Everyone can fall in love with this SUP, including:
New paddlers who want something that is stable, easy to handle, and tracks well in the water.
Experienced paddlers who need something they can easily hike, backpack, or travel across country with.
Larger, heavier paddlers. Good option for those who want to bring a kid or pet along as well.
Those who prefer paddleboards that balance overall durability with nimbleness and speed.
Anyone who wants a paddleboard from a company they can trust. Atoll has over 1,200 five star reviews for their SUPs!
Bison enthusiasts.
The Atoll 11' inflatable will handle most water settings well, though can experience some performance loss depending on conditions. We recommend taking the Atoll 11' to the following types of environments:
Lakes, bays, marinas, and other calm water settings for optimal SUP performance.
Some choppier water, such as coastlines or light wind days, with little performance loss.
Slower moving rivers. Get some practice maneuvering with the Atoll 11' first!
Ocean paddling. You'll be able to paddle through the waves, and can even ride some longboard style waves as well with some practice!
Performance
Stability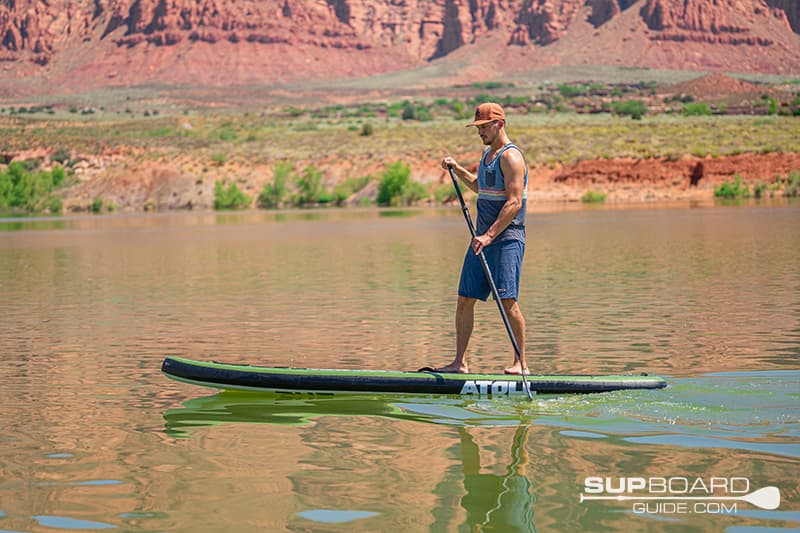 The Atoll 11' offers good stability, especially considering it is just a 21 lb board. The 11' length and 32'' wide deck provide the space and volume to feel steady on it, especially with the excellent diamond grooved deck. When it came to single paddlers, all of our team found the Atoll 11' steady to stand on, and even able to bring along a kid or pet for the trip. Overall, the board can support up to 300 lbs with almost no performance loss, but as you approach 400 expect the board to slow down a bit as you're paddling in the water.
Maneuverability

The Atoll 11' is just a bit longer than a traditional pure all-around shape, but even at 11' it still maneuvers gracefully. Once you're used to paddling on this board, you won't have any trouble dodging objects you encounter on your paddling trips, from other paddlers to rocks and submerged trees. The 11' length and lightweight nature also makes it real easy to perform a step-back turn like you see above. Move your foot to the tail, press the butt of the SUP into the water, and you'll lift the nose up so you can pivot on the spot any direction you want to go. With a little practice, you'll be able to explore every hidden corner of the water with the Atoll 11'.
Tracking/Glide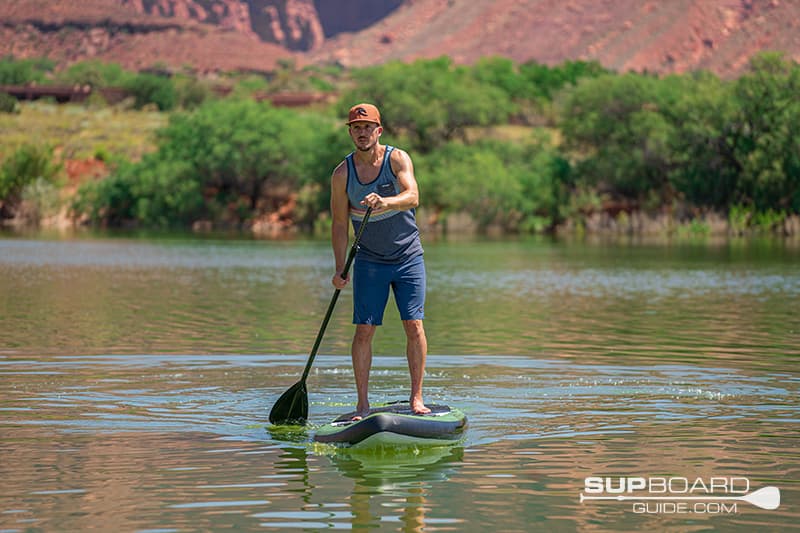 We quite liked the tracking and glide of the Atoll 11' SUP. Your paddle stroke will have a significant impact on how straight you go, but even our newer paddlers were able to maintain a straight course without too much effort. This board has a nice firm feel as well, with a smooth glide for a fun and relaxing paddling experience in calm and even light water conditions alike. We also appreciate how the Atoll 11' manages to maintain its momentum once you get going, the Atoll 11' getting you where you want to go rather quickly.
The tracking of the Atoll 11' paddle board is greatly improved in part to the included center fin. The Atoll 11' has a standard US fin box and two non-removable side fins, which you can read about more in the fin section. With the included 8'' composite fin though, we found it very easy to maintain a straight and steady line in the water. The center fin also worked well with the side fins to improve the overall stability and performance of the board as well. We personally recommend putting in the center fin every time you go out, unless it's in shallow water that would cause your fin to scrape against the ground.
Materials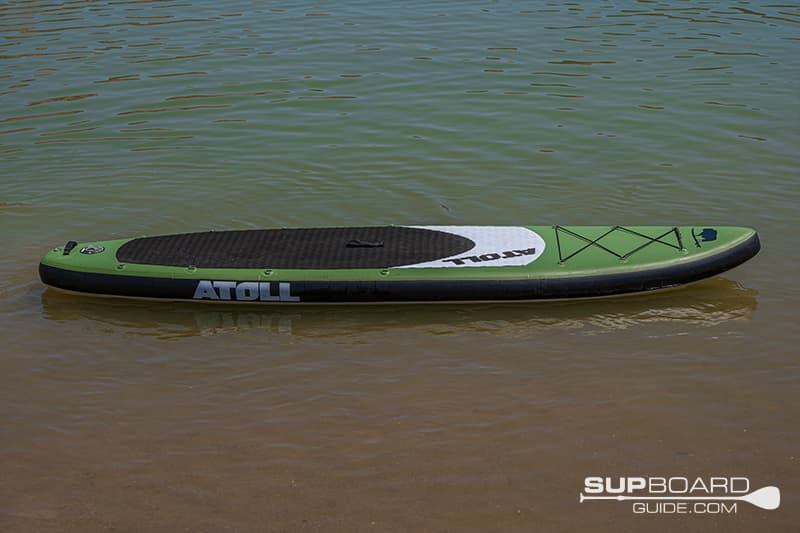 The Atoll 11' is built with a tight drop-stitch core protected by machine laminated dual-layer coatings of military grade PVC composite. This makes the SUP very durable, capable of withstanding most common SUP injuries and accidents, while still being light and easy to carry. If you want a full technical breakdown, we explain what a drop-stitch core and dual-layer construction are below.
The tight drop-stitch core consists of sheets of fabric that are bound together by thousands of short strings. As air is pumped into the SUP, the strings become taught and provide the SUP with the strength to support paddlers while also creating the rounded SUP shape you see above. The tight-drop stitch core is quite resilient and provides much of the SUP's performance, but can be punctured and will deflate like other inflatables.
To prevent board damage and provide additional weight capacity and performance support, military grade PVC composite coatings are applied to the board. Using machine lamination technologies, the PVC is laminated to the drop-stitch core, acting as the rigid and firm outer shell you feel while paddling. This PVC is tough and built to last, so that accidental drops, crashes, and other common SUP accidents have little to no impact on the overall SUP performance. With just a little proper care, you should be able to use the Atoll 11' for years to come and find it performing almost as well as the first day you take it out on the water!
Board Design/Shape


The Atoll 11' is an all-around shaped paddleboard, though a tad bit longer than many all-around SUPs with its 11' length, which provides solid tracking and a smooth glide in the water. The 32'' wide deck and 6'' thickness provide the volume to support any adult sized paddler, and will allow you to even bring along a kid or pet for the trip as well. With the Atoll 11', you'll be able to engage in some casual racing or cruising with your friends, or find it well suited for a long touring adventure as well. All-around boards are considered the jack of all trades of the SUP world, offering good performance in every regard, so sample a bit of everything if you go out on the Atoll 11' SUP.
Board Features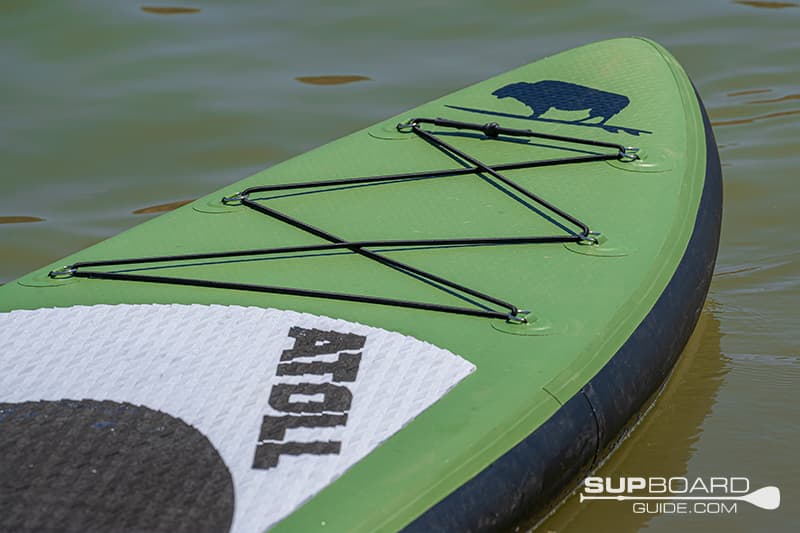 The Atoll 11' is worth buying for its solid performance, but there are a number of other cool features that make it an even better SUP to go with. Some of our favorite features include:
Diamond grooved traction pad: This is an excellent traction pad. The diamond grooved pattern offers great grip support, and drains water quickly if you paddle through a wave. The EVA foam is also very comfortable, ensuring you can paddle for hours without developing blisters or other common foot sores.
Dual-layer Machine Laminated PVC: Atoll's construction is a great mix of durable protection and weight support, packed into a highly transportable board at just 21 lbs. The dual layers of military grade PVC will handle almost anything you throw at them, while still providing a firm and rigid feel for a steady, comfortable glide.
Fiberglass shaft + Fiberglass paddle blade:The spaced out D-rings make it easy to clip on popular SUP accessories, while also staying out of the way for a clean SUP look. The nose bungee cargo system will help you secure coolers and small containers, and is removable for additional deck space as well.
15 D-Rings + Removable Bungee Cargo System: Both handles have neoprene covers, make them comfy to grip and protect your hands against chafing when held. Solo paddlers can easily lift the board with the center handle, while tandem paddlers can work together by lifting with the rear handle. The back handle also doubles as a paddle holder too!
Dual carry handles: You can lift the paddleboard by yourself with the center carry handle, which is covered with neoprene for a soft and cozy grip. There is also a tail handle, which acts as a good tie on point if you want to tug the board once it's in the water.
Fiberglass paddle + Nylon Blade: The three piece adjustable paddle is a good beginner paddle, and can be altered to fit almost any adult paddler height. The paddle weighs 29 ounces, and will fit into your backpack as well.
Four great colors + Bison logo: All Atoll SUPs feature the cool bison logo stamp, with the 2020 model available in army green, light blue, desert sand, and aquamarine. The army green version is the version featured in our review.
Fins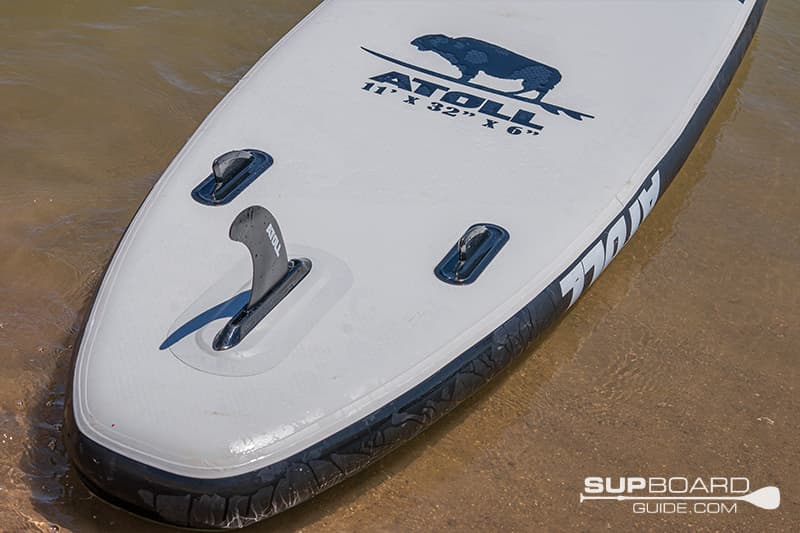 The Atoll 11' Inflatable SUP has a tri-fin setup, with a removable 8'' composite center fin and two permanent 2.5'' side fins. The center fin is very easy to install, with the center fin box being the US standard, allowing you to also fit the Atoll 11' with a large number of third-party fins for fine tuning your performance. We would like to see the side fins upgraded to snap-lock or some sort of other removable fin system for similar reasons, so that the Atoll 11' could offer even more customized performance.
The fin setup as it is now does improve the tracking, stability, and turning radius when all three fins are used together. The composite build of the center fin makes it nearly as durable as the SUP itself, and will withstand almost anything, though we recommend avoiding shallow rivers as it can cause dragging. As for the side fins, they are made with molded plastic, and are nearly indestructible as well. Occasionally, the plastic side fins can get bent out of shape, but they are easy to restore if they ever look or feel off. Douse the fins with hot water, leave the board out to dry with the fins facing the sun, and wait ten to fifteen minutes and they'll look and perform as good as new!
Diamond Grooved Traction Pad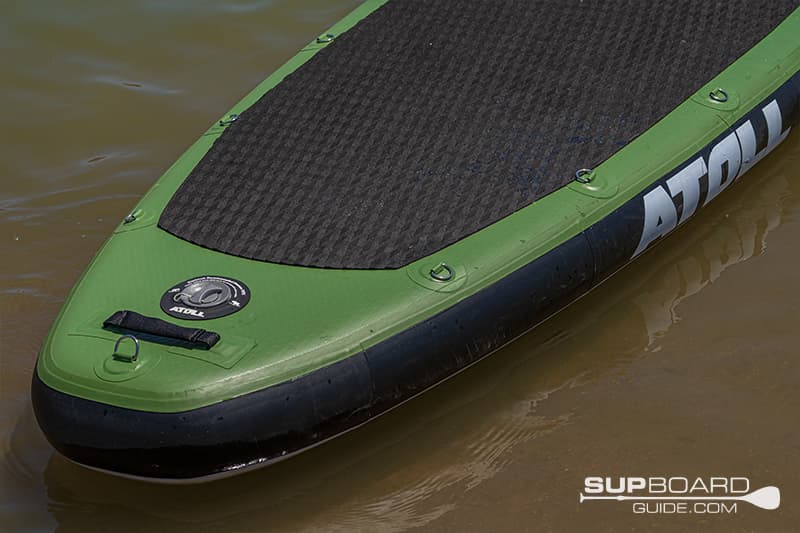 We love the Atoll 11' traction pad. The diamond grooved pattern provides a ton of traction and grip support, ensuring that you can maintain a good hold to the deck as you paddle on the water. The deck pad is also made out of EVA foam, the same material as many popular yoga mats, so it's very comfortable on the feet as well. The deck pad is also designed to drain water quickly, and the EVA material helps it dry within minutes even when soaking wet. We also like how the traction pad covers more than half the topside of the board, giving you plenty of space to spread out on.
Handles
There are two carry handles on the Atoll 11', with one located in the center and one located on the tail. The center handle has a neoprene cover, with neoprene allowing you to comfortably hold the SUP even with freezing or soaking wet hands, protecting you against chafing. The tail handle does not have neoprene, but is a good option tying ropes or clip on anything you want to tug in the water. Overall, these are both solid handles, though it would also be a neat addition if a nose handle could be added in the future for additional carrying and tug options.
D-Rings/Bungees/Cargo Areas
There are a total of 15 D-rings that cover the length of the Atoll 11' inflatable SUP. D-rings are compatible with most common SUP accessories and add-ons, such as dry-bags, phone cases, and even stuff like kayak conversion kits. Outside of the great number of D-rings, we also like how they've been spaced out, preventing accessories from getting tangled, and are out of the way to prevent tripping on them as well. An action mount in the future would add even more accessory compatibility, but as it is now there are a ton of accessory attachment options with this D-ring setup.
There is also a single large removable bungee cargo area on the nose of the board. If you have a cooler, lunch box, or other small container that you would like to secure to your paddleboard, the bungee cargo area is a great option. If you are bringing out a kid or pet, or just want extra space to stand on, it takes less than a minute to remove or install the bungee system as well. While it doesn't come with an extra set of cords, the tail D-rings are also spaced out in such a way that you could install a rear bungee cargo area similar to many other SUPs as well.
Accessories

Fiberglass Shaft + Nylon Paddle Blade
One of the improvements we like over last year's Atoll SUP kit is the changes Atoll made to their included paddle. Atoll has opted to change the shaft material from heavy aluminum to a lighter fiberglass alternative. In total, the new 2020 Atoll included paddle weighs 29 ounces, which we think is a good weight, especially for beginners and intermediate paddlers just getting into the sport. If you are a more experienced paddler, we would recommend upgrading to Atoll's carbon fiber paddle, though any of this year's Atoll paddles will let you tour the water for hours without tiring your arms out.
The three piece paddle is easy to assemble or break apart, and fits quite well in the included Atoll backpack when you're ready to head home. The paddle is very adjustable, allowing you to customize the length of the shaft until it matches the height of almost any adult sized paddler. The smooth fiberglass shaft is comfy to hold and won't give you any splinters, and is easy to rinse off if you drop it in the sand. Finally, the nylon blade is equally flexible and rigid, protecting it against drops but letting you have a powerful push as you navigate the water.
Pump
Included with the Atoll 11' is a single-chamber, dual-action pump that will inflate your paddlebround in about ten to fifteen minutes. The pump is very easy to use even for first time paddlers, with the instructions for the two pumping action modes printed on the pump itself. We do love how lightweight and compact it is, but it is a small pump to inflate such a large board. We would like to see a dual-chamber pump either included or as an option to go with the Atoll 11' SUP in the future, for those who want better efficiency and don't need something as compact.
Alternatively, for an even more compact and superior pump option, we recommend adding an electric pump to your SUP kit. Electric pumps will do the hard work of inflating a paddleboard for you, and do it in about the same time as a manual pump. Electric pumps will also help you drain the last bits of air out of your board, ensuring that it is ready to pack up when you're ready to leave. Finally, electric pumps weigh about the same as a single chamber pump but are even more compact in size, giving you more room in your backpack for other SUP gear. Electric pumps are our number one recommended accessory for any SUP, so add one to your kit for the best inflation and paddling experience!
Backpack
The Atoll 11' heavy duty travel bag is built to last, protecting your SUP, paddle, pump, and other equipment against sand, wind, and water alike. The bag is built with extra room in mind, so that you can easily fit your SUP in it and avoid the struggles that campers have trying to pack their tents. The adjustable backpack straps will ensure that the bag fits well on short and tall paddlers alike, with a carry handle on top if you just need to carry the board a short distance. A final detail we also want to highlight is the U shaped zipper, which allows you to open almost the entire flap so you can quickly and easily insert your SUP once you're ready to put it away.
Leash
There is a 10' coiled leash included with the Atoll 11', which will keep your board from floating away if you fall in fast moving waters. The leash is easy to put on, fitting over your calf or ankle and attaching to one of the D-rings on the Atoll 11'. While the leash will keep your board close, it will not help you float in the water, so make sure you go out with a PFD in order to stay safe in the water!
Optional Accessories
Outside of their great paddleboard, Atoll also has a huge line up of hats and clothing items that match well with their SUPs and will keep you comfortable and stylish while you paddle. There are also a number of official accessories as well that will improve your overall paddling performance and experience. Some of the official Atoll 11' accessories we recommend considering include the following:
Atoll Bravo 2 Stage Electric Pump
Atoll Universal SUP Kayak conversion kit
iSUP Paddle Board 4.6'' river flex fin
iSUP paddle board 9'' race fin
Geckobrands waterproof dry bag/phone case
Company Review – Bay Sports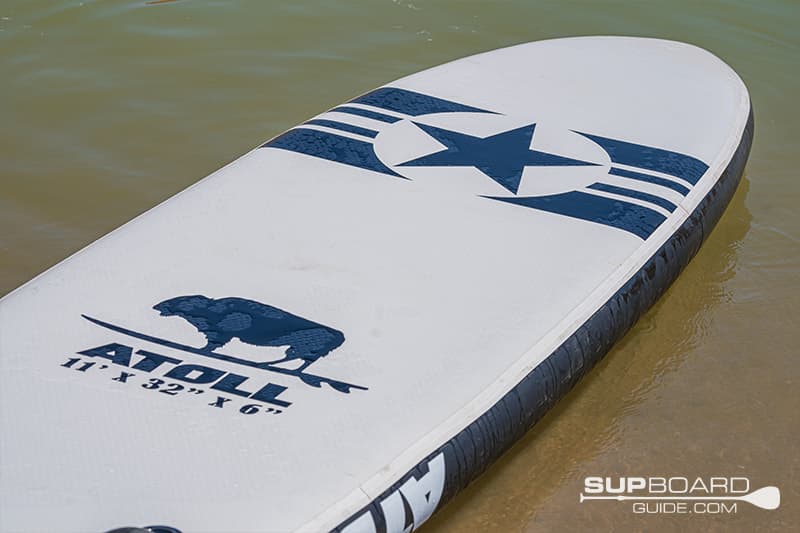 Atoll Board Company, based out of Huntington Beach, California, is a top-rated SUP manufacturer with their high performing 11' inflatable paddleboard. Since their inception, Atoll SUPs have received over 1,200 five star reviews, making them a top rated SUP company that you can trust. Their boards have been consistently lightweight, durable, stable, and easy to paddle on so that beginners and expert paddleboarders alike can have a SUP to love. Atoll builds their boards to embody SUP water sports as a whole, ensuring you can have fun on lakes, rivers, and the ocean alike as you race, cruise, or even practice yoga on their boards.
The Atoll 11' has a 60-day guarantee and 2-year warranty, with free shipping to customers in the United States and paid shipping options for international customers. Military, first responders, and health care discounts also receive exclusive discounts on all boards, accessories, and other merchandise. Atoll is also an easy to reach company, with a great staff that's quick to answer questions and a design team that takes the feedback they receive to improve their boards year over year. After improving on almost every negative we had in last year's review of their SUP, we can't wait to see how Atoll will make their paddleboard even better!
Conclusion/Bottom line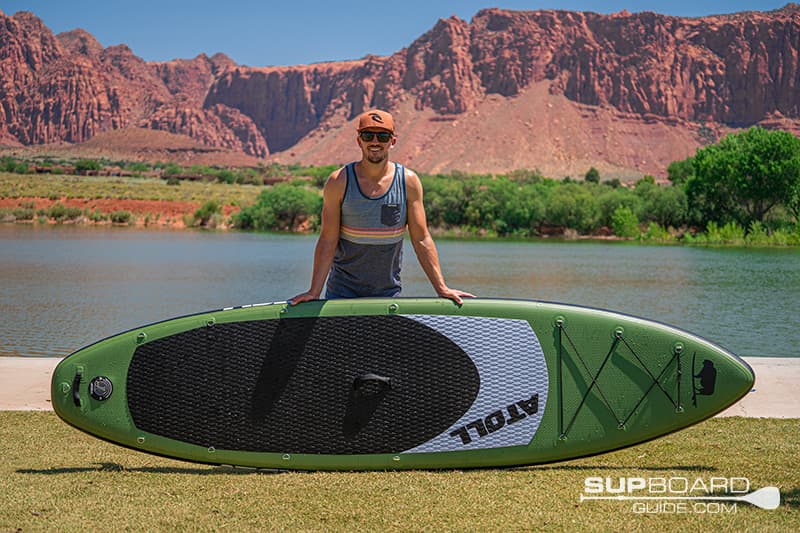 The Atoll 11' inflatable SUP is a good all-around paddleboard option for those who want dynamic performance in a lightweight adventure board. This board is very easy to hike with due to it's lightweight construction, while still offering good stability, maneuverability, and tracking to handle lakes, rivers, and the ocean alike. The machine laminated PVC construction will ensure you can use this paddleboard for years, and the multiple color options and impressive bison logo will make you the envy of your peers. The diamond grooved traction pad is extremely well made, offering fantastic grip support with a deck pad that is comfy to stand on for hours and drains/dries quickly when wet. Finally, we love how this kit comes with good equipment that will have you ready for the water out of the box, with a large assortment of D-rings for additional accessory options. So, if you are new or are experienced in stand up paddleboarding, we definitely recommend the 2020 Atoll 11' inflatable SUP if you want a high adventure and solid all-around SUP.
Have a question about the Atoll 11', or want to learn more about paddle boarding? Need help trying to find extra fins for your SUP, or looking to upgrade your pump? Then be sure to leave a comment below or send us an email with your thoughts, and we will respond as quickly as we can. Also, we update our reviews based upon new feedback we receive from other paddle boarders and our own experiences, so check us out again in the future for our up to date thoughts.
Thank you so much for reading, and we hope you have an awesome time SUPing!
The following two tabs change content below.
SupBoardGuide
Heyo! At SupBoardGuide.com we are a team who love the water, the outdoors, and are more than grateful that our full-time job allows us to review stand up paddle boards. We paddle year round (it helps that we are just about 2 hours outside of Las Vegas), and we bring in a wide range of paddlers with the goal of providing our readers with the best, most in-depth, and accurate stand up paddle board reviews.
Latest posts by SupBoardGuide (see all)