11' Atoll Inflatable SUP
Pros
Lightweight at just 21 lbs
Accommodating level of stability without being wide/cumbersome
US fin box leaves room for a lot of customization ability
Extra D-rings along the rails give you the option to bring more gear than just the front cargo area would hold
Comfortable backpack = this lightweight board is backpacker friendly
Cons
Fixed side fins aren't long enough to contribute to better tracking and easily get bent out of shape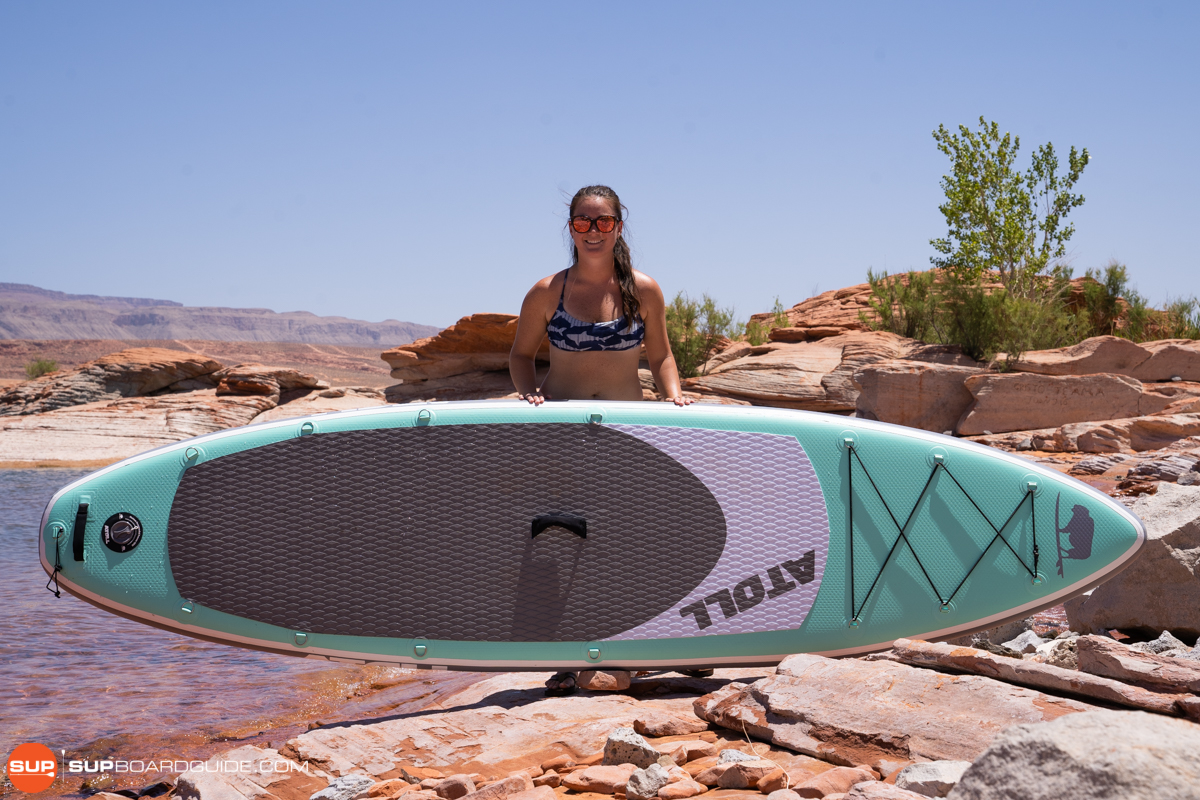 Anytime I take a bunch of boards from the office to go paddle with friends, I often get hit with the same question: 'You're bringing the Bison board, right?' This group could hardly contain their excitement when I told them that I had a new Atoll 11' (affectionately dubbed 'Bison board') to review. Something about this SUP just seems to hold the attention of that grimy little herd of backpackers.
While I think it's mainly that little bison itself that keeps my friends coming back to this board, to me, the performance of the Atoll 11' can hold its own.
Being 11' x 32" and just 21 lbs, the Atoll 11' provides enough volume on the water for a wide range of paddlers without needing to be heavily built. On top of its accommodating stability though, its tapered shape and single fin set-up allow this SUP to pick up speed without much effort from the paddler, and its lightweight build allows for an impressive level of maneuverability, given its longer length.
And while there are some changes we'd make to the included accessory kit, namely the side fins, we're happy to see Atoll include the essentials to get their paddlers out on the water the day their package hits the doorstep.
This lightweight, mountain-esque SUP would make a great choice for paddlers that are frequently hiking into paddling spots, or paddlers that want a little more speed capabilities without sacrificing stability or the ability to bring along gear.
We think the Atoll 11′ would be great for paddlers who
Prefer a lighter, more minimalistic SUP
Want a combination of speed and maneuverability
Need the option to load up with, but don't want to clutter of excess features
Frequently backpack into paddling spots and need a lighter SUP with a comfy backpack
Paddle in flatwater, slow moving river, and sometimes encounter waves or chop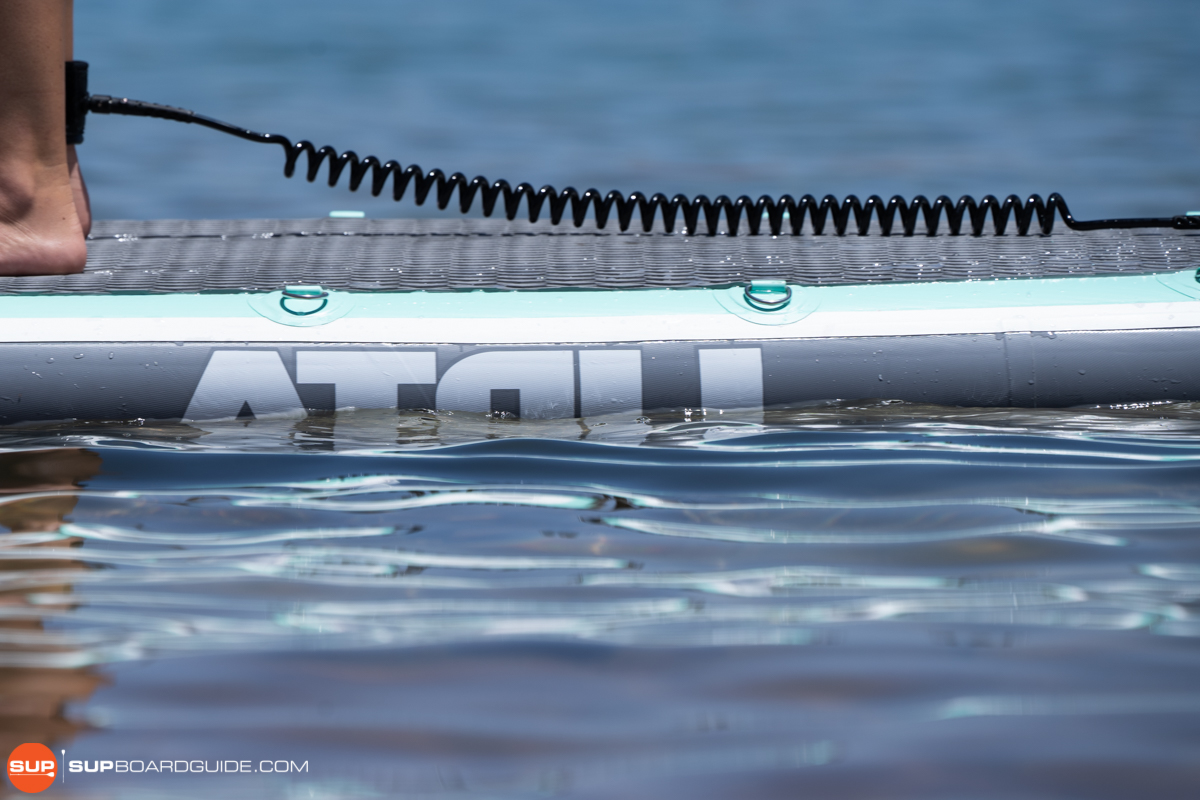 Atoll 11′: Spec Sheet
Main Category: All Around, Inflatable
Board Dimensions: 11' x 32" x 6"
Listed Board Weight: 21 lbs
Listed Max Capacity: 315 lbs
Recommended PSI: 12-15 PSI
Fins: 2+1 (2 fixed side fins, one removable center fin)
Paddle: 3-piece carbon fiber hybrid
Materials: Dual Layer fusion
Price Range: mid-high
Warranty: None
Performance Review of the Atoll 11′ Stand Up Paddle Board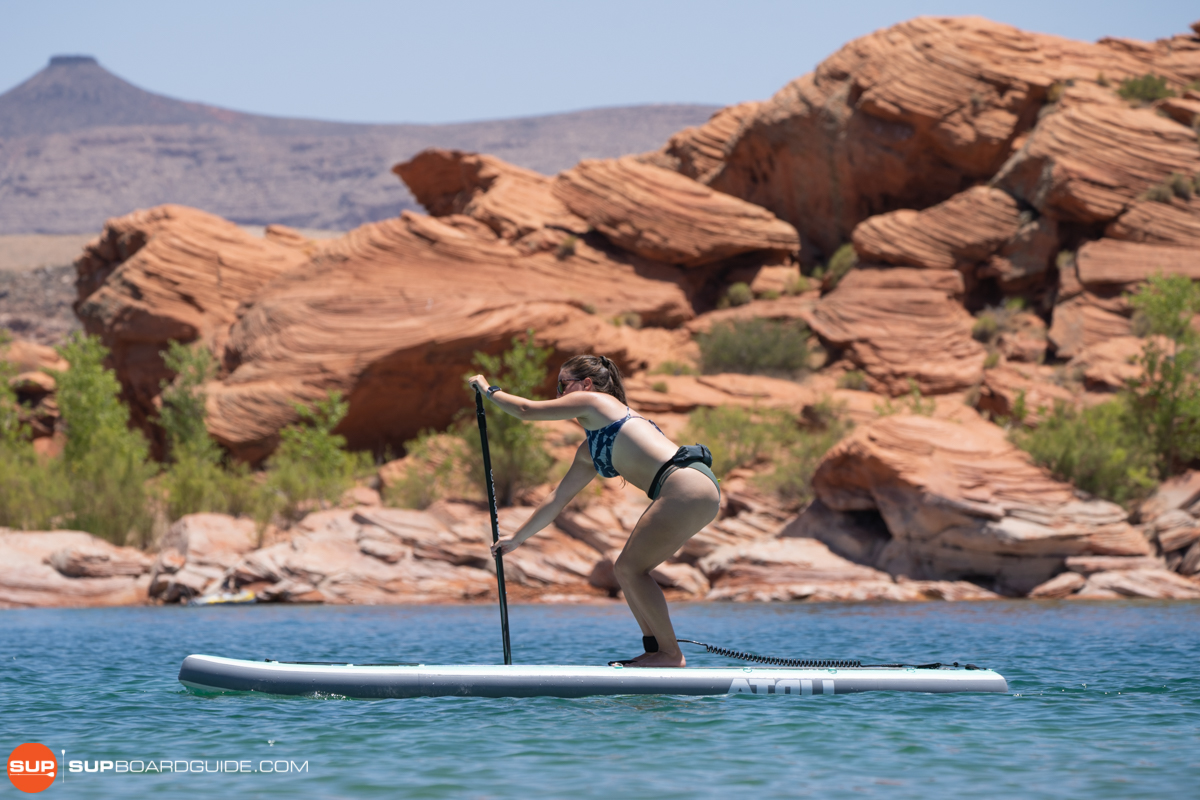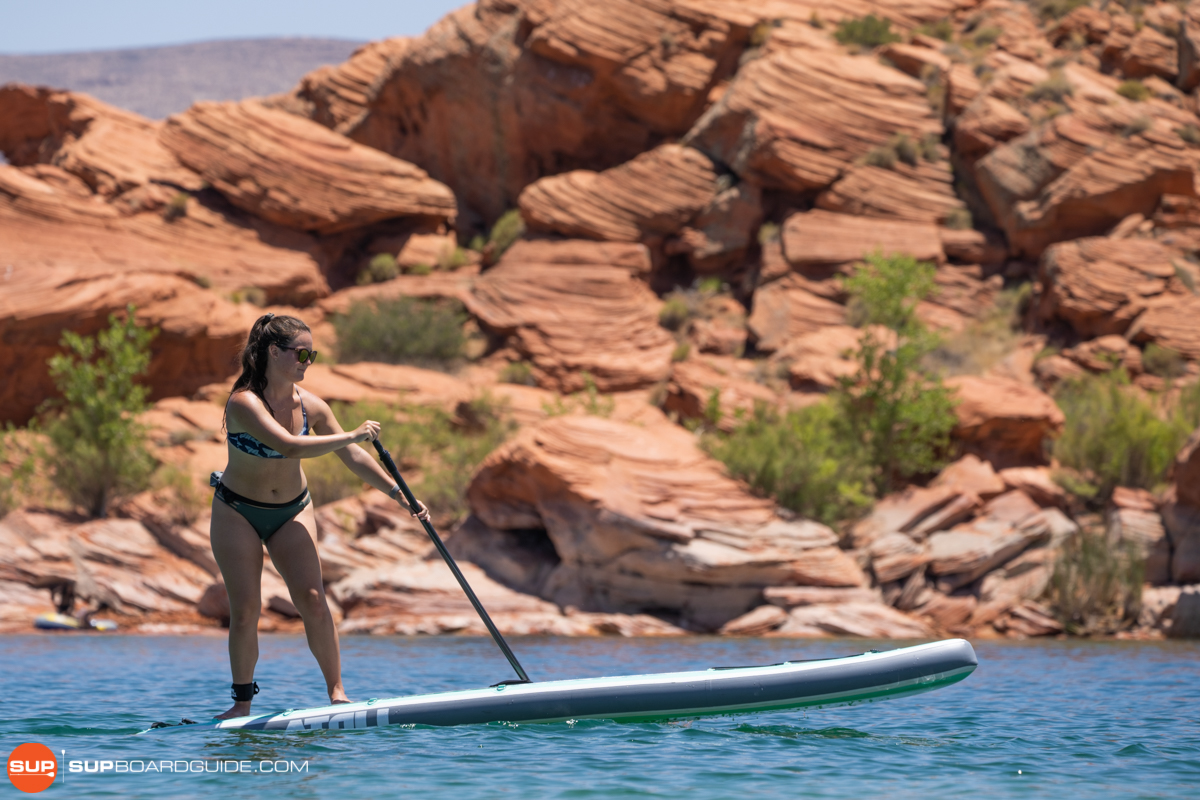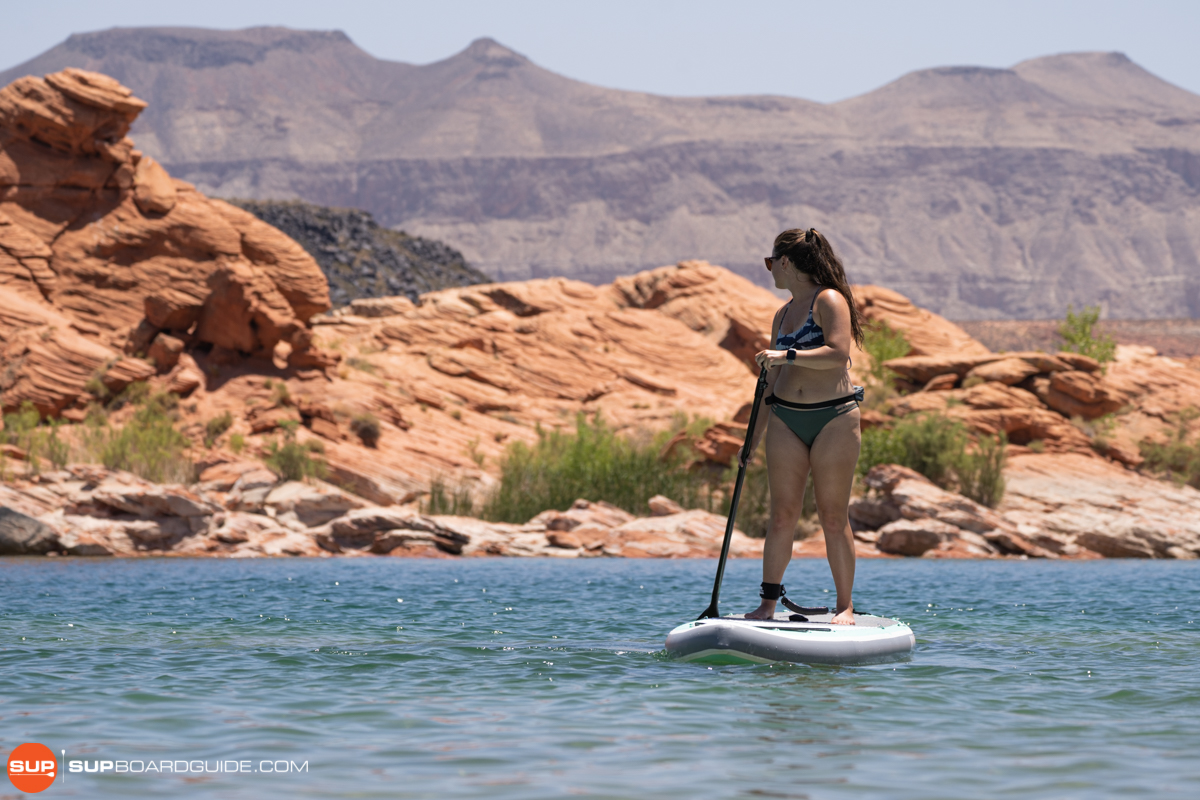 Overall Score: 9.0/10
Stability: 9.2/10
Speed: 9.0/10
Tracking: 8.8/10
Maneuverability: 9.2/10
Construction Quality: 8.8/10
Features/Accessories: 8.9/10
Stability Rating: 9.2/10
The Atoll 11' provides enough stability for SUP novices and paddlers carrying a moderate amount of gear without succumbing to a bulky or heavy feel on the water.
I actually brought out a friend who's newer to SUP'ing to try out the Atoll 11', and it ended up being one of her favorites for its stability and lighter build. Granted, she is a smaller paddler so she doesn't need the added volume that comes with wider and/or more heavily built boards, but we also tested it with her sitting on the front and me paddling and the Atoll 11' supported our combined weight (270 lbs) reasonably well without losing a massive amount of stability.
Regarding that last statement, I want to emphasize that the performance of the Atoll 11' under a 270 lb solo paddler will be different from its performance under my and my friend's dispersed weight at 270 lbs. The stability loss would be more exaggerated under the concentrated weight of one paddler.
Speed Test: 9.0/10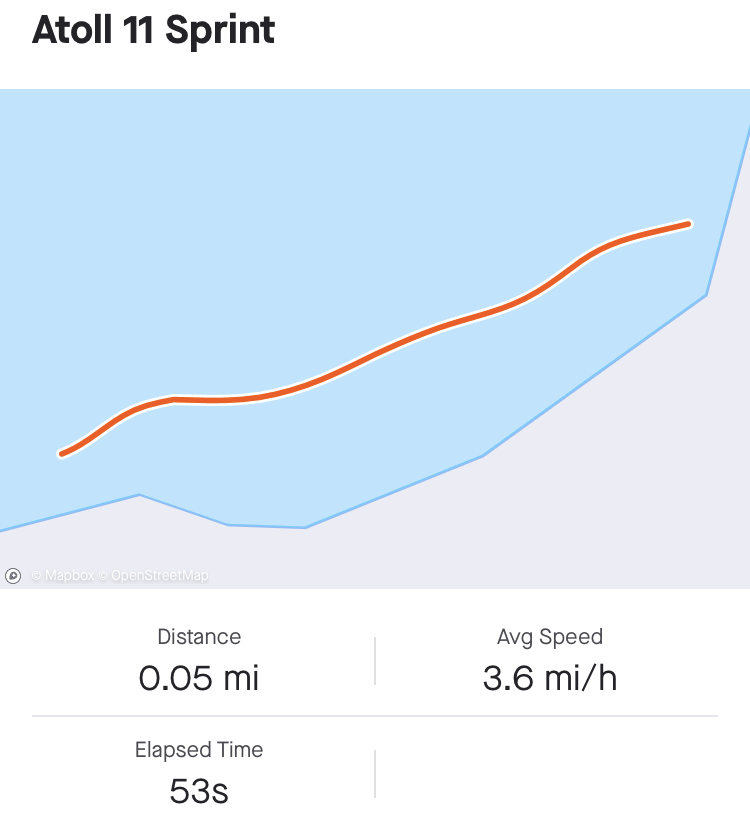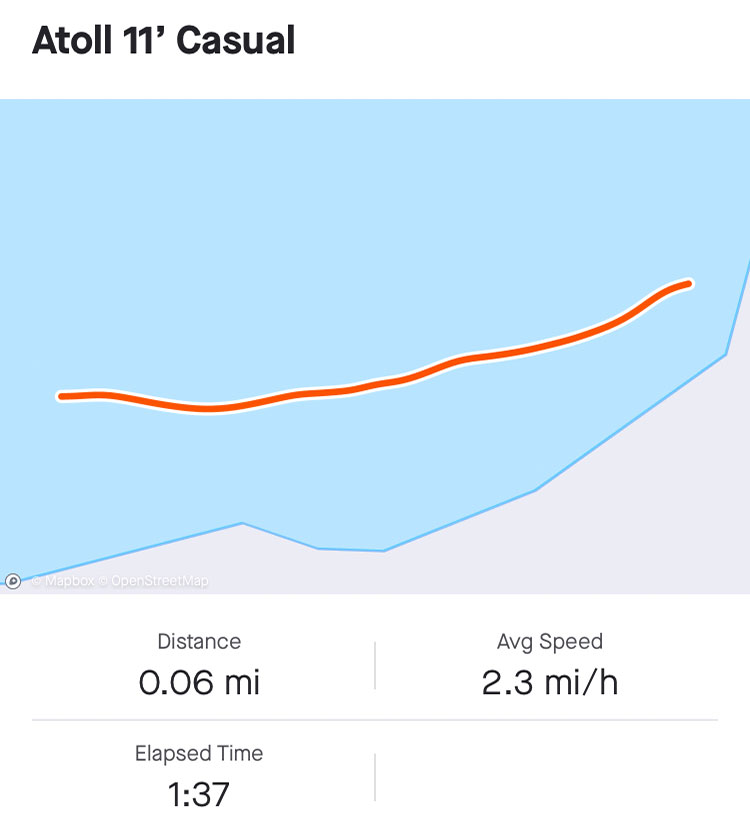 As a smaller paddler, I typically always find lighter boards to be faster than 'heavier' boards with the same dimensions, and this was almost the case with the 21lb Atoll 11'.
While I did find the Atoll 11' to be a few seconds faster than the 26lb iROCKER 11' All-around, it wasn't quite as fast as the 22lb Gili 11' Adventure. The board weight played a large role in the Atoll 11' beating out the iROCKER 11' All-Around in terms of speed, but it came down to the SUP's tracking capabilities when the Atoll 11' was pinned against the 11' Gili Adventure. We'll discuss this more thoroughly in the section below, but for now, the Gili Adventure tracks significantly better than the Atoll 11', and I was able to save a few seconds in the Adventure's sprint test by not having to switch sides as often.
Tracking: 8.8/10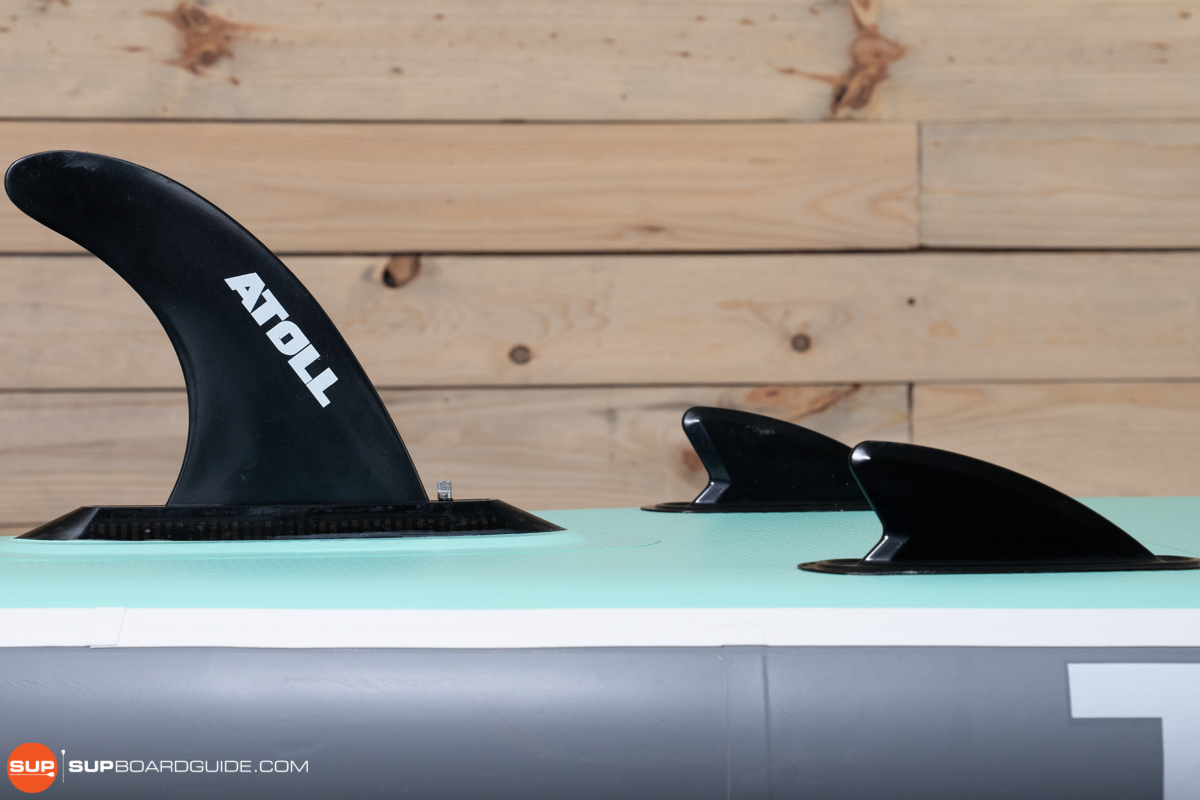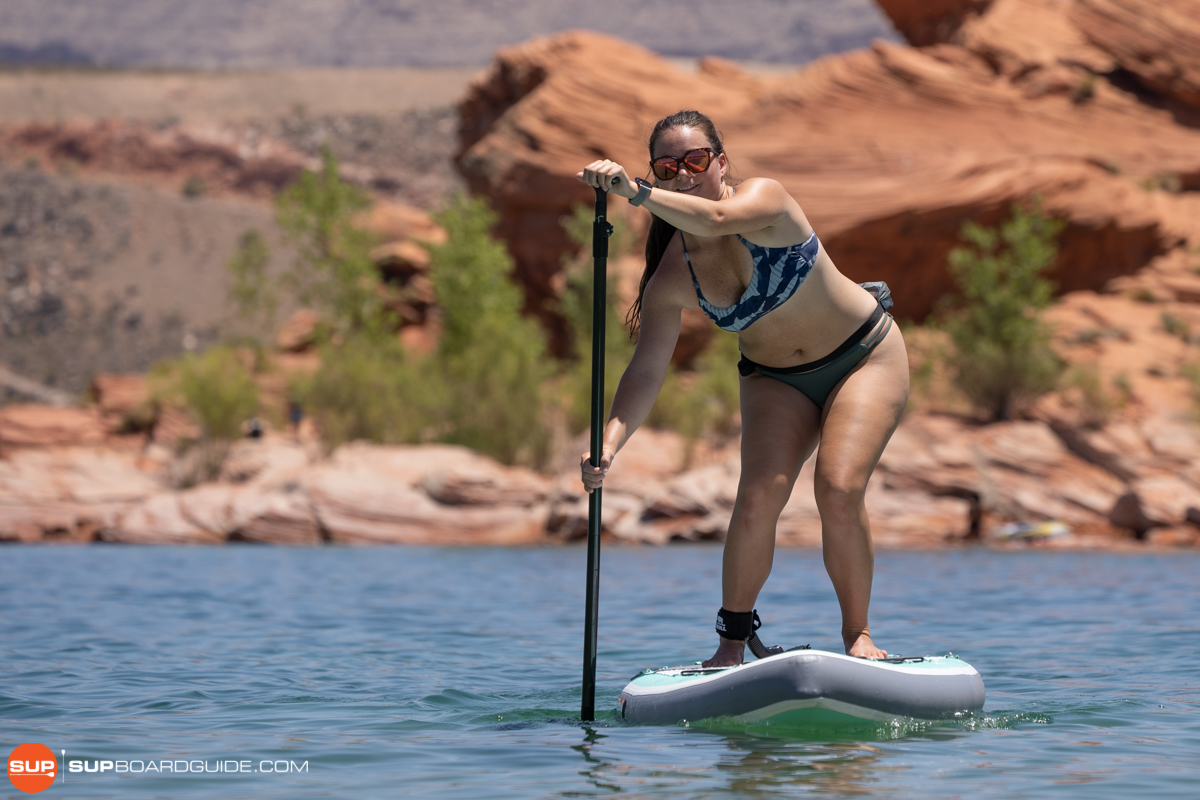 Tracking is one area where the Atoll 11' doesn't quite measure up.
We do really like that Atoll uses a US fin box for their center fin, affording you tons of possibilities in customization. However, we're not impressed with the fixed flexible side fins. They're just not long enough to noticeably contribute to better tracking or better stability, and they get bent out of shape relatively quickly. That being said, the short fixed flexible side fins are helpful when paddling in shallow and rocky water, as they cannot be easily knocked out or damaged.
In the future, we'd like to see Atoll shift to a fully removable 2+1 set-up that still utilizes a US fin box, so paddlers can choose their side fins based on their environment. Presently, if you're a paddler that values tracking capabilities, I'd recommend replacing Atoll's included dolphin style center fin with a longer hatchet fin.
Maneuverability: 9.2/10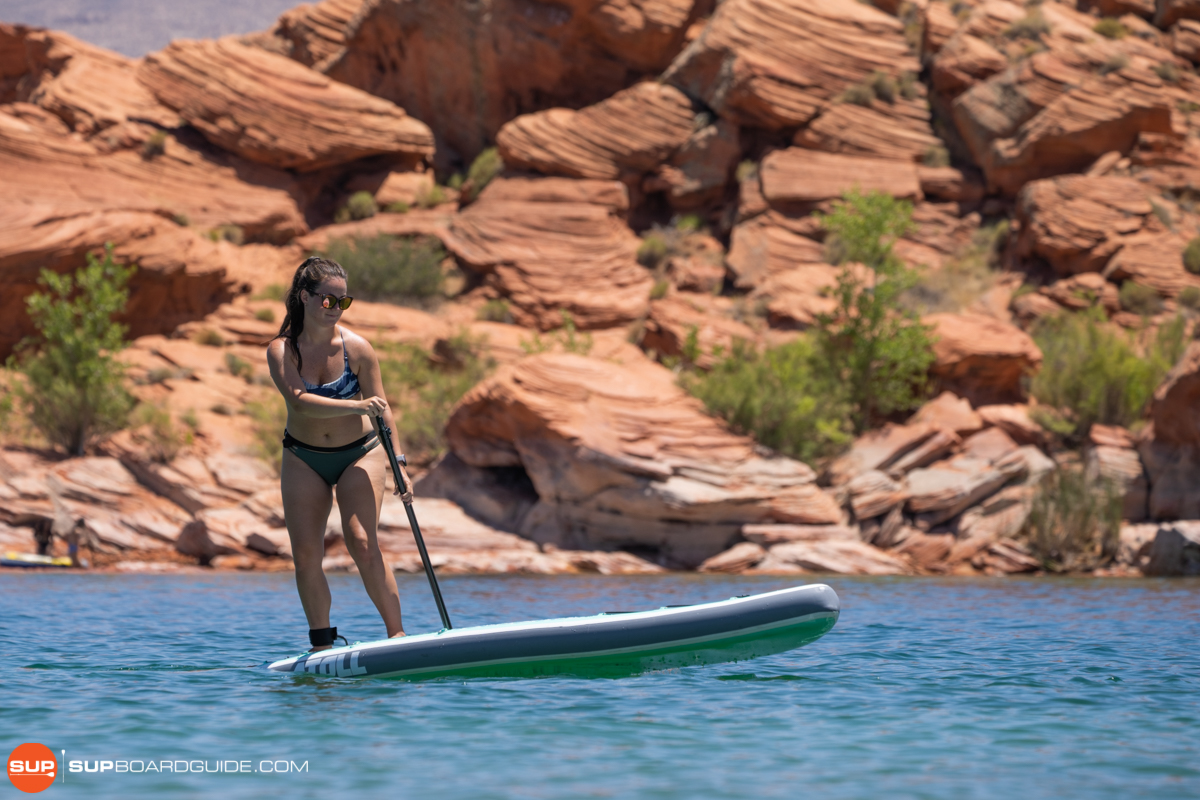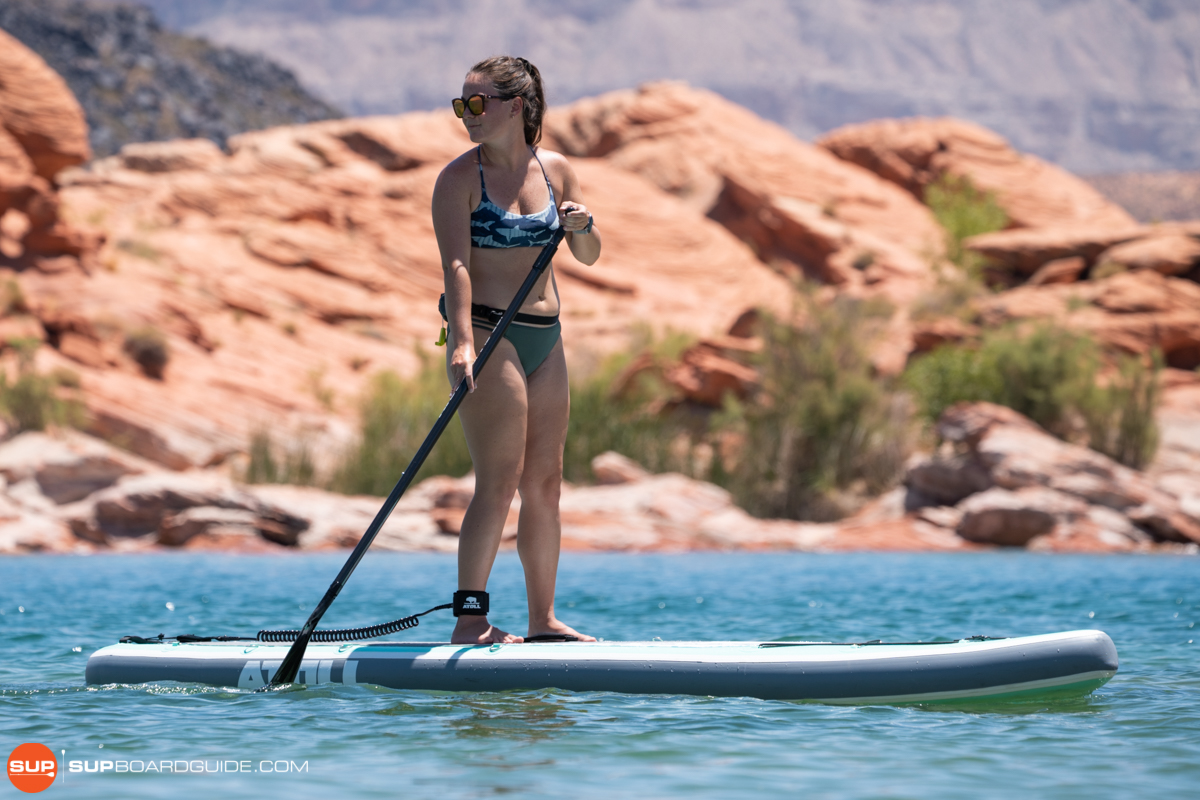 On a more positive note, the Atoll 11' performed fairly well in our maneuverability tests.
The Atoll 11' took 4 backstrokes to make a 360 degree turn, while the iROCKER 11' All-around and the Gili 11' Adventure made the same turn with 5 backstrokes (the results were identical when tested with forward sweeping strokes).
When it comes to stepback turns, the Atoll 11' is light enough that popping the nose up is relatively easy, but you do lose a bit of stability when standing on the tail due to the ineffective side fins and lack of a raised kick pad.
Construction Quality: 8.8/10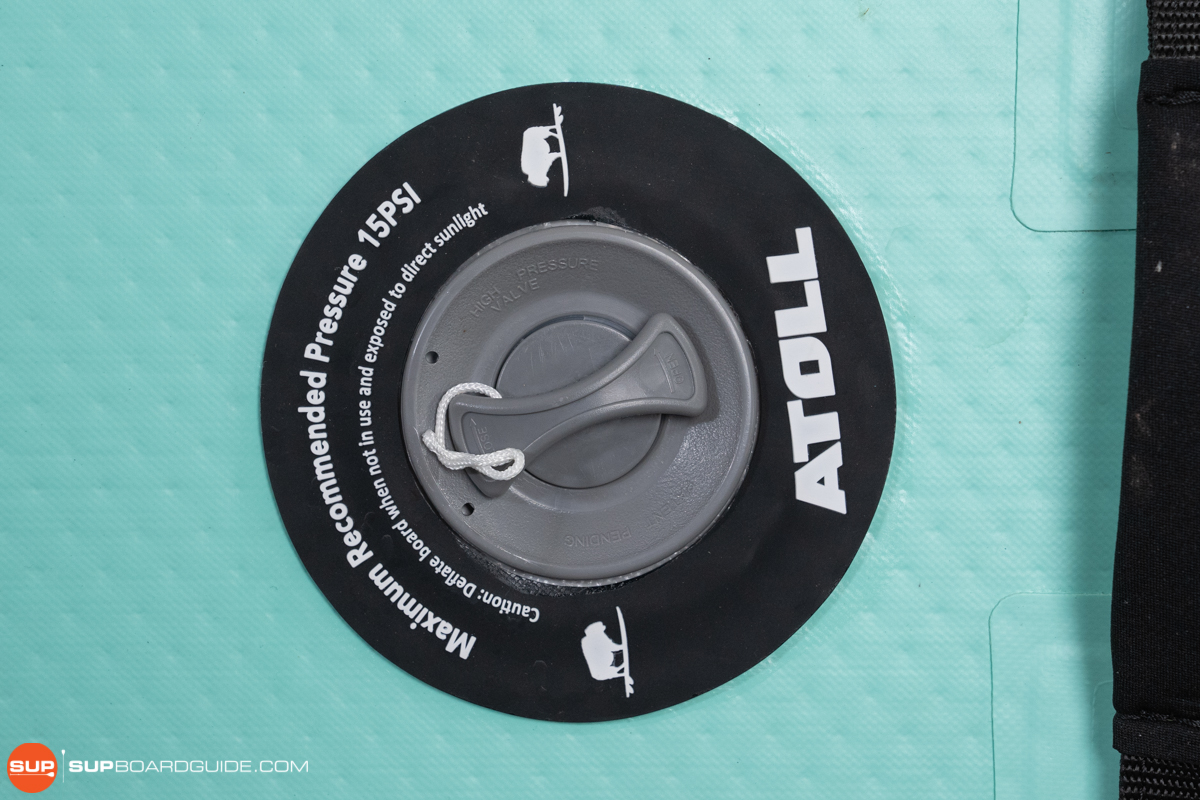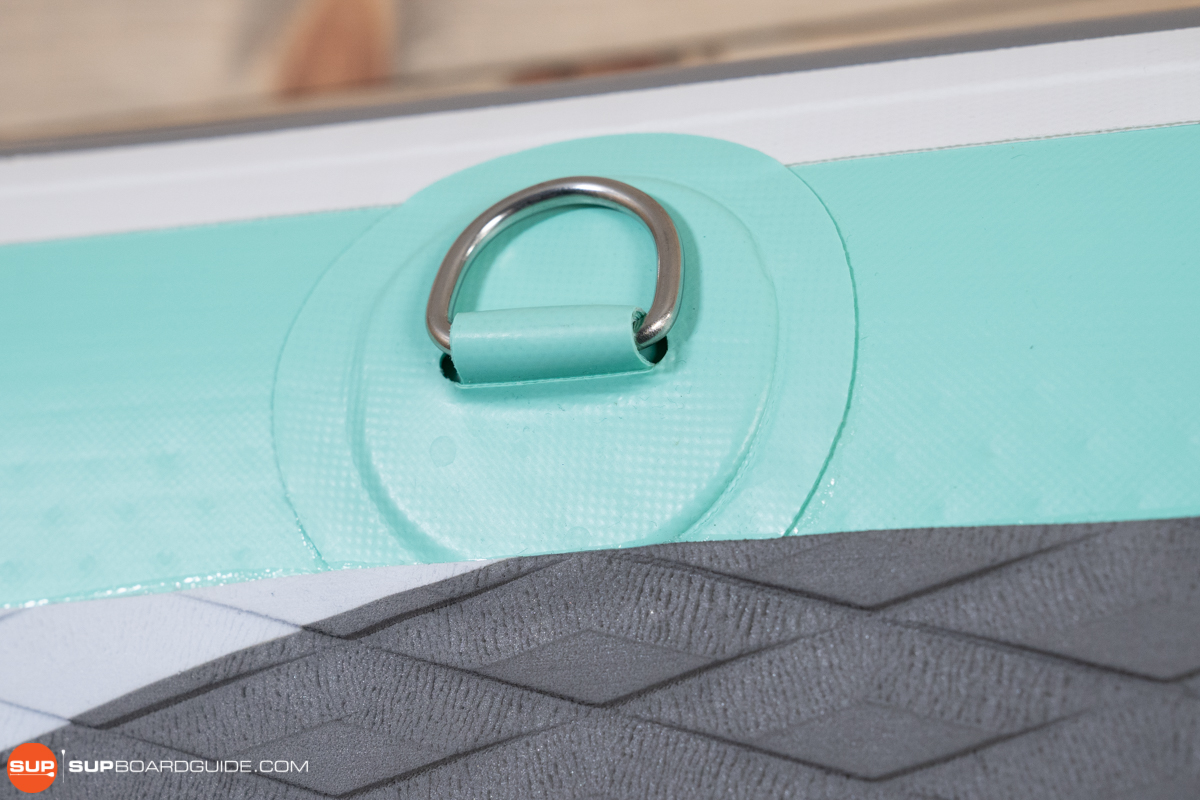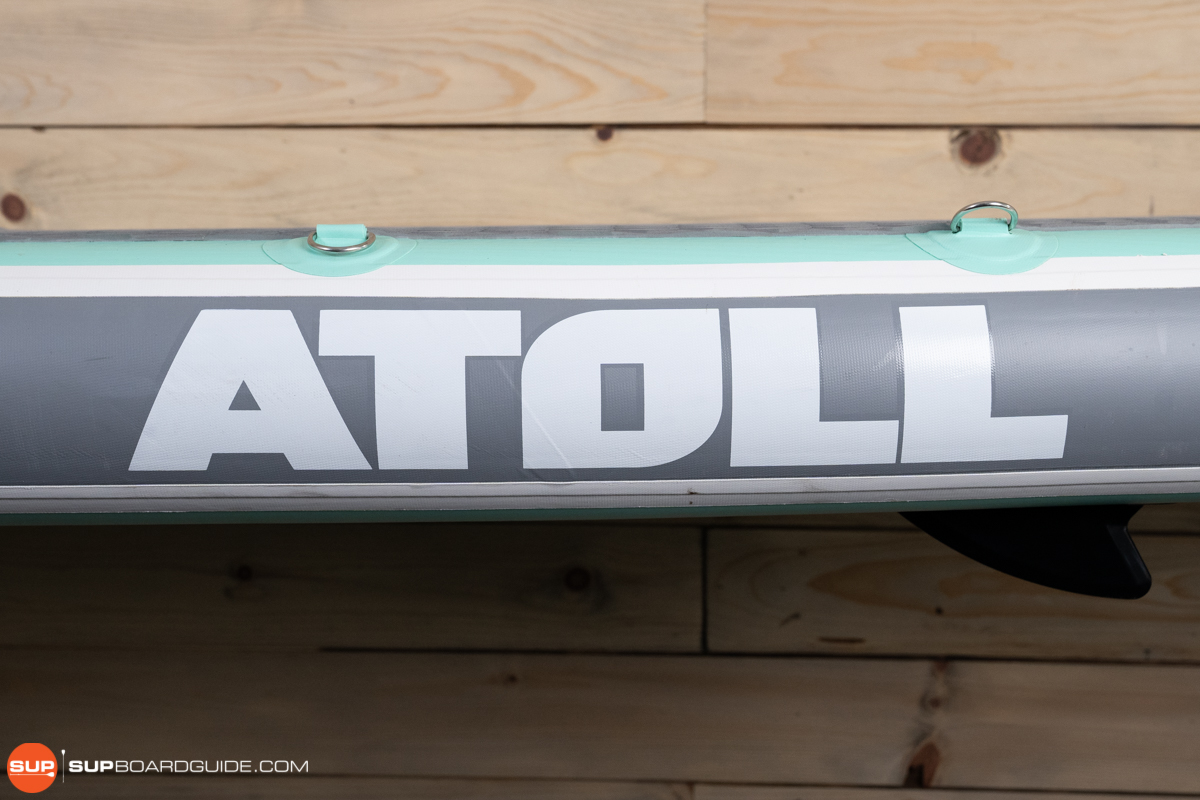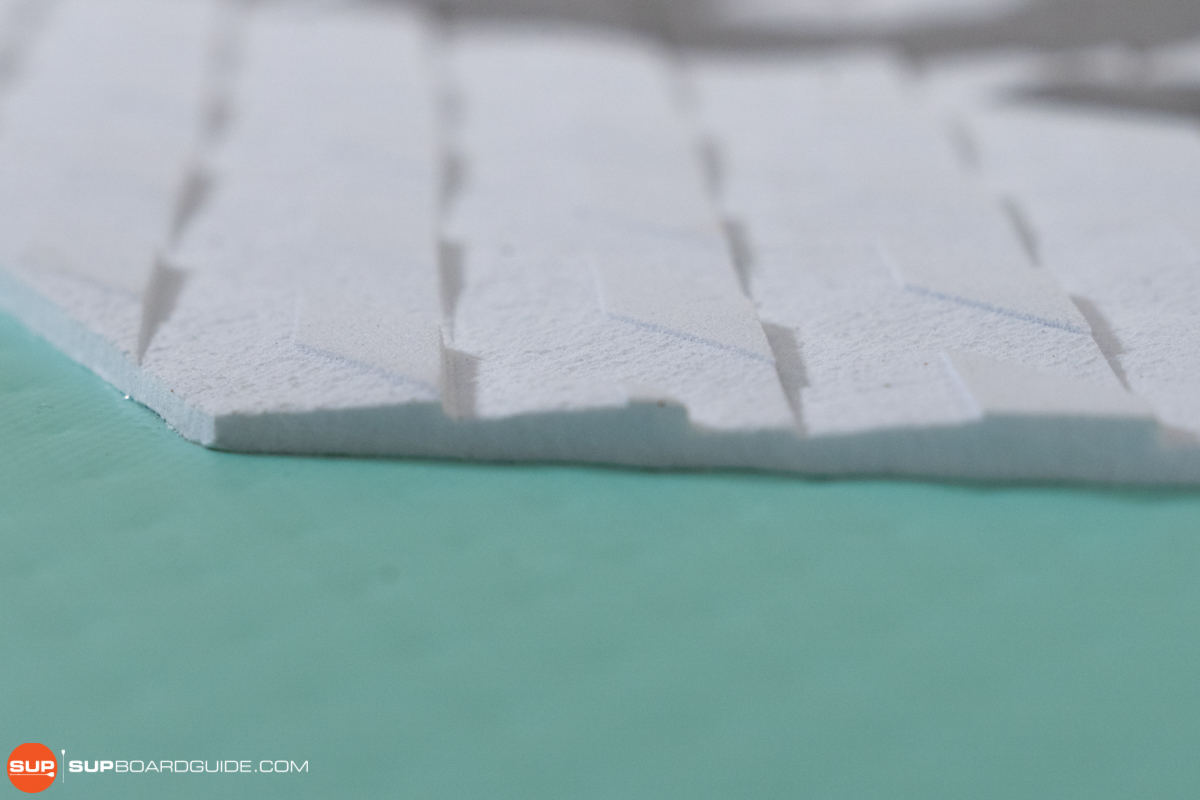 Compared to the previous model, Atoll has kept their construction techniques relatively the same (if it's not broken, why fix it, right?).
Each Atoll SUP is constructed using dual layers of PVC to encase their inner drop stitch core. While Atoll is understandably tight lipped about the specifics of their construction (i.e we're wondering if they use a cross or linear drop stitch, a woven or knitted fabric layer, and how exactly their PVC layers are bonded), we can attest that the Atoll 11' feels well made. It's light, relatively stiff, and holds weight fairly well.
In the future, I'd like to see Atoll make some upgrades to the construction of this board to keep up with similarly priced iSUPs in the industry, but for now, I'm still happy with its performance and stiffness.
Board Stiffness: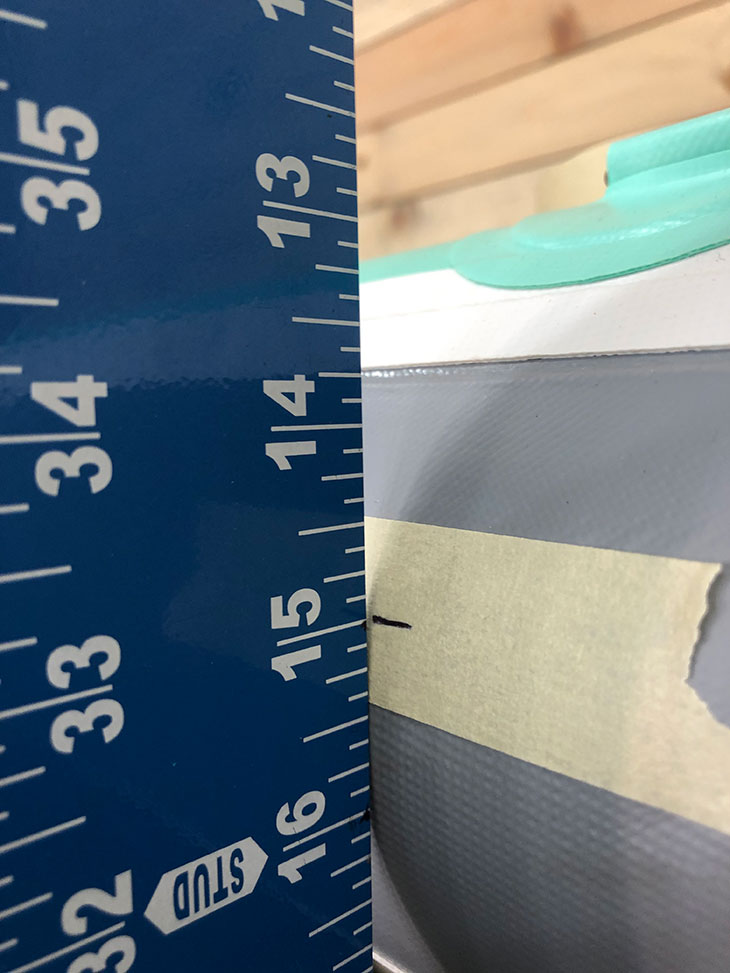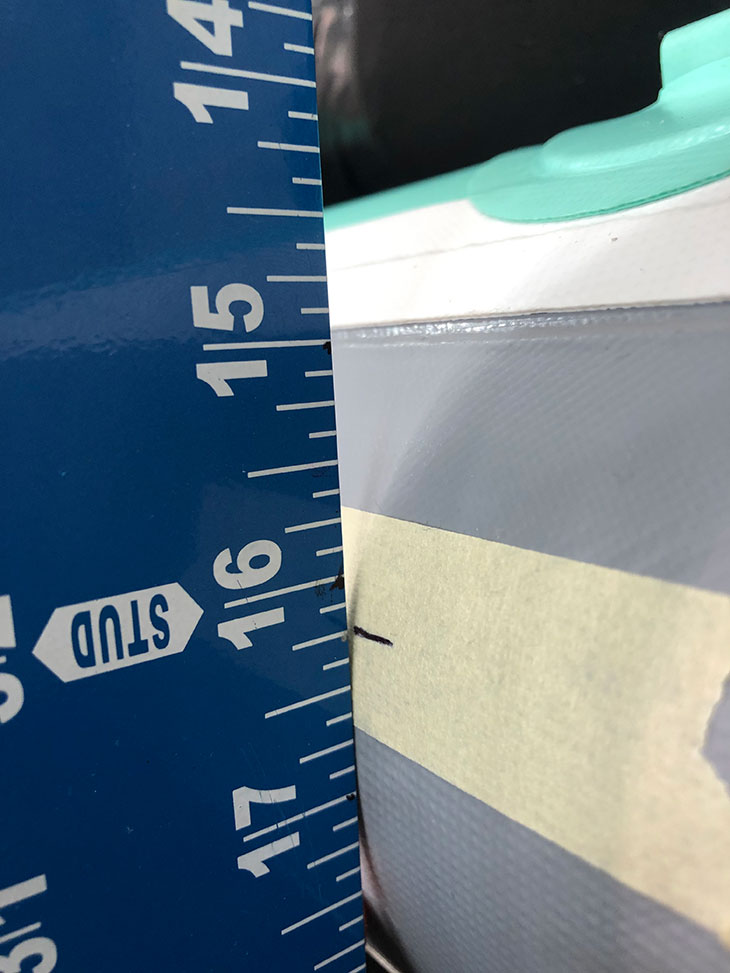 Stiffness Test: 1.25" Bend
Our stiffness test is done by placing the SUP on top of two sawhorses that are set 7' apart, loading it with 150 lbs at the midpoint, and measuring how much it flexes under the weight. Of course, this does not replicate how the board will perform on the water, but it does help us understand the correlation between certain construction processes and overall board stiffness.
The Atoll 11' bent 1.25" during our bend tests, which is about as expected given its construction. It's not quite as rigid as some of the more heavily built SUPs that we've tested, but that's to be expected given that the Atoll 11' is only 21 lbs.
As for how it feels on the water, the Atoll 11' feels reasonably solid under foot, and I've had no problem loading up my 50 lb dog on the nose (making our combined weight 190 lbs).
Features/Accessory Review: 8.9/10
Erring on the side of minimalism, the Atoll 11' is pretty 'bare-boned'. Personally, I really like a cleaner looking SUP; it keeps my deck space open and clear and helps to cut down on weight.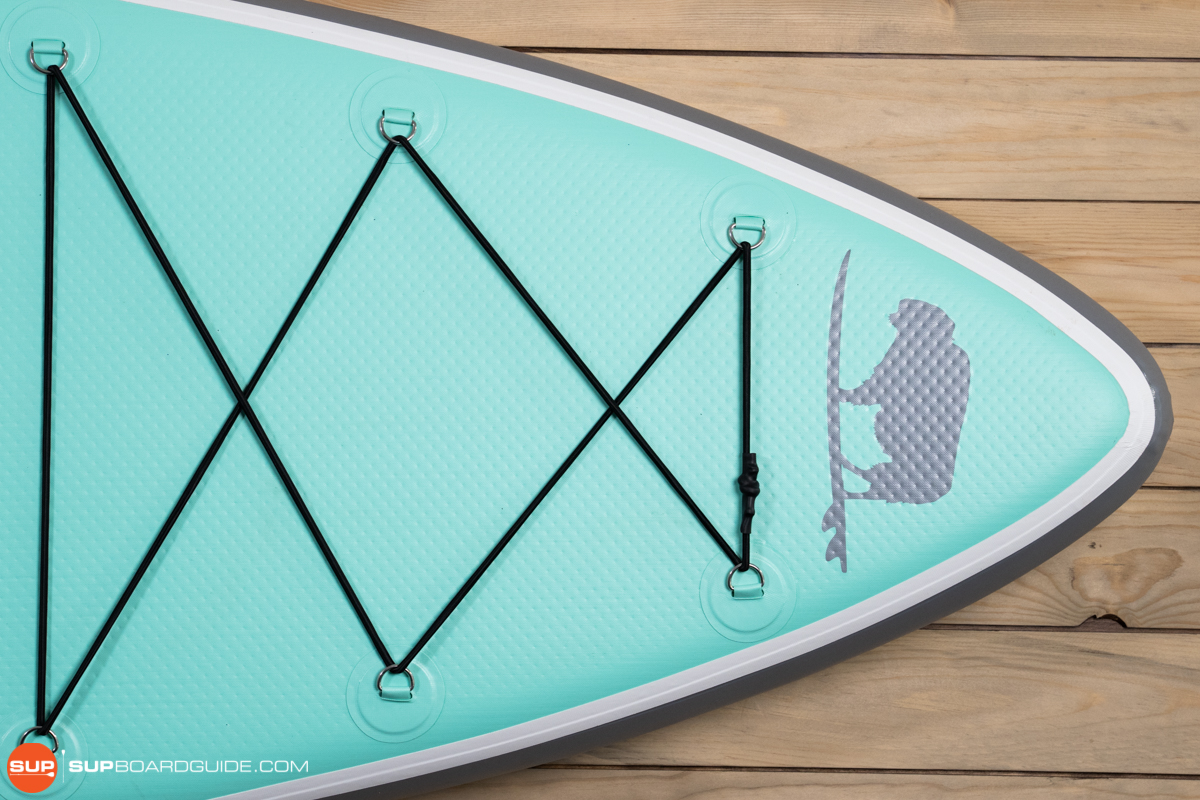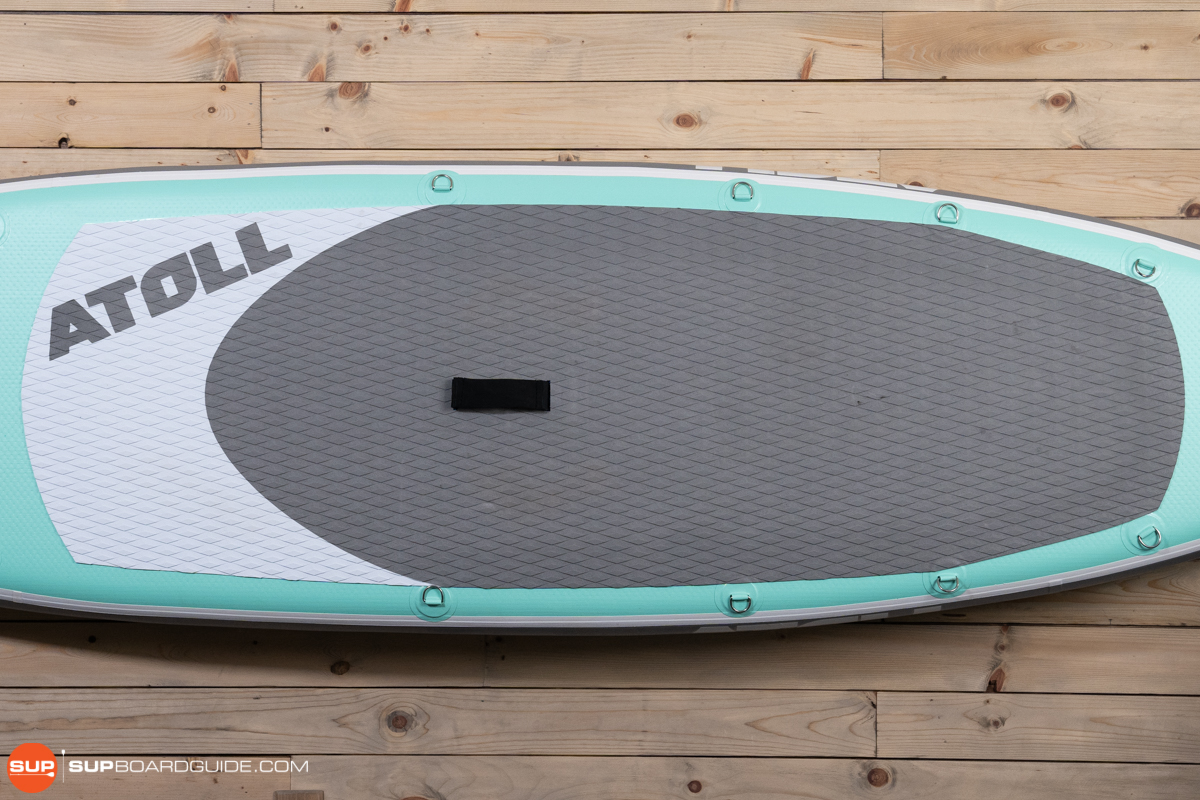 While initially only equipped with a front cargo area, Atoll does give you the option to attach more bungees, or a kayak seat, by placing several D-rings along the rails of this SUP.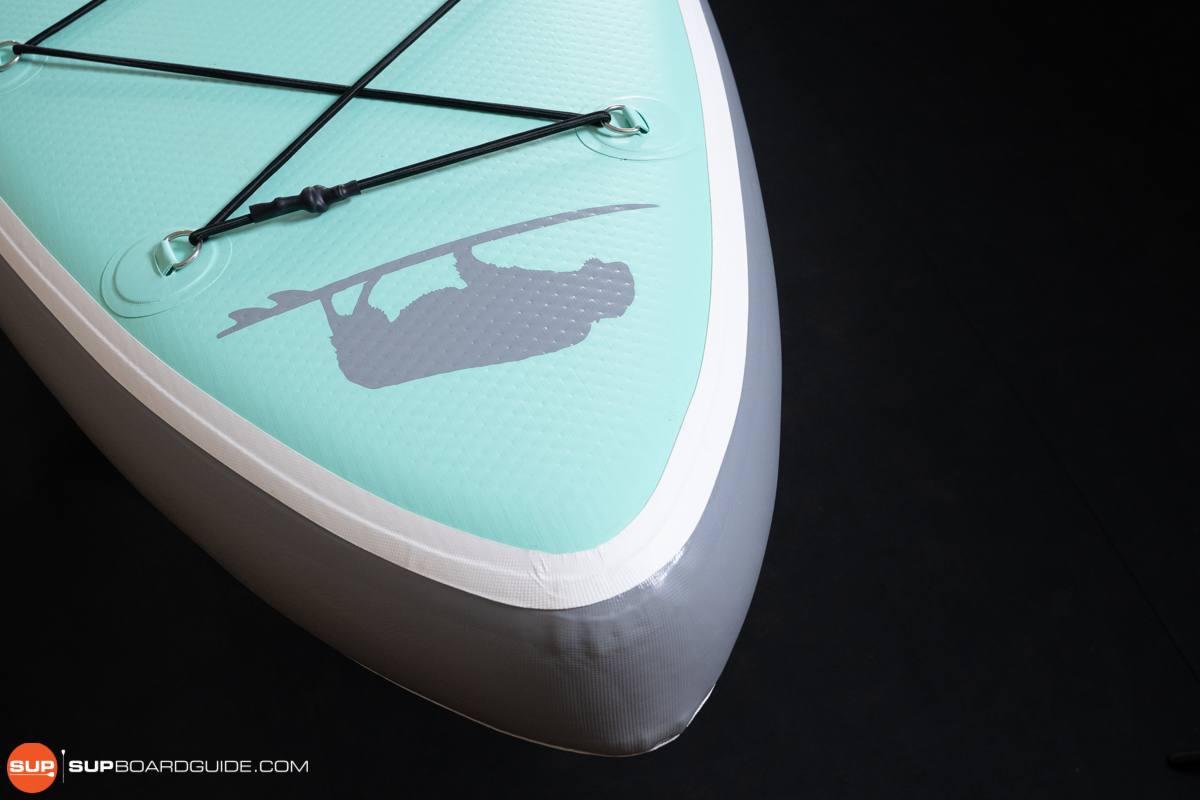 I also like the simplicity of Atoll's deckpad and their choice to stick with a classic diamond grooved pattern.
My only suggestion for Atoll would be to add a grab handle at the nose, as it gives you something to hang onto if you're pulling your board out of the water or grounding it on shore.
Included Accessories: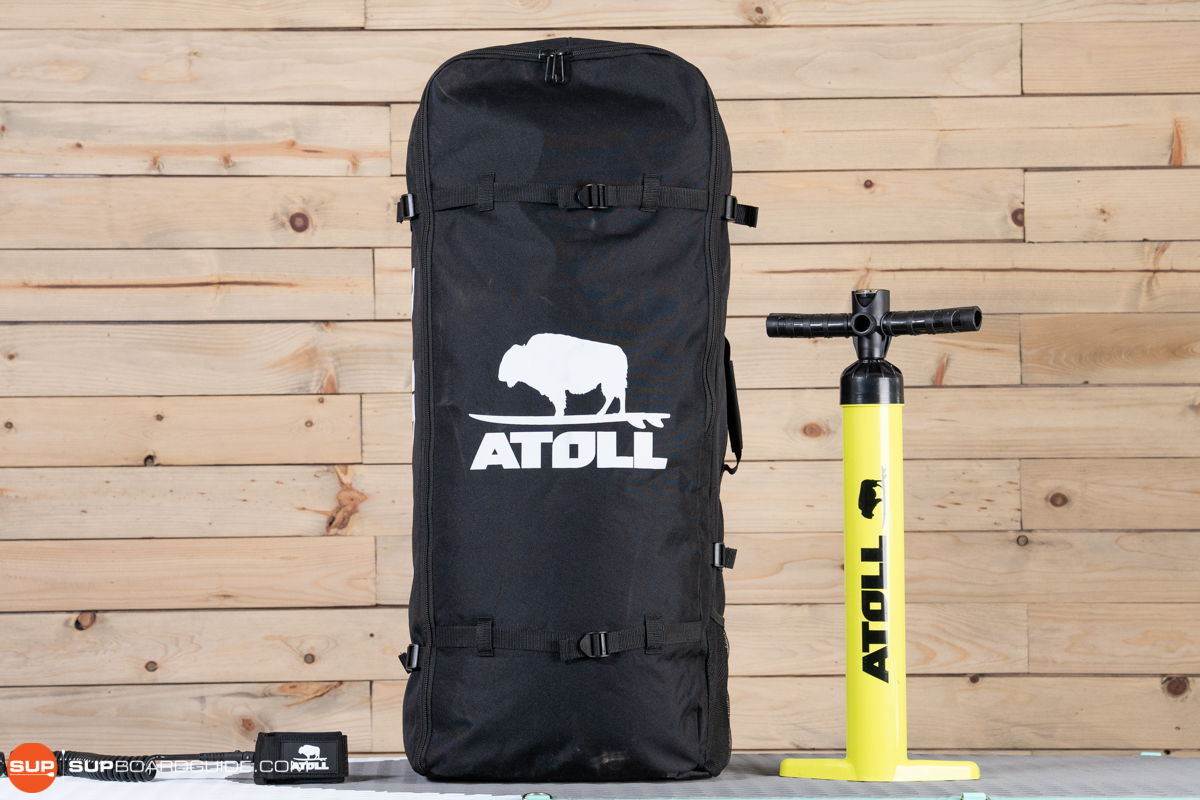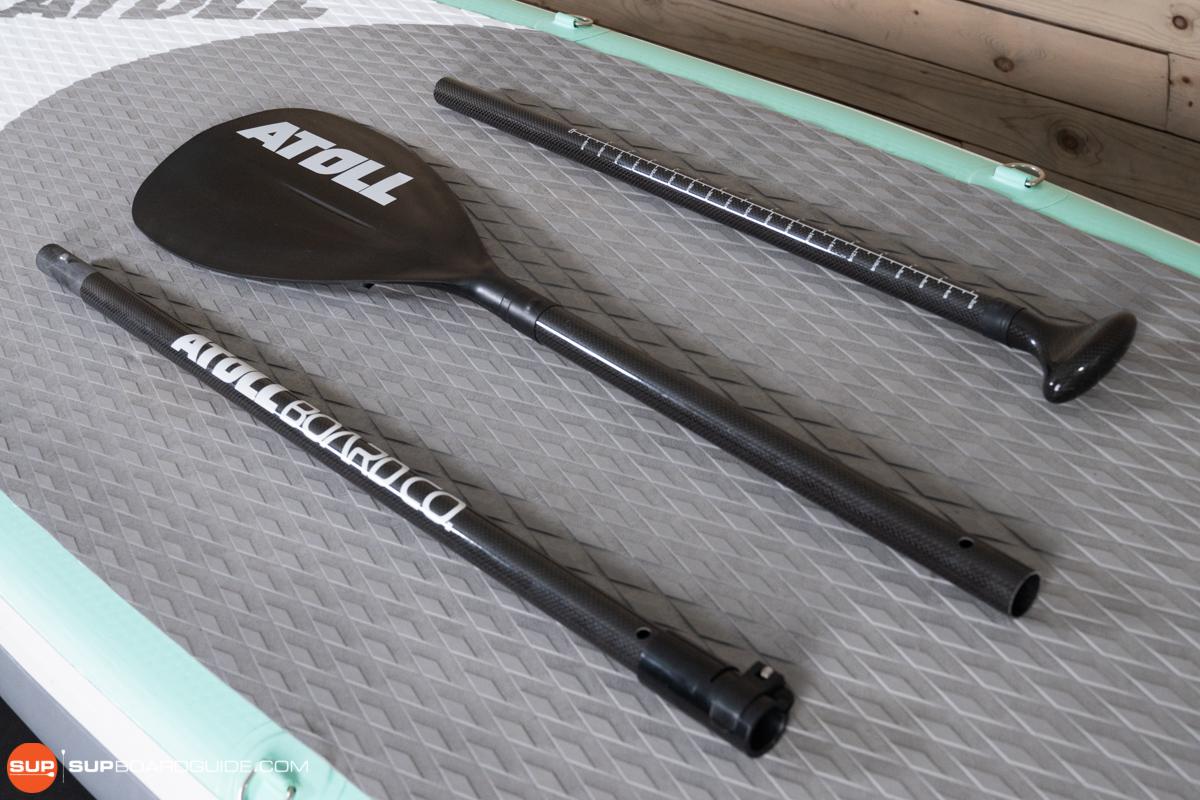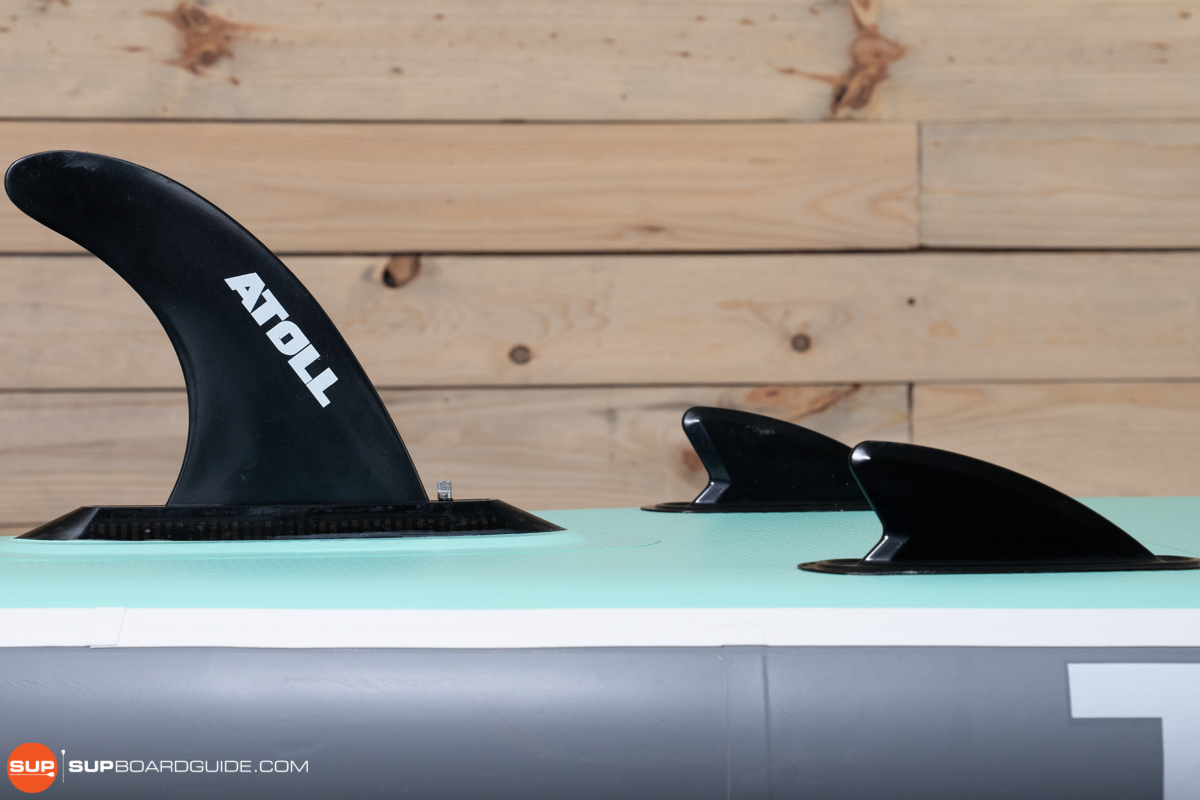 Each Atoll board is delivered with most of the necessities to get out on the water. With your Atoll 11', you'll receive the following:
3-piece carbon fiber/fiberglass blend
9" Dolphin-style fin w/ screw plate
10' coiled leash
Single chamber hand pump
SUP Backpack
While we like that this kit does include nearly everything you'd need to get started paddling, we think the quality of some of the items is falling short given the overall price. I'd also appreciate it if Atoll could limit the amount of plastic packaging that they use to ship SUPs and their accessories.
Summary Review of the Atoll 11' iSUP
In short, the Atoll 11' is a relatively minimalistic SUP that is lightweight, well constructed, and provides an easy-going experience on the water. With a comfortable level of stability and moderate speed, tracking, and maneuverability capabilities, there's not much we don't like about this SUP's performance.
However, the Atoll 11' is on its way to falling behind on industry trends and advancements. While this SUP was our top recommendation for backpacker's in the past, other SUP brands have expanded upon the concept of a 'traveler's SUP' by producing boards that are even lighter, stiffer, more compact, accompanied with a slew of high quality accessories that sit at a market price fairly competitive with Atoll.
In the coming seasons, we'd love to see Atoll remain a contender in this space by revamping the tried and true Atoll 11' to be a compact version, as well as taking the quality up a notch on their included accessories.
To reiterate though, the Atoll 11' is undeniably a good board; it will just be harder to recommend over its competitors if Atoll doesn't continue to innovate.
We hope you've found this review helpful, but don't hesitate to leave any questions or thoughts on the Atoll 11' in the comments below.
Be safe and we'll see you on the water!
The following two tabs change content below.
SupBoardGuide
Heyo! At SupBoardGuide.com we are a team who love the water, the outdoors, and are more than grateful that our full-time job allows us to review stand up paddle boards. We paddle year round (it helps that we are just about 2 hours outside of Las Vegas), and we bring in a wide range of paddlers with the goal of providing our readers with the best, most in-depth, and accurate stand up paddle board reviews.
Latest posts by SupBoardGuide (see all)