Bluefin 14' Sprint Carbon
Pros
Awesome, premium SUP package that offers a ton of value. Price tag is exceptional given the performance and contents of the package.
Extremely durable triple layer PVC construction that is further improved with carbon fiber rails.
Fantastic tracking, glide, and speed on a touring SUP with great rigidity. This board is comparable in performance to other, more expensive touring/racing inflatable SUPs.
Diamond-grooved crocodile skin textured deck pad. Great balance of traction support and grippiness. Raised heel pad provides additional maneuverability options.
Full SUP kit out of the box. Dual-chamber pump, carbon fiber shaft paddle, high quality backpack.
Five year warranty that covers all defects and damage outside of normal wear and tear. One of the best warranty policies within the SUP industry.
Cons
Heavy SUP. Shorter paddlers may need help transporting the SUP, and it is a little slow to get the board moving on the water. Once you get going it is a very fast board.
Somewhat off balance when carrying the board. We think this is due to the dual air chamber needed to make the board super rigid, so we are willing to deal with it.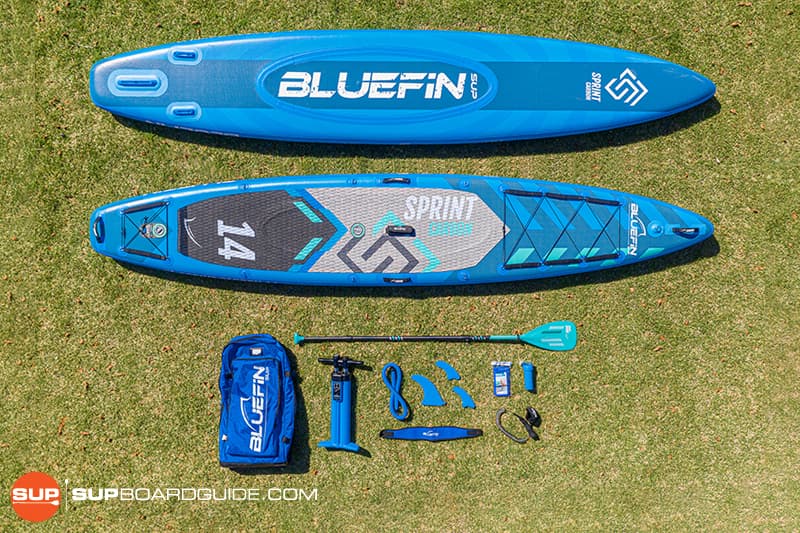 We might as well say it up front: the 2023 Bluefin 14' Sprint Carbon is one of our favorite touring/race boards we've had the chance to paddle with, and are amazed at the premium performance for the price. The triple-layer build and carbon fiber reinforced rails, along with the dual inflation chamber, make this an ultra-stable board more than able to be used by tandem paddlers. The 14' Sprint Carbon offers superb tracking, with a smooth glide and excellent speed. And at 30" wide, the Sprint Carbon is a great beginner/intermediate touring/race SUP that is more stable than 26" or 28" race SUPs. With the extra stability, the 14' Sprint Carbon can be used for many other activities as well such as yoga or cruising, and is a particularly well suited option for downwinding.
Bluefin has opted to include a US center fin box for great fin customization, and also thrown in a premium dual-chamber pump, carbon fiber paddle, and a roller backpack, ensuring that board and kit alike are all above average. Top to bottom, we love almost everything about this paddleboard, and think the Bluefin 14' Sprint Carbon is one of the best packages for those looking for an inflatable touring/race board experience!
SUP Board Specs
Length
14'
Width
30''
Thickness
6″
Weight
TBD
Rider Capacity (lbs)
425 lbs
Recommended Inflation
15 – 18 PSI
Dual Inflation Chambers
Fins
US Center Fin Box
2 Snap-lock Side Fins
Paddle Type
Carbon fiber shaft + polyurethane blade
Construction
Triple Layer Military Grade PVC construction
Who Should Buy This Stand Up Paddle Board:
This is one of the best touring boards we've had the chance to paddle, and is an excellent option for those who are going on multi-day paddling adventures or are trying to outrace their friends. Due to the premium design and overall build, almost every other type of paddler will love the 14' Sprint Carbon as well. Considering purchasing the 14' Sprint Carbon if you are among the following:
Those who are just getting into paddleboarding and want to buy a premium board that is easy to learn with, but is a board they will grow into and continue to use at an advanced level.
Those looking for a very firm, rigid inflatable. Bluefin's dual chamber system makes one of the most rigid inflatables on the market (if not the most rigid).
Paddlers who want to save a bit of money, but are looking for a true inflatable touring SUP that is just as good (if not better) than many $1,200+ inflatable touring SUPs.
Those who prioritize paddleboards with fantastic deckpads, especially those with diamond grooved patterns.
Anyone who wants a touring board that they can comfortably paddle on with their kids, pets, or another adult.
Taller, heavier paddlers who are looking for a touring/race SUP that will be more effective at supporting their weight.
Performance
Stability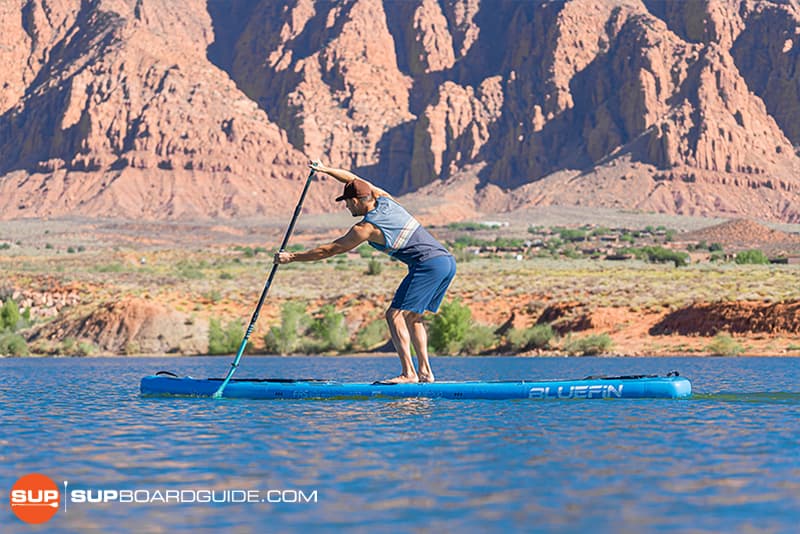 Touring boards tend to be hit or miss when it comes to stability, especially as faster and thinner boards wind up sacrificing too much width in order to have more speed. The 14' Sprint Carbon is a great mixture of both, and is an incredibly stable paddleboard more than capable of supporting up to two adult paddlers in tandem! The triple-layer build, 30'' width, dual-inflation chamber valves, and carbon fiber reinforced rails all work together to make this one of the most stable boards produced by Bluefin. While this paddleboard is built more with intermediate to expert paddlers in mind, the fantastic stability definitely makes it a great option for beginner paddlers looking to learn and improve their SUPing abilities!
Maneuverability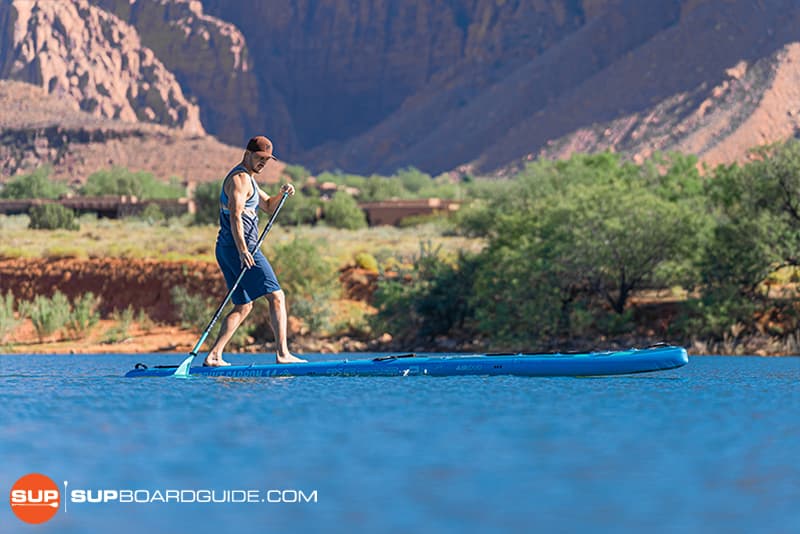 Touring boards aren't typically made with great maneuverability in mind due to their long length, but the 14' Sprint Carbon turns well enough that you can still handily maneuver with it on the water. As long as you're aware of your surroundings, you'll just need to do a few strokes to your side in order to get out of the way of any boats, paddlers, or waterlogged trees and debris sitting in the water. Bluefin has also opted to incorporate a raised heel arch on the back of the deck pad, which you'll want to use to perform a step-back turn. Simply move one of your feet to the raised heel pad, push the tail of the SUP into the water, and you'll slightly raise the nose of the 14' Sprint Carbon out of the water like you see in the picture above. Once you have the nose up, you can pivot on the spot and turn it any direction you need to go! After you've been out a few hours and tried a step-back turn a few times, you'll be good to go when it comes to maneuvering the 14' Sprint Carbon.
Tracking/Glide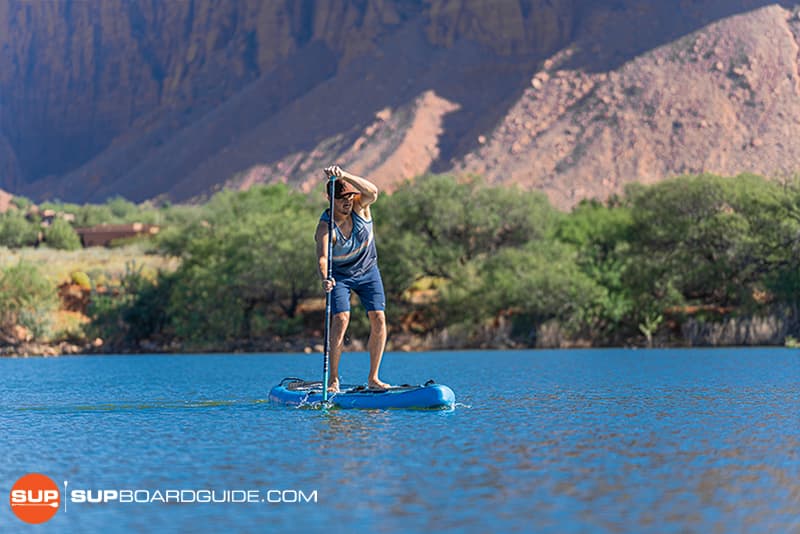 This is the reason why you'll want to buy the 14' Sprint Carbon. The 14' length provides excellent tracking, ensuring that you'll hardly ever need to switch sides while you're paddling in order to maintain a steady line in the water. The weight and carbon fiber rails help the board feel great, whether you're paddling on calm, flat water or cut through small chop thanks to the pointed displacement shaped nose.
As for speed, we were delighted by how fast it went, and were able to shave off minutes on our test routes when compared to all-around boards. We even found the 14' Sprint Carbon to keep on pace with higher end touring and racing boards. Due to its weight, it does take a few strokes to get going, but once it's moving it retains its momentum rather well!
The side fins will help you have a tighter turn radius, improving the maneuverability of the 14' Sprint Carbon slightly, while the center fin improves the tracking and speed of the SUP. If you use all three fins together, you'll find that the paddleboard is a bit easier to stand on too! We typically use the 2 + 1 fin setup whenever we go out, though we tend to leave the center fin out or use one of our shorter river fins for shallow water in order to prevent the SUP from dragging across the ground.
Materials

The 14' Sprint Carbon starts with a tight drop-stitch core. A drop-stitch core is made up of sheets of fabric joined together with denier space yarn, with Bluefin relying on 11,200 stitches for a tough, resilient construction. As air is pumped into the SUP chambers, the drop-stitch core expands like a typical inflatable, and attains a board shape as the internal threading goes taught. This is what allows the paddleboard to float on the water, providing much of the base performance of the 14' Sprint Carbon.
On the Bluefin, the 14' Sprint Carbon is covered with three layers of military grade PVC and additional fabric sheets, which on its own makes it invulnerable to most common SUP accidents. For added protection, rigidity, and performance, carbon fiber rails are also built into the 14' Sprint Carbon, which provides the performance advantage similar to adding another PVC layer without significantly weighing down the paddleboard. As a final layer of protection, Bluefin has also made sure that a high pressure UV resistant coating is applied, which gives the 14' Sprint Carbon a great look while also protecting it against sun damage.
Overall, this is an extremely durable paddleboard, providing fantastic performance due to its thick build, though it does have the downside that it is very, very heavy to carry. We personally would like to see Bluefin take out a layer of PVC, as it would only cause a small difference in performance while making it much easier to carry.
Board Design/Shape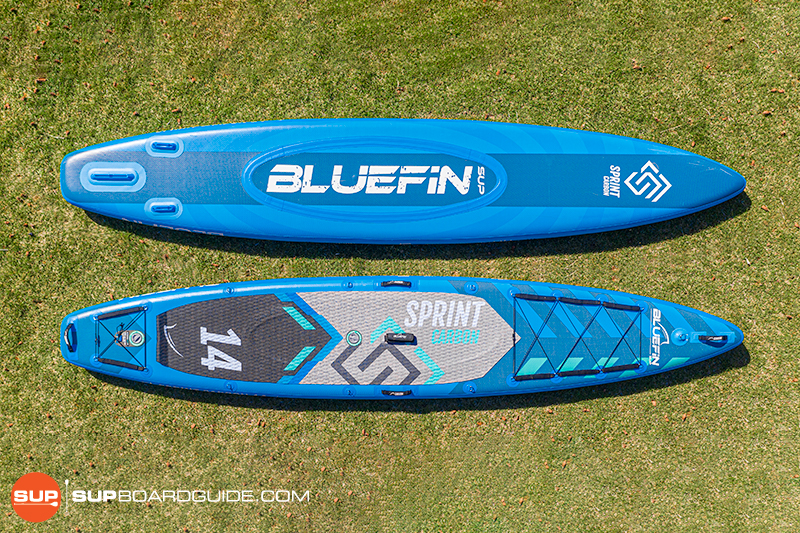 The 2023 Sprint Carbon is a true inflatable touring board, with the 14' length and pointed displacement style nose providing excellent speed, tracking, and glide at the expense of maneuverability.The 30'' width and 6'' thickness, combined with the triple-layer PVC build and carbon fiber rails, all factor into the 425 lbs recommended weight capacity, a limit we even exceeded with little performance loss. If you can get a feel for how to maneuver and handle the 14' Sprint Carbon, you'll find that the board offers great performance overall.
The 14' Sprint Carbon also lends itself to a number of great activities as well. Obviously you can go on touring adventures with the 14' Sprint Carbon, but you might be surprised to know that this board doubles as a fantastic racing SUP as well. Due to its long length and accessory mounts, this is a great paddleboard for cruising on or for hanging out with friends.
Board Features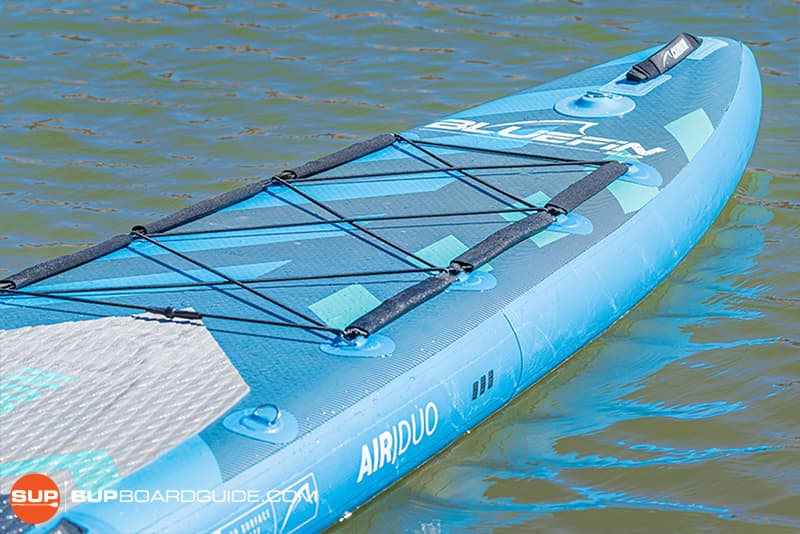 As a premium paddleboard, you're getting great performance out of the 14' Sprint Cabron, and you're also getting a number of fantastic features as well. Some of these features might not seem obvious, so keep an eye out for the following.
Triple-layer Construction.
Carbon Fiber Reinforced Rails.
18 D-Rings + Action Mount.
Removable Bungee Cargo Areas + Grab Handles.
Five carry handles.
Raised kick pad.
Thermosealed Croco-Diamond Deck Pad.
Carbon Fiber Reinforced Rails
The major difference between the Sprint and Sprint Carbon is the carbon fiber rails. Carbon fiber rails bridge the gap with epoxy hardboards, helping them feel more rigid without having to weigh down the SUP as much as an extra layer of PVC. By incorporating the carbon fiber rails directly into the board, you also don't have to deal with removable rails like with some other paddleboards, helping you get out on the water faster.
Fins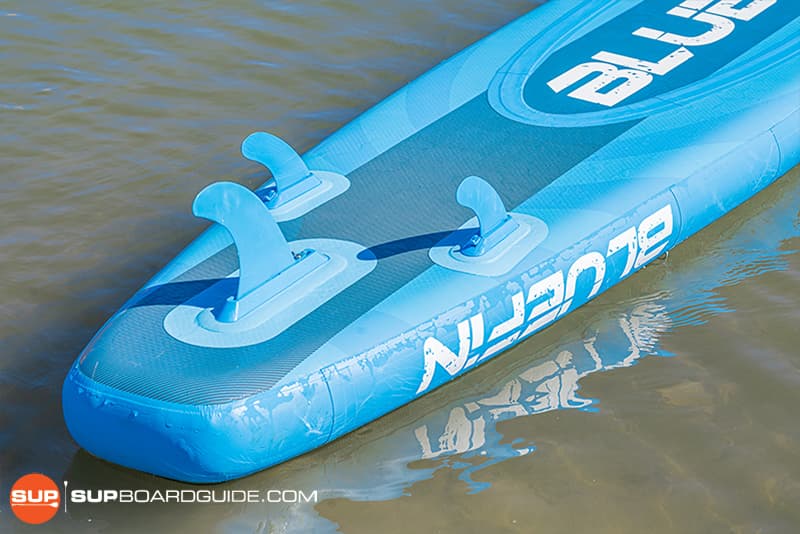 The Bluefin 14' Sprint Carbon features a tri-fin setup, consisting of two 2.5'' side fins that are snap lock fins, and a single 8.5'' center fin and a US standard fin box. The snap-lock fins are very easy to install, and while the center fin box does take a bit longer US standard fin boxes are the most versatile fin boxes within the industry. While it is a separate purchase, you can buy FCS and other US compatible fins in order to finetune your performance, such as a shorter center fin you can use in the river. While not quite as tough as the paddleboard itself, these fins are sturdy enough that you can occasionally run aground or drop them without breaking the fins. Bluefin has also included extra levers for the side snap-lock fin boxes, though with a little proper care we don't think you'll ever need to replace them over the life of the paddleboard.
Traction Pad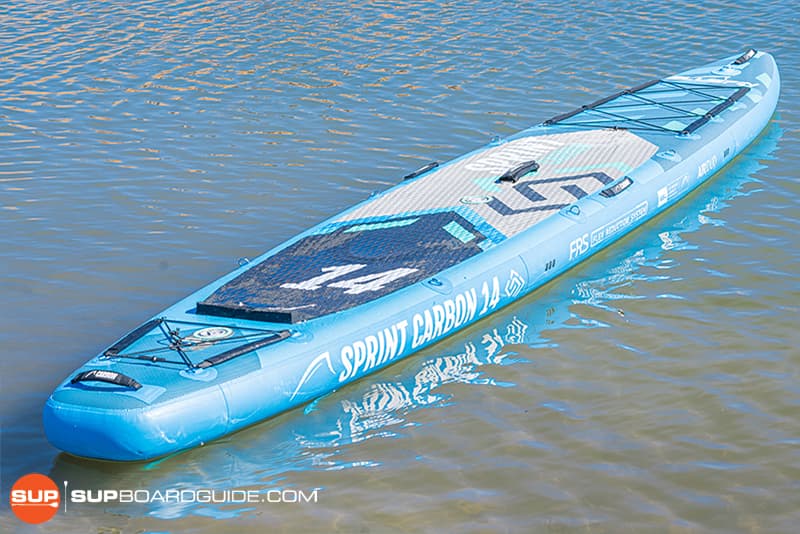 Bluefin traction pads are consistently some of our favorite paddleboard deck pads, and the 14' Sprint Carbon fits the trend of fantastic deck pads. The diamond grooved and crocodile skin texture provide great traction support, making it even easier to stand on this stable paddleboard. The deck pad is made out of thick EVA foam, the same base material in many yoga mats, and is designed so that you can stand on it from dusk to dawn without irritating your feet. Furthermore, the traction pad is built to not only work well in water, but to quickly dry and drain so that it never gets slippery. We love everything about this deck pad design!
Handles
The five handles on the Bluefin 14' Sprint Carbon are all made with premium Neoprene covers, making them very comfortable to hold. Neoprene also protects your hands against blisters and skin irritation when grabbed with cold or soaking wet hands, and is another reason why we prefer handles with Neoprene. There is one handle on the nose, one on the tail, and three in the center, giving you several carrying options whether you're by yourself or carrying with friends. Some paddlers might be a bit annoyed that it further limits using the SUP for yoga or sunbathing, but we personally like the carrying support the extra handles provide.
D-Rings/Bungees/Cargo Areas
There are 18 D-rings on the 14' Sprint Carbon, which is why some paddlers may want to consider it if only to have a gear friendly party paddleboard. The D-rings are sturdy and quite easy to clip things such as dry bags and small pouches onto, or for attaching the included waterproof phone case or leash. There is also an action mount on the nose, which you can screw a GoPro camera mount, Bluetooth speaker mount, and many other common electronic mounts into.
There are two removable bungee cargo areas on the 14' Sprint Carbon, with an extra large nose area and a smaller but still useful rear cargo area. The cargo bungee cords are easy to remove for extra deck space, but if you are going out with your kids or extra passengers they'll appreciate the grab handles built into the bungee cords. The grab handles give a soft but firm place to hold onto if you hit some chop or unsteady waters, making it a bit easier to head out with those who might be nervous while paddling.
Accessories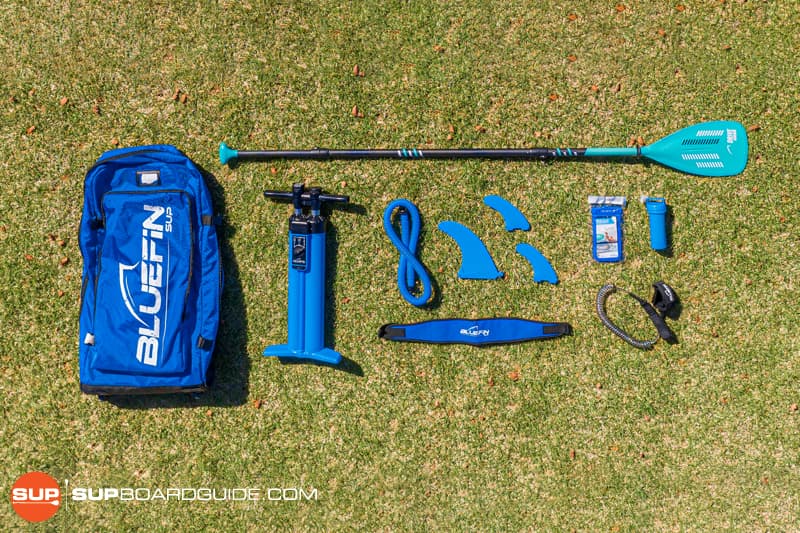 Paddle
Bluefin has included an adjustable three-piece carbon fiber paddle with the 14' Sprint Carbon. Carbon fiber is among the best materials to make paddles out of, as it's lightweight but very sturdy. Carbon fiber paddles tend to be more expensive as well, so it's great that it's packed into the already consumer-friendly price of $900. If you are a paddling fanatic, you can find paddles that weigh a couple of ounces less, but overall this is a great paddle that beginners and expert paddlers alike will want to use for years.
The Bluefin carbon fiber paddle is very easy to pack away or assemble, with sliding parts that you can put together to fit most adult paddler heights. This paddle is also prebuilt to be converted into a kayak paddle if you have a second paddle blade laying around, such as from a previous Bluefin SUP kit. The shaft itself is tough, while the polyurethane blade is a balance of rigidity, for a strong push as you paddle in the water, and flexibility, so that it doesn't break if you drop or step on the blade. While the carbon fiber paddle does float in the water, be careful not to let it drift away from you as swift currents can carry it away surprisingly fast.
Pump
The other great accessory inclusion within the Bluefin SUP is the dual-chamber, triple-action pump. The triple-action mode settings are easy to follow, with the instructions for the three inflation stages printed on the pump itself. While a bit bulkier and heavier than single-chamber pumps, the dual-chamber pump is quicker and more efficient, making it easier to inflate paddleboards when compared to single-chamber pumps. There are two separate inflation chambers that have to be inflated on the 14' Sprint Carbon, so expect to take about 15 minutes to get the boards fully inflated.
We like the dual-chamber pump, but we love the Bluefin electric pump, and highly recommend that all paddlers add it to their kit. Electric pumps will do the hard work of inflating your SUP for you, and can also be used to help you deflate your paddleboard as well. Electric pumps are just as quick as dual-chamber pumps, and can typically pump two to three paddleboards in a row before needing to rest. Electric pumps are also lighter and more compact than dual-chamber pumps, making them easier to pack and store in your SUP backpack. Electric pumps are our top recommended upgrade for all paddleboard kits, so check out the Bluefin electric pump as well if you're going to buy the Bluefin 14' Sprint Carbon!
Backpack
Just like the paddleboard itself, Bluefin has opted to include a premium paddleboard bag along with the 14' Sprint Carbon. The thick nylon material will protect your gear against the elements, with the bag built large enough to easily fit your gear in, avoiding the tight packing issues that come with many tent bags. There are two carry handles, one on the top and one on the side, but most of the time you'll be relying on the great adjustable backpack straps and padded backside. There are two separate compartments, allowing you to keep your equipment organized, with fin pouches on the inside in order to further protect your fins from bouncing around and scratching your equipment. If you are at the airport or walking on flat and paved ground, the roller wheels work great and make it easy to travel with your SUP kit. All in all, you'll likely want to reuse the Bluefin roller backpack for the other paddleboards you might have due to how great it is!
Leash
The 14' Sprint Carbon is packed with a coiled leash that is simple and easy to wear. Simply attach the cuff over your ankle or calf, then attach the other end to one of the 14' Sprint Carbon's D-rings. By being a coiled leash, you'll be safeguarded against whiplash as you yank on the leash to pull it close in the water. Just be aware that while a leash is important for keeping your SUP close, it will not help you float any better if you fall off. Always head out with a PFD when paddleboarding, even in shallow water!
Repair Kit
The repair kit is meant for minor SUP injuries. There are two tools inside the repair kit: adhesive patches and an inflation valve wrench. The patches are easy to apply to small tears and holes that don't occur on the seams of the paddleboard. Alternatively, the inflation valve is a bit more useful, as you can use it to tighten up the Halkey-Roberts inflation valve, which can come loose over use and time.
While the paddleboard is built tough and very unlikely to be damaged, be aware that Bluefin does offer great coverage and protection if your board does get damaged. Be sure to contact Bluefin for any significant board damage or performance loss. More information about Bluefin's SUP coverage is available below.
Company Review – Bluefin
William Vaughan and his partner Charlotte explored the Southern Uplands for years, enjoying the water but always wondering why they couldn't find the perfect gear for water sports. That caused them to found Bluefin Kayaks, their first foray into the world of water sports equipment. As they became more experienced and discovered paddleboards, the family owned and operated company founded Bluefin SUP, which continues to create great paddleboards out of West Yorkshire. Since making the chance, Bluefin SUP has grown to now consist of ten different paddleboard models, which service families, yogis, touring enthusiasts, and other types of paddlers from a beginner to expert level. With a goal of creating durable, high-quality, and feature heavy paddleboards available for very affordable prices, Bluefin SUP is one of our favorite paddleboard manufacturers!
Outside of their great paddleboard products, the 14' Sprint Carbon is protected by one of the most comprehensive SUP warranty policies within the paddleboard industry. All new Bluefin paddleboards are protected by a 5-year warranty that covers all damage outside of normal wear and tear. Furthermore, Bluefin offers free shipping to the US and many countries in Europe, with paid shipping options for other international buyers. Our personal experiences with Bluefin has always been positive, and they've been a great paddleboard company to work with and get to know due in part to their very friendly support staff. We've loved Bluefin SUPs in 2023, and are looking forward to what else they come out with!
Conclusion/Bottom line

The 14' Sprint is a premium touring board available at a mid-level price, and one of our favorite touring boards for 2023. The very stable paddleboard is more than able to support up to two adult paddlers, with minimal performance loss even as you hit the 425 lbs recommended weight capacity. The tracking and glide are fantastic on the 14' Sprint Carbon, and we love how fast it is in the water without having to sacrifice too much maneuverability and stability. The premium deck pad is great to stand on, and with the raised heel pad ensures you can perform a step-back turn when you need to without looking down as you can easily feel for where your back foot should be placed. The pump, paddle, and backpack are all premium quality as well, and the included leash and waterproof case are nice little inclusions as well. This is a very heavy paddleboard though, and while it offers great performance on the water and has some impressive durability, it can be difficult for younger and shorter paddlers to carry. Overall, the Bluefin 14' Sprint Carbon is one of our favorite touring inflatable SUPs, and an easy recommendation for anyone who is looking for a dedicated touring board that is still great for other activities as well!
We hope that our Bluefin 14' Sprint Carbon review has been informative! If you have any other questions about the 14' Sprint Carbon, or you want to learn more about Bluefin, leave a comment below with your thoughts or send us an email with your questions. We also update our reviews based upon user feedback and the experiences other paddlers have with these boards, so let us know how much you liked or disliked the 14' Sprint Carbon if you've tried the board. Be sure to also subscribe to our SUPBoardGuide.com Youtube Channel, as we'll be posting an even more in-depth video review of the 14' Sprint Carbon and other SUPs there and on our website in the future.
Thank you for reading our review of the Bluefin 14' Sprint Carbon! Remember to stay safe out there, but also make sure to have fun SUPing!
The following two tabs change content below.
SupBoardGuide
Heyo! At SupBoardGuide.com we are a team who love the water, the outdoors, and are more than grateful that our full-time job allows us to review stand up paddle boards. We paddle year round (it helps that we are just about 2 hours outside of Las Vegas), and we bring in a wide range of paddlers with the goal of providing our readers with the best, most in-depth, and accurate stand up paddle board reviews.
Latest posts by SupBoardGuide (see all)