Nixy Sports Huntington G4 9'6" Ultra Compact iSUP
Pros
The whole kit is extremely lightweight and easily stored.
Truly made for traveling where the boards need to be carried in and out.
Nixy Sports solid construction with plenty of great features make for a great overall experience.
Nixy Sports currently makes the leading iSUP kit paddle available. The rest of the included kit is equally as impressive.
Large twin fin set up tracks very well, and also gives the board a nice stable feel.
Tons of fun! Being so lightweight really makes this board maneuverable, but is still stable even for beginner paddlers.
Cons
This is being super picky - but the pump is large and heavy if someone is looking to use this as a backpacking SUP (but we do like the pump a lot for all other situations).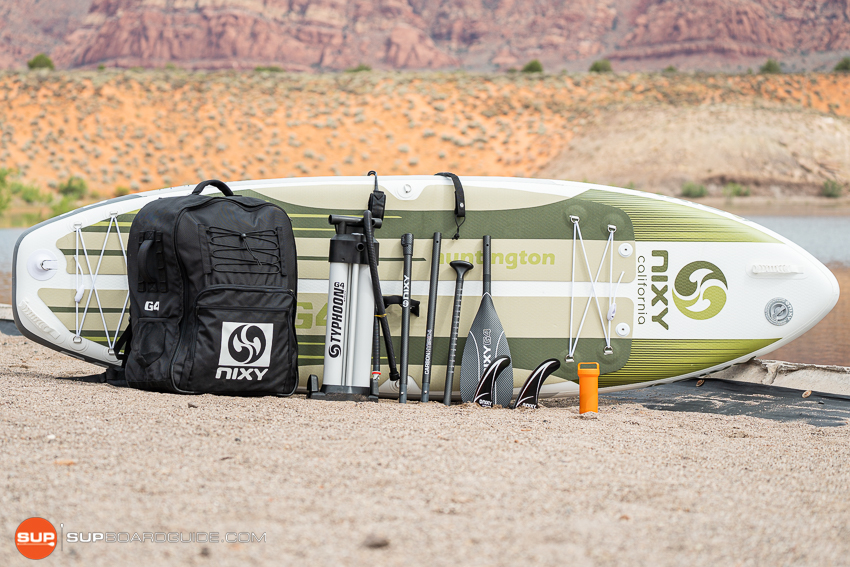 The Nixy Sports Huntington G4 9'6" Ultra Compact is our number one choice for value priced traveling iSUPs. During this review, you will see how it's extremely lightweight and small carrying bag makes it ideal for travel on planes or anywhere space is an issue. Again, like the standard compact, this board is fairly stable considering it's overall size and volume. Larger reviewers (225lbs) were able to comfortably paddle this board at length. Combine that with the Nixy Sports kit and you have a definitive winner for the price. We think the Nixy Sports Huntington G4 Ultra Compact would be great for paddlers who:
Are under 200 lbs
Want an extremely lightweight and easy to carry iSUP for travel or hiking
Are looking for a high quality iSUP with first rate accessories and features
We think the Nixy Sports Huntington G4 Ultra Compact is great for the following water conditions/situations:
Flat water paddling
Recreational paddling
Light ocean paddling
Surfing in small surf (1-3 ft)
Nixy Sports Huntington G4 9'6" Ultra Compact Review: Overview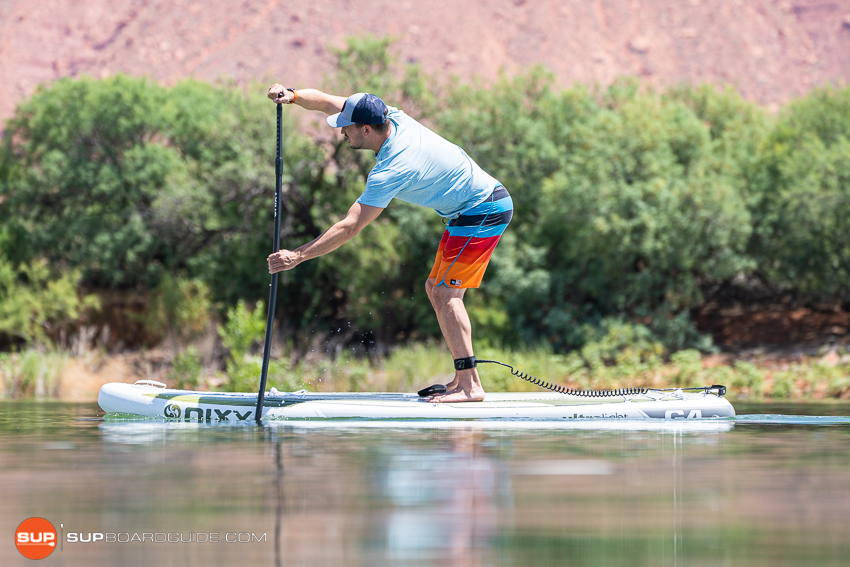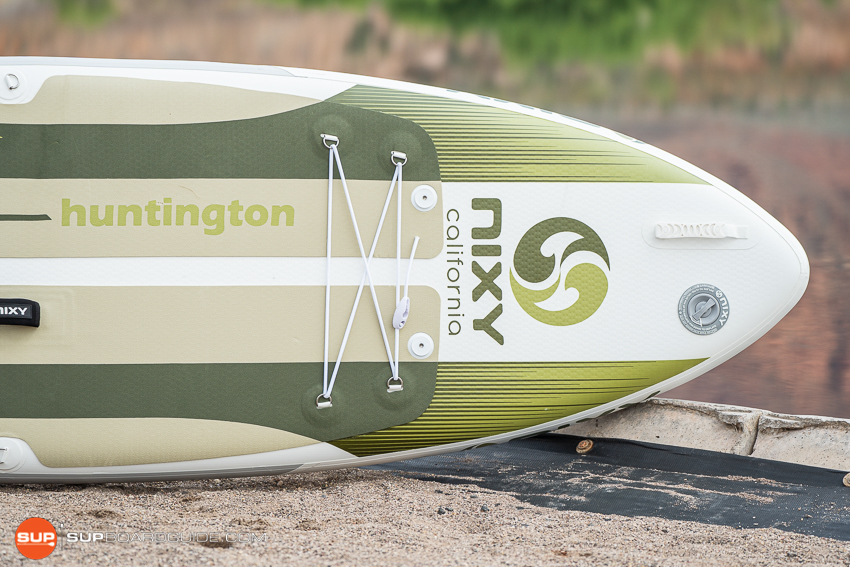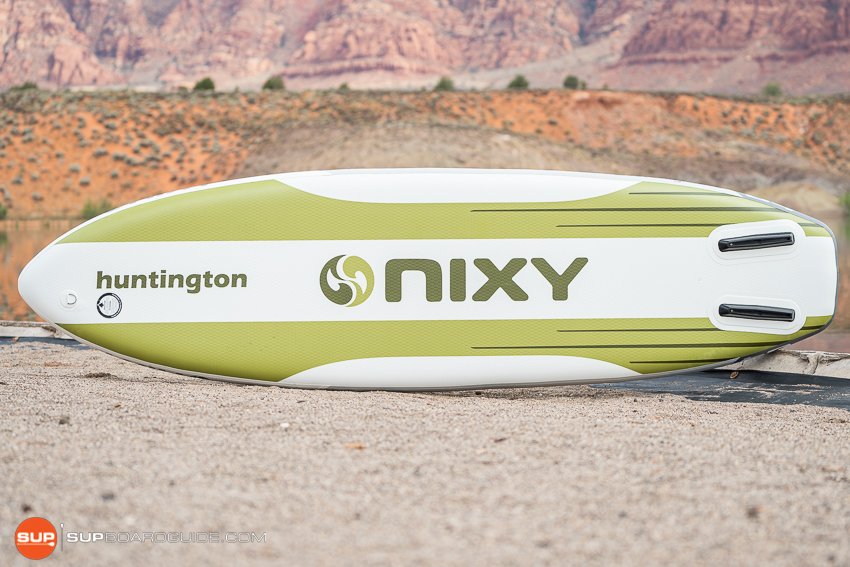 Note: We love to paddle and we take boards with us almost everywhere we go. This board is no different especially considering how easy it is to transport. We use them as much as possible in order to provide you with real world feedback and experiences you can use to fine tune your own buying decisions. If you have any questions at all let us know, we are happy to get you any info you need.
Nixy Sports Huntington G4 9'6" UltraCompact: Spec Sheet
| | |
| --- | --- |
| Main Category | All-Around, Inflatable |
| Board Dimensions | 9'6" x 32" x 6" |
| Listed Board Weight | 18 ¾ lbs |
| Listed Max Capacity | 250 lbs |
| Recommended PSI | 15 psi |
| Fins | 1 tooless removable fin |
| Paddle | 4 piece adjustable carbon fiber hybrid |
| Materials | Dual layer PVC with reinforced carbon fiber side rails |
| Price Range | Medium |
| Warranty | 2 year warranty and 30 day money back guarantee |
Official SupBoardGuide.com Test Results: Nixy Sports Huntington G4 9'6" Ultra Compact (2021 model)
Overall Score: 9.2/10
We use our scores to rank the boards we test in various areas that we feel to be of utmost importance to our readers. We try to take into account the real world situations these boards will be placed in and how they would react with novice paddlers and the rest of the SUP community at the helm. The Nixy Sports Huntington G4 9'6" Ultra compact did really well.
Stability: 8.6/10

Speed:8.3/10

Tracking: 8.5/10

Maneuverability: 9.5/10

Construction Quality: 9.2/10

Features/Accessories: 9.6/10
Our overall rating of 9.2/10 for the Nixy Sports Huntington G4 Ultra Compact is our way of saying this is one of the best travel boards out there. Considering its price and the amazing kit from Nixy Sports we can't recommend this board enough.
In-Depth Review of the Nixy Sports Huntington G4 Ultra Compact Stand Up Paddle Board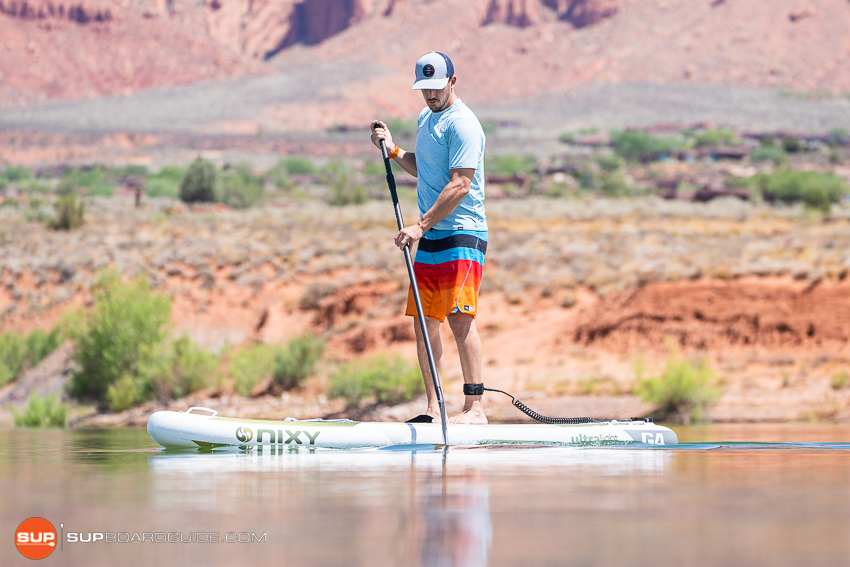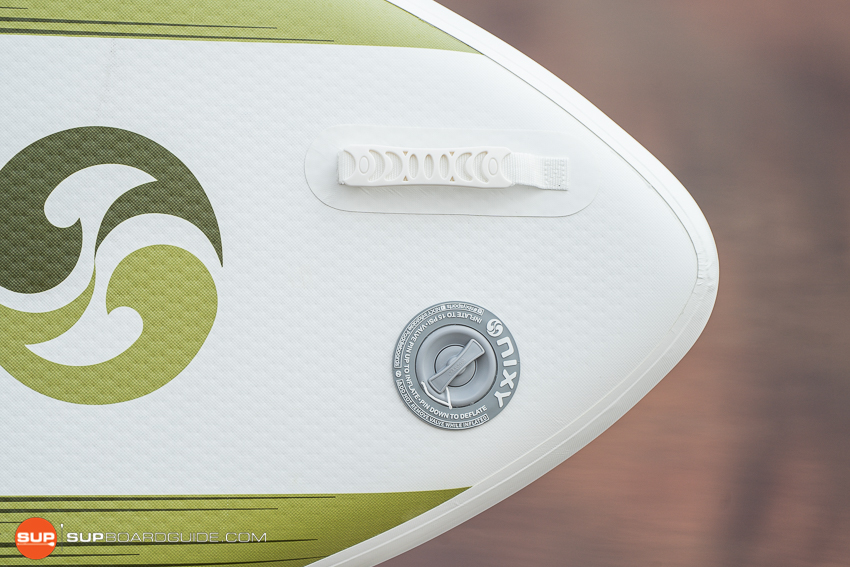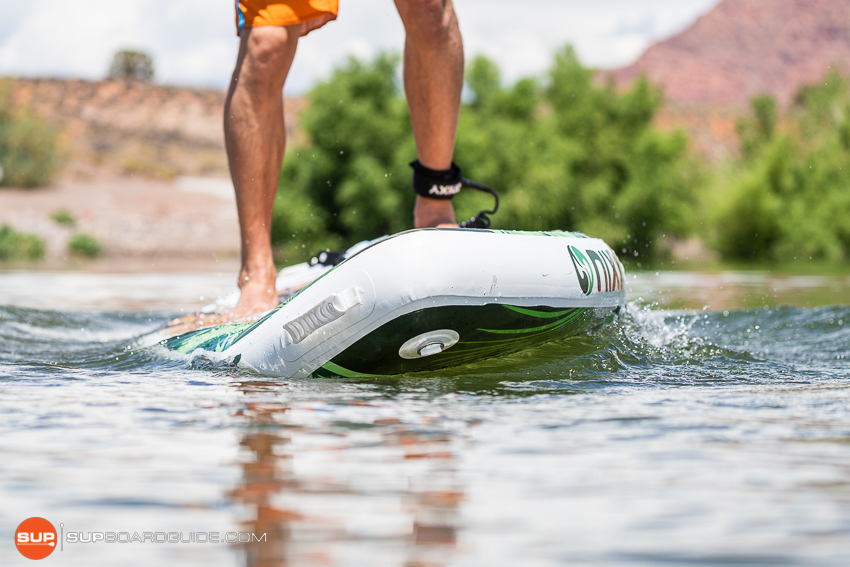 Coming off the heels of last year's fleet of boards, Nixy really took a solid look at their lineup and made the necessary changes to make them appealing across the board. That being said, we really like Ultra Compact for its commitment to the ultra compact design philosophy. This board is truly our go to for travel for it's lightweight and minimal size.
Thankfully this board also did great with larger paddlers as well (225lbs) which is something we wouldn't expect in such a purpose driven compact. Obviously Nixy Sports included their industry best kit components making this board even more of a great deal.
Stability Rating: 8.6/10
The Nixy Sports Huntington G4 9'6" Ultra Compact is very stable. No falls this year, and even our larger reviewers had no problem maintaining their balance. This is really incredible considering the overall mass of the board itself. Being an ultra compact we usually expect their limits to be well under 200lbs. As always, stability is probably the most important factor when selecting a board for a beginner. Being stable up to 225 lbs makes this a very versatile board.
Weight Capacity:
Tested Capacity: 225 lbs
For us weight capacity is more than the measurement of what it takes to "sink" a paddle board.
Weight capacity is an important characteristic of a paddle board that is especially important when selecting an iSUP for yourself or for a general group of people. Our tests go so far as to say what is the limit we can reach while still paddling relatively normally.
The Nixy Sports Huntington G4 Ultra Compact did very well considering it's overall compact nature. Heavier paddlers (200+ lbs) will need to limit what they are taking with them, but with it's focus on compactness and travel, we don't think that's too big of a problem. This board is a great choice regardless of your size, to hike into and paddle some hidden gems of lakes.
Speed Test: 8.3/10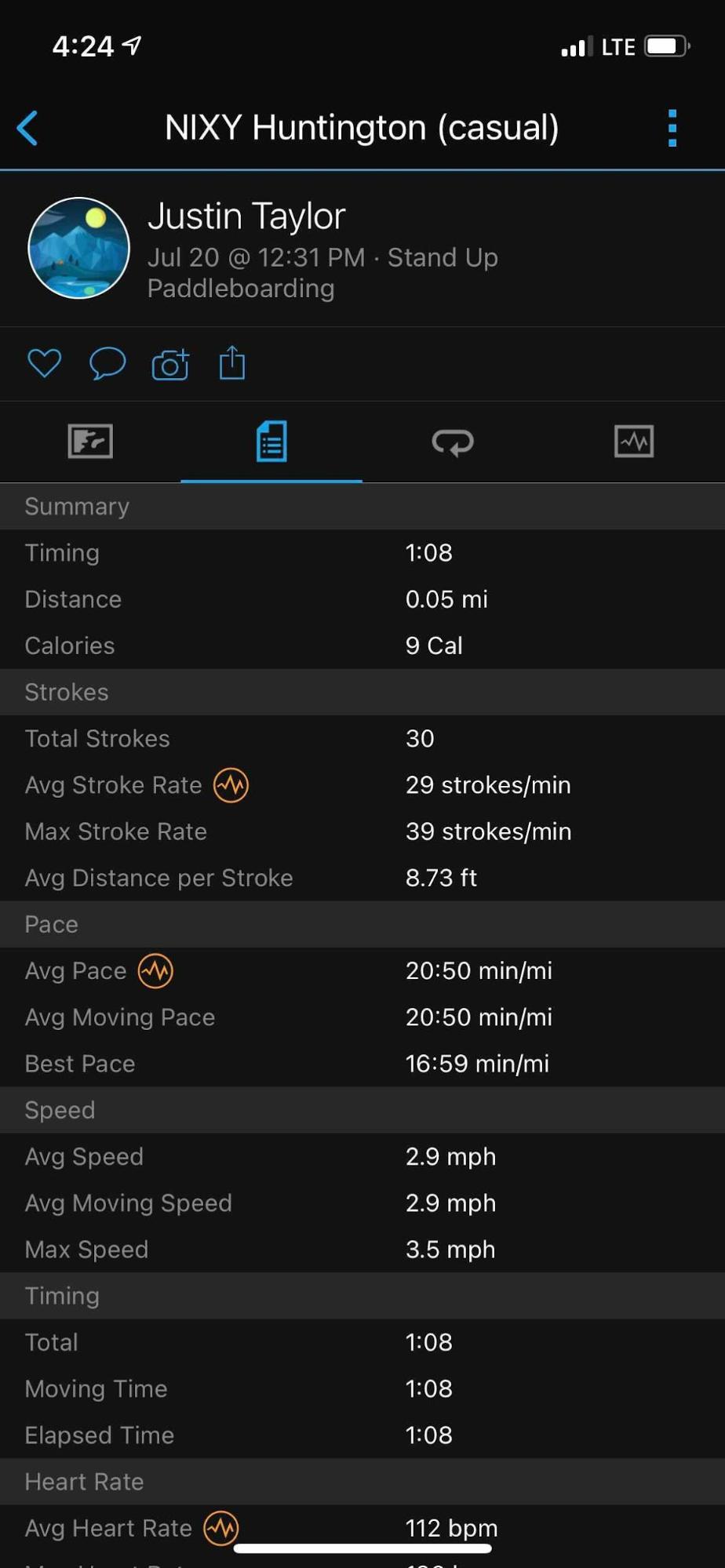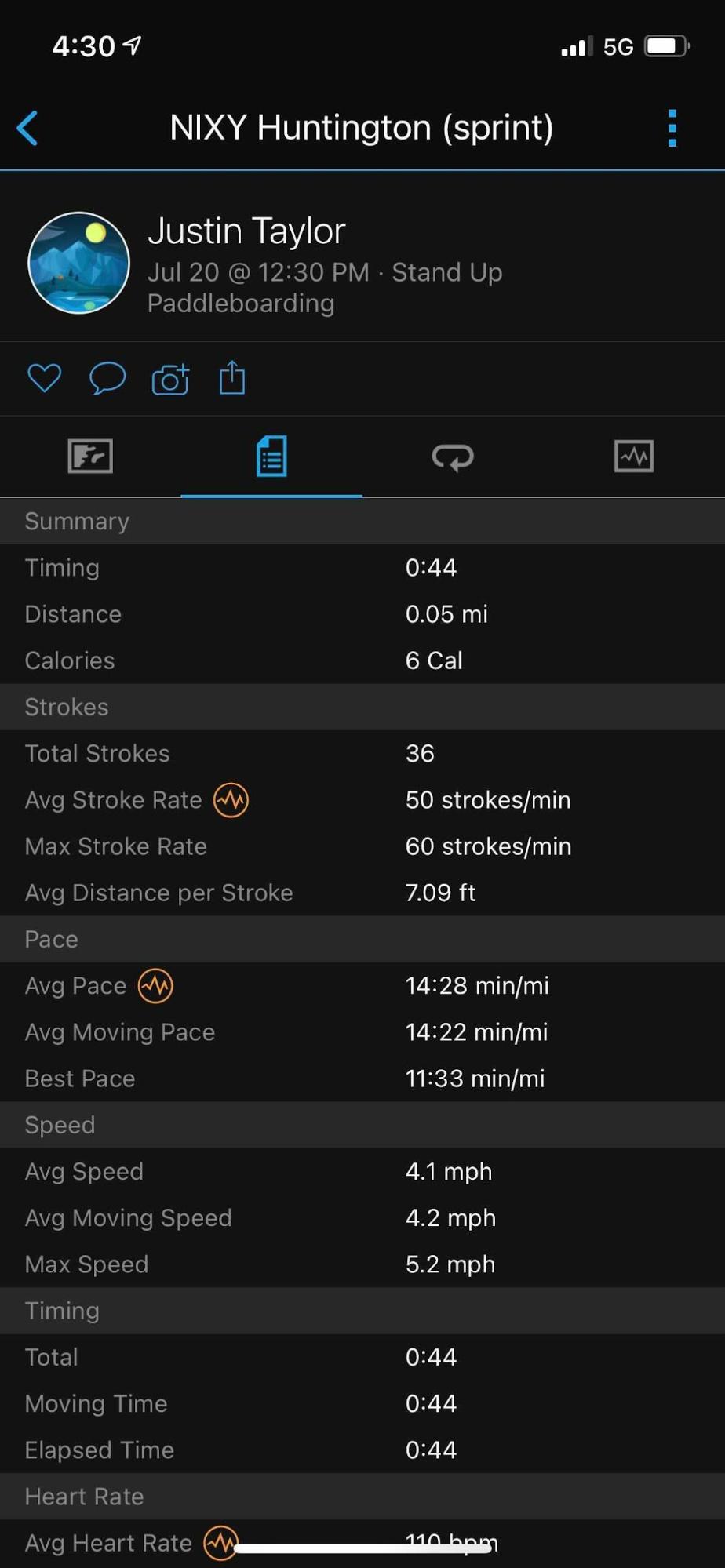 The Hunting G4 Ultra Compact did reasonably well in our speed tests. It's overall light mass made it really easy to get up to speed (acceleration), but it's wider and shorter shape does make it slower than a touring supboard, which is to be expected. Our tests showed the board to be just VERY slightly slower than the single fin version, but over longer tests we think the improved tracking of the twin fin would make up for the lack of speed.
Tracking: 8.5/10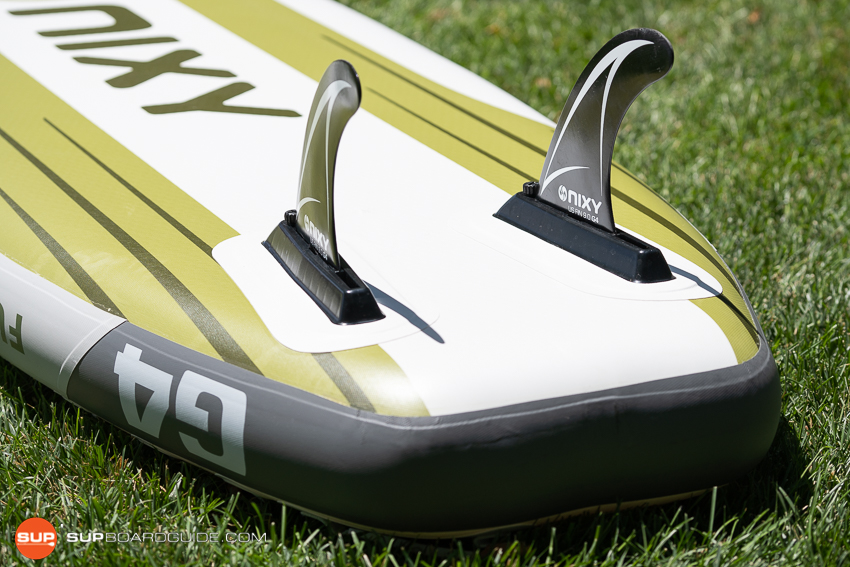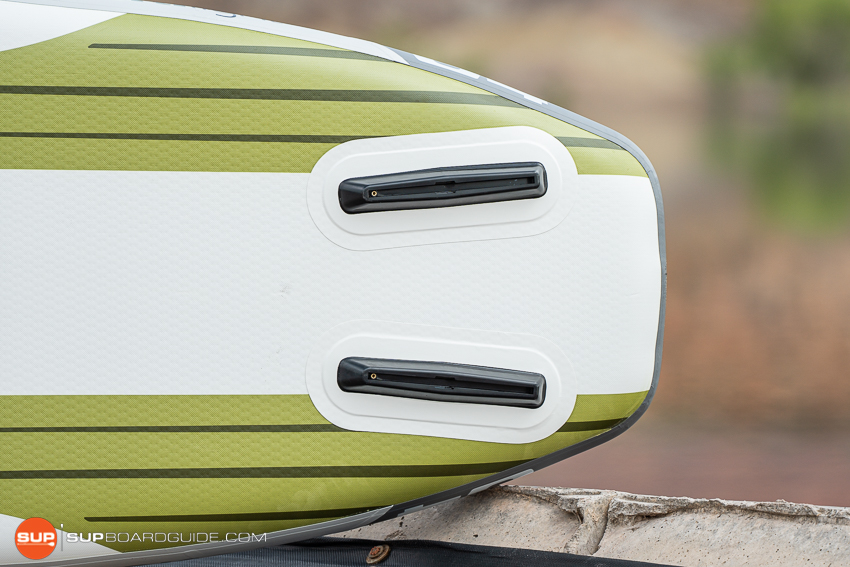 The Nixy Sports Huntington G4 Ultra Compact tracked much better than we anticipated. We will credit the two fin setup for bringing this score up as high as it is. This is not the first time we have seen dual fin setup used before with positive results (we do think it's important to note that Red Paddle Co first adopted this with their Compact range, and our guess is that NIXY is following suit here and will update the post if we find out otherwise).
We have a feeling this is going to be the "go to" fin setup for ultra compacts, as it allows the board to be folded along its centerline before being rolled or folded while still providing great tracking.
Maneuverability: 9.5/10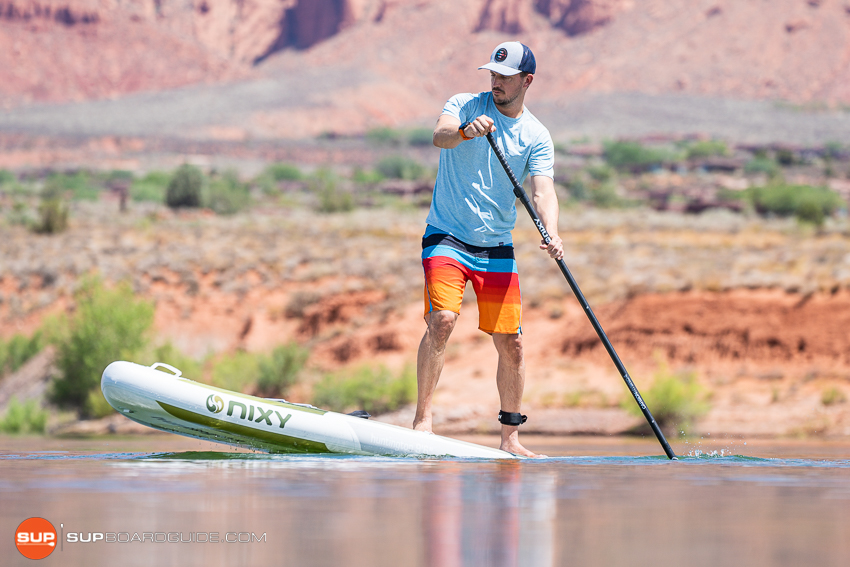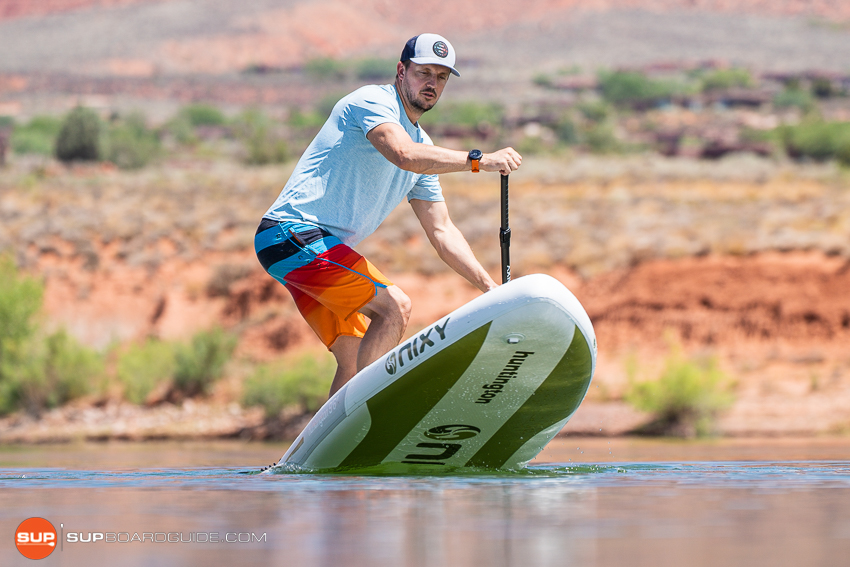 The lightweight Nixy Sports Huntington G4 Ultra Compact is extremely maneuverable. It was easy to turn and guide in any way that we wanted. As we used more advanced turning techniques this board really shined as an agile platform. We would say this board is perfect for exploring never before paddled lakes, and creeks. It's agile enough to get you out of most situations while being stable enough to allow you to enjoy the scenery. That is a must have feature for an adventure travel iSUP.
Construction Quality: 9.2/10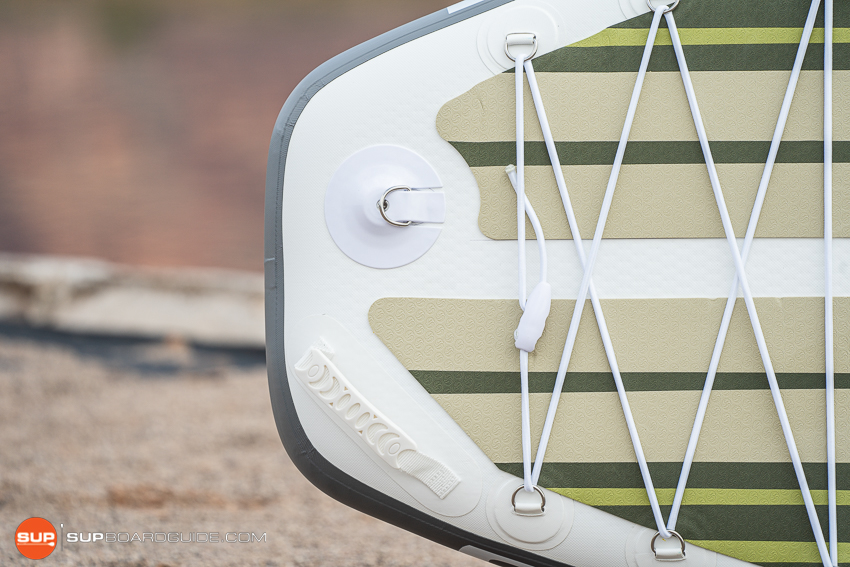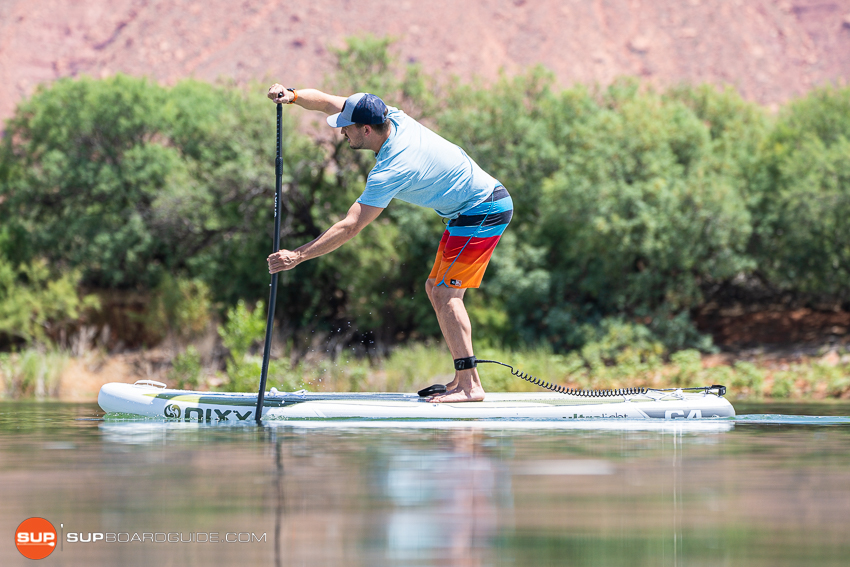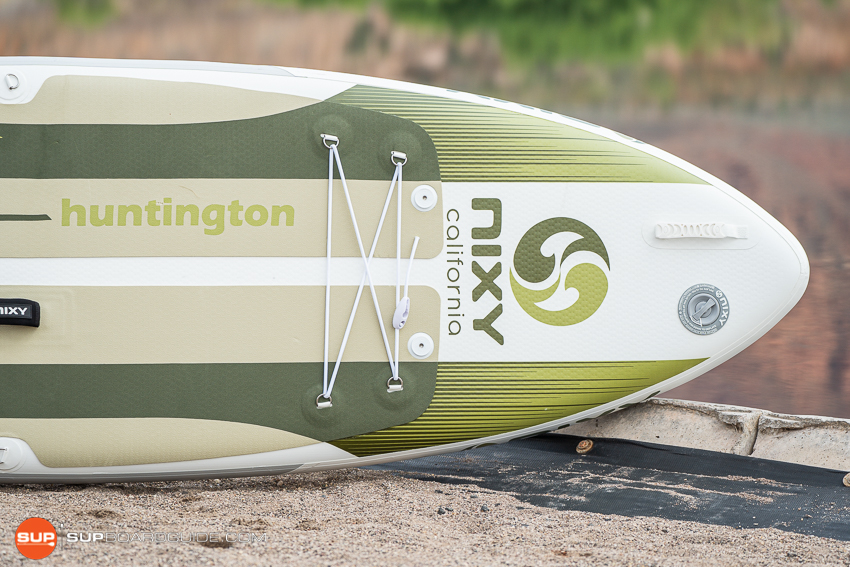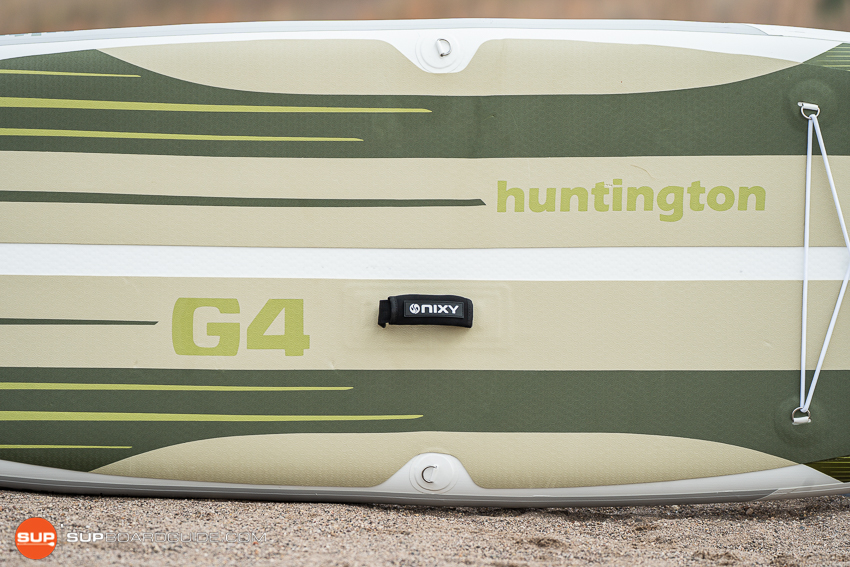 This year's lineup of iSUPs from Nixy Sports has been nothing less than excellent. The Huntington G4 Ultra Compact follows that same story using the dual layer woven drop stitch technology to its maximum benefit. All together the board appears very solid and well built with no real defects in any of the common areas. The mounting points and attachment pieces are all well made and sturdy so now worries about them either. We feel that the Nixy Sports lineup really exudes quality at all points of our testing process.
Board Stiffness:

Stiffness Test: 1.0625 inches Bend (board on top of saw horses placed 7' apart, with 150 lbs of weight added right by handle in middle of the board)
We use the stiffness test to efficiently and repeatedly measure the amount of flex a board has. In essence this gives us an idea of how well the board can respond when forces try to bend its shape. The Huntington G4 Ultra Compact did well in the test with a minimal bend. It lands squarely in the middle of the pack for the boards we've tested in this manner and that's especially impressive because this is an ULTRA LIGHT compact style board. Usually flex and stability go out the window in an effort to preserve the light weightness and small packaging outline. Not so with this board. We are still on the fence about "carbon fiber" being of any use to an iSUP, however we will say the additional layer it provides may have some effect on the stiffness of a board.
Features/Accessory Review: 9.6/10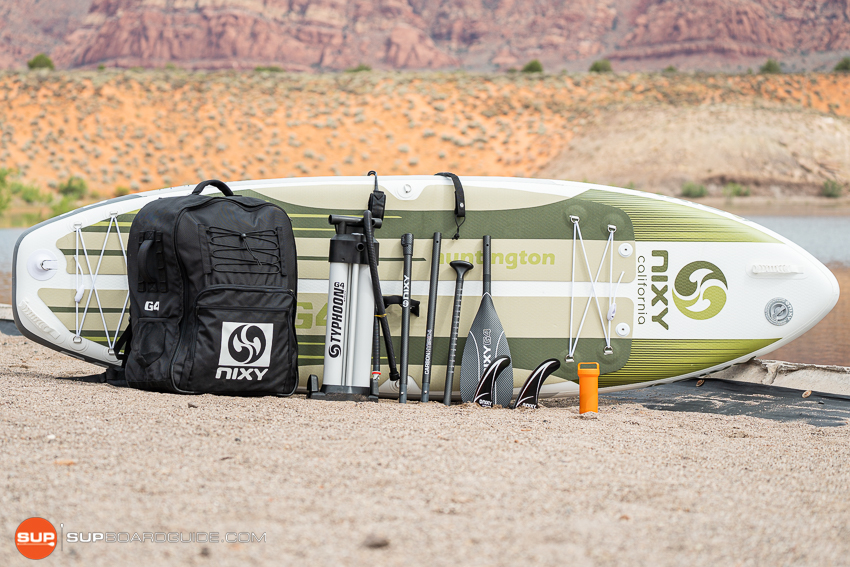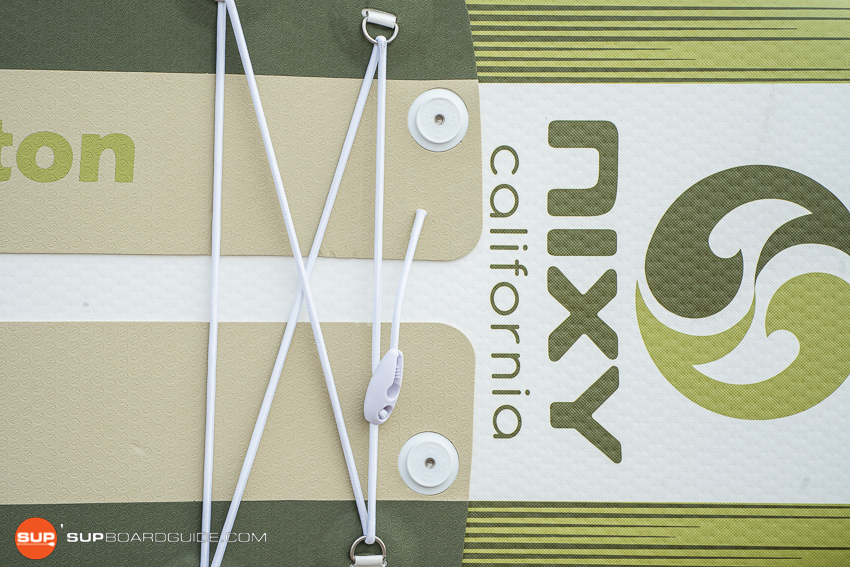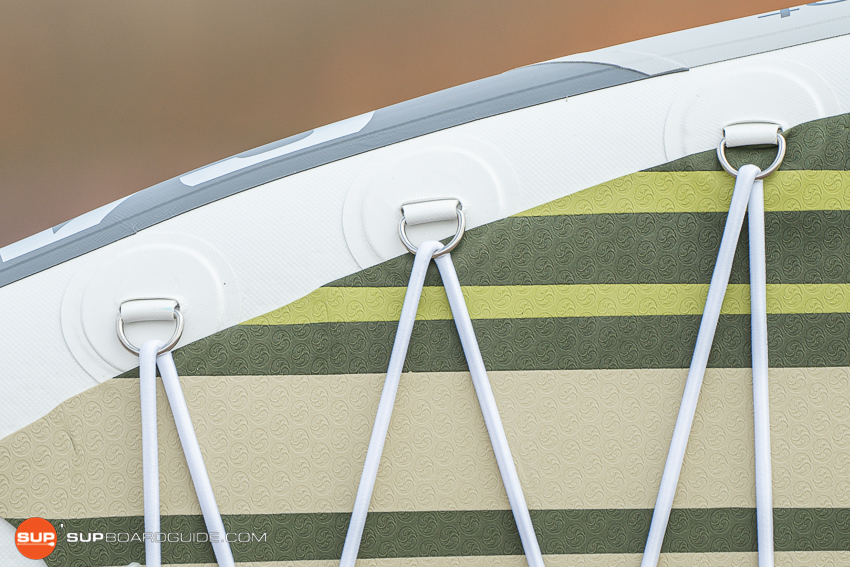 Features:

The Nixy Sports Huntington G4 Ultra Compact shares almost all of the features of it's sibling. The defining difference is that the Ultra Compact is designed to be folded on its centerline before being rolled up for storage. That means you lose anything that would otherwise be set centered on the board. Dual fins replace a single piece, as well as the handle, D-ring mounts, and accessory mounts also move to accommodate this additional fold.
So what does this fold give you in return? Glad you asked. This iSUP can be condensed to a bag 26" high, 20" wide and 11.5" thick. That includes the paddle, and pump! You should have no problem transporting this anywhere your adventure takes you. In addition to this stand out feature the Hunting G4 Ultra Compact also comes with 14 D-rings, 3 action mounts, 3 handles, and a removable front and rear bungee system.
Included Accessories:

The Nixy Sports "kit" package is still our favorite on the market today. Without going into detail on specific pieces of equipment, see below, this setup is sure to impress. The Nixy Huntington G4 Ultra Compact come with:
Nixy G4 carbon fiber hybrid paddle
Nixy G4 typhoon hand pump
Nixy G4 backpack
Nixy hybrid leash
Again, we will dive into most of those pieces separately below. The takeaway should be that it's an impressive kit for a paddleboard in this price range.
Paddle: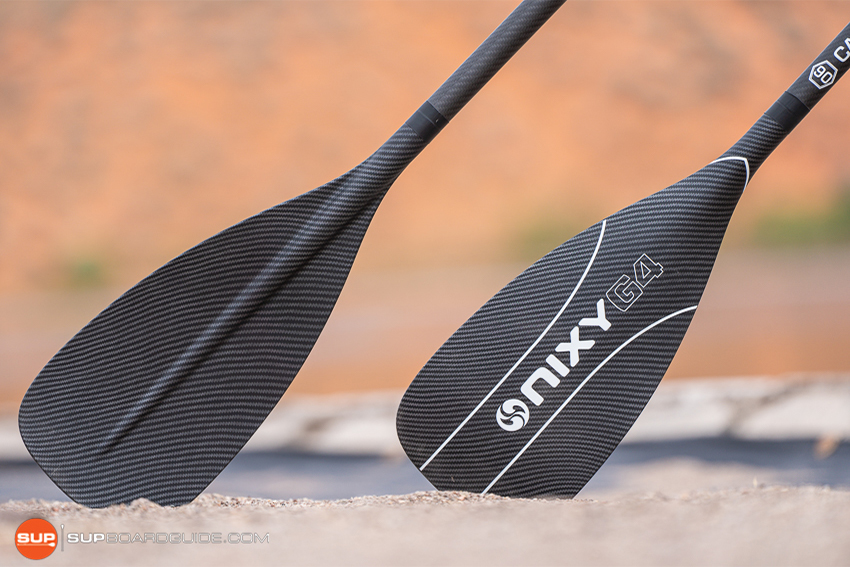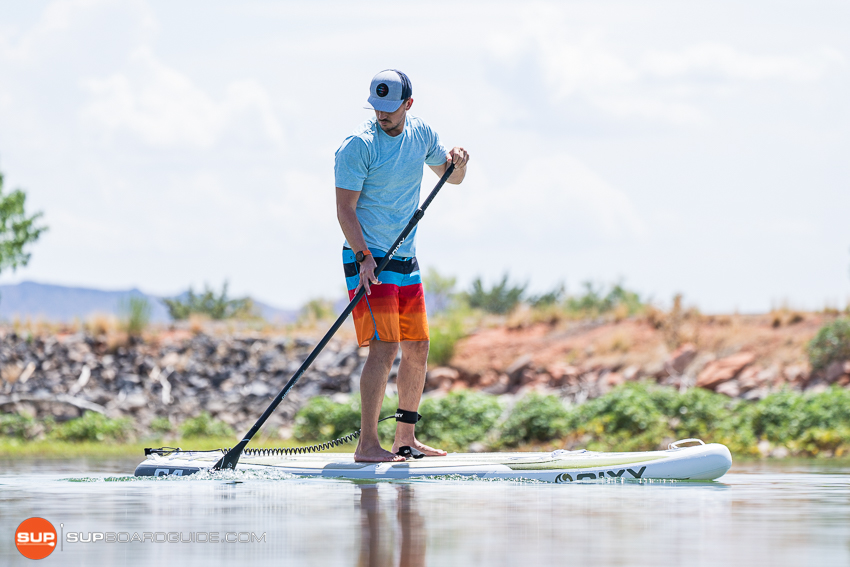 The Nixy Sports G4 Carbon fiber hybrid FOUR piece paddle is just amazing. It has everything we love about the rest of the Nixy G4 paddles and adds an additional removable section to make fitting into the smaller bag possible. The same quality and firm connection are still present and again, if we didn't know any better, we would think they sent us an upgraded paddle to test with the kit. Our only point of concern is that the handle is made of plastic and it feels slightly out of place with the rest of the paddles' fine craftsmanship.
Pump: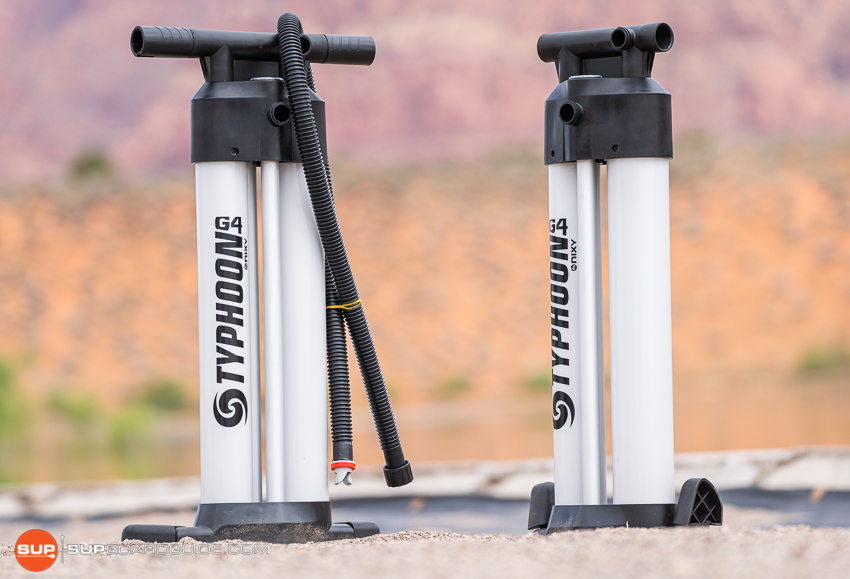 The two chamber, 3 stage pump is a great addition to the kit. We really like these pumps as they tend to eliminate the hassle of trying to get the last few PSI into a board if your a smaller or lighter paddler. Like gears on a bicycle, this pump makes it easy to fully inflate your iSUP regardless of your size.
Another unique feature of this pump is that it is somewhat collapsible. The feet fold up and the handles are removable giving it a more cylindrical storage shape. This is good for when you're packing it all up. The pump serves as the center of the paddle board as it's rolled up.
As always we will never not recommend getting an electric pump. Nixy Sports sells one and it's fairly good. Once you have the benefit of not pumping up a board manually, you will see why we always recommend them.
Bag: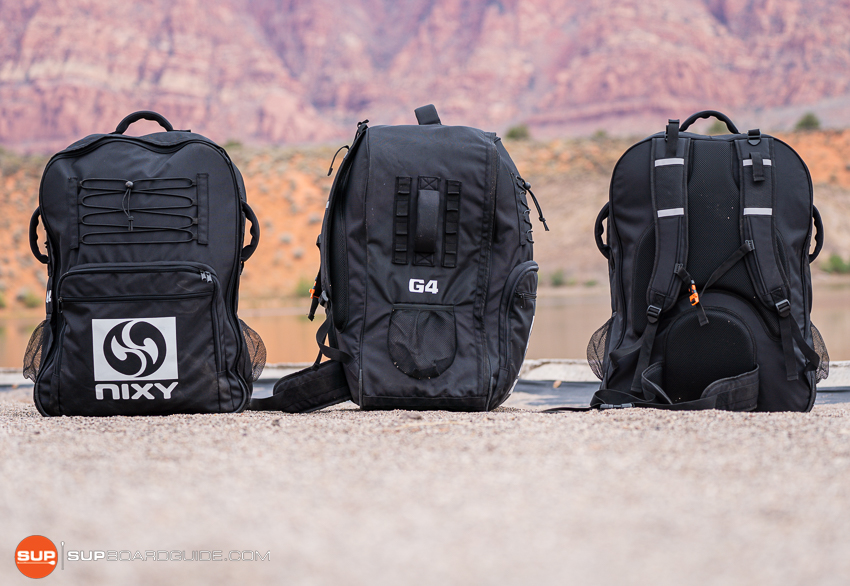 Most standard iSUP bags are quite bulky, and while not necessarily heavy, they are just awkward to move around. The Nixy Sports Huntington G4 Ultra Compact comes with a much smaller bag and is designed to fit and go places where most other iSUP's can't. To be honest that's a huge feature when compared to most other kits. It's easy to carry and much more comfortable than larger iSUP backpacks.
In terms of bag features, besides it's size, it has the standard padded shoulder pads and back pad, as well as the waist belt for additional stability and comfort. Molly loops on either side make attaching additional gear via carabiner a breeze. While two side mesh pockets can hold some small water bottles. The rear of the pack has a zippered pocket good for the fins or other necessities, as well as a Bungee system for anything else that may not fit inside.
Optional Accessories
Nixy Sports has some great accessories. As much as we love the kit paddles they make carbon fiber paddles that are even more amazing. That combined with their electric pump and portable battery, you are guaranteed to find something that will add significant value to your paddling experience. Here are some of our favorites:
Nixy Pro Carbon Paddle(s)
Nixy Ventus Paddle Board Electric Pump
Nixy Premium SUP Kayak Seat
Nixy SUP carry sling
Nixy Navigation Lights
Summary Review of the Nixy Sports Huntington G4 Ultra Compact (2021 model)
We are really impressed with the Nixy Sports Huntington G4 Ultra Compact. They really took the "compact" idea to the next level with their board design and the bag. The only other brands and boards we see with this dedication cost twice as much. We are again impressed with the overall quality of the board itself as well as Nixy Sports amazing kit pieces. This board is not only a great value but it should be at the top of your list if you plan on traveling far and wide with your iSUP.
We hope you enjoyed this review of the Nixy Sports Huntington G4 Ultra Compact. If you feel we missed something or want to add to the conversation let us know by commenting below!
The following two tabs change content below.
SupBoardGuide
Heyo! At SupBoardGuide.com we are a team who love the water, the outdoors, and are more than grateful that our full-time job allows us to review stand up paddle boards. We paddle year round (it helps that we are just about 2 hours outside of Las Vegas), and we bring in a wide range of paddlers with the goal of providing our readers with the best, most in-depth, and accurate stand up paddle board reviews.
Latest posts by SupBoardGuide (see all)