Red Paddle Co Pro Change Robe EVO
Pros
Wind/waterproof outer shell
Super cozy, moisture wicking inner fleece lining
Chunky waterproof plastic zipper that won't rust or corrode
Wind baffles blocks out the elements and traps in warmth, Multiple zipper pocket options
Stretch panels on the sides to allow for movement
Velcro sleeve cinchers and toggled hood customize your fit
Cons
None (we love this changing robe)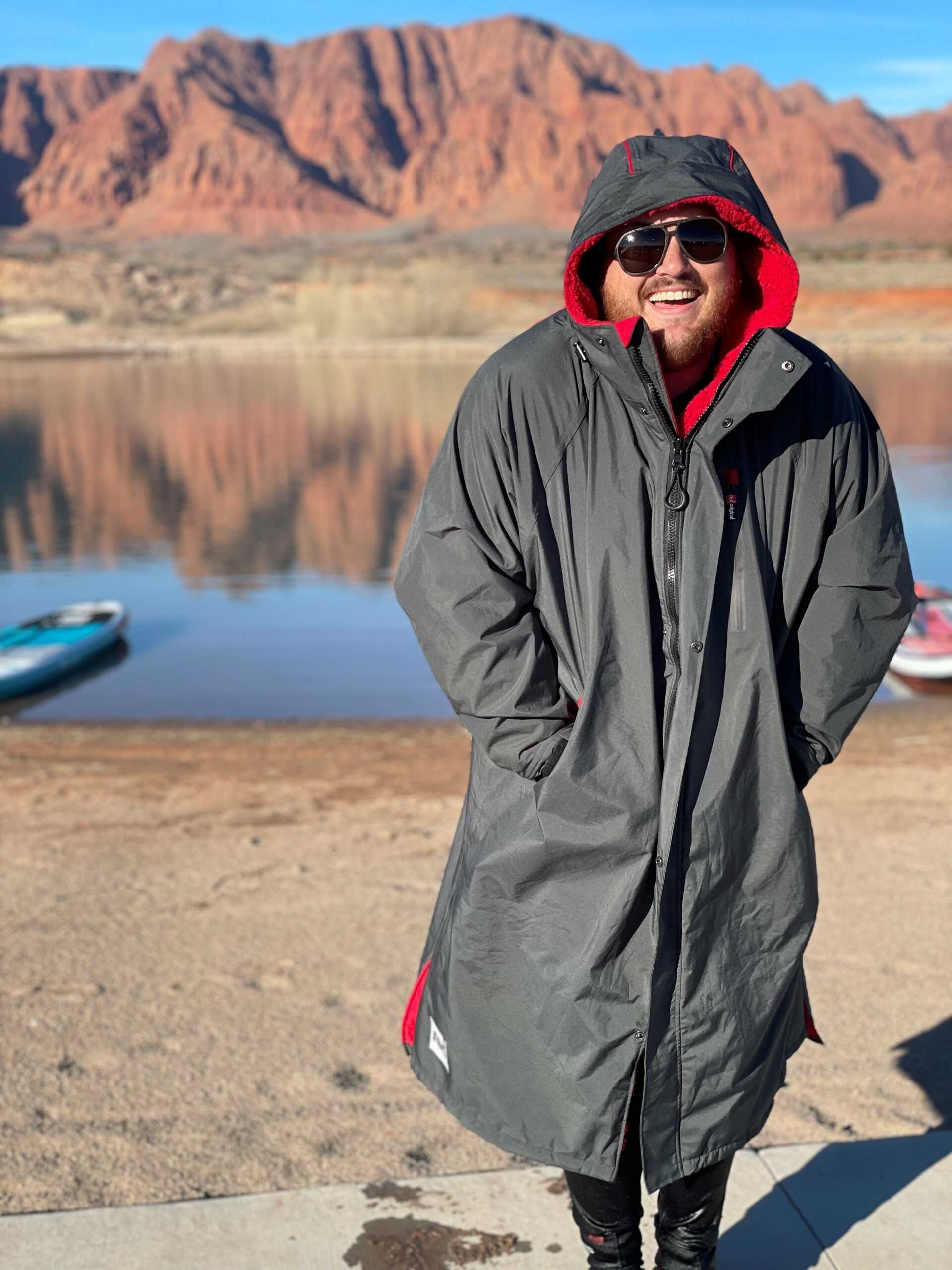 Red Paddle Co Pro Change Robe EVO Overview
Paddling and surfing in cold weather has tons of perks. You won't be drenched in sweat from just unloading and unpacking your board and gear, the water is less crowded, and some places just simply have better waves in the winter months (I'm looking at you, New Jersey).
However, the main thing that will turn me away from getting out there in the cold is that dreaded struggle of changing out of my wetsuit before getting in my car. We've all been there, and it hardly ever gets easier. You're shivering and struggling to peel a soaked, skin-tight wetsuit off your skin while trying (and likely failing) not to flash every man, woman, and child in the area. All-in-all, it's essentially a cold, wet, gymnastics act with accidental nudity that will leave you getting into your car, out of breath, questioning why you choose to engage in water-sports in the winter at all.
With the Red Paddle Co Pro Changing Robe EVO, the struggle I described above will be obsolete from your routine. This fur-lined, water and windproof, full length robe will keep you warm, dry, and (most importantly) well covered as you change into and out of your wet-suit. It's well made, loaded with features, and within an affordable price range.
Below, I'll be providing a detailed review of Red Paddle Co's Pro Changing Robe based on my real-life, hands-on experience with it. It's kept me toasty and protected from the wind on below freezing days, and warmed me right up after falling in the water earlier this winter. Overall, it's a great addition to the gear kit for any cold weather water-men/women.
Materials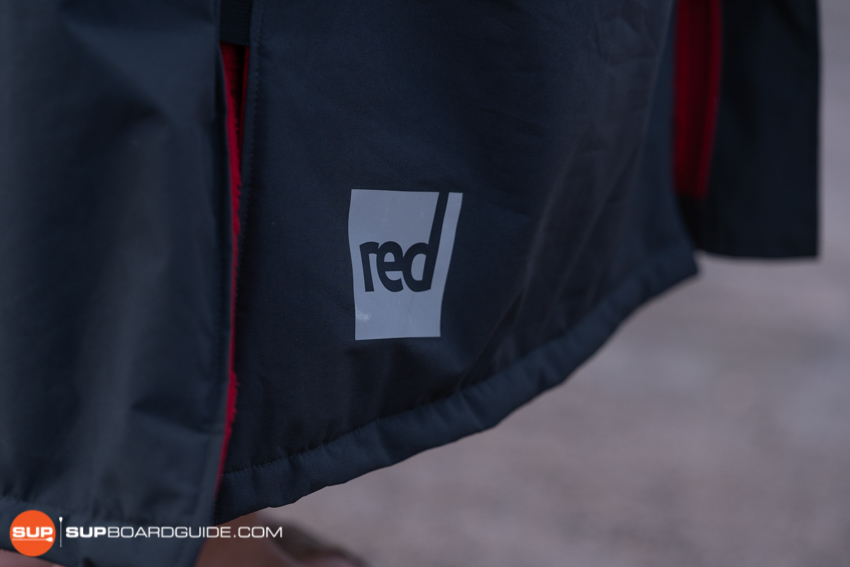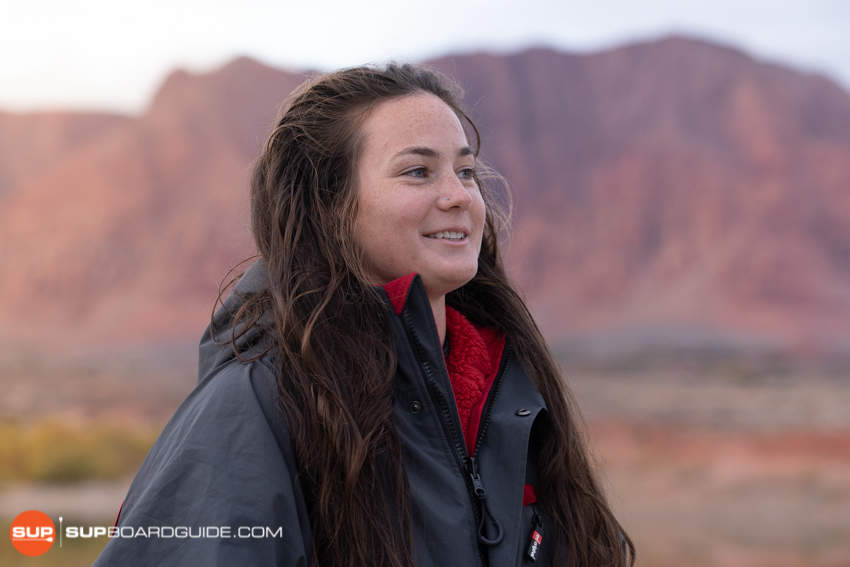 The Red Paddle Co Pro Robe EVO is made with a breathable, water and windproof outer fabric shell to lock out cold elements.The interior is a moisture wicking fleece lining that's both cozy and effective in keeping your skin dry and warm.
The main zipper is a chunky plastic YKK easy grab, 2 way close design that effectively blocks out water even without the wind baffle buttoned over top of it. I love that this zipper won't rust or lock up with constant exposure to fresh and saltwater. I also love that Red Paddle Co added an extra strip of fabric on the interior side of the zipper to eliminate the issue of catching the fleece lining as you zip up. There's a plastic-zipper waterproof exterior chest pocket that will keep your phone dry, as well as an interior mesh zipper pocket for small accessories.
As for its durability, we've used it for a few months now without a hitch and have treated it less than carefully. It's been thrown in the trunk, stuffed into drybags, tossed in the backseat, slept or sat on by dogs (that part wasn't intentional, but I digress), and there's no tears, rips, stains or even the hint of seams beginning to fray. The exterior shell and zippers look to have flat-felled seams that are reinforced with tape on the interior side, enabling them to hold-up through multiple seasons. The interior fleece lining and zippers have reinforced stitches as well to make it resistant to any pokes or scratches that would otherwise make a hole.
In short, it's clear that Red Paddle Co put a lot of thought and care into the making of the Pro Change Robe EVO edition. This robe/jacket is built to last season after season, wear after wear and is well worth the price.
Features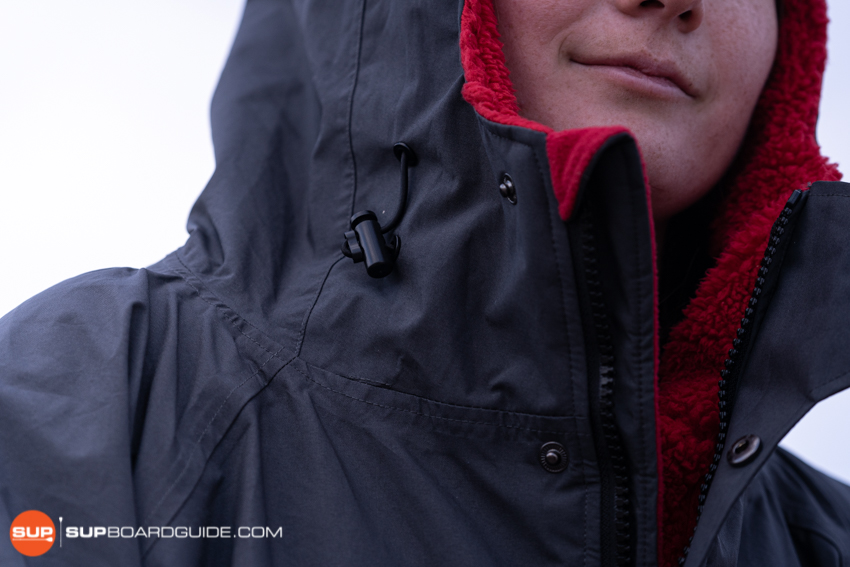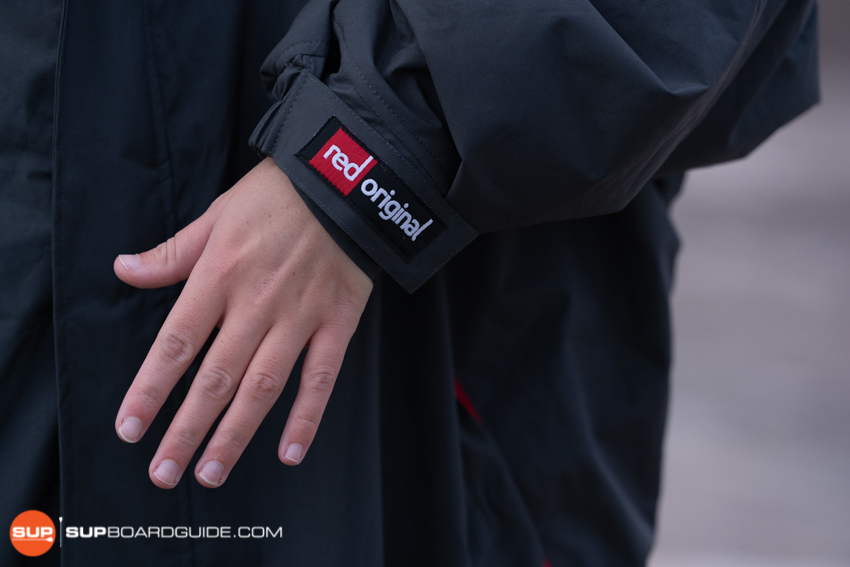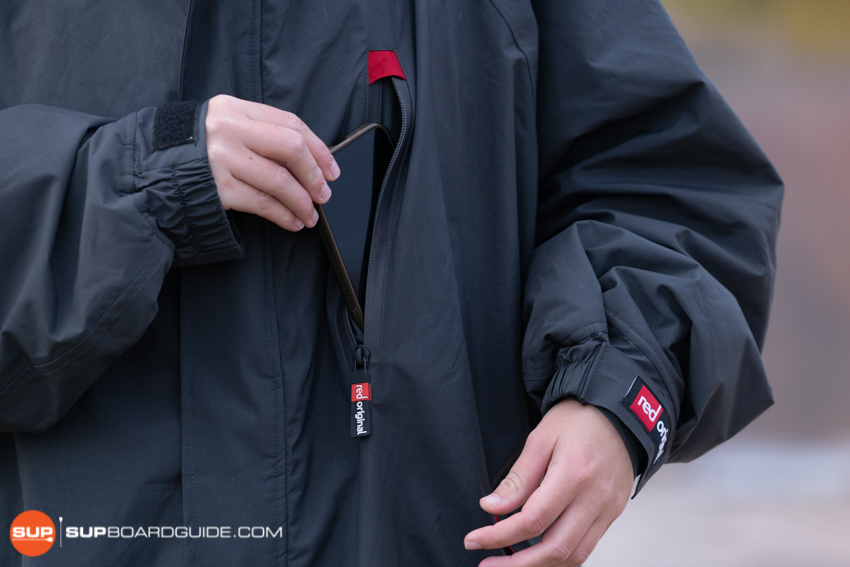 One of our favorite things about the EVO edition of the Red Paddle Co Pro Change Robe is that it's so versatile in fit and functionality.
Starting with the exterior, the toggled hood with easy-pull fasteners lets you protect your head and face from wind, rain, and cold weather without having to constantly readjust its position. Red Paddle Co incorporated a high collar to keep your neck warm as well, especially when the robe is fully zipped and the wind baffle is buttoned up. At your chest, you'll find a waterproof zipper-pocket to safely stow your phone, keys, wallet, or smaller clothing items that you don't want getting wet. There's also a pair of fleece-lined magnet-closing hand pockets on the exterior to quickly warm up your fingers. Lastly, I really appreciated the velcro sleeve tighteners as they help me keep excess fabric out of the way when I need full use of my hands, whether it be eating, driving, or attaching and detaching fins.
Moving onto the interior of the robe, I cannot express enough how cozy the fleece lining feels after a cold day of paddling. It quickly wicks moisture off of your skin and honestly just feels like a warm hug. Aside from that, there's a mesh zipper chest pocket that I personally use to store snacks, as well as a kangaroo style pocket on your right side that's perfect for a hat and gloves. The storage options are nearly endless with this changing robe compared to poncho style changing covers.
Bottom line – the Red Paddle Co Pro Change Robe EVO edition has tons of options when it comes to storage and fit.
Sizing
Changing robes are meant to be roomy enough for the wearer to have a large range of motion without taking it off. With this in mind, Red Paddle Co made their robe wide enough to accommodate most individuals and included stretch panels on the side to allow for even more movement while still staying concealed. As such, sizing for the Pro Change Robe ranges from small to large and is based solely on height.
For reference, I'm about 5'2 and the large size hits at my ankles. Personally, I like this fit because it keeps my legs warm and provides a bit more cover while changing. Any extra fabric is a non-issue due to the velcro sleeve-cinchers and the elastic hood toggles. If you don't want it to come down as far on your legs, size down and vice versa.
As a side note: if you want the robe to cover more of your leg but really don't enjoy oversized sleeves, there's an option to purchase the short sleeve version of the Pro Change Robe. This review is for the long-sleeve option, but I'd expect the quality to be the same with some minor changes to its features.
Where to Buy/Shipping/ Return Policy
The Red Paddle Co Pro Change Robe EVO edition can be purchased directly from Red Paddle Co, or from a local third party retailer using the 'Find a Shop' function on their site. The Pro Change Robe EVO also ships for free to the following countries:
United States
United Kingdom
Canada
France
Australia
Germany
Chile
Lastly, on the chance that the Pro Change Robe EVO does not fit correctly or is just simply not your cup of tea, Red Paddle Co maintains a 30-day return window, during which you can send the robe back in its original condition and packaging (tags still attached) to receive a refund.
Final Thoughts
As you probably inferred by reading this review, we absolutely love the Red Paddle Co Pro Change Robe EVO edition. In fact, we're considering adding more to our arsenal just so more of our team members can use it to stay warm on even the coldest paddling/board testing days.
Overall, it's wind and water-proof, warm, comfortable, and totally functional to store a multitude of accessories in one of its many zipper-pockets. I cannot think of any cold weather paddler, surfer, kayaker, or person who simply wants a warm coat, that wouldn't be satisfied with the Red Paddle Co Pro Change Robe EVO.
As always, we appreciate you taking the time to read through our review. For more info about Red Paddle Co and their impressive board line-up, head over to our company review.
We're sending warm vibes to all of our winter paddlers. Stay safe and have a great time on the water!
The following two tabs change content below.
SupBoardGuide
Heyo! At SupBoardGuide.com we are a team who love the water, the outdoors, and are more than grateful that our full-time job allows us to review stand up paddle boards. We paddle year round (it helps that we are just about 2 hours outside of Las Vegas), and we bring in a wide range of paddlers with the goal of providing our readers with the best, most in-depth, and accurate stand up paddle board reviews.
Latest posts by SupBoardGuide (see all)