Aqua Marina Coral 10'2 Inflatable Paddleboard
Pros
Well-sized for smaller paddlers or teens
Very lightweight at maneuverable at 19 lbs
Raised kick pad is well placed and makes for easy stepback turns
Comfortable diamond grooved deck pad balances grip and traction
Included hatchet fin helps improve tracking capabilities
Cons
We would like to see future models incorporate more nose rocker to eliminate the 'pushing water' effect
We'd like the kit and construction to be improved to better align with this SUP's price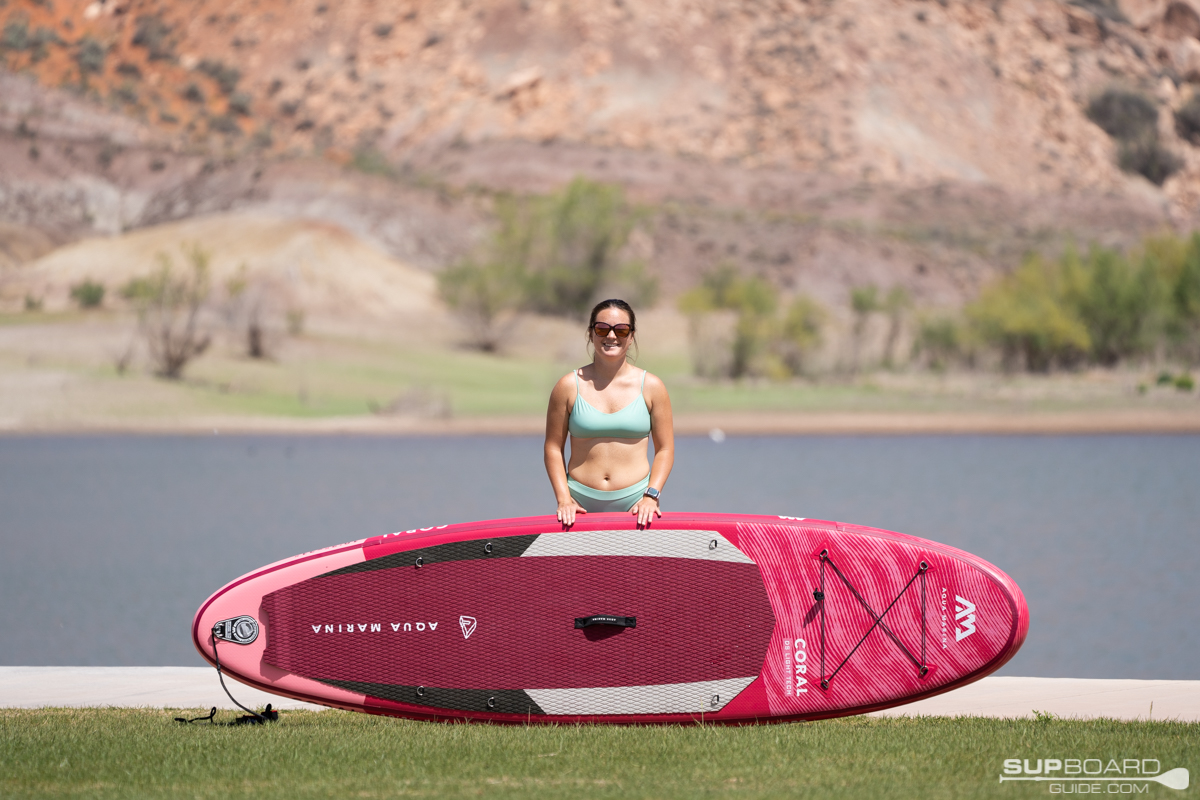 As a smaller paddler, I was super excited to review Aqua Marina' Coral 10'2. Over the years, finding an all-around SUP that doesn't feel too wide or even too long has been a bit of a challenge. Most all-around boards focus on stability and dip into the 33" or 34" wide market, while others can stretch to 11'-11'6 long.
While those dimensions are great for taller or heavier paddlers, it can sometimes leave smaller paddlers like myself needing to really extend their reach to keep good form while paddling or struggling to make the most out of the maneuverability that all-arounds are meant to offer.
The Coral 10'2 eliminated those issues without hindering my stability or speed. At 10'2 long and 31" wide, the Coral is stable for smaller paddlers without being so wide that paddling is difficult, and its shorter length combined with its raised kick pad make it a breeze to turn, both with casual sweeping strokes and stepback turns.
Though there are a few tweaks we'd like to see Aqua Marina incorporate into the Coral, this SUP has a lot of potential to be a great addition to a smaller paddlers arsenal.
We think the Aqua Marina Coral 10'2 would be great for paddlers who:
Are within a 5'0-5'8ish height range (more advanced paddlers could likely exceed this range)
Want a SUP that's exceptionally maneuverable and lightweight
Need a board capable of various environments (flat water, chop, ocean)
Want an all-around SUp with decent tracking capabilities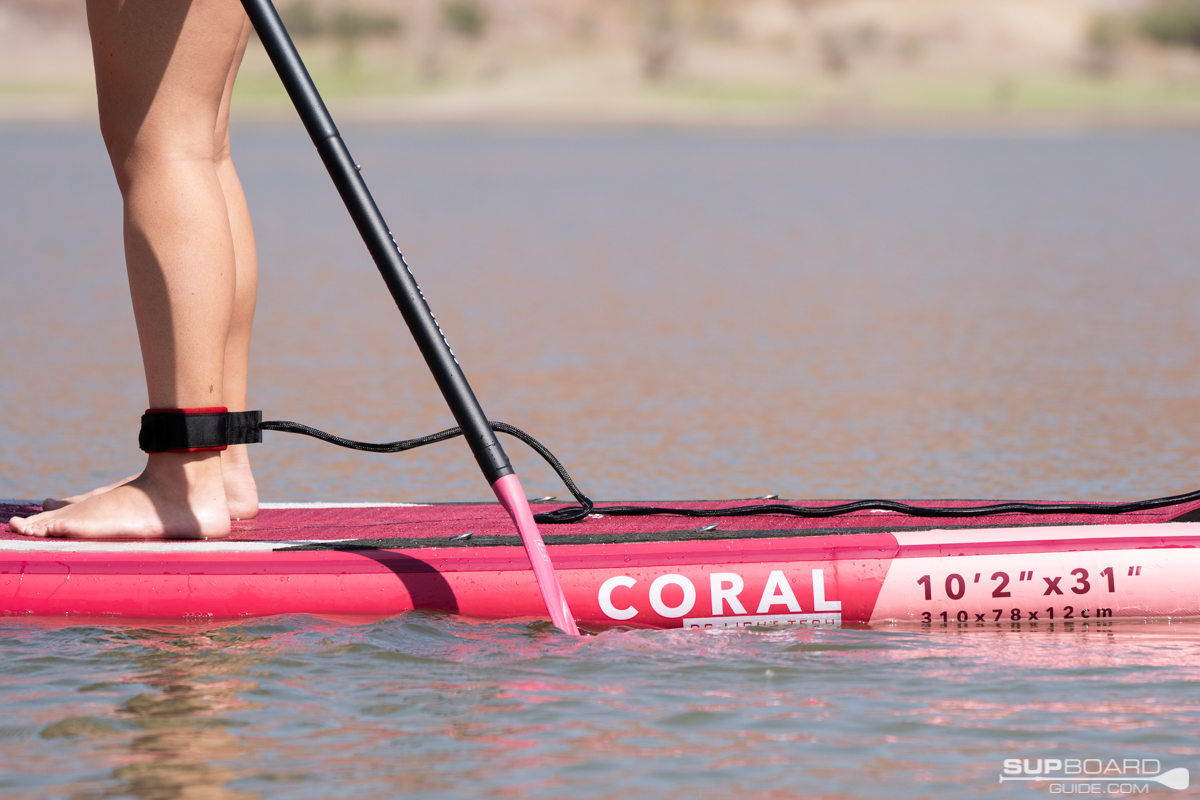 Aqua Marina Coral 10'2 : Spec Sheet
Main Category: All-Around, Inflatable
Board Dimensions: 10'2 x 31" x 6"
Listed Board Weight: 19 lbs
Listed Max Capacity: 230 lbs
Recommended PSI: 15 PSI
Fins: Single Hatchet-style Fin; slide-lock mechanism
Paddle: 3-piece aluminum
Materials: Single Layer Fusion
Price Range: Mid
Performance Review of the Aqua Marina Coral 10'2 Stand Up Paddle Board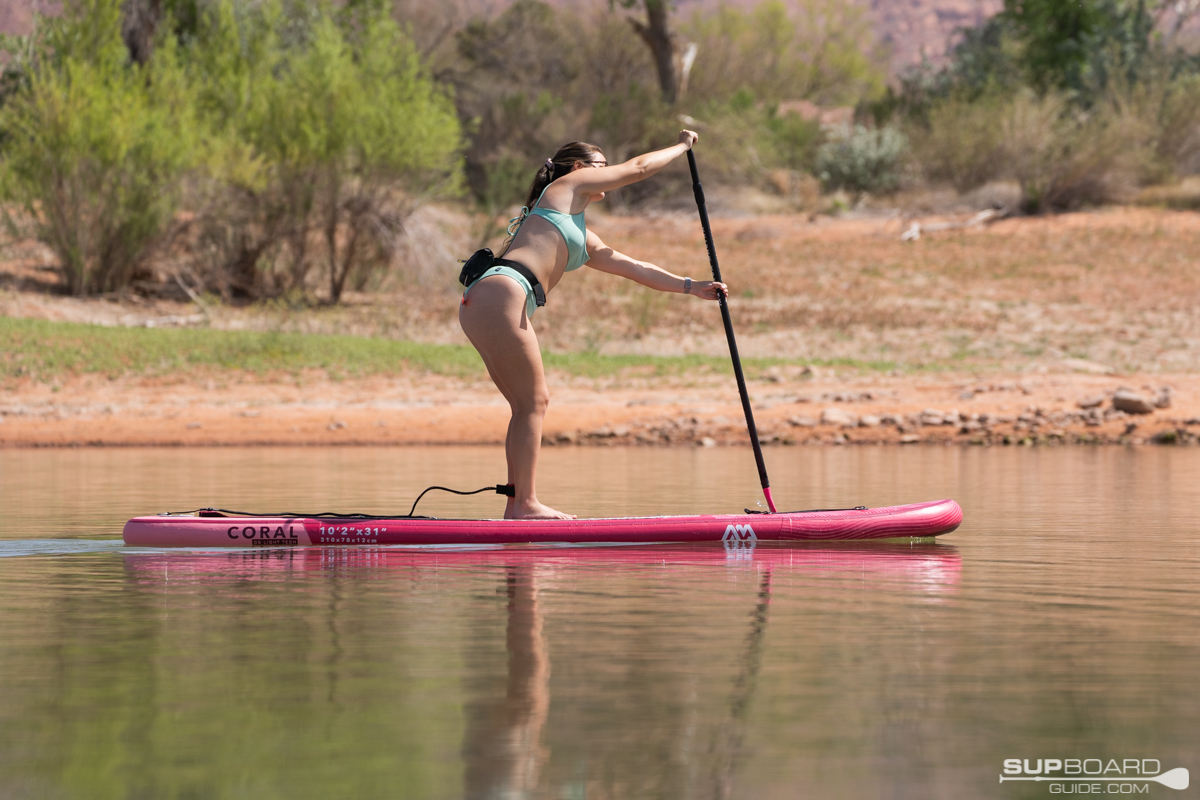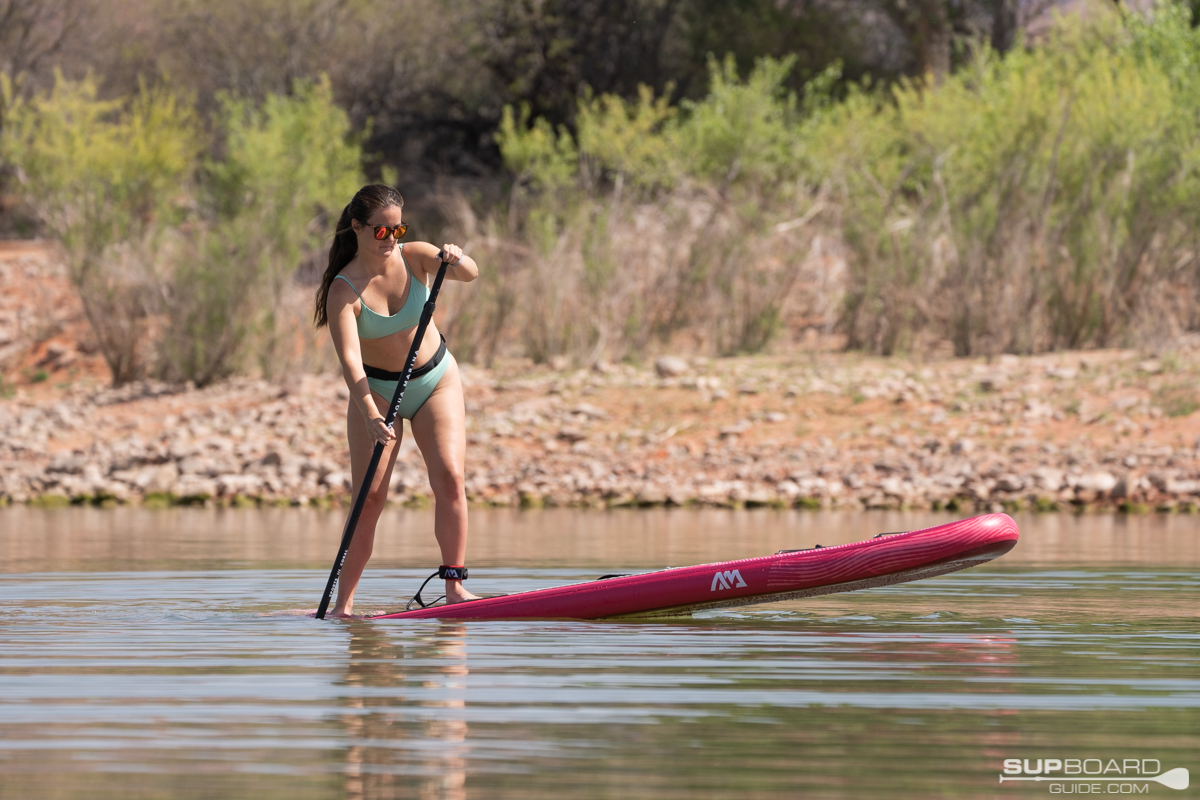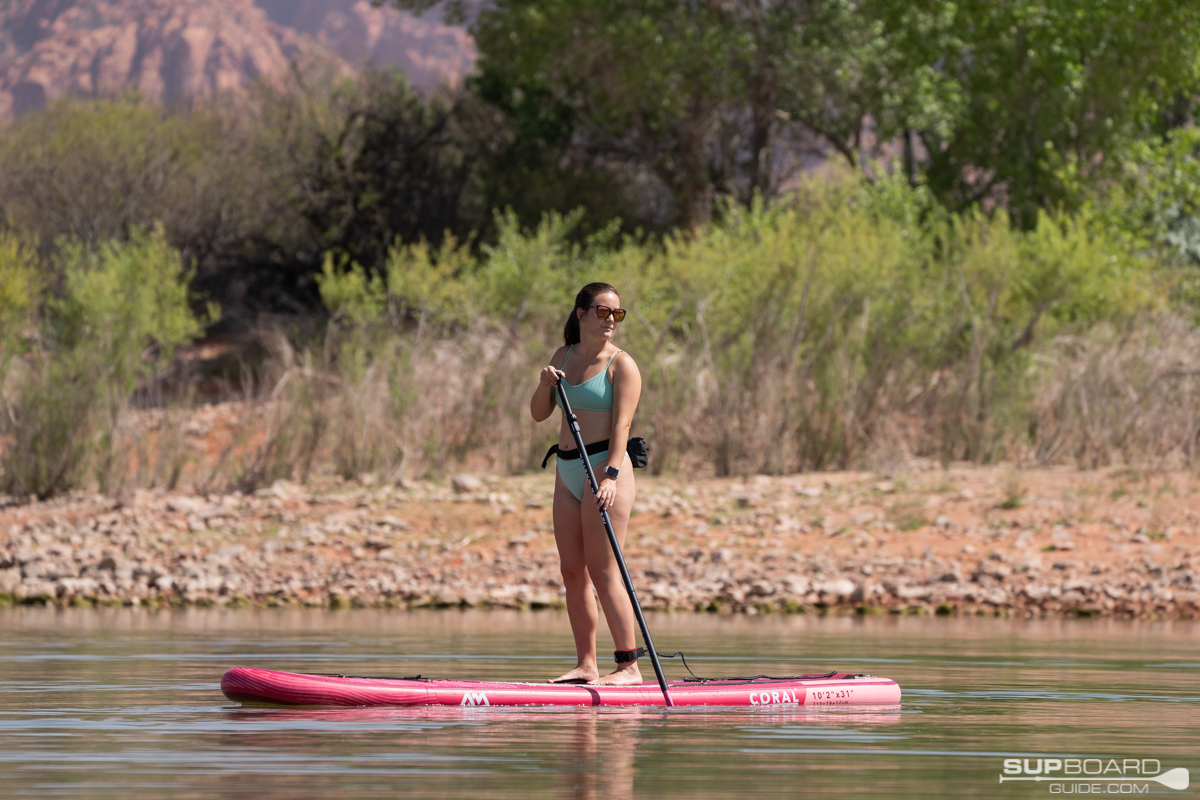 Overall Score: 8.2/10
Stability: 8.9/10
Speed: 8.6/10
Tracking: 8.3/10
Maneuverability: 9.3/10
Construction Quality: 8.0/10
Features/Accessories: 7.5/10
Stability Rating: 8.8/10
I think it's important to clarify that the Coral 10'2 is most ideal for smaller paddlers (likely in the 5'-5'8" range). For those paddlers the Coral is plenty stable, without being so wide that you need to significantly extend your reach to keep good paddling form.
Though the Coral's 31" width may seem intimidating to paddlers used to 32"+ SUPs, its rounded, non-tapered shape combined with the large hatchet fin keep it well balanced on the water.
Speed Test: 8.6/10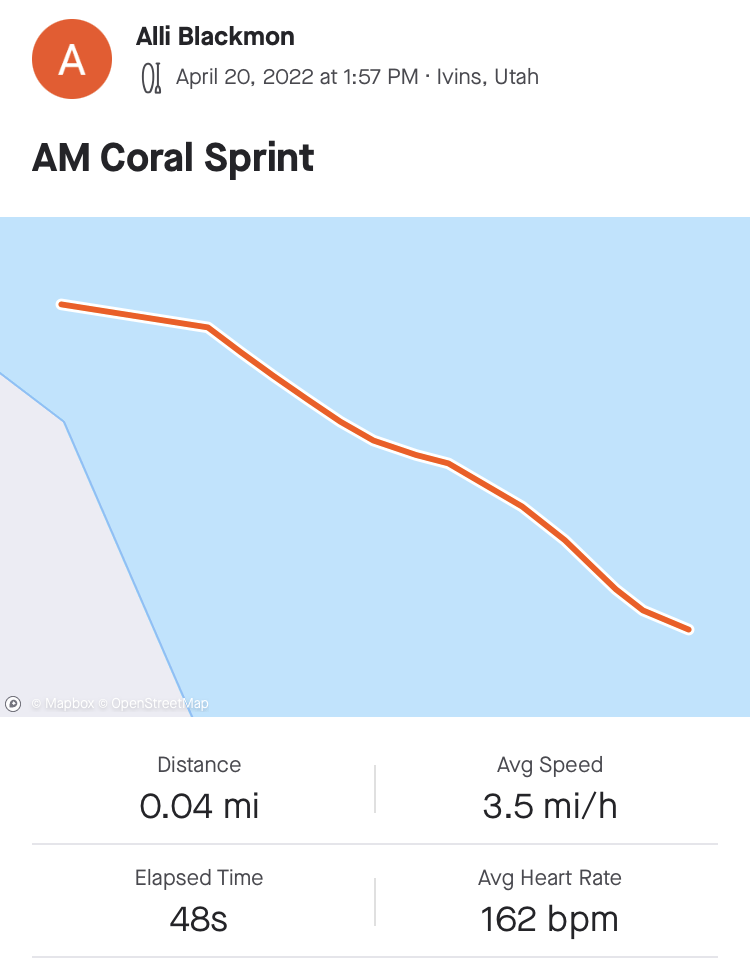 As far as all-arounds go, the 10'2 Coral from Aqua Marina has a lot of potential to be on the faster side of the spectrum, but it's not quite there yet.
LIke we discussed in our review of Aqua Marina's Atlas, the Coral 10'2 just doesn't have quite as much nose rocker as we'd like, and it does cause some extra drag when paddling up to speed (though it's not nearly as dramatic as the Atlas). Because of the extra drag, you have the same 'pushing water' effect that we see on the Atlas, and it can get somewhat frustrating when you're trying to keep up with a group.
Luckily, it should be a quick fix for Aqua Marina, as all they'll need to do is add a little bit more nose rocker in future models.
Tracking: 8.3/10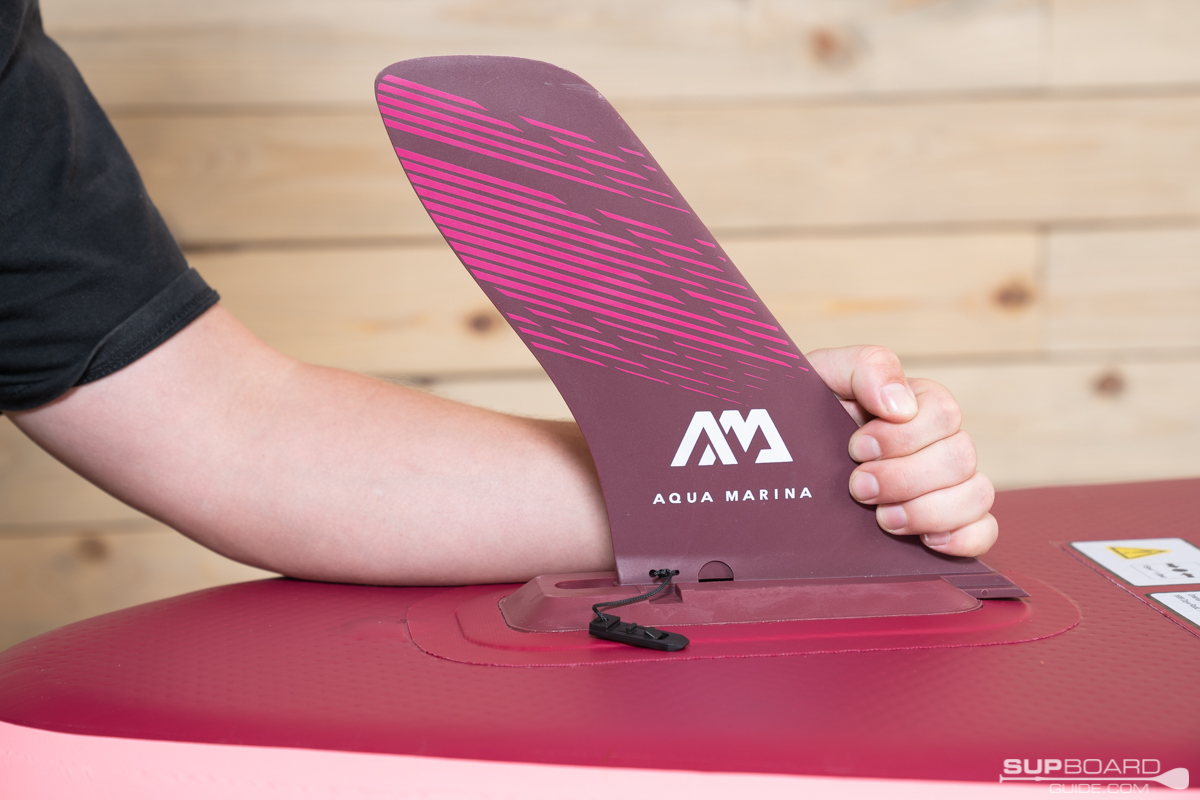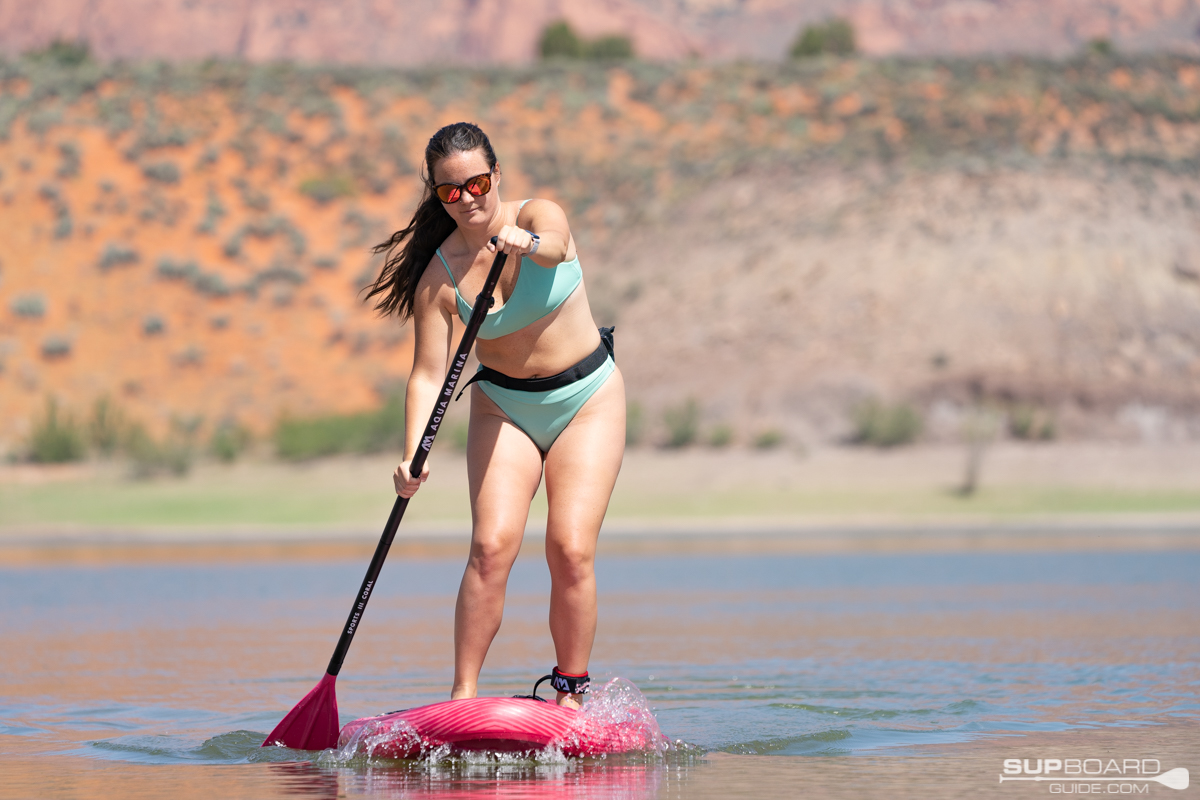 The Coral 10'2 from Aqua Marina tracks really well in the all-around category.
We credit mostly it's hatchet fin set-up for its above average tracking capabilities, but the Coral's 31" width comes into play here as well. Because the Coral is not a wide-set SUP, smaller paddlers won't have to focus on extending their reach to keep good form (as is necessary to keep a straight path); well-executed paddle strokes will come more naturally instead.
Maneuverability: 9.3/10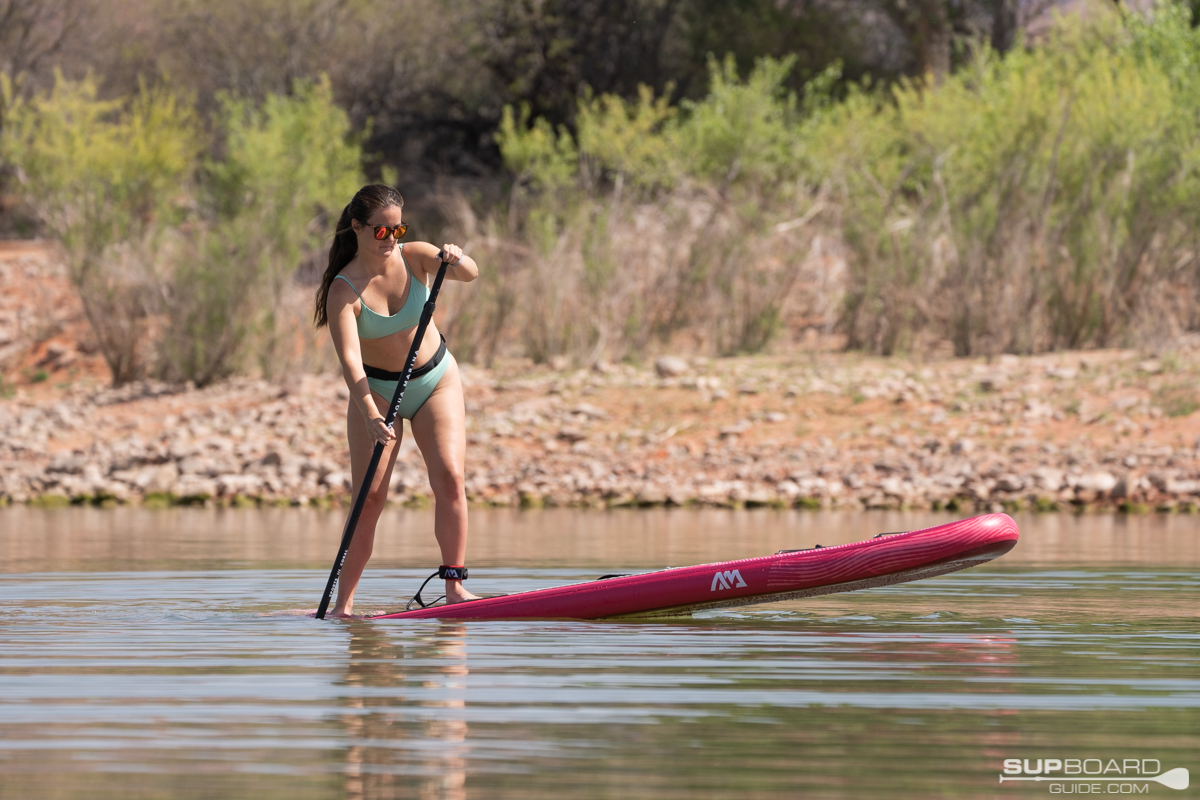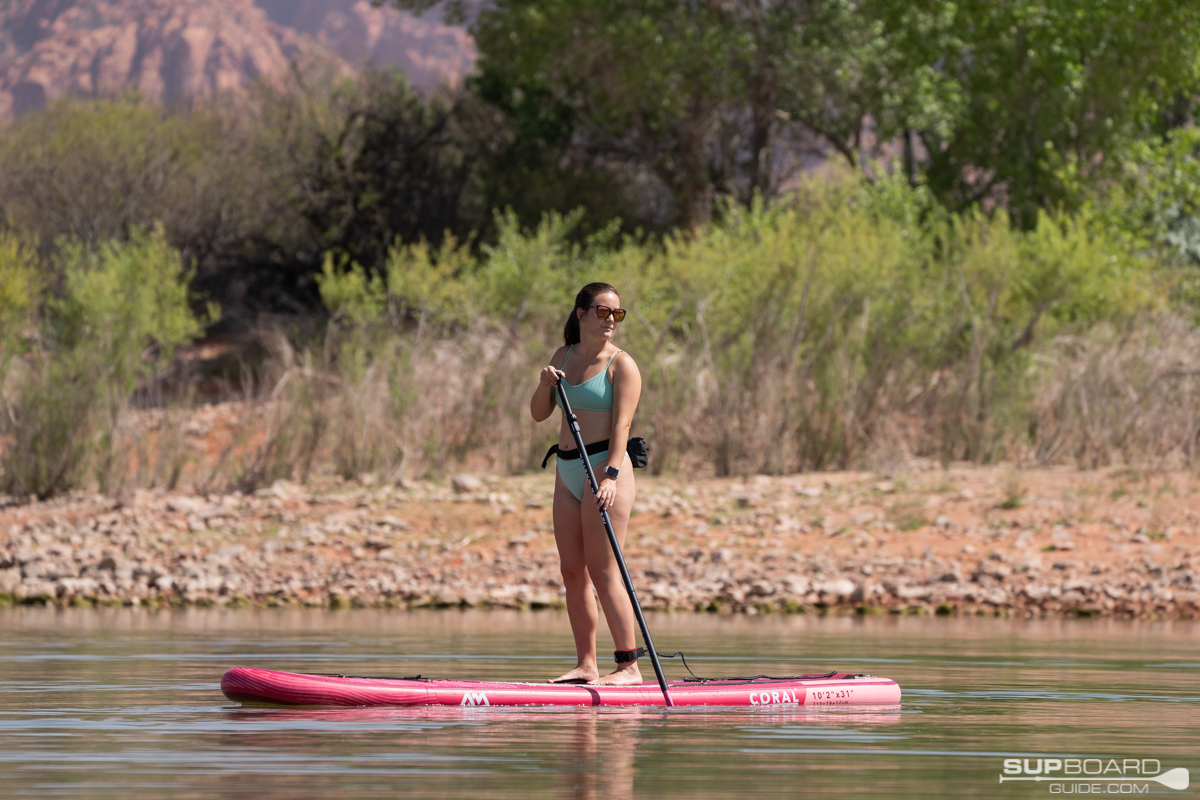 As is to be expected with a 10'2 all-around SUP, the Coral by Aqua Marina is exceptionally maneuverable.
At just 19lbs, it's almost effortless to change direction with either a forward sweeping stroke or a backstroke turn. More than that, the raised kick-pad is well-placed and makes it much easier to sink the tail for stepback turns.
Construction Quality: 8.0/10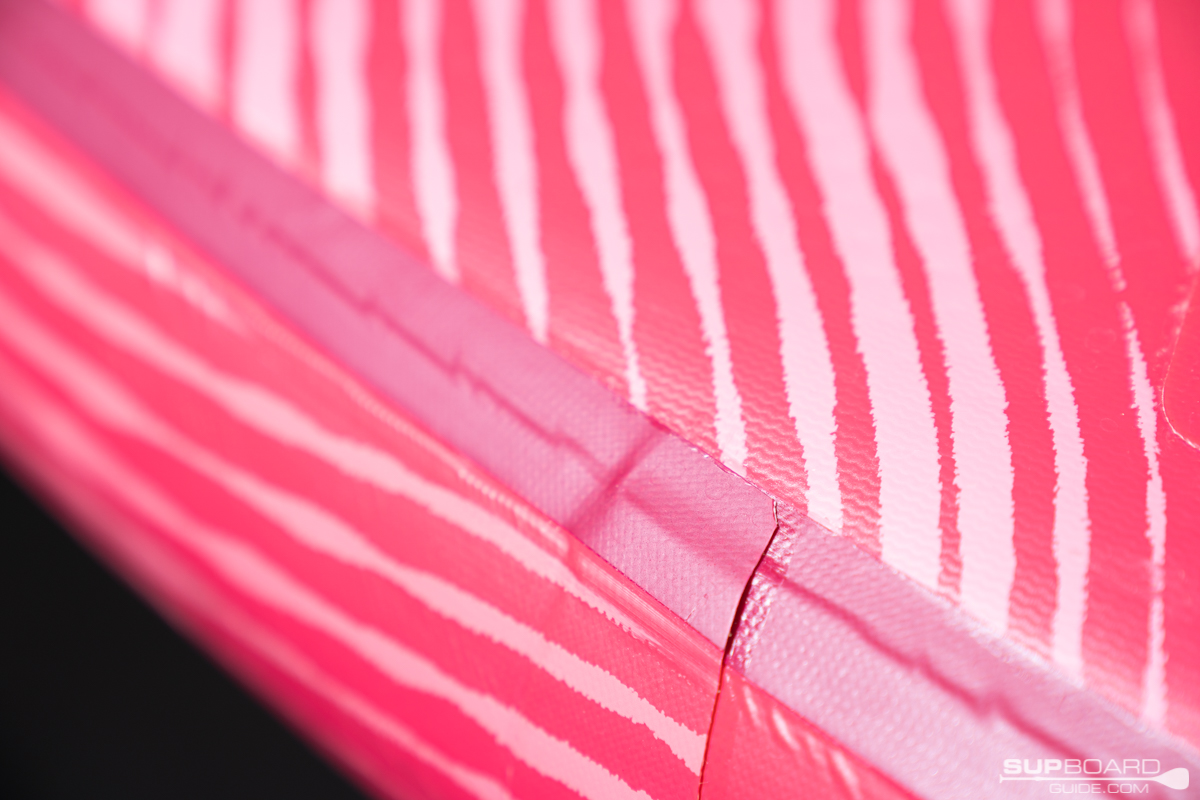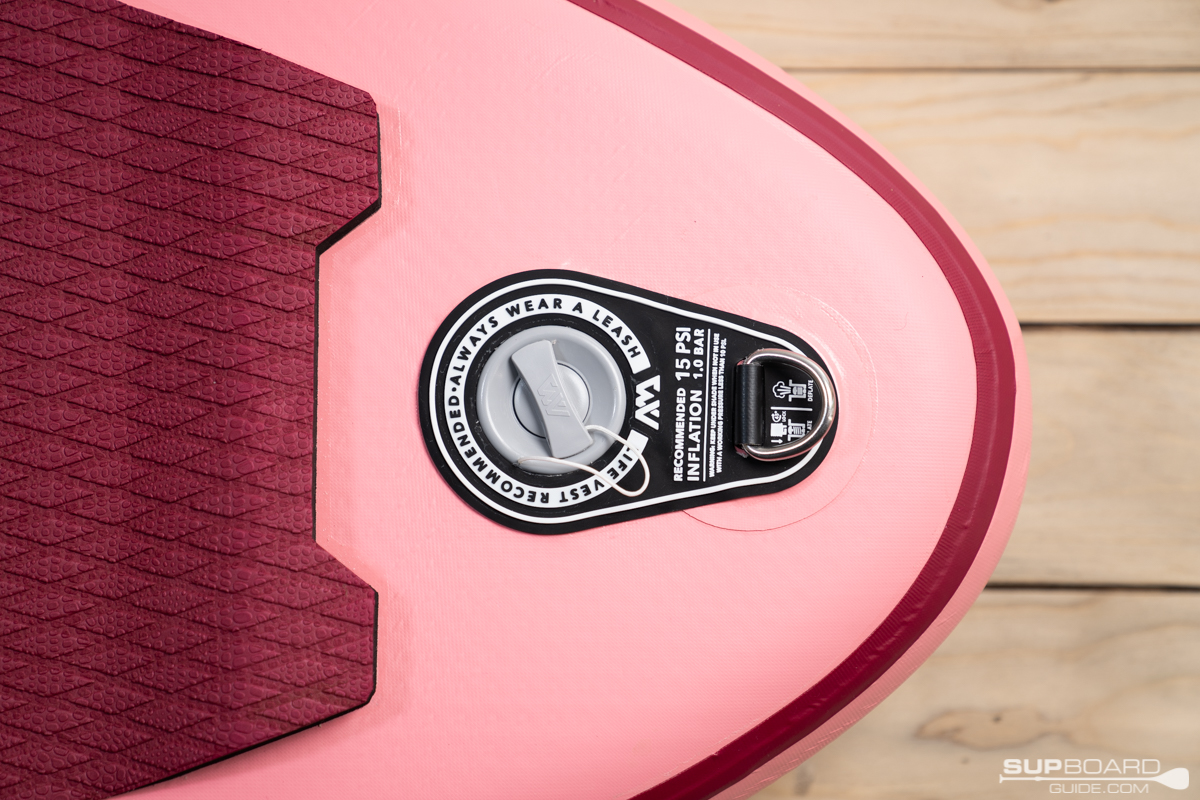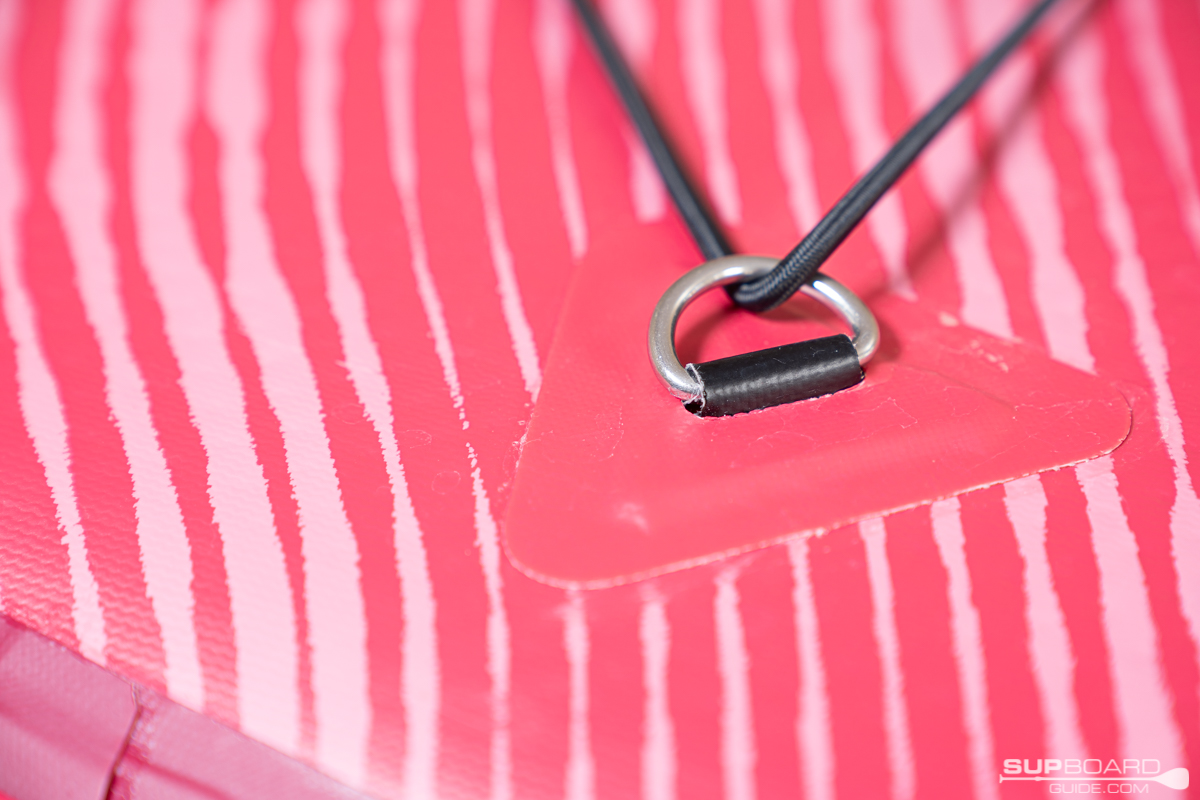 Though we weren't disappointed with many aspects of the Coral's performance on the water, we were wanting more from its construction, especially considering the price.
The 'Advanced' series by Aqua Marina (which includes the Coral 10'2) is constructed with a linear drop stitch core that is encased in a laminate or 'fused' single layer of PVC. Aqua Marina also applies a strip of seam tape as well as an extra piece of PVC on the tail.
Although this construction method is not particularly 'bad', we expect a bit more from a SUP in this price range. We think the Coral 10'2, and other boards in Aqua Marina's 'Advanced' series could be significantly improved (and better reflect their price point) with just a second layer of fused PVC, as we've seen on some boards that hold a spot on our list of Best Cheap SUPs.
Board Stiffness: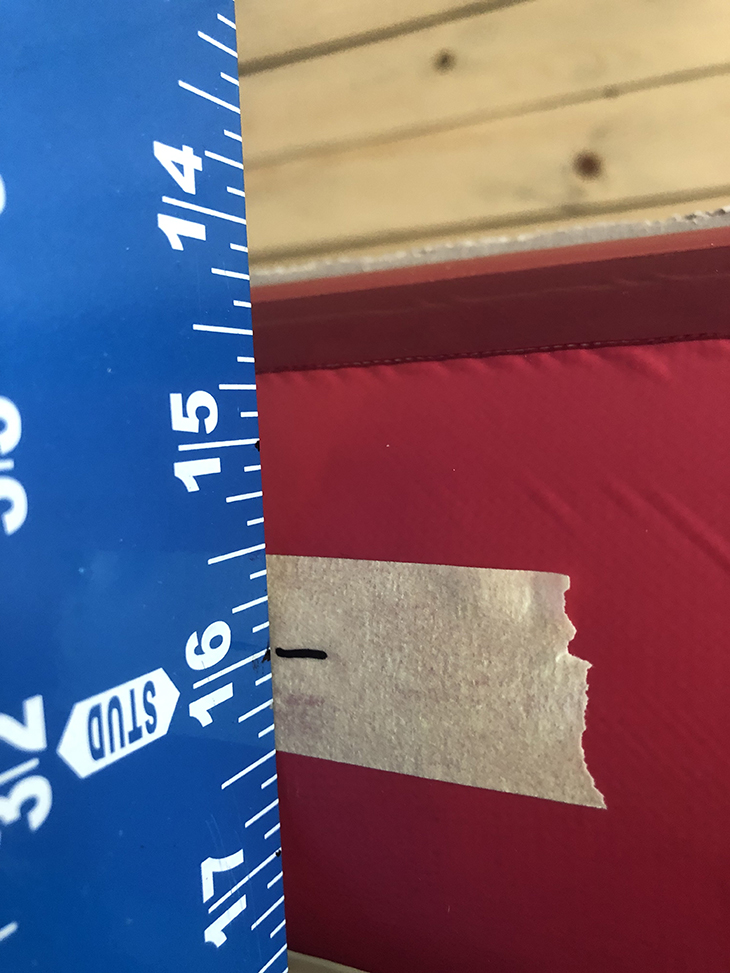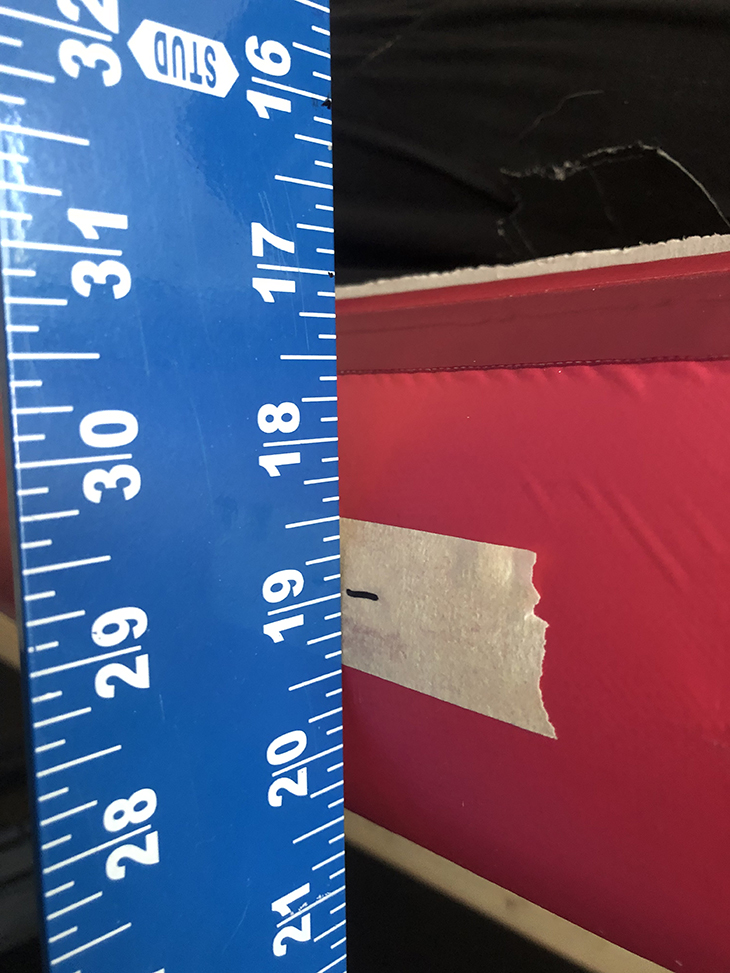 Stiffness Test: 3.0" Bend
Our stiffness test or 'bend test' is performed by placing the SUP on top of two sawhorses that are set 7' apart. We then set 150lbs on the SUP's midpoint and measure the amount of bend under the weight. While we acknowledge that this test does not replicate conditions on the water, it does help us verify and differentiate between construction processes.
Aqua Marina's Coral 10'2 bent a full 3" in our bend test, which is admittedly the most bend we've seen thus far. However, I want to note that the Coral is undeniably best suited for smaller paddlers and I would not expect it to exhibit a higher level of weight support in the first place. Additionally, I didn't feel much noticeable flex when paddling the Coral and its performance in the bend test does not seem to carry over onto the water for smaller paddlers.
That being said, I think the Coral's performance in the bend test, and its performance in the water, could be improved with the addition of a second layer of PVC (or more advanced construction techniques). I also would advise siding with caution when it comes to pushing the Coral's specified 230 lb weight capacity, as that is clearly not in alignment with its results in this section.
Features/Accessory Review: 7.5/10
As with most of Aqua Marina's SUPs, the Coral falls into the minimalistic categories when it comes to its features.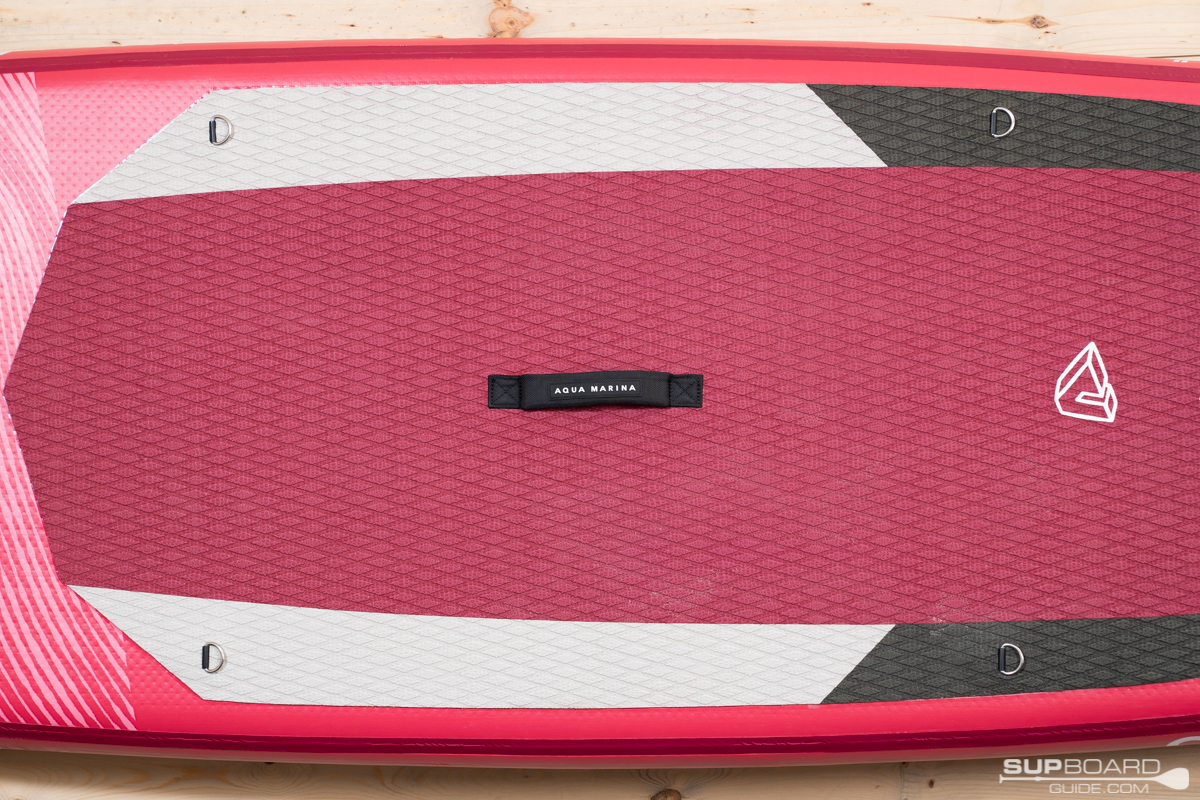 Equipped with a single center carry handle, the 19lb Coral is easy enough to transport, but we'd appreciate nose and tail handles as well to help with launching into and out of the water.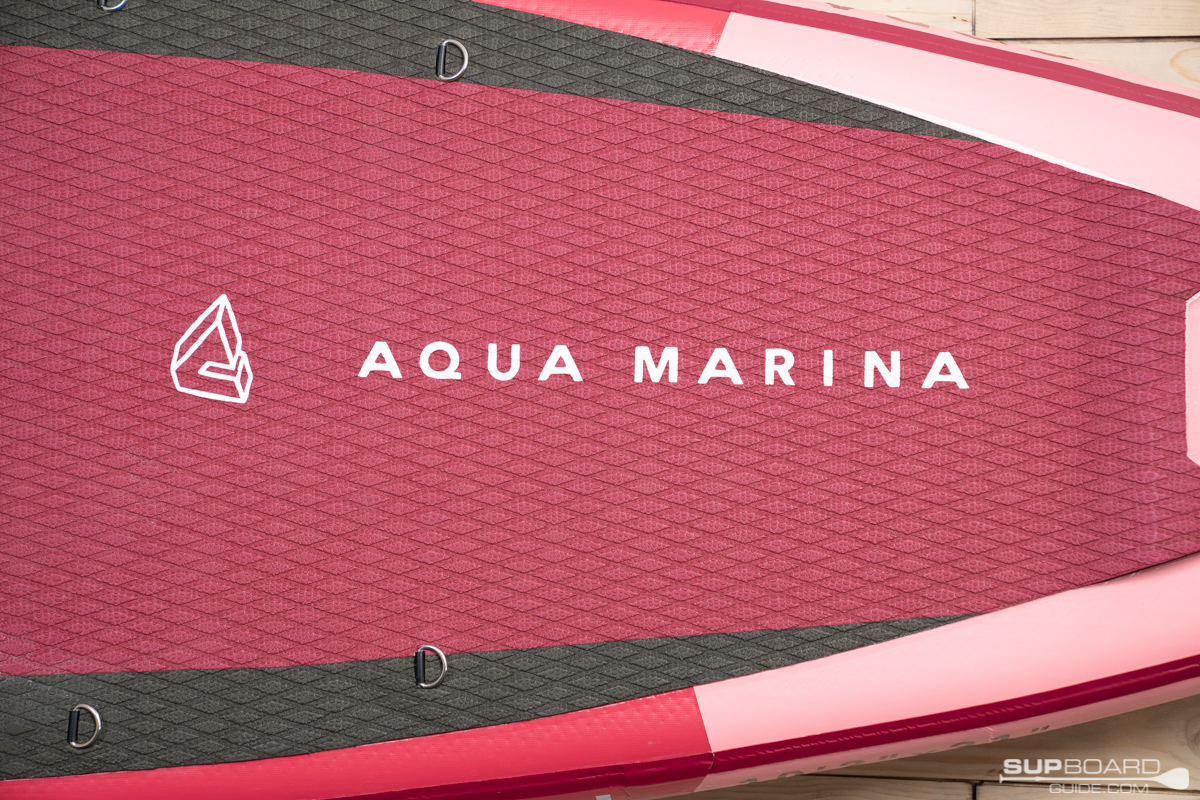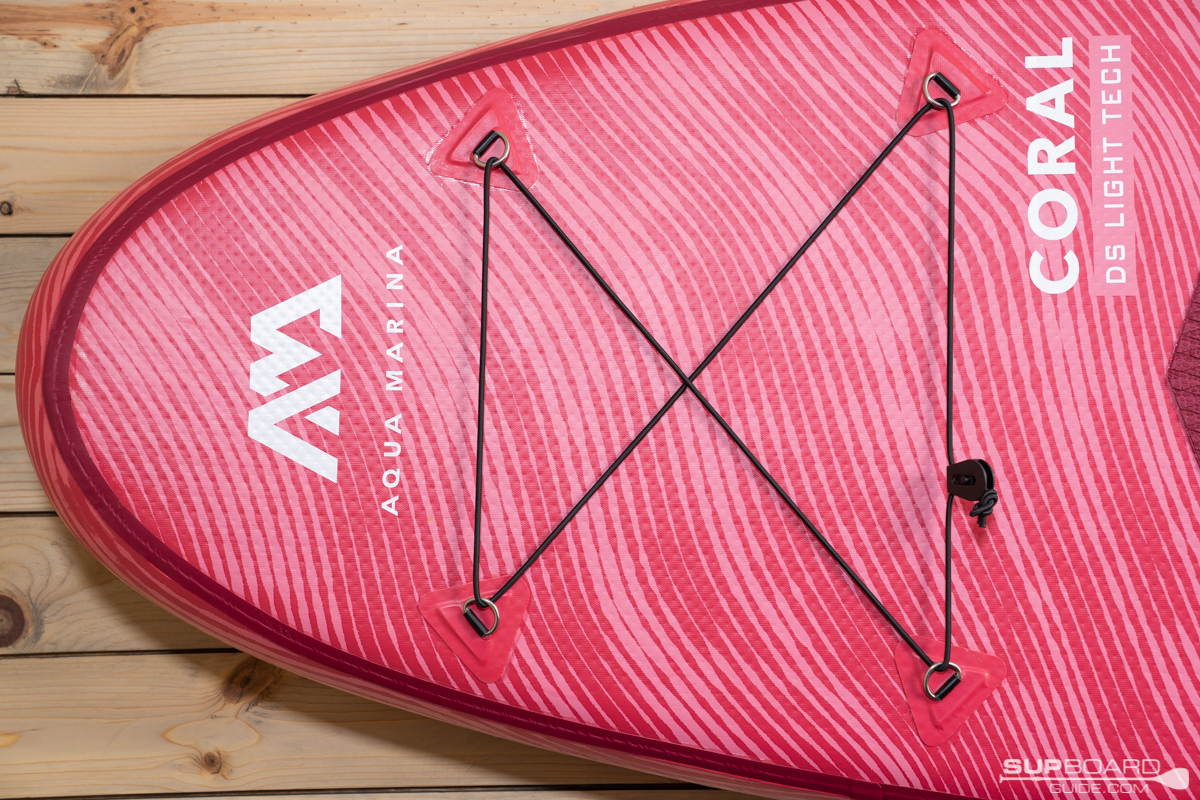 The Coral does provide the option to bring along gear with the front cargo area, and also encourages a bit of versatility with kayak seat compatible D-rings along either side of the deck pad.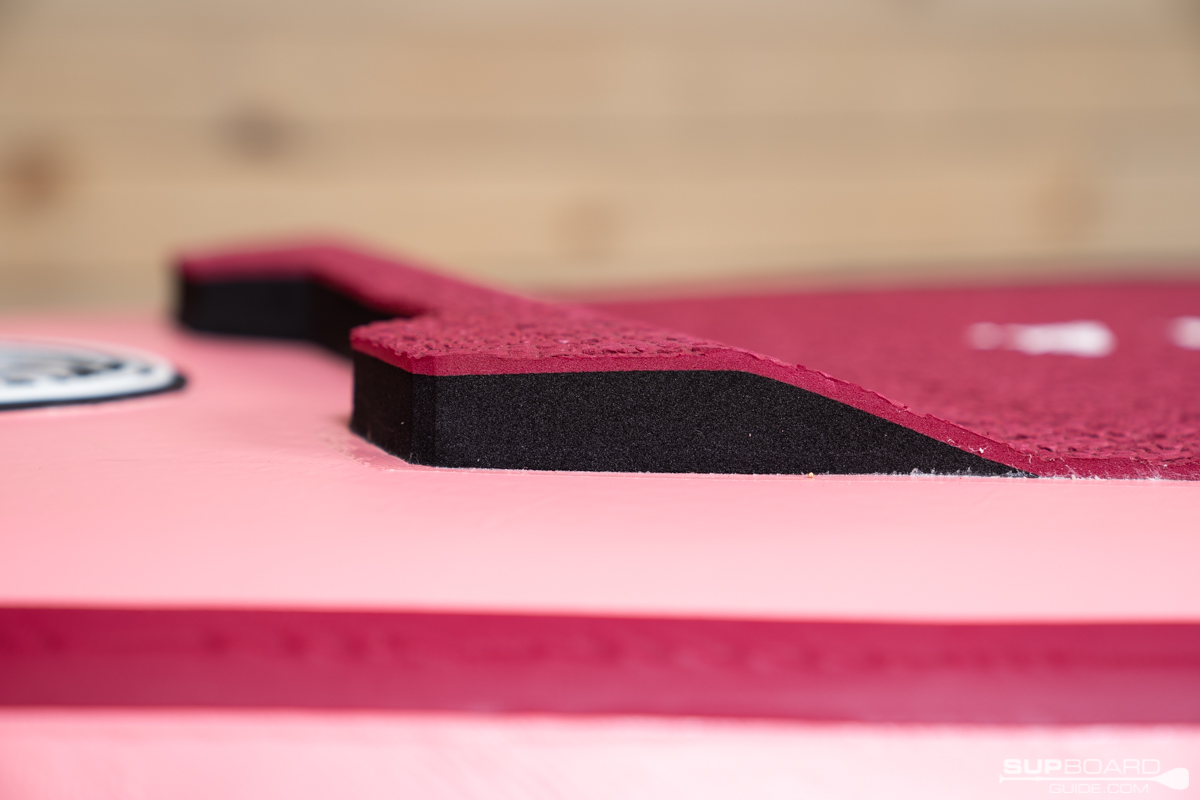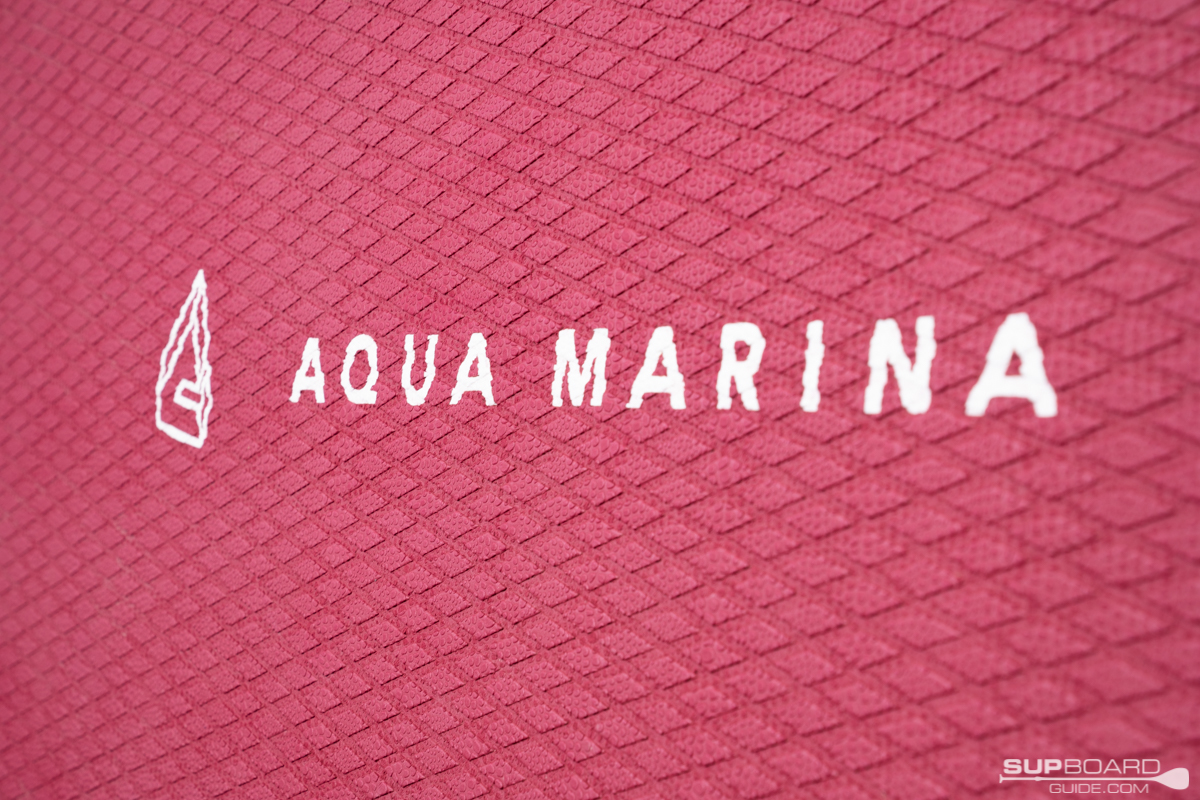 As we stated with the Aqua Marina Atlas, we really enjoyed the Coral's deckpad, as it's fairly comfortable yet very grippy. Last but not least, we love the addition of the raised kick-pad, as it contributes to phenomenal maneuverability on this 10'2 SUP.
Included Accessories: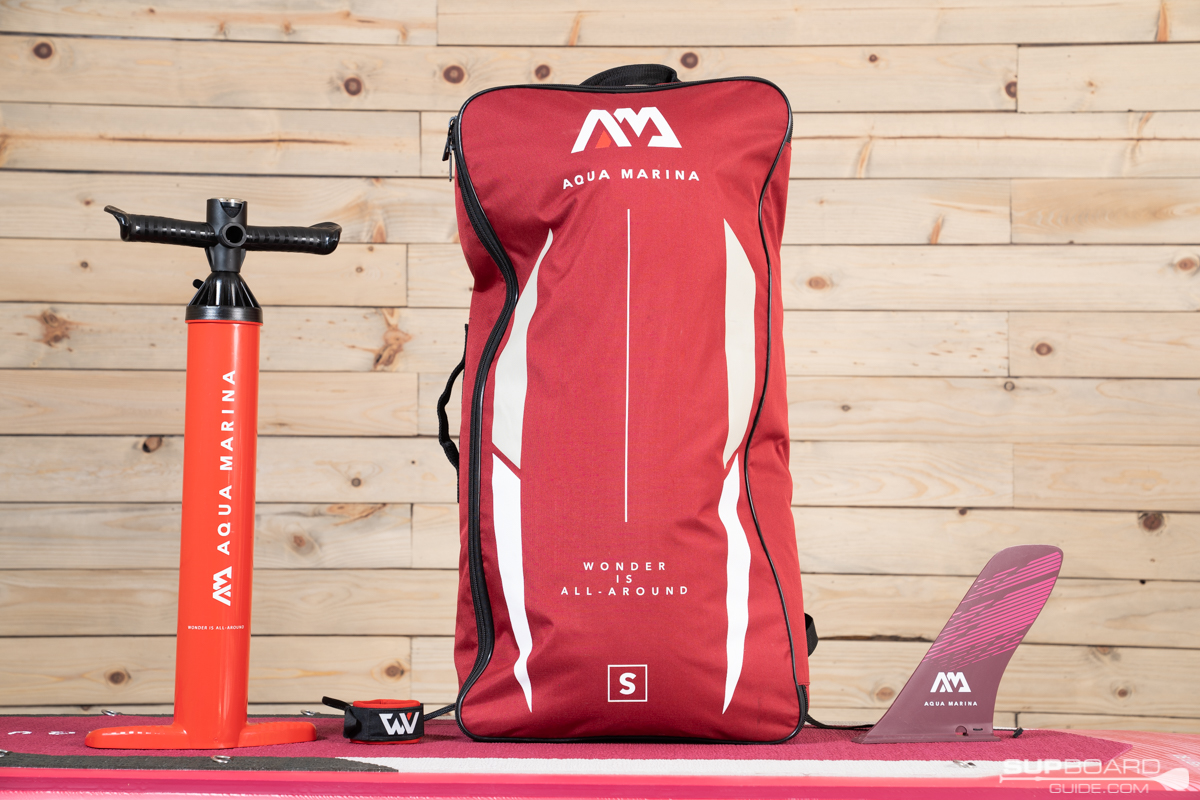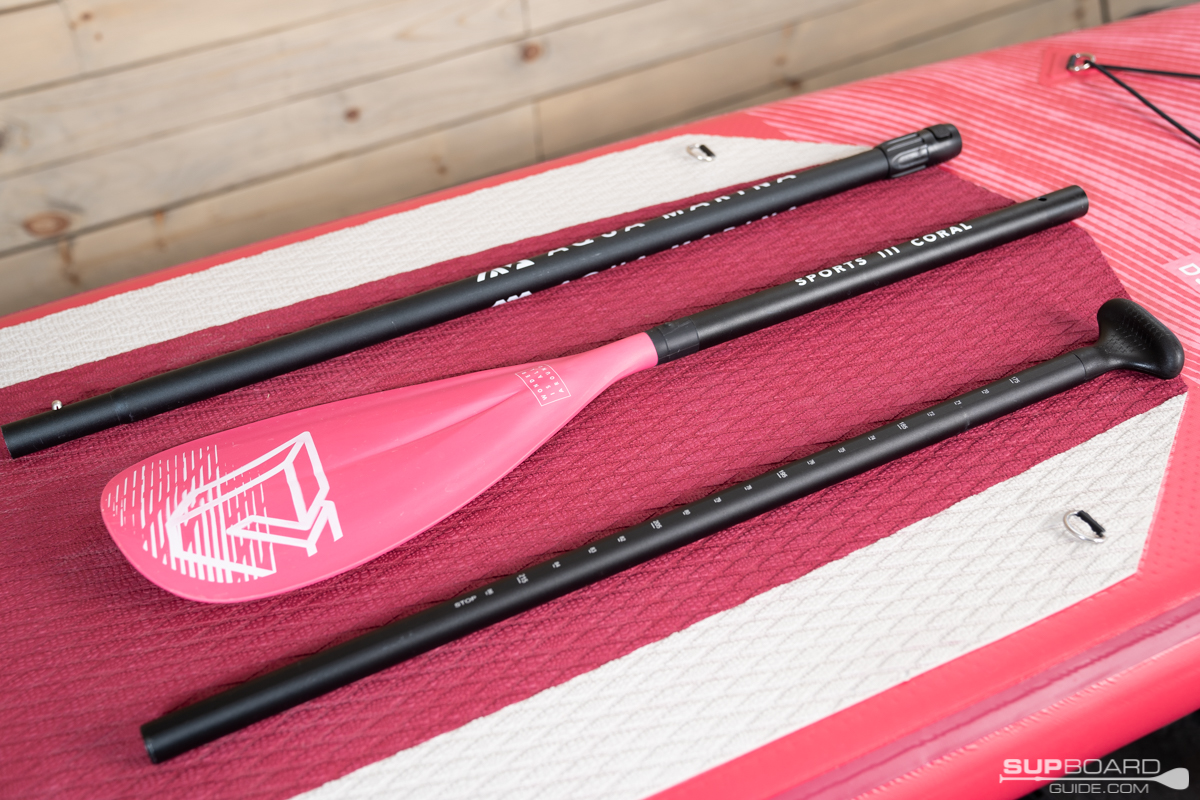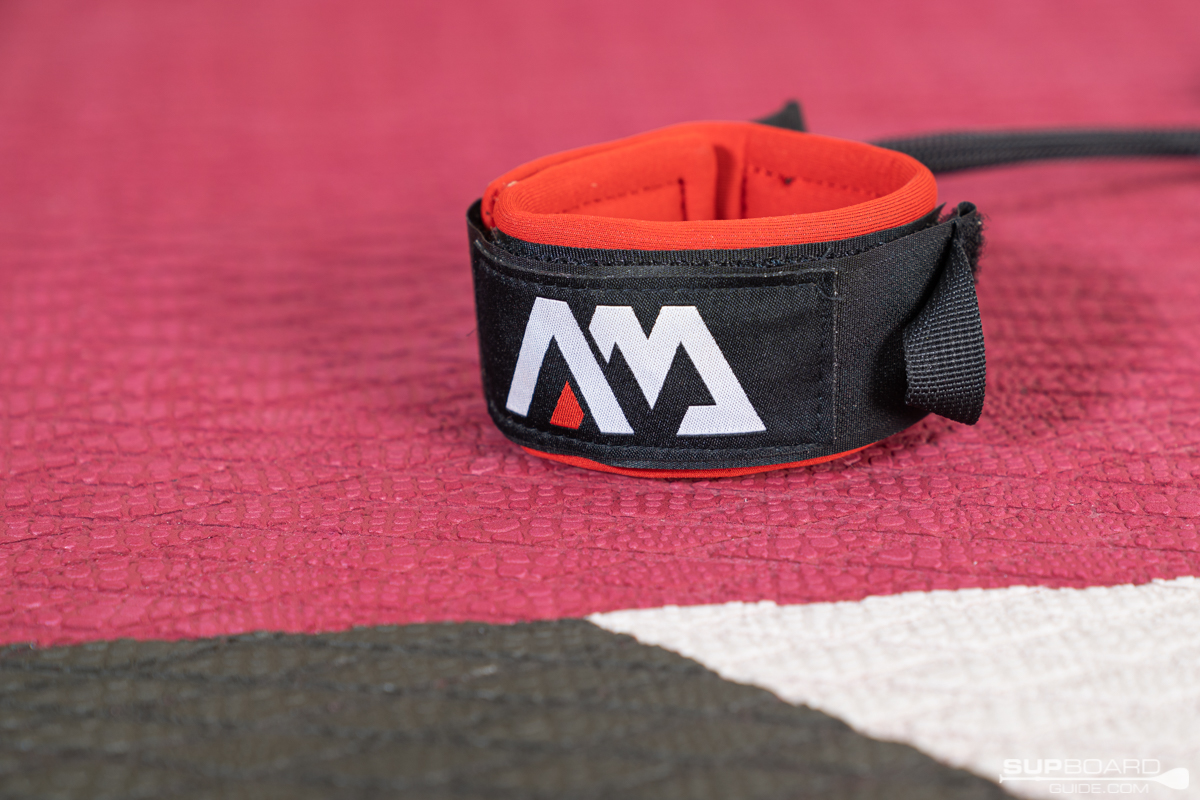 With each Aqua Marina SUP, you'll receive the following:
3-piece aluminum paddle
Single chamber hand-pump
Leash
Carry strap
Slide-lock center fin
SUP backpack (no wheels)
Though we were fairly happy with the Coral's performance on the water, we were disappointed with some aspects of the accessory kit including the paddle, leash, and backpack.
Starting with the paddle, we'd like to see Aqua Marina switch to a fiberglass or carbon blend shaft. The current aluminum shaft is not what we'd expect from a SUP in this price range, and is too heavy to use for and enjoy during longer paddling sessions.
Moving to the leash, it's also just not the quality we'd expect from a mid-priced SUP. We'd prefer a more standard full-swivel coiled leash instead of Aqua Marina's current mesh/cord leash.
The backpack, again, is simply a lower quality than we'd expect. In the future we'd like to see Aqua Marina opt for a backpack with padding on the back as shoulder straps, as well as a sturdier material and zipper.
Summary Review of the Aqua Marina Coral 10'2 iSUP
As we explained in the beginning, the Aqua Marina Coral 10'2 'Advanced' All-Around is well-suited to smaller, short paddlers.
We like that the 10'2 length still provides enough longitudinal (nose to tail) stability, while the 31" width provides plenty of lateral (rail to rail) stability without hindering the paddler's form.
Performance wise, the Coral 10 '2 is light enough to gain speed relatively easily, but needs some more lift in the rocker to fully gain our seal of approval. Where it truly shines is in maneuverability, as the shorter length and lightweight allow it to change direction with little effort and the kick pad makes stepback turns super effective and manageable for novice paddlers.
In short, we think the Coral 10'2 from Aqua Marina has some potential to be a great option for smaller/shorter paddlers, but it needs a few tweaks in its design, construction, and included accessories before we can fully recommend it to our readers. In the meantime, we'd suggest reading through our lists of Best Inflatable SUPs of 2023.
We hope you've enjoyed reading through our review of the Aqua Marina Coral 10'2 'Advanced' All-Around SUP. If you have any questions or feel that we left something out, don't hesitate to reach out in the comments below.
The following two tabs change content below.
SupBoardGuide
Heyo! At SupBoardGuide.com we are a team who love the water, the outdoors, and are more than grateful that our full-time job allows us to review stand up paddle boards. We paddle year round (it helps that we are just about 2 hours outside of Las Vegas), and we bring in a wide range of paddlers with the goal of providing our readers with the best, most in-depth, and accurate stand up paddle board reviews.
Latest posts by SupBoardGuide (see all)