Honu Fairlight 10'9 All-Rounder
Pros
VERY Lightweight at just 17.8lbs, which is even more impressive given the board's high performance
Well placed raised kick pad makes step-back turns much easier
Stable for heavier paddlers
4.7" thickness lowers your center of gravity = more stable feel and better performance
Triple layer rails adds stiffness and durability against scrapes and knocks
Priced competitively
Cons
Would appreciate if the cargo area is moved up to have more deck pad on the SUP.
It's all right there in the name: the Honu Fairlight 10'9'' is fair in that it's balanced across all of its core capabilities + inclusive to larger paddlers, and it's light in that it's only 17.8 lbs!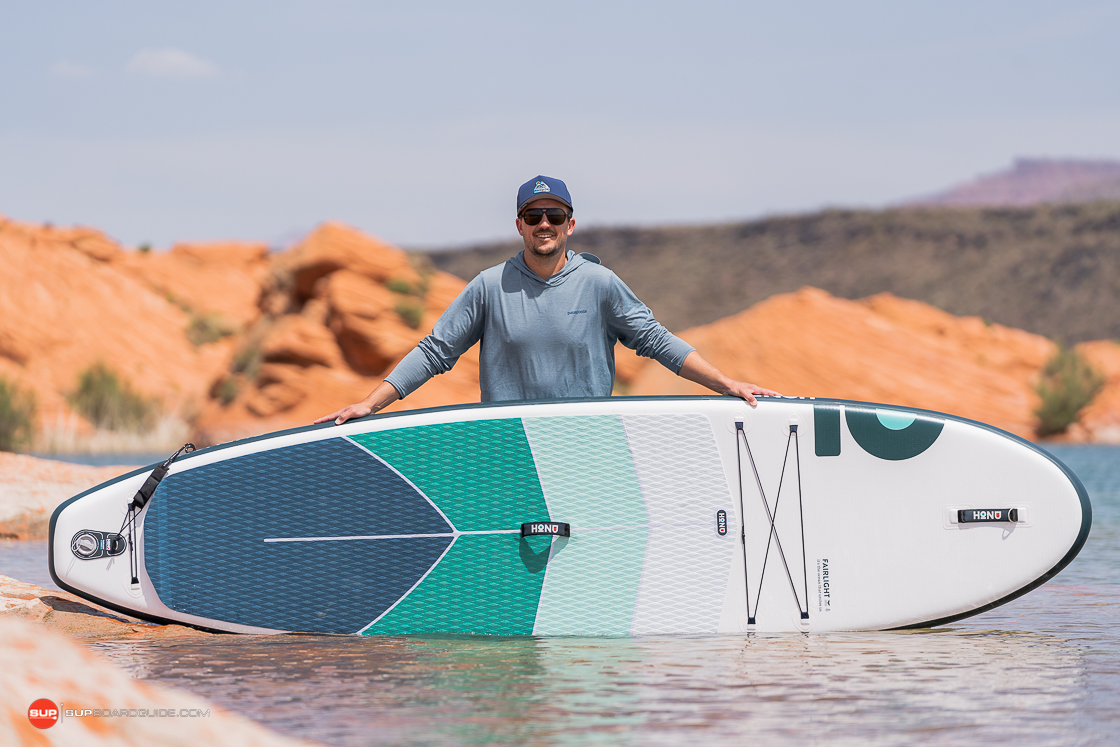 One of my personal favorite parts of writing Honu SUP board reviews has been learning more about the Australian beaches or references from which they're named. When I looked up Fairlight Beach (the namesake for the Honu Fairlight 10'9 All-rounder) I was met with an image that's a stark contrast to Australia's usual wave-pounded coast.
Surrounded by rock pools and backed with a grassy shore, Fairlight Beach enjoys flat, calm waters and is loved by families and picnic-ers looking for a safe, mellow place to unwind. It's described as a hidden gem and the perfect place to get away from the fast pace of heavy surf and packed beaches.
Aptly named, the Fairlight 10'9 All-rounder provides a more relaxing paddling experience. Though still just as performance focused as its little sibling, the Honu Byron 10'6, The Fairlight is an inch wider and 3 inches longer, adding volume and stability that is most appreciated by taller heavier paddlers or those bringing along gear/a passenger.
The Honu Fairlight 10'9 is a great choice for paddlers who find 10'6 by 32" all-arounds like the Honu Byron just a bit too small. The Fairlight 10'9 is that perfect balance between just enough added volume for paddlers in the 200+ lb range without compromising board weight or maneuverability. In short, the Fairlight adds slightly more stability while remaining a lightweight, rigid, 4.7" thick iSUP.
We think the Honu Fairlight 10'9 would be great for paddlers who are:
Weigh between 150 – 265 lbs
Are needing a performance-oriented all-around that brings you closer to the water for a lower center of gravity + awesome on-the-water feel
Want a SUP that will do well in a variety of environments and last season after season
Need a SUP to handle a variety of conditions, from flat water to chop or ocean paddling
Honu Fairlight 10'9: Spec Sheet
Main Category: All-Around, Inflatable
Board Dimensions: 10'9 X 33" X 4.72"
Listed Board Weight: 17.8 lbs
Listed Max Capacity: 265 lbs
Recommended PSI: 20
Fins: Single fin, US split fin box
Paddle: not included

*Honu offers a variety of high quality paddles for additional purchase, and a discount is provided if you bundle it with your SUP.

Materials: X-woven fused drop stitch with triple layered rails
Warranty: 4 years
Performance Review of the Honu Fairlight 10'9 Stand Up Paddle Board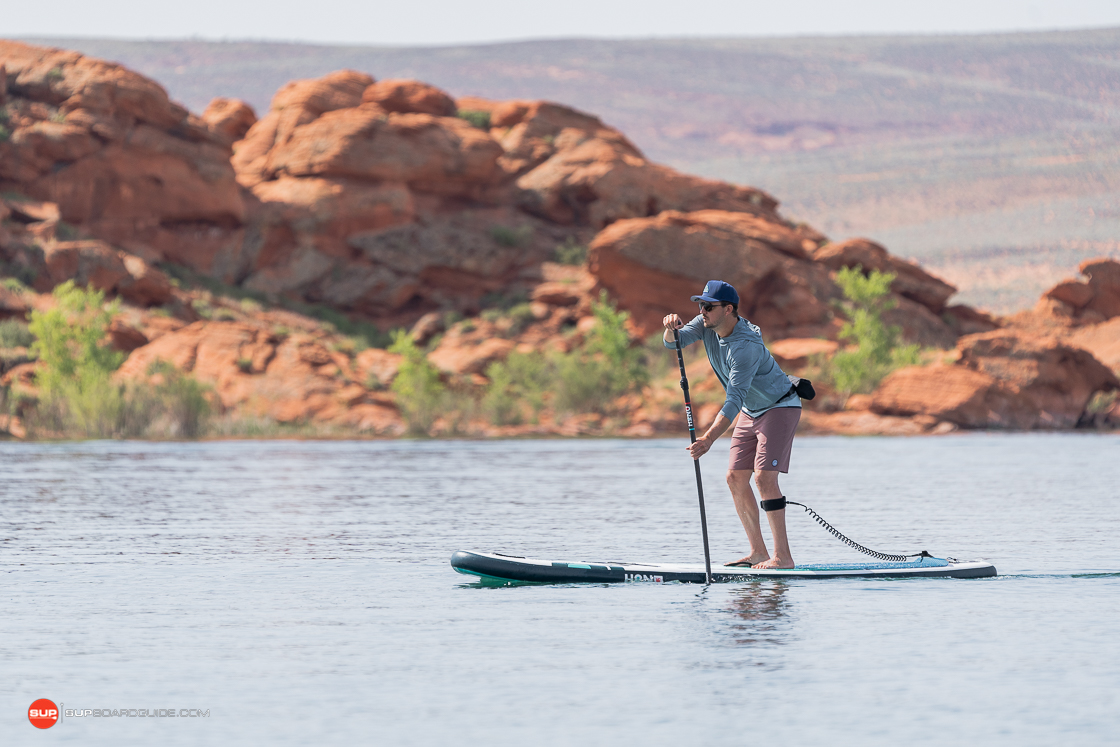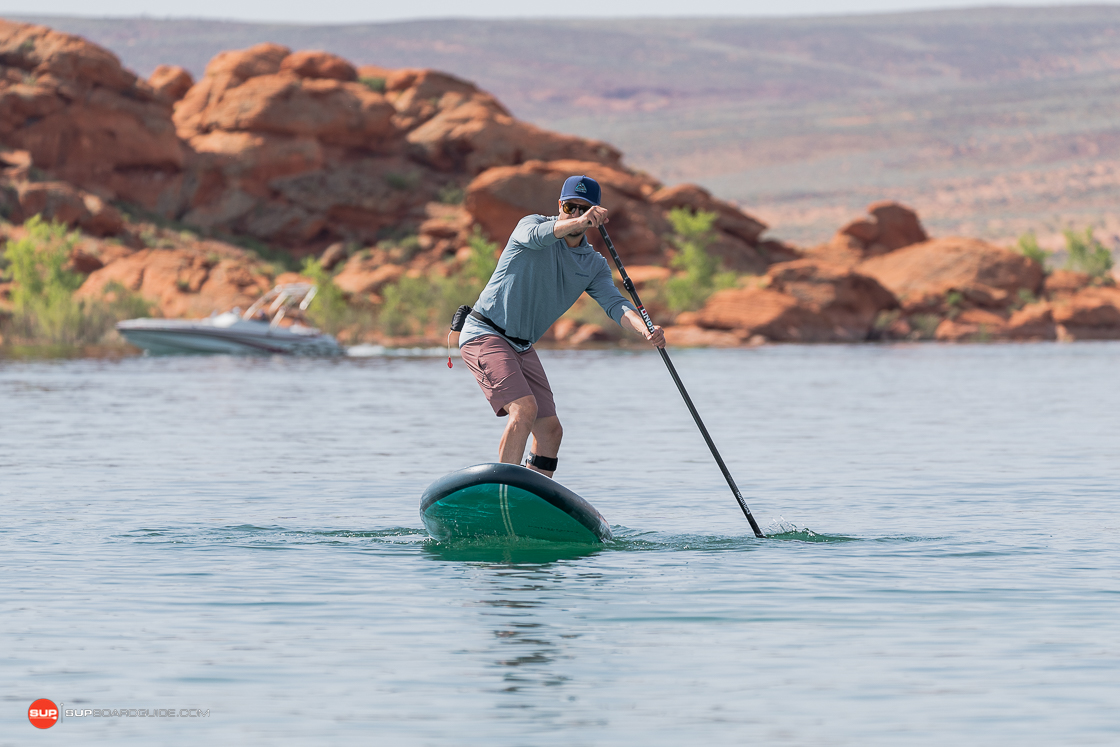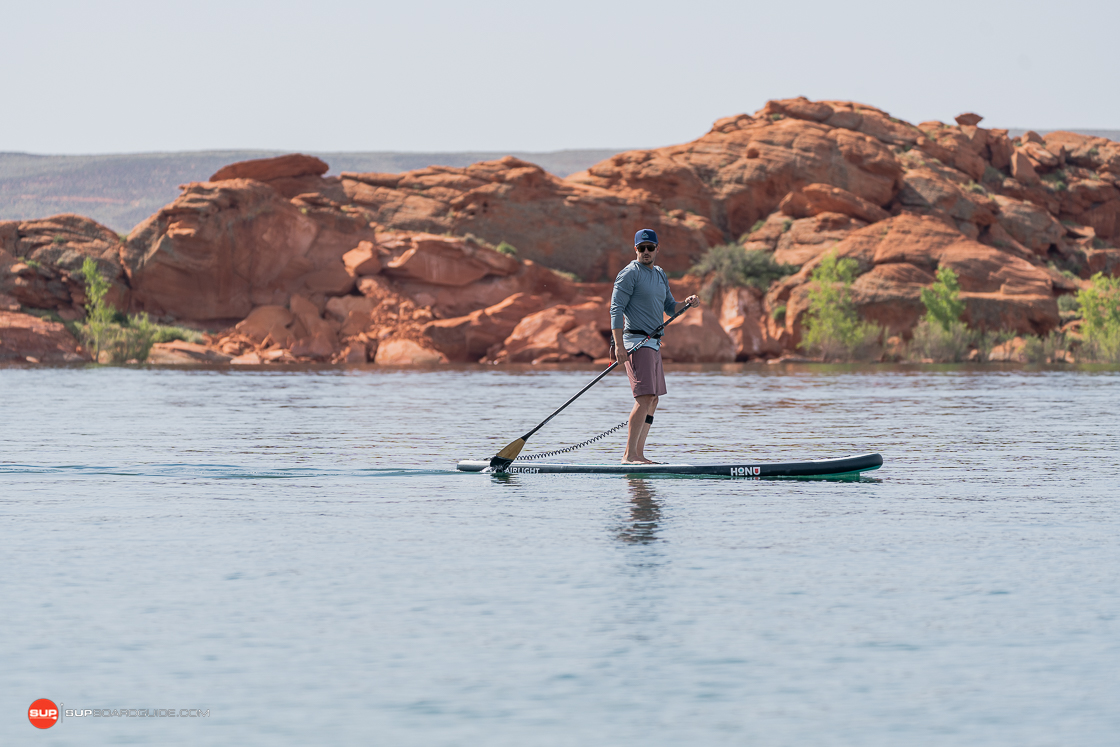 Overall Score: [9.5/10]
Stability: 9/10
Speed: 8.7/10
Tracking: 8.9/10
Maneuverability: 9.8/10
Construction Quality: 9.8/10
Features/Accessories: 9/10
Stability Rating: [8.9/10]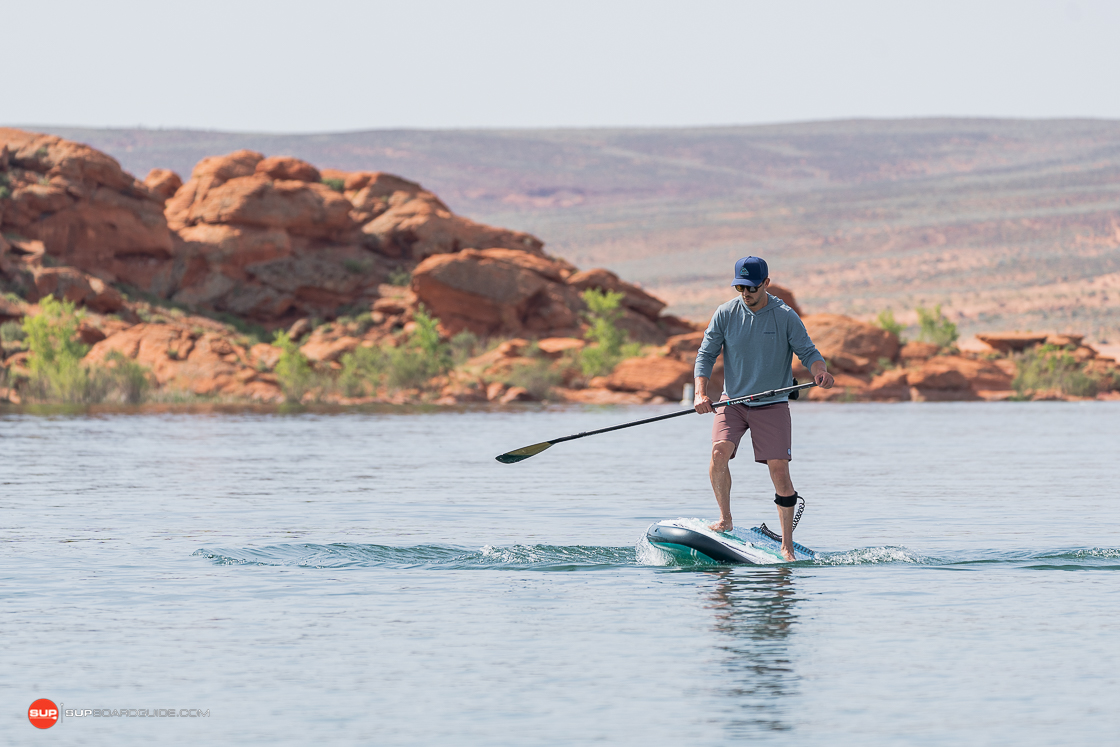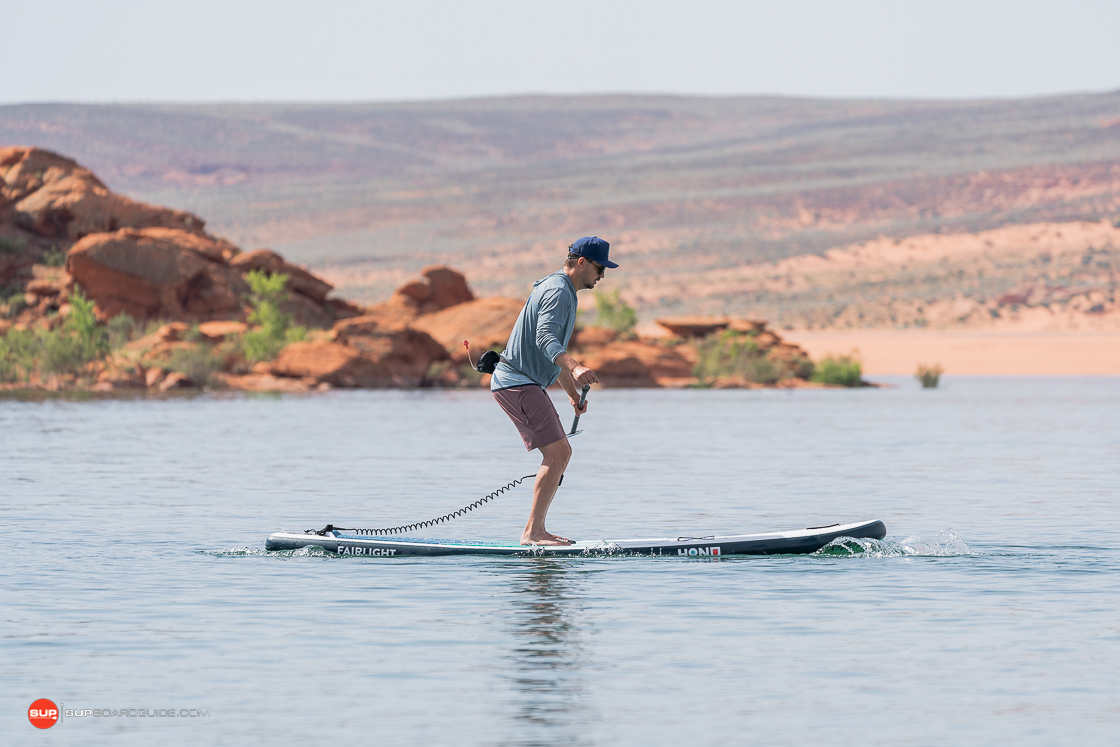 Compared to its smaller counterpart, the Honu Byron, Honu's Fairlight 10'9 x 33" all-around SUP is just slightly more stable on the water. The added volume would be most appreciated for paddlers in the mid-upper 200lb range that find the Byron just a bit too small for them and any gear they plan to bring along.
We also want to point out here that the Honu Fairlight is 4.72" thick, compared to the usual 6" for most iSUPs, meaning you'll have a lower center of gravity and feel more stable in chop or small waves.
Speed Test: 8.5/10
The Fairlight left us pleasantly surprised by its speed test. Justin, who better fits the Fairlight 10'9 ideal paddler size, found it to be a bit faster than the Honu Byron. Being a taller, heavier paddler than I, the 33" width and extra 3" in length gave Justin just a bit more volume and rigidity to be able to add power to his stroke in the Sprint test.
This SUP is just a bit too big of an all-around for someone my size (5'2 x 140lbs) to get it moving as fast as it is capable, but it still felt very easy to paddle.
As for casual paddling, we both felt that the Fairlight was easy to get up to a cruising pace, especially at just 17.8 lbs.
SUP Board Guide's Speed Testing:
To obtain our speed test results, we use a Speed Coach Sup 2. This gives us accurate readings on how fast we are paddling and our current stroke rates. For the top sprint speed, we paddle as hard as we can for approximately 10-15 seconds and then record our average speed. For the casual test, we paddle at 40-35 strokes per minute for approximately 30-60 seconds and record the average speed.
Tracking: 9.2/10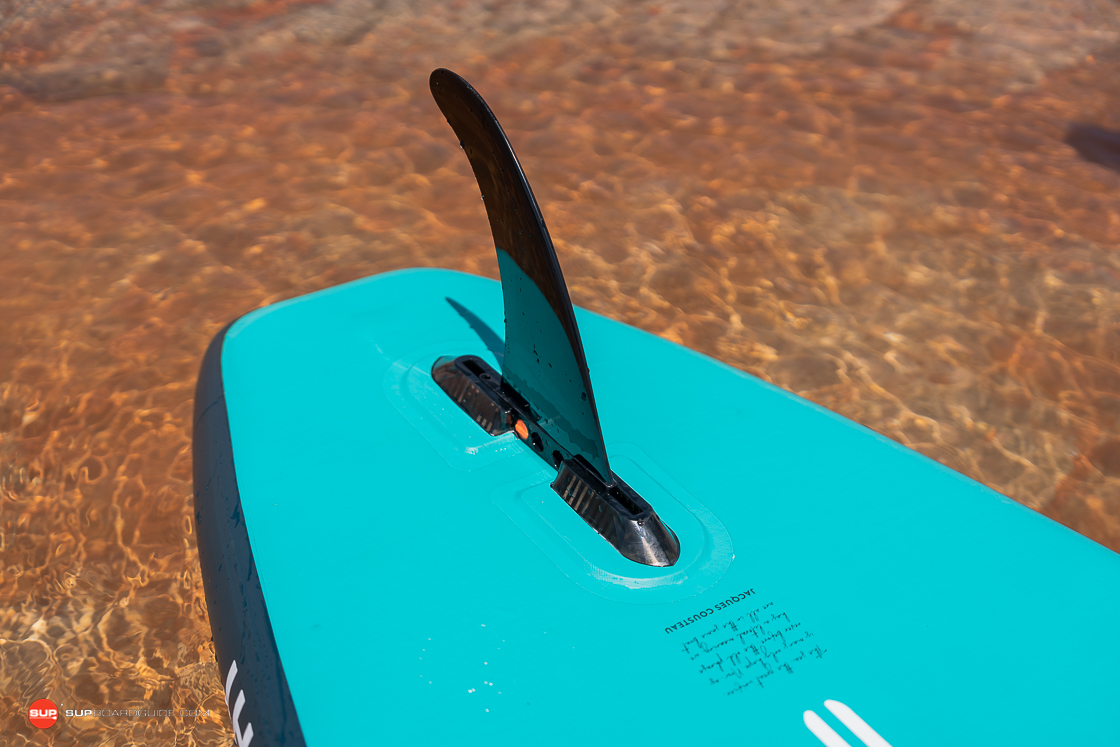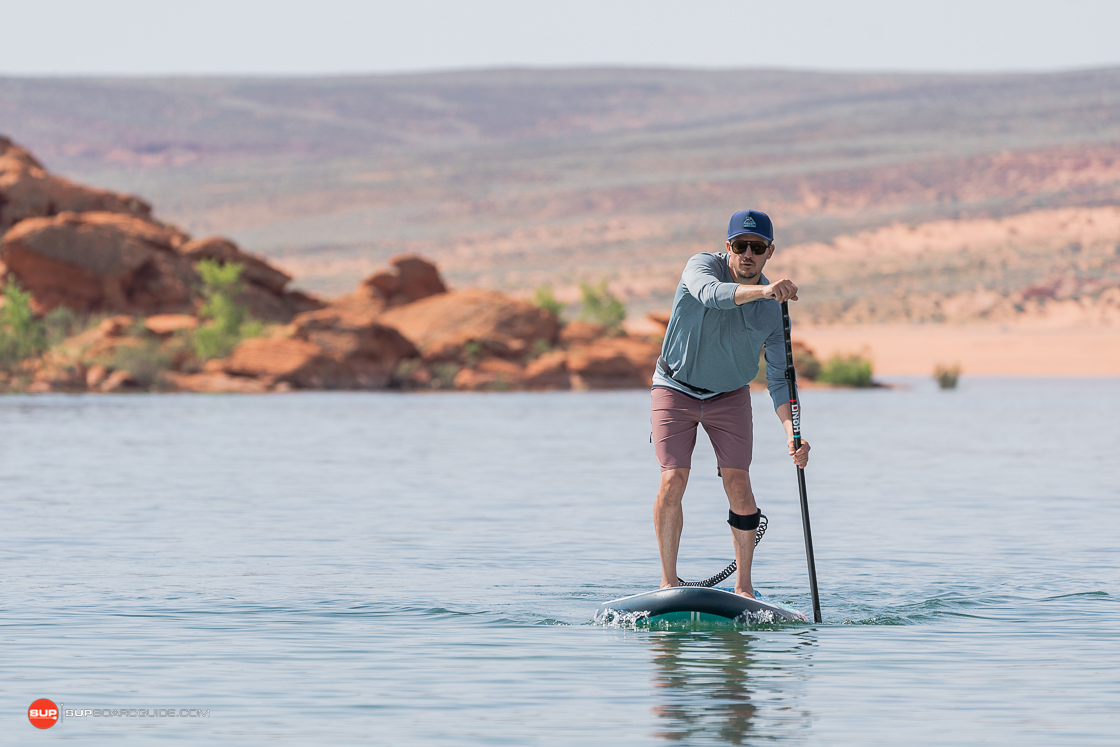 The Fairlight's tracking is on par with the rest of its abilities: highly capable and reinforces our good feelings towards the Honu boards. The Fairlight is 33'' wide, so if you're a shorter paddler you may have an easier time paddling and staying straight on the Honu Byron (32'' wide). As an all-around, this SUP will track exceptionally well for someone like Justin (5'11 x 180) that is a better fit for its size and can more easily maintain a better stroke on a 33" wide SUP.
However, one inch is not going to make a huge difference in your tracking abilities if you can plunk your paddle into the water at a vertical angle and put some strength behind your stroke! It's a non-issue if you are going out there to have a fun, casual time.
Maneuverability: 9.4/10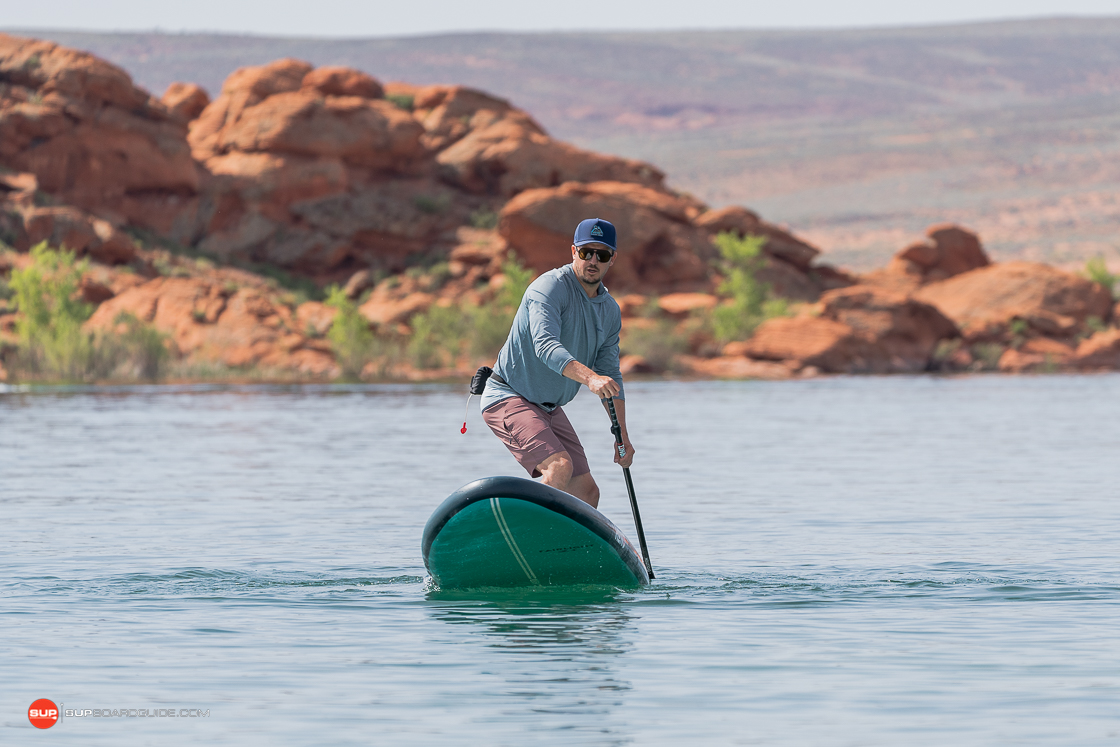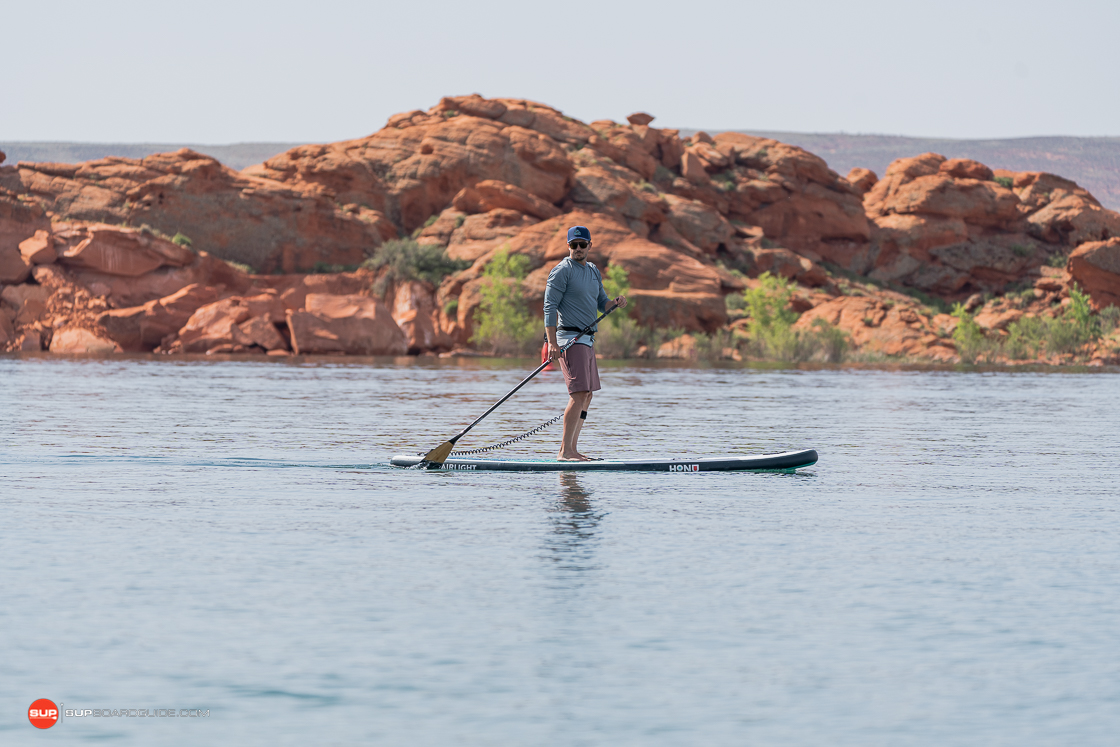 Being that the Fairlight 10'9 is notably stable and only 17.8 lbs, it more than met my expectation when it came to maneuverability. Casual turns don't take much effort at all since you're not redirecting a heavy SUP and stepback turns feel much easier due to the solid feeling the Fairlight has when on the water, in terms of both its rigidity and stability.
Even further, Honu added a well-placed raised kick pad that enables you to put your foot in the perfect spot every time to sink your tail into the water and pivot in any direction.
Construction Quality: 9.8/10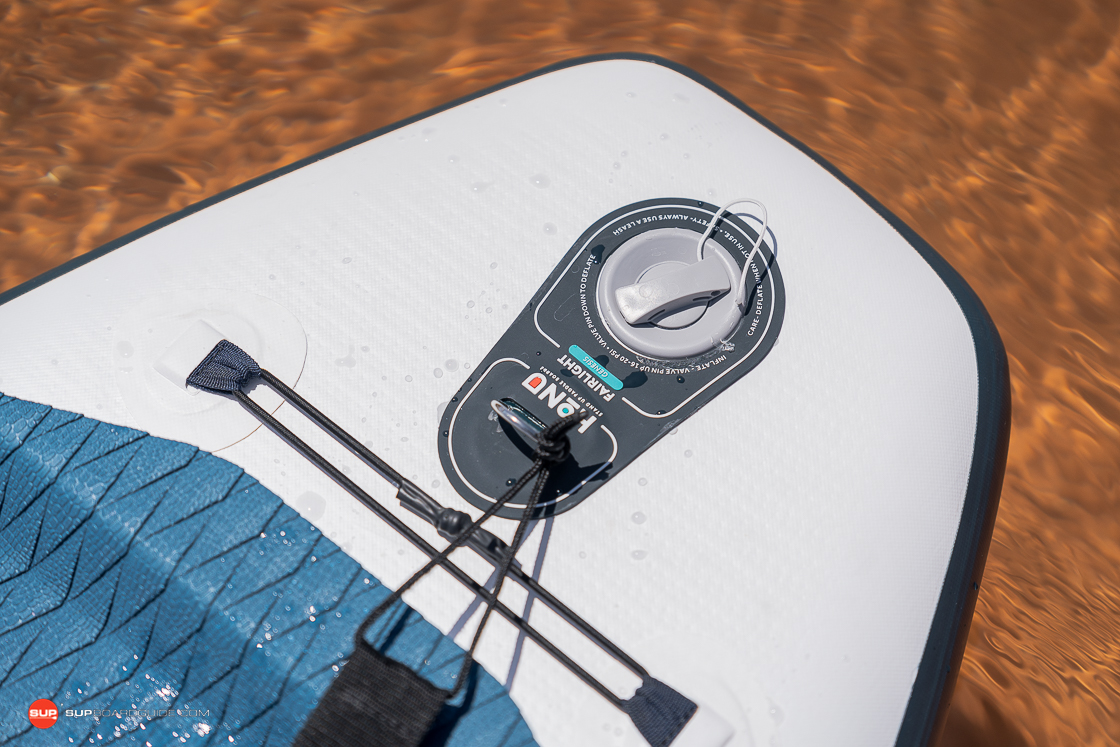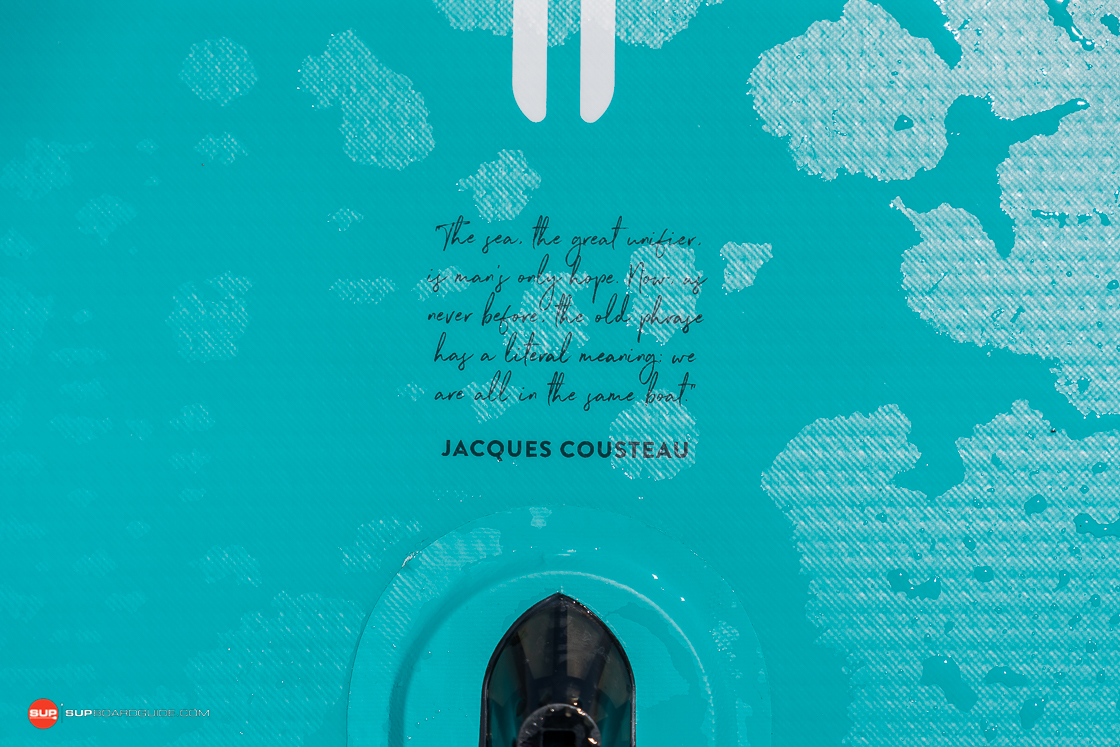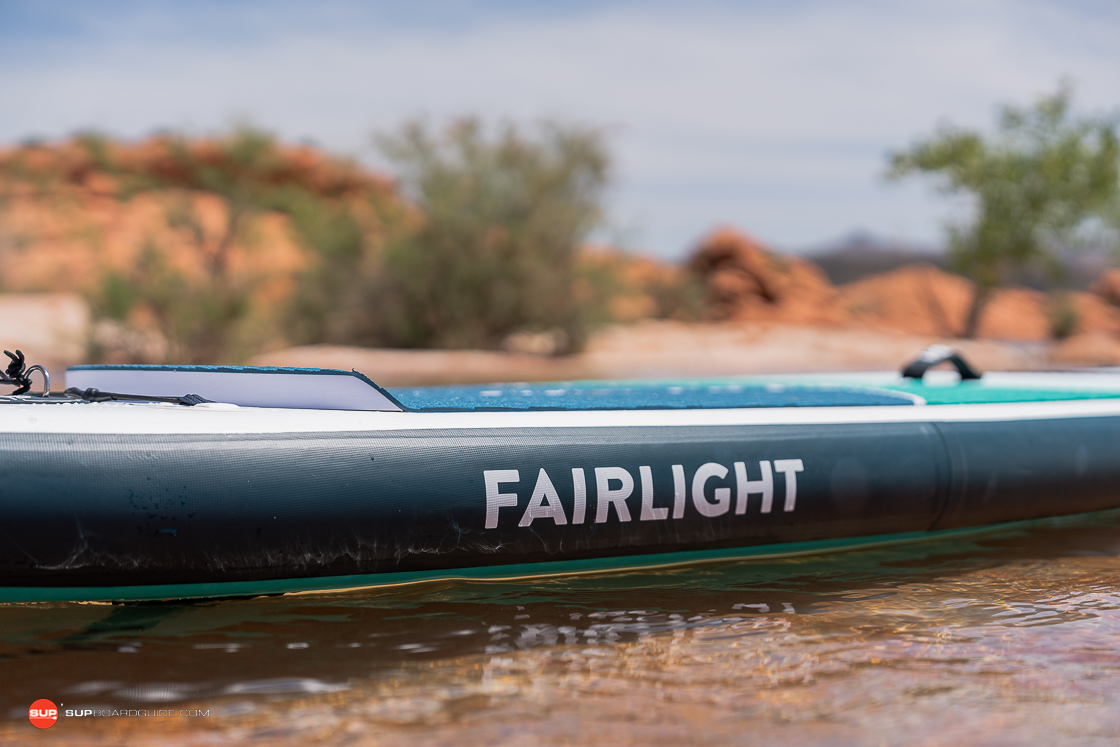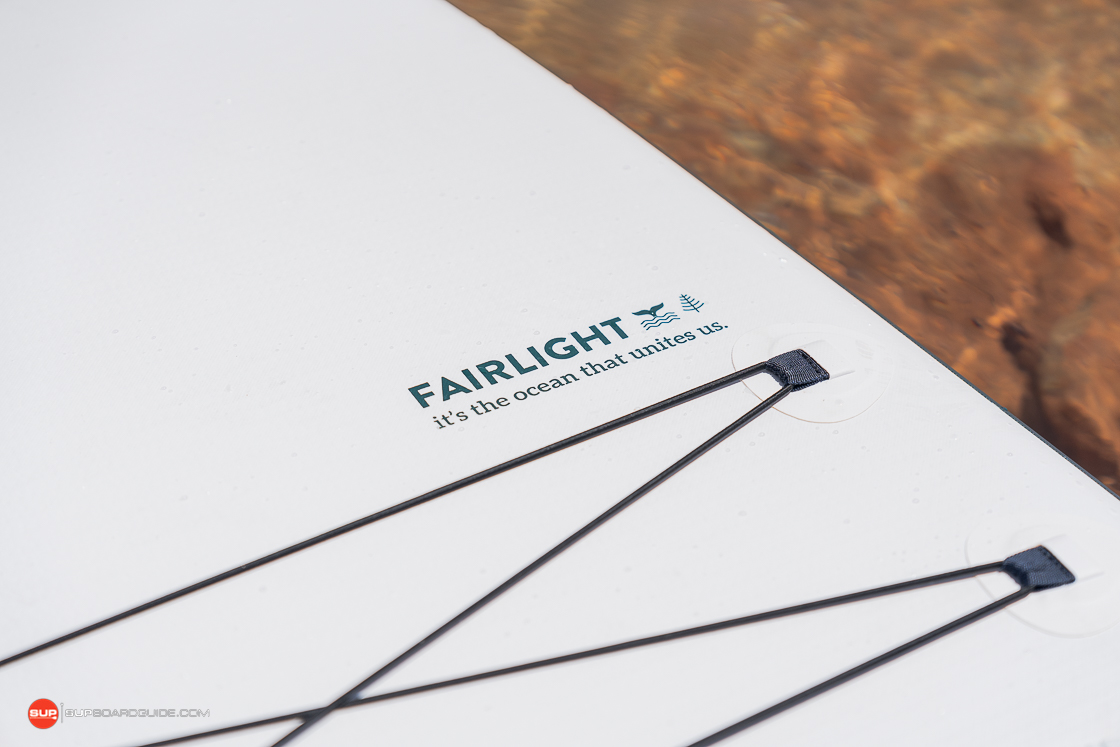 Both the Fairlight 10'9 are constructed with a cross-woven drop stitch core and 2 layers of fused PVC on the deck and bottom.
Honu's choice to fuse PVC together and to the fabric layer with heat instead of glue avoids adding excess weight in adhesive and is one of the reasons Honu can keep their boards so light.
Once the PVC has bonded, Honu then adds what they coin as 'genesis construction', which is triple layered rails. Mark Travers, Honu's most recent head honcho, credits genesis construction for the characteristic rigidity of these boards.
Mark also explained how heavily Honu monitors their quality control, and joked that they must be driving their manufacturer insane. From what we see, the effort is well worth it and shows in the fine details of these SUPS.
Board Stiffness: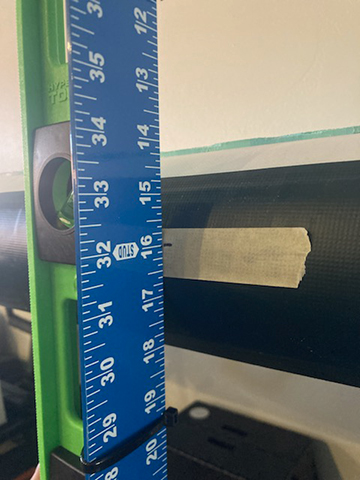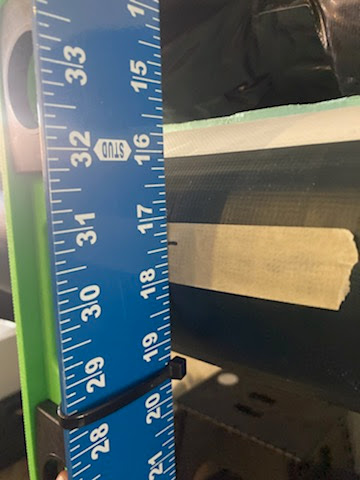 Stiffness Test: 1.375" Bend
SUP Board Guide's Bend Testing:
In order to attest to the rigidity of each board, we use a bend test curated by Supboardguide. In order to obtain the results, we inflate the board to its maximum recommended PSI and then place it across two sawhorses that are 7 feet apart. We then take a measurement in the middle of the board. Then, we place 150 lbs worth of sandbags on the middle top of the SUP. Last, we record its displacement (the movement from its original position). We use this method for every board we test as a way to mathematically compare boards across a common denominator.
Our bend test is done by placing the SUP on top of two sawhorses that are 7' apart. We then place 150 lbs on the board's midpoint (usually right around the handle) and measure how much it bends under the weight. We know this is not indicative or replicative of how the SUP behaves underweight in the water, but it helps us to verify the construction of each board and compare it against others that are similar in construction to better understand how certain processes and materials contribute to stiffness.
Compared to other 4.72″ thick iSUPs like the 11′ Red Paddle Co Compact, the Fairlight did extremely well in our bend test and was on par with its smaller counterpart the Byron 10'6. This shows us that Honu is not only consistent in their construction but also ahead of the pack when it comes to thin, lightweight, SUP construction.
Features/Accessory Review: [8.5/10]
The Fairlight 10'9 has a shorter, less cluttered looking feature list than other versatility focused all-around options on the market. However, there are still 2 carry handles and space to store a couple of dry bags in the 4-point front cargo area as well as space to stow your paddle in the rear bungee.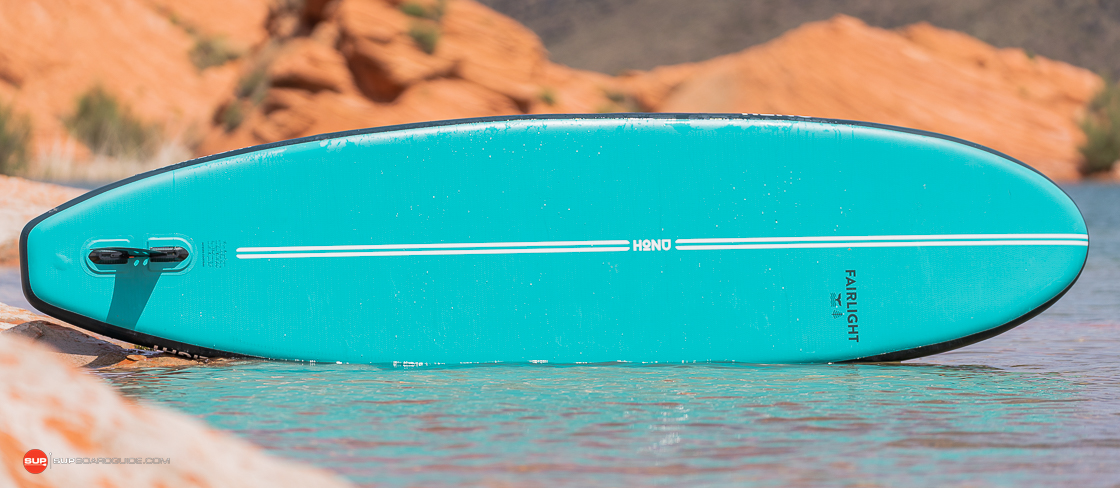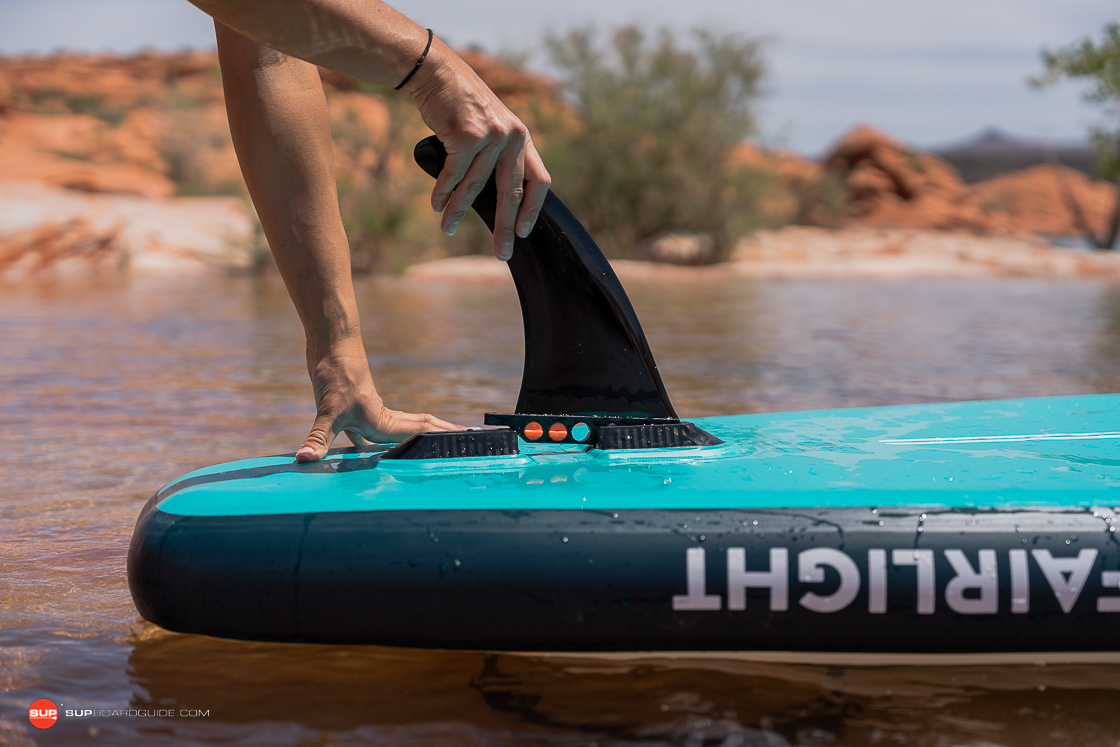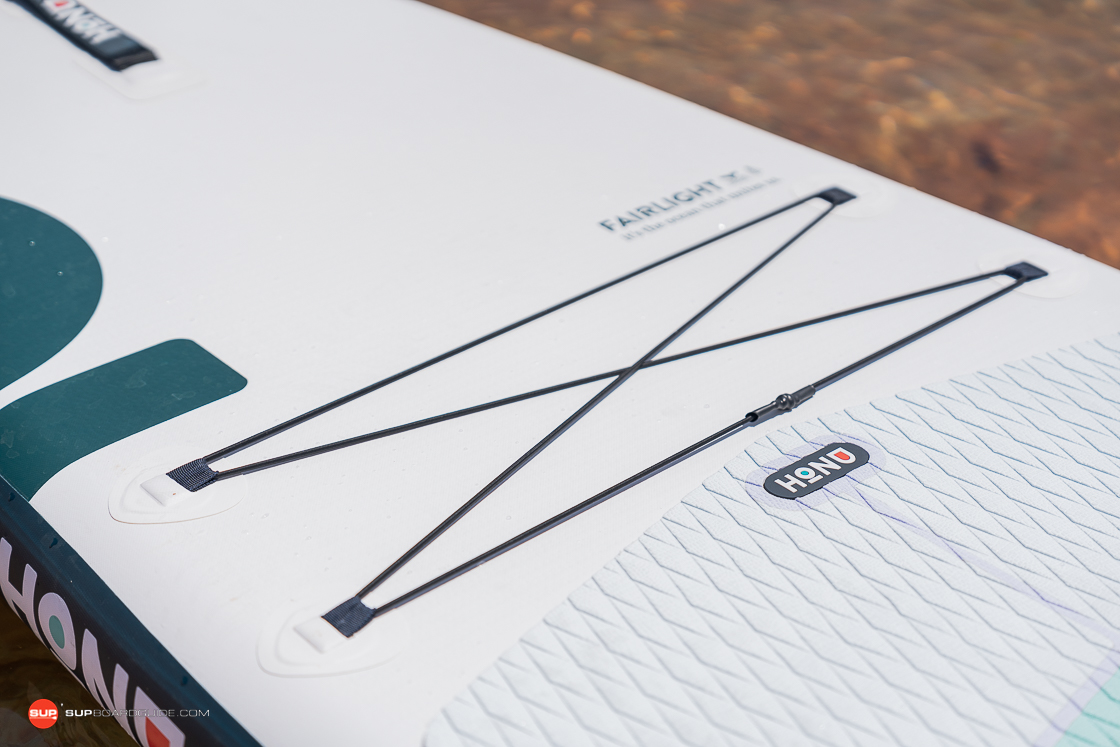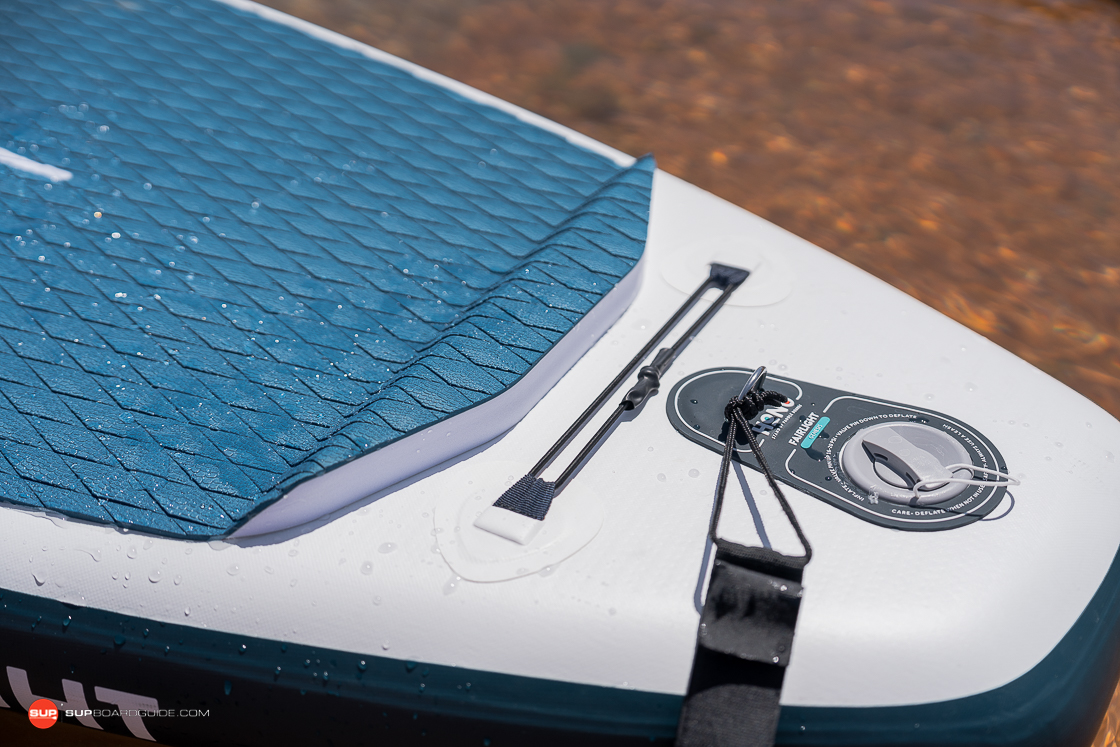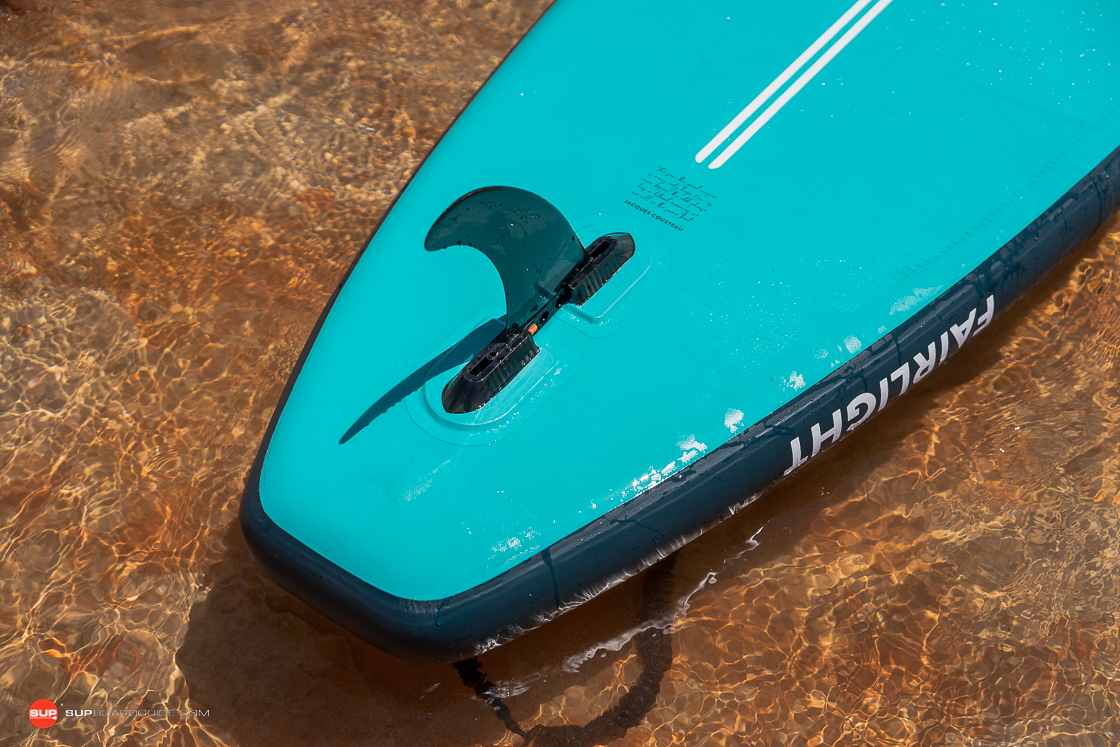 We were stoked to see that Honu chose to forgo the hard metal D-rings on the cargo areas for soft nylon loops that you won't have to worry about knocking into should you fall off your board or bump your SUP against your car or truck. I also appreciated Honu's soft diamond patterned deck pad that helped my feet stay cushioned but also provided a decent bit of grip. Lastly, the raised kick pad is a great touch on this SUP, not only does it help tremendously when it comes to balance during a stepback turn but it also is so well placed that your foot will be right over the top of the fin every time for a tight, stable turn.
Included Accessories: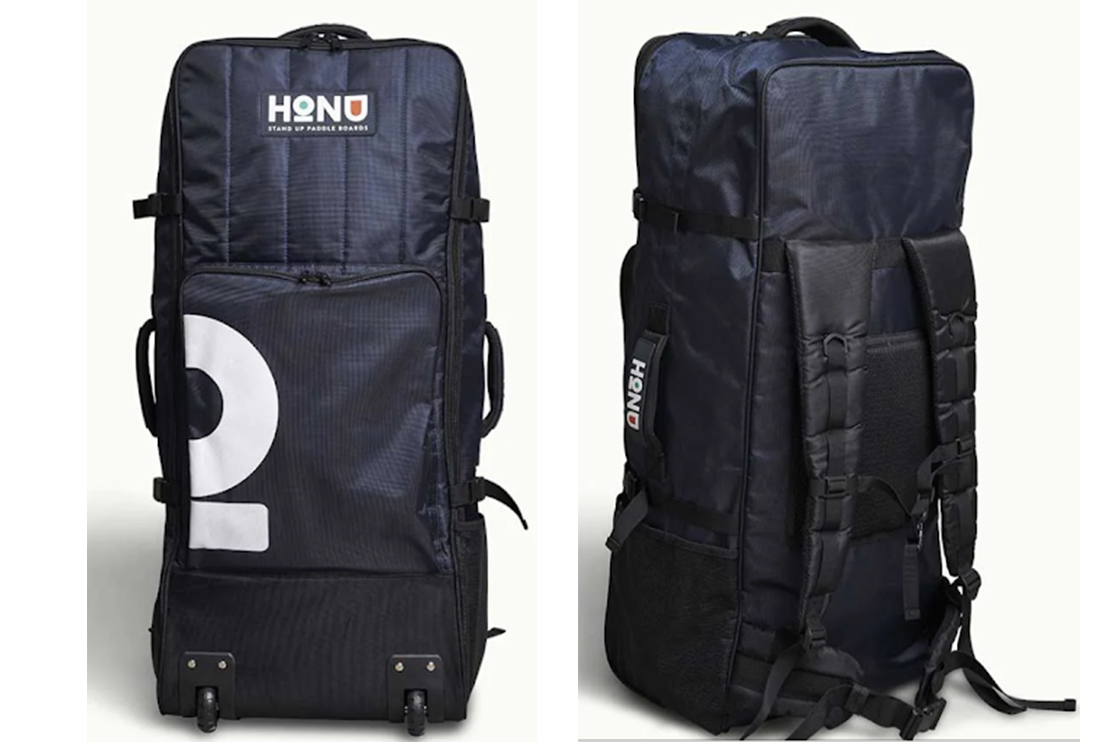 Listed below are the accessories that come included with the Honu Fairlight 10'9:
Roller backpack (with front zipper compartment)
10' coiled leash
9'' Touring click in fin
I personally really like Honu's backpack as I find the board fits really easily, even if not rolled up super tightly. I also love that there's a front zipper compartment for your fins and leash. The bags have been upgraded and now have more durable material and super strong zippers. They are also more comfortable on your back!
As far as the FCS II fin goes, I love the convenience of not needing any tools, but would just recommend being careful not to knock your fin on anything as it's somewhat easy to pop out.
As a final note here, you'll notice that Honu does not provide an included paddle in their kit. This is typical of performance focused SUPS, as many paddlers searching in this market will already have a paddle of their own that best suits their paddling style and size. Otherwise, Honu does offer a selection of great paddles that you can bundle with your board for a discounted additional purchase.
Summary Review of the Honu Fairlight 10'9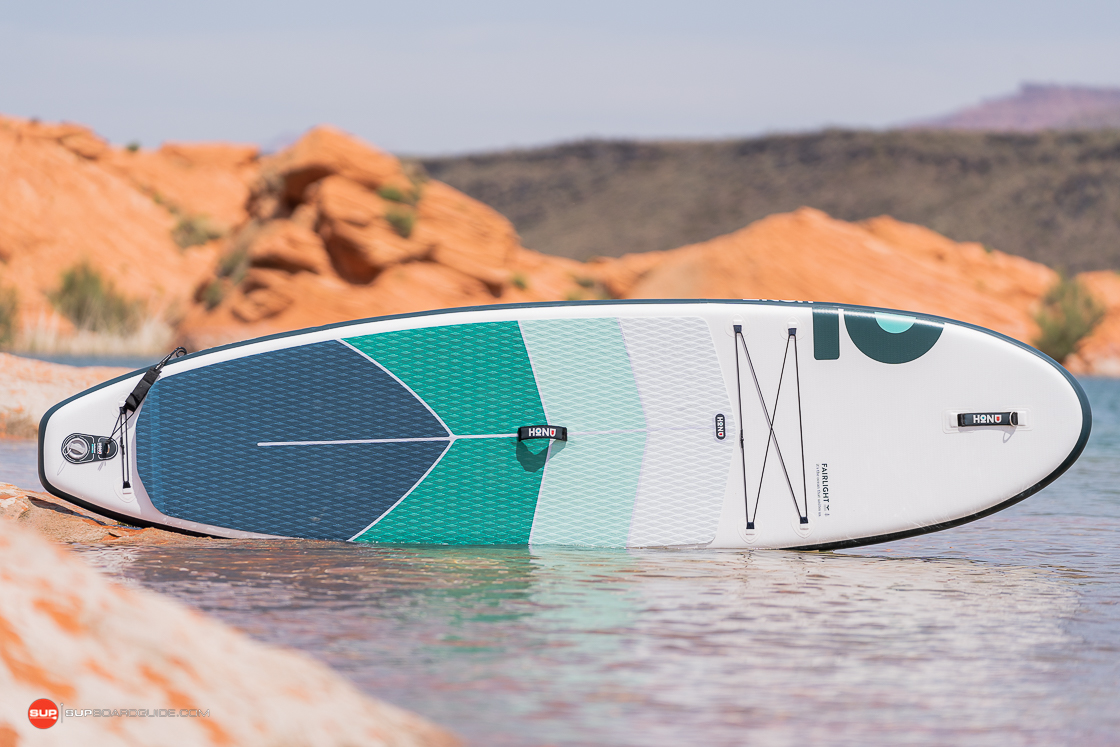 Long story short- the Fairlight 10'9 could be best described as the big brother of the Honu Byron. At 33" wide and 10'9 long, it has just a bit of added volume and stability that larger paddlers will benefit from if the Byron 10'6 isn't quite right.
I think at this price point, the Fairlight makes a great performance focused all-around for a paddler that wants a high quality board to take with them across multiple environments.
The Fairlight is stable, lightweight, rigid, maneuverable, exceptionally well constructed, and backed by a solid warranty program. It is already a fantastic SUP and I am super excited to see it develop even further in the future with Mark Travers now leading the company.
The following two tabs change content below.
SupBoardGuide
Heyo! At SupBoardGuide.com we are a team who love the water, the outdoors, and are more than grateful that our full-time job allows us to review stand up paddle boards. We paddle year round (it helps that we are just about 2 hours outside of Las Vegas), and we bring in a wide range of paddlers with the goal of providing our readers with the best, most in-depth, and accurate stand up paddle board reviews.
Latest posts by SupBoardGuide (see all)