Honu Sorrento 12'6 Touring iSUP
Pros
Lightweight 21.6 lbs
Impressive stiff construction
Excellent tracking capabilities
Well-designed for speed
Raised kick-pad
2+2 Warranty
Cons
Not the most stable for beginners (this is always a trade off with speed though and intermediate to advanced paddlers will love this board)
We'd like a better hand pump for a SUP that has a max of 20 PSI.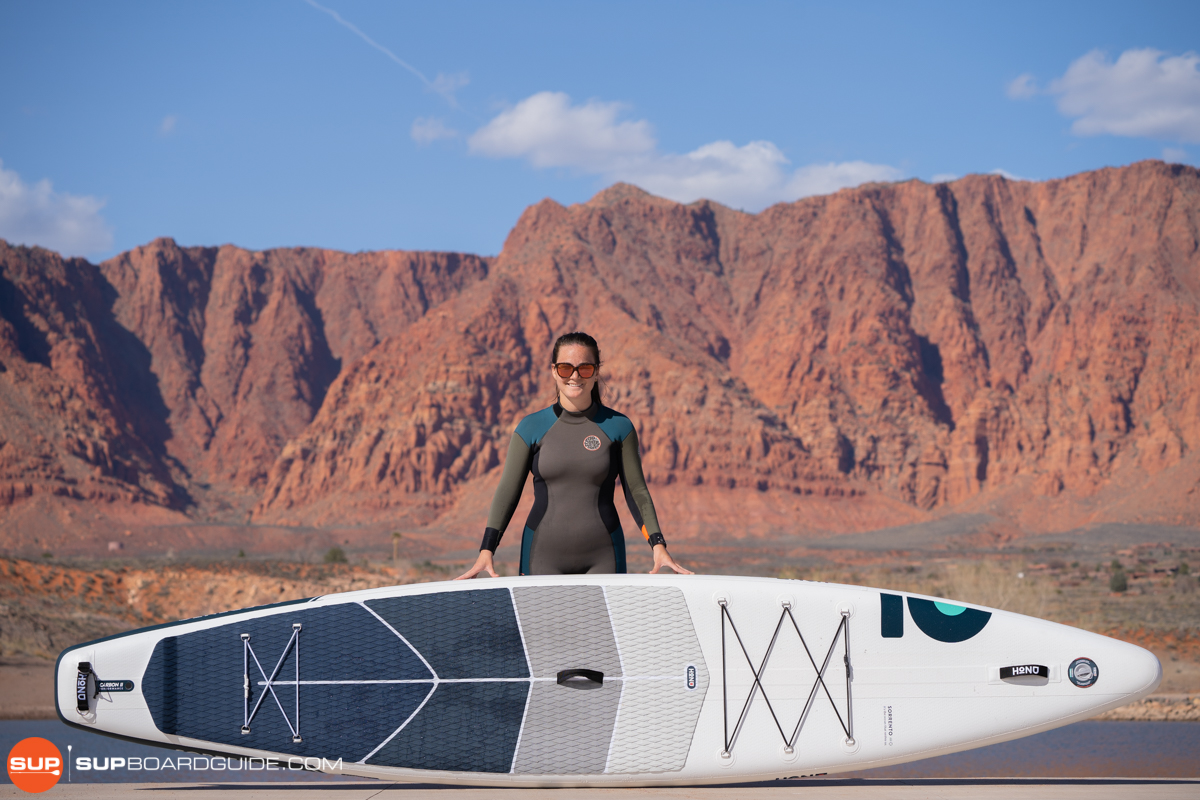 I'll let you know before we even get deep into this review that the Honu Sorrento 12'6 Touring SUP is currently my personal favorite board, and I assure you that I am extremely picky, especially when it comes to touring boards.
Before you roll your eyes at that, let me give you a little bit of backstory. Back when I was in college (a whopping 1 year ago) I spent every Summer working as a SUP guide/instructor for a rental shop in Cape May, NJ. We offered 4 tours per day, each lasting about 2 hours, and I paddled with our guests for every single one. I was spending those 8 hours paddling the same wide, stable all-arounds as the guests, until one day my boss dropped off a hand-me-down touring board that she found collecting dust in her garage. 'Thought you might like it', she said as she set it down on the dock.
I fell in love with that board. It was a 12'6 x 28" epoxy hard SUP with a bamboo finish and a sleek black and white deck pad that was absolutely blinding in the sun. It made those 8 hours of paddling feel like seconds and I was easily paddling circles around our guests (to keep them safe, of course).
That hand-me-down board was one of my hardest goodbyes when I moved myself out to Utah for this position, and since then I've been searching for that same feeling in all of the touring boards we test. It was a feeling that was proving very hard to find until I stepped onto the Honu Sorrento for the first time.
To say that The Honu Sorrento 12'6 Touring SUP just impressed us would be a gross understatement. We think this SUP would make a phenomenal choice for intermediate or advanced paddlers that want to invest in a carefully constructed, rigid, high performance touring iSUP capable of crushing mile after mile and hitting some noteworthy speeds.
I also want to make clear that I'm not saying the Sorrento won't be use-able for beginners, but it will definitely come with a learning curve if you're used to wider, less tapered, all around SUPs. However, as you adjust to the Sorrento's stability and feel more comfortable with it on the water, you'll love it more and more as your skills develop.
We think the Honu Sorrento 12'6 Touring SUP would be great for paddlers who
Intermediate paddlers that want an exceptionally built, lightweight touring SUP with excellent tracking capabilities
Ambitious novice paddlers that know they want to develop their skills in SUP'ing and move into touring and fitness paddling
Solo paddlers that aren't loading down with excess gear and an extra passenger
Paddlers who are often in flat water with occasional chop or ocean paddlers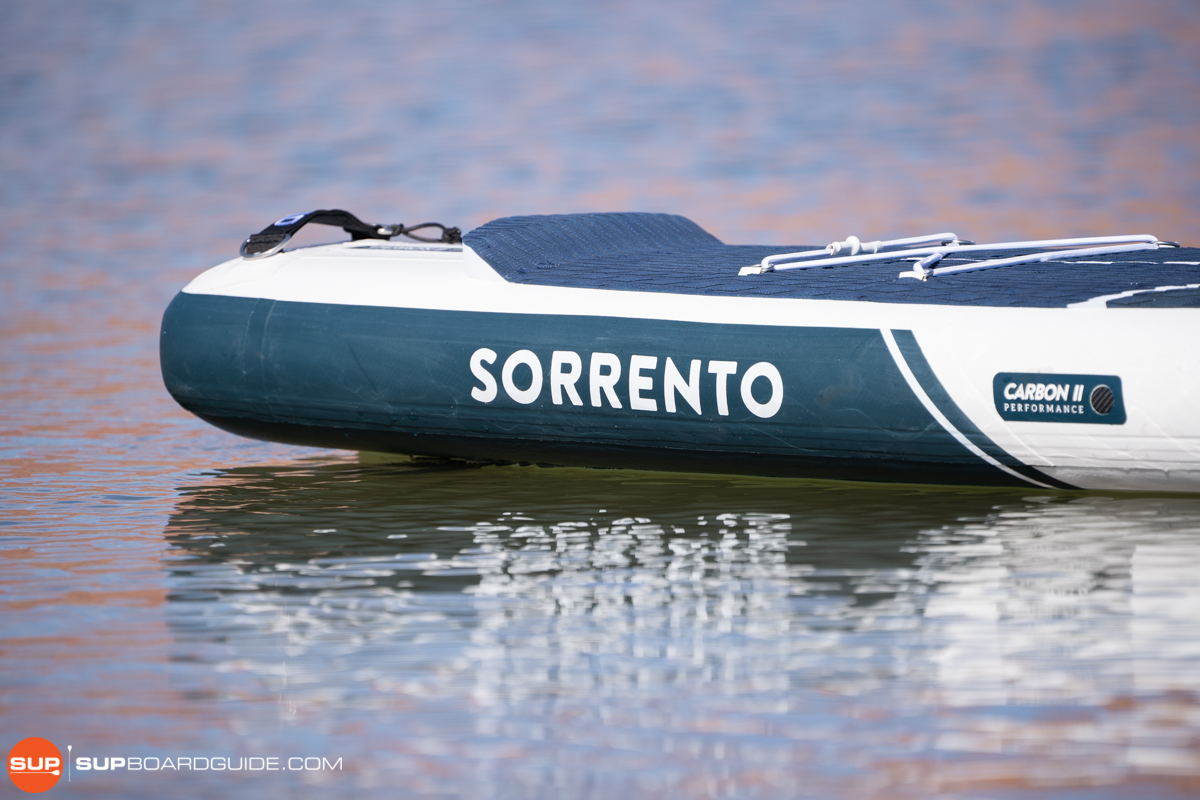 Honu Sorrento 12'6 Touring SUP: Spec Sheet
Main Category: Touring, Inflatable
Board Dimensions: 12'6 x 30" x 5.9"
Listed Board Weight: 21.6lbs
Listed Max Capacity: 308.6
Recommended PSI: 16-20 PSI
Fins: Single Fin, FCS
Paddle: not included

*Honu has a selection of high quality paddles available for a discounted additional purchase when you bundle with your SUP.

Materials: Woven-cross drop stitch core; fused PVC; welded carbon rails; 3k Carbon Stringers
Price Range: High
Warranty: 2+2;

*Honu will replace your board for manufacturing defects and repair damage due to normal use for free for up to 2 years. They will continue free repairs for 2 additional years IF you register your board upon purchase.
Performance Review of the Honu Sorrento 12'6 Touring Stand Up Paddle Board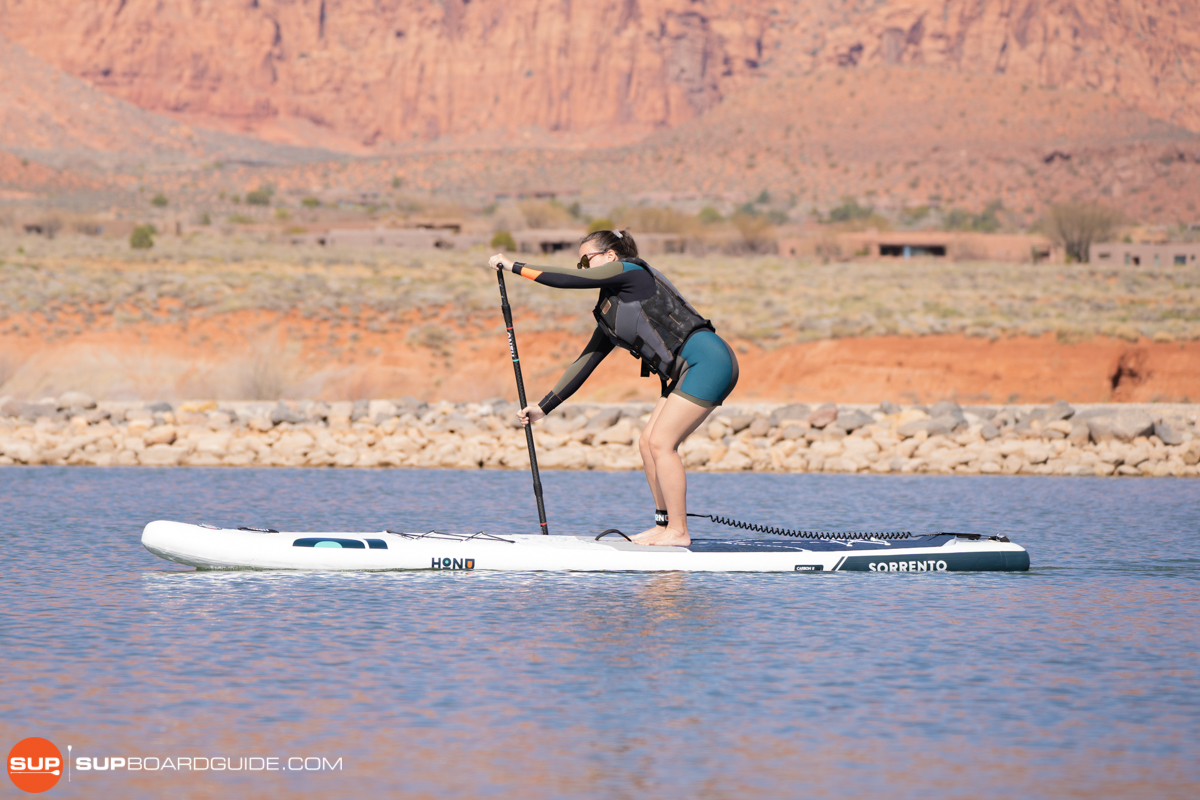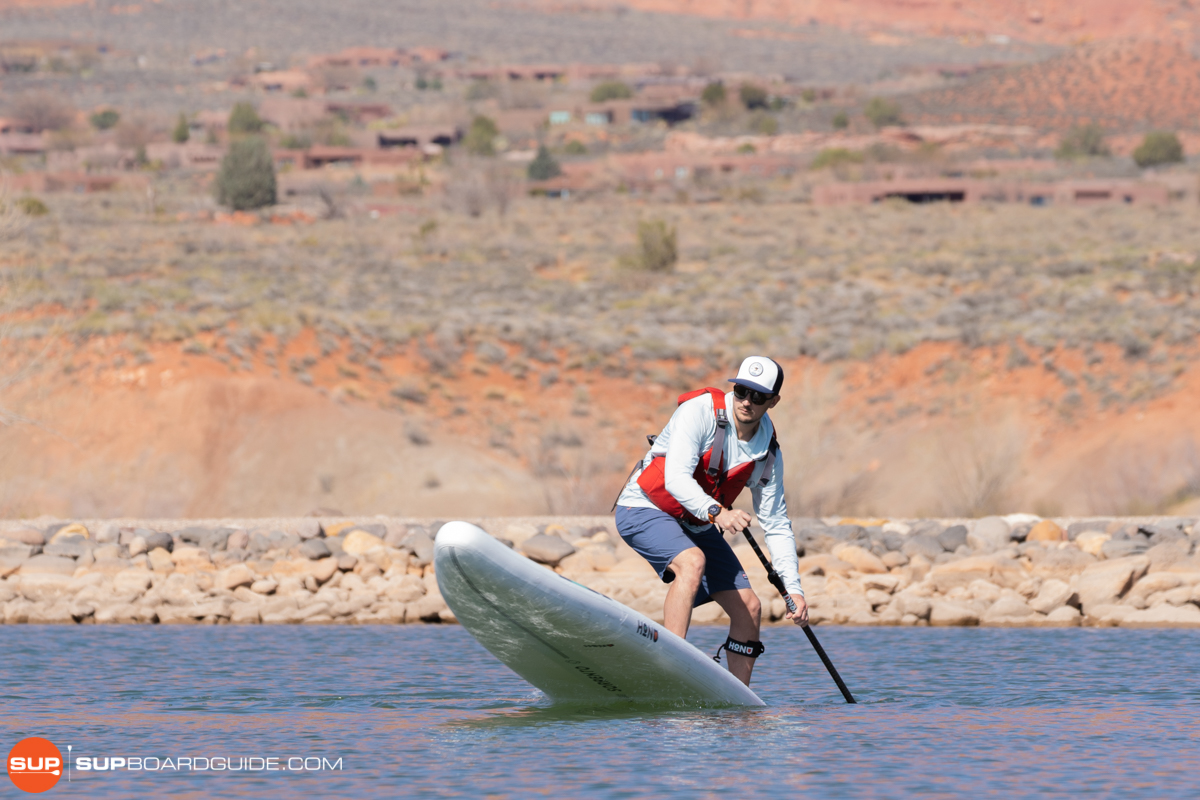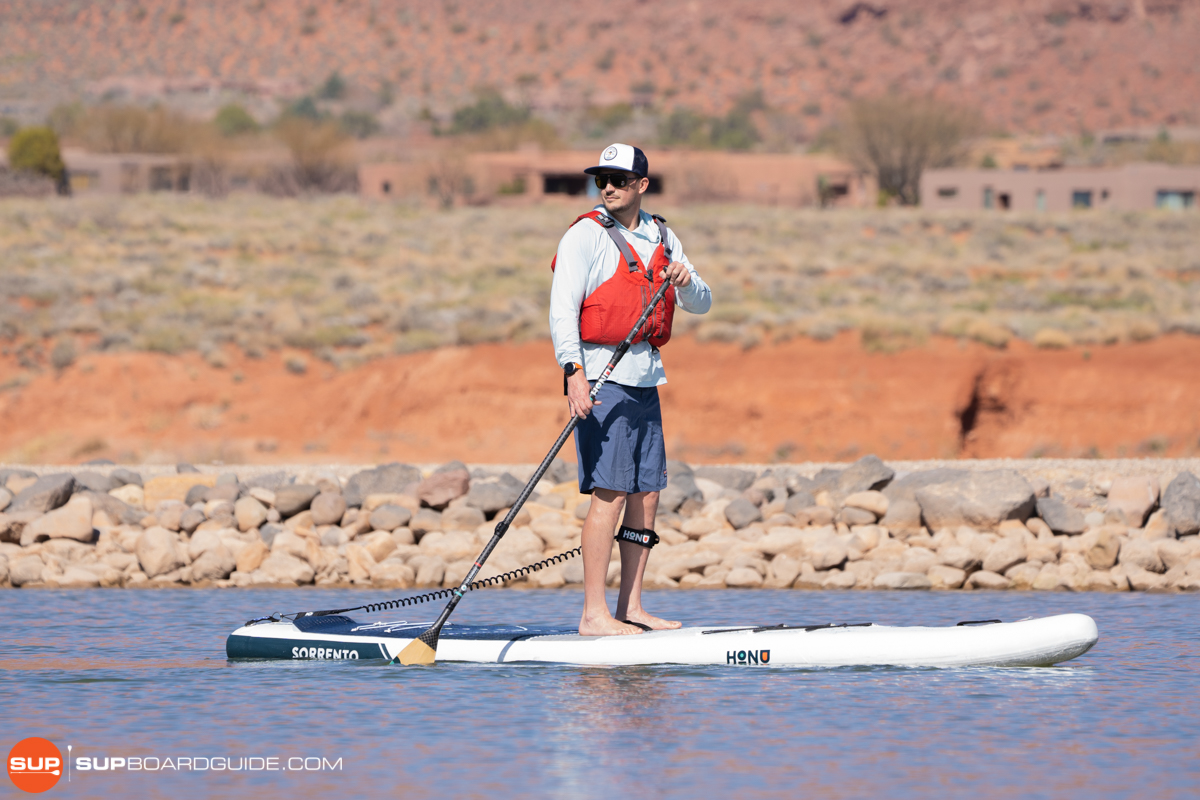 Overall Score: 9.8/10
Stability: 8.7/10
Speed: 9.6/10
Tracking: 9.7/10
Maneuverability: 8.7/10
Construction Quality: 9.8/10
Features/Accessories: 8.6/10
Stability Rating: 8.7/10
Listed weight capacity: 308 lbs
Tested weight capacity: 180lbs (paddler weight, no gear)
The Honu Sorrento is a true touring SUP and is naturally more geared towards speed than stability. This SUP will come with a moderate learning curve for SUP new-comers, or even some more seasoned paddlers that are transitioning from 33" or 32" wide SUPs.
The 30" width on the Sorrento combined with its tapered shape and single fin, do contribute to a bit more responsiveness (aka 'tippiness') under your feet as you shift your weight between strokes. Still, the 12'6 Sorrento is much more stable than some 28" touring SUPs we've tested out; it just takes some getting used to if you're coming from a wider or more rounded board. This is a touring SUP that you'll enjoy more as your skills develop alongside it.
Regarding the Sorrento's weight capacity, 300lbs does seem reasonable for this SUP considering it is one of the most rigid 12'6 SUPs we've tested. We still need to do additional testing to find out if the weight capacity is 308lbs of dispersed weight or if a solo paddler close to that size range would feel comfortable on the Sorrento, but considering the Sorrento's construction, the welded carbon rails, and carbon stringers, I have high hopes and will update when some of our taller/heavier reviewers give the Sorrento a try.
Speed Test: 9.6/10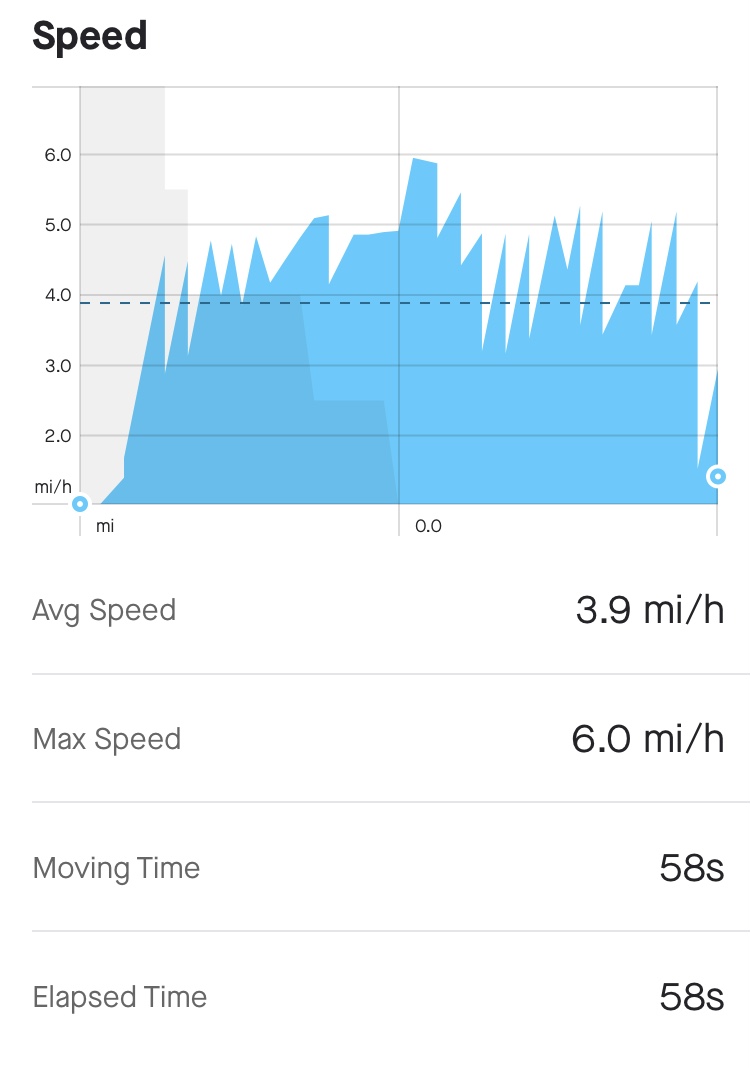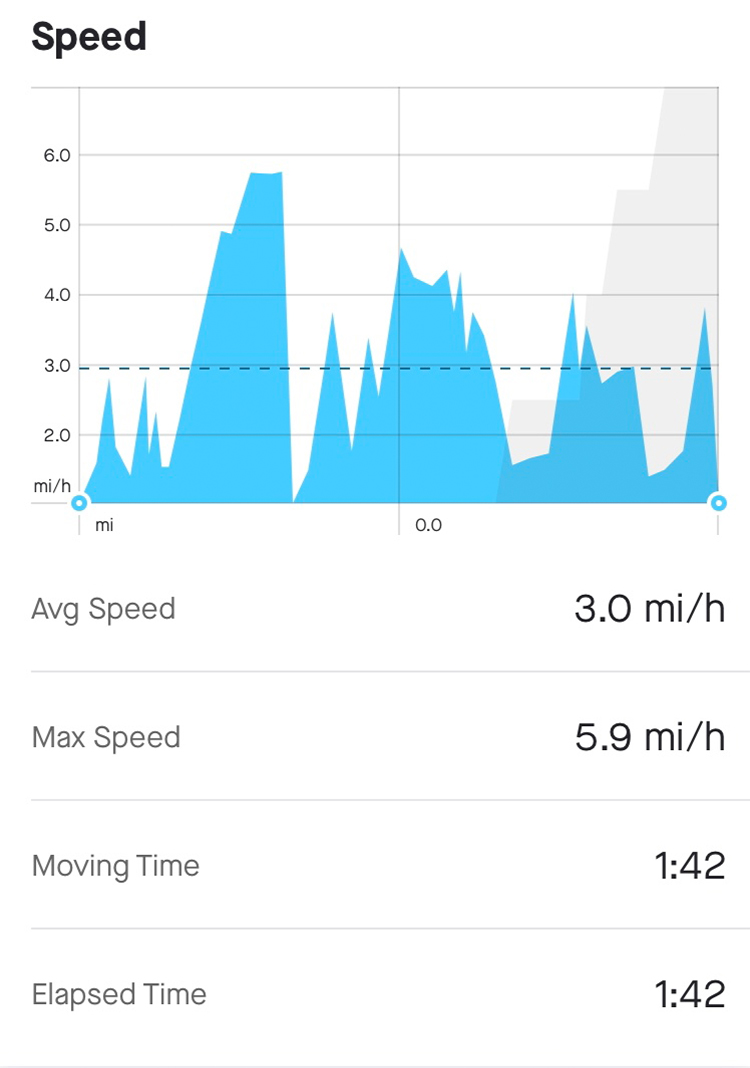 The Sorrento is undeniably built for speed, and its exceptional performance in our speed tests came as no surprise. Even in the touring SUP category, the 12'6 Sorrento inches its way towards the front of the pack.
Part of the Honu Sorrento's capacity for speed comes from its streamlined shape and careful construction. Its tapered nose and squared off tail minimize drag by narrowing and elongating your waterline on your SUP. Combine that with its lightweight, rigid construction and single touring fin, and you're left with a smooth 'gliding' like feeling over the water, even if you're not paddling the Sorrento in a full out sprint. This SUP just seems to effortlessly eat up miles on the water without the paddler having to put in much effort.
One thing that I think may make the Sorrento even faster is if they incorporated a v-hull like shape on the nose, similar to the one we've seen (and loved) on the Sea Gods Ketos. It might just give the Sorrento even more of an edge to enter into the touring/race hybrid category. Though for now, the current Sorrento is still one of the quickest true dedicated touring SUPs we've tested.
Tracking: 9.9/10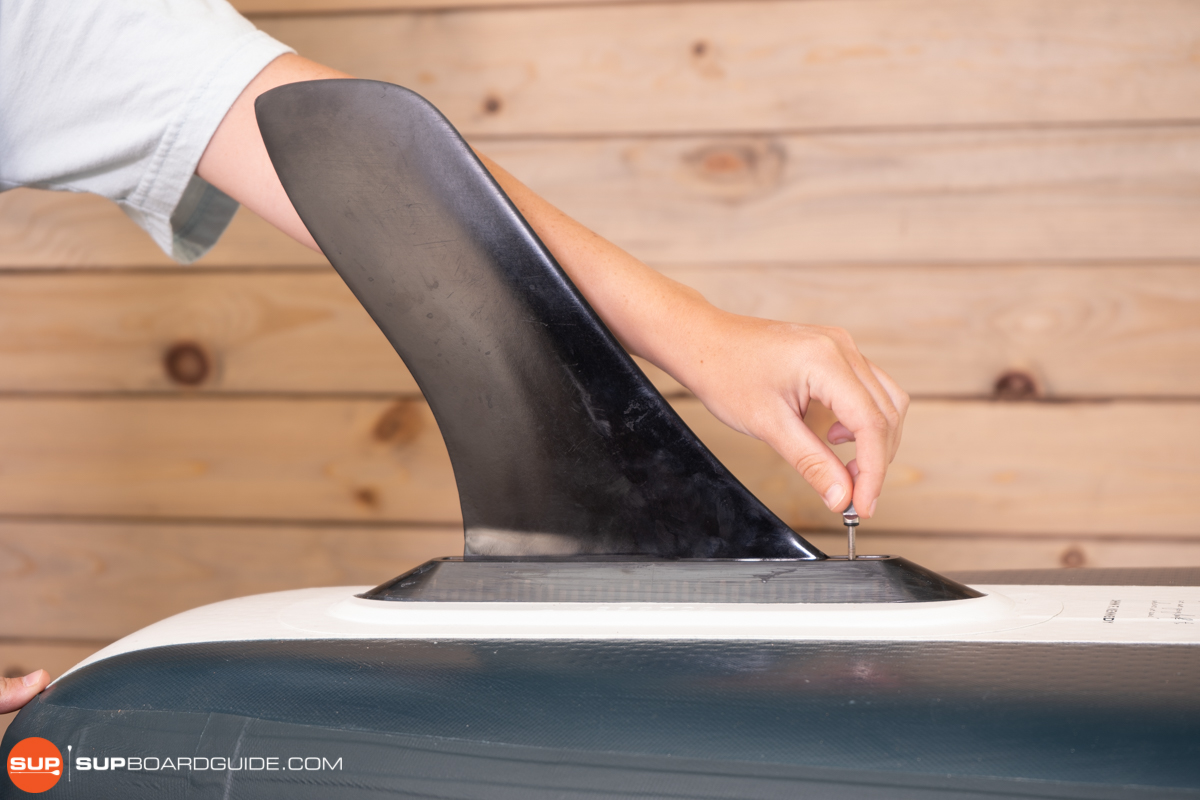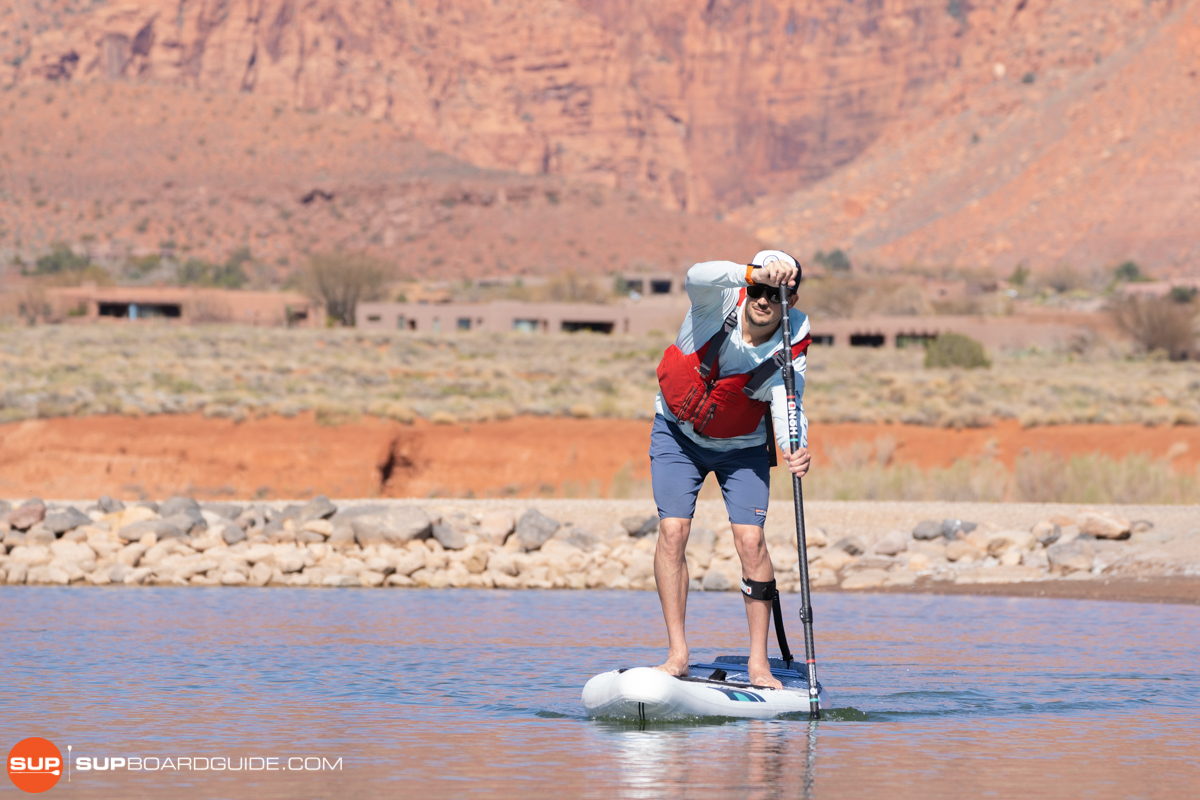 This section is simply going to be a love letter to the Sorrento, and rightfully so.
This SUP has some of the best tracking capabilities we've seen to date (and we've tested a TON of boards). Neither myself, nor Justin had to switch sides at all during the .06 mile sprint test on the Sorrento, even during tests when we weren't fully honed in on our stroke technique. I can only imagine what the Sorrento would be capable of in the hands of a paddler with 100% stellar technique and form. I could see this SUP able to carry on for miles without having to switch sides or readjust your course all that frequently.
When it comes to 'why' the Sorrento tracks so well in the water, my estimate would be that it's a combination of multiple things, not just the single touring fin alone. The reason I say this is because we've tested out our fair share of 'single touring fin' SUPs and none tracked as well as the Sorrento. I think its rigid construction also contributes here in that you won't create any uneven drag from the Sorrento flexing under your feet. I'd also estimate that Honu's intensive quality control efforts avoid any small asymmetries on the Sorrento that would otherwise slightly decrease its tracking capability.
Maneuverability: 8.7/10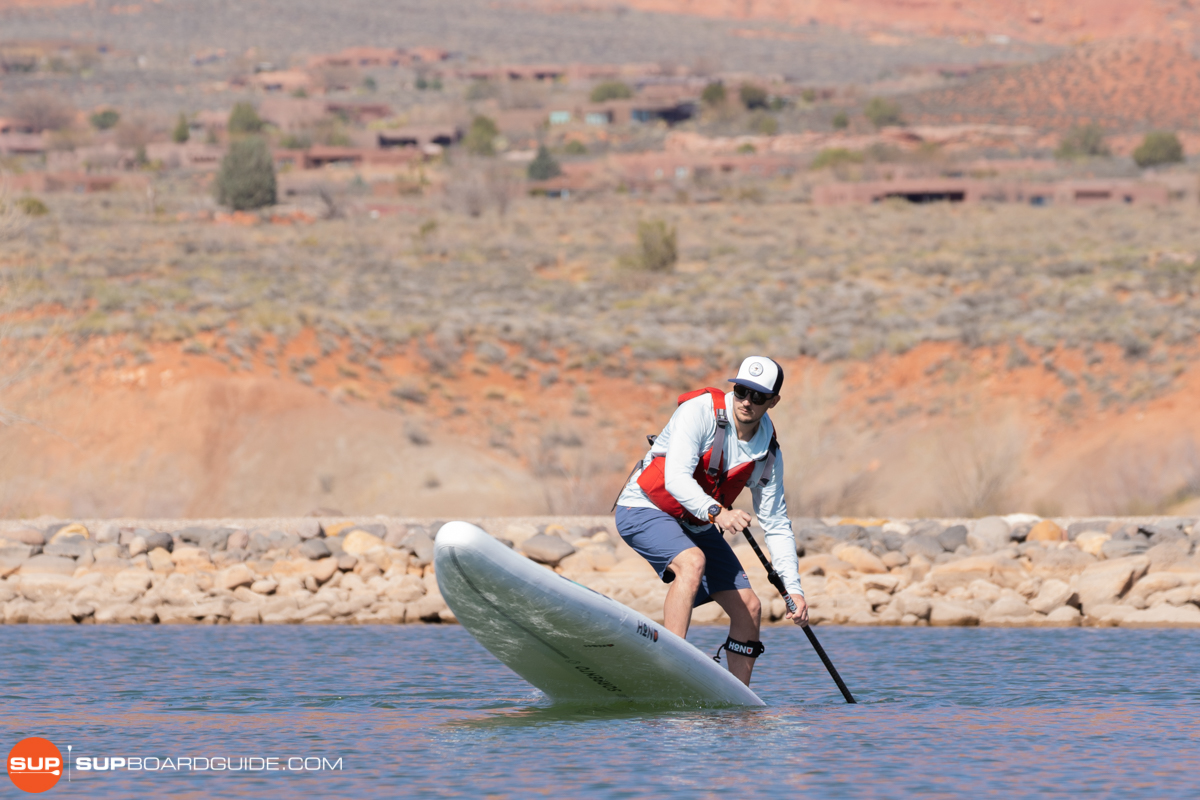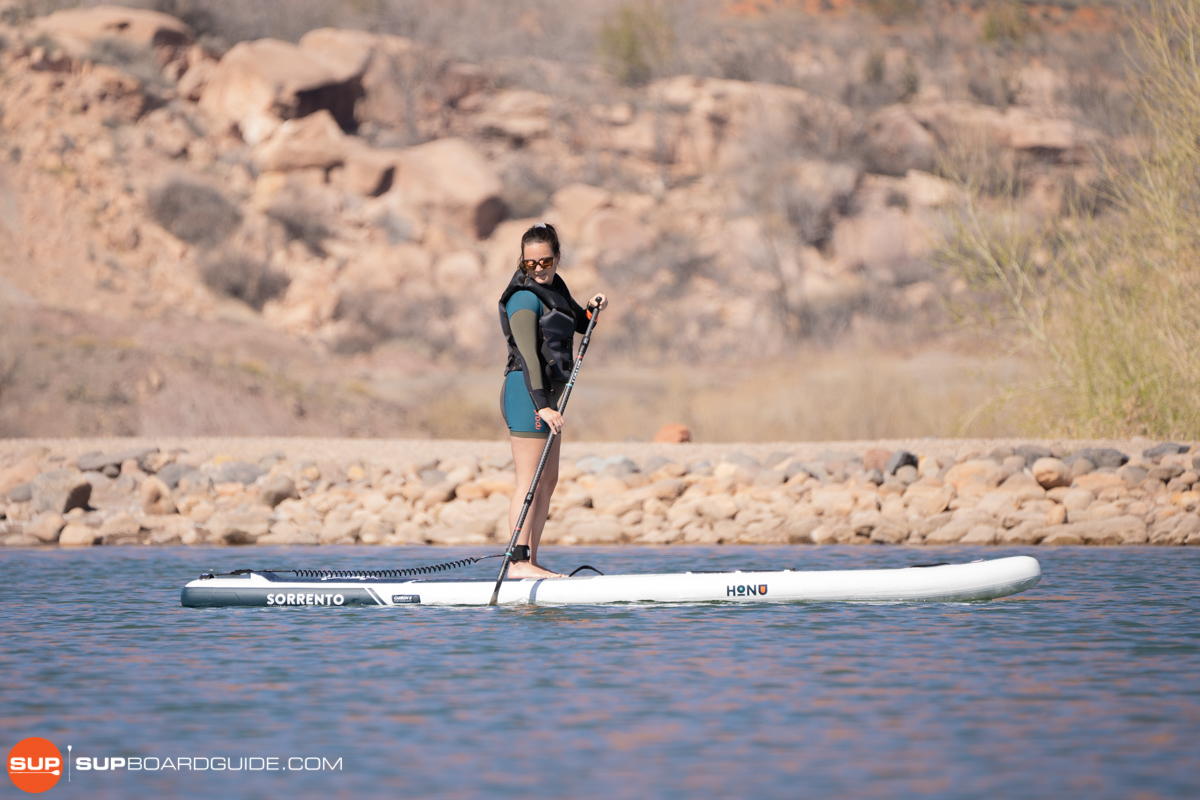 Maneuverability is one area where the Sorrento will not excel, at least if you're comparing it to maneuverability focused all-around SUPs. Personally, I don't think that's fair considering the Sorrento is a dedicated touring SUP. It's meant to go straight and fast and it does that exceptionally well.
With that in mind, I was pretty happy with the maneuverability on the Sorrento. It's lightweight, so casual turns don't take much effort to change the SUPs direction, though it is a bit slower to turn due to It's 12'6 length and hatchet fin, but that's to be expected. Walking yourself back towards the tail for a stepback turn will take some practice on the Sorrento since it's focused on speed more than stability. However, once you do get your foot back to the tail, the raised kick pad makes it easy to be able to make a pretty tight, well-executed pivot or stepback-turn with the assurance of correct foot placement.
Construction Quality: 9.8/10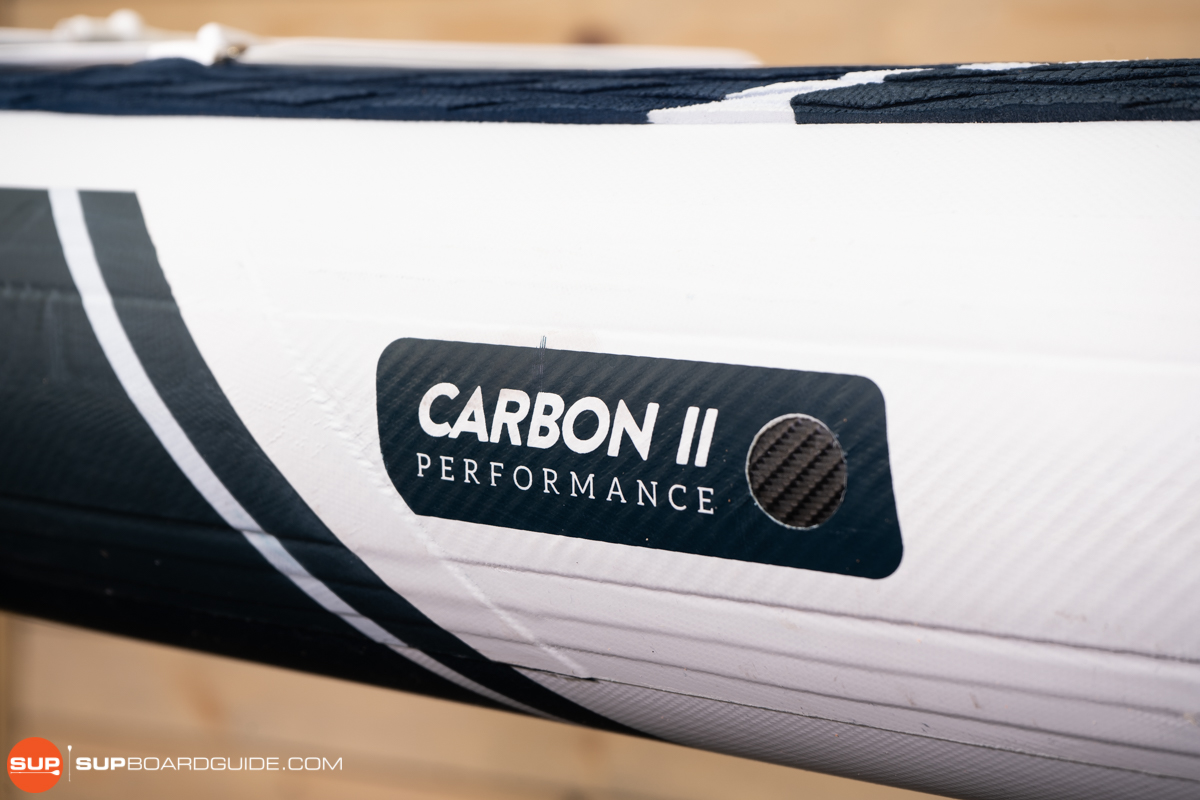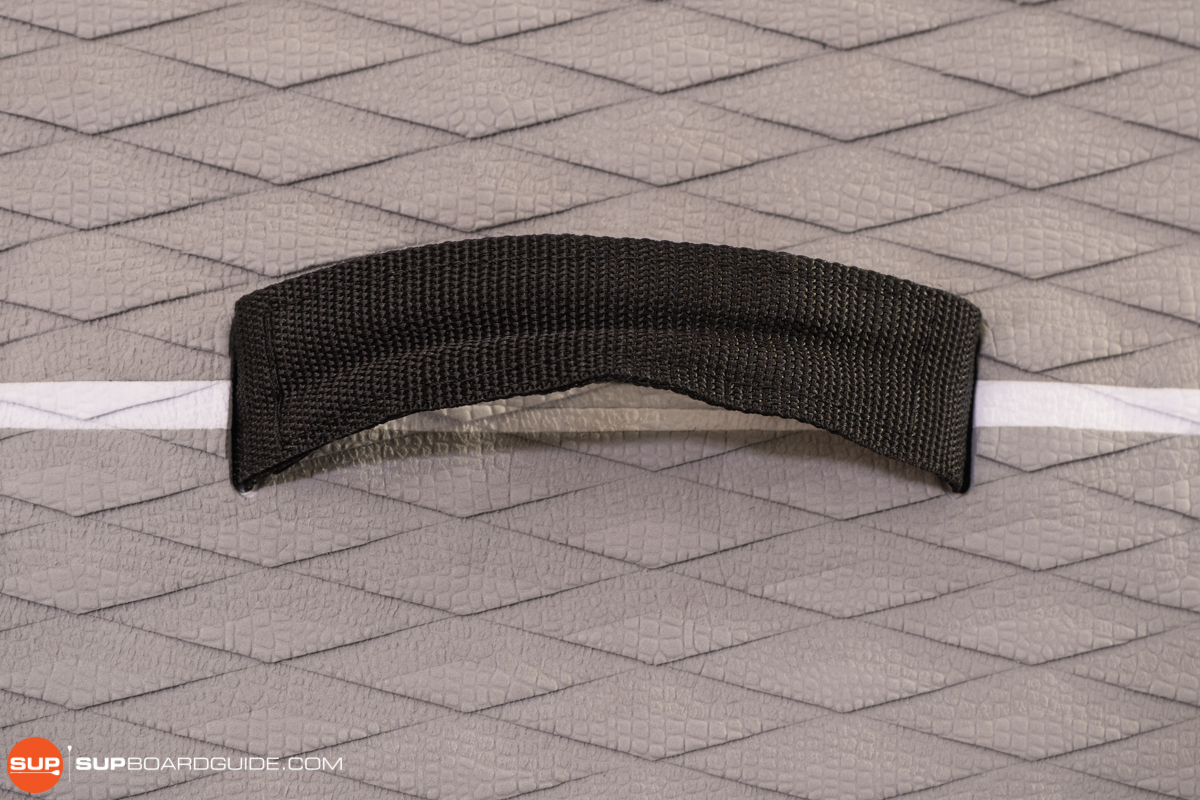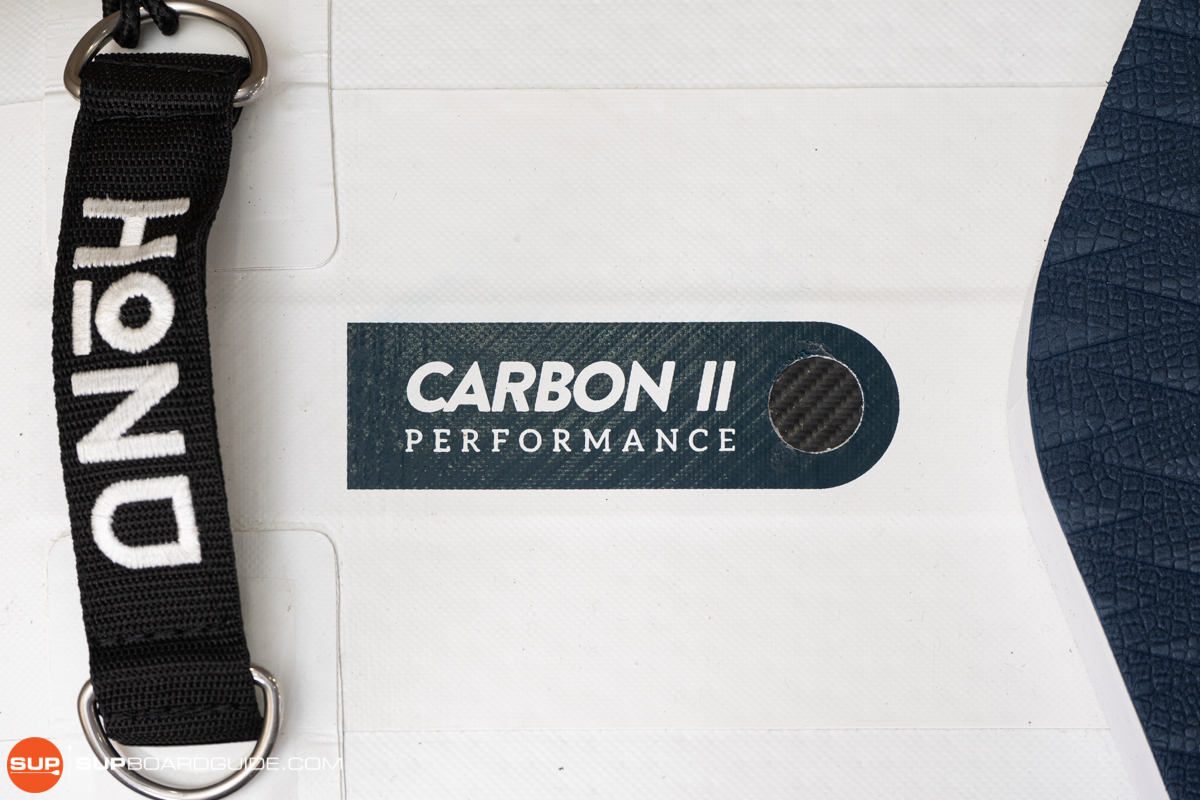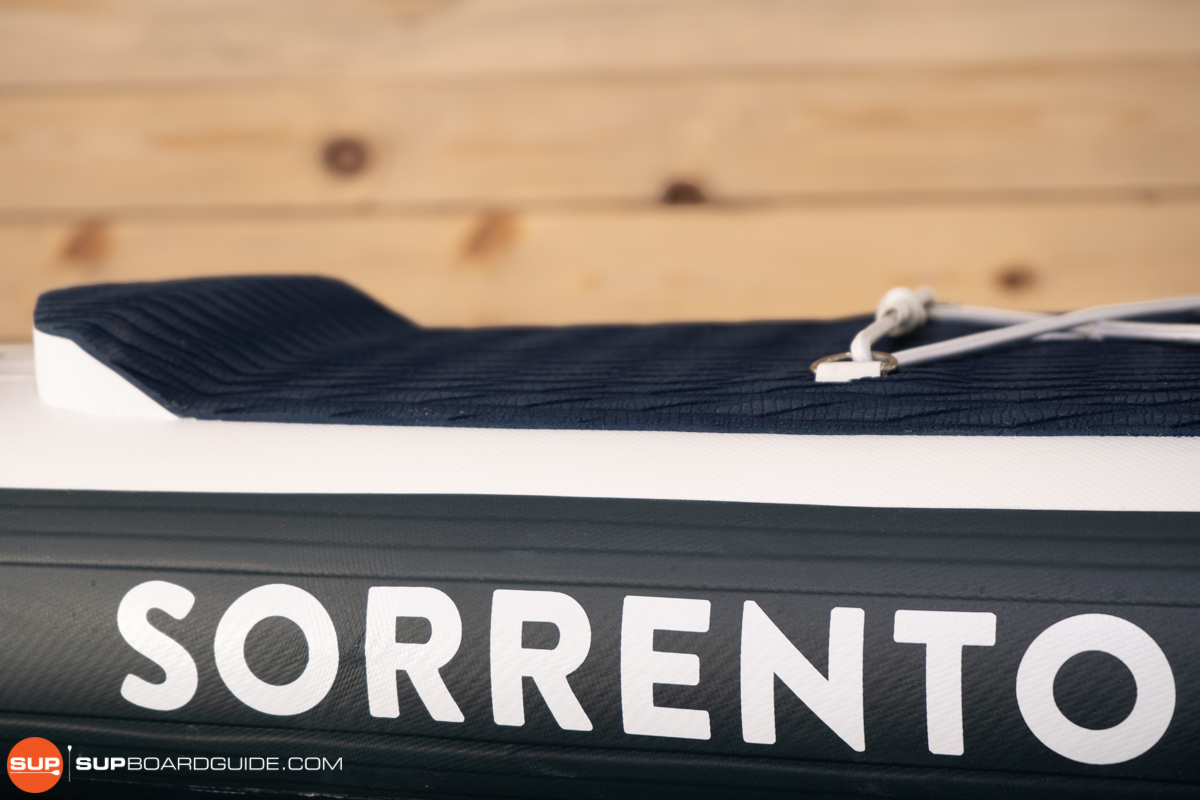 As with most things about the Sorrento, 'impressive' is the best word to use when describing its construction.
Focusing on its interior, the tapered shape of the Sorrento is held in place by thousands of drop stitch threads, organized in an 'X' pattern to increase rigidity while using less material (i.e staying lightweight). These threads are attached to a woven fabric layer that encompasses the inner core of the SUP.
Moving onto the exterior of the Sorrento, The PVC layers are fused to the fabric layer with heat instead of glue for a lighter, more uniform bond. The carbon stringer is then applied, bonded with TPU (a material that bridges the gap between carbon fiber and PVC), and layered with vinyl with the goal of increasing rigidity even more.
Honu takes the stiff construction of the Sorrento even further by incorporating a carbon layer into their rails and pressure/heat sealing it at the seams for a durable fit before covering it with a final rail layer of PVC. Throughout every step of this process Honu is constantly performing quality control checks to ensure that each board is built to their standard.
The Sorrento is one of the best demonstrations of Honu and Mark Travers' commitment to innovative SUP construction. They have dismantled the trade off that usually occurs between an inflatable SUP's rigidity and its overall weight in creating the 21.6 lb ultra-stiff Sorrento. I am stoked to see how the Sorrento develops even further, and how this type of construction and performance influences the industry as a whole.
Board Stiffness: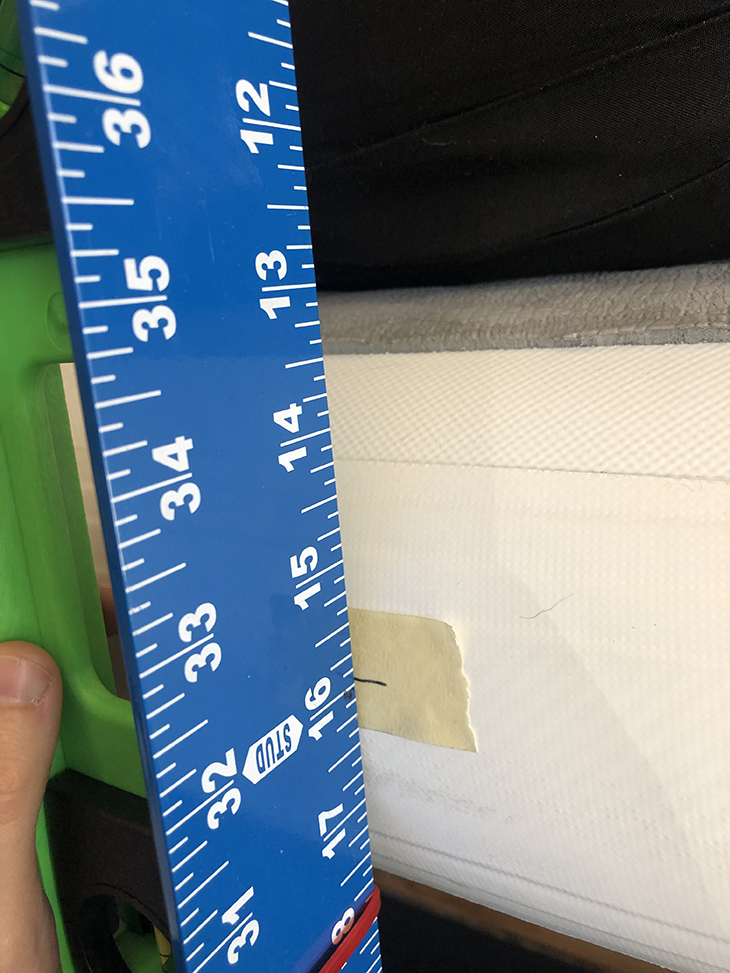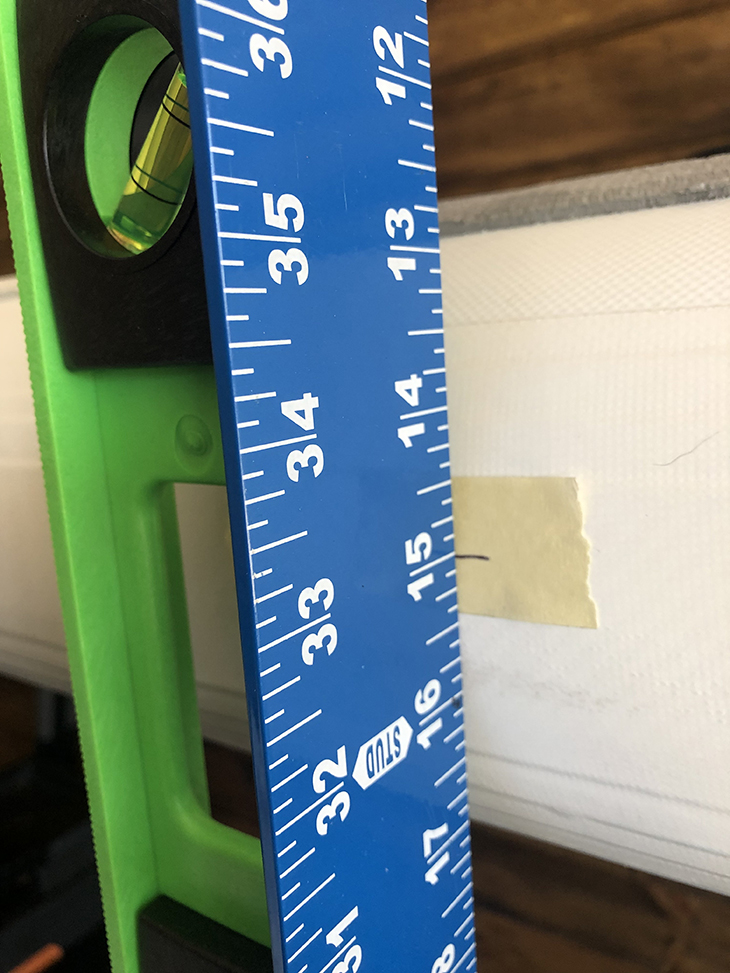 Stiffness Test: 0.9375" Bend
Our bend test is carried out by placing the SUP (the Sorrento in this case) on top of two sawhorses that are set 7 feet apart. We then load 150lbs onto the SUP's midpoint and measure how much it bends under that weight. As we always say, we know this is not how the SUP performs in the water, but this test helps in differentiating different construction processes and materials and how they contribute to overall rigidity of the SUP.
The fact that the Sorrento bent less than 1 inch is extremely impressive, especially at just 21lbs. This is the stiffest board in the lightweight SUP category that we have tested so far. More than that though, this stiffness is something that you can feel on the water.
As you shift your weight to paddle, you don't feel any flexing, or bouncing that would create drag. When you get the board up to speed, you can feel the glide that comes from its flat, consistent waterline.
In short, Honu's detailed construction process results in a rigid, high performing SUP that is well worth the investment for a serious paddler.
Features/Accessory Review: 8.6/10
As is typically the case with Honu, The Sorrento shows off an uncluttered, but functional list of features.