NIXY Manhattan G4 Performance iSUP
Pros
Well constructed board with plenty of innovative features
One of the best touring/race iSUPs we have had the pleasure of testing
Extremely fast
Extremely good at tracking
Best included paddle we have seen to date
Great touring/race option, especially for smaller paddlers
Cons
This is a very advanced board, unstable for most unless they are under 150lbs or have advanced paddling skills - NOT for beginners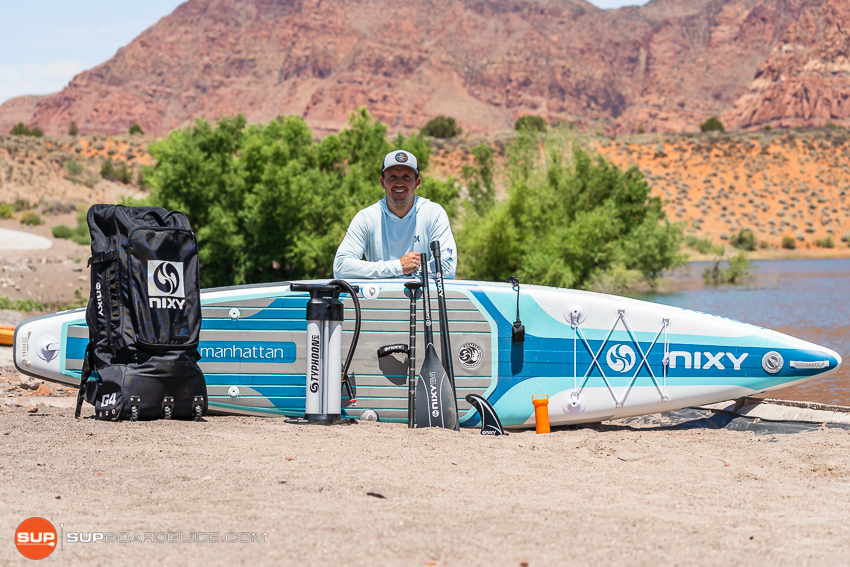 The NIXY Manhattan G4 12'6 Performance inflatable SUP review was certainly one of the most memorable reviews to date. We say this both tongue in cheek and for practicality reasons because never before have so many reviewers tried a board and ended up in the water. In fact we can say that only a single lighter female reviewer escaped from this board's penchant for throwing paddlers.
Does this mean the NIXY Manhattan is an unstable board? Not exactly. It's a board designed for lighter paddlers with intermediate skills or larger paddlers with advanced skills. As long as you can understand the niche they are going for it does a fairly good job at what it's designed to do (go fast in a straight line). We just don't want new paddlers or larger unexperienced paddlers going into this purchase expecting something different.
We think the NIXY Manhattan G4 12'6 Performance would be great for paddlers who:
Fall under the 150 lb mark and have intermediate paddling skills
Weigh over 150 lbs and have advanced paddling skills
Want a great board for training or long distance paddling
Want a reasonably priced 12'6" race board for traveling to events
We think the NIXY Manhattan G4 12'6 Performance is great for the following water conditions/situations:
Flat water paddling (lakes, bays, marinas, etc.)
Athletic paddling (race training or distance training)
Racing in the 12'6" class of stand up paddleboards while traveling
NIXY Manhattan G4 12'6 Performance Review: Overview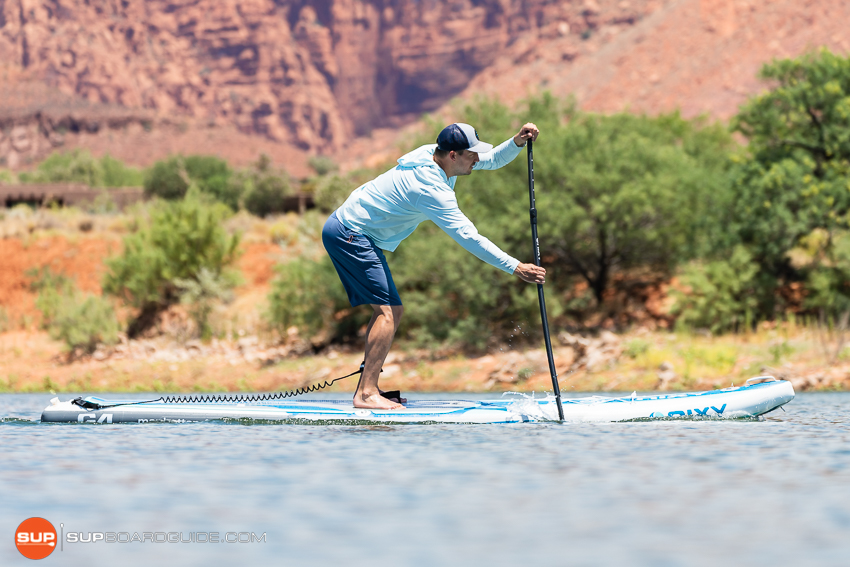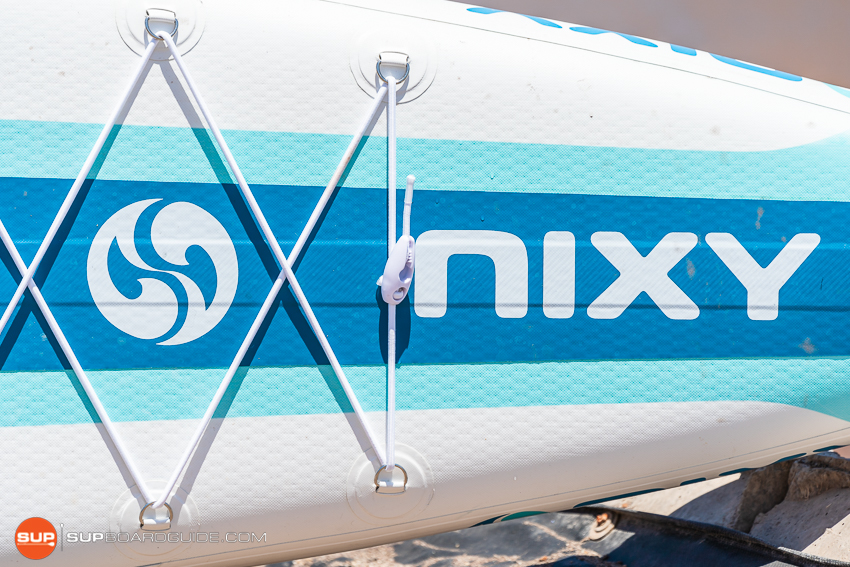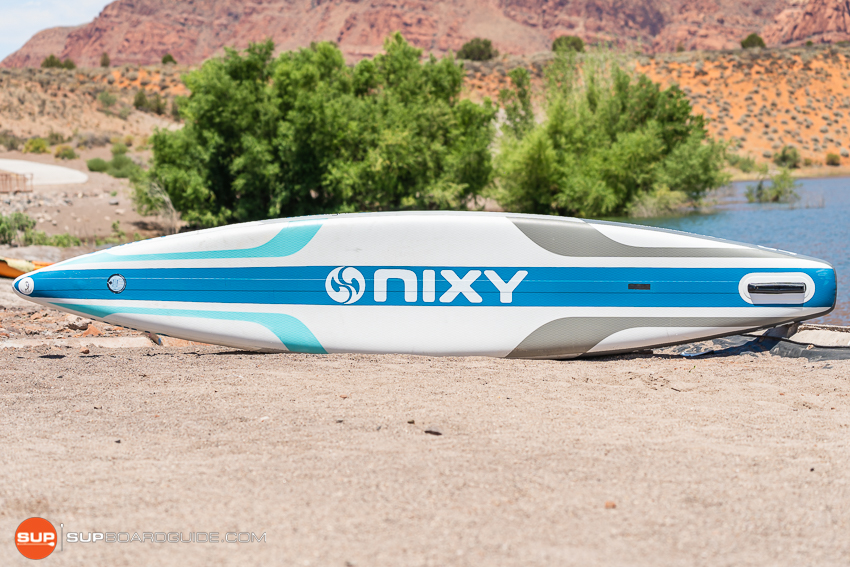 Ok, if you're still reading this, good. I didn't mean to scare you off – I had to be honest about what this board is for and what it's capable of. There is alot to like about the Manhattan G4. Like the rest of the NIXY lineup, this board is extremely well made and comes with some of the best accessories available in an iSUP kit. Seriously, to find a similar race board you would most likely be looking at paying well over a thousand dollars and that would come with nothing other than the board and a single fin – no paddle, no bag, nada.
But again, let me be clear, this is not a board for casual paddling (though it could surely be used for that), this is a board meant to test your limits as a paddler and it will perform as well as most people will let it. If you can eventually outperform this board then I would have to say your only next step is a custom race board.
Note: We have paddled this board A LOT (mainly because we keep fallin in). We are trying to give you a real idea of what it's like to paddle this board on a day to day basis. We do not write simple spec reviews, but rather an in depth rating of the boards capabilities. We spend tons of time on this board and would love to answer any questions you may have about it so please feel free to leave us a comment below. We are happy to answer your questions.
NIXY Manhattan G4 12'6 Performance: Spec Sheet
| | |
| --- | --- |
| Main Category | Touring/Racing, Inflatable |
| Board Dimensions | 12'6 x 28" x 6" |
| Listed Board Weight | 23 lbs |
| Listed Max Capacity | 350 lbs |
| Recommended PSI | (coming soon) |
| Fins | single center thumb screw |
| Paddle | carbon fiber 3 piece |
| Materials | Dual layer PVC with reinforced carbon side rails |
| Price Range | Medium |
| Warranty | 2 year, 30 day risk free |
Official SupBoardGuide.com Test Results: NIXY Manhattan G4 12'6 Performance (2021 model)
We did our best to quantify this board's abilities below. Our in depth testing is designed to verify the manufacturers claims and to give the consumers a realistic idea of how the board will perform day to day.
Overall Score: 9.1/10
This board ranks very well in several categories. It's well built, has top notch accessories, and is just plain fast. But this is not a board for beginners. Or at least, those without the desire to up their skills, combined with a reasonable love of swimming.
Stability: 8.2/10

Speed:9.5/10

Tracking: 9.5/10

Maneuverability: 8.5/10

Construction Quality: 9.2/10

Accessory Review: 9.6/10
Our overall rating of 9.1/10 for the NIXY Manhattan G4 12 '6 Performance goes to show how impressed we are with the overall construction of this board and it's included equipment. It certainly doesn't win any awards for stability, but if you realize this board is made for a more advanced paddler then you're not going to be dissapointed.
In-Depth Review of the NIXY Manhattan G4 12'6 Performance Stand Up Paddle Board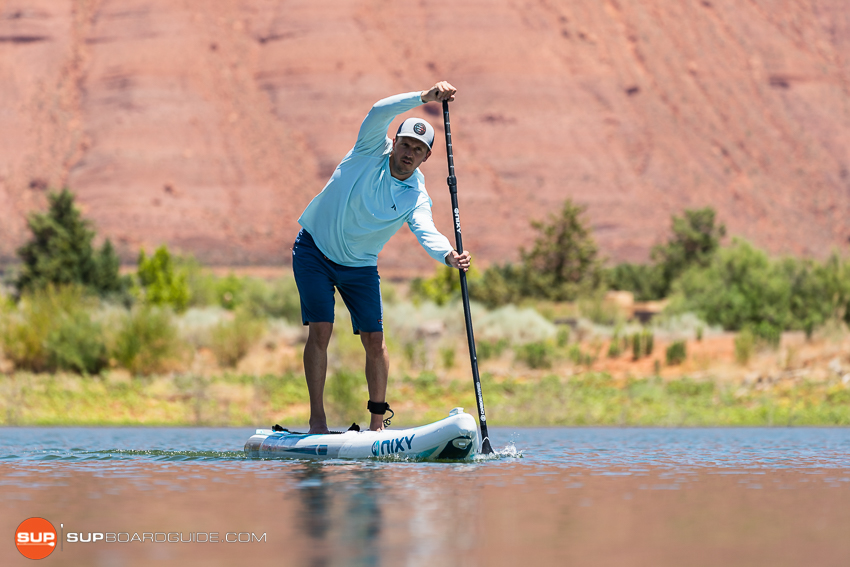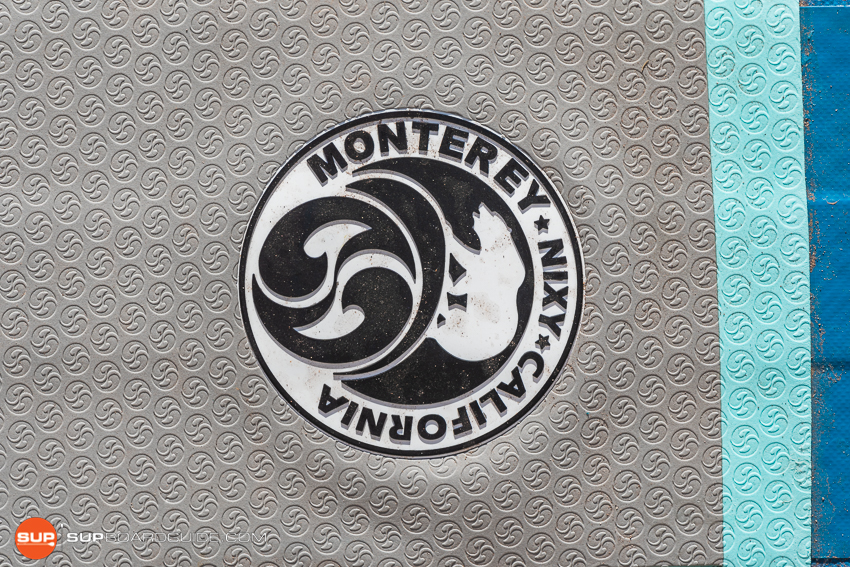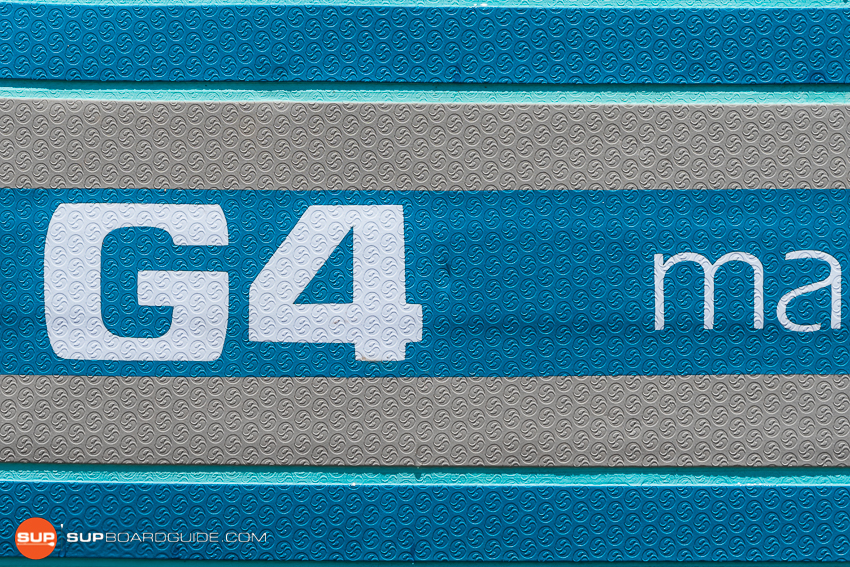 I hope you're getting the point we are trying to make. This board is great. But you have to have some serious skills to keep yourself on top of the water. This board has a great overall build quality and finish. It really looks top notch and well made. This board has a class leading, I'd go so far to say industry leading, set of included accessories and equipment. This board does not have stability, at least as far as the average american is concerned. But it is fast, tracks well, and is a ton of fun on the water!
Stability Rating: 7.9/10
Stability is crucial for a board if you're marketing it to a beginner. This board is not for beginners, nor is it very stable. When I first got on this board I was reminded of the first time I got on an actual sup race board. Standing still is just not an option. You take that deep breath and begin to paddle. The stability begins to ramp up with water resistance, and finally you find that pocket of effort and speed that suits your training level. This board can be stable, but you better be really light, or otherwise moving at a reasonable pace (3mph and up). We would also like to point out that the D-rings located in the center of the board are a little too close to where larger paddlers might put their feet. We had several testers complain about these.
Board Stiffness:

Stiffness Test: 1.00" bend (board on top of saw horses placed 7' apart, with 150 lbs of weight added right by handle in middle of the board)
We will go more in depth with the boards construction below but what we see here is that it really does seem to hold it's shape well and that's usually a correlation between above average materials and quality construction methods. Again this board feels very well made, and the bend test backs that up. The carbon fiber side rails and dual carbon fiber stringers also add to the rigidity of the board and help in this test.
Weight Capacity:

Listed Weight Capacity: 350 lbs
Tested Capacity: 225 lbs
Ok, let me be really clear. We tested this board with riders of varying skill levels weighing between 125 and 225 lbs. The more advanced (and heavier riders) had an extremely difficult time managing this board in various conditions. The lighter riders seemed to fare better, but they still noted how "squirrelly" the board felt.
We consider "weight capacity" to be the amount of weight a board can hold and still be usable in everyday situations. We do not just take weight and add it to the board until it sinks or otherwise becomes unpaddle-able.
That being said, we have serious doubts this board could perform for larger paddlers at or above 220 lbs even if they had very advanced skills. This board just seems to be made more for lighter paddlers who want a race/touring SUP. Larger paddlers would most likely prefer to go with a 14' version, or a version that is a few inches wider unless they want to seriously push their limits.
Speed Test: 9.5/10
Let's talk about something the NIXY Manhattan G4 12'6 Performance does really well. It goes really fast if you can stay on top of the board. The overall shape is extremely streamlined and the 28" width makes it easy for even smaller paddlers to lean their paddle blades out to the side for a perfectly vertical stroke.
Once you get used to how this board feels it really does get better the faster you paddle it. That in turn leads to a faster rate of paddling (as you speed up the board becomes more stable and therefore you can paddle faster). This principle works hand in hand to deliver a board we feel most paddlers would have a hard time "outgrowing" due to advancing their skills.
This is a very competent and adept 12'6 race board. It would be perfect for anybody looking for a mobile solution for training or racing.
Tracking: 9.5/10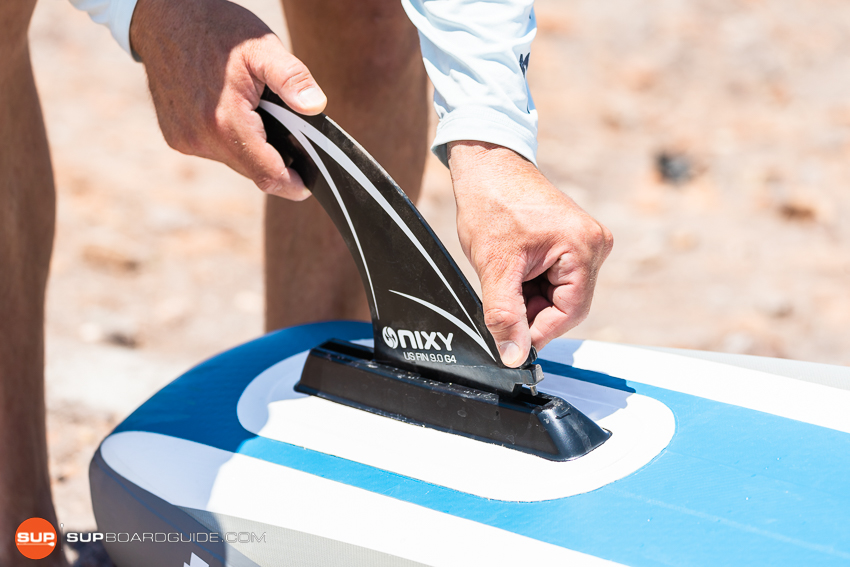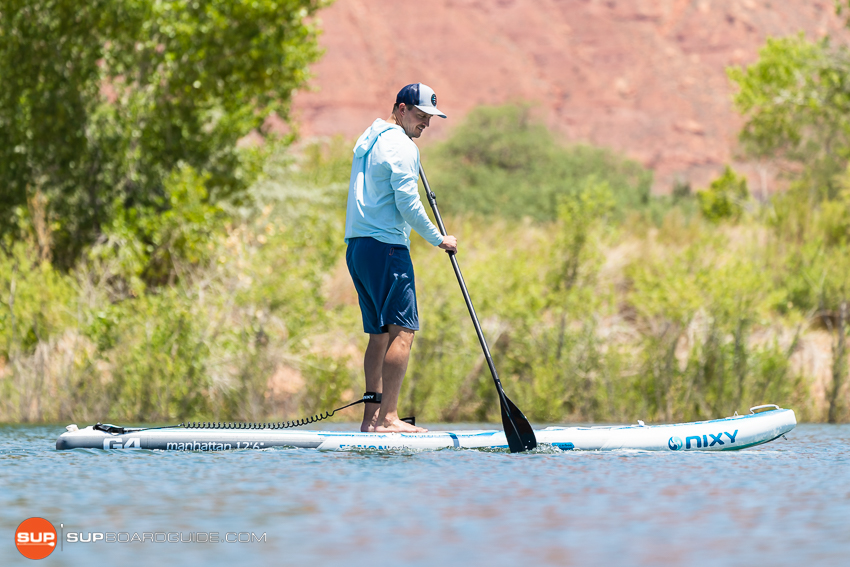 The NIXY Manhattan also does a very good job of tracking straight. It doesn't have a three fin setup like so many other boards, but we feel it doesn't need it due to the board's overall streamlined shape. The center fin on the Manhattan G4 is a toolless 9" US/FCS compatible fin.
As mentioned above another aspect of tracking straight is the way the paddler paddles. This board's shape lends itself to very vertical paddle strokes. That in turn transmits most of the power from the stroke into forward momentum and not vectored off to the side – just like you want in a racing iSUP.
Maneuverability: 8.5/10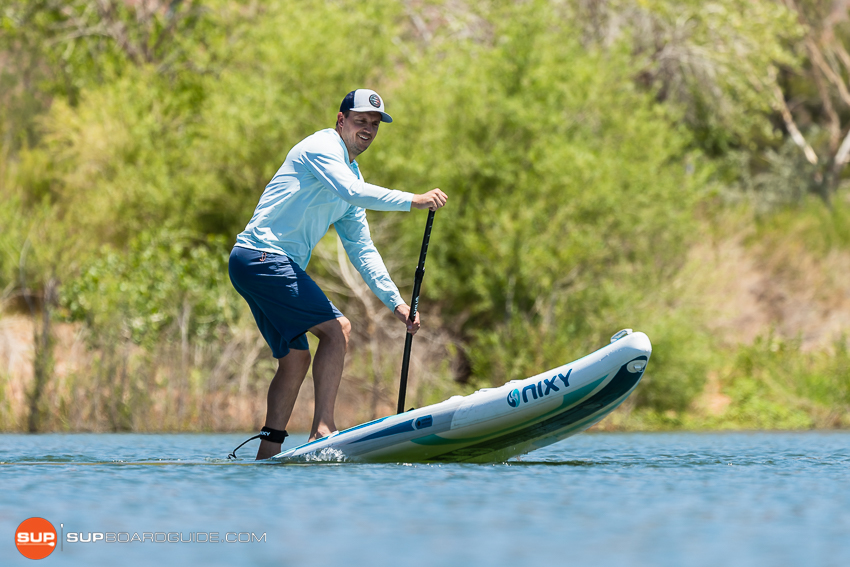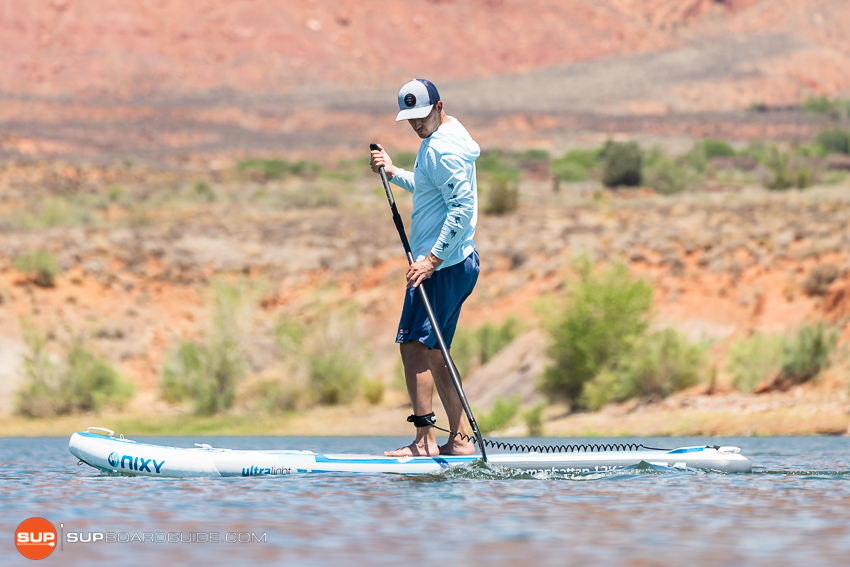 Being a 12'6 race board, there is simply more waterline and more board itself to move around with the NIXY Manhattan. However, with more advanced techniques (think step back / Pivot turns), this board can be fairly responsive. Just note that it does take some practice even for intermediate paddlers on this SUP.
For the beginner paddler we feel this board wouldn't be very maneuverable because the number one priority would be to remain stable on the board (which isn't easy to do). If you're focused on staying afloat on your board, your ability to turn is likely highly compromised.
Construction Quality: 9.2/10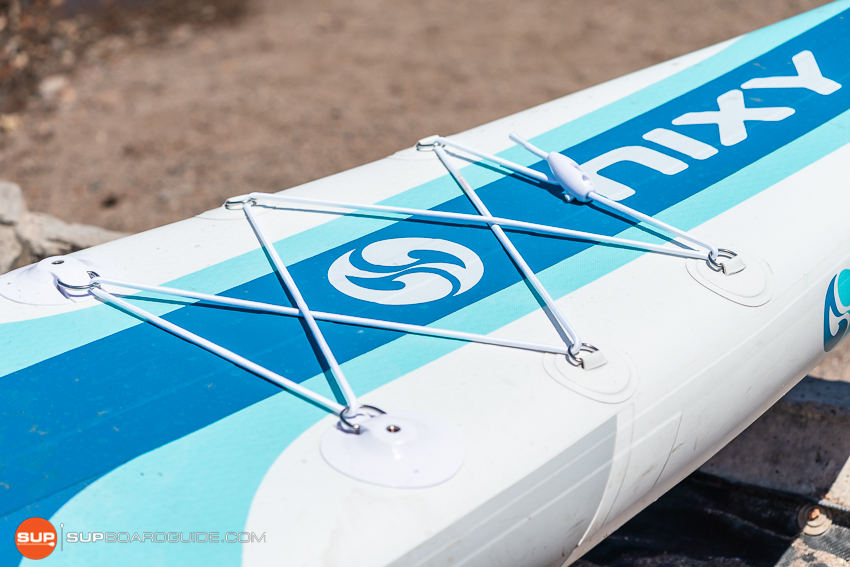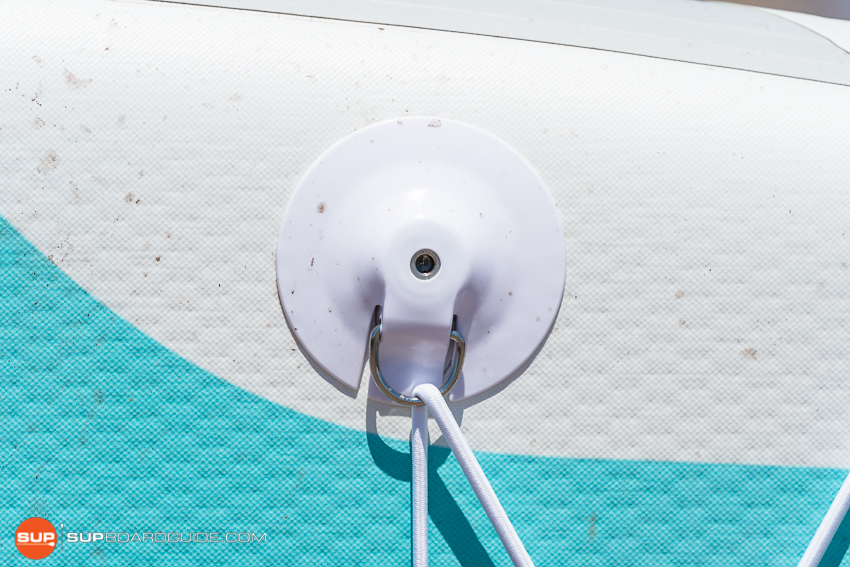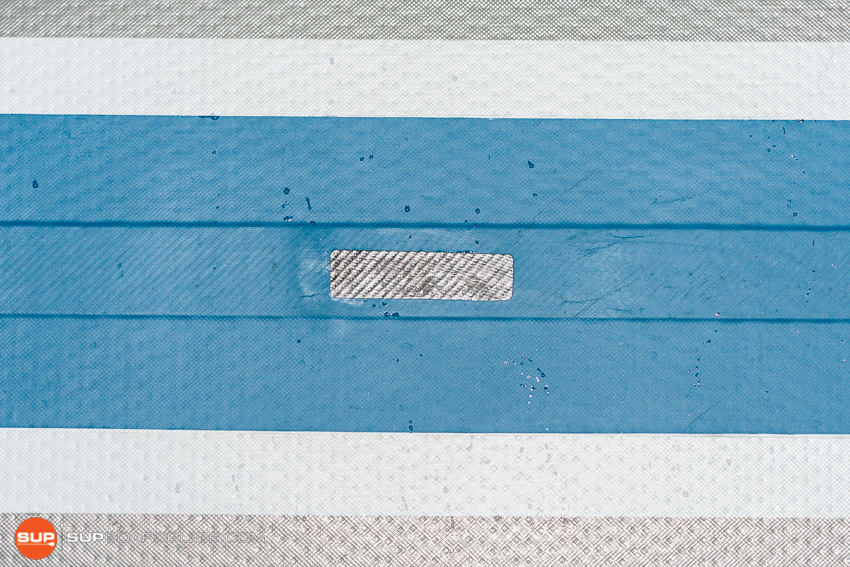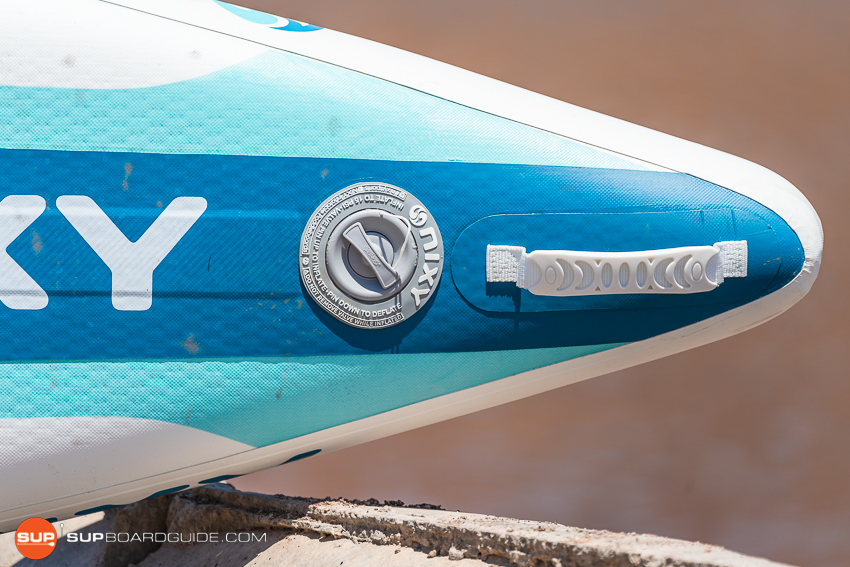 NIXY has done a commendable job across their lineup in terms of overall construction. They use a "dual layer advanced fusion laminated woven drop stitch technology" in their inflatable paddle boards It also has carbon reinforced side rails and dual carbon fiber stringers running nose to tail on the top and bottom of the board.
Our overall take is that the board looks and feels like a quality level above its price point. The manufacturer clearly put time and effort into the finish quality which shows in the delivered product. All the attachments and seams are well sealed and look very solid. All the touchpoints feel solid and well made as well (handles, bungees, D-rings, etc.)
Accessory Review: 9.6/10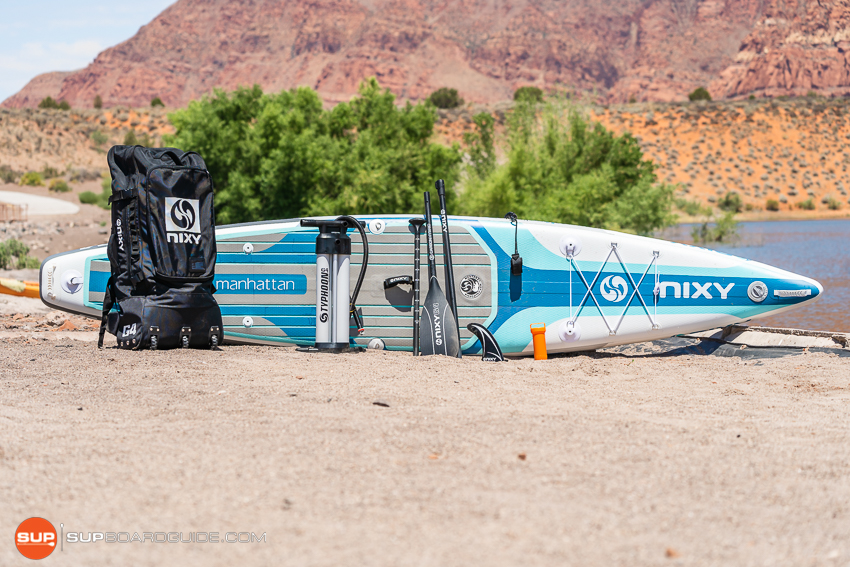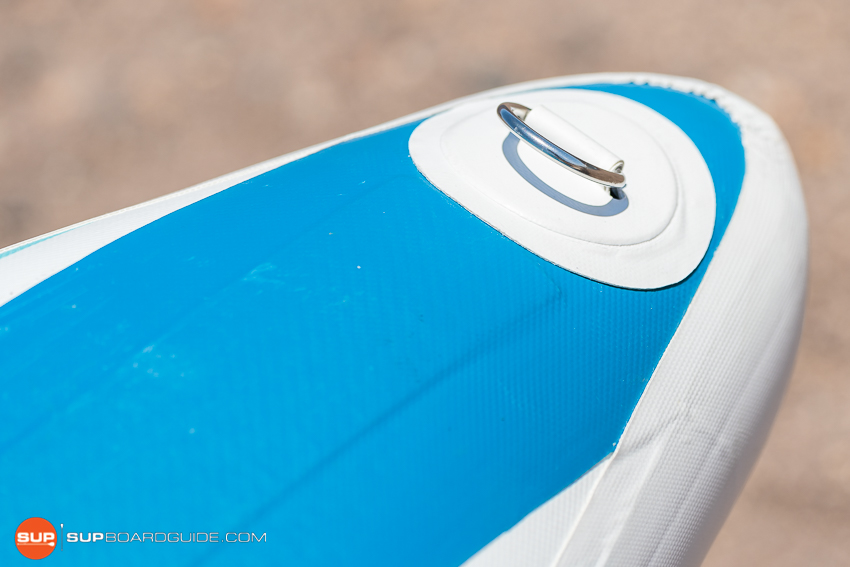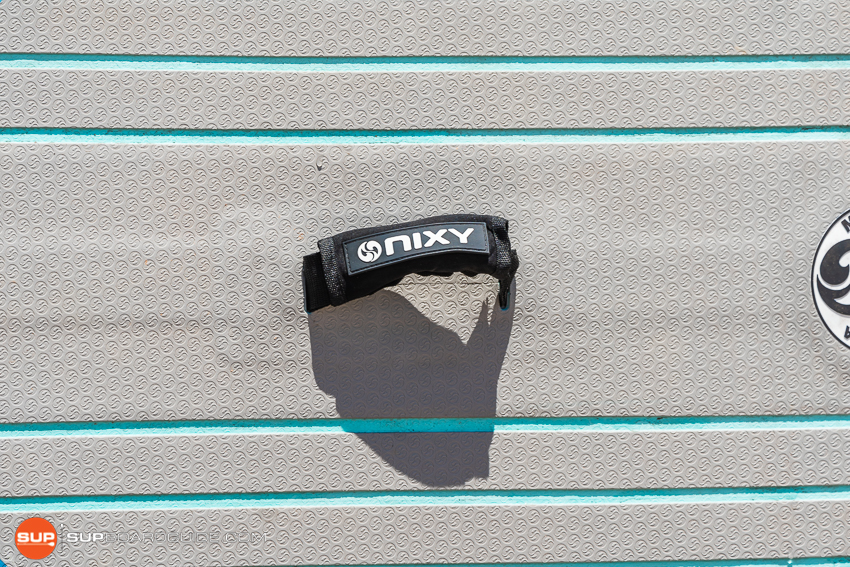 Included Accessories:

The NIXY Manhattan G4 12'6 Performance kit is one of the better kits on the market today. NIXY has really stepped up the game for other manufacturers by including some of the best kit components available in any price segment. Seriously we are not overstating the quality of their kit carbon fiber paddle. The paddle, combined with a fantastic hand pump, and well made backpack, really have us looking around at the competition. This kit comes with:
NIXY G4 Carbon Fiber Hybrid paddle
NIXY G4 Typhoon hand pump
NIXY G4 10' hybrid coiled leash
NIXY G4 Backpack
NIXY 9" US/FCS compatible fin
Repair kit
We will go into detail about most of those pieces below but just know that this package is one of, if not the best out there right now.
Paddle: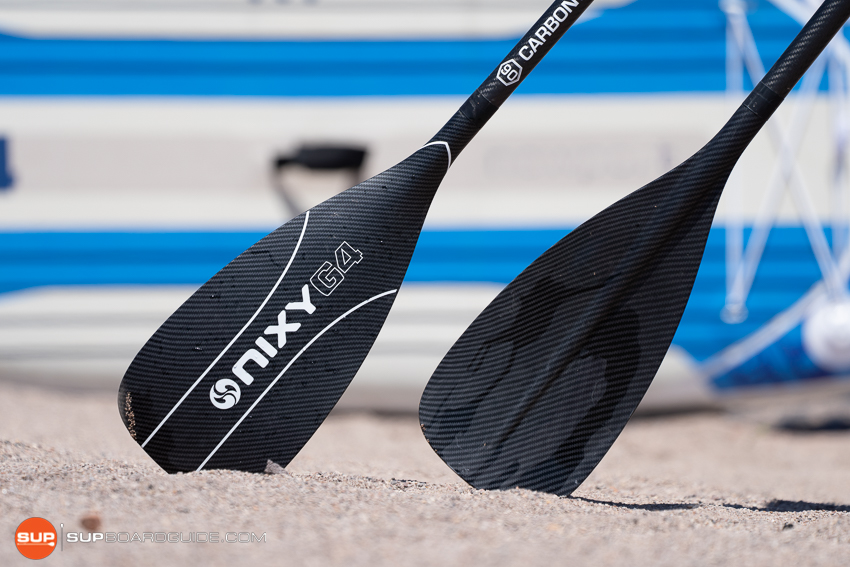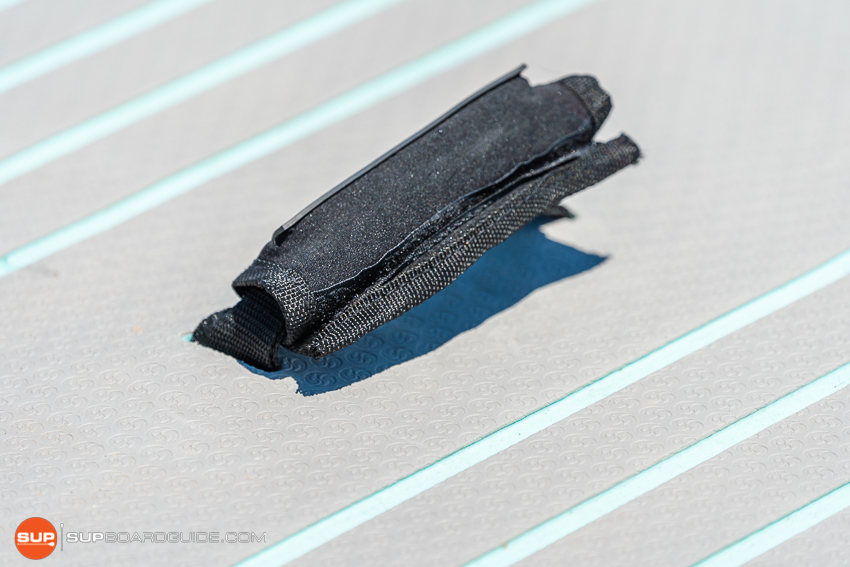 Yes, this is the best kit paddle we have seen this year. Yes, you can buy a better carbon fiber paddle if you want to spend $200+ (in fact, NIXY has a few options that are fantastic if you are looking to upgrade). However, the fact that this paddle comes included is simply impressive, period.
It's a three piece carbon fiber hybrid setup that has solid connections at the bottom and at the height adjustment point. This means there is no wiggle in the paddle at any point. This paddle just felt amazing in comparison to the other kit paddles we have tested recently. It's lightweight and solid and really feels like a paddle that should cost hundreds more.
Again, NIXY does actually have some more advanced full carbon pieces available. In full disclosure NIXY sent us several of their Pro Series full carbon paddles along with the basic G4 hybrid. After using the hybrid the full time during the initial testing (it's what came in the bag), we actually thought NIXY had slipped in a ringer for their kit paddle. We saw the quality of the full carbon pieces side by side with this paddle and thought perhaps they threw one in for the kit. We had to confirm that the G4 Hybrid is what actually comes standard with the kit.
Bottom line, this is one nice kit paddle.
Pump: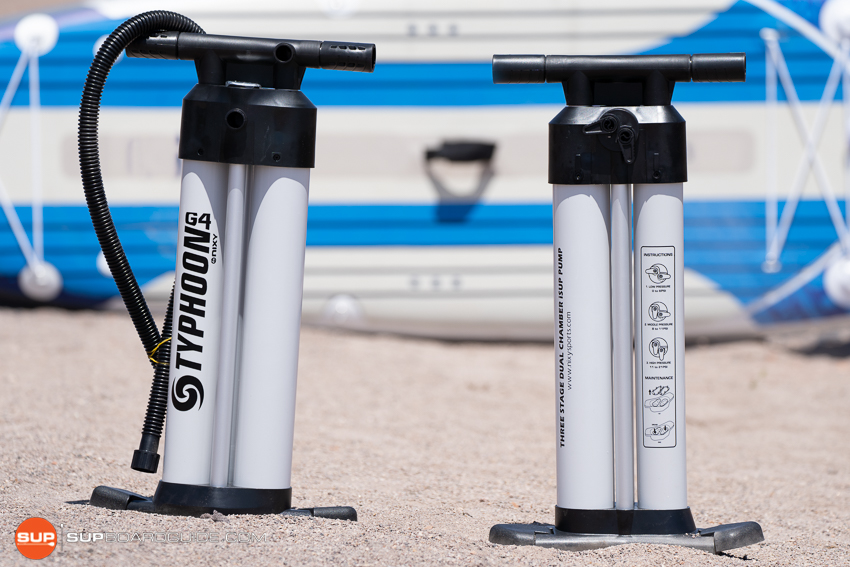 The two chamber three stage pump that comes with the NIxy Manhattan G4 kit is a perfect example of what manual pumps should be. It moved enough air between the three stages that you never really felt overly burdened. Though we would like to point out that the second stage runs out of effectiveness rather quickly. We feel that even smaller and lighter paddlers won't overly strain themselves reaching the last few PSI. Compared to some other lesser quality pumps that becomes an issue without the additional chamber and stage (one chamber dual stage). Since the board is clearly designed for lighter users we think this was an especially good idea.
Brace yourself for the standard electric pump plug. No matter how good a manual pump is, an electric pump is always better. NIXY has specifically redesigned their electric pump to make it much more capable. In fact, we have been very impressed so far with the NIXY electric pump, and do highly recommend it. Please do yourself a favor and save your arms and shoulders for paddling. With this board we really think you'll need all the energy you can get.
Bag: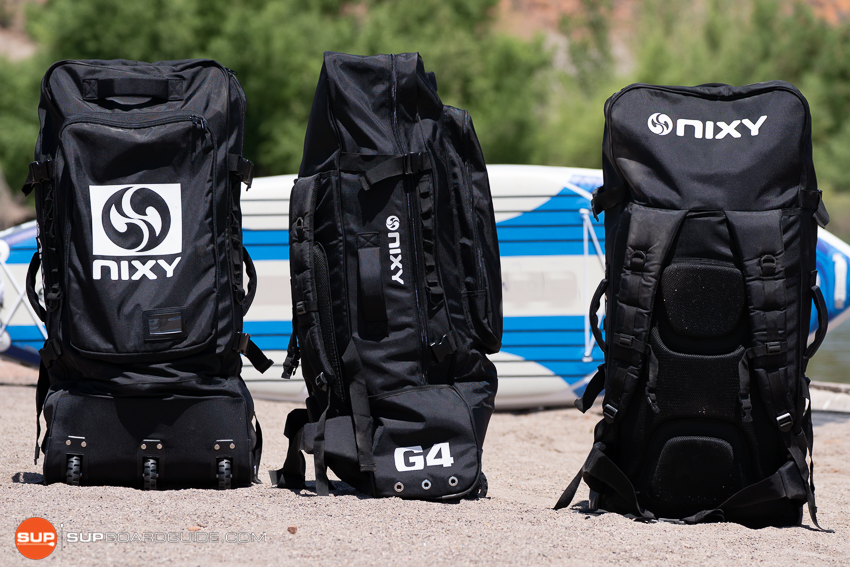 NIXY includes a very solidly made bag with all of their kits. It's solidly made with sturdy handles and thick straps. Wearing the pack felt comfortable and you could feasibly hike in this for a mile or two if needed. It has most of the standard features such as wheels and cinch straps to compress the bag around the rolled/folded board. It also has a large forward pocket, though it's not quite large enough to fit the pump. We also like the webbing located on the top and sides as it makes it quick and easy to attach additional items via carabiners.
We would like to see the bag perhaps ditch the third wheels as it often felt like turning on it's side while rolling over uneven terrain. We would also like to suggest some form of venting or draining for the board itself. Most people put their boards away wet so we think it should be a more common feature.
Optional Accessories
NIXY has a handful of optional accessories. As mentioned above we really like their newly redesigned electric pump and the optional battery kit. Not to mention their extremely high quality full carbon adjustable paddles. As good as the kit paddles are, these are even better. They also take it a step further by offering buyers various blade size options, something most SUP manufacturers don't even consider. They also offer a bamboo finished blade option that is just gorgeous.
Here is a brief list of our favorite NIXY Accessories.
NIXY 3 piece full carbon paddles (in 86, 88, 90, 94 inches square)
NIXY Ventus paddle board electric pump (and an optional battery pack)
NIXY premium SUP kayak seat
NIXY SUP carry sling
Optional accessory
Various attachments for the action mounts
Summary Review of the NIXY Manhattan G4 12'6 Performance (2021 model)
NIXY has made a viable 12'6 traveling race board with the Manhattan. It's well crafted, and includes enough features to make it a staple for anyone who wants to seriously commit to their SUP training or racing. NIXY also has landed itself on the top of the iSUP kit's this year as well with a best in class included paddle, as well as a solid pump and backpack. The value that the NIXY brand represents is excellent in our opinion.
We really think a lighter and / or more advanced paddler would love this board. Just don't go into this thinking that it is a beginners board and you will be fine. Hopefully NIXY will see the need for a 14' inflatable race board and answer the problem for those 200 lbs and above.
Happy paddling and if you have any questions or comments about this review please don't hesitate to reach out to us or drop a comment below. We love answering questions. Until then, we hope to see you on the water!
The following two tabs change content below.
SupBoardGuide
Heyo! At SupBoardGuide.com we are a team who love the water, the outdoors, and are more than grateful that our full-time job allows us to review stand up paddle boards. We paddle year round (it helps that we are just about 2 hours outside of Las Vegas), and we bring in a wide range of paddlers with the goal of providing our readers with the best, most in-depth, and accurate stand up paddle board reviews.
Latest posts by SupBoardGuide (see all)