ISLE Pioneer 2.0 Inflatable Paddleboard
Pros
Super stable for SUP newcomers, and at a reasonable price point
Lighter construction makes it less tiring to paddle than heavier built larger SUPs
Comfortable, uncluttered deck space for SUP yogis
Surprising level of speed, despite its wider shape
More maneuverable than expected
Cons
Not quite as rigid for heavier paddlers
We would have appreciated a SUP backpack with wheels
The ISLE Pioneer 2.0 is one board that I almost always see on the water any given day that I go out to paddle. As such, I've been wanting to get my hands on this SUP to review for a long time. This board is wildly popular, and each time I'd see it being paraded down the beach by an eager paddler, I couldn't help but wonder what the hype was about for this seemingly minimalistic board – and If you're reading this, you're probably wondering the same thing.
What I've learned while testing this SUP is that while outwardly minimalistic, the Pioneer serves a limitless number of audiences. It's a phenomenal SUP for beginners because of its accommodating stability, but it's also a great option for more experienced paddlers that want to haul a load of gear, or bring along a passenger.
At 34″ wide, it's well-suited for SUP yoga or would provide a stable fishing platform, and at 24 lbs it's light enough that paddlers can get up a bit more speed than they would be able to on some similarly sized SUPs on the market. There's just not many people that this board wouldn't work for, whether as a stable addition to their arsenal or as a solo 'do anything' all-around, which is likely why it's beloved by so many paddlers of varying sizes and experience levels. It also comes with a decent kit of included accessories for a reasonable price.
All in all, the Pioneer 2.0 is a SUP industry staple that will continue to serve a wide range of paddlers as the sport progresses.
We think the ISLE Pioneer 2.0 would be great for paddlers who:
Want a stability focused SUP that's lightweight
Prefer a cleaner deck space with plenty of standing space for pets, passengers, or gear
Need a higher weight capacity than a smaller, more classic all-around could offer
Frequently venture into a variety of environments: flatwater, slow moving rivers, ocean paddling, etc.
ISLE Pioneer 2.0: Spec Sheet
Main Category: All-Around, Inflatable
Board Dimensions: 10'6 x 34" x 6"
Listed Board Weight: 24 lbs
Listed Max Capacity: 285 lbs
Recommended PSI: 13-17 PSI
Fins: 2+1; I removable center fin w/ 2 fixed side fins
Paddle: 3-piece carbon hybrid
Materials: Dual layer fusion w/ cross-dropstitch
Price Range: Low – mid
Warranty: 2 year – Limited
Performance Review of the ISLE Pioneer 2.0 Stand Up Paddle Board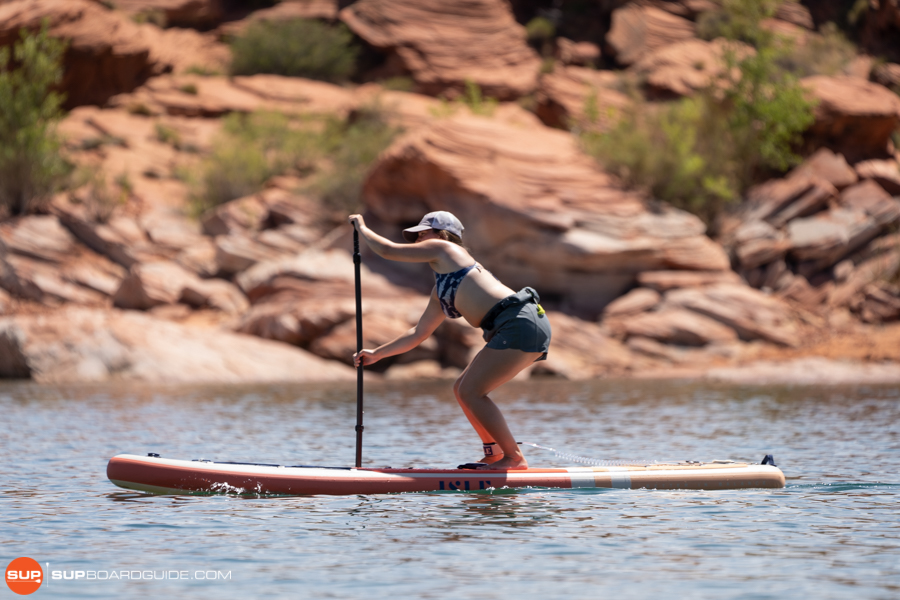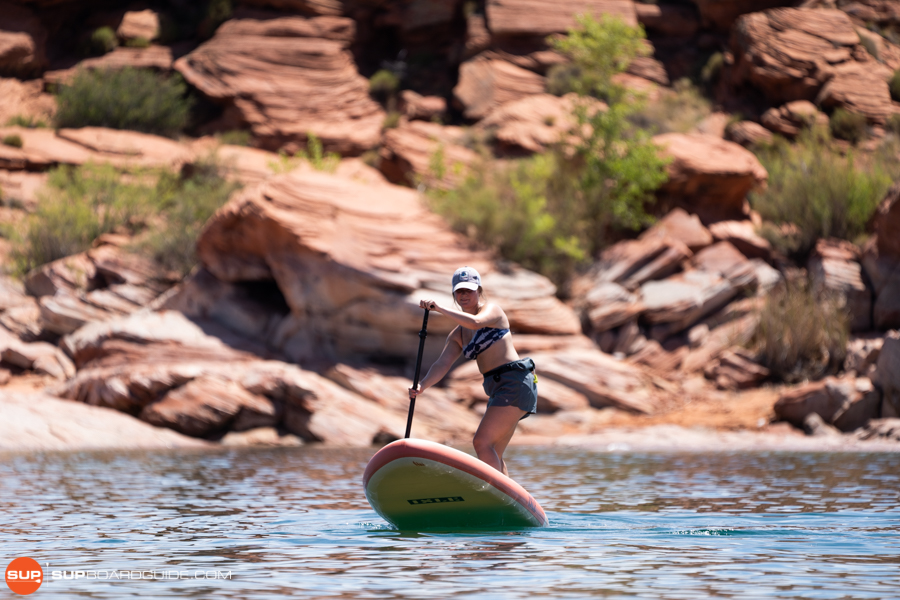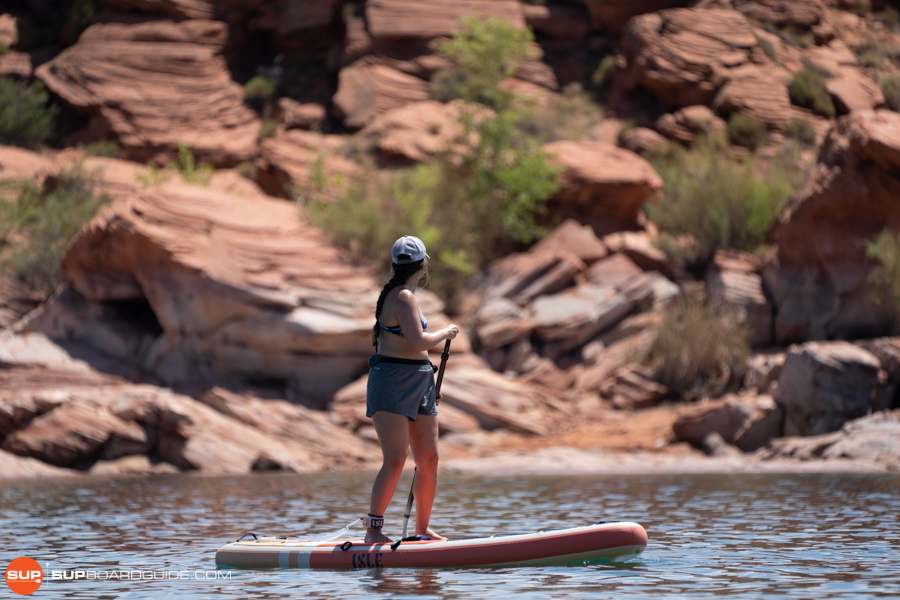 Overall Score: 9.7/10
Stability: 9.8/10
Speed: 9.1/10
Tracking: 8.9/10
Maneuverability: 8.9/10
Construction Quality: 8.8/10
Features/Accessories: 9.0/10
Stability Rating: 9.8/10
Being 10'6 long and 34" wide, the ISLE Pioneer 2.0 is clearly a high volume, stability focused SUP – and its performance in our stability test held true to that expectation.
As a smaller paddler, the ISLE Pioneer 2.0 felt similar in the stability department to the Blackfin Model X (its closest size comparison), though did not feel quite as stiff. This may be something for heavier paddlers to consider, as the ISLE Pioneer 2.0 does have a slightly lower than anticipated recommended weight capacity – though we do still need to do some testing to determine the weight at which the SUP begins to lose stability.
For now though, this SUP is exceptionally stable and would make a great choice for a more apprehensive SUP newbie, paddlers looking for a sturdy yoga SUP, paddlers bringing along dogs or small children, and paddlers looking to bring along a bit of gear (a few drybags, small cooler, etc.).
Speed Test: 9.1/10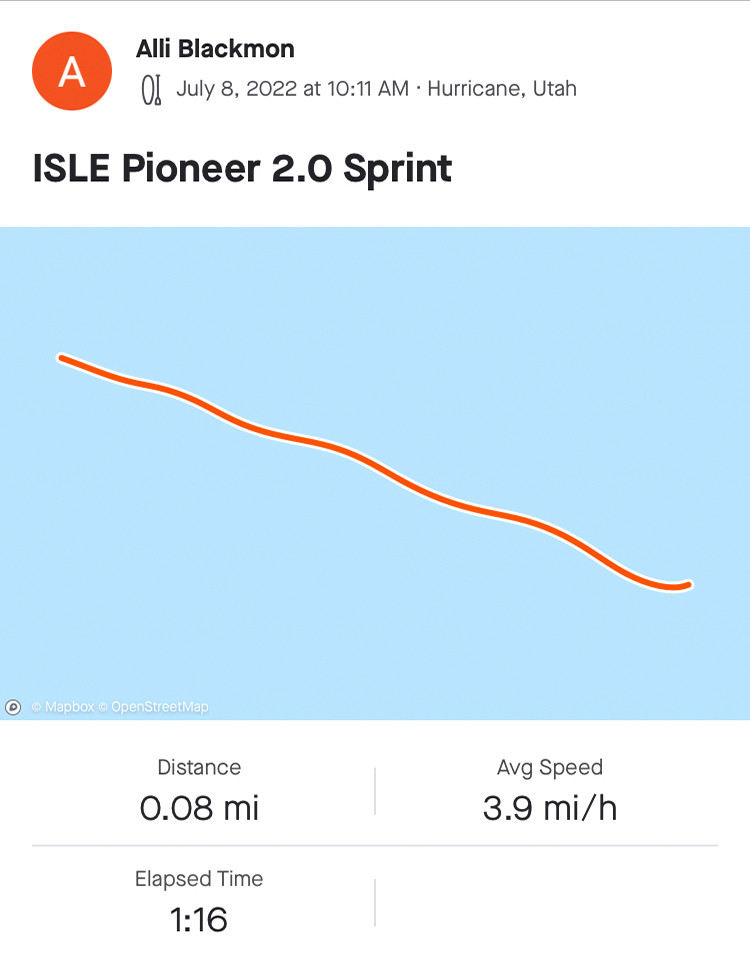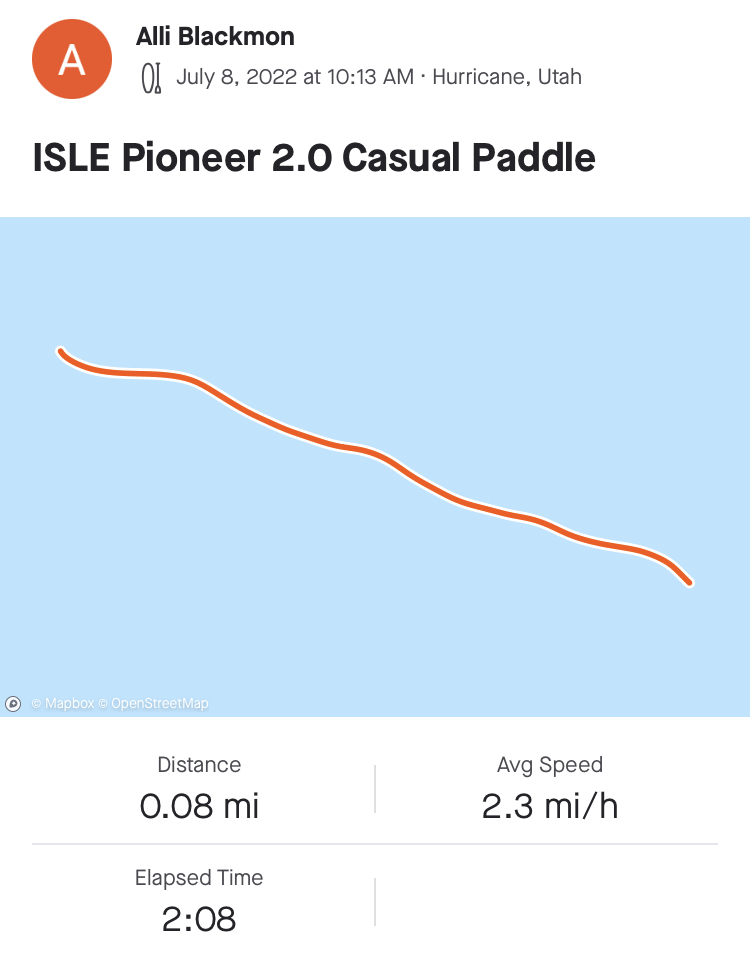 While the high volume dimensions and wide/rounded shape of the ISLE Pioneer 2.0 make it an ultra-stable platform, it's not built for speed.
That being said, the Pioneer is relatively light (compared to other iSUPs of similar sizes), so it doesn't feel notably cumbersome to paddle. It came across the line quicker than we expected during our sprint test, and while not a rocket by any means, the Pioneer will not have you struggling or breaking a sweat to keep up with your friends.
Tracking: 8.9/10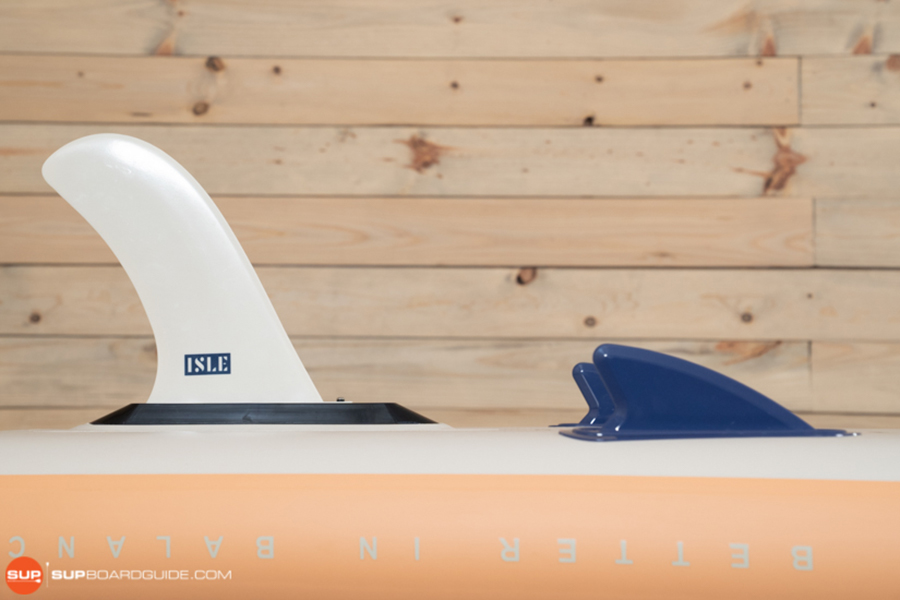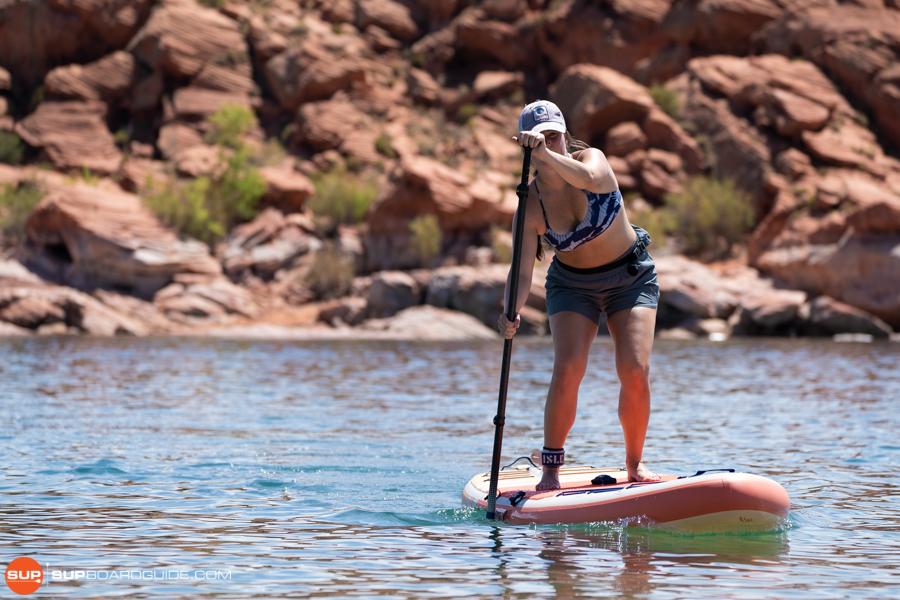 As with speed, the ISLE Pioneer 2.0 performed better than expected in the tracking category.
Given the fixed flexible side fins, I didn't have high hopes for the Pioneer, but the long hatchet-dolphin hybrid center fin enabled this SUP to keep its path fairly naturally, even when I relaxed my form a bit.
On the topic of form though, it is worth noting that because this SUP is 34" wide, shorter/smaller paddlers will have to reach more to get their paddle vertical as it enters the water. If you're a real stickler for form, this may bother you, but given that the Pioneer is more a casual SUP, we don't see it as an issue at all.
Its better-than-expected tracking capabilities also played into this SUPs surprising speed capability, as I had to switch sides less often during the sprint than I have with other wide stanced boards.
Maneuverability: 8.9/10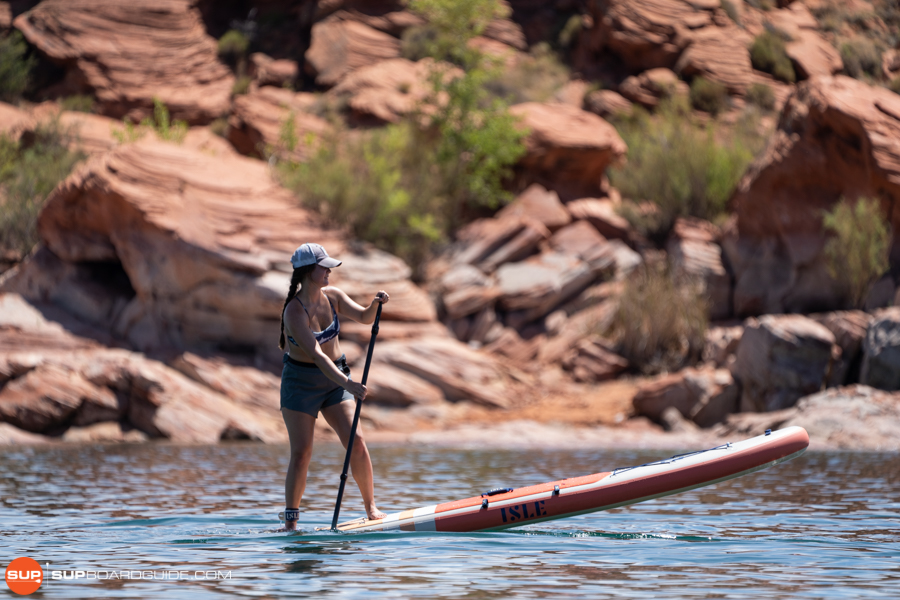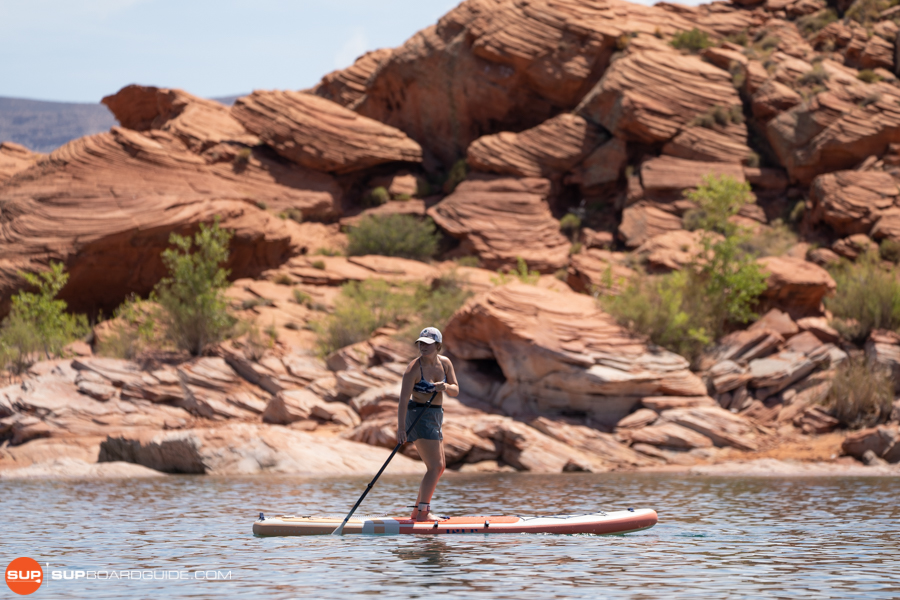 Being 34" wide x 10'6 SUP, I was not expecting the ISLE Pioneer 2.0 to behave like a sportier 10'6 all-around, but I still had no trouble making reasonably quick turns with this board.
Again crediting the Pioneer's comparatively lighter build, it doesn't require a ton of effort to turn or alter your course even if you have a bit of momentum going. We think the fin set-up is coming into play here as well, as the short flex side fins enable this SUP to behave more like a single fin board and make it a bit quicker in the 360 turns than most standard 2+1 fin all-arounds with longer, more effective side fins.
Construction Quality: 8.8/10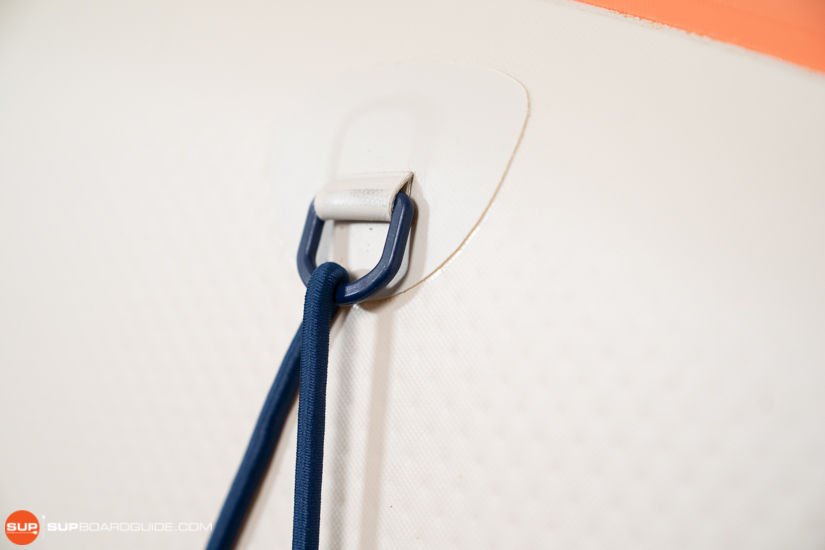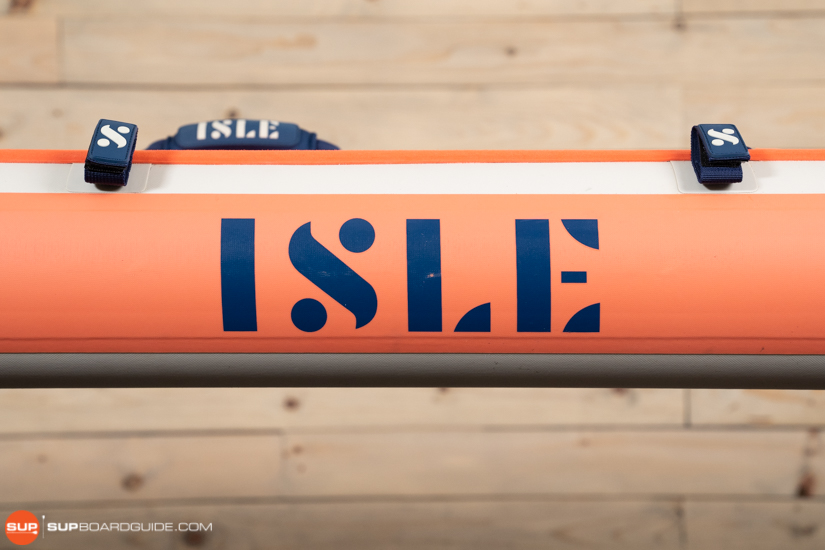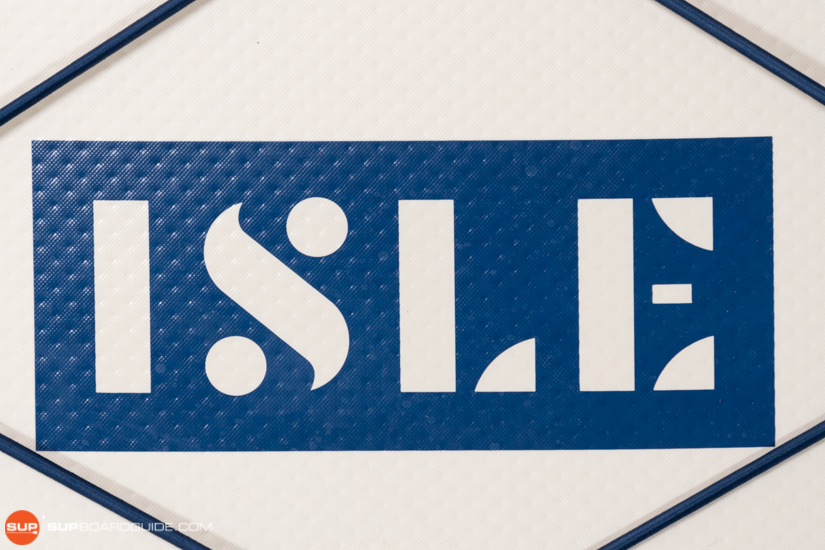 The ISLE Pioneer 2.0 is constructed around a cross-dropstitch core and utilizes what ISLE has coined as 'Air-Tech Fusion'.
In this process, the drop stitch threads that span from the deck to the bottom of the board, and maintain its shape, are oriented in X-patterns. The idea behind this is that it creates more structural rigidity with less materials or weight than would be needed with linear dropstitch. While the prior is difficult for us to completely verify, we can say that the Pioneer is exceptionally light for its size.
These dropstitch threads are anchored into a knitted fabric, which is then encased in ISLE's first layer of PVC using a glue adhesive. The second layer of PVC is then bonded to the first using heat. Once completed on the deck and bottom of the SUP, the Pioneer's dual PVC rails are applied SUP with glue.
Board Stiffness: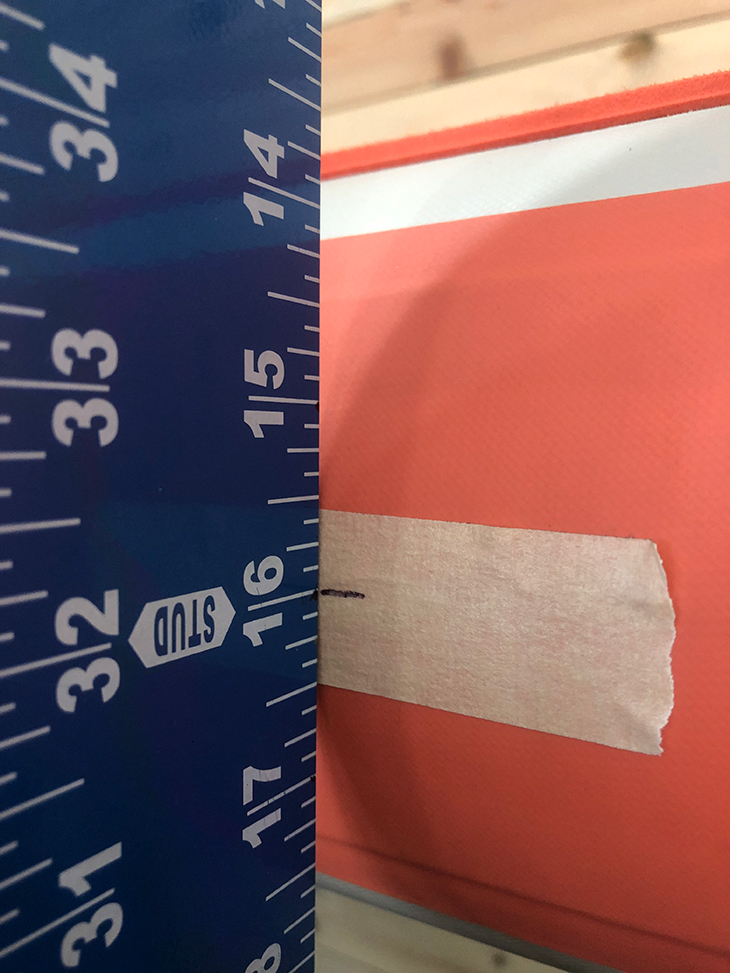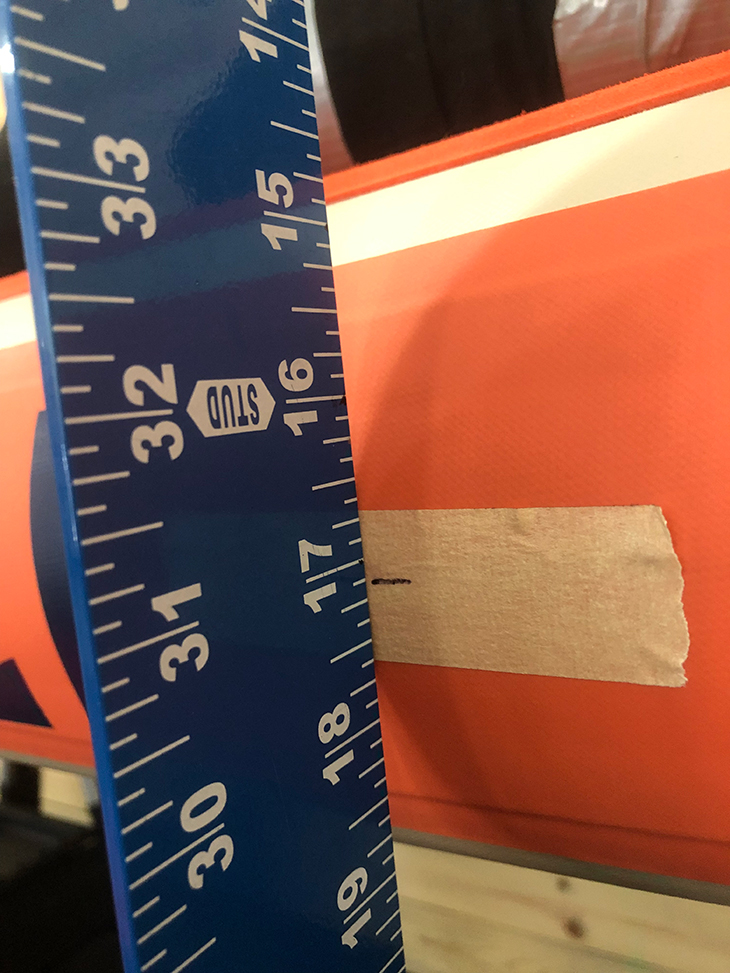 Stiffness Test: 1 1/16 " Bend
Our bend test is completed by placing the SUP on top of two sawhorses spaced 7' apart. We then load the board up with 150 lbs at its midpoint and measure how much it bends under the weight. Obviously, this is not replicative of the board's performance on the water, but it helps us quantify and compare how certain construction processes contribute to stiffness.
The Pioneer performed well in this test with only a bit more than 1" of bend. It's not the stiffest SUP we've ever seen, but considering it's only 24 lbs and is without some 'stiffening agents' that other brands use such as carbon fiber rails, PVC stringers, etc, we're pretty happy with its result.
Features/Accessory Review: 9.0/10
The ISLE Pioneer 2.0 keeps its accessories fairly minimalistic, without losing functionality.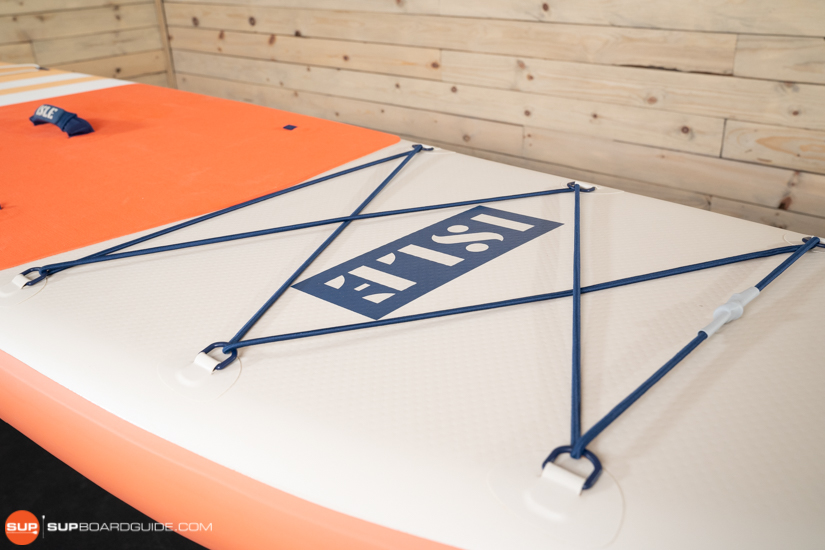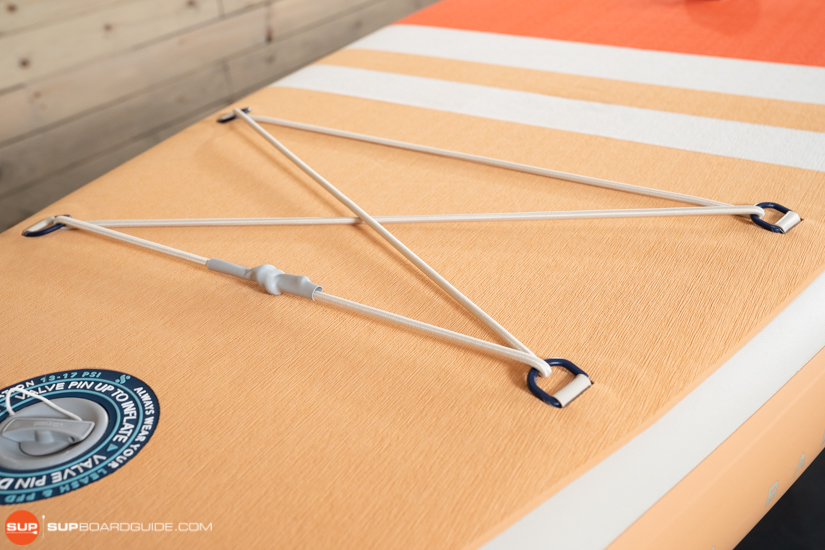 Equipped with large front and rear cargo areas, the Pioneer has space to load up with gear for an overnight paddling trip or a SUP camping weekend.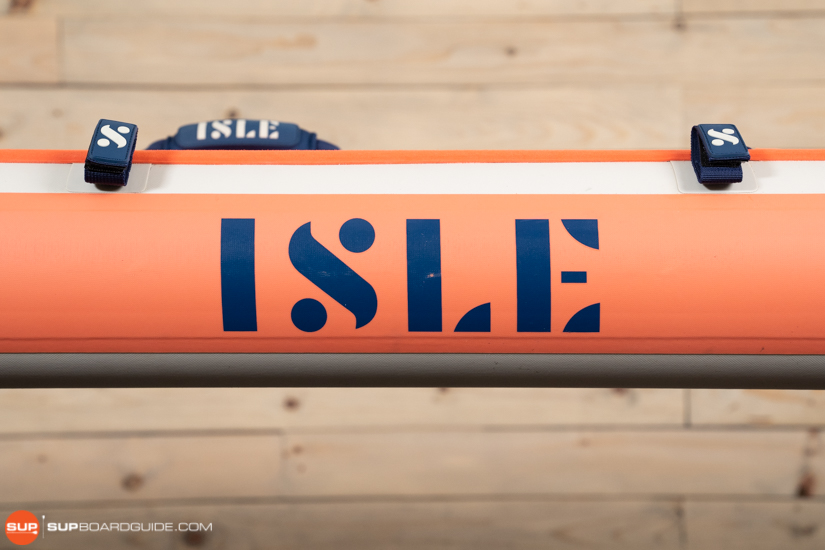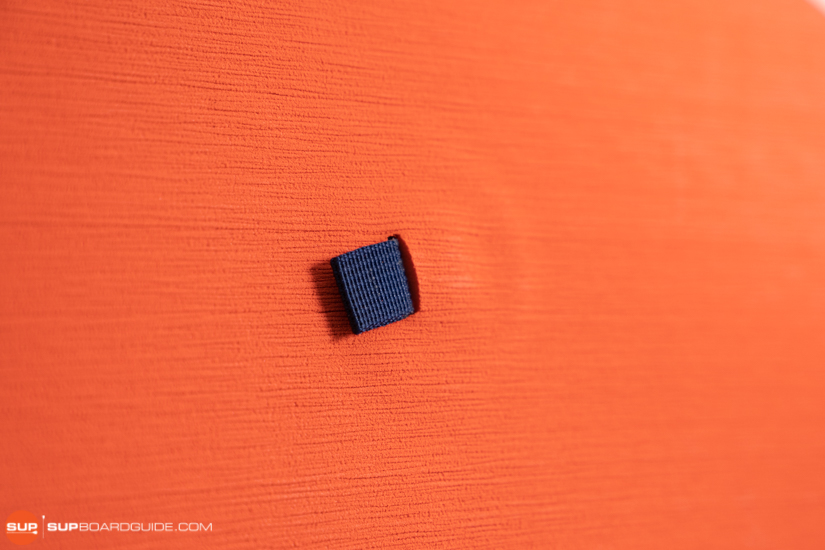 It sports 3 carry handles at the nose, tail, and center for easier transport into and out of the water, as well as a velcro paddle holder on the rail to free up your hands as you walk down the beach or secure your paddle while you go for a swim. The Pioneer 2.0 also has a set of nylon loops (one pictured above), to allow you to attach a compatible kayak seat.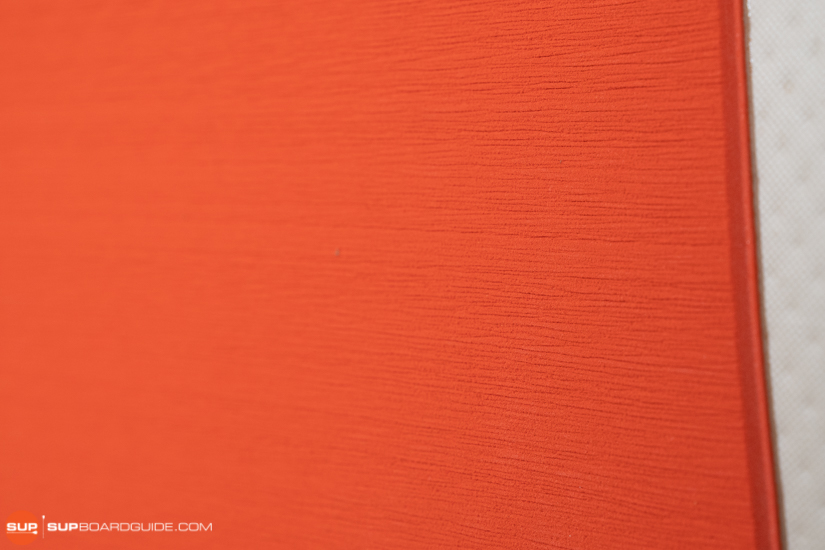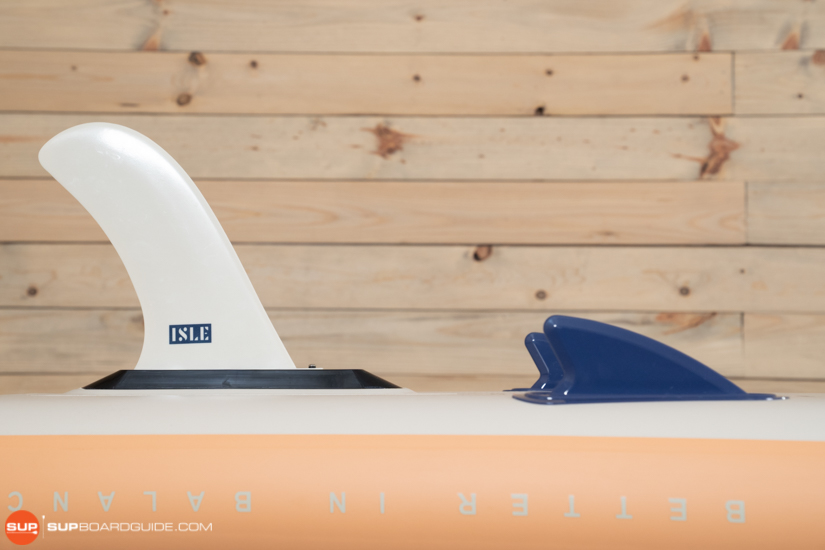 The smooth brushed-finish deckpad on the Pioneer is super comfortable while doing SUP yoga, or even if you're just laying out on your SUP to catch some rays, though it doesn't have the most grip as you're moving around the board.
Closing out this section with the fins, we've never been fans of fixed flex fins on any SUP. For the Pioneer specifically, we haven't found that they add or detract anything from this SUP's performance. It'd be our recommendation for ISLE to either remove them all together and go with a single fin set-up for the Pioneer, or replace them with a set of longer, removable side fins.
Included Accessories: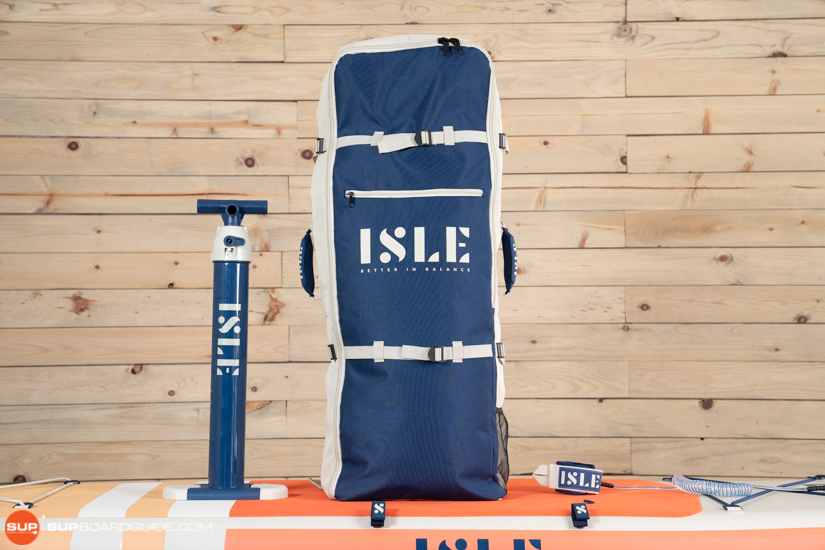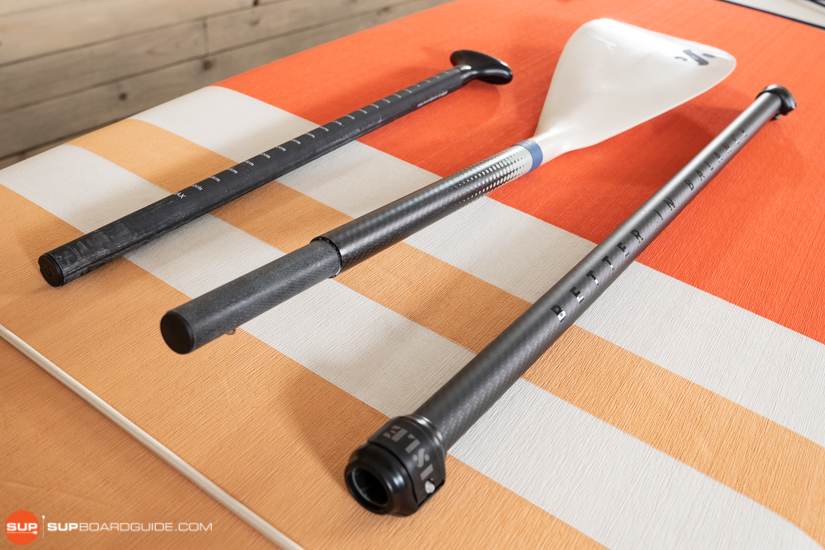 With your ISLE Pioneer 2.0, you'll receive the following accessories:
8' coiled leash
Nylon removable center fin (US Fin Box – Screw Plate)
3 piece carbon hybrid paddle
Single chamber hand pump
SUP backpack
Given the price of this SUP, the accessory list seems fair, but we still would like to see ISLE make some upgrades in the future.
Starting with the positives, we were pleasantly surprised by ISLE's kit paddle. Their carbon fiber blend feels light and sturdy, and I really like the extra grip on the handle. And while I'm not usually a fan of scoop blade paddles, it's perfectly functional for this type of casual board.
Now for our suggested improvements. We'd like to see ISLE include a longer leash. Generally, you'll want your leash to be fairly close to the length of your SUP. At 8' long, ISLE's leash slightly limits your mobility on the board. We'd also like to see ISLE move towards a roller SUP bag to make treks to the car or through the beach parking lot significantly easier. Ending with the fin, I'm not a huge fan of ISLE's tool-less 'Superbolt'. It's easy enough to use when your hands are dry, but when they're wet the circular bolt gets pretty slippery, especially if you have any sunscreen residue on your hands. We've swapped ours out for a standard tool less screw and it's made setting and packing up just a little bit easier.
Summary Review of the ISLE Pioneer 2.0
In short, the ISLE Pioneer 2.0 exceeded and met most of our expectations. It's exceptionally stable on the water, making it a great choice for SUP novices or gear-heavy paddlers alike.
Taking this stability into account, we were surprised by the Pioneer's capacity for speed as well as its ability to track and maneuver reasonably well for a SUP of this size.
Lastly, we're impressed with ISLE's accessory quality given the affordable price of this board. This is an area where we've seen other 'budget-friendly' brands cut corners, and were glad to see that this isn't the case with ISLE. The included carbon hybrid paddle is lightweight and rigid, while the included center fin is a great shape to balance tracking and maneuverability.
In short, the ISLE Pioneer 2.0 left us pleasantly surprised, and though on the mid-lower end of the price spectrum, the quality of the Pioneer speaks for itself.
As always, we hope you've found this review helpful, but make sure to reach out in the comments if you have any questions or feel that there's anything we've missed.
In the meantime, happy paddling!
P.S. ISLE has the older model of the Pioneer available at a heavily discounted price here.
The following two tabs change content below.
SupBoardGuide
Heyo! At SupBoardGuide.com we are a team who love the water, the outdoors, and are more than grateful that our full-time job allows us to review stand up paddle boards. We paddle year round (it helps that we are just about 2 hours outside of Las Vegas), and we bring in a wide range of paddlers with the goal of providing our readers with the best, most in-depth, and accurate stand up paddle board reviews.
Latest posts by SupBoardGuide (see all)