Isle Pioneer 10'6 Inflatable Stand Up Paddle Board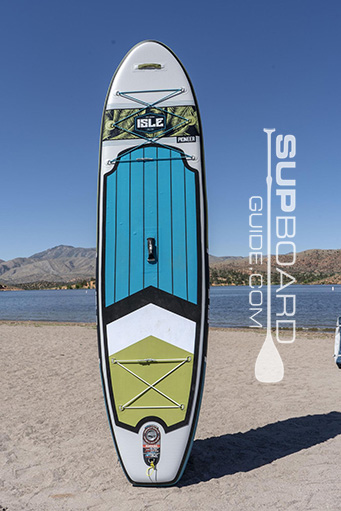 Beautifully designed, we really like the Isle Pioneer SUP. If you are someone looking for a good all-around board that tracks and glides well and is also very lightweight (just 21 lbs) then the Pioneer would be a good fit for you.
We also like how the board is made by a well-known and established brand that will stand by the one year warranty, Isle Surf and SUP. You can tell from some of the key details that Isle has been around for a while, and there is a reason why I have seen a ton of other paddlers out on their Isle boards – because they are stable, beautiful iSUPs and are a ton of fun!
One other quick note before we dive into our full review of the 2019 Pioneer SUP from Isle: The Pioneer is essentially replacing Isle's Airtech All-Around Inflatable SUP from 2018, and it's a nice upgrade from last years board. The design is improved (a ton), you get an extra bungee in the back of the board, and in general the board just feels a little better – definitely worth getting the new version!
Specs
| | |
| --- | --- |
| Length | 10'6 |
| Width | 31" |
| Thickness | 6″ |
| Weight | 21 lbs |
| Max Capacity | 240 lbs |
| Volume | 225 L |
Performance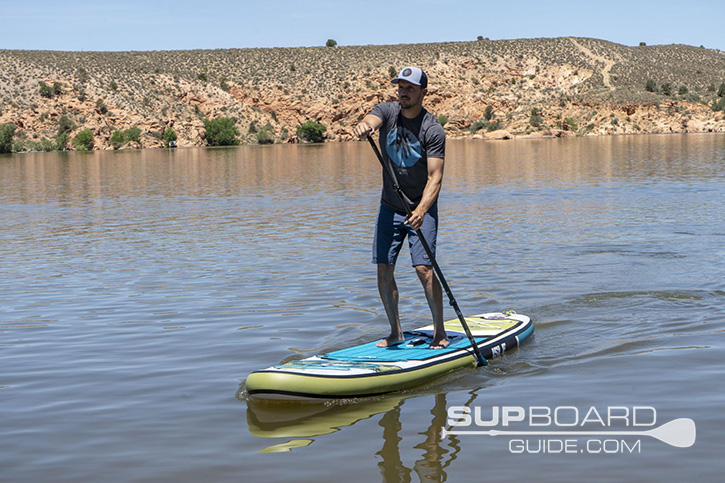 When judging performance, we look at 3 main areas:
Stability
Tracking / Glide
Maneuverability
Stability – The Pioneer 10'6 is a very stable board for those who are below 220 lbs, or who are experience paddlers. I weigh just around 175 lbs (need to get back down to 165!) and I had no problem with balance or the board supporting my weight. From the dozen other people I had paddle the board around only those who 1) didn't have much paddling experience AND 2) weighed over 220 lbs struggled balancing the board. However, I think that is to be expected if you are a larger paddler without experience (if that is you, then I'd recommend looking at the iRocker All-Around 11', or the BLACKFIN X).
Tracking/Glide – For being so lightweight, the Isle Pioner 10'6 felt really nice. It tracks very straight, and glides really well thanks to the shape of the SUP and the large, removable center fin that comes with the board purchase.
Maneuverability – I was able to turn the board very easily using sweeping side turns, back paddle turns, and back-fin pivot turns. I feel that Isle did a great job of balancing a large center fin for tracking with two small side fins that help you maneuver easily.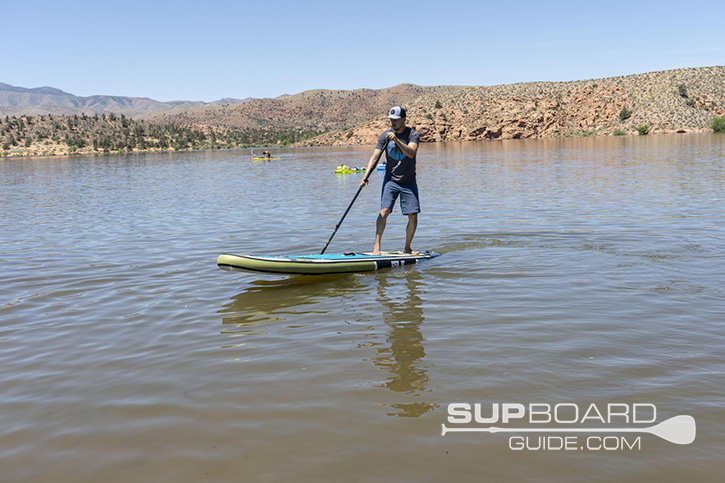 Materials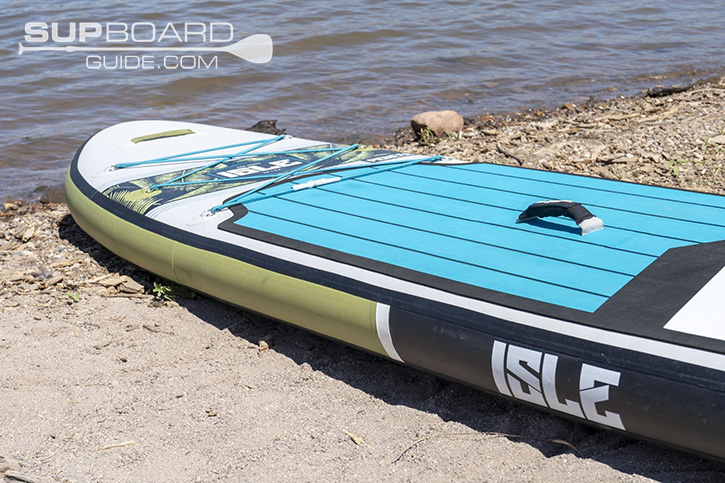 Isle uses a process they call 'Airtech fusion lite' in their board construction. Basically, it's their version of the fusion process that fuses a high density PVC layer to the boards drop stitch core. The fusion process creates a very lightweight board that is also durable.
The Isle Pioneer weighs in at 21 lbs, which is really nice and convenient. It almost feels a little too light, but in the several times I've taken the board out I haven't noticed any problems from a performance standpoint.
The Pioneer also is made with a high-pressure inflation valve that is rated up to 17 PSI. This is a little lower than some other fusion boards with pressure ratings up to 20 PSI, but that doesn't matter that much for most activities. You might run into some issues if you are looking to surf bigger waves or rapids (we would not recommend this as a whitewater board).
Board Design/Shape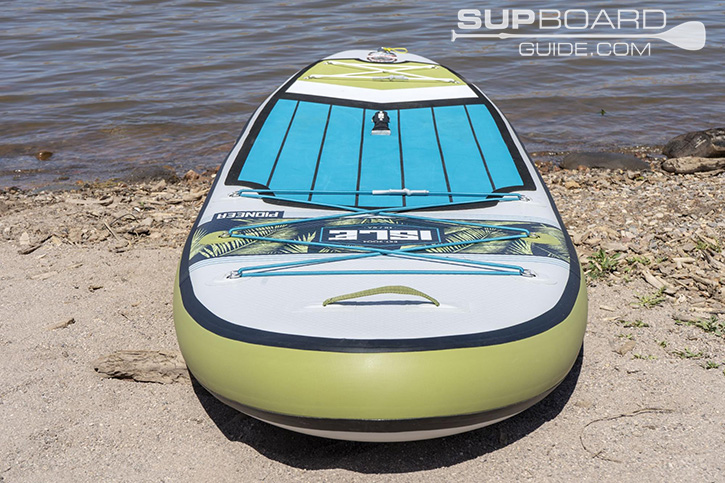 The Pioneer 10'6 is a classic all-around SUP – it's designed for paddling water with small chop/waves. You can see that it has a rounded nose, and the back end is fairly square. What this does is it makes the board pretty stable from front to back (a more pointed nose and tapered tail would give the board a little more maneuverability, but sacrifice stability).
For someone looking for a board to paddle around the lake or the ocean out past the break, this stand up paddle board does a really good job. There is a slight rocker in the front, which helps with the small chop and I really don't think there is much of a difference in feel vs the other mid-level all arounders that have a more pointed nose.
From a looks standpoint, I think Isle does one of the best jobs in designing their boards and we consistently see people pick the Isle based on how they look. If you want a stylish, great looking board then you will love the Pioneer.
Features
We really like the features that come with the Isle Pioneer iSUP:
Fins
You get a large, removable center fin and universal fin box and 2 permanent, flexible side fins. To be honest, I'm a little torn here. I really love their center fin and how it screws in very easily (side note – make sure it is all the way screwed down, otherwise you could lose your fin). I also love the size and shape and that it's removable and I can replace it with any other standard fin if I want to change things up.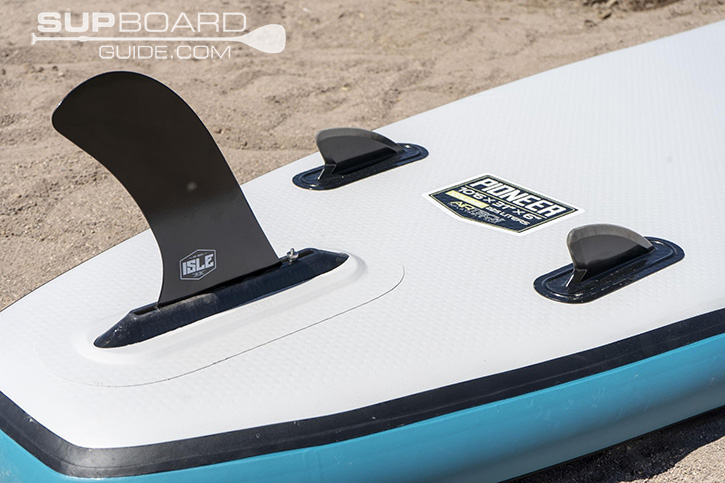 The side fins are where I'm torn. I like the fact that I don't have to worry about or mess with taking them out and putting them back in every time I go out. I like how they perform fairly well and won't break. However, I do like inflatable SUPs that let me change the side fins out if I want to, as that can improve the performance.
Basically, with fins you choose between ease of use, durability, and performance and I think Isle's Pioneer is a nice mix of the two – you get the performance and tracking from the large center fin, but the ease of use and forever durability of the two flexi side fins.
Traction Pad
I really like the traction pad on the Pioneer, especially with how it plays into the board design. However, I would like to see it be a little thicker. The pad is a soft-brushed EVA foam that feels very comfortable and provides good traction even when wet.
Handles
The Pioneer 10'6 comes with a front handle and middle handle that makes it super easy to carry to and from the water. On an all-arounder I would like to see another handle for the rear of the board simply for those families with little kids to make it easier for 2 kids to carry it around.
D-Rings
There are 11 D-rings (6 on the front, 4 on the back sides, and 1 on the back center). The only D-rings that might be missing would be if you wanted to add a kayak seat to the board, in which case you would need some D-rings in the center.
Bungees/Cargo Areas
I really like how there are bungies in the front and the back of the board. This gives you a lot of space for carrying things like sandals, water bottles, bags, and coolers.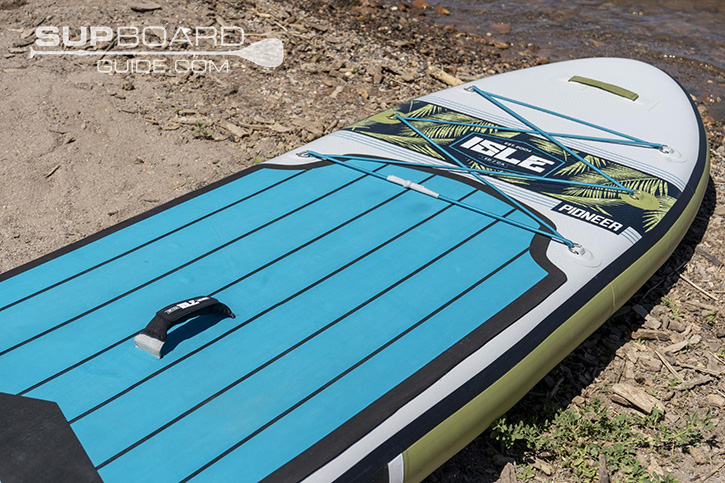 Accessories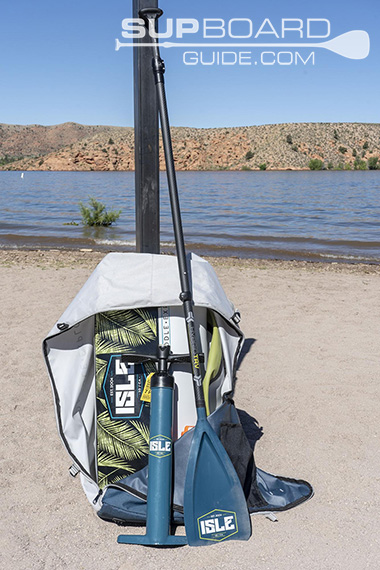 Paddle
I do really like the standard paddle that Isle includes with their inflatable SUPs. It's their hybrid travel paddle, which is a 3 piece paddle (i.e. it breaks down so it fits nicely in the bag) that has a carbon fiber shaft and nylon blade.
They also come with anti-rattle and anti-twist locks that keeps the paddle nice and firm while paddling so you don't lose energy to a twisting paddle.
My only issue with the paddle so far is that I've had one come a little loose on the anti-rattle/twist piece. Basically, just make sure you keep a screw driver on hand to tighten that up if needed, otherwise you might lose the screw. I have seen this type of set up on a few different paddles and I like the performance benefit you get from having the paddle really lock down and do think it's worth the extra hassle of carrying around a screw driver in my car to make sure those hinges stay nice and tight.
Pump
This is an area where I'd like to see some improvement from Isle. The pump included is a great pump. It's durable and does a great job pumping up the board. However, it's only a single chamber, dual action pump. I'd love to see Isle upgrade their pumps to dual chamber, triple action pumps.
NOTE – we paddle a lot. We test A LOT of boards. So, we spend a crazy amount of time pumping up inflatable SUPs – it's basically our arm workout and we don't have to go to the gym. So, we are a little more sensitive to something like a single chamber vs dual chamber pump because it saves us time and arm strength. For someone who is just buying a board for themselves to go out, you will save about 2 minutes of pumping time by having a dual chamber vs single chamber pump – so not a huge deal.
To be honest, I can't recommend enough buying Isle's electric pump. It's worth every cent, unless you are wanting that arm workout every time you take out your SUP (this is a recommendation we make across the board for every single company we review). Just trust us, if you can swing it, buy the electric pump. You'll thank us later and end up using your iSUP a lot more.
Backpack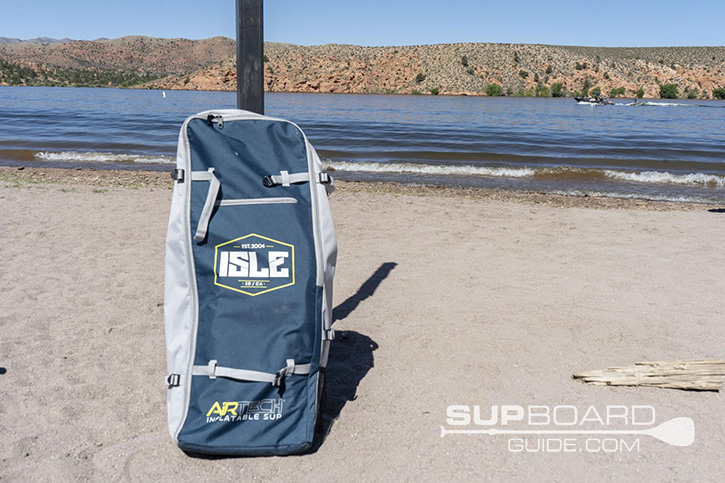 Isle does a great job with their packs. They have a ton of room, are very comfortable, and are made of high quality materials that will last a long time. I also really appreciate having a front zipper pouch to put the removable center fin, leash, and other accessories or snacks.
My only 'wish' for the Isle bag is that it had wheels to make it easier for me to transport. However, I'm not sure that matters to most people. Again, I lug around a ton of boards, so little things like the wheels make it easier for me. I'm not sure a normal person who is just taking out a single board would mind not having the wheels, and it does make the bag a little lighter and smaller footprint-wise. So, that trade off is up to you and not a big deal either way.
Leash
You get an 8' coiled leash, which is very comfortable and swivels nicely to stay out of the way. To be honest, almost all the leashes that come with the SUPs we recommend are pretty much the exact same. They are great, they work great, and you'll like them.
The leash also does have a velcro holder for your key if you need one.
Repair Kit
Another accessory that we find pretty standard across the industry. The repair kit comes with a few patches if you end up needing them and the leak is on a flat part of the board. What is nice is the wrench that you can use to tighten the inflation valve if you ever need to.
Conclusion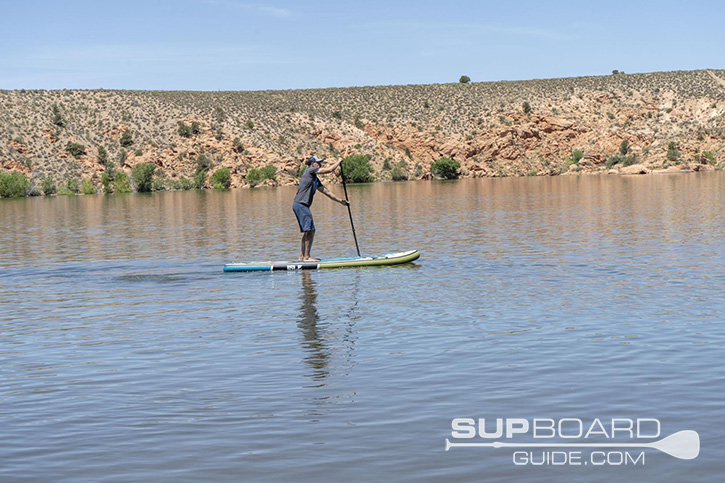 Bottom line, we really like the Isle Pioneer 10'6 inflatable SUP and would recommend it for anyone who is looking to paddle around the lake, calm river, ocean, and even try your paddle at surfing some small waves. It's great for everyone, including beginners and can even be used for things like fishing (although Isle has a dedicated board for fishing we'd recommend if you are interested in that).
The only person we would not recommend the Pioneer for would be a larger person who doesn't have experience on a stand up paddle board. This board has more float than your normal hard board, but there are a few other boards that Isle offers with higher weight capacities you should check out if you fit in that category (the Explorer, or Sportsman).
The following two tabs change content below.
SupBoardGuide
Heyo! At SupBoardGuide.com we are a team who love the water, the outdoors, and are more than grateful that our full-time job allows us to review stand up paddle boards. We paddle year round (it helps that we are just about 2 hours outside of Las Vegas), and we bring in a wide range of paddlers with the goal of providing our readers with the best, most in-depth, and accurate stand up paddle board reviews.
Latest posts by SupBoardGuide (see all)