Isle Megalodon Inflatable SUP (12'/15')
Pros
Lightweight for how big they are
2 great sizes - 15' for up to 1050 lbs, 12' for up to 450 lbs
Great for paddling around with tons of friends or family (or both)!
Tons of storage
Easy to use (pump up, fold, carry)
Cons
Pump could be improved
Not much else, these boards are a ton of fun for everyone!
Summary Review – Isle Megalodon Inflatable Stand Up Paddle Boards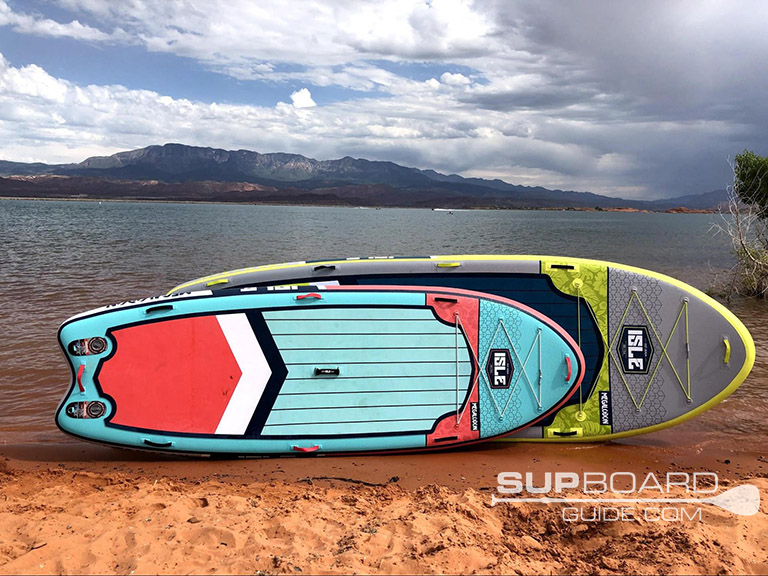 We love the Isle Megalodon's! While the 'multi-person SUP is a newer category for stand up paddle boards, there is almost no limit to what you can do on these. If you are looking for a multi-person SUP to do everything from paddling around the lake with 10 kids to surfing small waves with 2-3 of your friends or family, both the Megalodons are great options.
Bottom line – the Megalodon is a party SUP that makes the lake, ocean, or river a ton of fun when you have a large group of family or friends who want to have a blast on the water.
Specs
| | |
| --- | --- |
| Length | 12' | 15' |
| Width | 45" | 56" |
| Thickness | 8" |
| Weight | 34 lbs | 50 lbs |
| Max Capacity | 450 lbs | 1050 lbs |
| Volume | 584 L | 730 L |
Performance
When judging performance of iSUPs, we typically look at three areas:
Stability
Tracking / Glide
Maneuverability
However, with the Multi-person SUPs we also look at:
The minimum amount of people needed to paddle the board around (i.e. can the board be used by just one or two people, or do you need 4-5+)
The maximum amount of people the board can carry.
Basically, you want a multi-person SUP to be versatile where you can have a ton of people on the board, but at the same time you can manage the board and fun with just 2 people.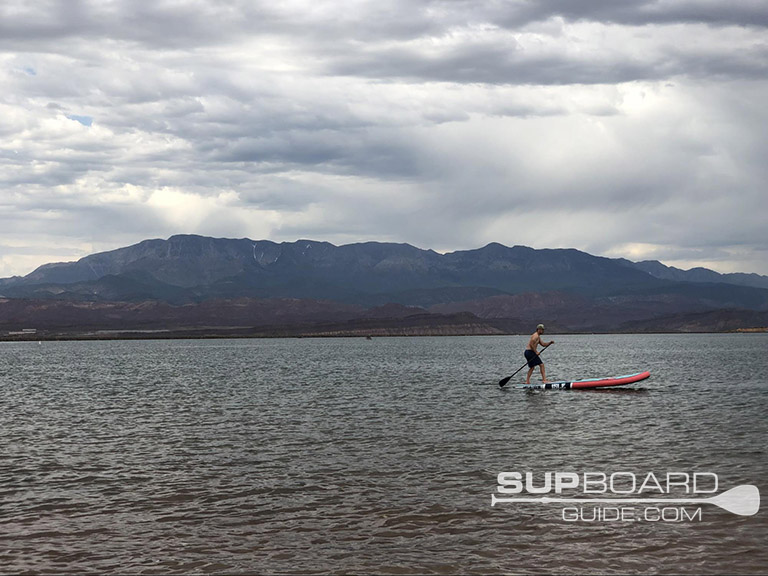 Stability
At either 12' x 45" or 15' x 56" and weight capacities of 450 | 1050 lbs, both Megalodon's are super stable boards. Both boards are very wide from the front to the tail, making the board platform stable throughout the entire board.
On the 15' board we've been able to put 4 adults (just over 800 lbs), and 5 kids all at once and still paddle out in the ocean without a problem. Basically, these are party boards, they are super stable and they can carry a ton of people.
Tracking
For such large boards, we were pleasantly surprised at how well the boards track. With a large center fin and 4 flexi side fins both boards track very well (at least they track well unless your brother in law sits on the back, dangles his legs in the water, and decides to use his feet to act
as a rudder vs help paddle).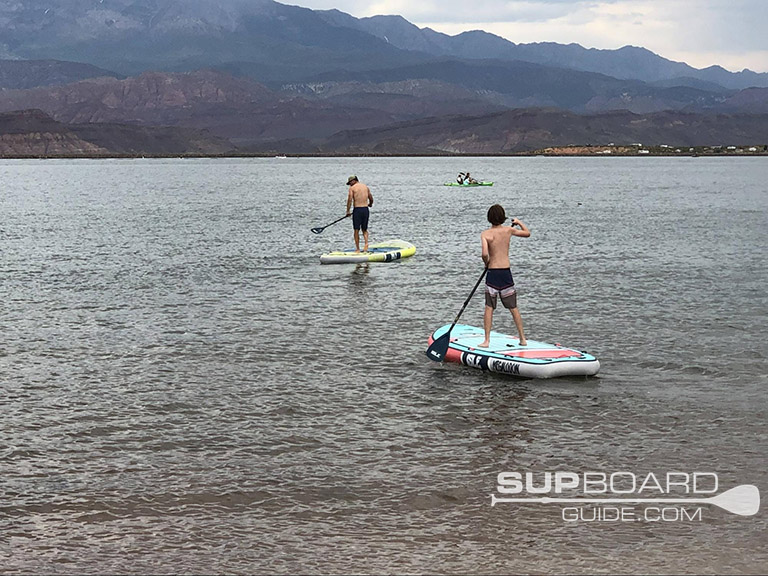 In addition, we were able to paddle the board around with just one person. It was even easy to turn with one person by simply walking all the way to the back and turning from there. Even my 12 year old son was good paddling by himself on the 12′ SUP.
Our recommendation – if you want a multiperson SUP for mainly just 2 people, look at the 12′ Megalodon (you could also check out the BLACKFIN XL if both of you are fairly small). I wouldn't buy the 12′ Megalodon as a single person board, but it does paddle fairly well with just one person. If you are looking to fit as many people as possible on an inflatable SUP board, then go with the 15′ Megalodon. That is the one we are constantly breaking out for group parties at the lake or ocean.
Materials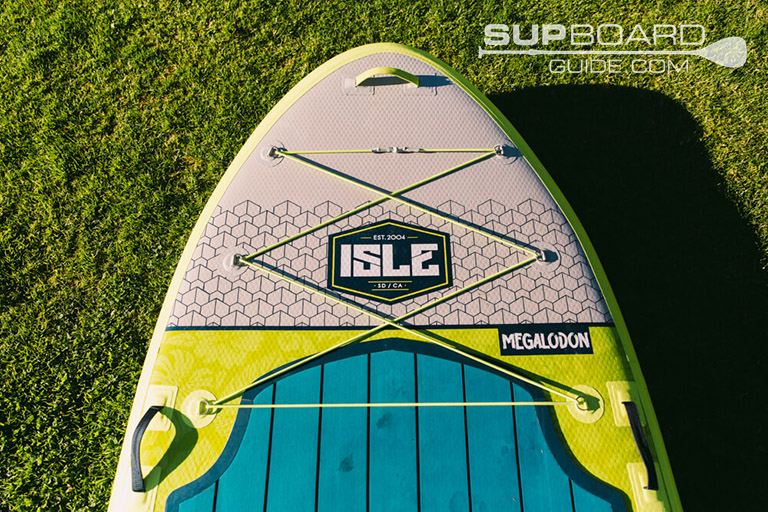 Like the other Isle inflatable SUPs, the Megalodon is made using their 'Airech Fusion Light' process which bonds a super high density (i.e. strong) PVC layer over their core drop stitched layer. Because of Isle's process, the Megalodon is both very durable and lightweight.
I normally wouldn't expect to be able to have my 12 year old son deflate, roll up, and carry a 15 foot paddle board by himself – but he was able to do that.
Board Design/Shape
As mentioned, Isle designed the Megalodon with a wide base from front to tail for both the 15' and 12' boards. This allows you to put 2 people side by side on both the front, middle, and back of the board and really load these up with people.
There is a slight rocker in the nose, which helps cut through small chop and waves but won't be enough rocker if you are trying to surf down a steep wave. For that, you'll need to really hone your technique and shift people from the front as you catch the wave, to the back as you start to make the drop. This is the technique that the team over at Isle uses when they go surf at La Jolla shores. When Isle says the three words that guide their company are "surf, paddle, explore", they mean it – which we really like. These Megalodons have been used by the company in all different situations. In other words, they are designed by paddlers for themselves, not by just some big corporation cranking out garbage.
Features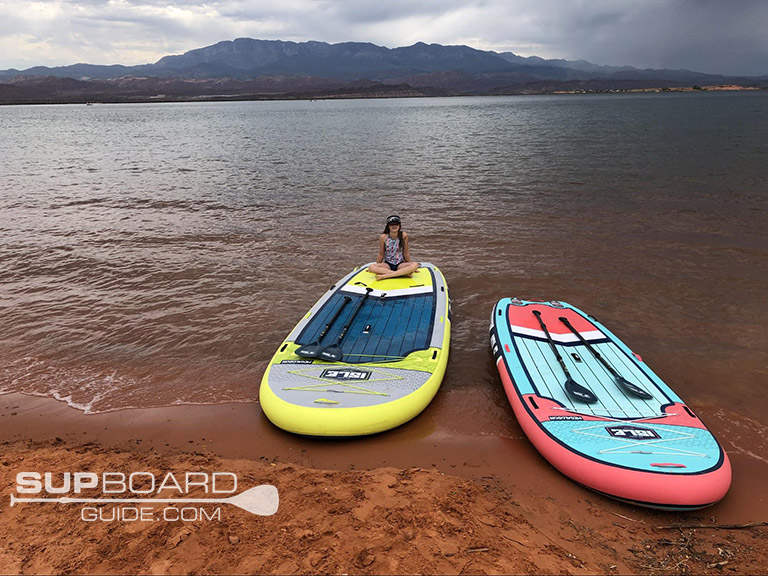 Fins
Like other Isle inflatable SUPs, the Megalodon comes with a large center fin that fits into a nice, universal fin box. I love this because if I lose my fin I can go to any surf shop, or even online, and replace the fin super easy.
There are also 4 flexi fins that are not removable. While I typically like all fins to be removable, in this case I don't think that would add any performance to this party SUP, and I think it's a good decision to leave the flexi's permanently on the board for ease of use and durability.
Traction Pad
Both Megalodon's come with great traction pads made out of a nice, thick, durable EVA foam. We also really like how the traction pads go from the back tail of the board almost to the nose – giving you ample space for putting tons of people on the boards.
Handles
The Megalodon boards each come with 9 (yes, 9) handles to make carrying the board around super easy and also give you plenty of places to grab onto while paddling around. You have 1 center handle, 1 front and 1 back handle, and then 6 handles on the sides.
D-Rings
Both boards also come with 8 separate D-rings that you can use to attach various things like extra bunees, water bottles, coolers, etc.
Bungees/Cargo Areas
Both Megalodons have a large, 6 point, front bungee that can be used to store things (sandles, paddles, hats, etc.)
Accessories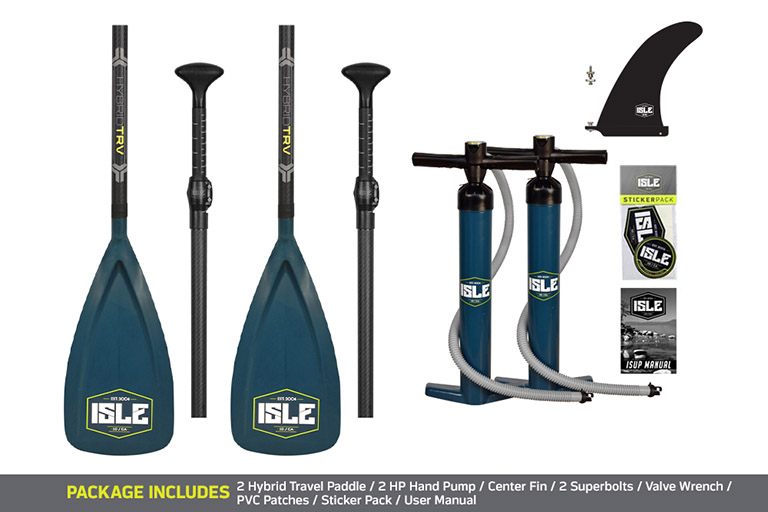 Paddle
The Megalodon comes with Isle's hybrid travel paddles. These are some really nice paddles that break down into three pieces to make it easy to pack around. With carbon fiber shafts, nylon blades, and anti-twist and rattle locks, the paddles perform really well.
Each Megalodon SUP comes with 2 paddles, so if you are wanting to have 4 people paddling around then you would need to order a few extra.
Pump
The Megalons are a little bit different in that they have two separate inflation valves (but just one air chamber so each valve pumps air into the same chamber inside the board.
You get two separate pumps, that are both single chamber, dual action pumps.
To be honest, I strongly recommend purchasing Isle's electric pump to go with the Megalodon. It will save your arms from quite a bit of work, and enable you to pump up the 15' board in under 10 minutes.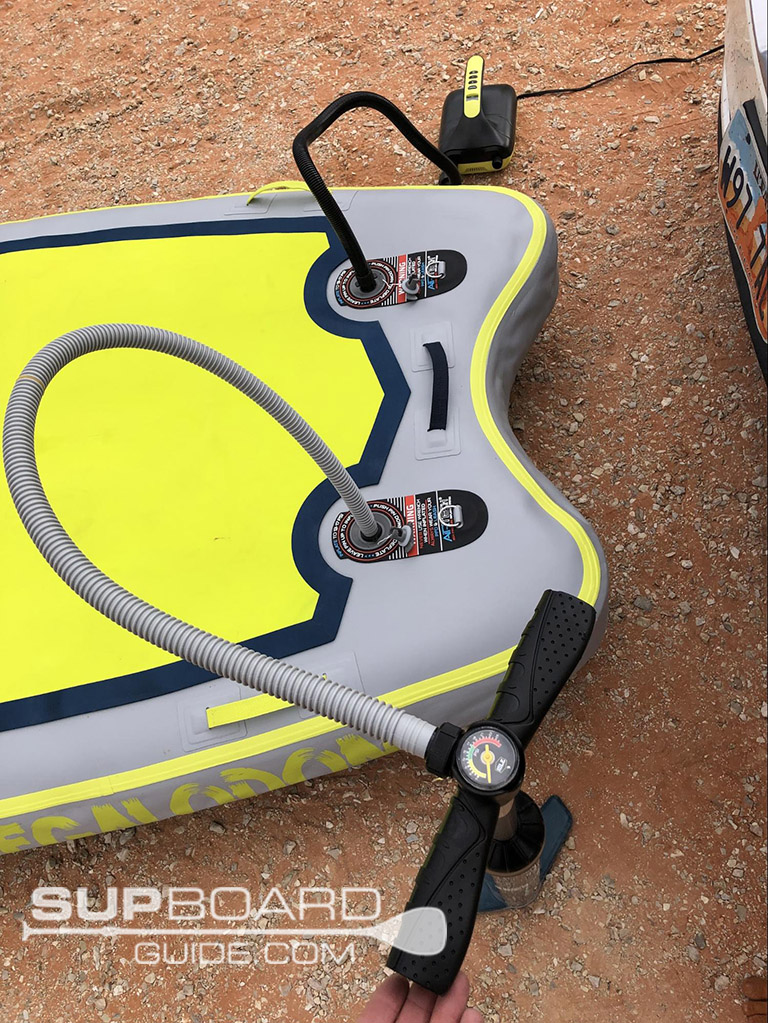 Note – the 12' and 15' Megalodon iSUPs do not come with leashes or backpacks. There are D-rings to connect a leash to if you want to do so, just remember that leashes become a little problematic with more than 1 person on a board, so be sure that you wear a life jacket while on the Megalodons.
Conclusion
Bottom line – in reviewing and testing out the Megalodons we were surprised at how much we love them. I think that these multiperson SUPs are a game changer for families and large groups of friends. You will love them everywhere, from the lake to the ocean, and add a whole new way to enjoy paddling on the water.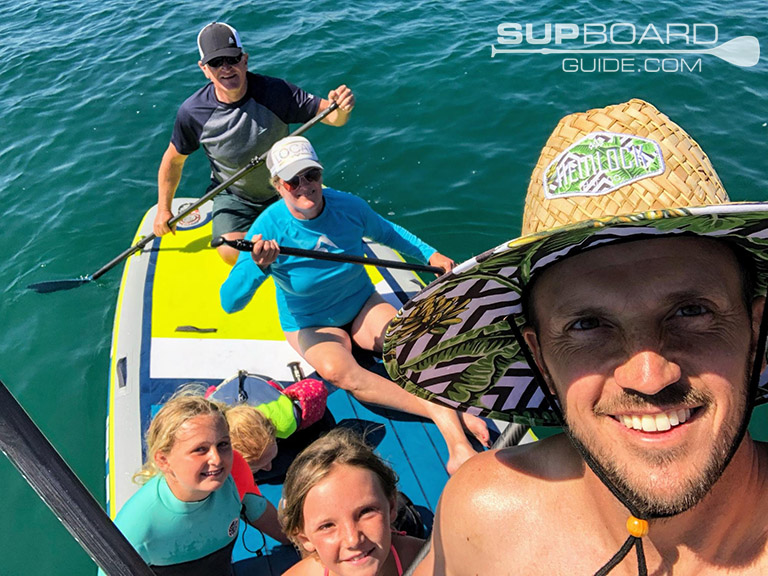 The following two tabs change content below.
SupBoardGuide
Heyo! At SupBoardGuide.com we are a team who love the water, the outdoors, and are more than grateful that our full-time job allows us to review stand up paddle boards. We paddle year round (it helps that we are just about 2 hours outside of Las Vegas), and we bring in a wide range of paddlers with the goal of providing our readers with the best, most in-depth, and accurate stand up paddle board reviews.
Latest posts by SupBoardGuide (see all)