Hala Carbon Nass-T 14' Performance Touring Inflatable SUP Board
Pros
Very fast touring board that tracks exceptionally well. A true high performing touring SUP board.
Stable paddleboard with 350 lbs recommended weight capacity. Dual-layer construction and the patented Carbon Construction™ helps keep the board extremely light for its size but still offers stellar rigidity and performance.
4.75'' thickness keeps the paddler closer to the water for a more stable feel.
Dual center fins help to maintain a very straight tracking line in the water when paddling long stretches of water.
Soft EVA foam deck pad that makes long touring adventures very comfortable on the feet. Raised stomp pad helps you position your feet for a step-back turn.
Great three year warranty that covers everything outside of traditional wear and tear. Hala Gear is also very responsive, and helps customers demo their units.
Cons
An incredibly expensive paddleboard. Great performance, but hard to justify except for the most dedicated paddling enthusiasts.
Does not include a paddle and comes with just a basic single chamber SUP pump. A little light on the accessory front, especially given the price.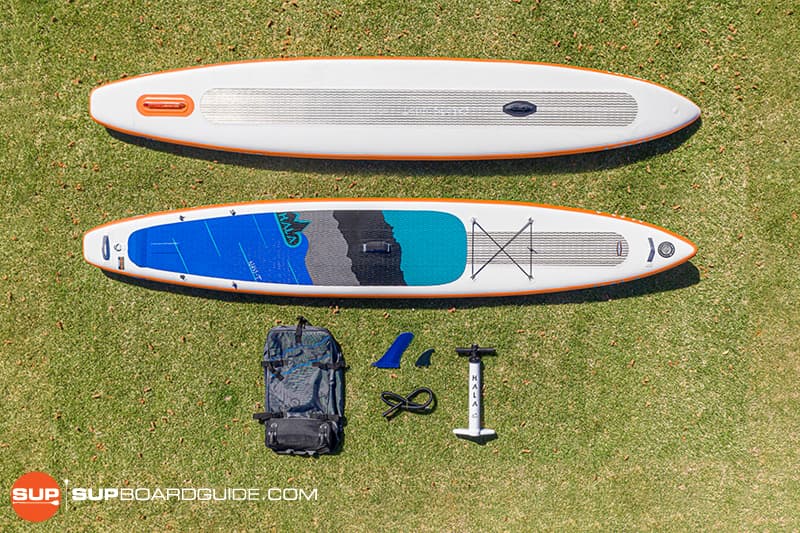 Inflatable paddleboards are typically a great tool for beginner and intermediate paddlers, but for dedicated paddling enthusiasts it can be tricky to find a premium inflatable that can keep up with the top epoxy paddleboards. That is why we are happy to report that the Hala Carbon Nass-T is the paddleboard we have found to do a fantastic job in doing so. This inflatable touring board is impressively fast, besides offering fantastic tracking while also being very stable and fairly maneuverable. The dual-layer fusion construction keeps the paddleboard lightweight but offers the kind of protection and durability to keep your board in excellent condition for a long time. The deck pad itself is very well designed as well, with a diamond grooved pattern that is comfortable to stand on while providing great traction support, and a stomp heel pad for assisting with finding your footing on step-back turns.
It is a bit light on its accessories, and the high price tag is going to be outside of what many paddlers are willing to dish out for a board. This is an intermediate to advanced SUP in terms of control, and it can take a few weeks before a beginner, especially taller ones, can feel comfortable on it. If you are in the market for an inflatable touring board that can truly bridge the gap with premium epoxy SUPs though, you will definitely want to read up and check out the Hala Carbon Nass-T touring SUP!
SUP Board Specs
Length
14'
Width
28''
Thickness
4.75''
Weight
30 lbs
Max Capacity (lbs)
350 lbs
Recommended Inflation
15 psi
Fins
Single US Standard Center Fin Box
Single Side Screw-in Center Fin Box
Paddle Type
Not Included
Construction
Dual-Layer Military-Grade PVC Drop Stitch Core with Carbon Reinforcement
Who Should Buy This Stand Up Paddle Board:
As a true performance touring paddleboard, the Hala Carbon Nass-T is built with those who want to have the ultimate touring experience. There are a few other features and performance factors that make it worth considering for other paddles as well. This includes the following:
Those who want a premium touring board with features not found on other boards.
Paddlers who want something that is extremely speedy and need a SUP that can double as a racing board.
Intermediate paddlers looking to upgrade to a more premium SUP to advance their skillset.
Paddlers who like maximum control over their paddleboard and prefer something that will let them SUP closer to the water for a more controlled feel.
SUPers who want a clean, grippy deck that is free of features getting in their way while paddling.
Anyone wanting to buy from a reputable paddleboard company with coverage you can trust.
Performance
Stability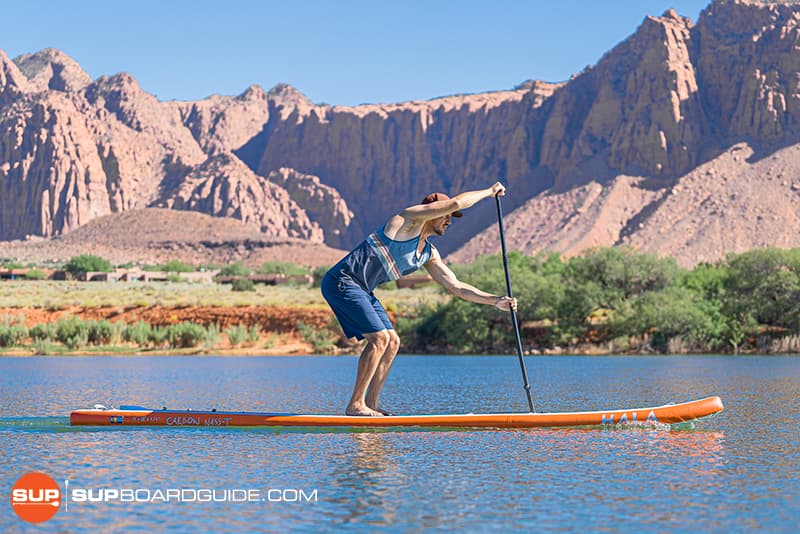 Touring boards can be hit or miss when it comes to overall stability, as the more stable a paddleboard is the slower it tends to be due to the large or heavy SUP size. The Nass-T has found a great balance though where it has great tracking and speed, and has enough stability to support any adult sized paddler with a 350 lbs recommended maximum weight capacity. The 28'' wide deck is narrow, and the 4.75'' thickness is thinner than most other inflatable paddleboards, allowing it to sit lower in the water. However, the great Carbon Construction™ and dual-layer construction provide great structural support, and by riding lower to the water paddlers will have greater control over the SUP. This is not a beginner friendly SUP, and it can feel wobbly for the first few times on the water, but even our larger, taller paddlers on our review team found it steady and fun to be on after they got adjusted to the long, narrow shape of the board.
Maneuverability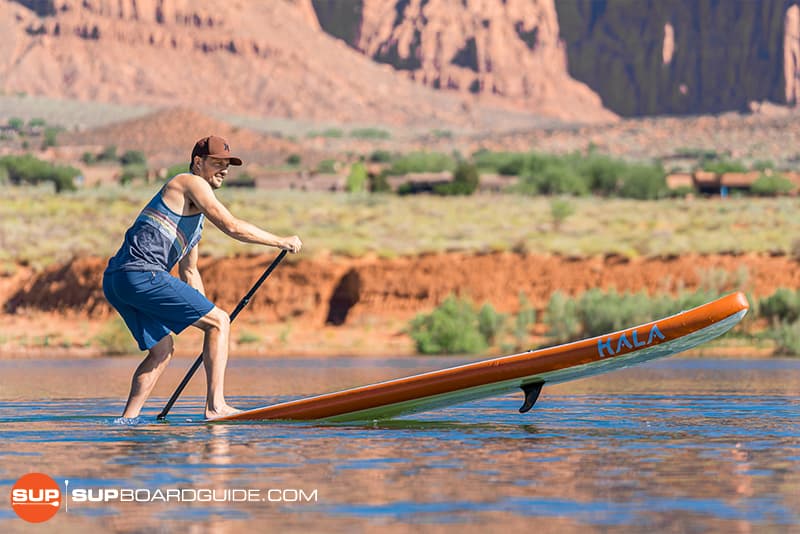 Due to their long length, touring boards typically aren't well regarded when it comes to overall maneuverability. With the Nass-T though, by going for a thinner construction and lighter weight, it has sought a balance and is maneuverable enough that even inexperienced paddlers will be able to enjoy navigating with it. As long as you're aware of what's coming at you, you'll be able to make the side strokes you need to dodge paddlers, boats, rocks, trees, and other water obstacles. Something that does help with the maneuverability is the stomp-pad, which allows you to perform a step-back turn like you see in the picture above. With a bit of practice, you'll even be able to tackle some river paddling with the Hala Carbon Nass-T.
Tracking/Glide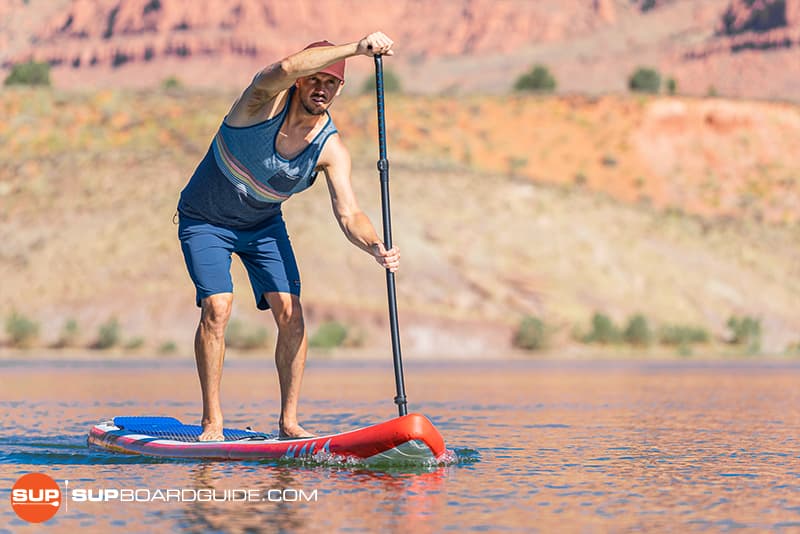 This is the reason why you'll want to think about buying the Hala Carbon Nass-T. The 14' length makes it very easy to maintain a straight line in the water, even if your form isn't the best while you paddle. The pointed nose, thin construction, and carbon build makes this an inflatable with a true displacement hull, allowing it to cut through small waves in order to maintain its speed even as the chop picks up. As for the speed itself, this is one of the fastest paddleboards we've had the privilege to test so far, and is lightning quick when you're paddling with it in calm waters. There aren't many touring inflatable paddleboards that can keep up with great epoxy touring SUPs, but the Hala Carbon Nass-T is definitely one that wants to prove otherwise.
Something else that will further improve your tracking, stability, and overall performance are the fins. There are two fin slots on the Nass-T, with fin construction and compatibility detailed in the accessories section below. Regarding performance though, the fins operate like a tail on a kite, and directs the water flow to trail behind it so you can maintain a steadier line in the water. Diverting the water also helps the Nass-T feel a bit more stable as well, especially when you are using the longer US style fin. Due to the performance benefits, we suggest using both fins when heading out, though make sure you take the long touring fin out or replace with a river fin if you are paddling in shallow water.
Materials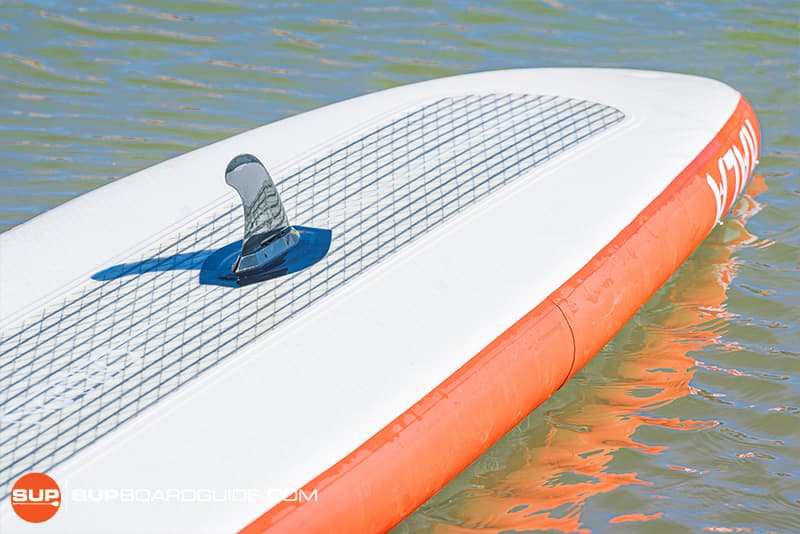 Thinner paddleboards tend to be less rigid and firm than thicker paddleboards, but there aren't many SUPs out there that will match the rigidity of the Hala Carbon Nass-T. The Nass-T 14' is built with a tight drop-stitch core, made up of high quality aramid fiber sheets connected by ultra-strong carbon fiber strings. As air is pumped into this drop-stitch core, it inflates like a balloon, but instead of being round it takes the SUP shape you see above due to the positioning of the internal strings. By using aramid and carbon fiber instead of lower-end materials used in many other SUPs, the tight drop-stitch core provides impressive support that really bridges the gap with the core of a hard, epoxy SUP.
This board is protected by several layers of high quality PVC composites that are applied to form the outer shell. With this dual-layer fusion build, the drop-stitch core can be protected via coatings of PVC and additional aramid fiber sheets without significantly increasing the weight of the SUP. Furthermore, the weight and support that is added to the Nass-T makes the paddleboard more stable in the water, especially when the wind and chop picks up. The end result is a fantastic overall board feel that, combined with the tracking performance, helps you experience one of the best paddling experiences on the market!
Board Design/Shape
When it comes to the design of the Nass-T, the first thing you're going to notice is the 14' length. Most inflatables marketed as touring boards tend to be touring/all-around hybrids, but the narrow, pointed 14' length really makes this a true inflatable touring paddleboard. The pointed displacement hull is shaped so that you are cutting through the water rather than over it, providing both a very smooth paddling experience while also maintaining momentum better for it as well.
At 28'' wide, the Nass-T's overall speed is further enhanced, though larger paddlers may feel a bit more cramped compared to other, wider paddleboards. The 4.75'' thickness helps you paddle closer to the water, lowering your center of gravity for greater control, and thanks to the fantastic construction still feels very rigid as well. Outside of touring, this paddleboard is constructed as a fun option to race with, providing excellent speed with its tracking. If you are an intermediate paddler looking to further train yourself, this is a fantastic option to help you become a truly expert SUPer. Lastly, we also think that this is a paddleboard to consider if you want something that two adults can paddle on in tandem, though it can struggle in terms of weight support if both paddlers are taller and heavier.
Board Features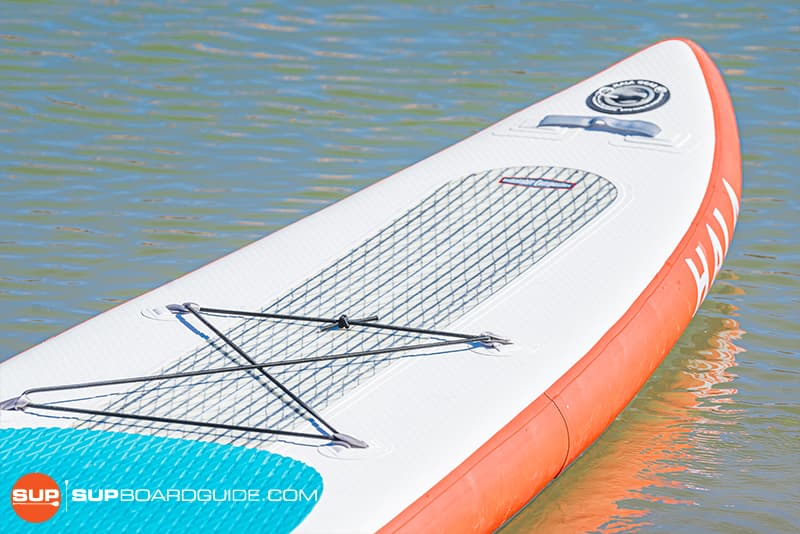 When it comes to tracking and speed, there aren't many paddleboards we've tested that can compete with the Hala Carbon Nass-T 14'. However, there are a few other reasons you may want to consider buying this paddleboard as well. This includes the following:
Dual-Layer PVC Construction.
Diamond Grooved Deck Pad.
Triple carry handles.
8 Rigging Points + Nose Bungee Cargo Area.
Raised Stomp Pad.
Fins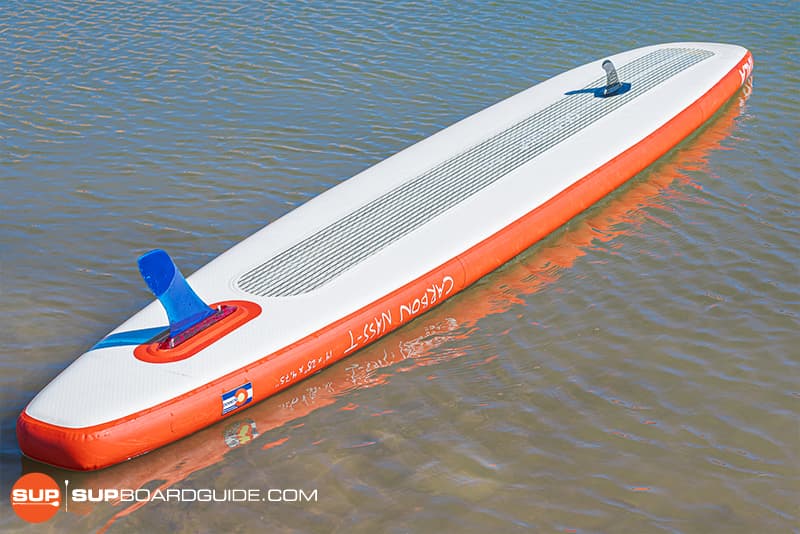 The Carbon Nass-T has a single US standard center fin box, pairing well with the included 9'' touring and racing fin, and a secondary, shorter screw-in fin box. With the US standard fin box, you can also purchase other US standard fins for the ability to really fine tune your overall fin performance, though we quite enjoy the included center fin. Consider looking into a smaller fin though if you are considering river paddling or need something that will make your turns tighter. As for the smaller, screw-in fin box, the included fin is short enough that you will be able to use it anywhere, though it does take a few more seconds to install or remove the fin compared to the US fin.
Deck Pad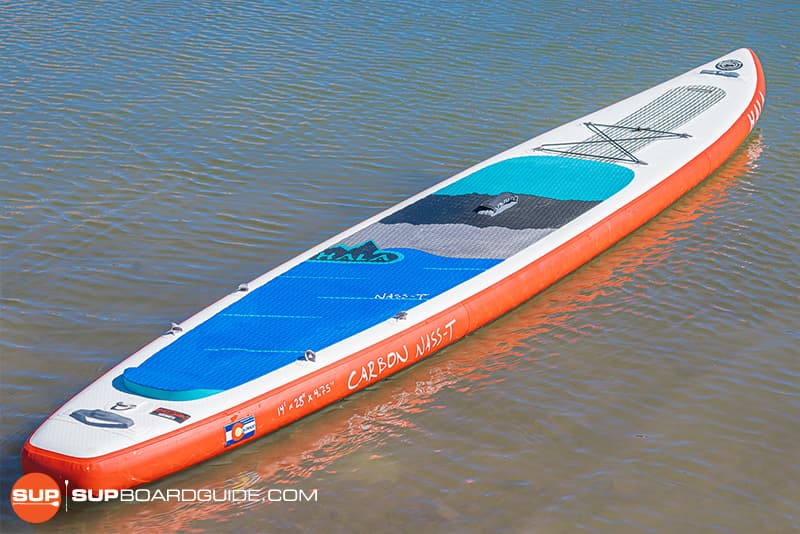 This deck pad is built to help you enjoy long touring adventures in comfort. Constructed with EVA foam, the same material used in many popular yoga mats, the four millimeter deck pad will allow you to stand on it for hours without developing blisters or otherwise irritating your feet. Featuring a diamond grooved pattern, you also have superior traction support that will help you maintain your grip, especially as the wind or waves kick in. The EVA foam dries and drains quickly, so we never found the deck pad to be slick even as we got it wet. Lastly, the back of the deck pad also has a raised 1.5'' stomp pad, which makes performing step-back turns more comfortable and helping you perform it without looking down.
Handles
There are three carry handles on the 2020 Carbon Nass-T, with one handle in the center and another two on the nose and tail. The center handle has a neoprene cover, which protects against skin irritation when held with very cold or wet hands. The other two handles do not have neoprene protection, but they are largely comfortable to hold even if they aren't as protective or cushy. Lift the paddleboard with the center handle to carry it by yourself, or work in tandem by grabbing the nose and tail. Just make sure that you're careful however you transport the Nass-T, as the board's long length does tend to make it tricky to hold and move with.
Rigging Points/Bungees/Cargo Areas
There are eight rigging points on the Nass-T, which you can use to attach clip-on and cord accessories to, such as dry-bags, cases, and other popular SUP add-ons. The four nose rigging points also have a removable bungee system. The bungee system is a great place to store coolers, lunch boxes, and other small containers, while also doubling as a paddle sheath. Compatibility tends to vary depending on your blade shape, but with Hala Gear paddles you will be able to quickly and easily secure your paddle by sliding it under the bungee cords. Overall, this is a simple but effective accessory setup, keeping the board clear from unnecessary clutter, though the addition of an action mount on the nose would be appreciated as well.
Accessories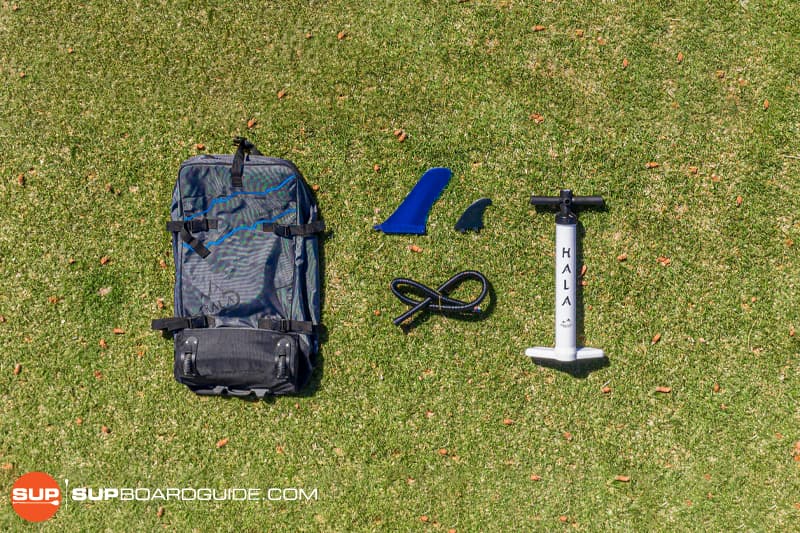 Paddle
We're not thrilled that a paddle isn't included with the Hala Carbon Nass-T, but part of the reason is that it does encourage customers to find a paddle truly optimized for them. While there are many popular and great paddles on the market, we would recommend looking at Hala Gear paddles first. Not only do they pair well with the included bungee sheath system, but they are both incredibly light while offering a great balance of rigidity and flexibility. For our part, we recommend the Grafik Carbon Travel for general paddling and Grafik River Carbon for those who are taking on faster, more extreme waters.
Pump
Included with the Hala Nass-T inflatable kit is a single-chamber, dual-action pump. This manual pump is very easy to use, with the instructions even printed on the pump itself in case you forget how to operate it's two action modes. We like that Hala has also made sure to include a deflation nozzle as well, allowing you to cut down on the time it takes to deflate your paddleboard. We find that it takes about ten to fifteen minutes to inflate with the included single-chamber pump, and are mostly satisfied with its performance. We do like how compact and nicely the single-chamber pump fits in the included backpack, but would prefer a dual-chamber pump option in the future for quicker, more efficient overall pumping.
You can also consider upgrading by checking out one of several electric pumps offered by Hala Gear. Electric pumps will inflate a paddleboard even quicker than a single-chamber pump, but also allow you to relax as it automatically inflates your SUP for you. Furthermore, electric pumps will help you deflate your paddleboard and get even more air out than a manual pump, making it easier to pack up your SUP while extending overall board life. Electric pumps are about the same weight as manual pumps, but they are more compact, making them easier to pack away in a backpack. For these reasons, electric pumps are our number one SUP accessory recommendation, and well worth considering for the best overall pumping and paddling experience!
Backpack
To transport your large paddleboard and other important gear, make sure to use the included Hala Gear backpack! Their backcountry rolling backpack is very comfortable to wear, while being rugged and durable enough that you can confidently transport your gear wherever you desire. The extra padded, adjustable straps ensure that any adult can comfortably wear this backpack, with the hip belt reducing the strain on your shoulders and back as well. The bag is built with woven nylon fabric, along with padded lumbar support so it can resist rain, sand, and wind alike while being soft and cushy to wear. When you're not wearing the backpack, you can also zip the straps up in the stow away cover as you rely on the two front facing wheels, designed to prevent your straps from getting tangled even when left out. Overall, there is a lot to love about the Hala Gear backpack, though we do with there was an additional pouch or two that helped keep components and other included accessories more organized.
Leash
A tail D-ring is included to attach a leash to, which will help you keep your board close and prevent it from floating away if you fall off or take a swim. However, a leash is not included with the 2020 variant of the Nass-T 14'. If you have a leash from another paddleboard, you should be able to reuse it with this paddleboard. Otherwise, Hala Gear does offer multiple leash options, available in different sizes depending on your personal paddling preferences.
Repair Kit
Packed in with the Nass-T is a repair kit, which you can use to fix or address minor problems and performance issues with your paddleboard. If you suffer a small tear or hole that doesn't occur on the seams, you can apply one of the adhesive patches to seal it. Alternatively, if you find your inflation valve coming loose, be sure to make use of the Halkey-Roberts inflation wrench to tighten it up.
For any other problems or performance issues, be sure to contact Hala Gear for additional support.
Company Review – Hala Gear
Founded in 2011 by Peter Hall, Hala Gear was born from a community of water sports enthusiasts in Steamboat Springs, Colorado, as they enjoyed paddling on the Yampa River. Their love of paddling, combined with their collective water sports experience, led them to create paddleboards and accessories that focus on quality, durability, and innovation. Hala Gear offers some of the best white water paddleboard options on the market, and continues to seek new ways to improve and make SUPing adventure even better!
While built to be incredibly tough, the Hala Carbon Nass-T does offer some protection in case something goes wrong or if you aren't quite in love with the premium touring board. Hala Gear offers a three-year warranty, which covers everything but traditional wear and tear on their SUPs. Additionally, Hala Gear has partnered with over one hundred brick and mortar and online retailers that will help you demo test the Hala Carbon Nass-T. Available by phone and email, we encourage you to reach out to Hala Gear to learn more about their policies along with answering any lingering questions you may have about the 2020 Hala Carbon Nass-T 14'.
Conclusion/Bottom line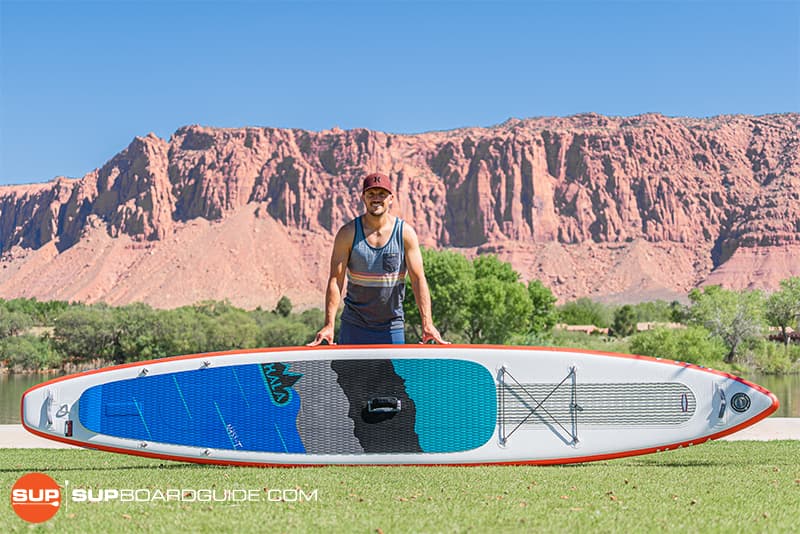 If you are looking for an inflatable touring board that is stable, quick, and tracks exceptionally well, there aren't many options superior than the Hala Carbon Nass-T. This paddleboard is surprisingly stable given how thin it is. The tracking, glide, and overall speed of the Nass-T though are hard to beat, making this a fantastic option as a touring or potential racing paddleboard. The dual-layer construction makes the paddleboard durable but still very manageable to carry, and it packs in well into the premium SUP roller backpack. The deck pad is also worth noting, with a grip-friendly diamond-grooved pattern that provides solid traction support while being cushy and friendly to stand in. The price tag is steep, especially for those who don't already have their own premium paddle already or were hoping for a better than average pump. However, if you are a dedicated touring enthusiast who wants a top touring SUP, we would definitely recommend considering the Hala Carbon Nass-T inflatable SUP!
Thank you for reading our review of the Hala Carbon Nass-T 14' inflatable performance touring paddleboard! If you would like to know more about Hala Gear, the Nass-T, or paddleboarding in general, be sure to leave a comment below or send us an email with your thoughts. Furthermore, we update our reviews based upon the feedback readers leave for us, including their own personal experiences with the stand up paddleboards we review. Be sure to visit our reviews in the future for up to date thoughts and for any special discounts or sales going on at the time.
Remember to stay safe and have fun SUPing!
The following two tabs change content below.
SupBoardGuide
Heyo! At SupBoardGuide.com we are a team who love the water, the outdoors, and are more than grateful that our full-time job allows us to review stand up paddle boards. We paddle year round (it helps that we are just about 2 hours outside of Las Vegas), and we bring in a wide range of paddlers with the goal of providing our readers with the best, most in-depth, and accurate stand up paddle board reviews.
Latest posts by SupBoardGuide (see all)