Who is Earth River SUP?
Founded: 2012
Where: Mid-Atlantic 
—–
Welcome all fellow SUP lovers! Here is the most comprehensive list of Earth River SUP reviews you'll find. Not only have we included some brief info on each product, if you read on you can find out some interesting bits of info behind ERS themselves. We also have done into a little detail as to why we endorse them.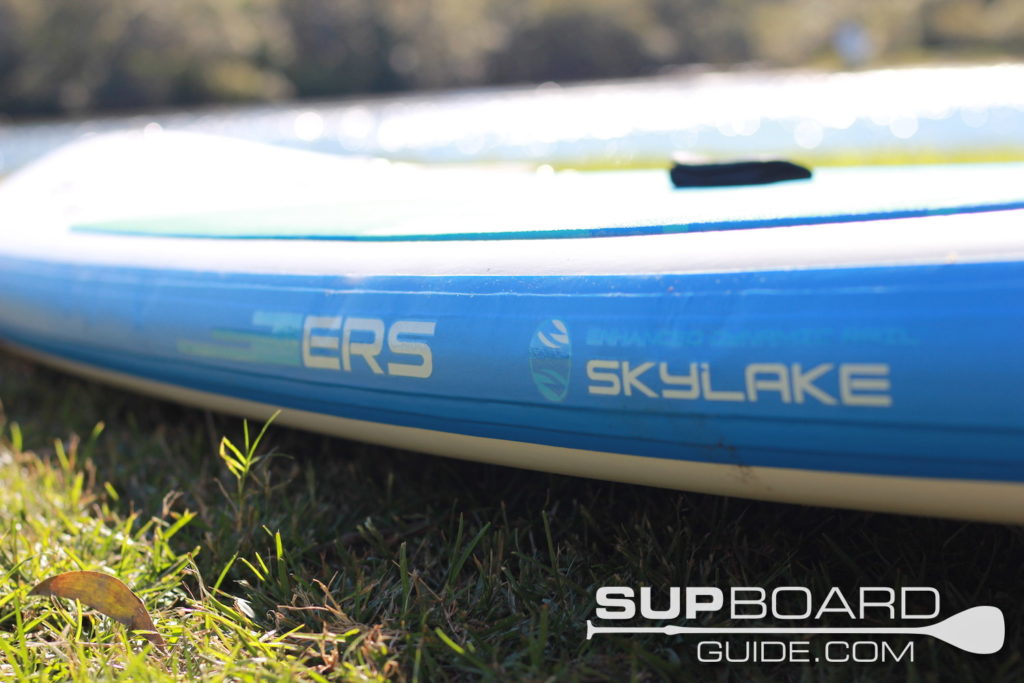 Earth River SUP started out making boards for instructional schools, so they were made to be used several times a day, every day. Not only were they made to be robust, but also sturdy as most attendees at a school are beginners! 
ERS boards are designed to be versatile, to be able to be used in multiple locations and conditions. Though, not to the point of it affecting the overall performance. Hence, the full range of boards which may seem quite similar but in fact, the smaller details are what make the big differences.
The design team consists of an MIT engineering graduate, an ACA level III Instructor and an industry-leading commercial designer. Not only do they have the brains they're all experienced and passionate SUP riders in their spare time. 
Why Do We Recommend Earth River SUP?
The ERS boards are premium boards at an affordable price. They are made with high-quality materials, from the very beginning of the drop stitch core all the way through to the finer details like the D-rings.
They also perform extremely well and there's a choice for every type of paddler/condition. The Skylake Green series (fixed fins) is great for those who want to just get out, get going, and have great maneuverability.
Earth River SUP Review – The Boards
ERS Skylake Green and Blue|GT
Important Note:The difference between the Green Series and Blue Series is purely the fins. The Green has fixed fins (& indestructible) and the Blue are removable.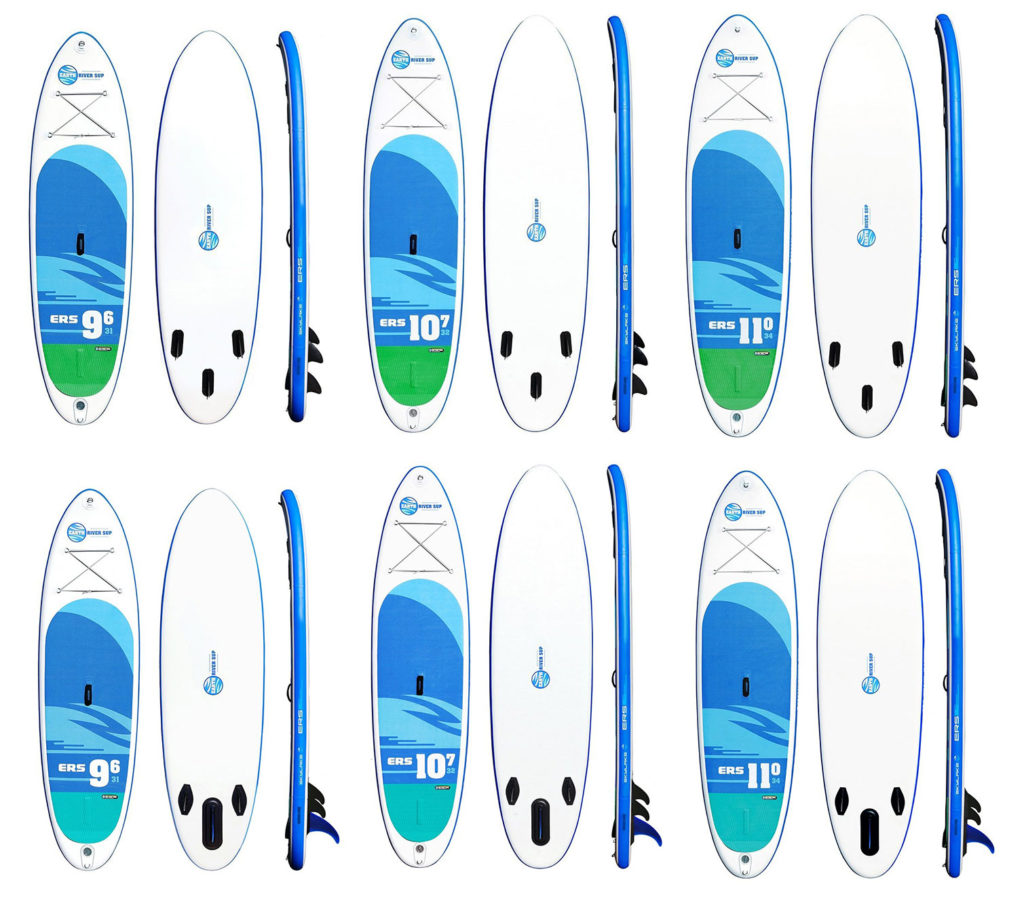 9'6 All-Around (Green + Blue)
Key features on the 9'6" are the agility and quick turning characteristics. Made as an all-around shape that is both stable and maneuverable. Not only is the board a great general paddler, but its thruster setup, the raised heel pad and kick pad provide great turning abilities.
It's an extremely portable board given its size and lightweight nature, and perfect for the lighter rider or those wanting something best suited for surfing. It'll perform the best in the waves/rapids out of all of the Skylake all-arounds.
10'7 All-Around (Green + Blue)
For the average rider, this is a perfect all-around board. It has a bit more volume and stability than the 9'6" so suits a broader range of riders. A rounded nose and tail provide an easy platform to gain glide on while the raised heel pad and kick pad gives you a precise and controlled turn.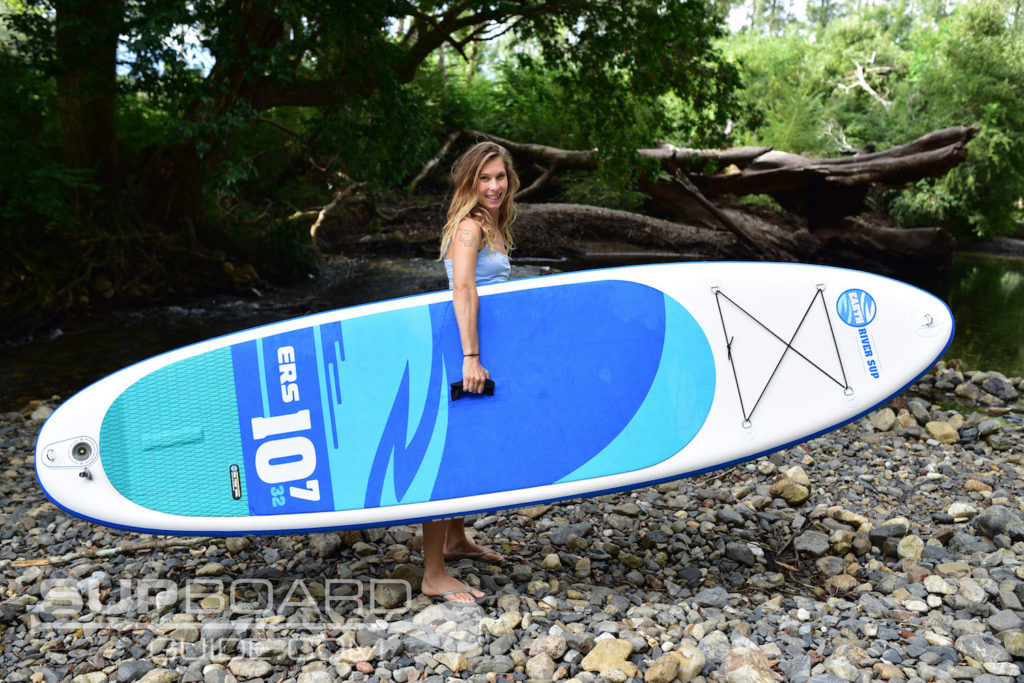 The 10'7" can go anywhere, it won't be a master of any type of SUP environment but it will perform well enough for you to enjoy a range of paddling. As far as riders, anyone will be able to enjoy the 10'7". As a premium SUP intermediate and above will enjoy its responsiveness and beginners will find it very forgiving also.
11' All-Around (Green + Blue)
Those wanting something to enjoy for a paddle but also looking to get into things like taking the kids/pets along, SUP yoga, exercise, fishing, etc this could be a great choice. Otherwise, it's also the perfect choice for the bigger riders wanting to enjoy a variety of paddling environments. The overall stability and length of the board make it a great option for anyone needing that bit of extra volume. 
While it is quite large and has an overall rounded shape for the stability, it still performs quite well thanks to materials and slightly thinner rails than many other iSUPS (5"). For the inexperienced, it will be a large board to move easily but those experienced will find it will still handle trickier conditions.
12'6" Skylake Blue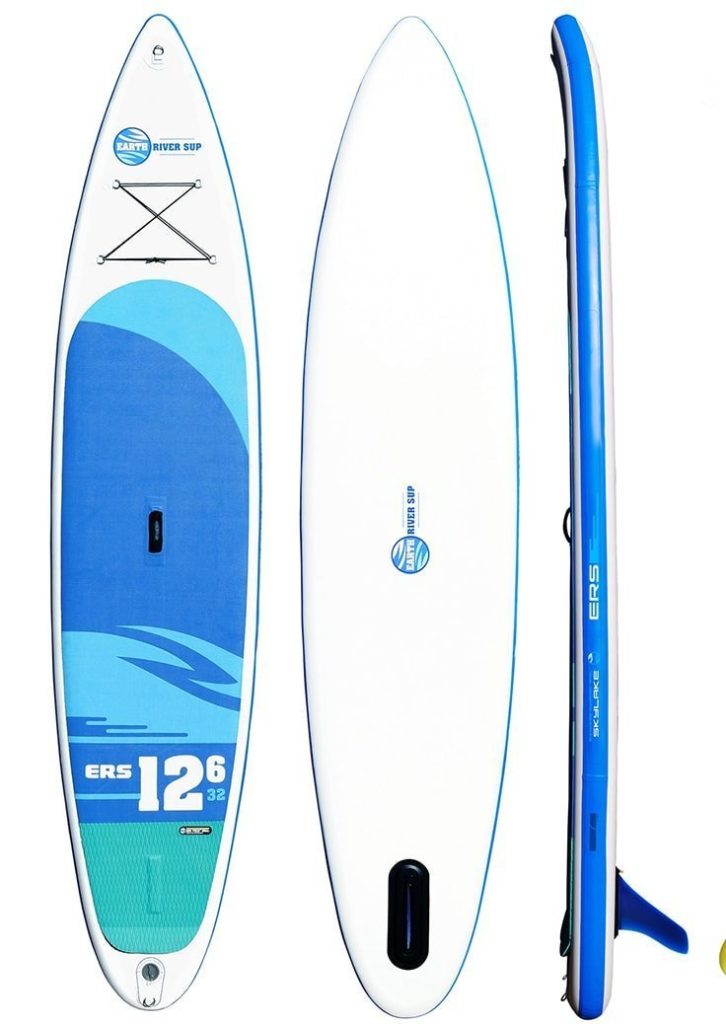 A hybrid racer/touring board of the mix! The tapered nose and slimmer body, slightly rounded tail, it all provides maximum glide and speed for those longer paddles. It's single fin setup results in great tracking which in turn also aids to the smooth paddling you look for in a touring board. The choice of lower-profile fins also allows you to paddle in shallower environments in which you would normally have to walk.
While the board is more streamlined than the all-arounds, it still boasts quite a lot of stability so even the freshest beginner could enjoy a paddle. Its high-quality manufacturing means that it's one of the best performing touring iSUPs on the market! It's best suited to longer distance paddling in calm to moderate waters, the brave and skilled could maybe tackle a small wave on it even!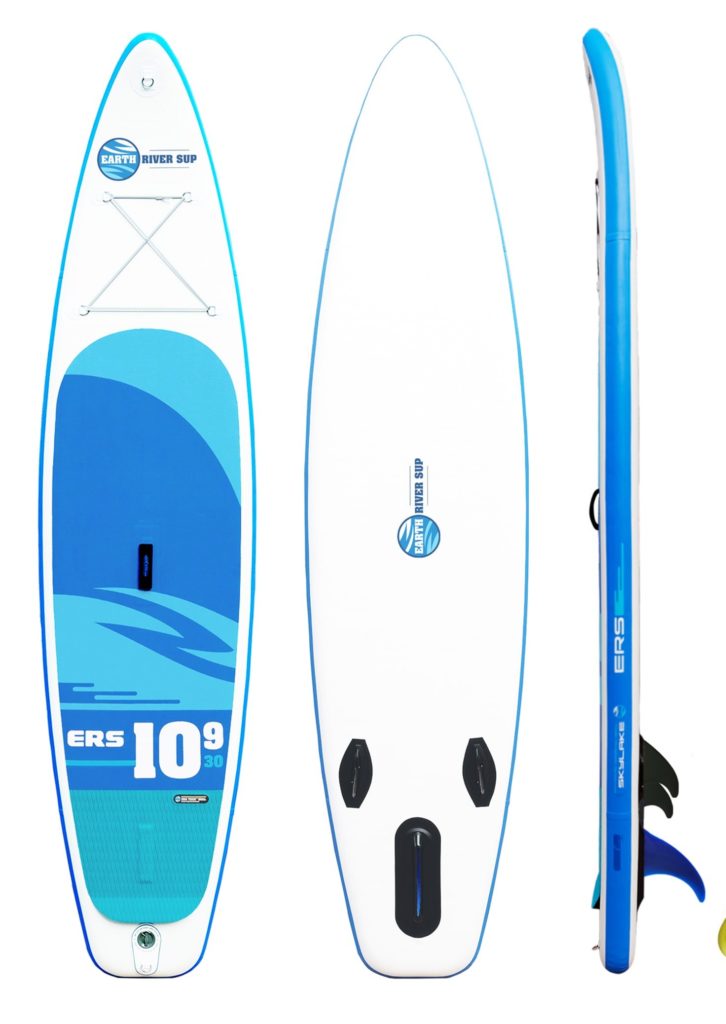 10'9" and 11'2" GT
The hybrids between racer, touring and all-around boards. They have a slightly smaller shape than a normal touring board but squared tail for stability in pivot turns like a touring board. The nose picks up speed, the body is stable and the multiple fin configurations boost difference areas of performance. It's super versatile and the two different sizes allow a choice for small to bigger riders. Enjoy the perks of a touring board without having to lug the size around.
These boards can pretty much go anywhere, though they excel the most in areas you can build up some speed and glide. You get the full range of fins so you can switch out depending on what kind of environment you are in. Any paddler will enjoy this board! It's a great beginners board that can grow with you. 
Earth River SUP V3 Series Review
ERS V3 9'6"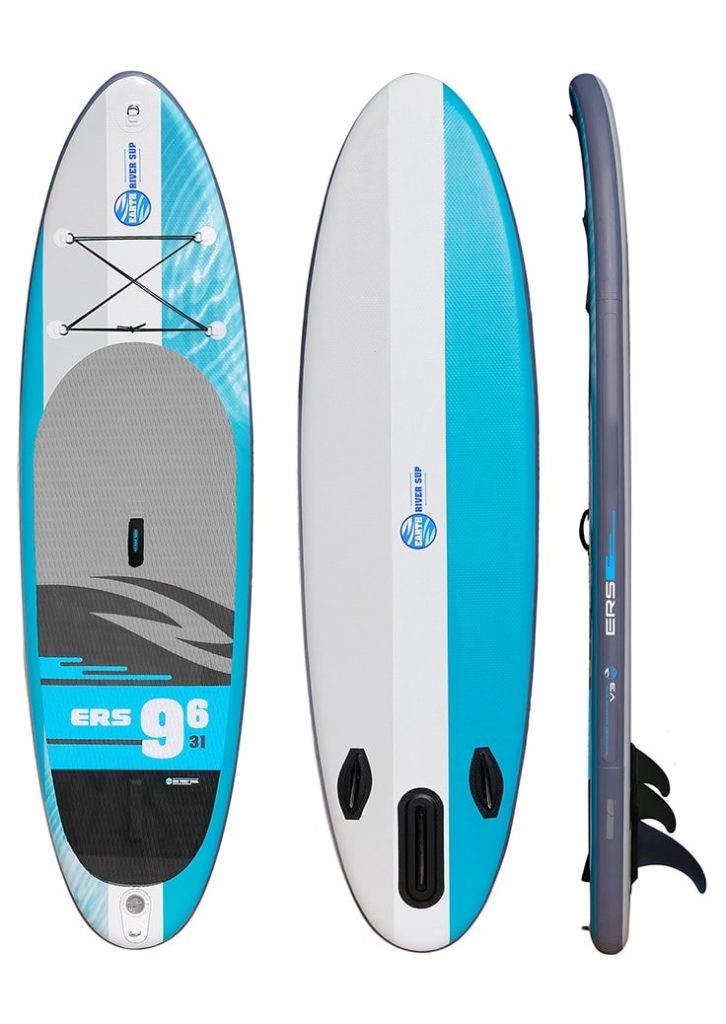 This is your ultimate adventurer. It moves with grace and finesse for ultimate control but stability in whitewater and surf conditions. Though for those in-between adventures you can just throw a single fin in it'll happily double as a cruisy paddler. The premium manufacturing allows for up to 220 lbs for experienced riders.
It's best suited to a full range of conditions, another jack of all, master of none. Though definitely excels the most in those more adventurous conditions! It's a perfect board for those looking for a premium all-around that can handle the extremes of all environments.
ERS V3 10'
Though not much bigger than the 9'6", the slight difference in shape (more of a bullet shape) results means it slightly more versatile. While both can handle serious conditions, the 9'6" is better suited to them, while the 10' can still tackle them with its impressive turning capabilities, it paddles and tracks better than the 9'6" in flatwater conditions.
It's the perfect all-around for those who are serious about their paddling and want great performance in all areas. It's enhanced rails and V3 core will have you in disbelief it's not a hardboard. Suitable for all levels of paddler. Available in Blue or Red!!
ERS V3 10'7"
Just a touch bigger than the 10', the 10'7" has a little more volume and a more eggy shape. The difference in shape allows this board to be a great versatile all-around board that is better suited to conditions like surf, whitewater. It's the next size up from the 9'6" for those who want the same performance but need a little more volume.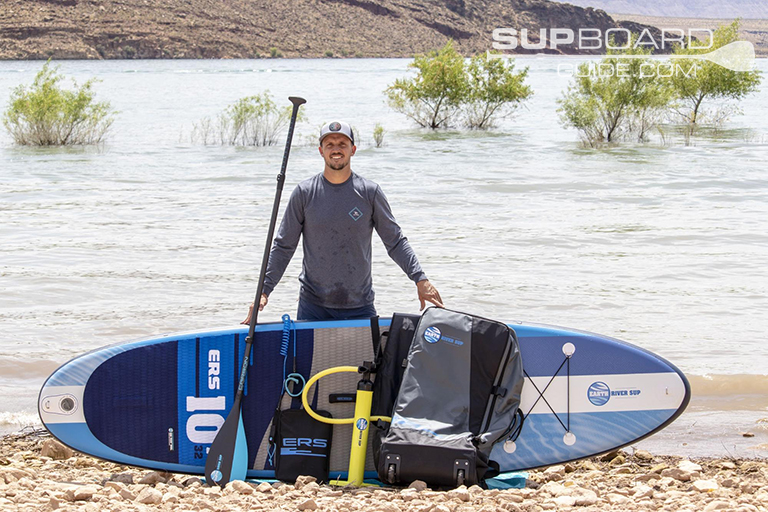 A great board for a slightly bigger rider wanting to get out in some adventurous conditions as well as great for the occasional cruise down the river. Another perfect board for a beginner that is looking for a board that will grow with them.
Also available in the striking orange and yellow design from the Special Edition board years ago after much popularity!
ERS V3 11'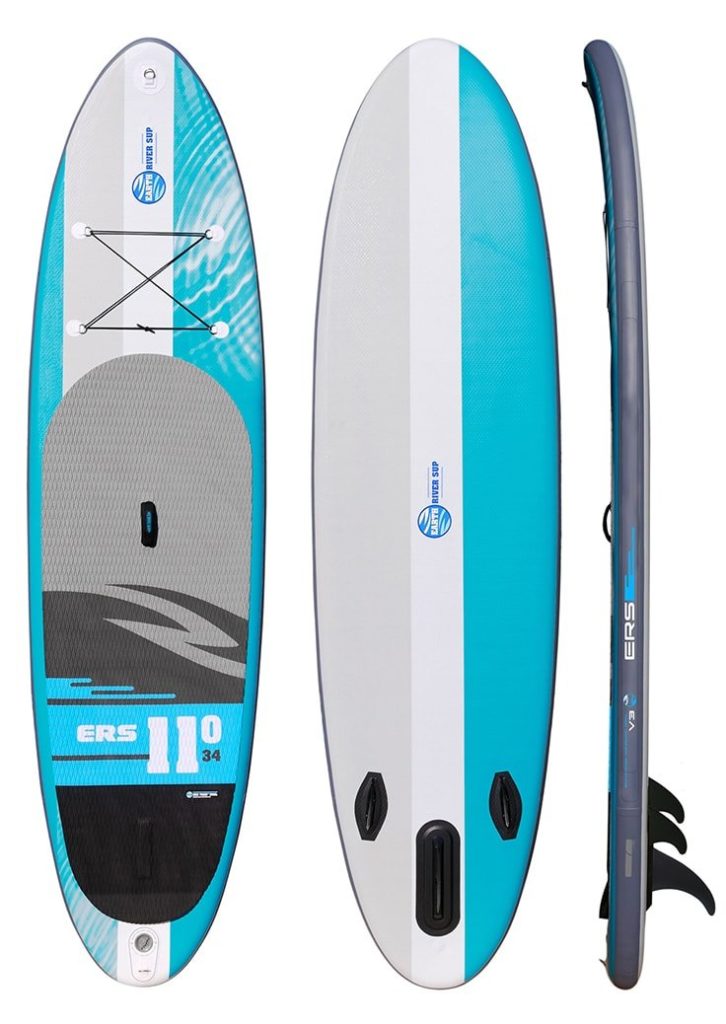 The biggest of the all-around eggy shaped V3 boards. Thanks to premium production of the V3's, even though it's 11' it can still tackle its way through small waves and rapids. It's a great option for those who regularly want a bigger board for things like family time, SUP exercise but still something that has enough performance to enjoy an adventurous ride on it too.
12'6"
The ultimate explorer. It's the streamlined shape and slight rocker allows this board to cut through water effortlessly. The 12'6″ is a great option for those who want to explore but encounter tough conditions like coastal chop or slight rapids
It's rock-solid core and enhanced rails make this board super rigid providing stability in those trickier conditions, allowing the board to move with you rather than turning into a bouncy castle. Make sure you take along a selection of fins in river exploration so you can take advantage of paddling through shallow areas or known danger zones with submerged boulders. It's the perfect companion for the keen explorer!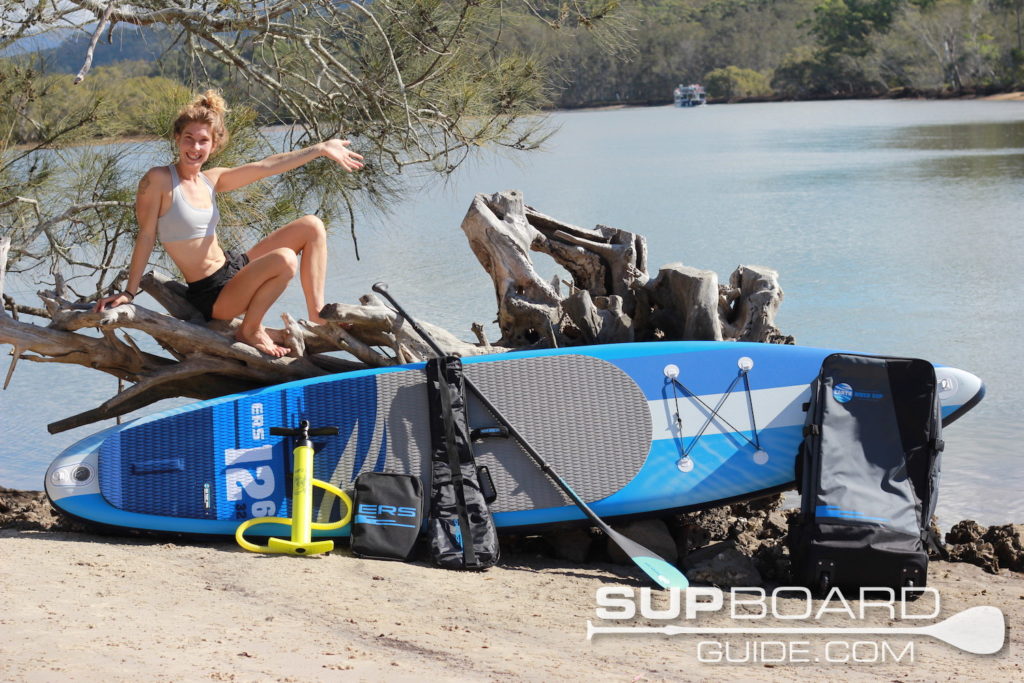 Earth River SUP Review: Accessories
$$ ** If you purchase at PumpedupSUP all orders include a free ERS carbon fiber/fiberglass paddle, ERS coiled leash and pressure gauge reader – almost $300 worth of extra gear! ** $$
Skylake Green Series
A strong, durable bag that has wheels as well as straps. Extra features include lots of handles for extra portability and velcro flap to secure straps in when wheeling so they don't get caught in the wheels. 

The ERS double-action high-pressure pump

2-year warranty on the board 
Skylake Blue Series
ERS hybrid backpack/wheeling travel bag. A fantastic bag that's made to travel and last. 

A high-pressure dual-action pump 

Fins; A set of low profile and large center fins with screws. All-arounds feature one large dorsal fin, side fins, and one low profile center fin. Other Blue Series also feature a hatchet fin for touring. Fins also come with a folder with separators for organized storing! 
V3 Series
The ERS SUP bag that can be wheeled as well as carried made from materials that last. Enough room inside for a board and all the accessories. 

ERS branded dual-action, high-pressure lightweight pump 

Fins; two sets of side fins, one set is a lower profile. 4 types of center fins, 2 lower profile fins and one dorsal and one hatchet. 
Optional Extra Accessories 
$$ ** If you purchase a board through PumpedupSUP you get heavy discounts of quite a few of the following** $$
The EPIC compressor and GO battery. Inflate anywhere, anytime, and multiple times! Also available is the GO Mini which is ideal for single-use and slightly more compact. 

A range of coiled, straight and a hybrid of between the two SUP and surf leashes 

Dry bags! 

An 8 lb anchor – perfect SUP fishing/yoga, etc

Tie-down straps for transporting your boards 
Where To Buy
The following two tabs change content below.
SupBoardGuide
Heyo! At SupBoardGuide.com we are a team who love the water, the outdoors, and are more than grateful that our full-time job allows us to review stand up paddle boards. We paddle year round (it helps that we are just about 2 hours outside of Las Vegas), and we bring in a wide range of paddlers with the goal of providing our readers with the best, most in-depth, and accurate stand up paddle board reviews.
Latest posts by SupBoardGuide (see all)