Who is BLACKFIN?
Founder(s): Steve Elder
Where: Jacksonville, Florida
When: 2013
Hey there! On this page, you will find all of our BLACKFIN reviews, as well as a little info on the parent company, iROCKER themselves. iROCKER is the manufacturer of all iRocker and BLACKFIN boards, with BLACKFIN being their premium line of iSUPs. If you want to read more about iRocker's mid-level line of inflatable SUPs, you can find our iROCKER SUP Reviews here.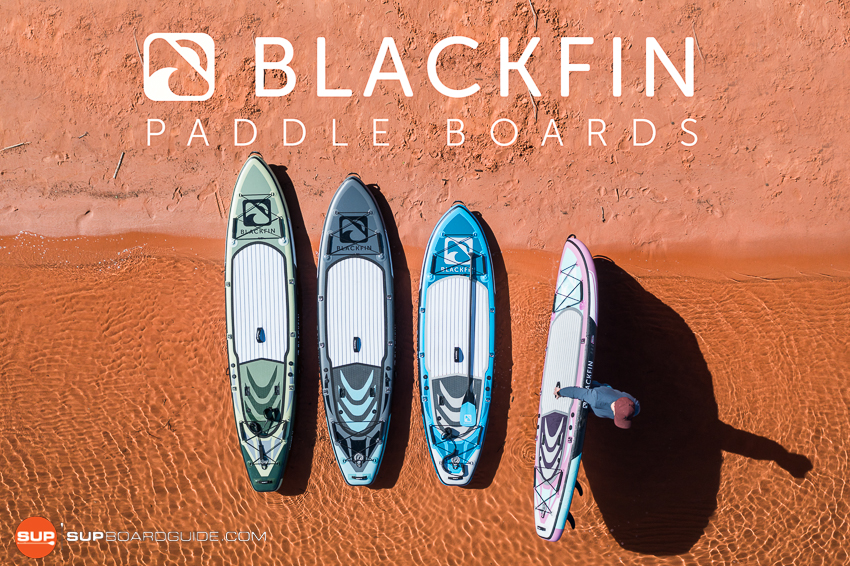 Having found success with their iRocker series of boards, the team at iROCKER wanted to develop an even better inflatable SUP than their first line of products. Investing their resources, they were able to develop a board that was among the best in the industry, releasing their new premium boards as the BLACKFIN line. With four different boards suiting a spectrum of rider size and water conditions, each BLACKFIN is an incredibly durable, sleek, and beautiful SUP that is well worth the larger price tag. The BLACKFIN line includes the Model X, Model XL, Model V, and their first hardboard with the BLACKFIN Model SX. Experienced riders and those looking to invest long term in the inflatable SUP industry will love each of the BLACKFIN boards.
Why do we love BLACKFINs and recommend them?
iROCKER has produced exceptional boards since the founding of their company, and have made an even more exceptional product with their BLACKFIN line. Suitable for beginners and experts alike, BLACKFINs are packed with a ton of features that will impress any paddle boarder.
All BLACKFIN inflatable boards have two bungee storage areas, located on the front and tail of the boards. All inflatable models have three handles for easy carrying your board to and from the water. Every inflatable SUP board has eight action mounts, 20 D-Rings, and two built-in fishing rack mounts ready for additional attachments. Finally, those who get tired of carrying will appreciate the included shoulder strap option built into all four of the BLACKFIN models.
For heavier riders and those who want to paddle with friends, pets, or family, boarders will greatly benefit from the stability and weight capacity of BLACKFIN models. All inflatable BLACKFIN boards have a recommended weight limit over 450 lbs, making them able to support two grown adults riding together. While the boards do weigh in on the heavier side, with the lightest model still coming in at 27lbs, the heavier weight is a great trade-off for the stability these SUPs have. For those who want a board that will stay on the water no matter the skill of the user, the BLACKFIN is a great board to turn to.
Part of the reason why we are so confident in recommending BLACKFIN boards is because of the company that manufactures it. iROCKER is known for being one of the best, friendliest, and most helpful companies in the iSUP world. Their boards are famous for their low return and defective manufacturing rate. For those who do need to make an exchange, they'll be glad to find that there is a 60-day guarantee and a two-year warranty, with free shipping to many parts of the world. iROCKER is staffed by those who live in and love the world of inflatable SUPs, and will gladly answer any questions you may have about their boards.
Between the iROCKER company backing it and the quality of the boards, we stand by the BLACKFIN line as being one of the best SUP lines in the industry.
BLACKFIN SUP Reviews – The Boards
BLACKFIN Model X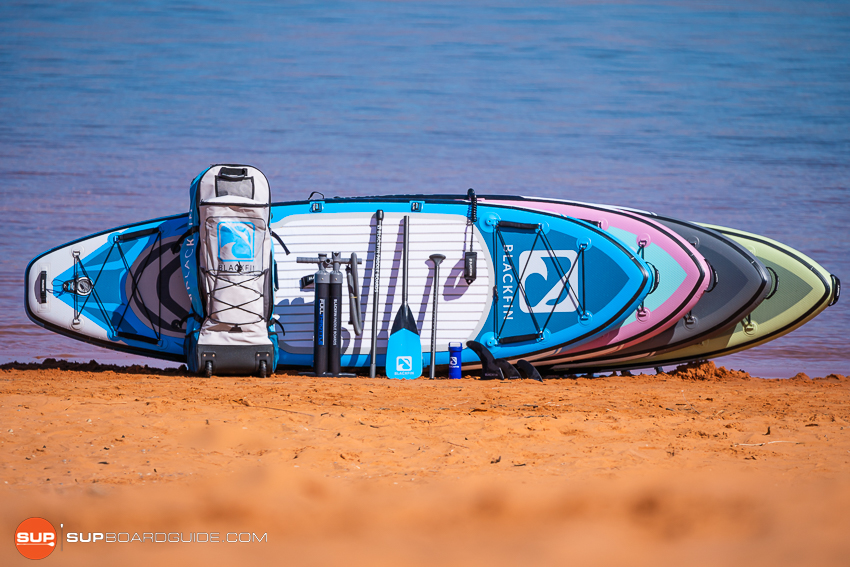 The BLACKFIN Model X is the smallest of the BLACKFIN family of boards, but it is still more than large enough to support any paddler. Further, the Model X is not just a fantastic all-around, but our favorite all-around inflatable SUP. It is the perfect family board, more than capable of supporting multiple riders, though those hoping to go all out might want to take a gander at the Model XL.
As for the Model X, it's 35″ deck and carbon rails work together to boast an impressive weight capacity of 450 lbs. It's assortment of handles, action mounts, comfortable EVA pad and D-rings make it great for almost any SUP activity. The BLACKFIN Model X is more than capable for a variety of conditions, including: whitewater SUPing, fishing, yoga, and even surfing in smaller (3-4') conditions.
Even so, the best paddling conditions for the Model X are calm waters, long-distance paddling, some whitewater riding, and as a board for multiple riders. Being extremely stable, this is an ideal board for beginners. The Model X also boasts high levels of performance, so advanced and experienced riders will enjoy their purchase as well.
Read our full review of the BLACKFIN Model X here
BLACKFIN Model X​L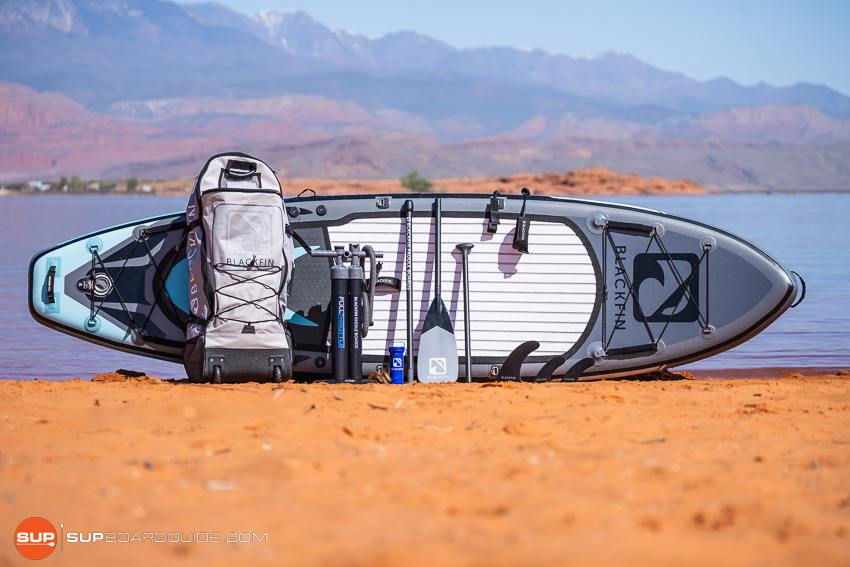 You might be surprised to know that with the dimensions of 11'6 X 34″ X 6″, the BLACKFIN Model XL is actually an inch thinner than the Model X. The smaller width combined with the board's long length helps the Model XL go even faster in the water, making it slightly better than the Model X when it comes to paddling longer distances. Additionally, the board has a recommended weight capacity 485 lbs, making it one of the strongest boards in the inflatable SUP industry. Able to support multiple adult riders, well suited as a touring board, and even just good for some sunbathing, this board is great for many water activities. The BLACKFIN Model XL is strong, comfortable, and more than capable to handle most challenges you throw at it.
The overall performance on the XL is fantastic. It tracks well and can still turn relatively quickly if you are versed in back foot pivot turns. However, given its size, I'd recommend using this board in flat water, light chop, and small waves.
Read our full review of the BLACKFIN Model XL here
BLACKFIN Model V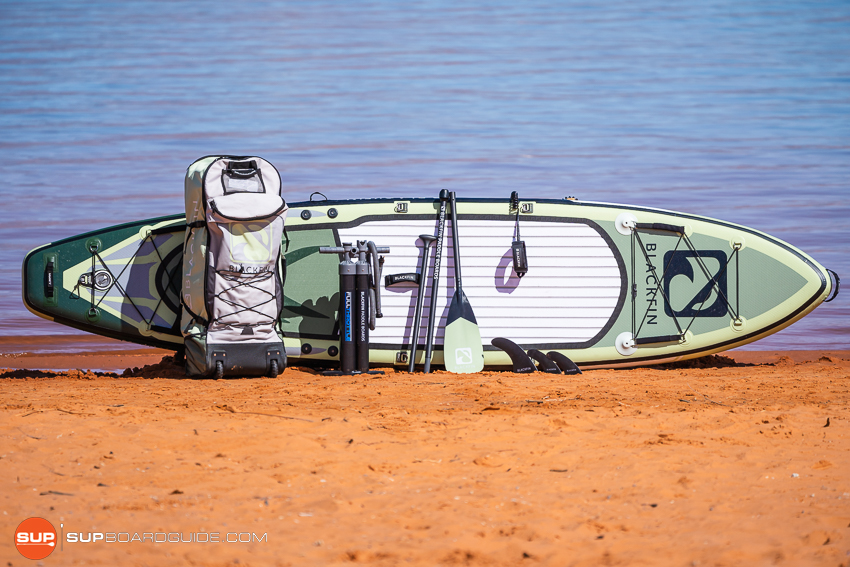 For paddle boarders who are looking for something that is both strong and speedy, they'll be interested in the BLACKFIN Model V. It has a thinner body of 32'', with a long length of 12'6″ and a tapered nose that all work together to help it fly through the water. Though built for touring and long distance paddling, the BLACKFIN Model V comes with the same great features in the other BLACKFIN models. The Model V doesn't skimp out on supporting groups either, as it also has a recommended weight capacity of 485 lbs.
Because the Model V is a touring board, it goes best in areas where you can get some speed up. This means that the Model V is best in either large open bodies of water, like the lake, or long stretches of straight water, like rivers and creeks. It will handle moderate water conditions, such as chop or gentle river turbulence, rather well.
Read our full review of the BLACKFIN Model V here
BLACKFIN Model SX
iROCKERs first ever hardboard! It's a performance all-around board, and performs just as well as the inflatable BLACKFIN boards. Built with beginner and intermediate riders in mind, the board is 10'6″ long, 32'' wide, and 4.5″ thick. Because this is a hard board, you'll want to make sure you have a way to transport a board of these dimensions as you can't deflate it. If you can transport it, you'll find that the BLACKFIN Model SX is a very stable board that also maneuvers and glides well. This is a great starter board for those wanting to see what hard board paddling is like.
There are some differences between the BLACKFIN Model SX and the other inflatable BLACKFIN models. The board only has one handle in the center, and does not come with any action mounts or built in fishing mount holders. The Model SX does come with two bungee areas though, and is compatible with the iROCKER kayak kit thanks to its nine teen d-rings. Weighing 32 lbs, the board has a recommended weight capacity of 250 lbs, so you won't be able to take out multiple riders like the inflatable BLACKFIN models.
Despite the differences in features and weight though, the BLACKFIN SX makes for a great all-around board. You'll be able to enjoy it in most calm water conditions, and have just as much fun as the inflatable SUP boards. Small waves, light chop, and a short paddle down the river all suit this hardboard. The benefit of the hardboard is that it will be faster and more responsive/maneuverable than the other BLACKFIN iSUPS. If you're looking for a hardboard that can handle some nice longboard waves, the BLACKFIN SX will be the board for you.
(Our full review of the BLACKFIN Model SX is coming soon)
BLACKFIN SUP review – Accessories
Your BLACKFIN SUP kit will include the following premium accessories with your purchase:
An exquisite SUP bag with wheels and carry straps that has more than enough room to haul your kit.
A manual full throttle triple action, dual chamber high-pressure pump that can pump up your board in 5-10 minutes.
10' branded BLACKFIN ankle leash, with a hidden compartment for your personal key.
An extremely lightweight carbon shaft and nylon paddle blade that breaks down into three, easy to pack pieces.
3 high quality flip lock fins. Includes a center fin and two side fins.
Standard inflatable paddle board repair kit, including patches and a valve wrench.
2 Year Warranty and a 60 day money back guarantee.
As an optional purchase, we would also recommend looking at the following accessories:
The SUP to Kayak conversion kit, with the seat mounting points already pre-installed in your BLACKFIN board.
BLACKFIN fishing mounts, which will hold your fishing rod vertical for easy use during your trips.
BLACKFIN fishing rack, which will hold your fishing rods vertically, provides an attached gear box, and a safety bar to hold onto while fishing.
iROCKER SUP anchor to help secure you in place for those interested in yoga or napping at the lack.
BLACKFIN sand spear, which will help lock your board in place or propel it when you're riding in shallow waters.
VIBE waterproof speaker. Store up to 4GB of music on its flash drive, or pair it up with your phone for some music on the lake.
An electric pump, our number one optional accessory recommendation. Not only will an electric pump save you time and energy pumping up your board for you, but it will help with deflating your board as well!
For any other third party accessories, verify that they can be used with the BLACKFIN action mounts and D-rings before purchase.
Where To Buy a BLACKFIN Stand Up Paddle Board, Warranties, and Return Policy:
iROCKER sells directly to the consumer, which enables them to directly interact with the customer should any problems arise with their board. Besides their great customer support team, all BLACKFIN boards come with a two year warranty and a sixty day money back guarantee. BLACKFIN also offers free shipping to the places listed below; those living elsewhere can still purchase a BLACKFIN SUP by paying for the shipping fee. For more information about iROCKER's warranty, shipping, and return policy, please be sure to visit their website at this link.
U.S
Canada
Australia
UK
Spain
Italy
Germany
Europe
The following two tabs change content below.
SupBoardGuide
Heyo! At SupBoardGuide.com we are a team who love the water, the outdoors, and are more than grateful that our full-time job allows us to review stand up paddle boards. We paddle year round (it helps that we are just about 2 hours outside of Las Vegas), and we bring in a wide range of paddlers with the goal of providing our readers with the best, most in-depth, and accurate stand up paddle board reviews.
Latest posts by SupBoardGuide (see all)