BOTE Breeze Aero 10'8 / 11'6
0.00
Pros
Very light but well constructed
Minimalistic feel great for true stand up paddling experience
Relatively efficient paddling, while maintaining good stability
2 size options (we generally prefer the larger size)
Beautiful design + nice features for a less expensive SUP
Cons
We'd like to see removable side fins vs the fixed flexi fins for improved performance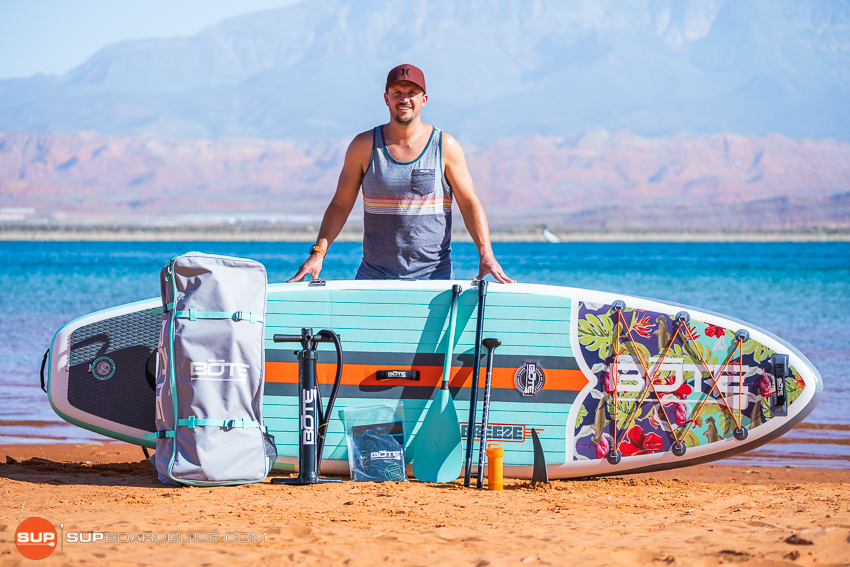 Hello, and welcome to the BOTE Breeze Aero review. To begin, let's first start with the fact that this iSUP is available in two distinct sizes 10'8 and 11'6. Both sizes maintain the same width of 33" and give you a handful of color choices. At the time of this writing, BOTE had not offered the breeze with a FULL TRAX option that we typically recommend (full length deck pads are so nice) in either size.
Beyond the basics of size, shape, and color we see that the BOTE Breeze Aero shares much of its DNA with the rest of the BOTE lineup. It's well constructed and feels like a quality board throughout. What we can say is that this board lacks a lot of the added features of the more expensive models. This board is a no frills entry into the world of inflatable stand up paddle boards.
We think the BOTE Breeze Aero would be great for paddlers who
Want a no frills quality inflatable stand up paddle board
Want an all around SUP that also is decent touring across the lake
We think the BOTE Breeze Aero is great for the following water conditions/situations:
Flat water paddling (lakes, bays, marinas, etc.)
Recreational paddling (beginners, just paddling around flat water w/ friends and kids)
Ocean paddling
Surfing in small surf (1-3 ft)
BOTE Breeze Aero Review: Overview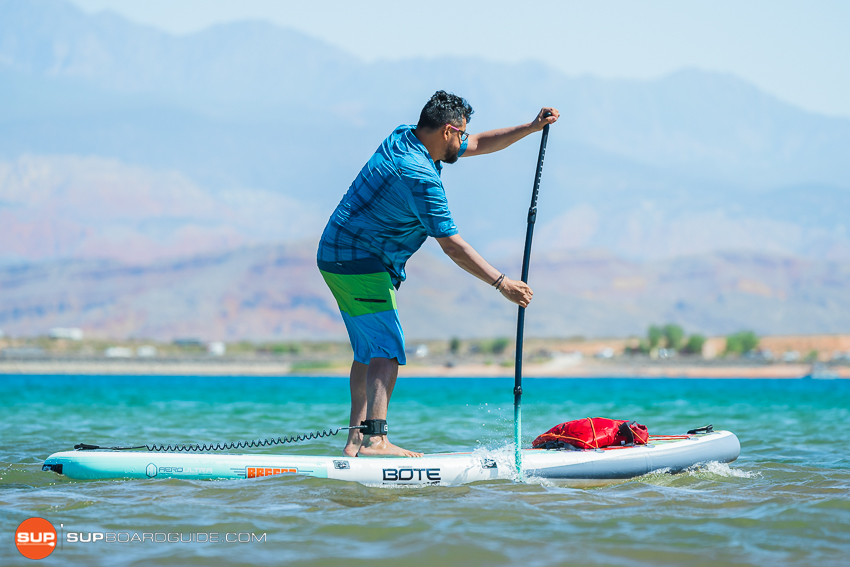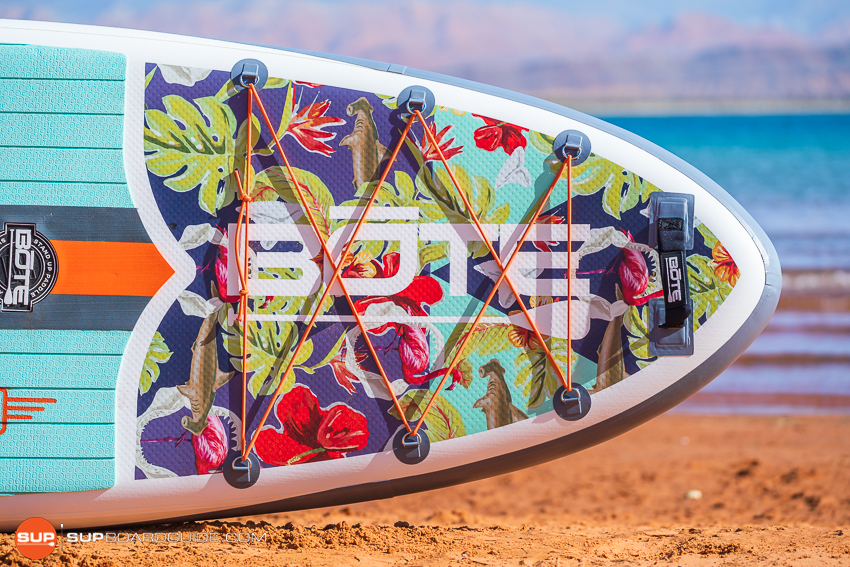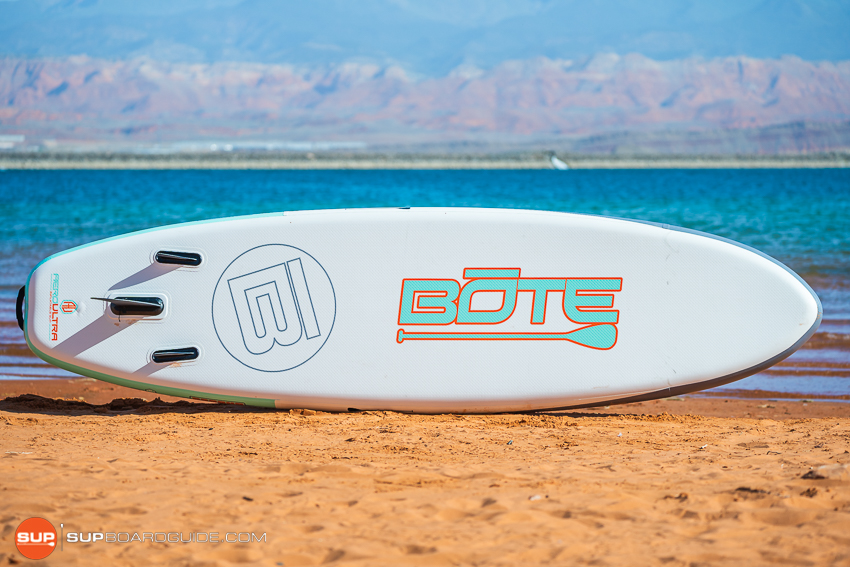 Note: We like to get on the water and paddle a lot. We take all of our boards out as much as possible in as many different conditions as possible. Bottom line: we don't write spec reviews. Our opinions are based on hours of on water experience. If you have any questions about this board, this review, or paddling in general, please leave a comment below. We are happy to answer any questions you may have and help you pick the right stand up paddle board for you.
BOTE Breeze Aero: Spec Sheet
| | |
| --- | --- |
| Main Category | All-Around, Inflatable |
| Board Dimensions | 10'8 / 11'6 x 33" x 6" |
| Listed Board Weight | 20 / 22 lbs |
| Listed Max Capacity | 250 / 315 lbs |
| Recommended PSI | 10-15 PSI |
| Fins | Removable center fin, 2 fixed side fins |
| Paddle | 3 piece adjustable |
| Materials | BOTE AeroUltra technology |
| Price Range | Medium |
| Warranty | 2 years, 30 day guarantee |
Official SupBoardGuide.com Test Results: BOTE Breeze Aero (2023)
Overall Score:
10'8 Breeze: 8.7/10
11'6 Breeze: 8.9/10
BOTE makes some impressive boards for sure. The Breeze Aero is the company's more entry level, basic version in their lineup. It is truly a no frills paddle board that still maintains BOTE's commitment to quality. It's very stable and, depending on what size you go with, can accommodate a reasonable amount of weight. There is still a good forward bungee system for taking the basics with you as well.
Ratings For The BOTE Breeze 10'8 and 11'6 Inflatable SUPS:
10'8
Stability: 8.7/10

Speed:8.3/10

Tracking: 8.4/10

Maneuverability: 8.9/10

Construction Quality: 8.9/10

Features/Accessories: 8.9/10
11'6
Stability: 9.0/10

Speed:8.4/10

Tracking: 8.6/10

Maneuverability: 8.5/10

Construction Quality: 8.9/10

Features/Accessories: 8.9/10
Our overall rating of 8.7/10 (10'8) and 8.9/10 (11'6) for the BOTE Breeze Aero hopefully shows you how solid this board is. Without the host of accessories typically found on the BOTE iSUPs this board still is a solid performing inflatable stand up paddle board. Yes it lacks some of the interesting features BOTE is known for, but it is still at heart a really great paddle board – and one of the best looking of the boards to win a spot on our best cheap paddle board list (cheap as in inexpensive, not cheap as in low quality).
In-Depth Review of the BOTE Breeze Aero Stand Up Paddle Board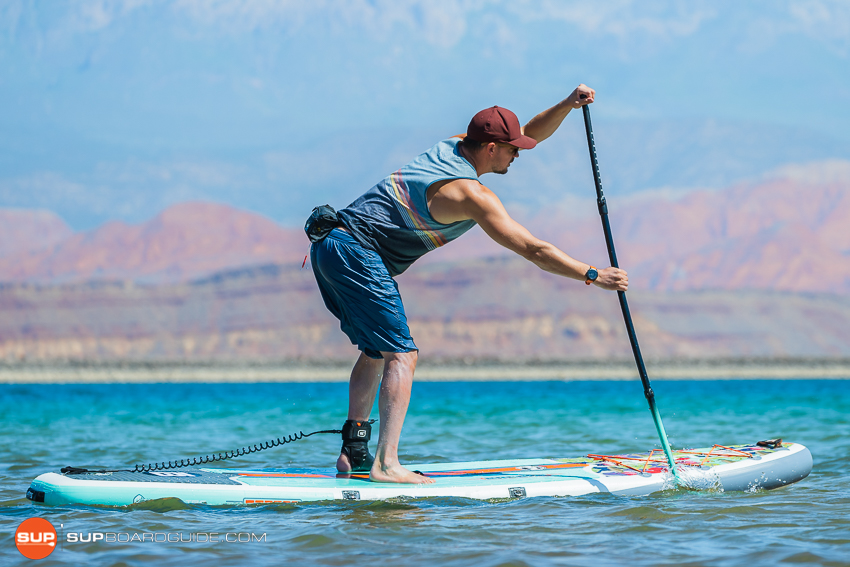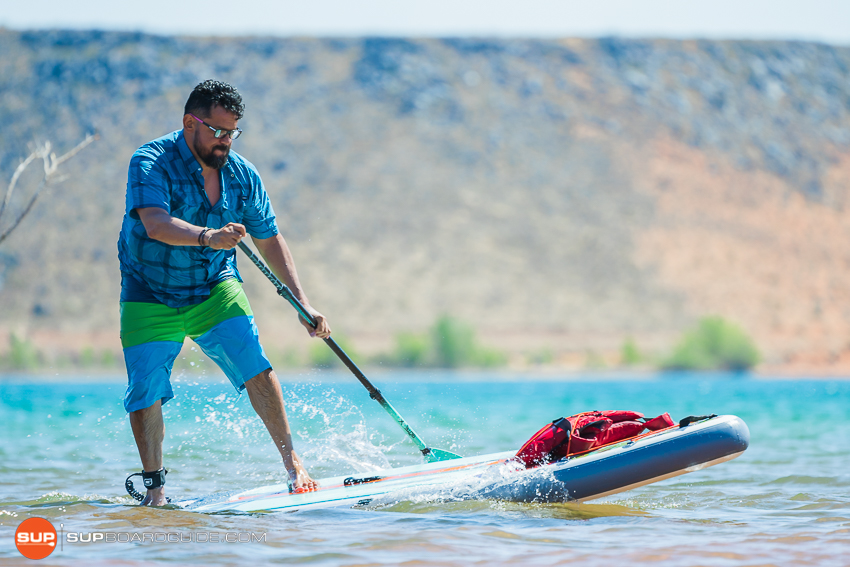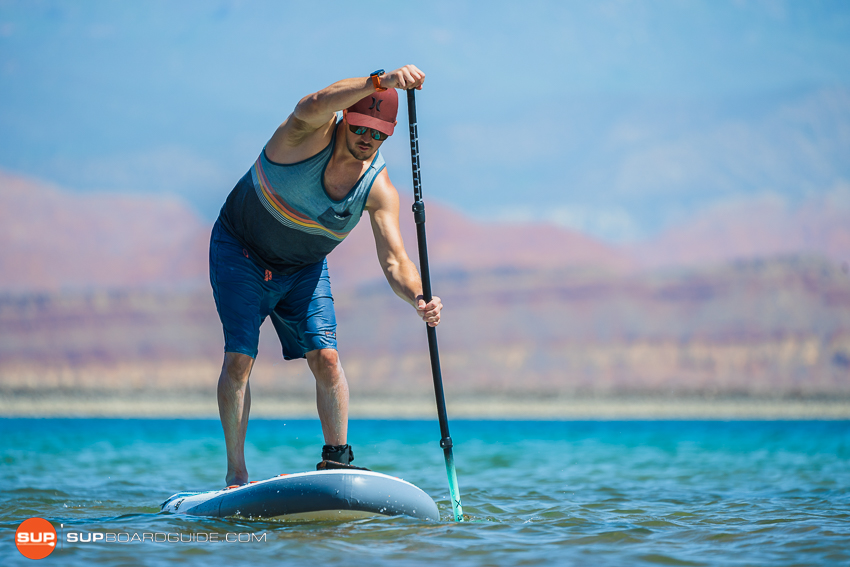 As mentioned above, the BOTE Breeze Aero comes in two lengths. Typically we will always suggest the larger more supportive/stable board unless you want something that is more sporty and nimble (not generally the case for beginners). For these boards, we would recommend that you buy the board that fits your size, as we found the BOTE Breeze to be a more classic SUP board with simple front bungee straps and a clean deck pad. With that in mind we think that if you are less than 175 lbs you should go with the 10'8. Anything more than that and you're probably better suited for the 11'6.
Stability Rating:
10'8 Breeze: 8.7/10
11'6 Breeze: 9.0/10
As we have said so many times, stability is probably the most important trait of a board to measure or review. Put simply, if you're not stable, you're probably not having a good time – and this is most important for beginners. Yes, you will have a learning curve, but the board needs to have enough volume and a good shape to give you a solid platform to learn on.
The BOTE Breeze Aero scored fairly well in the stability category and at 33" wide is a good option for beginner to intermediate paddlers. More so when you pick the 11'6 than the 10'8 for obvious volume reasons. But being that they share the same width otherwise, both boards had a great lateral stability.
Weight Capacity:
10'8 Breeze: 250 lbs
11'6 Breeze: 315 lbs
In our minds weight capacity represents the maximum weight a board can handle while still being relatively responsive as a paddle board. It obviously does you no good to know that a board can hold a certain weight before sinking, when the board would have been rendered useless long before then.
We like to say BOTE does a fairly decent job when listing their recommended weight capacity and these are no different. The 10'8 would be great for individuals 175 lbs or less. The 11'6 is a good choice for those up to around 275 lbs.
Speed Test:
10'8 Breeze: 8.3/10
11'6 Breeze: 8.4/10
Speed is a measure of how fast or efficient a board is through the water. We like to use speed as a measurement because we feel that the more effectively you move through the water the less energy you expend, and the more energy you have to make your trip go further.
Like the rest of the BOTE lineup we feel that these boards are well designed and created for a smooth glide through the water. That being said, we also think that BOTE boards seem to favor a specific pace. While never lighting fast these boards always seem to have a solid cruising pace. This translates into a low effort efficient paddle board.
Tracking:
10'8 Breeze: 8.4/10
11'6 Breeze: 8.6/10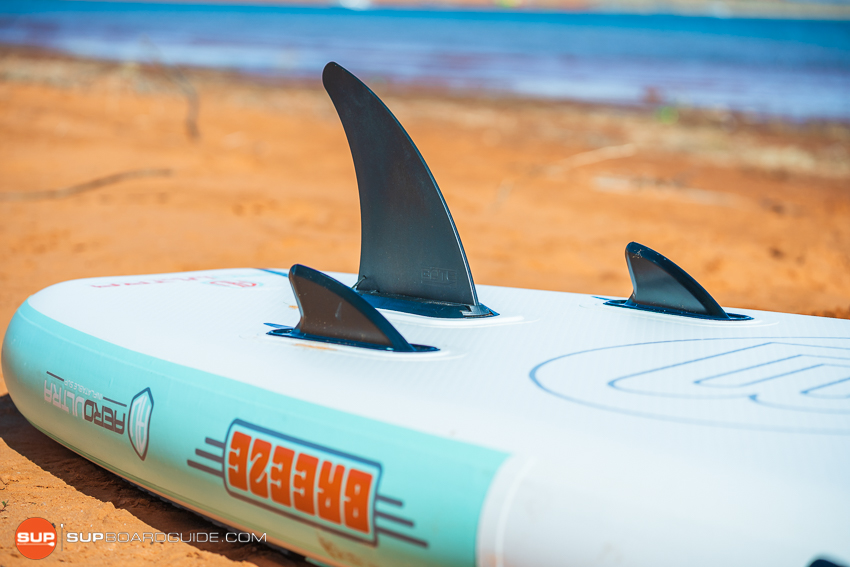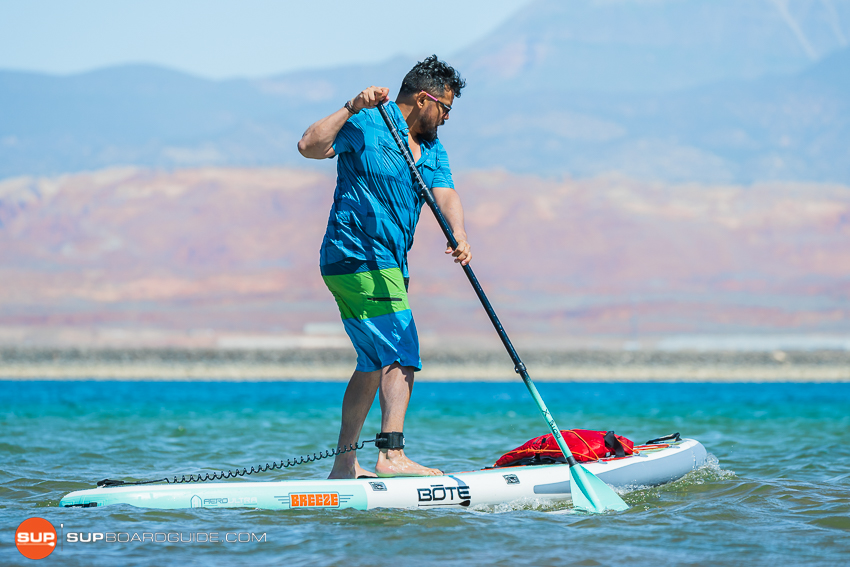 With a single removable center fin and two permanently attached side fins, the BOTE Breeze Aero tracks fairly well, with the longer 11'6 inching out the shorter board due to its longer waterline.
We feel that the three fin setup is a good one, however, we really don't see the benefit of those small permanent side fins. They make storage, both inflated and deflated, a hassle as they constantly get in the way. Additionally, we have had several of the side fins deform in hot conditions when left outside. We think all of the BOTE lineup would benefit from a removable side fin setup, which would allow them to have longer side fins and improve tracking.
Maneuverability:
10'8 Breeze: 8.9/10
11'6 Breeze: 8.5/10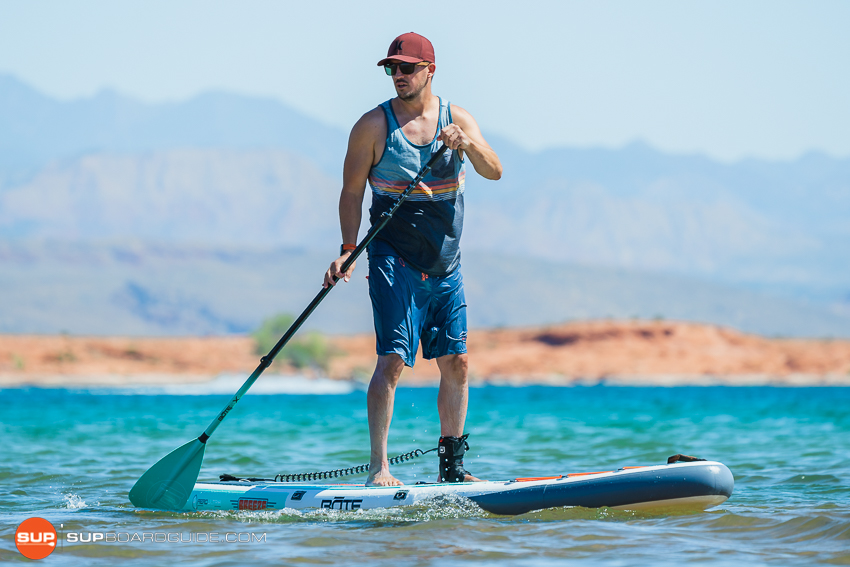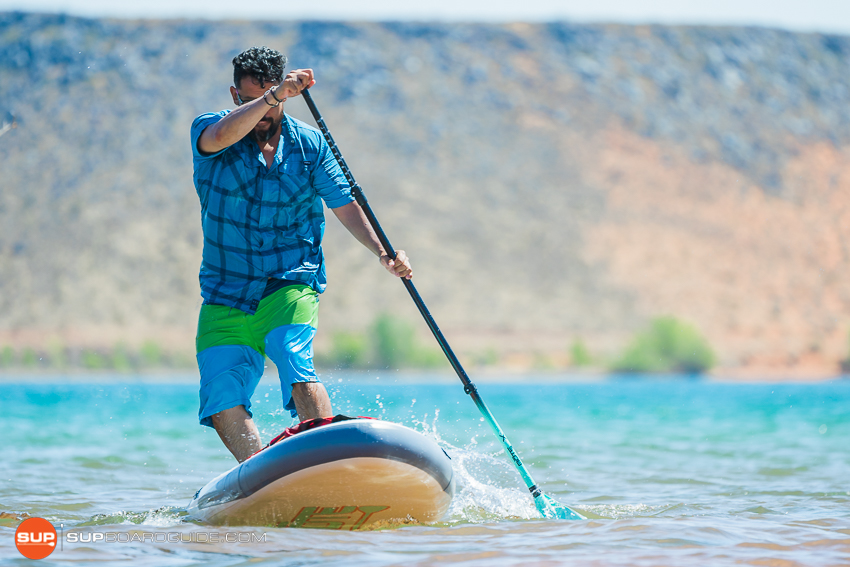 The BOTE Breeze Aero did well in the maneuverability portion of our tests. In this case the shorter 10'8 inched out it's longer brother. Both of the boards were fairly easy to turn using simple techniques. The shorter board just has less mass to move around making it that much more nimble. Both of these boards feel fairly sporty, which is what we would expect given how lightweight they are.
Using more advanced techniques went well as the boards are both very solid and stable. Step back (pivot) turns were fairly easy considering the diamond print deckpad that extends all the way back to the tail and the lack of any obstructions on the rear of the board (really cool feature for a board at this price level).
Both boards went through a slalom of aquatic tree's well. Again, the longer of the two being just slightly more difficult to turn because of it's extended length.
Construction Quality: 9.4/10
10'8 Breeze: 8.9/10
11'6 Breeze: 8.9/10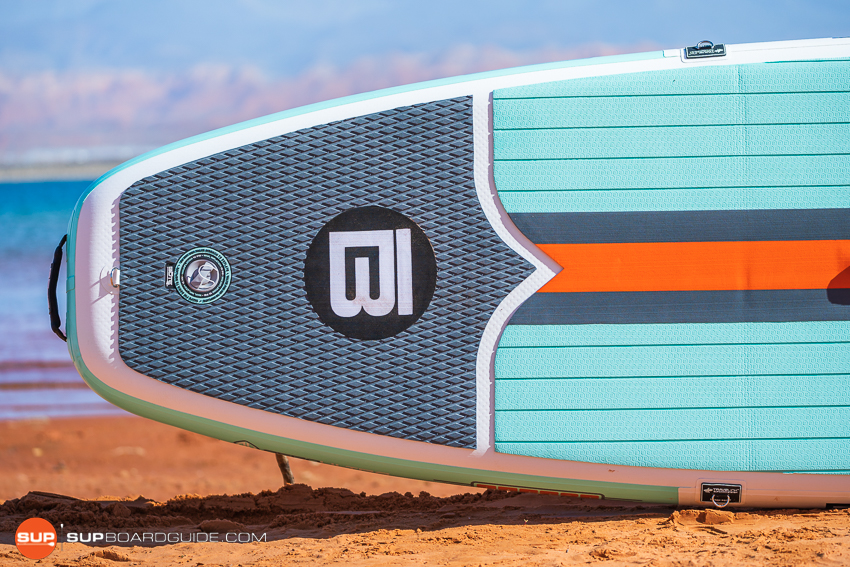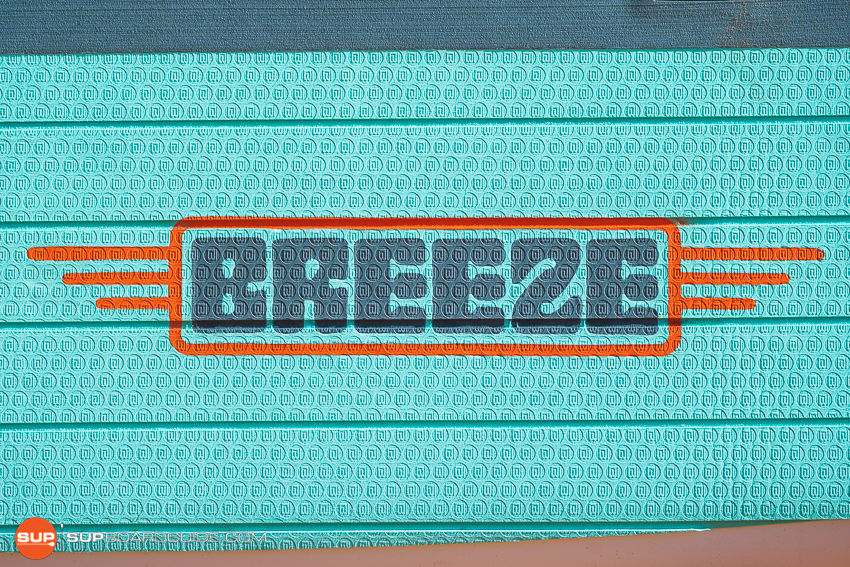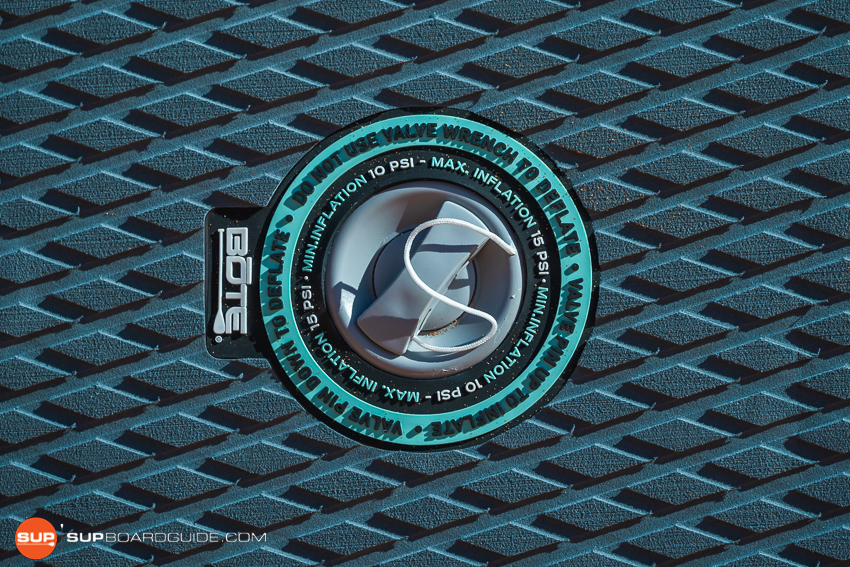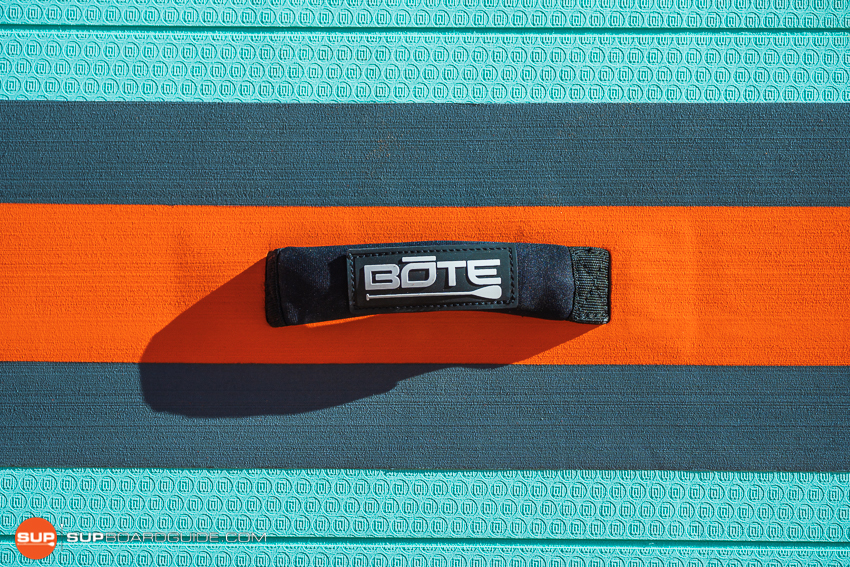 We have been a fan of all the BOTE boards we have reviewed thus far. They always seem to put out a very attractive, highly detailed, well built stand up paddle board. The Breeze Aero is no exception. According to BOTE it is constructed using their patented AeroULTRA technology.
Digging deeper into their literature, this is their most advanced construction method using military grade PVC and the latest in composite drop stitch technology. The end result is a board that is just as sturdy as those weighing considerably more due to the fact they utilized a single layer of PVC. As always, we haven't had the opportunity to directly "test" this but from the external feel it does feel well built and solid. Someday in the future we will do construction tests with a razor and some extra time on our hands. For now, we haven't quite figured out how to start the conversation with manufacturers about how their iSUP ended up looking like it got stuck in a mulcher.
Board Stiffness:

Stiffness Test: (coming soon)" Bend (board on top of saw horses placed 7' apart, with 150 lbs of weight added right by handle in middle of the board)
The "Bend Test" or "Stiffness Test" is our way of methodically comparing boards on a similar basis in a repeatable, scientific way. We realize that this isn't a surefire measure of a boards overall stiffness for a variety of reasons. However, we can say that this is a repeatable test that can utilize any board from any manufacturer. It will also give you some idea of how the board will respond to excessive weight being placed on the board. In most cases we see a larger, more significant bend in those boards that have less overall structural rigidity and stiffness.
Overall, the BOTE Breeze Aero performed well on our bend test, especially when compared against other entry-level inflatable paddle boards – and several steps ahead of the cheaper 'Amazon brand' boards you find everywhere (seriously, please just don't buy those).
Features/Accessory Review:
10'8 Breeze: 8.9/10
11'6 Breeze: 8.9/10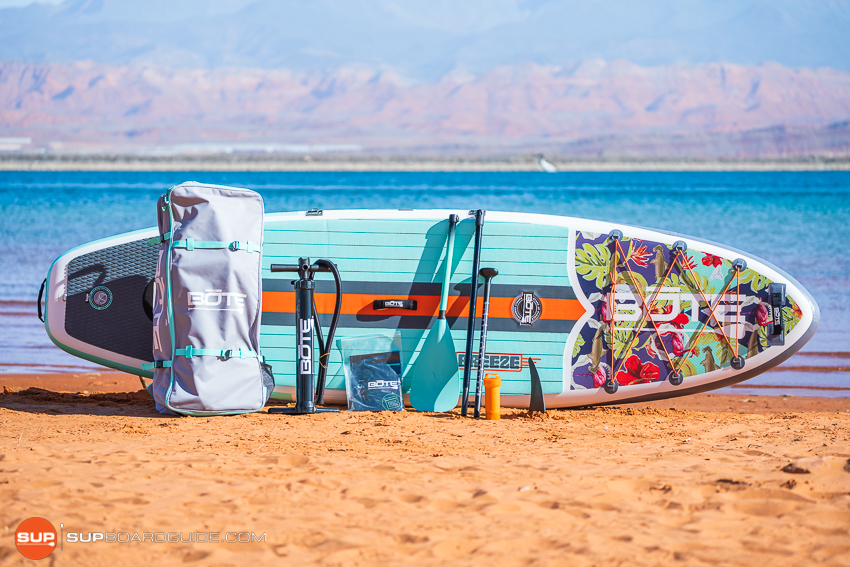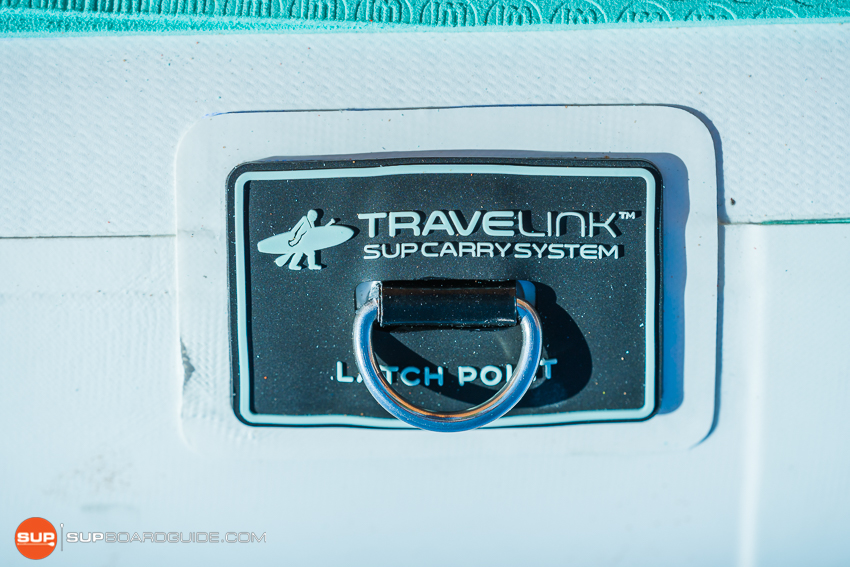 Features:
The BOTE Breeze Aero is one of the BOTE lineups most spartan iSUPs. Lacking all of the attachments and features of some of the more expensive models gives this board the ability to shine for what it is. A quality, lightweight, standup paddle board. It's not going to be your first choice if you're planning on going fishing, or taking your pets with you. But it is a great inflatable SUP and we respect that it approached that goal with zero compromises. Yes it has the basics; forward bungee tie downs, extra front and rear handles, and latch points for BOTE's travelink system. All of those features are there for the sole purpose of making your stand up paddle boarding experience a good one.
Included Accessories:

BOTE included several pieces with their Breeze Aero kits:
3 piece adjustable paddle
10" removable Aero center fin
Aero repair kit
Hand pump
Travel bag/backpack
Repair kit
While we would have liked to see a leash included in the standard kit (it is with most other manufacturers) this still is a healthy enough list to get you started.
Paddle: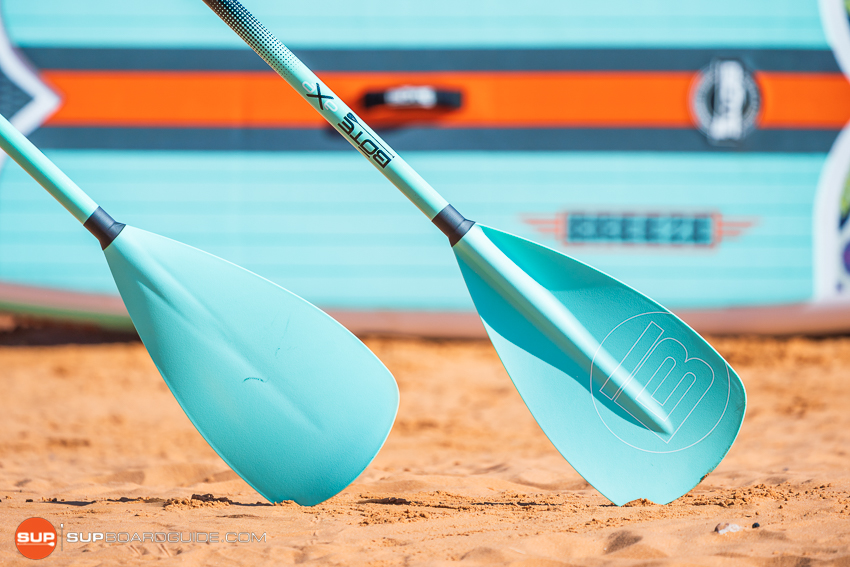 BOTE includes a basic, 3 piece adjustable paddle with this kit. It's a bit on the heavier side but for a basic kit paddle we really didn't have any other complaints. It does have an ABS edge blade making it quite durable, but again that just adds to the overall weight.
Pump: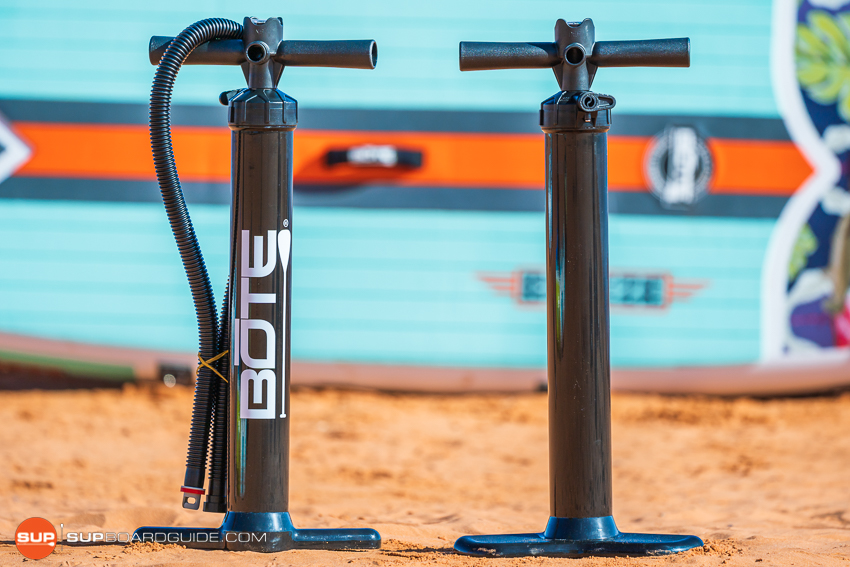 The BOTE Breeze Aero kit comes with a single chamber dual stage pump. We have to point out that most manufacturers are moving to the dual chamber 3 stage setup. The main reason being is that smaller paddlers will have some difficulty reaching that last few PSI. The downward force is greater than the weight of some smaller paddlers and it just makes topping off the board a little difficult.
I will now take a moment to recommend an electric pump for your SUP regardless of what the kit you buy comes with. It's just a worthwhile investment and will go a long way towards your enjoyment on the water. BOTE makes one, and we recommend getting it if budget allows.
Bag: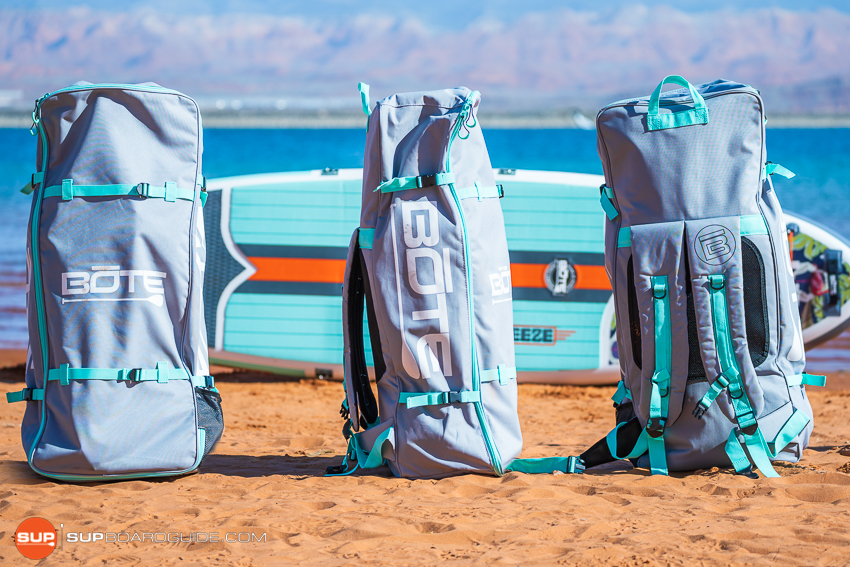 BOTE includes a solid bag / backpack with this kit. The backpack straps and rear backpad are nice and comfortable. Especially considering the board's overall light weight. The material used on the bag is nice and reminiscent of some of the more water resistant materials we have seen around. The handles are rather unimpressive as they are not padded at all and it only has the one main pocket for your gear. There is a set of side straps for the pump and a small mesh pocket for smaller though.
Optional Accessories
BOTE has a plethora of optional accessories, however this board isn't really made for that if you think about it. The BOTE Breeze Aero is more of a purists kind of paddle board. With that in mind, these are the optional BOTE accessories we think would go great with this iSUP:
AeroPump auto electric pump II
AXE carbon fiber paddle (1 piece, 2 piece adjustable, or 3 piece adjustable)
Aero fins (3" shorty and / or 6" midtown)
Travelink carry sling
Highwater waterproof bags / sling packs
Summary Review of the BOTE Breeze Aero (2023)
The BOTE Breeze Aero is certainly an impressive entry-level inflatable stand up paddle board. It scored well in most of our test review areas and is a good option for those looking to try out paddle boarding.
While the Breeze Aero lacks much of the frills and distractions commonly seen on some of today's inflatable SUP's, it still delivers a good paddling experience. We think that the BOTE Breeze Aero makes a great argument for getting back to the roots of the stand up paddle boarding experience and keeping things simple.
We hope you enjoyed this review of the BOTE Breeze Aero. If you have any questions or comments please leave us a comment below! Happy paddling and we look forward to seeing you out on the water!
The following two tabs change content below.
SupBoardGuide
Heyo! At SupBoardGuide.com we are a team who love the water, the outdoors, and are more than grateful that our full-time job allows us to review stand up paddle boards. We paddle year round (it helps that we are just about 2 hours outside of Las Vegas), and we bring in a wide range of paddlers with the goal of providing our readers with the best, most in-depth, and accurate stand up paddle board reviews.
Latest posts by SupBoardGuide (see all)