Nixy Sports Venice G4 10'6 Cruiser iSUP
Pros
High stability and a 350 lb weight capacity makes it very beginner friendly, with a good mix of tracking and maneuverability.
Fusion dual layer construction and carbon fiber reinforced rails makes for a rigid paddle board, but now it's lighter than last year's model.
Redesigned traction pad that is both grippy and cushy to stand on. As well as multiple D-rings and action mounts.
New carbon fiber paddle weighs just 25 ounces and it is one of the lightest paddles included in a SUP kit out of the box.
Other accessories were also revamped or upgraded. The Typhoon pump is easier to pack, while the backpack is slimmer with additional comfort padding as well.
Solid 30 day guarantee and 2 year warranty. Three, six and 12 month finance options make these paddle boards even more affordable.
Cons
The tri fin screw-in fin setup is a mixed bag. The fins are secure and easy to install, but the addition of FCS fin boxes would make this an even more premium SUP kit.
The paddle holder on the front left of the board is a little underdeveloped. We think there are some better options on the market today that are also much simpler in use and construction.
The NIXY Venice G4 10'6'' Cruiser is an ultra-stable iSUP for paddlers who want an all-around style board with a little extra width. The paddleboard has a 350 lb recommended weight capacity for beginners, which experienced paddlers can exceed if they want to bring their kids or a pet out with them. The 10'6'' Cruiser provides a steady balance of tracking with maneuverability, and with a raised rocker and rigid carbon fiber rail reinforced build, it's great for taking out on flat water while suffering minimal performance loss in light chop.
A few extra D-rings and newly added action mounts make this an even better SUP for relaxing on or practicing yoga with, especially due to the redesigned and ultra comfy traction pad. The backpack is a bit slimmer and the dual-chamber pump is easier to use. But one of the biggest draws is the premium, 25 ounce carbon fiber paddle included with the NIXY Venice paddleboard kit. So, if you are in the market for a paddleboard designed to help you relax and enjoy the water, you should read our full review to learn why we recommend the Venice G4 10'6'' Cruiser!
We think the Nixy Sports Venice G4 10'6 Cruiser would be great for paddlers who:
Want a well-built, solid inflatable SUP that's great for beginners and intermediate paddlers alike in a variety of water conditions
Need a board with middle of the road weight capacity (350 lbs)
Would like to paddle with kids, pets or light additional gear
Want a nearly full length deck pad for SUP Yoga or other SUP activities
We think the Nixy Sports Venice G4 10'6" Cruiser is great for the following water conditions/situations:
Flat water paddling (lakes, bays, marinas, etc.)
Recreational paddling (beginners, just paddling around flat water w/ friends and kids)
Ocean paddling
Surfing in small surf (1-3 ft)
SUP Yoga, or other onboard SUP fitness activities
Nixy Sports Venice G4 10'6 Cruise Review: Overview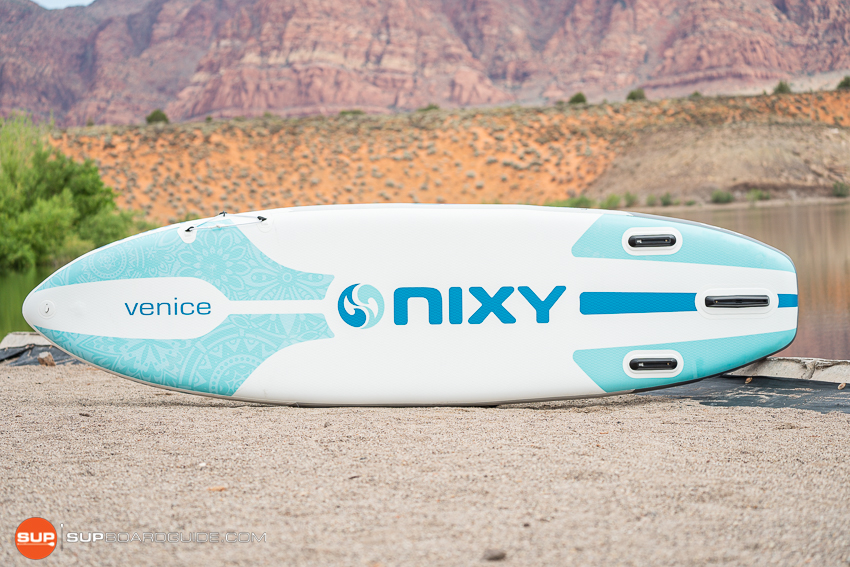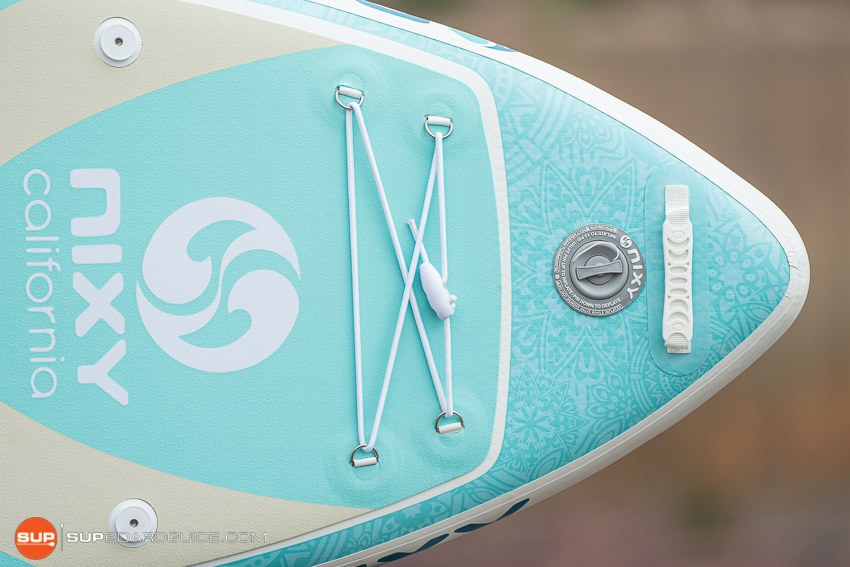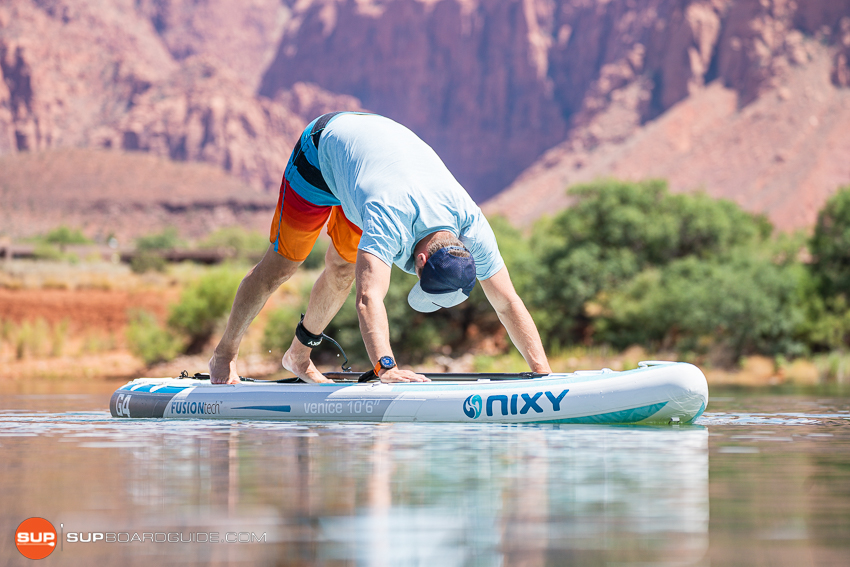 Note: We take these boards out on the water quite a lot. We try to get them in as many different conditions and situations as possible by as many different reviewers as possible. Our goal has always been to provide you with the best real world information on this board and every board. We are not happy unless you can make a well informed decision. If you have any questions about this review, or any of our reviews, please leave us a comment below so that we can help answer your questions!
Nixy Sports Venice G4 10'6 Cruiser: Spec Sheet
| | |
| --- | --- |
| Main Category | Cruiser, Inflatable |
| Board Dimensions | 10'6" x 34" x 6" |
| Listed Board Weight | 23 lbs |
| Listed Max Capacity | 350 lbs |
| Recommended PSI | 15 PSI |
| Fins | 3 tool-less removable fins, 9" center, 3" side |
| Paddle | 3 piece adjustable carbon fiber with plastic handle |
| Materials | Dual layer PVC with carbon fiber reinforced rails |
| Price Range | Medium |
| Warranty | 2 years with a 30 day money back guarantee |
Official SupBoardGuide.com Test Results: Nixy Sports Venice G4 10'6 Cruiser (2021 model)
Overall Score: 9.3/10
The Venice G4 is a great board for SUP Yoga or any onboard SUP exercise routine. The long deck pad really makes for a comfortable and stable platform considering it's 34" width. This board is featured on our SUP Yoga list for this very reason.
This is also a great board to take along some lighter gear, maybe a small child or a pet. Like the rest of the Nixy Sports lineup it's beautifully made with a very close attention to detail and they are still at the top of the list when it comes to included accessories so there is lots of value to be had with the Venice G4.
Stability: 9.1/10

Speed:8.3/10

Tracking: 8.4/10

Maneuverability: 8.9/10

Construction Quality: 9.2/10

Features/Accessories: 9.6/10
Our overall rating of 9.3/10 for the Nixy Sports Venice 10'6 Cruiser goes to show how much we really liked this iSUP and the overall kit. As previously mentioned the Venice is featured in our SUP Yoga list and Nixy Sports still reigns supreme in the included kit pieces category.
In-Depth Review of the Nixy Sports Venice G4 10'6 Cruiser Stand Up Paddle Board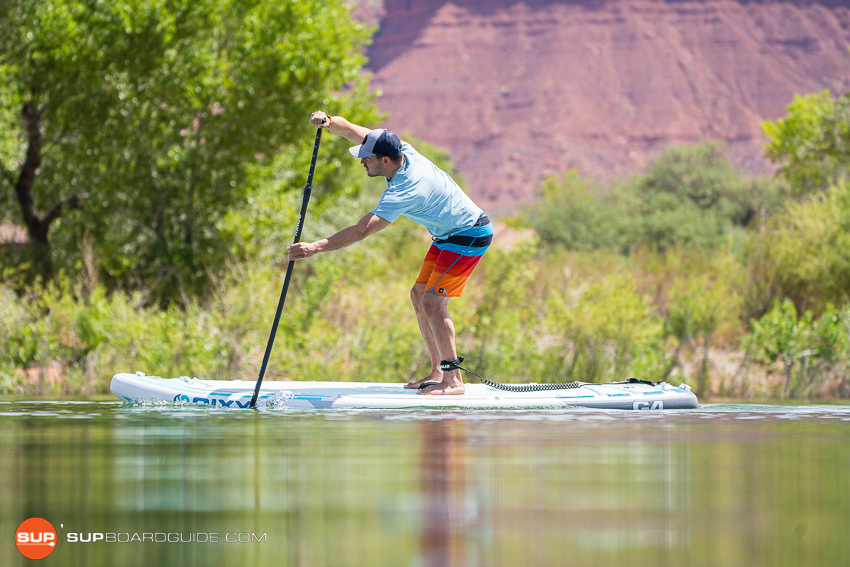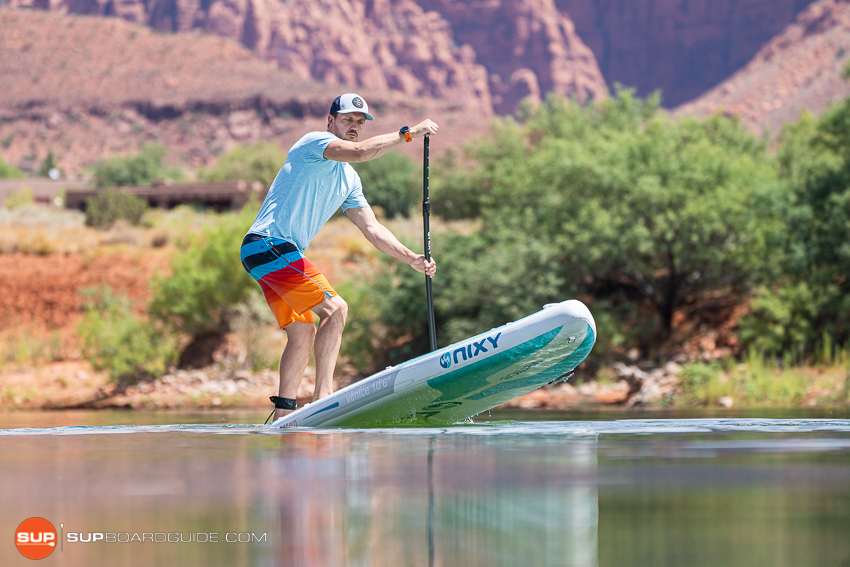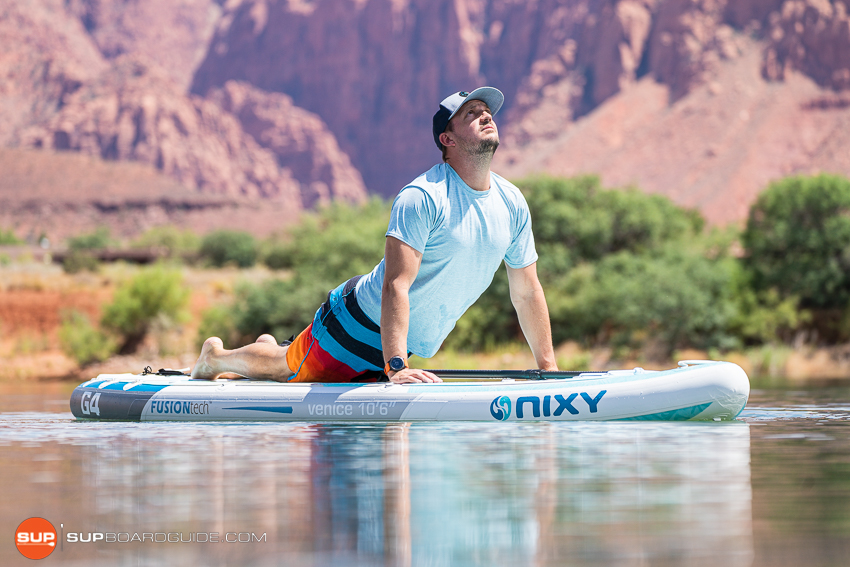 The Venice G4 has a lot going for it. It makes a great stable platform for SUP Yoga with it's nearly full length deckpad and 34" width. That shape however, doesn't do it any favors when it comes to overall efficiency through the water. It does help with the overall weight capacity and the added features — such as the completely removable front and rear bungees — makes this a very specialized iSUP for onboard fitness.
Stability Rating: 9.1/10
The stability this board provides is a combination of its overall shape and quality construction. The Venice G4 scored really well as the 34" width makes a stable platform for just about any sized adult. It's width in conjunction with the quality materials and construction methods make this board very comfortable to stand on and move around on, despite the rider's overall size and weight. This is a good attribute for a board that really positions itself heavily in the SUP Yoga segment.
Weight Capacity:
Tested Capacity:
As we have stated many times before. Weight capacity is an important yet, highly misunderstood aspect of choosing a stand up paddleboard. We like to think of the actual weight capacity as the amount of weight that a paddleboard can handle and still operate effectively as a paddle board. We are not interested in testing how much weight a board can hold before sinking, popping, or otherwise failing. We feel that the usefulness of the paddle board is passed over long before it reaches that point.
In our opinion Nixy Sports typically overestimates their boards capacity. The Venice G4 is by far their most stable board available and the only one we would recommend to larger paddlers. While we still don't quite feel like it would be effective at the 350 lb range it does offer a solid stable base for SUP Yoga practitioners up to around 250 lbs. In our opinion that is lightyears ahead of the rest of the Nixy Sports lineup.
Speed Test: 8.3/10
The Nixy Sports Venice G4 10'6 Cruiser is not going to win any sprints for sure. At 34" wide it's rather large to be pushed through the water with much efficiency. The overall shape Nixy Sports uses is somewhat streamlined but it's simply never going to be as fast as their Manhattan for instance. We are ok with that though. We believe that this board is more purposely designed to provide a stable platform than anything else and that's ok.
Tracking: 8.4/10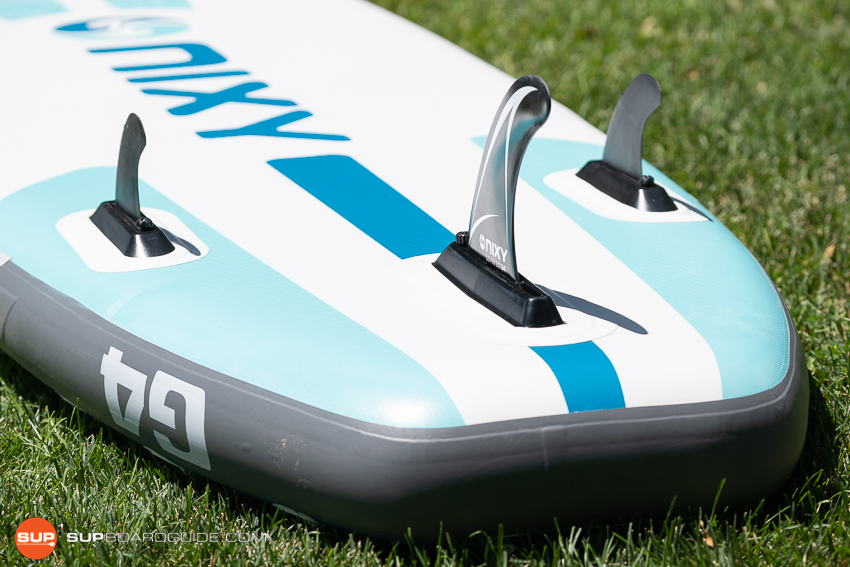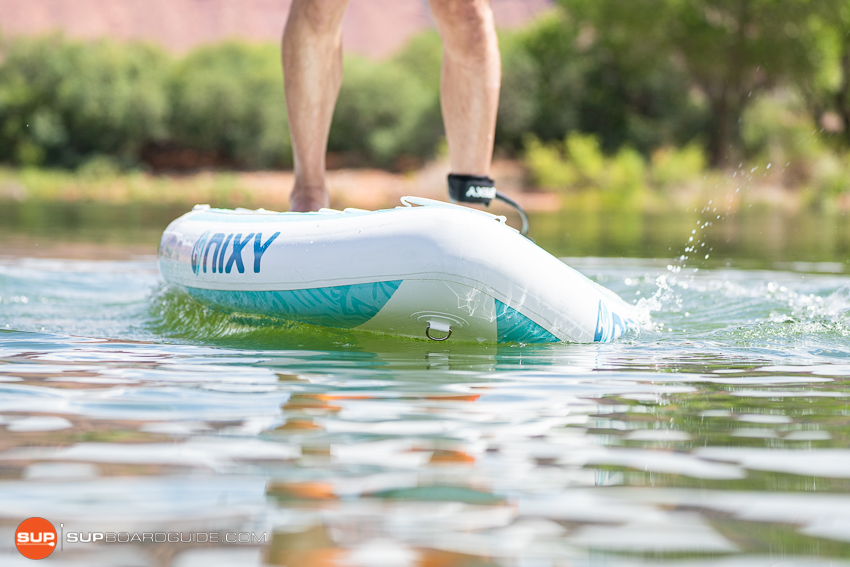 The Nixy Sports Venice G4 10'6 Cruiser did an ok job at tracking. We found that we could get around 7-10 strokes per side before having to switch over. Part of this, we feel, is that at 34" wide it gets a little difficult for smaller paddlers to get their paddles all the way vertical on either side. We do like the three fin removable setup, but we wish the side fins came with more options in terms of sizing. The center fin is also nice but at least it is on a FCS compatible fin box. This opens up the possibilities of changing out the fins to meet the conditions of the day.
If there is one thing that some of the reviewers didn't like about the fin setup it was the "twist tight" feature. While there is no debate that this is better and more sturdy than the "Snap in" or permanently mounted fin designs. Several reviewers have found it somewhat difficult to secure them as the twist points are very small.
Maneuverability: 8.9/10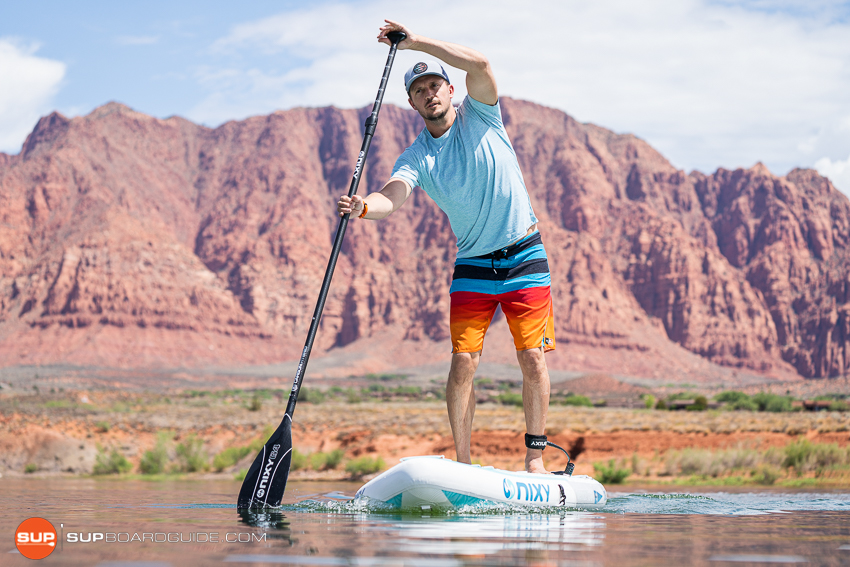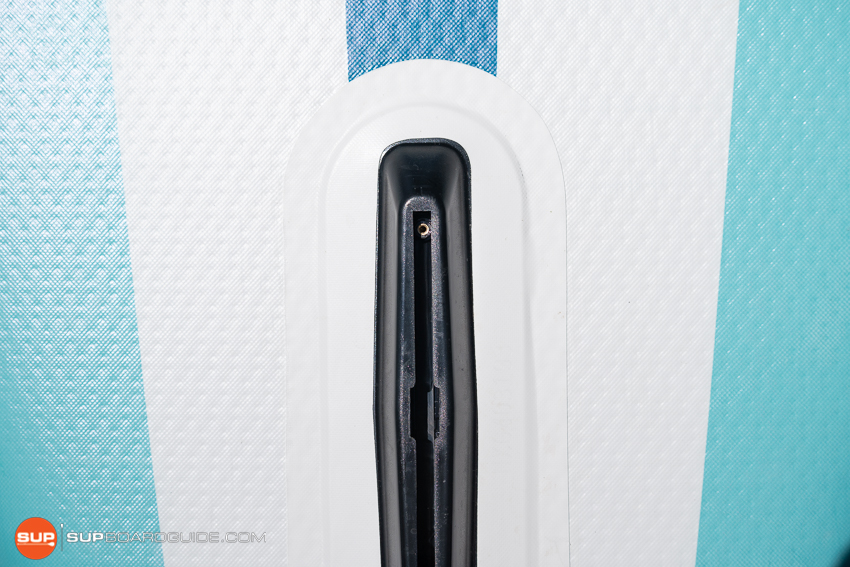 The Venice G4 did great in terms of maneuverability. It's rather short 10'6" length means there is less of the board to move through the water when guiding it around obstacles. It was also aided in this category because of the overall stability of the board. We found that even the most novice paddlers could get the board to move where they wanted. We took this through the slalom of submerged trees with little difficulty using basic paddling techniques. When we wanted to try some more advanced turns the stability of the board came back into play and it was a breeze. The nice stamped deck pad covers most of the top and makes moving around on the Venice G4 easy.
Construction Quality: 9.2/10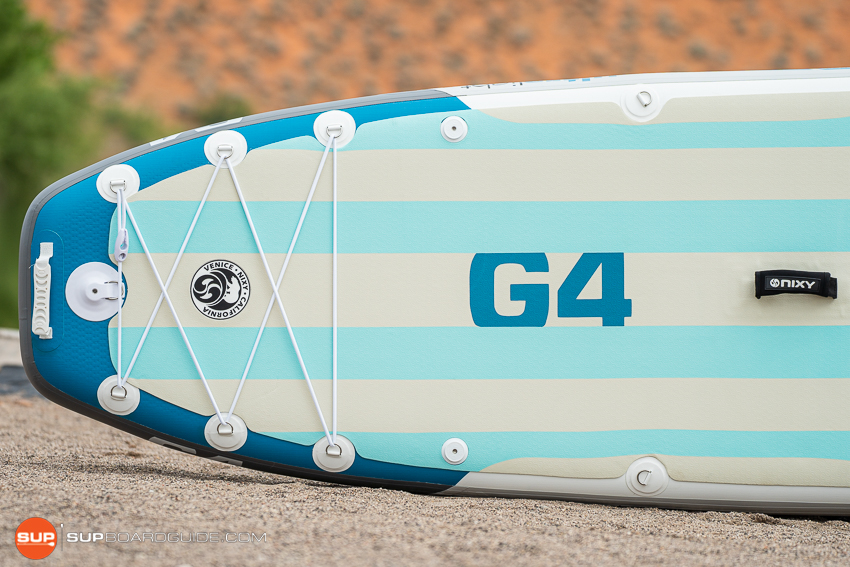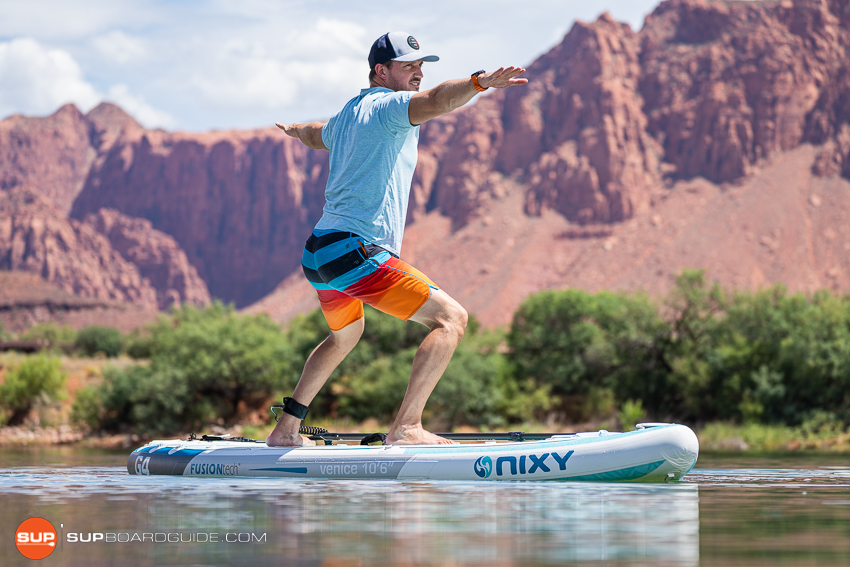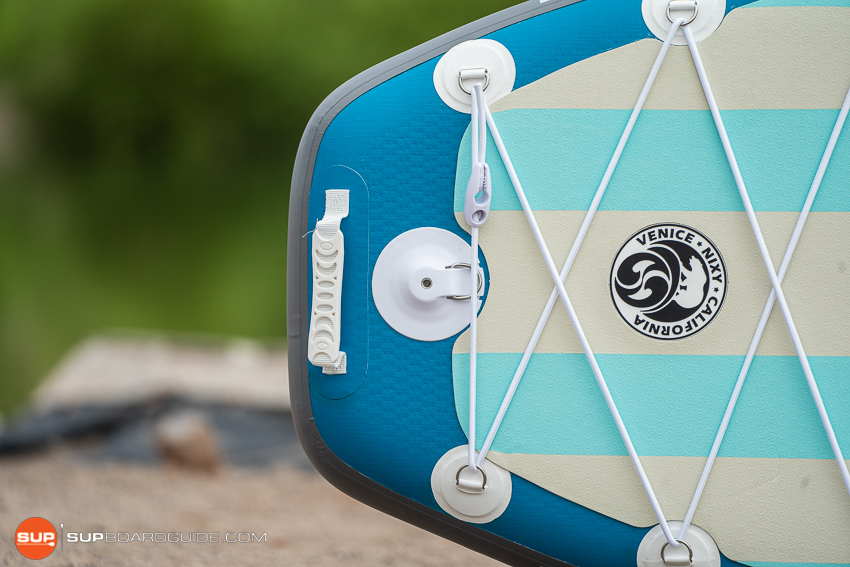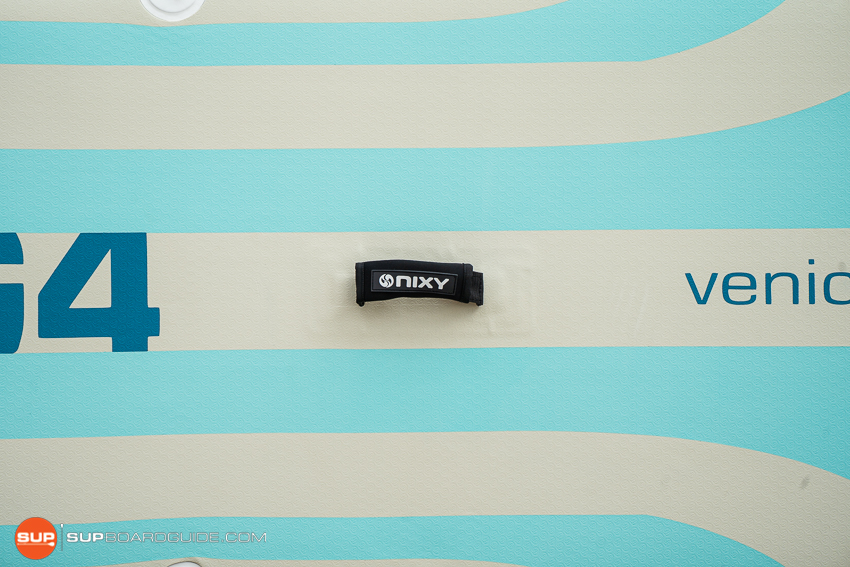 If you want to understand how the Venice G4 10'6'' iSUP can be so lightweight yet durable, there are two key components you want to be aware of. The first is the tight drop-stitch core, which is made up of sheets of fabric bound together with high tensile strength threading. As air is pumped into the inflatable drop-stitch core, the paddleboard will expand like your typical balloon, but it will maintain a paddleboard shape thanks to the placement of the internal threading. With the drop-stitch core, you have a base level of performance that allows it to float in the water and support even more weight than an epoxy SUP while being as lightweight as an iSUP.
To further enhance the performance and provide additional rigidity for a greater paddleboard feel, additional military-grade PVC composite protection is applied to form an outer shell. There are two fused layers of protection for the G4 10'6'' Cruiser, each of which is formed by an additional reinforced layer of fabric attached to a PVC layer. With this fused construction system, you have a dual-layer paddleboard that provides great durability on par with some triple layer SUPs out there, but without excessively weighing the SUP down or driving up the cost from a three PVC layer system.
Like other NIXY Sports paddleboards, the Venice G4 10'6'' Cruiser also has carbon fiber rails for additional SUP rigidity and a UV coating, which preserves the SUP construction against radiation damage. Overall, it's a very well made paddleboard, and one you can use for many years to come with just a little caution and proper care.
Board Stiffness:

Stiffness Test: 0.6875" Bend (board on top of saw horses placed 7' apart, with 150 lbs of weight added right by handle in middle of the board)
We believe the stiffness of a board is representative of how stable it will feel on the water. Theoretically a board with greater stiffness will resist flexing with the water providing a more uniform platform. Notice we didn't say stable, the debate is still raging whether this flexibility is beneficial in more turmurtoulous situations. Most paddleboarding purists will stand by the better "feel" provided by harder boards. However, it's difficult to argue with some newer iSUP technologies that seem to fail this test but provide some incredible feedback when paddling.
While that debate is still ongoing, know that we keep doing this test simply because it is one way to quantitatively compare boards across manufacturers and shapes.
The Nixy Sports Venice G4 Cruiser scored extremely well in the bend test, topping most of the other boards we have tested thus far. This is probably most attributable to it's heavy duty construction, however it's 34-inch width doesn't hurt it's chances either. Bottom line, this is one sturdy board to practice SUP yoga on.
Features/Accessory Review: 9.6/10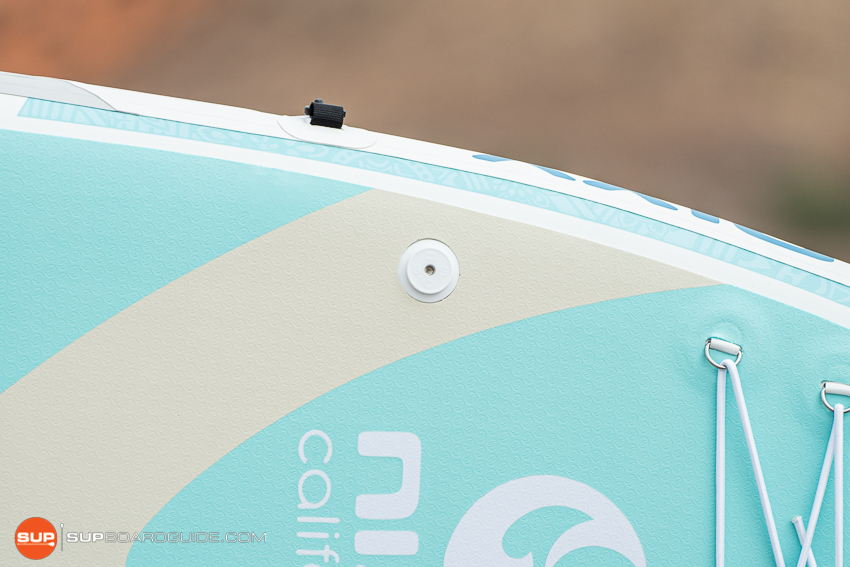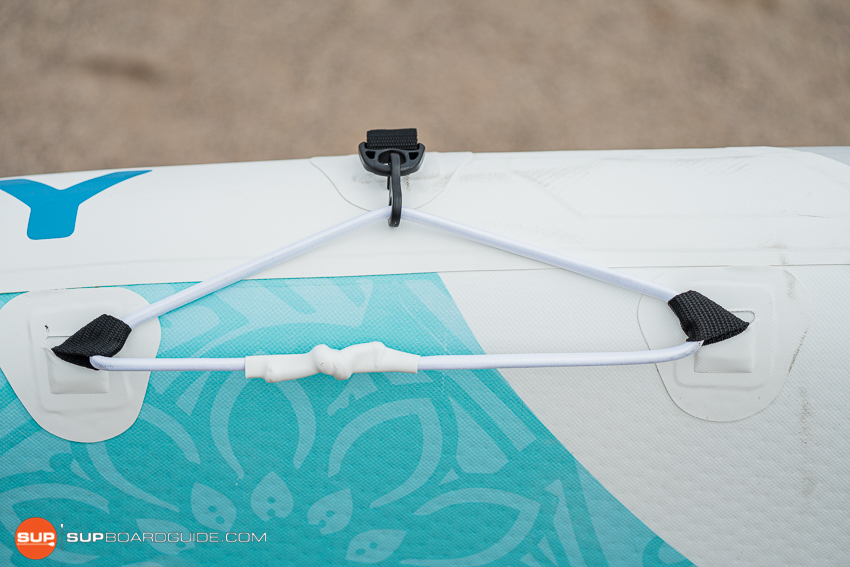 Features:

The Nixy Sports Venice G4 is loaded with features. Some of our favorites are the completely removable bungees both front and rear. Considering this board is aimed at SUP Yoga enthusiasts that is just a brilliant move because it clears up almost the entire deckpad leaving you plenty of space to stretch out. It's got front and rear handles that feel solid in your hand as well as D-rings front and rear, good for securing your board in place to join a class. It also has 5 action mounts for attaching photographic equipment or similar pieces.
The one constructive comment we have about this board is it's paddle holder, which we found difficult to use. We are used to seeing simple velcro loops that hold the paddle in two places securely to the side of the board, but that's not the case here. It appears to be designed to hold a paddle at a single point, which isn't a bad thing. The mechanisms used for that, however, seem to be in a very awkward position, with a lot of reports of testers hitting the piece while paddling. We think this was a complex solution to a simple problem and that perhaps the simple ideas would work out more effectively.
Included Accessories:

Nixy Sports sits firmly on the top of our best kit packages for iSUPs. Top quality materials and equipment are present throughout the kit and they set the bar for the industry when it comes to the included paddle. The Venice G4 10'6" Cruiser comes with:
Nixy G4 backpack
Nixy G4 carbon fiber hybrid paddle
Nixy G4 typhoon hand pump
Nixy hybrid leash
We will talk more about the G4 labeled pieces below but know that we are really impressed with all this kit has to offer. If Nixy included some sort of PFD with the kit it would be everything you need to go directly to the water.
Paddle: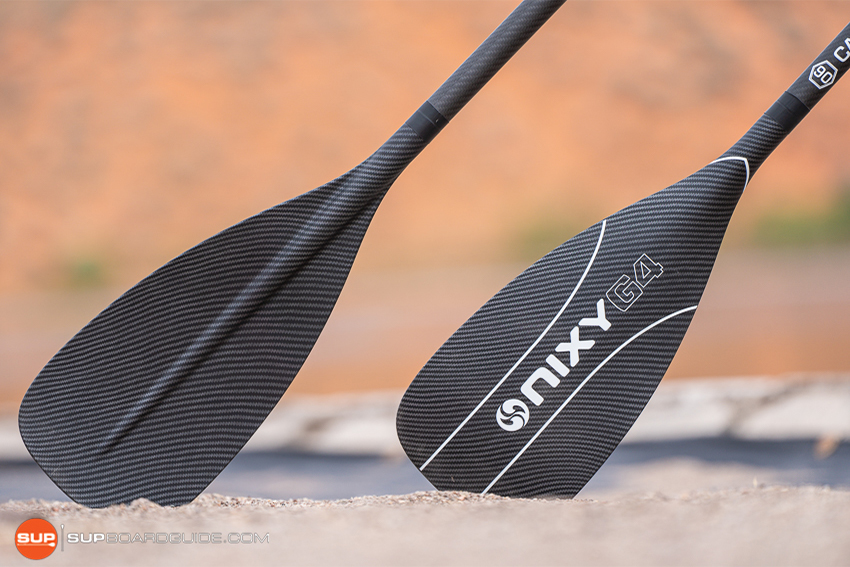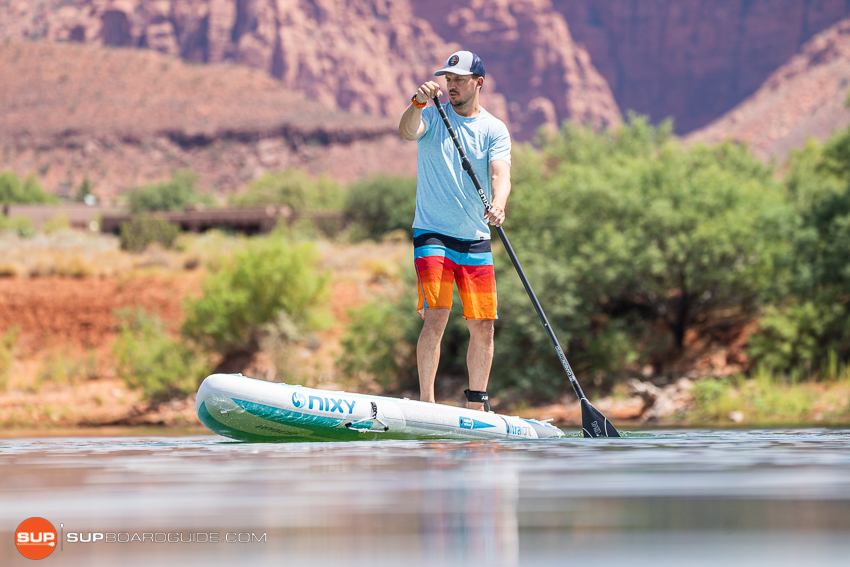 We don't say "THE BEST" very often, so understand that when we say the Nixy Sports Venice G4 is THE BEST kit paddle we've reviewed, don't take that lightly. It's a carbon fiber work of art in our opinion. It's extremely lightweight and sturdy, with no twisting in the shaft due to the high quality clamps both at the bottom and top. This paddle performs like a high quality custom piece.
If we had to offer any constructive criticism it would be to reimagine the handle. It's a standard plastic piece, but when compared to the rest of the paddle it just seems like an afterthought. Carbon would feel really nice here.
All in though, you can do a LOT worse for a kit paddle at this price point. We are amazed that they decided to do this.
Pump: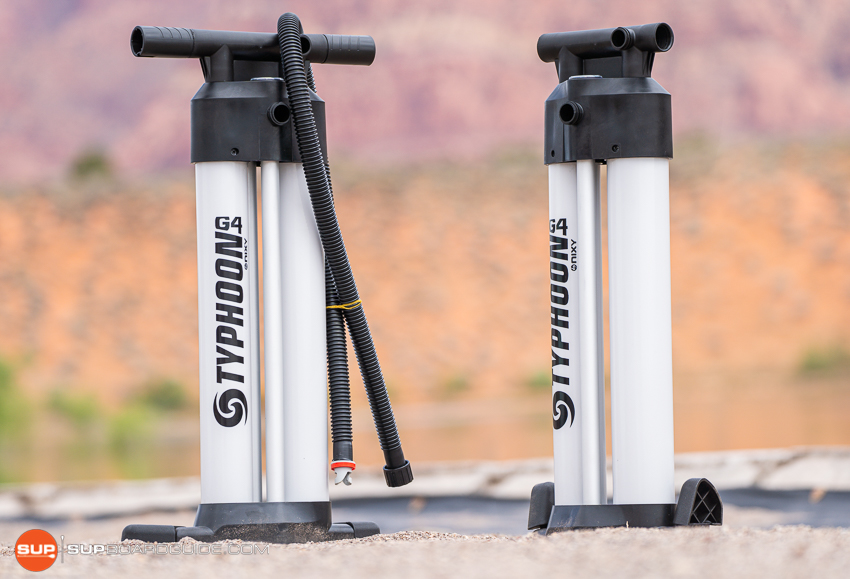 While not the absolute best hand pump we have had our hands on, the Nixy G4 Typhoon pump is very high up there in terms of functionality and overall feel. To start, it very cleverly has pieces to both expand its footprint and shrink it, offering a larger piece while pumping and a smaller one while storing it. We are big proponents of the dual chamber pumps as they are often miles more efficient than the single chamber ones. We also appreciate the 3 stage pump design as it drastically reduces the force necessary to fill the board up to the last few PSI. This is important as new iSUP technology is beginning to favor higher and higher inflation pressures. We have long seen a problem with small paddlers not having the force to depress the handle at the top of the inflation range. This pump makes that a non issue with it's 3 stages.
With that being said, we will always advocate for an electric pump. It just makes your life that much easier when getting ready to head out onto the water. Trust us, you will thank us once you have used it. Nixy Sports offers a very attractive electric pump in the form of the Ventus electric pump. They also offer a convenient battery Power Pack so you can completely cut the cord and electrically pump this board up in just about any situation. It's also unique in that it can power small electronic devices and acts as a flashlight as well.
Bag: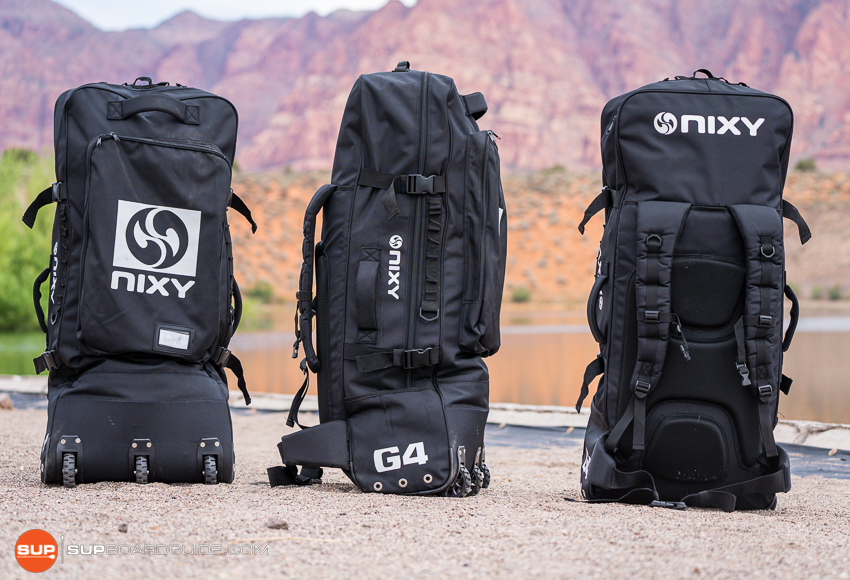 Nixy Sports scores again with their included G4 backpack. For starters, it's very well padded and has both waist and sternum straps making this an easy bag to carry on your back for medium range hikes. It also boasts a 3 wheel setup which is an industry first. Though, some of our testers found this to be an odd choice as they said it seemed to want to turn over in rougher terrain. The handles on the top and sides were equally well padded making it easy to lift and move around in tighter places. There is one medium sized pocket on the back for storing additional equipment. Unfortunately this isn't big enough for the hand pump but it is good for fins or other smaller equipment. One unique feature of this bag is the inclusion of drain plugs in the bottom. You think this would be more commonplace considering paddle boards are made to get wet. We appreciate the thought in it's inclusion.
Optional Accessories
Nixy Sports obviously did a great job with their included accessories. But what about their optional add ons? Believe it or not they have some fantastic pieces for sale separately as well. They have optional full carbon paddles that are even better than their included one. They have a good electric pump, and some great mounts for the action mounts. Some of our favorites include:
Nixy Ventus paddle board electric pump
Nixy 100% carbon fiber paddle (86, 88, 90, 94 Sq/In)
Various action mount accessories (phone, cup, rod, gopro holders)
Nixy landing mat
Summary Review of the Nixy Sports Venice G4 10'6 Cruiser (2021 model)
The Venice G4 is a great example of a purpose built board for SUP Yoga or really any onboard athletic activity. It's nearly full length deckpad combined with the completely removable front and rear bungees give you plenty of space for spreading out while taking your classes. This board is rightfully near the top of our SUP Yoga list with it's quality construction and best in class included accessories.
Happy paddling! We hope you enjoyed this review of the Nixy Sports Venice G4 10'6" Cruiser. If you have any questions or comments please leave us a comment below! We look forward to seeing you out on the water!
The following two tabs change content below.
SupBoardGuide
Heyo! At SupBoardGuide.com we are a team who love the water, the outdoors, and are more than grateful that our full-time job allows us to review stand up paddle boards. We paddle year round (it helps that we are just about 2 hours outside of Las Vegas), and we bring in a wide range of paddlers with the goal of providing our readers with the best, most in-depth, and accurate stand up paddle board reviews.
Latest posts by SupBoardGuide (see all)