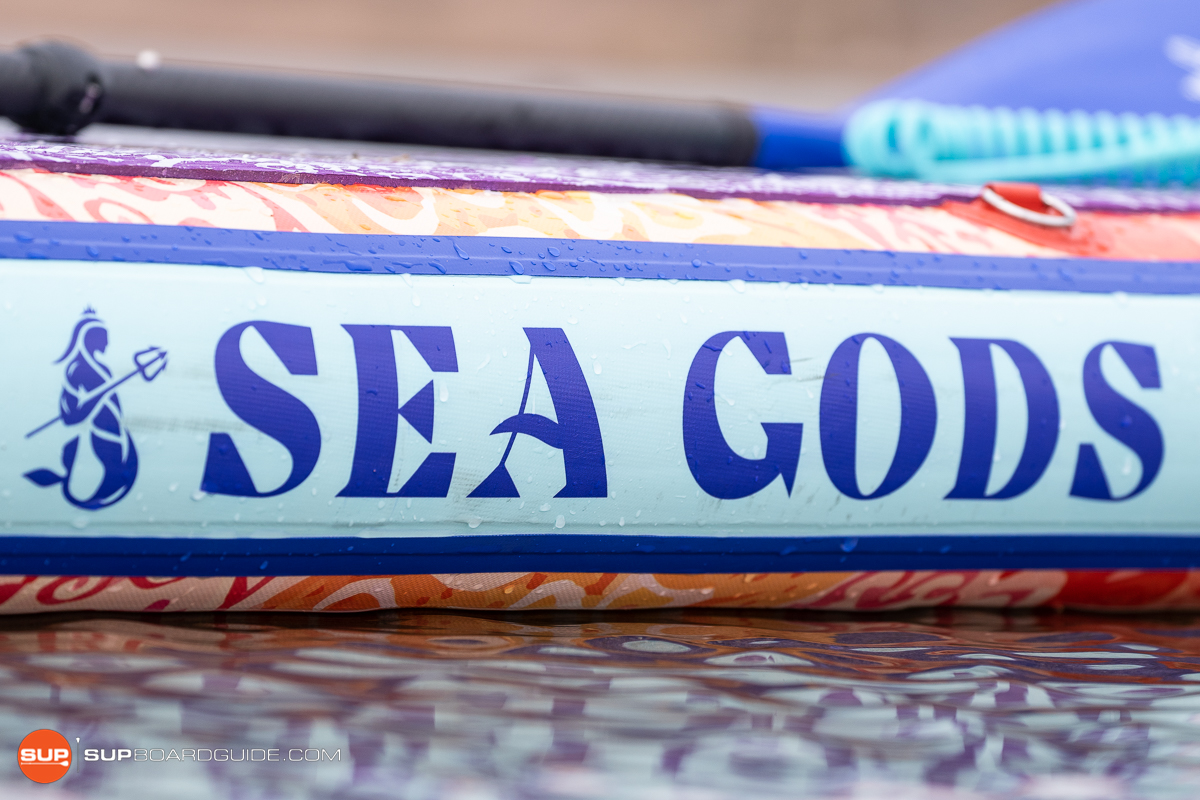 Who is Sea Gods
Founders: Mandy Johnston and Ryan Johnston
Where: White Rock, Canada
When: 2017
Welcome to our Sea Gods company overview page! On this page, we'll get into some backstory of Sea Gods as a company and provide a brief review of each paddle board in their line-up.
Mandy and Ryan launched Sea Gods in 2017 as a passion project centered around intertwining their love of paddleboarding, art, and nature. They were tired of riding bland, gray boards that lacked in both design and attentive construction, so set out to build an arsenal of lightweight, durably constructed boards that would turn heads the minute they were unpacked.
We think that each of their SUPs this year hit the mark, and are excited to share our review on every board. If you want to be the talk of the lake with the best looking SUP out on the water, keep on reading and learn which Sea Gods paddleboard will be best suited for you!
Why do we love Sea Gods SUPs and recommend them?
We might as well get the best feature out in the open first: have you seen what Sea Gods paddleboards look like? We get a couple comments a week from other paddlers on the lake and our website that Sea Gods make some of the best looking paddleboards in the entire industry. Sea Gods creates a unique, meaningful design on each of the boards. The artwork shows their attention to detail, but the construction of a Sea God SUP can speak for itself.
Sea Gods SUPs are fast, maneuverable, and lightweight without sacrificing durability. Each board is built utilizing a woven or linear dropstitch core, which contributes to the rigidity of SeaGod's SUPs without adding excess weight. The core is then covered with PVC layers that have been molded together with ultra-light fusion (ULF) technology, making for a durable iSUP free of any issues such as bubbling and sliding that come with gluing PVC layers on top of eachother. The rails receive an extra PVC reinforcement tape as well that is also heat-molded for added protection. Sea Gods is so confident in the construction of their boards that they even offer a lifetime warranty that serves to keep you on the water and your board out of the landfill.
Another thing we love about the construction of Sea Gods SUPs is the incorporation of a US fin-box with the included Kumano system center fin. A US fin-box allows you tons of customization ability when it comes to switching between large hatchet style touring fins to smaller river fins, or even gummy fins if you're in a shallow, rockier environment (the options are endless). Sea Gods also effectively eliminated the need for added tools that you'd typically need with a US fin-box by including a tool-less Kumano center fin that just pops into place with a bit of a push. It's super convenient, easy, and you don't have to worry about any 'easy-to-lose' tools.
We were also impressed by Sea Gods' included accessories and add-ons. The backpack is a roomy roller bag with an internal fin pocket to comfortably carry and protect your board.. The carbon fiber paddle is one of our favorites that we've seen included with a paddleboard, providing premium level performance that you'll reuse with other SUPs for years to come. Also included with each Sea Gods SUP is a single chamber hand pump as well as a coiled leash. Sea Gods does a great job of including all of the necessary gear in their kit to get a beginner paddler on the water right out of the box.
As far as pricing goes, Sea Gods paddle boards are within a mid-high price range, but often will have sales as they transition between each year's new and previous models. In return for your investment, you'll receive a great board that is flat out gorgeous to paddle on.
Sea Gods has a range of unique SUPs that will accommodate several different paddler types and skill levels . By reading over our list and visiting our individual reviews, we're sure you'll find a Sea Gods paddleboard that will take your SUPing experience to the next level!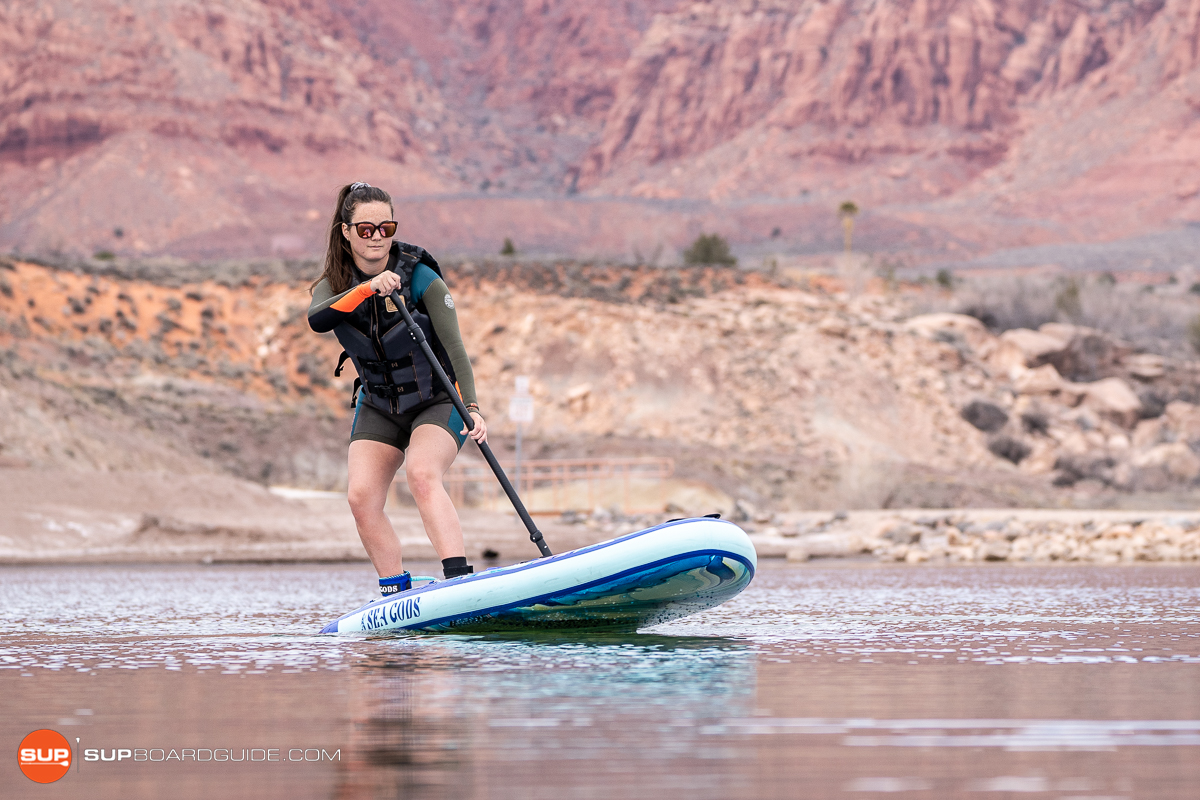 The Elemental Wave 10'6 is one of Sea Gods all-around board options that leans a bit into the cruiser category with its tapered tail and single fin. At 32" wide the Elemental wave still provides plenty of stability for beginners but is light and maneuverable at just 21 lbs. It's also suitable for paddlers wanting to bring on enough gear for overnight trips or those wanting to bring along their kid or pets with its rider capacity of 250lbs.
As with every Sea Gods SUP, the Elemental Wave has just the right amount of features to give you options when it comes to gear and attachments, while still leaving you a clear deck pad. This board has front a rear cargo areas as well as a neoprene center handle as well as 2 integrated action mounts. We would have liked to see handles at the nose and tail of this board, but given how lightweight it is, the single center handle does fine. Of course we love the beautiful deck pad that Sea Gods describes as being inspired by Hawaiian surf art, and appreciate the slight diamond pattern that balances comfort and traction.
The Sea Gods Elemental Wave iSUP is a great choice for beginner paddles that want the stability of an all-around but the speed of a cruiser.

The Sea Gods Diatom 10'6 is another cruiser/all-around hybrid that definitely leans more towards the all-around category due to its 34" width. This board is super stable and has a volume large enough to support up to 340 lbs, while still being shorter, lighter, and easy to maneuver on the water. The Diatom 10'6 is an excellent choice for beginners wanting to bring along gear, or an extra passenger without opting for a heavier, more cumbersome SUP.
When it comes to features, the Diatom 10'6 is fairly similar to the Elemental Wave 10'6. Sea Gods incorporated rear and front cargo areas, 2 action mounts, and a neoprene center handle. Again, we love the diamond pattern deck pad and love even more the eye-catching design. As a small fun-fact, a 'Diatom' is a microscopic single celled phytoplanktonic alga that possesses a cell wall made of silica AKA: glass. Because of this unique attribute, diatoms tend to look like mandalas or have a kaleidoscope effect when looked at under a microscope, much like the artwork on Sea Gods Diatom 10'6.
The Diatom 10'6 is a phenomenal option for beginner paddlers that want stability without heavy construction that would leave them in the dust when paddling with friends.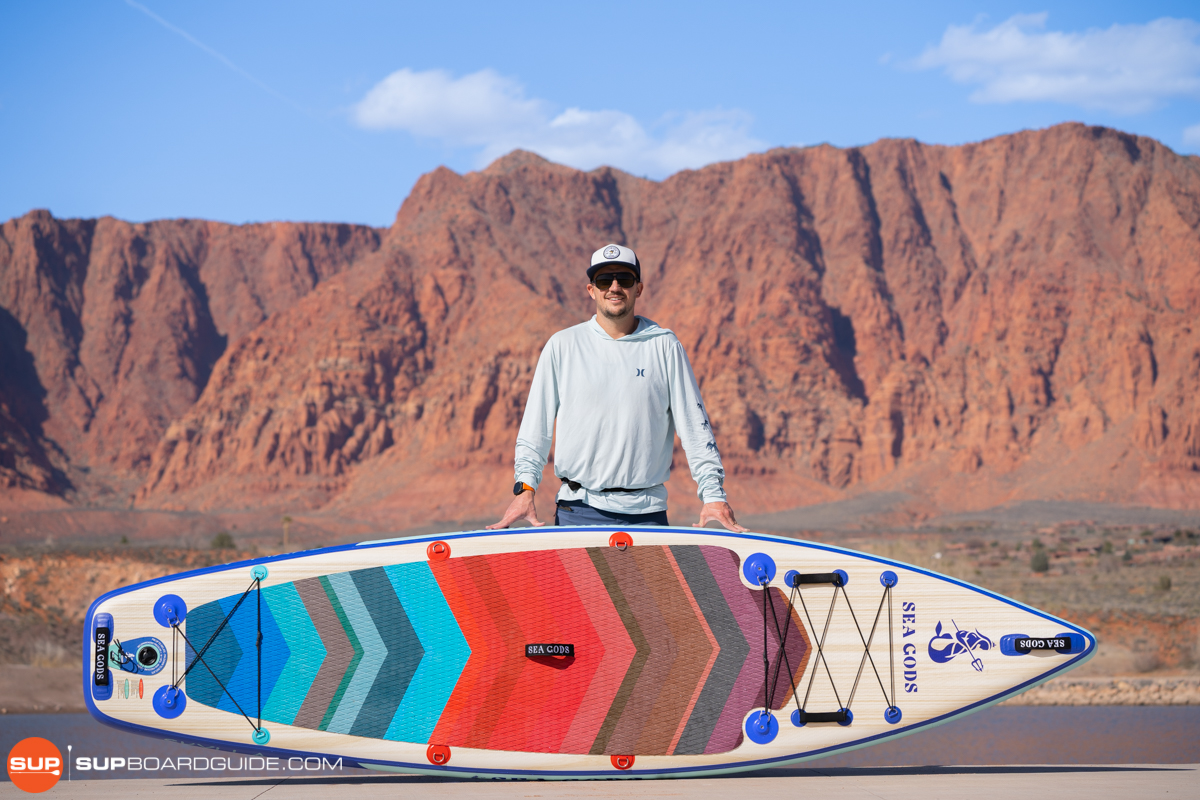 The Sea Gods 11' x 33" Skylla is a blend between a versatile all-around SUP and an adventure touring board. It's stable but still relatively quick and manueverable at just 19 lbs, and has a high enough weight capacity to accommodate some overnight gear.
One of the things we love about the Skylla, aside from its performance, is that it has a really great balance between versatile features and accessories and an uncluttered minimalistic feel. Equipped with a front, rear, and center grab handles, the Skylla is easy to drag onto shore, launch into the water, or haul back to the car. It also has plenty of room for gear with nose and tail cargo areas and sports 4 action mounts for compatibility with cupholders, fishing gear, or camera mounts. Lastly, the Skylla's hatchet style Kumano fin adds convenience on shore by eliminating the need for tools and contributes to decent tracking on the water, especially for a wider SUP.
The Skylla is a great choice for paddlers who like the versatility and stability of all-around SUP, but aren't willing to sacrifice the gear and storage options that come with adventure style touring boards. It'd also make an ideal fit for paddlers bringing along dogs or paddlers who really value lightweight construction, as the Skylla is constructed with woven drop stitch technology instead of a linear drop stitch.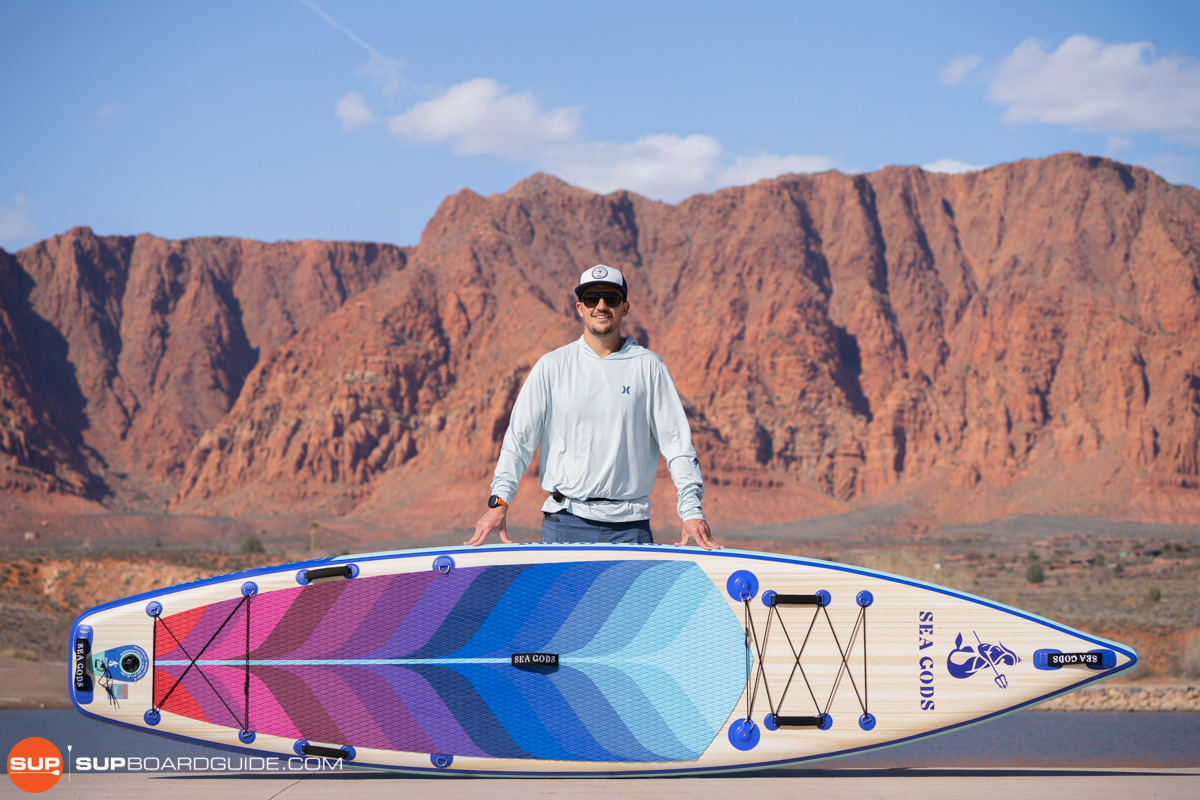 The Carta Marina is a dedicated touring SUP that still provides stability and versatility without sacrificing speed and tracking. This single fin set-up SUP is 12' long and 32" wide with a tapered nose and squared off speed tail to minimize friction on the water without contributing to excess side to side movement. It will also accommodate some gear for those overnight or all-day touring adventures with its weight capacity of 350 lbs.
If you do choose to bring gear, it can be secured in the Carta Marina's front or rear cargo areas. Likewise, if you chose to bring a passenger, there are 2 pairs of handles for them to hold onto towards the nose or tail. Sea Gods also implemented 3 carry handles at the center, nose, and tail to make this 12' SUP easier to carry around, and the colorful, mild diamond groove deck pad provides a good combination of traction and comfort for long days of SUP'ing. As with the Infinite Mantra, the Carta Marina is kayak seat compatible and has 2 integrated action mounts to give you the option to sit back and relax with your chosen accessory mounts.
The Carta Marina is the perfect choice for beginner paddlers that want to get their feet wet in the touring or fitness paddling scene, but still want the stability and accessory compatibility of a non-specialized SUP.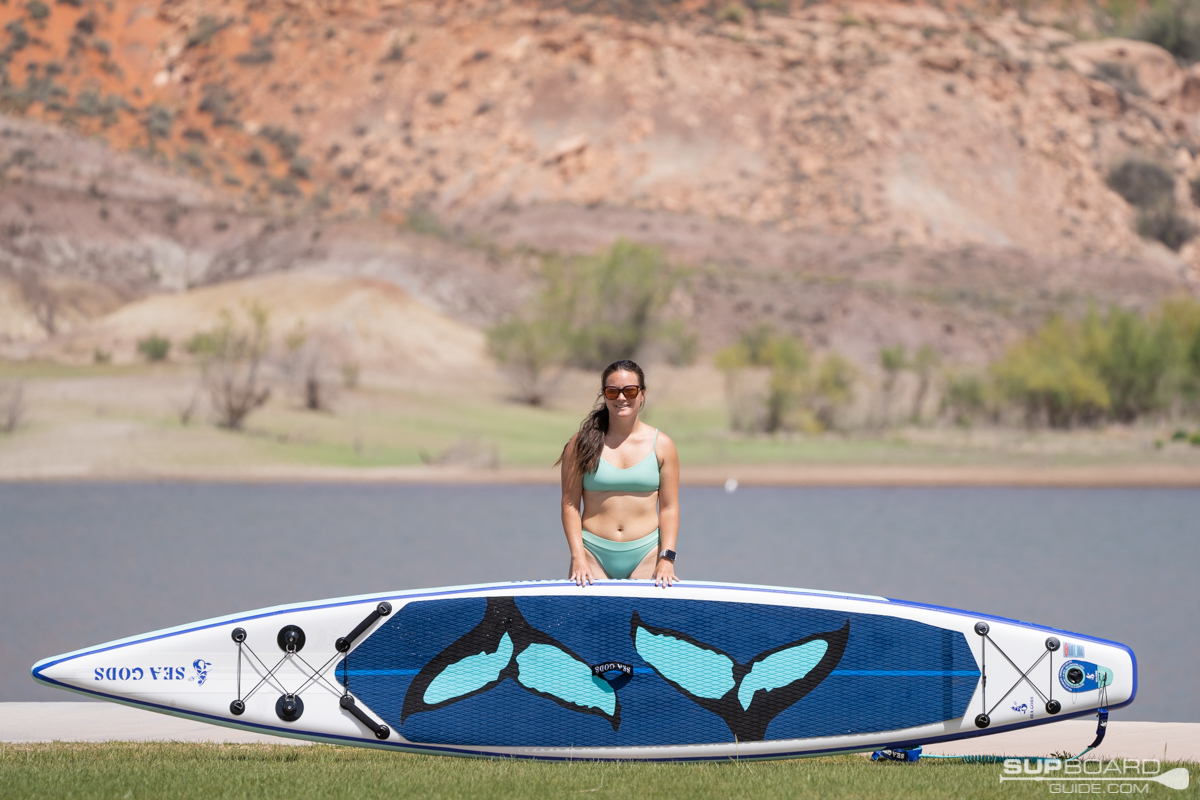 The Ketos is Sea Gods rendition of an inflatable racing/touring board. At 21 lbs, 14' long, and 28" wide, this tapered SUP easily speeds through the water with little effort. Though it's expectedly less stable and maneuverable than SeaGod's shorter, all-around options, the Ketos has excellent tracking capabilities due its narrow shape and single touring fin set-up. It also is still stable enough to bring along some gear or a small passenger with its 300lb weight capacity.
As we've said, the Ketos is a dedicated race/touring board and it's feature list reflects that. It has 2 integrated action mounts on it's front cargo area, as well as a single center handle and an additional d-ring tie down space at the tail. We love the 'Ketos' inspired design on the deck pad and appreciated it's grippy diamond pattern.
SeaGods' Ketos iSUP is well suited for a more advanced paddler or a more confident beginner that is looking to enter into fitness paddling or train for SUP racing.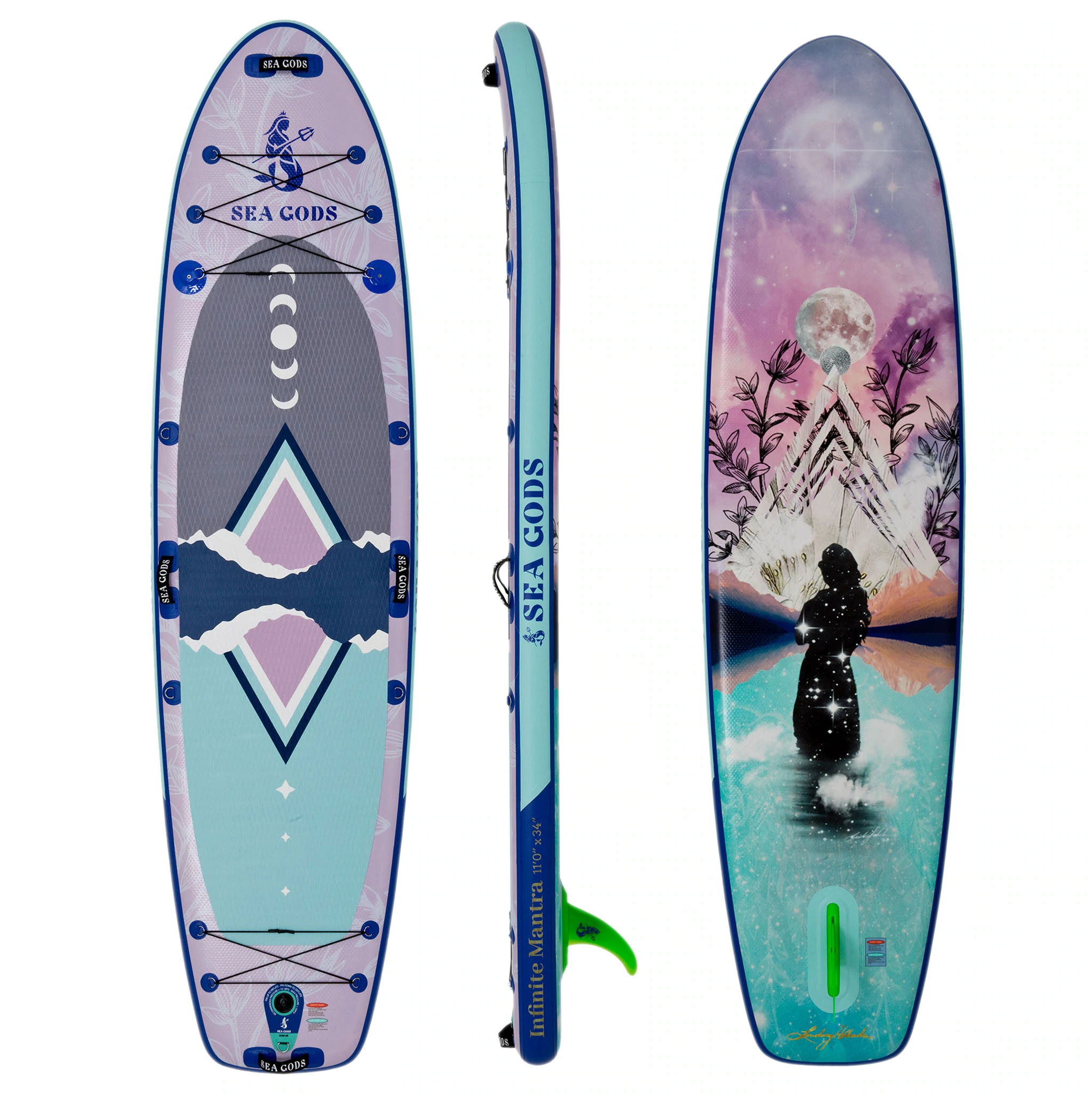 The Sea Gods Infinite Mantra is a dedicated yoga SUP that can still accommodate some versatile/ all-around style use. It's ultra stable at 11' and 34" wide, so you can flow through any yoga session with ease and have the option to bring along a partner with its 350 lb weight capacity. Because of its width and less tapered shape, the Infinite Mantra isn't as fast or nimble as Sea Gods other SUP options, but is still a lightweight 21 lbs.
Being a specialized SUP, the Infinite Mantra varies a bit from Sea Gods standard feature list. It has the same front and rear cargo areas and action mounts as the other boards, but also sports 4 extra D-rings that are compatible with a kayak seat. Another unique feature is that Sea Gods chose to go with 4 handle configuration on the Infinite Mantra to cover the nose, tail, and sides of the board instead of a single center handle. This clears up the deck pad for you to comfortably lie flat or move your feet around the board as you transition through poses.
SeaGods' Infinite Mantra is a great choice for paddlers who want a dedicated yoga SUP that still allows them some versatility in their SUP activities. It'd also be super stable for a beginner struggling with balance.
Sea Gods Review: Accessories:
Sea Gods paddle boards are worth it for their performance and stand out aesthetic designs alone, but they also come with a great mixture of premium accessories that further increase their overall value. More than that, their boards and accessories are all shipped in minimalistic and compostable packaging.
Here are our thoughts on the great accessories that come with every Sea Gods inflatable paddle board:
Paddle:

Sea Gods includes one of the nicest kit paddles that we've seen to date. Its lightweight carbon fiber shaft feels rigid while pulling through the water, and its nylon blade will be durable over time if it's bumped against rocks or asphalt. It even rivals some high-priced premium paddles that we've tested over the years.

Pump:

The one accessory we are a bit underwhelmed by in the Sea Gods kit. The single-chamber pump is easy to use and packs well into the kit backpack, but it is rather slow. Inflation to 15 PSI will typically take over 15 minutes with the included single-chamber pump, and is bound to be somewhat of a workout

Leash:

Depending on the paddleboard you get, you will receive either a 10' or 11' coiled leash. Coiled leashes stay out of the water and also out of your way as you move around the board. (Please note that these are not ideal for surfing, you'll need a straight leash to stay safe)

Repair Kit:
There are two tools you can use to perform triage on your paddleboard included in the repair kit. The Halkey-Roberts inflation valve wrench can be used to tighten up your inflation valve if it comes loose, ensuring air doesn't leak while you paddle. There are also adhesive patches which can seal up small holes and tears on your SUP, as long as the damage isn't to the seams of the paddleboard.
Fins:

Sea Gods paddle boards come with US fin boxes, which are the most versatile fin boxes when it comes to optimizing your paddleboarding performance. A very cool Kumano fin is included, allowing you to install it in seconds thanks to the Kumano plug system. The Kumano click in fins also allow you to make use of traditional screw and plate installation as well for an even tighter hold.

Backpack:

Sea Gods backpacks, like the paddleboards they make, are some of the best looking backpacks on the market. They're comfortable to wear with great back padding, and have roller wheels for traveling over solid surfaces. The backpack also opens along the bottom rather than the top, making it easier to back stuff in when you lay it flat on the ground.
Where To Buy a Sea Gods Stand Up Paddle Board, Warranties, and Return Policy:
We highly recommend that you purchase Sea Gods SUPs directly from their website, as it's the only way to receive their lifetime warranty. There's no registration or form required, and you'll receive this great protection no matter which Sea Gods paddleboard model you go with. The warranty will repair or replace all manufacturer defects free of charge, and will offer discounted repair services for accidental damage. This is among the best warranty protection you'll find in the paddleboard industry.
Sea Gods paddleboards also have a 30 day love it return policy. You are allowed to return your paddle board within 30 days of delivery for any reason, minus a 10% restocking fee. You may also be charged an additional amount for any damage, or if the board is not in a like new condition.
Sea Gods SUP offers free shipping to the continental US and Canada. For other territories, please contact Sea Gods for support to learn about the international shipping charges to your country.
Final Thoughts
It's clear to us that Mandy and Ryan have built Sea Gods as a labor of love for the sport of SUP'ing and for the SUP community as a whole. Each board in this line-up is well made, well designed, well protected, and suitable for a range of paddlers to enjoy.
We're super excited to try out the upcoming Sea Gods SUPs and hope you've enjoyed reading about this up and coming company and all of the boards in their arsenal.
Stay safe, bring a PFD, and have fun paddling!
The following two tabs change content below.
SupBoardGuide
Heyo! At SupBoardGuide.com we are a team who love the water, the outdoors, and are more than grateful that our full-time job allows us to review stand up paddle boards. We paddle year round (it helps that we are just about 2 hours outside of Las Vegas), and we bring in a wide range of paddlers with the goal of providing our readers with the best, most in-depth, and accurate stand up paddle board reviews.
Latest posts by SupBoardGuide (see all)