ERS V3 10'7 Inflatable Paddle Board
Pros
High performance inflatable SUP for all conditions
High quality materials
Enhanced dynamic rail stiffening system
Fins for any condition, with US fin box
Great backpack and accessories
Cons
Pump is a quality pump, but I'd like to see a double chamber pump as an option
Can't think of anything else - it's a great performance board!
2020 Performance All-Around SUP of the Year!
We love the ERS V3, and were super stoked to get it in and tested! Earth River SUP is one of the performance level brands we recommend, and if you are looking for a fantastic, high-quality iSUP, then we can't recommend the V3 enough.
The V3 by ERS is perfect for riders between 100-250 pounds who are looking for a high performance SUP to:
Paddle around the lake and other flatwater areas
Surf in smaller surf, or in classic long-board waves
Whitewater paddling
The shape and length of the V3 10'7 is a little faster than their 11' option, and is also a little more maneuverable than the 11' option. However, you can move up and down the V3 line from their 9'6" to 11' boards depending on your height and weight and get pretty much the same experience.
Basically, the V3 is a great all-around board that is stable, yet playful and is a true advanced, performance stand up inflatable paddle board.
Specs
| | |
| --- | --- |
| Length | 10'7" |
| Width | 32" |
| Thickness | 5" |
| Weight | 25 lbs |
| Max Capacity | 250 lbs |
Performance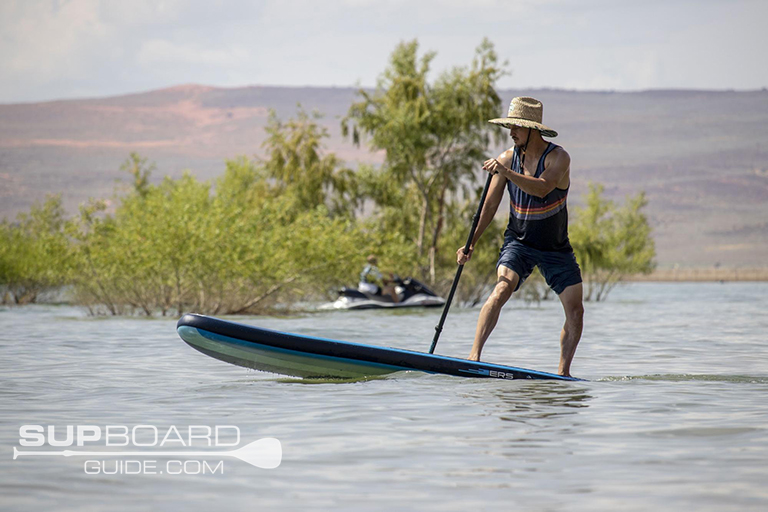 There is a reason we awarded the Earth River SUP V3 the best performance level all-around SUP for 2019 – it's a fantastic board that you can truly use at an advanced level in all conditions from touring the lake and other flatwater to paddle surfing or even whitewater rapids.
Stability
ERS sells a lot of iSUPs to schools where they teach beginners how to paddle for the first time. In order for that to work their boards have to be stable, and we found the V3 to be a very stable board. You have good volume throughout the entire board that gives you really good support as your paddling around.
In fact, I was able to have my son jump on the front of the board and paddle around with ease and stability.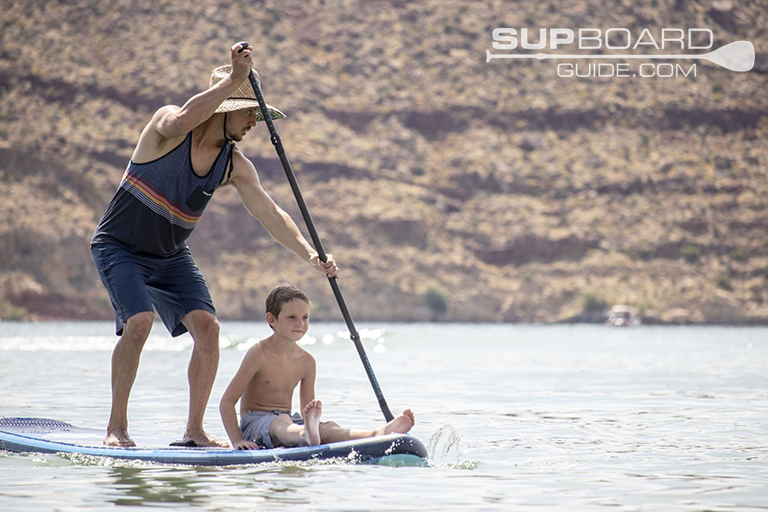 I will note, that I had a few different beginner testers try the board out and they loved it. The only exception was our 6'5 tester who is around 230 lbs – he struggled a little bit with the board and would for sure have enjoyed the 11' board much more. However, ERS is really big on making sure you get the right board for your height, weight, and what you would like to do on the paddle board, so putting a 6'5 beginner on this board isn't really a fair test as ERS would recommend the 11' option for him (and so do we).
At 5'11" and 170 lbs I had absolutely no issues with balance and stability and felt very comfortable on the board.
In fact, and there is some science behind this, I found the 5" board to be somewhat more stable than similar 6" options. This is because on a 5" board you are slightly less above the water, so your center of gravity is lower, giving you a more stable platform. Why don't all iSUP companies make their board 5" vs 6"? The answer is that it is much harder (i.e. expensive) to engineer a firm inflatable SUP that is only 5" thick, and in some situations you really do need that extra volume that a 6" board gives you.
Tracking / Glide
This is an area where the ERS V3 really shines. The shape, quality materials, and fin set up of the V3 makes for a high performance experience when it comes to tracking and glide. It's something that even my 10 year old daughter noticed. She was out paddling with me on one of her favorite boards (the Gili Air) because she loves Turtles, and when I asked her which board she would prefer she said the ERS because it just feels different/better.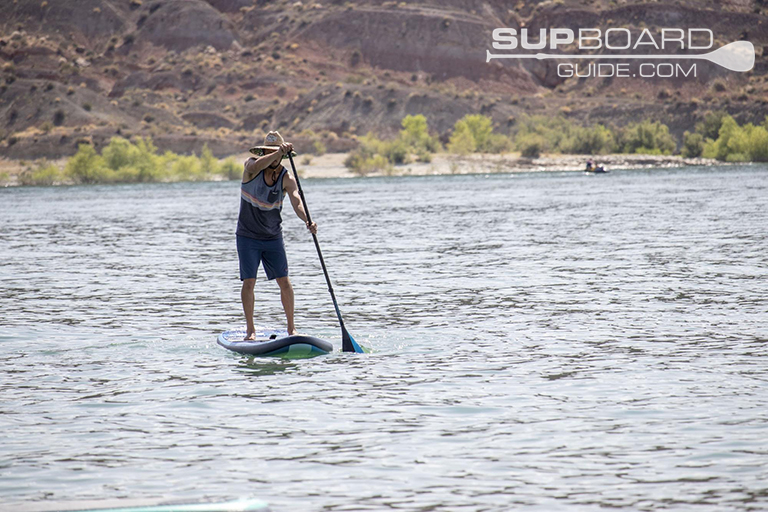 The V3 is truly a high performance level inflatable SUP that tracks and glides very well.
Maneuverability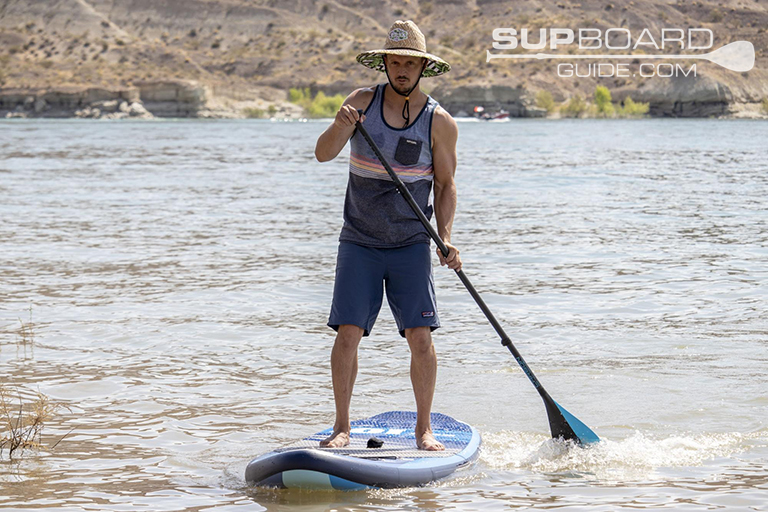 You will have a tough time finding a more maneuverable 10'7" inflatable SUP. One of the reasons the V3 does such a good job in various conditions is because of how maneuverable the board is. It has a very tight turning radius, and is also very quick and responsive. So, if you are out surfing and need to paddle into a wave, or paddle around a rock in the river you will be able to do so with the V3.
Materials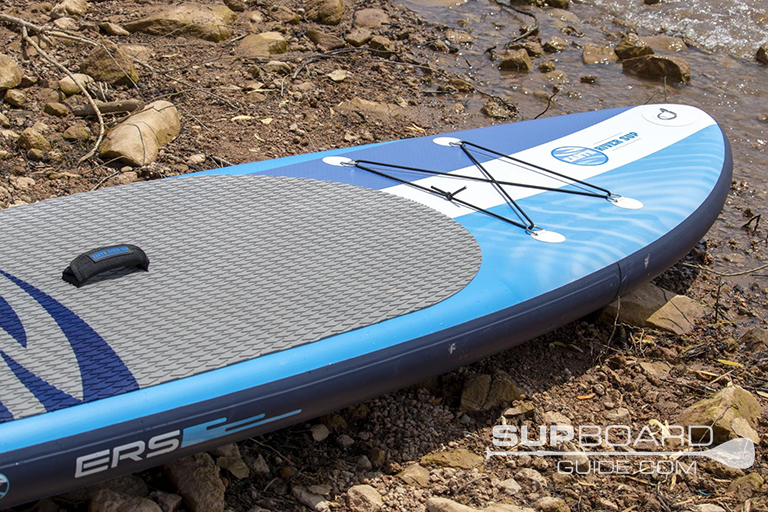 ERS has engineered their V3 using only high quality, durable materials. Their goal is to create inflatable SUPs that are light, perform well, and will last. There boards are an investment, and they make sure that your investment is worth it.
Starting with the base materials, ERS uses their own proprietary method of thermally fusing a layer of high quality PVC to the inner core of the board. Combining their core construction with their new enhanced dynamic rail produces a board that is not only stable and durable, but also light weight and playful for an all-around great experience.
Board Design/Shape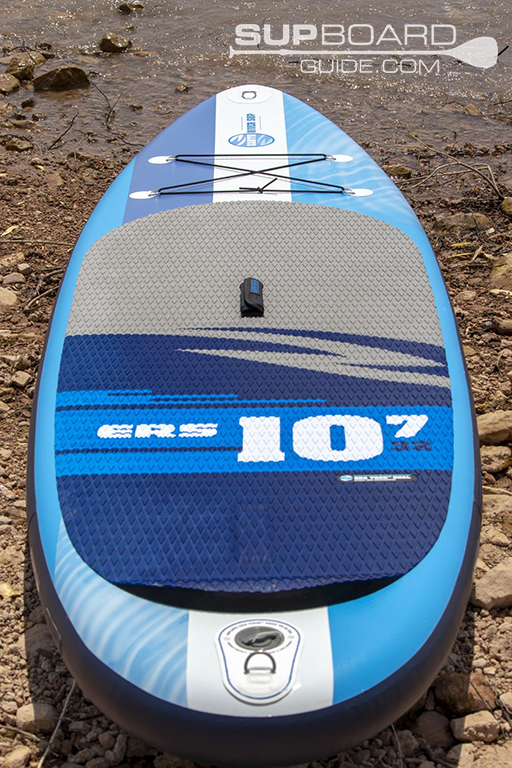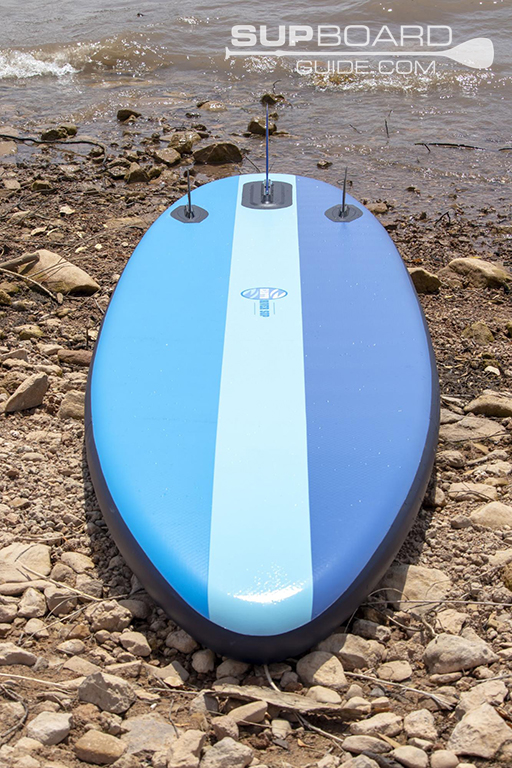 As you can see from the images, the ERS V3 has been designed to be a jack of all trades. It's fairly wide throughout the entire board, which gives you good stability. However, the shape still enables the board to be quick and responsive and it's a ton of fun.
From a looks/design standpoint ERS is more of a traditional company (at least in our view). I personally like the clean look of the board but wouldn't mind seeing Earth River SUP get a little more creative with their designs.
Features
Fins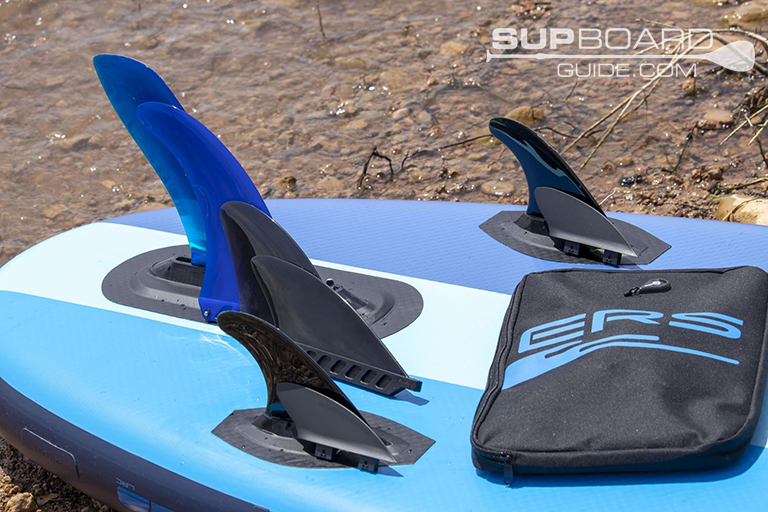 When you purchase an ERS V3 you get a ton of great fin options included, as you can see above. The board comes with their entire 'Lake River Coast' fin system. This is a removable fin system with US fin boxes, so you can change out or add any US fin-box compatible fins if you want (although I'm not sure you'll ever need to unless you lose a fin or two).
The Lake River Cost Fin setup comes with:
4 different center fins (touring fin, standard fin, 2 shorter fins)
4 side fins, giving you 3 different set up options (no fins, 2 regular sized side fins, and 2 smaller side fins for shallow water conditions).
Traction Pad
The ERS traction pads is one of my favorite pads, period. It's about 40% thicker than some other brands and just feels really good while paddling. It also doesn't bubble, and is made with super high quality materials. We've never had any issues with ERS tracking pads coming off or not lasting.
Finally, we love how the ERS V3 comes with a raised traction pad with arch support on the tail of the board. This makes it very easy to know exactly where you need to place your foot for turning the board, and gives you a little bit extra grip so you can really dig into the back and drive the board where you need to.
Handles
There is one center handle for easy transport and also for strapping your paddle in if needed.
D-Rings/Bungees/Cargo Areas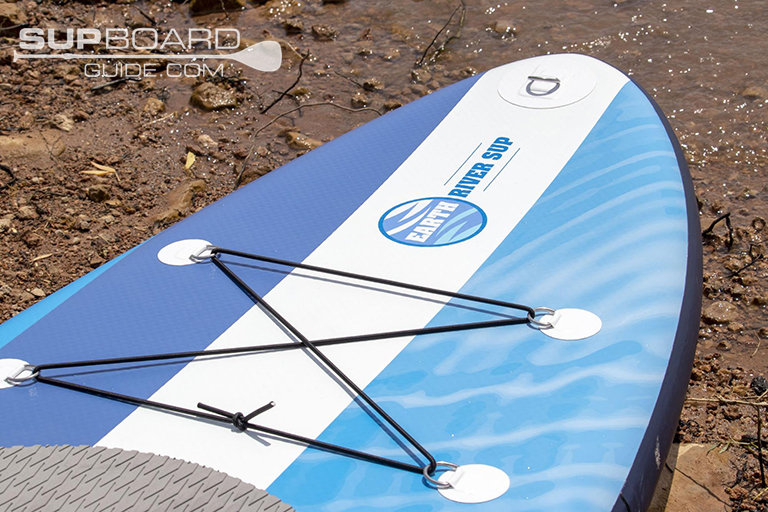 There are a total of 6 D-rings and one bungee/cargo area on the ERS V3. All of these are high quality materials that are going to last and function very well.
One thing about the V3 is that there are less D-rings and bungee/storage areas than some other boards like the BLACKFIN Model X, or iRocker All-Around. ERS designed this board with performance and versatility in mind. This is a board that you will be using from the back to the front of the traction pad. If you add a bungee system to the back of the board it would only get in the way with the V3 as you tried to turn the board. Basically, with the V3 you are going to want to pack your things (cooler, bags, etc.) on the front of the board (which is where they should be anyways).
Accessories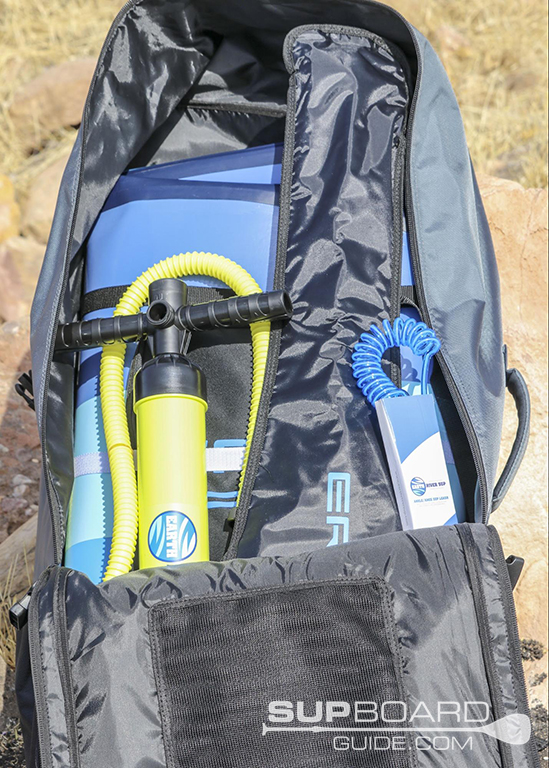 Paddle
Currently, the V3 comes with a FREE hybrid carbon paddle!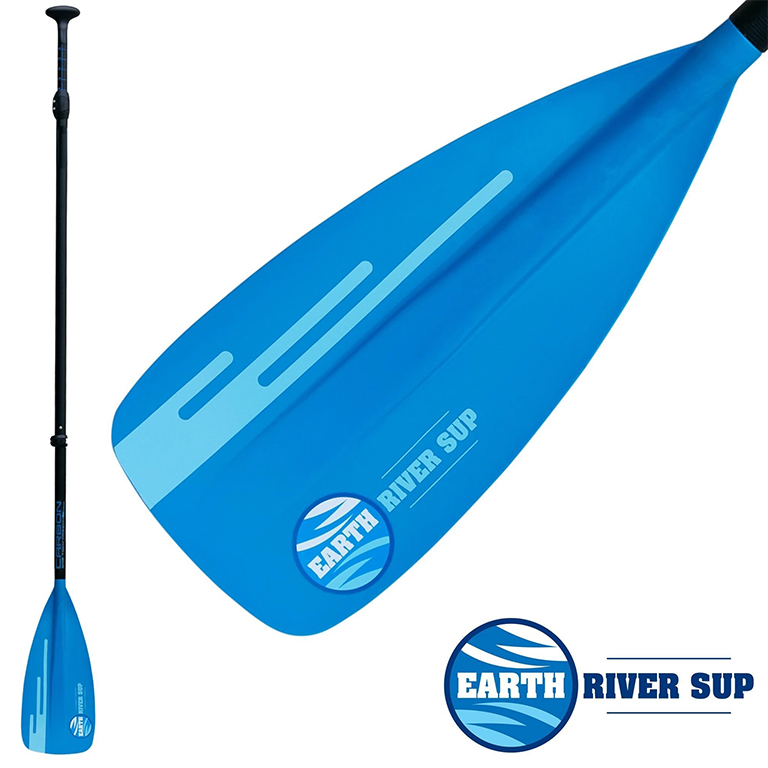 This is a $200 paddle and makes it much cheaper to get into a high-quality performance SUP. You can also get a $200 discount on the ERS full carbon paddles (which is what we chose to do). If you are someone who is going to be out paddling a lot, we do recommend that upgrade.
Pump
The V3 comes with a quality single-chamber, dual action pump. With this pump it takes about 8-10 minutes to pump up your board, and the pump does a great job. We would love to see a dual chamber, triple action pump as an option, but the single chamber is lighter and makes portability a little easier.
Backpack
We really like the ERS backpack. One thing that is very unique is that the straps can be tucked into a velcro pouch area. This makes transport super easy, especially if you are putting the board into a rocket box or something that you have to close and where straps get in the way.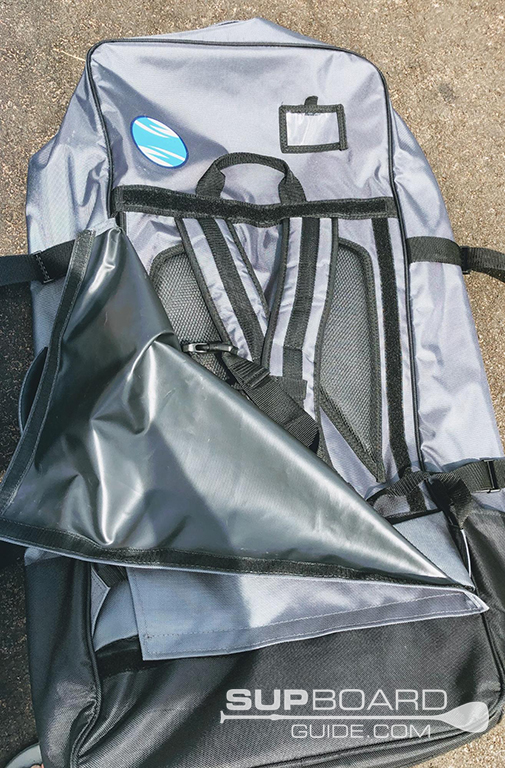 The backpack is also very comfortable and easily fits the board and any accessories that you would ever need with the V3.
Leash
Right now you get a free 10 ft coiled leash if you purchase the V3 from PumpedUpSup.com. It's a great leash, and will stay out of your way while paddling around and even has a little pouch for your car key.
Repair Kit
You get a standard repair kit when you purchase the V3, which includes a few patches and also a handy key wrench in case your inflation valve comes loose.
Optional Accessories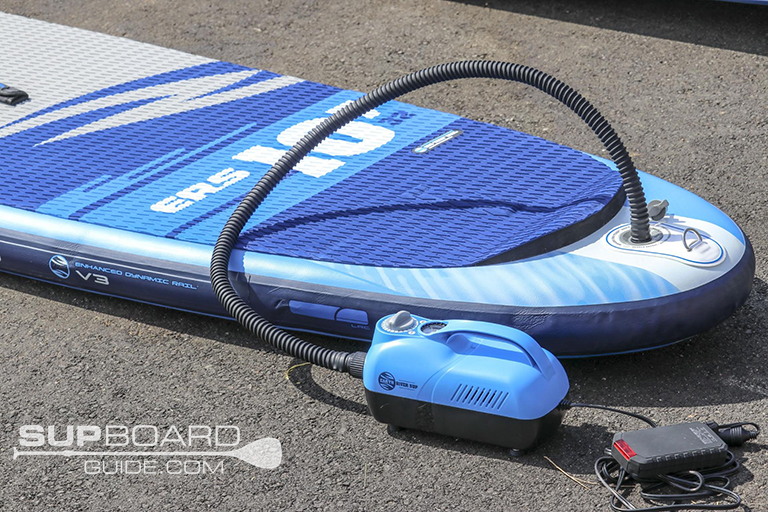 ERS has a ton of great optional accessories that you can buy as you get more involved into SUP boarding. One optional upgrade that we strongly recommend would be to purchase the ERS 12VDC Pump with either the mini-GO or GO battery pack. This pump (pictured above) is fantastic, and makes going out and paddling so much easier. With their Go battery pack you can inflate your board anywhere, and you don't need access to a plug or car battery.
The pump is also a great quality pump that won't let you down and break – and you get a great discount on the pump if you purchase the pump with a board. Take our word for it, you will be glad you purchased the ERS electric pump!
Conclusion
Bottom line – if you are looking for a high-quality, performance level SUP board, then the V3 by ERS is our top pick for 2019. With ERS's industry leading materials and design you will be able to paddle anywhere and in almost any conditions (I will say don't try to paddle into a 20 ft wave unless you are crazy).
If you are looking to take your SUP paddling to the next level, and also want to save on some great accessories (like the free paddle and leash), then head on over to PumpedUpSUP.com and upgrade to the Earth River SUP V3 today.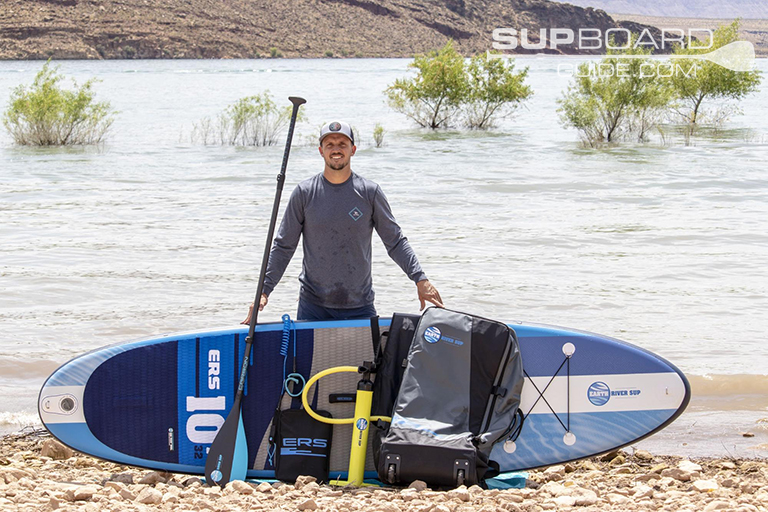 The following two tabs change content below.
SupBoardGuide
Heyo! At SupBoardGuide.com we are a team who love the water, the outdoors, and are more than grateful that our full-time job allows us to review stand up paddle boards. We paddle year round (it helps that we are just about 2 hours outside of Las Vegas), and we bring in a wide range of paddlers with the goal of providing our readers with the best, most in-depth, and accurate stand up paddle board reviews.
Latest posts by SupBoardGuide (see all)