Who is Isle Surf And SUP?
Founder(s): Marc Miller & Doug Pate | ISLE Co-Founders
Where: San Diego
When: 2004
If you are after some of the best ISLE inflatable SUP reviews (and their hardboards) but also would like to be enlightened by some background information then you've landed on the right page. Find out about the brand, what makes them different to others, what to expect when buying an Isle and read up on individual reviews.
"Just two San Diego surfers fresh out of college with nothing more than a dream of following our passion and some lint in our pockets we decided to leave behind our newly found corporate jobs and haven't looked back since." – Isle Surf & SUP
Isle is one of the longest operating SUP companies and also boasts one of the largest ranges. They do a mix of inflatable SUP's, hardboard SUPs and also surfboards. Based in San Diego where they can regularly get out on the water, ensuring that not only do they sell their products they also ride them.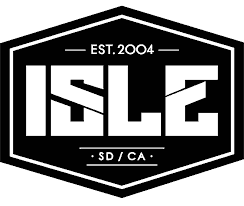 They also are big on acknowledging the part that the waterways and oceans play into the SUP world and so keep engaged in programs to help give back to the planet where they can. Having a long history of paddleboarding and surfing they know the benefits of being on the water and so are extremely encouraging and enthusiastic about getting everyone out there too.
Why We Recommend Isle SUPs
We recommend them as a company because they are paddlers and surfers. They know the water and what makes for a good product and make products based on real-life experience.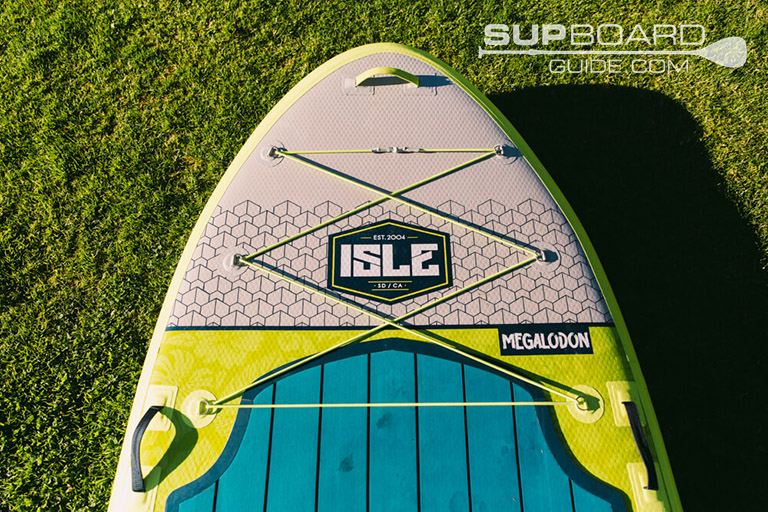 They make high-quality paddleboards in both the hardboard and inflatable niche. Having experience in manufacturing both types gives them an advantage of really knowing the whole SUP market. Being able to test many types of SUPs next to each other gives the crew at Isle an extremely in-depth insight into what works where.
When you buy an inflatable Isle you also get the full package. That is a pump, bag, paddle, leash, and fin(s). You can get out on the water the same day it's delivered! While the hardboards come with a paddle and leash, still a great deal! You get an extra few hundred dollars worth of value in your SUP package either way and the convenience of getting everything you need to go right from the very start.
Isle SUP Review – Accessories
Inflatables**
Spacious bag with supportive straps to carry
A dual-action hand pump to get you inflated
Carbon shaft/Nylon blade adjustable paddle that breaks down into 3 pieces
A nylon performance fin (fantastic feature!)
Coiled ankle leash to keep you safe!
1-year warranty on your iSUP
** Speciality boards like the Megalodon slightly differ in accessories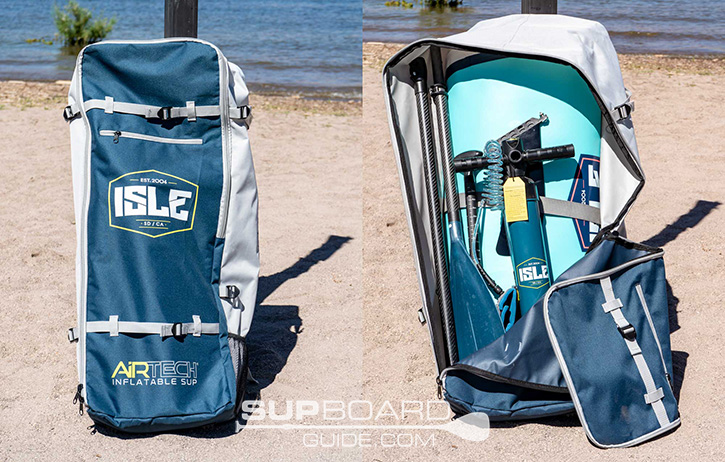 Hardboards
Lightweight and durable carbon paddle
Either a series of future fins or nylon performance fin depending on the board
Coiled SUP leash for you safety
180 Day warranty on the board
Extra Accessories For Your ISLE SUP
A range of SUP cover bags
PFD – Lifejackets
Electric pump – Either 12V attachment or one with a built-in battery
Car racks and straps
Dry bags
A range of different Nylon/Fibreglass fins
Travel bags, drink bottles and tumblers
HEAPS of swag – shirts, sunnies, towels and different types of hats
Inflatable ISLE SUP Reviews – Their Boards
ISLE Discovery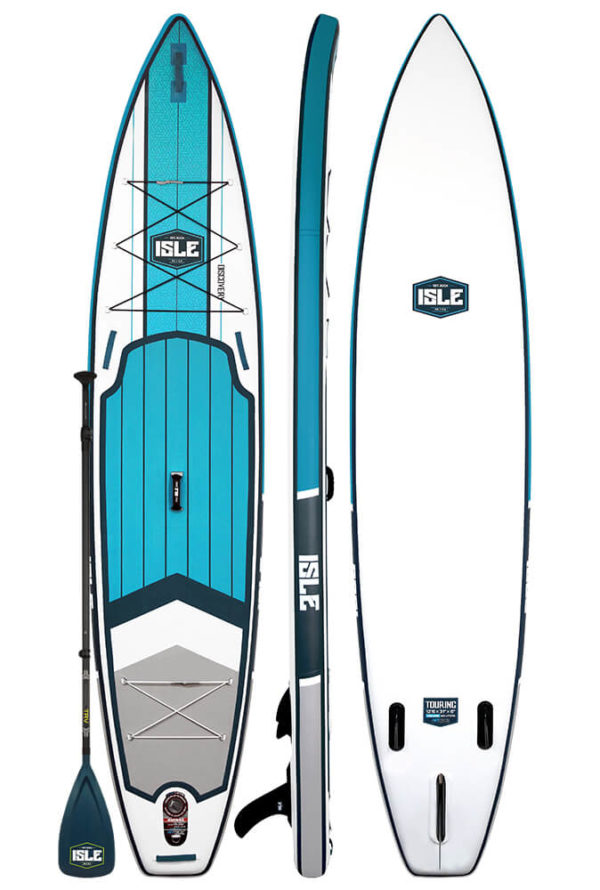 The board built for speed and to go far, fast. Discover the hidden parts of rivers that aren't visited often, maybe find your own private little paradise by doing so! The boards 12'6" long and slim body is built to glide. Don't be fooled by the 31" width that this board may be a bit tippy, the 6" thickness and rigidness of the ISLE Airtech manufacturing ensures stability.
Of course, if you are off discovering new places you'll want to take some necessities like water, food, protection, etc. The storage on board the ISLE Discovery is plenty, and secure! Another great feature is all the handles, strategically placed in common grab areas.
Though I believe the Discovery is stable enough for even beginners, it's not going to be as easy as a nice fat all-around – something to keep in mind for the very beginners. Though the pay off in speed and glide is definitely worth mastering this board. Best suited to long-distance touring down rivers.
ISLE Explorer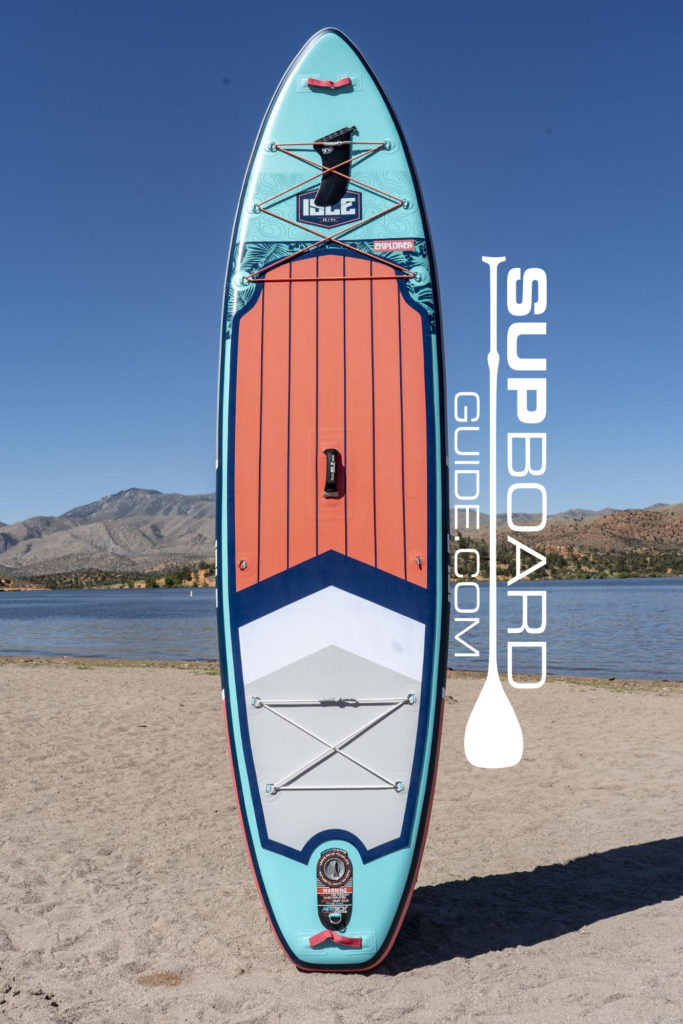 Do we Explore or Discover? The Explorer is a more stable touring SUP. It's a bit wider at 32" and you can choose between an 11' and 12' length, depending on your size or paddle needs. The extra size and stability also mean it's an ideal touring/cruising SUP for you and your kids/pets.
Utilize the storage area on both ends of your board for your day out on the water – bring some treats for your fur friend or extra sunscreen for the little ones! The deck pad also stretches across most of the surface making an ideal surface for the extra passengers to sit on – or you to lay on and do some exercise on!
You'll feel most at home when taking your Explorer out in calm-moderate conditions. It's made to glide and cruise so isn't going to cut sharp shapes in waves/rapids etc. It'll handle a bit of chop if you are playing out near the ocean or the wind whips up though. Absolutely anyone can jump on the Explorer and have fun – first-timers to pros.
Read our full review of the Isle Explorer here.
ISLE Pioneer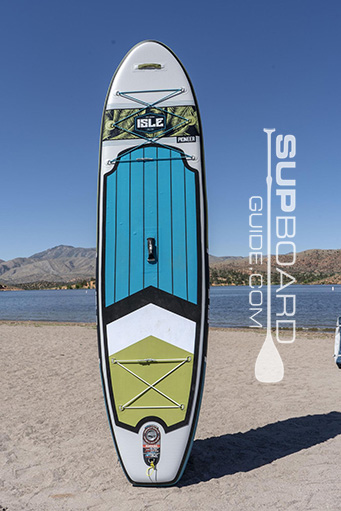 The all-around of the group! The Pioneer is a super versatile board for riders, its dimensions suit most riders – 10'6" X 31" X 6" while at the same time still offering nice performance. It's not the fastest or most responsive but it will give you the best performance in the most variety of conditions.
Onboard, there's a super-grippy EVA deck pad that can be enjoyed by you or your best fur friend. While if you are in need of bringing bits along, there's plenty of storage in front and behind the paddler.
The ISLE Pioneer SUP performs in a variety of conditions to a point of which you will be able to enjoy them. Don't look to it to excel in any particular area. Outside of any extreme conditions like heavy surf or rapids, you'll have a great time! It's also stable and tracks well enough for complete beginners while offering up enough performance for more experienced riders to enjoy it too.
Read our full review of the Isle Pioneer here.
ISLE Sportsman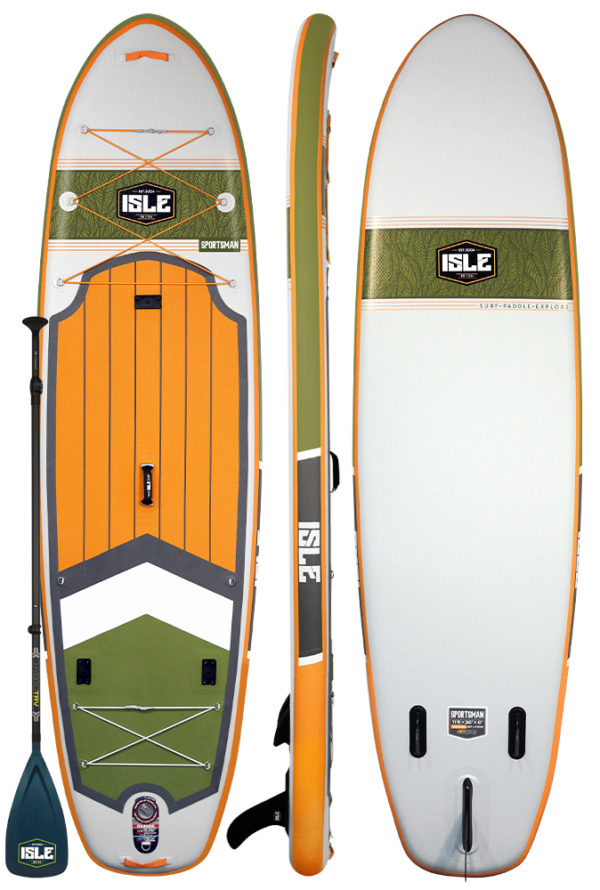 Ahoy there fisherman! The ISLE Sportsman was built for fisherman/women of all shapes and sizes. It's built to be stable but still worthy of a paddle! Those going by kayak or boat have to unload, launch in specific spots only, etc while you can walk down the river a little and Voila! Be out and about getting all the best fish.
Onboard you can find everything you need for a fishing day out. There are multiple handles for easy transportation and lots of storage and extra D-rings to be able to bring along all the necessary gear. While if you want to get serious, you can utilize the built-in Scotty mounts for things like a rod holder or fishfinder.
**PRO TIP** – Buy an anchor or in the past I've macrame'd my rock and then attached this to the D-ring where my leash also goes.
This board is obviously built for those wanting predominately to use their SUP to fish from. Anyone from beginner to pro will be able to paddle it! It's going to best suited to calm conditions. If you try to fish from this in the ocean unless you have a 50m+ anchor you may join the fishies!
*Full review coming soon!*
ISLE Megalodon
You can have a pretty accurate guess at what this inflatable SUP is all about merely by the name. The Megalodon is made for group fun! Take the whole family out or perhaps its a team-building challenge for the office? Choose between a 12' or 15' version depending on your crew.
You'll be equipped with 2 paddles and a double chamber pump to get you inflated quicker and plenty of grab handles to move this big boat around! Whether you want to try charge some waves or go for a cruisy paddle down the river together, you'll have an absolute blast on the Megalodon!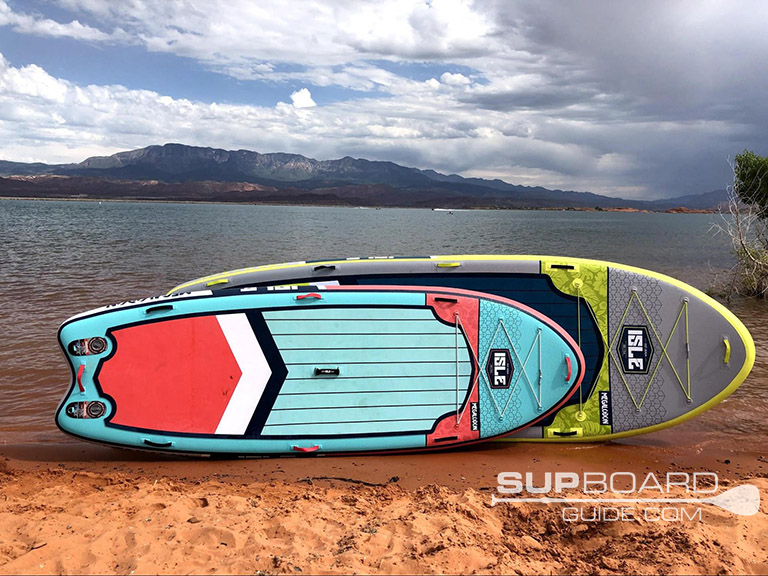 As you can see, the Megalodon is a true party SUP. It's great for kids, it's great for a big group of adults – it's really just a fun party board!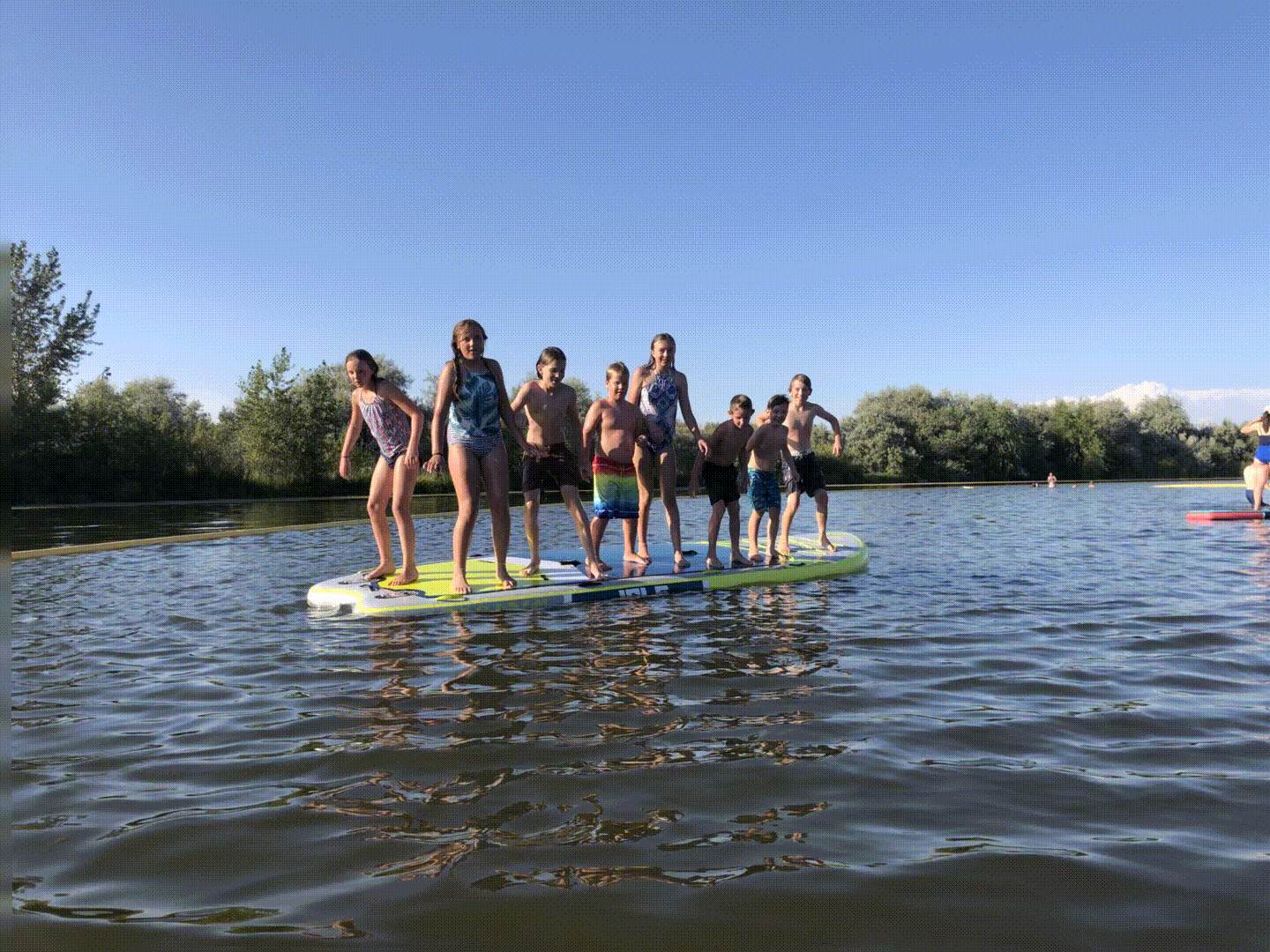 Read our full review of the Isle Megalodon SUP here.
Hardboard ISLE SUP Reviews
ISLE Cruiser Soft Top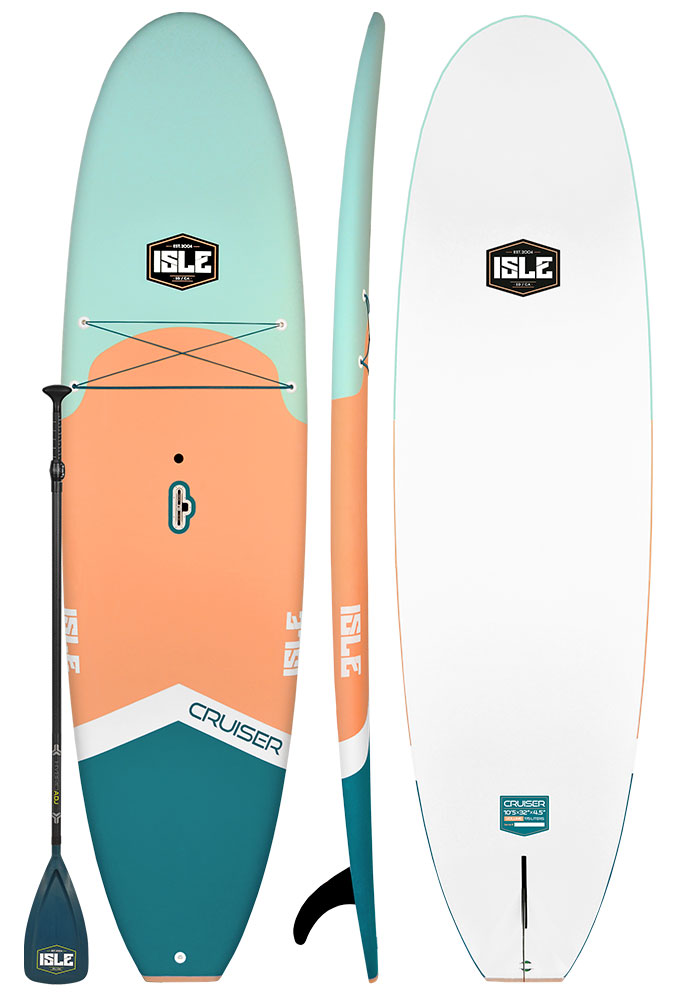 If you want something dog-friendly but don't want to go with an inflatable (they scratch hardboards) then this soft top is for you. Epoxy core but a soft outer edge. Soft tops are also super buoyant and easy to ride. This is a perfect beginners hardboard! The edges – most commonly hit area – are protected by the foam and the stability is great.
The 10'5" length gives great versatility for paddle environments, it is responsive enough for small waves but still also a valid cruising option – a great option for beginner SUPers who would like to start trying paddle surfing or just paddling around.
ISLE Frontier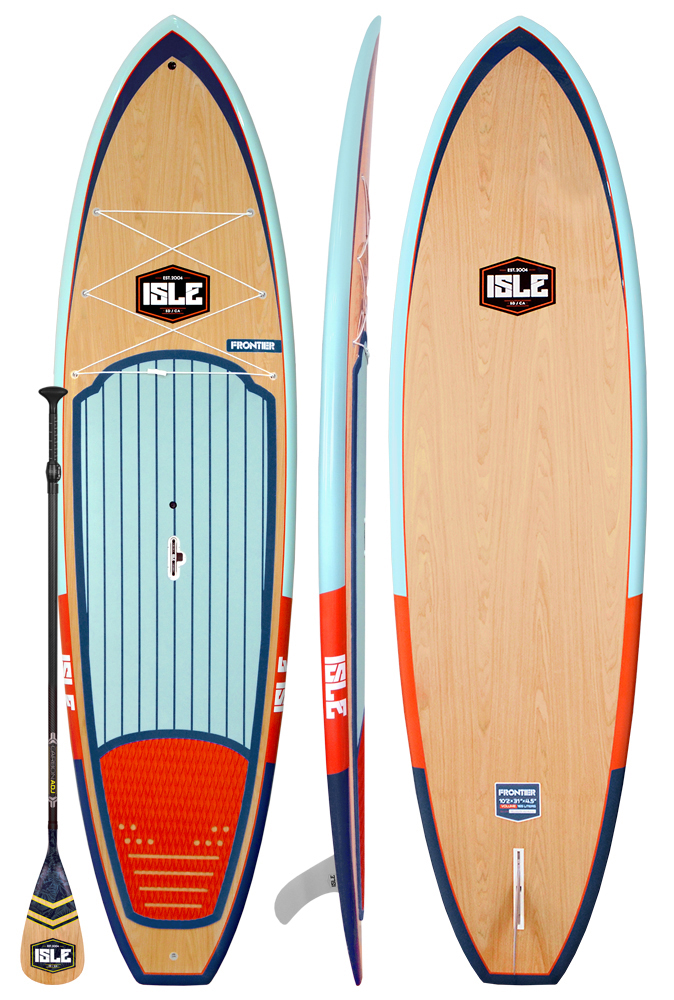 The hybrid of an all-around and touring SUP. By combining the functionality of their all-arounds and the glide of a touring paddleboard, they produced the unique Frontier. It's the thin tail and nose rails and the tapered nose that produces the speed while the wide-body provides stability. Depending on your height/weight you can choose between the 10'2" or 11'2".
The board performs well but also the wood veneer covering makes this board look great too! You can also choose between two different base colors.
ISLE Versa
After a super simple all-around SUP? Here may be your winner. The 10'5" X 32" 4.5" Versa is an extremely versatile all-around that suits most riders. If you are a jack-of-all-trades paddler and not phased at being the master of any, then you should be looking at this Versa.
The single fin setup helps with tracking while the grip pad with raised heel aids in turns. That's speed and maneuverability ticked! It's even versatile in colors with 3 patterns to choose from,
ISLE Glider Wood & LE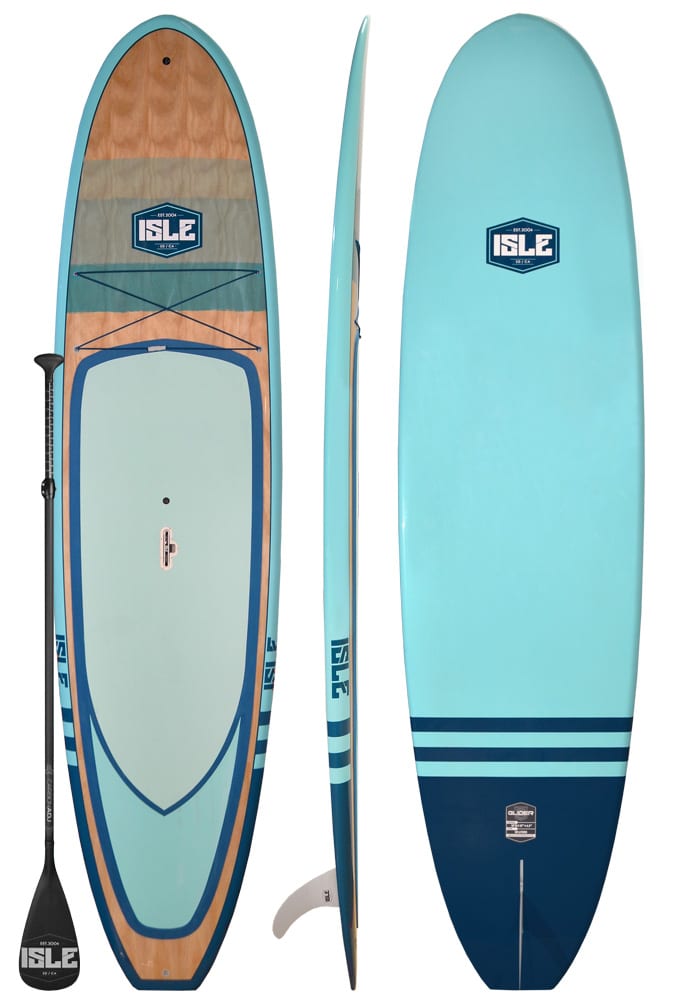 The Glider is another great all-around option though it boasts a little more glide with a slightly narrower tail and body. If you want an all-around option but lean more towards wanting something to cruise on then this is your option. If you are a smaller rider or looking to catch some small waves the 9'10" could be the go otherwise the 10'10" will satisfy the rest!
And the choices of designs! The Limited Edition versions are probably the prettiest designs I've ever seen on a hardboard, while the traditional wooden deck and color are super suave.
ISLE Outpost
This board was built to last. It's one of the most durable hardboard SUP's. Combine its tolerance for rigorous activity and the full-length traction deck pad and you have a perfect rental or family board. It'll take the dings and the deck is protected by the pad.
It's also the perfect size and shape for the greatest range of riders. The average joe could jump on board and have a great time. It doesn't matter if you are tall, short, beginner or experienced – this will be a board you'll enjoy.
ISLE Voyager Wood
If you are wanting to get out on long paddles and look stylish doing it – then look no further! Two sizes to suit small to large riders – the 10'6" or 11'6" and both as attractive as the other. The voyager is stable up to the back where you'll stand and there's a super comfy deck pad to support your joints.
What makes this a special touring board is the progressively domed nose and tapered nose. These features result in you being propelled through the water faster than you can say SUP! Onboard, there's also all the features you'll need for a trip – lots of storage and go pro mount/handle area.
ISLE Classic Surf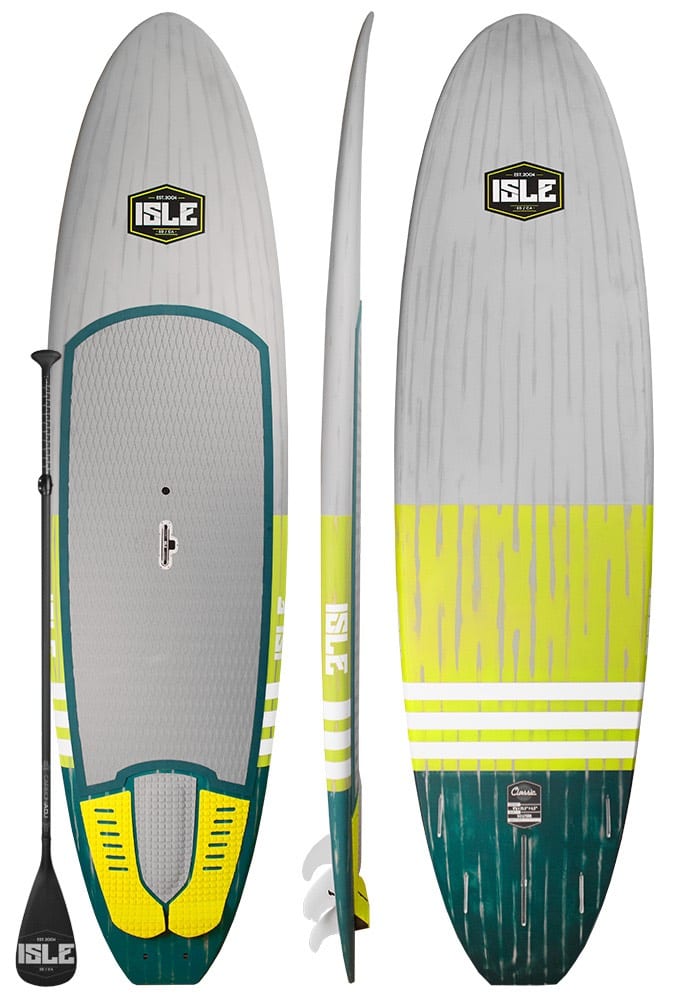 Looking to shred down at the local break? Drop down some faces and into some beautiful long peeling waves? Then the Classic Surf is for you. You'll want to be on small-mid sized waves but this surf SUP also is great to just have a cruisey paddle too.
You have the choice of riding this as a single fin, thruster or full quad, so it'll suit various types of waves too. It's reinforced rails will help stick you in your line while the low rocker profile is what keeps you shooting straight. It's like a hybrid between a longboard and a SUP.
Where To Buy
**Current Discounts **
Buy 2 SUP's and save $100 – Online 
If you are in San Diego you can shoot down to their local retail store (make sure you tell them we sent you!) but otherwise online is the go.
Address:
340 West 26th St. Suite E
National City, CA 91950
We can help you decide which board is best for you but the team at ISLE Surf and SUP are also extremely friendly and helpful.
Currently, ISLE isn't offering to ship internationally but for those in the U.S, good news is that shipping is free!
The following two tabs change content below.
SupBoardGuide
Heyo! At SupBoardGuide.com we are a team who love the water, the outdoors, and are more than grateful that our full-time job allows us to review stand up paddle boards. We paddle year round (it helps that we are just about 2 hours outside of Las Vegas), and we bring in a wide range of paddlers with the goal of providing our readers with the best, most in-depth, and accurate stand up paddle board reviews.
Latest posts by SupBoardGuide (see all)